Decorated Life is reader-supported. When you buy through links on our site, we may earn an affiliate commission. Learn More
20 Creative Ways to Get More Natural Light in Dark Rooms
If you're a fan of the light and airy design style, living in a home that is lacking in natural light can be a drag.
Even if most of your house has good light, getting natural light into a dark room is tough to do, too, which may result in that room never getting used.
You can always install windows throughout your home to try to increase natural light, but that's expensive and there are much more simple ways to do it, even if it's just creating the illusion of more natural light.
Use Mirrors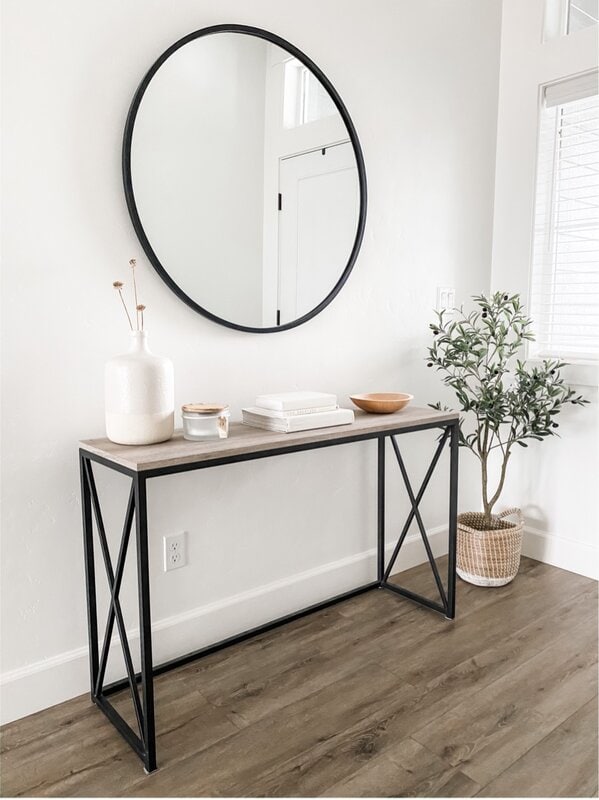 You can amplify light using mirrors in a room to help spread out whatever natural light is able to creep in on its own.
Additionally, you can strategically place mirrors in a hallway to reflect light into a dark room off the side of it. Mirrors can do wonders when it comes to brightening up a space, you just have to know how to use them.
Pick a Door with a Window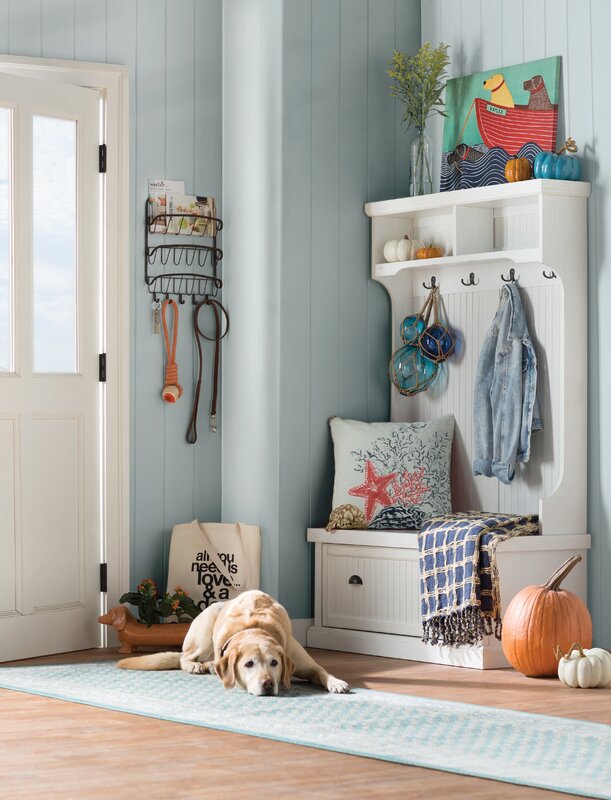 If you're looking for a way to get natural light into a room without windows, consider swapping out your existing door to one with a window (or installing a storm door if it's your foyer that needs some light).
For instance, if your laundry room is dark and dreary, hang a door with a frosted window and it will suddenly brighten up thanks to the light from outside of it.
Consider Light Greys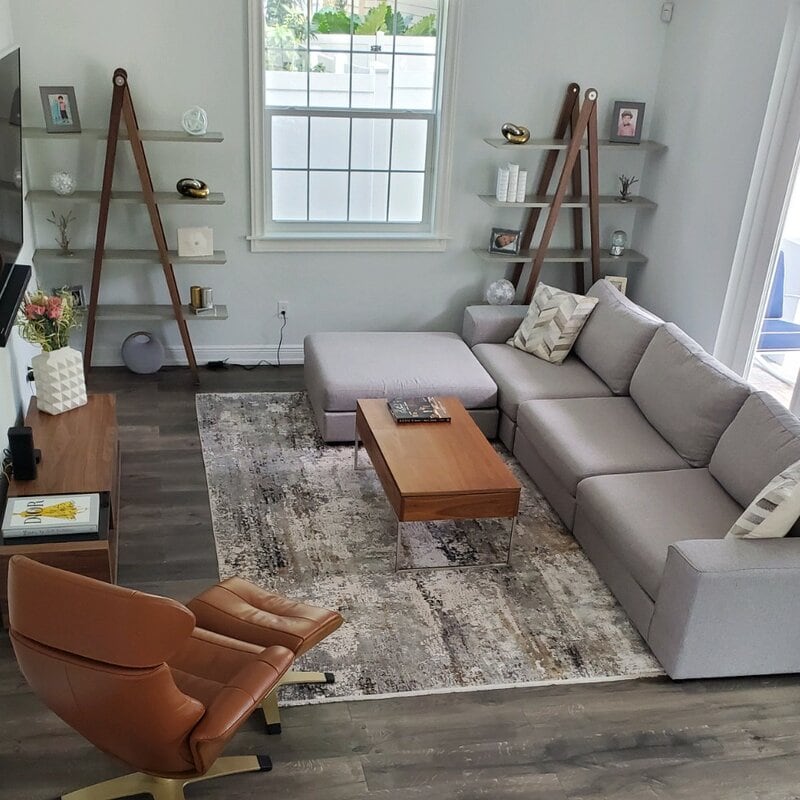 Filling your home with light greys is a great way to give the illusion of more light, and are especially great for people who prefer cooler tones or aren't fans of the all-white look.
Just be sure to stick to the light greys because if you go too dark it will give you the opposite effect of what you're looking for.
Strategically Angle Your Furniture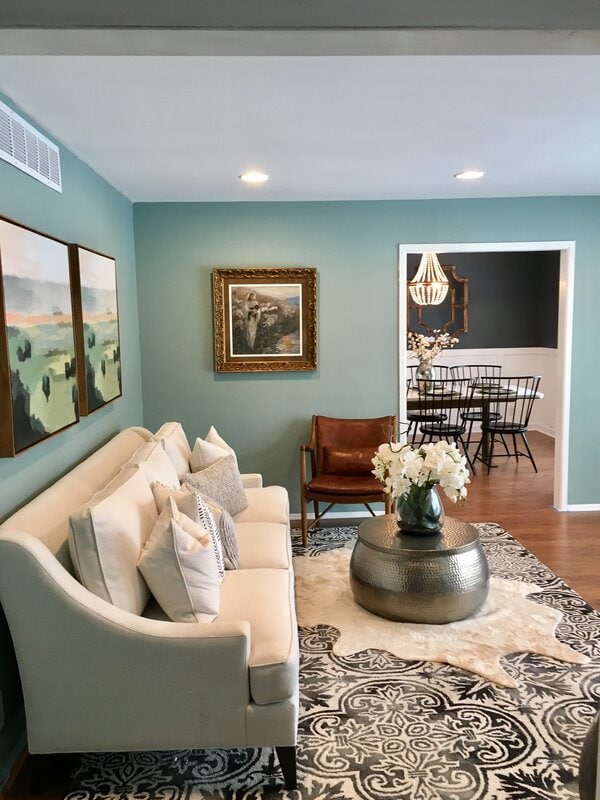 Short of adding a window, it's hard to get light into a dark room, so it's better to play with the light you do have instead.
You can do this by angling your furniture towards the light so that it reflects off of it and fills the room up a little more. This is especially helpful if your furniture is light in color.
Lean Towards Light Browns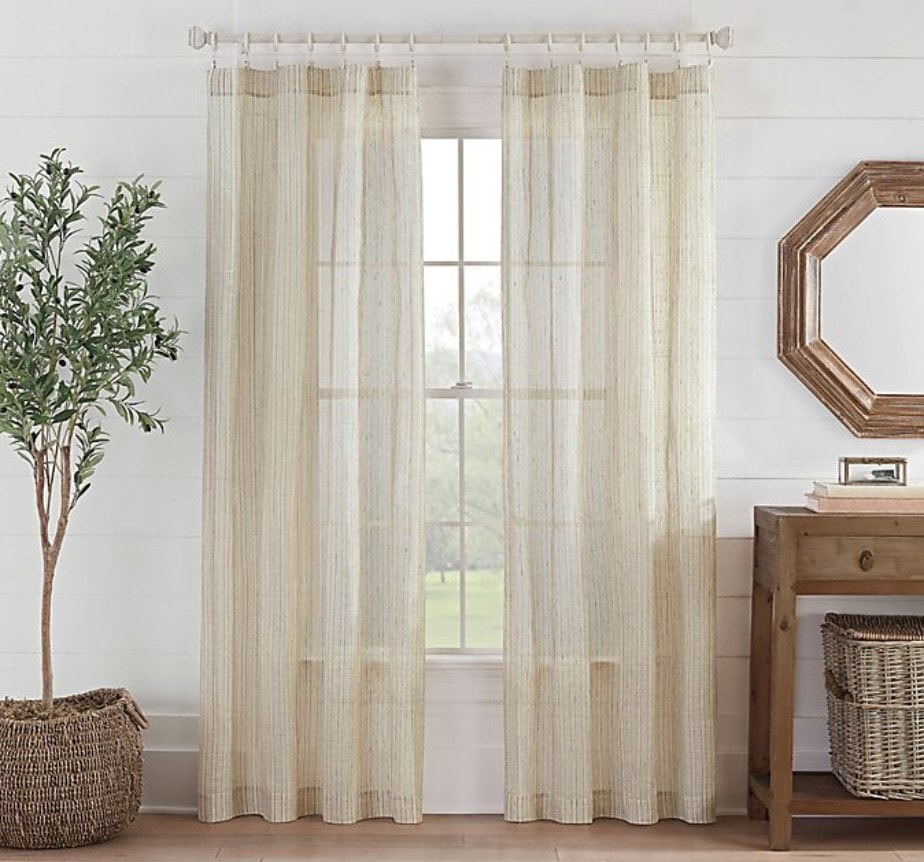 Whether its floors, trim, or furniture, if you're opting for wood, try to go light and warm rather than something dark like espresso.
Obviously the darker the furniture the darker the room, which will only make your problem worse.
Add A Light Rug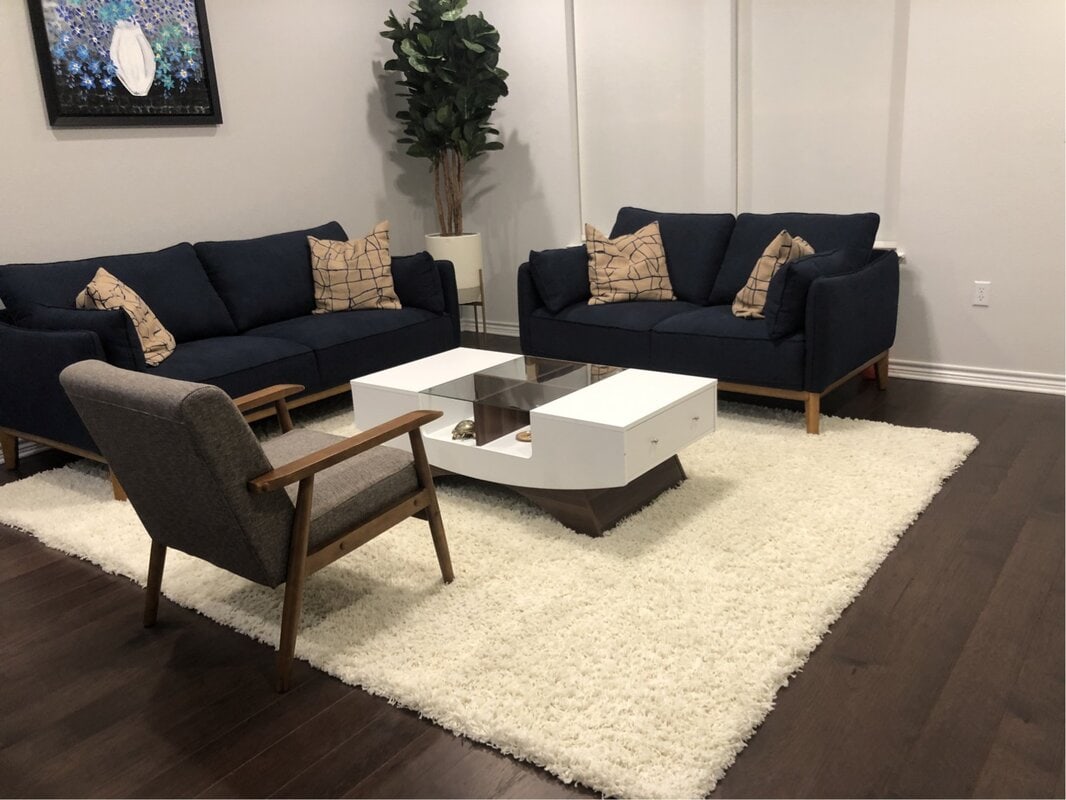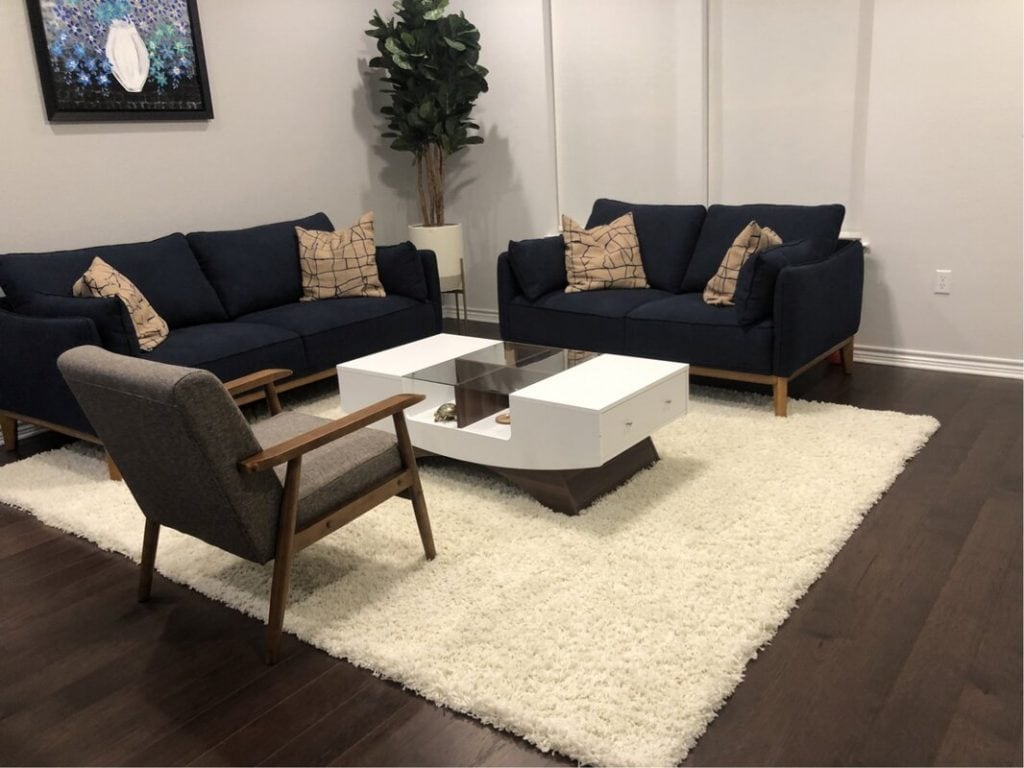 You may not be able to forcefully get more sunlight in a room, but you can brighten it up with a lightly colored area rug. This is especially helpful if you have darker floors that aren't helping the light situation.
While you're at it, make sure the ceiling of the room is white, too. Between the rug and the ceiling, the room will look taller which will help it look a little less dark.
Skip The Blinds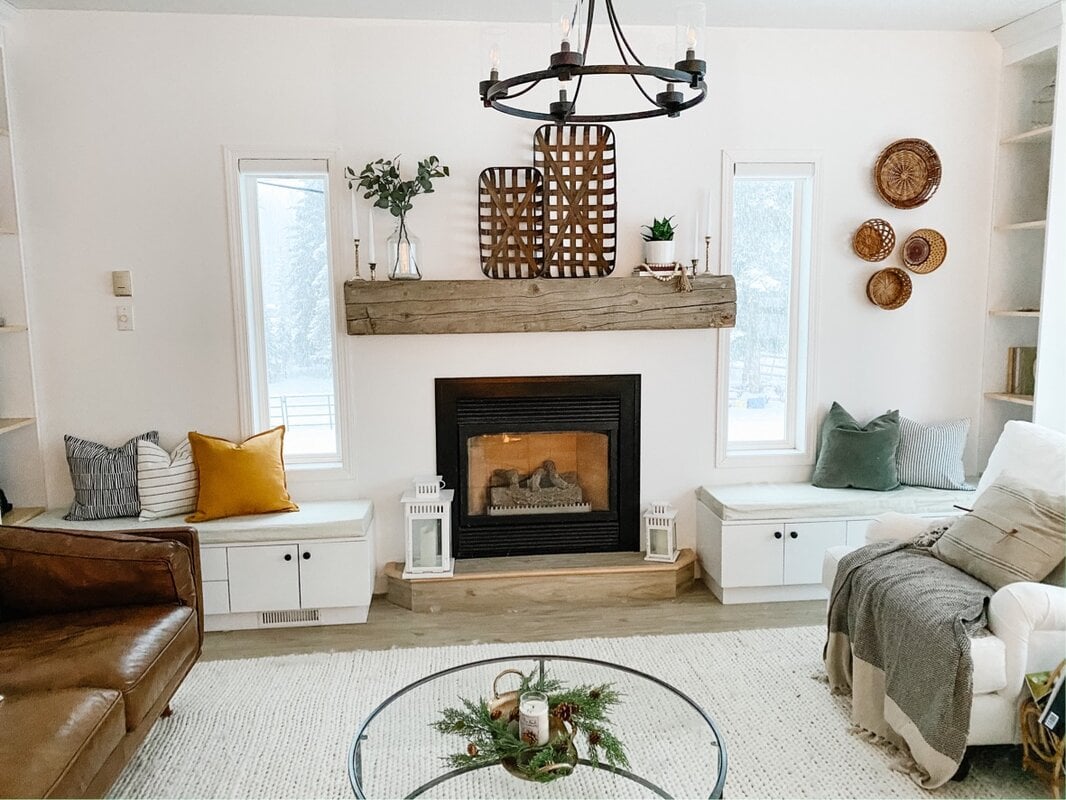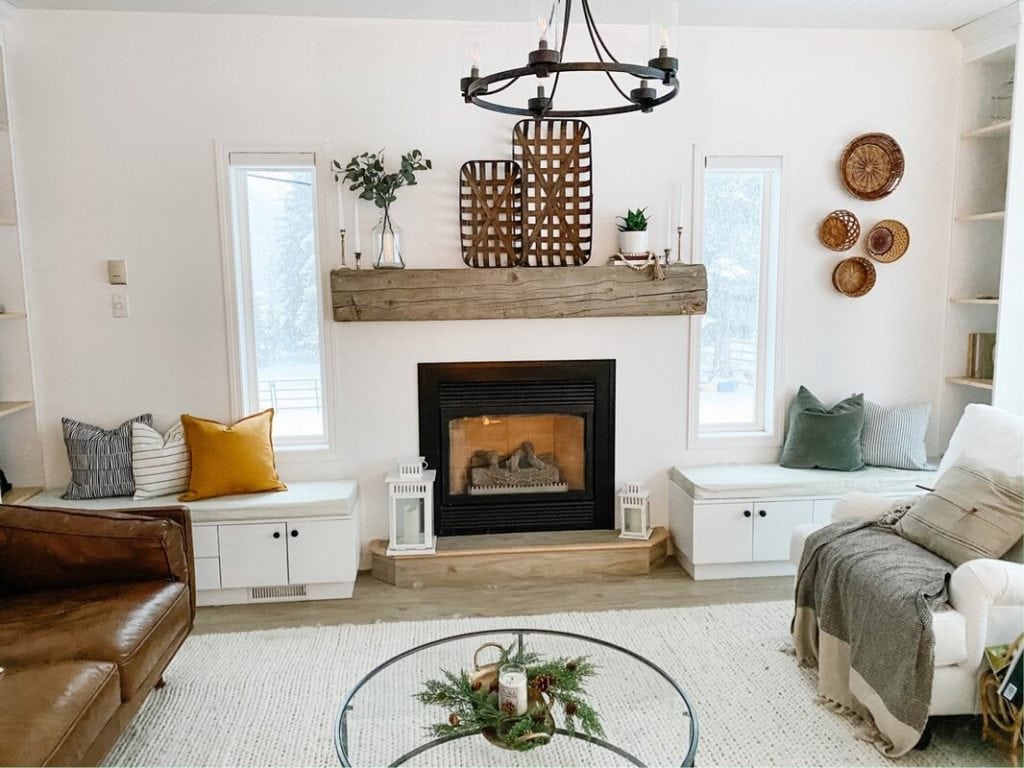 Having windows without any treatments isn't always an option for people, but if you are able to go without blinds in your dark room, do it!
The open window will allow even more light to come in and fill the room that much more.
Don't Rely On Overhead Lighting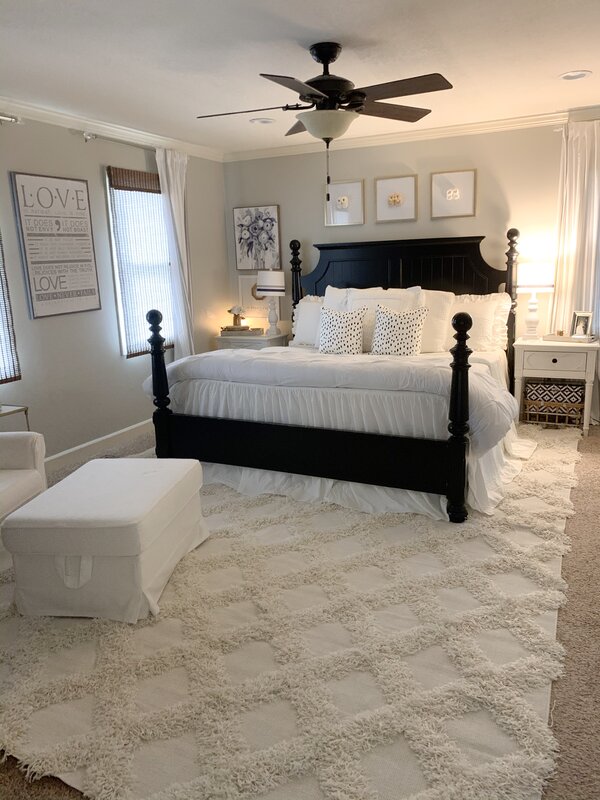 In addition to trying to amplify whatever natural light you can get, you also want to come up with some strategic lighting solutions for dark rooms.
Don't rely solely on general overhead lighting (like a central light fixture or your ceiling fan light), add in some floor and table lamps to reflect light off the walls to brighten the space up.
Make it Your Focal Point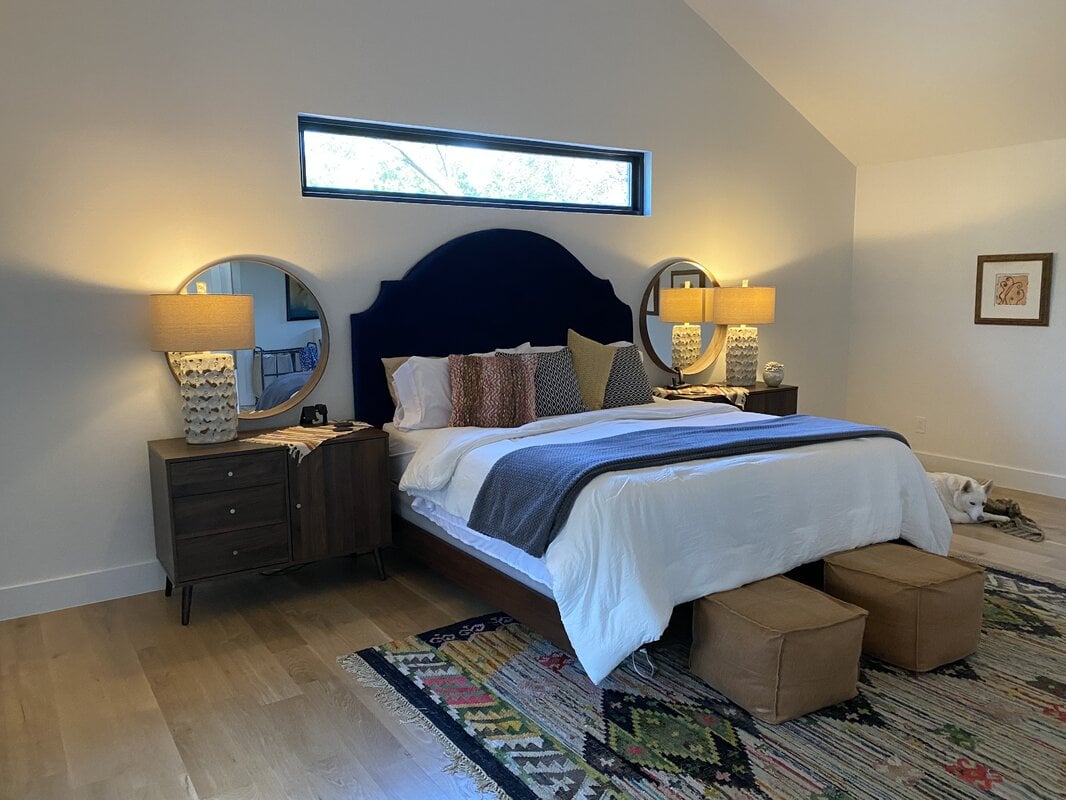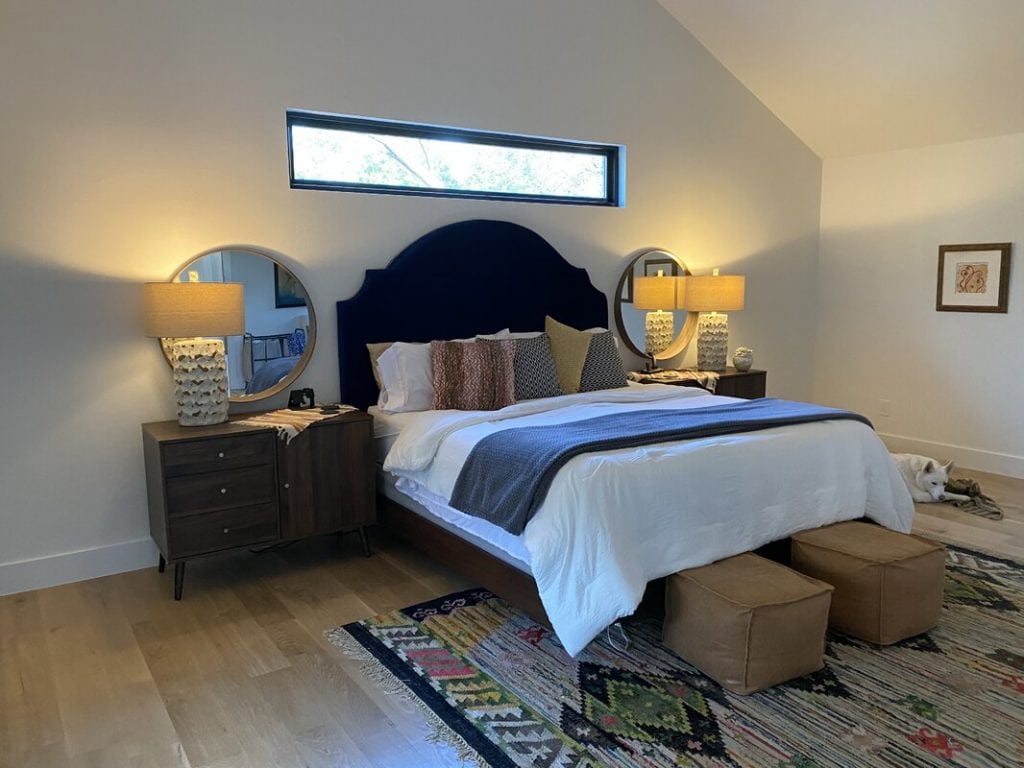 No matter how little natural light you have in a room, you want to play it up as much as possible by making it a focal point. Drawing attention to the light will make it seem more substantial.
Also, if you'd like to add in an accent or gallery wall, make sure it is opposite from your source of natural light, because the clutter can quickly darken a room.
Opt for Light Furniture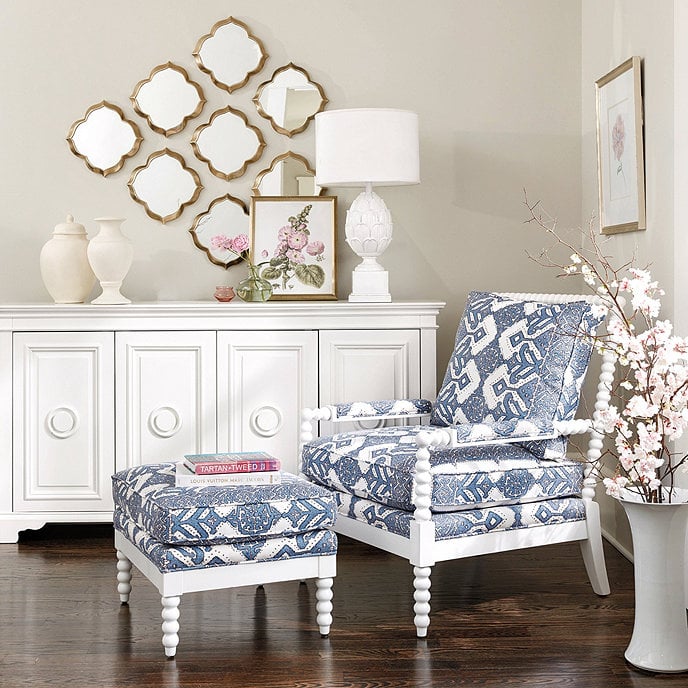 Selecting light furniture is a sneaky way to bring more light into a room because you're creating the illusion of brightness with the lighter fabrics and finishes by letting the natural light bounce off of it.
It keeps things airy and open in a room that would otherwise feel claustrophobic.
Invest in Recessed Lighting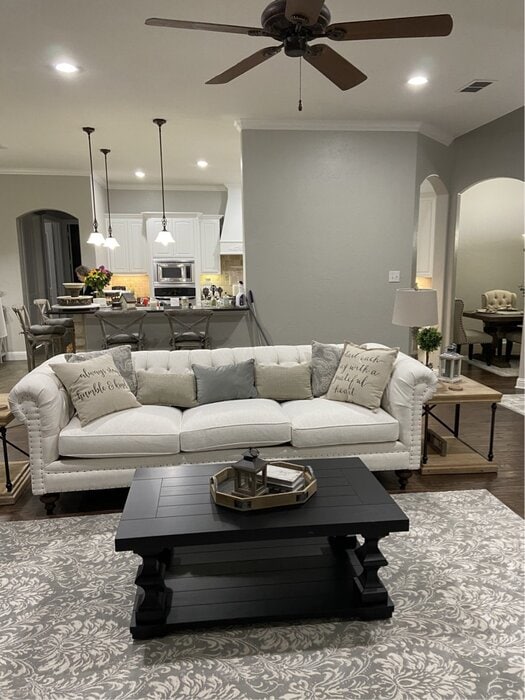 If you don't have a ton of floor space for lamps, you can brighten a dark room with overhead lighting, as long as it's recessed. Recessed lighting is typically installed across a room, which means there are several lightbulbs to brighten things up, rather than one central location.
Adding in recessed lighting is definitely an investment, so if that's not possible and you're still limited on floor space, try to get several small table lamps into the room.
Think About Your Window Trim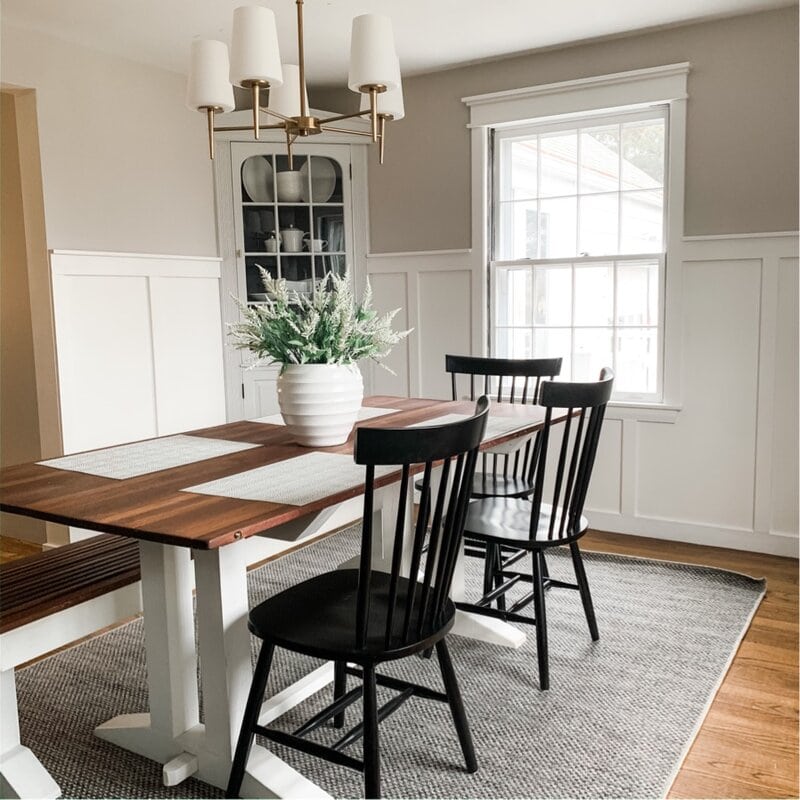 Is your window trim dark or non-existent? Either way, opt for a wide white trim instead.
Doing this will create the illusion of a larger window and you'll be surprised by how much brighter the room seems with this small project.
Pick the Right Accent Colors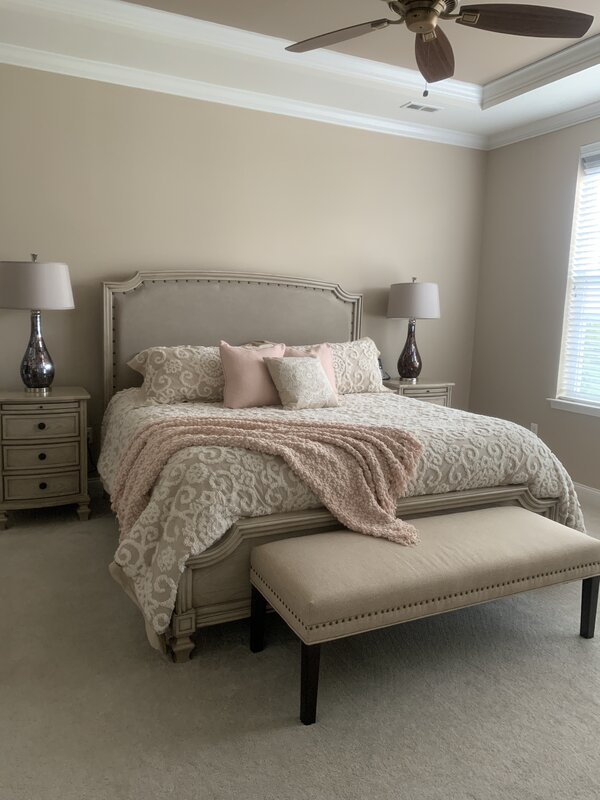 Your space doesn't have to be all light greys, whites, and beiges, you can add a few colorful touches here and there, just be mindful about which colors you choose.
As a general rule, you can do any color you like as long as it's the pastel version of it. If pastels aren't your thing and you want something bold, consider yellow or bright green.
Keep Light Fixtures Minimalist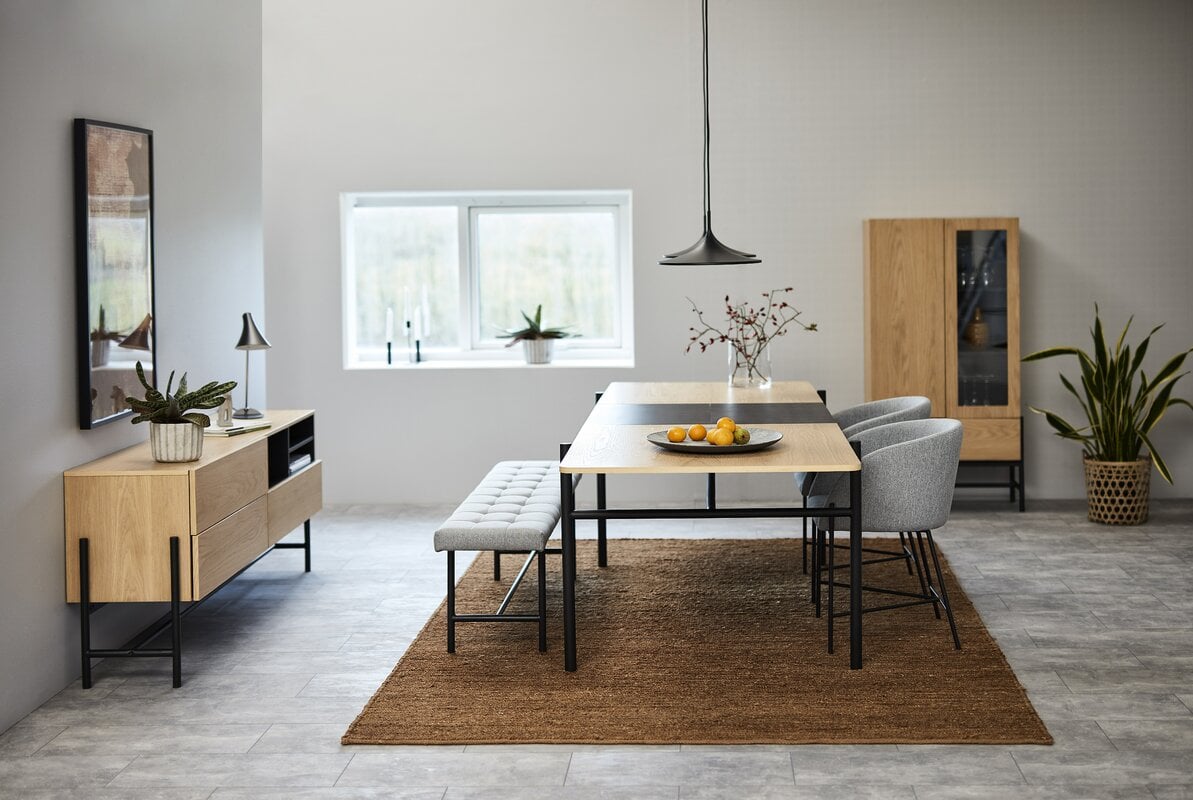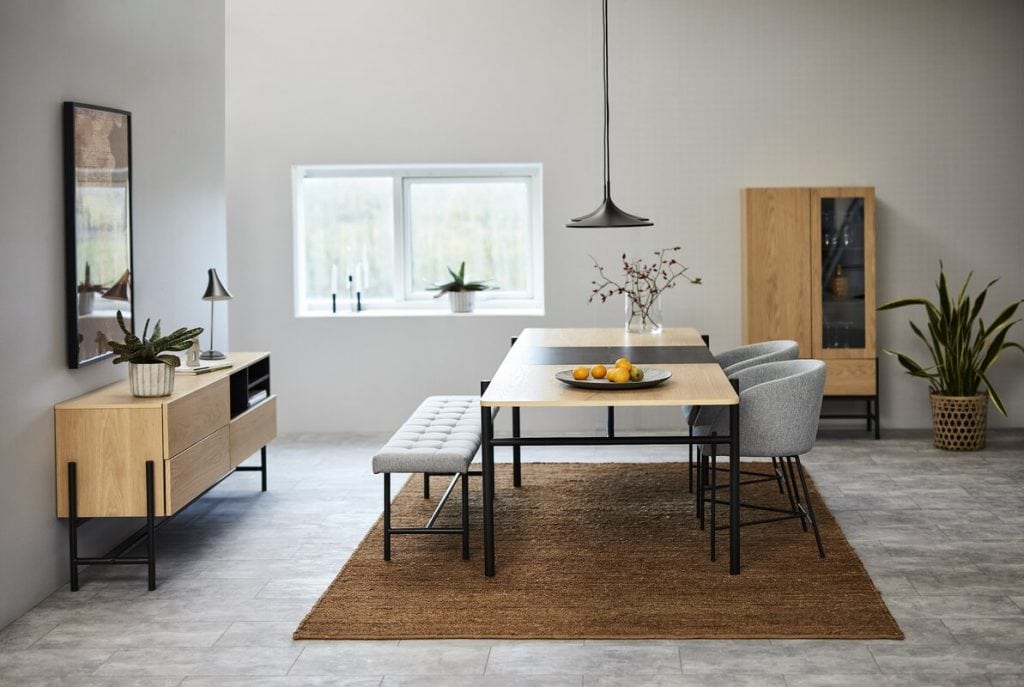 This may sound counterintuitive, but in order to play up the light in a room, you want a low-key light fixture. It should still give off a good bit of light, but you don't want the fixture itself to be the room's focal point because that will take away from the light it's giving off.
So, steer clear of chandeliers and low hanging pendants and lean more towards flush and semi-flush mounts.
Limit Colors To Accents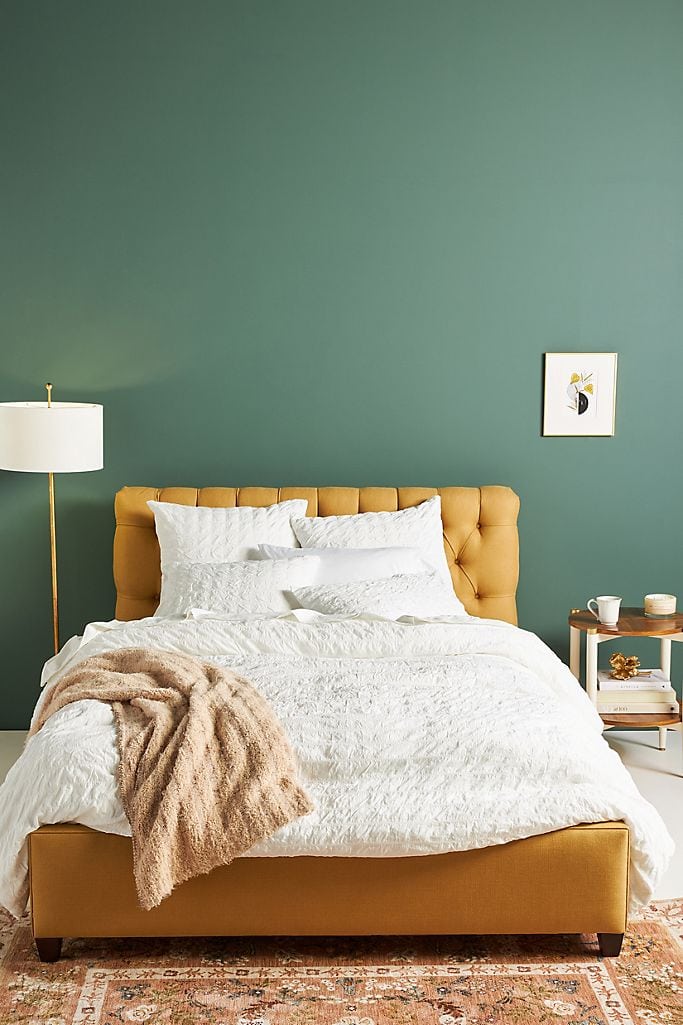 If the idea of having no colors, or only pastel colors, is driving you crazy, then definitely put some color into the room, because there is no point in putting all this effort into brightening it up if you're just going to hate it and never use it.
However, when you do it, try to stick to accents pieces like throw pillows, picture frames, art, and other accents. This will keep your larger furniture bright to help lighten the room, but still give you that splash of color you crave.
Lighten Your Lampshades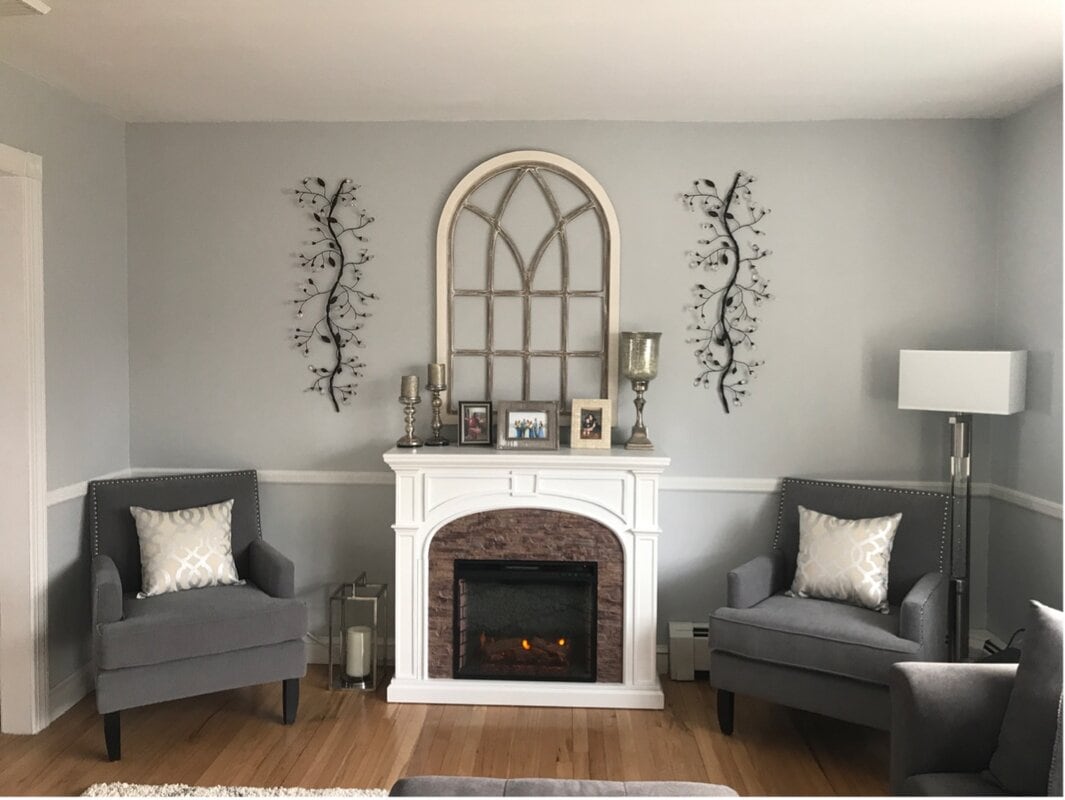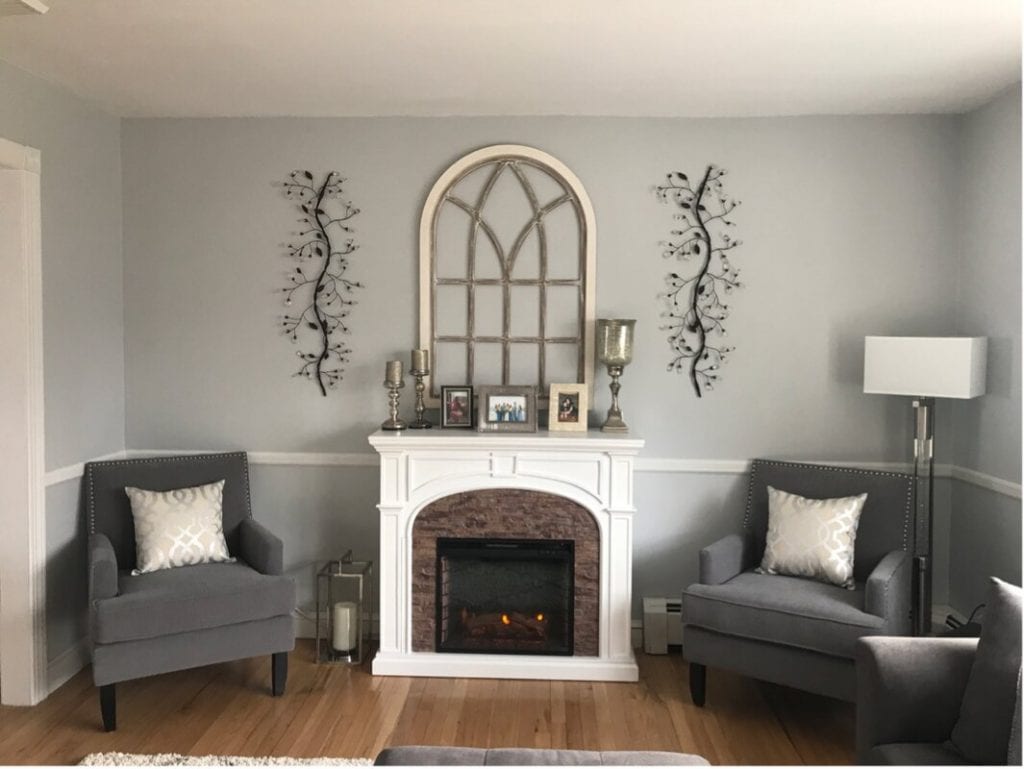 There is a time and a place for fun lampshades with colors and designs, but a dark room is not one of them.
You want to make sure your lampshades are white (or as close to white as possible) so that the light is able to come through them. Also, the shade itself will give the illusion of more light (much like window trim).
Create an Illusion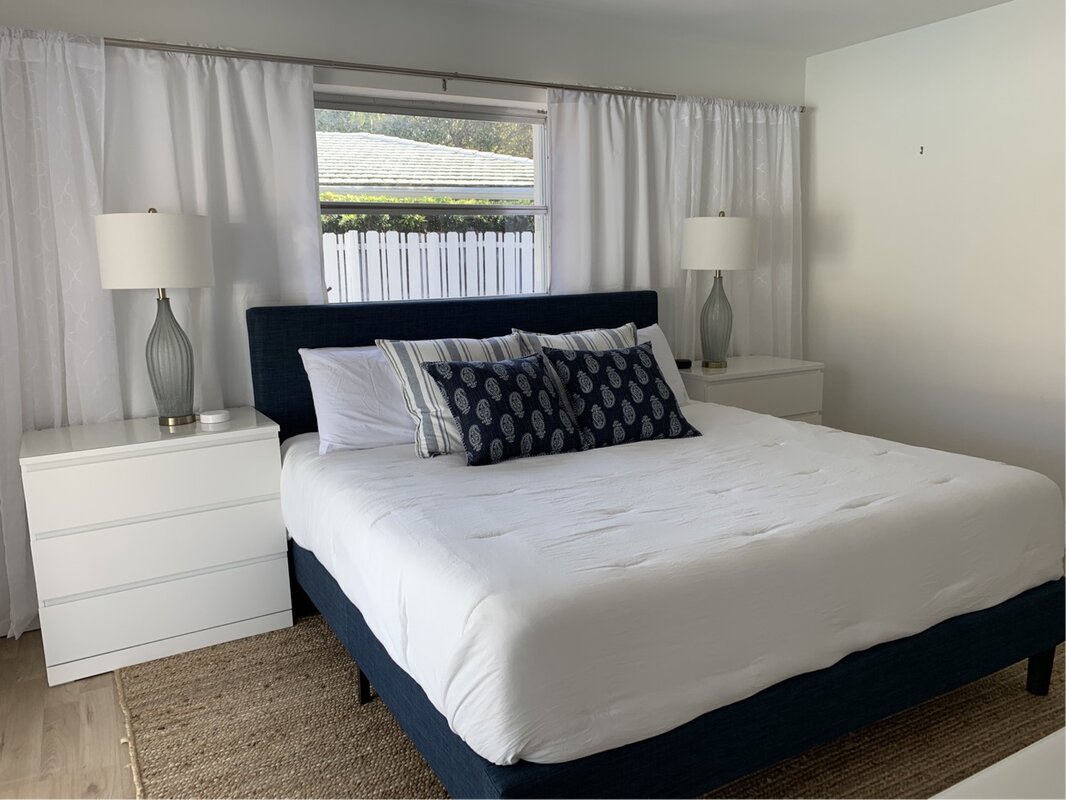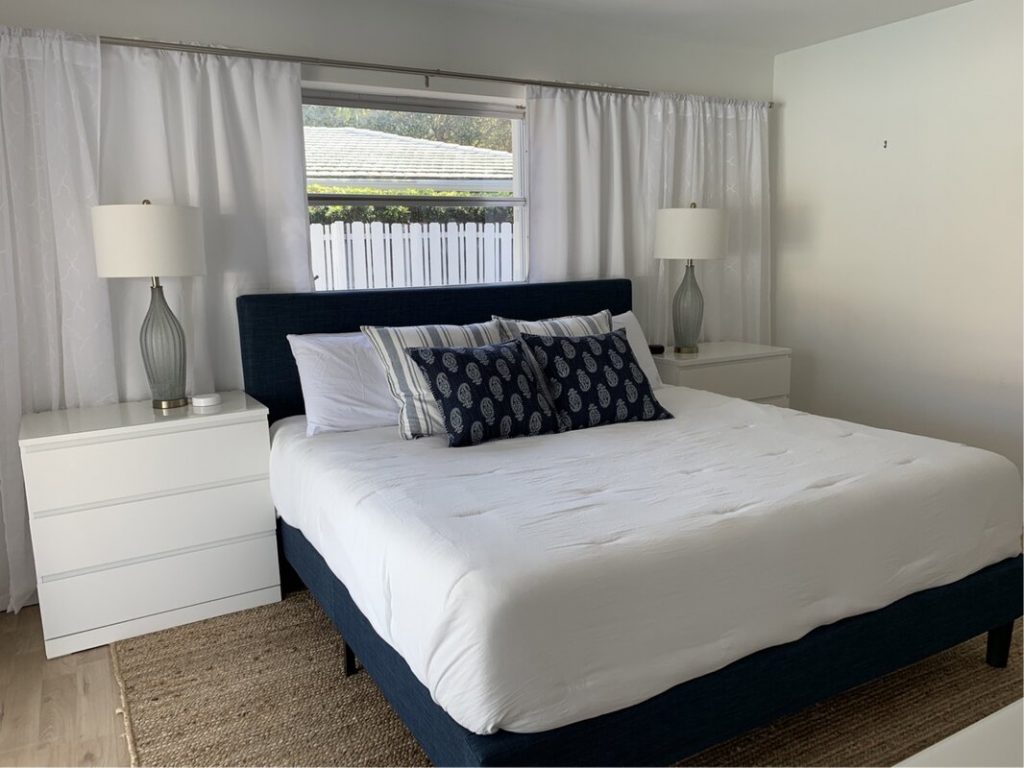 Another way to make a dark room brighter? Create the illusion of windows where there aren't any at all.
This picture is a great example of this method. The room only has one small window in the center of the wall, so they spread out white curtains from corner to corner to make it appear as though the whole wall is lined with windows.
Minimize Decor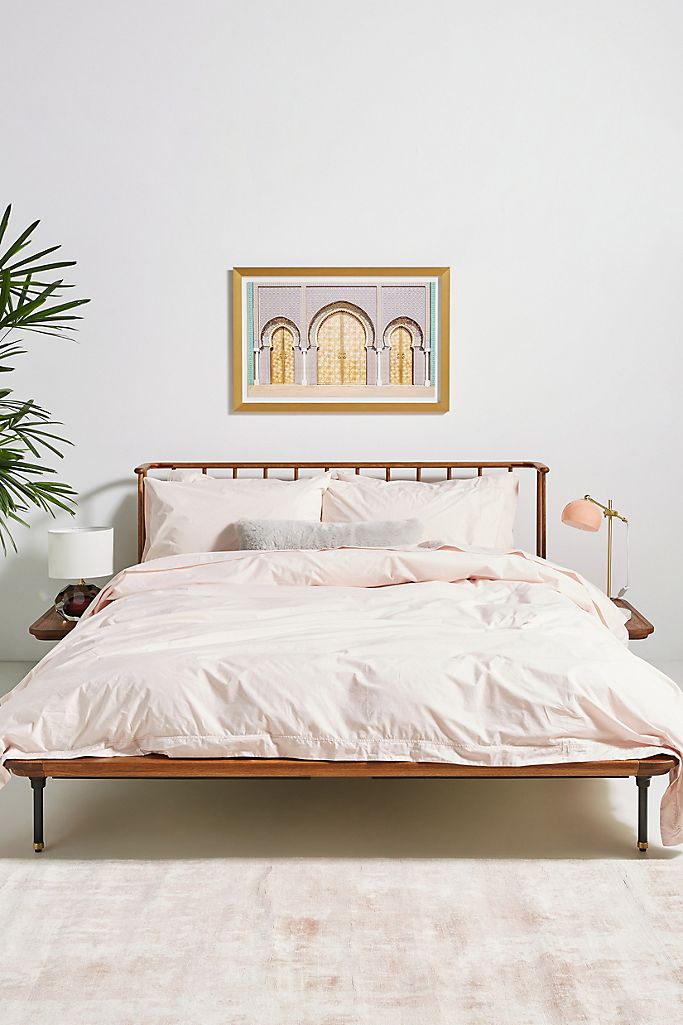 If you want a space to feel claustrophobic, then fill it up with clutter. Add the absence of natural light and you have yourself a very unwelcoming room.
You can lighten up a dark room by simply minimizing the amount of decor you have. Keep walls a little more bare and limit the amount of accent furniture you have to only the essentials. By creating space, you're giving the room a larger (and brighter) appearance.
Opt for White Curtains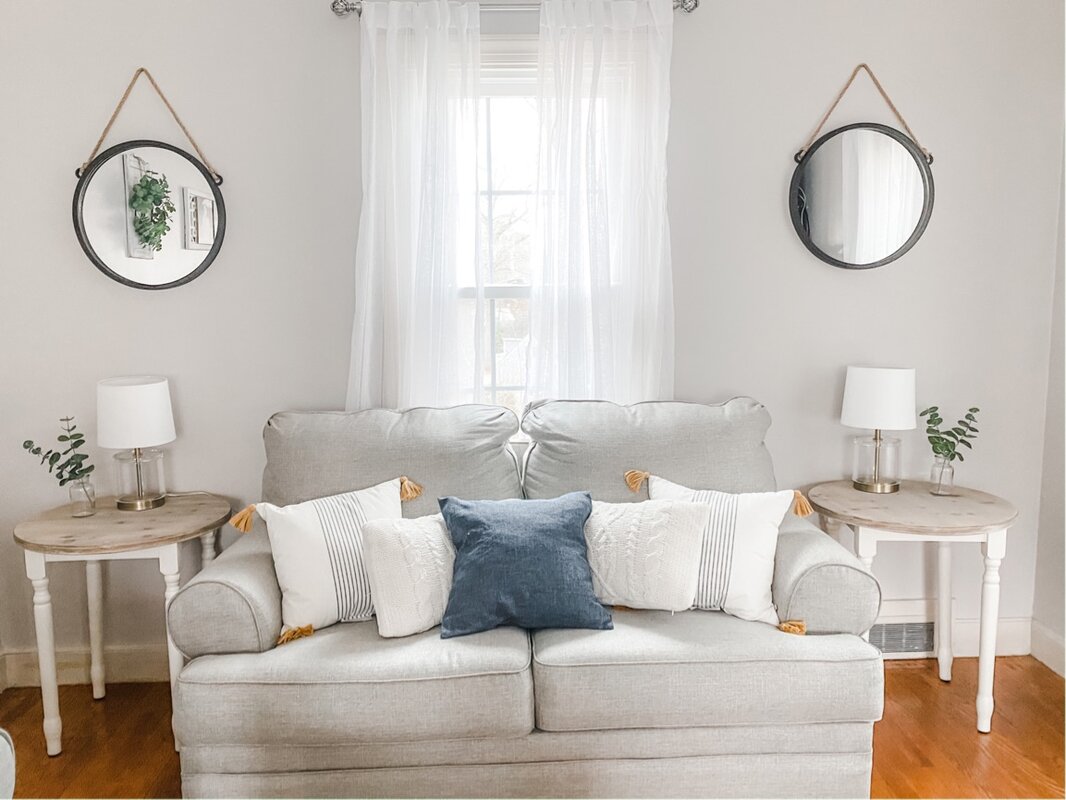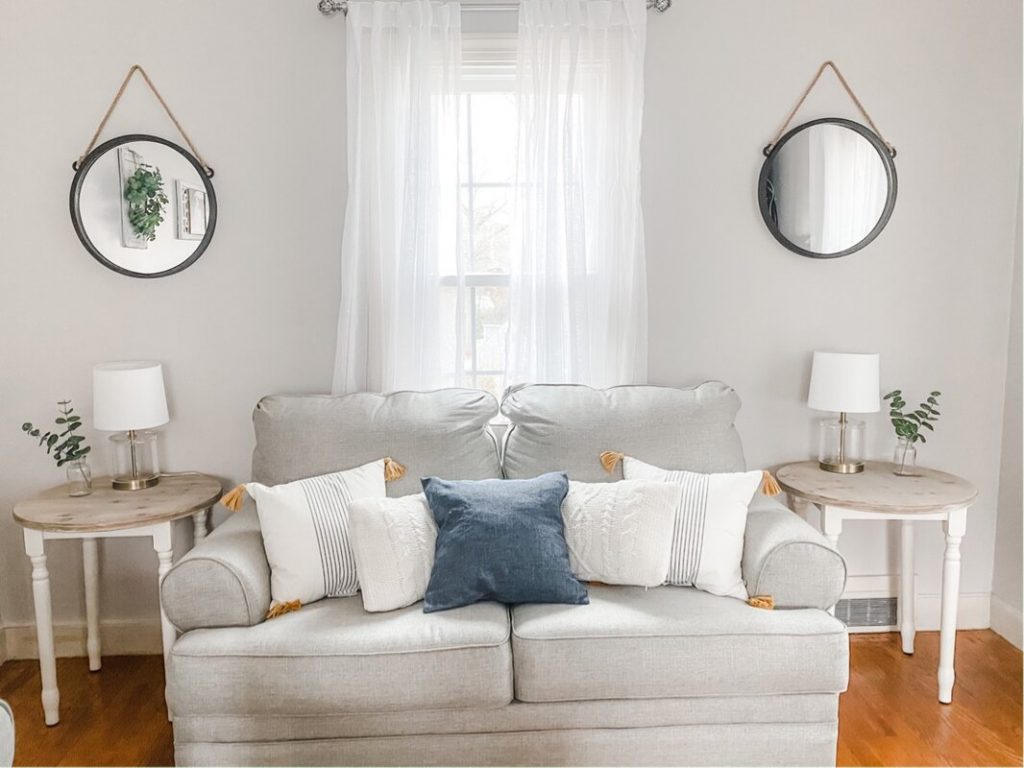 Just like white lampshades are the best for floor and table lamps, white curtains are the best for windows because they reflect the light and can even make windows seem larger if they're hung correctly.
If possible, hang your curtains higher than the top of your windows, and have them stick out further on each side (but still covering wall space directly to either side of the window) because it will make the windows appear taller and wider.
Keep the Walls Light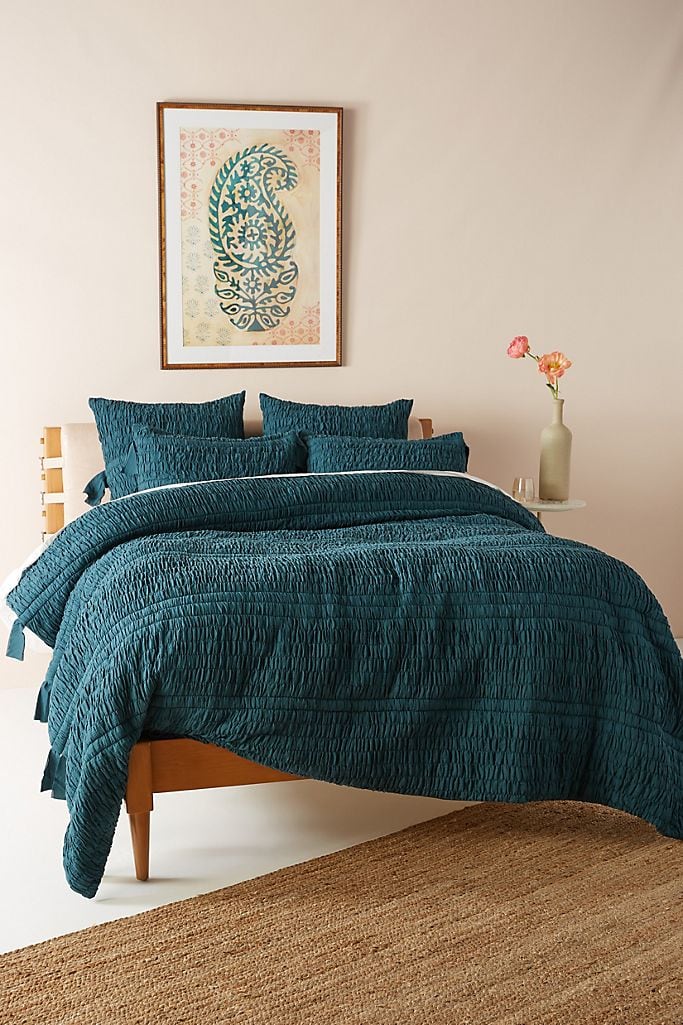 As with the furniture, floors, ceilings, and basically everything else in the room, you want to keep the walls as light as possible, too.
While a rich navy blue wall is gorgeous in a room with a lot of natural light, it will make you feel like you're in a cave if it's in a dark room. The lighter the walls, the better!
Conclusion
Getting more natural light into a dark room isn't exactly easy (without some major construction, at least), but it's doable with some strategic design and decor skills.
The biggest thing to remember is to create light through bright and airy colors in the room because otherwise, no matter how many mirrors you angle or floor lamps you put in there, that room will continue to look dark.