Decorated Life is reader-supported. When you buy through links on our site, we may earn an affiliate commission. Learn More
20 Stylish Throw Pillow Ideas for Brown Couches
There are so many different styles and shades of brown couches out there, and there are just as many throw pillow decor ideas to go with those brown couches.
The important thing is to look at your room as a whole, not just the couch, and find the throw pillows and other accents that will work best.
This post will show you the 20 best ideas so that you can see how many different ways you can spruce up your brown couch and take it from average to stunning.
A Touch of Leather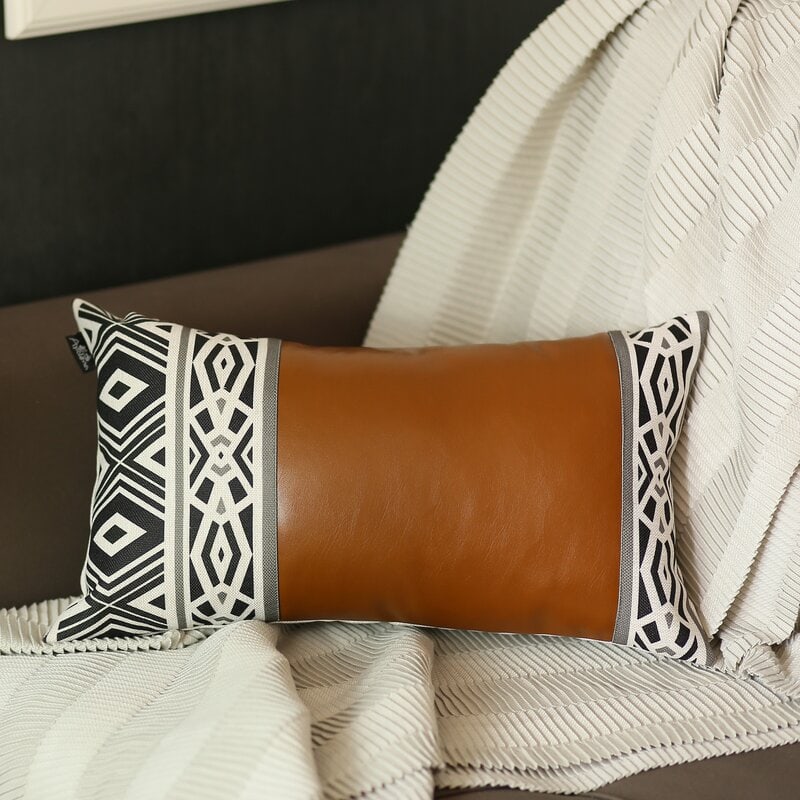 Mixing in some brown leather to an already brown couch may seem like a little too much, but if you choose the right shade it can be done well.
Here is a great example of how brown decorative pillows for a brown couch can work well. The leather is mixed with black and white to even out the colors, which helps make it pop from the sofa. If you decide to go this route, just make sure the shade of brown leather you choose is complementing to your sofa's upholstery and not the exact same (or just a little off from the exact same).
Creamy Bohemian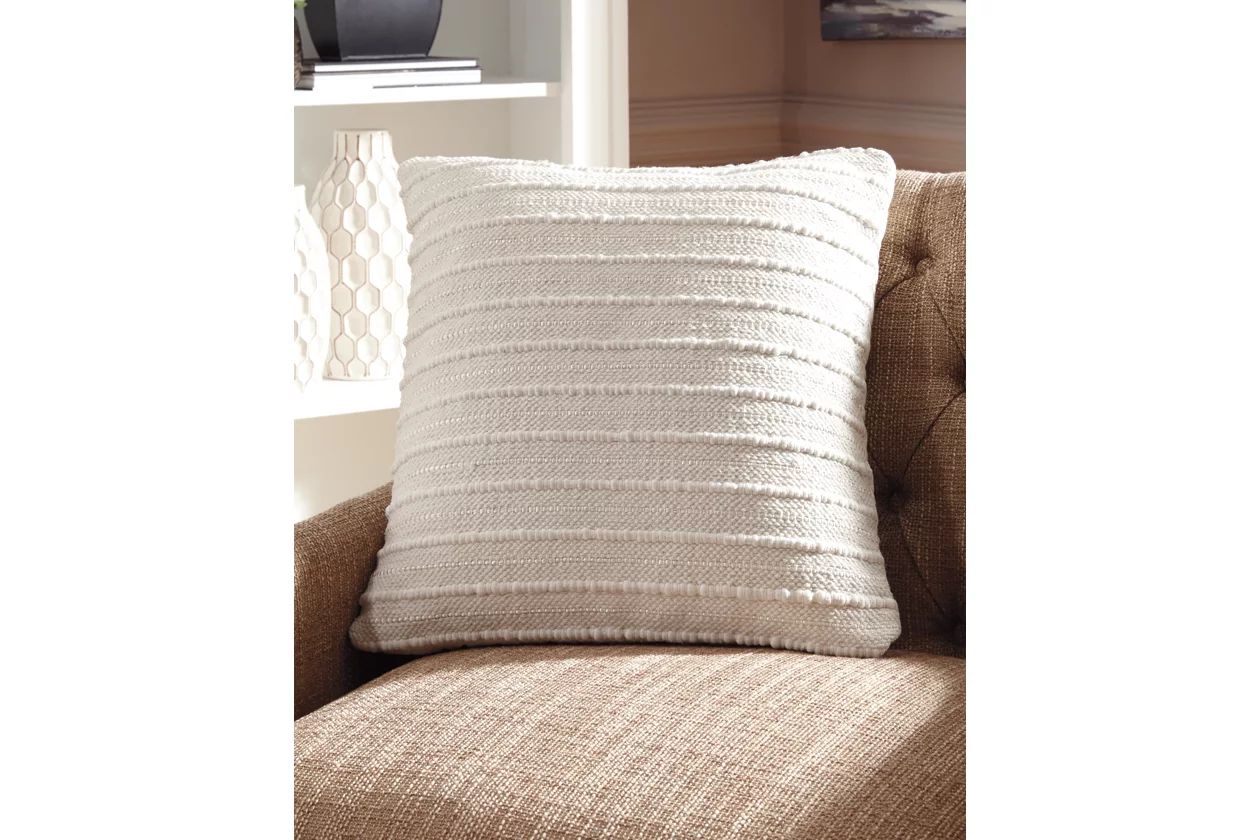 One of the most classic color choices for throw pillows for brown couches is a rich cream. The contrast between the two colors creates a warm pop that is both cozy and aesthetically pleasing.
You can take this look and make it more modern with cream pillows that have a more bohemian look. Add in some green plants around the room, too and you'll create an airy, boho vibe that is very much in style.
Use Oversized Pillows With Texture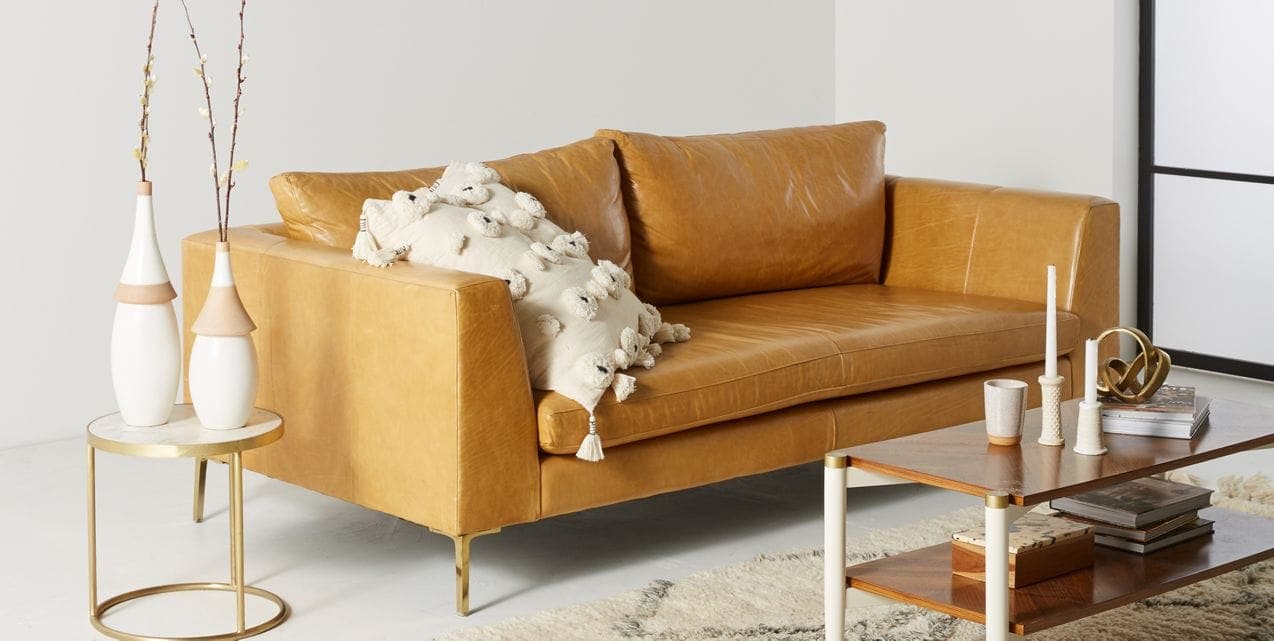 Leather couches have always been and will continue to be a very popular decor choice. Brown leather sofas are very sleek and throw pillows can help add some texture to them.
Take a look at this brown sofa with throw pillows that are oversized with textured details. They create a more curated look that has variety and style.
Hints of Grey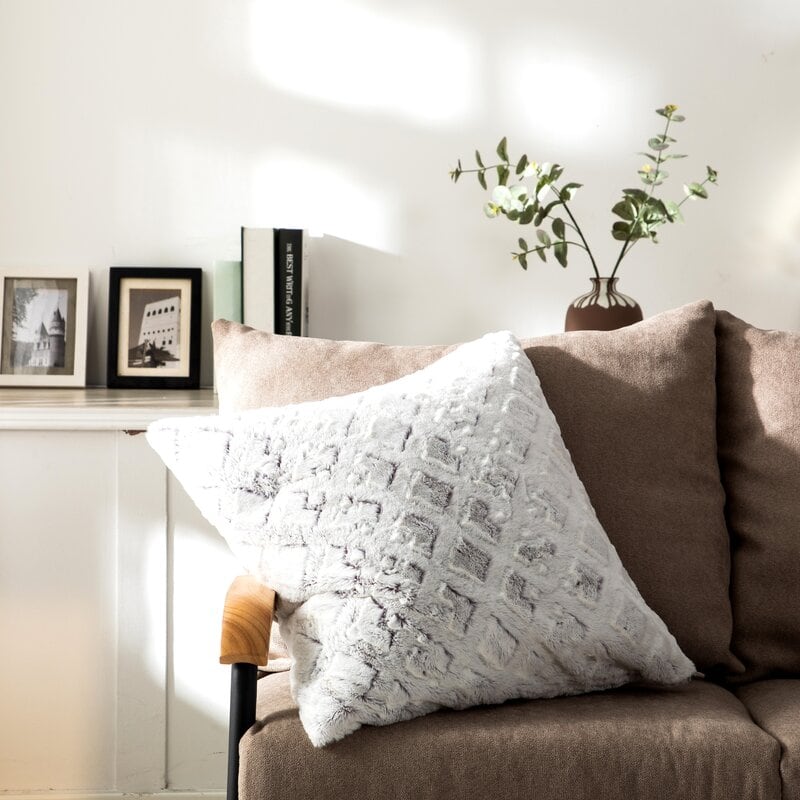 Depending on the couch's shade of brown, mixing in a little grey can elevate the style and give it a more contemporary look.
The couch and throw pillow combination in this photo is a great example of how the two colors can work well together without clashing. It's all about making sure the hues balance and work together.
Go With a Farmhouse Look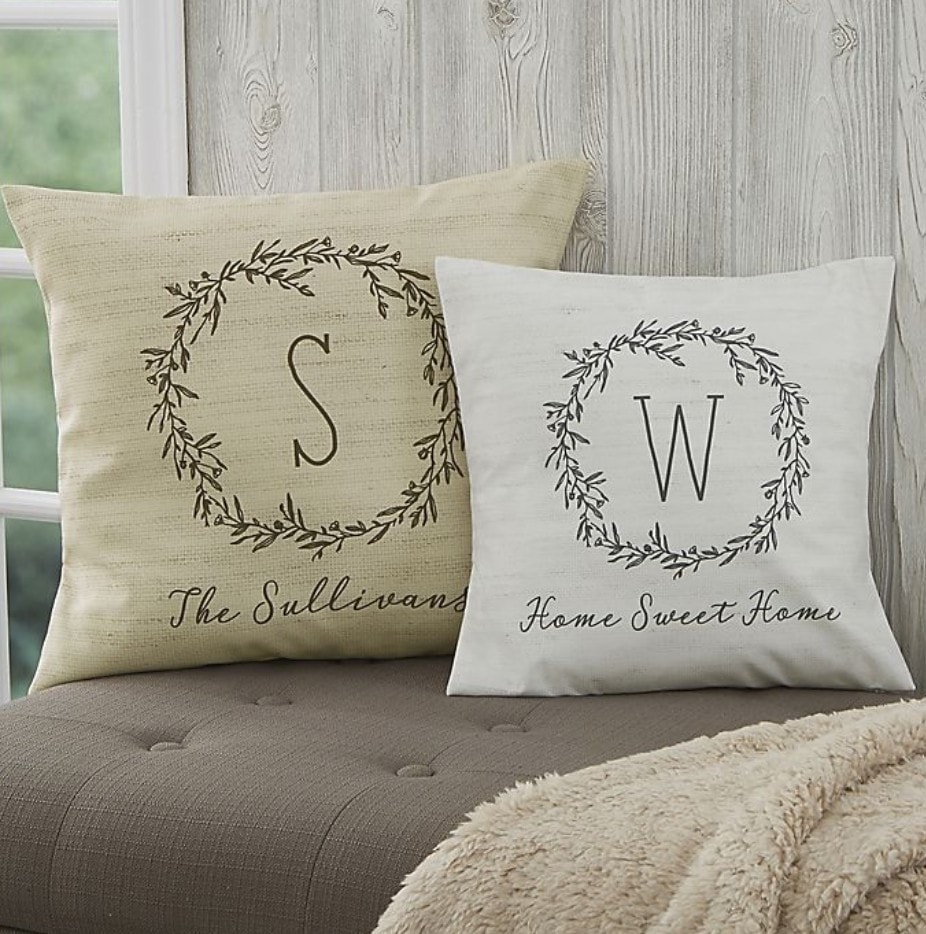 If you're into the farmhouse chic look, then lean into that with your brown couch by getting rustic, farmhouse style pillows to go with it.
You can get something customized with your name, like in this photo. If you don't like the monogrammed look, you can easily find a similar style at most stores since the aesthetic is very popular.
Aztec Print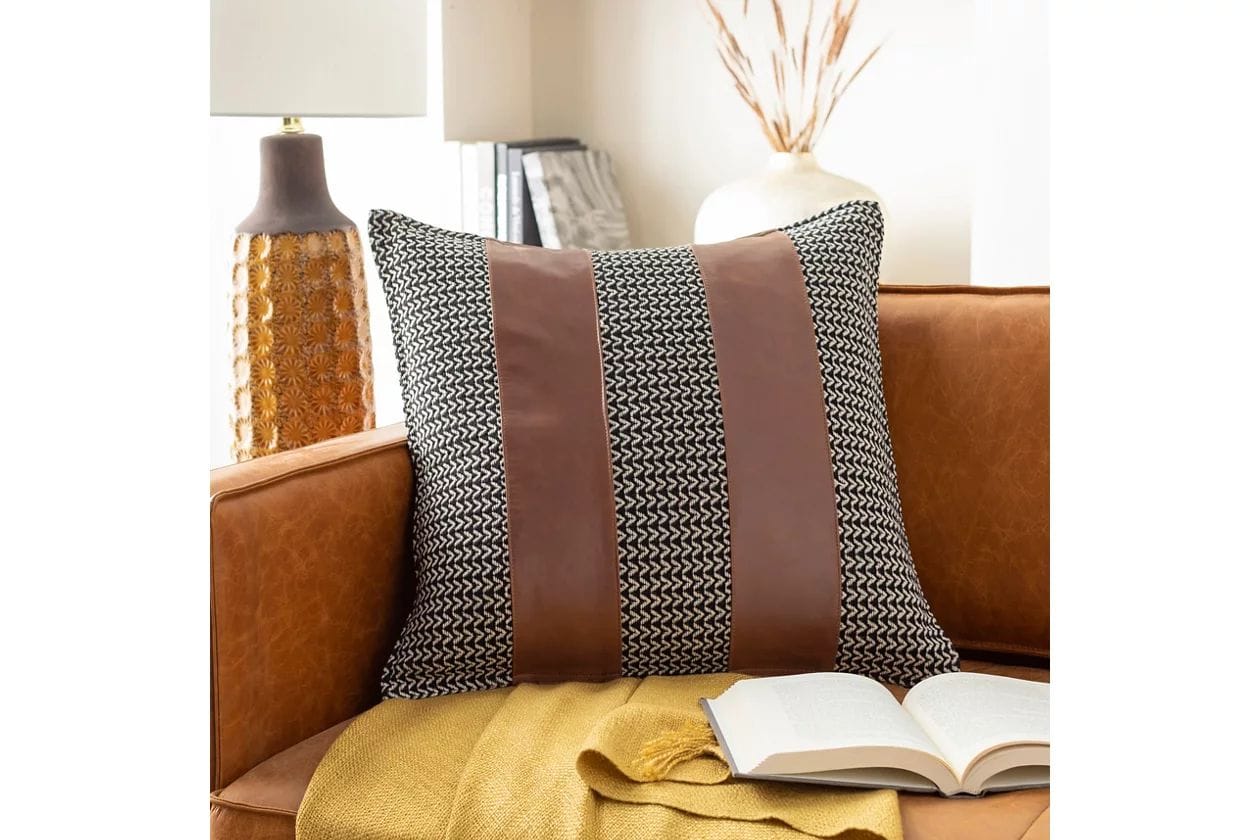 Patterned decorative pillows for a brown sofa, if done right, can create a really cool look that pops from the couch without being overly 'loud'.
To accomplish this style, look for a pillow with a small print, like the Aztec style in this photo. The print shouldn't bee too overwhelming, just enough to pop out and draw the eye.
Navy Blue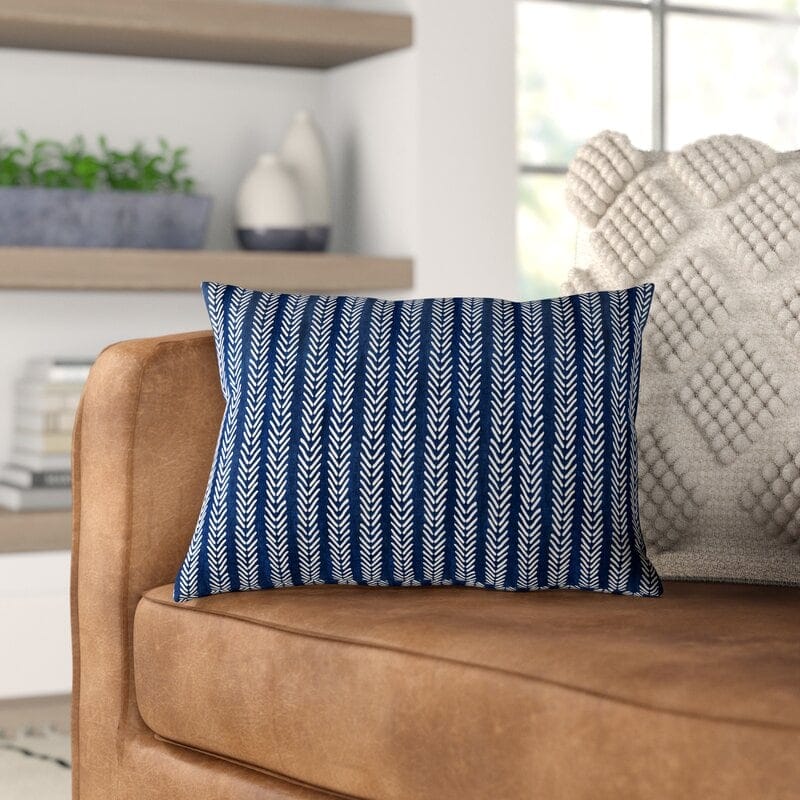 Navy blue pillows on a brown couch will almost always look great. They're complimenting colors, but you'll want to add in some white to even things out if the couch is a darker shade of brown, as opposed to a camel color like in this photo.
Match the Upholstery
How do you decorate a couch with brown pillows? There are two ways, either finding contrasting browns to create an earthy look or find pillows that match the brown couch's upholstery perfectly.
The couch in this photo is a great example of doing it right. It's as if they got extra upholstery to make the matching lumbar pillows. It doesn't look too brown either, it looks polished and sophisticated.
White & Brown Two-Tone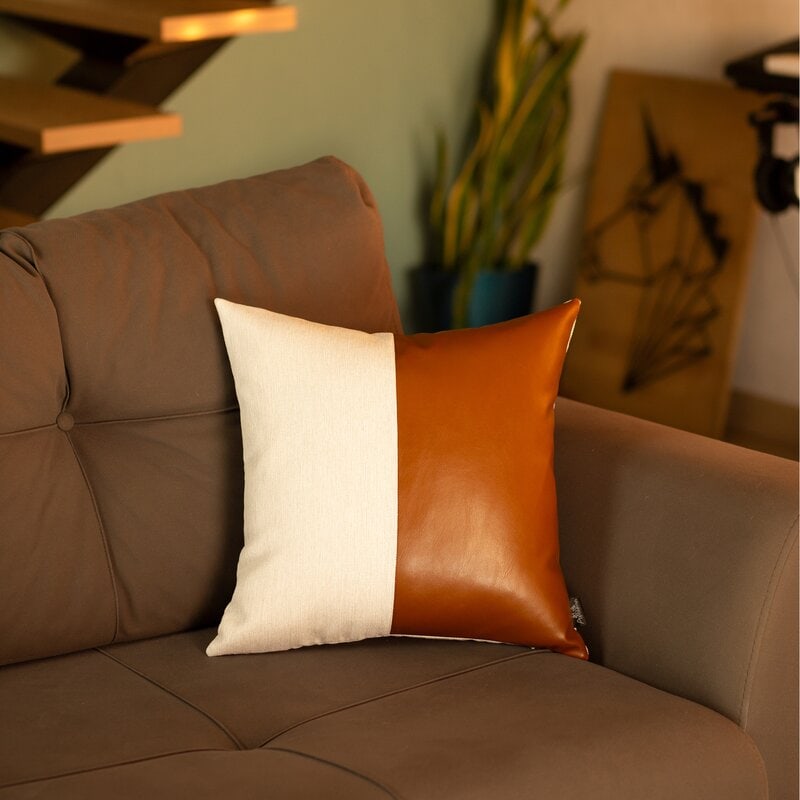 Another way to use brown pillows on a brown couch is by finding a two-tone pillow that mixes brown and white, like in this photo.
The brown leather is complementing to the couch without matching, and the white helps brighten the look up a bit, giving it a more airy feeling than drab.
Add a Touch of Pink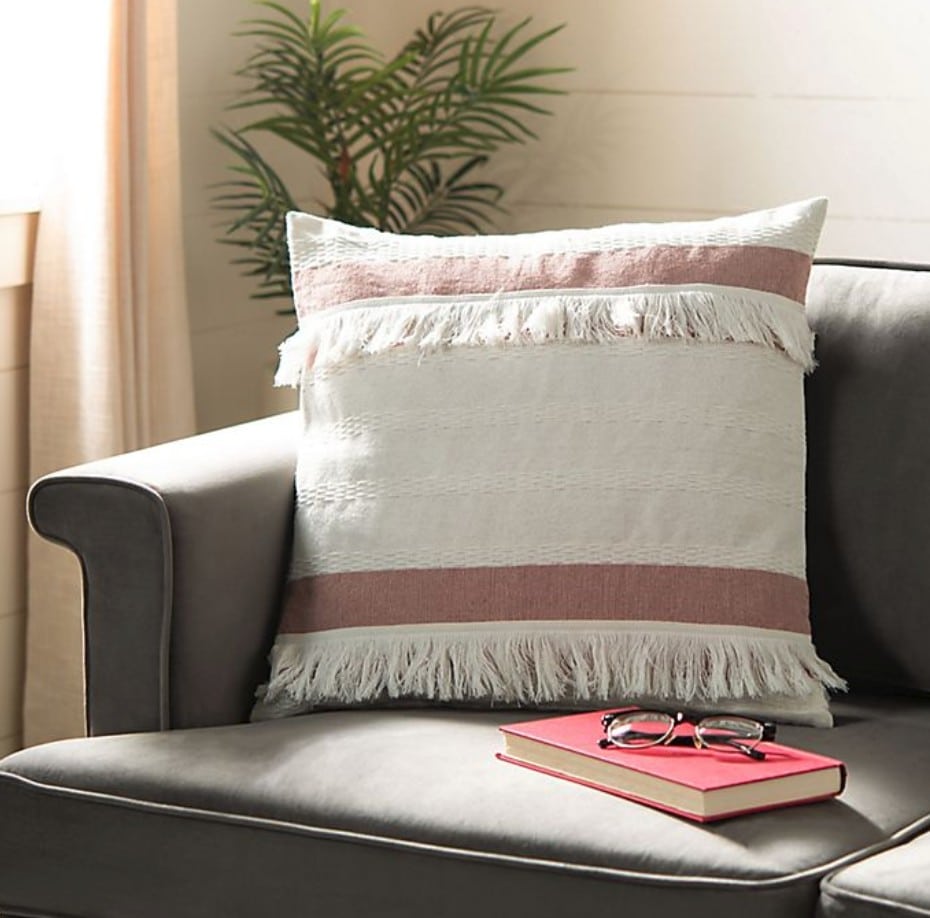 Pink and brown can work together really well, as the pink can help soften a darker brown. The throw pillow in this photo is a great example of how pink can pop from brown without clashing.
Also, the added creamy white of the pillow further softens the brown to create a more romantic look than masculine or earthy.
Mix up Solids and Patterns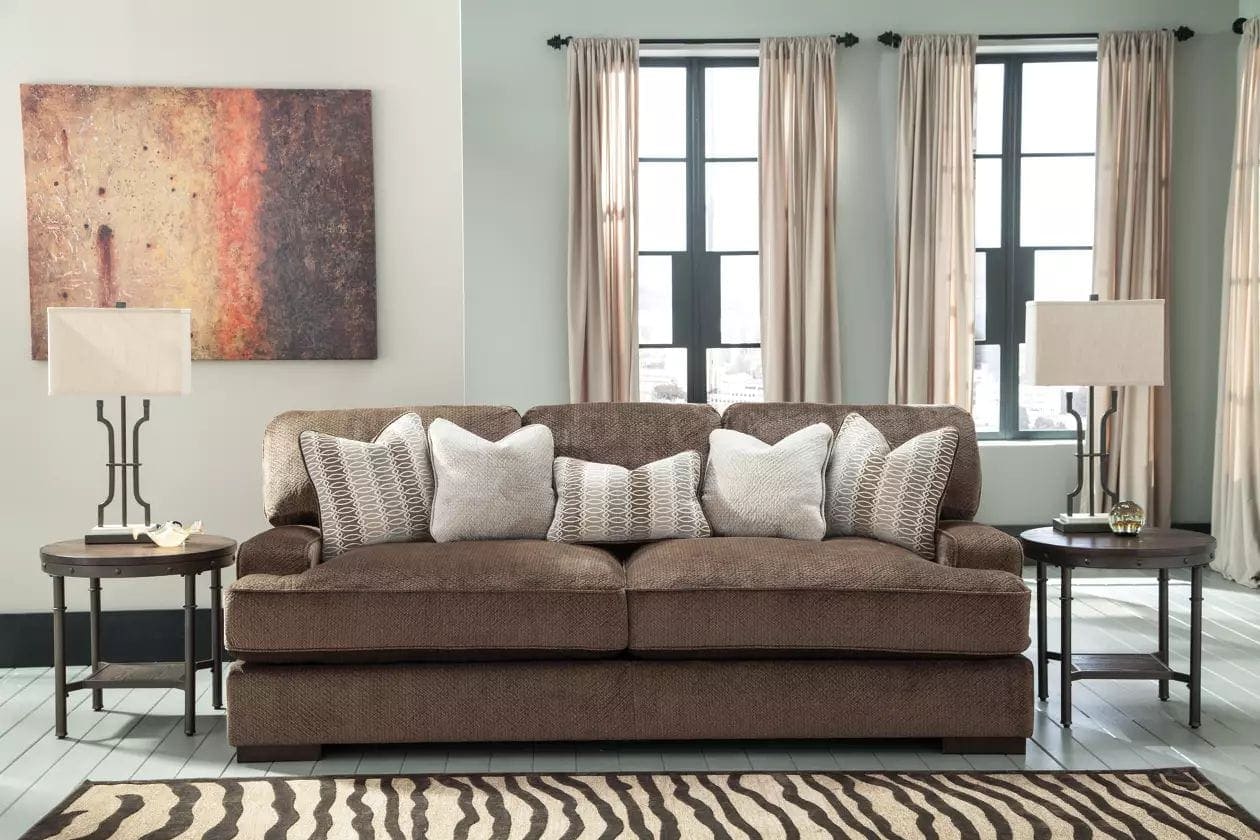 Throw pillows with patterns can look great, but they can also look overly 'busy' if they're not paired with a solid to balance them out.
In this photo, the patterned throw pillows work well with the brown couch because the colors compliment each other and create a cohesive, textured look. However, the solid pillows even things out a bit, creating a more curated aesthetic.
Pop of Orange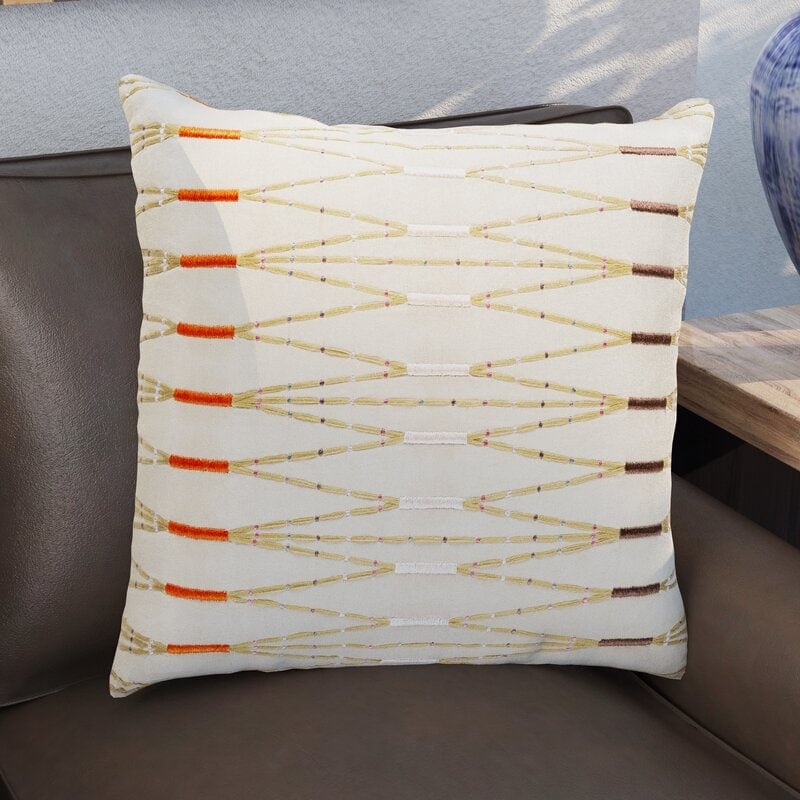 It's not uncommon to see a brown couch with red pillows, but another great (and similar) combination is brown and orange.
They're both autumnal colors that pair together nicely. The orange adds some boldness to the look, which is great for someone who likes a lot of color in their home.
Skip the Pillows for a Modern and Classic Look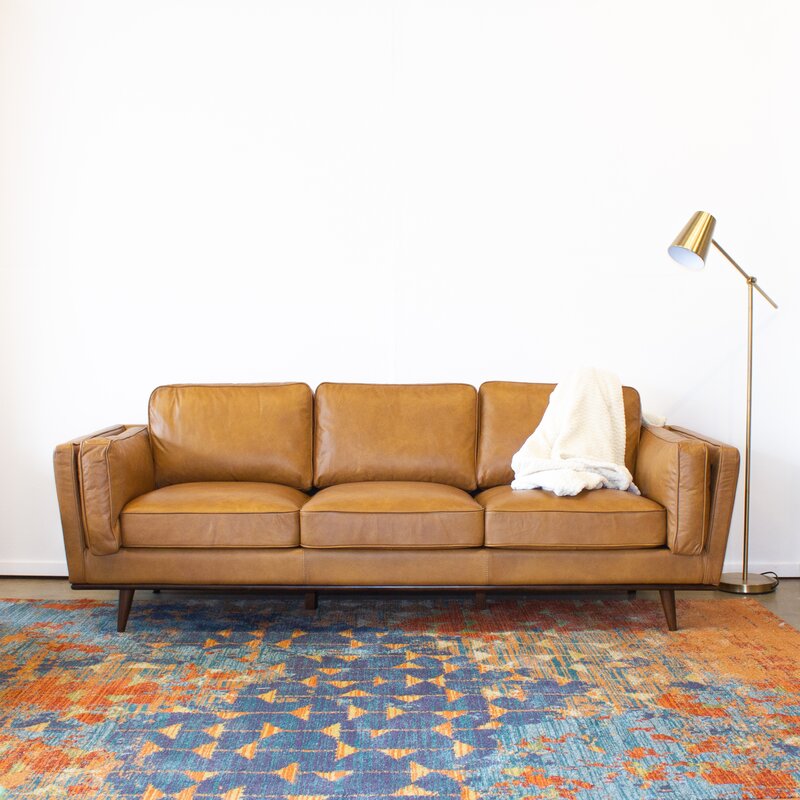 This mid-century modern living room has just gone without pillows altogether. It's certainly an option, especially with this decor style choice. The light brown leather couch is classic mid-century modern, with wooden tapered legs and a simple gold floor lamp beside it.
The carpet is the statement piece in the room, with bright colors making accent pillows unnecessary. Instead, a simple white throw blanket is all that's needed to bring a bit of comfort to the couch.
Mustard Yellow & Neutrals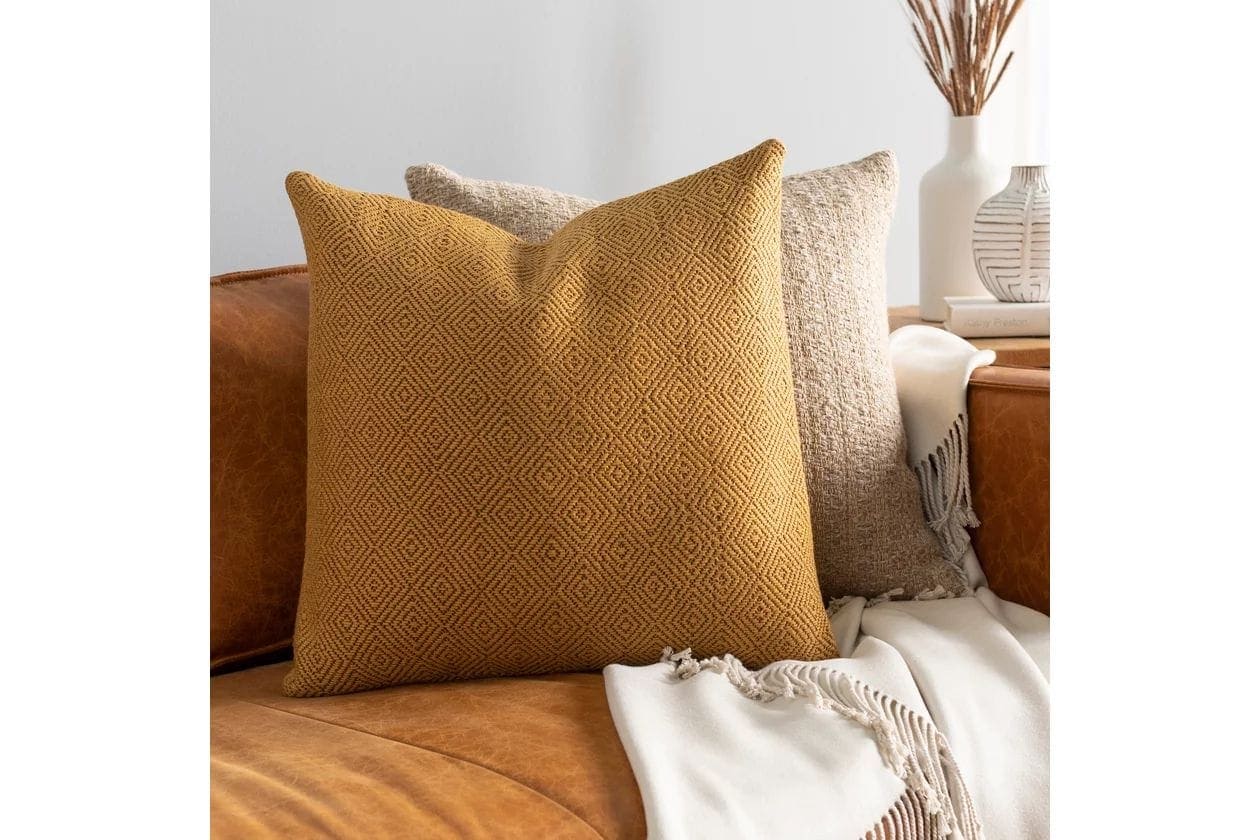 Mustard yellow and brown pair very well together. They share an earthy tone and are a common color combination in mid-century designs.
On this brown couch, the mustard yellow pillow has a small pattern that adds a bit of texture and is paired with a creamy light brown to create a really pretty overall look.
Shades of Grey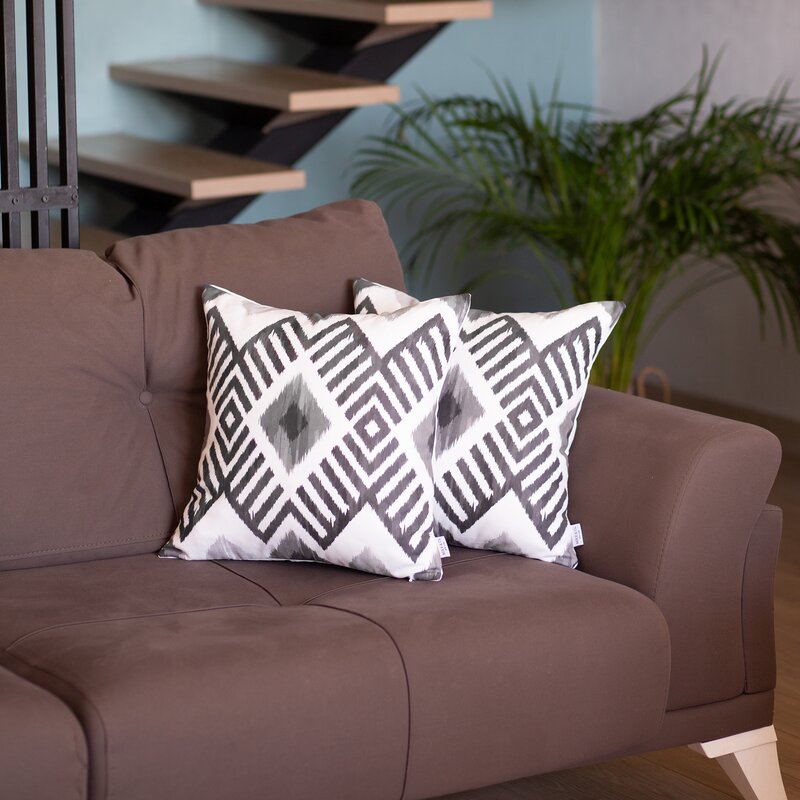 Here's another example of how grey throw pillows for a dark brown couch can work really well.
What makes this look a little different, is that there are several shades of grey in these throw pillows, which would possibly be too dark to add to a dark brown couch. However, the white helps balance out the greys, to create a really pretty combination with the sofa's upholstery.
Keep it in the Same Color Family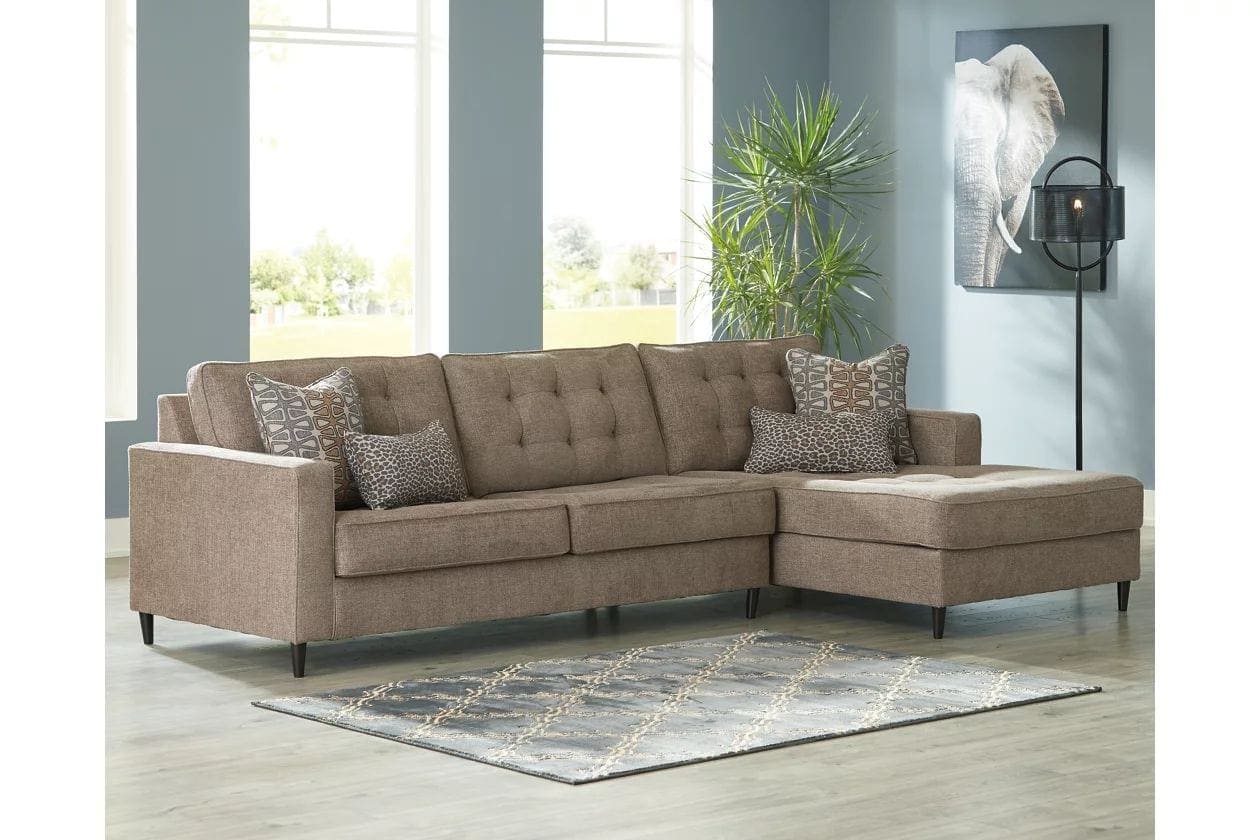 If you're someone who loves patterns, you don't have to hold back from them, just make sure you're keeping them in the same color family as your brown couch to create a cohesive look rather than something that's overwhelming.
The look in this picture is a great example of how patterns can be mixed together without clashing. The key here is that the brown in each throw pillow is very close to the couch color, and is leveled out with white. Since there aren't a ton of other competing colors, the result is uniform and aesthetically pleasing.
Light Complementing Neutrals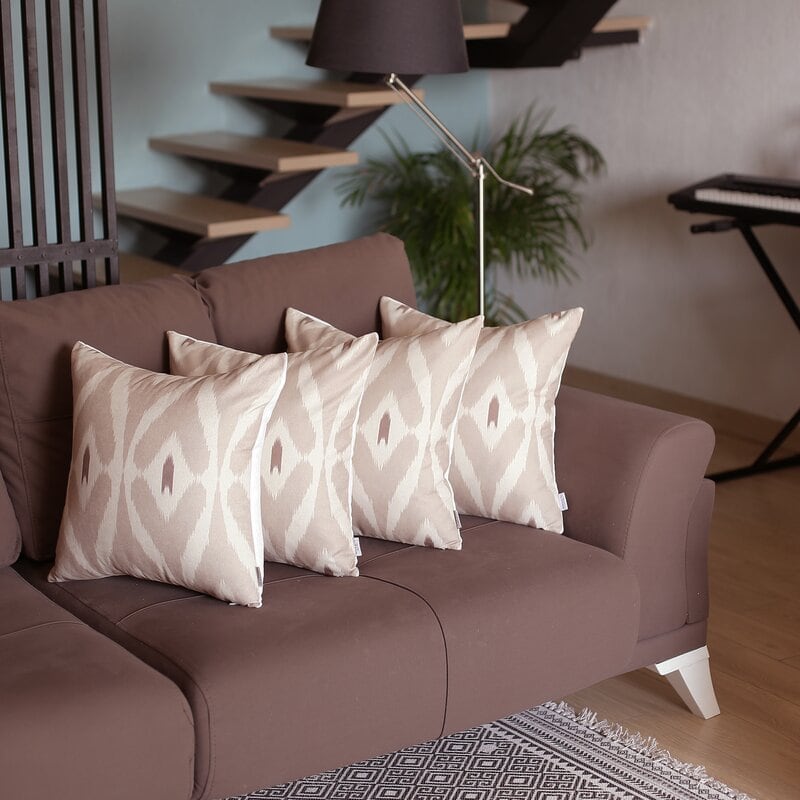 Similar to the last example, these throw pillows stick to a brown color palette but the pattern is larger and made up of lighter shades of brown which helps create a more airy feel. The larger pattern also creates more of an opportunity for the pillows to have a few shades of brown in them rather than just one.
Get a Bold Geometric Pattern in Black and White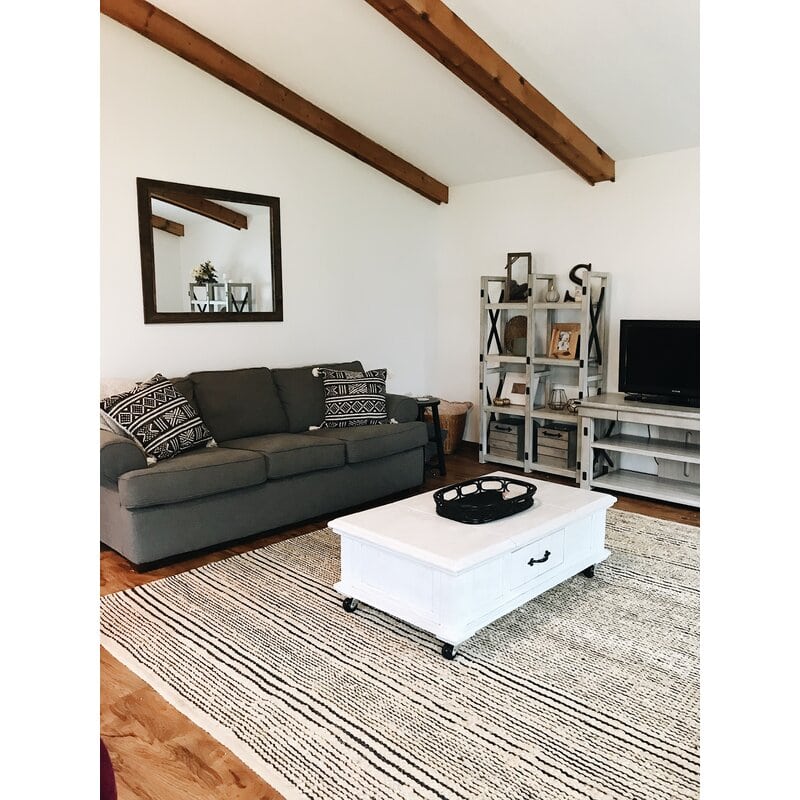 Black and white geometric patterns are great for pale brown couches or gray-brown couches. These are a great example of that, with a loud black tone and white corner tassels.
If you want to have the perfect throw pillows but you don't want to break the bank buying the right ones, you can actually make your own. This website will help you design and create unique throw pillows so you can get just the right ones.
Fluffy & Furry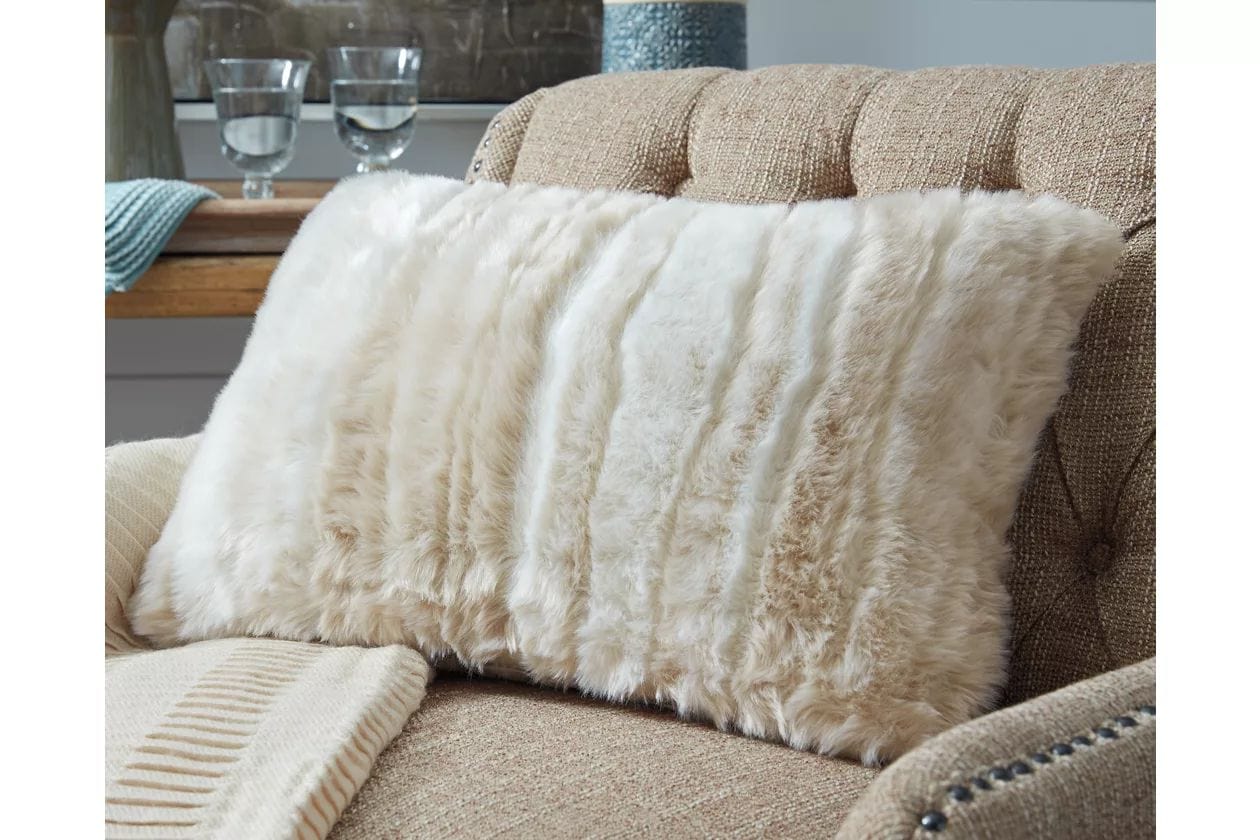 If you're trying to create a really cozy look, use some fluffy and furry accent pillows for a brown couch.
These pillows really soften the overall look and create a space that's perfect for cozying up with a book or cup of coffee. If you're not into fur, look for a pillow with a cable knit design or a cashmere-like covering.
Bright Contrasting Color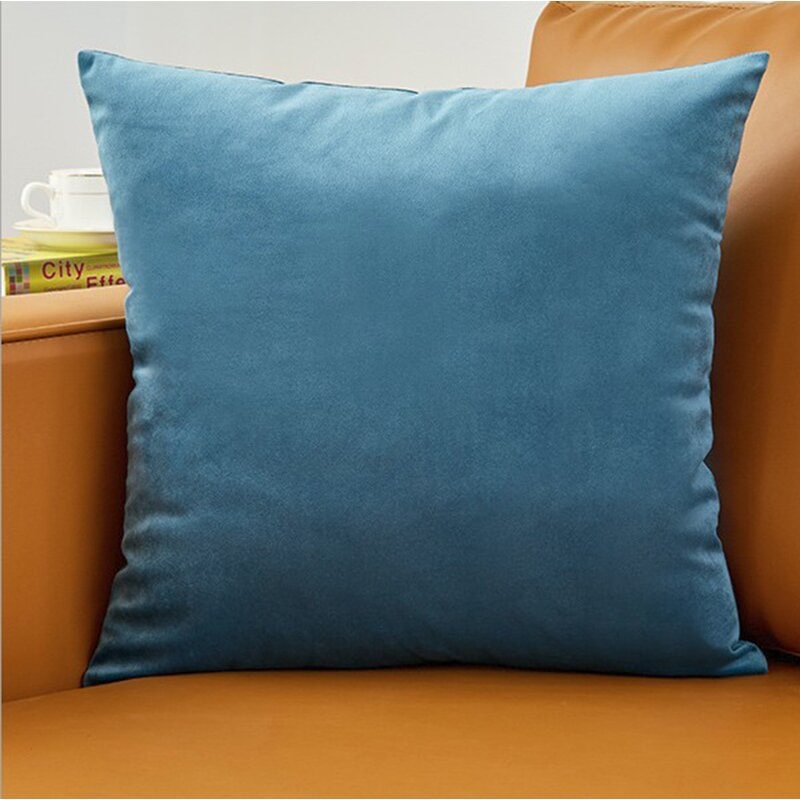 Brown is a great neutral color, but you run the risk of making a room feel really dark or drab with a dark brown couch. You can avoid this, though, by getting bright throw pillows to add some color and personality to the space.
These blue pillows play off the brown couch really well because the colors look great together and have enough of a contrast to create an overall bright look.
Final Thoughts
Brown couches are comfortable and neutral, bringing to mind stability and earthiness. There are a lot of ways to spice up brown couches by using different colors, textures, and patterns.
Whether you want to stay in the neutral palette for the farmhouse style but mix and match patterns, or get throw pillows of bright colors to brighten the room, anything is possible. By starting with a brown couch, it gives you a neutral foundation so you can stand out with pillows.
The important thing is to think outside the box and try unexpected combinations because they might surprise you and enhance your couch's appearance.