We independently select these products — if you buy from one of our links, we may earn a commission.
20 Stylish Throw Pillow Ideas for Brown Couches
There are so many different styles and shades of brown couches out there, and there are just as many throw pillow decor ideas to go with those brown couches.
The important thing is to look at your room as a whole, not just the couch, and find the throw pillows that will work best.
This post will show you the 20 best ideas so that you can see how many different ways you can spruce up your brown couch and take it from average to stunning.
Mix and Match With Whites, Grays, and Pale Blues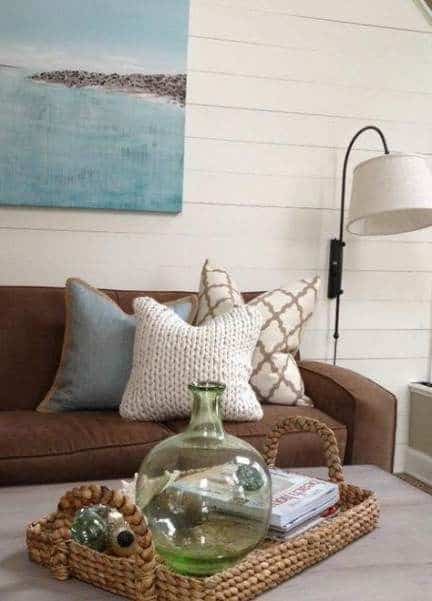 A brown couch can be a great idea in a coastal living room, especially as a base to match with white colors and pale grays and blues.
In this example, the brown couch is matched with two white pillows and one pale blue, all with brown detailing to tie them in to the couch. The rest of the room is all done in shades of white and cream, with a few beige and blue accents.
Go for a Bright Color Contrast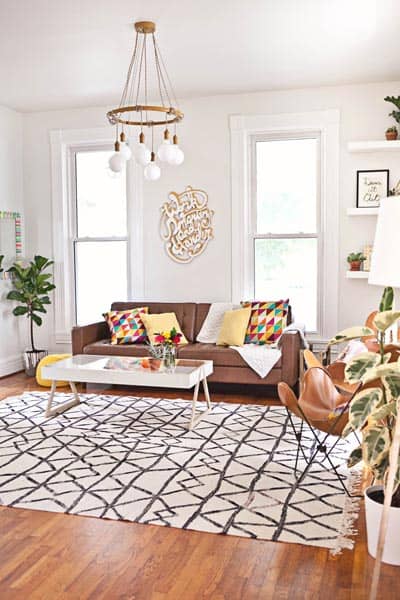 This brown couch is completely spiced up with some colorful geometric pillows with tons of different color accents. Because the room is done mostly all in white, with a few touches of brown and white, the yellow and multi-colored pillows fit in perfectly without being too much.
Thanks to the two bright colorful pillows, the pale yellow complementary pillows, and white pillow and blanket, the brown couch is nearly invisible, which is probably the intention.
Get Mismatched Pillows to Spruce Up the Couch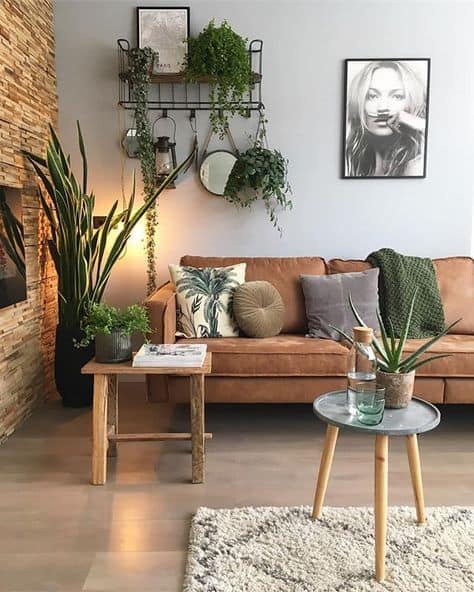 Mismatched pillows are great to break up the lines and the standard layout of a couch and living room. That means playing around not just with colors, but also textures and shapes. These accents pillows for a brown couch are a great example of this.
There's a soft gray pillow, a white pillow with a green plant pattern, and a round khaki pillow, along with a dark green knit blanket. The result adds a lot of texture.
Add a Splash of Yellow to Brighten Up the Room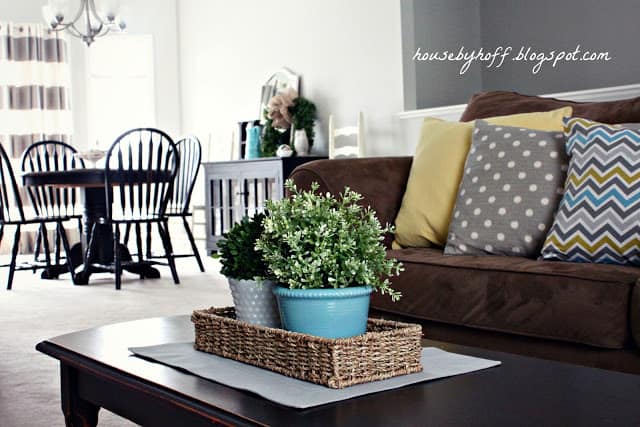 Yellow is actually a great color for an accent pillow on a brown couch and it's an excellent way to brighten up a room. This brown couch has a mix of throw pillows that are still tied in together with one solid pastel yellow, a polka dot gray pillow, and a multi-colored zig-zag pattern.
This website also has a great guide on mixing and matching throw pillows to create the perfect effect with your home decor.
Place Pillows Symmetrically for a Modern Appeal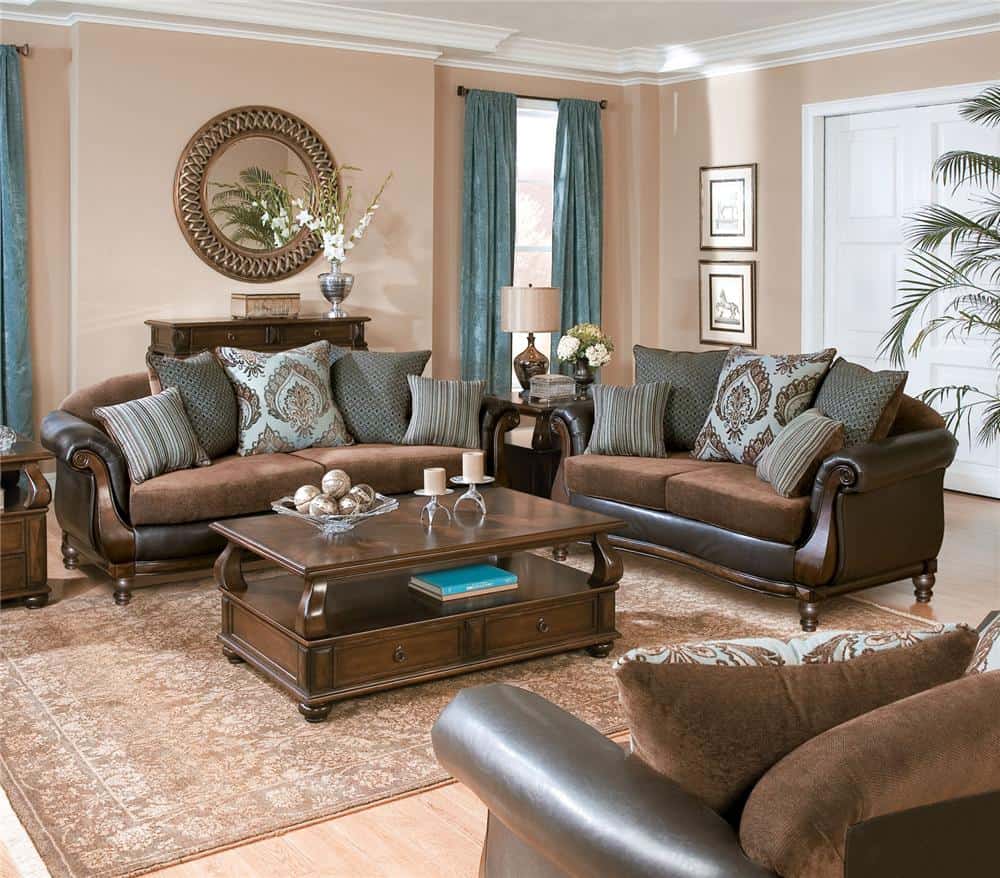 Symmetrical pillows are a great idea for both modern living rooms and older country-style ones. Symmetrical throw pillows help to focus the viewer's eye on them instead of the couch and serve as a great focal point.
In this traditional living room, both brown couches have the same five pillows arranged in the same symmetrical way for unity and a room that's really well put together.
Look for Pillows With Solid Colors and Patterns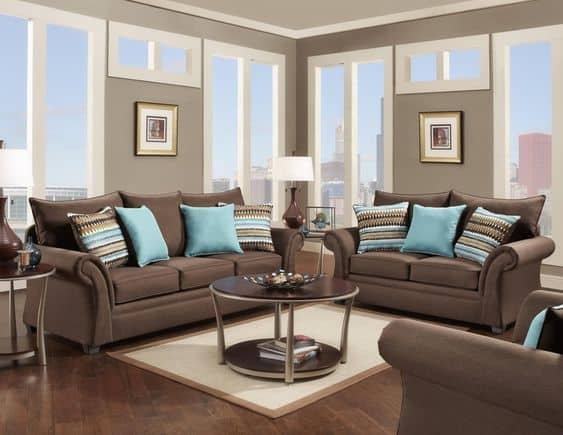 Brown couches tend to be quite neutral and even boring if not done right, so it's important that your pillows spruce up the look of the couch. By mixing and matching pillows with one solid color block and louder patterns, they can enhance the couch and spice up the living room.
What's important here is trying to find pillows where part of the pattern color matches the pillows in solid colors to tie the whole couch together.
Play With Different Textures for the Farmhouse Look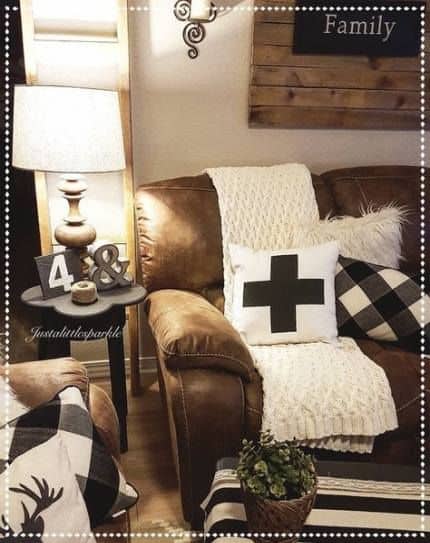 Textures are important for brown couches, and especially for brown leather couches. If you're decorating in the farmhouse style, odds are that you'll be trying to stay in neutral colors. That means it's even more important to play with textures to keep things exciting.
In this example, there is a cable knit blanket along with pillows, including a fluffy white pillow. It helps to soften the look of a brown leather couch, which can be quite severe.
A Splash of Green Adds Life to the Room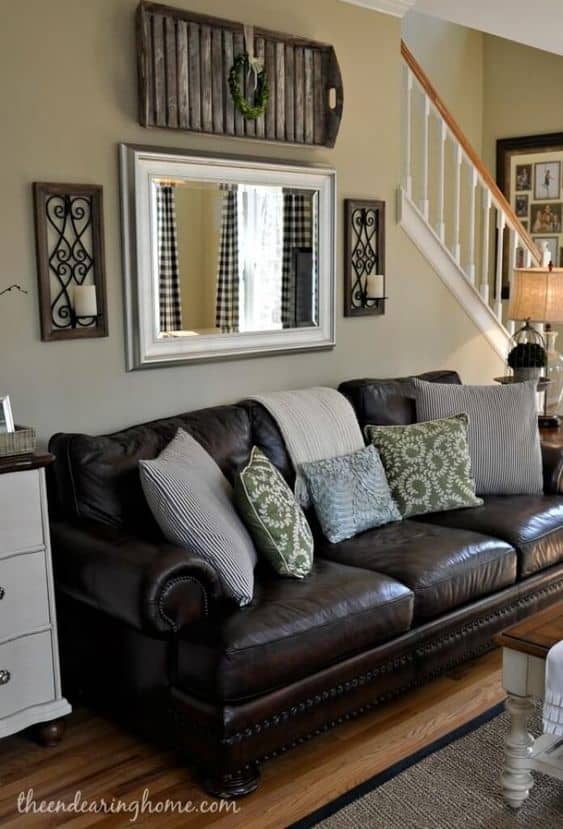 Green, especially pale green or dark forest green, is a great color to match with a brown leather couch. It's great for complementing the whites and browns and brings to mind plants and greenery, making the space feel more alive and vibrant.
In this example, these pale green pillows have a white pattern to make them a bit more engaging and add personality to the couch.
Cable-Knit Pillows Add a Lot of Warmth and Charm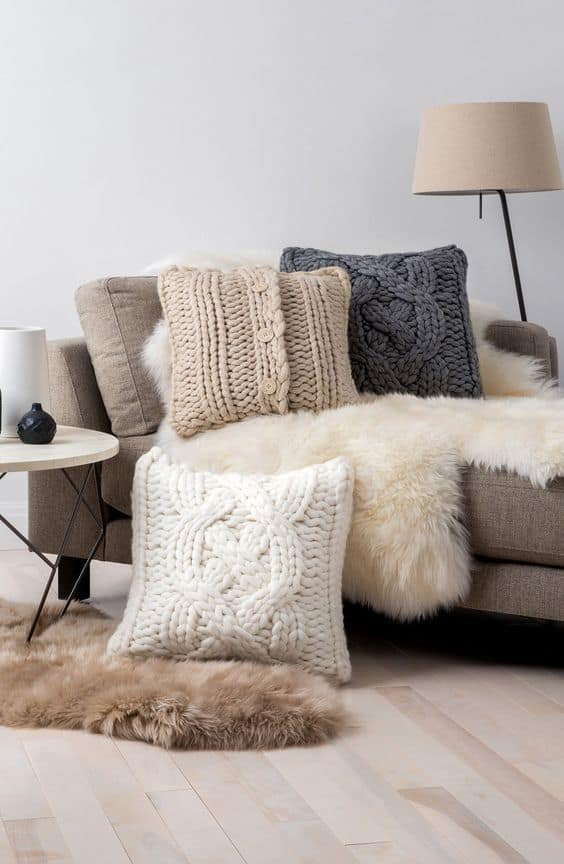 I really like cable knit pillows because they make a space feel warmer and more comfortable, practically inviting guests to curl up on the couch with a cup of tea or glass of wine. They add texture and depth to the pillows and it's easy to get them in different patterns.
This combination of white, beige, brown and gray on this couch works perfectly because of the added texture of the throw pillows.
Get White With Geometric Patterns for a Leather Couch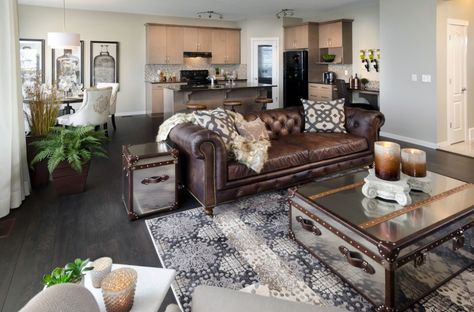 Many people will decorate brown couches with white accent pillows and there's nothing wrong with that. It's done a lot because it looks good, especially in farmhouse and country style of decorating.
In this example, we can see a slight variation on that, with these white pillows sprucing up the living room thanks to their geometric patterns. Look for patterns in gray or brown if you don't want a bright pop of color on your couch.
Defy Expectations With Black Pillows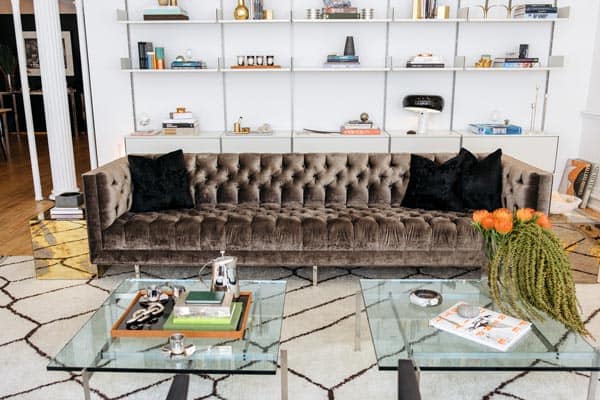 Pretty much every example of accent pillows for brown couches show bright colorful pillows, white pillows, or other pale neutral colors. That's why a combination like these black pillows on a dark brown couch is so stunning and eye-catching.
It's unexpected but it actually works quite well, thanks to the minimal decor, white walls, and large white carpet. They're also both made of a similar velvet type of fabric, which adds a glamorous sheen to the couch.
Navy Pairs Beautifully With Brown Couches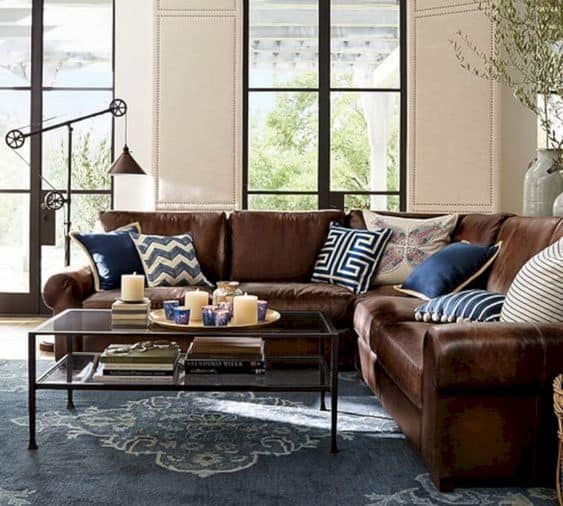 Navy and white is a fantastic combination for a brown couch, especially a traditional brown leather couch like this one. It's a stately look but it can work in a lot of different decor settings.
There is just a load of different patterned pillows, all in navy and white. Some have stripes, a fringe or tassels, some have louder patterns, but the colors stay consistent, which makes the large L-shaped couch come together.
Skip the Pillows for a Modern and Classic Look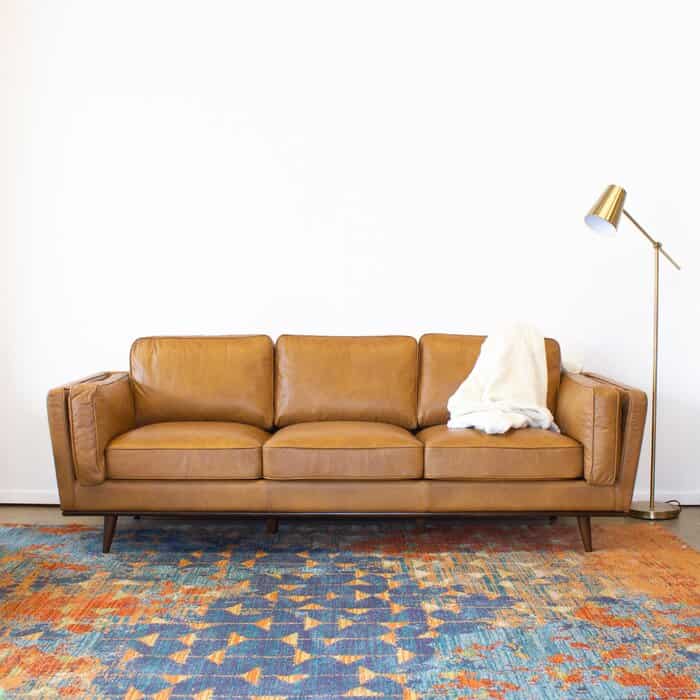 This mid-century modern living room has just gone without pillows altogether. It's certainly an option, especially with this decor style choice. The light brown leather couch is classic mid-century modern, with wooden tapered legs and a simple gold floor lamp beside it.
The carpet is the statement piece in the room, with bright colors making accent pillows unnecessary. Instead, a simple white throw blanket is all that's needed to bring a bit of comfort to the couch.
Plain White Pillows Can Create a Lot of Elegance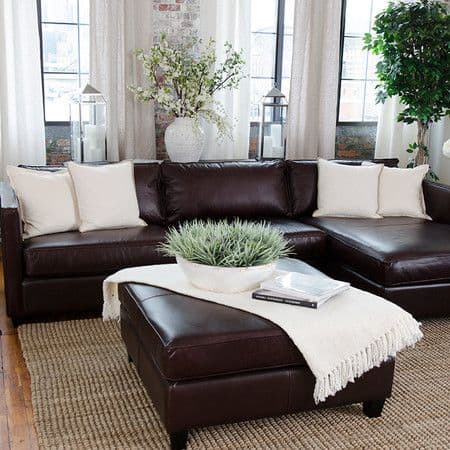 Skipping all the patterns and texture changes can also look great for a brown couch. These pure white pillows look very elegant and put together on this dark brown leather couch.
They work well with the white blanket and white curtains, especially as there is not an overabundance of white. The white and dark brown look works well because there are a lot of plants surrounding the couch to add color and vibrancy.
Keep It Simple With One Pillow in a Splash of Color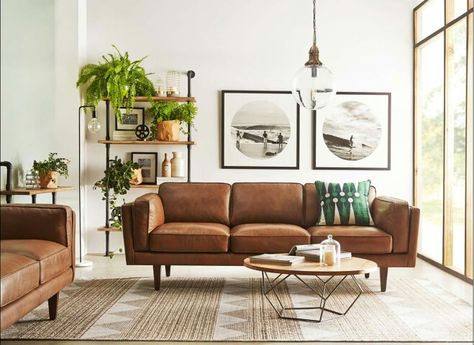 This is another mid-century modern look, which keeps things minimal and functional. Lots of pillows are usually more of a staple of the farmhouse or rustic country look. The green and white geometric pillow adds a splash of color to the medium brown couch.
It's also complemented well by all the plants in the corner of the room. There are many other mid-century modern touches, like the coffee table and large ceiling light fixture.
Make a Splash With Bold Red Accents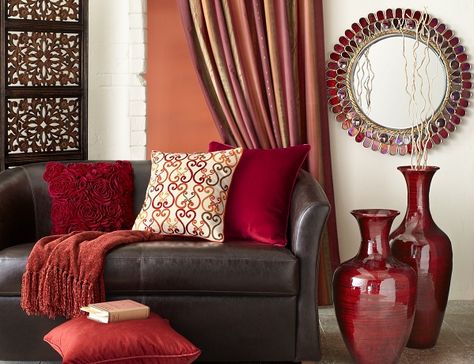 We've seen colors being used to brighten up a brown couch and living room, but this rich shade of red is completely new. It's used frequently throughout the room, with the couch serving only as the backdrop to the red velvet vibe.
There are multiple red pillows in slightly different shades of bold red, two gorgeous vases, and an eye-catching mirror surrounded by red pearl drops. It even brings out tones of red in the couch.
Go With Pure White for a Classic Look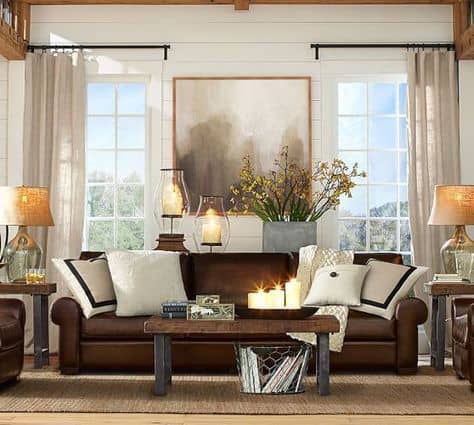 These white pillows have a couple of small accents and match the brown couch perfectly. It's a traditional and elegant look that is great for a coastal home or stately living room. Two pillows have a dark accent line around them while another has a little button in the middle.
White pillows are a great choice for homes with white walls as they help keep the room light and bright despite the darker furniture.
Get a Bold Geometric Pattern in Black and White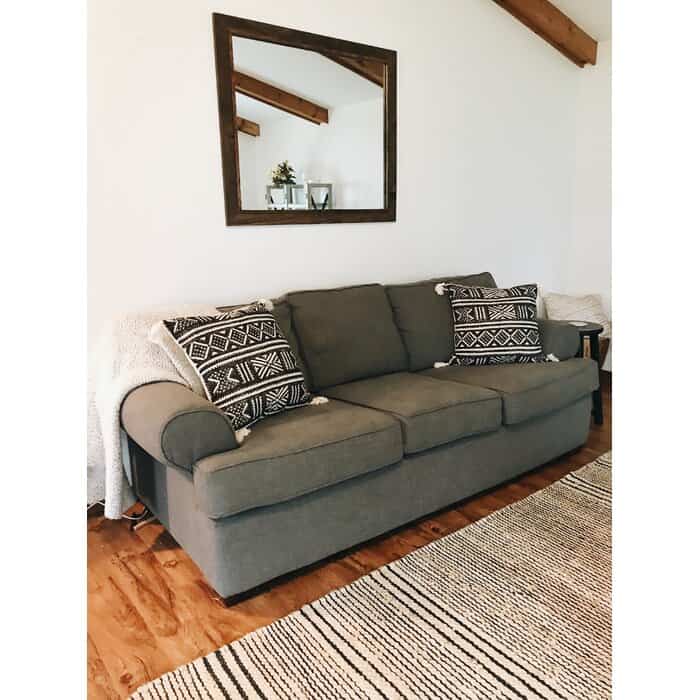 Black and white geometric patterns are great for pale brown couches or gray-brown couches. These are a great example of that, with a loud black tone and white corner tassels.
If you want to have the perfect throw pillows but you don't want to break the bank buying the right ones, you can actually make your own. This website will help you design and create unique throw pillows so you can get just the right ones.
Play With Different Textures and Patterns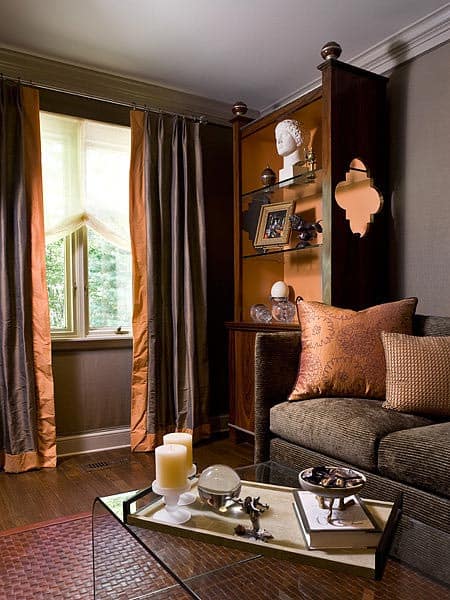 This is a darker room with a lot of different materials and textures. The accent pillows on the brown couch are no different. One has a silky orange sheen with flowery pattern and the other is more in a tweed design, with the same orange shade.
The orange is unique and unexpected but matches well with the curtains and the bookshelf behind the couch.
Overload the Couch With Neutral Colors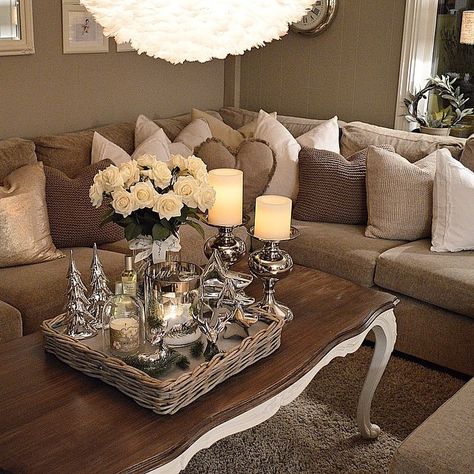 There is truly a pillow overload in this example. That's a look that will fit right in to any farmhouse living room or country chic space. Pillows are stacked one in front of the other, all in different shades and textures.
Because none of them are bright or loud, though, they blend in well to the couch and make the whole thing look uniform and put together. The heart-shaped pillow in the center is a nice touch.
Final Thoughts
Brown couches are comfortable and neutral, bringing to mind stability and earthiness. There are a lot of ways to spice up brown couches by using different colors, textures, and patterns.
Whether you want to stay in the neutral palette for the farmhouse style but mix and match patterns, or get throw pillows of bright colors to brighten the room, anything is possible. By starting with a brown couch, it gives you a neutral foundation so you can stand out with pillows.
The important thing is to think outside the box and try unexpected combinations because they might surprise you and enhance your couch's appearance.