Decorated Life is reader-supported. When you buy through links on our site, we may earn an affiliate commission. Learn More
14 Creative Hallway Lighting Ideas
If you don't have windows lining your hallway, they tend to be pretty dark spaces in a home. So, if you want to be able to see where you're going at night, you'll need some hallway lighting ideas to brighten the area up a bit.
Finding the right hall lighting fixtures depends on a number of things like your budget, your home's electrical wiring, your ability (or desire) to do some DIY work, and your general taste. Who knew lighting up such a small space would be so difficult? If you're not sure where to start, check out these ideas.
Multiple Ceiling Lights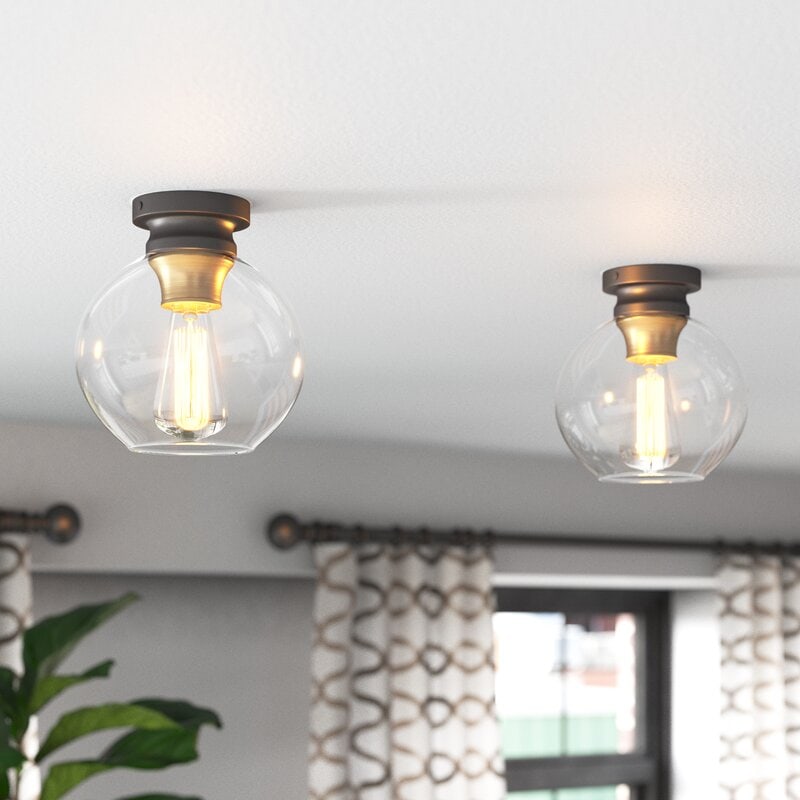 Mounting multiple hallways ceiling lights, like these ones, is a great way to get a lot of light into a long hallway.
Since you're doing multiple fixtures, you don't need any that have two or three bulbs, just a single bulb light will be plenty. Plus, it will give you a really pretty glow down the hall rather than blinding light.
Semi-Flush Mount Drum Light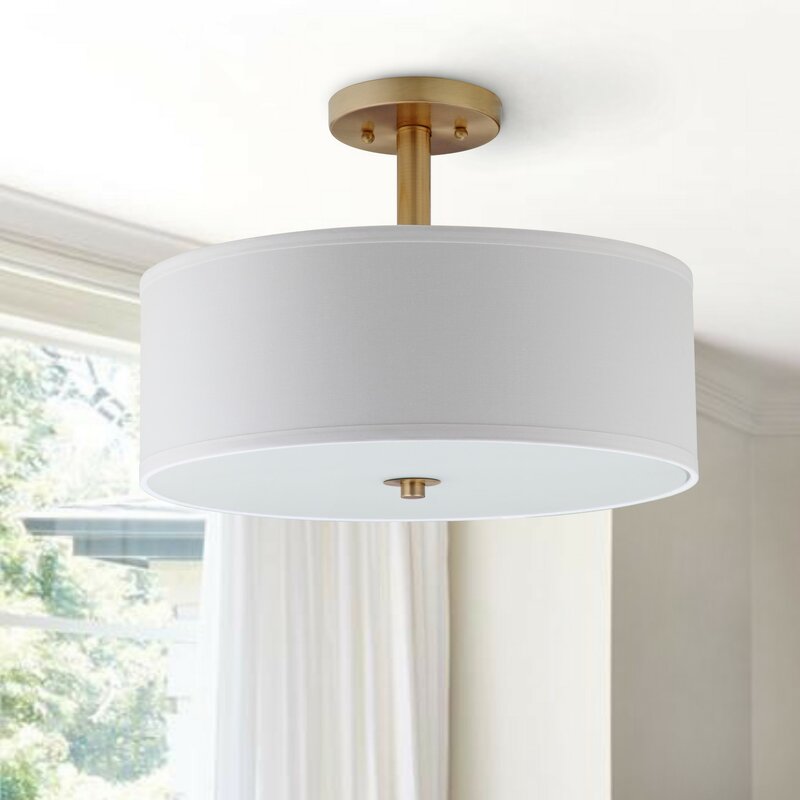 If your hallway has lighting already, but it's pretty boring builder-grade fixtures, you can make a major upgrade on a budget with a semi-flush mount drum light like this one.
Since it sits off the ceiling, it has a little big more of an elevated style, and the drum shade is a little more modern than standard (cheap) fixtures. It will give off just as much, if not more, light but look so much better while doing it.
Modern & Stylish Sconce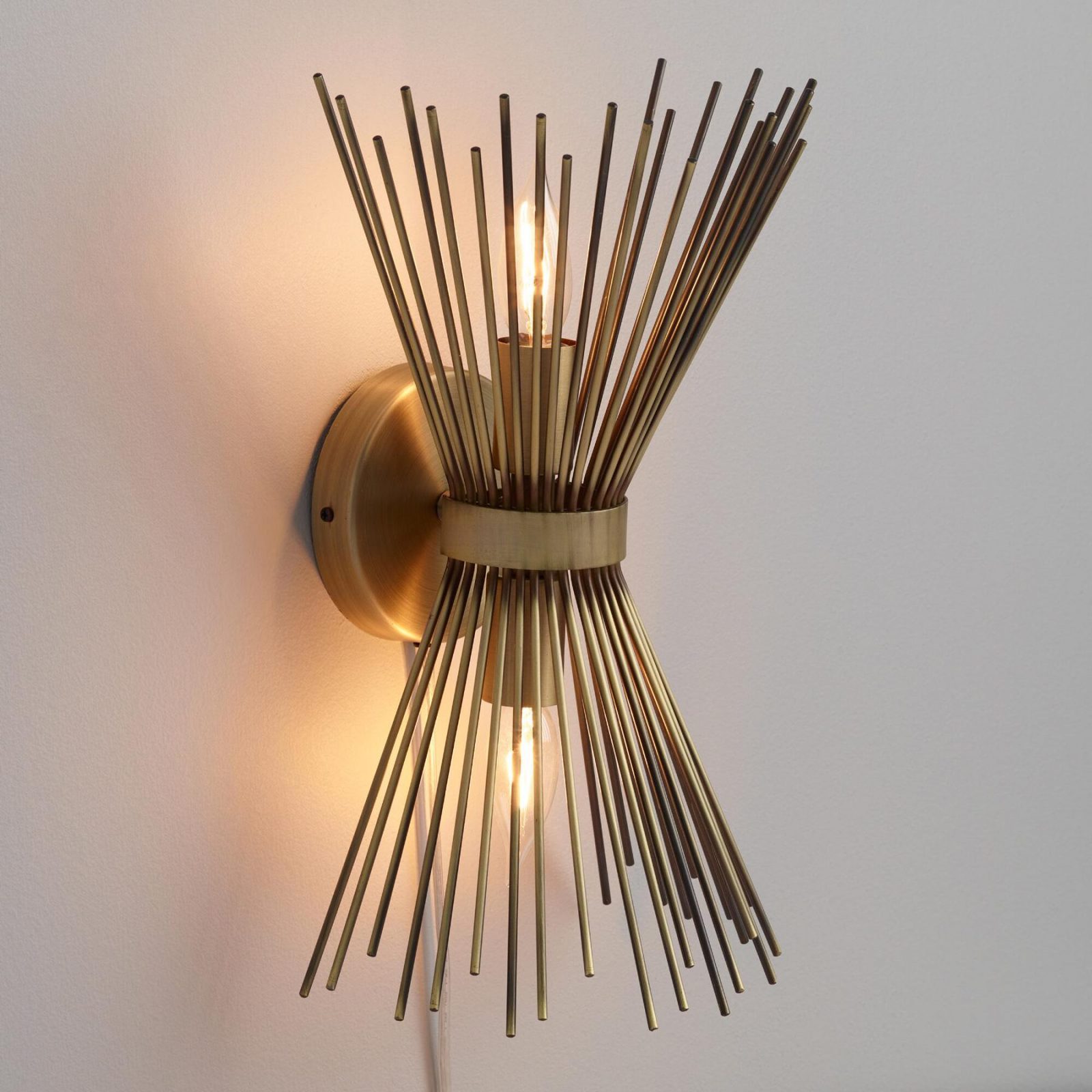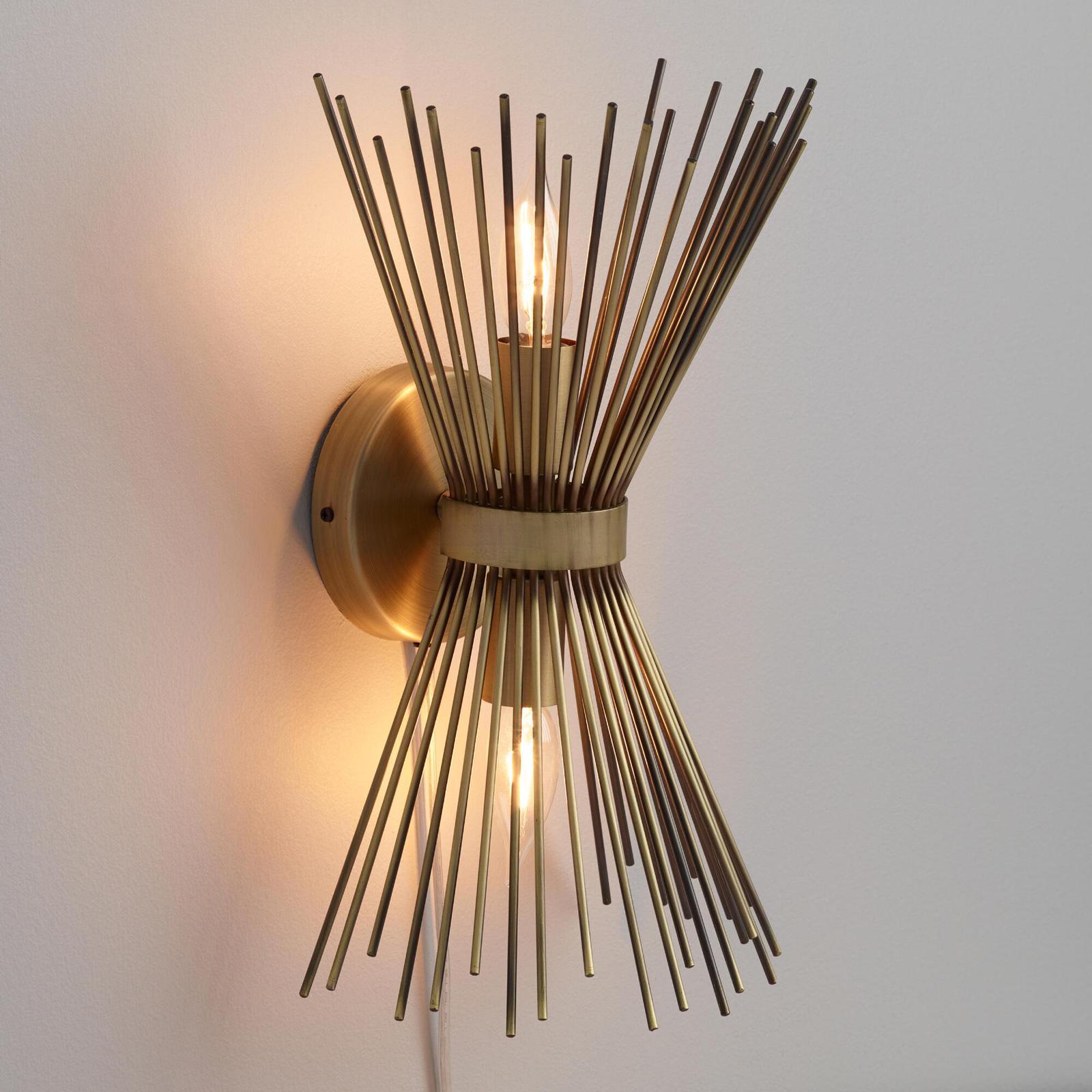 If you have an outlet in your hallway, you can mount this wall sconce without having to do any hard wiring! It has an outlet cord with a switch so you can just hang it and not have to worry about bringing a contractor in to do the work for you.
Just one gorgeous sconce will light up your hallway, but if you happen to have two outlets, don't be afraid to line up a few fixtures to maximize the light.
Hanging Pendant Lights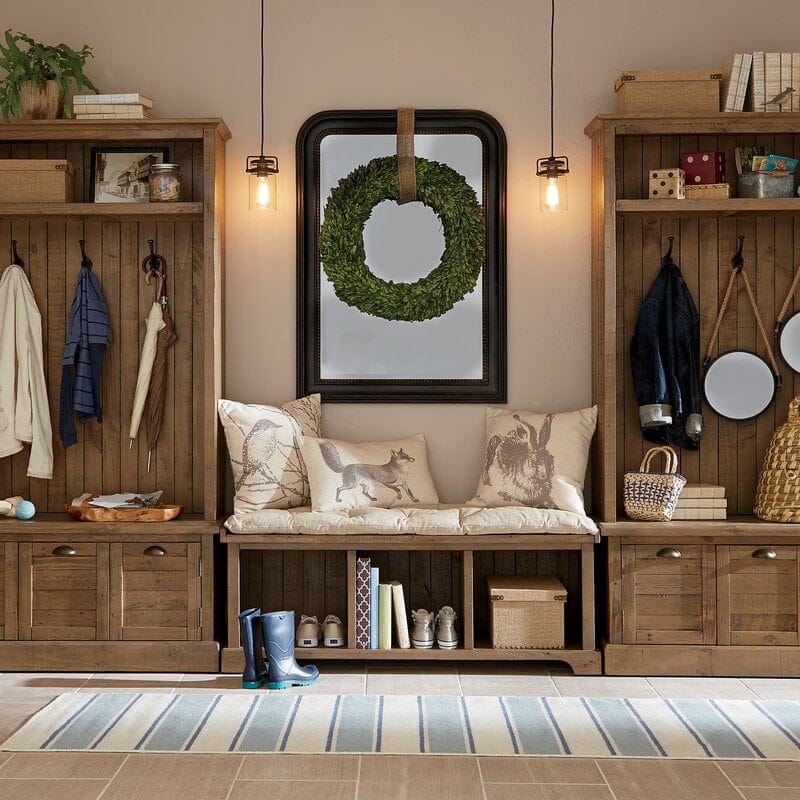 For a different look, line your hallway with pendant lights! If you have tall ceilings you can hang them down the center of the hall, but if you don't have that much space, you can hang them closer to the wall for a look that's just as pretty.
If you want a lot of light, pick something with a clear shade like in this photo, but if you prefer a dim look, find something with a solid shade so that the light is only shining downward instead of all around.
Plug-In Corner Light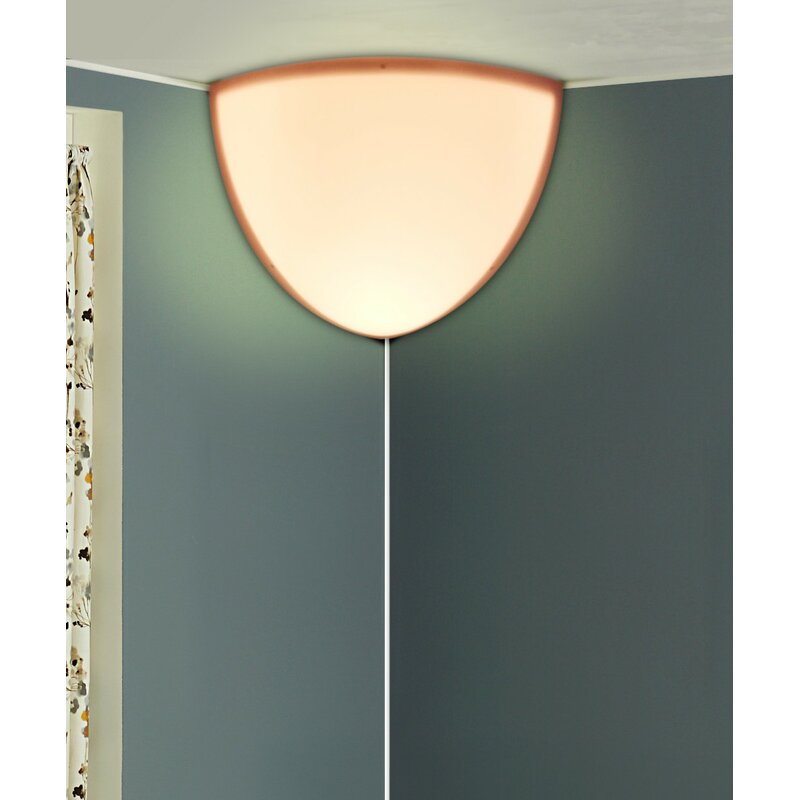 For something quick and easy, go with a plug-in light that mounts right up into the corner like this one. You can run the cord right down the corner, so it's discreet, and the light is designed to easily nestle and mount right into the corner.
This is a great option for a hallway space that needs a lot of light but has no hard wiring to do it.
Decorative Flush Mount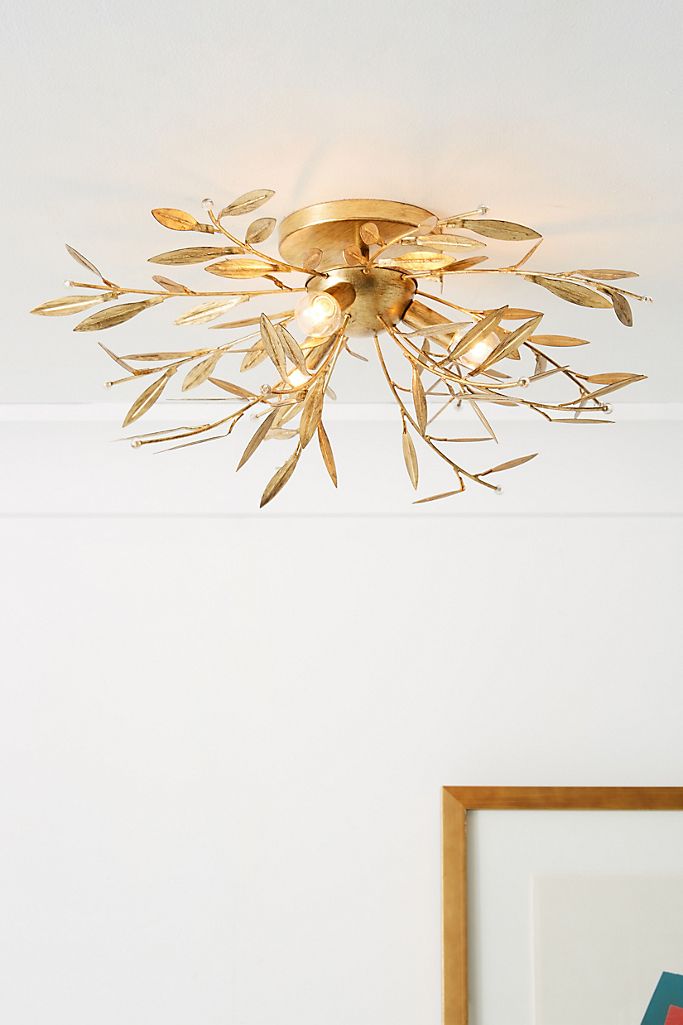 Lights have the ability to do more than just brighten a space, they can also enhance the area's overall look and style. And, this light definitely does that.
With this gorgeous fixture, you can make your hallway a well-decorated space in your home. It would look especially perfect in a hall that has space for wall decor to play off the metallic color and warm glow.
Candlelight
For something less dramatic, or if you're looking for small hallway lighting, consider an old-fashion vibe with candlelight.
These sconces are designed to safely hold candlesticks to light up a small space. But, since traditional candles can be a bit tricky (and become a fire hazard) you can always opt for flameless LED candles instead. Either way, it is a really pretty, unique way to light up your hall.
Farmhouse Style Ceiling Light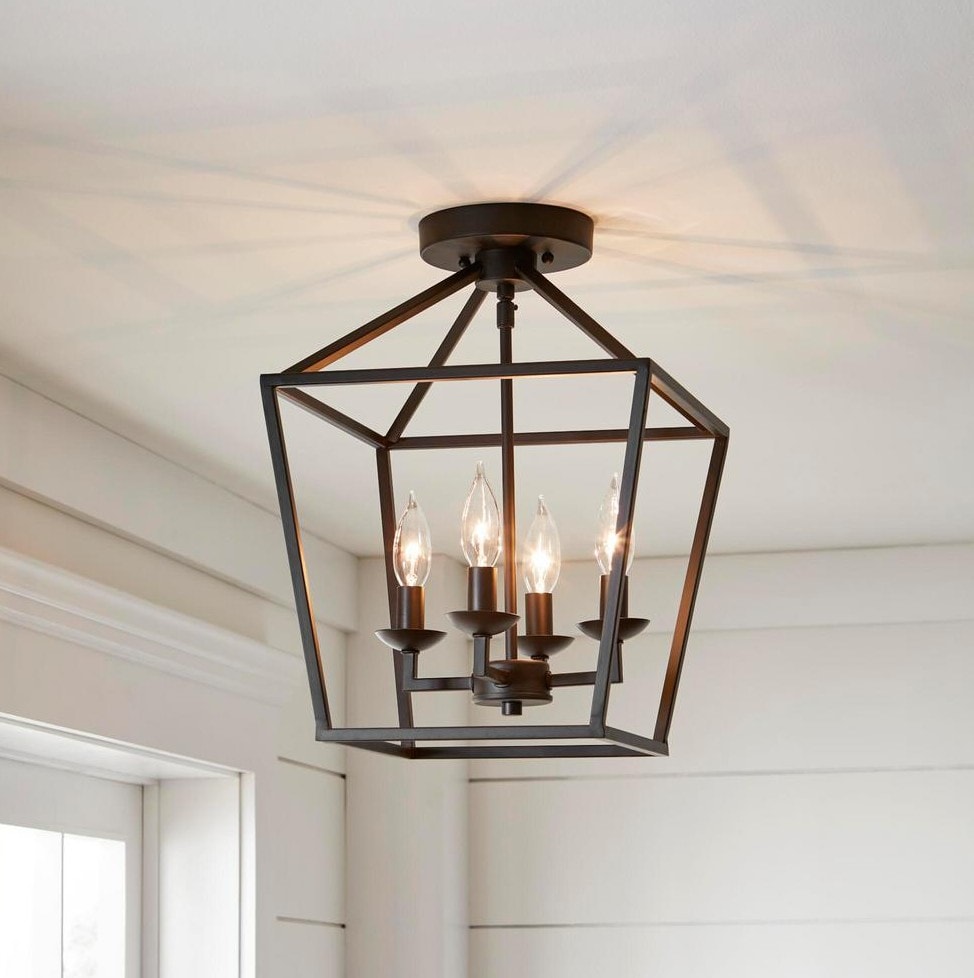 For a large or wide hallway, you can go a little bigger with your light fixture because it won't feel like it's too big for the space.
Something like this light is a great option. It uses four candelabra bulbs, so it will emit plenty of light, but it won't be over the top since the bulbs are so small. This fixture would look particularly great in a home with a farmhouse-chic aesthetic.
Geo Hanging Light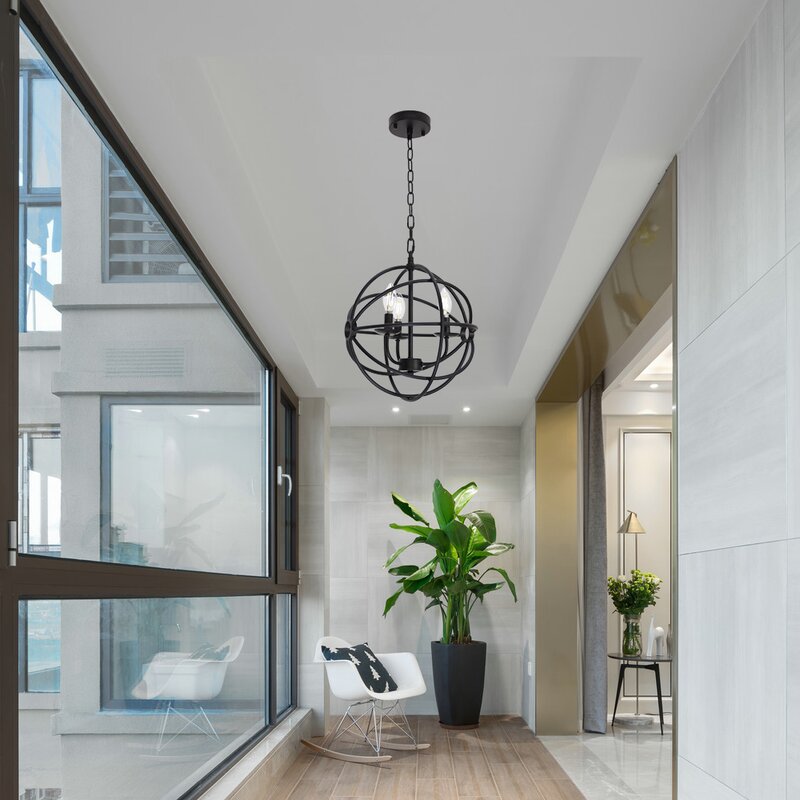 High ceilings give you a lot more freedom when it comes to light fixtures because you can opt for a statement hanging light rather than a flush or semi-flush mount.
In this hallway, they went with a geo hanging light that definitely draws some attention, while also giving off plenty of light. If you decide to go with a hanging light, just remember to keep the rest of the hallway decor minimal so it doesn't look too busy.
Stylish Flush Mount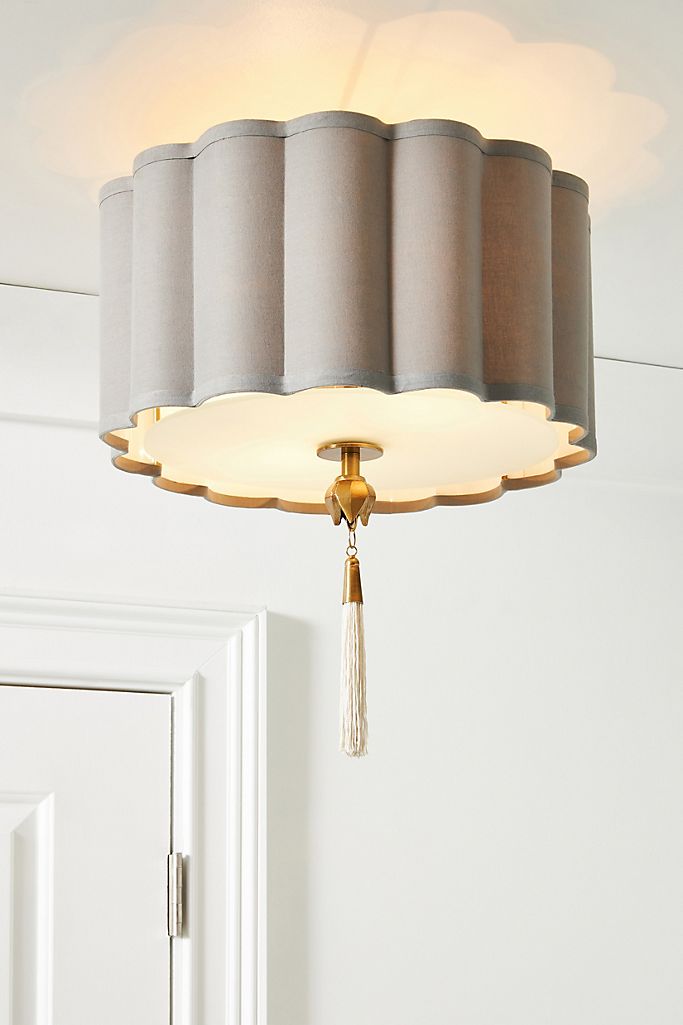 Here's another great example of a flush mount light with style. It's really a big step up from the standard lights you find in most homes.
There are so many pretty touches to this light, like the scalloped edges, the hanging tassel, and even the center mount that the tassel is connected to. The details really make this a standout light, and who cares if it's a little extra for a hallway? It's to pretty to pass up.
Recessed Lighting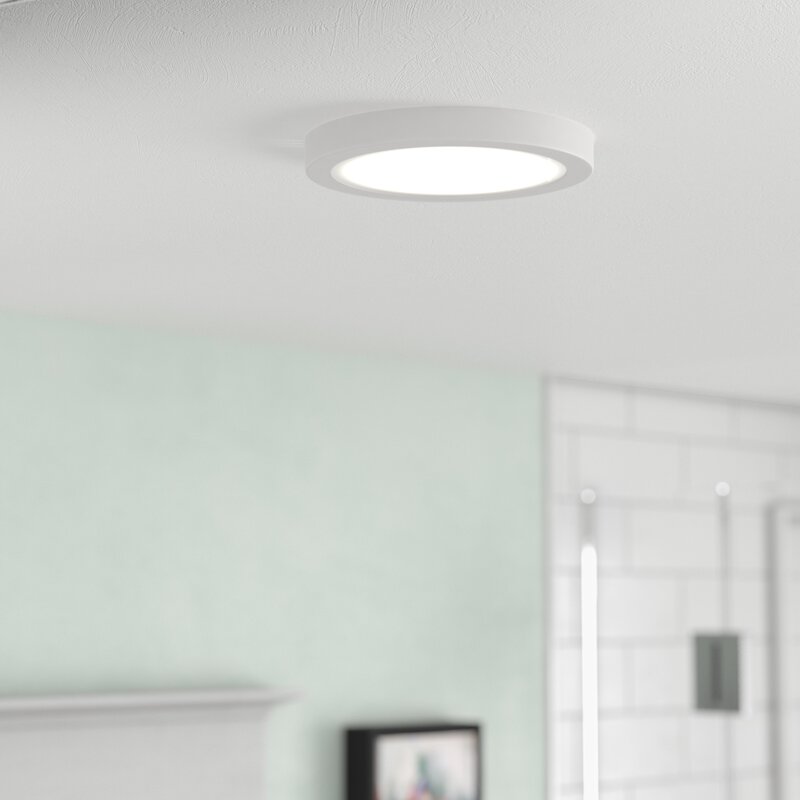 For a long hallway, you can install recessed lighting all the way down rather than several individual light fixtures. This is a really good option for someone who prefers a more minimalistic aesthetic or doesn't want to invest in several pricey ceiling fixtures.
Just keep in mind that recessed lighting requires a bit of work so you need to either be pretty handy or bring in a pro to make sure you're doing everything safely and correctly.
Globe Sconce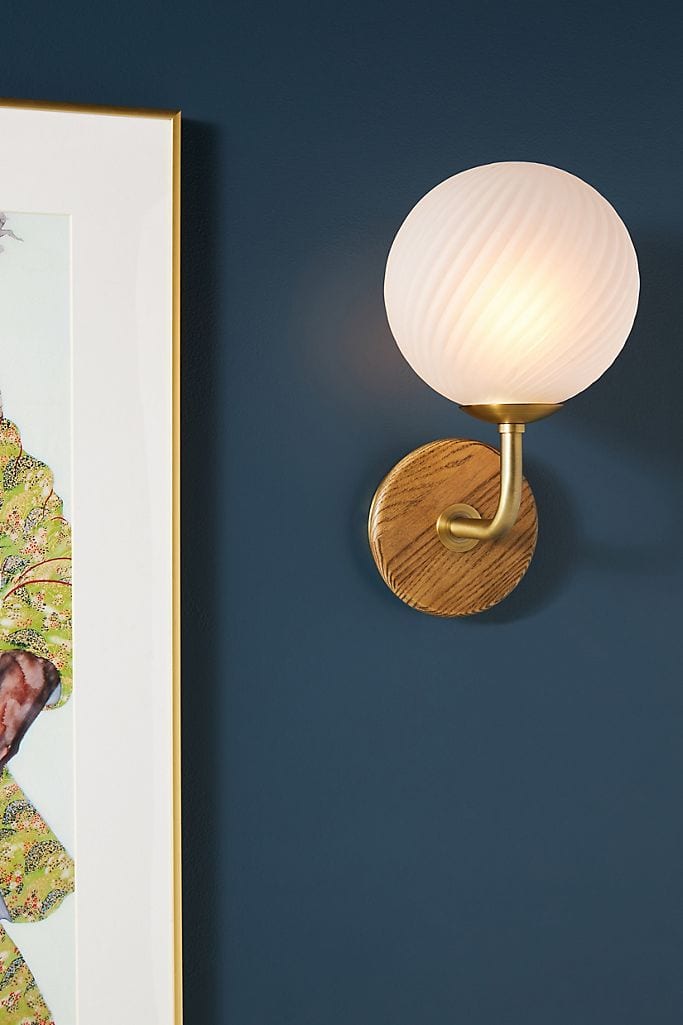 How gorgeous is this, especially up against the navy blue wall?! Who wouldn't want to line their hallway with a few of these?
Sconces are such a stylish way to light up a hallway, whether it's long or small. But, this is another style that requires some hard wiring, so if you don't already have it in your home, make sure you get these installed by a professional.
Caged Ceiling Lights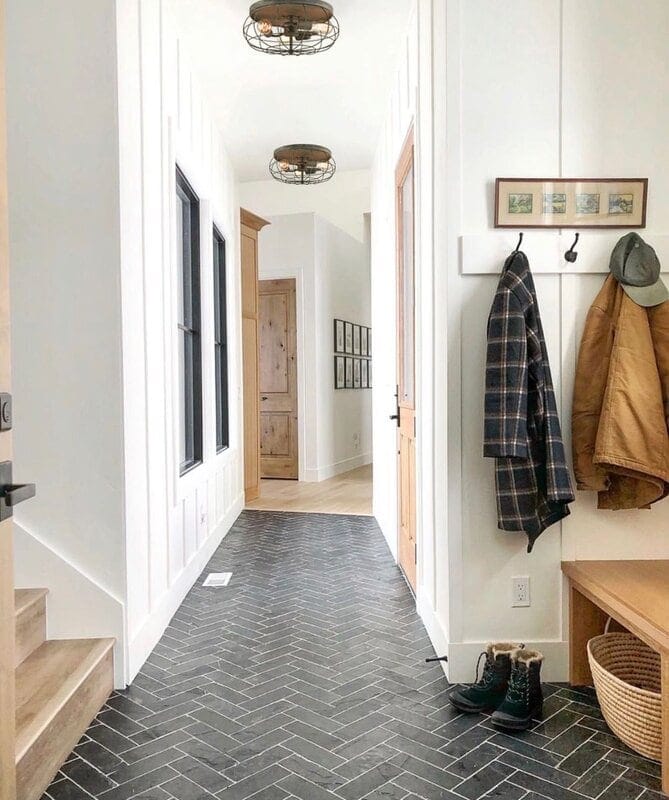 For an industrial-chic look, go with something like these caged lights. They're simultaneously more stylish than builder-grade lights and minimalist in style. Plus, since they don't have shades, they let off a lot of light which allows them to really brighten up a hallway.
Spotlights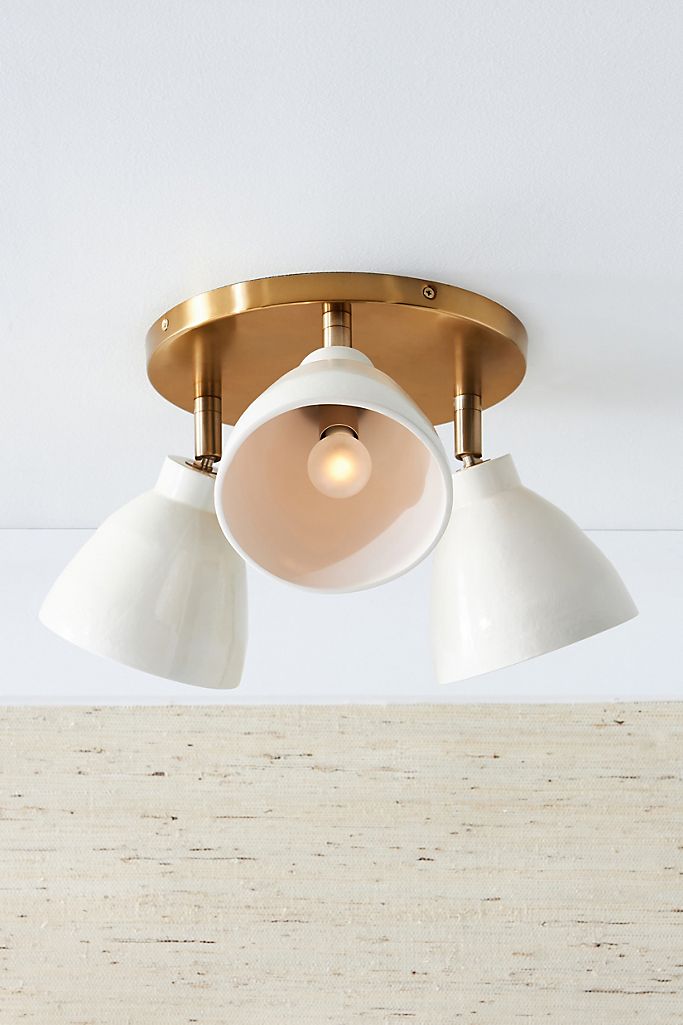 Spotlight fixtures are a really great option for wide or oddly shaped hallways. You can point them in any direction to make sure the light is evenly distributed and reaches everywhere you need it to.
A light like this would work really well in a house with loft space rather than a hallway. It would also be a great lighting solution for a home with intersecting hallways because the lights can be positioned to shine down each hall.
Final Thoughts
So, what will you choose? Hallway track lighting? Recessed hallway lighting? Or, maybe candlelight for a more unique and old fashioned look.
With seemingly endless options, it's definitely a tough decision to make! Just remember, whatever you pick needs to be something you are able to maintain, fits into your budget, and, of course, brings enough light into the area!