2023 Kitchen Trends to Fresh Ideas for Your Space
The kitchen really is the heart of the home. It's the place where families come together to talk, eat and hang out. So if your kitchen space is looking tired and in need of a do-over, then you might welcome some fresh ideas.
2023 is seeing some radical changes, with bright color palettes and a larger range of textures. We're also getting climate-conscious, so you may take a look at some sustainable options.
From a whole new kitchen to a simple update, you can follow the trends for this year and create a gorgeous new kitchen for you.
Back to Black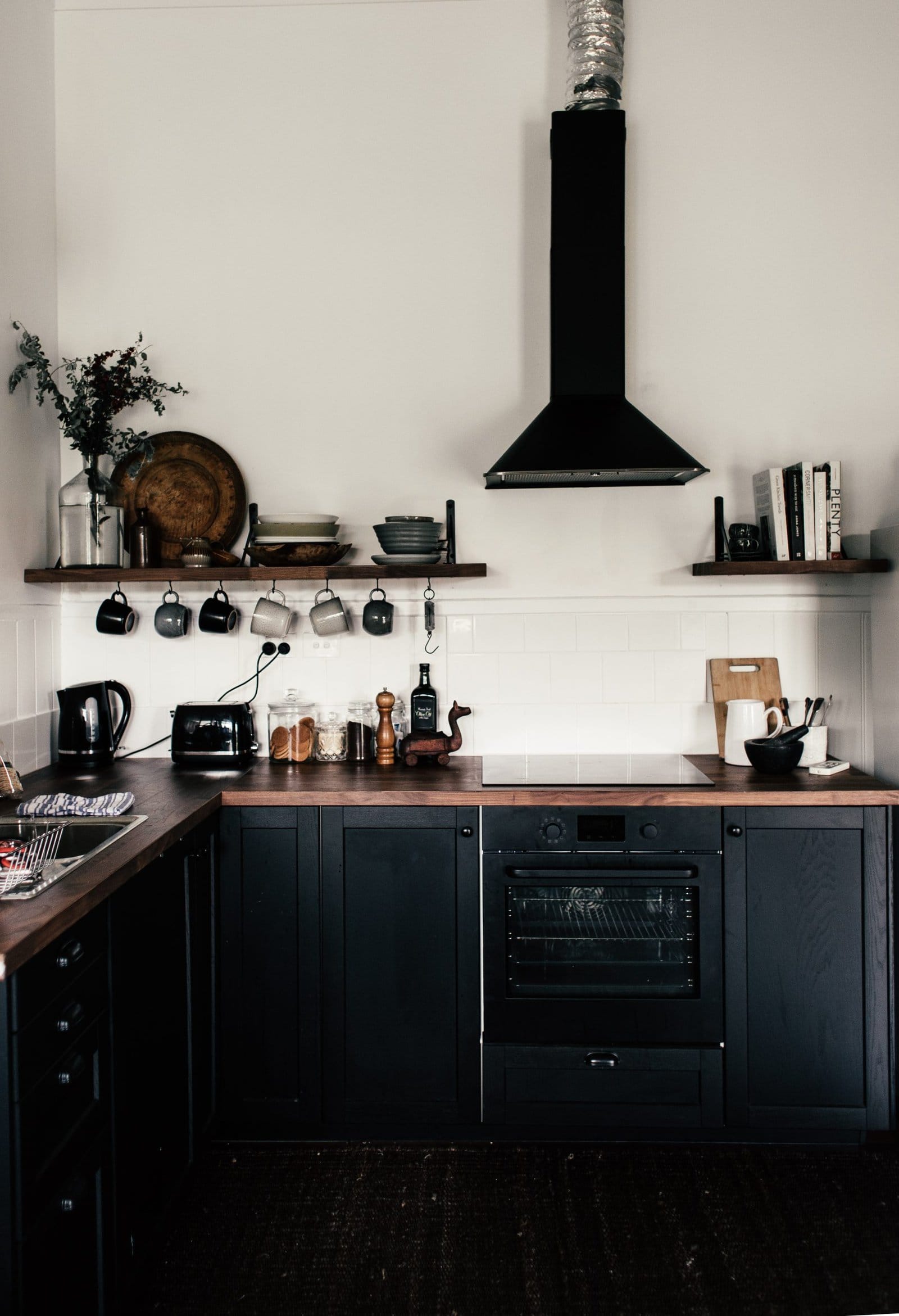 Black is back! We've seen it make a few small steps into kitchens in recent years but now black kitchens are big news. For a sleek looking kitchen, there's nothing to surpass black kitchen cabinets.
A black kitchen can be minimal, emphasizing the strong, dramatic look. Or you can style it with other textures and colors to soften the effect.
Installing floor cabinets only will imply a feeling of space. A wood countertop in reddish hues will look rich and delicious. To enhance the tones keep accessories black and natural tones.
Open Floor Plan Kitchen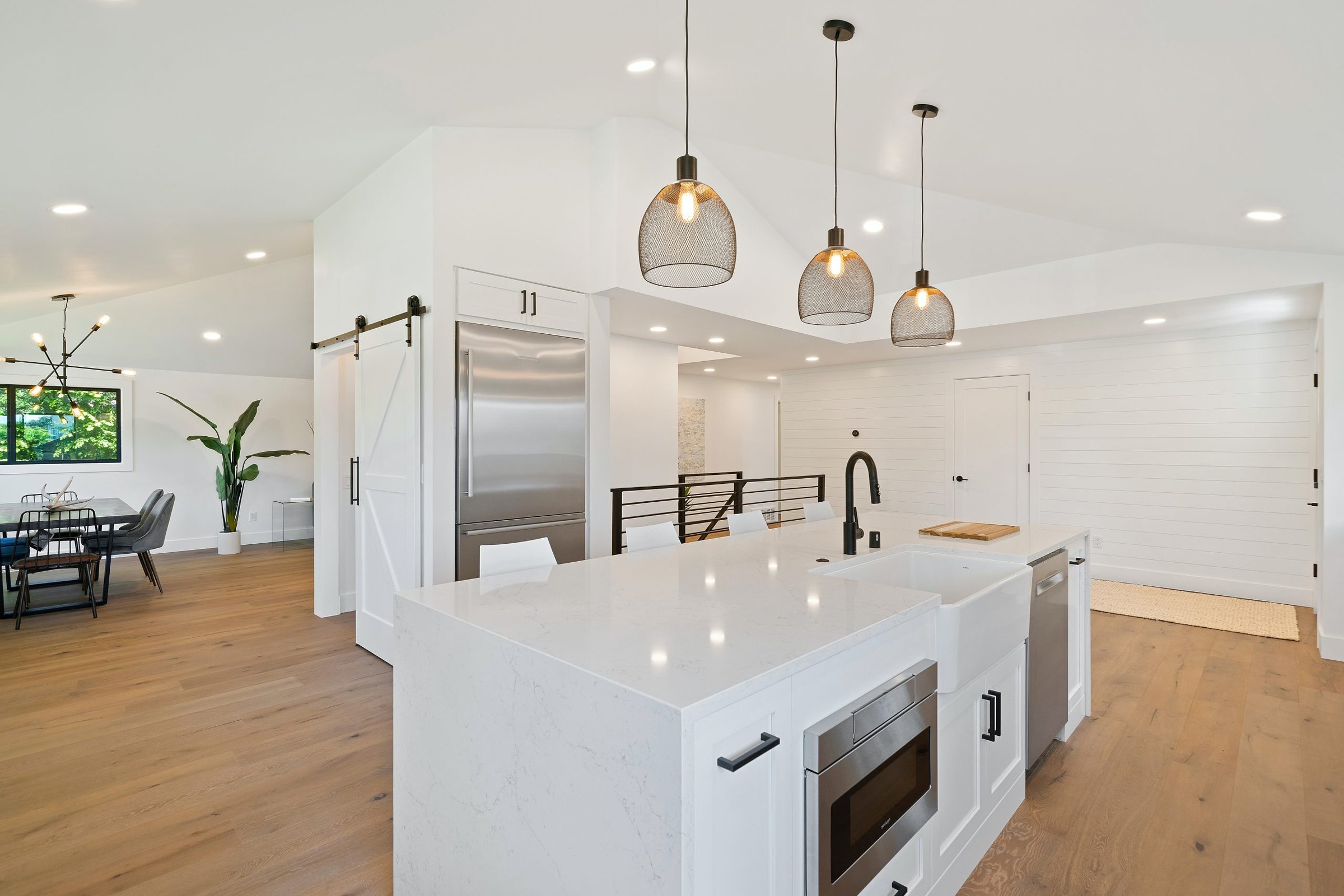 If you have the space in your home, then an open floor plan kitchen screams modern. We've seen this design for a long time but it really is worth thinking about if you have an adjoining dining room, for example, where you can knock through.
An open kitchen will give you flexibility for informal eating at the island or more formal at the table. You can also add sofas and a TV so that the whole family can spend time together while preparing meals.
Rustic Chic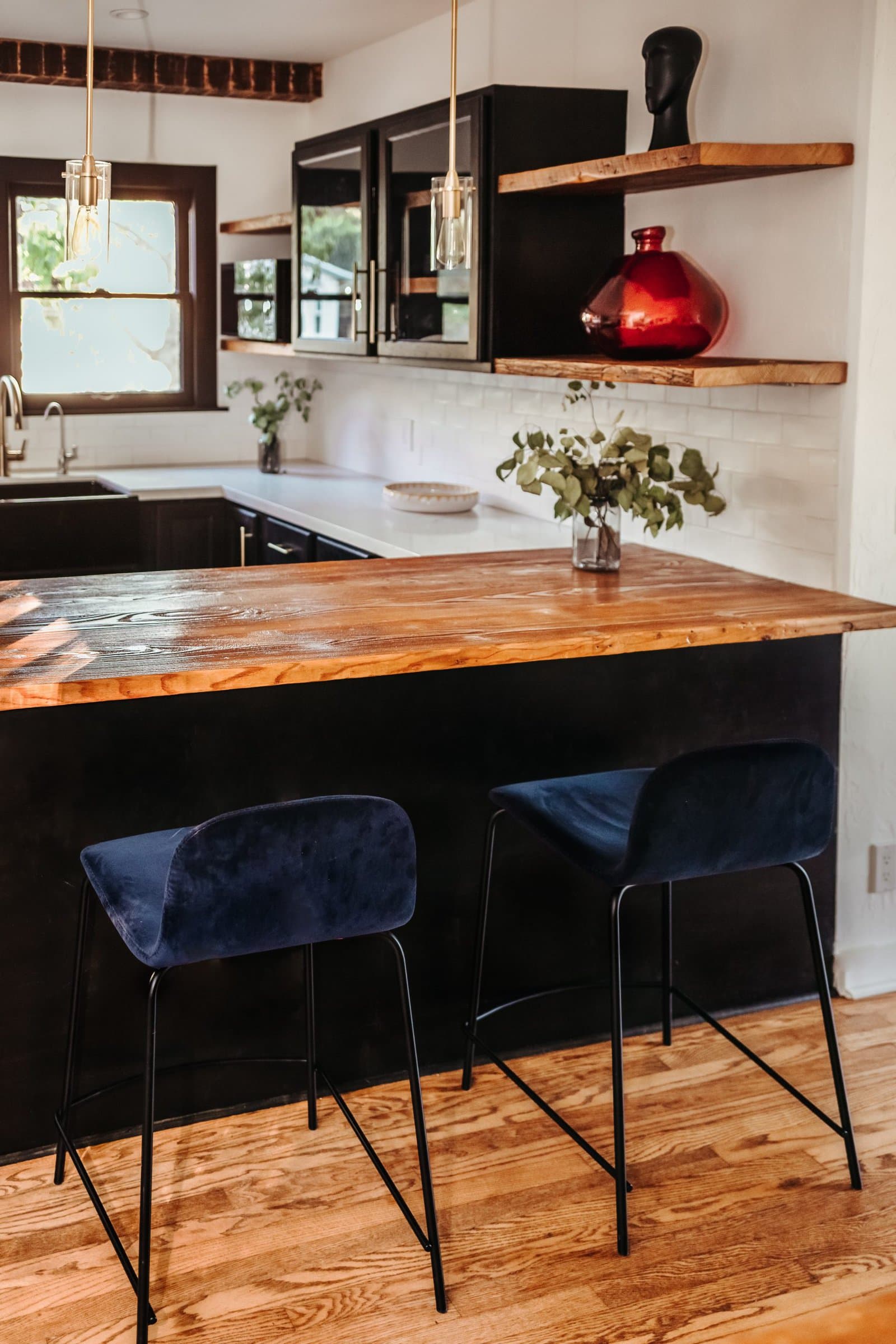 A warm, modern look that works with any kitchen but pairs particularly well with this season's black, is the combination of a wood countertop and hardwood floor.
Adding a rustic theme to flat cabinets adds layers of texture, and a natural richness from the raw materials. For a chic touch, then try adding velvet stool at your island. Most sumptuous!
Reclaimed Wood Kitchen
Not only is reclaimed wood good for your conscience in terms of sustainability, but it looks good too. Mixing different tones and textures will look good in a rustic farmhouse kitchen or one with a more industrial style.
If you are not replacing the kitchen but want an island then you can use recycled wood to create a unique but practical kitchen unit.
Kitchen Island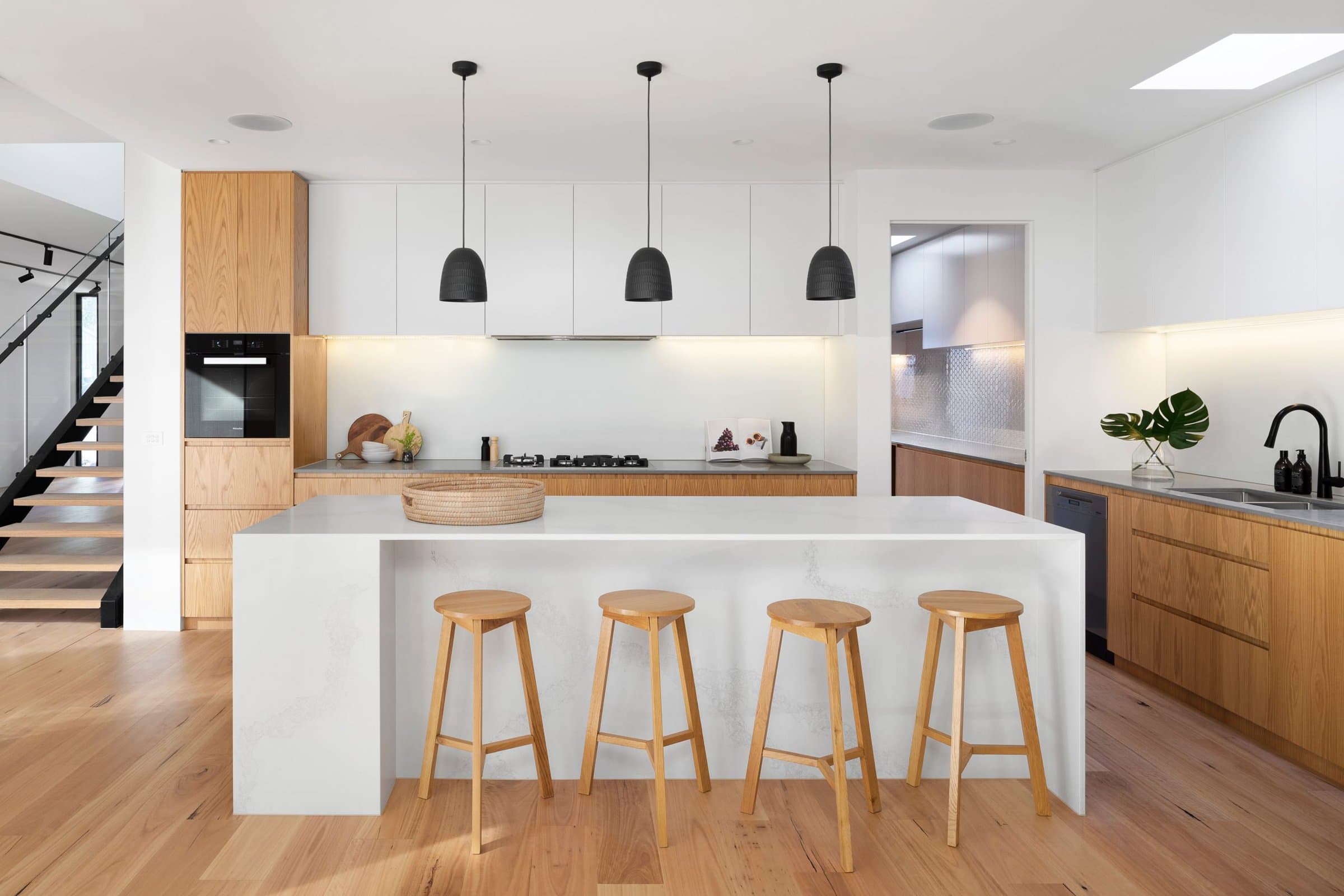 We might want to sail away for a break on a desert island but the next best thing is a kitchen island! Always considered the height of luxury, an island is highly practical and looks amazing.
You can integrate a hob or sink into your island, and add space for seating. Available in a range of finishes, you can go for high gloss, granite or rustic wood. Whatever you choose, this will have your friends eager to come round and see you all the time!
Elegant Open Shelving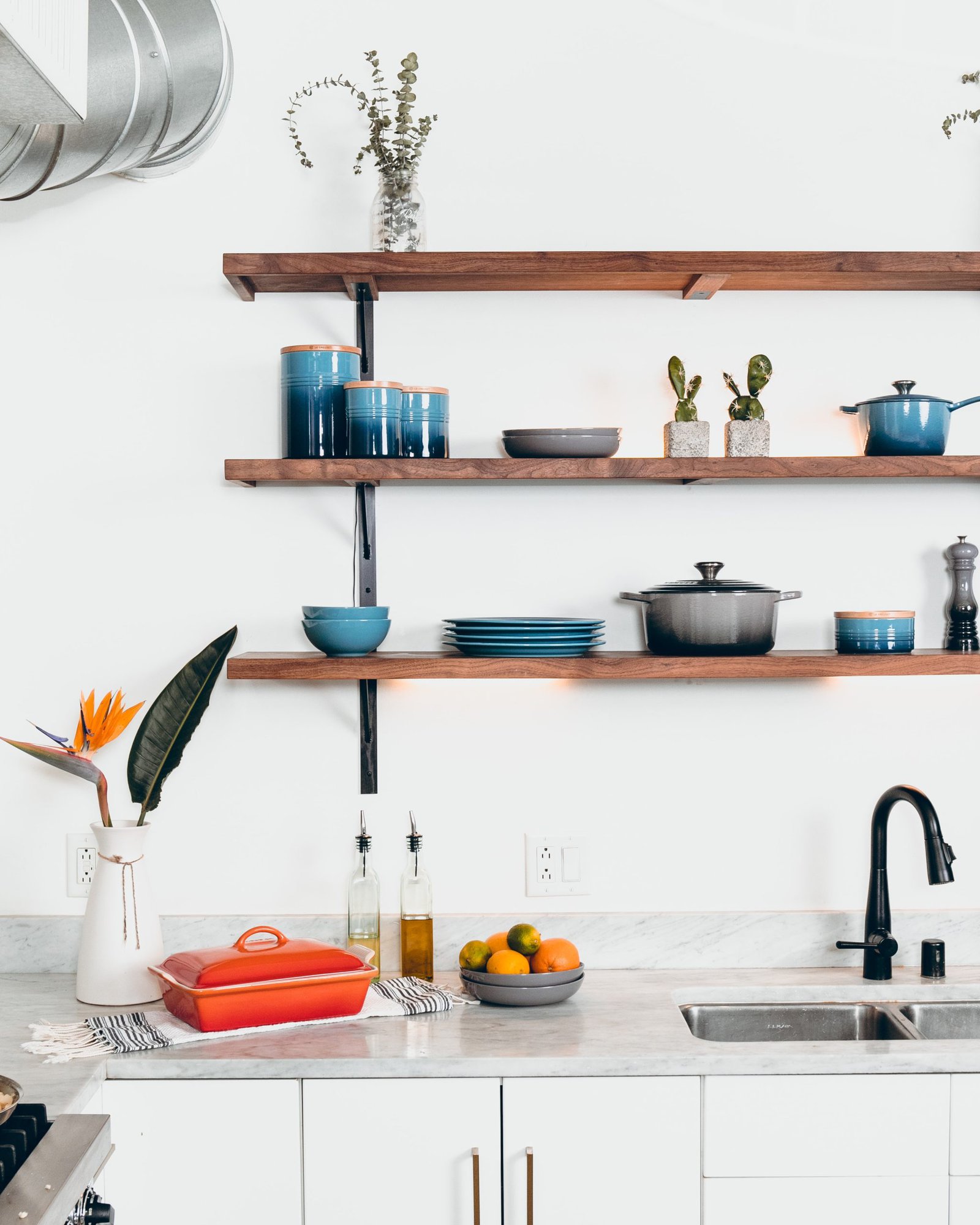 If you have plenty of storage space then an open shelf has a lovely aesthetic. Wood shelves in particular look good, the natural finish adding depth and warmth.
What you're going to need to do with open shelving is get your styling 100% right. No mess with this look. Pick out an accent color with dishes for example and add toning colors through other kitchen items. Add height and texture with plants.
And for practicality, place the items you use the most on the lower shelves. Those you use less frequently can go up where it's harder to reach. Now that makes a lot of sense.
Glazed Kitchen Cabinets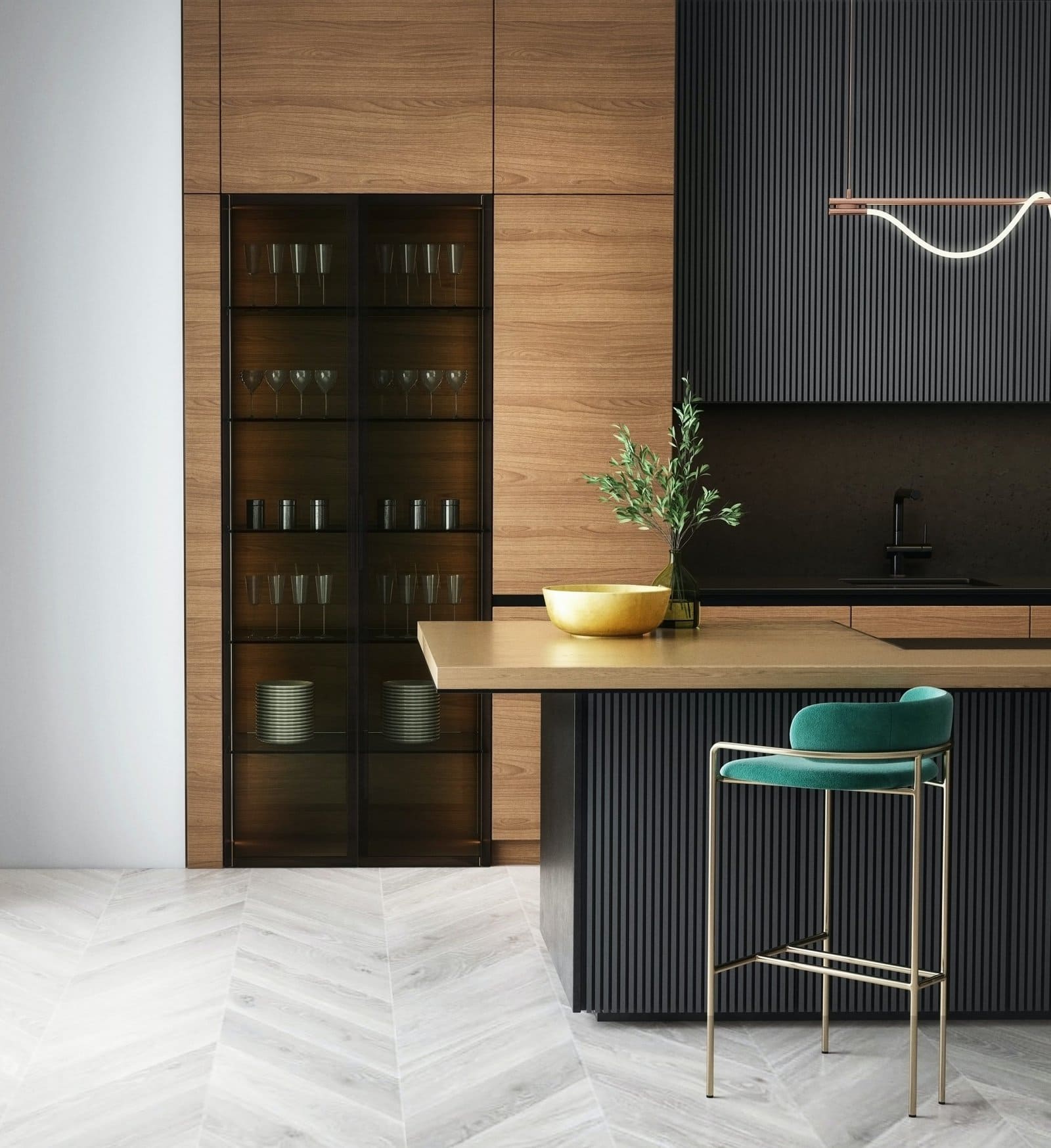 More and more we are seeing glazed cabinets and pantry spaces. A translucent or tinted glass will look super cool, especially if you like minimal fuss.
A tinted cabinet means that you can see the shape of the dishes and items in the cabinet to give a little interest but everything is tidied away and slightly hidden. If you have a minimal kitchen then you could look at changing the door of a tall cabinet or larder to get this look.
Bright Color Range
To add impact and to keep right on-trend with what's new in 2023 kitchens, you could install a colorful range oven. From farmhouse style rustic range cookers to modern looking flat-fronted ovens, you'll find the style to suit your kitchen.
A range cooker says family, warmth and home cooking. It can be just the lift you need to modernize your kitchen.
Colorful Tile
To add both a gorgeous 2023 trending color and to give a useful wall protection, you could add a tile backsplash.
Colors we are seeing currently include gorgeous rose colors in pinkish reds, peachy pinks and dusky tones. Also bright blues and warm neutrals.
Patterned or plain, a square tile will look most up to the moment and will also add a pop of color to your kitchen.
Curved Cabinets
You can think outside of the box – by opting for curved lines in your kitchen. If you choose wood slats also then you're miles ahead in the interior fashion stakes!
A curved island or cabinet is an unexpected addition in kitchens which for years have seen us installing regular-shaped cabinets and surfaces. So for some impact and designer touch, think about adding curves to your kitchen.
Kitchen Wallpaper
For a beautiful cottage garden kitchen theme, choose a pretty wallpaper. William Morris designs in intricate flora and fauna prints are very popular. They are available in a whole load of colors and can add a pretty accent to any wall.
If you're worried about damage to your wallpaper from splashes and water, then either opt for a waterproof paper, or you can add a transparent plastic cover to protect the wall.
Backsplash Wallpaper
Did you know you can get wallpaper specifically designed for your kitchen backsplash? What a great idea! You can paste on wallpaper which has a horizontal layout and update your kitchen both cheaply and impressively.
If you've never used wallpaper before or don't want the mess of paste then you can add your own peel-and-stick paper. There are a plethora of gorgeous designs available to make your kitchen the talk of the town.
In Closing
Kitchen styles are transforming. A classic white kitchen will always be in fashion but if you want to go more modern then choose black. But make sure you match it with a wood countertop. Think rich and natural this season.
You can add accents in the form of accessories, particularly when styling open shelving. Think also about your kitchen range color and even specially designed backsplash wallpaper.
We're all having to think about sustainability and protecting our wonderful planet, so check out reclaimed designs if rustic's your thing.
Whatever your tastes, you're sure to find a color to suit, from pretty floral shades to bright blues or warm neutrals. So take a look at what's on offer and restyle your kitchen in 2023 style.