Decorated Life is reader-supported. When you buy through links on our site, we may earn an affiliate commission. Learn More
6 Practical Home Decor Ideas Too Simple Not to Try
By: Decorated Life Team
|
6 Practical Home Decor Hacks
These 6 home decor ideas are perfect decor hacks to use again and again. They are stylish, practical and easy to put into place. Its about using simple things in different places, helping your home decor ideas stand out and be stylish at the same time.
Source: Pinterest
1. Use a ladder as a towel or throw rack
This simple trick is practical, saves space and is very effective as a feature.
Source: BoysWithBanjos.com
It helps you organize your blankets, throws, even magazines in the living room or towels in the bathroom. It takes little space and uses vertical space in a space saving way. This is particularly useful in small spaces like bathrooms or mudrooms that may not have a lot of storage or shelving.
Source: NewDarlings
Pair your best towels or throw blankets together and place them neatly on your ladder. Your ladder can be made from copper, drift wood or bamboo for a really unique and modern look. Home decor ideas like this one are easy to move around or taken down in minutes.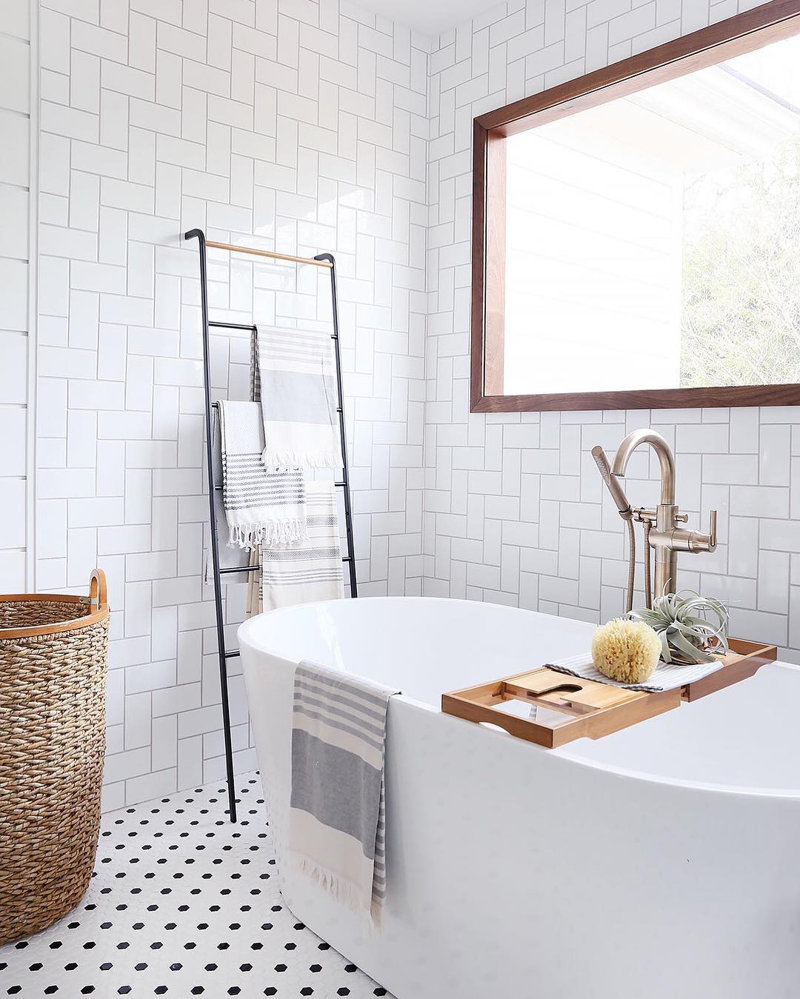 Source: Slimline shelf ladder – from Wayfair.

2. Turn a teapot into a vase
When teapots have gone past their use by date, don't throw them out if they are full of character. Use them instead as charming little vases.
Source: JuneBugWeddings
Mid-century, vintage, rustic, elegant, in porcelain, iron, bakeware or stoneware, they are useful and full of quirky curiosity, even though their days as a tea pot are long gone.
Source: Pinterest
Take this idea one step further and use them as really cute centerpieces for tablescaping. Even better if you pair your teapots with matching teacups that are transformed into votive candle holders.
This makes your table, mantle or vanity look extra special. Flowers brighten up the room but it's the way you put them together that becomes a talking piece as well as a centerpiece.
Source: HouseBeautiful.com
If you like this hack but are without character filled teapots you can source home décor pieces cheaply from garage sales or boot sales to turn your finds into one of these DIY hacks. It doesn't have to be a teapot. It can be an old watering jug, interesting glass bottle, a blue and white ginger jar or a pot. The most effective home decor ideas are often the simplest.
Source: Fucifino.tumblr.com
3. Use rope to hand your curtains with rope
If you love the coastal look, you can create a beachy or coastal look in your home or beach house by hanging your curtains with rope. This nautical touch looks organic, textured and adds cozy in spades to your home decor.
SeasideInspired.Blogspot.com
Use large eyelet curtains and thick natural rope to loop around your curtain rail. Its super simple and very effective with a very dramatic touch.
Source: JulieLovesHome.wordpress.com
Add wall decor like oars or a "this way to the beach" sign to continue the theme.
4. Hang mirrors with rope
Source: decorpad.com
Hanging mirrors with rope is an easy home decor hack. You can continue the nautical theme using thick natural rope. But you can use other types of fabrics or metals for industrial home décor.
Source: ApartmentTherapy.com
Hanging a mirror with rope creates a beautiful feature, adds more natural light to your room and makes rooms feel bigger.
5. Use a trellis
Source: essenziale-hd.cpm
This is a super practical home hack that will save you time in the morning looking for the right shoes and best yet, it will save you a huge amount of space in your bedroom wardrobe.
Source: Google Images
There are different sizes, shapes and materials to choose from that are inexpensive and simple to install. Functional decor is some of the best.
6. Wall Art Ideas
Wall art is a great decorating tool, that can really change the look of your rooms. Use mirrors, trays, baskets or piece of architecture and then chalk paint, distress or go metallic to create a unique wall feature.
Source: Pinterest
These baskets add warmth,  and grouped together, become a feature on the simple featureless wall.
Source: HobbyLobby
Choose items that are a little quirky. Show off their unique characteristics and highlight their beauty. Different sizes, colors or textures work well in groups. They become an artistic collection.
Source: Pinterest
Or make them all the same. In a line. Different heights or just the same. There are so many different designs and styles to choose from.
Source: Amazon
6 simple ways to improve your home decor ideas. Do you have one you want to share?