9 Modern Window Roller Blinds - Shade Design Ideas
Roller blinds may not feel like the latest 'must-have' accessory, but you would be surprised at how flexible blinds can be when it comes to stylish home decor.
The latest modern blinds look surprisingly elegant and finished and won't break the budget like many window treatments. 
Source: pinterest
Window roller blinds are basically a rectangular piece of fabric attached to a wooden dowel or metal tube, mounted between two brackets secured on your window.
Simple. Add different fabrics, UV protection and even black out features and they become highly functional.
Everyday roller blinds use either a spring mechanism or chain pulley to roll fabric up or down.
Automated roller blinds considered safer if you have young children, as mentioned in a New York Times report, and double roller blinds are perfect if you crave for added privacy or want block out features.

Source: pinterest
While curtains and draperies add color, warmth and texture to a room fabric roller blinds are discreet as well as functional. They keep rooms cooler, free from dust and peering eyes.
They might be cheaper compared to the cost of most window curtains or shutters but they work very well with today's minimalist decorating styles.
Lean in Modern Interiors



The trend is maximizing space and light and the easiest way to do that is by limiting clutter around your windows.
Especially if your home decor is sleek, minimalist and modern. If you are used to heavy window treatments, no fuss blinds might make you feel a little naked in the beginning.
Source: House Design Find
But the upside is that they can disappear for maximum light during the day and provide privacy when drawn at night.
Roller Blinds That Disappear For Rooms With a View
One way roller blinds can be hidden is by tucking then behind a wall cavity or pelmet placed near the ceiling. This feature works well if you prefer the look of glass to shutters or curtains.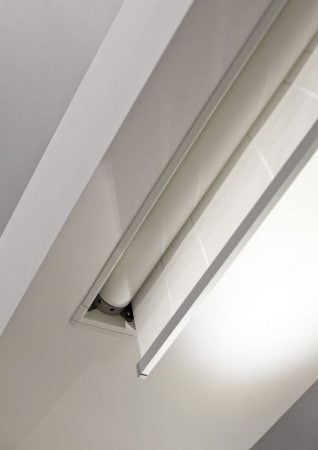 Source: pintetest
Raising or lowering blinds to the same height creates a visual line that forms part of the room's symmetry and design. Its a simple trick but it helps define your room.
Are Blinds Effective?
Most people like as much natural light as possible during the day while blocking out all the early morning sun.
Thick blinds might be enough but if you would like an extra layer between you and the outside world consider sheer curtains as a solution.
Double roller blind styles are a more effective and expensive solution for windows that need privacy as well as blackout. You can use sheer fabric on one roller and a blackout on the second roller.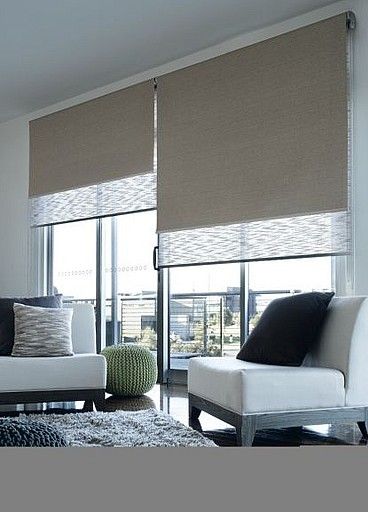 Source: Remodelista
Seven Advantages of Window Roller Blinds
They block or reduce outside glare.

Have a simple design and simple to update or replace.


Easy to operate.

Allow maximum sun light into the room.

They can help control the temperature of the room.

Work with any decorating theme.

Come in a variety of traditional and modern styles.

Help control privacy.

Roller blinds can be mounted a number of ways: in between the window frames (light may leak in from the sides), in front of the window frames, or from the ceiling. How you mount your blinds depends on your windows.
When blinds are mounted between window frames, it can make windows look more prominent.
If blinds are mounted in front of the window frames they cover the window frame. If they are mounted from the ceiling they can make make a room feel bigger and taller.
Very Little Maintenance
You should clean your blinds about once a year. Curtains however, need more attention because they can carry dust mites and should be cleaned three to four times a year, especially if a family member is sensitive or has allergies.
Cleaning curtains is time consuming.
Taking them down, then 

Washing, next is

Pressing or dry cleaning and finally,

Remounting.
Cleaning blinds is by comparison, simple.
Remove the blinds from their window brackets, then 

Roll them out flat on the floor or other flat surface and finally

Clean them with a towel using a mild cleaning solution.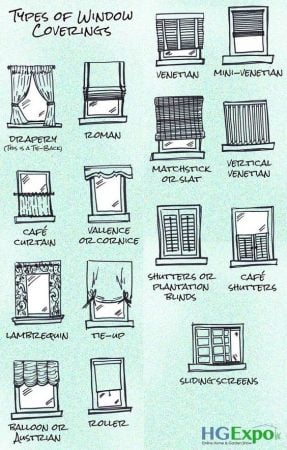 Blinds are Easy to Find and Buy



The selection of top quality blinds is wide and depends on your favorite design, budget, and size of windows. 
Your first step is to take accurate measurements of your windows needing blinds. The rest is research. Offline or online to find a design and style that suites your home, office or budget.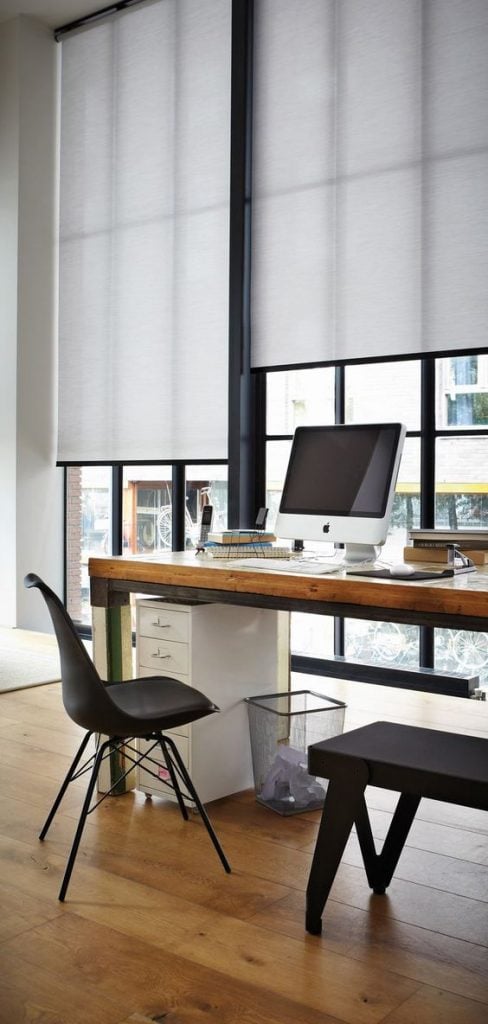 Using online as a research tool to
quickly scan the different styles, manufacturers, warranties available,

order custom made blinds,


shop around for the best price, and,

save time!
Finding the best online window roller blinds selling shop is easier than ever but more importantly, you get a high quality look without sacrificing privacy or design.
Save