Decorated Life is reader-supported. When you buy through links on our site, we may earn an affiliate commission. Learn More
18 Corner TV Stand Ideas for Your Home
Looking for corner tv stand ideas? Choosing to place your tv stand in the corner is a great way to optimize space and achieve a very unique and innovative home decoration style.
When choosing a corner tv unit, there are some relevant aspects you need to keep in mind, such as height, viewing distance, style, and storage needs.
Read on and find tv unit and corner entertainment center ideas for your room.
Match Your Tv Stand With Your Furniture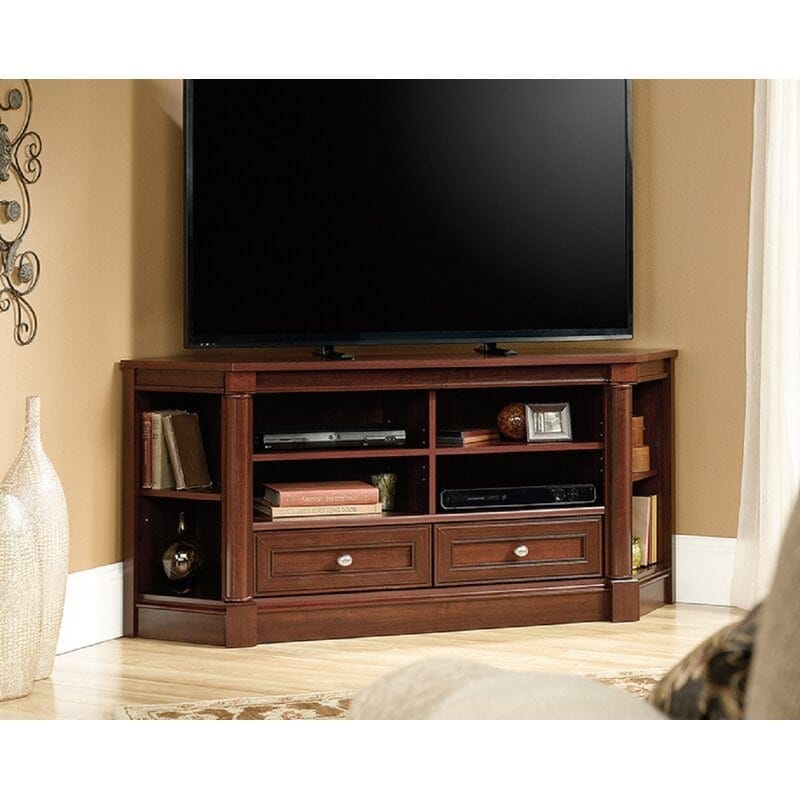 Do you have a modern, traditional decoration style? Have a large low modern corner tv style with drawers and shelves.
This kind of dark brown wooden piece of furniture is ideal for storing all your video and gaming devices, as well as showcasing classic decorative objects like candles, portraits, books, vases, etc.
Make Sure It's The Right Fit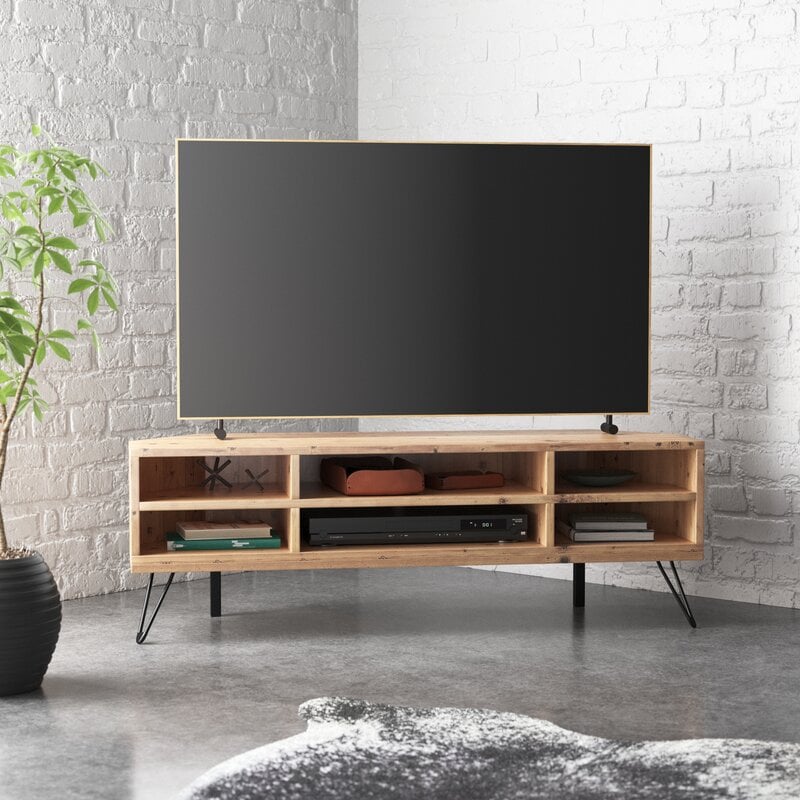 Low corner tv stands are good for living rooms because people usually watch tv from the sofa. Large nordic metal legs go great with wood, for a modern style living room.
Tall corner tv stands on the other hand are usually suitable for rooms where you need a lot of storage space, as they usually come with lots of cabinets. They're good for kitchens, as one usually watches television from the dining table.
Mount the Tv on the Wall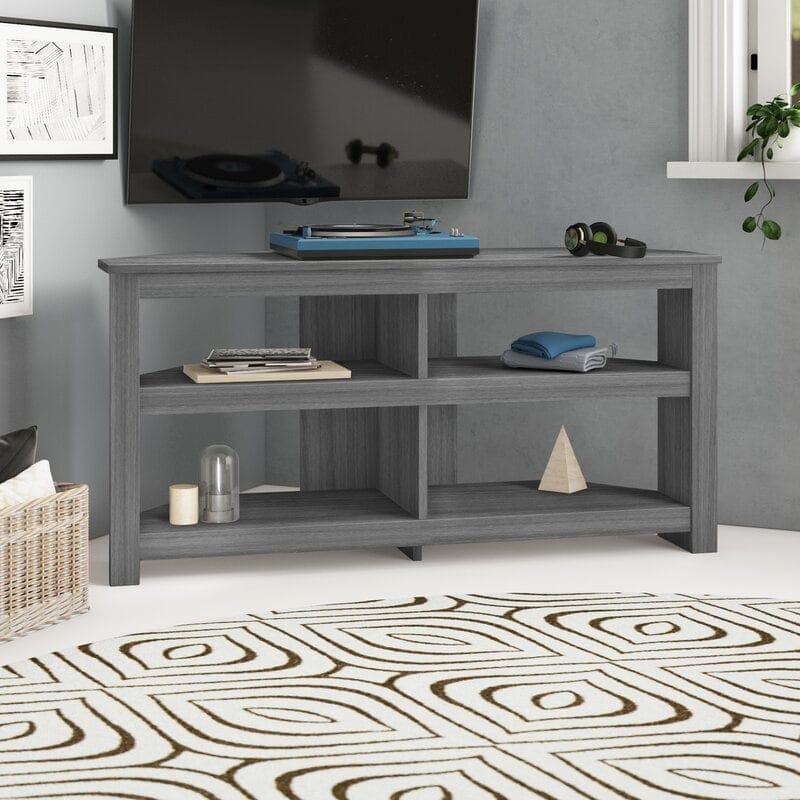 Having a tv stand doesn't necessarily mean you have to actually put the television on the unit. A tv stand is a piece of furniture that delimits the area where the television is going to be. But actually many people mount the TV on the wall, as sometimes it looks or works better.
Mounting the tv on the wall, for example, allows you to have a low tv stand but a higher viewing position.
Black Corner Tv Stand With Storage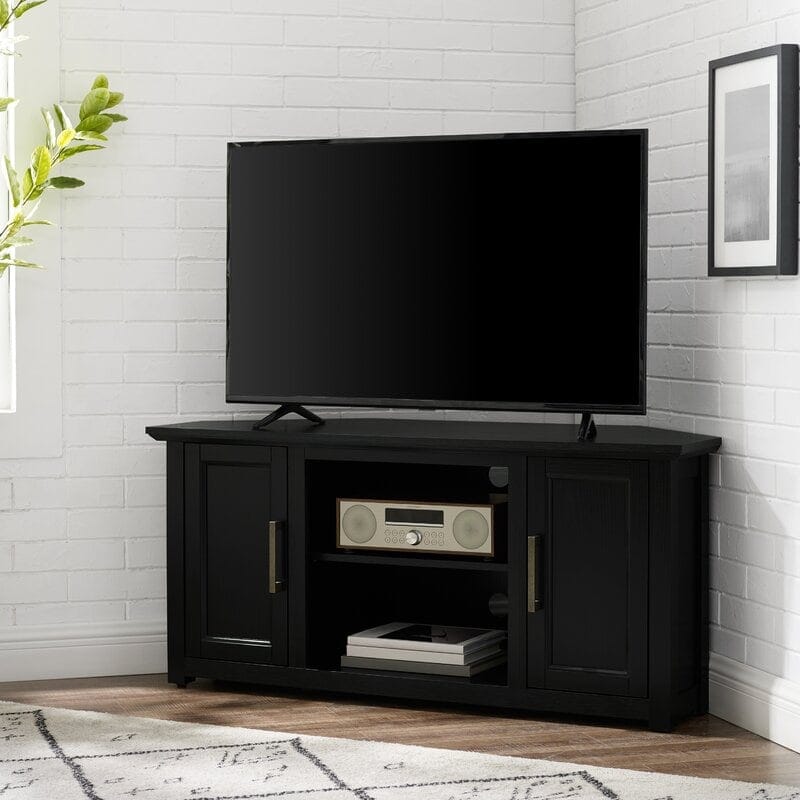 If your walls are white or grey and your floor is not too dark, then having an entirely black corner tv unit with silver handles will provide a touch of sophistication to your room.
The combination of shelves and cabinets will allow you to place some objects on sight to break with the dark and at the same time make those objects stand out. Pair it with a patterned light carpet to add the final touch to the room.
Have Sliding Rustic Doors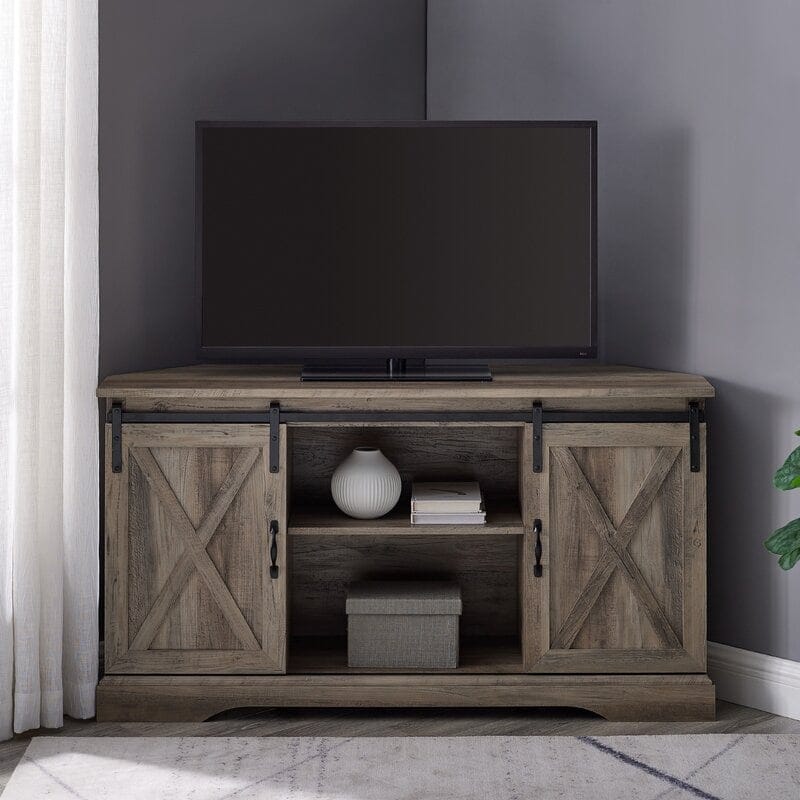 If your room has a farmhouse-style decoration then you'll definitely love this corner tv stand with rustic sliding barn wooden doors.
The doors allow you to combine open and closed storage space, so you can use the shelves as you want. Add decorative objects or store your kids' PlayStation (that definitely doesn't go with your farmhouse-style living room).
Match the table with a grey handmade rug. Grey goes perfect with brown!
Give Your Room a Stylish Look
What about using your tv stand unit to give your room a stylish look? Small and simple furniture, with rectangular contours, can turn into a wonderful piece just by adding details like golden brass hardware in the corners and drawers.
Mount the tv on the wall instead of placing it on the media stand unit so the cabinet stands out.
Be Creative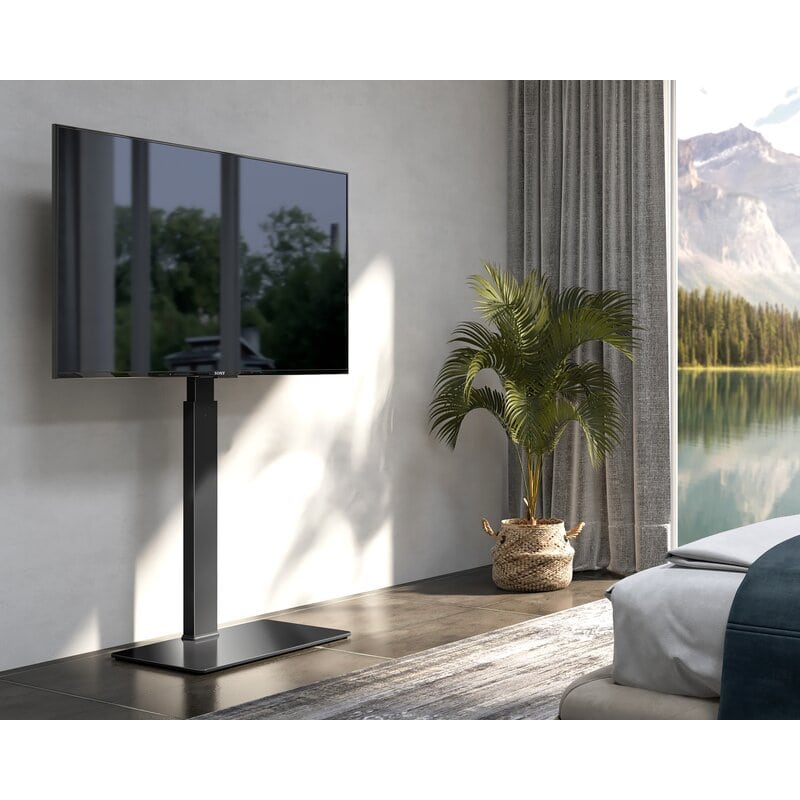 Using a metal bracket with a base is an innovative way to keep your room simple and functional.
If you don't have a lot of space or just want to keep it clear, then you'll love this corner tv stand idea that allows you to place your tv without piercing the wall or having a table that may block the way.
It's also ideal for bedrooms since the space between the bed and the wall is usually narrow.
Make It Unique by Adding a Fireplace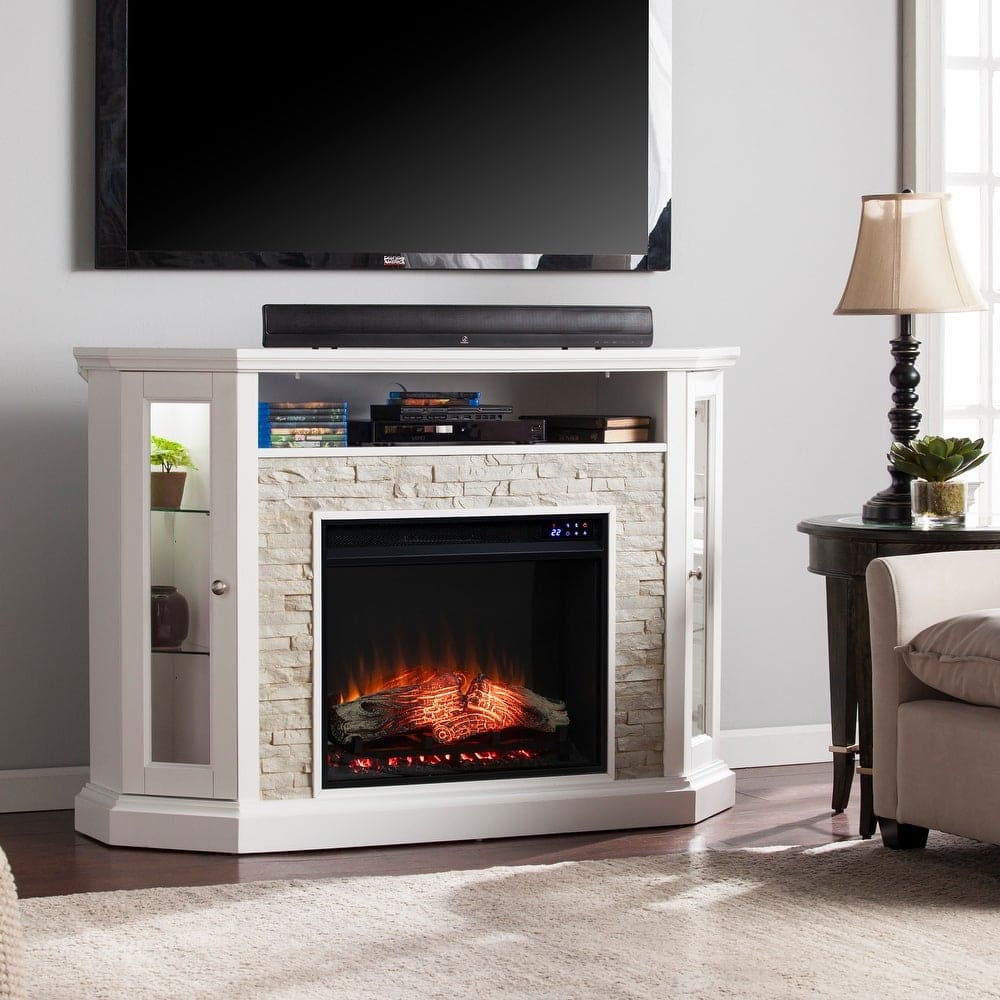 It's there anything cozier than a fireplace? Don't think so. It helps you stay warm in winter and they look amazing in the summer. So why not create a tv stand from a faux stone digital fireplace?
This works great both for corners or other spaces of the room. Have some glass door cabinets with lights inside to create the coziest room ever.
Optimize Space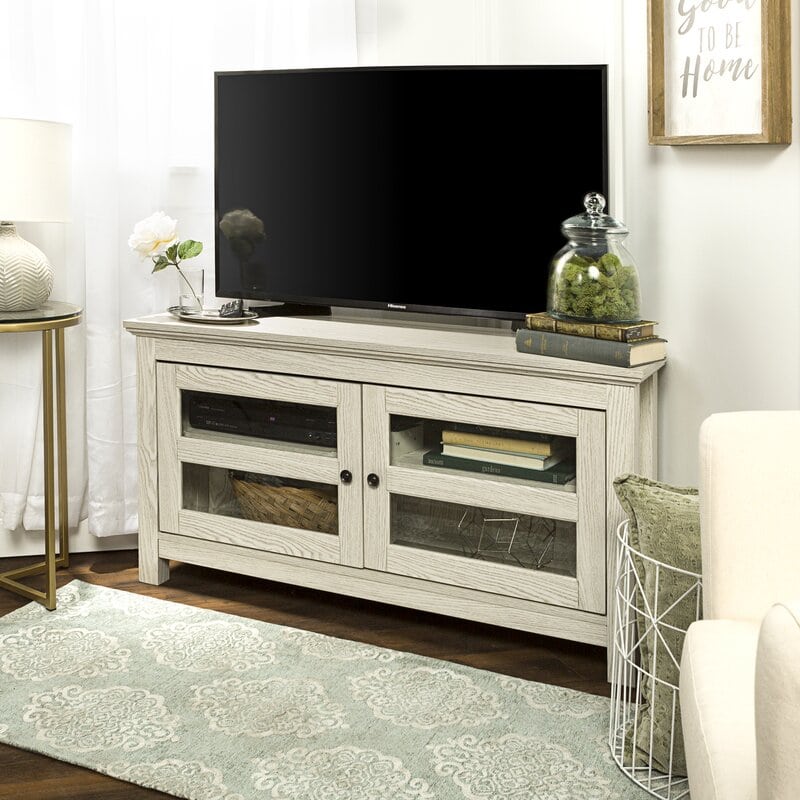 Is your room small? Then forget about shelves for decorative objects. Instead, choose a wide corner tv unit with a lot of storage so you can optimize space and store all your electronic devices, room essentials, and other stuff you don't have much space to store.
Add some style by choosing a rustic piece, with wood grain detailing. Glass doors also help to identify what's inside the unit.
Make a Small Corner Functional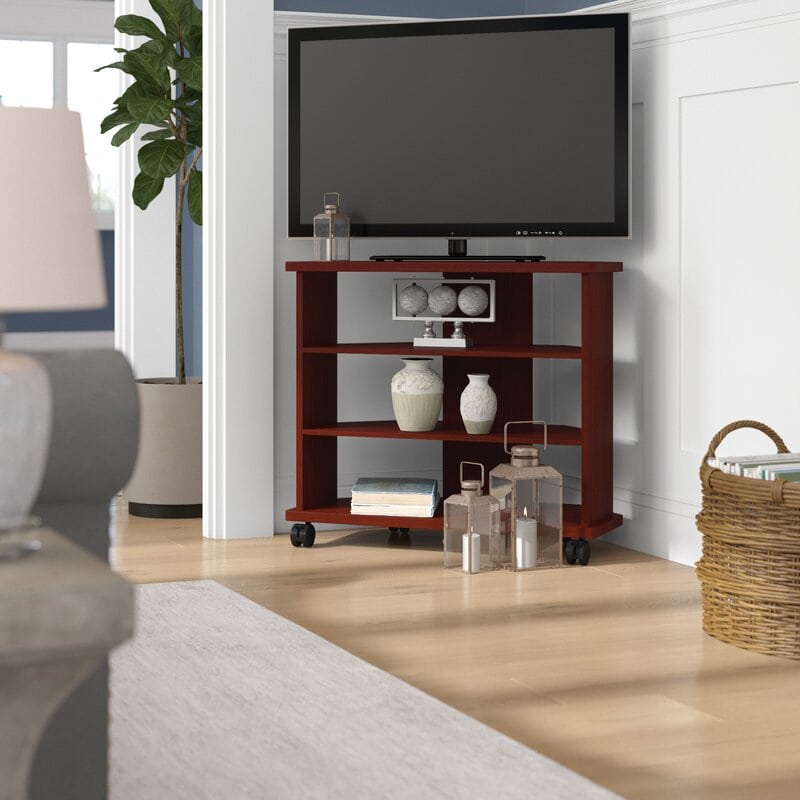 If your tv is 32" or smaller, then you can place it in a small corner of the room to leverage the space. Use a narrow wooden tv stand with shelves and wheels. Make sure it's simple and functional.
Choosing one without cabinets and only shelves will help you to not overcharge the corner of the room, while the wheels will contribute to keeping the space clean since small corners are usually near hallways or places of frequent passage.
Floating Corner Flat Screen Tv Stand for a Clear Space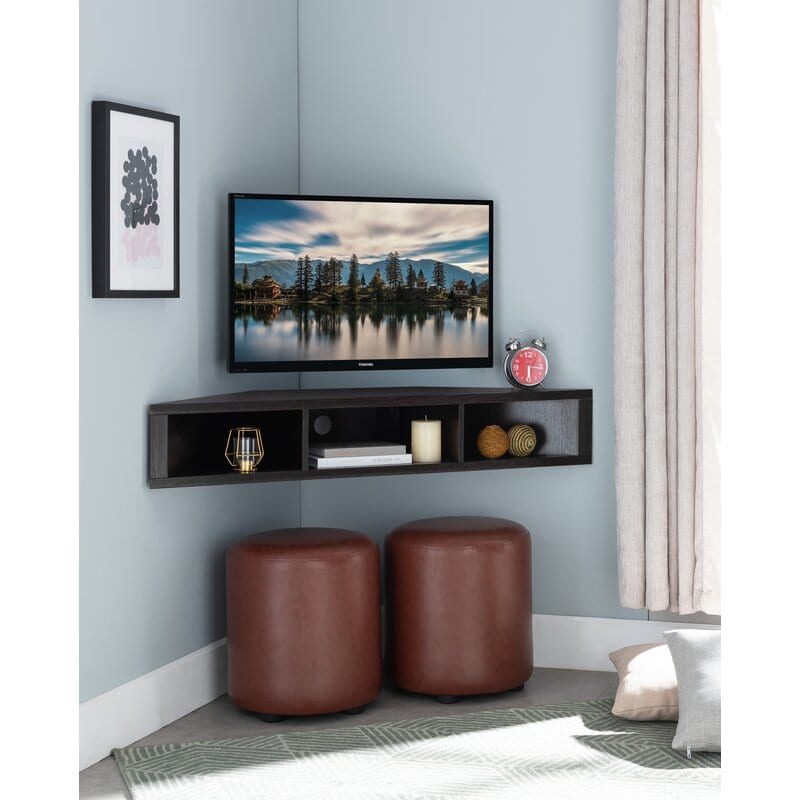 Having a floating corner tv stand is a smart home decor strategy. Being it for saving space or just to relax the view, it looks great and it also helps to balance the space.
If you have a lot of furniture or decorative objects distributed throughout the room, you can use a floating tv unit to create a nice, clearer corner. Don't add much, just a candle or a book, and the tv, placed on the unit or mounted on the wall.
Choose a Cabinet With Glass Doors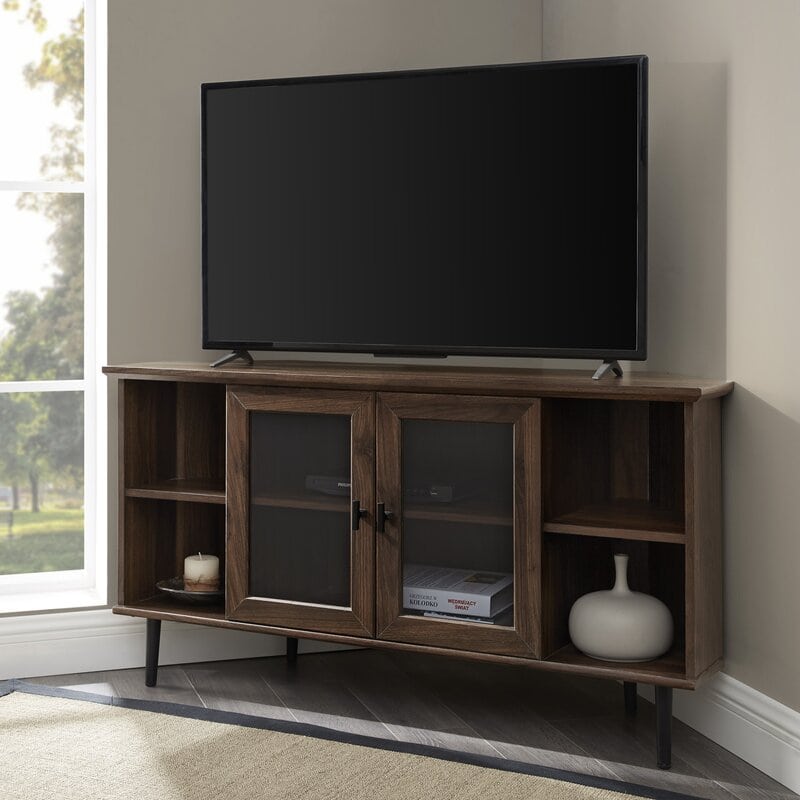 Glass doors are great if you want to keep your space clean and clear but also don't mind seeing what's inside the cabinet.
That way, you can store books, pictures, or decorative objects that remain in sight but at the same time, you keep the space free from dust and dirt. Cabinets with glass doors are also great for people who don't always remember where they store things.
Make it Simple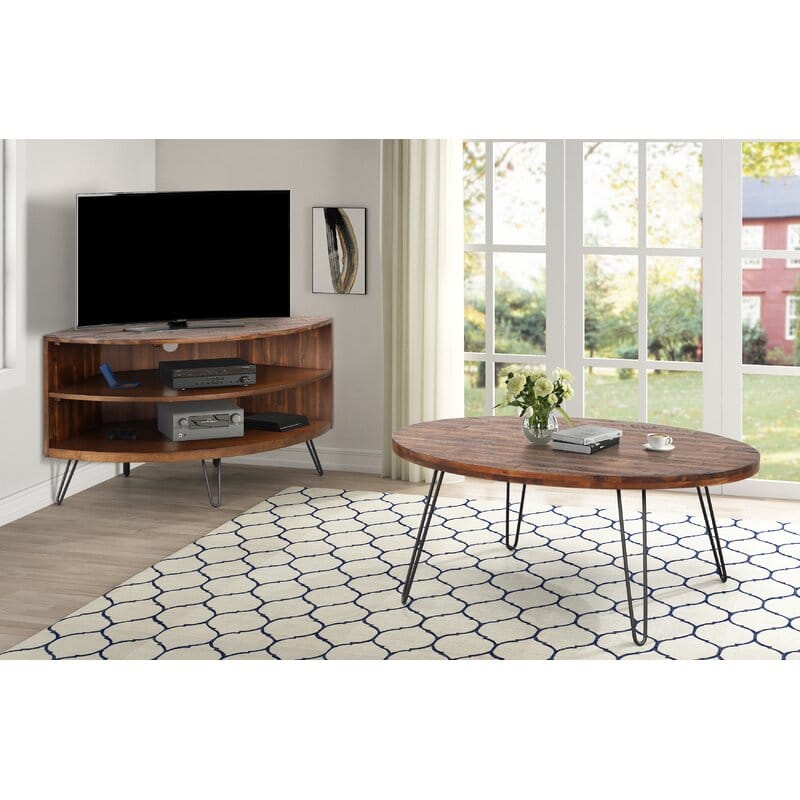 If you're more of a minimalistic, then choose a simple dark brown wooden corner tv stand with long shelves and no cabinets. Metal nordic legs are perfect for a mid-century modern touch.
Pair the tv unit with a round coffee table in the same colors and with the same legs. Adding a patterned light-colored rug is a great final touch for your mid-century modern living room.
Combine Cabinets and Shelves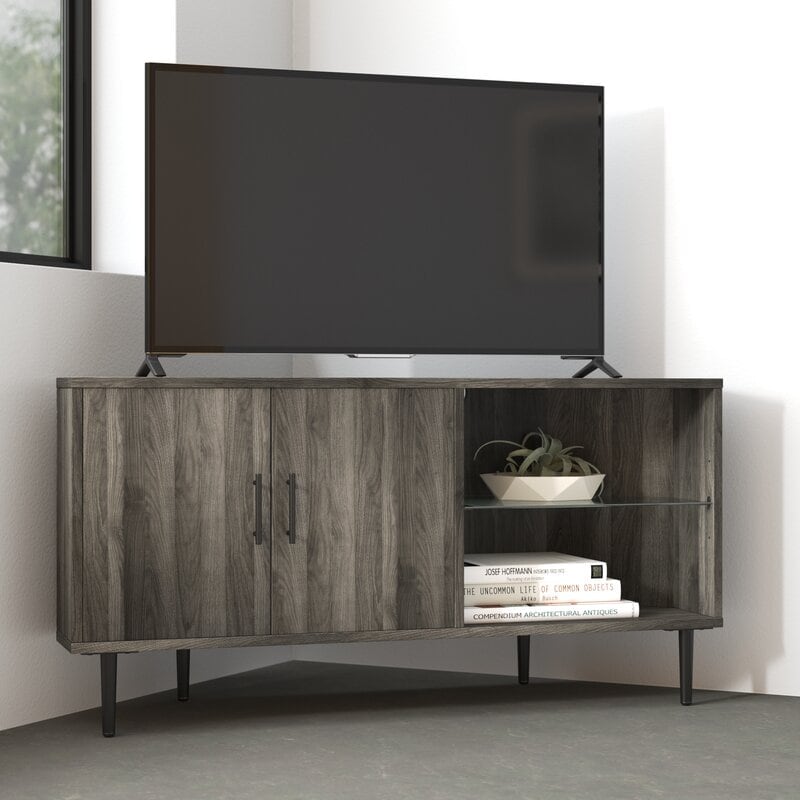 A simple, rectangular corner tv unit with long legs, a cabinet, and shelves are great for having both a place for storage and space for decoration.
Put all the cords and everything you don't want to see all the time like the wifi modem or other devices in the cabinets and leave the shelves for decorative objects, books, music, and other elements you enjoy seeing all the time.
Tv Stand for Narrow Corners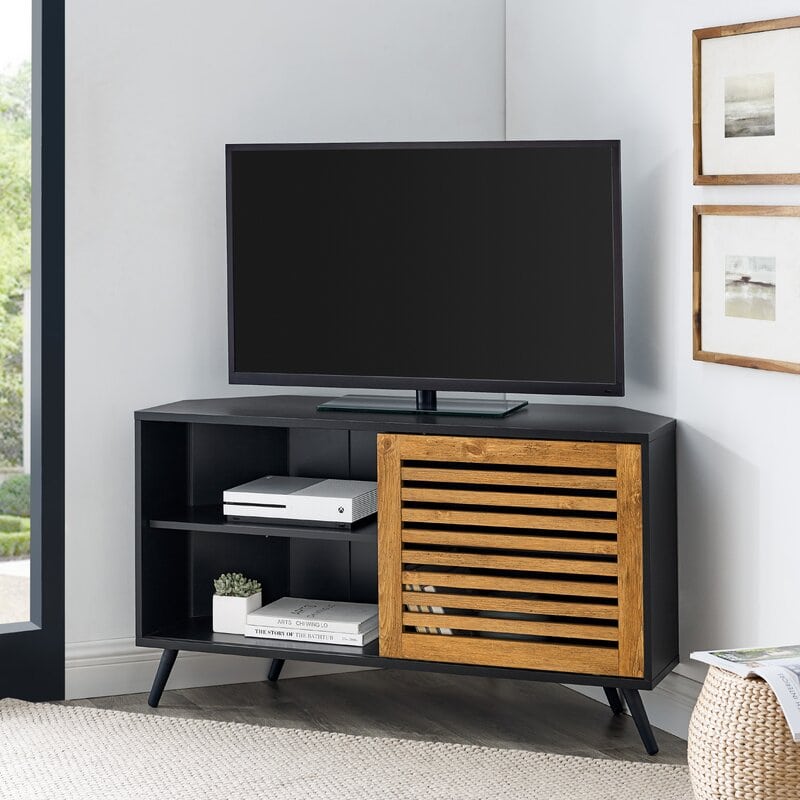 If the place is limited by a nearby window or another similar element, make sure to choose a simple tv unit that fits the space.
For this, you can have one with legs to create a feeling of space, being a narrow corner. Nordic legs are perfect for that. You can combine black and light-brown wood to create an interesting corner so it doesn't go unnoticed.
Try to keep the space clear, simple.
Use the Unexpected Corner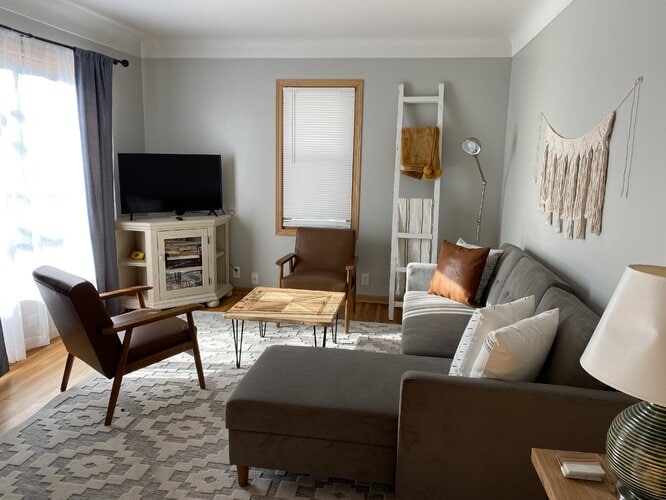 When the window takes up all the space in front of the largest wall where the sofa usually goes, then you may ask yourself where to locate the tv.
Choose a fairly narrow corner tv stand to place it in the corner right next to the window. That way you'll be able to watch television from the sofa. It's also a great way to make the distribution of the living room furniture make sense in rooms like these.
Choose a Wooden Corner Tv Stand for a Cozy Room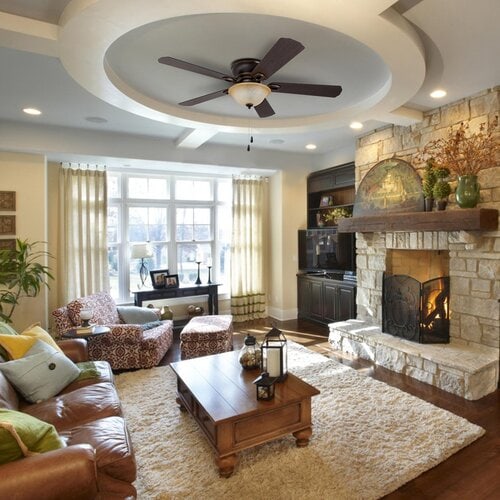 Sometimes the fireplace is the big protagonist of the room. In that case, furniture is usually pointed at the stove instead of placed around the tv. If this is the case, keep the tv in the corner, low profile.
Match the cozy style of the room with a solid dark wood tv stand. Even if your tv is big, this color will help conceal the tv and keep the fireplace as the main element of the room.
Add a Touch of White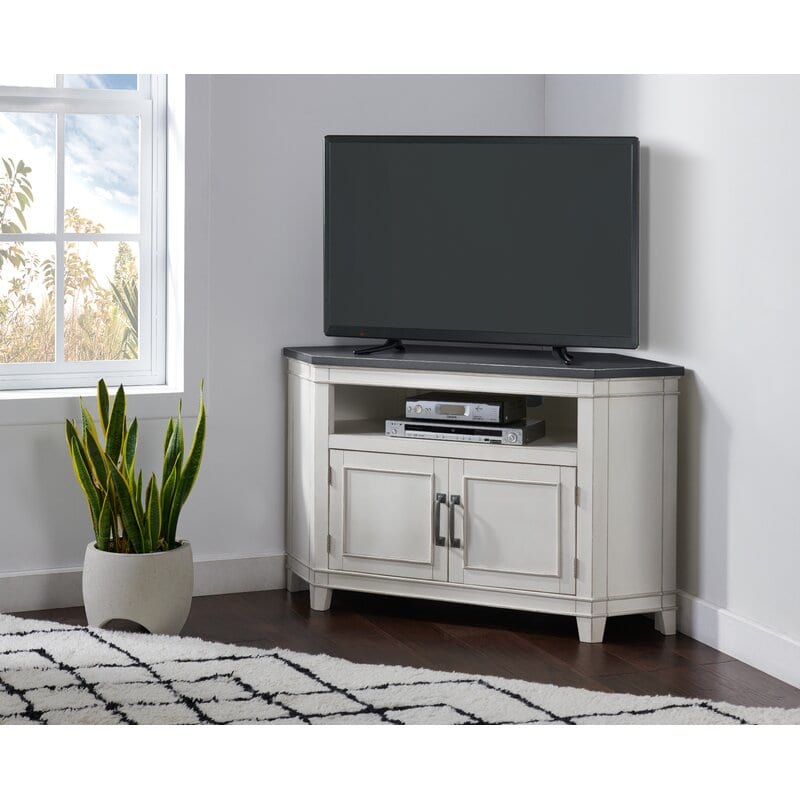 This white small corner tv stand with metal handles and black details is perfect for adding a light shade to the room. You can pair it with a patterned carpet and a plant to add color to the room, and get a modern farmhouse look.
Small cabinets and short legs also contribute to achieving a modern decoration style and keeping the space minimalistic and functional.
Some Final Words
Corners are parts of the house people don't usually see as places they can actually use for decoration. But they are extremely useful spaces if you know how to leverage them.
Having a tv in the corner is perfectly viable. You just need to keep in mind aspects like height, viewing distance, possible furniture style combinations, and materials.
In this article, you read about 18 corner tv stand ideas that we hope were helpful. Next time you see a corner, see it as an opportunity to create a beautiful place for your room.