Decorated Life is reader-supported. When you buy through links on our site, we may earn an affiliate commission. Learn More
10 TV Stand Decor Ideas
Do you want your tv stand to blend with your living room decor instead of just looking like a table that holds a TV?
I'm guessing yes.
Fortunately, you can implement some easy ideas to make your tv console more visually appealing. You can add greenery, a modern vase, or some farmhouse decor, just to name a few.
If you're in a slump for ideas, here's how to decorate around a tv stand.
Display Pretty Glassware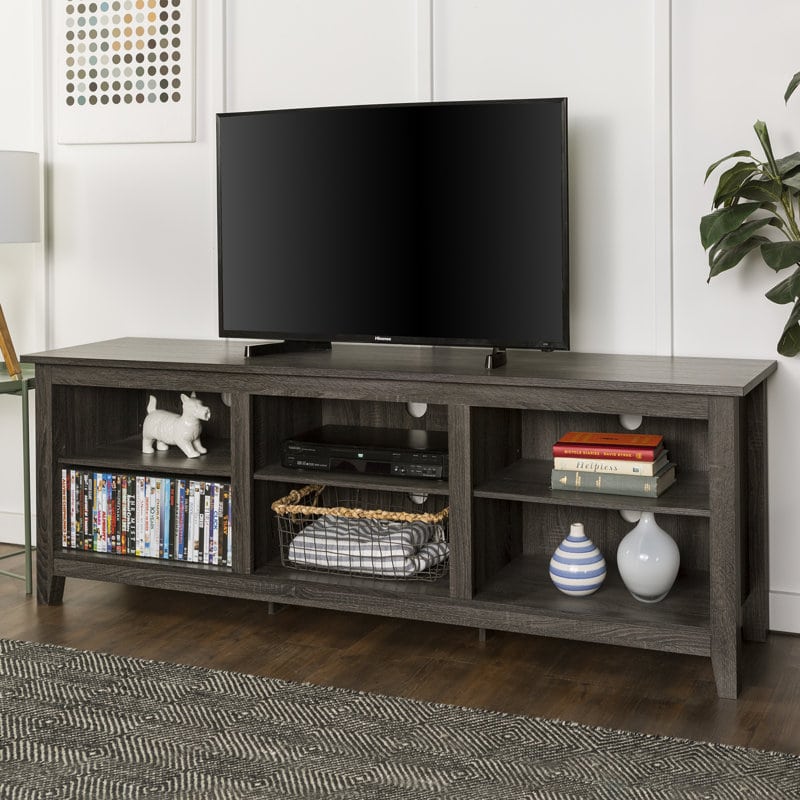 If you have shelves on your tv stand, they are the perfect spot to display some of your favorite glassware and decor pieces.
On this tv stand, they displayed some beautiful vases which give the room a modern, clean feel. To get a similar look, you can try empty vases like this or pull out some vintage glassware.
Add a Floral Arrangement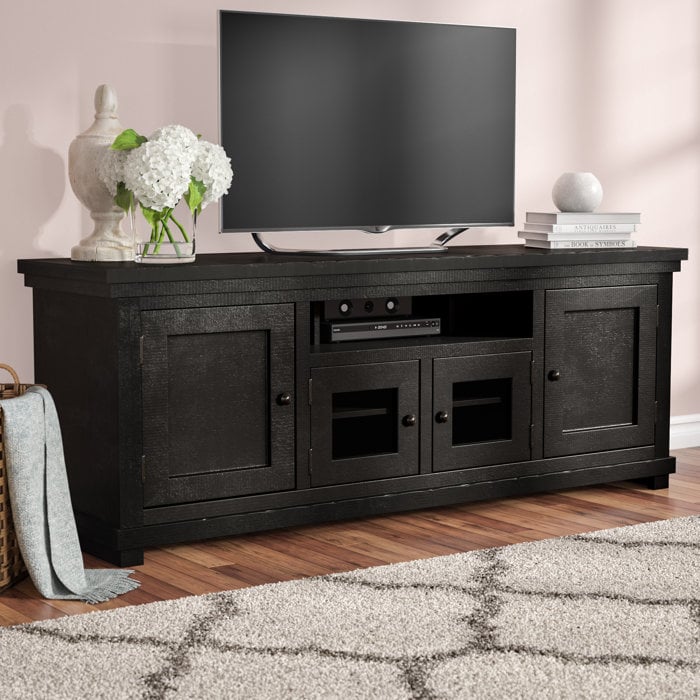 Nothing can breathe fresh life into a room quite like flowers can. And hydrangeas add the perfect touch.
Now, if you're worried about your flowers dying too often, feel free to bring in a faux version. For example, you find a very similar rose and hydrangea mix at Wayfair that looks very realistic. Or, if you prefer something brighter, try colored roses, daisies, or tulips.
Use Natural Stone for a Modern Look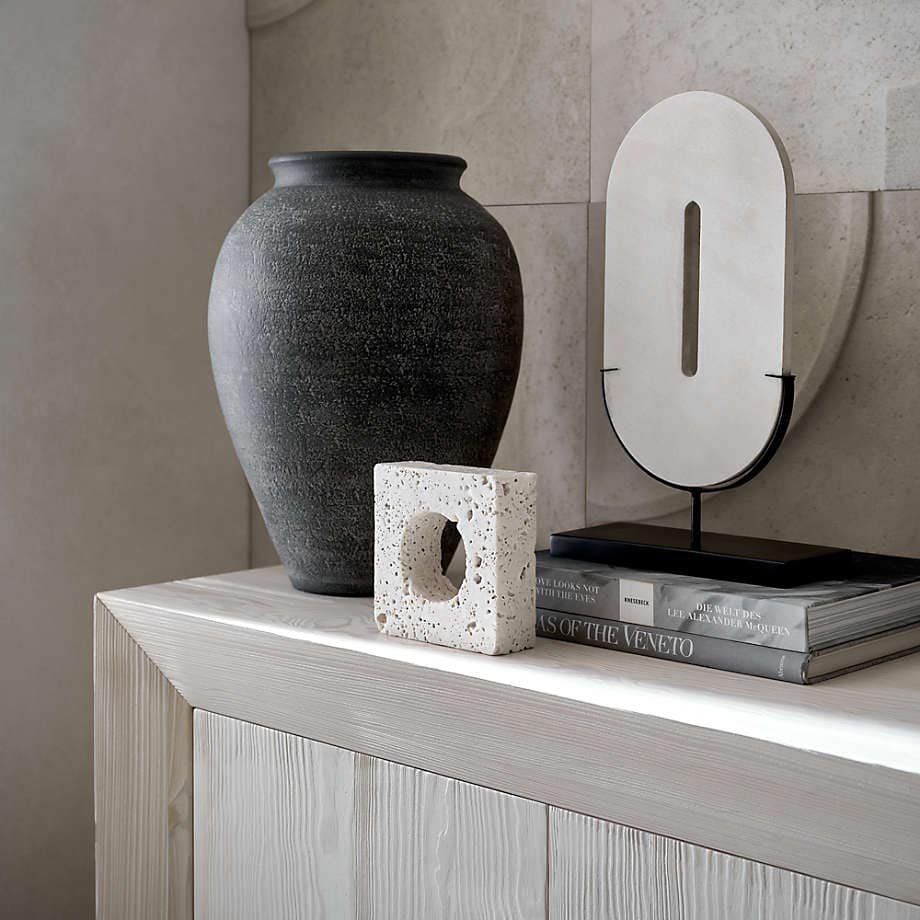 If you're more into modern tv stand decor, you can't go wrong with natural stone. Natural stone will give your console table a very high-end look.
You can find these sculptures from Crate&Barrel. They come in travertine, marble, or sandstone. For a pulled-together look, add three of the sculptures to your tv stand.
Create a Gallery Wall Around the TV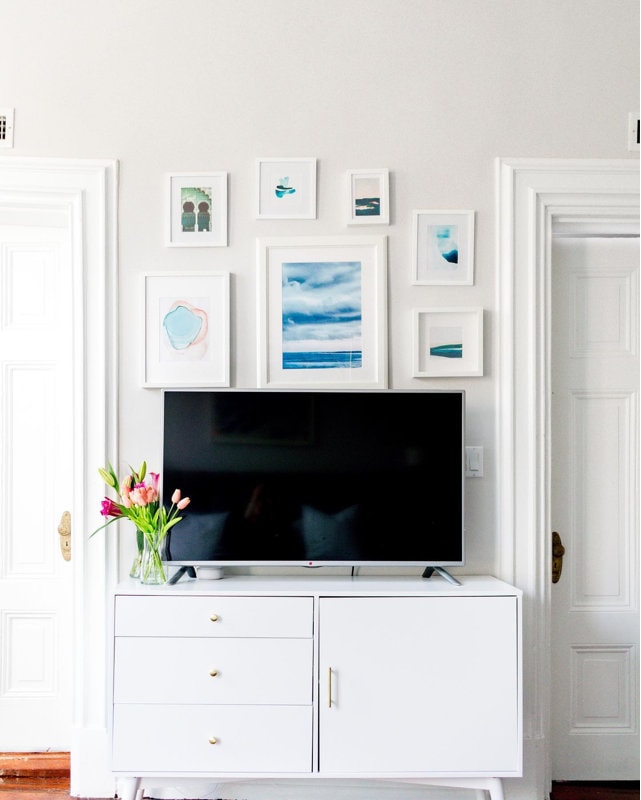 Do you want your tv to blend in with your design? Then create a gallery wall around it.
Doing this makes your TV look more intentional instead of a black box that sticks out. You can use frames all one color as pictured or create an eclectic blend. You can even add some decorative signs and art to your gallery.
Show Off Seasonal Decor with a Wreath Holder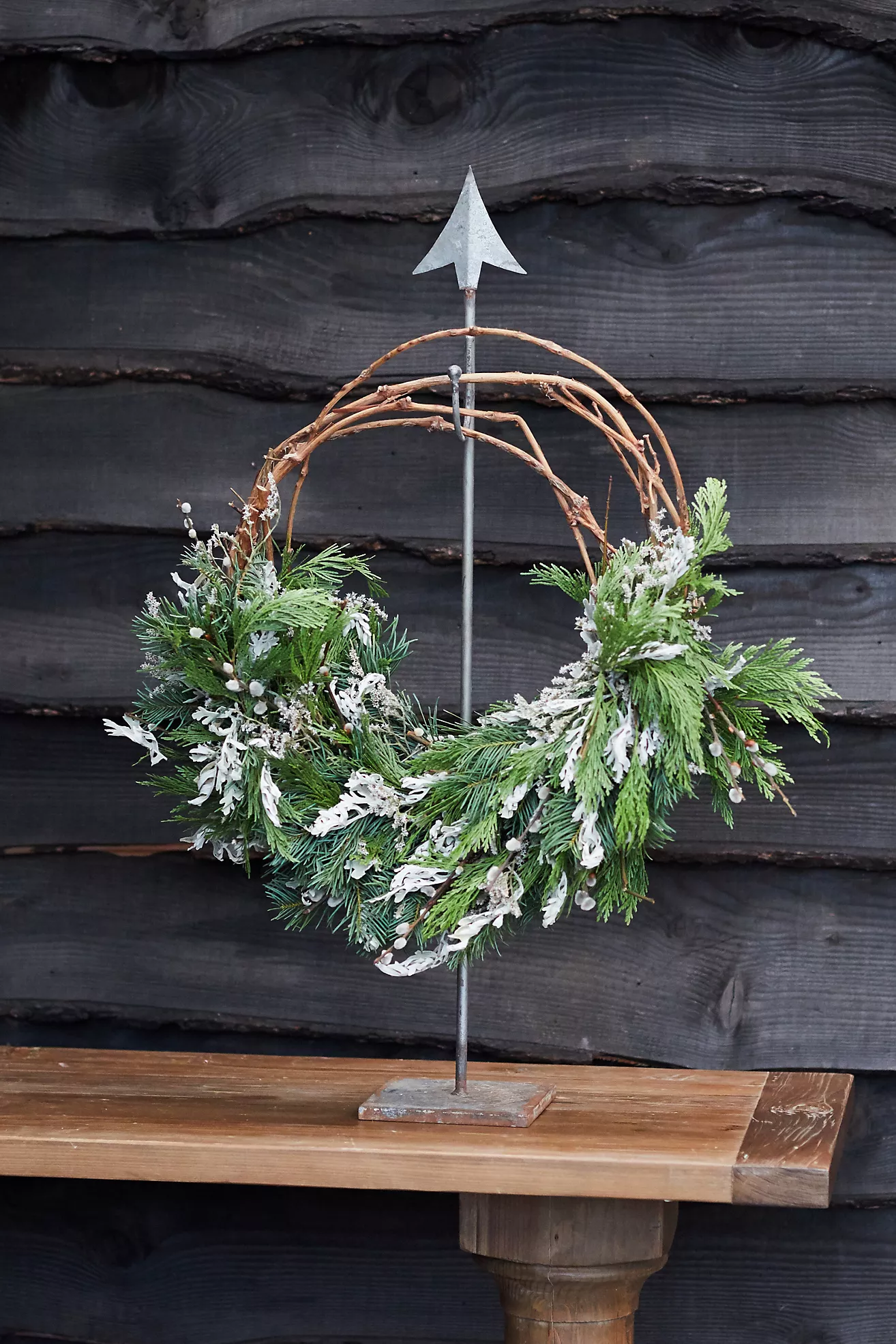 If you like seasonal tv table decor, you can show off your holiday wreaths with this wreath holder from Anthropologie.
This holder works best with long tv consoles. It is a rustic arrow shape that measures about 32 inches high. This is the ultimate decor for seasonal decorators since it allows you to swap out your favorite wreaths easily.
Place Tall Plants Beside the Console Table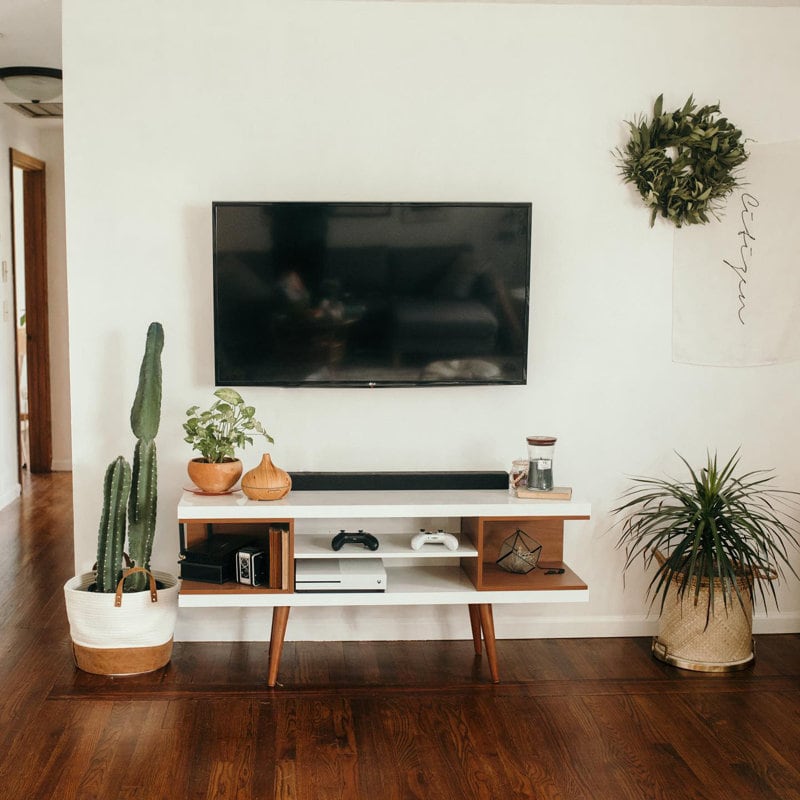 Your tv console decor doesn't have to be limited to only on the tabletop. Instead, you can add tall plants beside it.
Some options to consider are tall cacti or faux fiddle leaf fig trees. For a touch of interest and texture, place your plants inside a wicker rattan basket like shown. This helps the plants look a little more polished.
Put a Floating Shelf Over the TV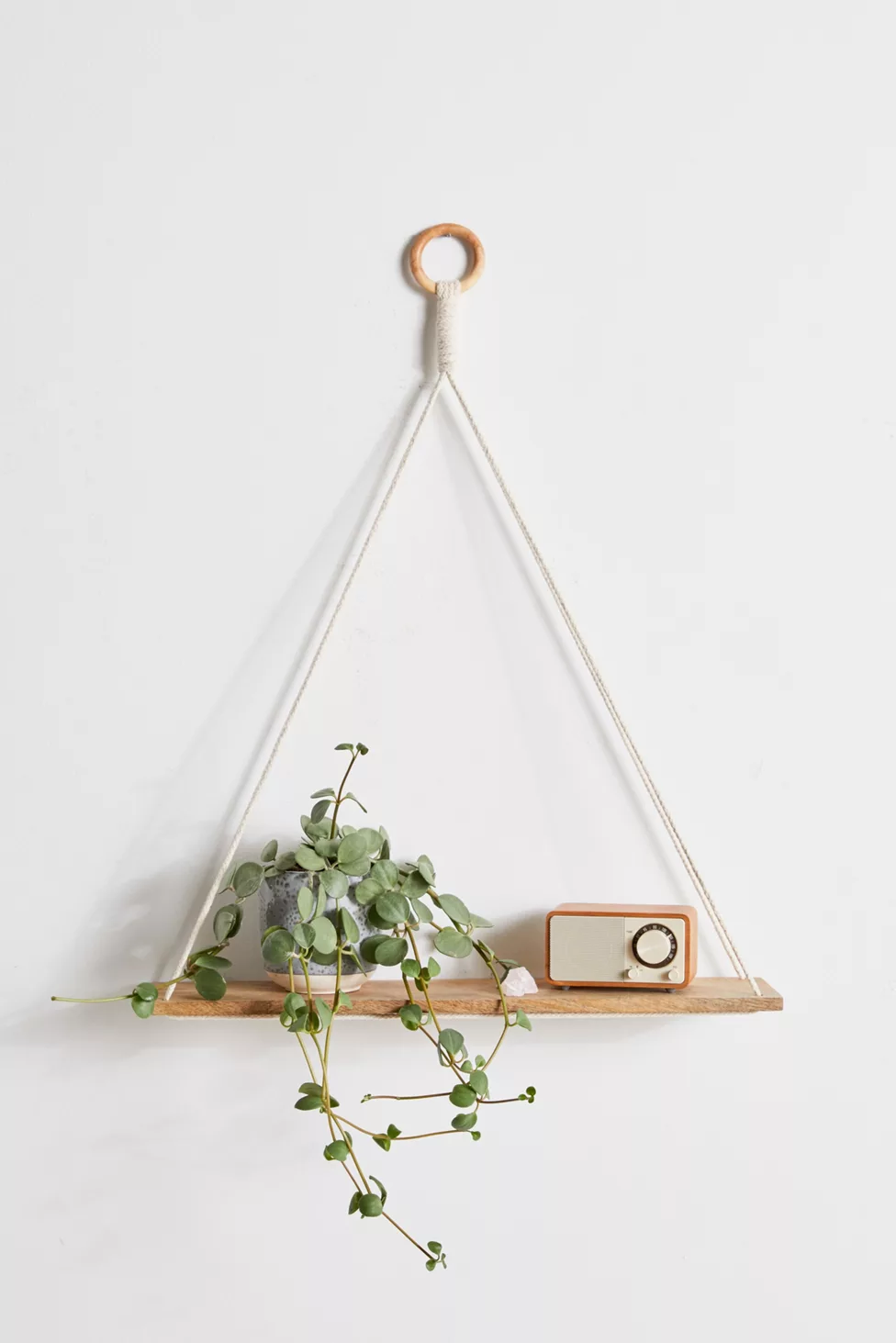 If it's looking a little bare over your tv, consider adding floating shelves and loading them with decor. You can use a standard white shelf or try something a bit more whimsical like these.
These shelves from Urban Outfitters are a natural mango wood with a macrame cord. They are relatively small, so you could use three of them at various heights for a boho look.
Load Your Shelves with an Array of Decor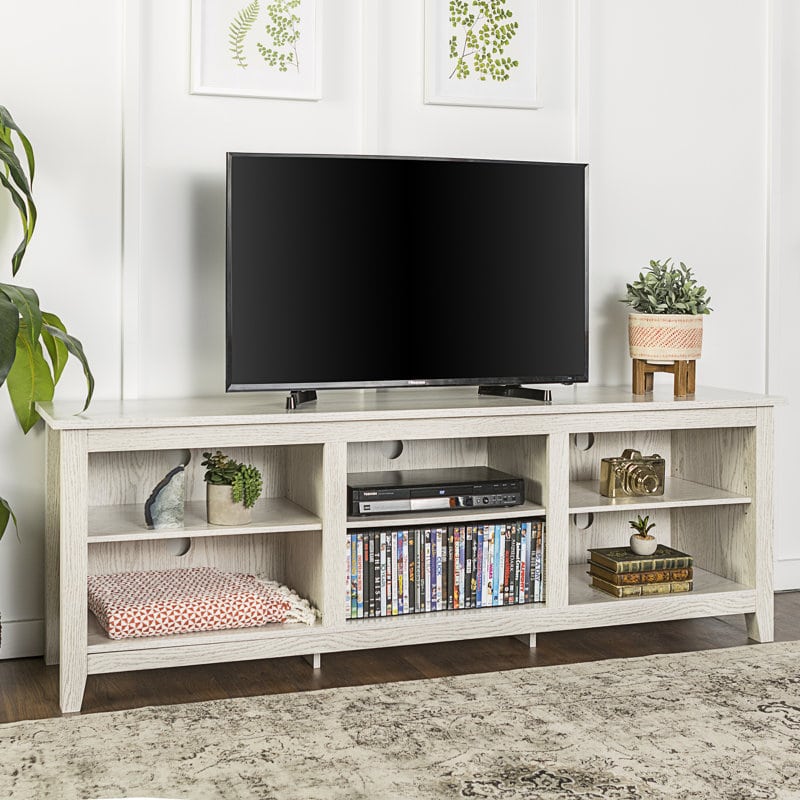 If your tv stand has open shelving and you don't know how to decorate it, keep it simple. There are no set rules you have to follow.
I like to start with small plants, as shown in the picture above. You can then add your favorite books, a pretty throw blanket, and any decorative objects you like.
Incorporate Some Candles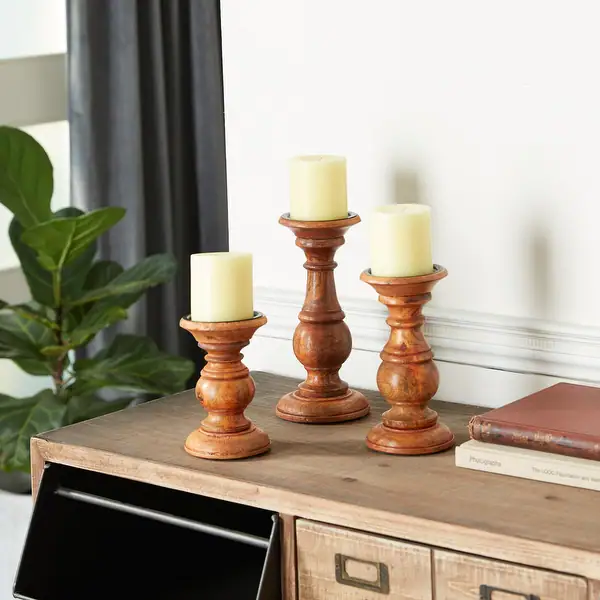 Your TV stand is a great place to put some candles. You can use your favorite scented candle or go a decorative route and use candlesticks like these.
If you want to use candlesticks, a set of three usually works best. You can find these from Overstock in several colors, including black and turquoise.
Pair Books and a Sculpture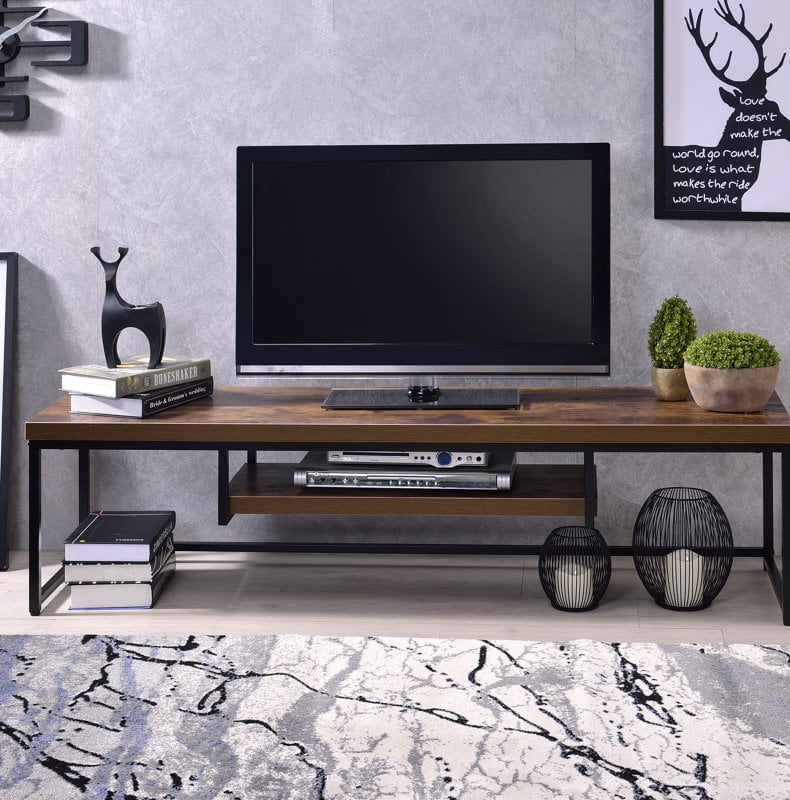 An easy way to decorate with books and make them look intentional is to pair them with a sculpture or decorative object.
You'll want to start with a stack of two or three large books. (Bonus points if they look old.) Then simply place your sculptural piece on top for easy decor.
Final Thoughts
If you're decorating your tv stand, there's no need to overthink it. You can decorate it just as you would the rest of the room.
Easy decor ideas that work with every style include plants, candles, and decorative objects. If you like to decorate for holidays, consider adding festive garland or using a standing wreath holder.