Decorated Life is reader-supported. When you buy through links on our site, we may earn an affiliate commission. Learn More
15 Farmhouse Laundry Room Ideas
Many people overlook the design potential of the laundry room. But when you enjoy being in a space, the chores don't feel as strenuous of a task.
You can make doing the laundry more fun by fixing up your laundry room in a farmhouse theme. We've organized fifteen farmhouse laundry room ideas to inspire you on different things you can do. Whether it's changing the look of the walls, hanging a sign, or putting down a rug, there are ideas of all types.
These 15 farmhouse laundry room designs encompass different farmhouse mashups, including modern, industrial, and rustic.
Warm Up Your Space with a Wicker Laundry Basket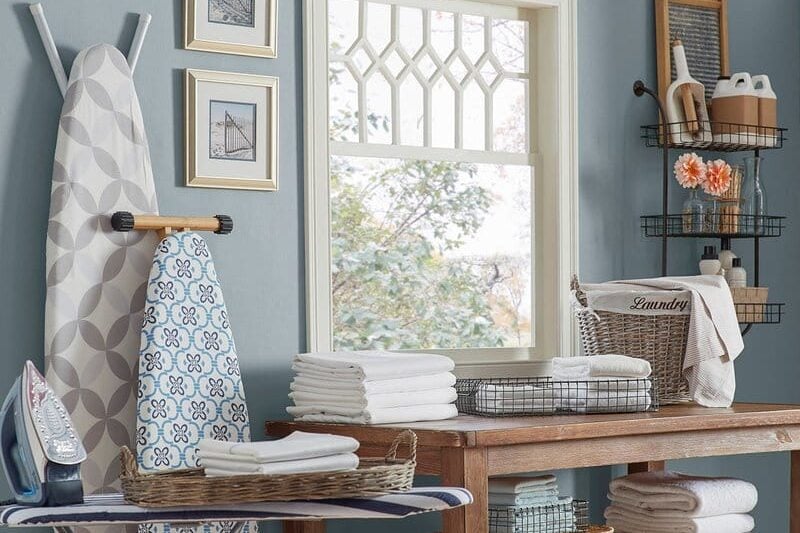 Wicker laundry baskets are the perfect accessory for farmhouse laundry rooms. You can find these baskets in all different sizes, shapes, colors, and uses.
Whether you choose a large basket with dual handles for easy carrying and a cloth liner monogrammed with the word "Laundry" or you go with multiple small baskets for storage, the natural handwoven look fits the bill for it all.
Go On the Nose with a Worded Sign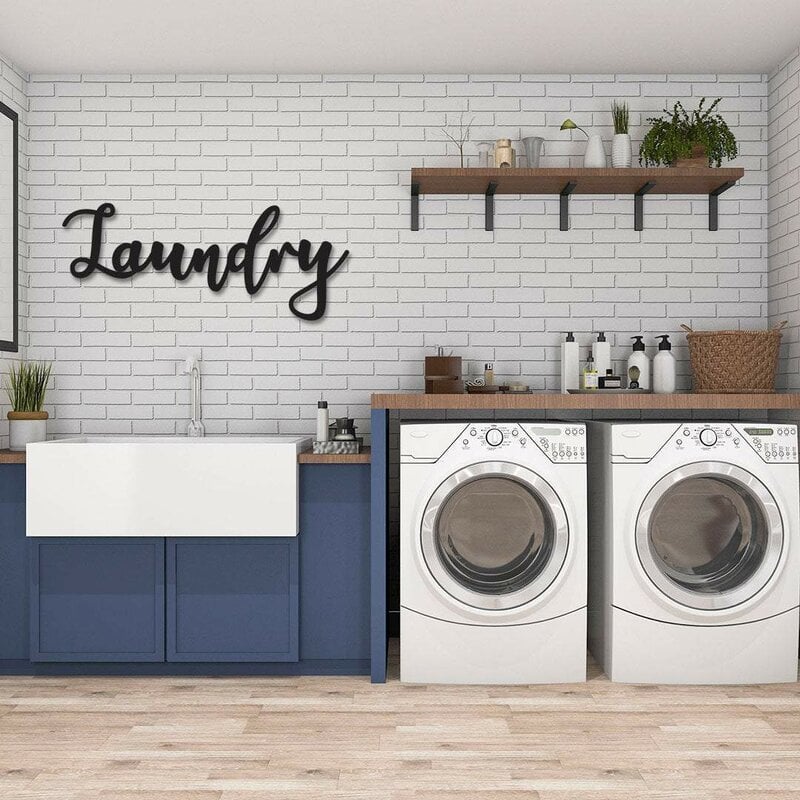 Sometimes, your farmhouse laundry room decor can be as simple as a Laundry sign. As this cursive wall art shows, swirled lettering in a simple black finish pops against a white backdrop.
The best thing about this simple decor item is that it works for any laundry room theme. For example, we love a wall unadorned with art other than a classic sign for a modern farmhouse laundry room.
Advertise for Help in the Laundry Room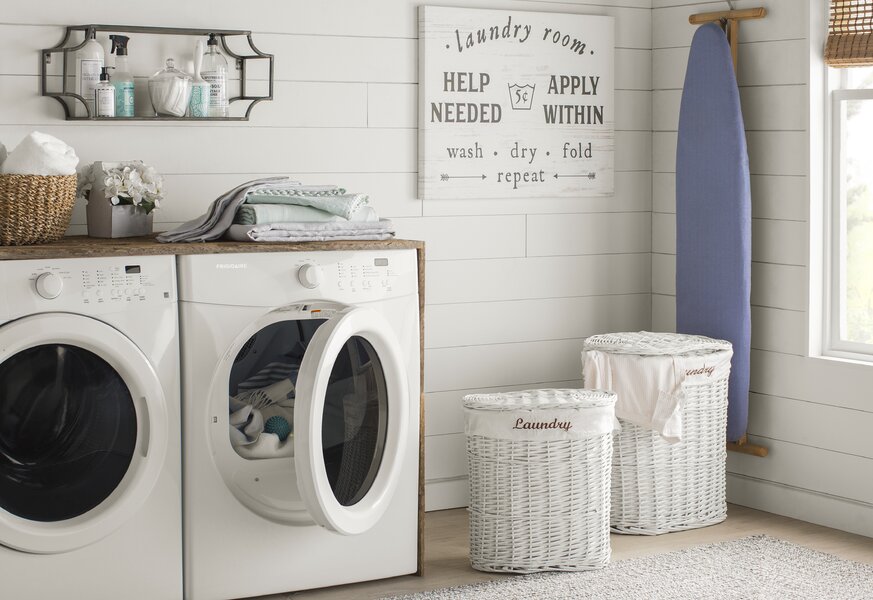 Anyone responsible for all the laundry in a busy, bustling home knows how exhausting it can be to tackle it all alone.
While it's unlikely to result in a valid offer, you can create an attractive dynamic with a classic retro sign listing your need for a helper. But be aware, you may have to up your price from the antiquated offering on the sign.
Fix Your Space Up with a Farmhouse Sink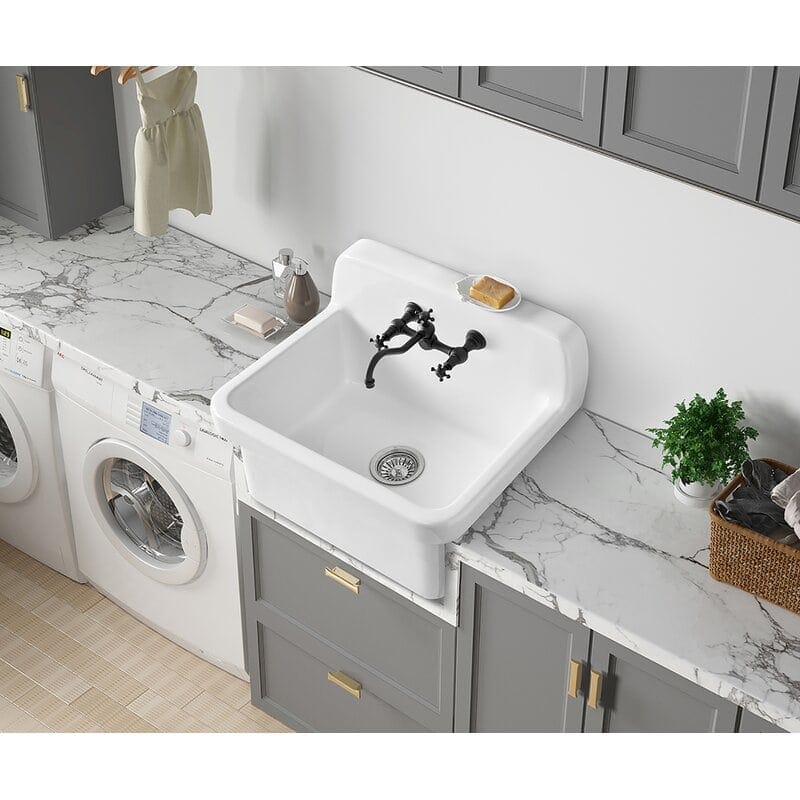 If your laundry room is spacious enough to fit all the goodies, you can never go wrong with the addition of a utility sink. Farmhouse-style utility sinks are an ideal option, as they are suitable for rooms of all sizes.
This classic utility beauty features a versatile mount design for walls, counter, or stand-alone tables, with a widespread faucet mount and a vintage angular shape. It's perfect for laundry rooms of all sizes, from large to small.
Make It Fun to Find a Mate for Socks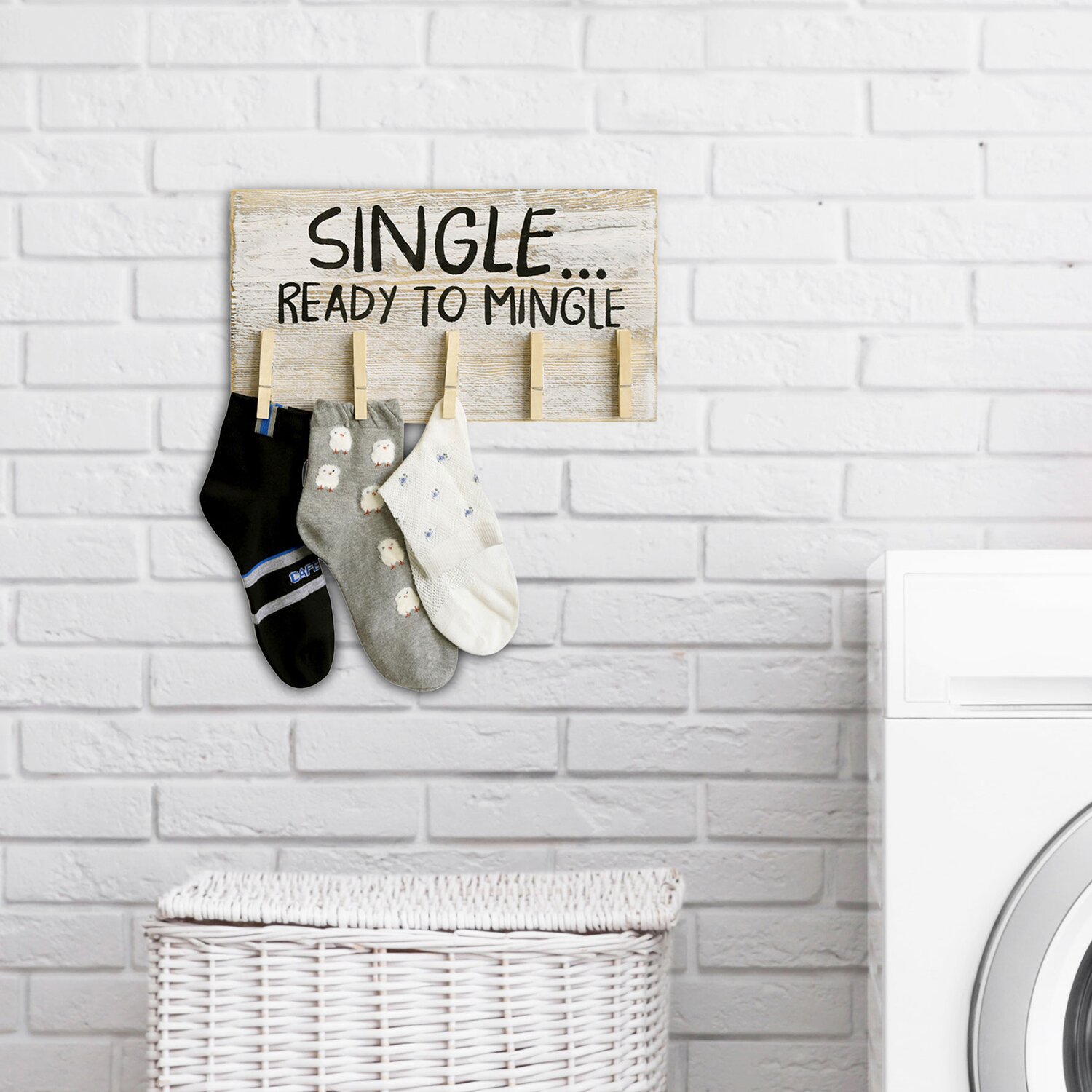 Everyone experiences the significant frustrations of losing a sock, leaving you with multiple single socks that you can't pair.
Having a Single and Ready to Mingle sign gives some humor to the situation while making it easy to keep up with the singles until you've found a match.
Add an Assortment of Artistic Advice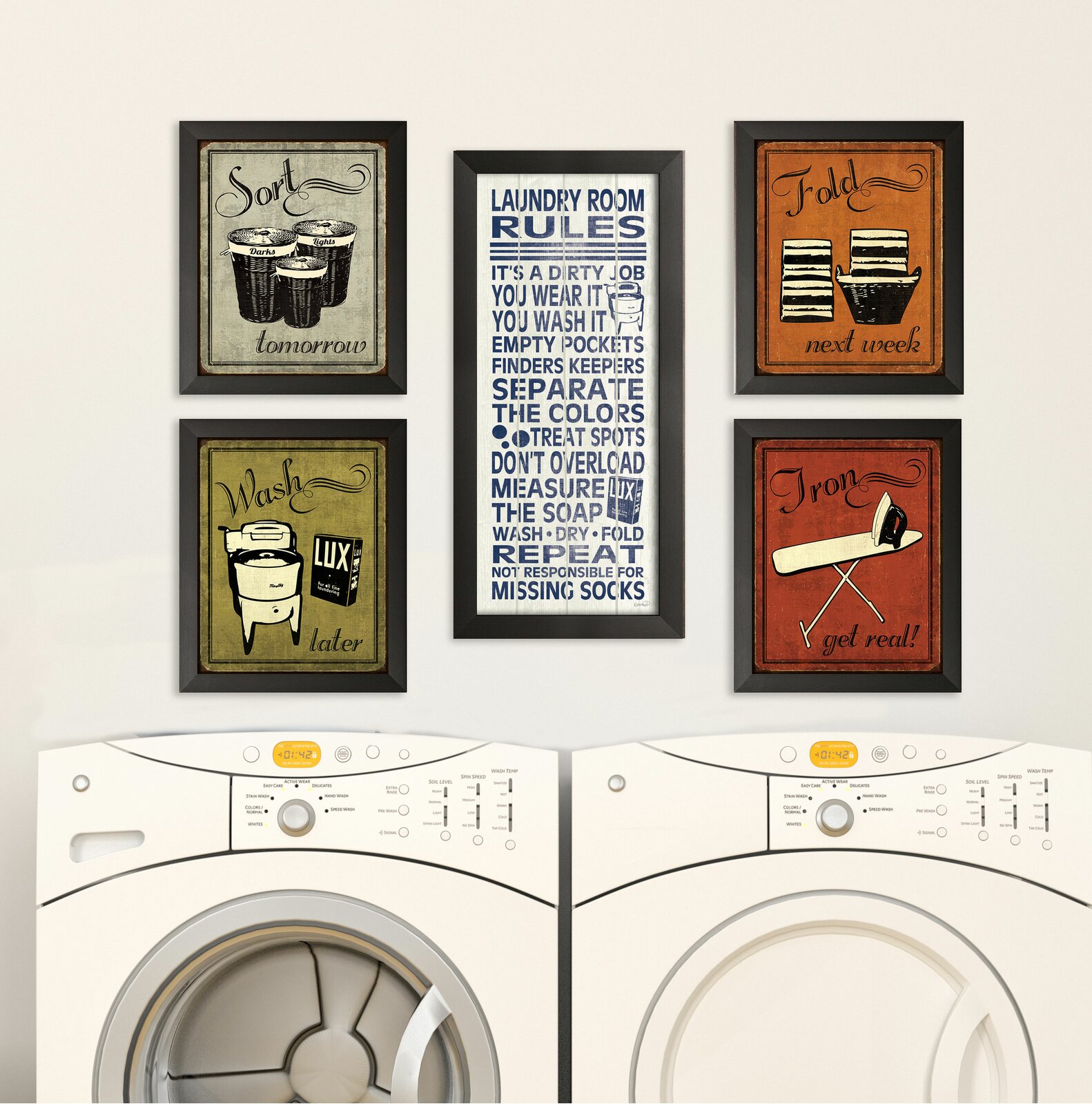 When it feels like your entire life revolves around time in the laundry room, making the space fun to be in eases the frustrations.
How adorbs are these laundry room-themed wall art, with a vintage feel and some major humor. Who doesn't dread the idea of the laundry process, from sorting to folding to ironing – which, let's admit it, most of us don't do.
Hang Some Humorous Laundry Decals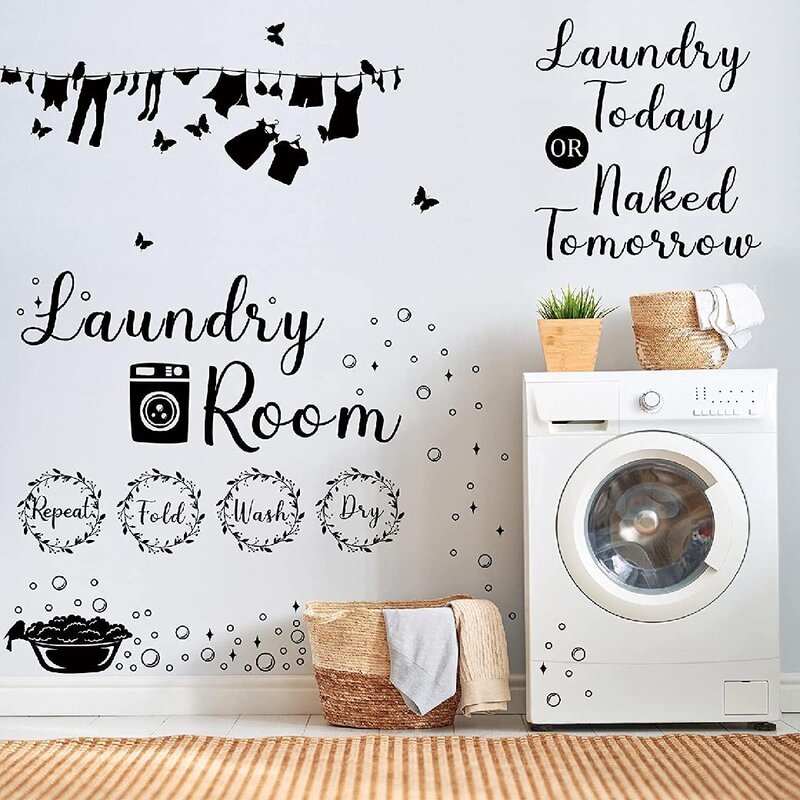 Decals are a fun way to decorate your walls without hanging pictures or repainting. So we're feeling the cheeky humor in this three-piece laundry room decal set in a classic black and white palette.
You get a vintage laundry room decal with bubbles and sweet clothing. The second decal lets you label the laundry process – wash, dry, fold, repeat, with some fun laundry icons. And for the third decal, you get the naughty humorous truth of – Laundry today or Naked tomorrow.
Slap On Some Shiplap Wallpaper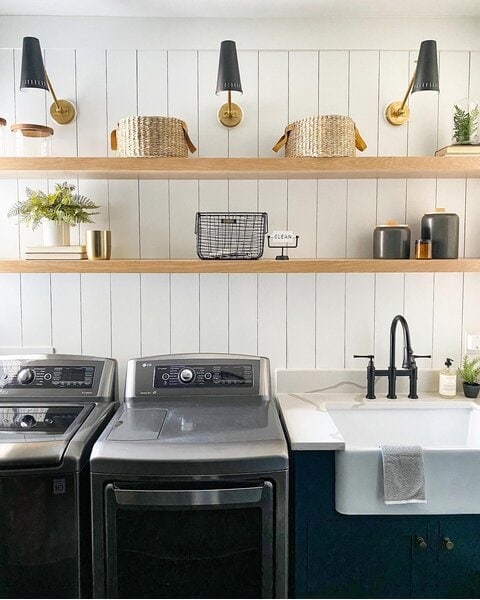 No farmhouse design is complete without shiplap planks on the walls – preferably in painted or primed white.
Hanging white shiplap planks offers the perfect base for a country laundry room feel, complete with open plank shelving.
Feature a Farmhouse Faucet Fixture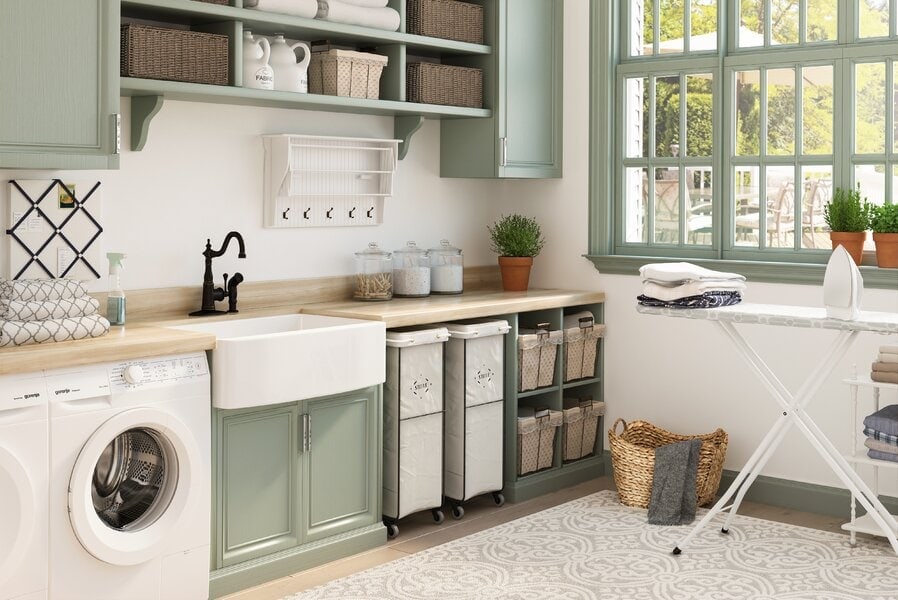 If your laundry room has a farmhouse sink, complete the feel with a farmhouse faucet. This stainless steel fixture in a satin black brass finish has a curved neck and a thin handle.
This simple yet elegant style can make any utility sink feel aged and rustically high-maintenance for an upgraded laundry room look.
Round-Up Your Rags with a Rattan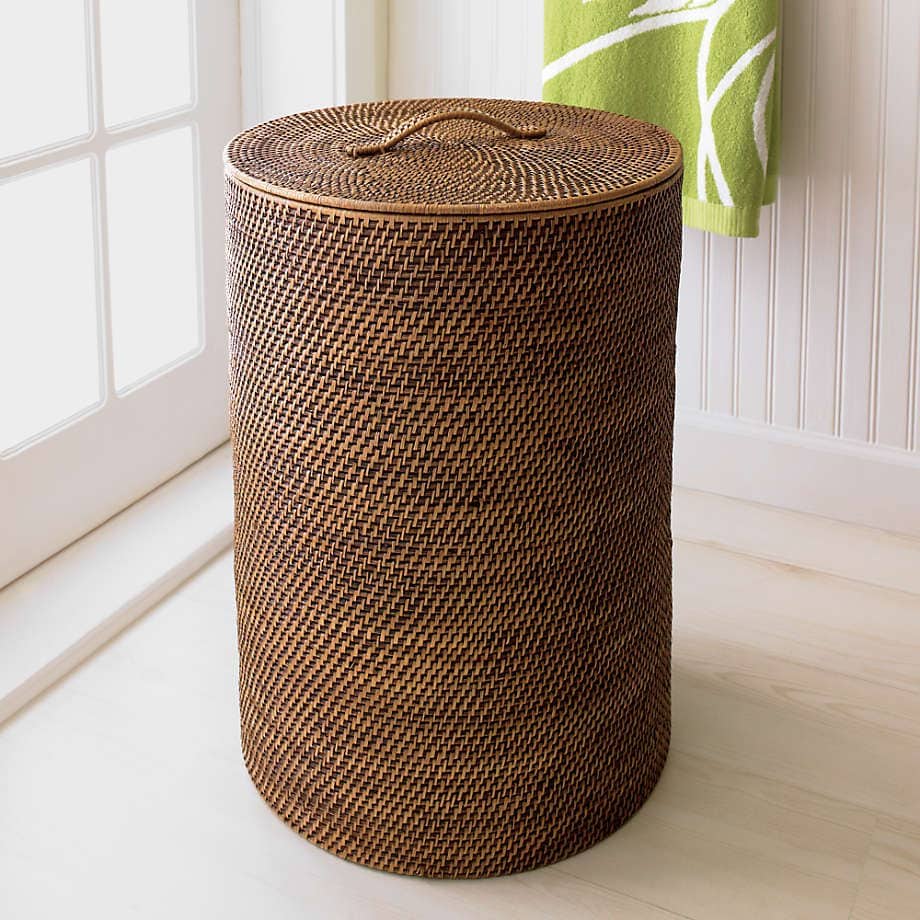 When you have a small farmhouse laundry room, a cylindrical laundry hamper made from buri and rattan in a tight hapao handwoven technique can give you the perfect place for storing your laundry without taking up all the empty room.
The honey-colored sides and removable lid with handle offer structural support. And a fabric canvas liner with a carrying strap and drawstring closure makes it easy to remove and carry around without having to tote the whole basket.
Roll Out a Laundry Room Rug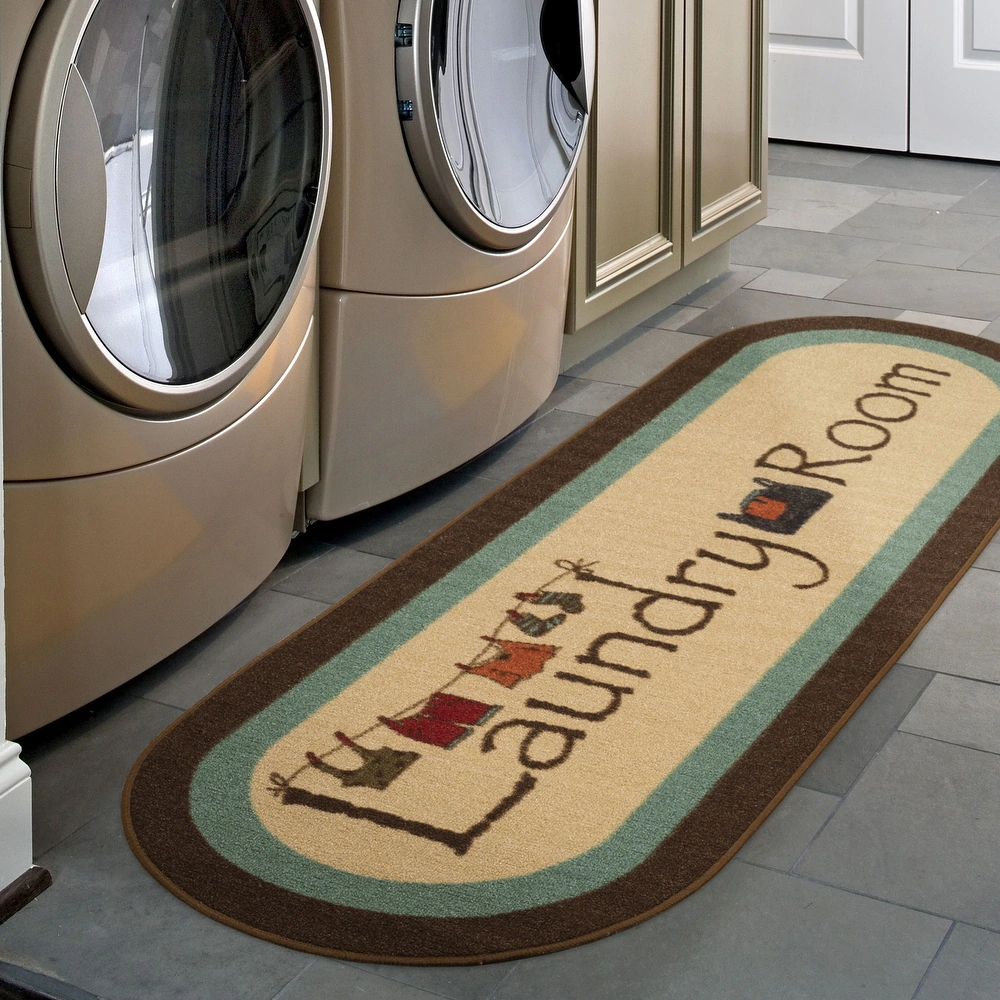 Adding a laundry rug to the floor in front of your washer and dryer gives you a more comfortable place to stand while doing laundry and gives your room a bit of style.
This oval area rug in classic rustic colors like beige, blue, and brown offset the too-cute imagery of worn clothing dangling on a clothesline and the Laundry Room wordage.
Share Laundry Knowledge with Art on the Wall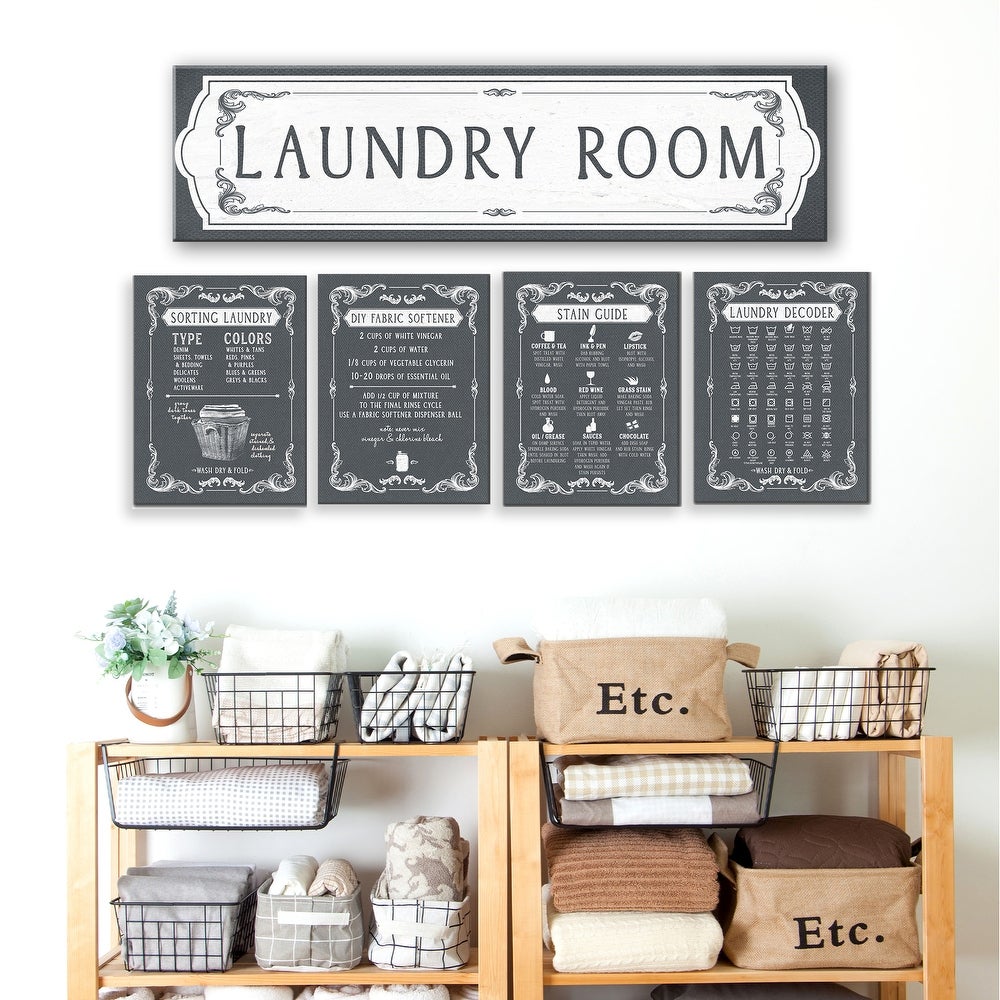 Ensure that everyone in your home knows how to do laundry the farmhouse way with the use of five printed canvases hung on the wall.
From how to sort laundry by color and type to make your DIY fabric softener, how to treat stains by type, and how to decode common laundry icons, all of these are chalky white print on a black background to resemble a chalkboard.
Add Cabinetry and a Wall Mount Drying Rack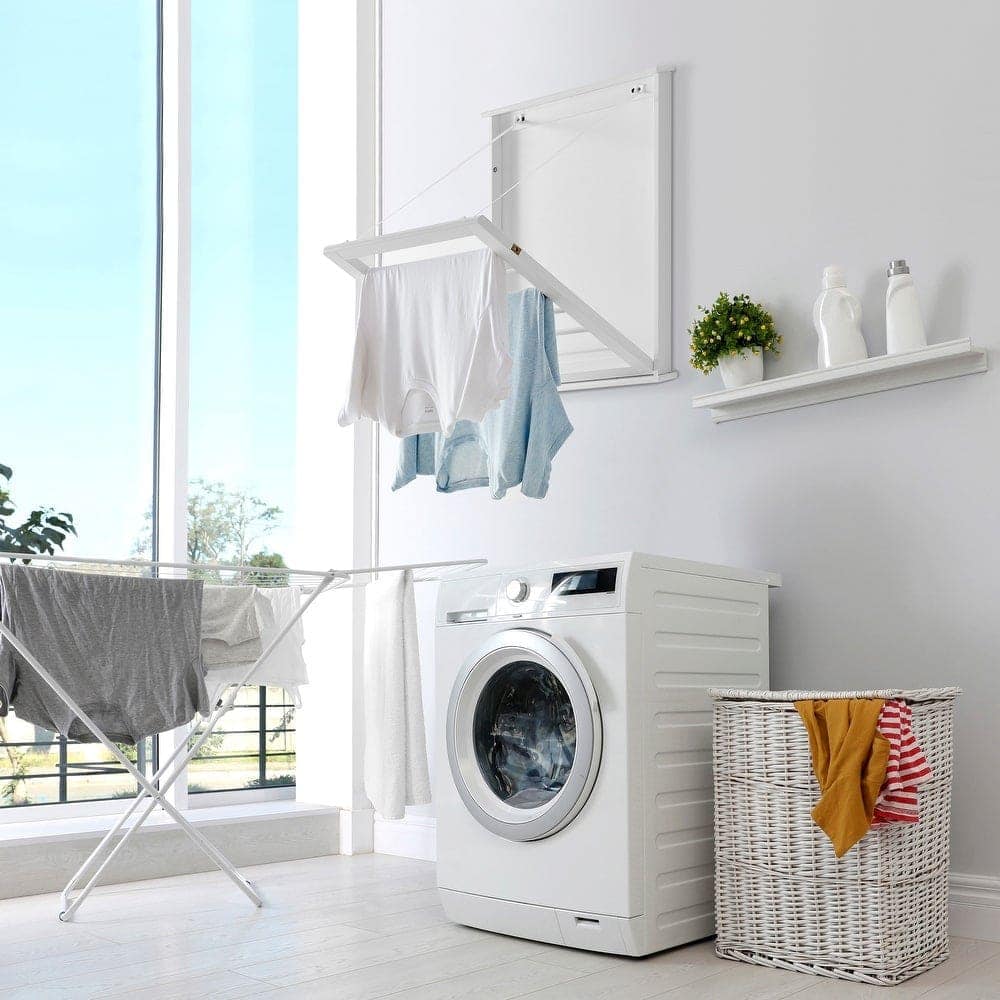 Having adequate storage is a crucial part of farmhouse designs. You can add some laundry room cabinets for storage, topped with counters for a workspace and even a sink.
And if you're tight on floor space, you can work with a wall-mounted folding rack. When not in use, it looks like a slatted shutter or open-frame washboard.
And when folded down, you have multiple bars for hanging items to air-dry. The classic white color and simple frame fit on any wall, even in tight spaces.
Add an Accordion Drying Rack for Air Drying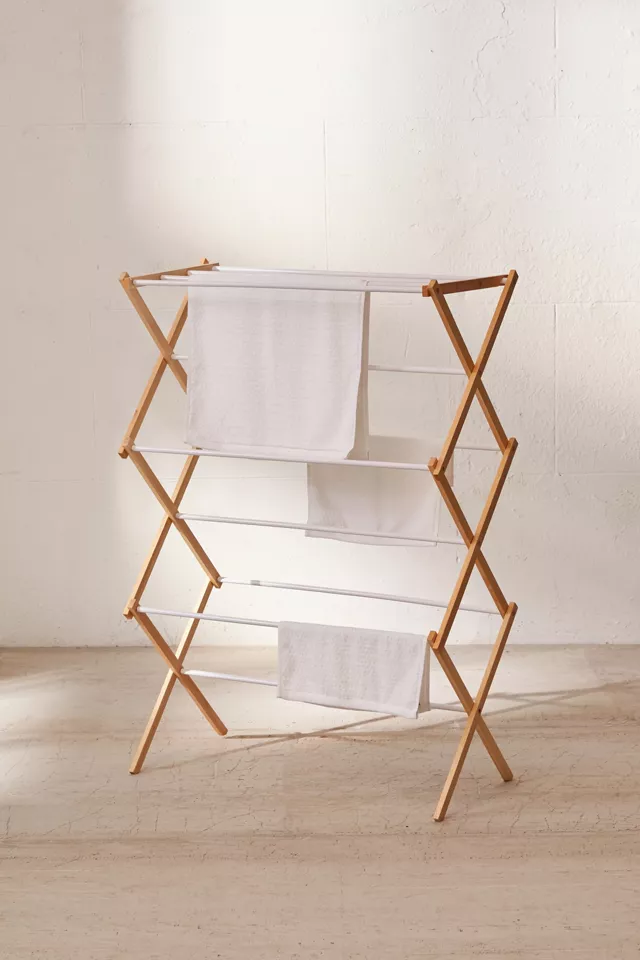 Add a wood-framed accordion-fold drying rack for drying intimates and items that need to air dry for an authentic farmhouse laundry room feel. This minimalist rack offers six-tiered rows of bars with a top layer of four bars to form an open drying shelf.
The thin pine wood frame and sleek metal bars give this rack a rustic elegance that's great for laundry rooms of all sizes. You can even get a second one to use for a rustic bathroom towel rack.
Work with Wire Baskets for Organization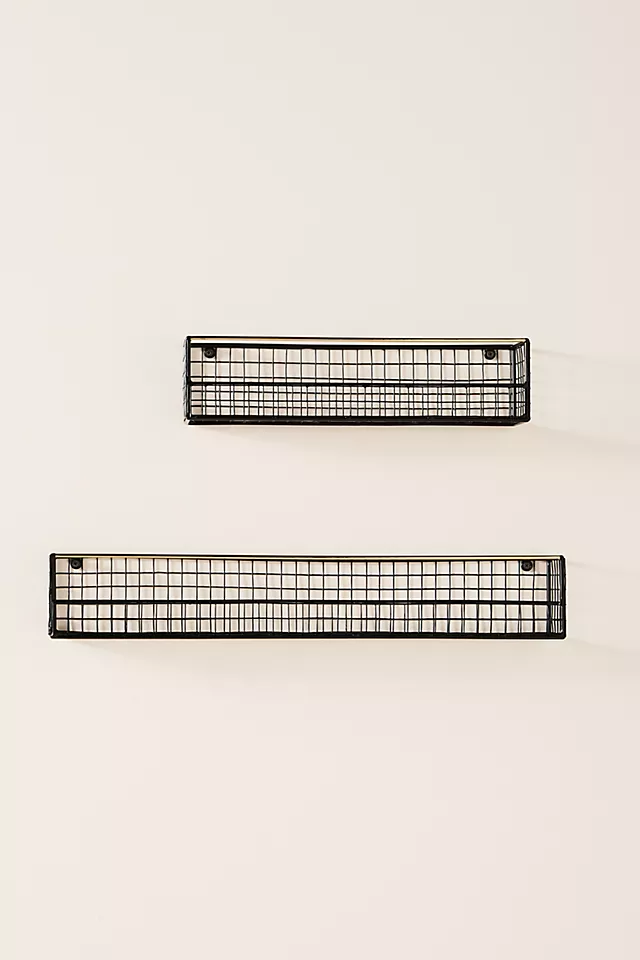 For an industrial vintage farmhouse feel, use wire baskets to store items you need to keep close by, like your laundry cleaning supplies.
These two assorted baskets in black chicken wire metal can hold canisters, small flowers, or spray bottles. And you can hang clothes hangers through the grids for air-drying of items.
Closing Out
You can enjoy a farmhouse vibed laundry room, even if you don't have a house on the farm. Try these 15 ideas for farmhouse-themed mudrooms so you can get a head start on designing the laundry room of your dreams.
What design idea is your favorite? Please share it in the comments.