Decorated Life is reader-supported. When you buy through links on our site, we may earn an affiliate commission. Learn More
10 Ideas for Laundry Room Sinks
A laundry room sink is a really useful addition to the room but you shouldn't buy just any regular sink. There are a lot of different aspects to consider when choosing the right one, from the material to the size, and whether you want something with cabinets or a standalone model.
First, think about the space you have to work with and whether you want additional storage. You should also consider what you'll be using it for. Let's explore a few great options.
Get a Large Laundry Room Sink With Cabinets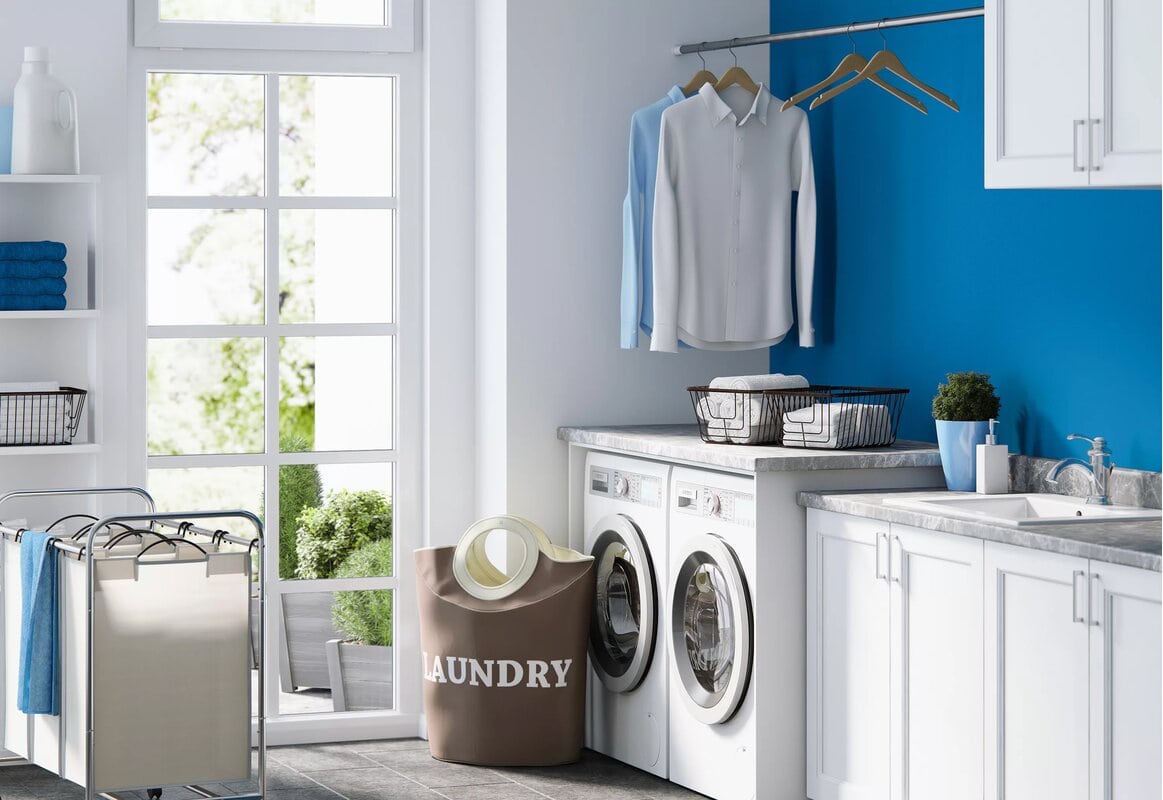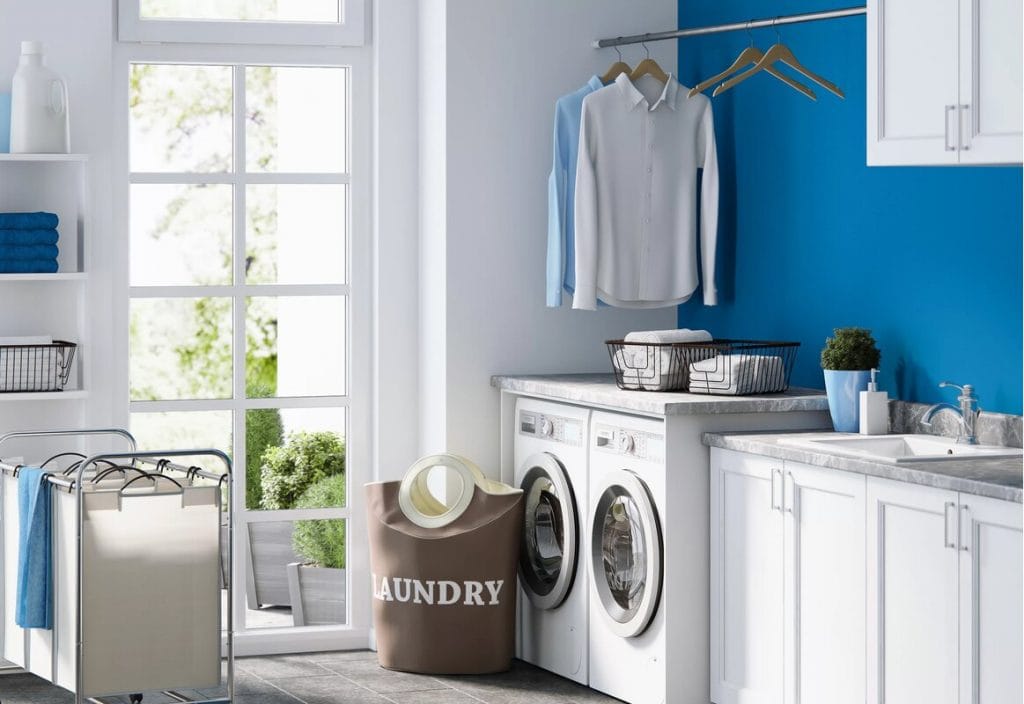 The classic traditional laundry room sink with cabinet is a large mounted model with a lot of storage beneath. It's a great choice if you want somewhere to store your laundry supplies, and it's also large enough to wash clothing in it without creating a mess.
This white sink is really lovely and matches the appliances and rest of the room really well, especially complemented by the bold blue accent wall.
Use a Vintage Bathroom Vanity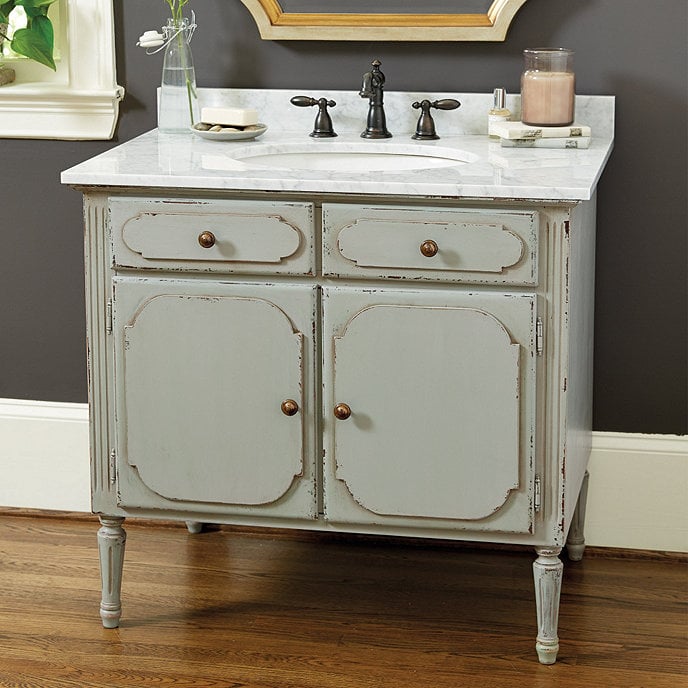 If the size or depth of your sink doesn't matter as much to you, consider getting a laundry room sink like this one, repurposed from a bathroom vanity. It's a gorgeous vintage piece covered with chipped and weathered paint.
It adds a lot of charm and personality to the room, and it's also a great choice due to the large marble countertop that allows you to store soaps and other items.
Install a Bamboo Shelf for Easy Access to Supplies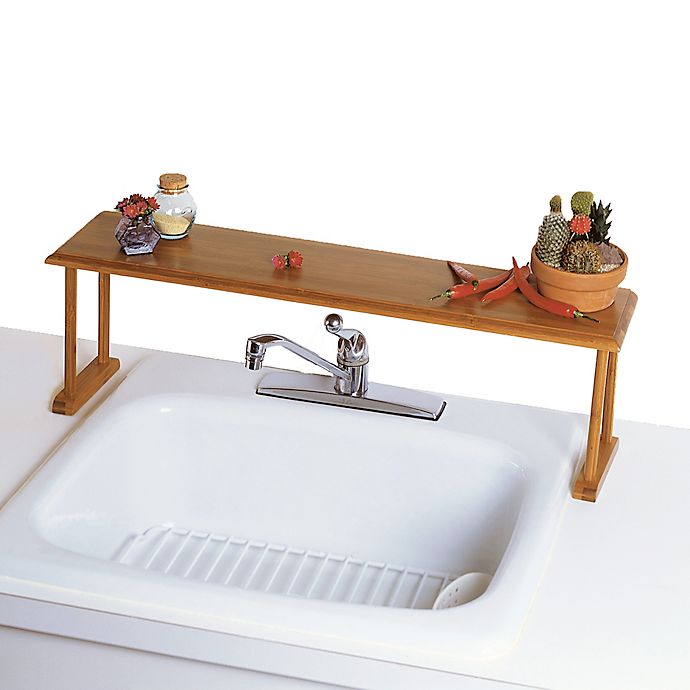 This bamboo shelf is pictured over a kitchen sink, but it's also a great option for a laundry room sink because it gives you a bit more storage space but it's also mobile so you can move it away if you want to.
If you're washing clothes in the sink, a wooden shelf like this can be really useful for keeping your scrub brush and soap handy.
Look for a Standalone Utility Sink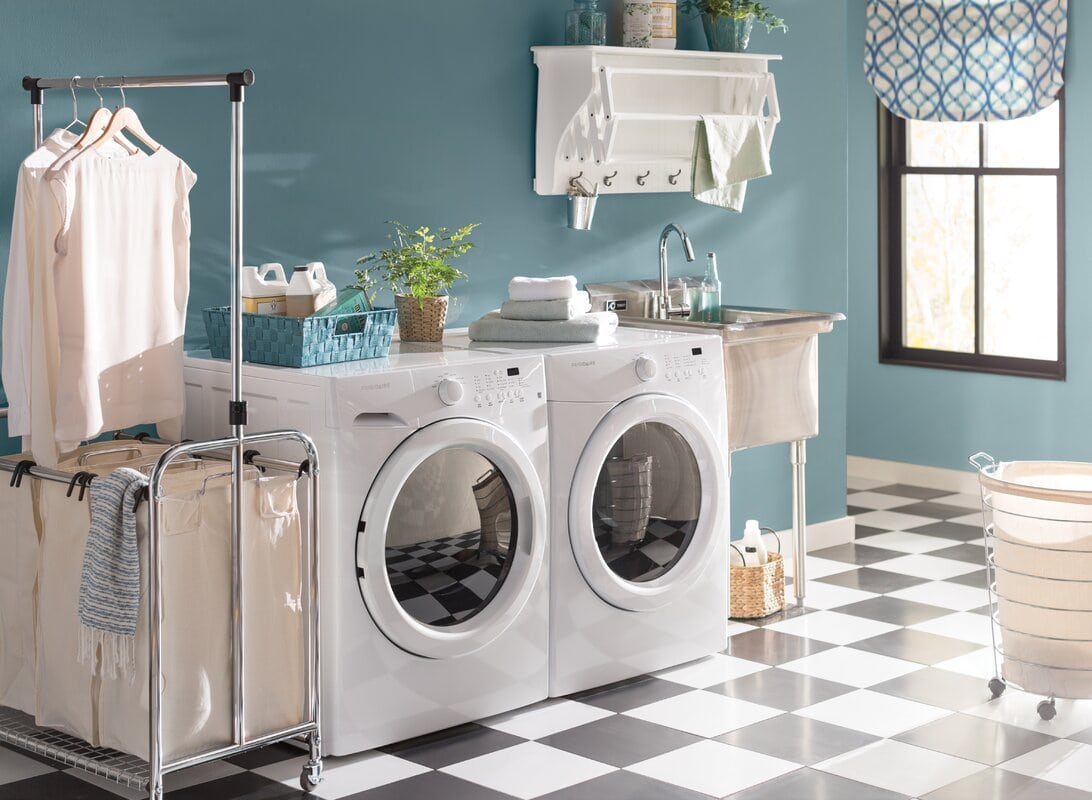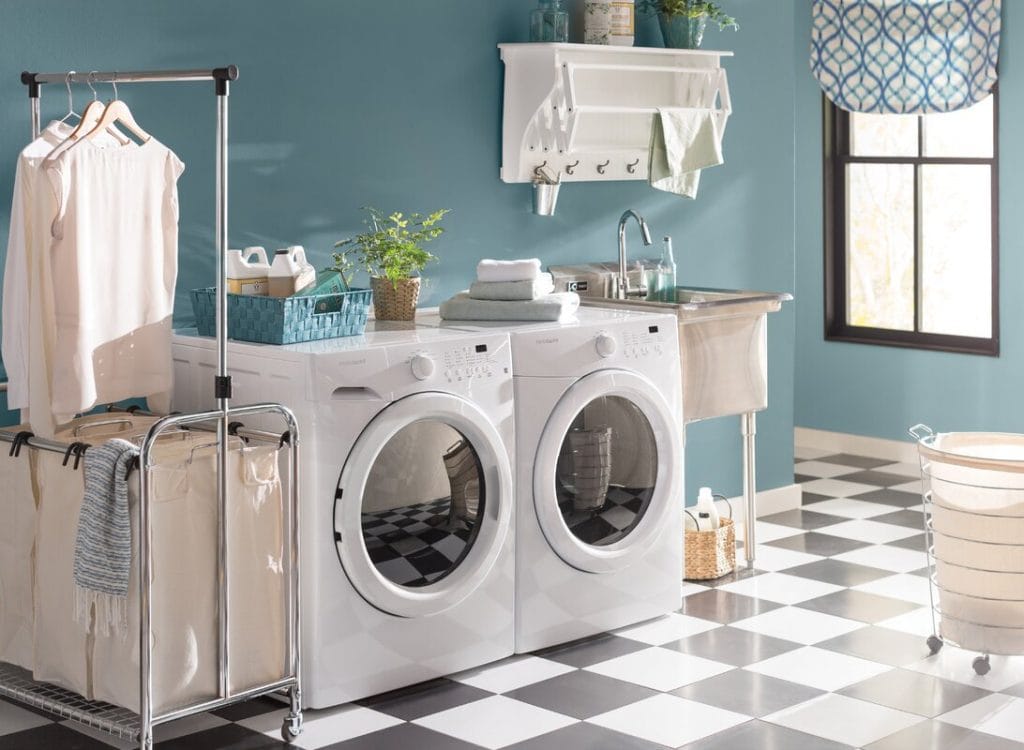 A standalone laundry room utility sink is a great idea if you're not interested in getting cabinets and you want to focus instead on getting a large, deep sink. This chrome sink doesn't take as much space as a large cabinet-mounted sink.
If you're not sure where to start, whether you should get a laundry room cabinet with sink or what the best laundry sinks are, read up on the various pros and cons of each here.
Boost Storage With an Under-Sink Organizer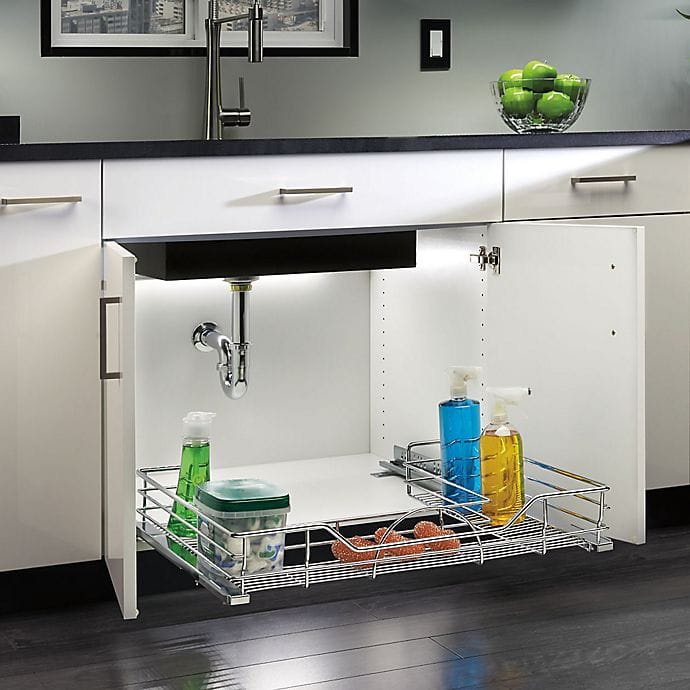 Often, the space in a laundry room sink with cabinet is just a big area with pipes running through it. However, you can install a steel pull out rack to store your laundry supplies and keep the space a little more organized and easy to access.
This is an especially great idea if your cabinet is longer than it is deep, because you can line up more supplies along the front of it.
Get a Smaller Sink to Save Space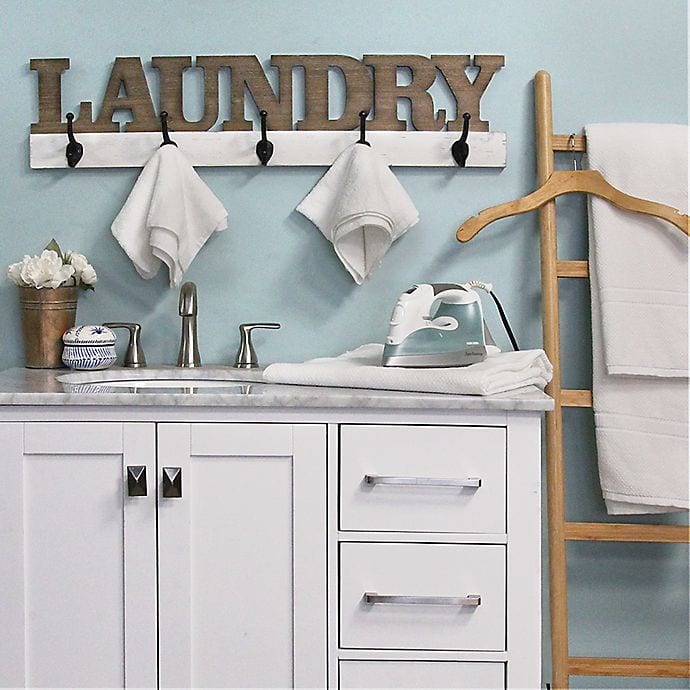 If you just want a sink for convenience but you're not looking for a large unit for hand-washing, consider getting a small laundry room sink. The small narrow laundry sink pictured here provides the ease of having a nearby sink while saving a lot of countertop space for folding.
Install a Custom Size Sink and Cabinet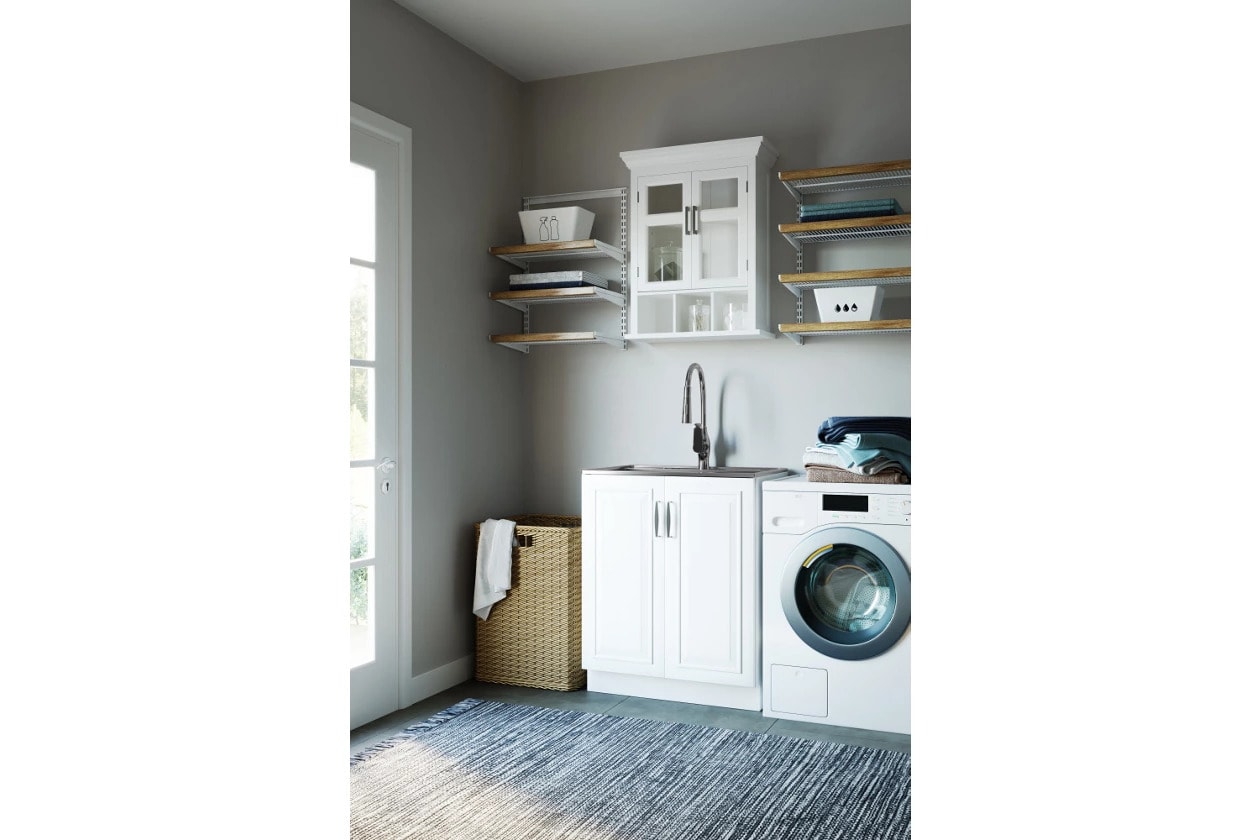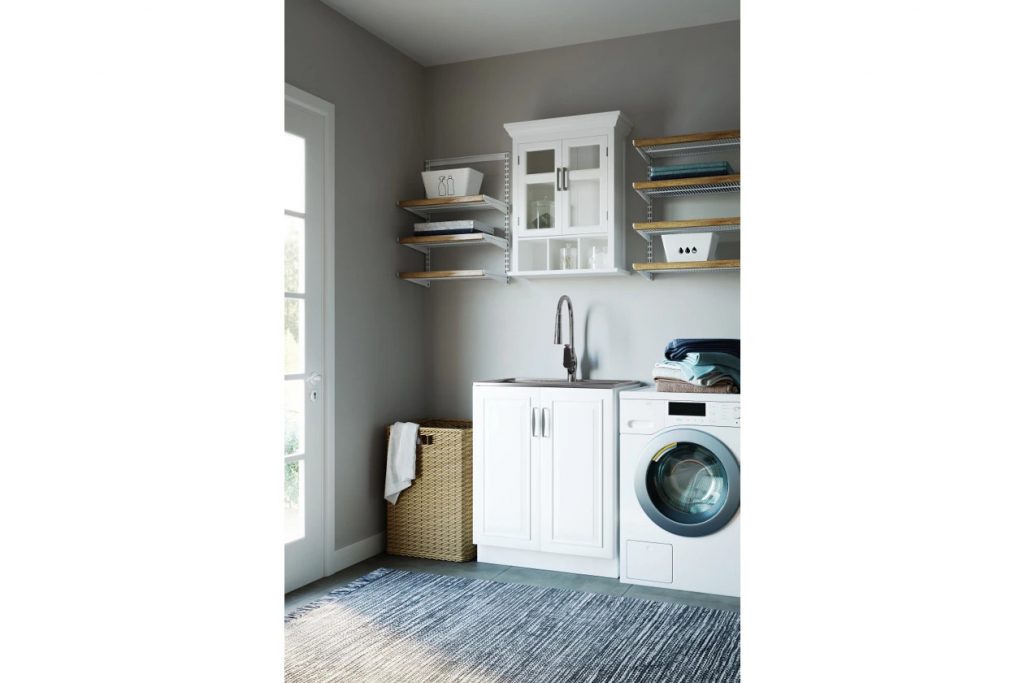 As with anything, you can always get a sink and cabinet custom sized and fitted to suit your needs. This large sink fills up the entire cabinet top, which has been fitted to slide in perfectly to the space along the wall.
The sink fixture is a high one, which allows for much better ease when using the sink for hand-washing garments.
Look for a Deep, Wide Porcelain Sink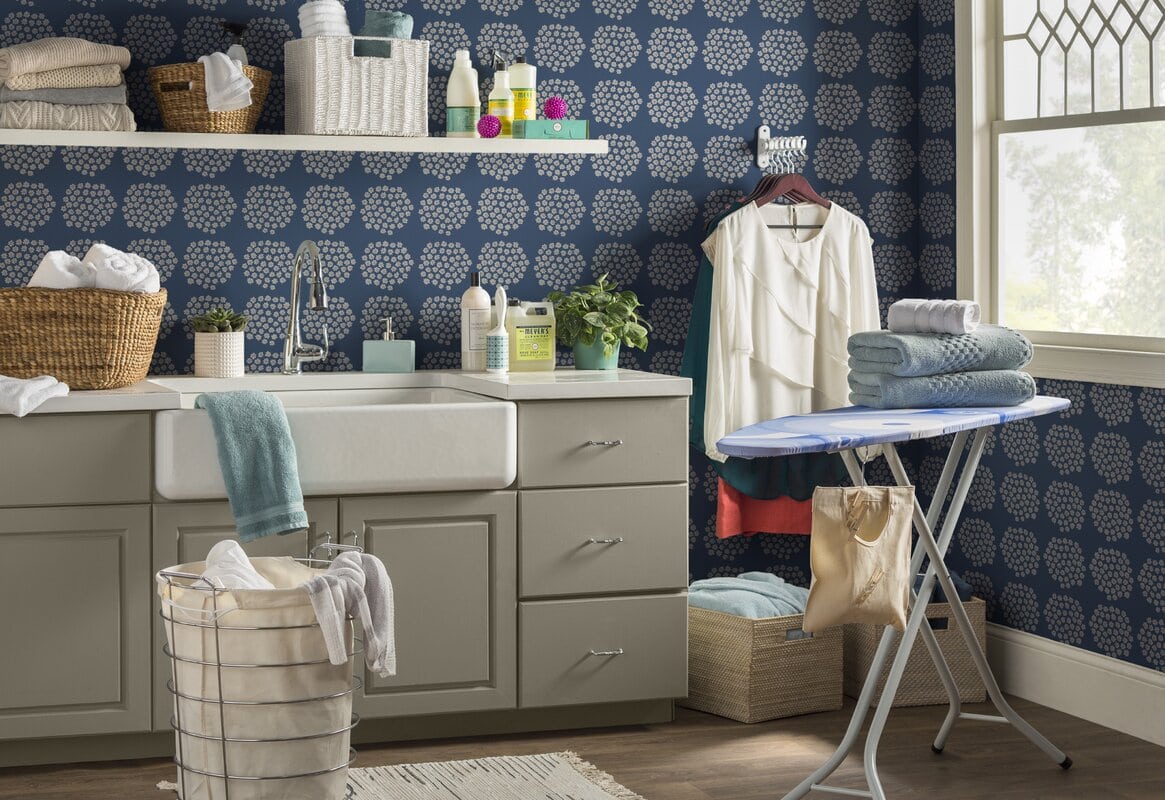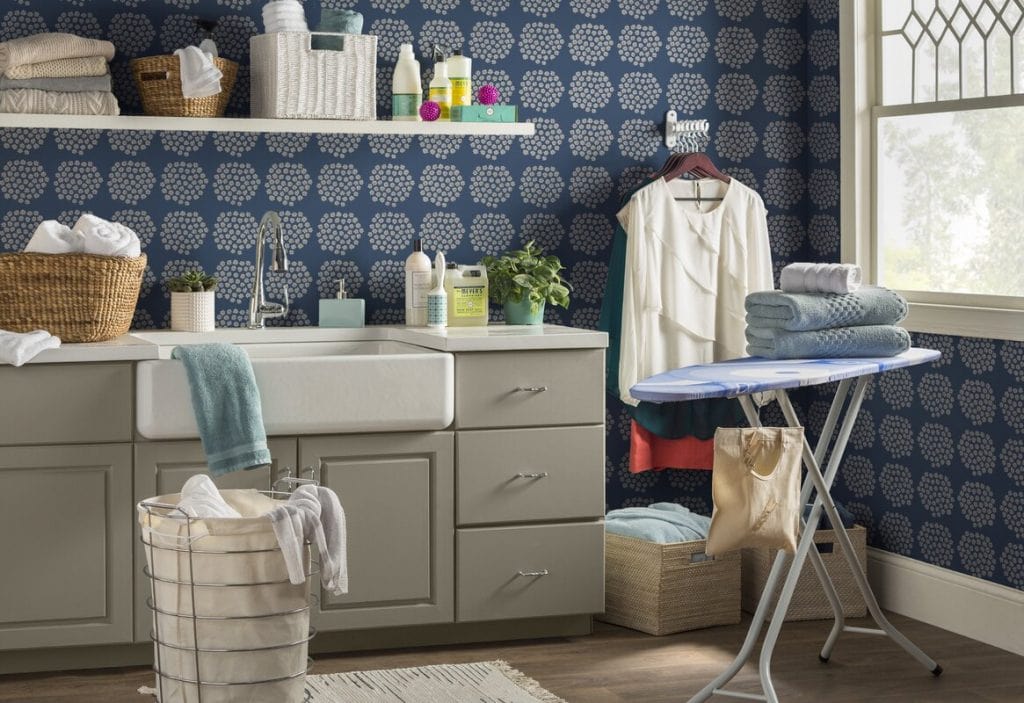 I love this laundry room sink with cabinets, especially the deep, wide white sink among the gray cabinets, set a bit lower than the countertops.
There's a lot to think about when choosing the right sink, and material is an important aspect of it. Porcelain is considered to be one of the best materials for a laundry sink due to its heat resistance and how easy it is to clean. Find out more about the different materials here.
Use a Narrow Sink for Smaller Spaces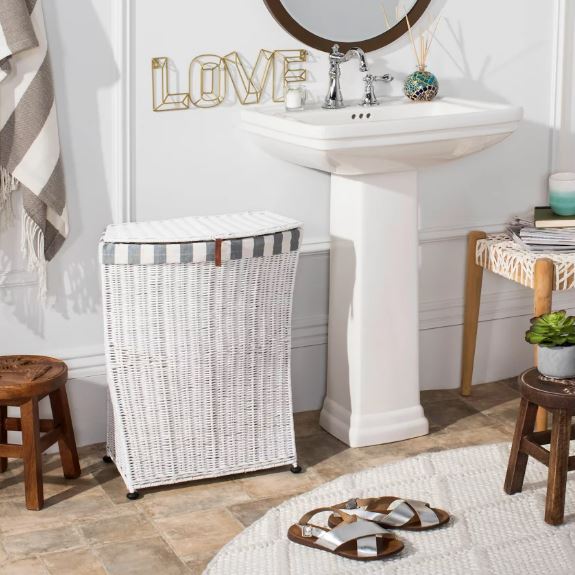 A narrow laundry room sink like this is a great choice when you don't have as much space to work with. Large cabinets can make a room look cluttered whereas a white porcelain laundry sink like this one emphasizes space and smooth, curved lines.
Maximize Space by Using the Bathroom Sink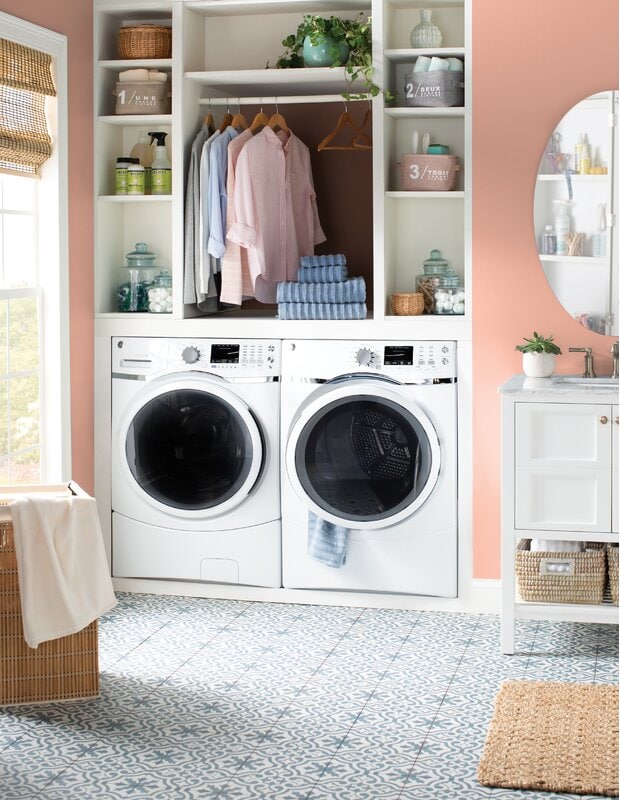 You can also set up your laundry room in your bathroom if you have enough space. As we can see here, the laundry unit has been installed in the wall so the whole thing is flush to the bathroom wall.
There's a lot of shelving for storage, and the bathroom sink doubles as a laundry room sink, providing all the functionality of a separate laundry room.
Final Thoughts
Choosing the best laundry room sink is a bit more involved than you might expect. You want to make sure it will meet your needs, especially when considering the size and style. As we've seen, the material used is also important when choosing a laundry room sink.
Last but certainly not least, think about how much space you have and how much storage you need, because these two criteria will help you decide which type of sink is the best option for you, whether that's a narrow sink, a standalone utility sink or a laundry room sink with cabinets.