Decorated Life is reader-supported. When you buy through links on our site, we may earn an affiliate commission. Learn More
25 Ideas for Tuscan Style Kitchens in 2023
Many people choose to decorate their kitchens in a Tuscan style for a comfortable yet glamorous Old World appeal. The Tuscan look is all about low light and a warm, earthy color palette, farmhouse tables, cast-iron fixtures, terracotta floors, and brick or stone walls.
This look comes from—you guessed it—Tuscany, Italy, so it's all about the detailing, Mediterranean culture, and gently aged look of the furniture, walls, and flooring. Read on to get absolutely wowed and inspired by these gorgeous Tuscan kitchens.
Look for Ornate Cast-Iron Chandeliers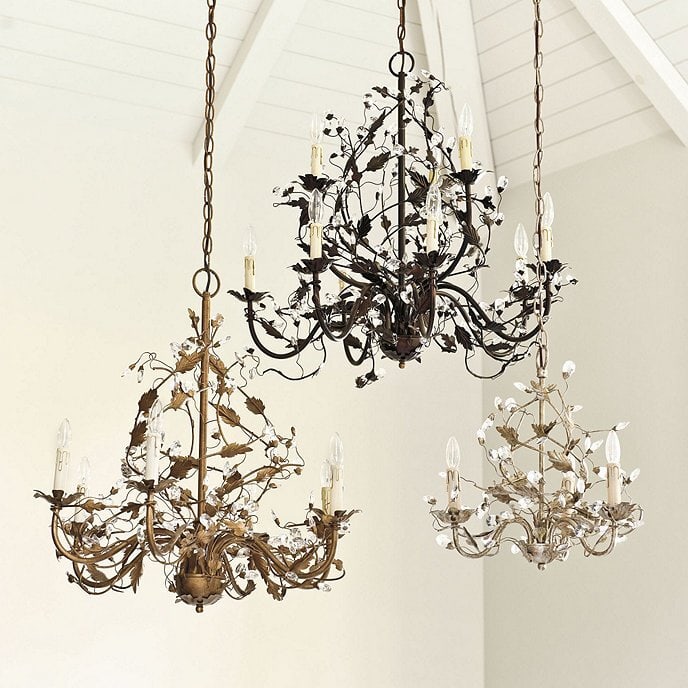 One of the key elements of a vintage-style Tuscan kitchen is an ornate chandelier. These beautiful lighting options add beauty and light in one item. Depending on the size of the kitchen, you can use one or two, or even three of these magnificent lights to add a beautiful touch to your classically styled kitchen.
To add extra sparkle, be sure to install chandeliers that have prismatic elements like these teardrop crystal pieces.
Keep Wooden Ceiling Beams Exposed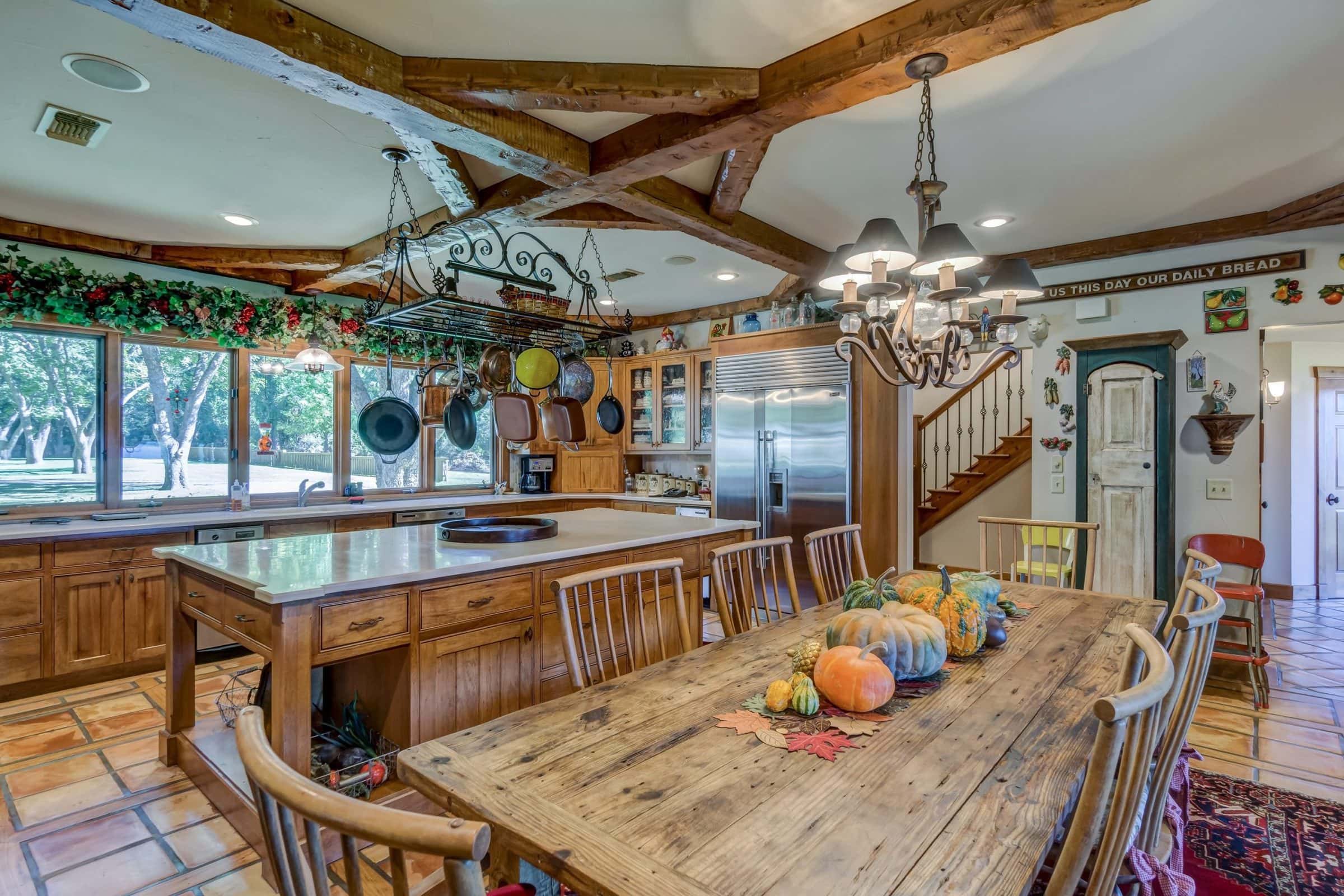 Another key aspect of the Tuscan look is to keep the ceiling beams exposed, or install faux wooden ones across a high ceiling. It's all about the architecture and looking antique-ishly stately.
There are elements of vintage wood, stunning lights, beautiful tiles, and more. These beautiful rustic Italian touches blend together for this gorgeous Tuscan feel, but the exposed wooden beams give the ultimate feel of beautiful old kitchens with modern updates.
Use a Cast Iron Accent Table and Other Furnishings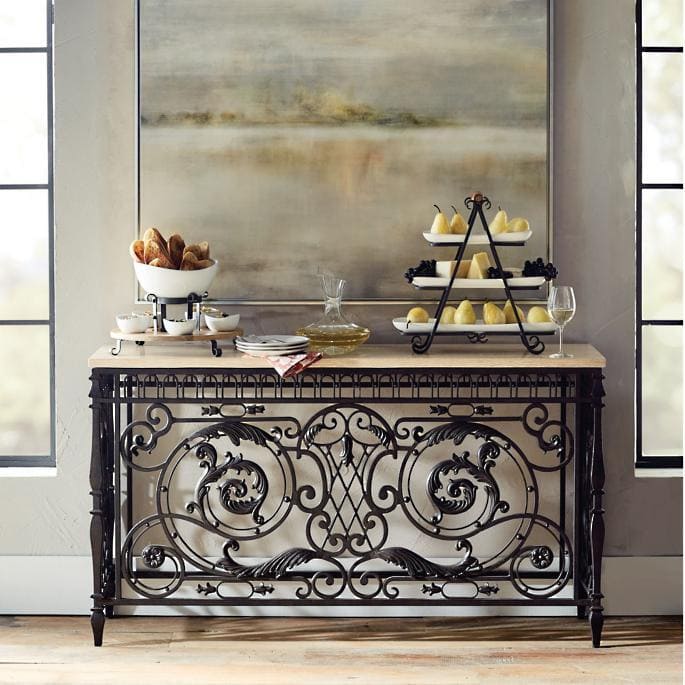 Using an accent cast iron table is the perfect way to add a small, uniquely beautiful touch to your classic Tuscan style kitchen. It's also the perfect way to add some extra surface space for serving up a delicious meal.
Use the accent table for decor purposes or use it as a small sideboard for serving cheese, fruits, breads, or as a coffee service table. It's perfect for any Tuscan themed kitchen that welcomes a flow of guests.
Use a Stone Tile Top Table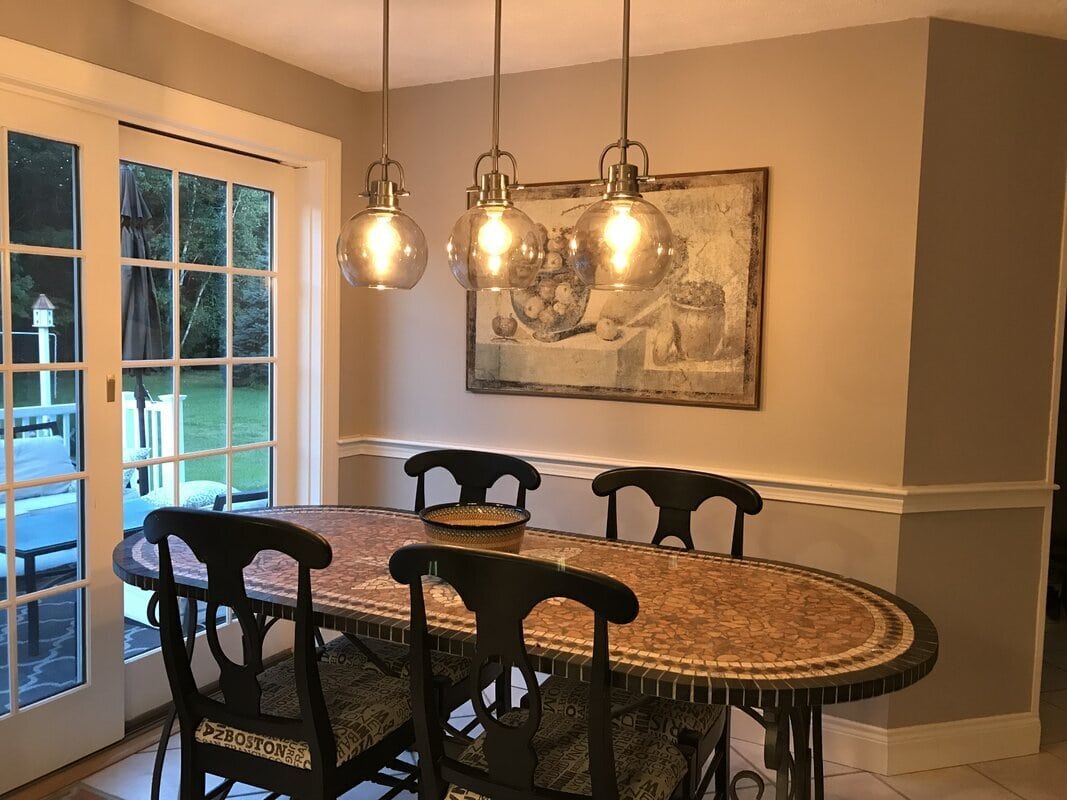 A stunning way of including some Tuscany style decor in your kitchen is using a beautiful stone tile top table in your dining area. You can stylize the look with cast iron or dark wood chairs.
Add some simple art work, stunning light fixtures, and Italian themed fabrics, and you'll have this stunning corner of the kitchen covered.
Install Solid, Italian-Style Wooden Cabinetry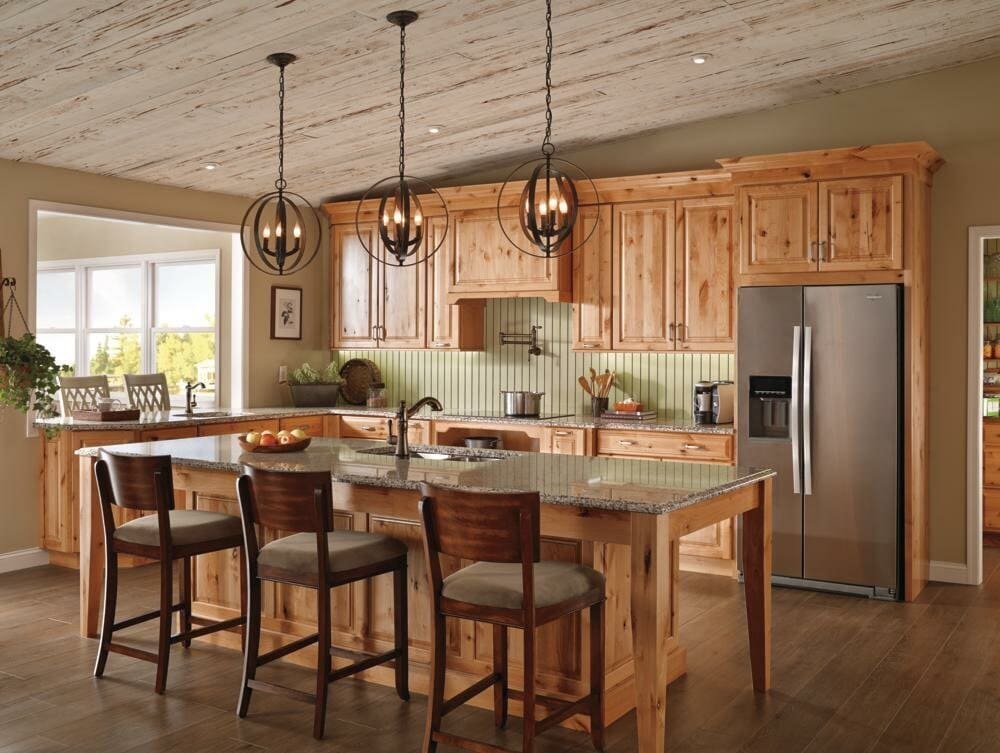 Pairing your cast iron chandeliers with solid, Italian-style wooden cabinets is the perfect way to have a truly beautiful, Tuscany kitchen. The rich, knotted woods are not just a stunning nod to the roots of the Italian countryside, but a beautiful way to modernize as well.
Add rich, earthy tones, thick, stoneware pieces, and copper pots for a completely stunning look.
Add Some Antique Wooden Cabinets Or Dish Racks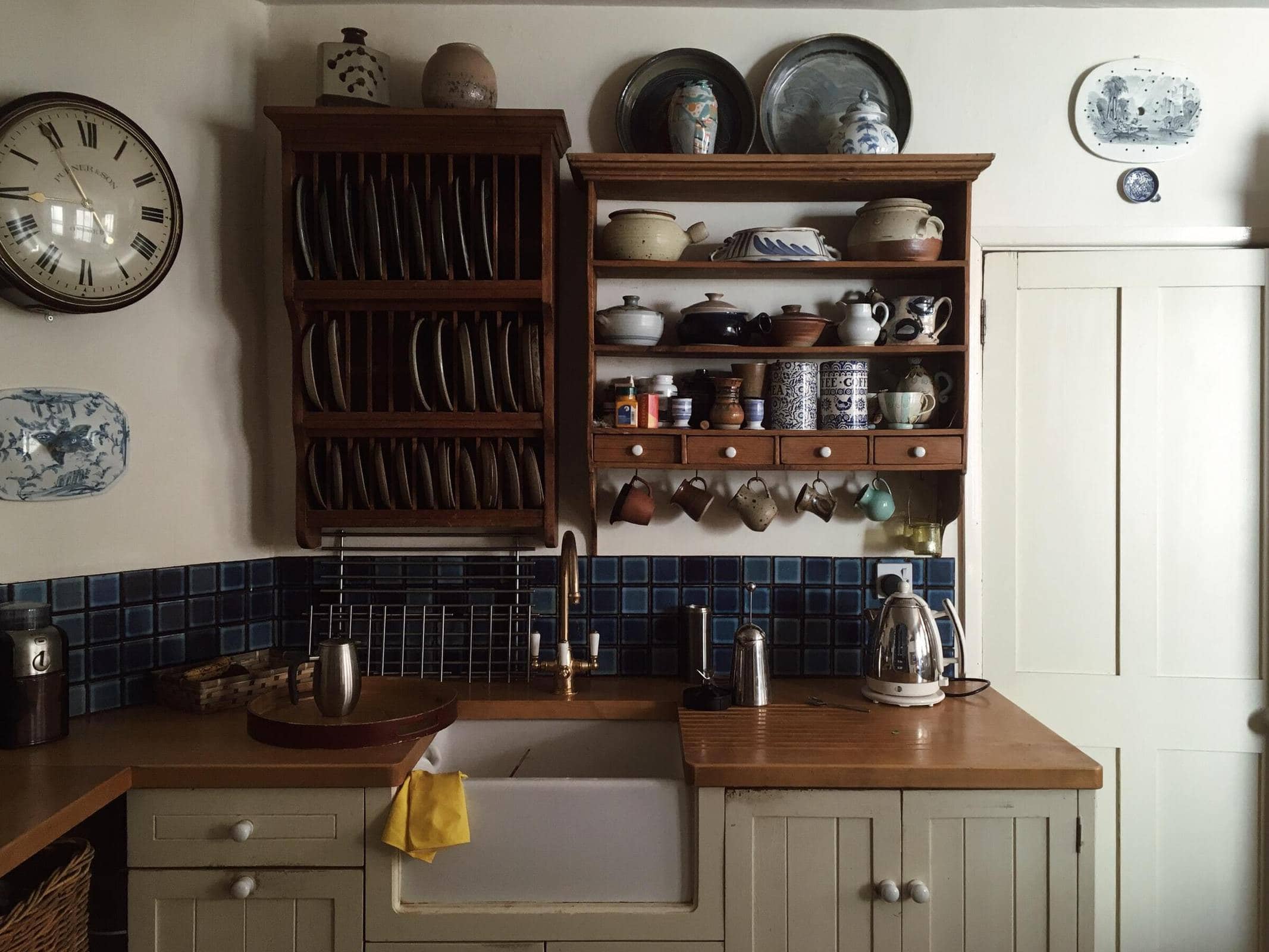 If you watch old Italian films, you'll see these kinds of storage methods. Dishes are beautiful and meant for both use and display. With these vintage cabinets can be found in old shops, antique stores, and special boutiques.
The perfect way to finish out this look is with some vintage style Italian pottery and dishes that complement your Tuscan kitchen decor.
Find an Antique Cast Iron Oven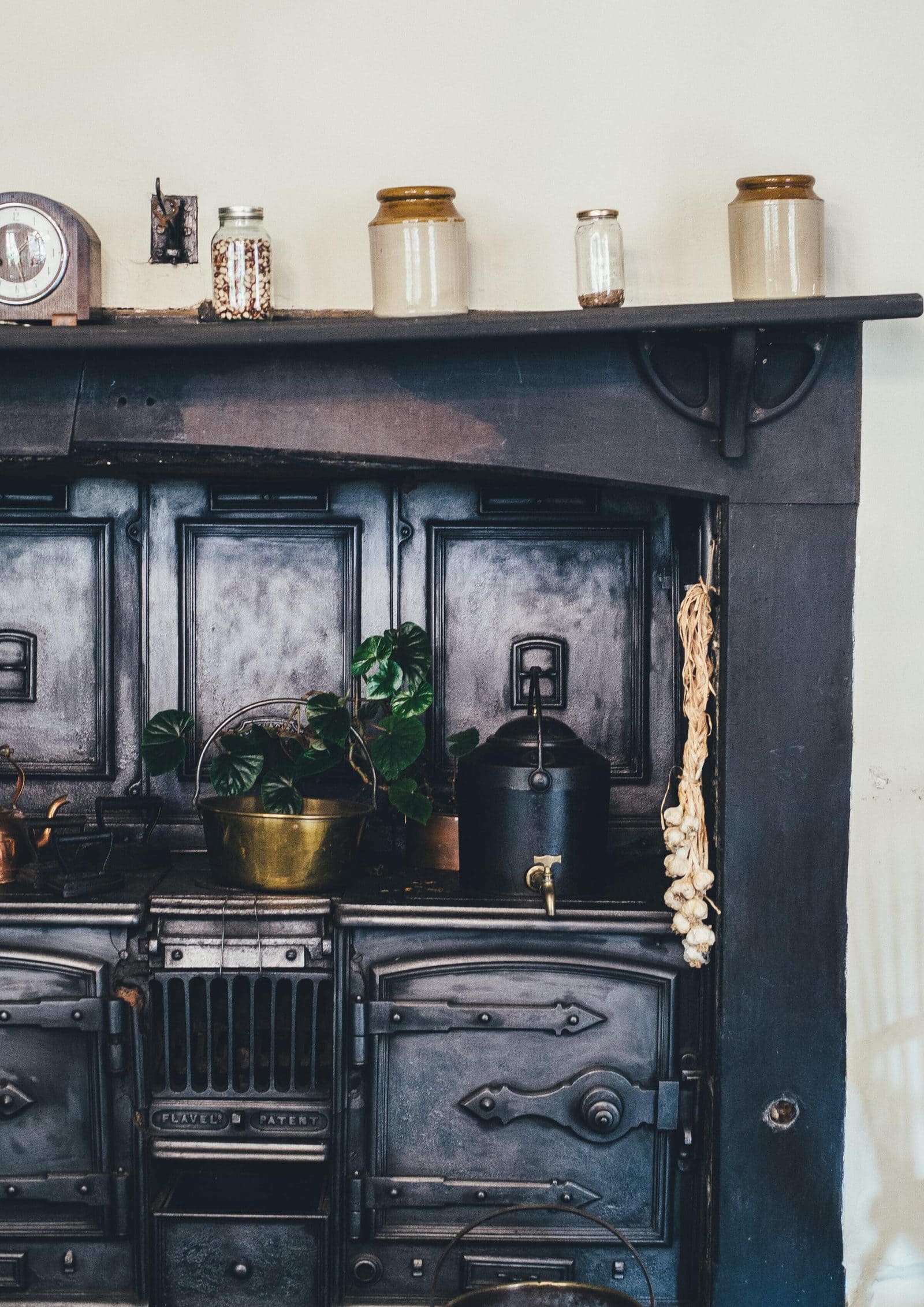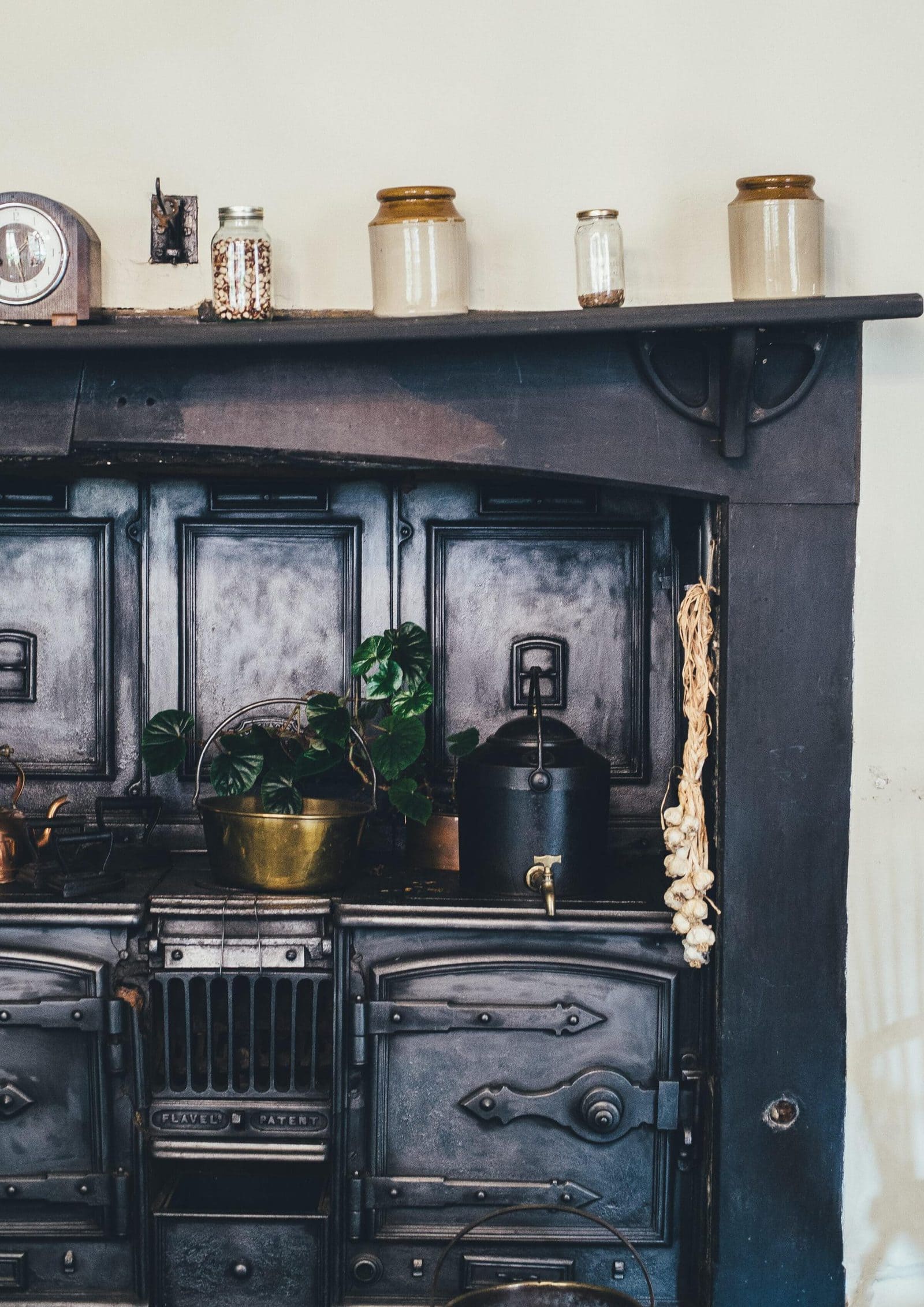 For an incredibly beautiful and unique touch for your Tuscany inspired kitchens, an antique cast iron oven will make all the difference. This beautiful antique-ish touch makes such a huge difference in the authenticity of your old-world style kitchen.
Add splashes of earthy, rich tones, a stylized backsplash, wooden mantle, or similar accents to bring out the beauty of the rolling Italian countryside.
Decorate with Tuscan-Inspired Paintings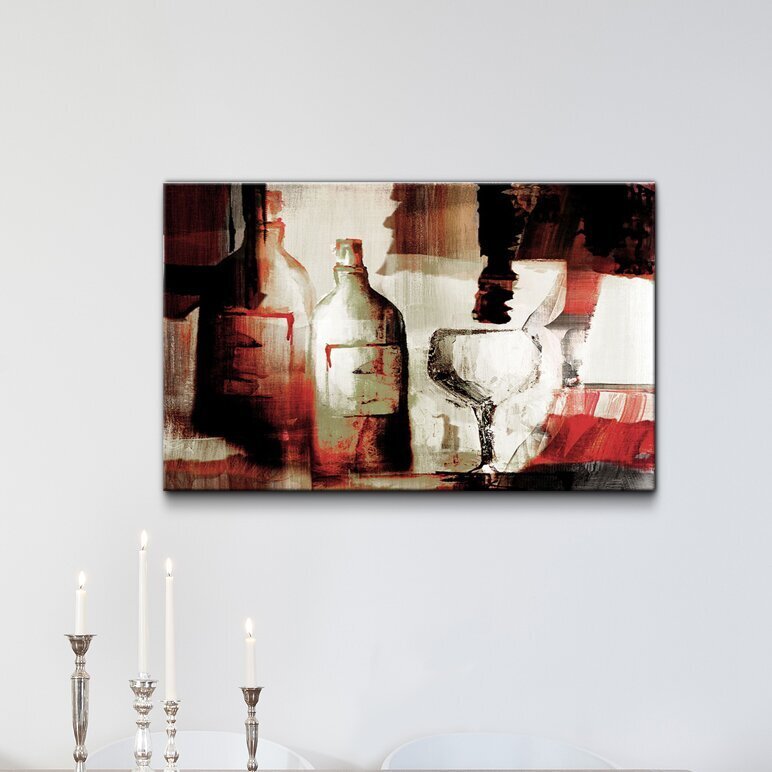 If you have a bit of free wall space after you've added all of your kitchen cabinets, you can look for some artwork. Look for classic Tuscan pieces like wine and grape themed paintings. There's an emphasis on olives, olive oil, fruits, and wine.
They're quite minimal as well, often just a central image surrounded by a few flourishes and beige patterns, like we see here. Whatever Italian theme you like best works.
Spread Out the Seating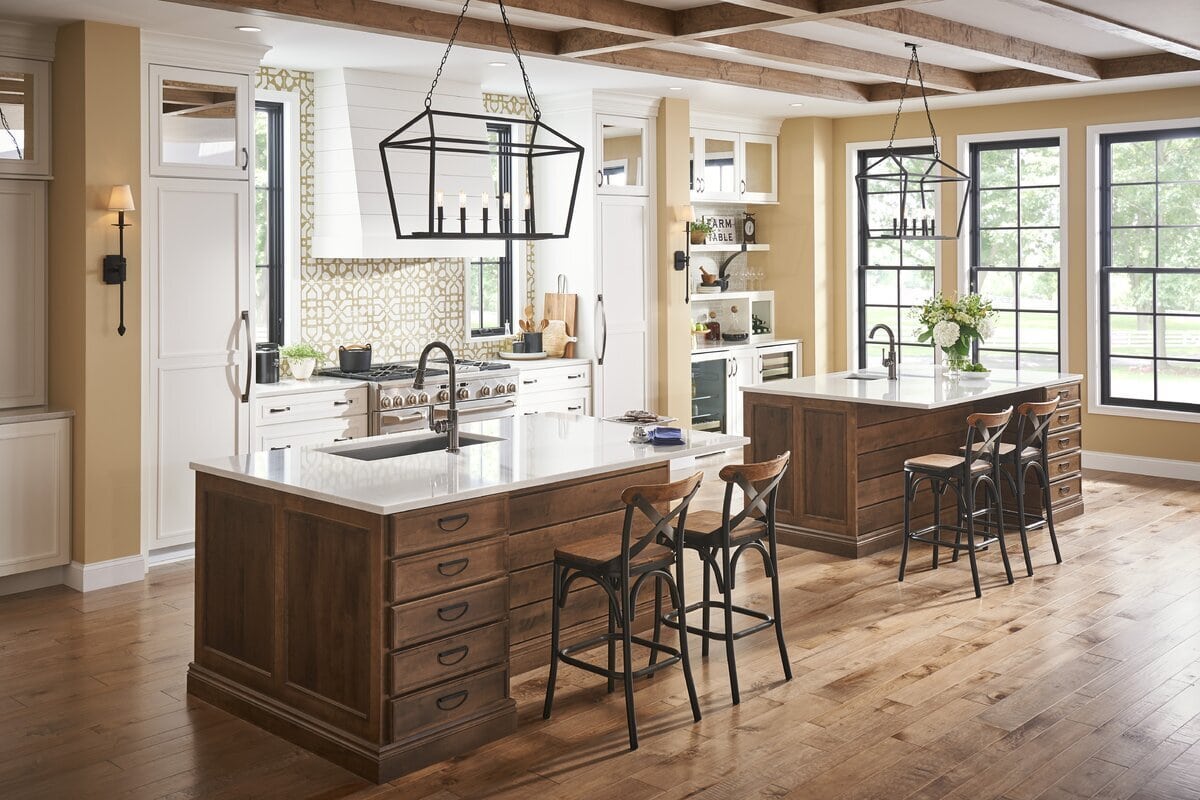 Having enough seating is always important in any family-style kitchen, but sometimes you don't want a single large table. In this kitchen, the seating is spread out across multiple counter tables with comfy, tall chairs.
With this kind of set up, you'll want to emphasize proper lighting to showcase the spread you serve in your kitchen.
Use Your Brass or Copper Pots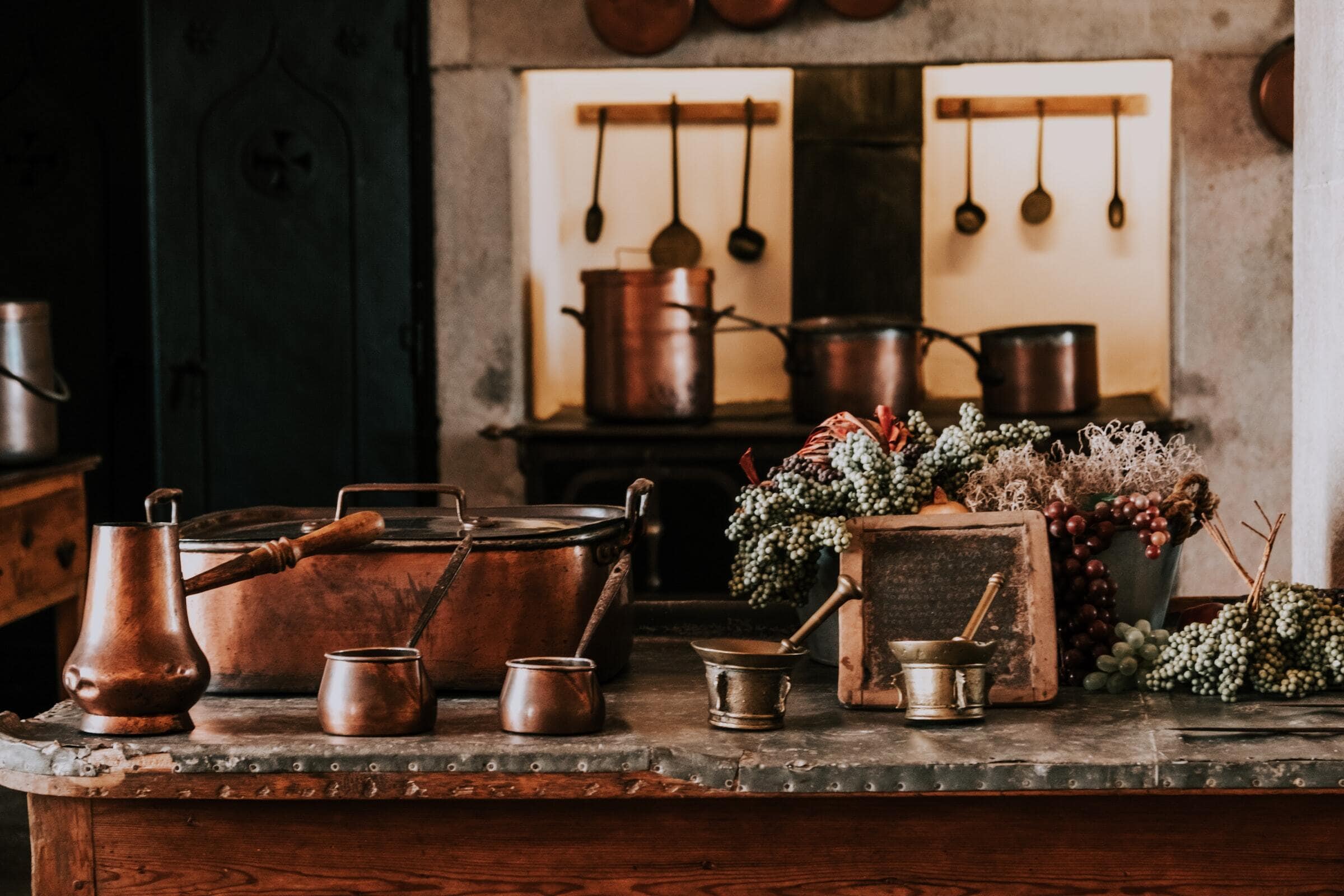 Another classic spot for your Tuscan kitchen is using vintage style brass or copper pots. The warm, metallic colors pop against the dark woods, stone backsplashes, bright colors, and other traditional Italian decor touches.
You'll just need to make sure you get proper cleaning supplies for those pots and pans.
Install Cast Iron Windows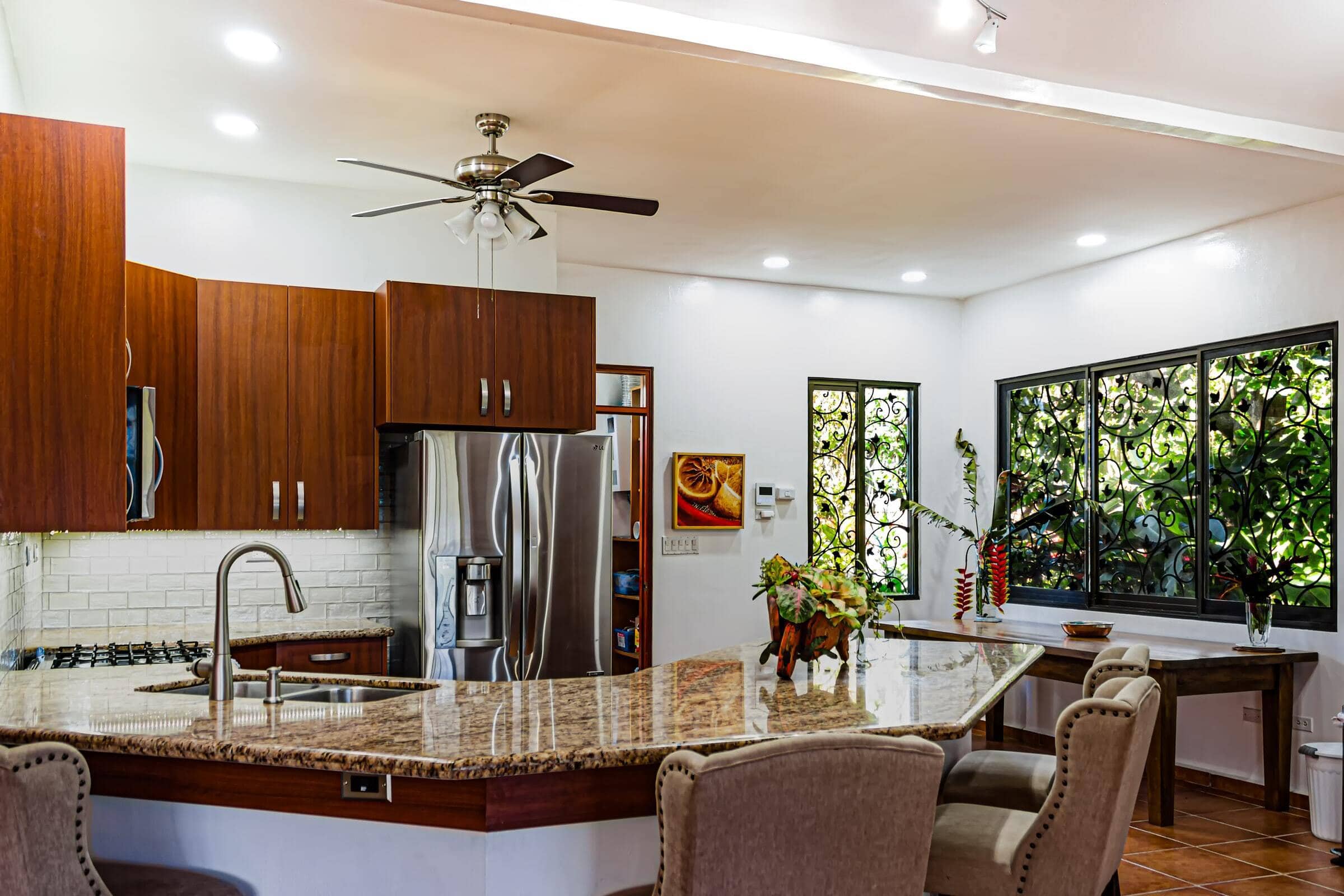 For a truly unique and beautiful touch for your kitchen, add this distinct look: decorative cast iron windows. You can install "shudders" that open out into the beautiful world outside. You can also choose permanent window setting.
They're stunning but still let in lots of light for keeping that kitchen warm and inviting.
Use Stone Tiles For Your Walls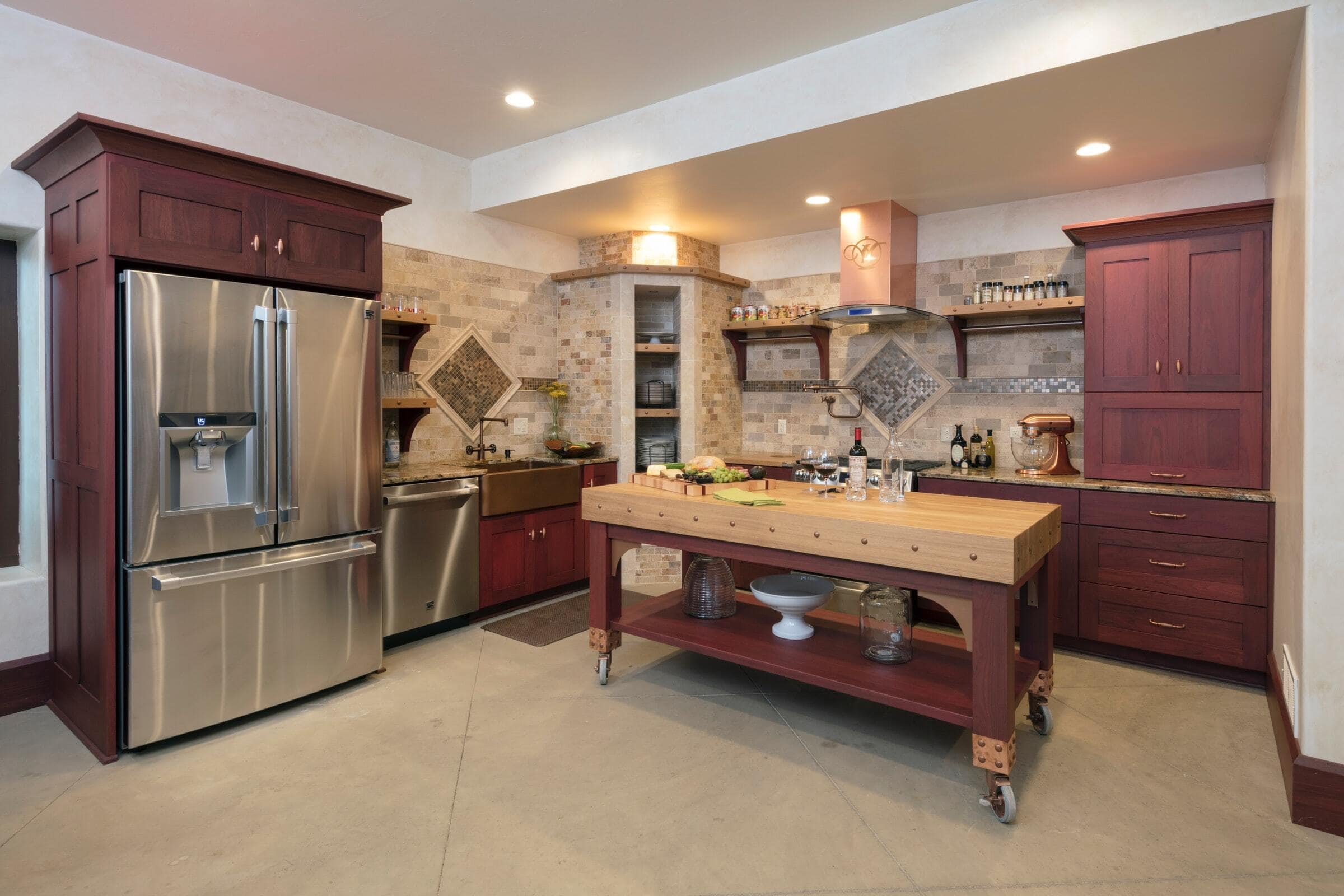 These stunning stone tiles on the wall change the entire looks of the kitchen without costing an absolute fortune. Combine the stone tiles with the same stunning dark wood, curved arches, pizza oven, and cast iron accents to make the look complete.
Don't forget the rich, warm lighting from cast iron chandeliers and wall sconces to finish off your perfect kitchen.
Keep a Mini Herb Garden in Your Kitchen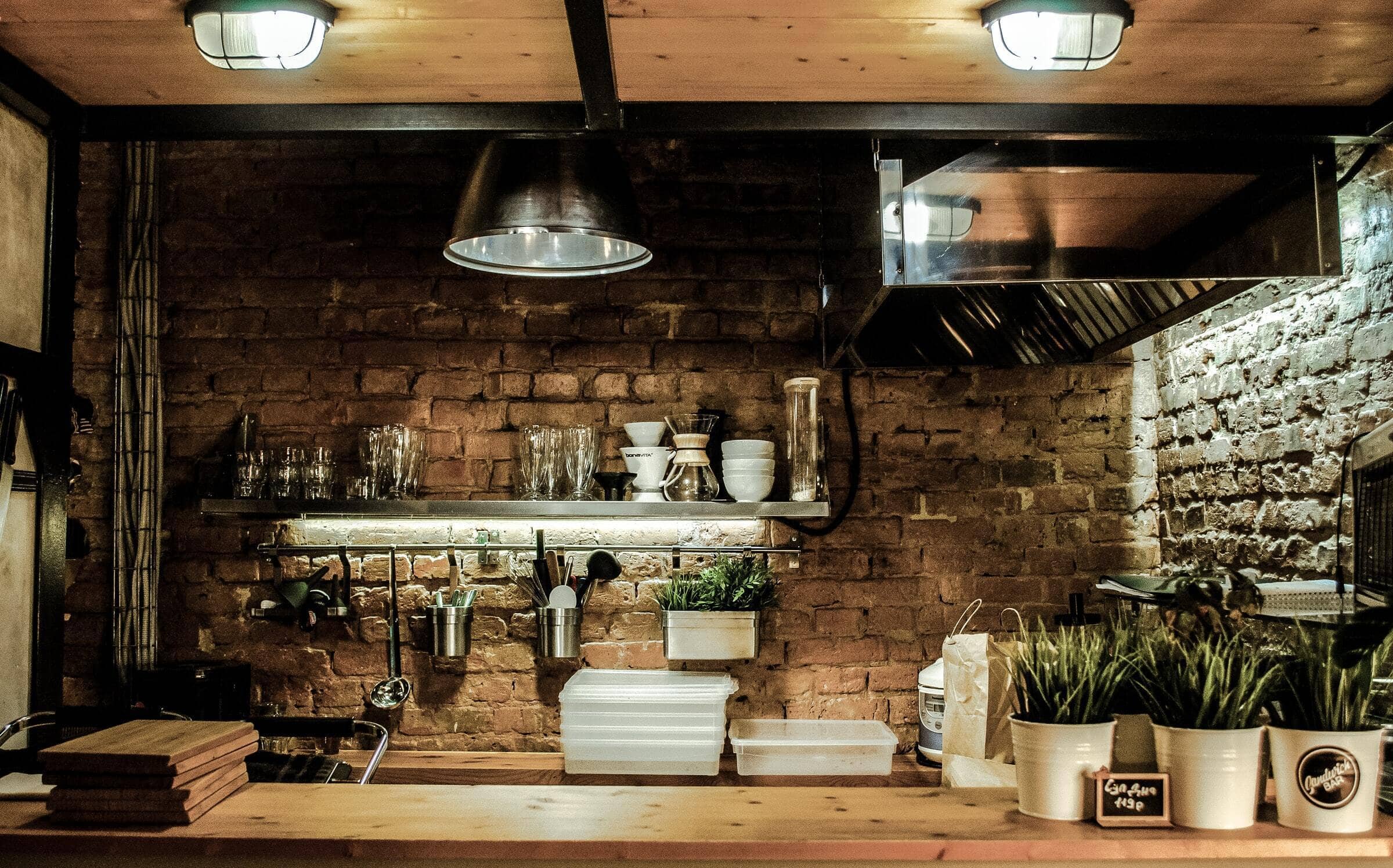 What Italian kitchen is complete without fresh herbs? For a complete Tuscan style kitchen, you could find some beautiful planters and grow some fresh herbs in your kitchen window. Add some rugged wooden shelves and grow them with love in your dazzling kitchen.
Go for an Earthy Tiled Backsplash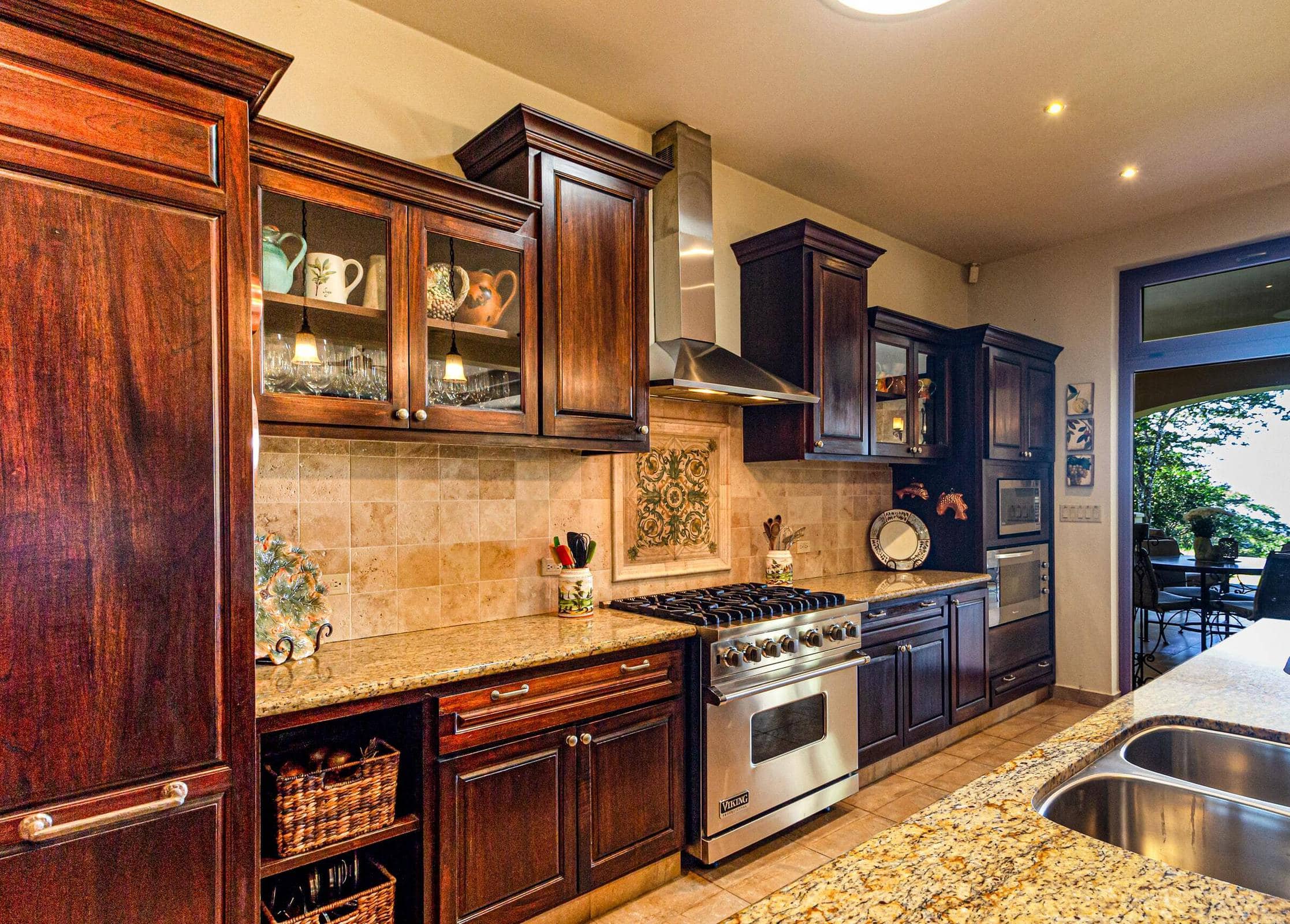 The backsplash is another easy way to showcase a Tuscan decor style. Look for light earthy toned tiles with a bit of a distressed appearance. Or arrange the tiles in a unique pattern to create a design like this one. Hand-painted tiles are an even better choice for a unique and distinct Tuscan backsplash.
Focus on the Hardwood Flooring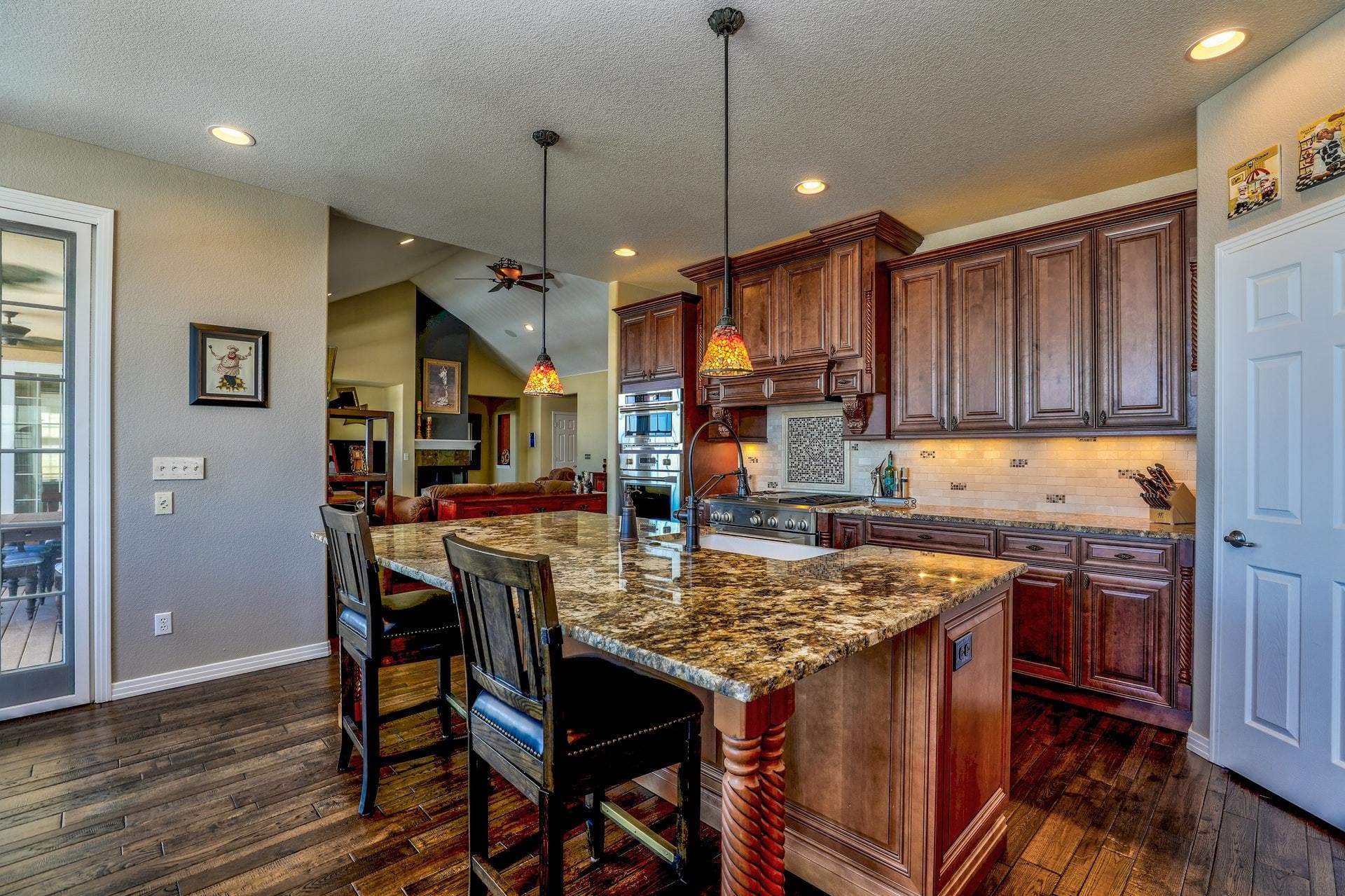 A great way to get the Old World vibe in your kitchen is by putting down some wide plank flooring. The look is all about distressed wood so there's an antique appearance to the flooring. Embrace the flaws and knots in the wood and the different shades.
The wood floor in this example is absolutely gorgeous, and you can see it goes so well with the stone oven and the lighter cabinetry.
Deck Out the Kitchen with a Combination Hand Painted Tiles and Stones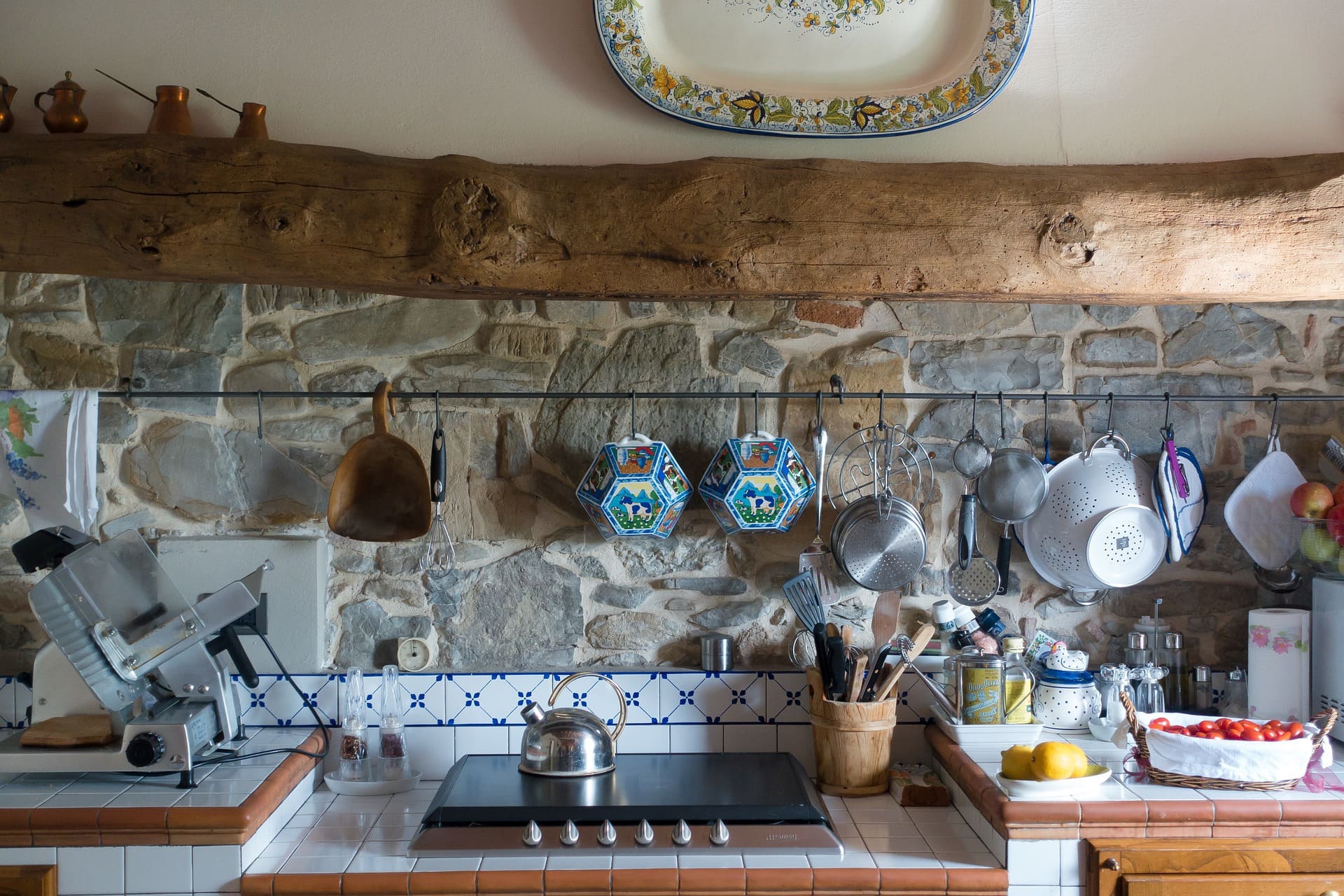 For a rustic, colorful look in your Tuscan kitchen, find some large stones for the wall structure and add a banner of hand-painted tiles in your favorite shades. Cover the counters, backsplash, or any other surface with the colorful or plain tiles for a jaw-droppingly unique look.
For additional hand painted touches, decorate with some antique dishes and stoneware in matching color schemes.
Add Some Stone or Brick Accents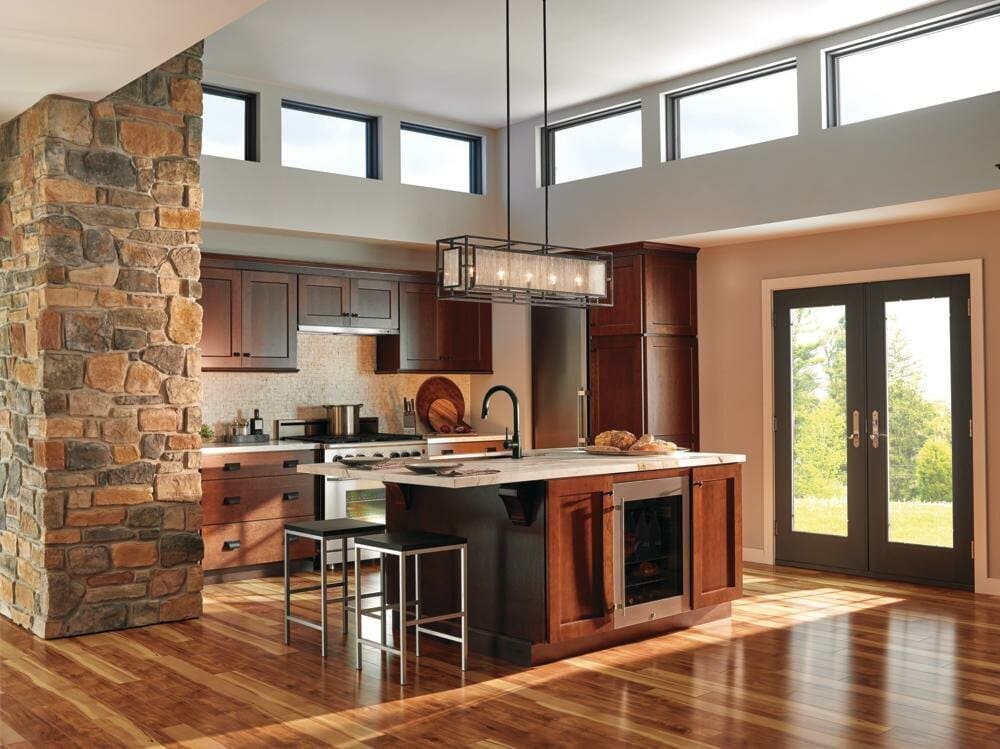 When we think of Tuscan kitchen design, we typically immediately envision stone archways, pillars, and brick ovens. Adding any of these accents will transform your "sort of" Tuscan kitchen idea into a stunning, real Tuscan kitchen.
Find an Ancient Hand-Carved Wooden Kitchen Table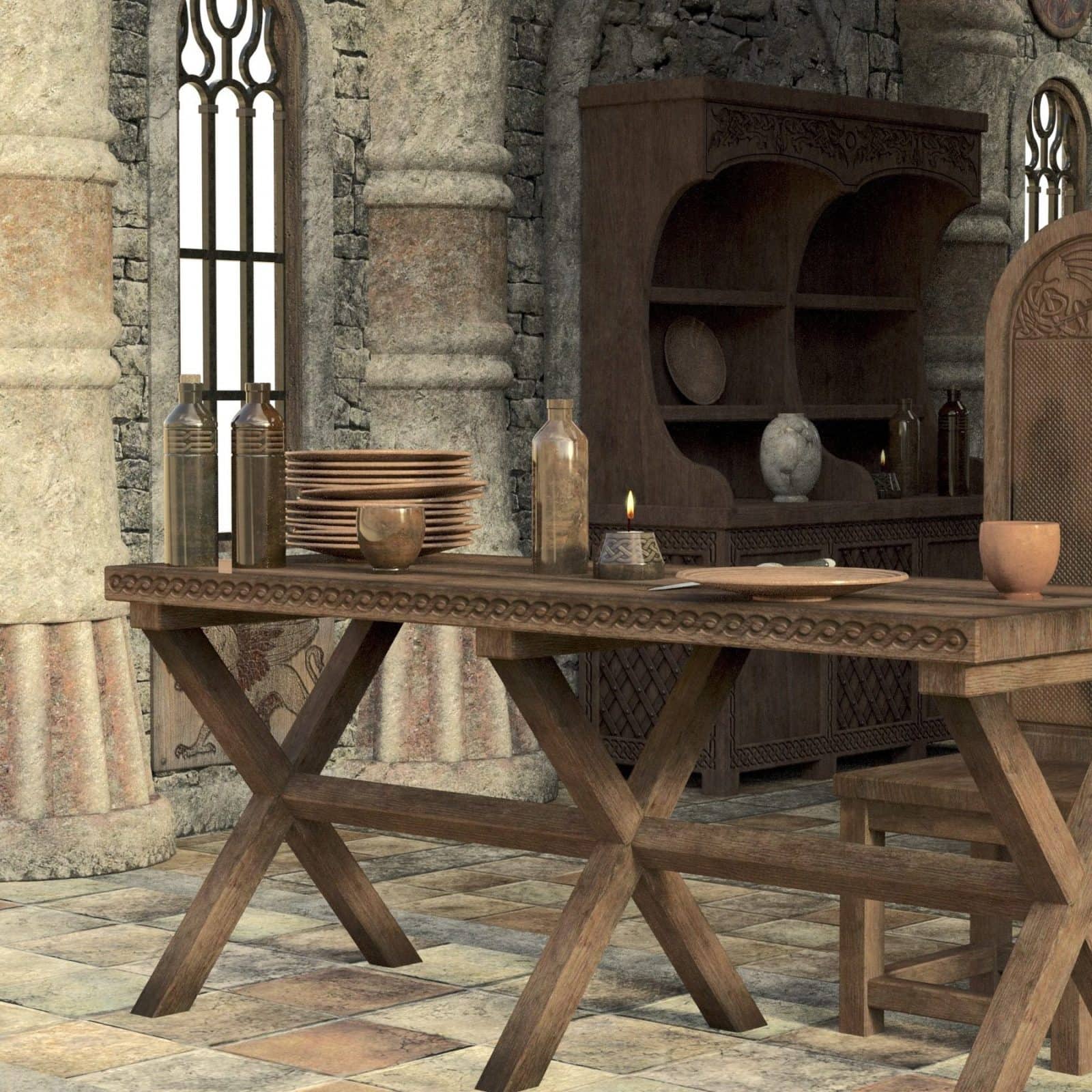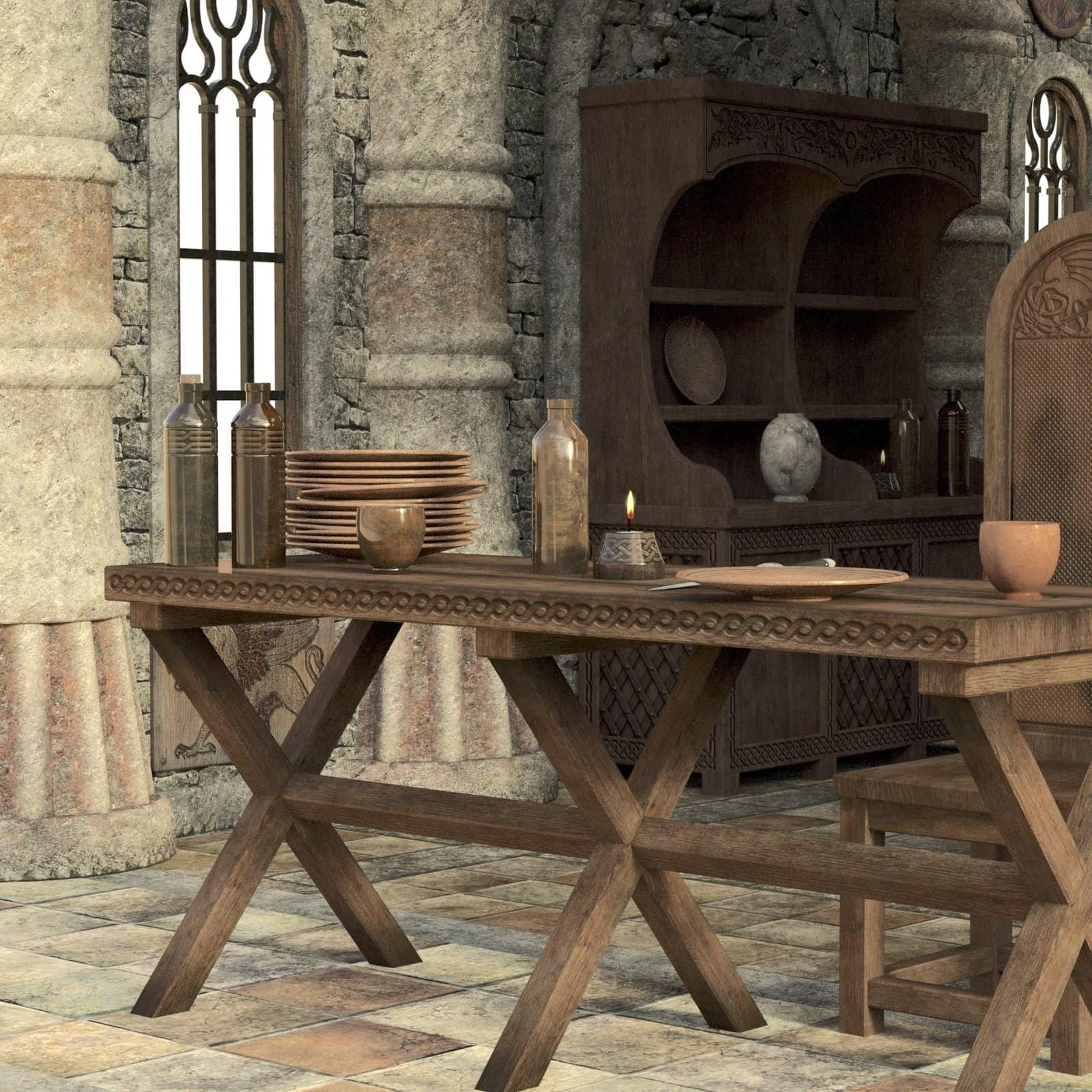 If you love the antique side of the Tuscan kitchen style, look for an ancient-looking, hand-carved wooden table. This large, beautiful table matches the color and wood type of the other furniture in the kitchen. Use some cast iron lanterns, candles, or a chandelier to show off the gorgeous looks of your Italian kitchen.
Use Decorative Wood Accents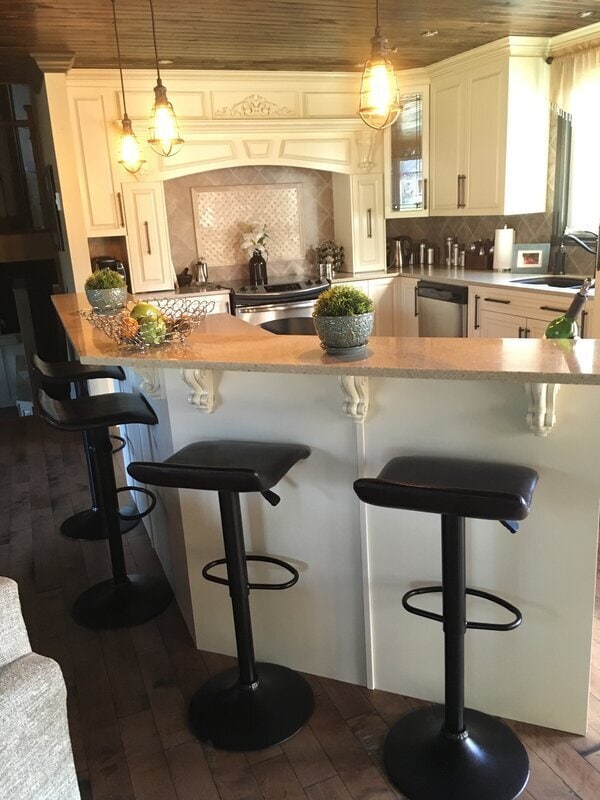 For a brighter feeling modern Tuscan kitchen, try using pieces with some uniquely beautiful, carved wooden accents. A white backsplash, and coating of white paint on your cabinets will add this bright color to an Italian-themed kitchen.
Add beautiful additional accents and touches like paintings, olive or grape decor touches, and a beautiful chandelier.
Style with Classic, Vintage Italian-Esque Jars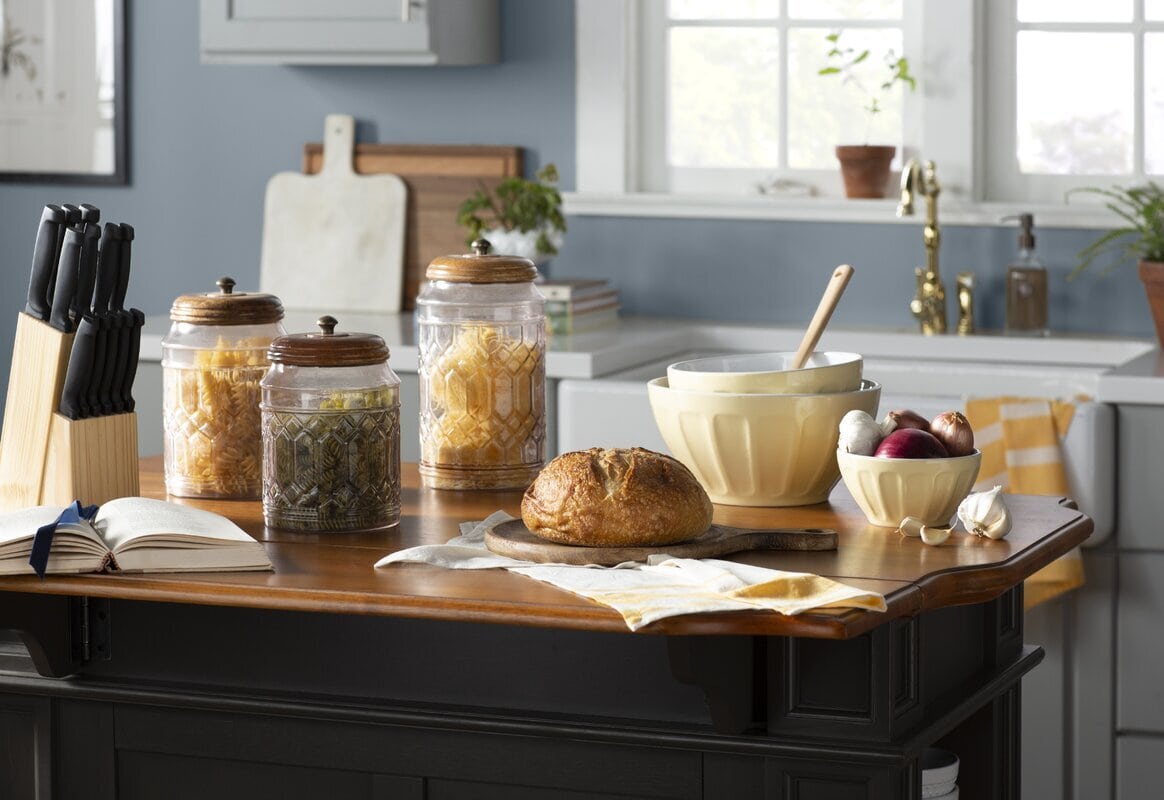 We all need to store our dry goods anyway, so why not use some vintage style Italian looking jars and canisters to add some Tuscan flavor to your kitchen in some small touches? You can find jars like these at various retailers.
Combine them with some pottery, copper pots, or a simple vintage Tuscan backsplash to complete the look in an affordable but beautiful way.
Look for Windowed and Warm Wooden Cabinets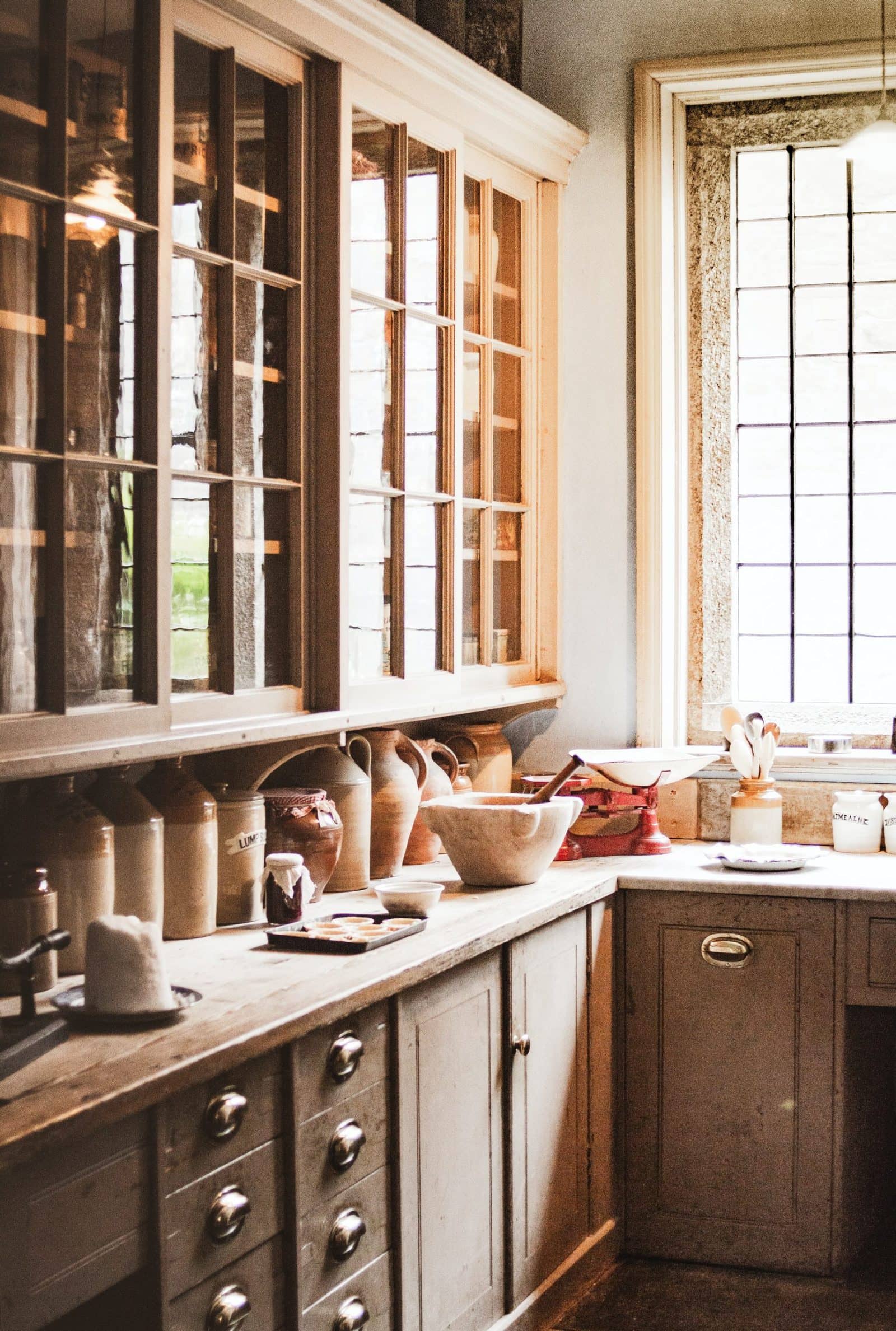 Most examples we see of Tuscan kitchen cabinets are small, lightweight wood with solid doors. If you want some brilliant displays that emphasize the beauty of your china, find rich, textured wood cabinets with windows. Not only do they look stunning, but they keep your visible dishes dust-free and beautiful.
Build a Tuscan Rough-Hewn Stone Pizza Oven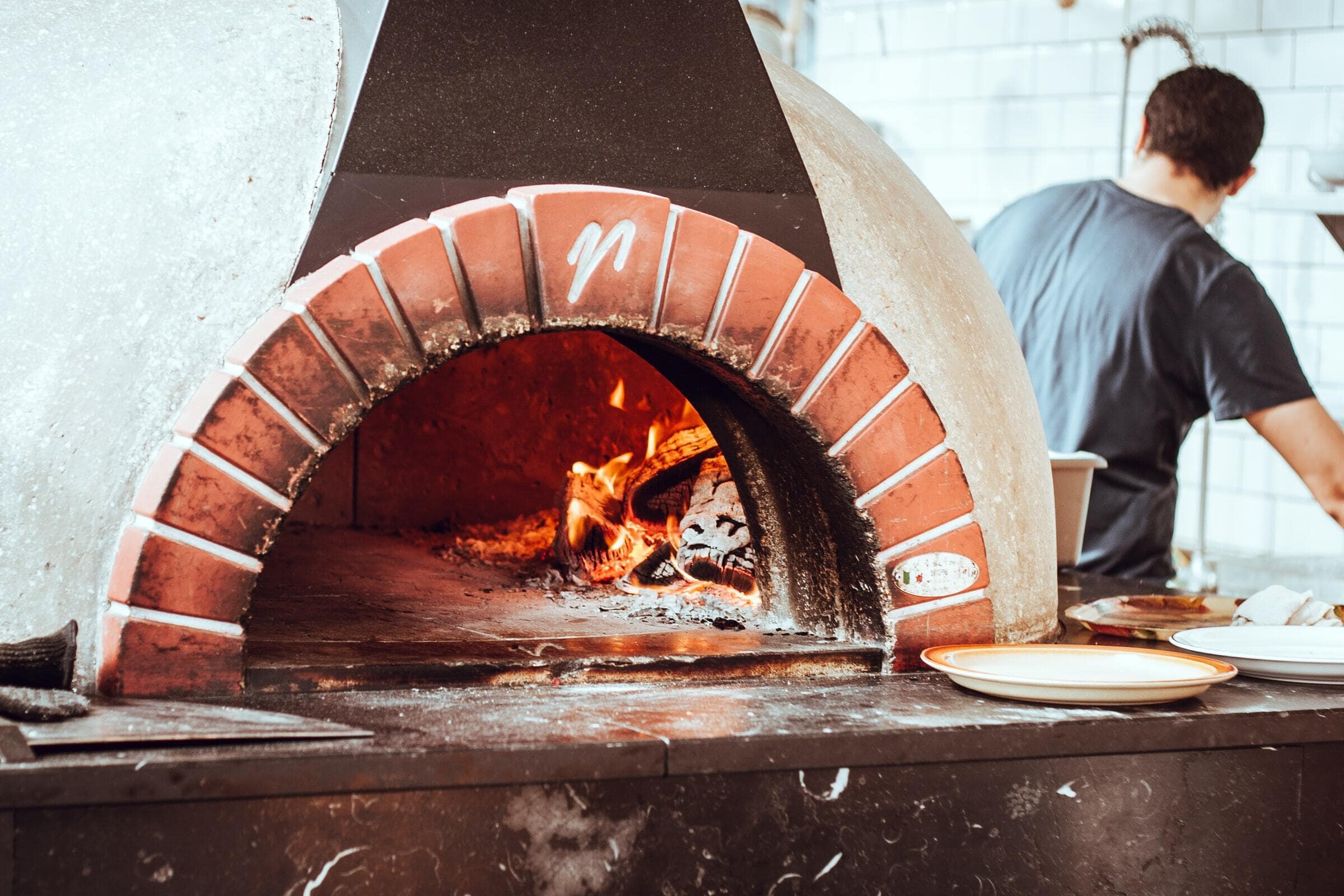 A great way to channel the Tuscan look is through a full stone oven in a corner of the kitchen. If you and your family love pizza, this is the perfect way to change the whole kitchen into basically a dining paradise.
If you want to get the look but you're on a budget, you can look for manufactured stone veneer instead, which is easy to install and a close alternative. It's made of cement, aggregates, and iron oxides and looks just like real stone.
Add Some Vintage Kitchen Appliances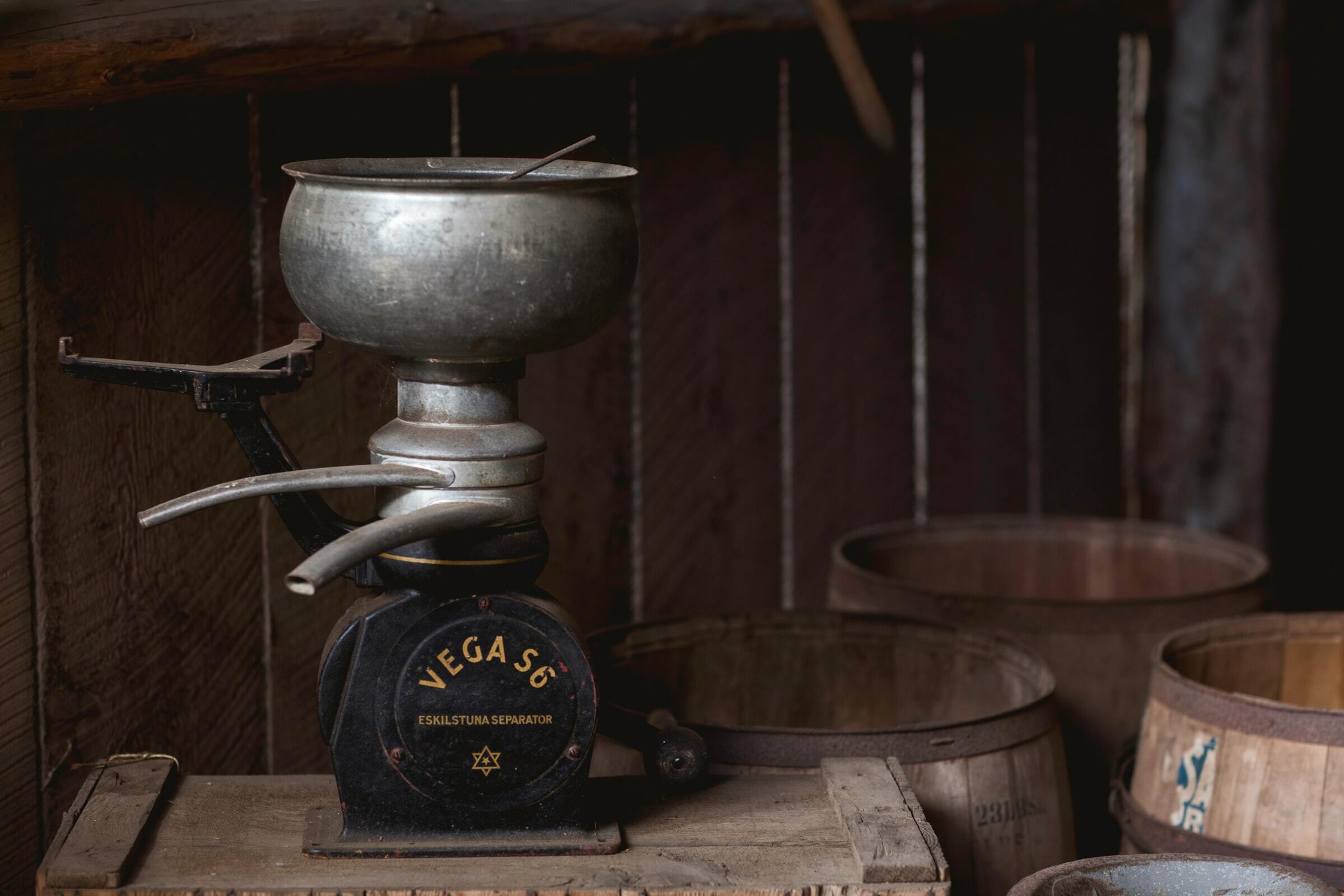 Another unique thing you can add on top of the big pieces like brick ovens and stone pillars, is collecting small, manual kitchen appliances you would have seen in an ancient Italian kitchen. Hand-cranked coffee grinders, stone scales, and other manual tools add some simple, distinct touches you'll have fun acquiring from flea markets, boutiques, and other vintage shops.
Keep Your Pots and Pans Exposed and Hanging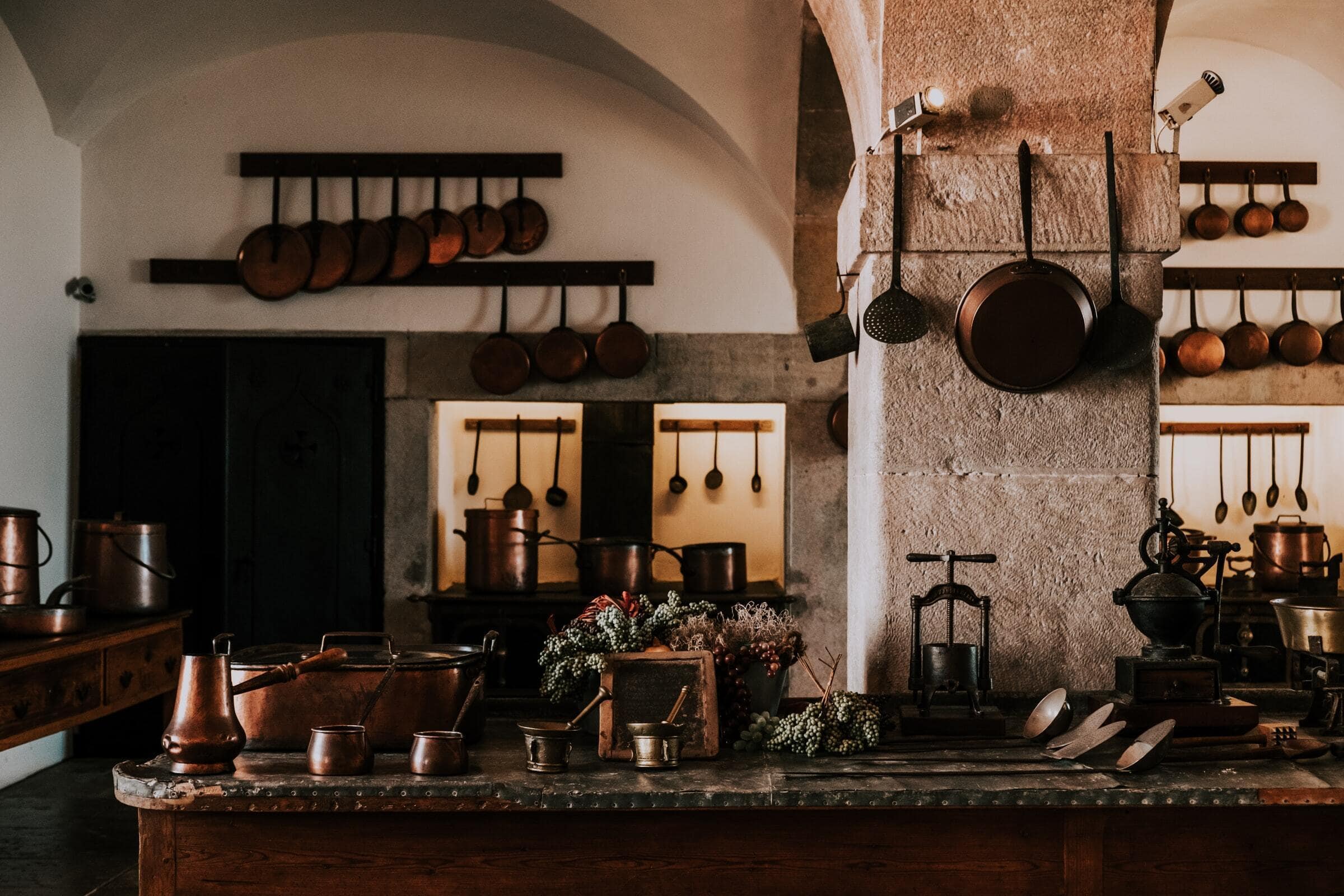 Although this style of kitchen often has a lot of storage and cabinets, it is also a style that prefers to hang pots and pans in plain sight. It's actually a convenient way to store them, as they're much easier to access.
They also look great hanging above the island or a counter. If you really want to go classic Tuscan kitchen, use copper or brass pots as your special touch.
Add a Cute Olive Kitchen Mat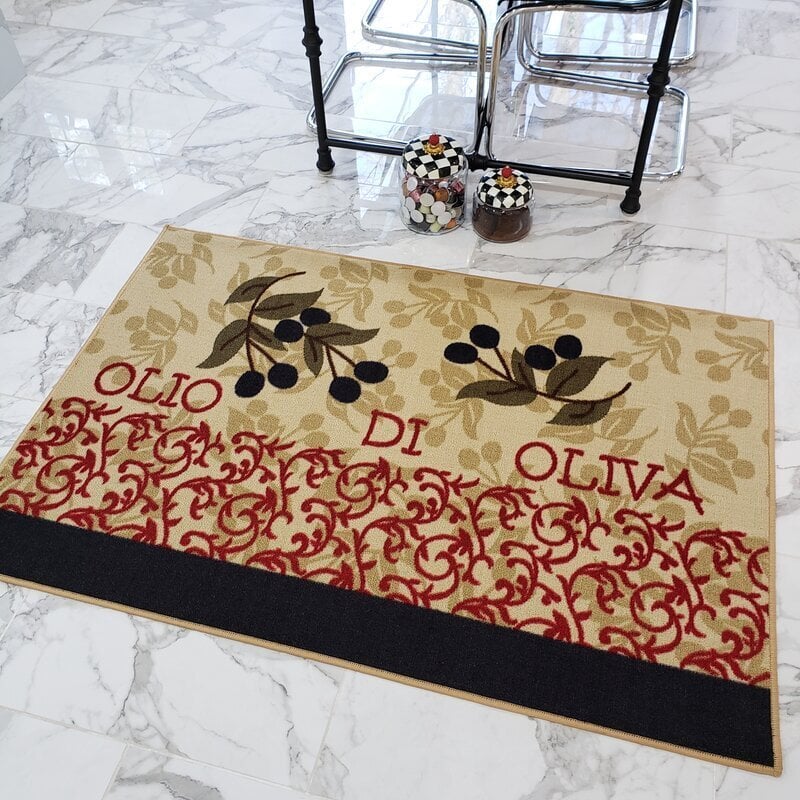 Look for small touches wherever you can to incorporate the Tuscany style, especially if you're on a budget. This kitchen mat is all about the grapes and olives, two classic Mediterranean fixtures. You can also get similar hand towels, oven mitts, and aprons.
Sometimes, to channel a decor style on a budget, you can do quite well by focusing on just a few aspects of the style. Small knick-knacks or dishes help the Tuscan style flow into the whole room.
Final Thoughts
There are quite a few ways to redo your kitchen to get an elegant Tuscan space. A lot of it has to do with the cabinet styles, the islands and countertops, color palette, and flooring. However, you can also go a step further and add ceiling beams, stone ovens, or accent walls.
What matters is focusing on the Italian architecture, the Old World distressed vibe, and warm, rich tones of this decor style. Decorating in the Tuscan style can bring your kitchen from average to glamorous, creating an appealing luxurious space for cooking and dining.