Decorated Life is reader-supported. When you buy through links on our site, we may earn an affiliate commission. Learn More
34 Corner Fireplace Ideas – Burn It With Style
Fireplaces are amazing – whether you're looking for a romantic evening with your partner, planning to tell an exciting story to your grandkids, snuggling up with your pet, or enjoying hot cocoa with a book, everything is made more fun with cracking wood in the fireplace.
However, not all spaces are large enough to accommodate a fireplace. If you think you're rather tight on space and cannot get a fireplace, consider a corner fireplace.
A corner fireplace can be tucked into just about any corner you have free. Let's look at some hot (figuratively and literally) corner fireplace ideas.
Modern Minimalistic Wall-Mounted Fireplace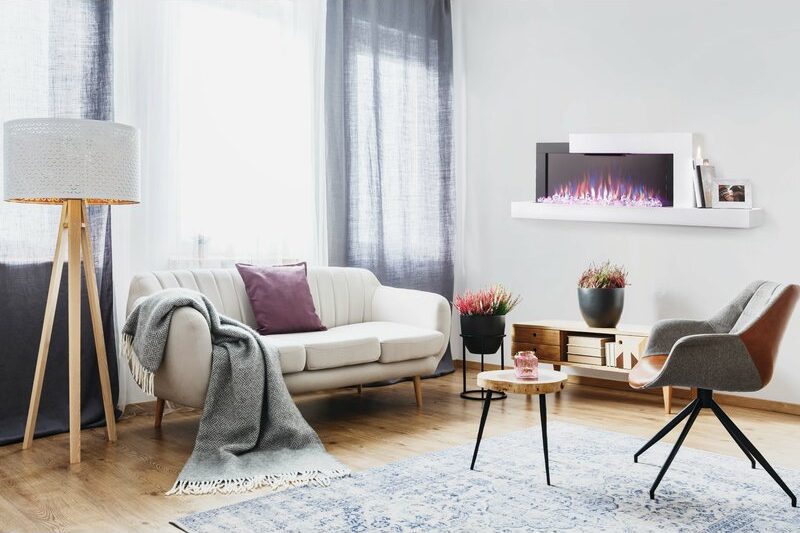 Another modern option is this minimalistic wall-mounted fireplace. It fits neatly on the shelf that it comes as a unit with, saving space on your wall and depth of room, as well as providing you with a sort of mantel to keep up the tradition without having to go traditional.
This is a great option for families with smaller kids or nosy pets to keep them safe without losing the fun and coziness of a fireplace.
Modern Thin Veneer Stone Corner Fireplace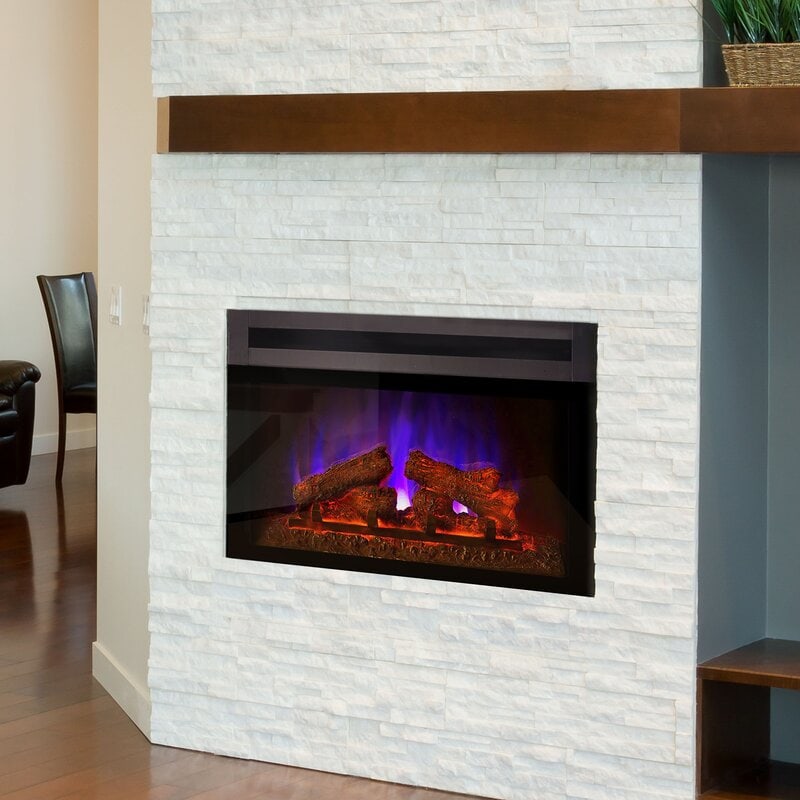 This corner rock fireplace gives a stylish and rustic look to your living room with the thin, modern veneer. The stacked rock formation looks magnificent and attention-grabbing. Natural stone always looks beautiful and breathtaking.
The mantelpiece can hold a number of items such as family trophies or photo frames, or simple ornaments or even nothing at all. This type of fireplace is ideal for mid-sized rooms.
Minimalist Fireplace in the Living Room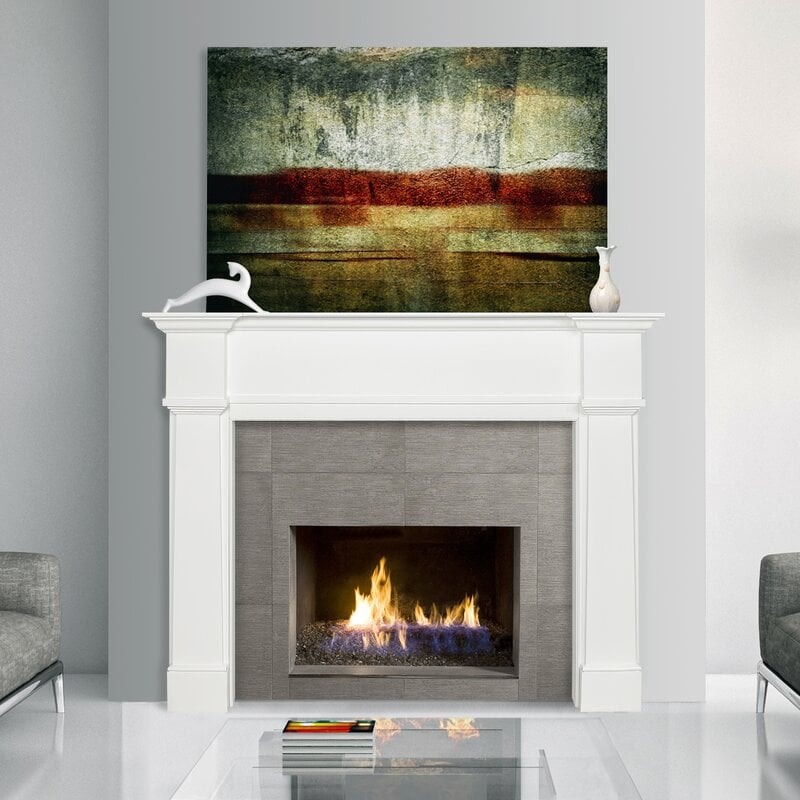 For those who love a simple, clean look, this combination of a white fireplace surround and grey inlay is a perfect choice. It's sleek, it's modern, and it's minimalistic.
Accompany the fireplace with some straight line furniture, such as square chairs, and geometric art and simple, smooth, figurines like so, and voila – you've got the perfect, clean, modern living room you've always dreamed of.
Small Room Corner Fireplace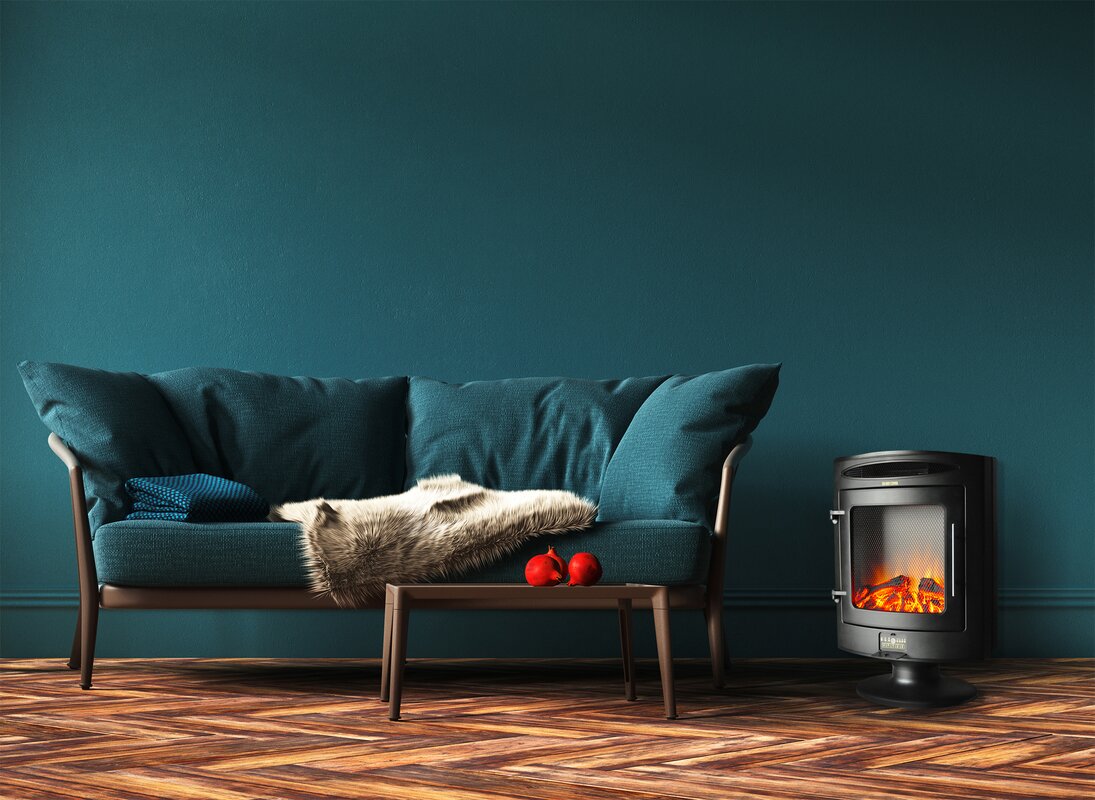 Did we see you sigh while looking at these images, thinking you cannot have a fireplace because your house is too small? Well, think again. Size is no restriction for a fireplace. Check out this room. A small room that's barely enough to house a decent chair.
There plenty of options for small corner fireplace designs, in all types of fireplaces – gas, electric, and woodburning. Even if you can fit just a couple of chairs in this room, you can have a nice little chitchat with your spouse or an old friend. Or you can just sit here alone while being lost in your favorite book.
Classic All White, Elegant Fireplace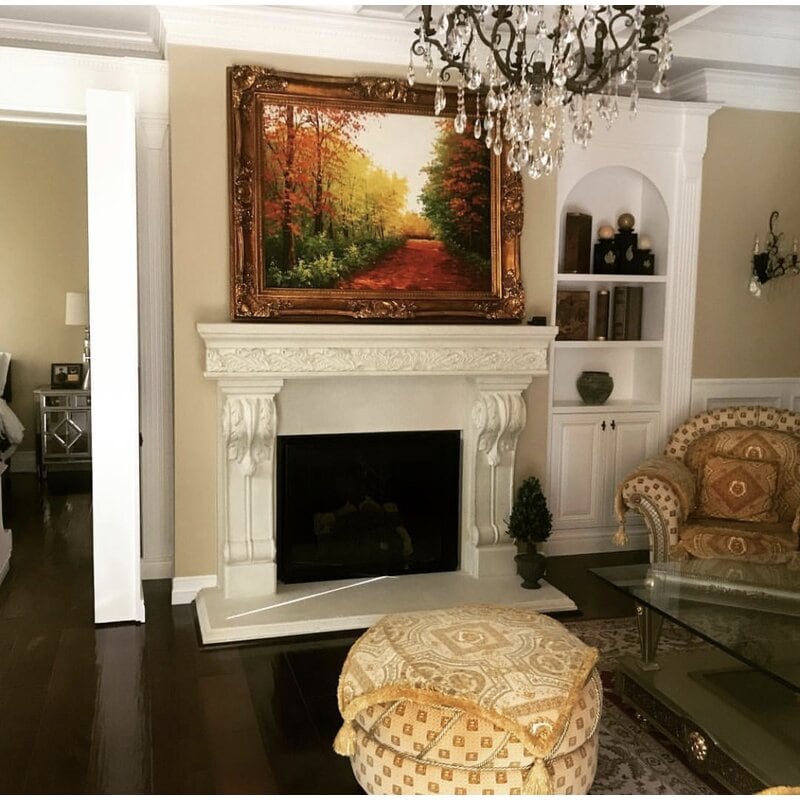 The warm yellow glow of your fireplace is bright enough to brighten up the entire room. When the fire is burning, you don't really need anything else to provide an accent to the room. An all-white room will glow up with the warmth of the fireplace.
Or, like in this photo, add some colorful accents to the room that blend with the warm reds, oranges, and yellows of the burning fire. Either way, an all white fireplace is stunning, elegant, and adds class to any room.
A Cozy Brick Fireplace with Seat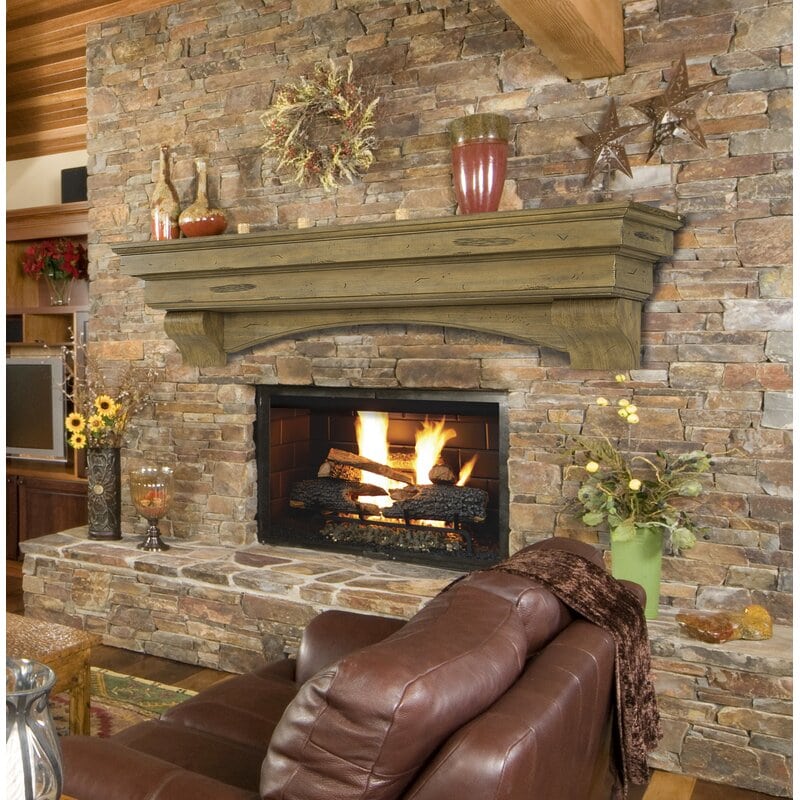 Any room is cozier with a fireplace, but when you make that fireplace of warm, red bricks, the coziness factor bumps up several degrees. Add in a solid seat and you've upped the room quality even more with that corner brick fireplace.
You can leave the seat bare, such as in this photo, or you can add some cozy cushions. Just be sure to keep them clear of the fire to keep the room cozy and warm – not overheated!
Build a Full-Fledged Stonework Fireplace with Seat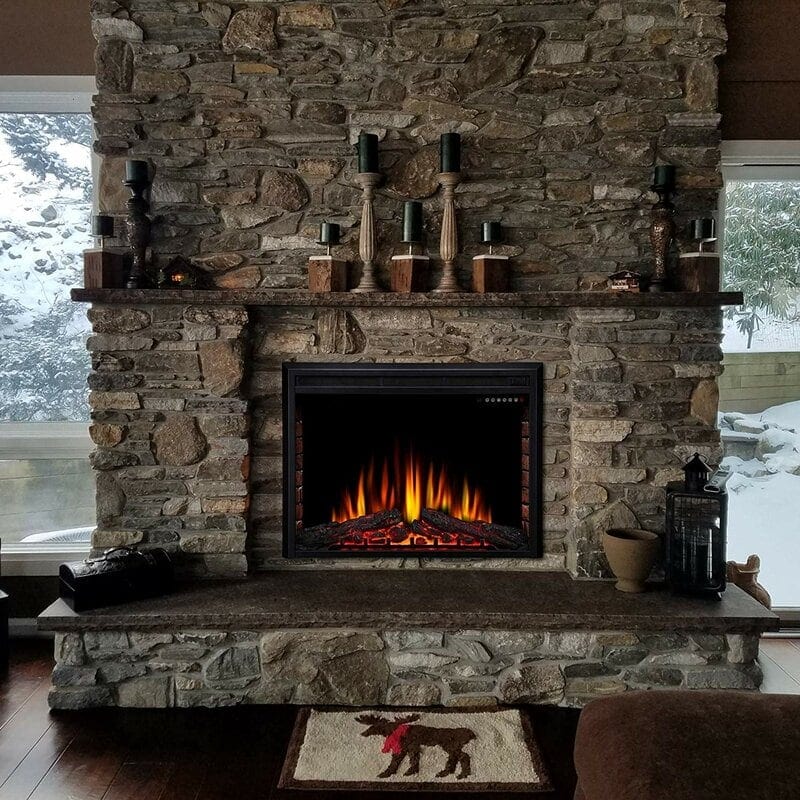 This fireplace made of large stones, creating a beautiful arc and solid wall piece is one of the most beautiful, rustic looks you can find when it comes to corner fireplaces. This large corner fireplace is perfect for a family room, living room, large screened in porch – especially in moderate climates where you can use the porch year round.
Ideally, add in the seat with some soft cushions – use safely! – for the ultimate cozy, rustic design.
Modern Patio Pavers with Electric Fireplace Insert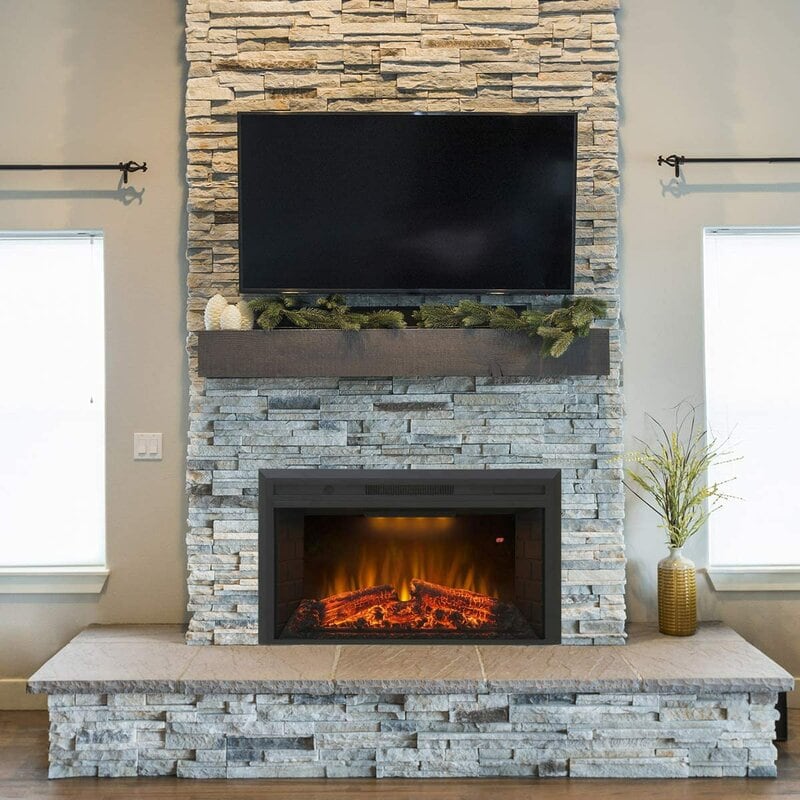 New fireplaces always look fresh. But we all know that once we've used the fireplace a couple of times, there will be soot all over it. If you're not a fan of that soot, try working with an electric fireplace insert instead.
The sleek, modern patio pavers cut and used for this stunning fireplace gives your fireplace a chic, elegant look, ideal for any modern design. Just choose the pavers in the right color to match your feel – gray, black, or white for clean line rooms, warm shades for modern wooden looks – and in no time you'll have the perfect landscape for your fireplace room.
Get a Smooth, Classic Wood Fireplace Surround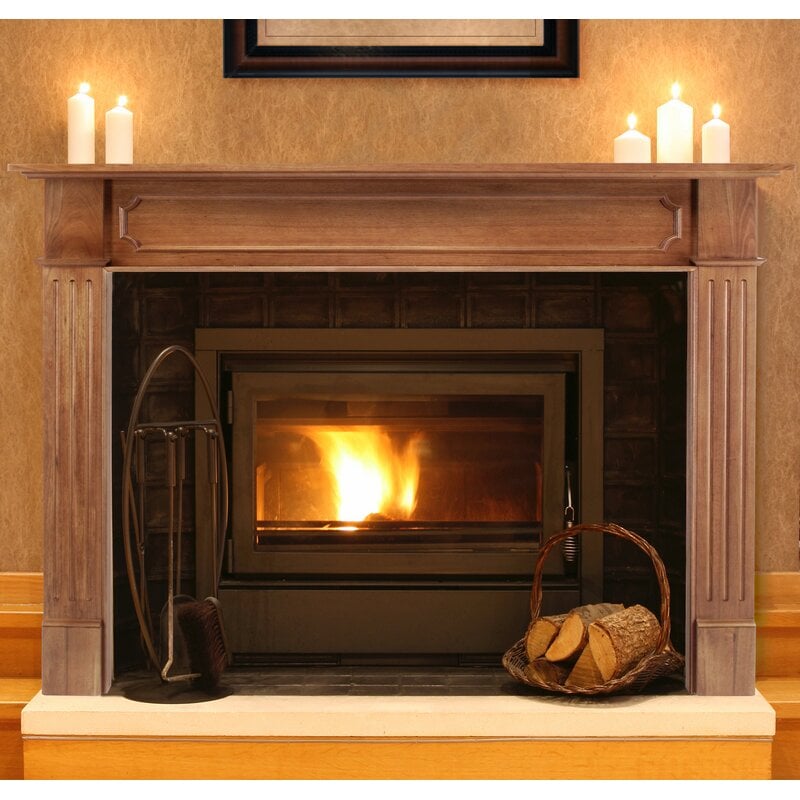 If you love wood and already have a simple fireplace, a great option is finding a beautiful, smooth wooden fireplace surround. They can be purchased separately at just about any large home goods store or shop that focuses on fireplaces.
Add a few candles or other simple decor, and instantly you've got that perfect, classic look for your home.
Do a Marble Inlay With a Vintage Wood Surround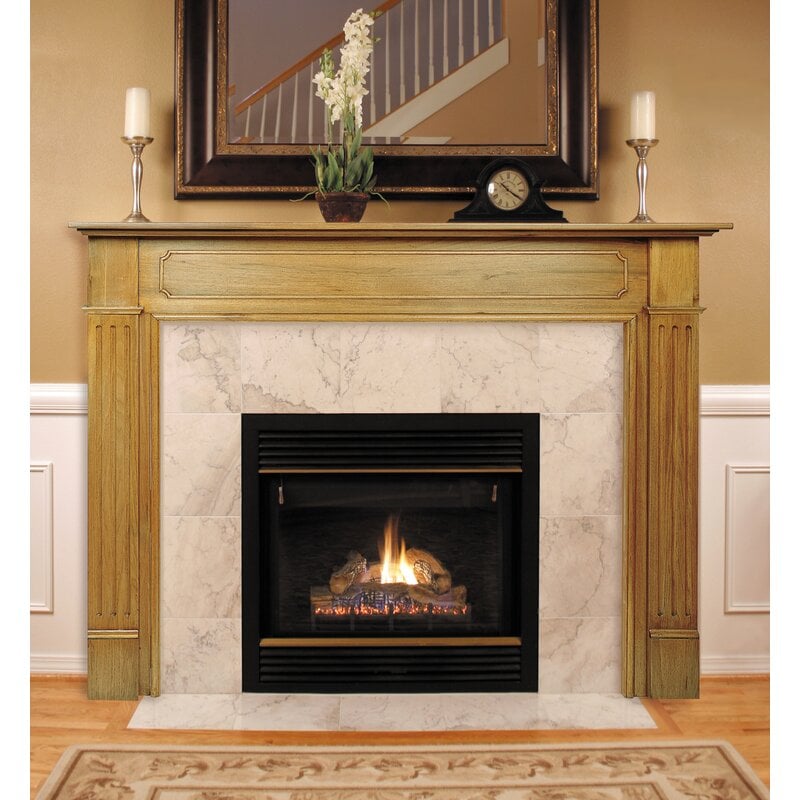 For a uniquely elegant look, find some marble tiles and vintage or weathered wood surround that you can install in your fireplace room. The marble tiles add a beautiful, elegant look, while the vintage wood emphasizes the beauty of the marble without compromising on coziness.
Hang some beautiful artwork over the mantel, add some candles or statuary, and you'll find that your simple but elegant fireplace area is one of the most inviting spaces in the house.
Modern and Minimalist Fireplace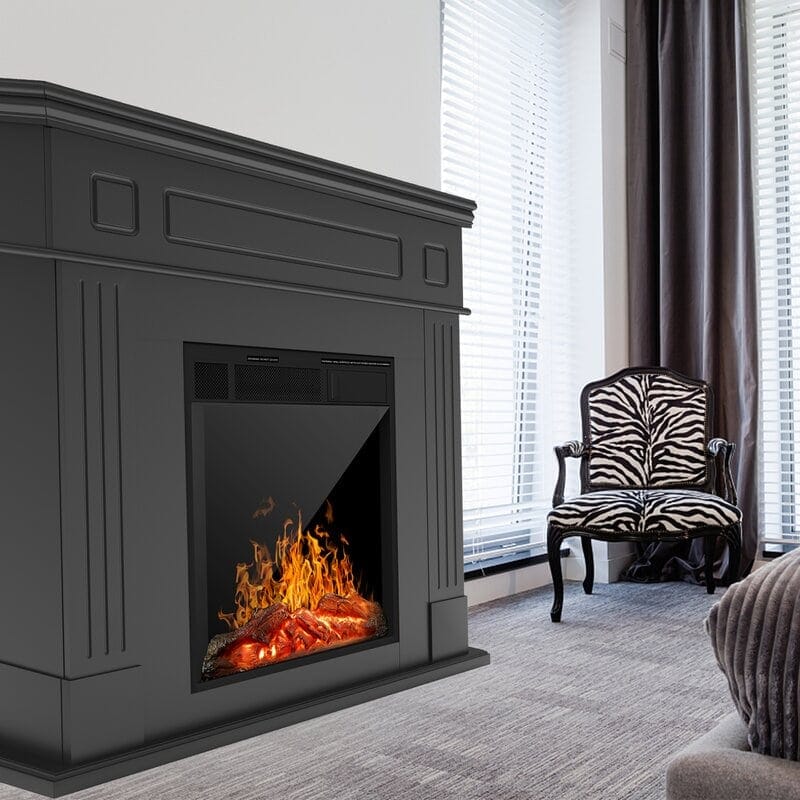 For a clean, modern, and minimalistic look, consider some corner gas fireplace ideas. The gas fireplace is ideal for sitting around and enjoying with your family. A gas fireplace is cozy, comfortable, and safer to use than other options – plus most of them are far easier to install than full-fledged stone or brick fireplaces.
And if you think it won't be exciting, you're wrong. The gas fireplace produces fire crackling sounds that are soothing, just like a wood-burning fireplace. So the room looks amazing, and there's no smoke or ashes to disturb you. It's the ideal way to enjoy a fire during the winter season.
Try a Rich, Elegant Manor Estate Fireplace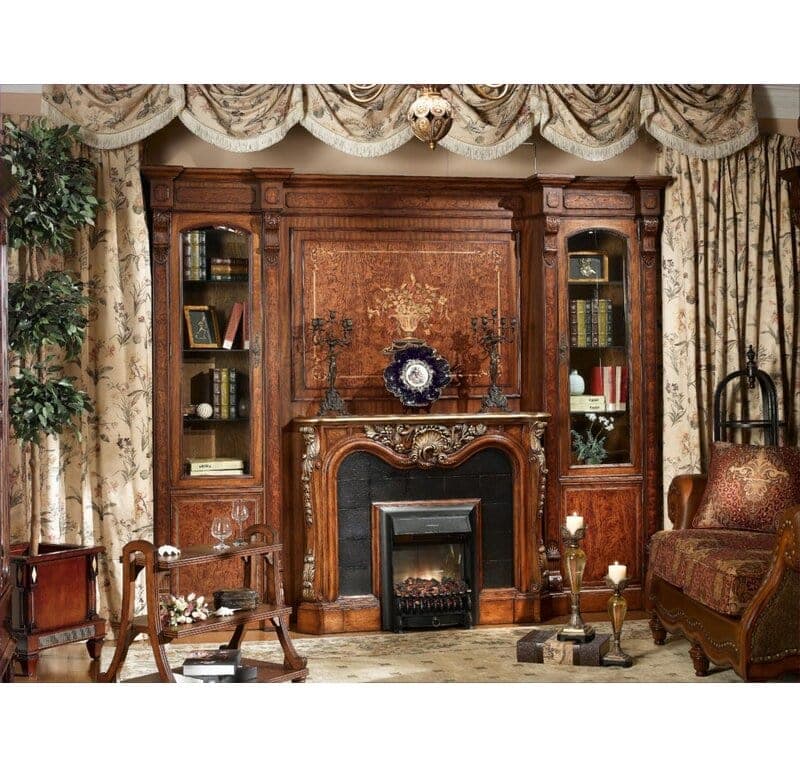 If you love the idea of your home looking like an elegant manor estate, one immediate way to do that is through the installation of a rich wooden fireplace like this one. Bookcases, a rich, heavy mantel, stunning artwork or carved designs in the wood all make for this straight out of Sherlock Holmes look.
How About a Cozy Pot-Bellied Stove?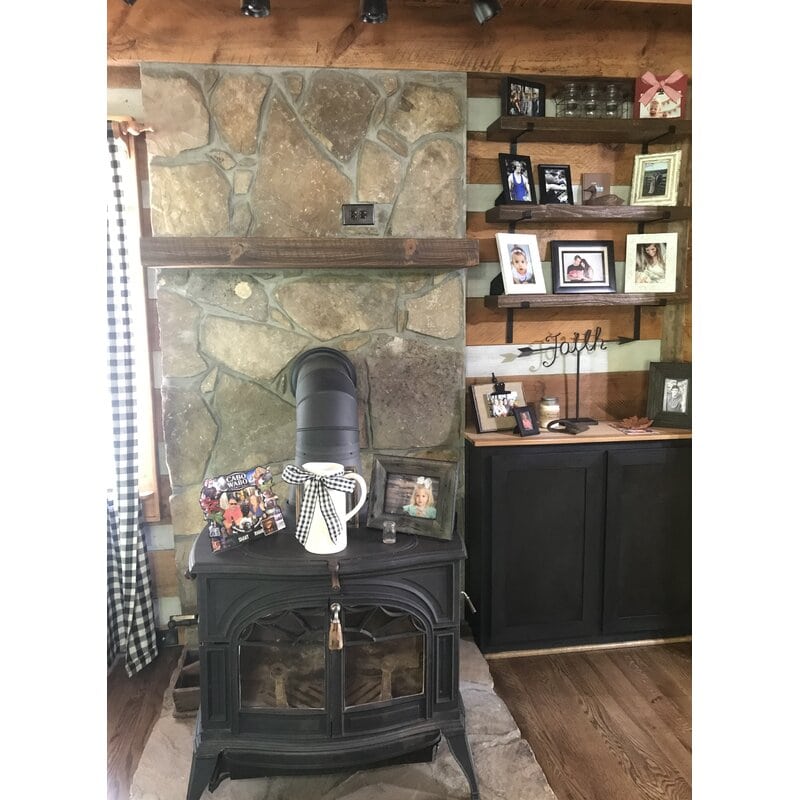 If you love an old-fashioned look but don't want the hassle of building an entire fireplace, you can invest in a pot-belled stove instead. This fireplace option is a fun throw-back to the old days but you can get a more modern looking stove, as desired, to update the look in a fun, modern vintage chic kind of way.
Back it with a stone edifice like this, add some vintage decor touches, and boom – your boring living room has transformed into a lovely, old-fashioned, beautiful space where you and your guests will love kicking back for a cozy Autumn evening.
Dress Up Your Fireplace with Stained Glass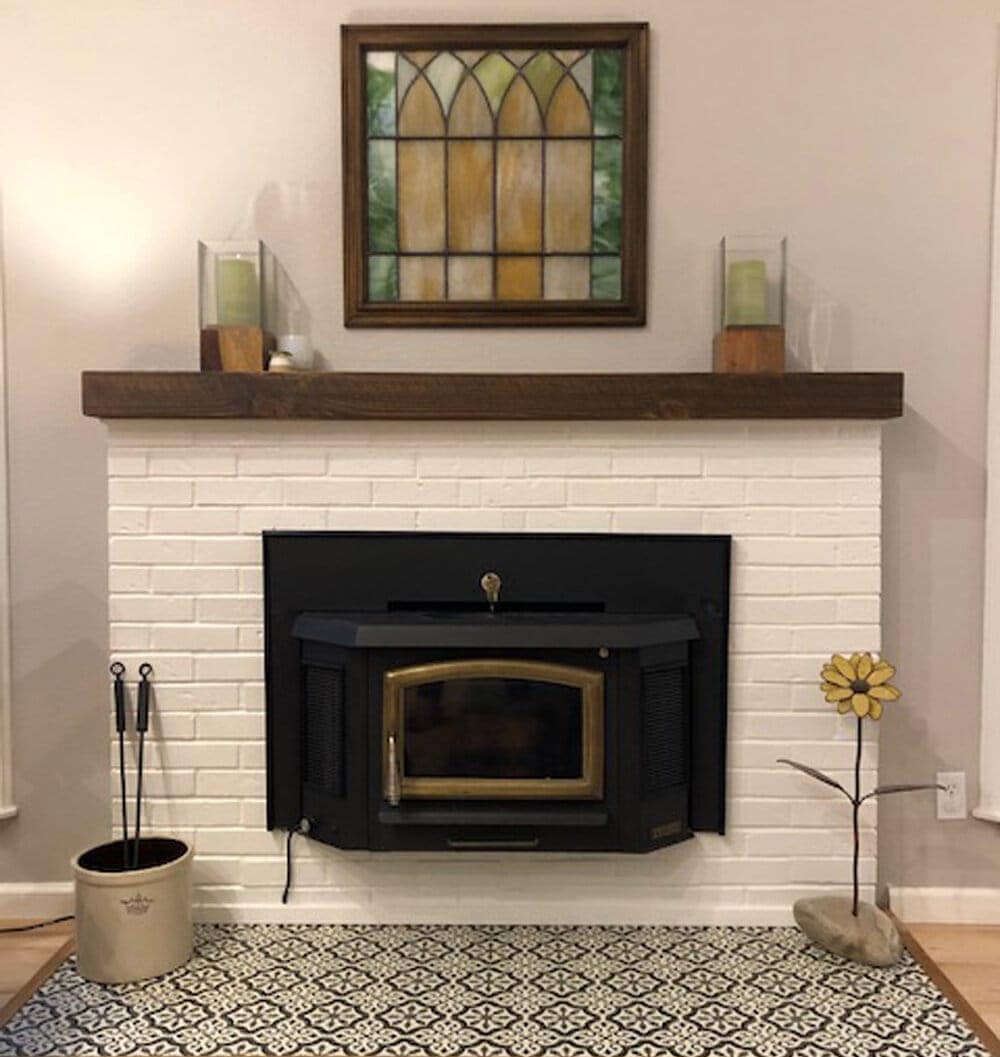 If you already have a fireplace and want a simple upgrade, a beautiful option is not to change the fireplace at all, but to dress it up with unique touches. Skip the standard artwork, like an old painting or family portrait, and trade that out for an old stained-glass window. Or, if you have some skills, make your own piece at a nearby stained glass shop class.
Tie into your stained-glass colors with accent pieces – possibly more stained glass pieces – and some simple planters or candles. Your beautiful space will be as unique as the stained glass artwork.
Patio Paver Turned Corner Fireplace Facade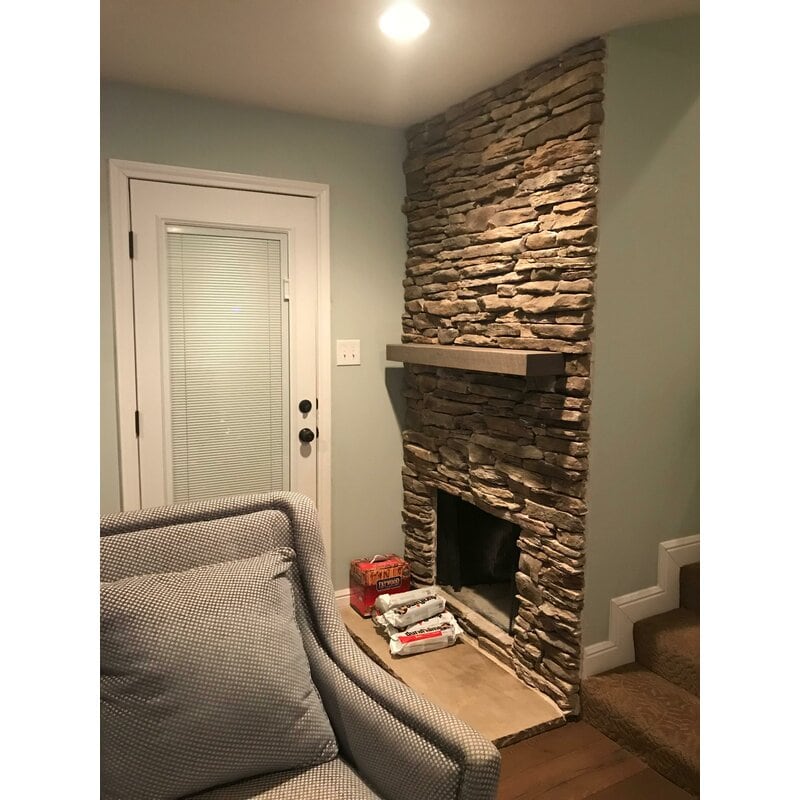 For an interesting, homey looking fireplace, try a patio paver corner fireplace facade. You can purchase the pieces of stone in sheets or, if you already have some broken or unwanted pavers lying around (or available on Freecycle in your area!), you're good to go. They don't need to be uniform to work, and, in fact, look more attractive if they're a bit asymmetrical.
This kind of look is perfect for a cozy corner in your family room, den, or other cozy gathering space, including smaller rooms.
A Cabin in the Woods Fireplace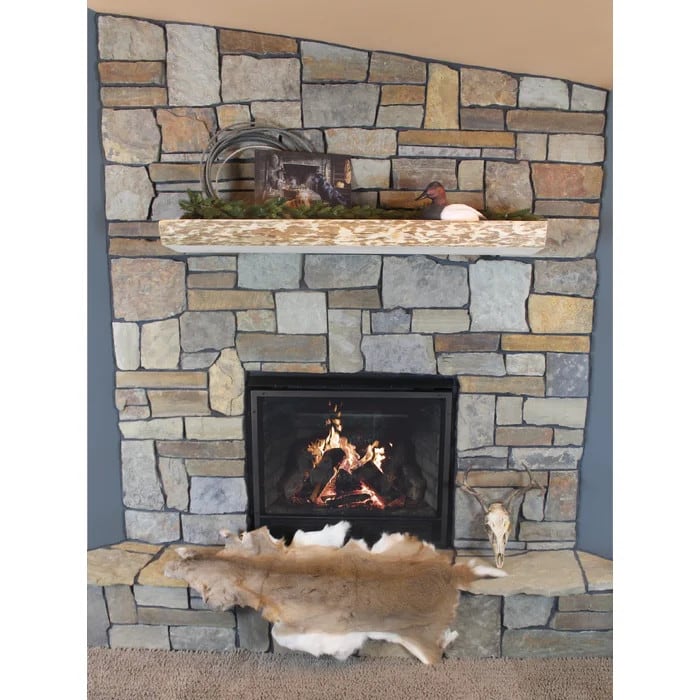 If your heart aches for some adventure but you can't have any right now, build an adventurous space in your living room. Check out this look that says isolated cabin in the woods. It's exciting but cozy.
The fireplace is made of stone and it looks good with the wooden surroundings, like the mantel, and a fur piece. Decorate the mantel with rustic touches and photos and, if possible, recreate the rest of the cabin feel in the room for the perfect getaway in your own home.
Farm Style TV Stand and Electric Fireplace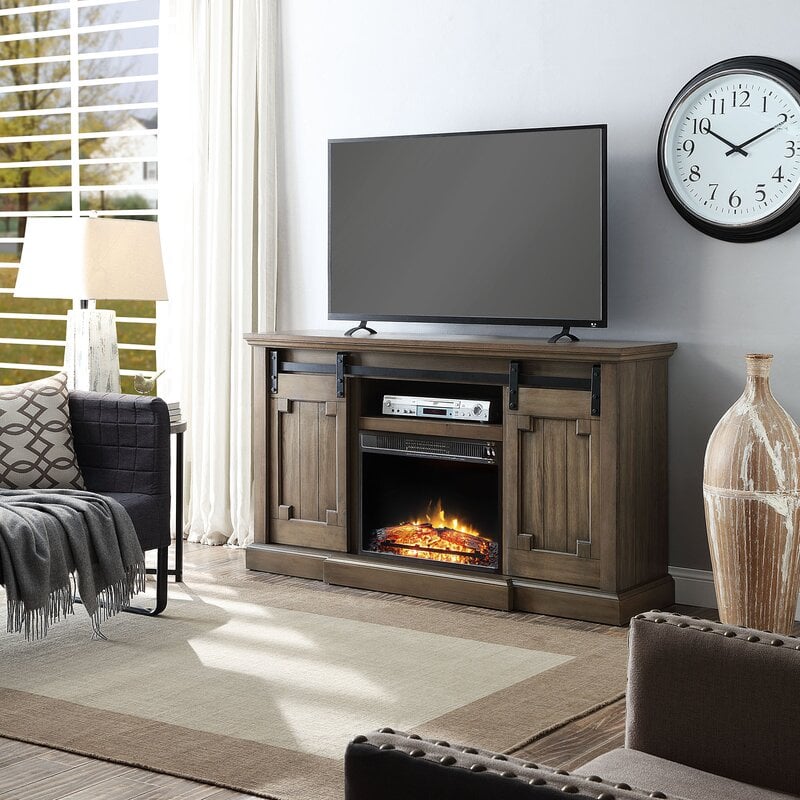 If you want to keep your fireplace simple, this beautiful farm-style TV stand and electric fireplace in one is a great combo. Those barn sliders over the fireplace itself is a nice touch and gives the added benefit of keeping things feeling secure and "clean" when you just don't want the fireplace on. If you close them, it just looks like a simple – though still beautiful – TV stand.
An Elegant Carved Wood Fireplace Mantel Surround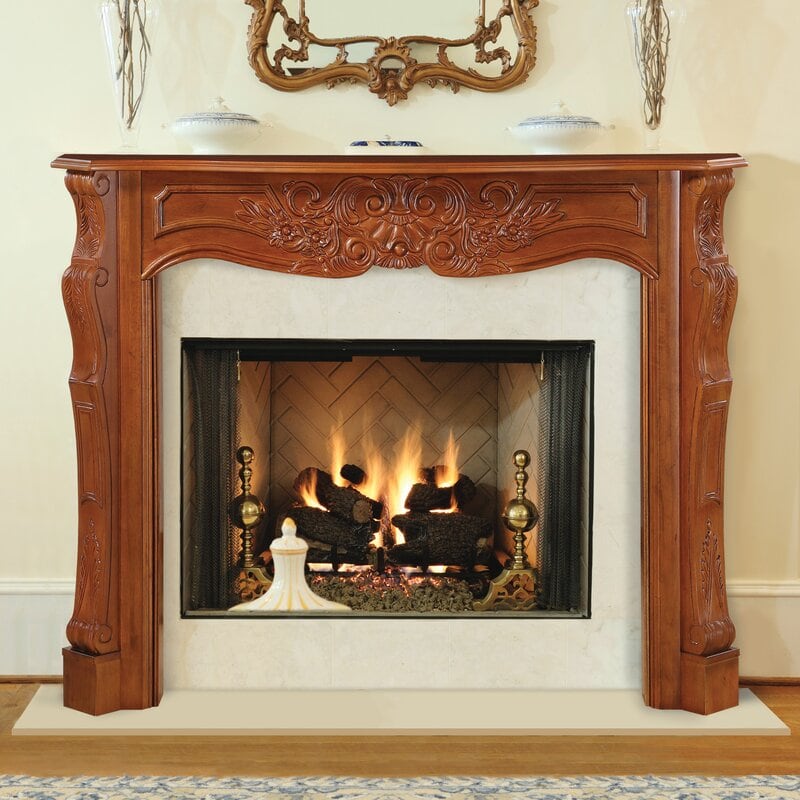 For those looking for something simple but sophisticated, this straight forward carved wooden fireplace mantel surround is a great option. You can install without too much hassle over your existing fireplace, adding heaps of elegance without pretention.
This kind of option also transforms a very plain mono-chrome room into a warm, inviting space. Accent the room with other wooden touches to fully bring out this elegant idea, with things like wooden bowls for flowers or small wooden tables. Leave the walls white and just add those few touches of wood and colors, and you'll have an incredibly elegant room.
For a Simple Install, A Free-Standing Fireplace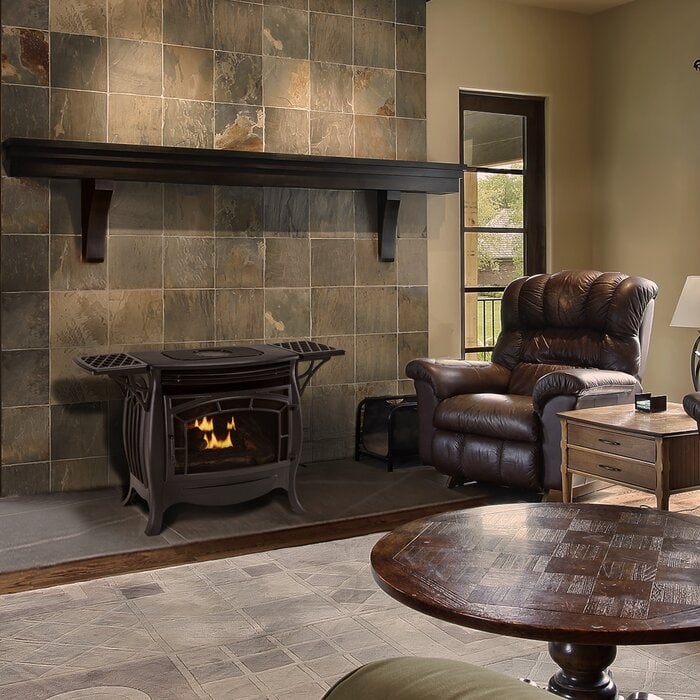 If you need something simple and don't have the ability to install a full setup, a great option is a free-standing fireplace like this one. It's a bit more of a "stove" than a fireplace, but serves the same function, adding that beautiful warming touch to any room.
These are great for family rooms and dens especially, but even a large bedroom or office can benefit from a fireplace like this one.
Get Modern with a Wall-Mounted Glass Fireplace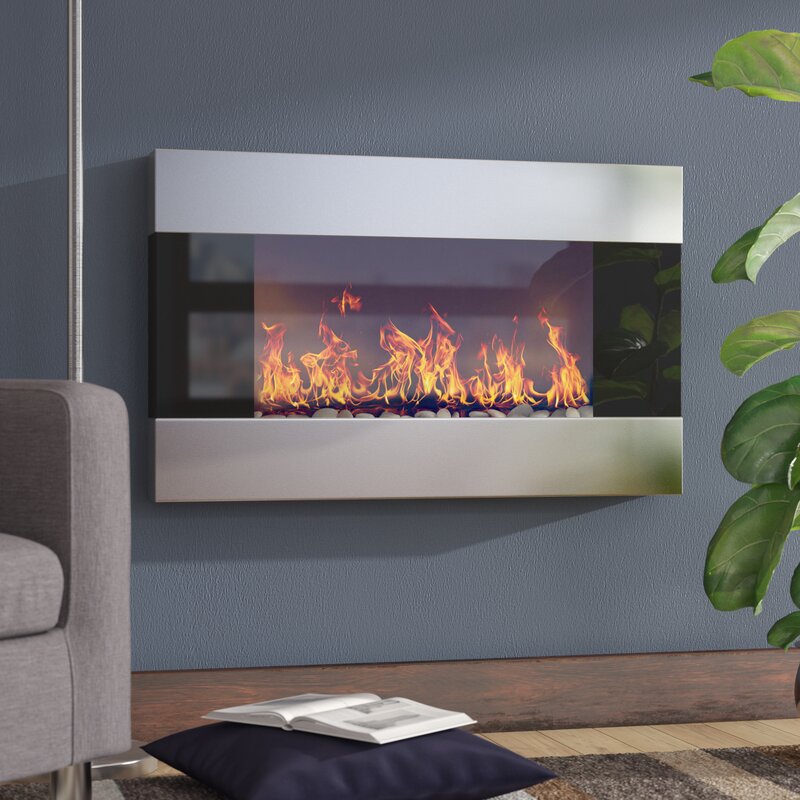 If you love a truly modern look, you'll love the look and feel of this modern wall-mounted glass fireplace. It's not your typical woodburner, of course, but it adds that same warmth and cozy pop and sizzle sound as it heats up the room.
And, unlike many other electric or gas heaters, an actual wall-mounted fireplace adds beauty to a space, not just heat. This particular option adds intrigue and kind of reminds us of an aquarium, actually, with its design.
You can find similar fireplaces in many shops or change up the concept and go with something with less glass and more wood or stone.
Multiple Grates to Change Up for Seasonal Use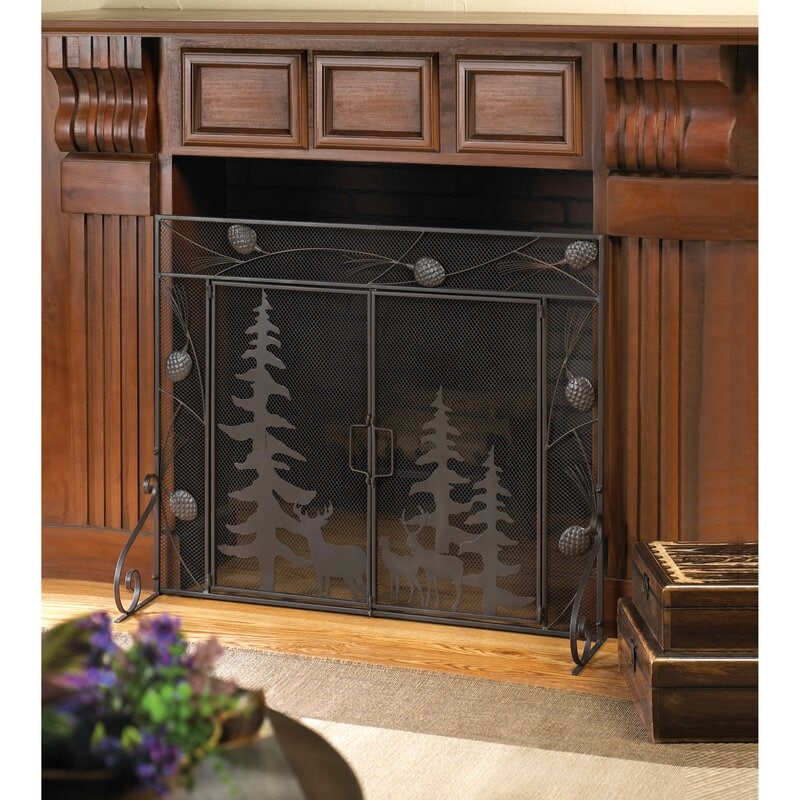 Whether you've got a rustic corner fireplace or modern look going on, one unique and fun way to change up your fireplace is to get several grates to use in different seasons. This grate, for example, is great for wintry holidays – Christmas, New Year's. You can find others that have Autumn leaves on them for Fall, flowers for spring, or go with something plainer or less decorative for summer when the fireplace isn't as much of a room focal point.
Try a Simple Recessed Fireplace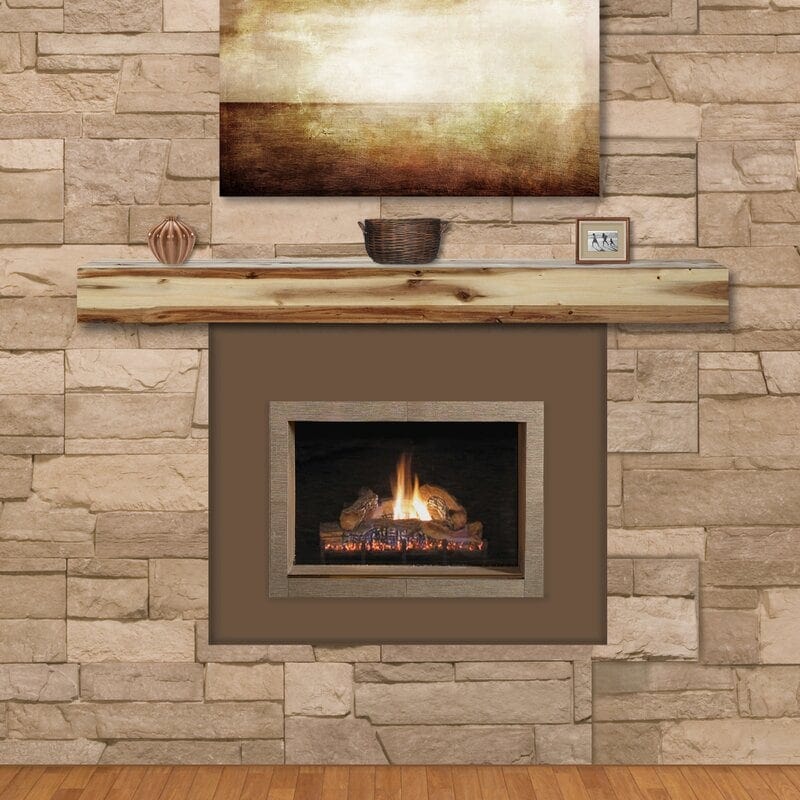 If you don't want to take up space in your room, you can install a simple recessed fireplace like this one. There are many options for this kind of insert, like this plain design, or you can go with something more elaborate if you don't want to skimp on style even if you're skimping on space.
These conveniently work in a number of spaces, too, like bedrooms, bathrooms – talk about a luxurious space that way! – or even an office. Wherever you need to save some room depth, a recessed fireplace is a great answer.
The Perfect Christmas with a Corner Fireplace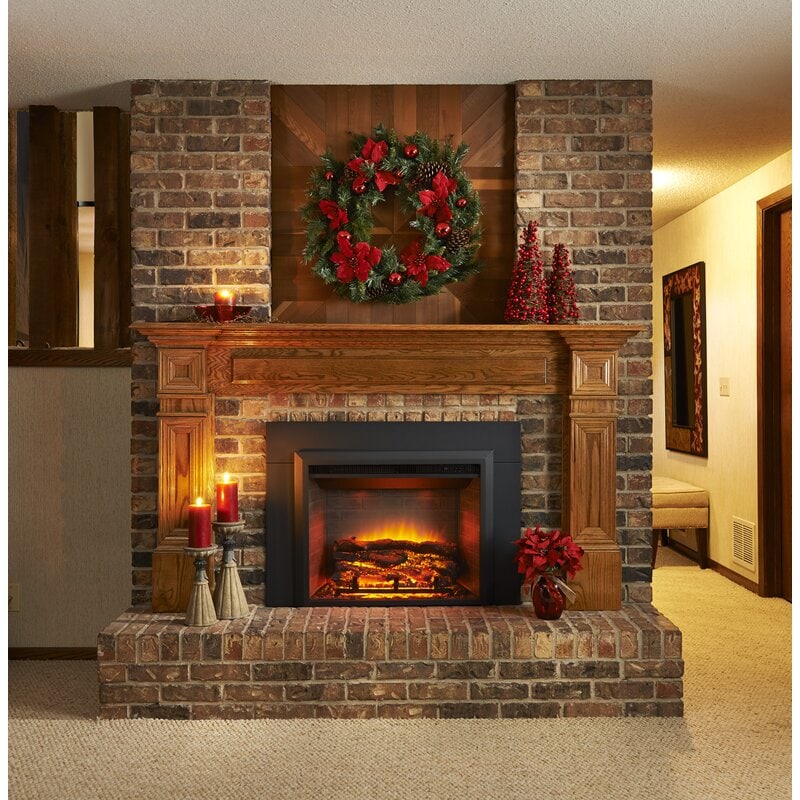 We all know that fireplaces have one more use apart from making the room warm and looking all stylish. They are also used to hang stockings at Christmas time. And we know the biggest stockings get the most candies.
Before you're reading to hang the stockings, add some simple decor pieces, like a wreath, candles, berries, and other artwork.Set up the Christmas tree right next to the fireplace. When it's the season to be merry, make sure you have the perfect fireplace that will keep you and your family warm.
Create a Half Wall Fireplace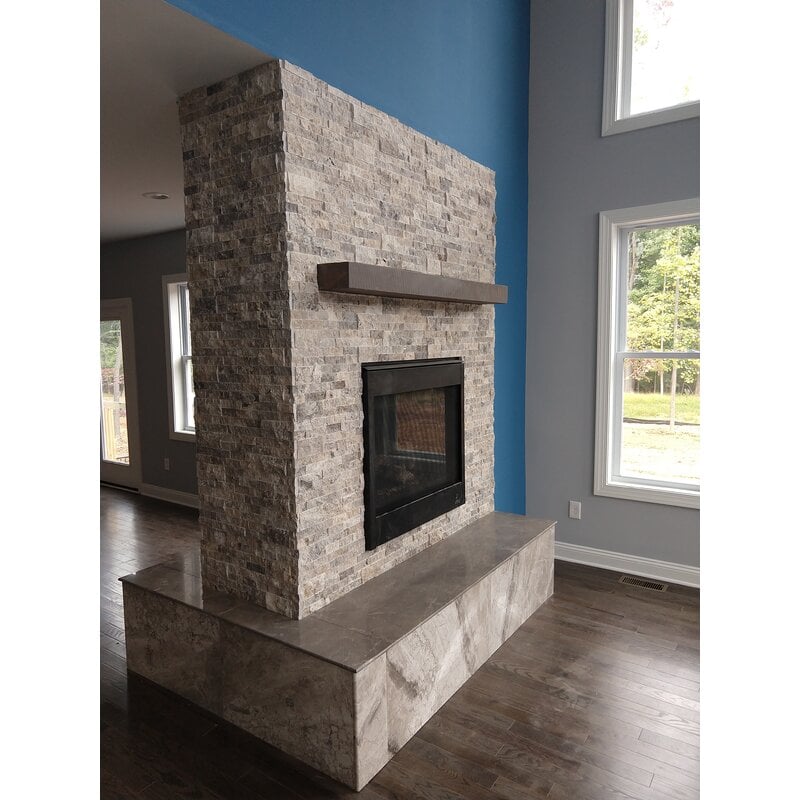 If you have wide open doorways and not really a "good" place to build a fireplace, creating your own half wall fireplace is a great built in corner fireplace option. You can use stone material like in this photo, or bricks, or build up wood around and fill in the fireplace itself with bricks, or stone, depending on what material(s) best suit your style.
And while you're building, don't forget to include a seat on any or all sides. Your living room will automatically have more sitting space for parties, be even more inviting, and you'll have natural cozy spots for any furry critters that call your house their home.
A Concrete Fireplace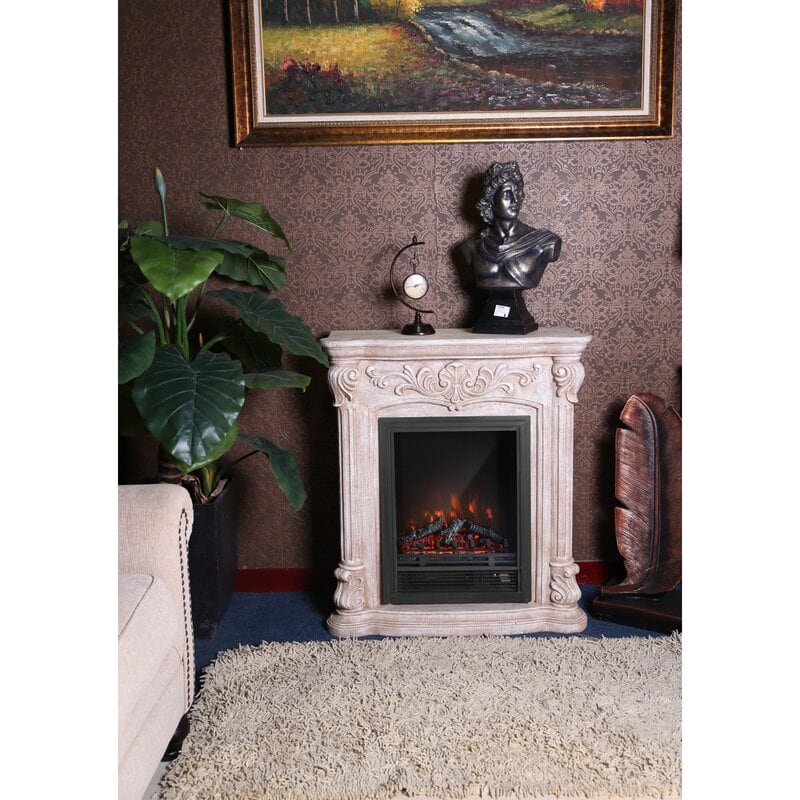 When you hear concrete, you might think raw and industrial. And while that may be the case in some instances, a concrete fireplace can also be elegant and sophisticated. In this particular case, the fireplace was molded with unique touches to give a "carved" look.
If you prefer something simpler, you can do a boxier, modern design with clean lines and no frills. Accent with metal pipe or a white or black mantel board.
A simple coat of paint can be added – be sure to use paint for concrete – or leave in the natural gray color for a unique look.
Upgrade Your Fireplace with a Unique Firescreen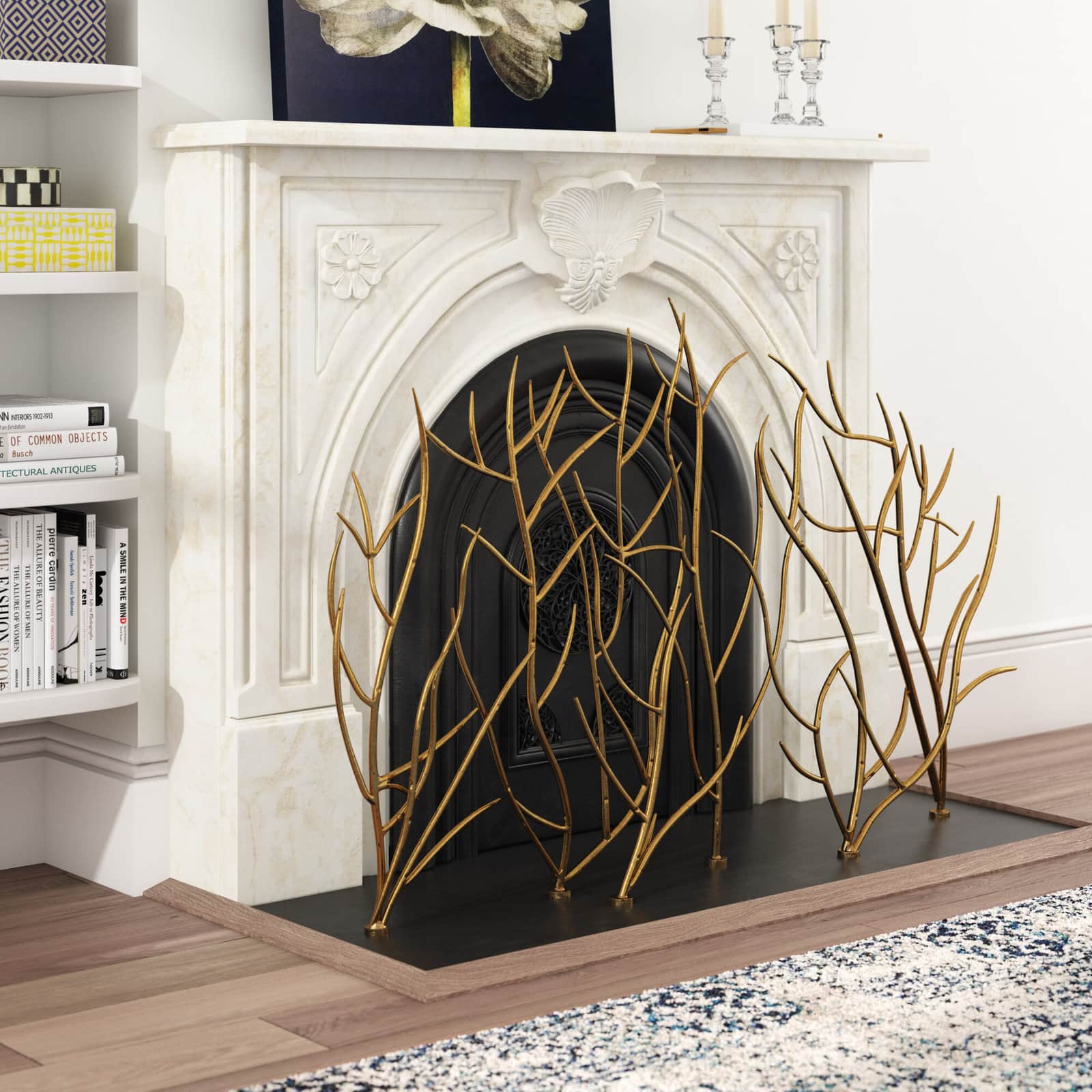 Another simple and inexpensive way to change up the look of an existing fireplace – or boost the looks of an inexpensive new install – is by adding a unique firescreen like this branchy option. It gives a modern, decorative feel to the fireplace without requiring a lot of work.
You can find a variety of unique screens like this one in different colors and styles to suit your taste.
For a Simple Upgrade, Find a Golden Screen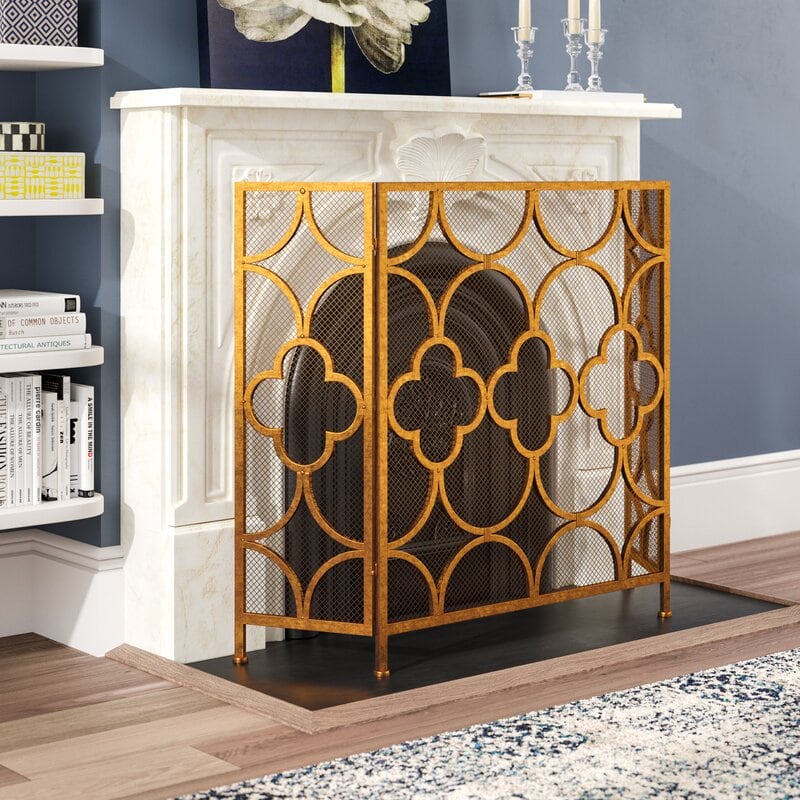 For a simple upgrade for your fireplace, you can find a unique and beautiful golden screen like this one to dress things up a bit. They come in a variety of styles and patterns, as single piece and three-piece screens, and for a wide range of prices to fit just about any budget.
For added touches in a room with this fireplace screen, add some metal coffee tables of the same color, topped with white or dress things up with some golden photo or painting frames to tie things together.
Upgrade an Existing Fireplace with a Gorgeous Metal Back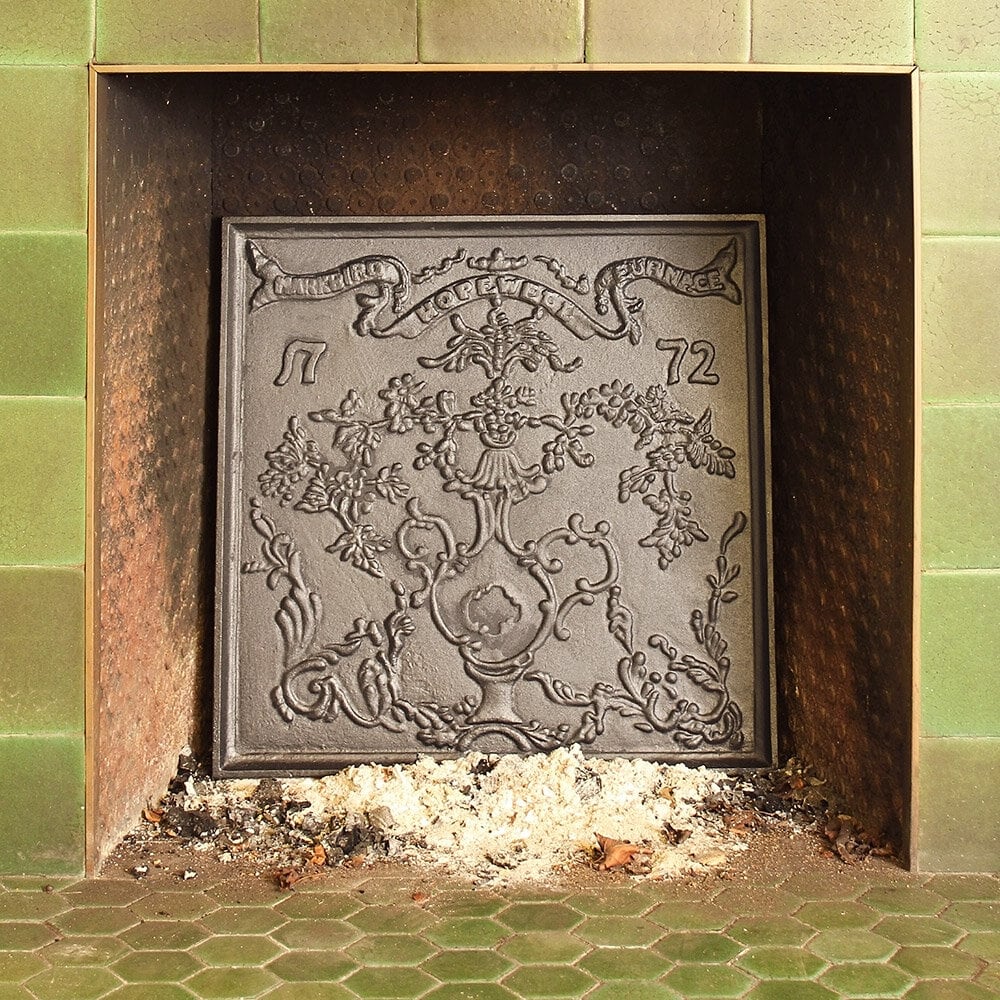 For a simple, inexpensive upgrade for your contemporary corner fireplace, there's this simple option: a metal back. These are designed specifically to give protection to your fireplace walls, add some unique beauty, and dress things up a bit without having to overhaul the fireplace you have.
Rustic Stone Fireplace with Distressed Wood Mantel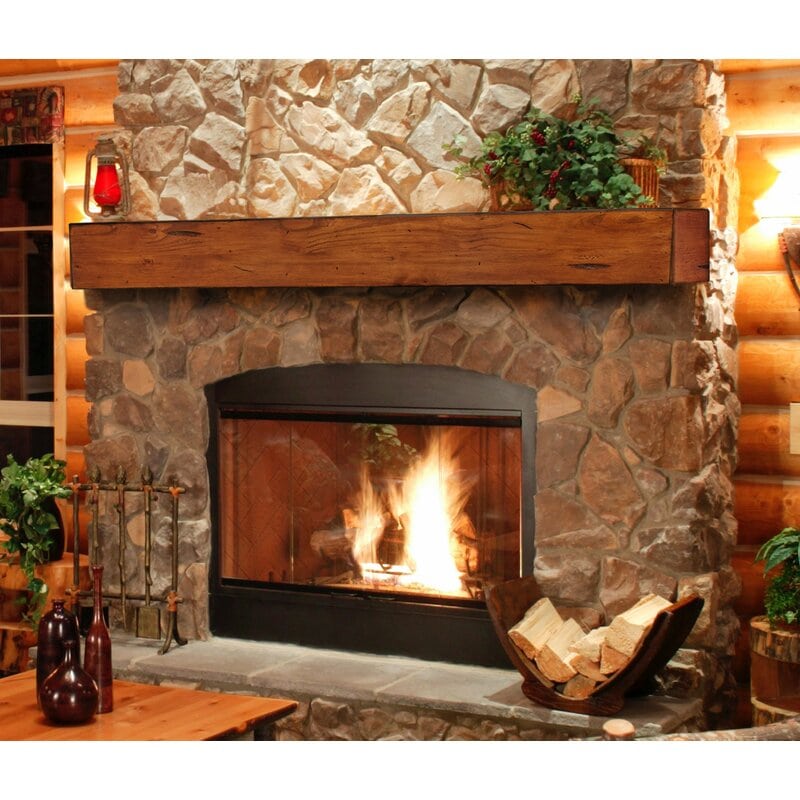 If you love a rustic look, consider a stone corner fireplace. This beautiful fireplace uses natural stone as they are, unlike the uniformity of many of the other styles seen above, giving it a more "authentic" look and feel than many other options.
Dress it up with a distressed wood mantel piece, top with plants or greenery, and welcome the weather, whatever may come, with grace and beauty.
A Chic, Modern Wood Facade for Your Fireplace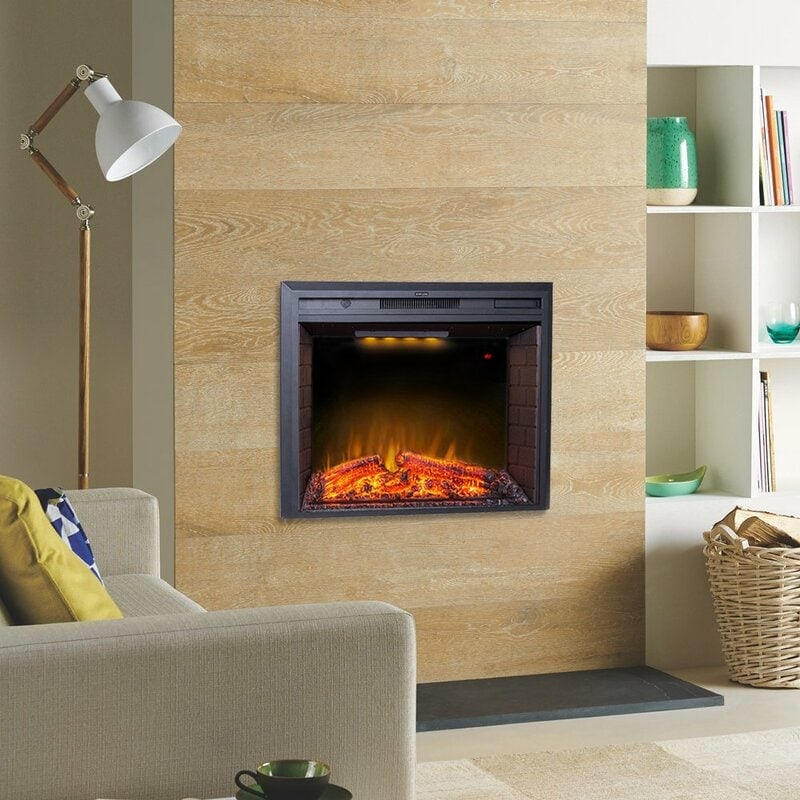 For a clean cut modern corner fireplace look, invest in a wooden facade or wood veneer for your fireplace surround. This kind of piece works with any kind of fireplace, though most commonly you'll see them around electric and gas fireplaces.
This design is perfect for any wall, corner, or awkward space, too, as it smoothes out awkward angles and opens up the feel of a room, assuming you use light shades of wood.
A Fireplace that Was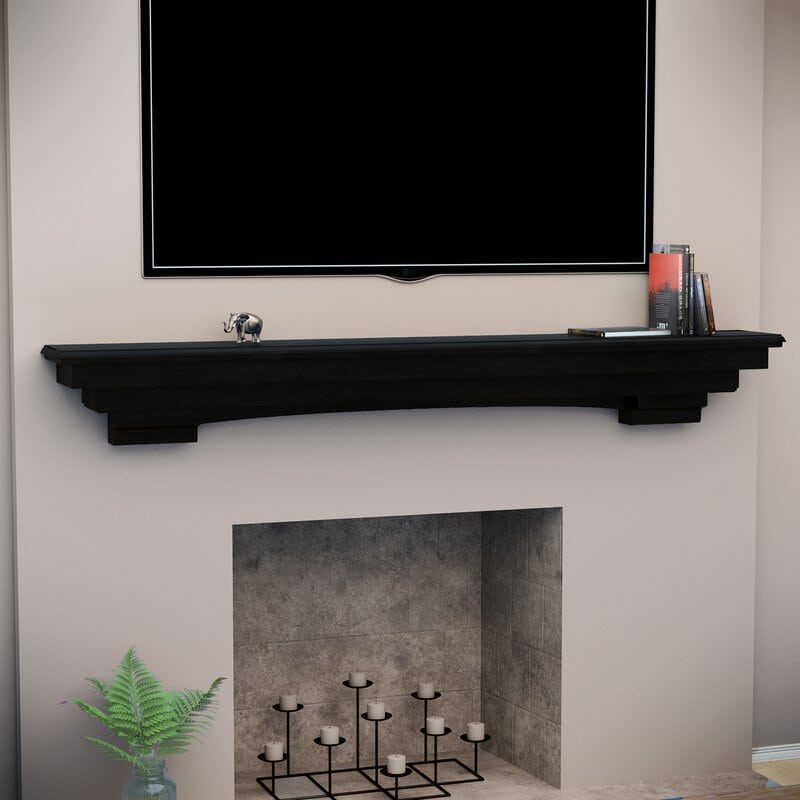 Sometimes, lighting a fire can be too much hassle. If you feel chopping up wood, lighting the fire, taking care of all the smoke and soot, and then getting rid of the ashes is way too much work (and it actually is, to be honest), behold the fireplace that's convenient.
Instead of lighting up chunks of wood, light up a few candles in there. This way, the fireplace will never lose its color. If you're proud of the bright white or clear gray color of your fireplace and you don't want it to turn black, just light up the candles. They look beautiful and stylish, minus all the hassle and fuss.
A Wooden Corner Fireplace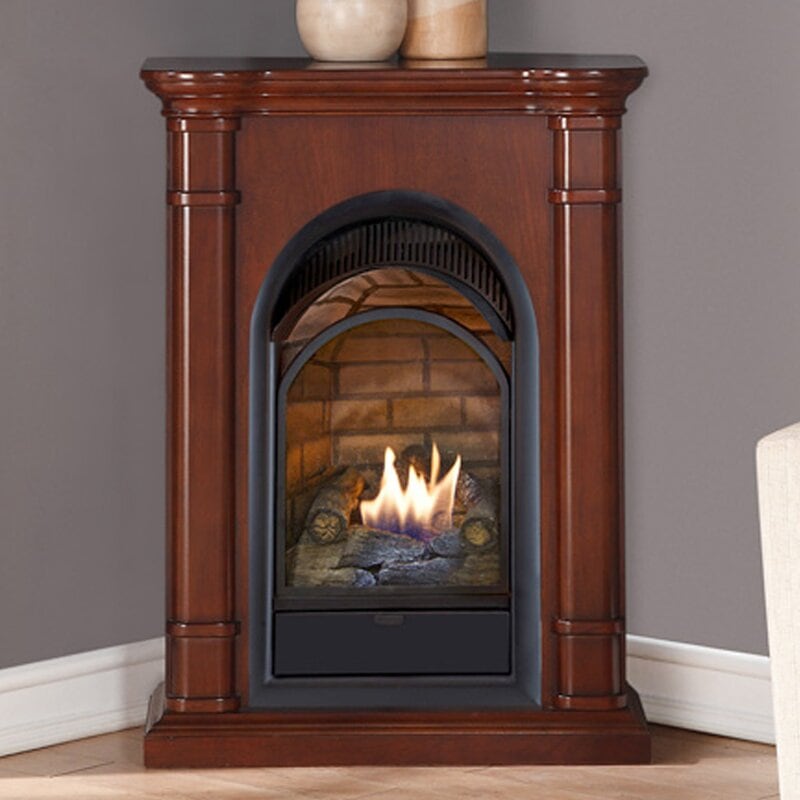 Fireplaces can't be wooden. Because they'll burn up the wood, right? Not this one. This fireplace is bold enough to take that risk. It's a metal fireplace installed in a wooden setting. So the wood surround won't burn.
In this particular case, the wooden fireplace is designed specifically for corner use and has an old-timey look (reminds me of a radio!) for added charm.
Build a Tuscan Corner Fireplace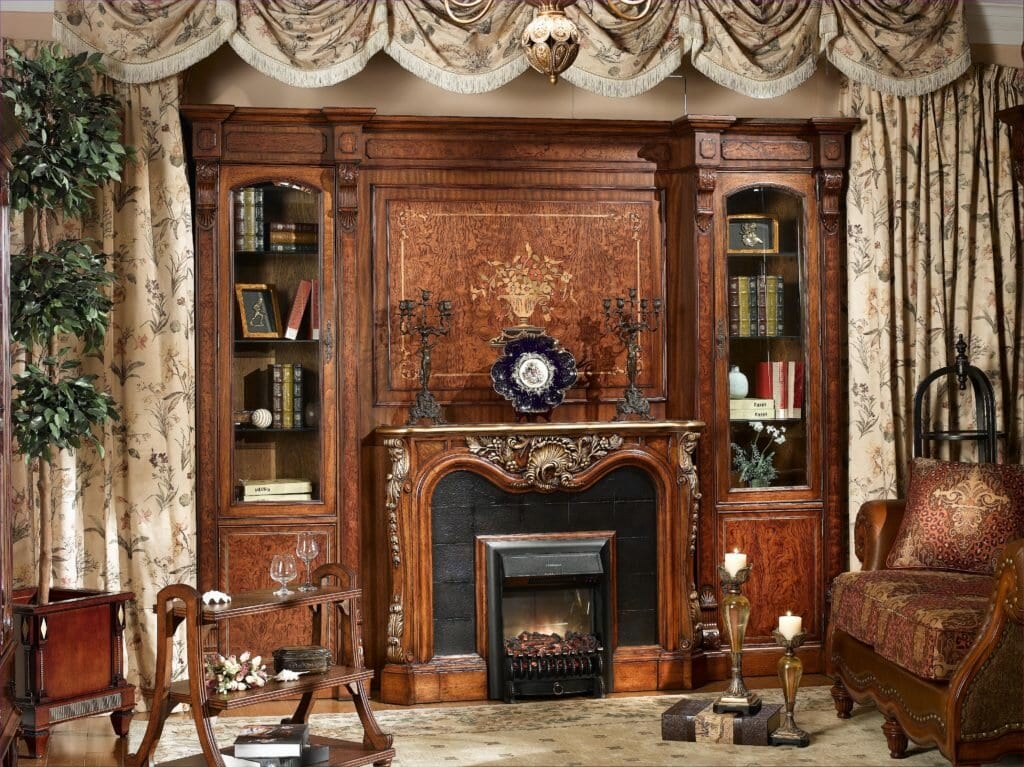 If you love the idea of the Tuscany countryside, you can add that special touch by building a Tuscan style corner fireplace in your home. With rich, warm bricks, and smooth stones for the structure of the fireplace, you've got that amazing foundation for the perfect look.
Next, decorate the space surrounding the fireplace with Italian-style furnishings, cast iron lanterns, and more. Your fireplace room will be the envy of all the neighbors.
A Fireplace and TV Stand in One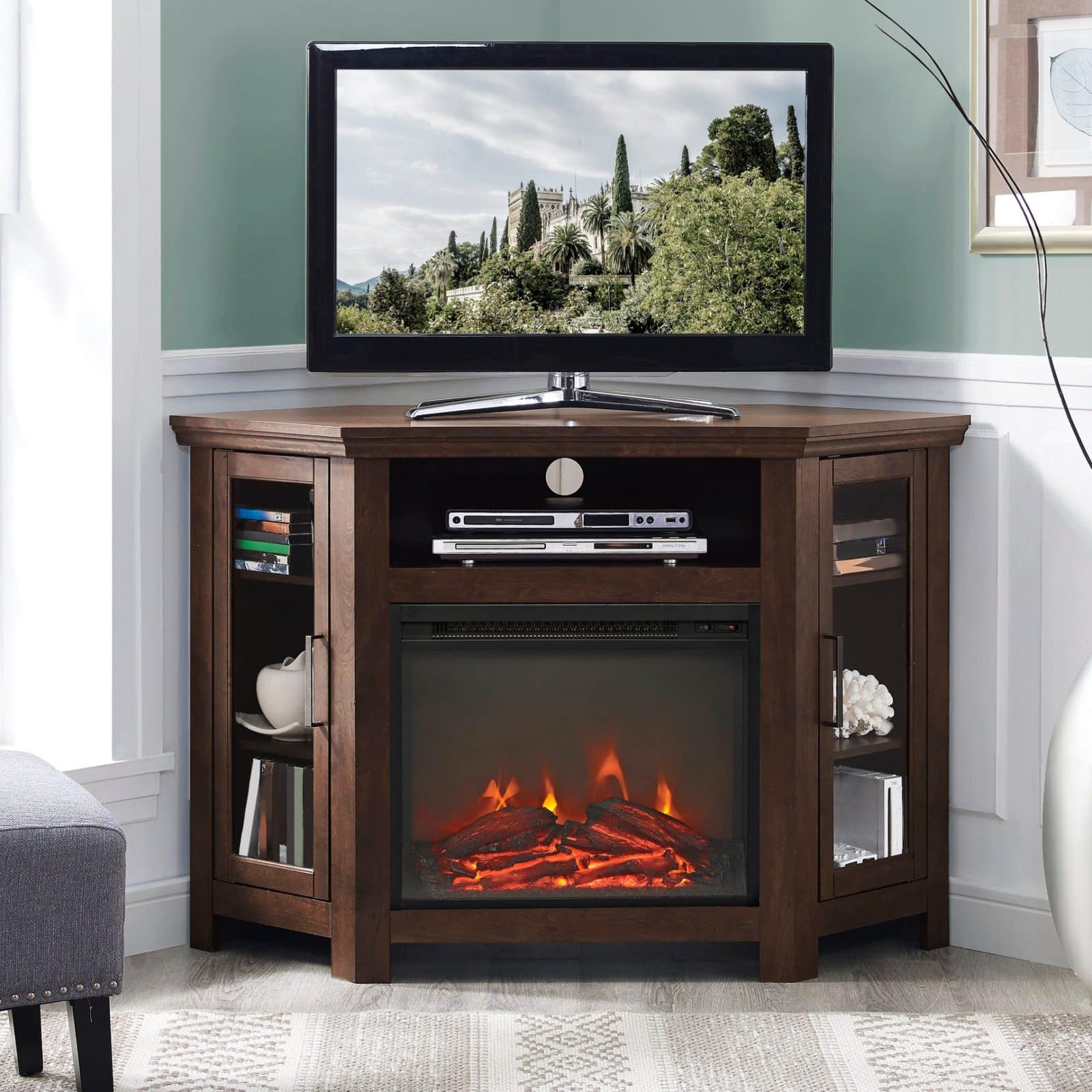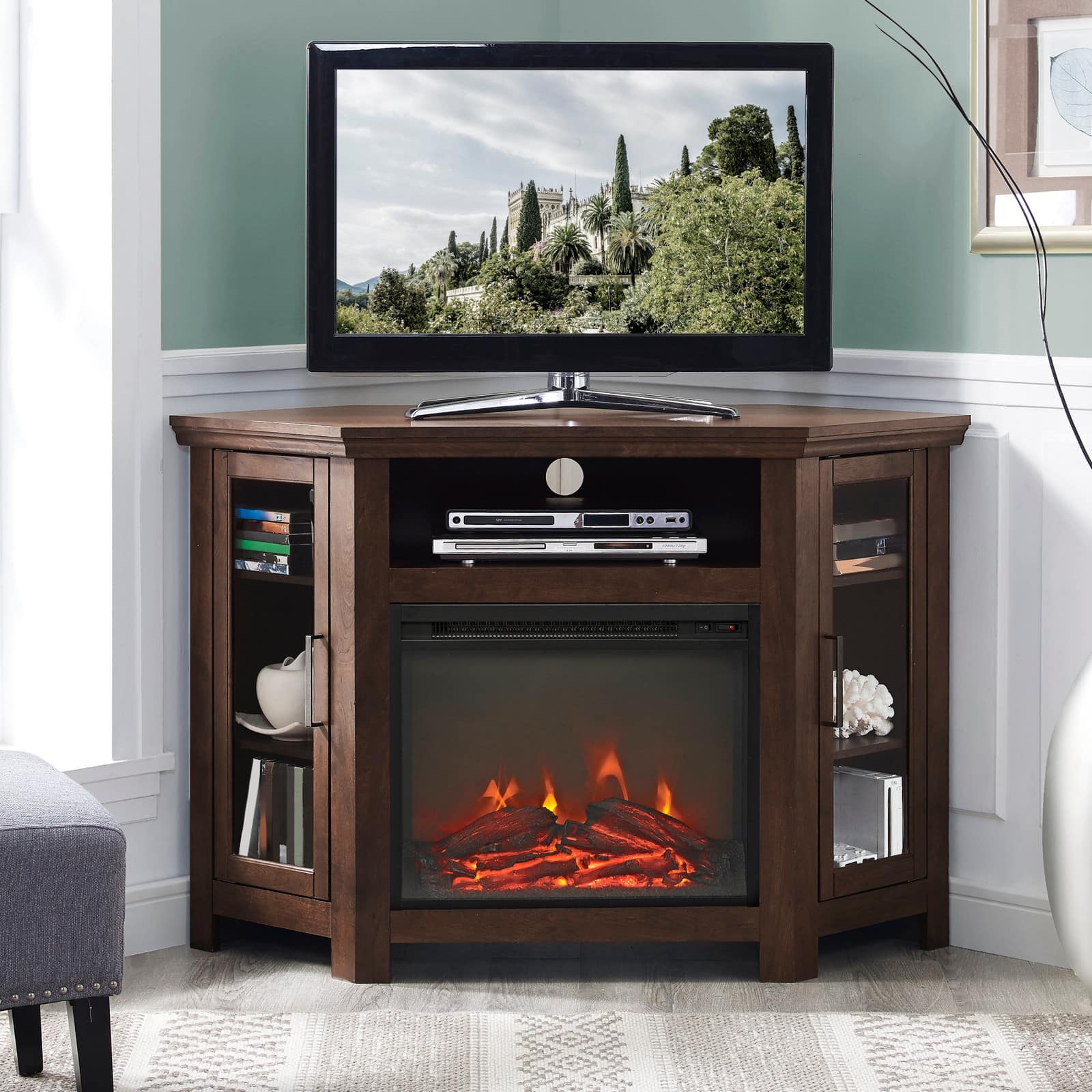 If space is at a premium for you, you may want to consider a two-in-one option, like this fireplace and TV stand in one. For an angled fireplace, you can find some premade options at a variety of stores, like Home Depot, Wayfair, or online only shops.
The beautiful wood adds the beauty, while the practical shelves add some functionality to this kind of centerpiece for a room, even if it is in the corner.
Corner Fireplaces – Practical and Pretty
Whether you want a corner fireplace because of an oddly shaped room, less space, or just because you fancy corner fireplaces – they're practical and beautiful. Of course, the right type of fireplace depends on your room size and shape and your interior décor style.