Decorated Life is reader-supported. When you buy through links on our site, we may earn an affiliate commission. Learn More
15 Creative Bathroom Wall Decal Ideas
Bathrooms are one room in the house that everyone uses. So, it makes sense that you want to make your bathroom look stylish and welcoming.
Bathroom vinyl wall decals are a fabulous way to add decor – and often humor – to help you have a more enjoyable time doing your bathroom business. This list of 15 bathroom wall decal ideas gives you options for some funny bathroom wall stickers, instructive bathroom rules, and gentle reminders.
Give a Gentle Reminder to Flush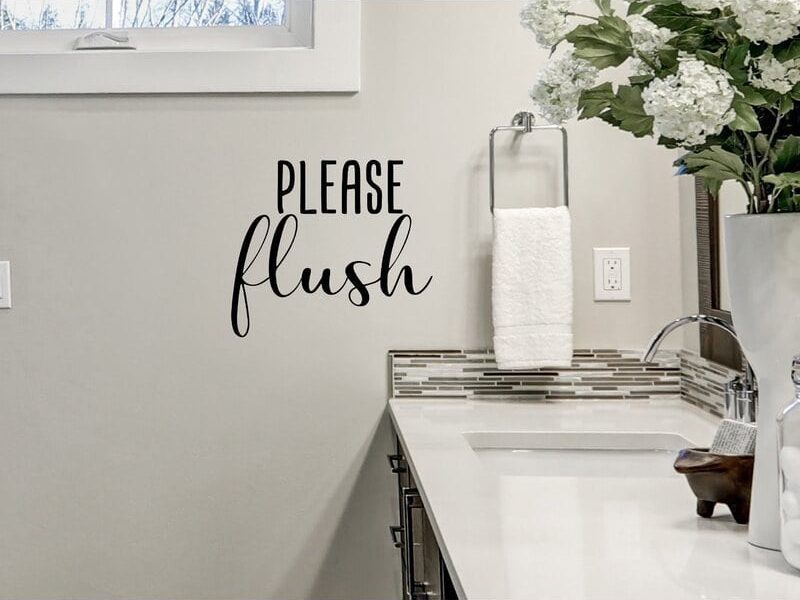 Not much is more frustrating for bathroom etiquette than getting ready to do your business only to realize someone had been there before you and left it for your viewing displeasure.
Remind your housemates and guests to keep their bathroom habits a secret by remembering to flush after each use. This simple two-word decal comes in two font types and four colors – gray, white, black, or brown.
Make It Easy to Locate Your Bathroom Door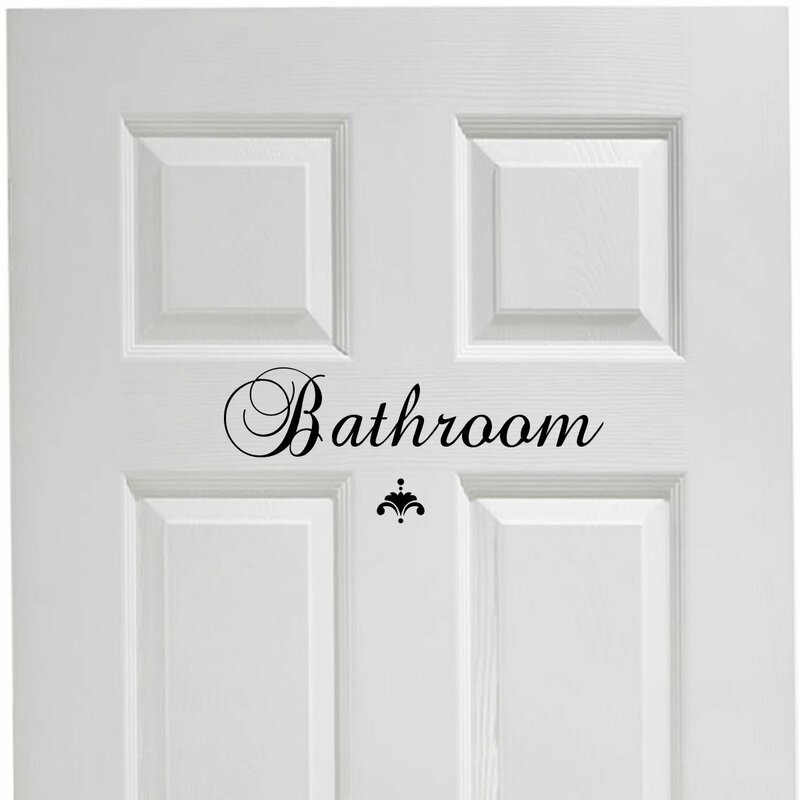 Adding a decal to the outside of your bathroom door ensures that everyone opens the right door when trying to locate the commode.
This simple accent decal gives your door a hand-painted cursive font stating "bathroom," with a simple yet elegant decal in a rich, bold black.
Lay Out the Rules of the Bathroom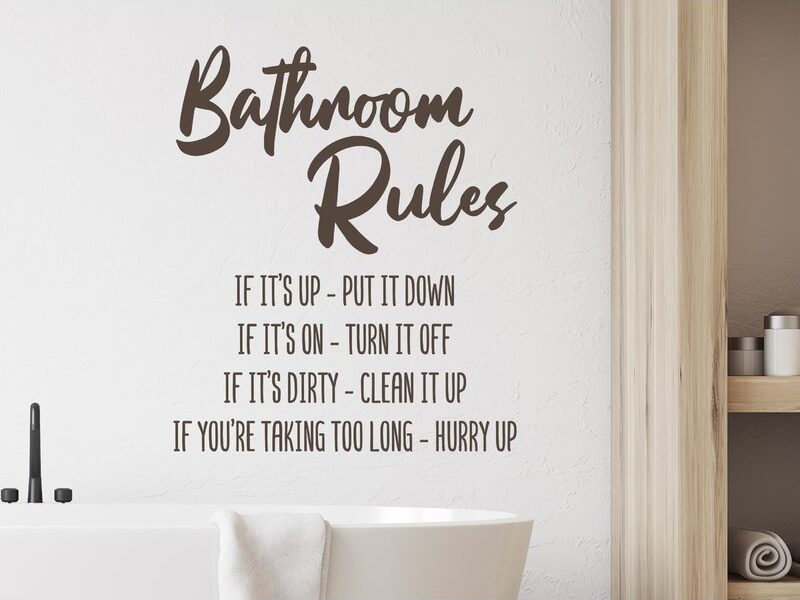 This decorative decal lays down the bathroom rules in a clever, stylish design. The large font in cursive boldly announces bathroom rules.
While underneath, there are four lines in simple block print laying down the laws of the land for everyone to understand in four color choices:
If it's up – put it down
If it's on – turn it off
If it's dirty – clean it up
If you're taking too long – hurry up.
Add Relaxing Bathtime Inspiration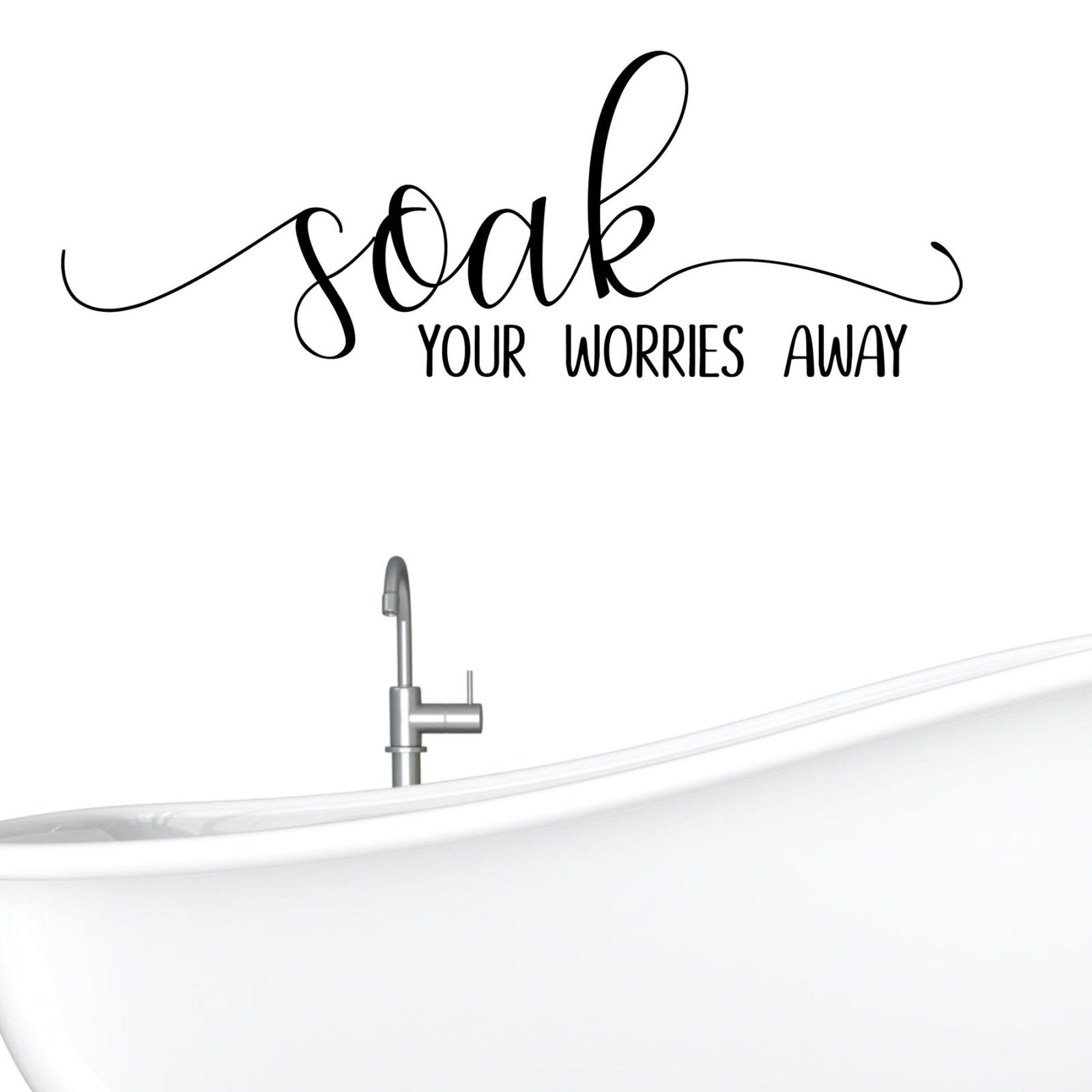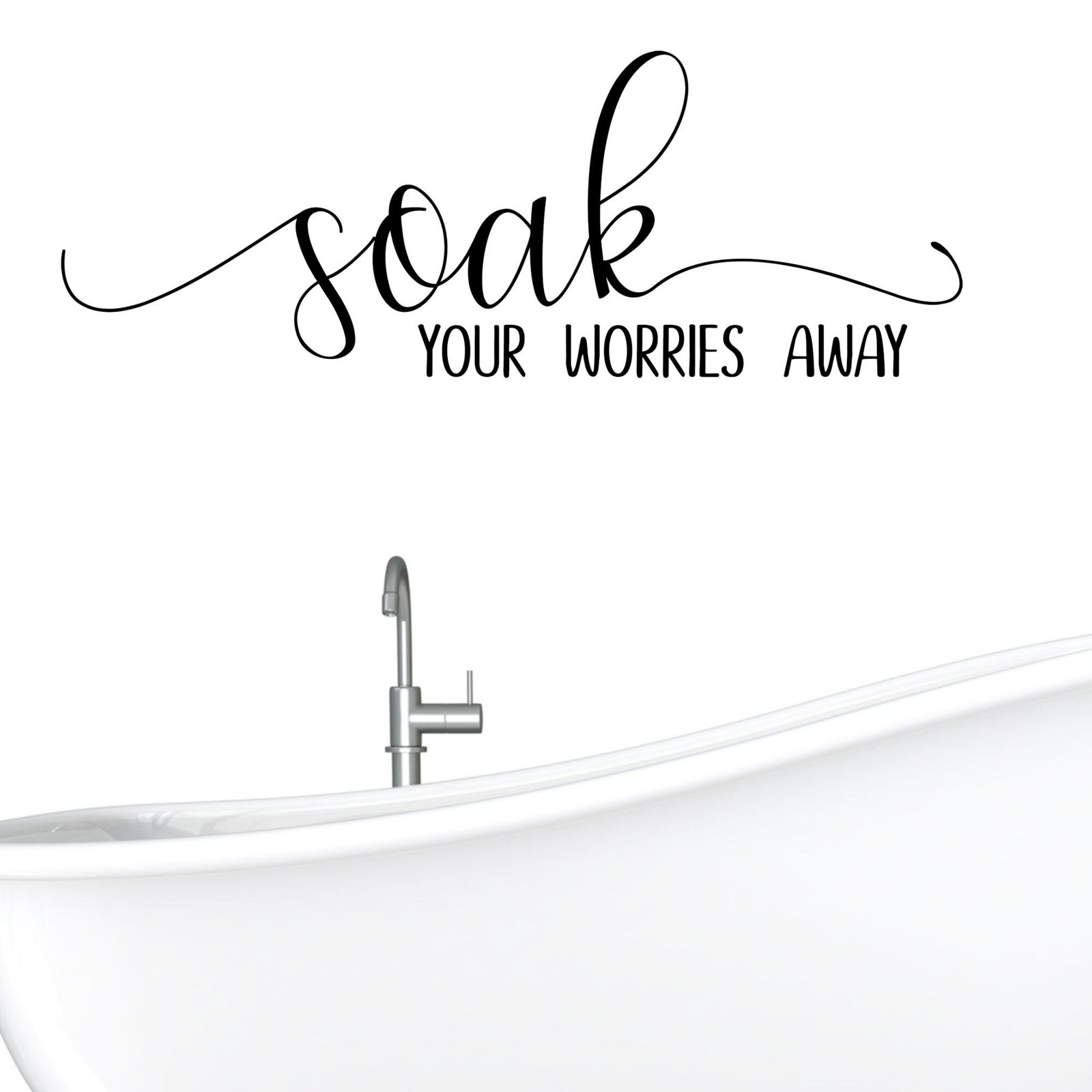 Your bathroom should be a relaxing oasis away from the world's stresses. This versatile vinyl wall decal is the perfect wall decor to put above bathtubs to transport you into a serene getaway.
The elegant sticker has a large cursive "Soak" with print words underneath saying "your worries away (Soak your worries away)." Use this bathroom decal as a mantra for a soothing, relaxing bath.
Read a Positive Aspiration Every Morning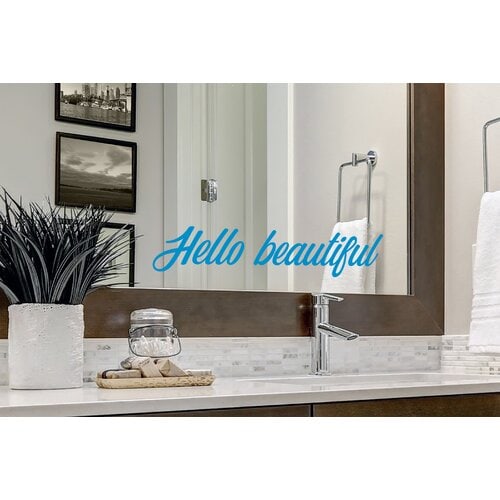 The bathroom is the perfect place to give yourself a positive aspiration to get your day started on a good note. This cursive stencil goes on any surface in your privy, from the window to the wall to the mirror.
Stare at this positive reminder of your attractiveness while getting ready every day and night to keep your confidence high and your spirits boosted. This "Hello beautiful" decal comes in six matte colors – black, gray, blue, white, pink, and brown – and three sizes.
Decorate Your Wall with a Bathroom Humor Decal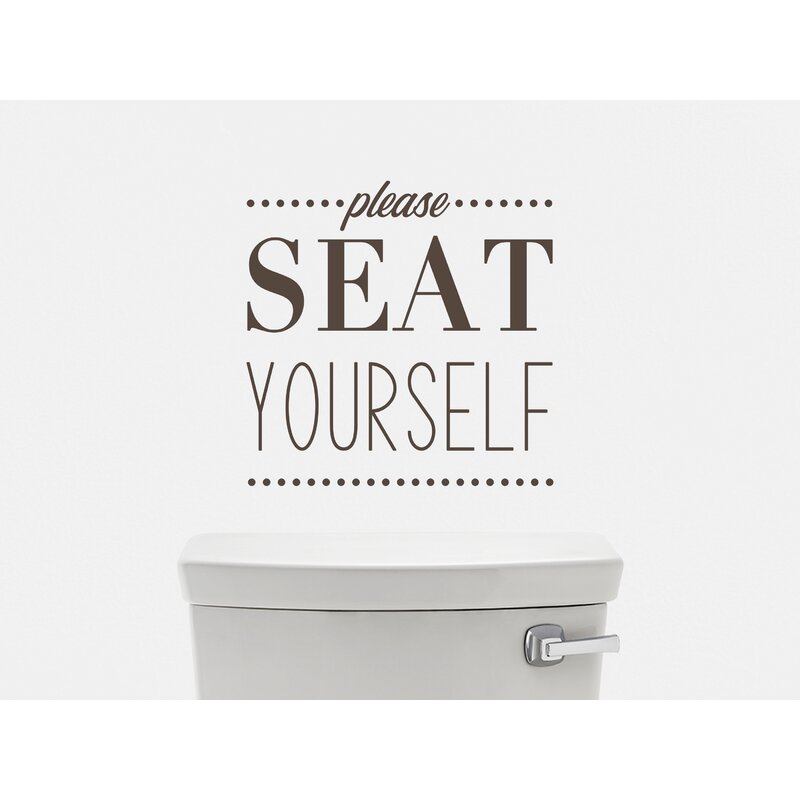 This simple yet funny sticker decal humorously instructs bathroom users to "Seat yourself," playing off the signs you typically see adorning restaurants.
You can choose from six classic colors – pink, black, brown, blue, white, and gray – and three various sizes. The matte finish and stylish print give a hand-painted look that's easy to apply and remove.
Give a Compliment and a Laugh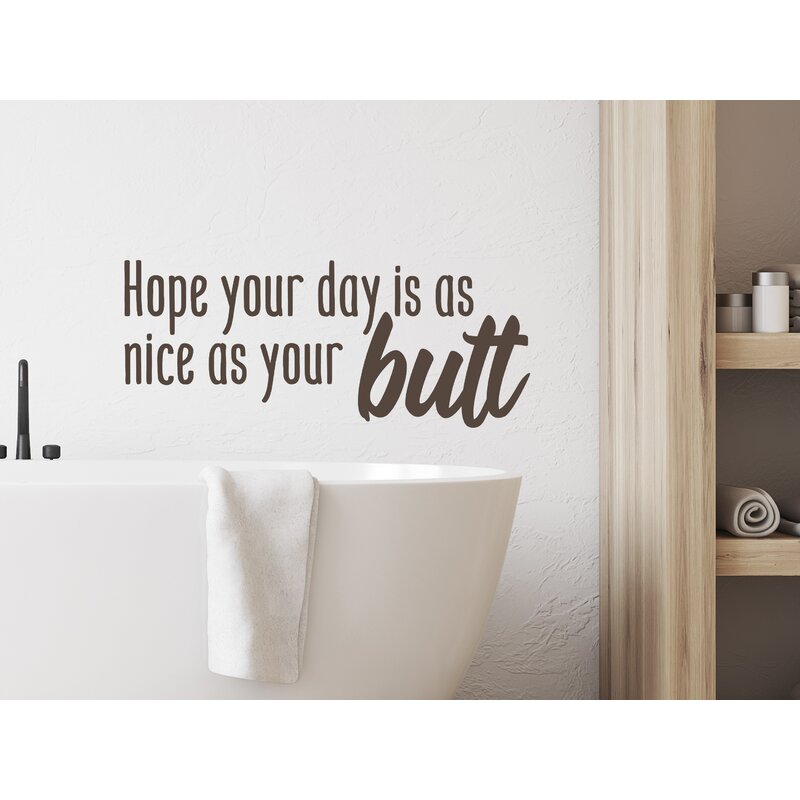 This hilarious decal boosts confidence and puts a smile on your face and, hopefully, a chuckle in your throat.
Put this decal on your wall to wish all bathroom users a great day. This stencil in four colors – gray, brown, white, or black – and three sizes tells you, "Hope your day is as nice as your butt."
Appreciate a Reminder to Enjoy Life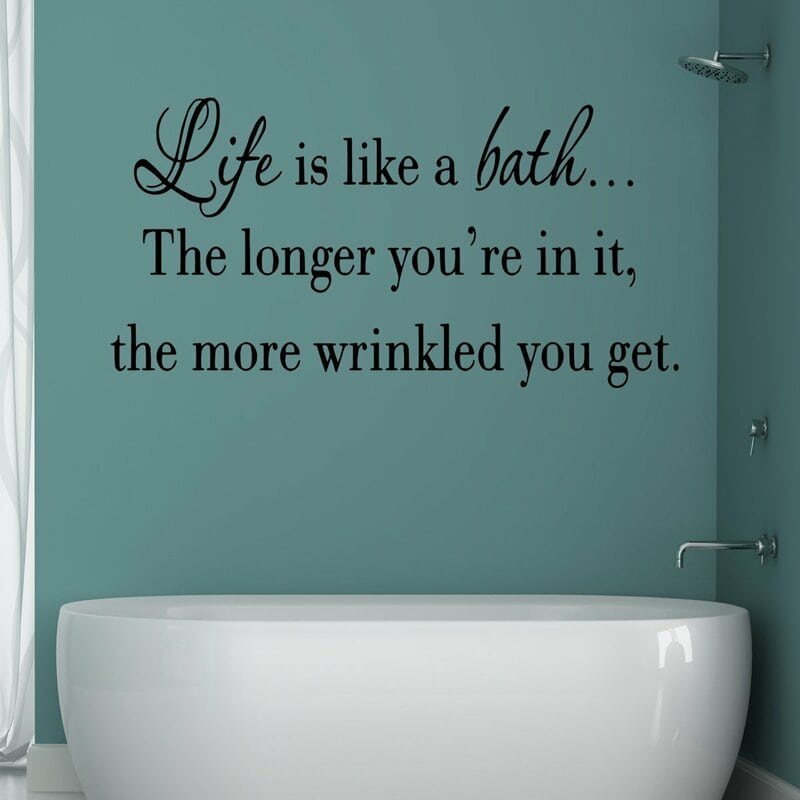 This inspirational decal in a mixed cursive and print font takes up a lot of space on your wall, reminding you of the beauty of aging.
As this simple decal says, "Life is like a bath… The longer you're in it, the more wrinkled you get." Yet, everything about you is beautiful, from every freckle and imperfection to each wrinkle.
Be Funny but Instructive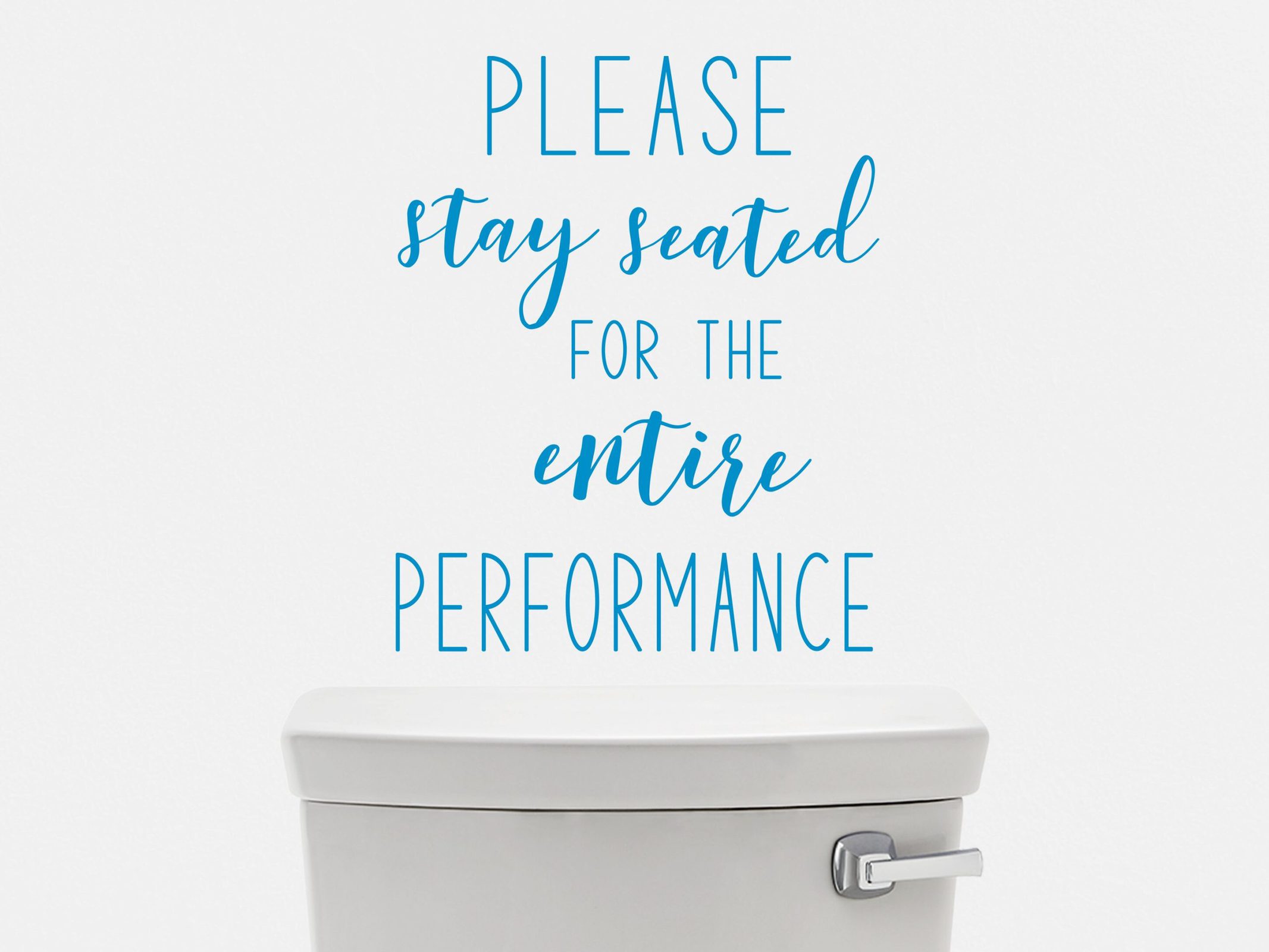 This funny decal reminds everyone using the bathroom to stay seated until they've completed their business while providing a laugh. It hilariously states, "Please stay seated for the entire performance.
The matte, non-glare finish gives your quote a hand-painted quality without the hassles. In addition, you can choose from three sizes and six colors – white, blue, gray, pink, black, and brown.
Decorate Your Half-Bath with a Pun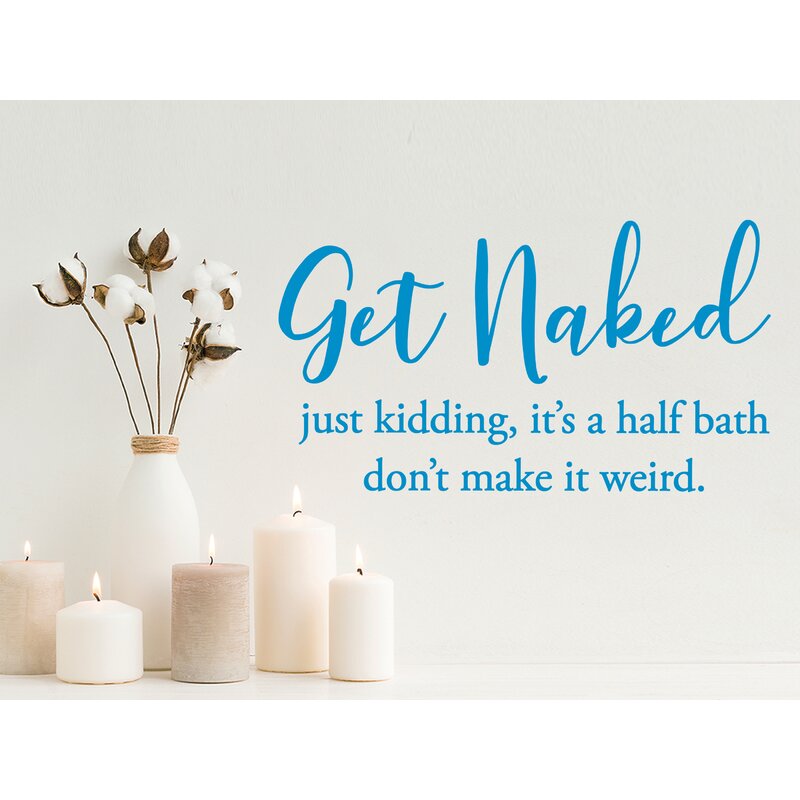 Half-baths can be a bit trickier to decorate since you have to consider that these rooms aren't complete. For example, they typically have a toilet and sink but no bathtub or shower.
This decal takes a naughty turn by telling people to "Get naked" in a bold cursive font. But below it in a simple print script is the reminder, "just kidding, it's a half bath. So don't make it weird."
Turn Sexy into Silly for Parenting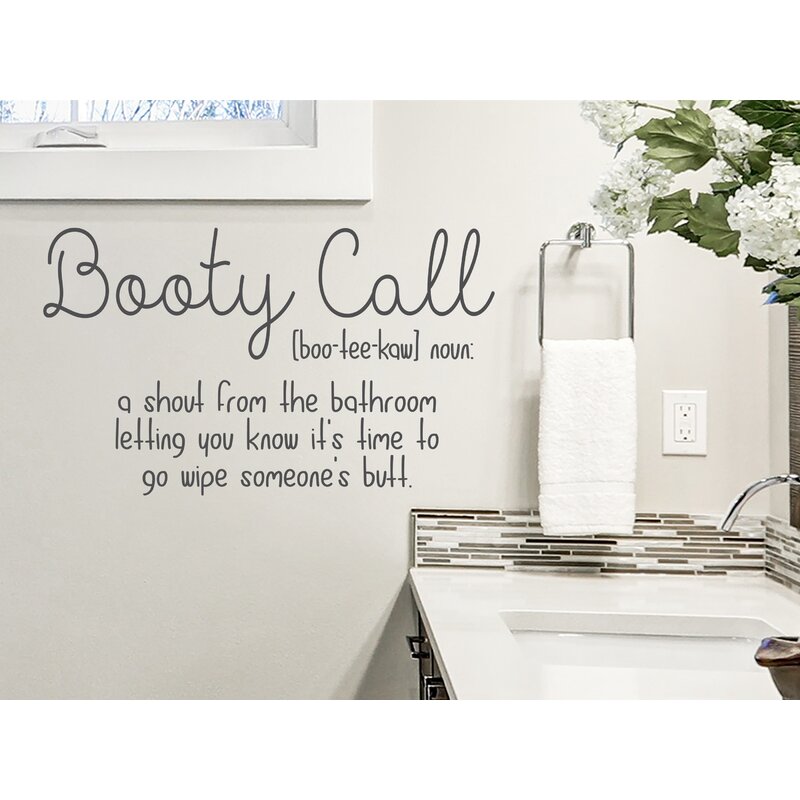 You can use this silly, funny wall decal to give your bathroom humor while providing a more child-appropriate meaning to the phrase booty call.
Pick from three sizes and six colors for a custom sticker to match any bathroom design. And laugh at the quote, "Booty call: a noun meaning a shout from the bathroom letting you know it's time to wipe someone's butt."
Add a Goofy Message to Check the TP
Having the right supplies on hand is crucial in spaces like the bathroom. No one wants to be caught off guard on the commode without having toilet paper nearby.
Six colors and three sizes let you customize your decal to your bathroom's color palette. And remind people to check the toilet paper before sitting down while appreciating the blessings in your life with a quote that says, "You never know what you have until it's gone – Like toilet paper, for instance.
Inspire Change – Even if It's Just the TP Roll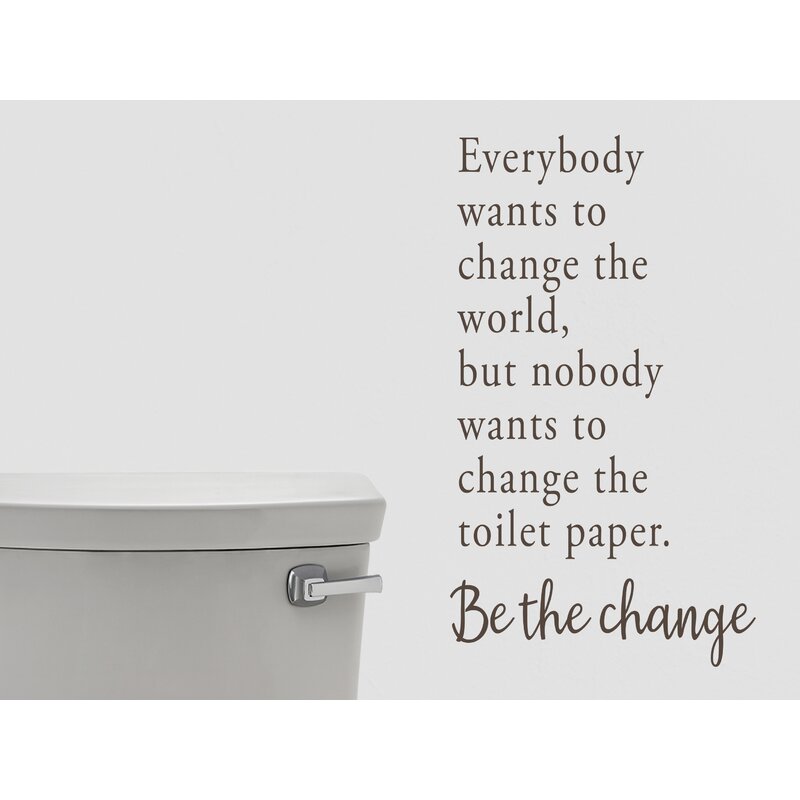 Whether you believe in the power of subliminal messages, you can use this simple quote decal as a reminder and inspiration to be a hero and change the empty toilet paper roll.
This sticker is both funny and powerfully messaged, saying, "Everybody wants to change the world, but nobody wants to change the toilet paper," in a casual print. And then below, in a lovely decorative cursive writing, it inspires you to "Be the change."
Get an Energetic Start to the Day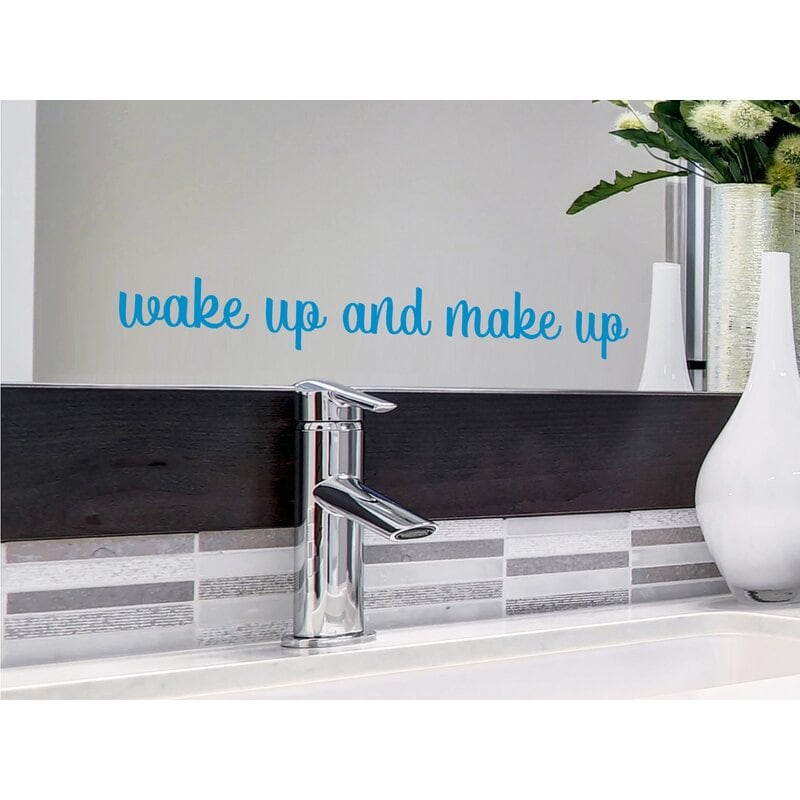 It can be hard to feel inspired to start your day on a positive note when you first wake up. But reading an energetic message can put you on the right path to having a fantastic day.
This positive quote comes in three sizes and six neutral colors, giving you the motivation to "Wake up and make up."
Remind Gentlemen to Watch Where They Point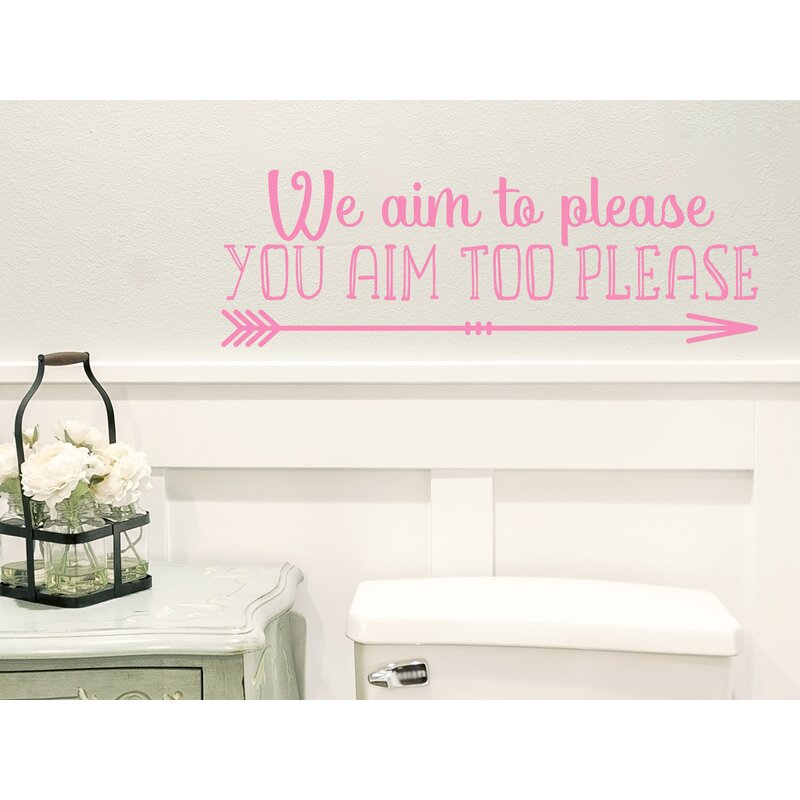 You work hard to keep your bathroom clean and inviting for everyone. So, it's only fair that you ask everyone to do their part to reduce the mess you have to clean up.
This colorful yet simple decal gives gentle reminders and instructions to the male visitors in your bathroom. For example, "We aim to please. You aim too, please." This not-so-subtle hint should make males pay attention to where they point and shoot.
Final Words
Wall decals are an easy, affordable, and creative way to decorate your bathroom. Whether you want something humorous or motivational, you can find bathroom wall stickers to go with any theme. Many decals come in various colors and designs, with creative fonts.