Decorated Life is reader-supported. When you buy through links on our site, we may earn an affiliate commission. Learn More
18 Boho Bathroom Ideas for a Natural and Relaxed Look
The most fun thing about decorating a boho bathroom is that there are no rules. You can mix colors, patterns, and textures.
In fact, the more texture, the better.
But that doesn't mean you have to go crazy. You can tone down the look if you prefer a more modern boho or glam boho vibe.
If you need some inspo for your remodel, here are the best boho bathroom ideas.
Brighten Up the Room with Abstract Art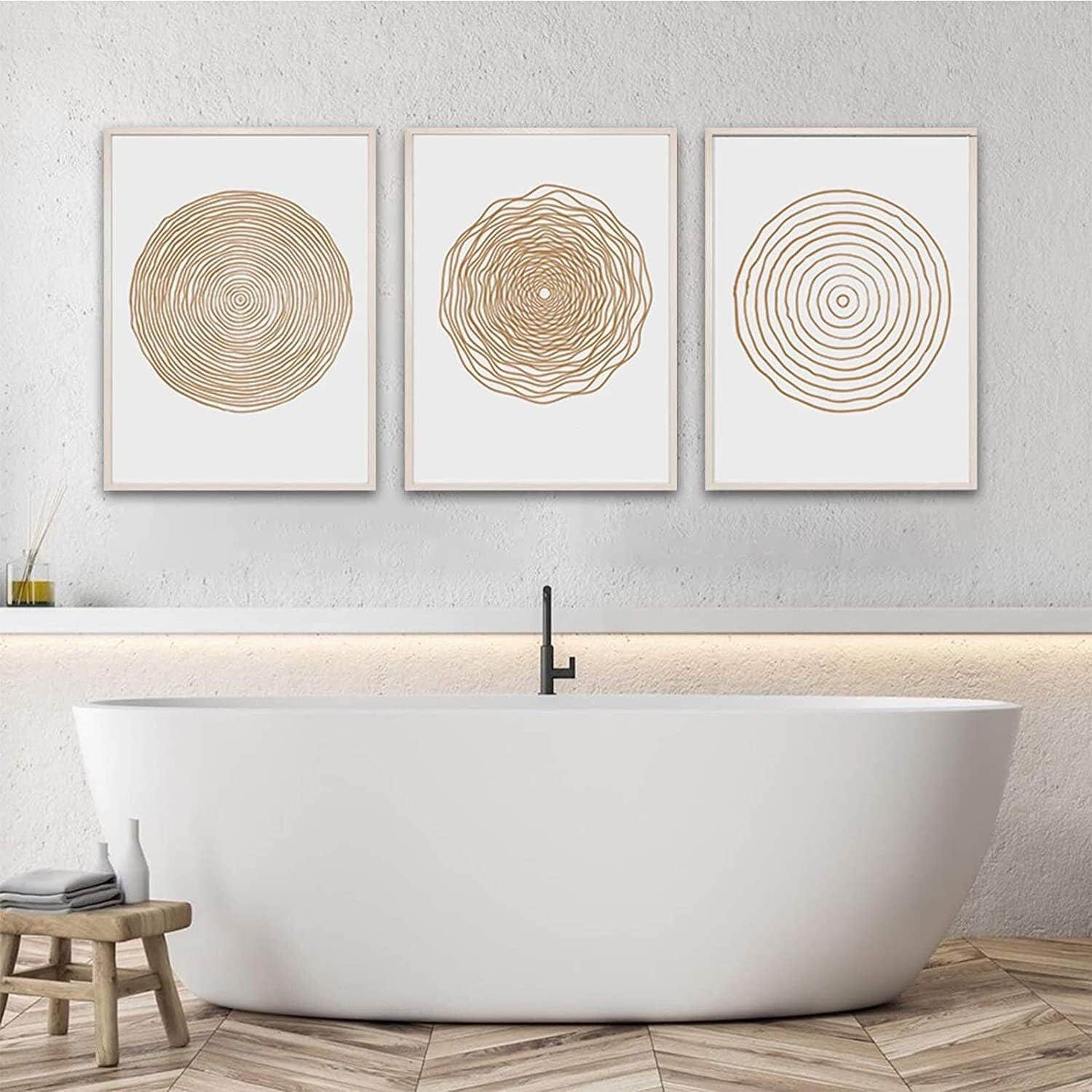 If you have a large bathroom with lots of open wall space, you can fill it in with large canvas paintings like these from Wayfair.
These abstract paintings are geometric with a boho flair. The artwork comes in two different sizes, so you can choose the one that best fills in your space. These will work with any color scheme.
Place Textured Rugs By the Vanity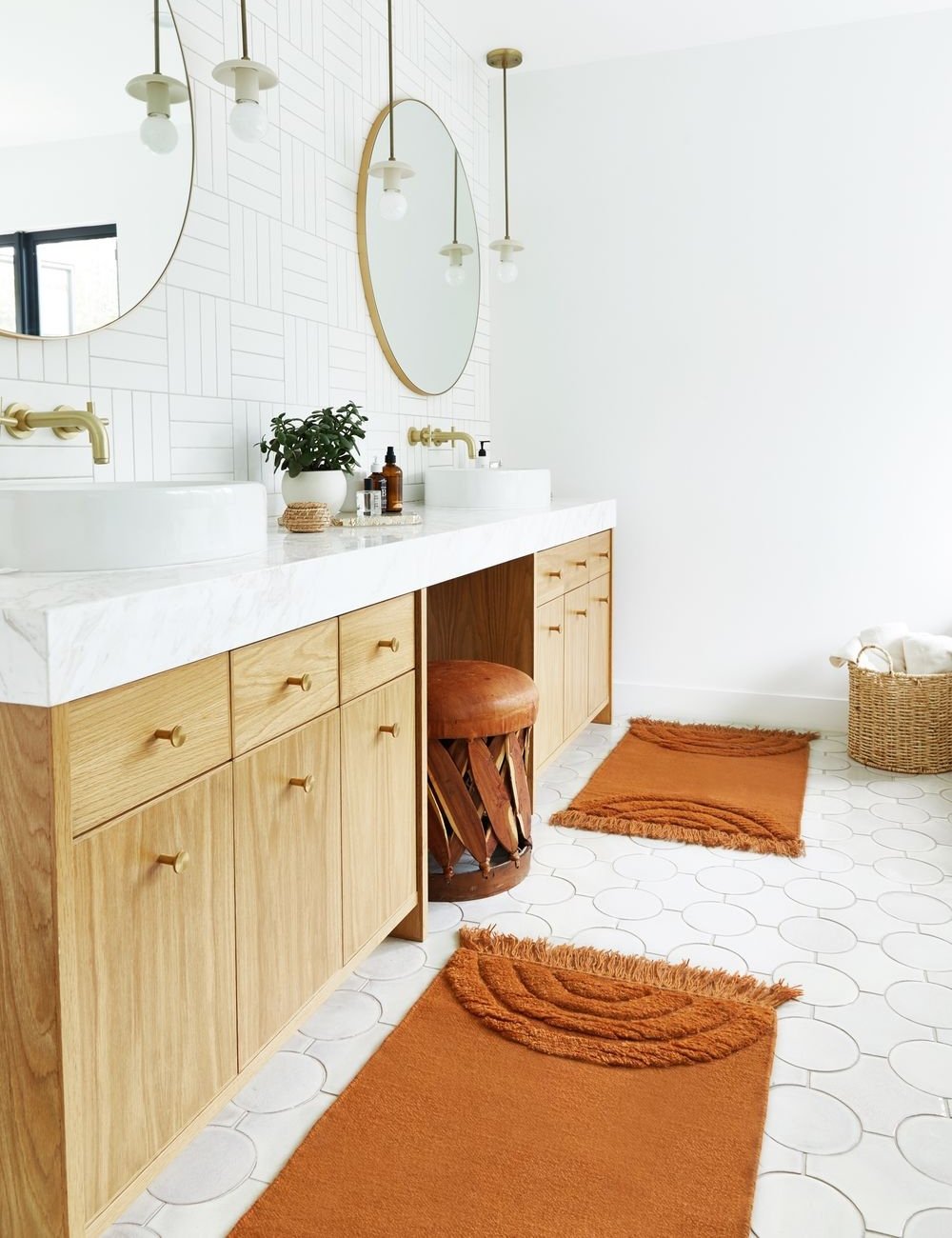 Boho rooms have a lot of texture. So when it comes to bathrooms, the best places to incorporate that texture is in the rugs, shower curtains, and accessories.
For a bit of a boho-retro feel, try rust-colored rugs like the ones pictured. If you're working with a small boho bathroom, only use one.
Make a Statement with Peel and Stick Wallpaper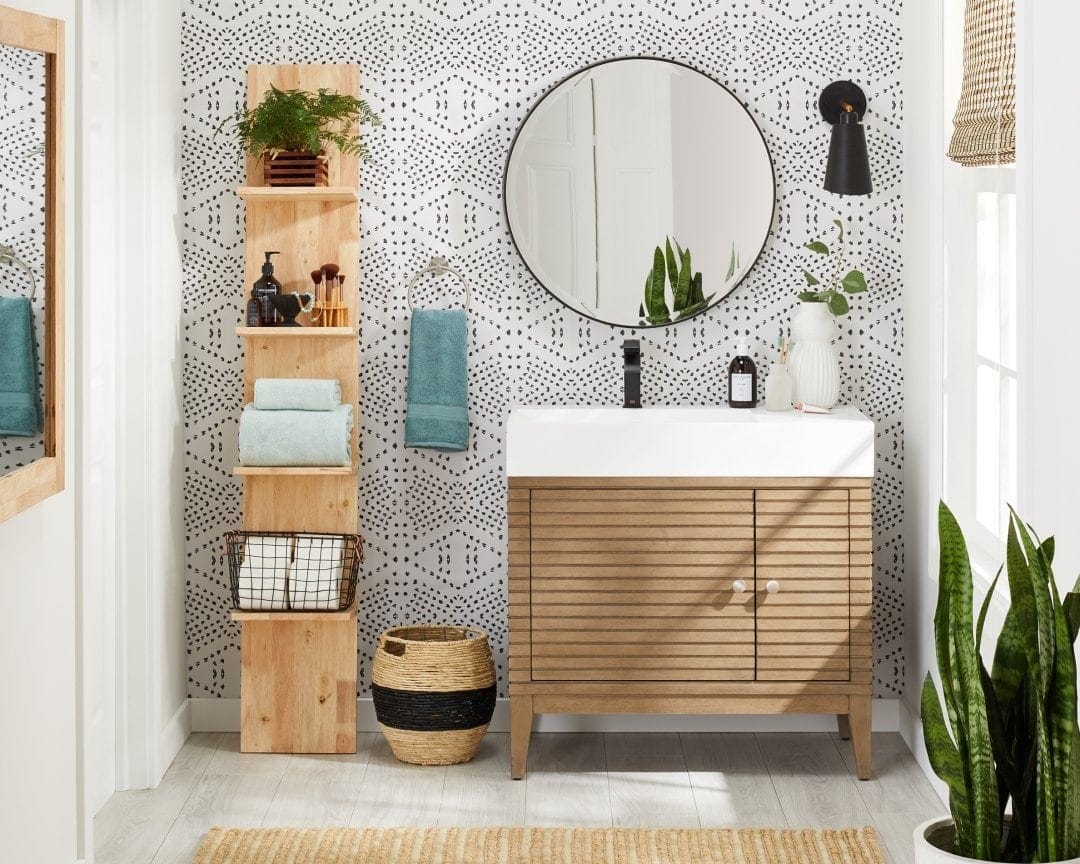 The white, black, and wood combo works great in a small bohemian bathroom. One of my favorite ways to pull off this look is with some peel and stick wallpaper.
Like this version from Overstock, peel and stick wallpaper is incredibly easy to install – even if you've never done it before. It also allows you to choose a fun look without fully committing since you can easily remove the paper when you're tired of it.
Try a Fringe Shower Curtain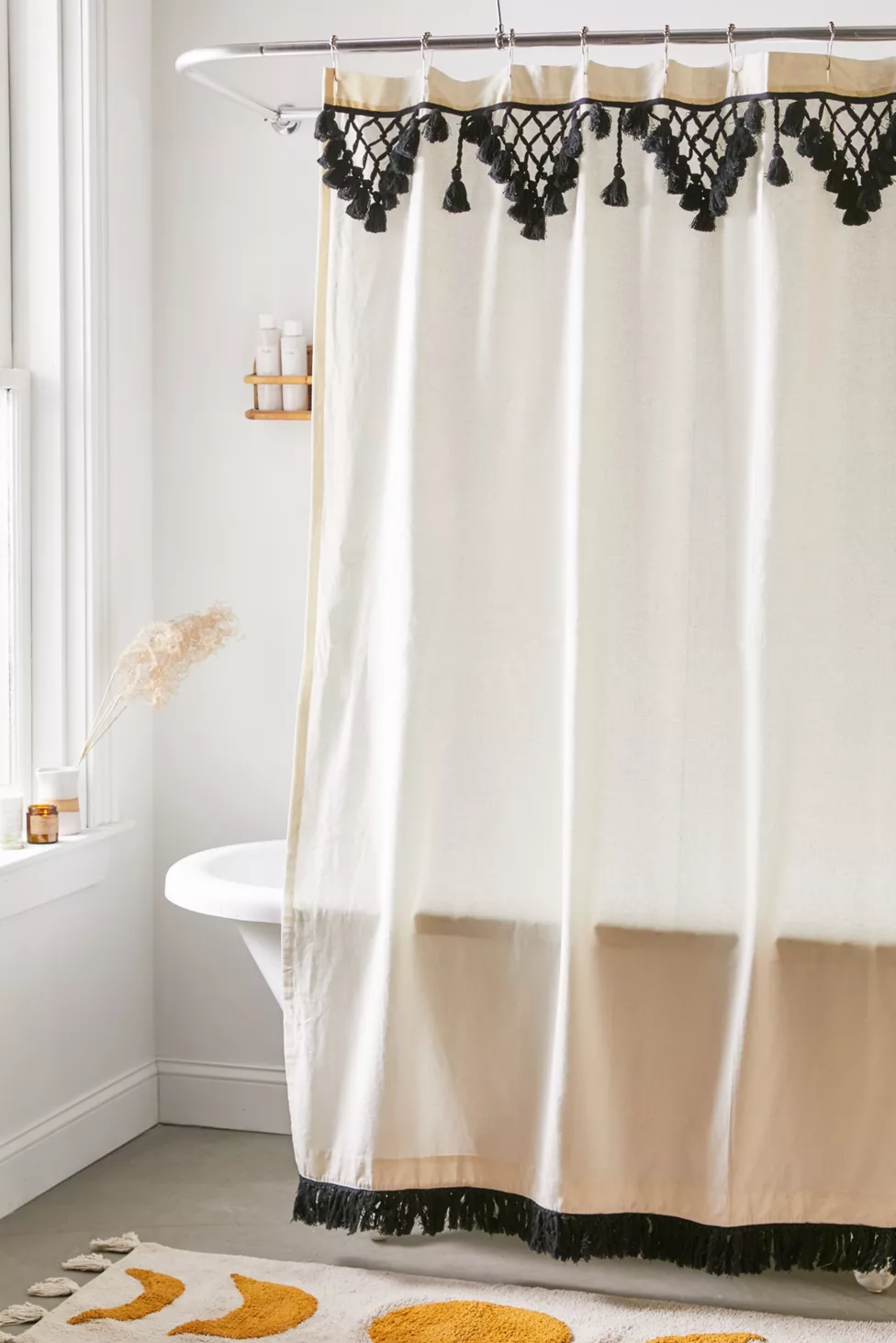 Need a shower curtain for your bathroom? Fringe is the ultimate boho bathroom decor.
This shower curtain will match any color scheme. It's mostly white with a tan accent and black tassels. It also comes in an ivory color with ivory tassels for a monochromatic look.
Bring in a Bamboo Hamper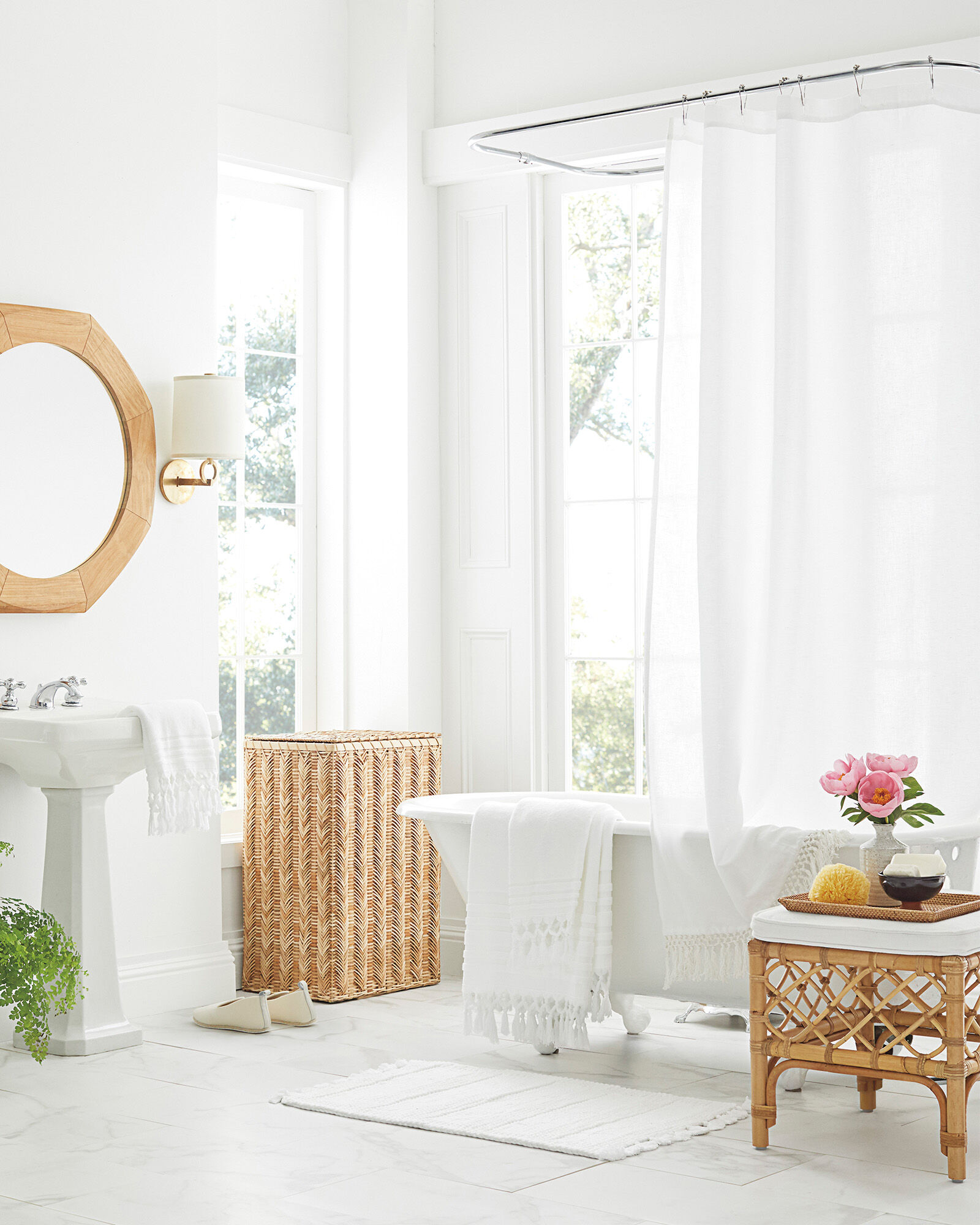 If you're going for a boho chic bathroom, try a color scheme like this – all white with lots of accents of wood, wicker, and rattan. An easy way to bring in those accents is with a bamboo hamper.
This hamper is not only practical, but it's well made and features a fun chevron design. You can use this hamper in any boho bathroom or laundry room.
Opt for a Hand Carved Vanity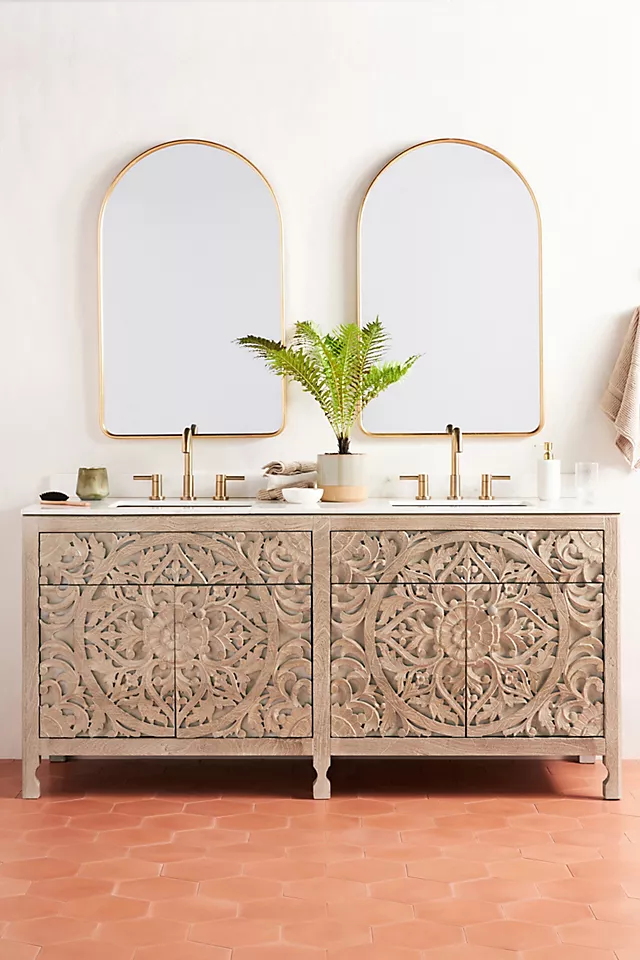 If you're committed to the boho look, opt for a hand-carved vanity. Vanities like these bring texture and interest to the room.
This model is handmade out of acacia wood. It has a marble top with two sink basins included. You could make this vanity work with any color scheme – from bright and wild to neutral and muted.
Utilize Plant Stands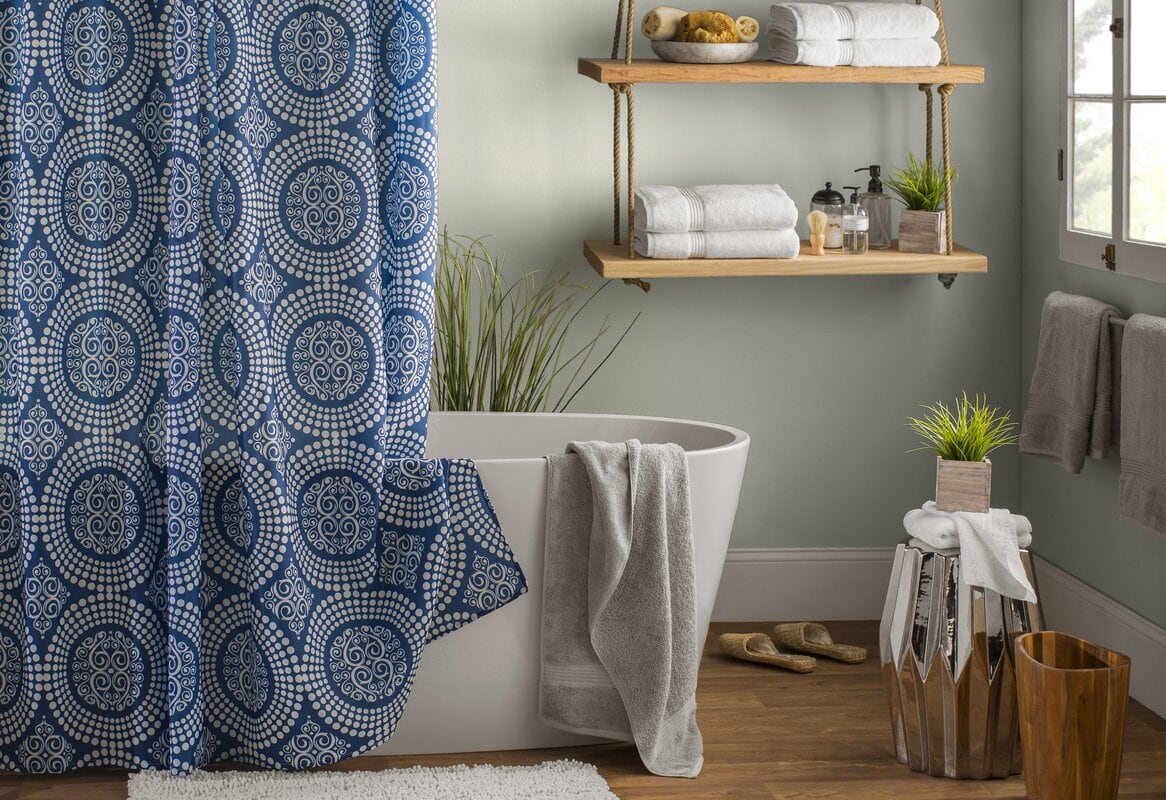 Boho bathroom decor normally has some greenery in it, and bringing in a plant stand is a great way to display that greenery.
Aside from displaying plants, these stands are also the perfect little tables to hold your bath accessories. You can use a metallic stand for a glam boho bathroom or choose concrete or matte black for a more modern take.
Add Interest with a Patterned Shower Curtain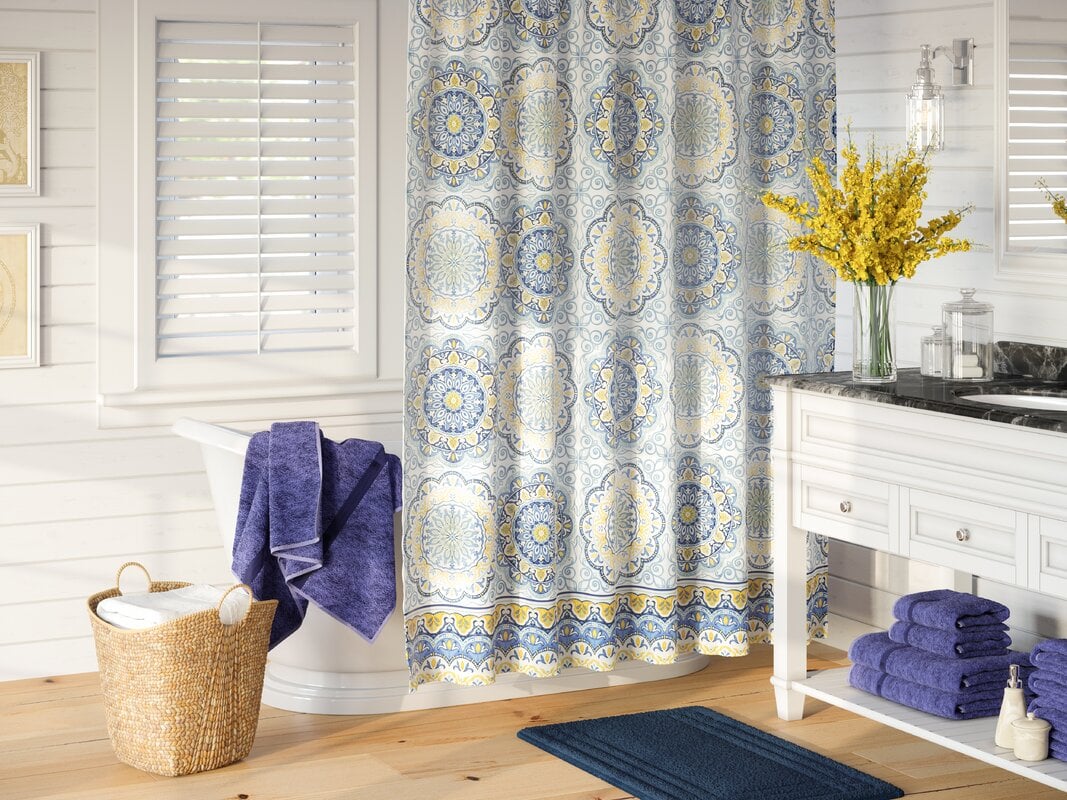 When it comes to boho, there are no rules for mixing and matching patterns. So, if you need to add more interest to the room, bring in a pattern with your shower curtain.
You can go for something bright or choose a more neutral black and white style. Both options will look great in your bathroom.
Light Up the Room with a Rattan Pendant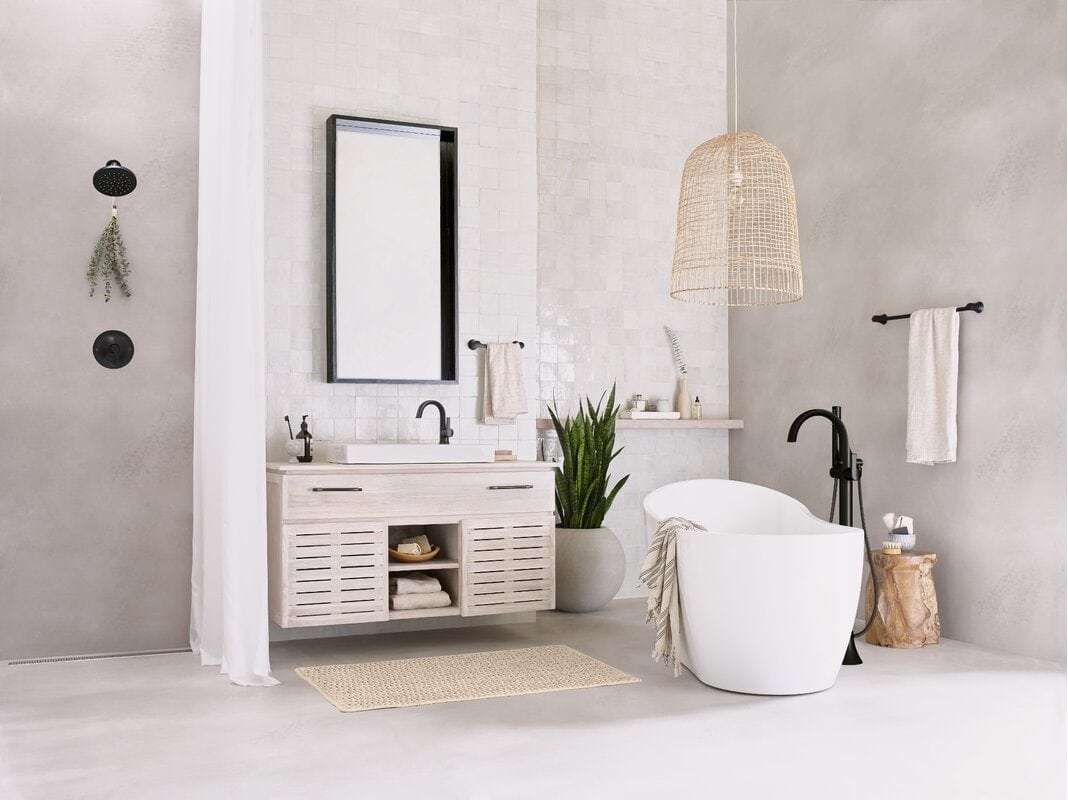 If I had to make a bet, I'd say the most used material in boho rooms is rattan – and rightfully so. Rattan is a natural material often seen in light fixtures, baskets, and mirror frames.
If you're looking for a way to add a bohemian touch to the room, you can't go wrong with a rattan pendant. You can hang one of these as your primary light source or over the tub, as shown above.
Turn Your Bath Towels into Accessories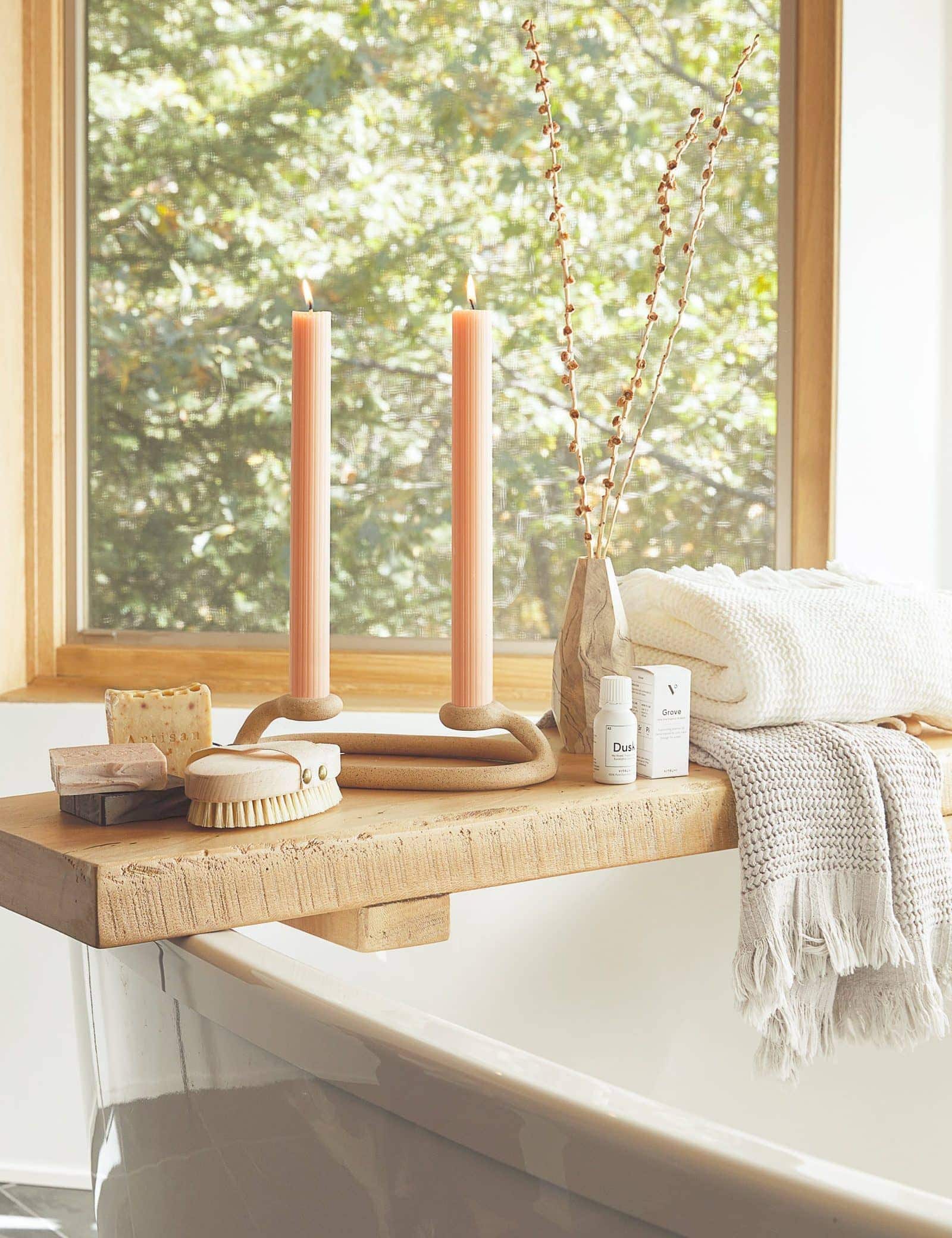 Sometimes the best boho bathroom accessories are the most practical – that's the case for the waffle towels from Lulu and Georgia.
These towels come in two colors: stone and white. They have a soft waffle knit and a fringe on the bottom, offering the perfect amount of texture and warmth.
Try a Bright Blue Vanity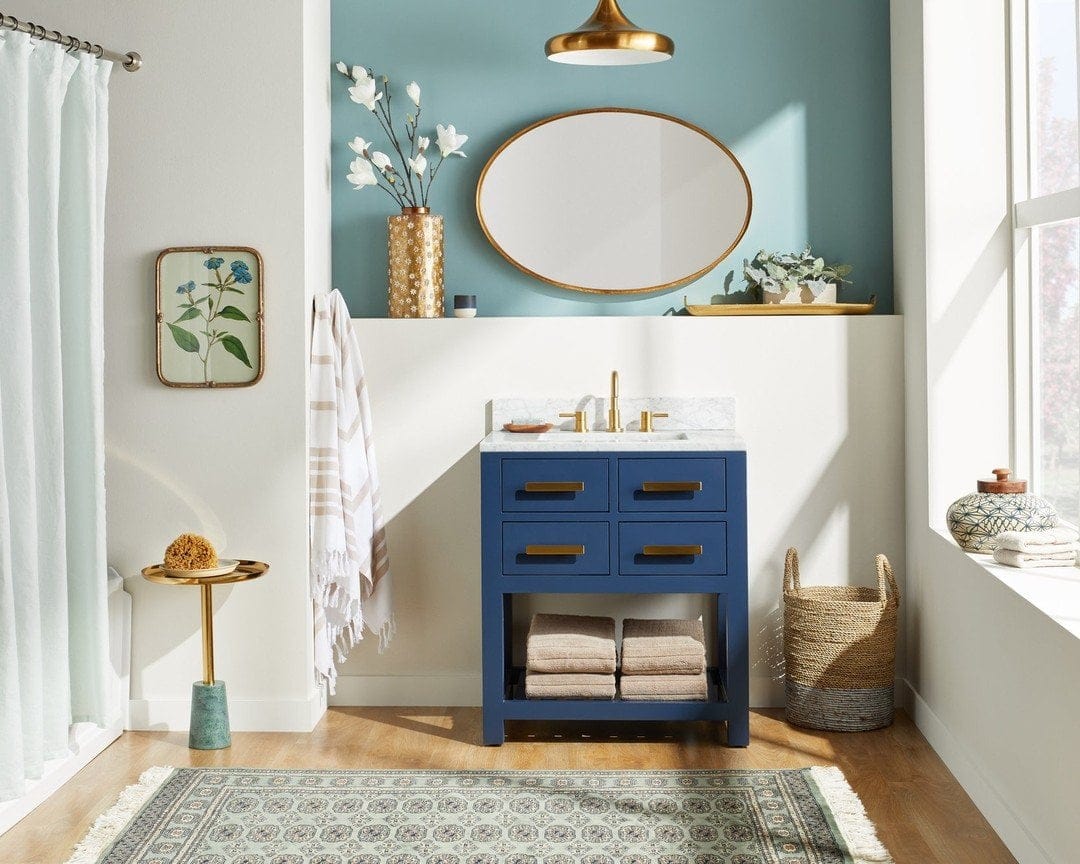 When decorating your bathroom, you can go wild with the colors. There's no need to play it safe with wood, white or black vanities. Instead, choose whatever speaks to you.
If you like a more glam look, this blue with gold handles is a great choice. You can play on the glam bohemian vibes by adding in more gold accessories.
Pay Tribute to the Sun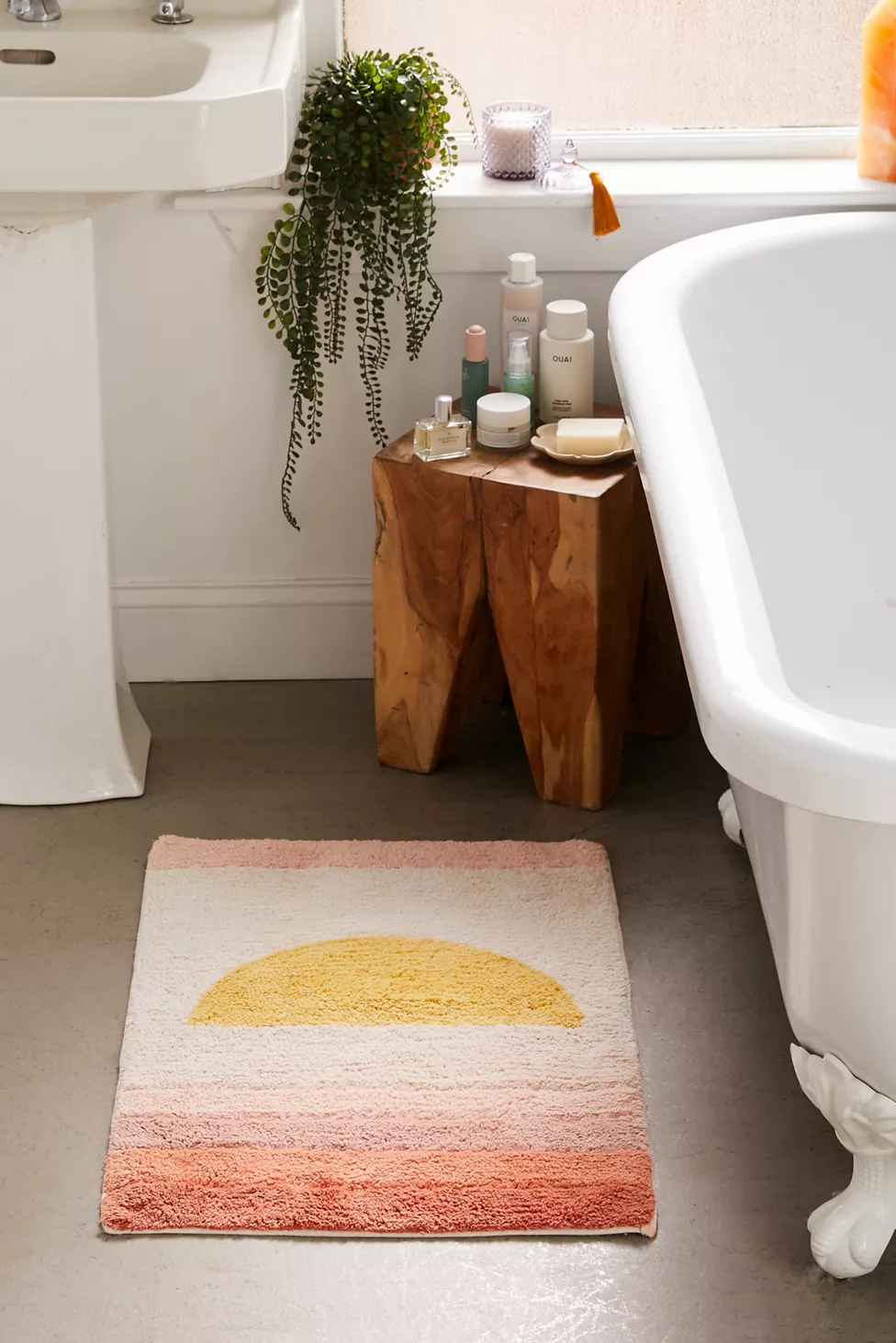 If you're into earthy bathrooms, your best bet is to keep your color palette super simple and bring in natural materials like plants, wood, and wicker. However, you can also go for a whimsical touch by adding a bathroom rug like this.
This rug is the perfect way to add a bit of fun to a more serious, earthy bathroom.
Create More Storage with a Bath Cabinet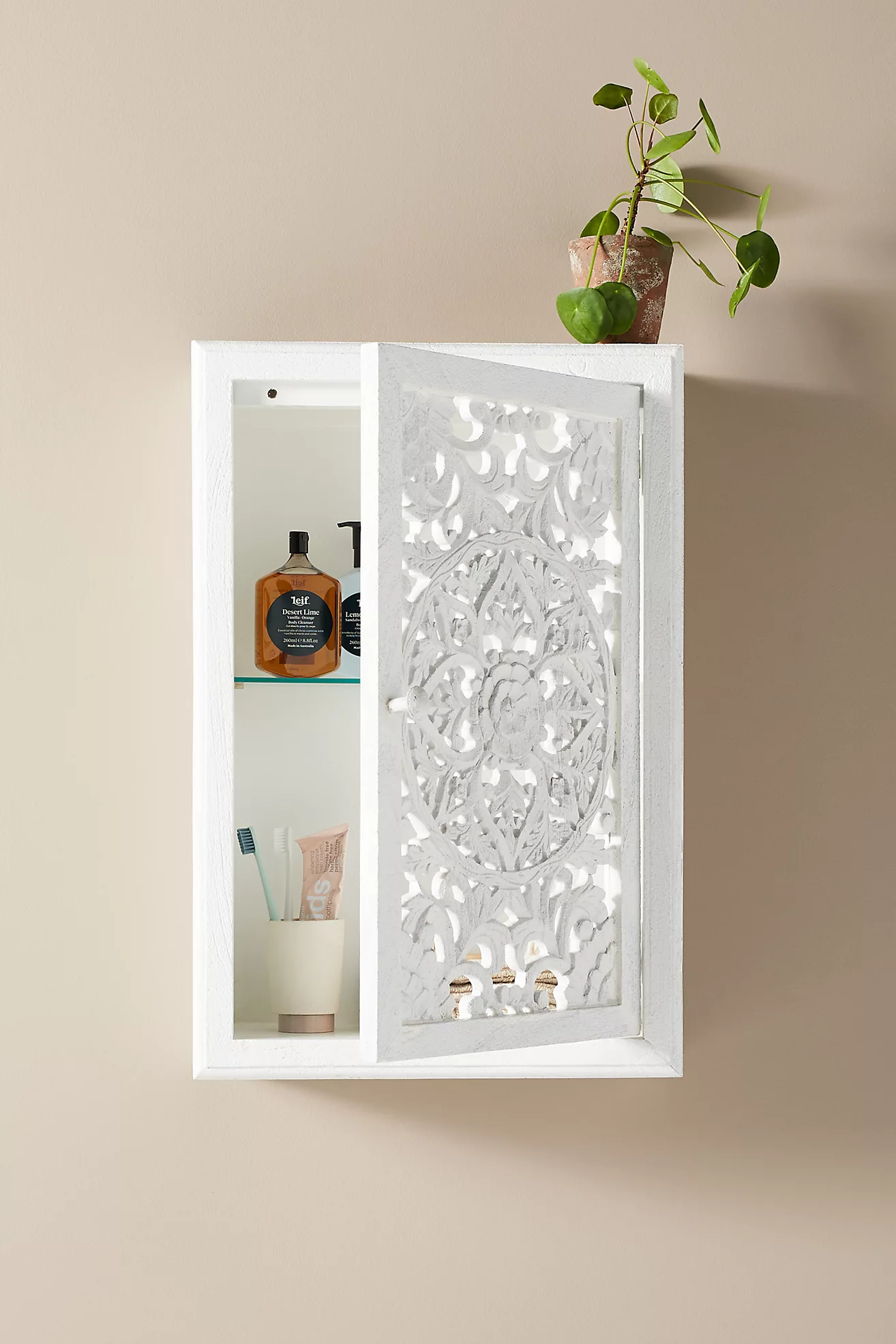 If you need to add storage to your small bathroom, consider a beautiful hand-carved cabinet like this one.
This cabinet has about as much space as a standard medicine cabinet, only without the mirror. You can place this over your toilet or any empty wall. It's perfect for storing extra toothpaste, shampoo, and cotton swabs.
Go For Gold Shower Faucets and Handles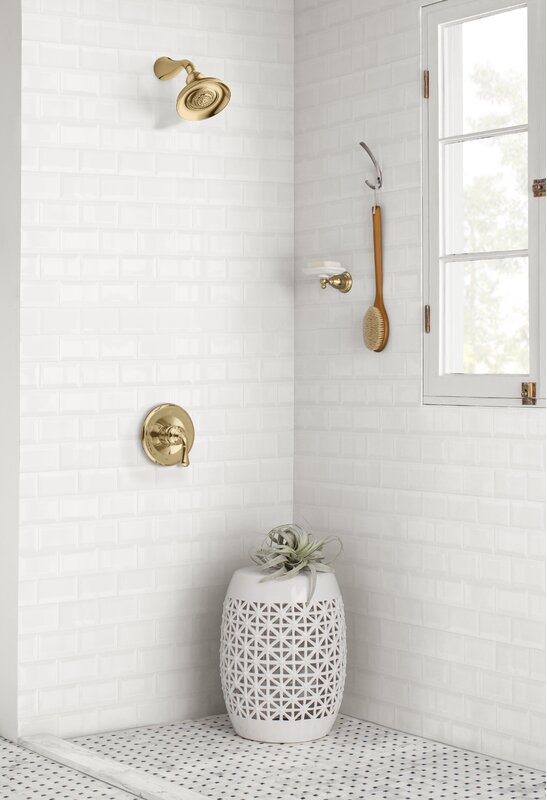 If you have a clear shower door and your shower head and the handle are visible, pick a pretty option. For boho bathrooms, I like gold, brass, or champagne. All three choices look like jewelry for the shower.
Use the same finish you did in the shower for your bathroom faucet and cabinet to create a streamlined effect.
Add a Patterned Runner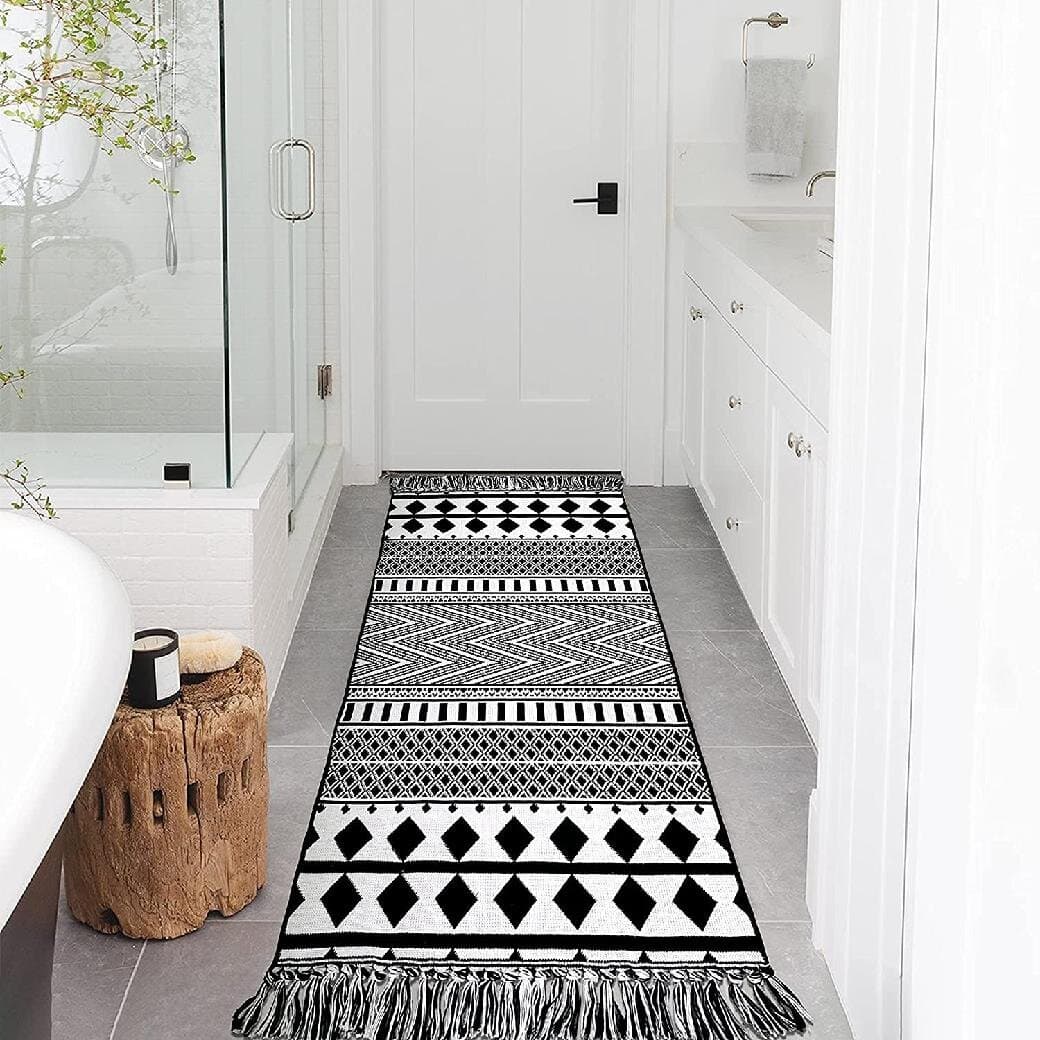 The easiest way to add boho flair to a plain or minimal room is with a bold pattern. You can do that with your shower curtain or a rug.
If you prefer rugs, try one like this. This black and white rug has several patterns and fringe at the end. It's not dyed, so the color lasts far longer than most other rugs, making it suitable for a bathroom.
Tie Your Color Scheme Together with an Art Print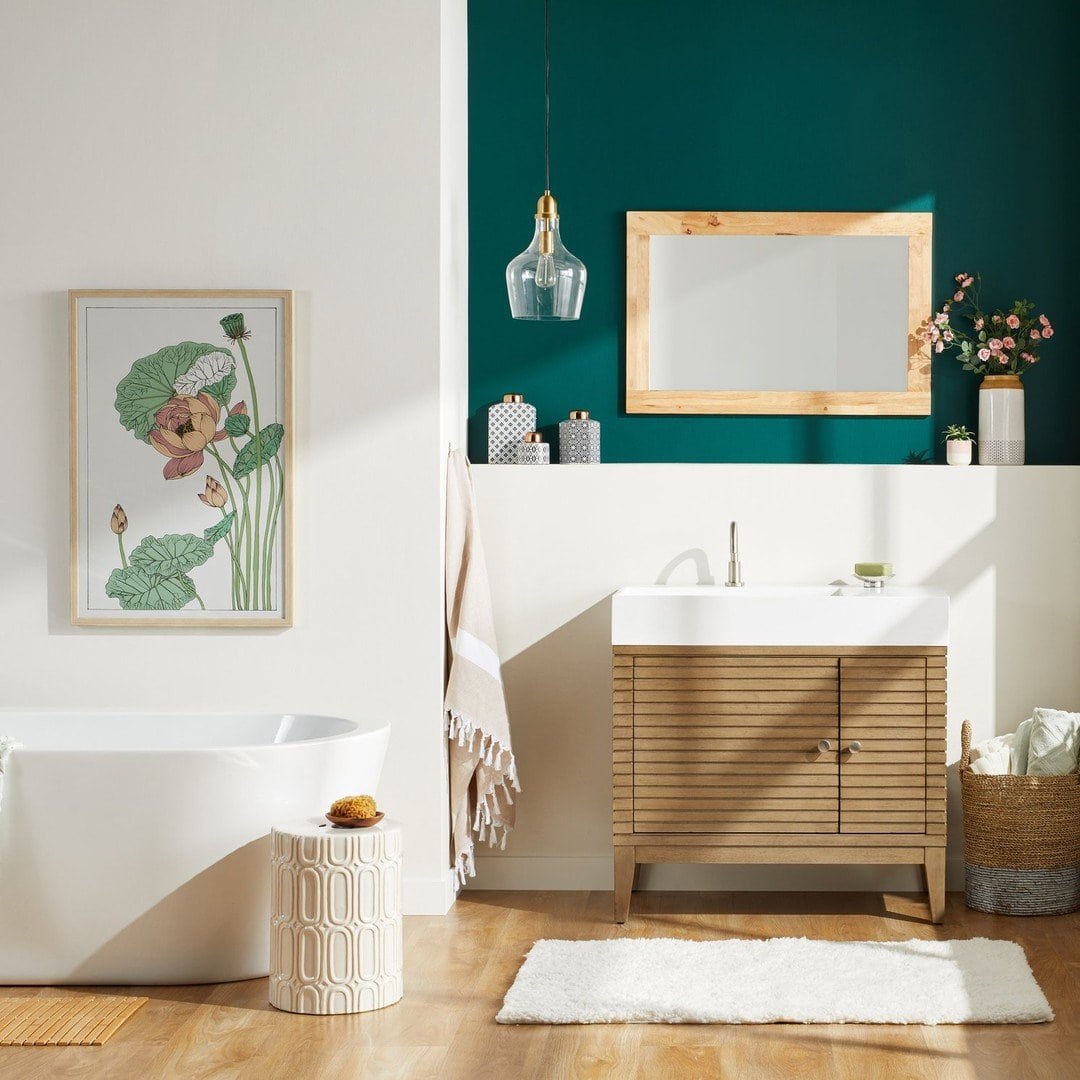 If you want your bathroom color scheme to look intentional, tie it all together with a piece of artwork. You can see in this picture that the floral art print beautifully ties together the green, pinks, and whites of the bathroom.
You can do the same with your room. Either find a piece of art you love and use it for color inspiration, or pick your favorite colors and then find art to match.
Repeat a Pattern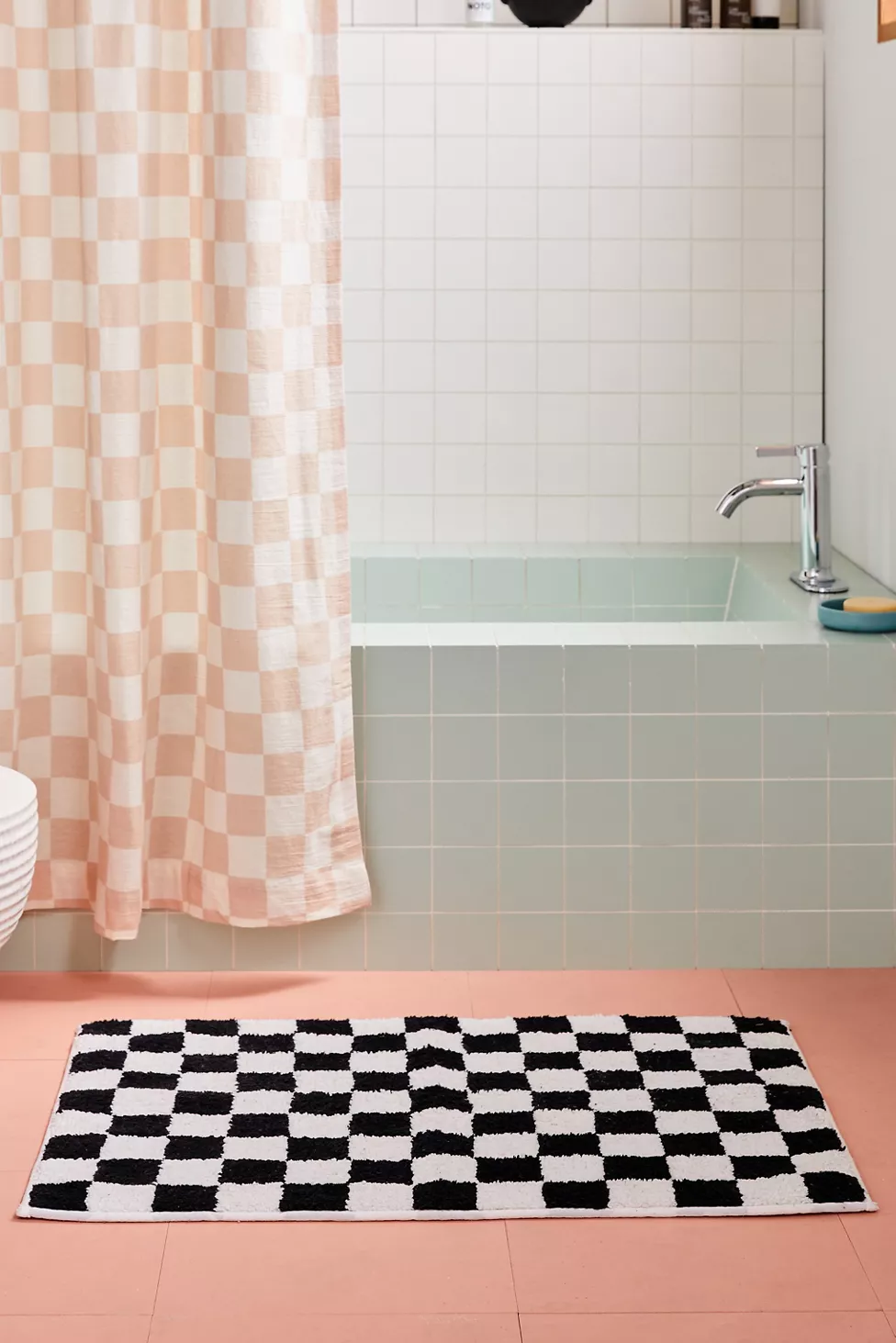 Worried that the older tile in your bathroom is killing your boho design? Don't be! You can achieve a fun look by playing off the patterns already in your bathroom.
Take this bathroom, for example. Instead of muting the tile, they played off of it, bringing in a checkered bath rug and shower curtain. It all works together for a cute boho look.
Make the Vanity the Star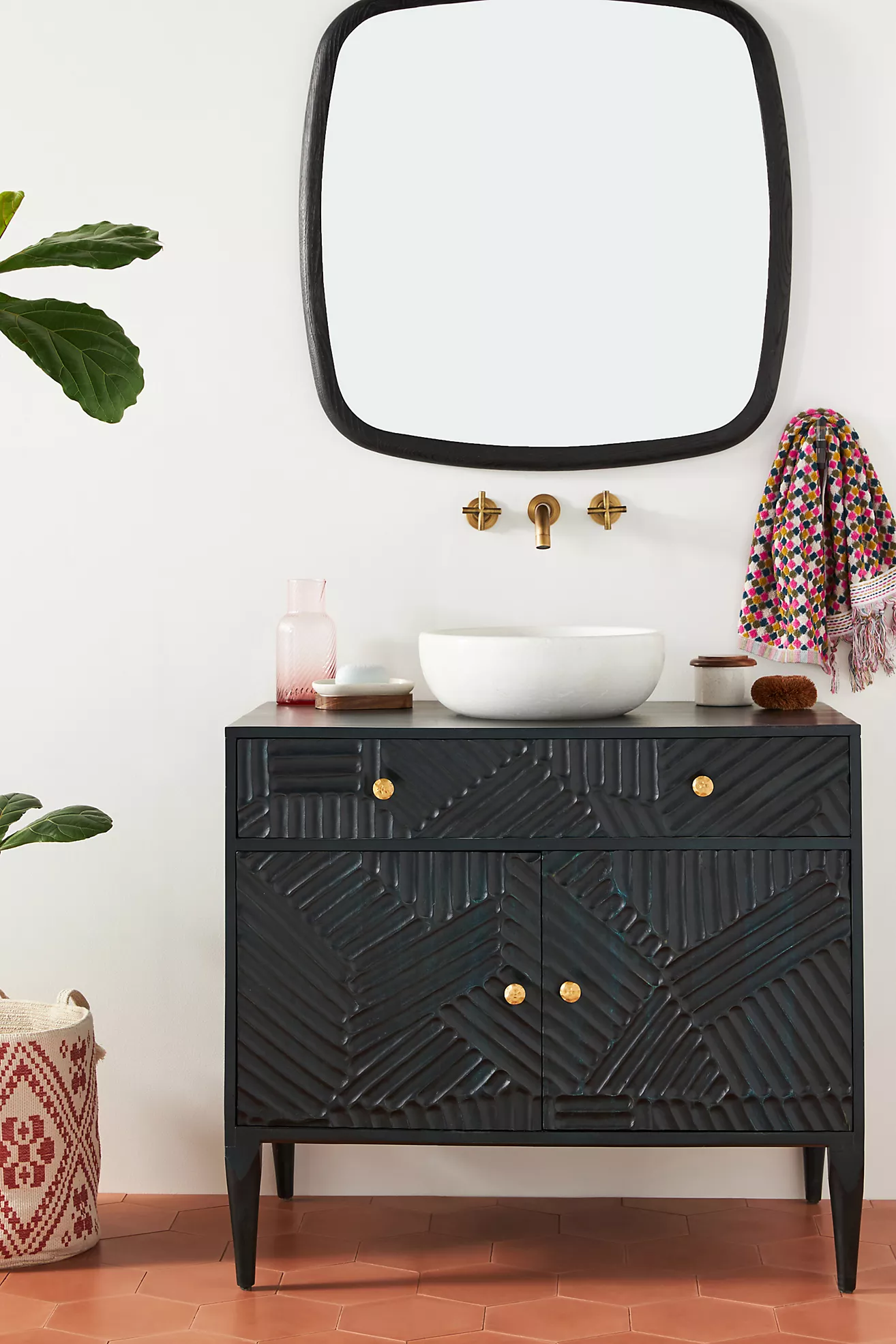 If you like the boho look and prefer a simple space, make the vanity the room's focal point. You can choose a hand-carved tropical wood vanity like this one from Anthropologie.
This vanity would look great with white or light-colored walls and minimal decor. You could put up a simple black or light wood framed mirror, a rug and hang a few towels on the wall for a perfect, minimal look.
Final Thoughts
If you're decorating a boho bathroom, anything goes, so feel free to choose the colors and patterns that are calling your name. For effortless style, go with white walls, a patterned shower curtain, and rattan accents.
You can up the look of your boho bathroom by adding in multiple colors and patterns or keep it simple with a neutral color scheme.