Decorated Life is reader-supported. When you buy through links on our site, we may earn an affiliate commission. Learn More
20 Bathroom Door Ideas for Spaces of All Size
Picking a bathroom door is never the most exciting part of a remodel, but it's still an important choice.
Think about it – doors are permanent fixtures within your home. So while you might switch out the paint color or shower curtain every few years, you probably won't switch out the door.
This means you need to choose a high-quality door that you'll love for years to come.
Here are 20 bathroom door ideas to choose from.
Try Frosted Glass for a Small Bathroom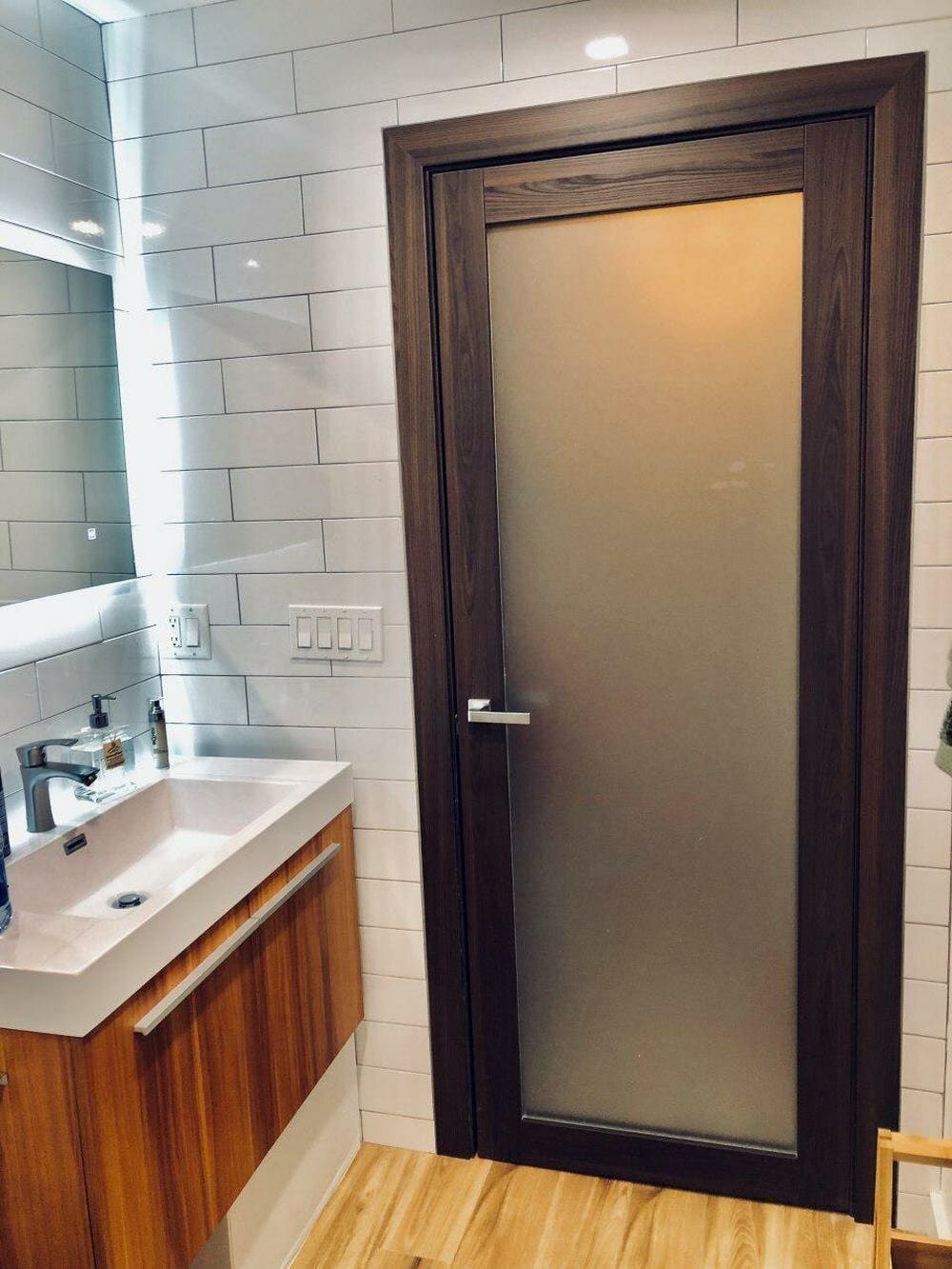 Avoid dark or overly ornate doors if you have a small bathroom and want it to feel bigger. Instead, try a frosted glass option like this.
This is one of the best doors for small bathrooms. It has a high-quality pine wood frame with an opaque glass insert. As a result, it provides the feeling of openness without actually allowing anyone to see through it.
For Farmhouse, Go with a Sliding Barn Wood Door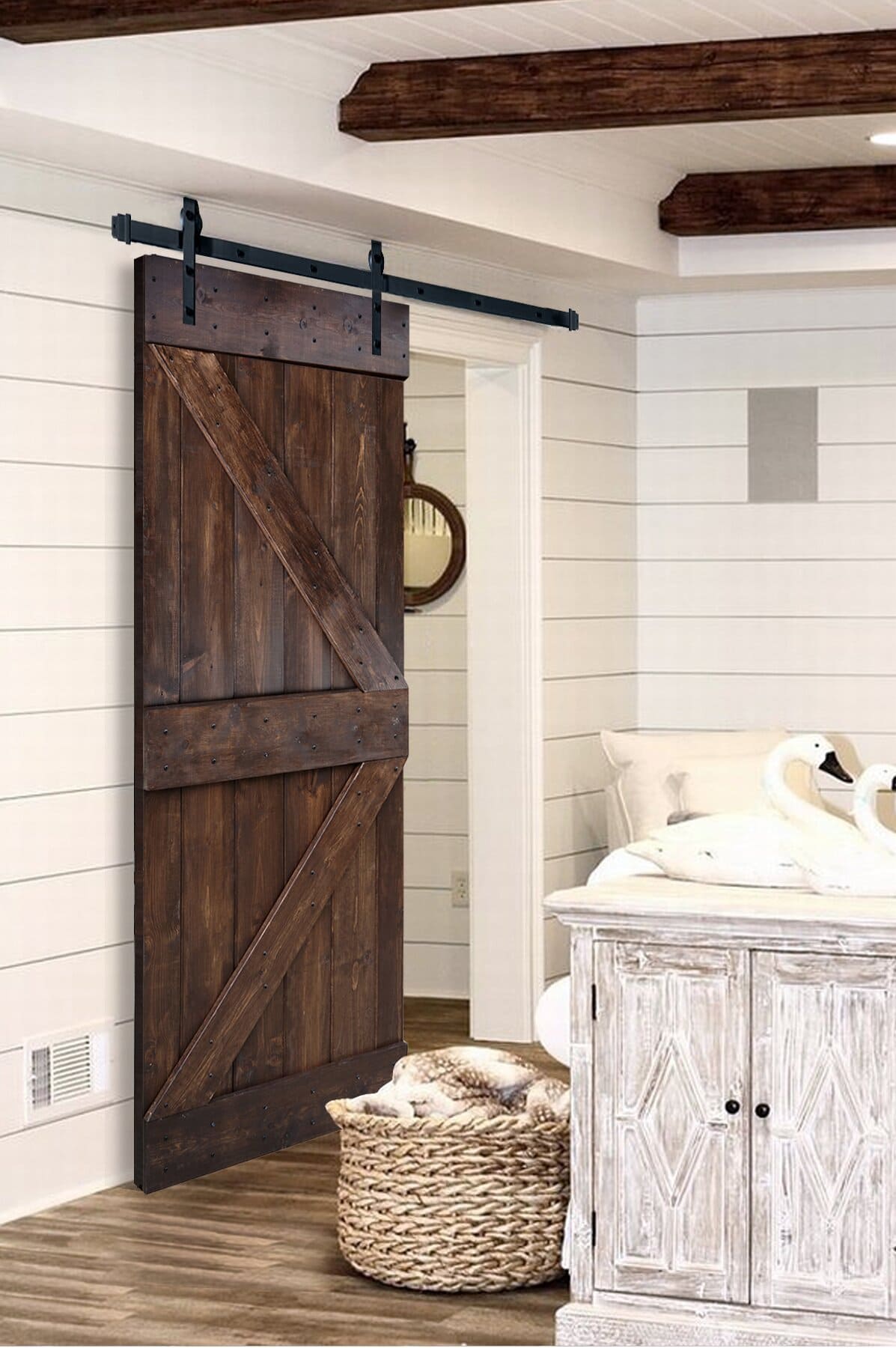 It doesn't get more farmhouse than a sliding barn wood door. And if you're looking for a high-quality, reasonably priced option, this sliding bathroom door from Wayfair fits the bill.
The door comes in three finishes: light grey, smoky grey, and dark walnut. In addition, it comes in three different widths that range from 28-42 inches wide. It's trimmable and comes with all hardware included.
Use Dark French Doors for a Modern Twist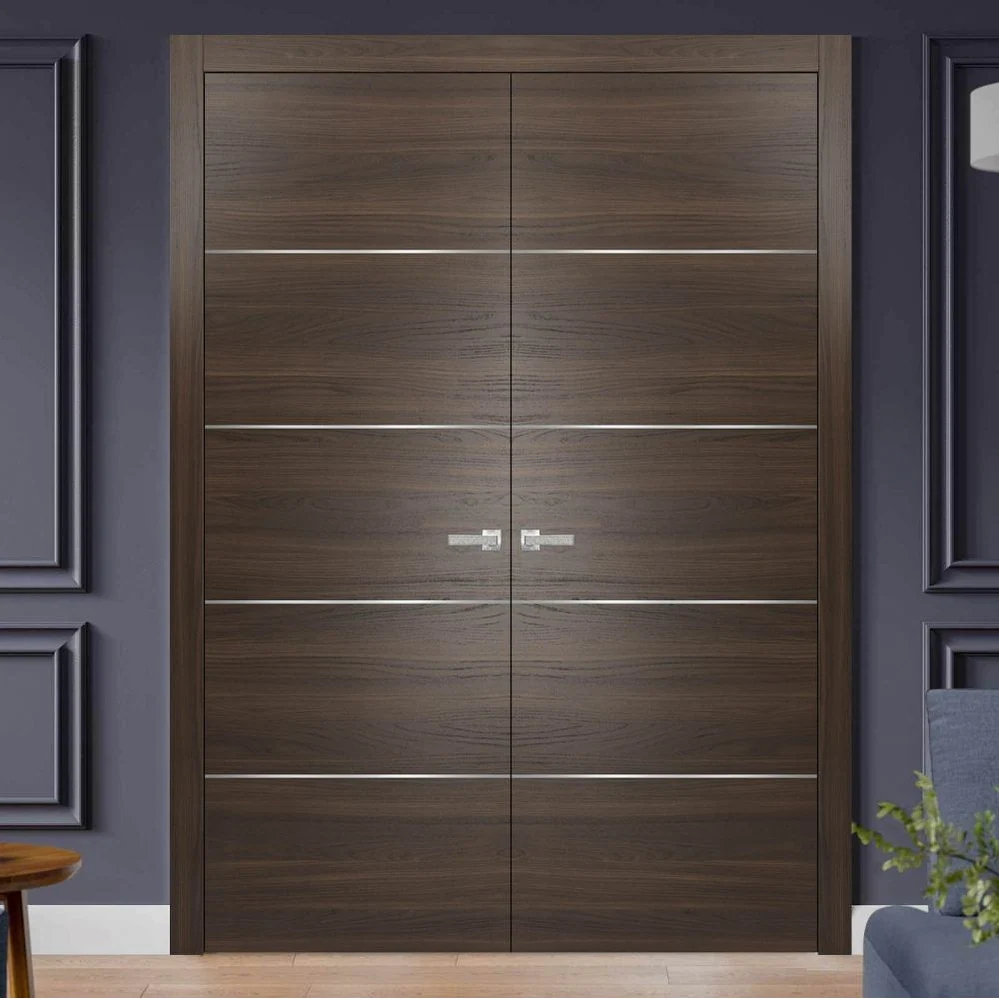 French doors are perfect for connecting a large master bedroom and bathroom. You most often see these doors in traditionally styled homes. However, in this case, these modern french doors are perfect for anyone who likes a contemporary feel.
These doors are soft opening and come in many different sizes. The wood provides the perfect warmth, while the aluminum stripping offers a cool, modern contrast.
Avoid Trends and Go Timeless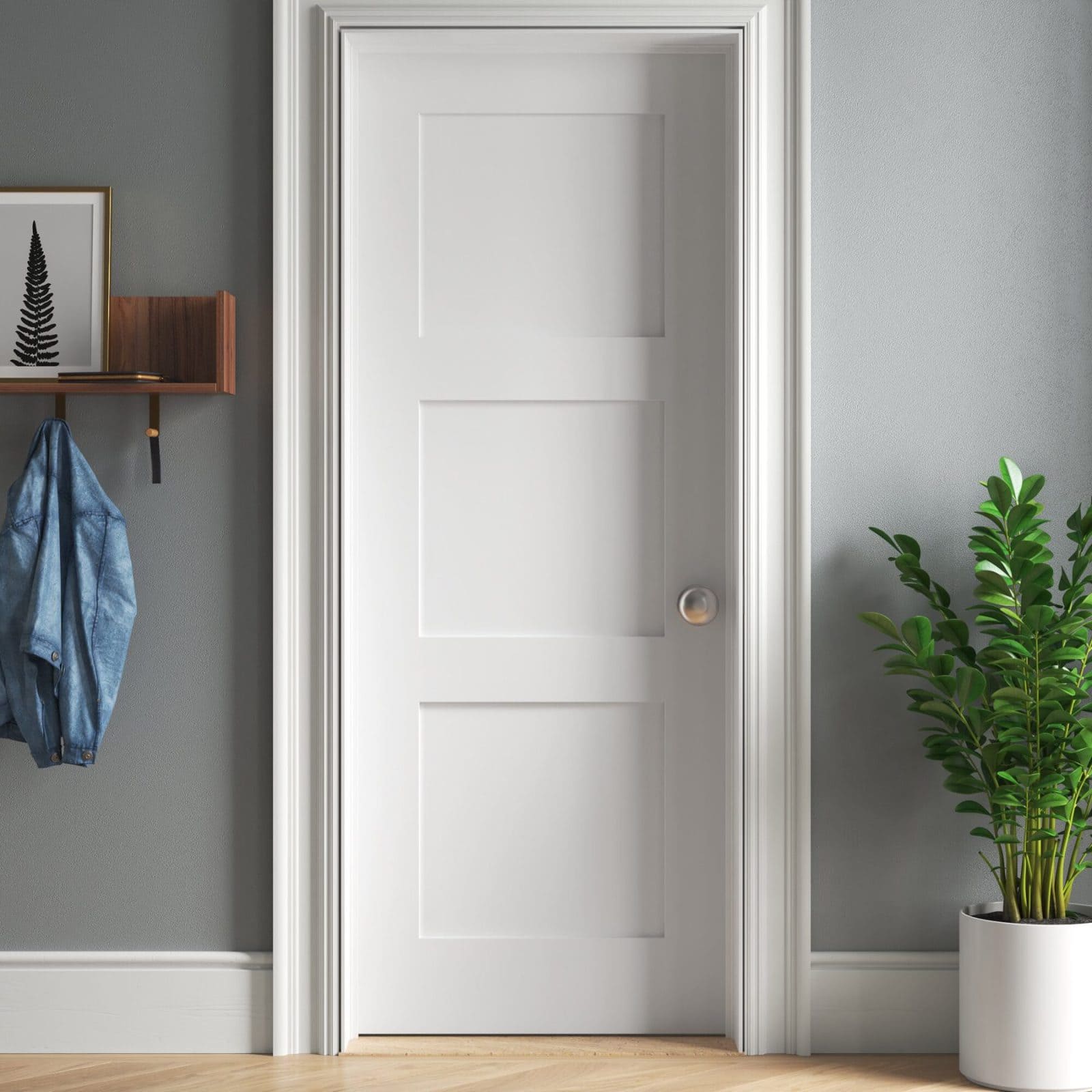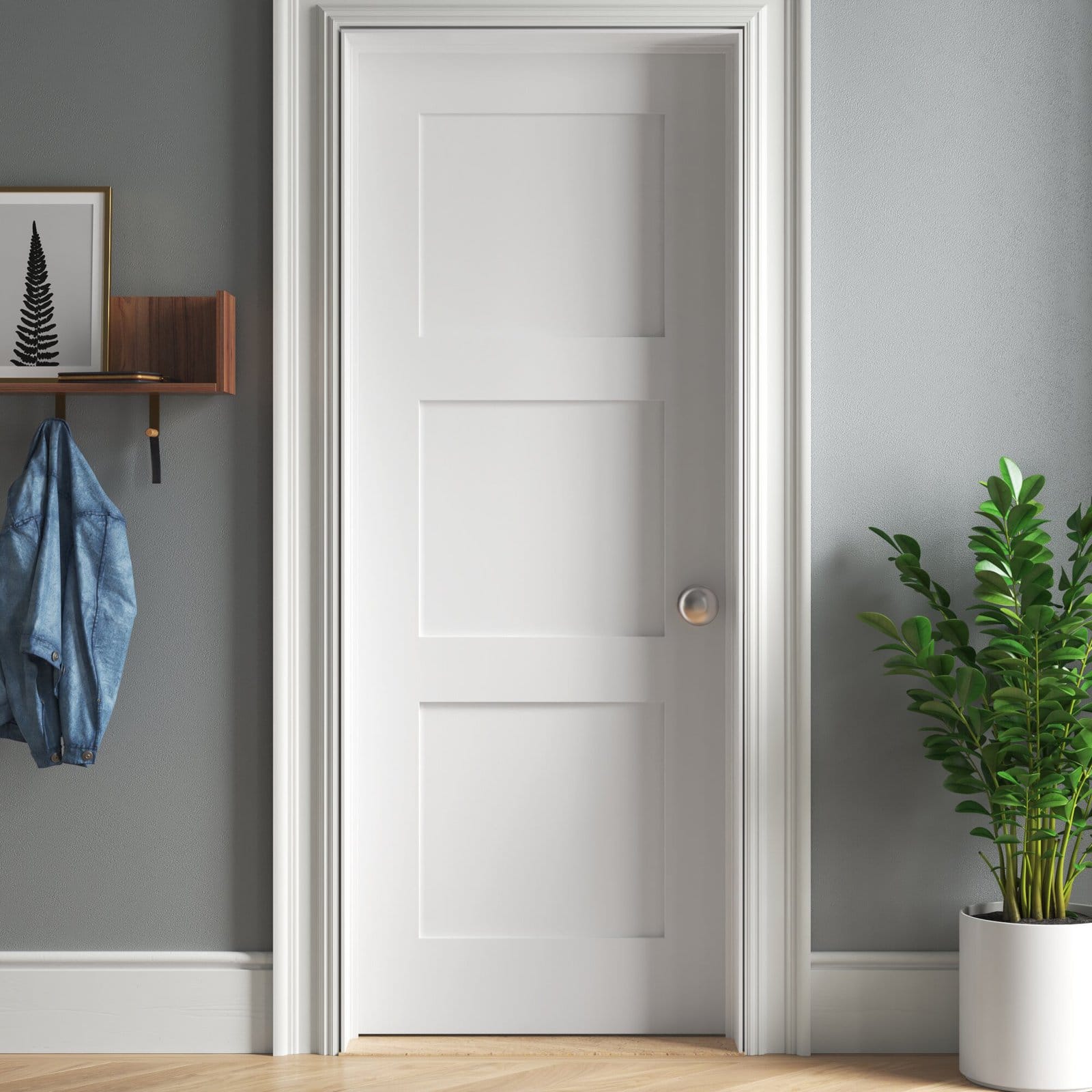 If you find that your home decor style evolves, one of the smartest moves you can make is choosing timeless pieces. And since most of us don't want to constantly replace the doors in our home, they qualify for classic style.
This door from Wayfair is a simple solid wood-paneled door. It's high-quality, but its design is timeless and will match any style.
Use Bifold Doors for Tiny Bathrooms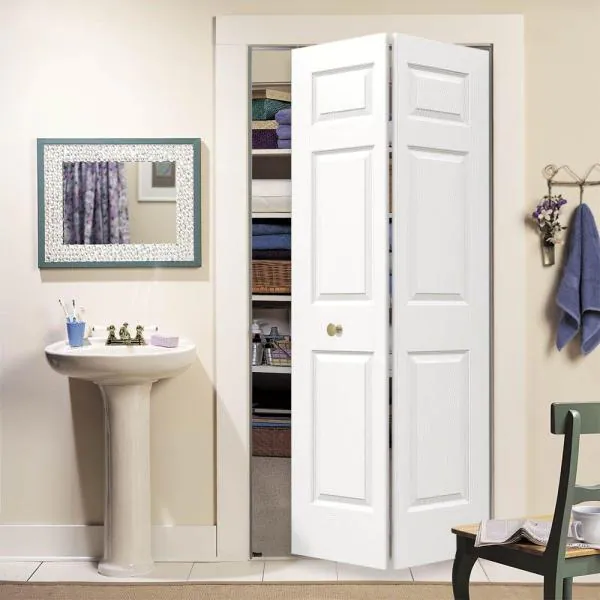 If you need a door for your bathroom closet or tiny bathroom and don't have space for a full-size door to open, try a bi-fold.
Bi-fold doors take up less space than traditional doors and usually cost less. You can find these doors in various colors and sizes. This one from the Home Depot comes in widths that range from 24 – 36 inches.
Keep it Traditional with a Six-Paneled Door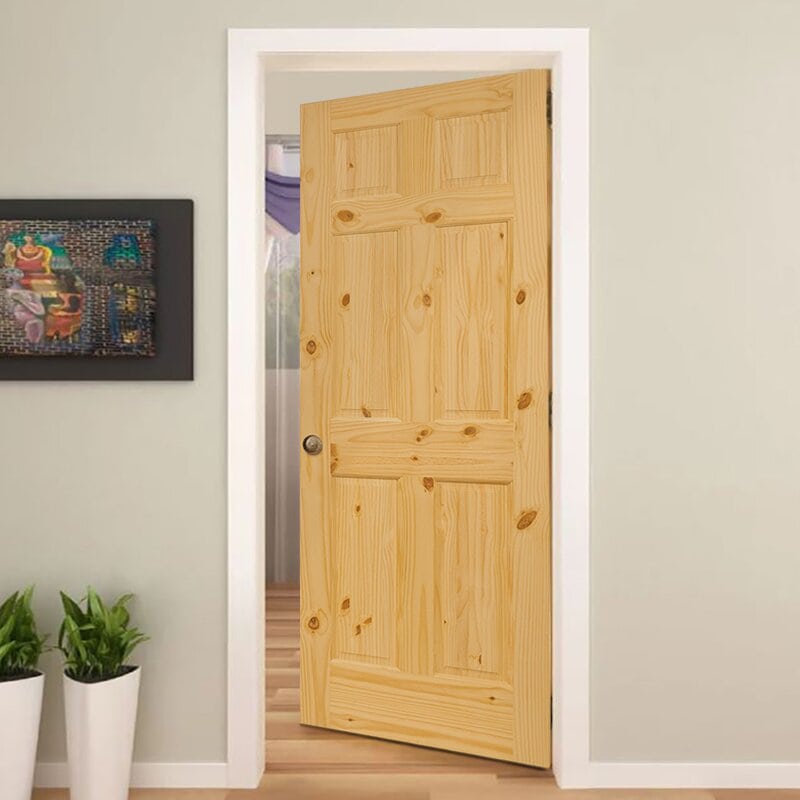 Paneled doors are very popular in the U.S., and perhaps, the six-paneled door is as dominant as it gets. I can't think of a home built in the last 30 years that doesn't have some variation of this style of door.
So if you like the traditional look, this is a safe option. This particular door from Wayfair comes unfinished, so you can paint it, stain it, or leave it as is.
Go Rustic with an Alder Wood Door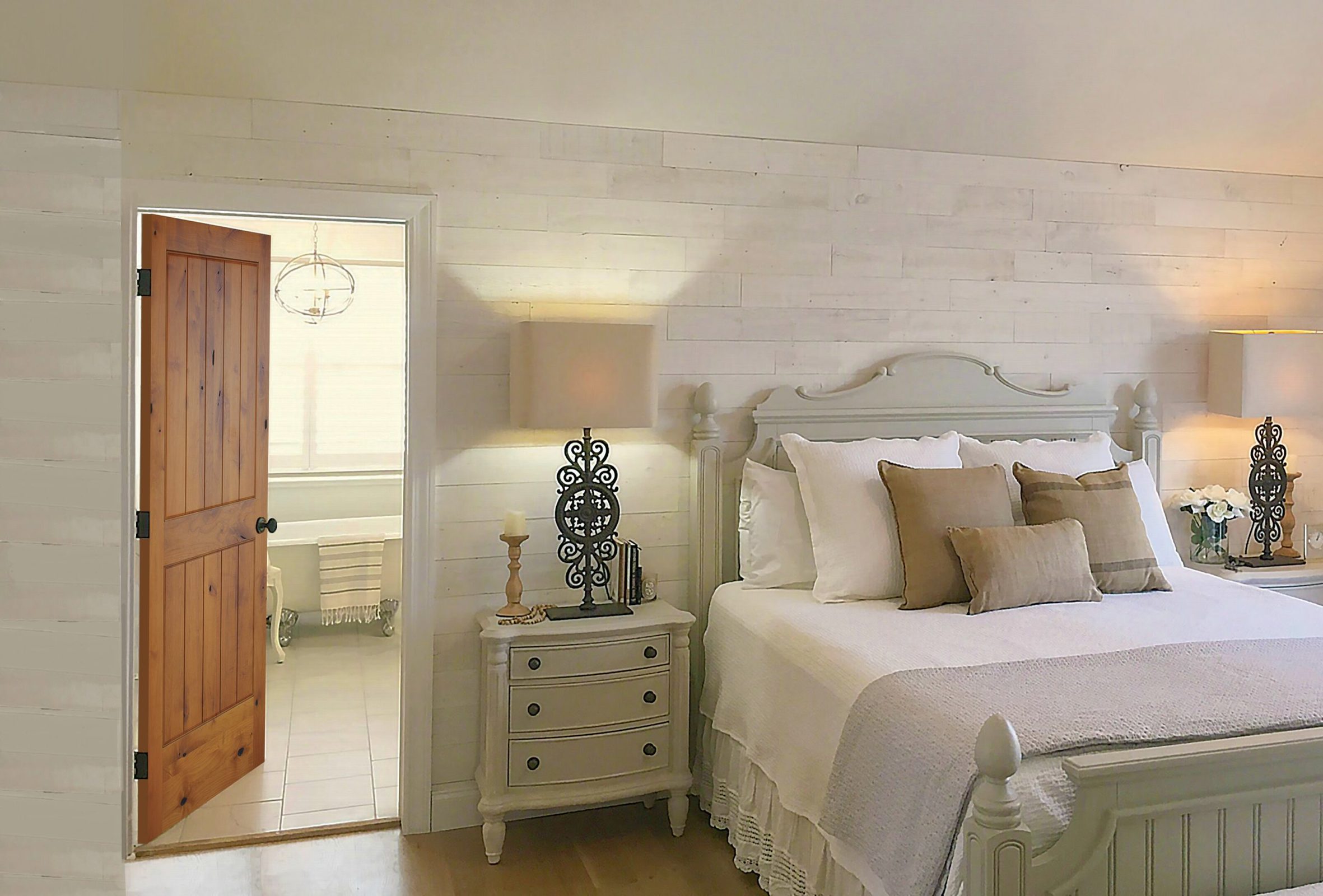 Looking for a door to add beauty and warmth to your home? This door made of solid alder wood is an attractive choice.
This bathroom door design features warm, natural wood panels and will bring texture to any room. This door is perfect for farmhouse, rustic, and country-style bathrooms.
Try a Slightly More Modern Sliding Farmhouse Door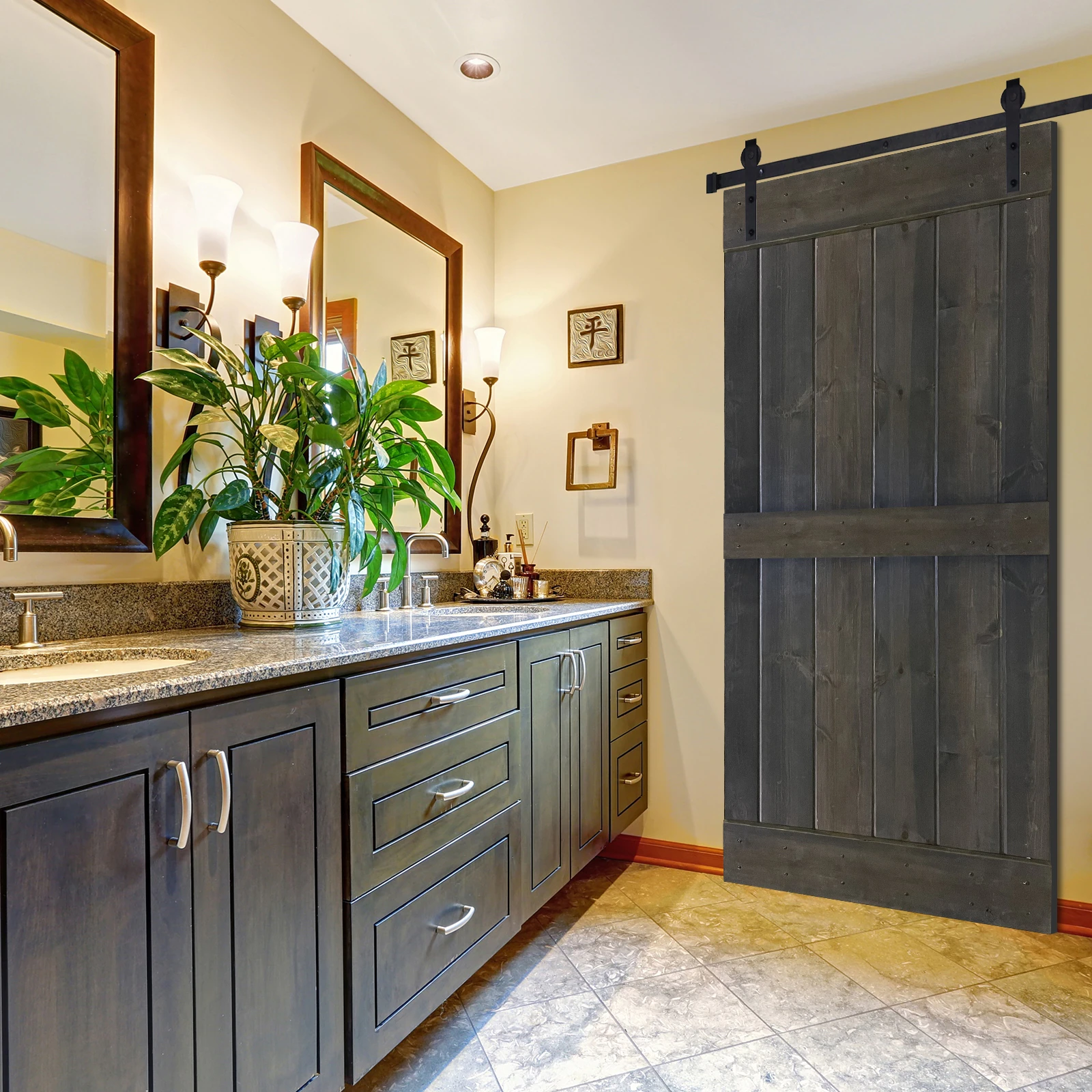 If you're in a place where you like a mixture of modern and farmhouse-style decor, try a modern farmhouse door like this one.
The sliding barn wood gives this door a farmhouse feel, while the dark gray provides a modern bathroom door effect.
Modernize with Matte Black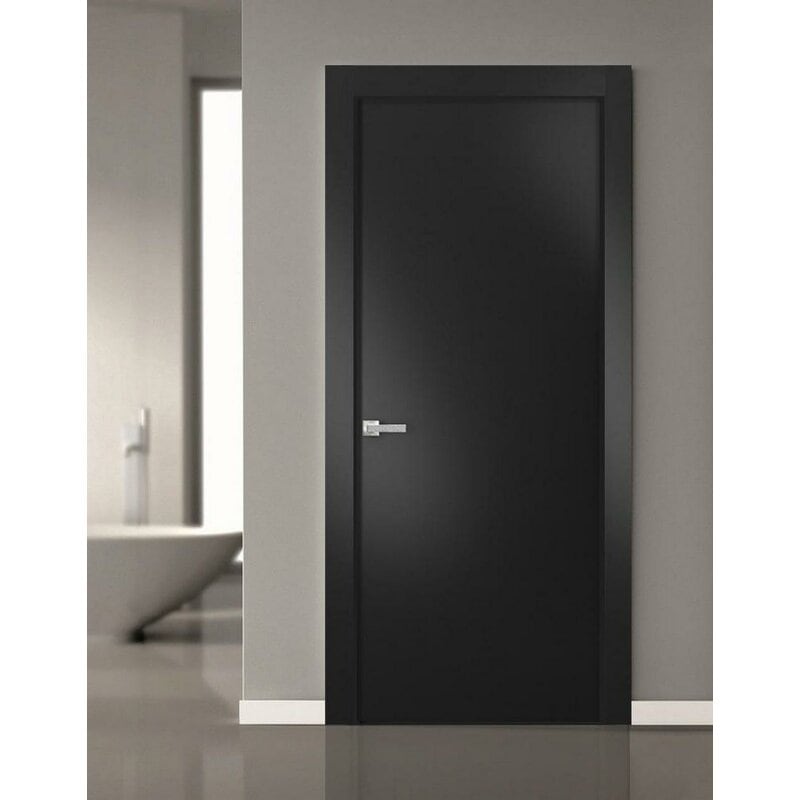 Are you into the sleek, modern, or minimal look? You can't go wrong with matte black.
This modern bathroom door from Wayfair is solid wood and comes with either a matte black or chocolate finish. The door features a soft close and comes in eleven different sizes. This option would look perfect with a sleek chrome handle, or you could soften it up with brass.
Get a Simple Door for a Small Entryway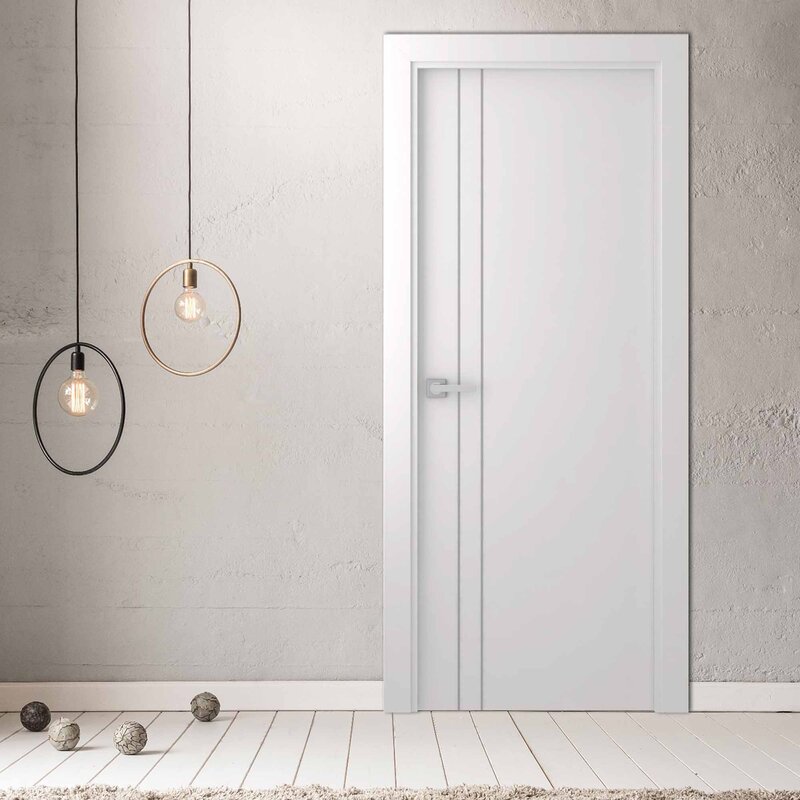 If you need a small bathroom entry door, stick with something simple like plain white, black, or wood. This white door from Wayfair comes in sizes as small as 18 inches wide. It has a slightly mid-century modern look but would also work for contemporary styles.
The door is manufactured wood with a white coating. It provides some sound and thermal insulation.
Turn to a Hidden Door for the Bathroom Closet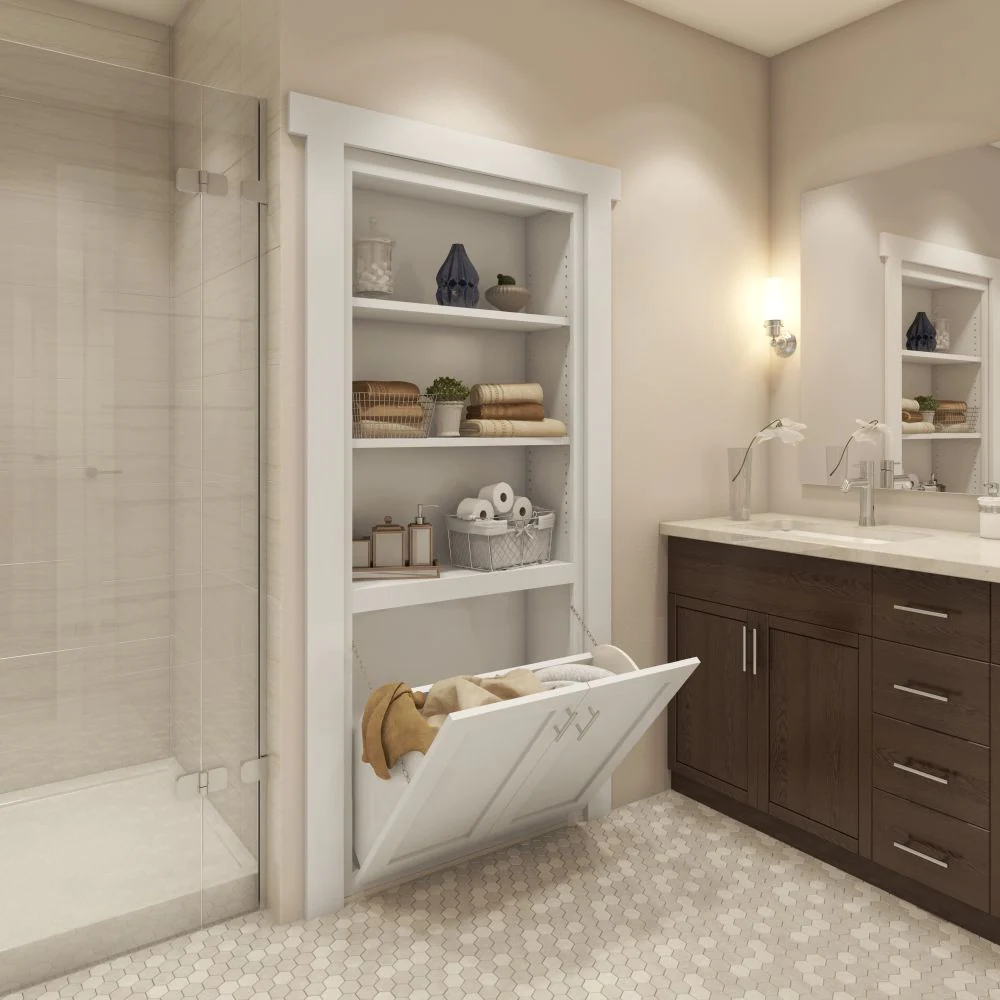 If you're looking for unique bathroom door ideas that make a statement, this is my favorite. The door pictured above is a hidden door. While it functions just as a standard door would, it looks like a shelf and even has a spot for dirty laundry.
You could use one in your bathroom closet, master bath, or anywhere else you please.
Achieve Casual Vibes with Wood and Frosted Glass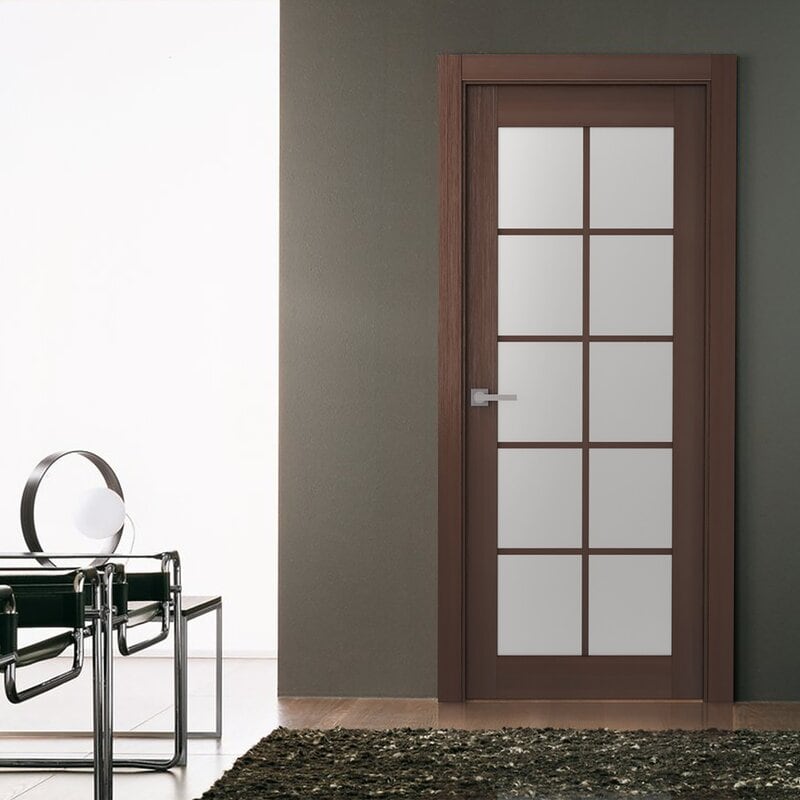 This door borders between sophisticated and casual. The frosted glass provides plenty of privacy while the wood warms up the room.
If you have a modern, casual, or minimal style, this door will look fantastic. The frame is solid pine, and the glass is tempered, so it wouldn't hurt anyone even if it did shatter (which is highly unlikely).
Make a Statement with Double Sliding Doors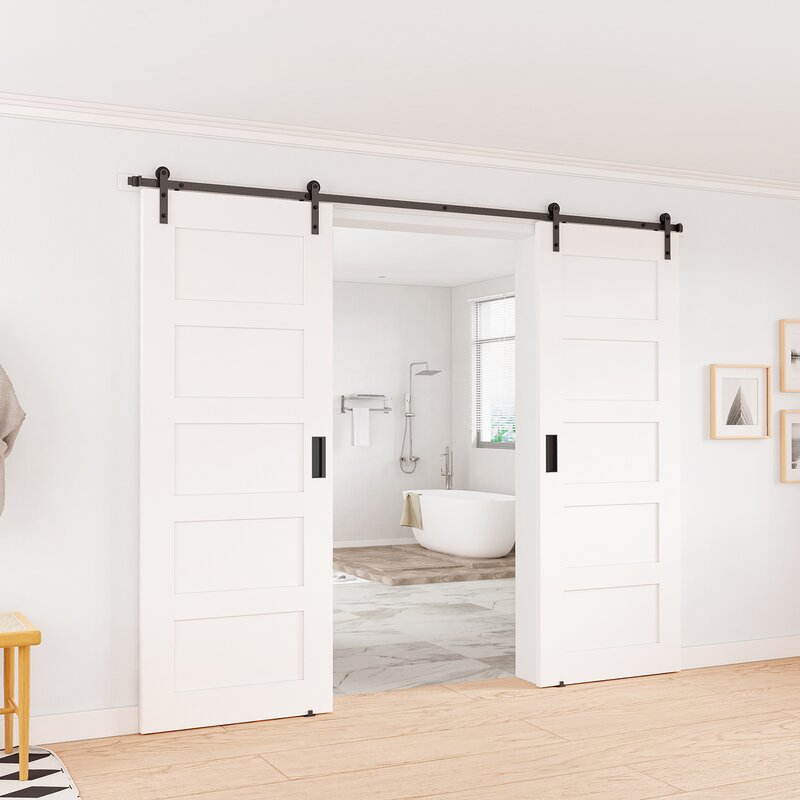 Who says sliding doors are only for farmhouse looks? While these doors dominate the farmhouse trend, you can also find them in different styles.
Take this double set of white sliding doors, for example. They can go with almost any type of decor and provide a dramatic effect for the bathroom.
Shake Things Up with a Five Panel Door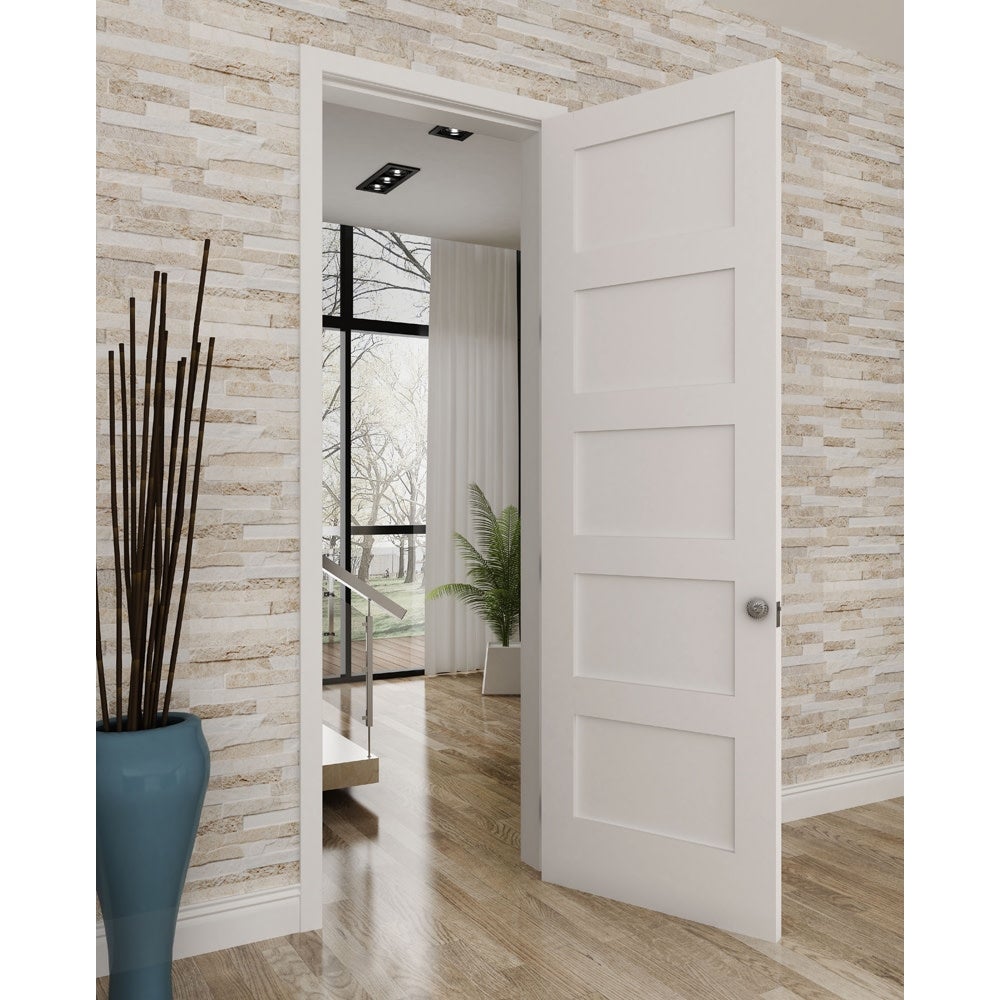 Shaker-style doors are the best options for a classic look, and this one is no exception. This door is wood and comes pre-primed so that you can easily paint it whatever color you like.
You can make this door work with your decor by choosing an appropriate doorknob. For farmhouse, try matte black. Try a long slim handle for traditional, and if you like glam or boho, find a vintage knob.
Encourage Air Flow with a Vented Door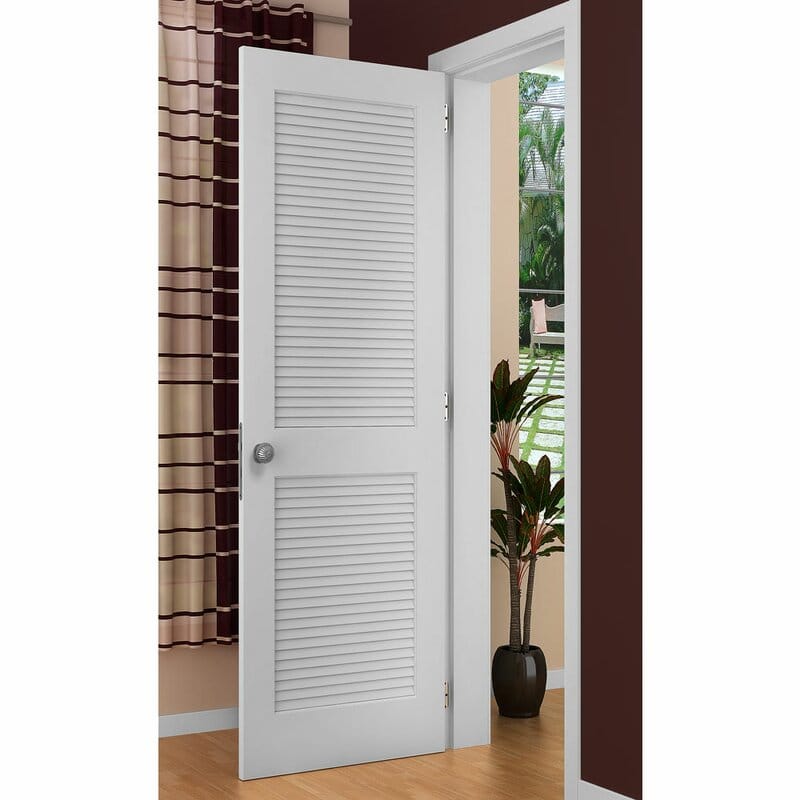 Vented doors are not just for closets or utility rooms. Like the one pictured, a white vented door works well with any style and is an appropriate option for a small bathroom door.
You can make the door look more modern with a black handle or give it a traditional look with a gold or silver knob.
Countrify Your Bathroom with a Pine Door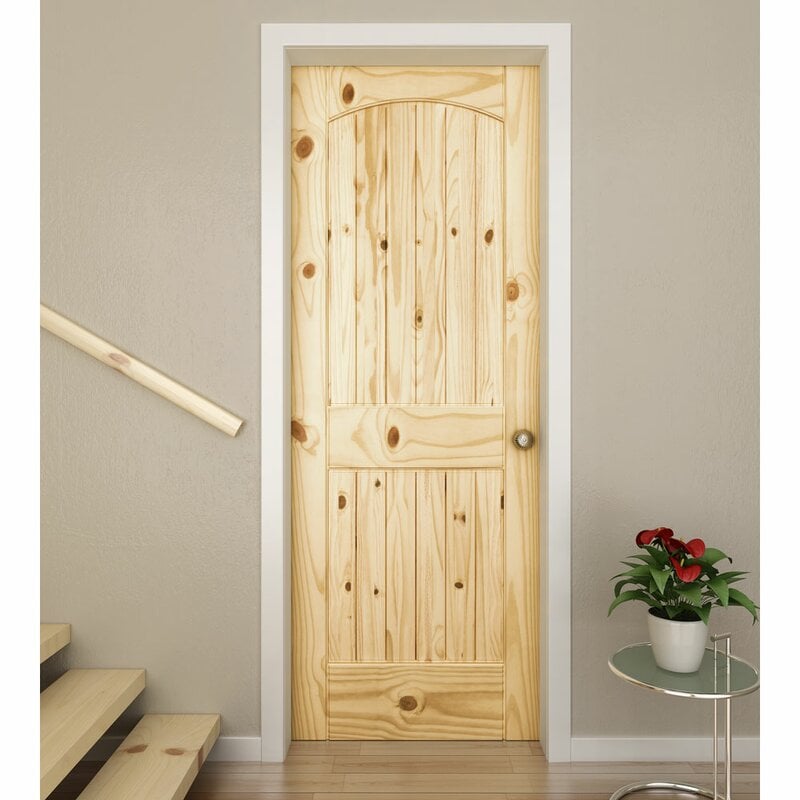 If you like the country look, try a pine door. This all-wood door works perfectly for rustic, farmhouse, and country-style bathrooms.
This door comes unfinished, so you can leave it as is, stain it, or paint it. It comes in five different sizes, and you can add to the look by choosing your favorite doorknob.
Save Space with a Sliding Door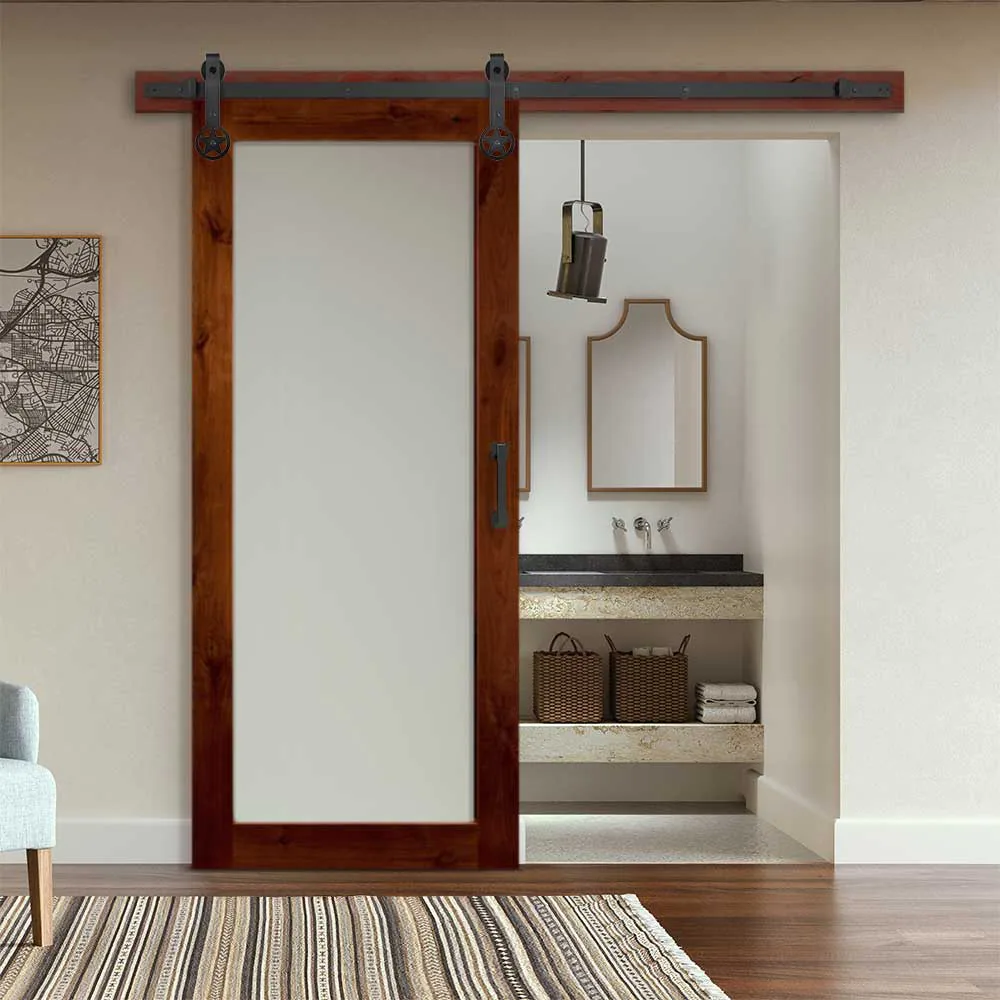 If you're working with a small space and there isn't a ton of room to open a standard-size door, go for a sliding one. You can find many different options, including modern traditional takes like this one.
This door includes an installation kit with all of the necessary hardware so that you can hang it yourself. In addition, it comes in seven style options and four custom colors.
Try a Stile Door for Minimal Style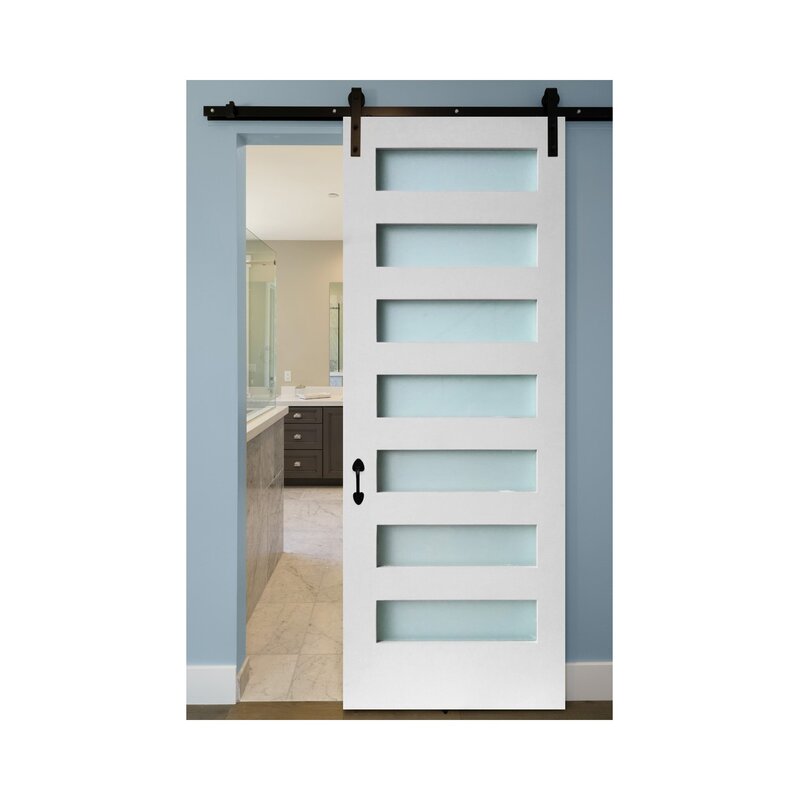 Stile Doors are European-inspired and go great with minimal or clean designs. This particular door features five panels of etch-glass with an MDF frame.
This door comes in five sizes and can be used as a standard hinge-style door or on a sliding system. You can even choose which side you'd like to have the handle on.
Stay on Budget with An Accordian Door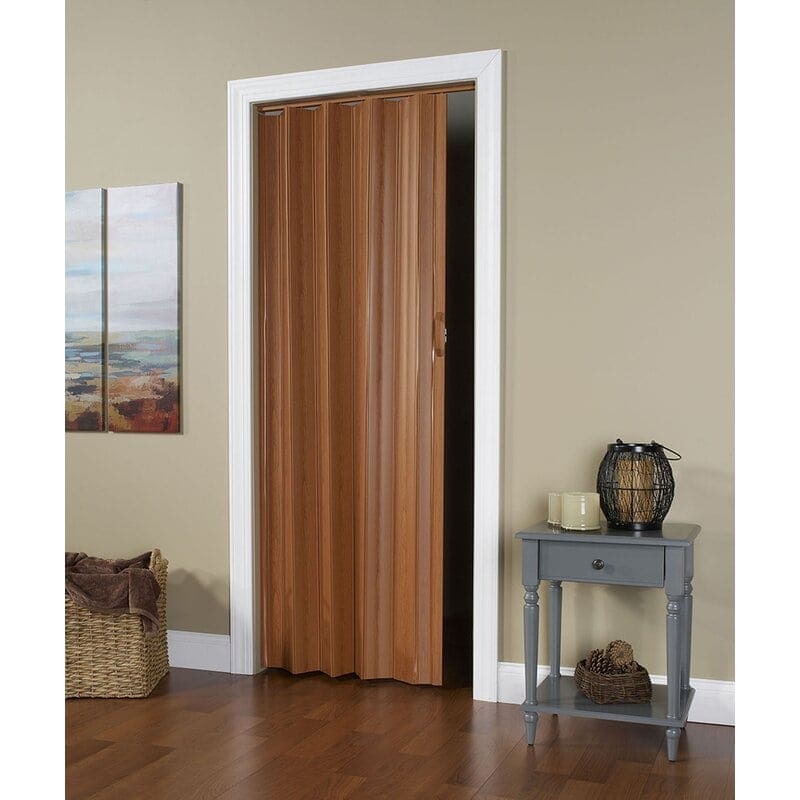 If you're on a tight budget, the most inexpensive bathroom door you'll find is an accordion option like this. This accordion door comes with an installation kit, and you can even put a lock on it.
This is a great budget-friendly door for a master bathroom, or until you save up enough money to purchase the door you really want.
Match Any Decor with a One Panel Door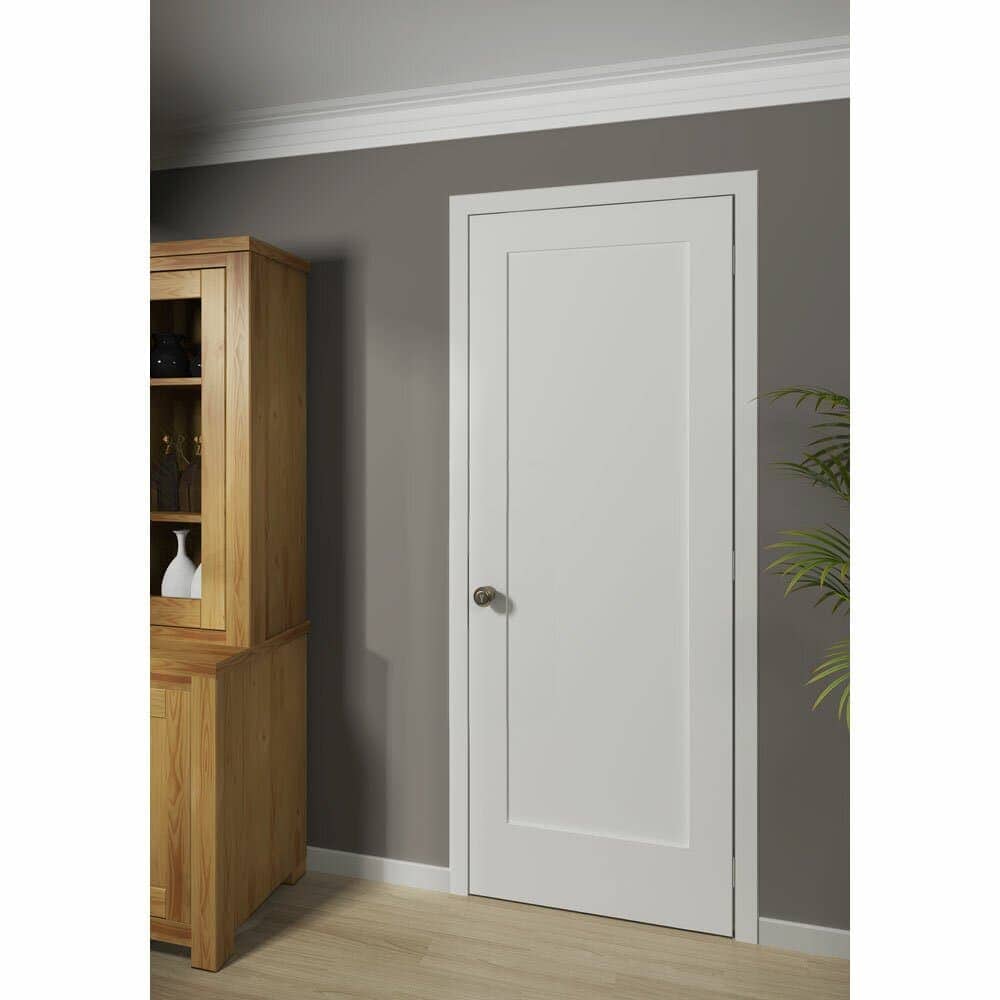 When it comes to permanent home fixtures, the best route you can take is to choose materials that will look good in your home for years to come. One great option is shaker-style doors.
While we've looked at the standard three and six-panel options, there's also a slightly more minimal take: the one-panel door. This door is made out of manufactured wood and is primed and ready for a coat of paint.
Final Thoughts
Since bathroom doors are permanent fixtures in your house, it's important to pick high-quality materials in a style you'll love for years to come. It's equally important to stay away from super trendy designs.
For a bit of uniqueness, choose a door that has a classic style and then paint it a fun color. Or, opt for a wood or sleek black door that is classically beautiful and adds to the look of your home.