Decorated Life is reader-supported. When you buy through links on our site, we may earn an affiliate commission. Learn More
How to Decorate the Living Room With Plants? – 13 Ideas
Plants are magical – not only do they add brightness, texture, and life to a space, but they make every room instantly look better.
Which is why it makes sense to add them to your living room decor.
And luckily, doing so is easy.
If you've never decorated with greenery before, here are the top 13 living room ideas with plants.
Fill in a Corner with a Fiddle Leaf Fig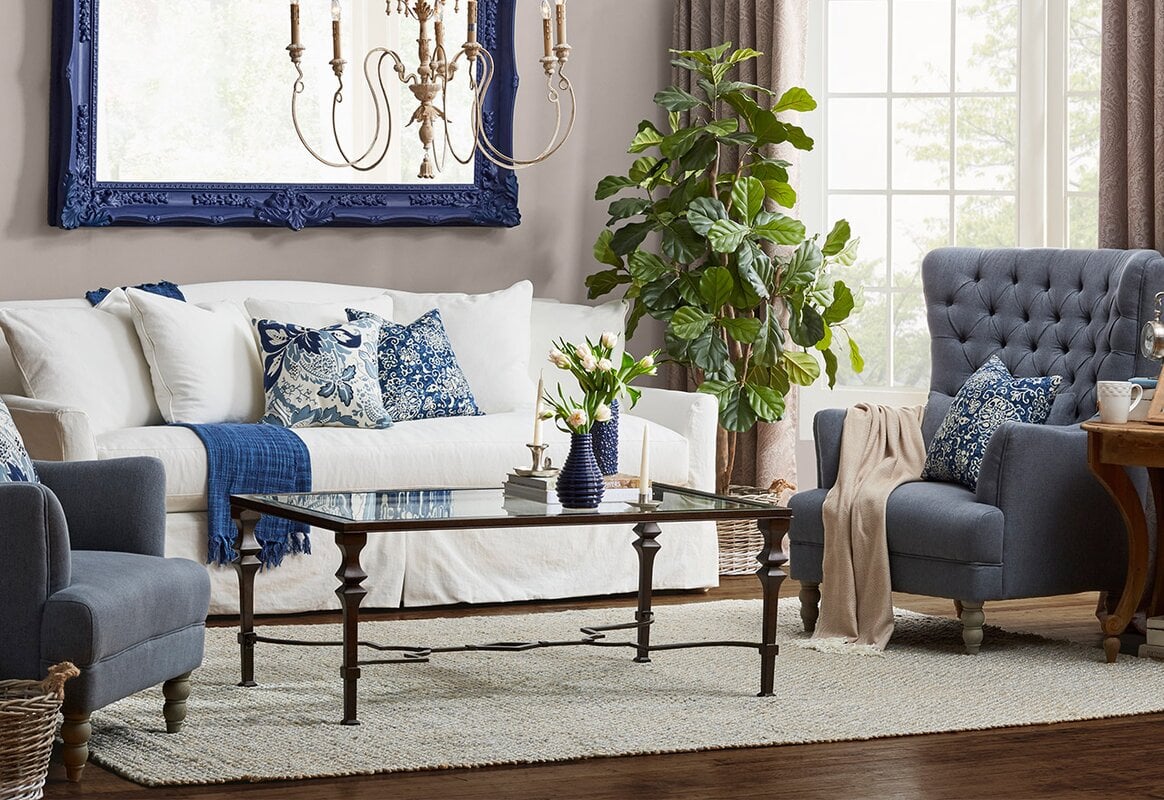 Fiddle Leaf Figs have been the reigning plant of choice on Instagram for a while now. These trees are indigenous to western Africa but popular houseplants in many parts of the world.
Fiddle leaf figs have thick leaves that are eye-catching without looking busy. You can use one to fill in the corner of your living room or any empty space, no matter your decor style.
If you have a black thumb, you can play it safe and buy a faux version like the one pictured.
Create a Coffee Table Centerpiece with Succulents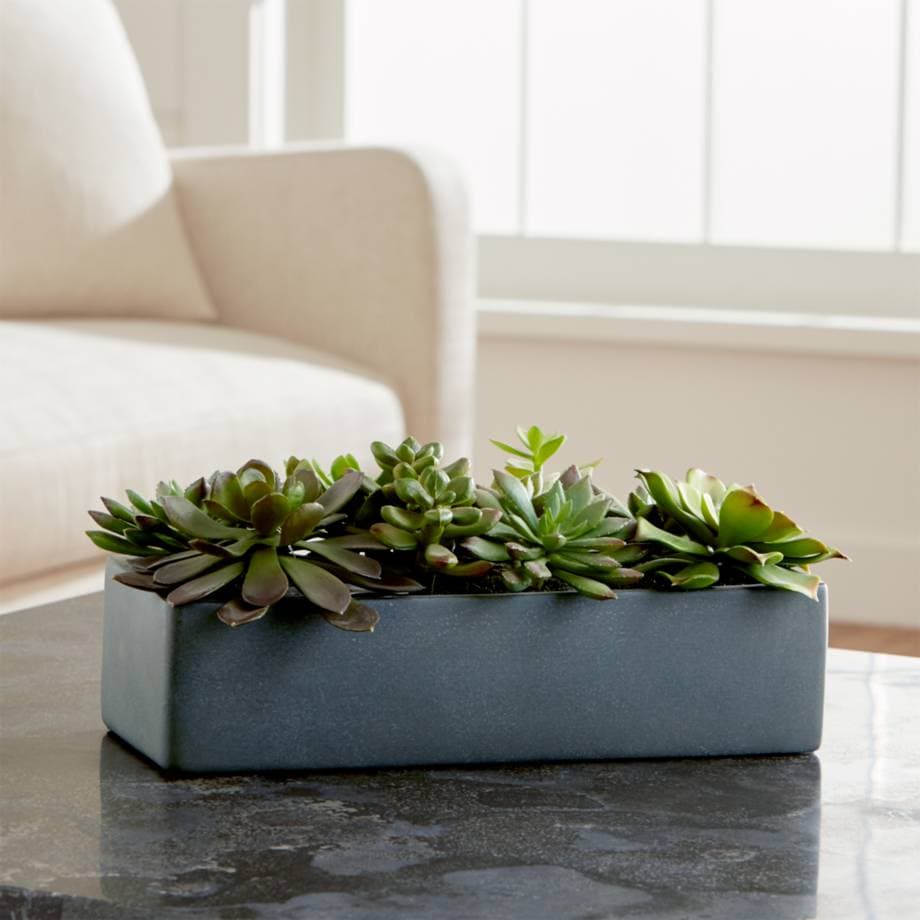 Succulents are the perfect beginner-friendly plants. They don't require a lot of water and are easy to care for. Plus, you can find a very realistic faux version like shown above.
If you're looking for that perfect low-maintenance plant for your living room, create a coffee table centerpiece with succulents. You can use a long rectangular planter like this one from Crate&Barrel or corral a bunch of smaller pots together.
Layer Plants with a Tiered Plant Stand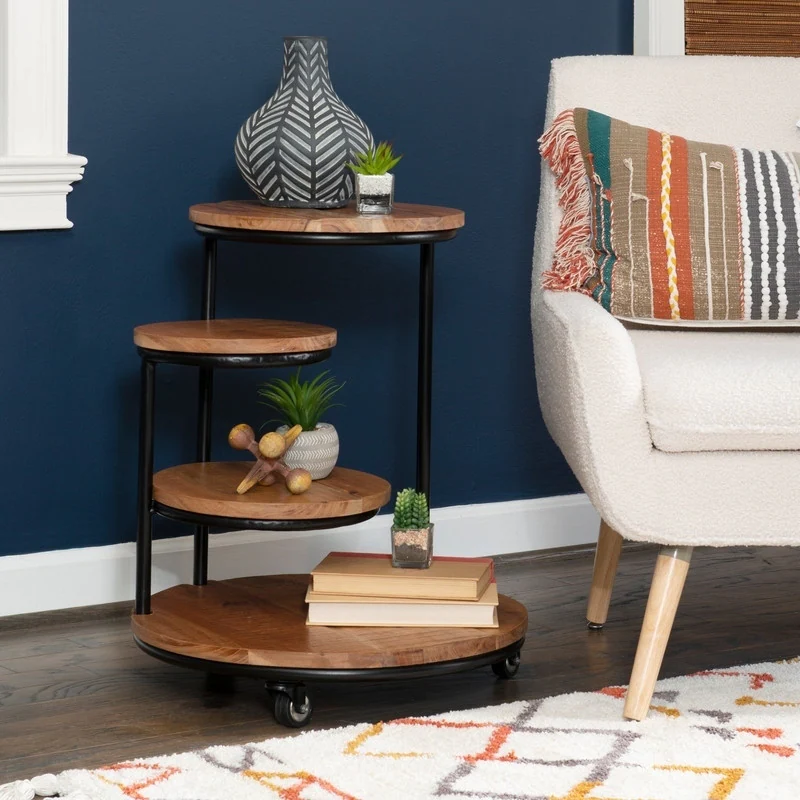 If you're decorating the living room with plants and looking for a plant stand that can double down as a side table, this is it. This plant stand has four tiers. You can use the top as a standard side table for putting coffee, remotes, or books. Then, you can pack the lower shelves with plants.
This particular stand would look great with small vining plants on it.
Display Branch Clippings in a Pretty Vase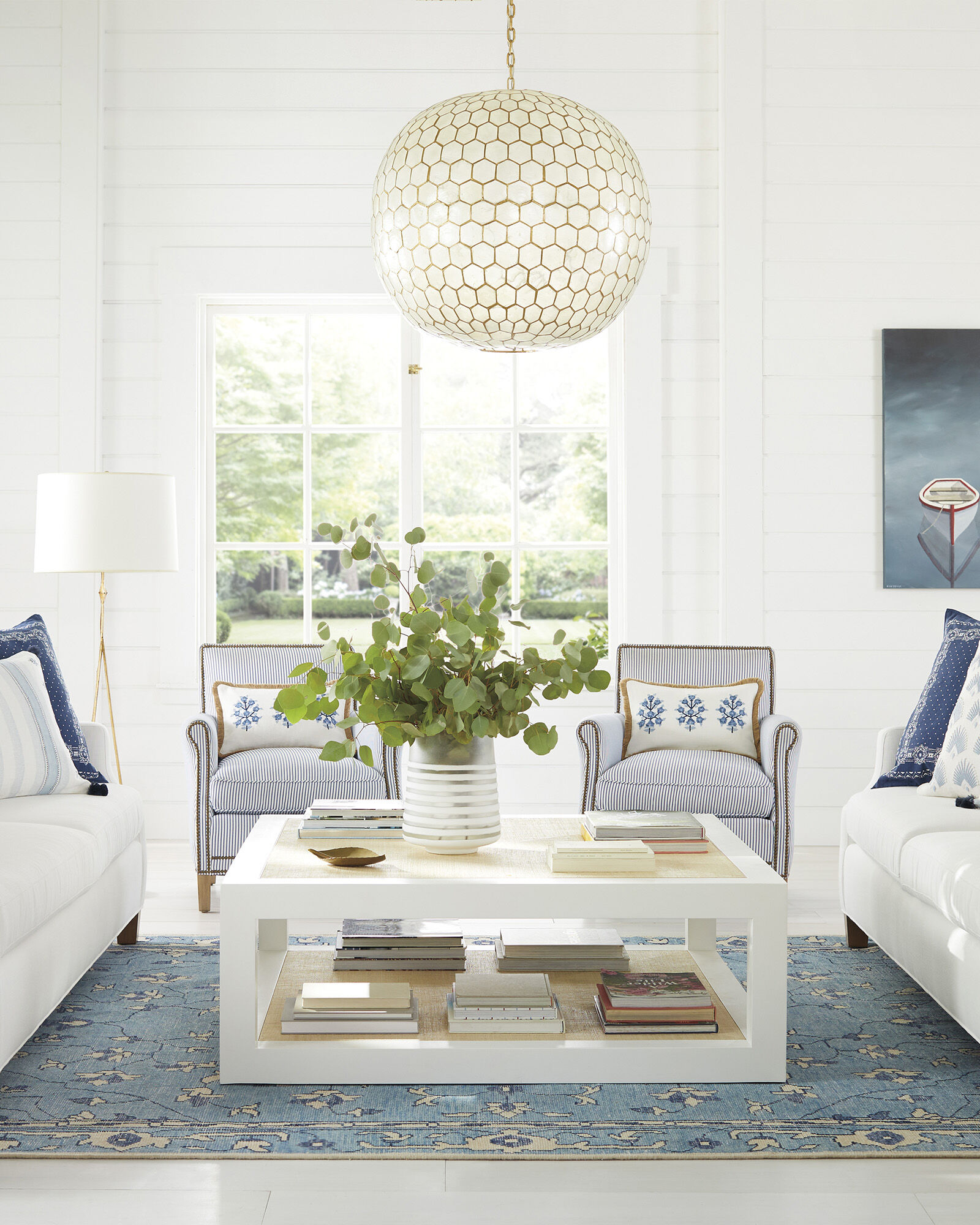 If you're looking for the most straightforward living room ideas with plants, it's branch clippings. Even though they're free and easy to find, branch clippings can transform your living room – especially when you put them in a large pretty vase like this one.
You can switch out your branch clippings anytime they start to look bad or when the seasons change.
Use Planters + Stands for Medium to Large Plants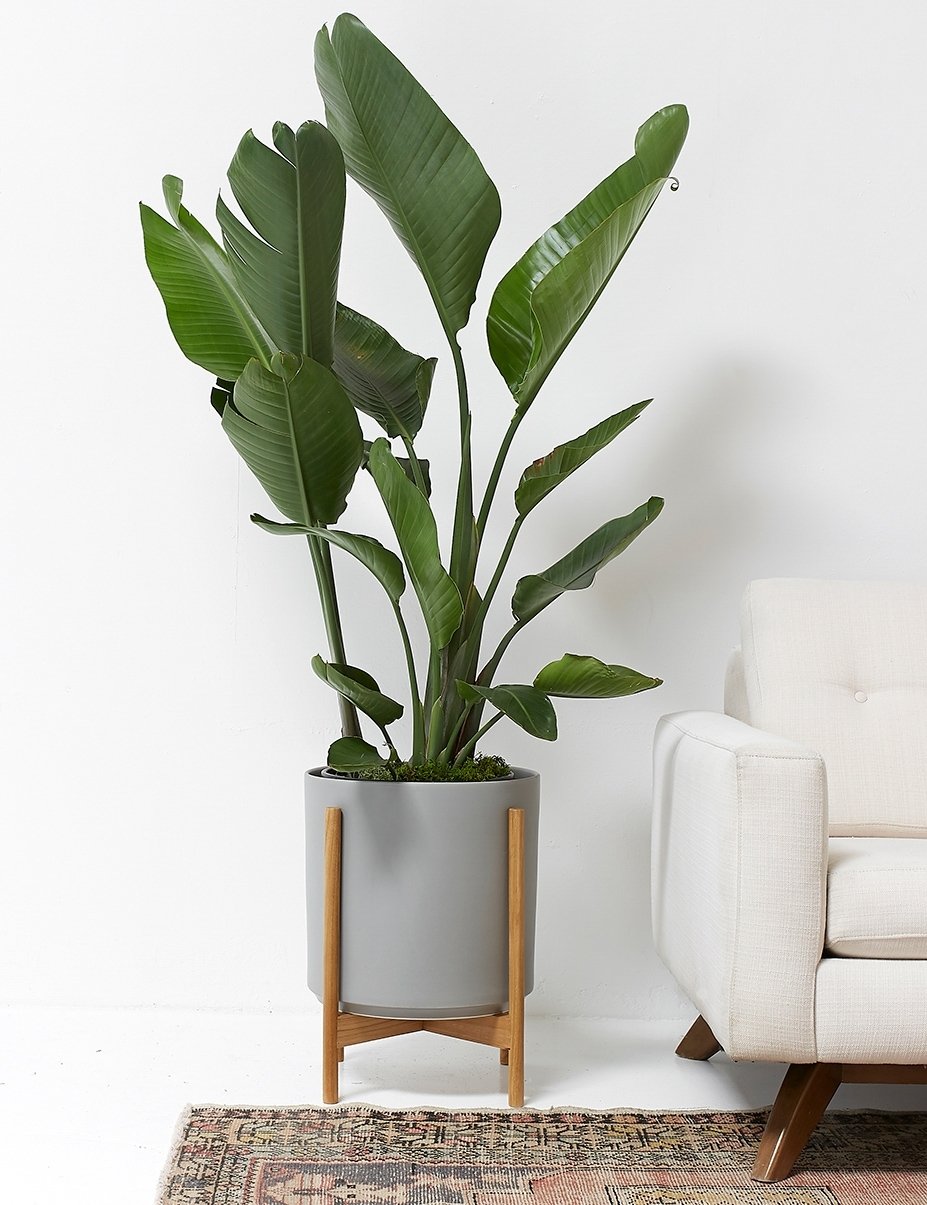 Medium to large plants need to be upgraded to bigger pots as they grow. If you want your plant to be a standout in your room, consider a planter + planter stand combo like this one from Lulu and Georgia.
This planter comes in six sizes and four different colors. So you could put small trees, medium-sized plants, and taller options, like snake plants, in one of these.
Adorn Your Mantel with a Garland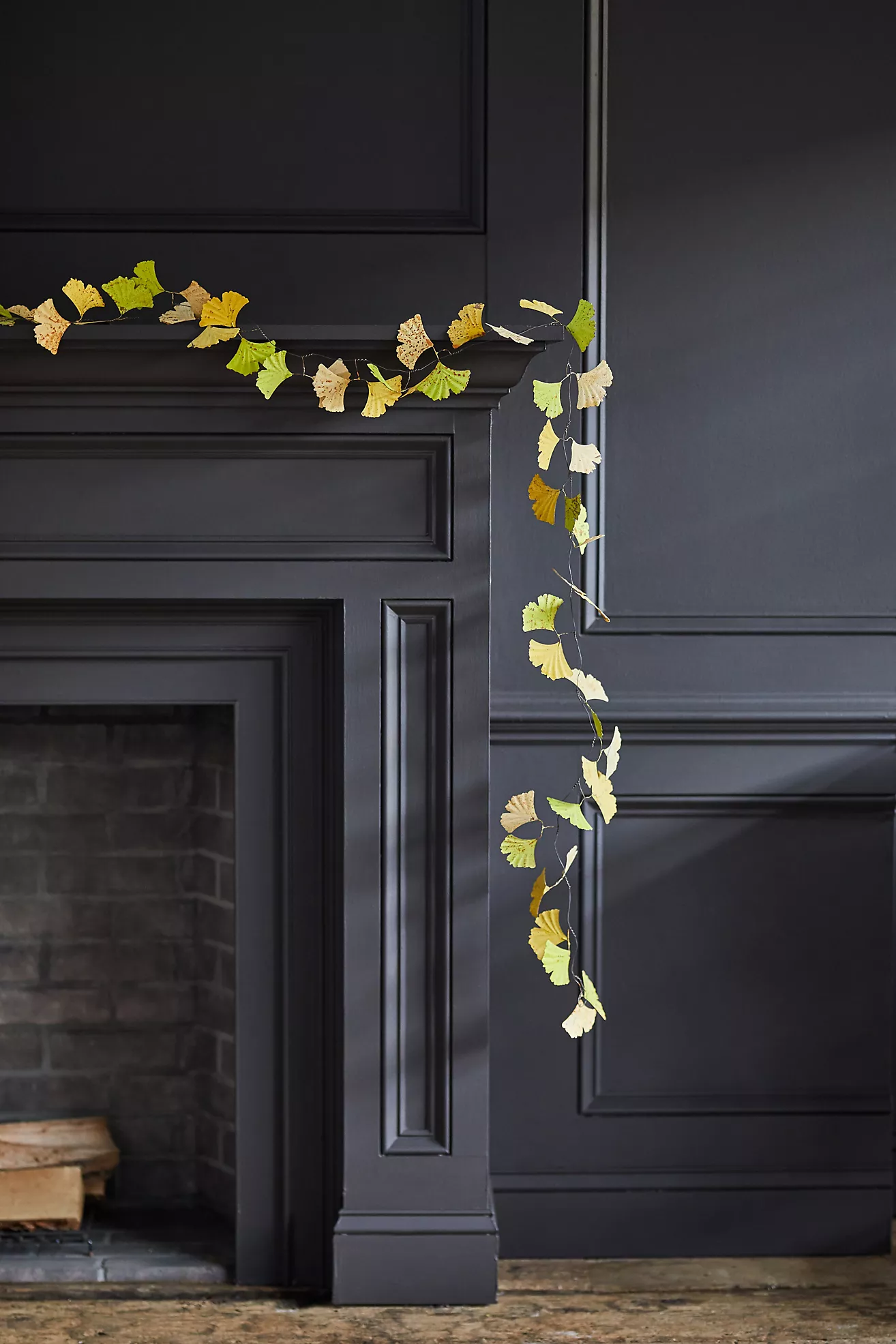 Believe it or not, garlands are not just for holiday decorating. If you have a fireplace in your living room, it's prime real estate for plant decor. Not only can you put small planters or vases on it, but you drape a garland over the top.
You can go for a simple Iron Ginkgo garland as shown above or try something like dried eucalyptus. There are several options on the Anthropologie website.
Bring Balance to a Room with a Tree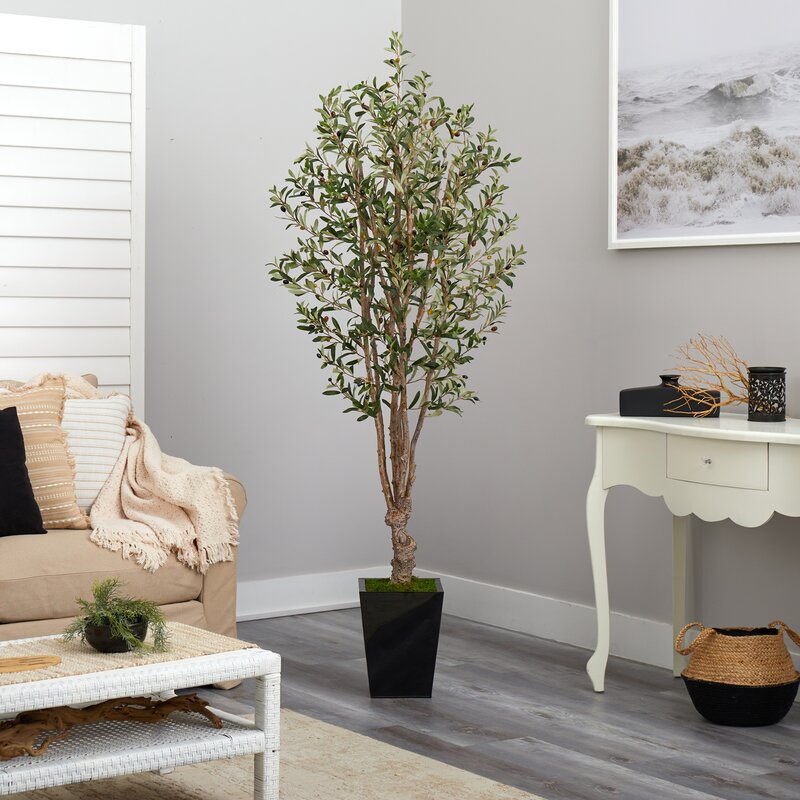 If you have a tall cabinet, tv high on the wall, or large paintings on one side of the room but not the other, it can throw off the room's balance. An easy remedy is to bring in a tree to add height to the other side of the room.
You can opt for an authentic version or a fake one like this olive tree. You can even switch out the pot for something that better blends in with your decor.
Show Off Vining Plants with a Hanging Planter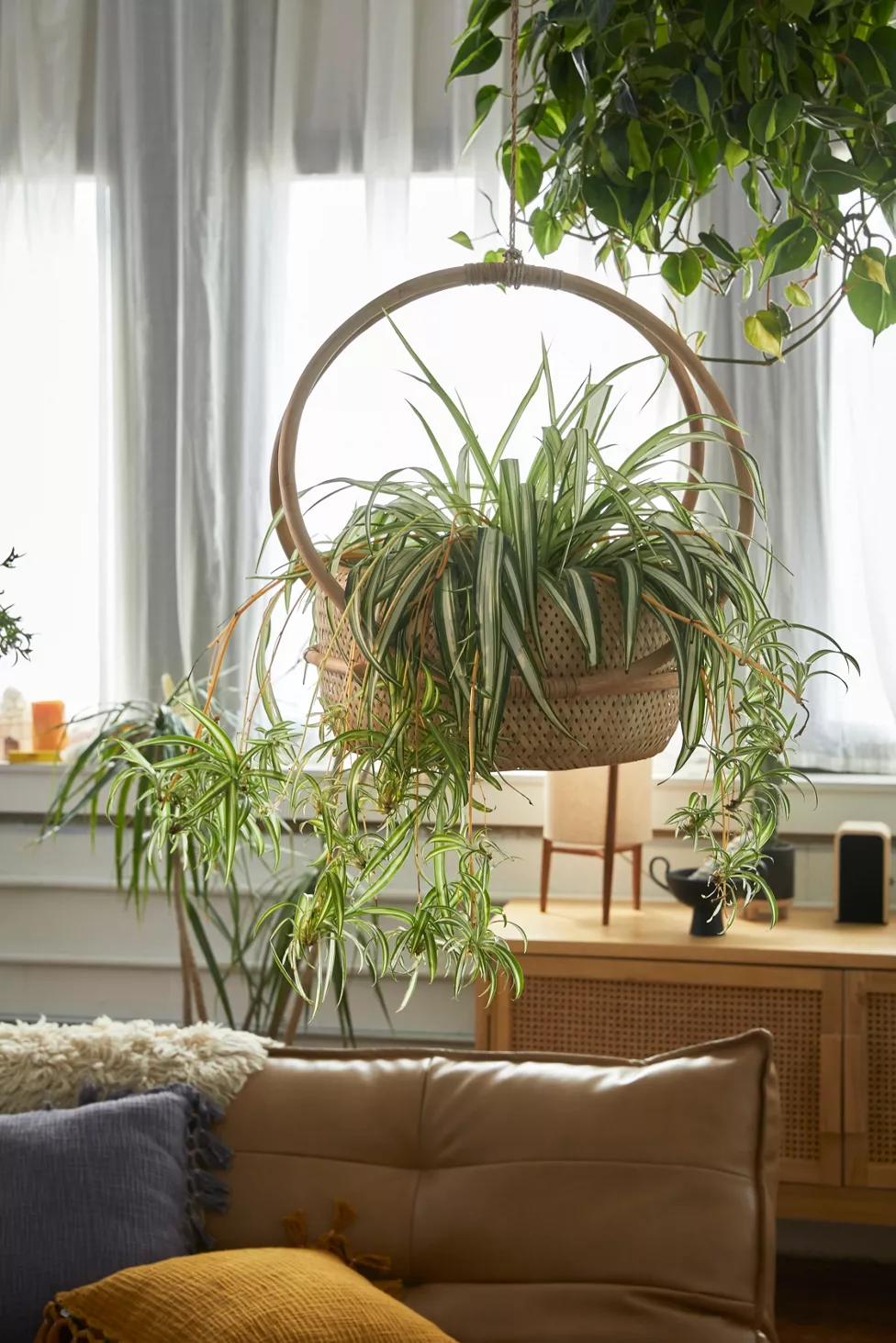 If you want your living room covered in plants, adding hanging planters can help you achieve the look. Hanging planters work with any decor but are especially prominent in boho-styled rooms.
These hanging planters are perfect for vining plants like ferns or spider plants but can also be used to show off any extra full greenery you have.
Fill in Bare Spaces with Wall Planters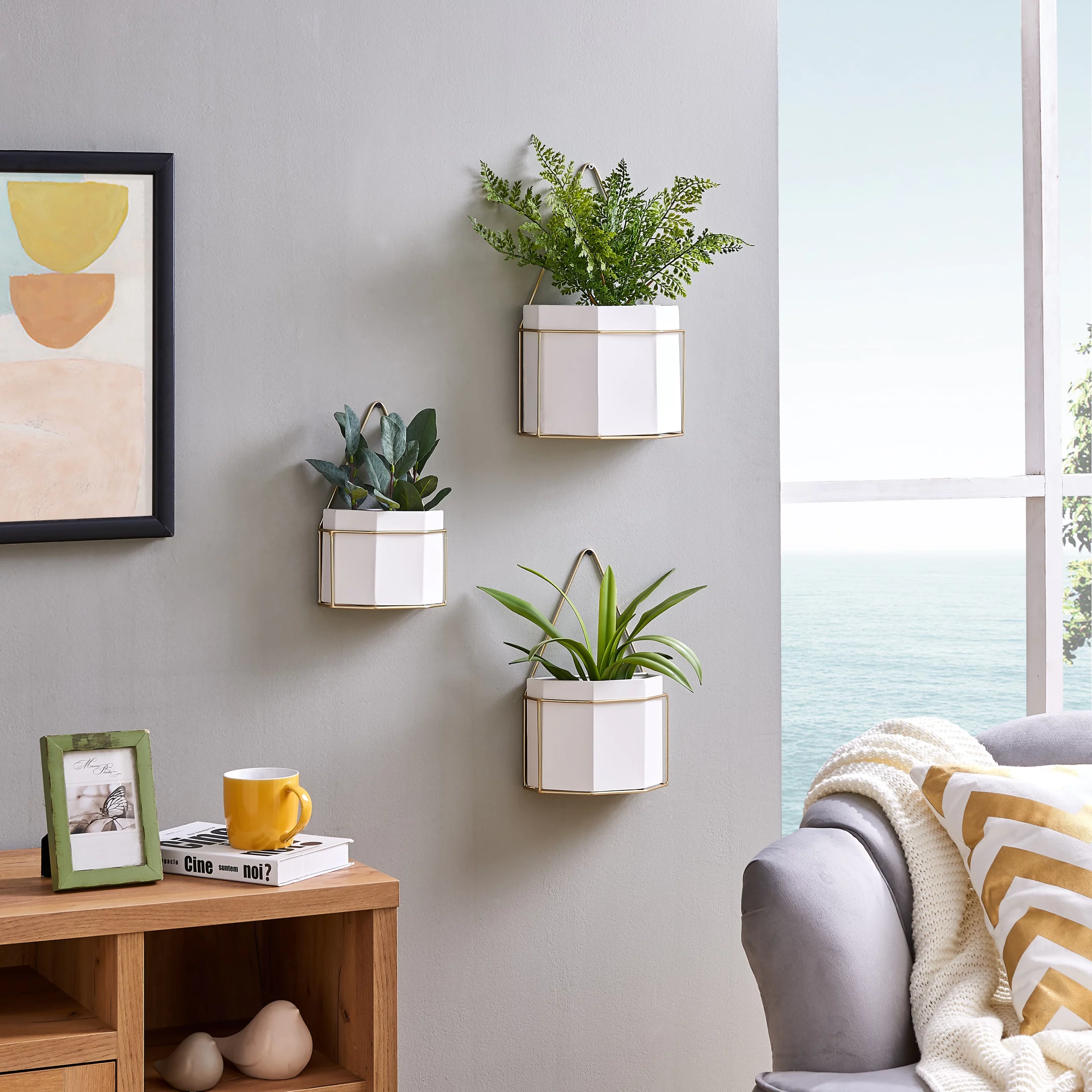 Not sure where to put plants in the living room? While using plants as a centerpiece or mantel decoration is common, you can also use them to fill in bare spots on the wall.
Wall planters like these are great for low-water plants such as succulents. These mount right to the wall and instantly fill up blank space, bringing the wall to life.
Bring in Modern-Boho Vibes with a Metal Planter Set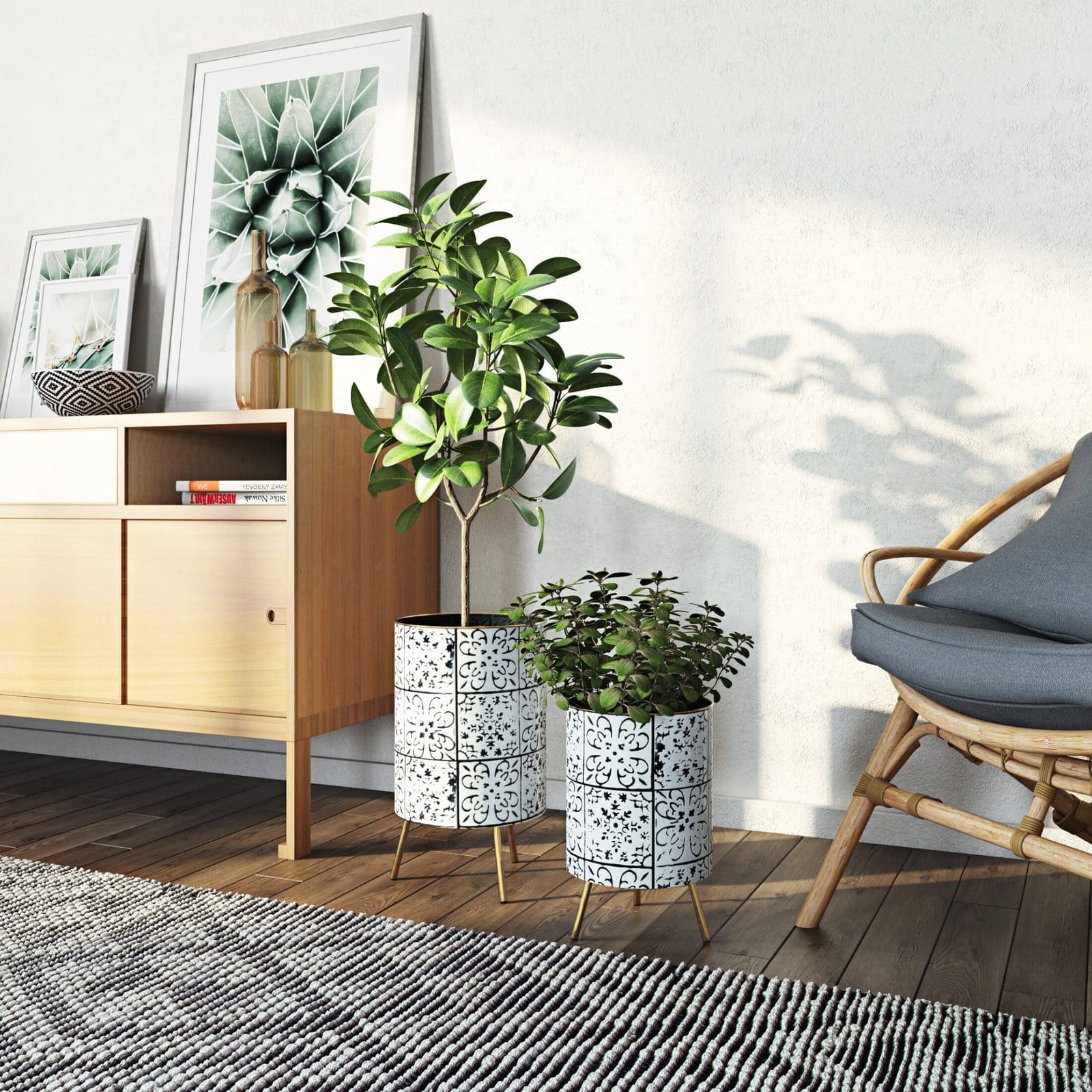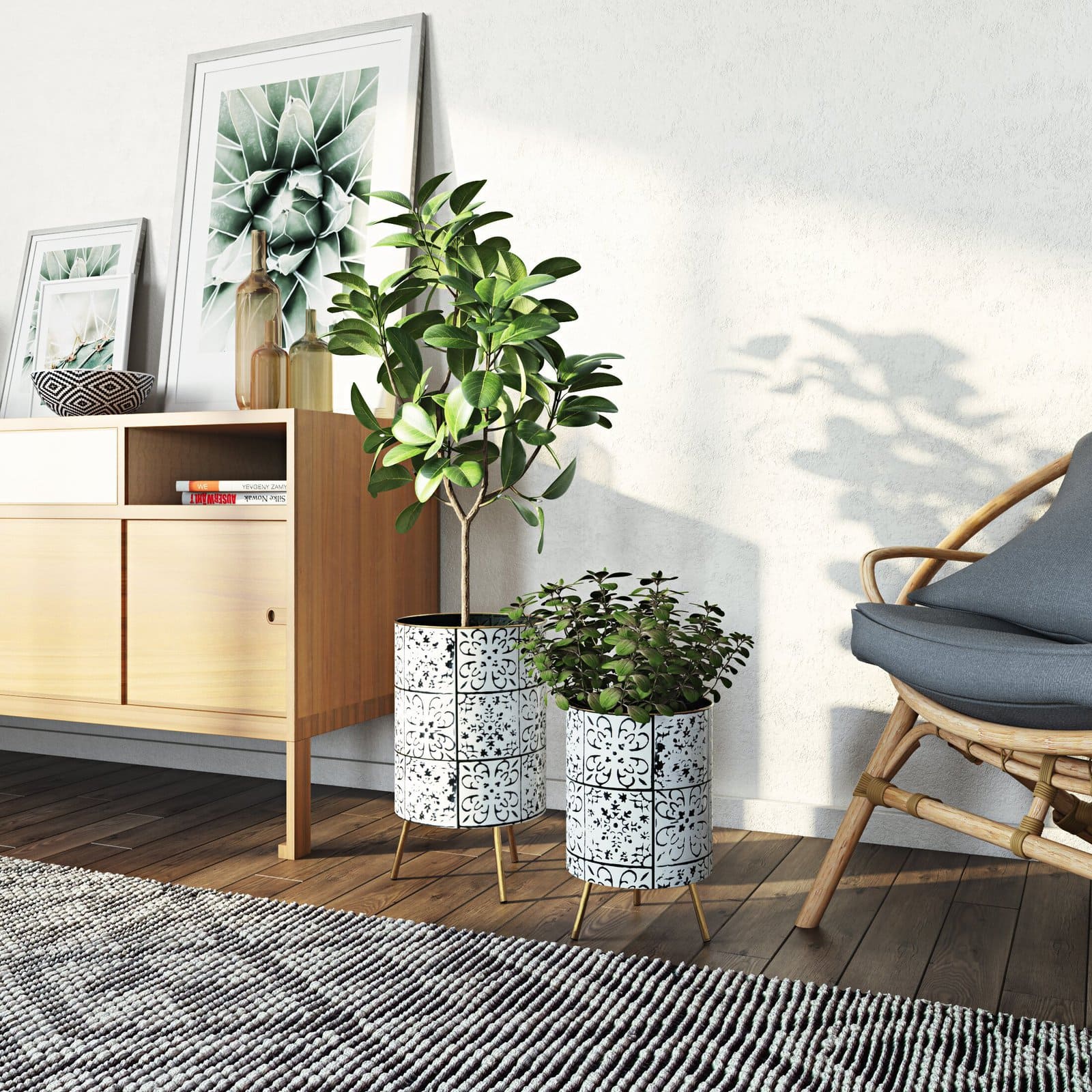 If you like the casual feel of boho style, add a little to your decor with a matching two-piece metal plant stand. These planters look amazing with small trees and medium-sized plants in them.
You can place these together or put one on each side of the sofa. Even though these planters have a bit of a boho flair, they'd still look good in modern, farmhouse, and traditional rooms.
Ditch Planters and Use a Basket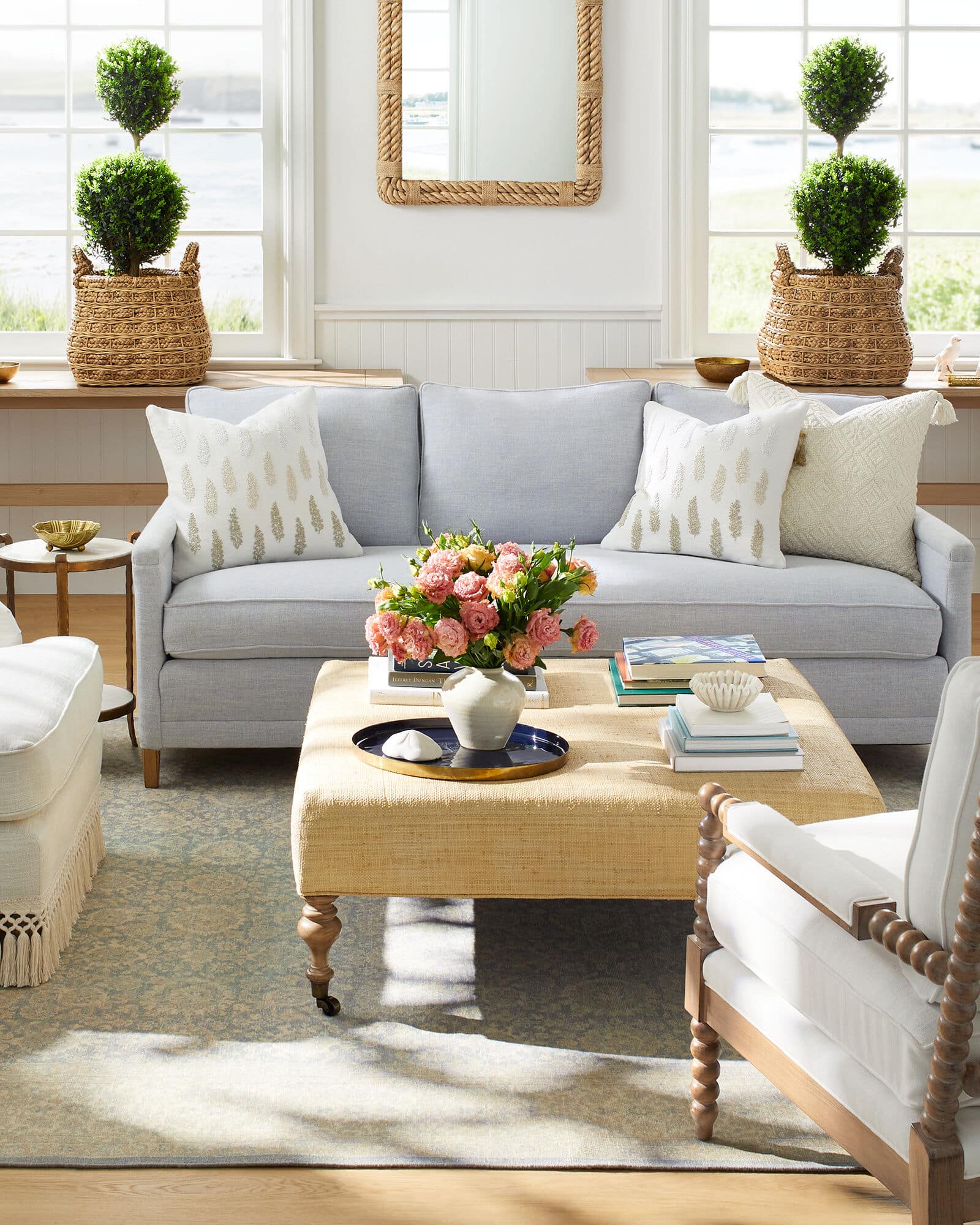 If you can't find a planter you love for your indoor plants in the living room, try a basket. Baskets are great to use as planters – they bring texture to a room, can easily fit in with your decor, and you can swap them out.
The key to finding a good basket is to make sure the opening is large enough to put the existing pot into and is tall enough to hide the pot.
Go Functional with a Stand and Grow Light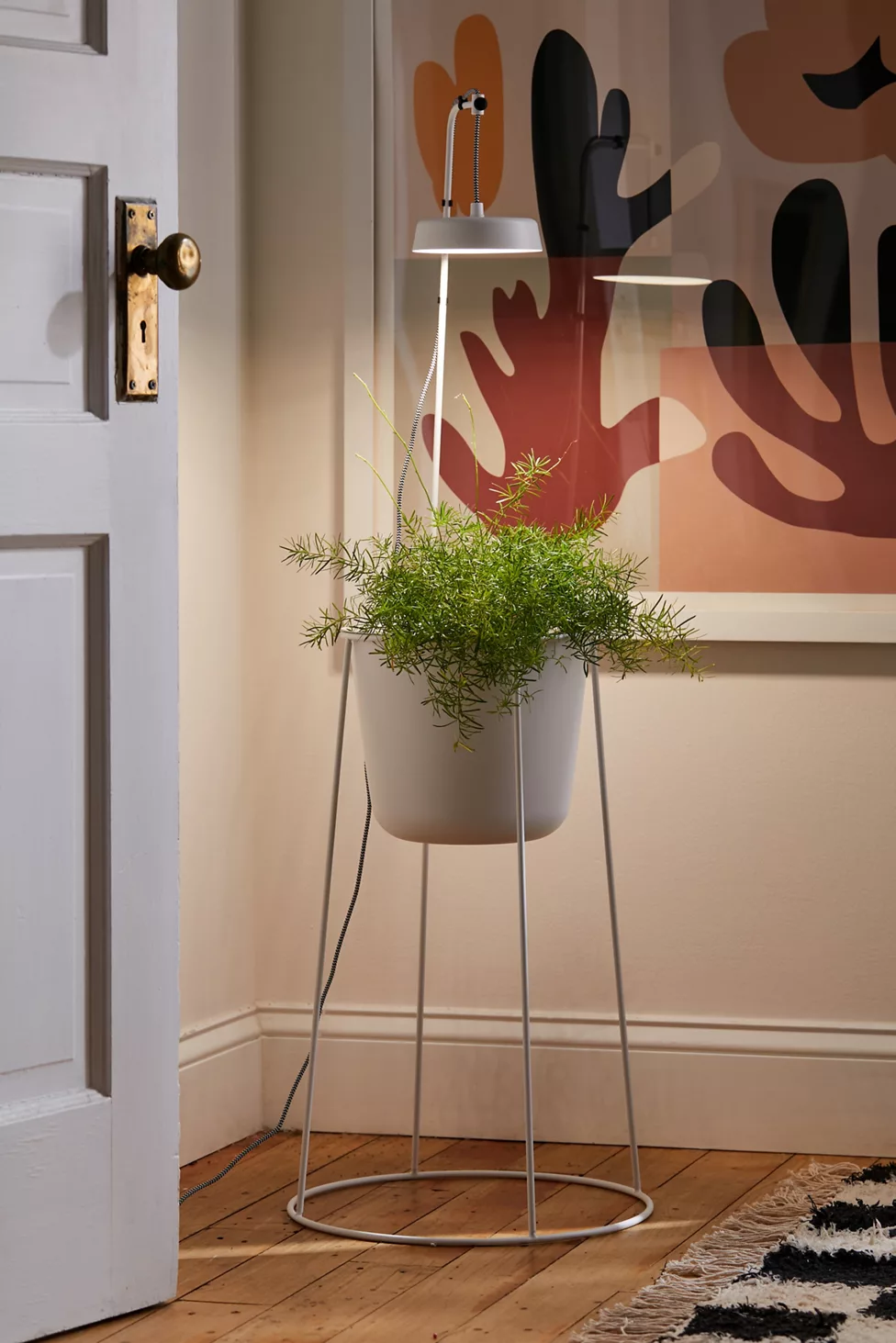 No natural light in your living room? Besides faux plants, your next best option is a planter and grow light combo like the one pictured above.
This planter and stand has a sleek modern design. The grow light on top mimics natural light so that your plant can thrive even in the darkest of rooms.
Line Your Window Sill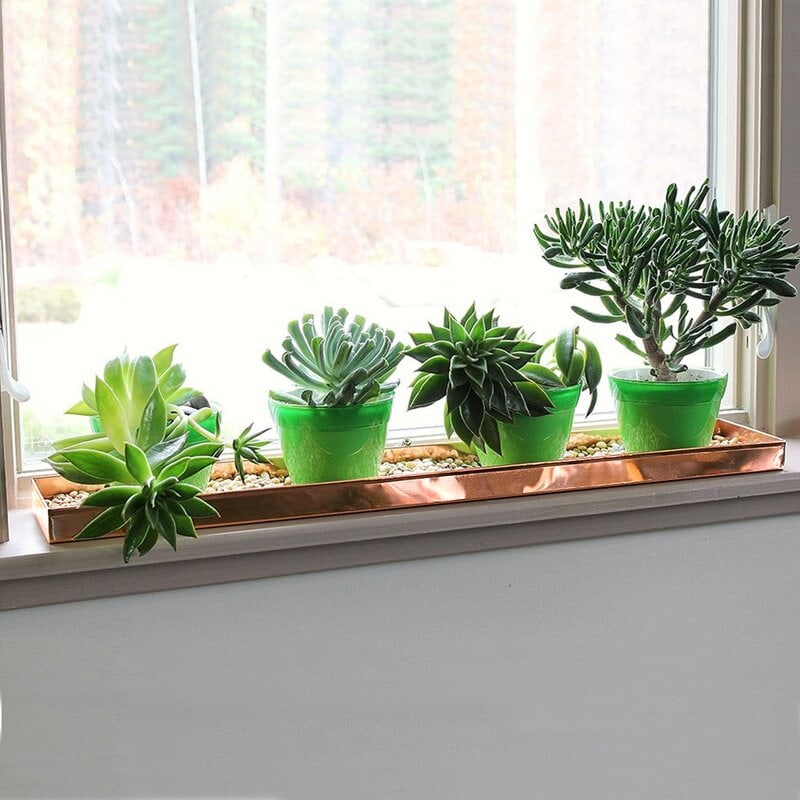 Window sills are the perfect place to put plants because of the natural light. However, if you're like me, you probably aren't keen on having dirt and water all over your window, especially if it's wood. Luckily, you can use a tray like this to corral all of your planters together.
Final Thoughts
Here's some good news: there is no wrong way to decorate with plants in your living room. So, if you're ready to bring in some greenery, start with whatever you think looks the best.
If you have no idea where that starting point is, your easiest option is creating a centerpiece on your coffee table. You can also bring in a tree for height. From there, slowly add in plants as you see fit.