Decorated Life is reader-supported. When you buy through links on our site, we may earn an affiliate commission. Learn More
Benjamin Moore Classic Gray Paint Color Review
"Classic Gray" sounds like it could almost be redundant–gray is such an enduring favorite, year after year. Despite many predictions of its demise, gray has continued to rule the roost when it comes to popular house paint colors, and that goes double for its neutral sibling, greige.
Classic Gray is a color that basks in the love that social media has for all things gray and greige. It also brings some complexity to the table, able to function as both a color and an off-white, adding to its versatility.
Let's part the curtains on this classic and learn the secrets of its success!
What Color is Classic Gray?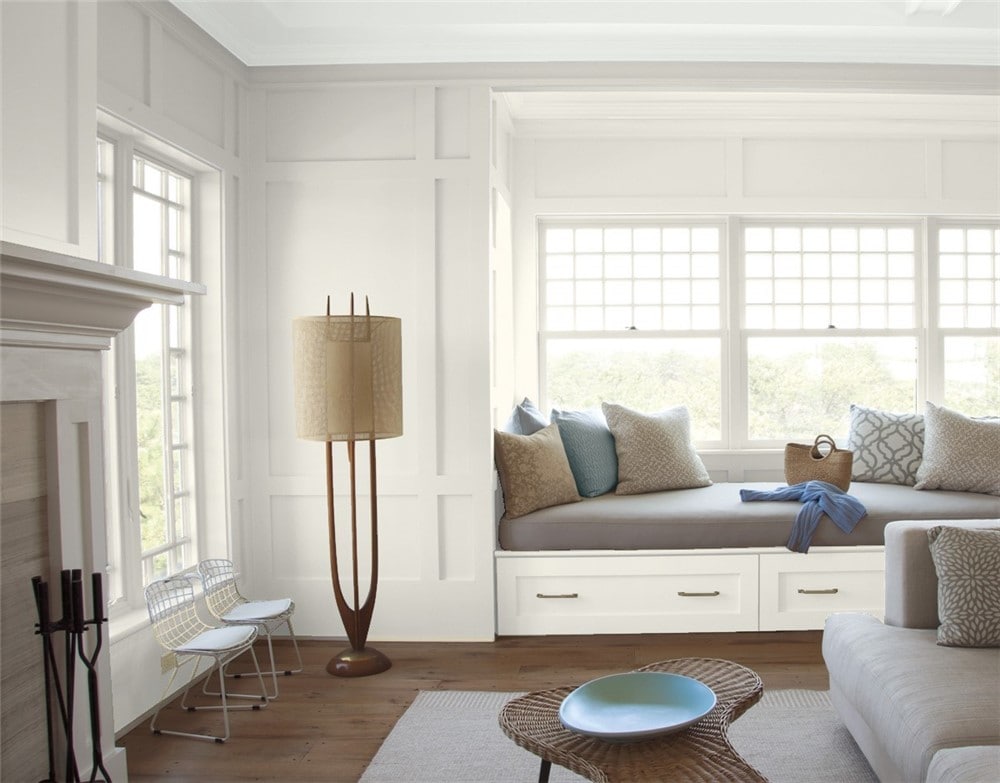 Classic Gray is a very light shade of gray with an earthy beige tint. It can be considered a member of the off-white range. Classic Gray can also be thought of as a very pale greige color.
Greige is a blend of gray and beige meant to harmonize the best traits of each color. The balanced blend of warm and cool smoothes out unwanted undertones and creates a more versatile neutral color.
Does Classic Gray Have Any Undertones?
Classic Gray, like other members of the gray family, exhibits warm purple undertones, and occasionally pink undertones.
Is Classic Gray a Warm Color or a Cool Color?
Classic Gray is a warm neutral color. It will give off a toasty vibe without yellow undertones. It's light enough to function as a neutral, but it's not a clean white.
LRV of 73.67
Classic Gray has a light reflectance value (LRV) of 73.67. This places it on the low end of the off-white scale, allowing it to function as a color or as an off-white.
Light reflectance value is a scale designed to measure how bright a color is, and ranges from absolute black at 0 to sheer white at 100. The higher the number, the brighter the color. Off-whites range from about 73 to 82 on the LRV scale.
Where Can You Use Classic Gray?
Classic Gray has a couple of traits that make it extra versatile. Its greige coloration gives it balance, making it easier to coordinate with other colors.
Meanwhile, Classic Gray is light enough to bridge the divide between colors and off-whites, allowing lots of options for where you can place this color in your home. It's bright enough for small and dark spaces, and clean enough for trim against darker colors, yet has enough depth to be used as a wall color.
So if you hadn't guessed yet, this means you can use Classic Gray anywhere in your home, and that includes on the exterior. Let's take a look at this versatile neutral in action!
Living Room
Classic Gray offers just enough contrast for a clean white like the Simply White accents in this living room.
Classic Gray is a great backdrop for bold, geometric decor in this living room.
Kitchen
Classic Gray shows off its abilities as a transitional color in this neutral kitchen.
Classic Gray is a popular kitchen cabinet choice that also works well with metals like the black and bronze accents in this kitchen.
Dining Room
Classic Gray is simple and calming on the shiplap ceiling in this neutral dining room.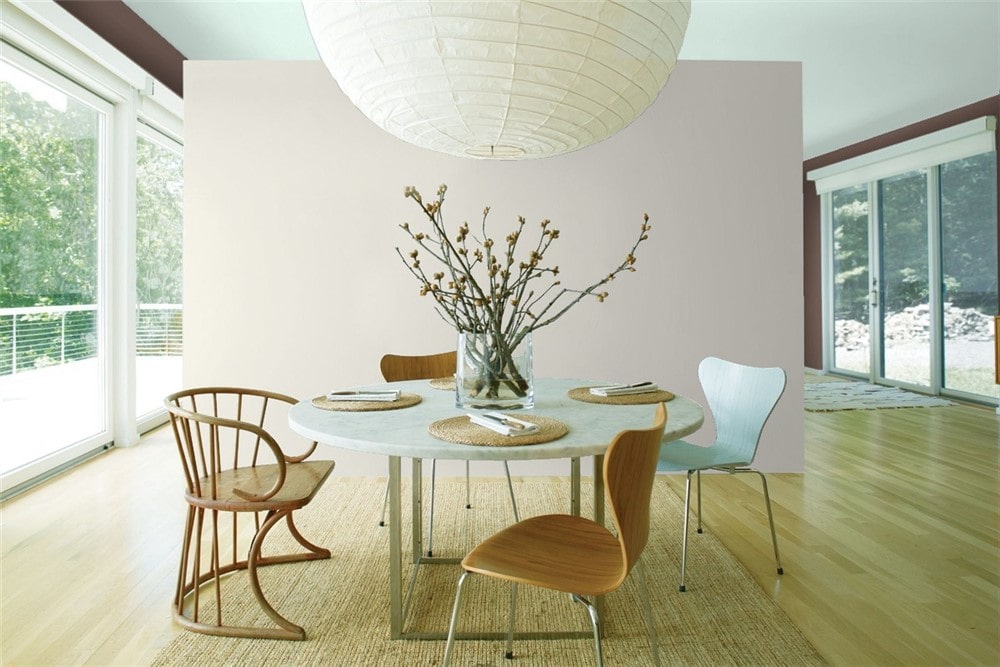 Classic Gray glows as the backdrop for this modern, minimalist dining room.
Bedroom
Classic Gray walls create a transition between the white ceiling and rustic wood beams and flooring in this farmhouse bedroom.
Shades of cream and linen are excellent companion colors for Classic Gray.
Nursery
Classic Gray pairs with Smoky Blue for a subdued, neutral take on a nursery.
Classic Gray and Hale Navy are traditional colors blended with modern style in this nursery.
Home Office
Blues and greens will really pop against a backdrop of Classic Gray, so they're great for furnishings or decor items.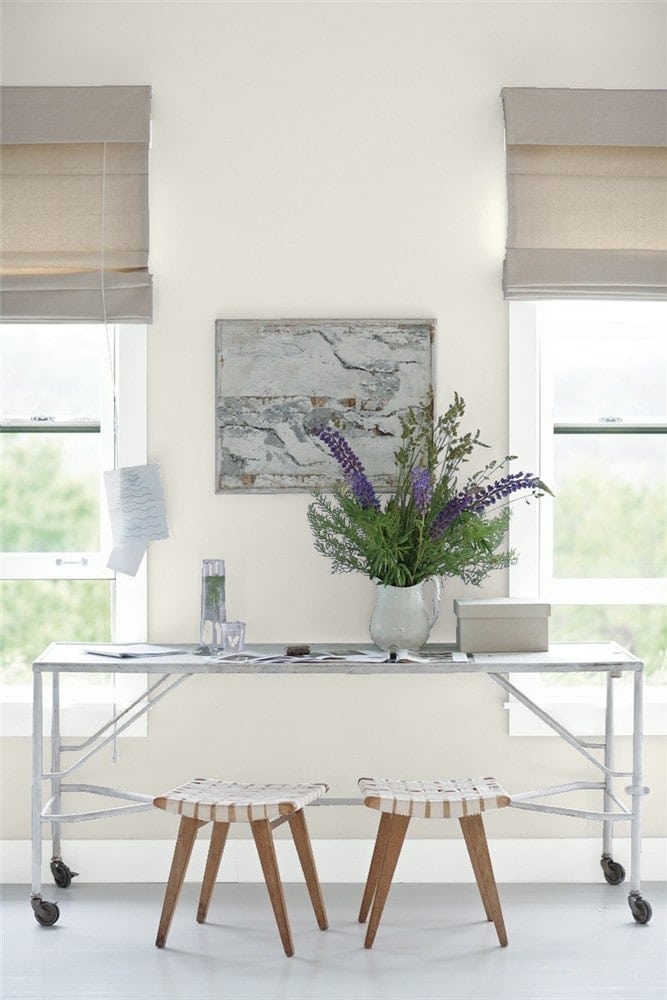 Classic Gray has a gentle, creamy appearance that adds a pleasing natural ambience to this office, played up with fresh plants and wooden decor.
Laundry Room
Classic Gray brings wholesome farmhouse vibes to this laundry room that's almost pretty enough to make you want to do your laundry!
Mudroom
Classic Gray is more often used as a wall or cabinet color, but this mudroom changes things up by using it as a trim.
Entryway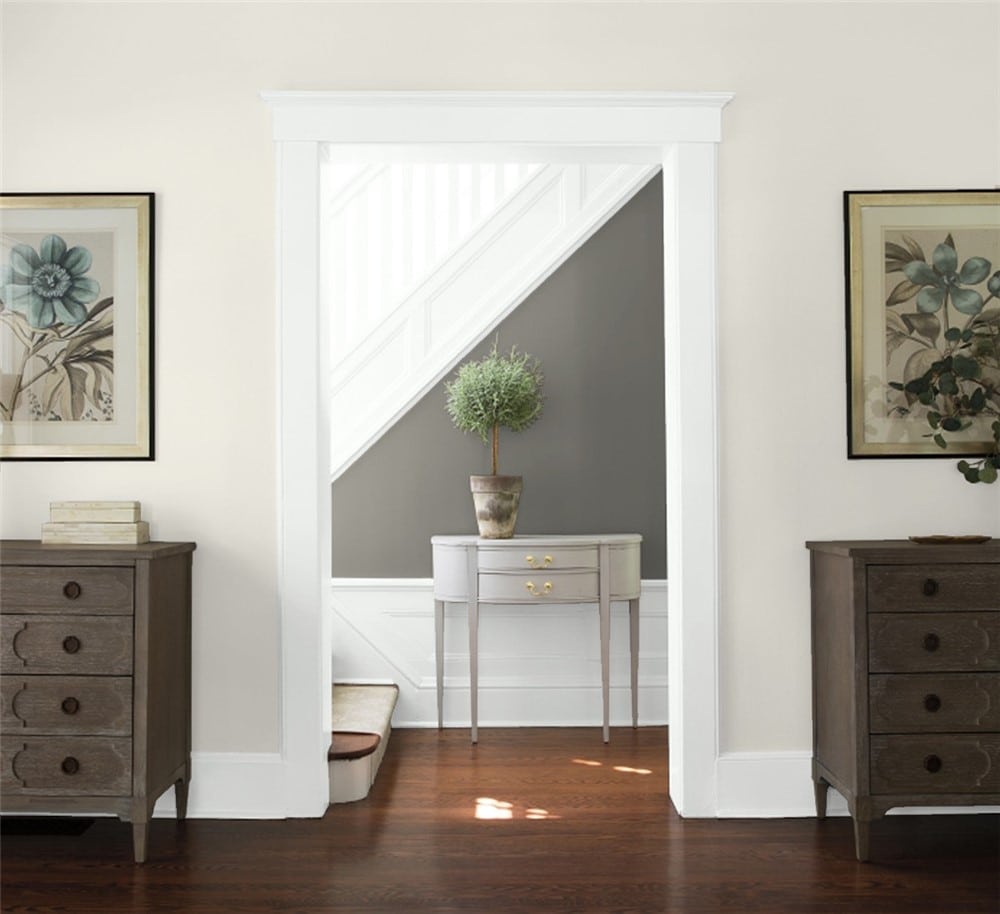 This simple and sophisticated entryway combines classic gray with a charcoal gray and a clean white for a traditional look that's always elegant.
Exterior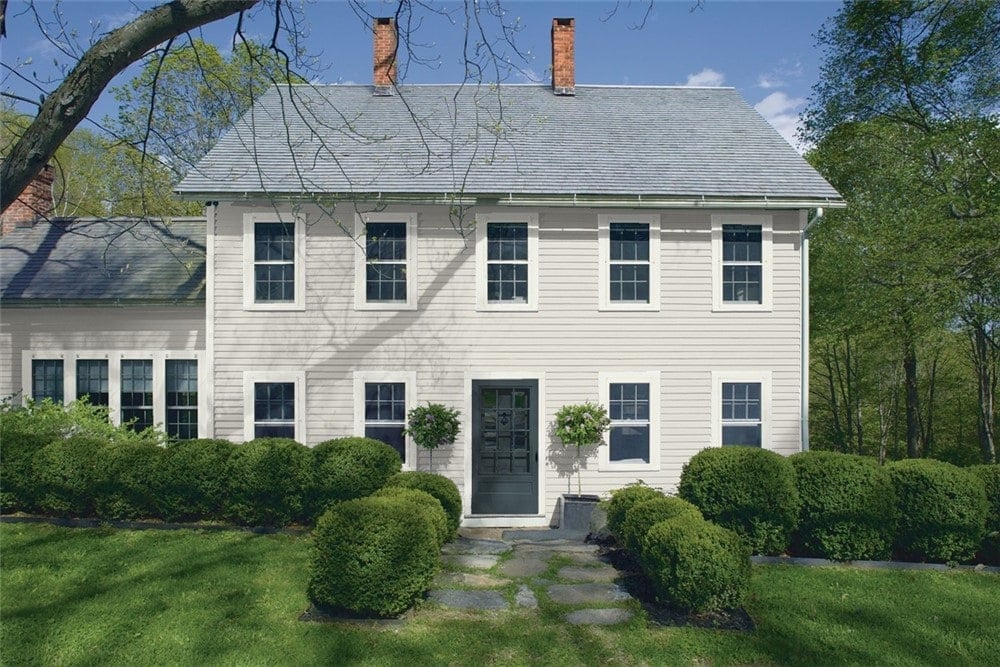 Classic Gray shows its cool side on this historic exterior.
Classic Gray takes on a whole new demeanor outside, glowing under the bright natural light.
Coordinating Colors for Classic Gray
Classic Gray is an easy-to-use neutral with a lot of versatility. You can pair it with all your favorite colors and it will be very forgiving.
Blues are always beautiful companion colors for grays, and you can use any of them, from navy blues to smoky blues to teals.
Black, white, and gray is a combination that is sophisticated and timeless. It looks beautiful with gold or silver metalwork too.
A fun companion color for grays is pinks. Classic Gray is a warmer gray, so you might like to try it with a coral or salmon pink.
To help inspire you, here are some coordinating color ideas for Classic Gray:
How Does Classic Gray Compare to Other Colors?
Classic Gray vs Pale Oak by Benjamin Moore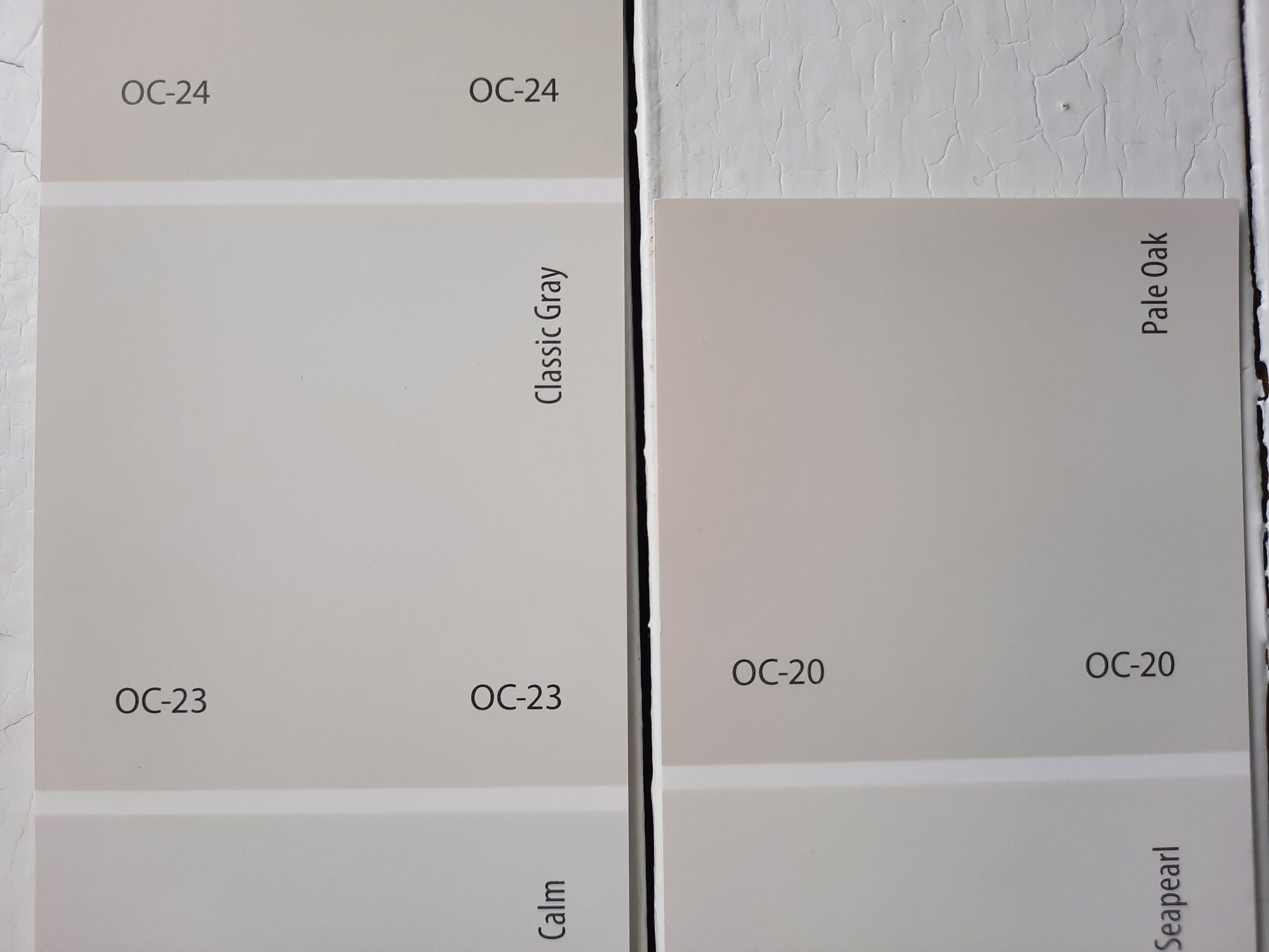 One of Benjamin Moore's most enduringly popular paints, Pale Oak is a light greige color. It's got a lot of tonal similarities to Classic Gray, but it's a bit darker, with a LRV of 68.64.
Use Pale Oak if you want to see more color; go with Classic Gray if you want a lighter touch. 
Classic Gray vs Halo by Benjamin Moore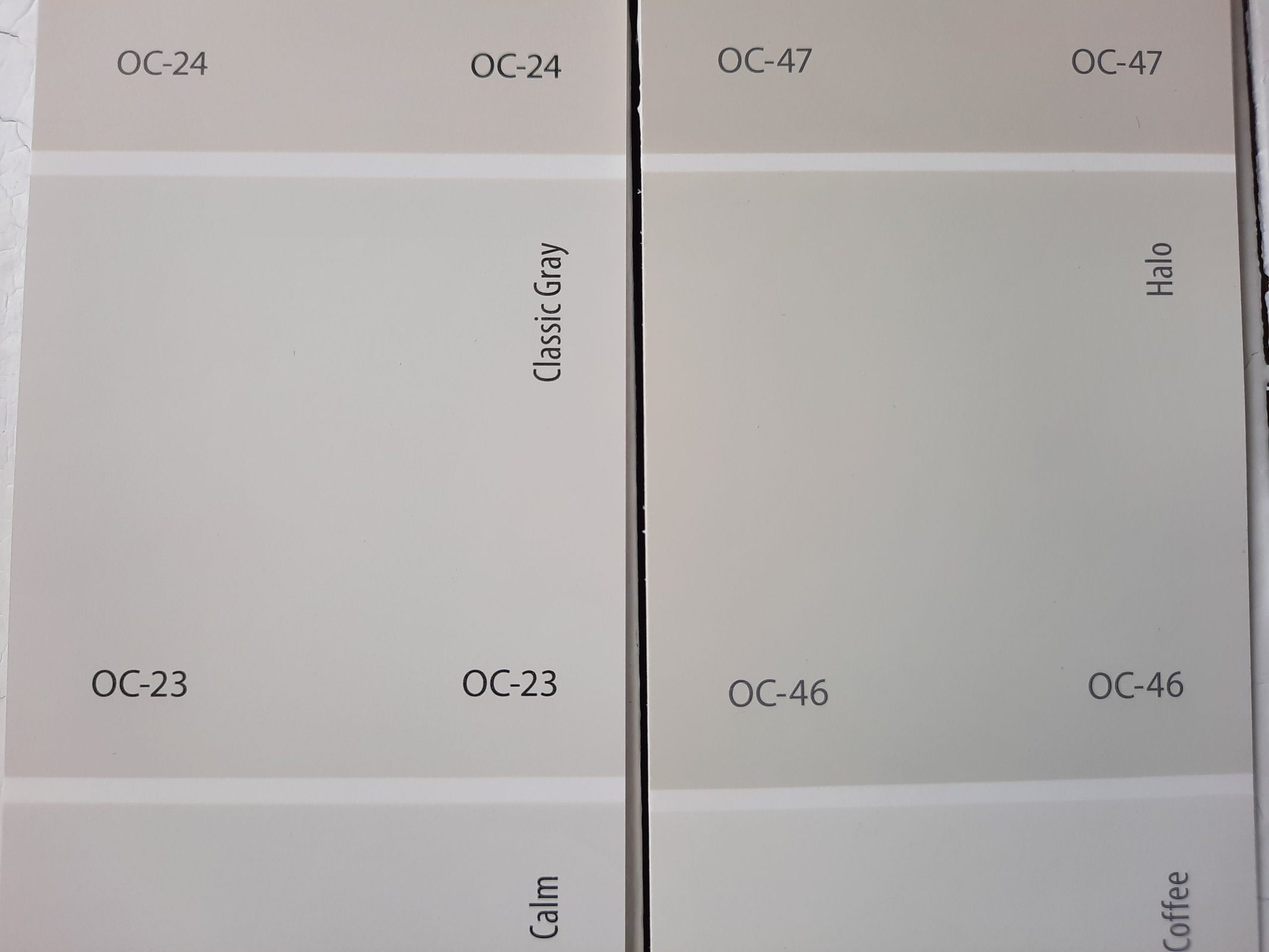 Halo is a complex neutral that Benjamin Moore describes as "the softest shade of silver with a touch of green". Its gray side brings it close to Classic Gray, and its LRV of 71.74 is very comparable. Choose Classic Gray if you want something that reads a little more white.
Classic Gray vs City Loft by Sherwin Williams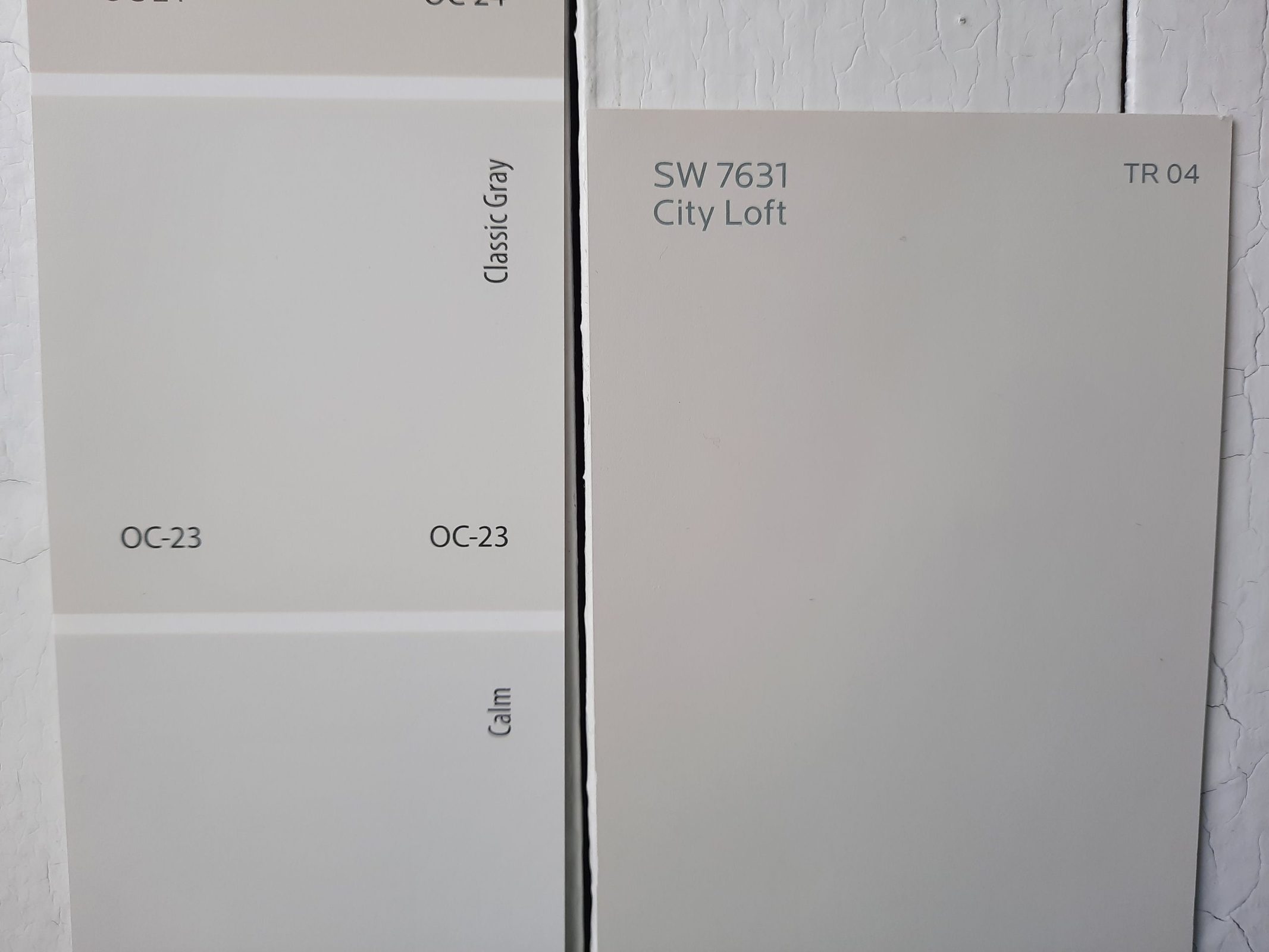 City Loft is a light greige color. It's warmer than Classic Gray, with more of a beige/gray balance, and just a couple notches darker, with a LRV of 70. Go with City Loft if you want more depth.
Classic Gray vs Cameo White by Behr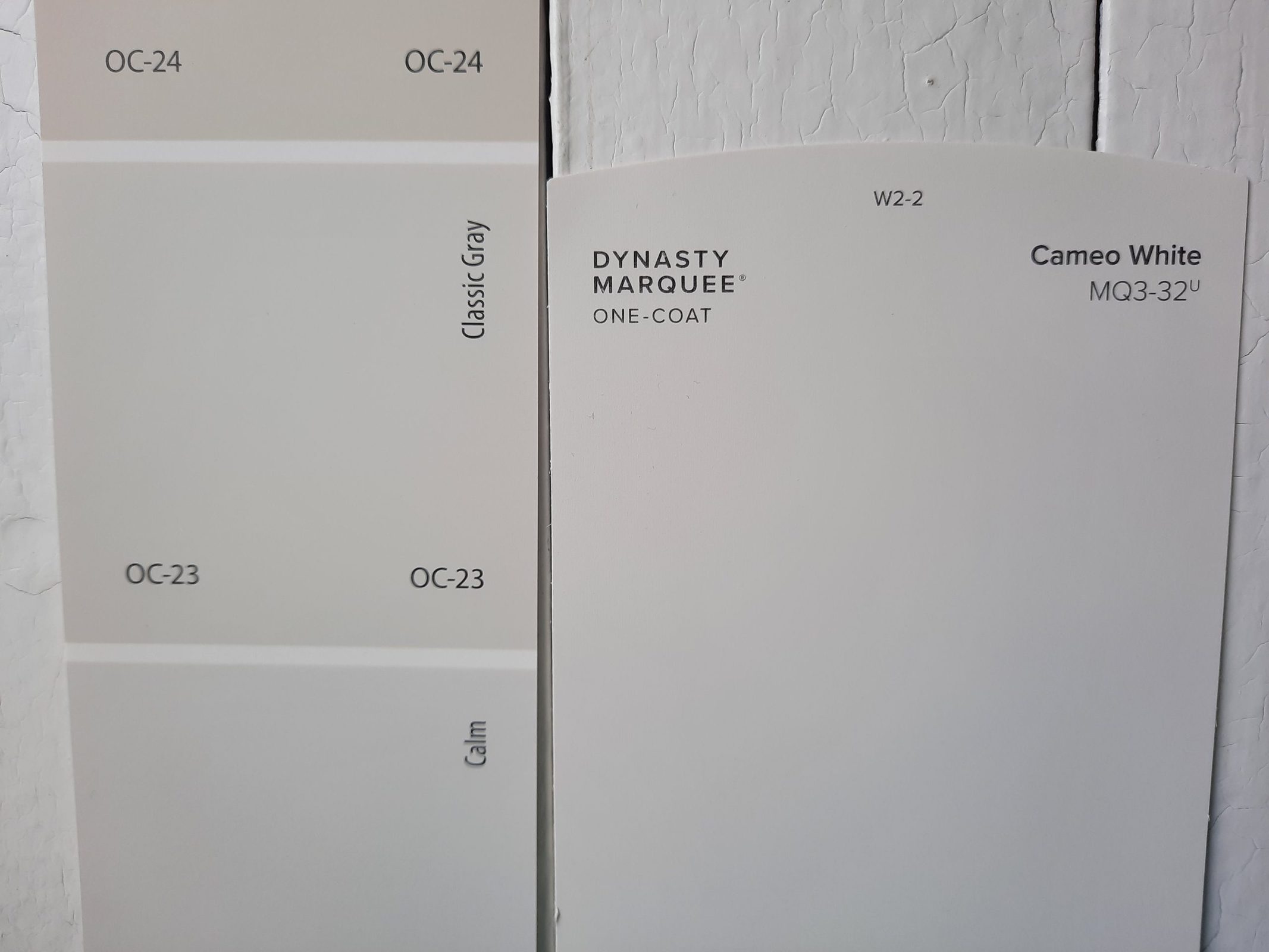 Cameo White is a slightly warm white in the same tone family as Classic Gray. It takes things up into the off-white/pure white borderline with a LRV of 81, and comes across as a cleaner white when side-by-side with Classic Gray.
Final Thoughts
Classic Gray is an easy-to-use complex neutral with a wide range of applications. You shouldn't have any difficulty using it where you'd like in either your home or your chosen palette.
You also shouldn't have to worry about this color going out of style anytime soon–reports of its demise have been greatly exaggerated, if Instagram is anything to judge by! Enjoy your next home refresh, and happy painting!