Gray Accent Walls: A Trend That's Here to Stay
Gray is on-trend, cool and versatile. On an accent wall it'll modernize a room and give it some substance.
Choose your decor for the kind of home you have. Whether that's cozy and conducive to sitting and sharing the latest gossip, or more austere and minimal for those who like everything super tidy.
There are many shades of gray so the rest of the room will suggest the tone of gray you might want to use. And don't forget that you can use texture to full effect also.
Window Accent Wall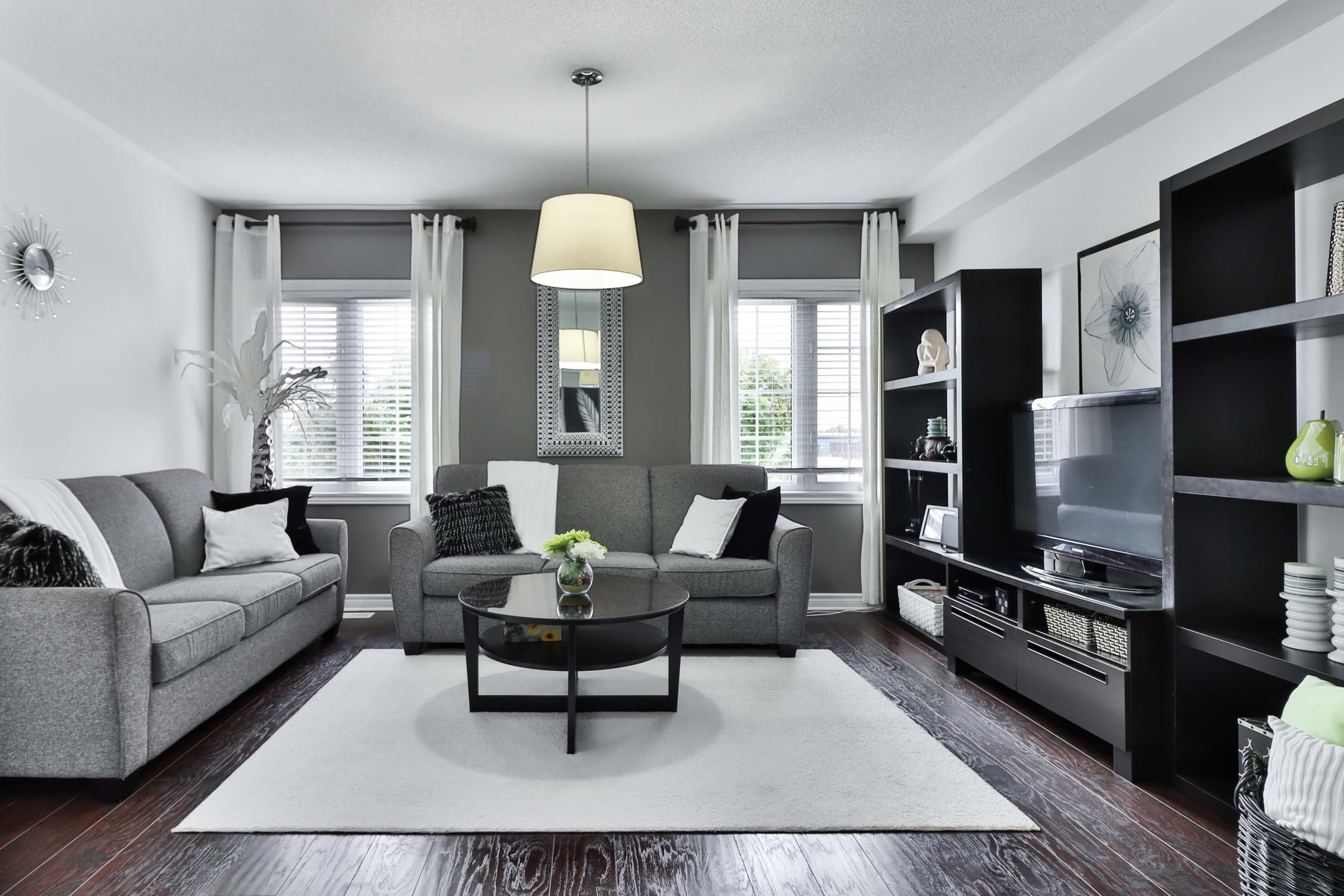 We'd usually think the wall with the fireplace or TV should be the chosen accent wall and this can work really well. But if you have white window frames, then you could edge them with a mid gray paint on the wall for a cool, sharp look.
Style the walls with white shimmery curtains and an embossed design mirror. A gray wall also looks good with dark hardwood floors.
Unusual Angles Painted in Gray
If you have a room with a sloping ceiling, angled walls or with a beam from where you knocked through to have an open floor plan, then gray is a good color to accentuate architectural features.
Look at the shape of the room and work out where there is most interest. Then paint the wall from floor to ceiling in gray in this area. Keep other walls white or a pale shade.
Add funky art to the wall and mirrors. For warmth in the room, you can use tan colored furniture and natural woods.
Gray and Wood Coordinated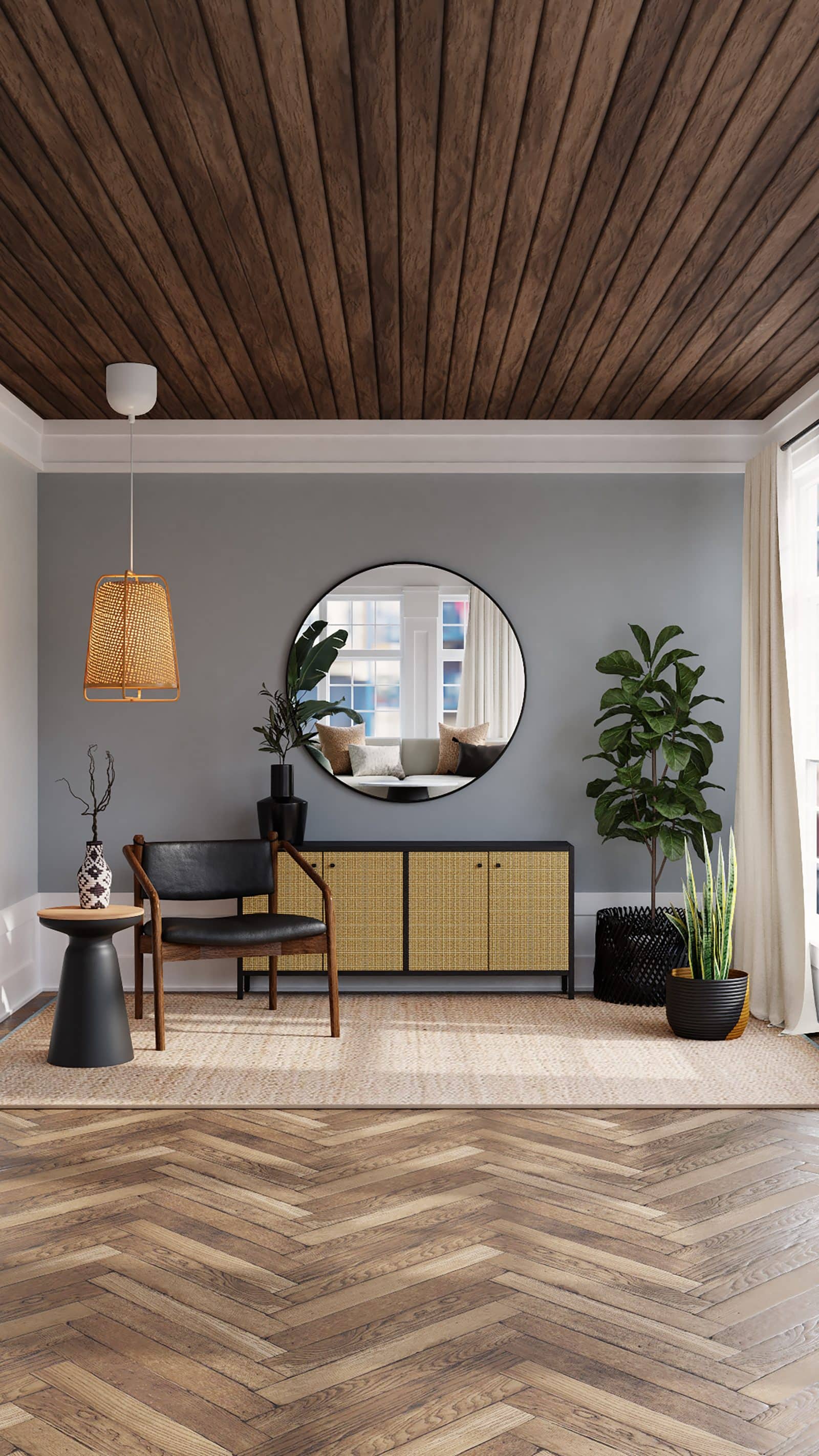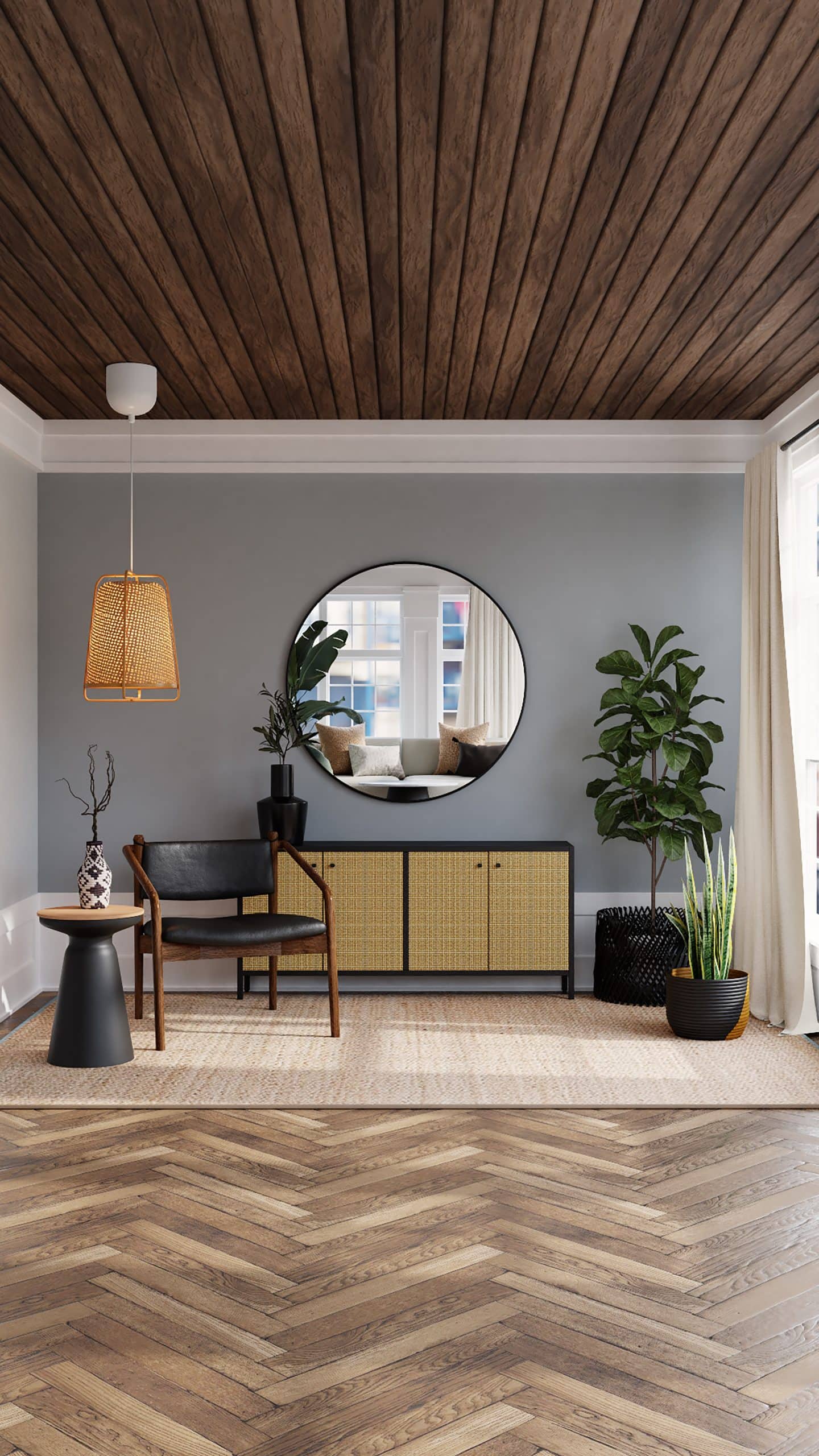 For an example of gray at its best, use it as the backdrop to wood tones. If you have a beautiful herringbone floor then a gray wall is a top choice. And it also looks fabulous if you've gone the whole hog and used wood on your ceiling.
Black furniture and ornaments speak of a modern look but can be given depth by using textures such as rattan and cane. And this can be further softened by adding large exotic plants in woven pots.
Cozy Grays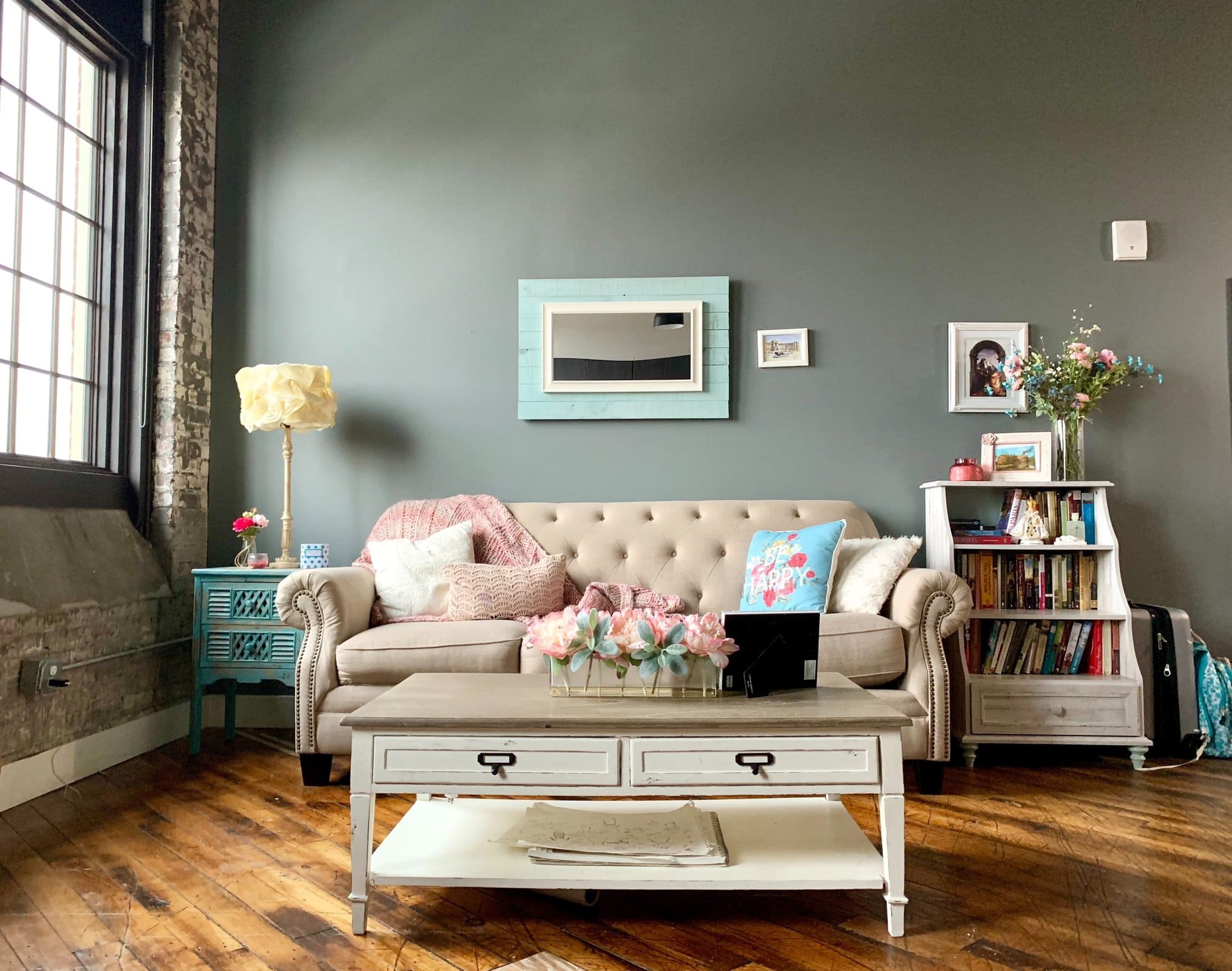 A pigeon gray wall paint can be made to look cozy, even romantic, through the way it is styled. Mis-matched furniture in varying colors looks homely. See what you can pick up at your local antique store or online, perhaps even for free.
Then books, flowers and candy-colored soft furnishings are added to a super soft velvet sofa. These textures add warmth and interest to this style.
Retro Accent Styling
A gray wall can add elegance to a mid-century theme. Paired with soft translucent curtains, this can provide a backdrop to mid-century furnishings such as rattan lampshades, and cool, stylized furniture.
Using natural tones such as honeyed wood and soft furnishings in creams and beiges will add depth and warmth. And of course any look is given both drama and homeliness by large, leafy plants.
Panels for Period Elegance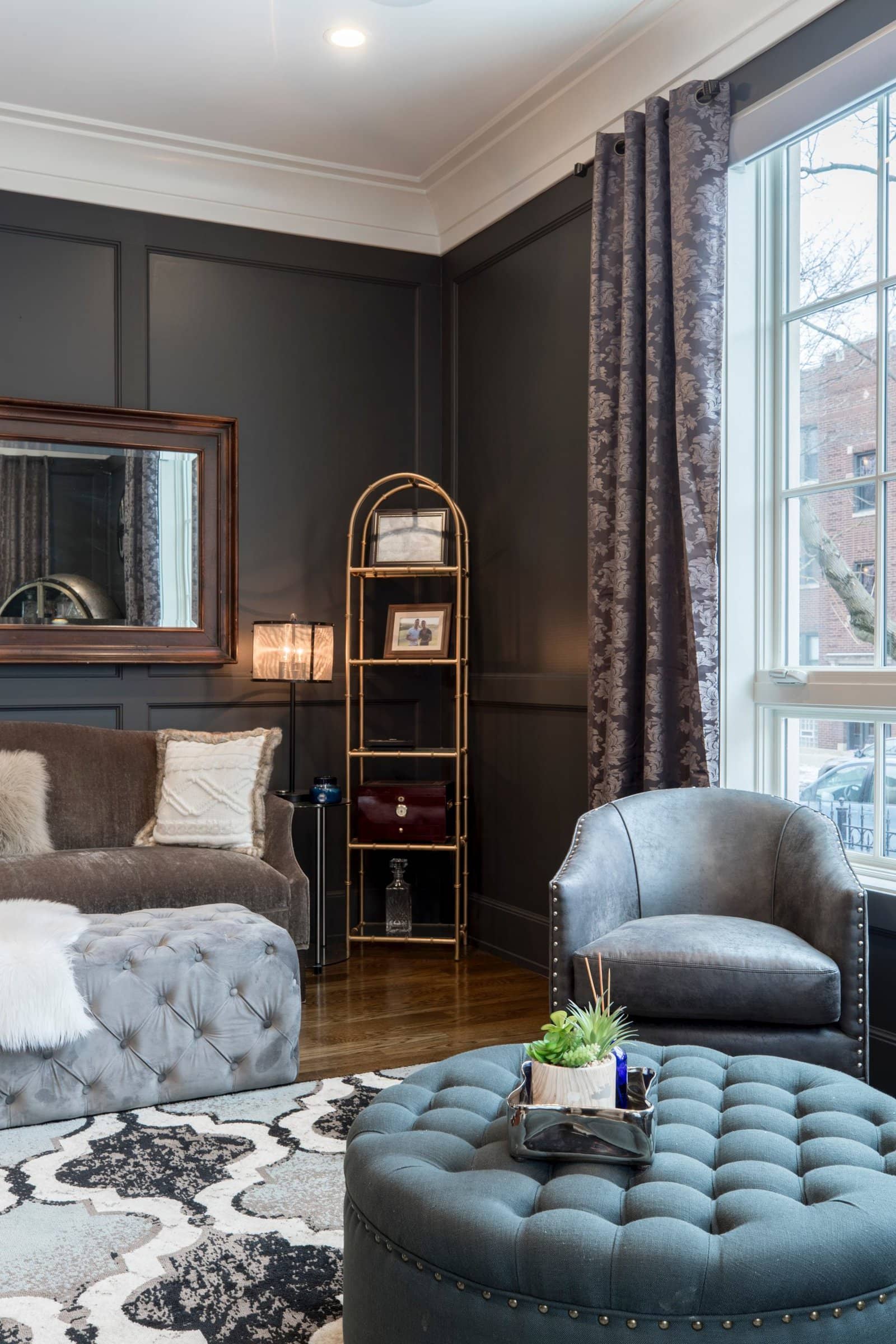 For a regal look in your home you can add a period touch by installing panels on your wall and painting in a rich, dark gray. These are straightforward to add yourself so you can do this on a budget.
Furniture and accessories should be plush and indulgent. Think velvet upholstery, wool rugs, metal mirrors and long, brocade curtains. Then picture yourself cozying up on the sofa with your favorite to tipple and lie back to soak up the luxury.
Paneled Shiplap Wall
If you love the idea of panels but want something more modern you can experiment with the way you angle shiplap or wood panels on the wall.
Just turning shiplap so that it runs diagonally on the wall instantly updates a tired room. A battleship gray lends an industrial touch for a full modern theme.
If you want a more traditional ambience then choose brass curtain poles, and beige and brown tone soft furnishings.
Gray Wallpaper Accent Wall
For muted sophistication, take a look at the variety of wallpaper available to see if there is one you love. A dappled, speckled effect with pattern gives a more intricate focal point than plain gray.
To show off an expensive wallpaper to its best effect, you can style with plain monochrome furniture and cushions. And for a trendy touch, add a vase of dried pampas grass.
Gray Wallpaper for Accent Bling
Sometimes you've just got to go all out on the glitz and shine! If you like shiny surfaces and metallic finishes then take a look at metallic wallpaper choices.
A silver textured wallpaper will look fantastic with white furniture and metal lights and hardware. As well as with simple metal lamps. Fabrics should be soft and luxurious to complete the look.
In Closing
A gray accent wall will add interest and a contemporary feel to your home. In your living room, the fireplace wall may be the first wall you'd think of choosing for an accent. But look at the shape of the room and think about where there could be the most impact.
As well as the many shades and tones of gray, you can also experiment with texture by adding wood panels, or an embossed wallpaper.
For full effect, styling is key. For a modern gray, choose a darker hue and accessorize with a monochrome scheme. For a warm, period look, match with beiges and period furniture. Whatever your taste, there will be a gray to complement your individual style.