6 Kitchen Cabinet Color Trends
Refreshing Kitchen Cabinet Color Trends 
One of the fastest ways to update your kitchen is by changing your kitchen cabinet color. There are a lot of different kitchen trends this year, but cabinet colors is the easiest one to change, whether its to a new or older style kitchen. Right now it's not only the color choices but how they are used that is making a difference. Here are 6 kitchen cabinet color trends to choose from.
1. Color Blocked & Two-Toned Kitchens
Prominent color blocking is used to create areas within the kitchen as a feature. The trend is moving away from one color kitchen themes and towards color blocked and two toned kitchens.
The emphasis is also moving towards using an interesting mix of materials and surfaces.  
2. Dark Paint Colors
There are more and more dark colors in the kitchen; using at least one dark color as the focus. These dark colors are balanced and contrasted using either lighter or brighter colors or bright or reflective materials.
Of all the dark colors, black is the most popular; right behind black are ebony and dark charcoal gray, which are elegantly contrasted with white or light gray. 
Black may seem like a difficult color to use in a kitchen but when matched simply with other colors it can create a very stylish and bold kitchen, that is soothing and very modern.
You need good natural light to carry this off well; add warm wood to lighten the mood and balance the mat black surfaces. Working surfaces remain light and kitchen cabinets, floors, appliances and even ceilings are in darker hues.
Black, white and green in vivid, pale or jewel-toned colors are very much on trend, as are elements of mid-century modern design and mountain modern style. Vibrant green tiles above, and soft mint accents below, are great examples of how to use green with black and white in the kitchen according to your style and taste.
Along with black cabinets, black appliances and black stainless steel are also trending and work well with white, black, gray or timber surfaces. 
3. White & Off White Kitchen Colors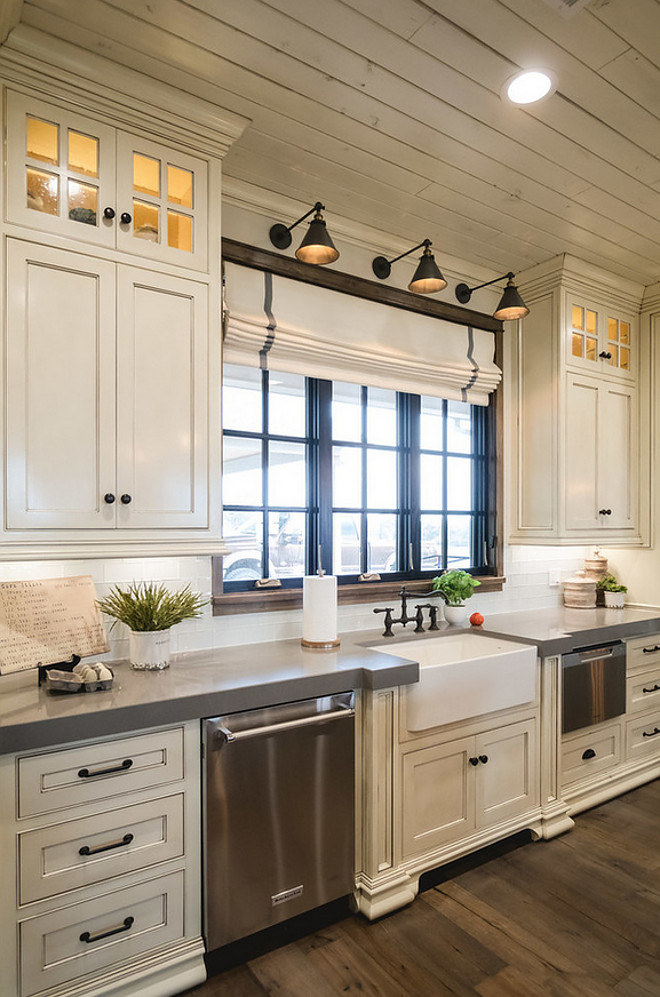 White remains at the forefront as a classic kitchen color. But what used to be a color faux-pas, white is now paired with off-white to create character rich kitchens. Creamy off whites and linen hues move your kitchen away from stark white to stunning. They are on trend this year along with pullouts and rollouts.
4. Gray Painted Kitchens - Yes or No More?
With gray kitchens taking the limelight for almost a decade, is gray still a trend setter when jewel colors like emerald-green and sapphire blue become the new trendy colors? If you are planning a gray kitchen are you at the end of this trend or in the middle of it?
While gray is still on the 'What's Hot' list but the love affair won't go on forever. The last thing you want is to remodel or paint your kitchen and find it's already dated. 
One approach is to select a different color for the surfaces that are the most difficult to change; like your counter tops, flooring or backsplash. Use gray where it is the easiest to change; walls, pull handles, curtains, linen and textiles. How about using wallpaper to change the look of your kitchen cabinets?
If you are looking for the latest grays, the hottest grays include Benjamin Moore's "Sandlot Gray", "Stormy Monday","Wish" and Knoxville Gray. They are very different; hinting towards lavender, green and blue.
5. Green Kitchens
Expect to see more green in the kitchen; from fresh, deep, emerald or even pale green. Test it in your current décor by placing herbs, ferns or potted plants in your kitchen to see which shade you like best before making it one of the predominant colors in your kitchen.
The most popular greens right now include emerald-green, Kelly green, blue greens, sea green, mint green and deep teal. Deep forest green is dramatic and wonderful day or night. You can add crisp marble counter tops, and brass fixtures for a truly luxurious look or go cool and dramatic with cool mint cabinets and silver appliances and black counter tops. 
Many designers are fans of the minty hues that are increasingly popular in kitchen decor for a subtle but elegant look. 
6. Blue Kitchens
Blue has come along as a fresh accompaniment to pair well with gray. There are so many beautiful blues to choose from; icy, pale, turquoise, denim and even purplish blues.
Blue lower kitchen cabinets are very popular whether in this Lulworth Blue from Farrow & Ball or navy blue, French ink blue for a greater contrast.
Remember, there are no mistakes, only challenges. Make your kitchen a great space today. Use one of these colors to change your kitchen, and let me know all about your project in the comments below.