Decorated Life is reader-supported. When you buy through links on our site, we may earn an affiliate commission. Learn More
Benjamin Moore Simply White Paint Color Review
All-white rooms have been having a moment for, well, a moment now, and their light, airy vibes can be calm and pleasant. But sometimes what those rooms lack is a little warmth. Enter the off-white.
Off-whites can ground a breezy room with some warmth and earthiness. They can make a room that otherwise might be too cool start to feel more cozy and inviting.
Today I'm going to introduce you to a white from Benjamin Moore that's bright enough to qualify as a pure white, but tinted enough to bring the warmth of an off-white. This versatile color is one of Benjamin Moore's bestsellers, and a darling of Instagram.
Let's pop open a can of Simply White!
What Color is Simply White?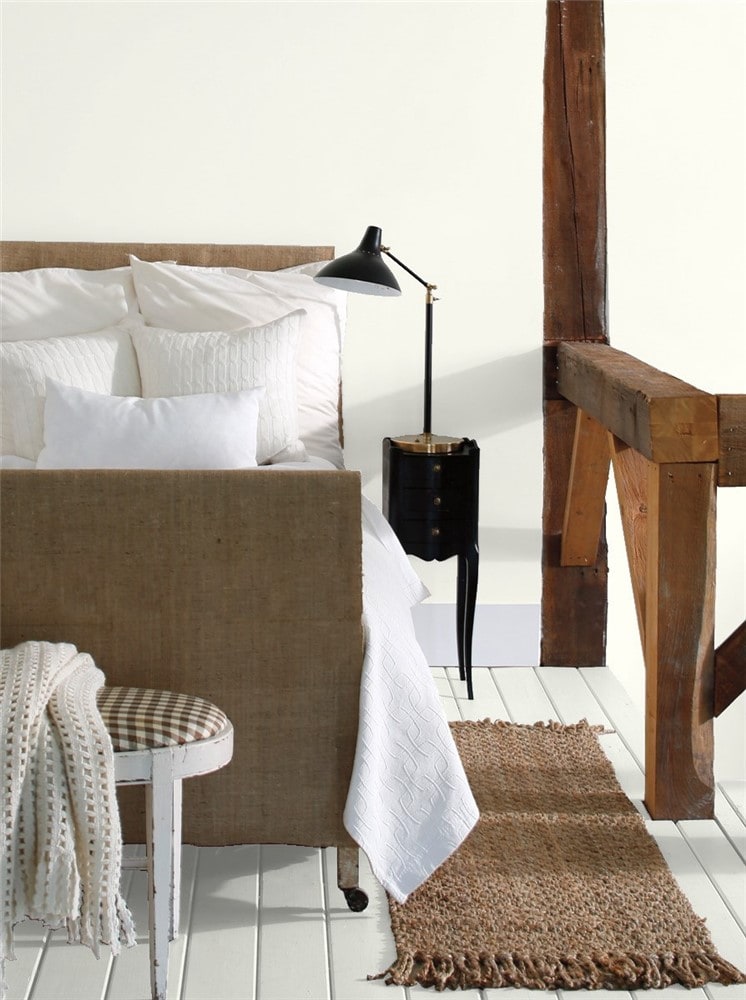 Simply White is very bright, ever-so-slightly creamy white. It's a little too bright to really be considered an off-white, but it has just enough of a noticeable beige "flavor" that it can be used as an off-white in some situations.
Does Simply White Have Any Undertones?
Simply White has very slight creamy, beige undertones. Due to this color being so light, the undertones are much more a suggestion of color than an actual color.
Is Simply White Warm or Cool?
Simply White is a warm white, but it's light enough to read as a clean white under bright lighting. There's just enough warmth there that it will come out against cool companions, such as blue-grays.
LRV of 89.52
Simply White has a light reflectance value (LRV) of 89.52. This is high enough to classify it as a pure white. Its warm undertones can give it an off-white appearance, however.
Light reflectance value is a scale designed to measure how bright a color is, and ranges from absolute black at 0 to sheer white at 100. The higher the number, the brighter the color. Off-whites range from about 73 to 82 on the LRV scale.
Where Can You Use Simply White?
Simply White is readily bright enough to use in any room of the home. But where other bright whites might become too stark or chilling, Simply White has an advantage: that cozy beige tint lends its warmth and grounding influence. This helps Simply White to become far more versatile.
Simply White is popular in kitchens, especially on cabinets. It works equally well for cabinets in other rooms, such as bathrooms and laundry rooms.
Simply White's cozy vibes are welcome in rooms where we want to relax, such as bedrooms and living rooms.
This is also a color that shouldn't be overlooked for exteriors. That extra beige tint helps Simply White stand up to bright lighting conditions outdoors with a little more body, although it will read as pure white in almost all instances.
Let's take a look at Simply White in its natural habitat: anywhere in the home!
Kitchen
Simply White and Hale Navy are a classic combination that will never go out of style.
Simply White is prized for white farmhouse and modern farmhouse kitchens.
Simply White is a beautiful choice to accompany silver metalwork in this modern white kitchen.
Dining Room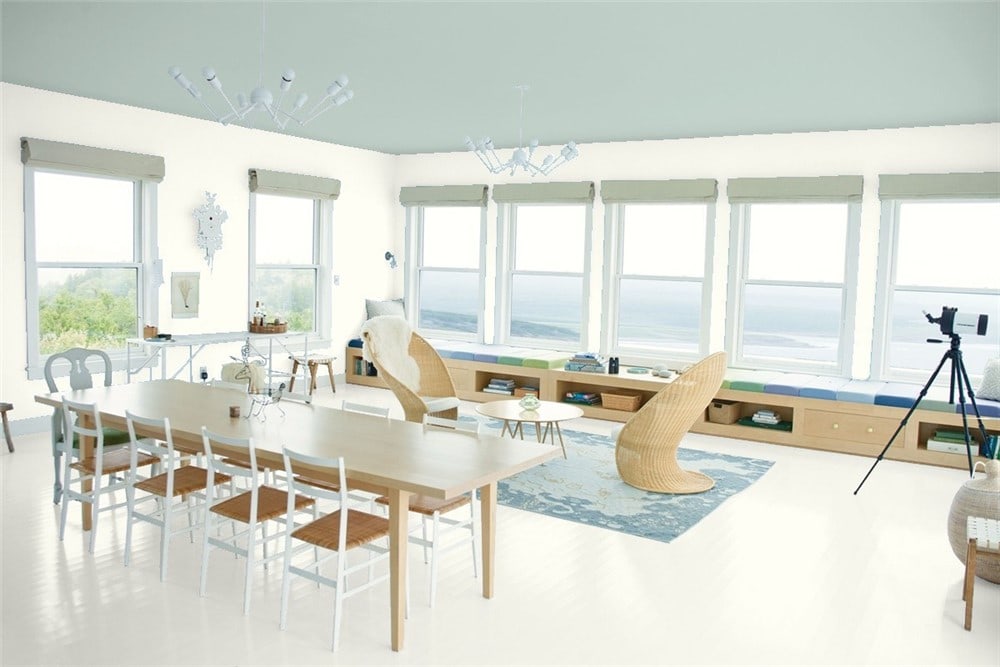 Simply White and Palladian Blue pair up in this modern dining room for a look that's coastal without being kitschy.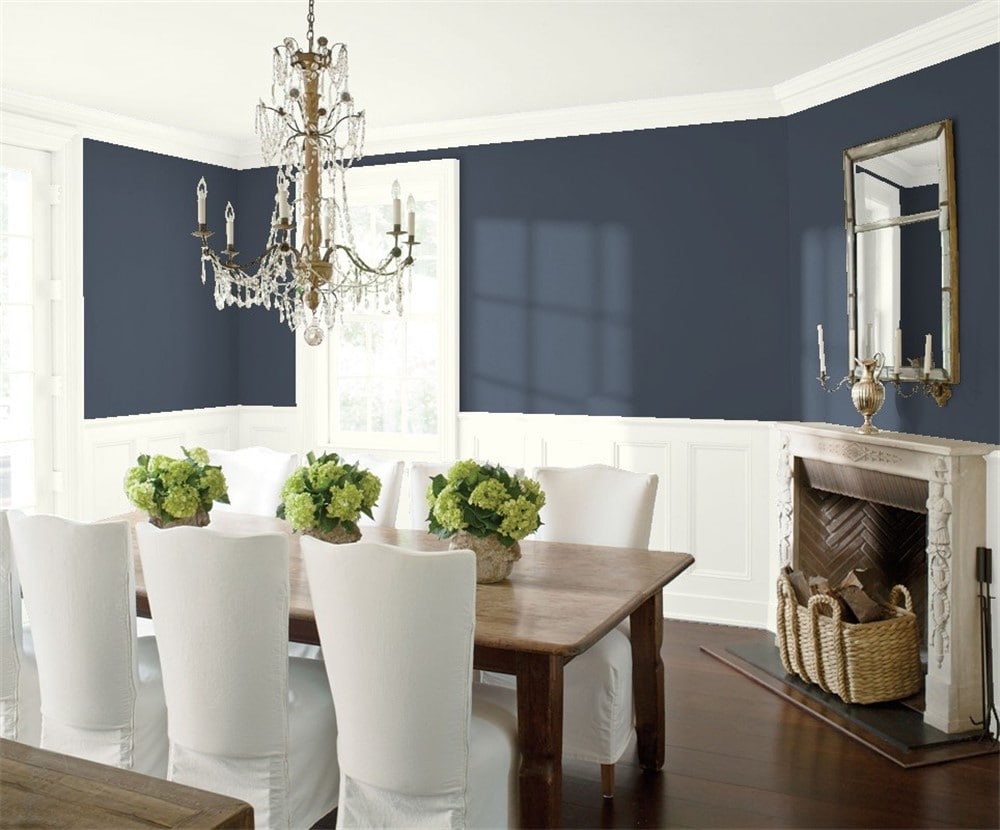 Simply White and Hale Navy bring high-impact elegance to this formal dining room.
Living Room
Simply White and Classic Gray offer a gentle contrast in this inviting neutral living room.
Warm up Simply White with natural warm wood tones–as a balanced white, it won't offer resistance from undertones.
Simply White draws more natural light into this living room in a way that's soft and pleasing.
Bedroom
A light and neutral bedroom centered on Simply White is restful and easy to fall asleep in.
Cheerful pinks and blues take Simply White in a fun and playful direction in this bedroom.
Warmer colors cozy this bedroom up, as Simply White pairs with Farrow & Ball's popular neutral, Elephant Ear.
Nursery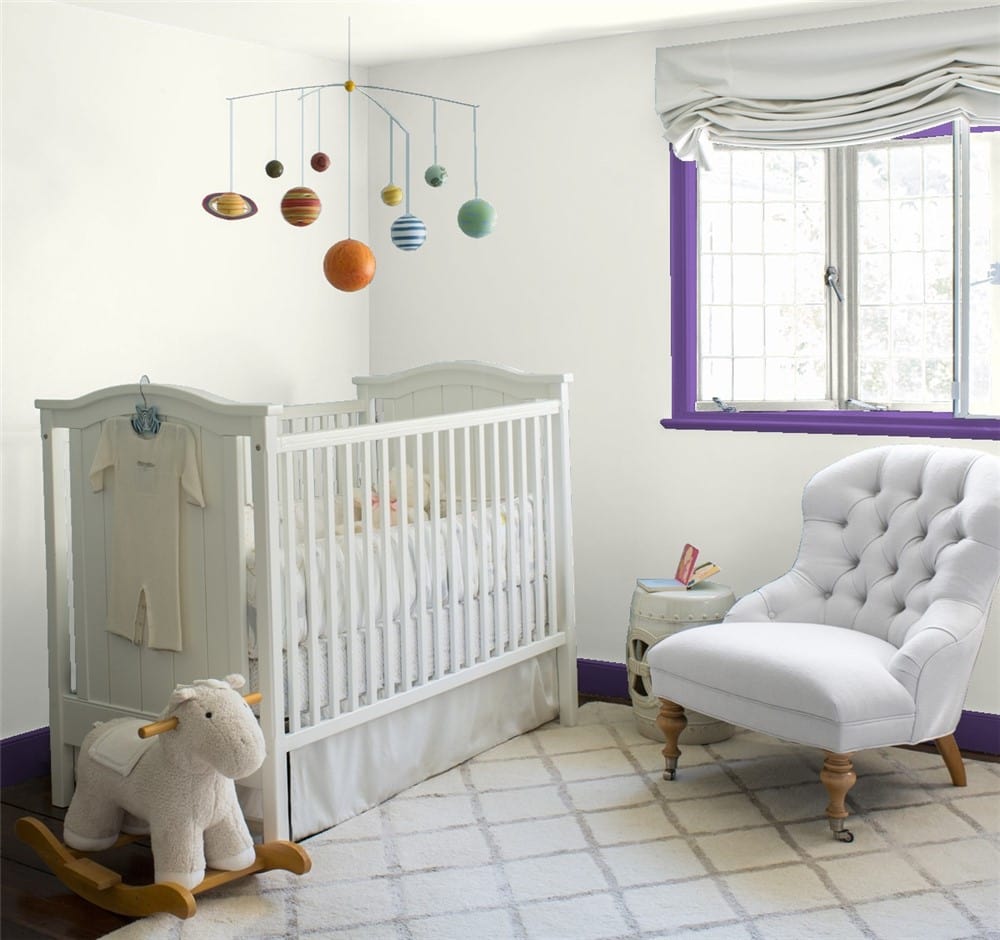 Simply White's natural warmth is comforting as it reflects natural light in this nursery.
Bathroom
Simply White can help small spaces, like this bathroom, feel larger and brighter.
You're not just limited to the walls for paint! Consider fixtures, furnishings, and accents too. This bathroom makes effective use of Simply White for its vanity and mirror frame.
Laundry Room
Simply White helps pull together a farmhouse style for this laundry room.
Home Office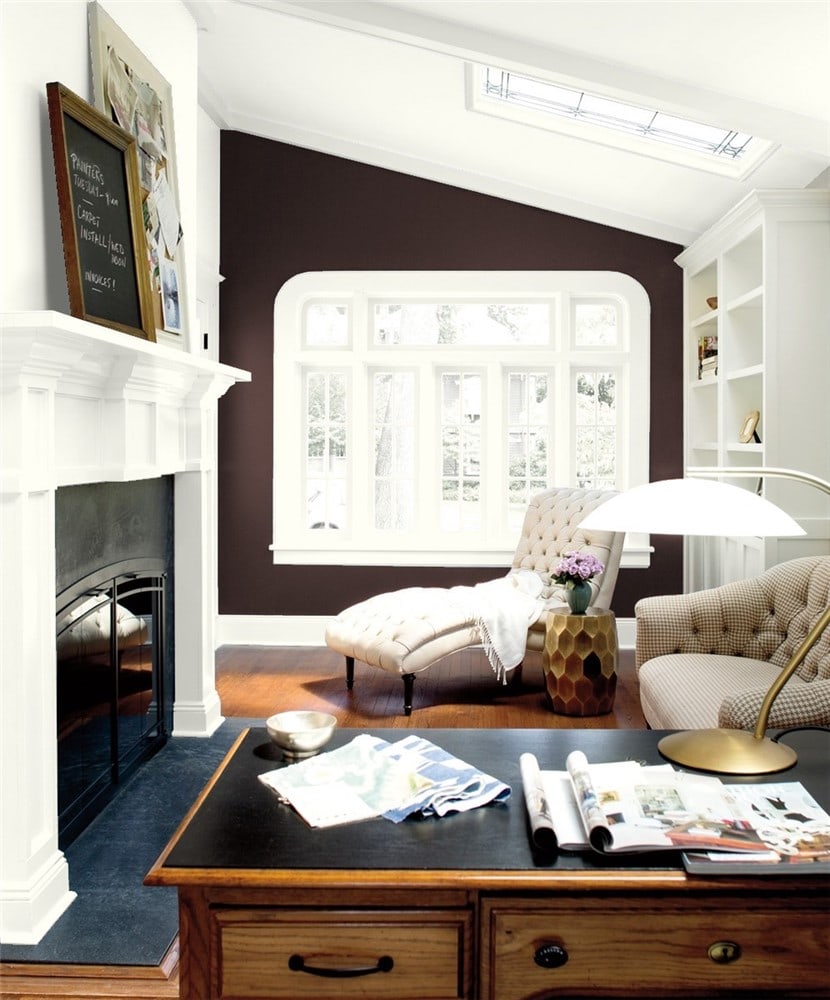 Simply White's warmth highlights the handsome tones of the furniture in this study.
Entryway
Simply White brightens this entryway while drawing attention to the front door in Benjamin Moore's Smoke.
Simply White partners with Backwoods and lots of natural and vintage decor to give this entryway major cottage vibes.
Exterior
This painted brick house exterior showcases the elegance Simply White is capable of.
Black and white, like this Simply White exterior, is a sharp, classic combination that always works.
Wrought Iron is another great contrasting color for Simply White that brings out some more moody tones to work with.
Simply White as a primary exterior color isn't your only option–it also works as a clean and crisp trim.
Simply White Coordinating Colors
Simply White is open to all kinds of coordinating color options. It's light enough to be used as a true white and added to any color palette you desire.
Just keep in mind that its warm, creamy tint is going to be more evident against some colors than others. Sample a large enough area to be sure that you like that effect before committing.
Stay away from pairing Simply White with other whites that are cooler than itself; they can look dingy next to it. If in doubt when choosing companion colors, treat Simply White like a very light beige rather than a clean white.
You may already have some favorite colors in mind when you're thinking about Simply White. But if you need some inspiration, here are some coordinating color ideas for Simply White:
How Does Simply White Compare to Other Colors?
Simply White vs White Dove by Benjamin Moore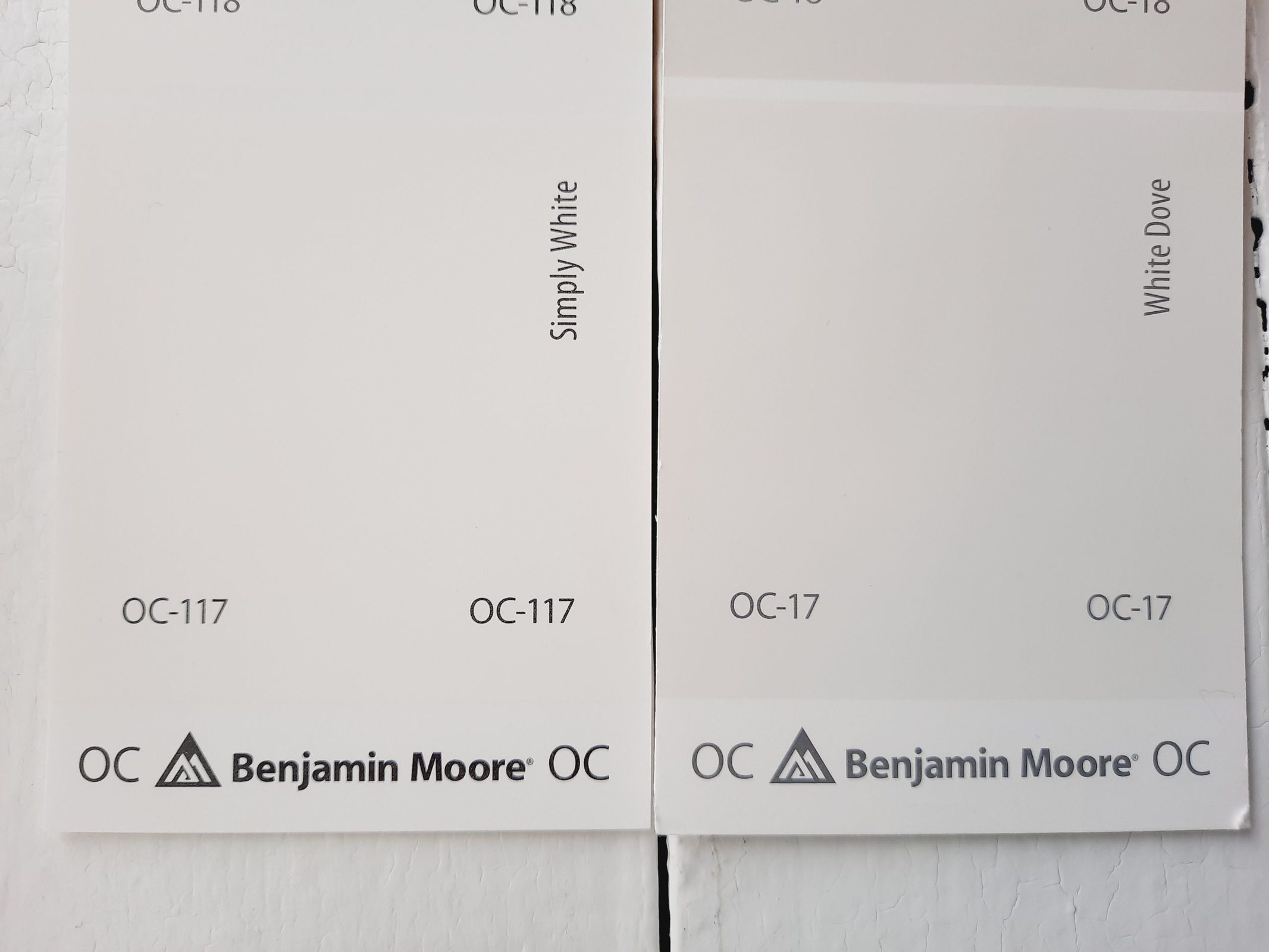 When you talk about Benjamin Moore white paints, it's practically sacreligious not to talk about White Dove! Ok, maybe it's just that way for me, but seriously, White Dove is one of their most popular paints.
Like Simply White, White Dove has a warm glow, but it doesn't go as beige as Simply White does. White Dove is a little softer than Simply White, coming close to the off-white range with a LRV of 83.16.
Simply White vs Extra White by Sherwin Williams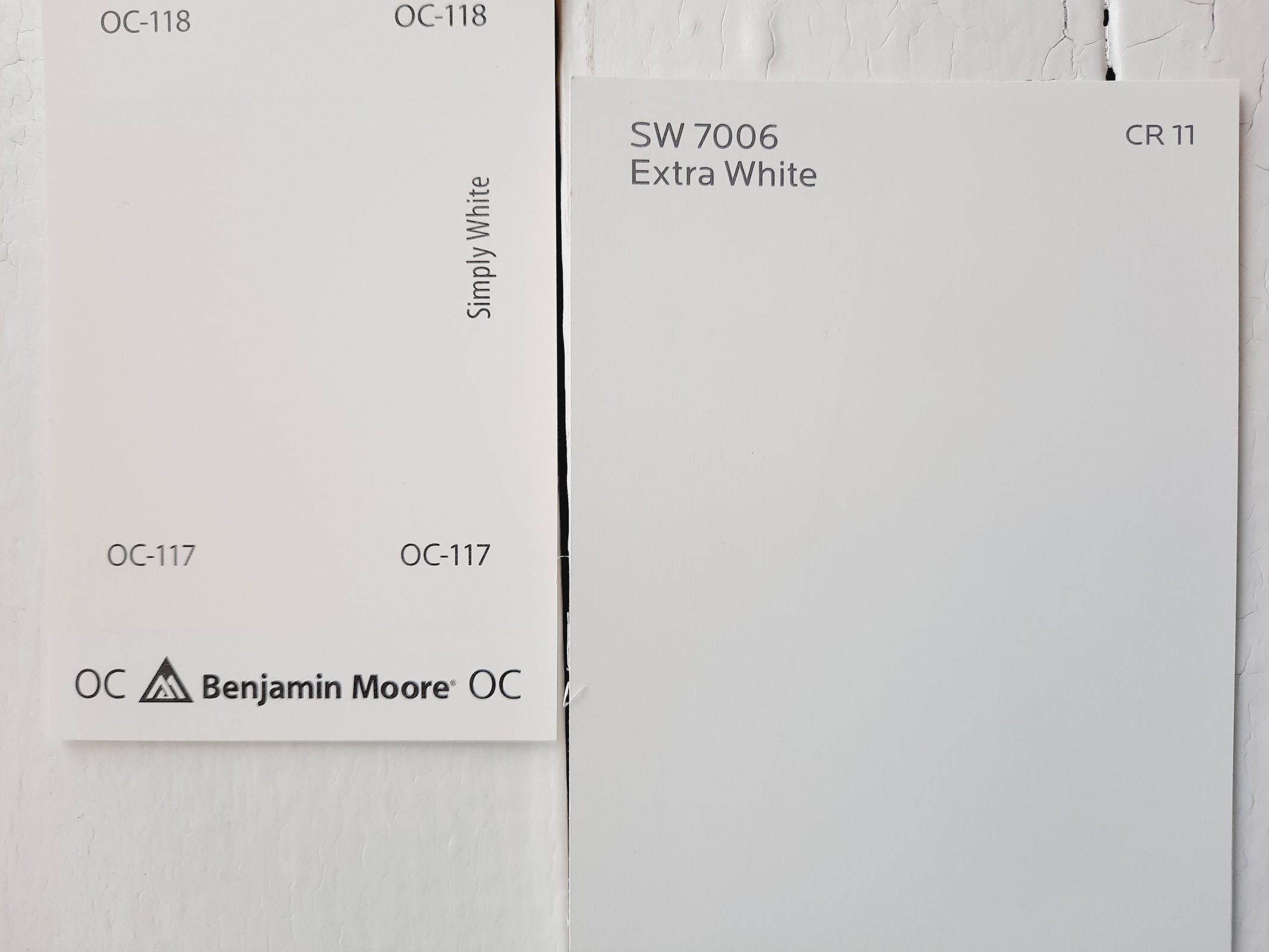 Extra White is a balanced, clean white from Sherwin Williams with a comparable LRV to Simply White of 86. Choose Simply White if you're looking for that cozy, warm tint, and Extra White if you're looking for a pure white.
Simply White vs Alabaster by Sherwin Williams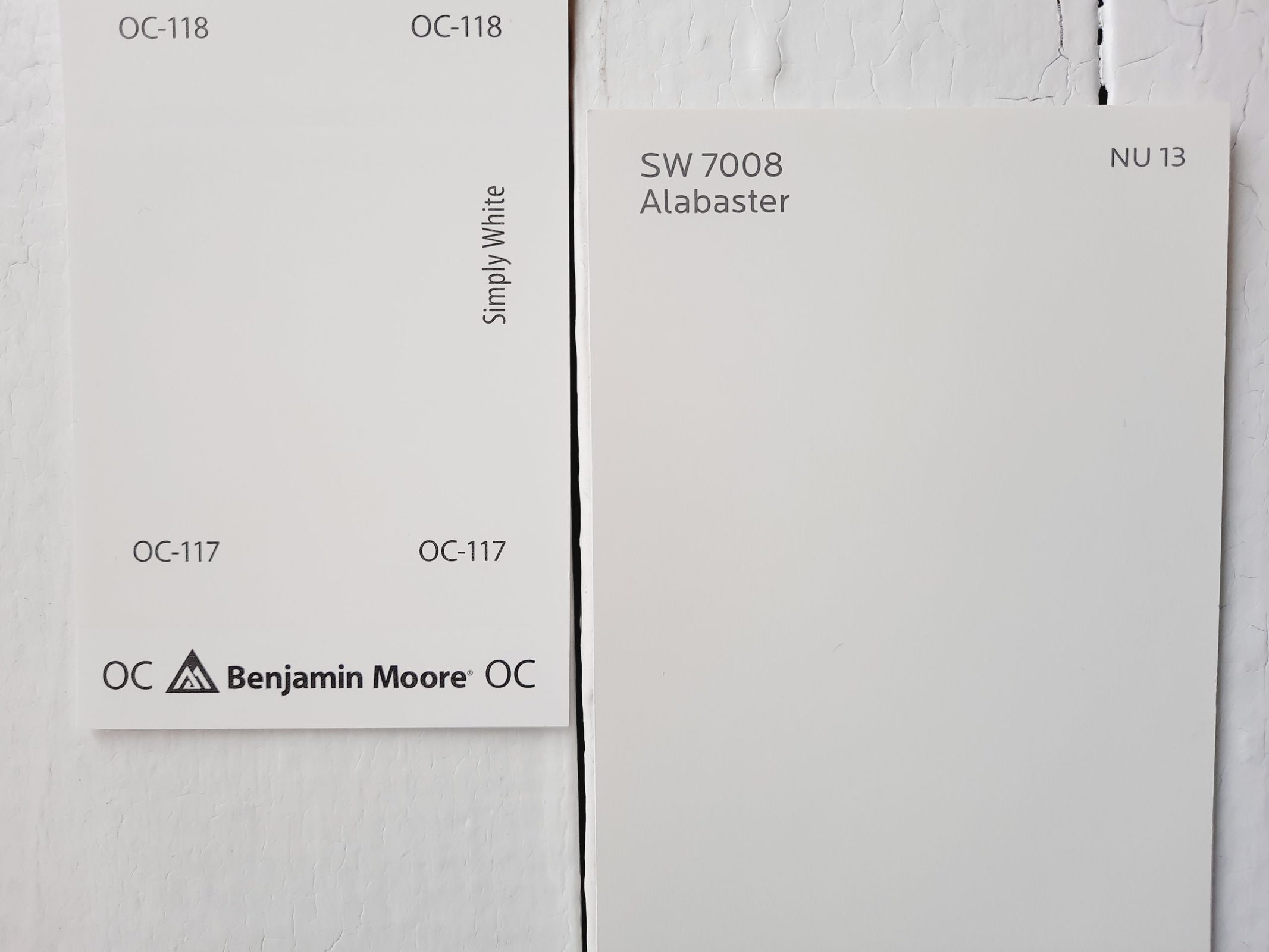 Alabaster is Sherwin Williams' take on the warm, creamy white. Straddling the divide between off-white and pure white colors, Alabaster has that same slight beige warmth that Simply White does.
Their primary difference is in LRV: Alabaster is visibly the darker of the two, with a LRV of 82. 
Simply White vs Bit of Sugar by Behr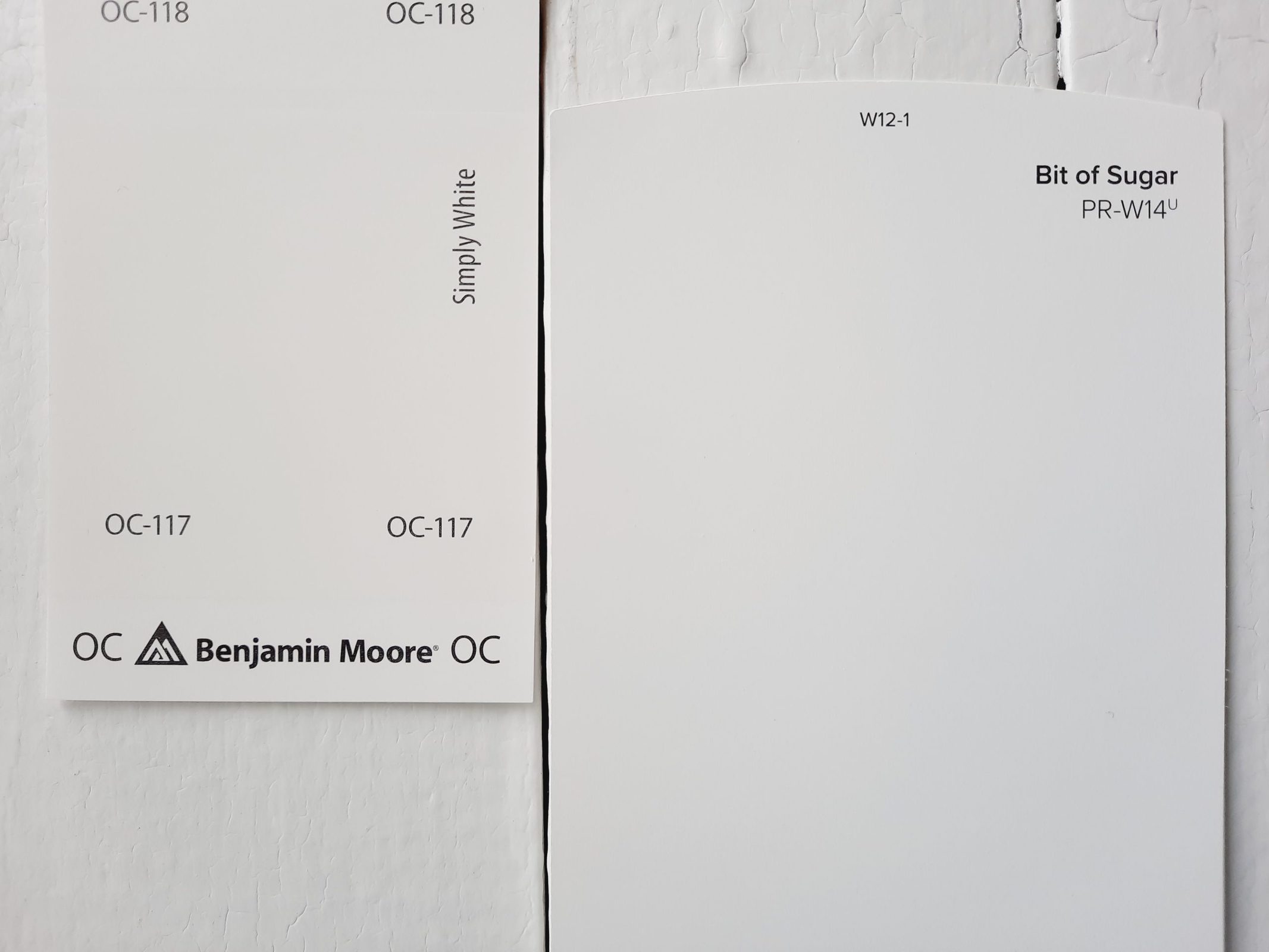 Bit of Sugar is a bright white from Behr that brings a hint of creamy warmth. Its LRV of 89 is the same as Simply White's. Bit of Sugar reads more like a pure white when side-by-side with Simply White, holding less of that beige tint.
Final Thoughts
Simply White is a bright white that brings just a little something extra to the party: a dollop of creamy beige warmth that adds to its coziness factor and prevents any room it's in from becoming too stark.
It should continue to be a popular choice as palettes trend warmer, while remaining an easy-to-use neutral that can go anywhere in the home. Paired with one or two of your favorite colors, Simply White can easily be the start of your next home refresh!