Decorated Life is reader-supported. When you buy through links on our site, we may earn an affiliate commission. Learn More
10 of the Best Benjamin Moore White Paint Colors
If you've never picked out house paint before, you can be forgiven for thinking that white paint is simple. After all, white is just white…right?
As it turns out, white can be at least as complicated as any color, if not moreso! There's warm whites, cool whites, pure whites, pastel whites…it can be a lot to take in!
Fortunately for you, I have done the heavy lifting and narrowed down Benjamin Moore's white paint colors to the best of the best. I'm bringing you their bestselling paints, their time-tested classics, and the whites that are still fresh in today's decorating scene.
Before we dive in, let me give you a quick note: this article talks about the light reflectance value (LRV) of each paint. That's a way of measuring how bright each paint is on a scale from 0 (absolute black) to 100 (sheer white). The higher the number, the lighter the white is. Easy peasy!
Now that you're prepared, let's talk about the best and brightest that Benjamin Moore has to offer!
White Dove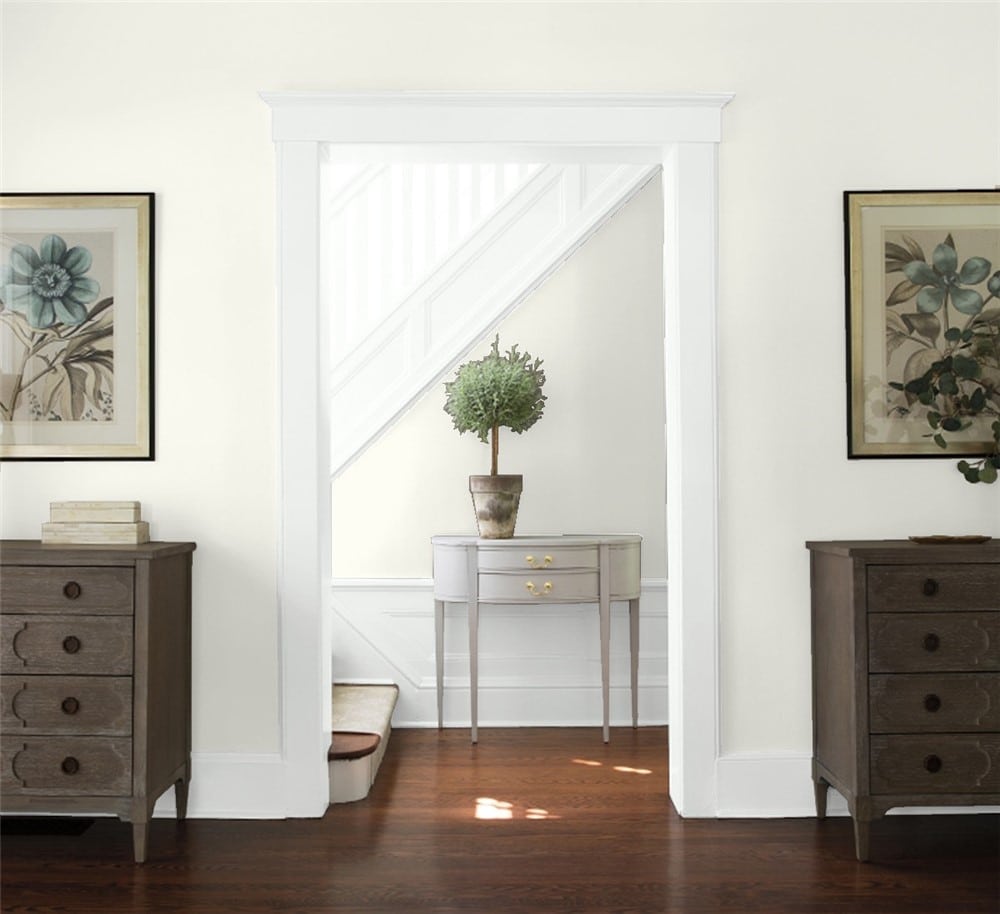 I wanted to start this article off right by sharing my all-time favorite white paint with you, and the truth is, White Dove is a favorite for a lot of other folks too!
This softly shaded white brings a gentle glow to any room, and is treasured for its versatility. White Dove has slight gray undertones, and a LRV of 85.38.
White Dove is a Popular Choice for Kitchens
Pure White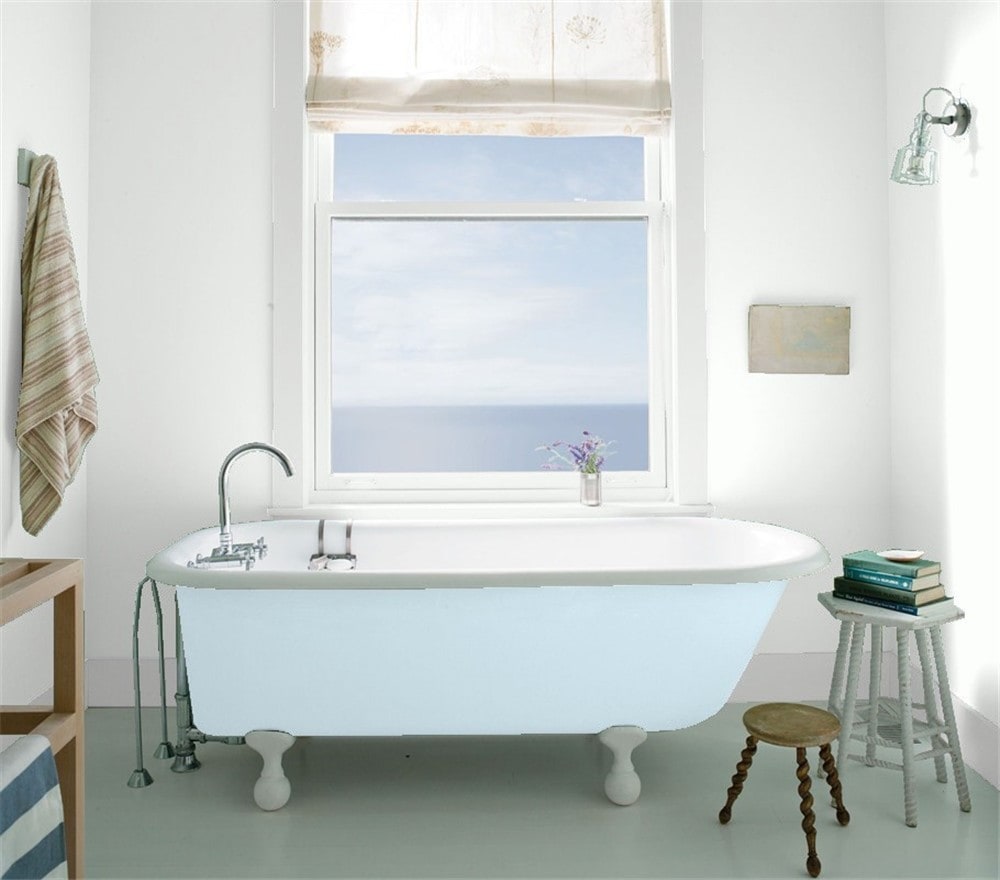 Pure White is a cool white with blue-to-gray undertones. Despite its name, it actually falls within the LRV range for off-whites, sitting at 80.88.
The cool undertones help to soften this white, and make it a good choice for pairing with your favorite blues.
Pure White Coordinates Well with Cool Colors
Decorator's White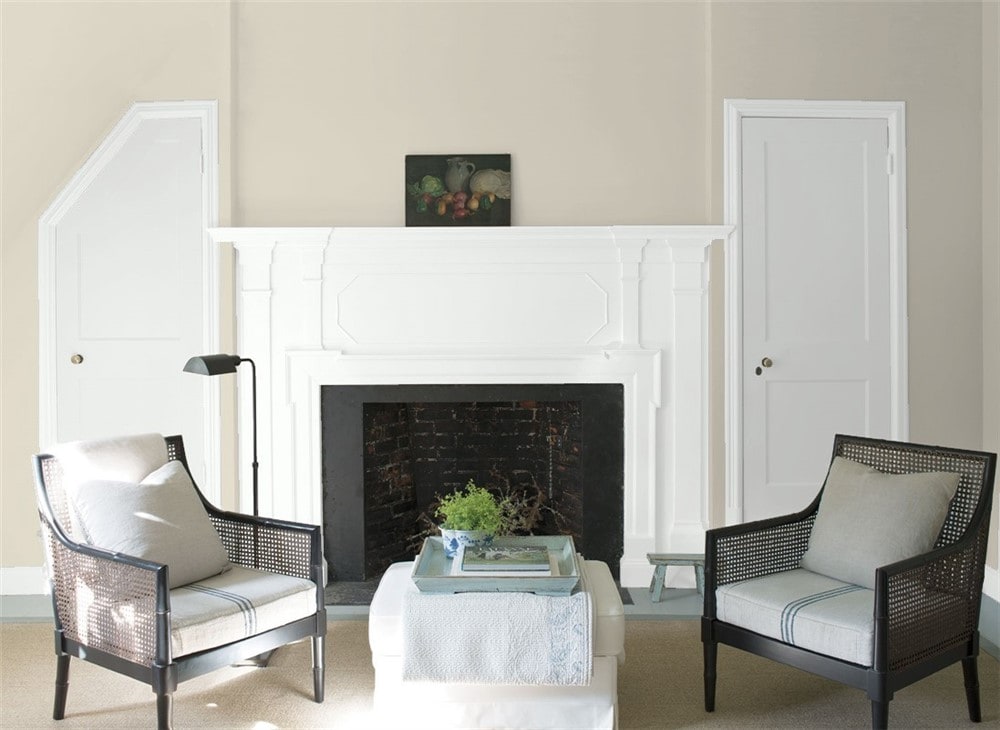 Decorator's White is a well-loved white that's suited to a lot of interior styles. While it's bright enough to enter the true white range, with a LRV of 84.61, it has a touch of gray shading to keep it from being too stark. 
Decorator's White is Great for Accents and Trim
Intense White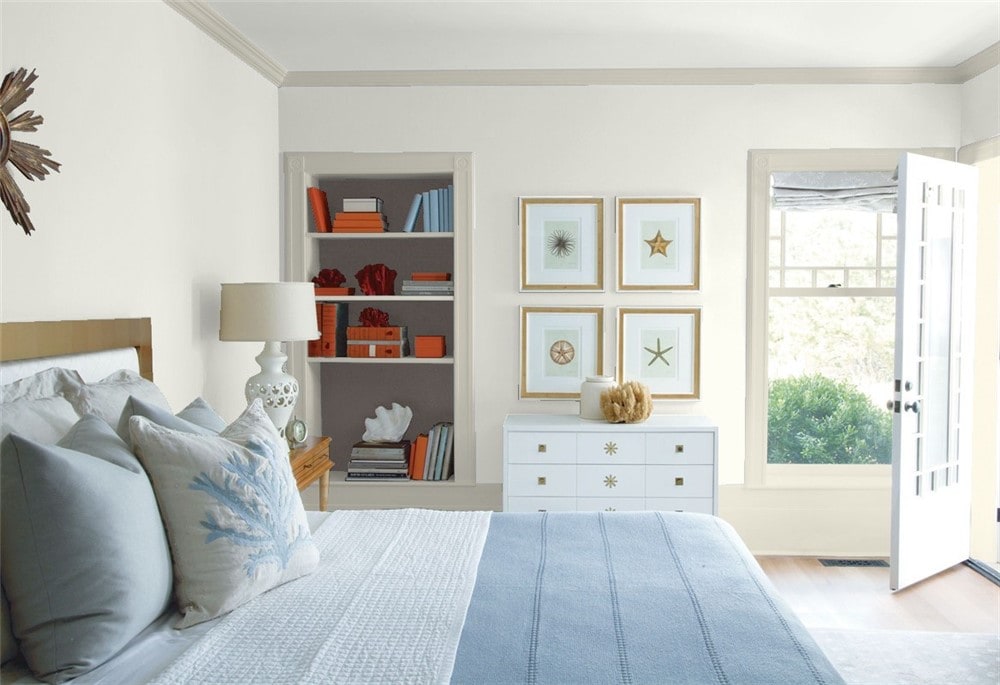 Intense White is a white with slight gray and green undertones that give it depth and warmth without taking it into the yellow side of the color wheel.
Its LRV of 74.52 is bright enough for any lighting conditions without being as overwhelming as the name might imply. 
Intense White Gives Gentle Brightness
Dove Wing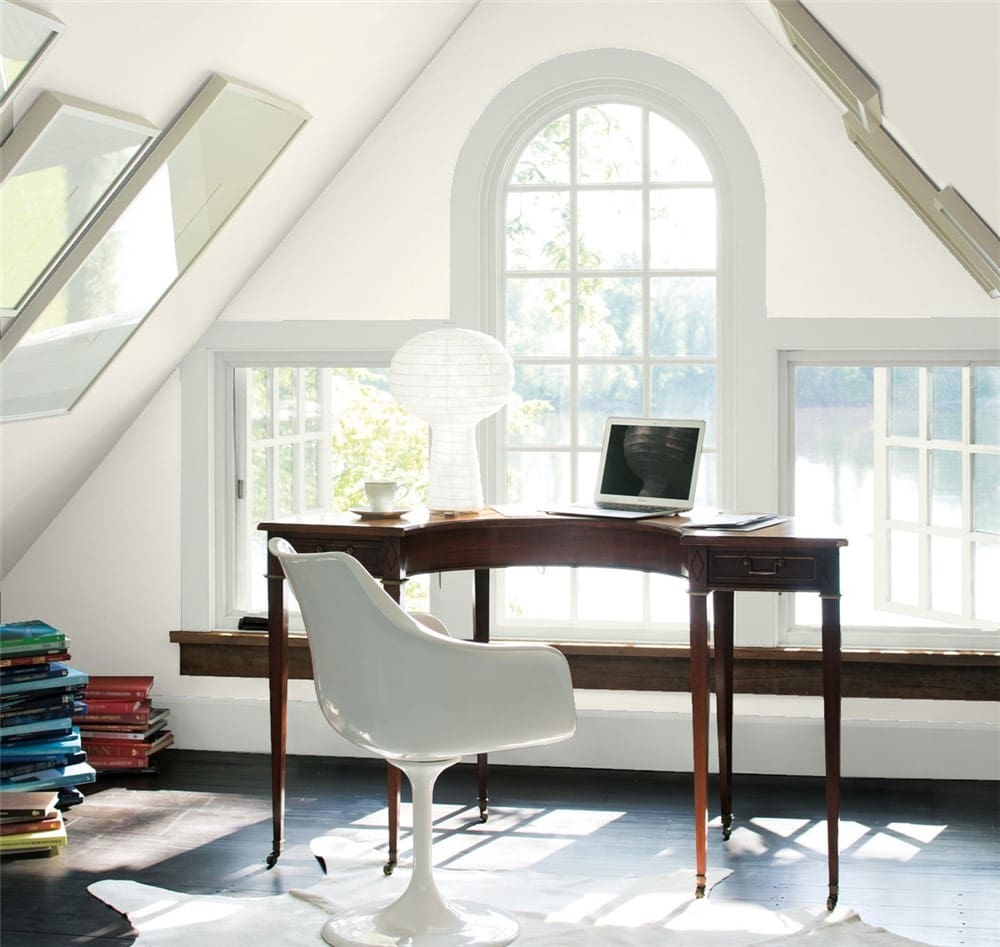 Dove Wing is a warm off-white with a smidge of greige in it. At 79.2 on the LRV scale, it's still light enough to make its home among these white colors, but has enough depth to offer contrast to brighter whites.
Dove Wing Offers Contrast to Other Whites
Chantilly Lace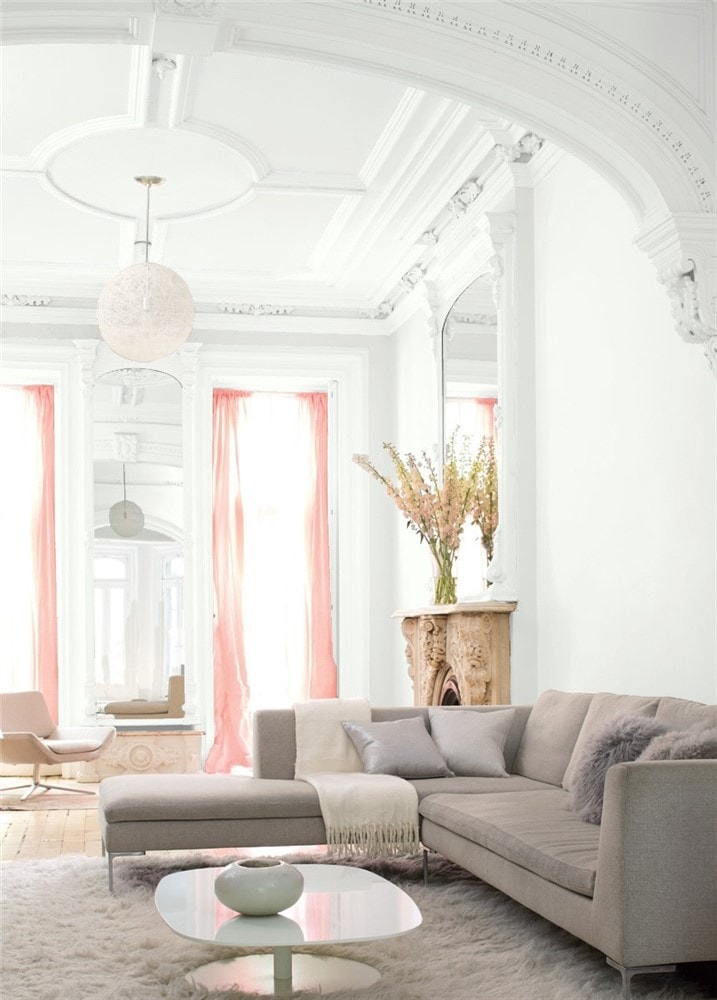 If you're looking for the absolute whitest white on the list, you've found it. Chantilly Lace has a squeaky high LRV of 92.2, and no visible undertones. This paint can pass the pickiest of white glove tests. 
Chantilly Lace is Sheer White–No Undertones
White Heron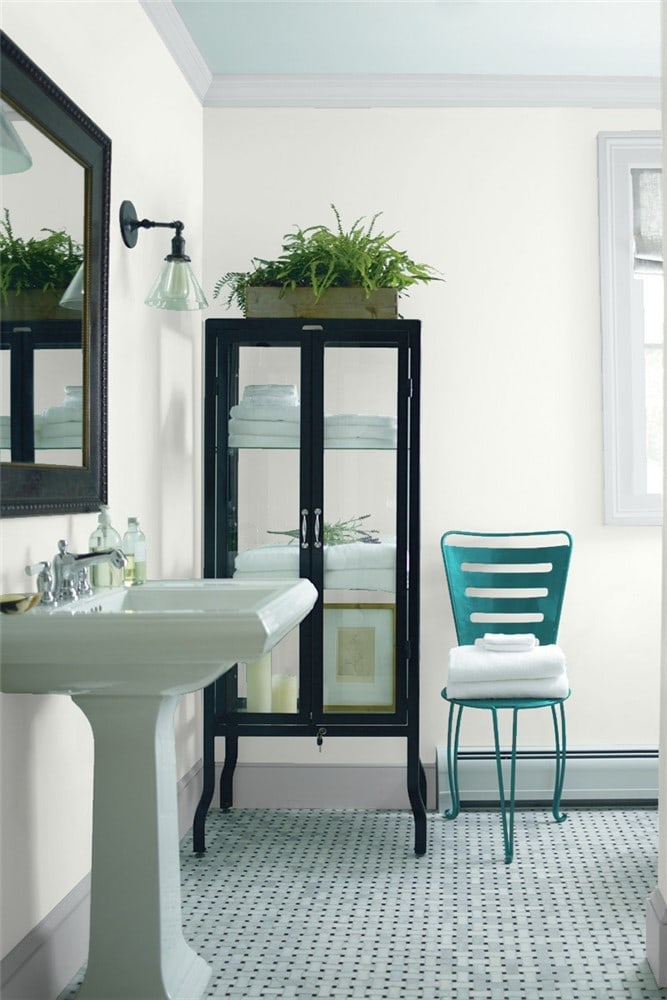 White Heron is cataloged as an off-white, despite its high LRV of 88.85. That's thanks to its slight pink and gray undertones, which make White Heron a more gentle white.
White Heron is Great for Doors and Trim
Mascarpone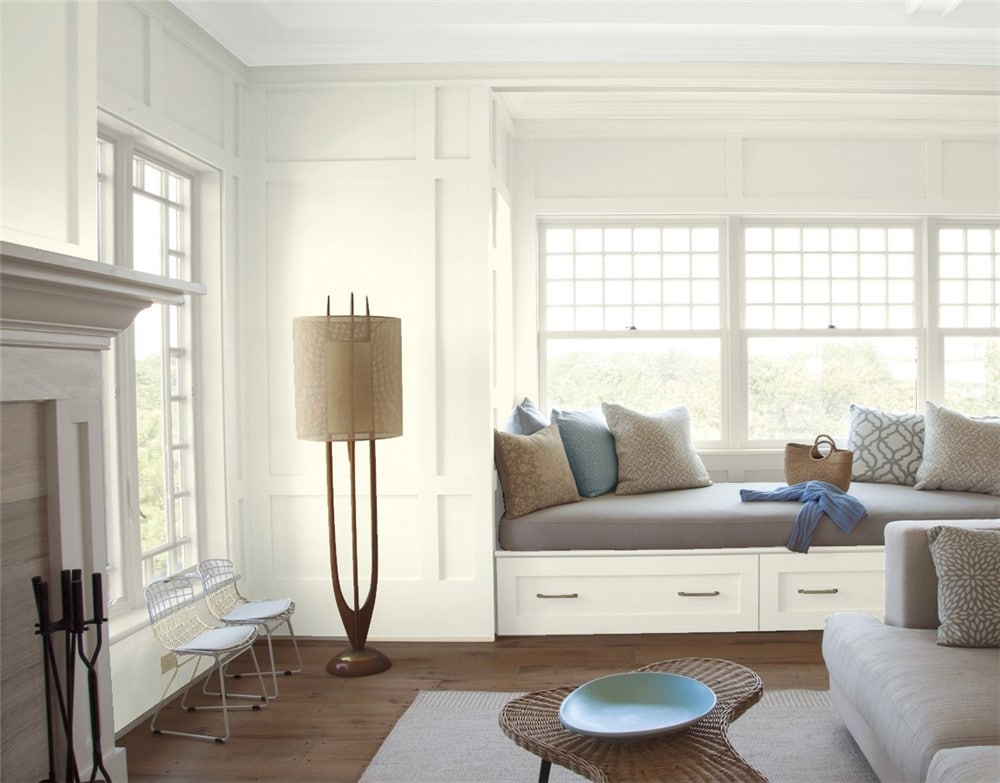 Mascarpone is a super-bright, but creamy and luscious white with yellow undertones. It adds an upscale feel to spaces, while expanding and lightening with its LRV of 90.83.
Mascarpone Adds Elegance
Steam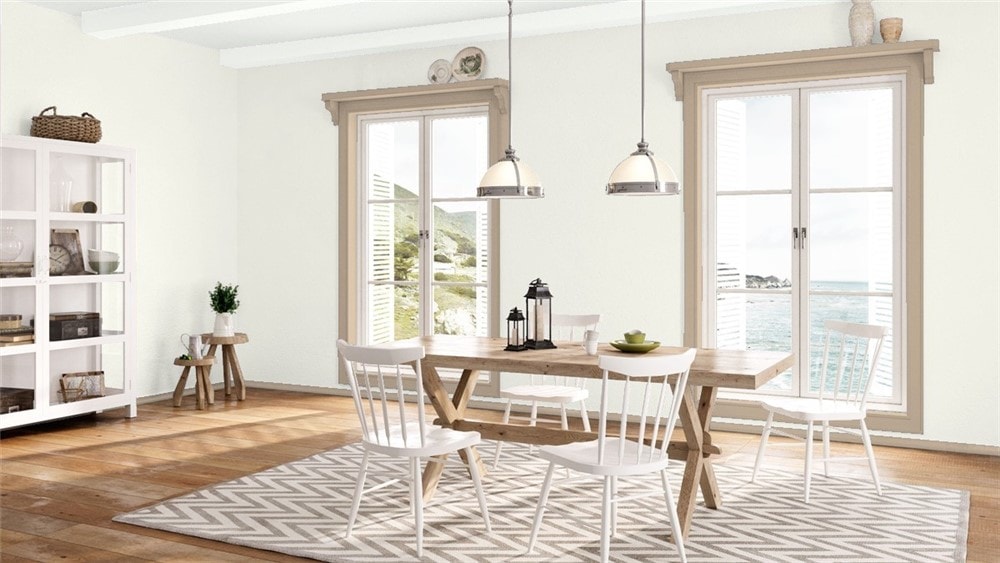 Steam is a white that just crosses the threshold for pure whites as opposed to off-whites, sitting at an LRV of 85.91. This relaxed white looks great with natural elements like wood, stone, and houseplants.
Steam Coordinates with Natural Furnishings
Atrium White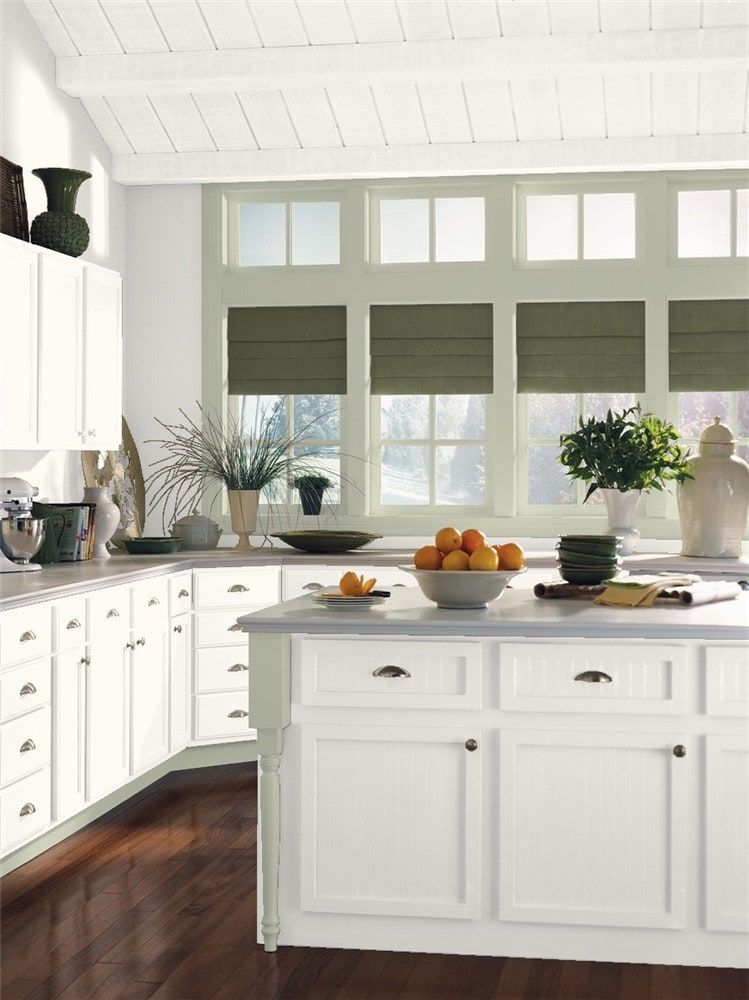 Atrium White is a warm and calming white that helps to create a soothing atmosphere.
It has gentle pink undertones. This color looks excellent paired with pinks, greens, or blue-greens like its 2021 Palette neighbor, Aegean Teal. Atrium White has a LRV of 87.04.
Atrium White is Warm and Inviting
Final Thoughts
White is the first ingredient of many popular decor styles, and frequently turned to for accents and trim even when it isn't being used as a wall color. The white paint colors on this list are up to the task, and will get your palette started right.