Decorated Life is reader-supported. When you buy through links on our site, we may earn an affiliate commission. Learn More
Benjamin Moore Decorator's White Paint Color Review
There are some colors that are so useful, they become a staple of any designer's toolkit. Decorator's White is one of those colors. White paint colors can't be beat for neutrality and versatility, but Decorator's White has a little something extra.
With a soft, barely-there silver shading, and a bright, but not-too-bright value, Decorator's White takes it to the next level. Let's take out the paint chips and get to know this cool white.
What Color is Decorator's White?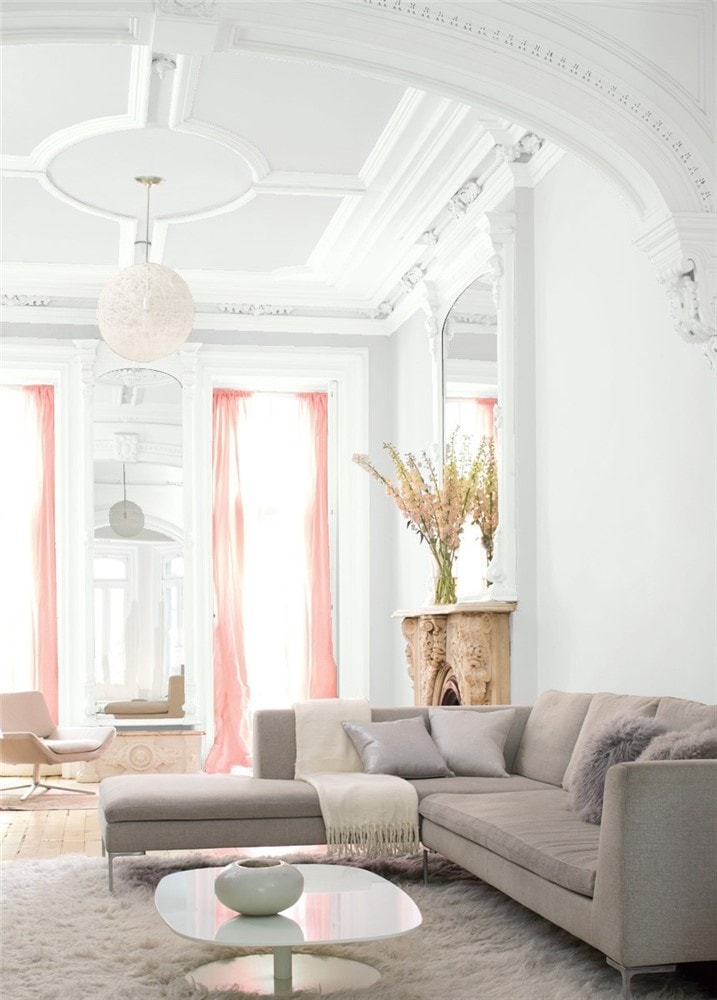 Decorator's White is a bright white color with just a touch of shading to it to keep it from looking stark. In most cases it will simply look white. Side-by-side with the brightest whites out there, such as Chantilly Lace, you will notice a slight silver tone.
LRV of 84.61
Decorator's White has a light reflectance value (LRV) of 84.61. LRV measures the brightness of a color, and runs on a scale from 0, which is absolute black, to 100, which is pure white. Off-whites end around 83, making Decorator's White a true white paint.
What Undertones Does Decorator's White Have?
Decorator's White has a soft gray shading to it. This gives it the undertones that grays are prone to, which are blue, purple, and green. However, because of how bright Decorator's White is, its undertones aren't very prominent.
Is Decorator's White a Warm or a Cool Color?
Decorator's White is a cool white color, thanks to the touch of gray shading it has. However, don't mistake this for a gray paint color–it's still white, and the shading won't be noticeable under most circumstances.
Where Can You Use Decorator's White?
Decorator's White is a bright, cool white that's suitable for a lot of different uses. Its touch of gray shading adds to its versatility, preventing it from being too stark under situations where it's getting a lot of light. This trait makes Decorator's White a good choice for exteriors and bright rooms.
Like many white paints, Decorator's White as a wall color is light enough to make small spaces feel larger, more open and airy. If you feel too blown away, use a dark accent wall, carpet, or ceiling to tame things down.
White kitchens are really having a moment, and Decorator's White is a popular kitchen cabinet color. You can go for an entirely white kitchen, or ground things with a contrasting color on your island or trim.
Now that you know more about how this color is used, let's take a look at some awesome Decorator's White eye-candy and get inspired!
Exterior
Black and Decorator's White are a stunning combination on this simple but classic exterior.
Entryway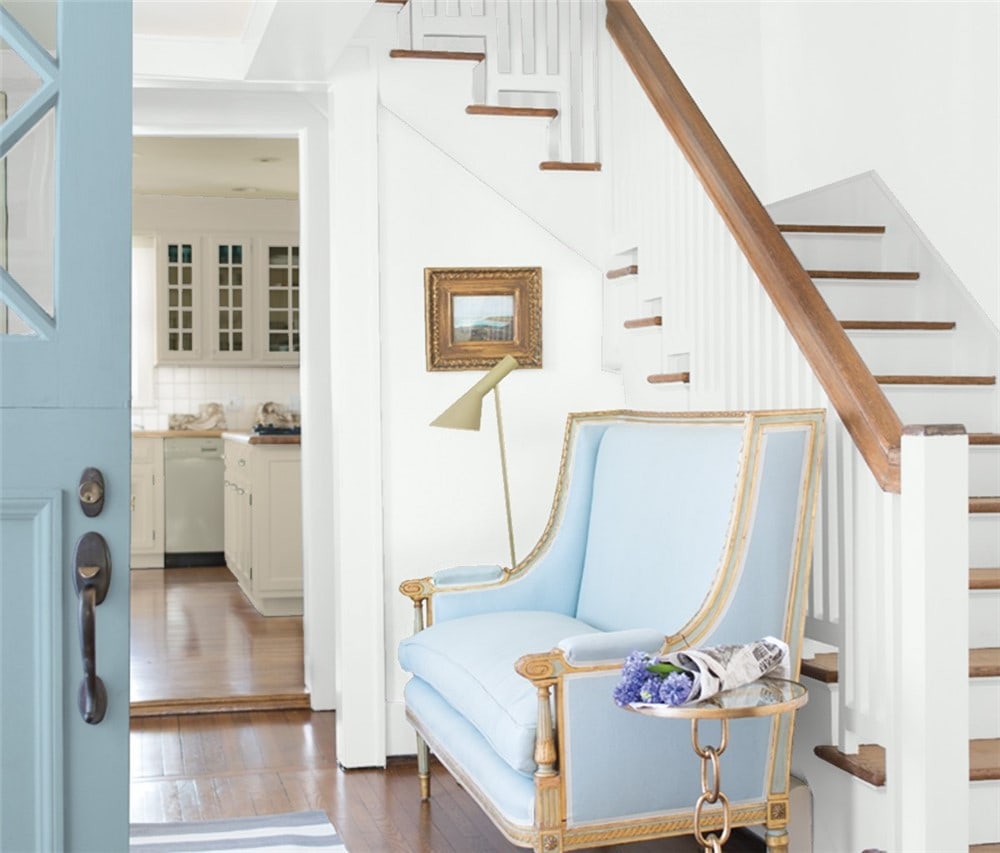 Decorator's White pairs beautifully with soft blues like Exhale.
Living Room
This living room keeps its rustic flair while using Decorator's White to open up the space and tame down the yellow tones in the wood.
Decorator's White reflects the natural light and makes this living room feel larger.
Black is a bold choice for living room walls, but Decorator's White on the ceiling helps to balance the space, making it chic rather than overwhelming.
Kitchen
White is the color for kitchen cabinets right now, and Decorator's White is no exception.
Navy blue, gold, and Decorator's White are a classic trio that will always look stylish and sophisticated.
Dining Room
This dining room achieves stunning results by allowing as much natural beauty as possible to shine through. Decorator's White is a great color for that kind of job!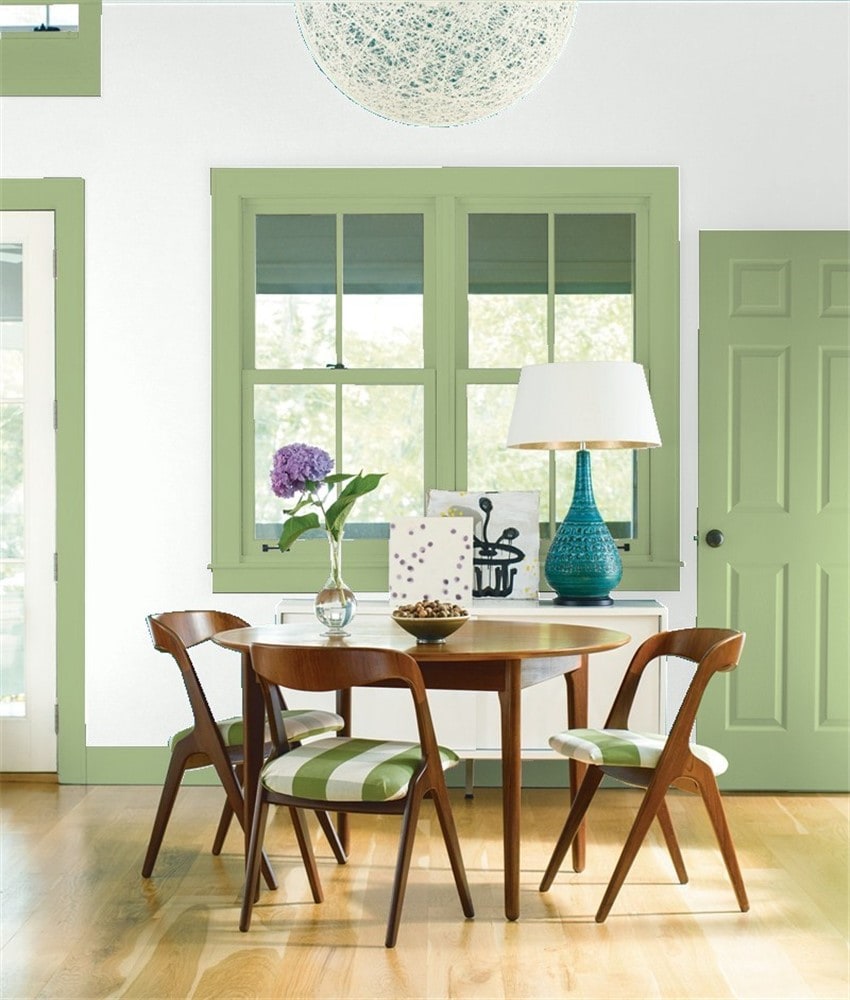 Decorator's White and Central Park give a bright, cheerful feeling to this dining room.
Home Office
This cute home office space keeps things simple and comfortable with a clean backdrop of Decorator's White.
Bedroom
Decorator's White is light enough to support a bold accent wall, like the Kensington Blue in this bedroom.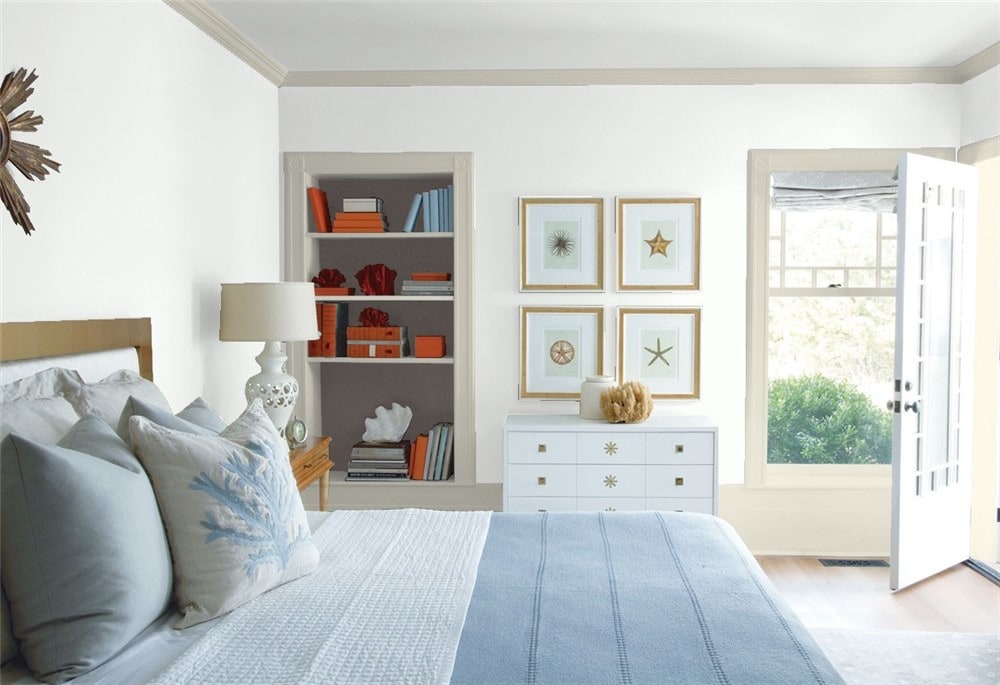 Neutrals like greige and charcoal gray combine with Decorator's White to make spaces that are restful and soothing.
Bathroom
This modern bathroom makes the most of its geometric elements and simple, straight lines by using Decorator's White to let them shine.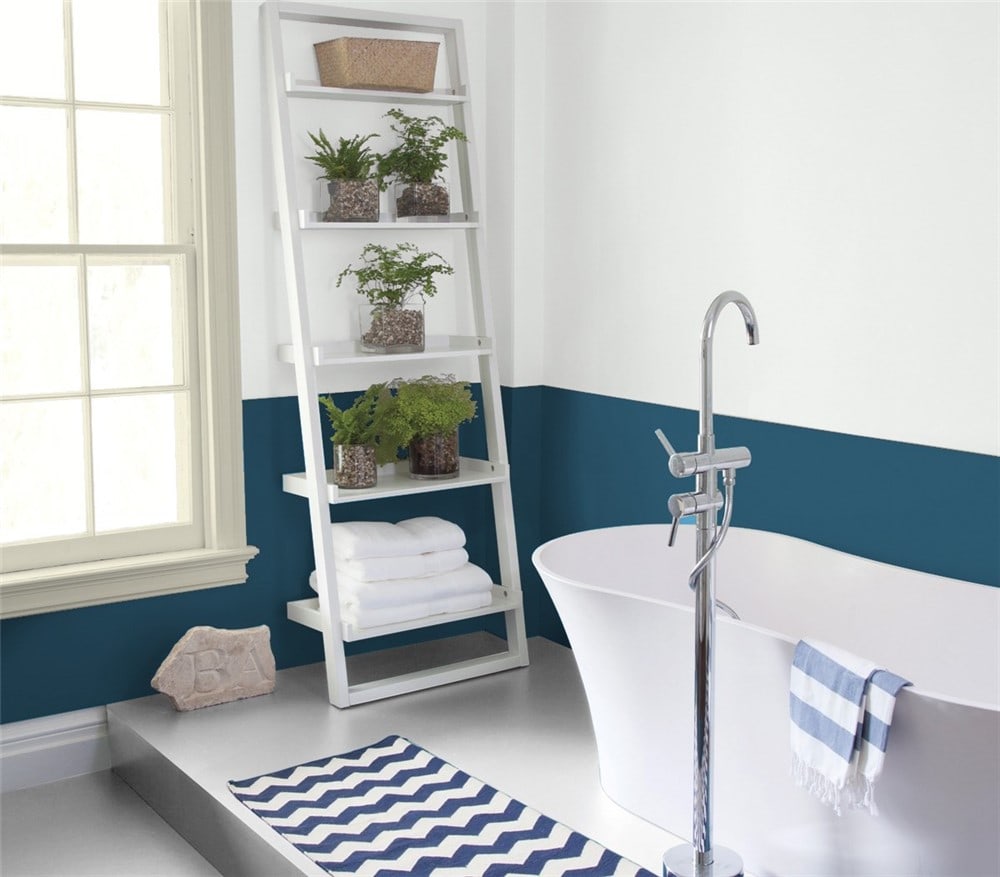 As a cool white, Decorator's White is a good fit for spaces with metalwork, such as bathrooms and kitchens.
Coordinating Colors for Decorator's White
Like all whites, Decorator's White could technically be paired with any color you want. After all, white doesn't clash with anything!
However, you do want to be careful about putting Decorator's White next to other whites, because its gray tint can come out looking dirty by comparison. Also, if you choose Decorator's White for white walls, be mindful of what you're putting next to it, because any white paint can reflect back other nearby colors.
Thanks to that bit of distinctive silvery shading it's got, Decorator's White is especially suited to complementing cool colors like blues, greens, and grays. It looks sharp and fresh next to navy blue, forest green, charcoal gray, or black.
Here's some coordinating color inspiration for Decorator's White to help you plan your palette:
How Does Decorator's White Compare to Other Colors?
Decorator's White vs Simply White by Benjamin Moore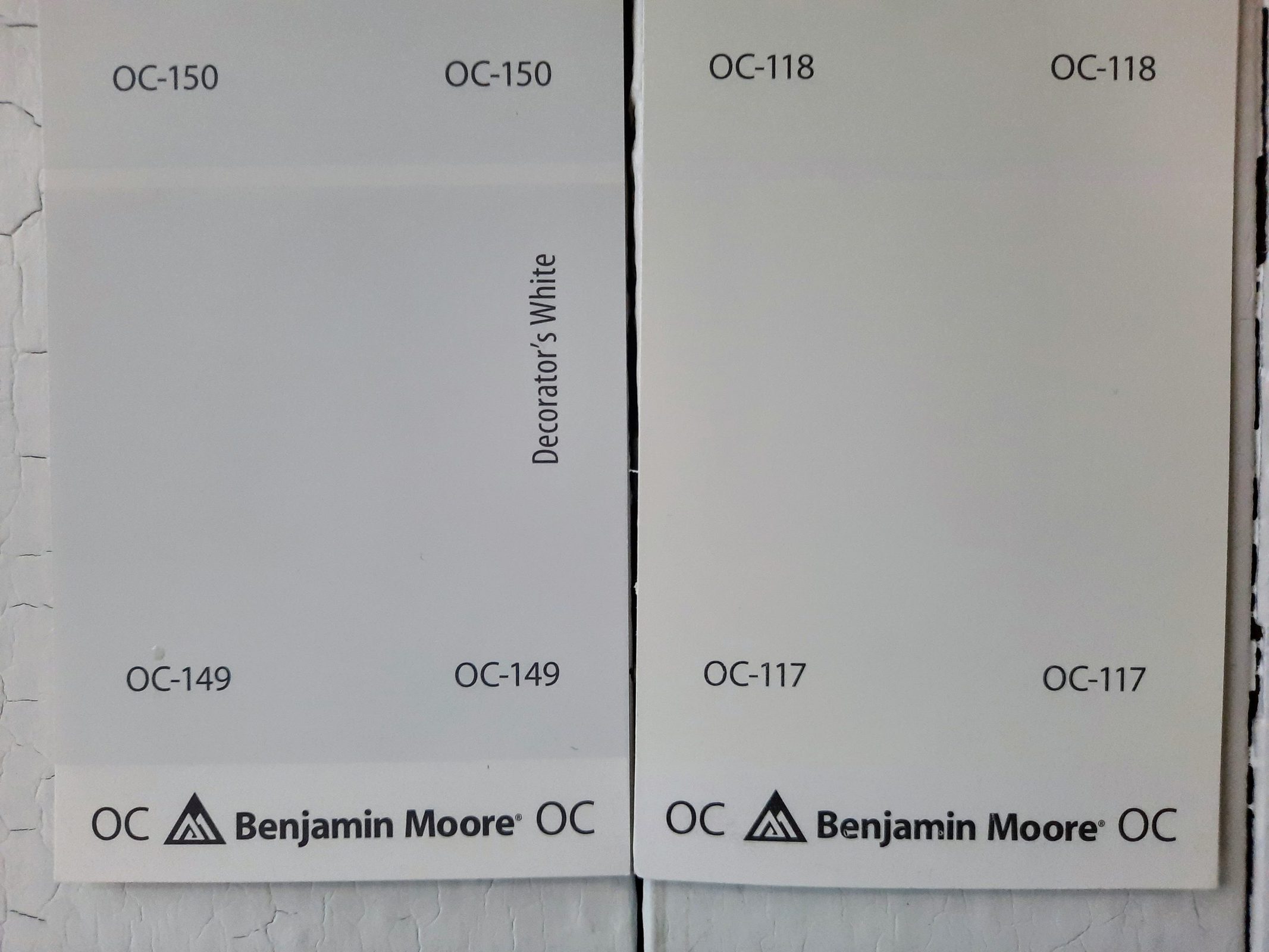 Simply White is just what it says on the label: a pure white without undertones. It doesn't have any of that cool shading that Decorator's White has. Simply White is also brighter, with a squeaky-high LRV of 91.7.
Decorator's White vs White Dove by Benjamin Moore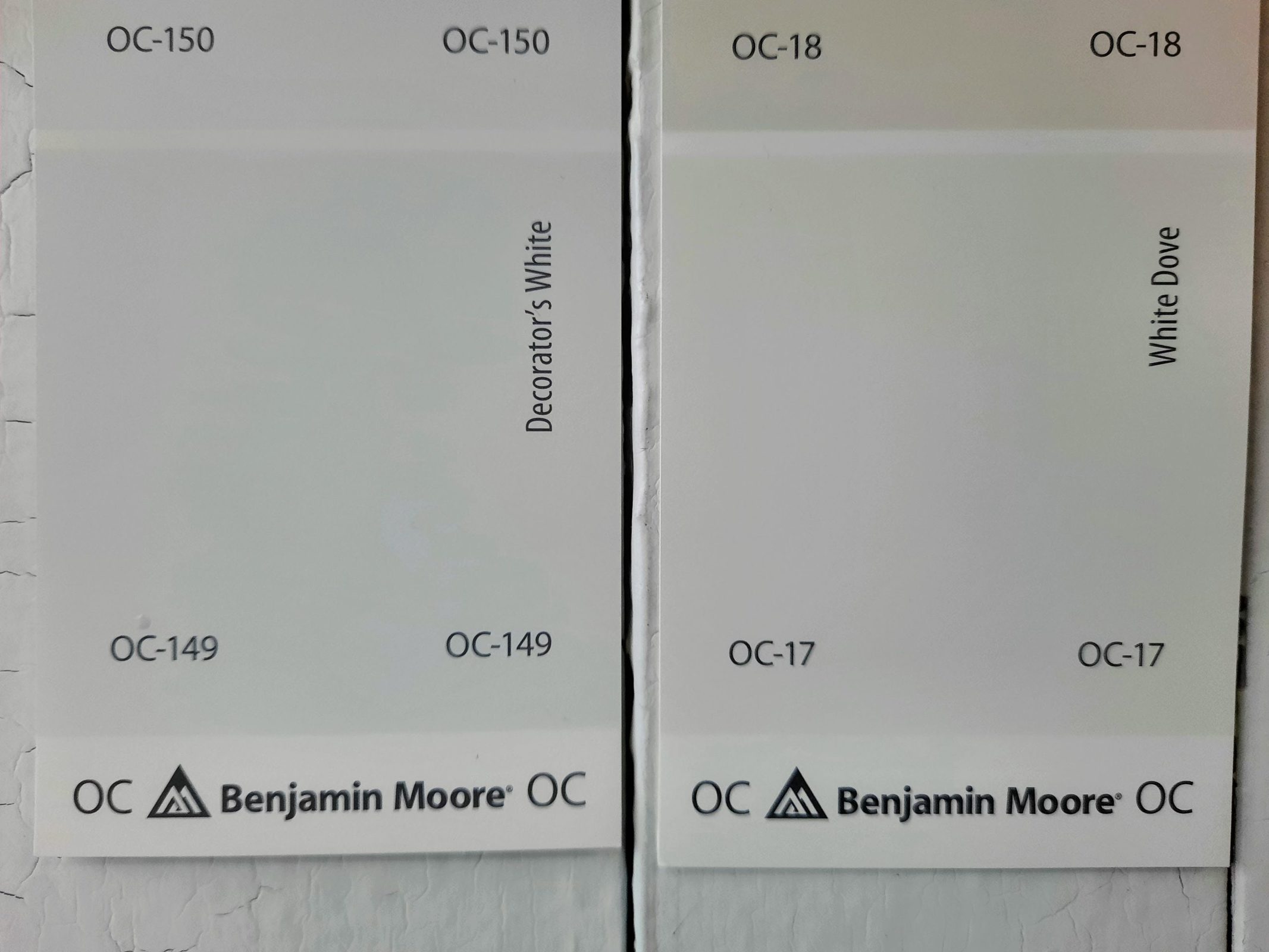 What a matchup! White Dove and Decorator's White are enduring favorites because of their unique abilities as white paints. If you think of Decorator's White as slightly shaded, then think of White Dove as slightly glowing.
It has a touch of warmth where Decorator's White has a touch of coolness. Their LRVs are almost the same, making these colors equally bright; White Dove's is 85.38. 
Decorator's White vs Pure White by Sherwin Williams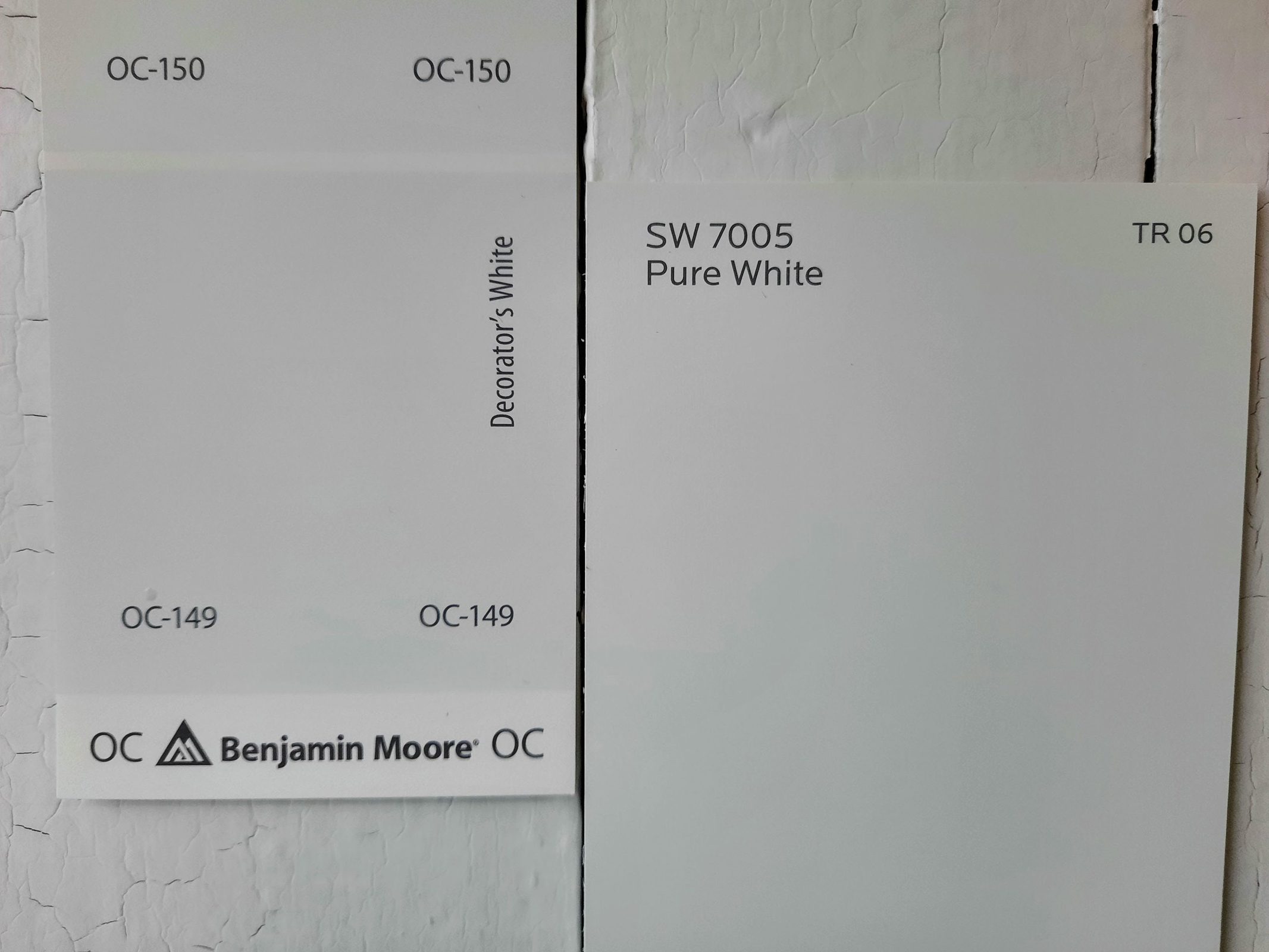 Pure White is another color that's exactly as advertised: a clean white with no additives. These two whites are equally bright, with LRVs of 84, so the key difference between them is that cool shading from Decorator's White.
Decorator's White vs Alabaster by Sherwin Williams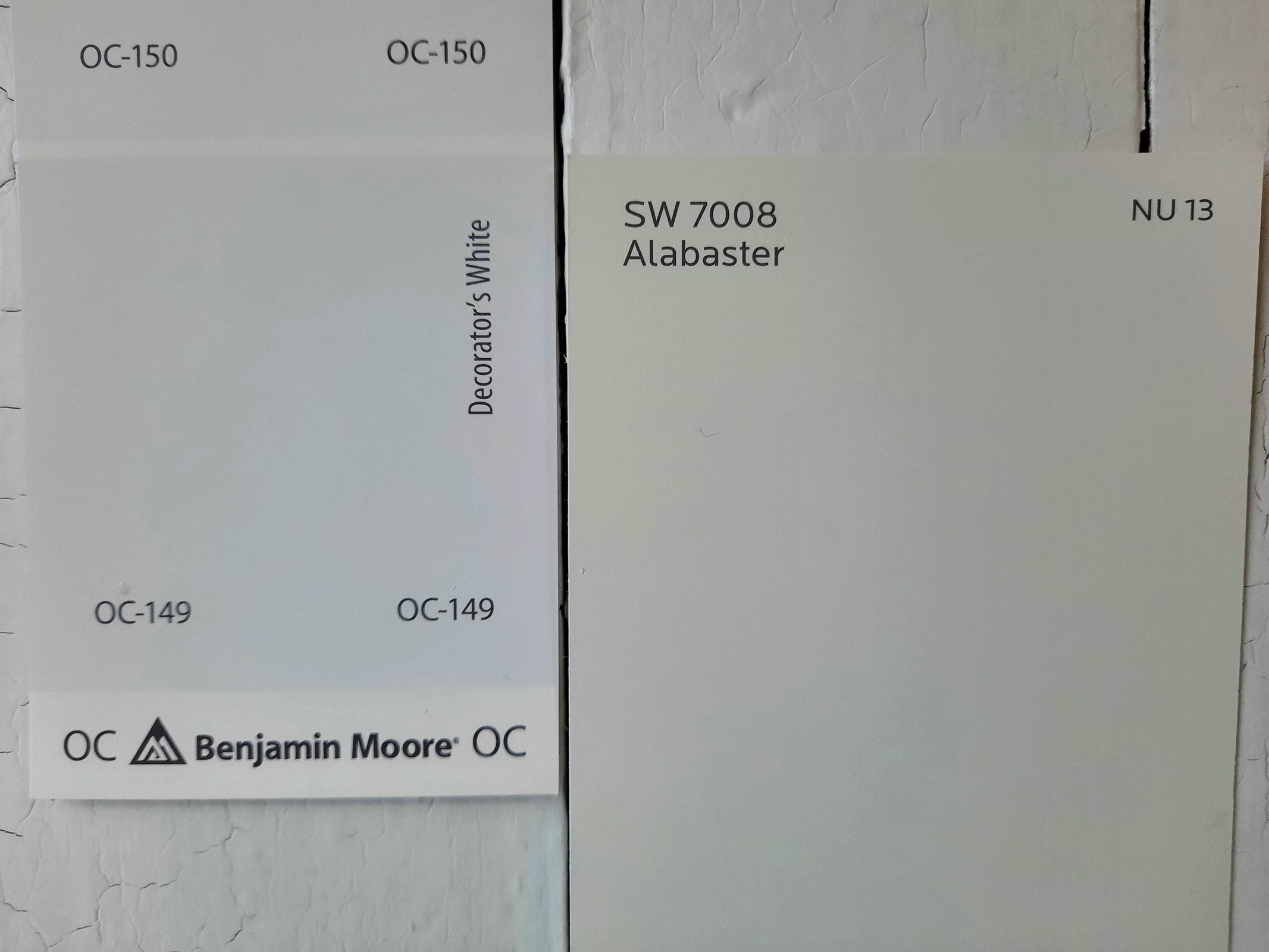 Alabaster is a wildly popular white that has a soft, luminous glow. This gives it a touch of warmth that contrasts with the coolness in Decorator's White–similar to the matchup versus White Dove we already discussed.
Alabaster's LRV of 82 is still pretty close to Decorator's White's 84.61, so there's no huge difference in brightness between these two. 
Final Thoughts
Decorator's White is a color that finds its way into home after home because it's just so darned useful! Its cool undertones coordinate with a wide range of popular colors, but its brightness works magic on small and stuffy spaces. That magic touch of silver keeps Decorator's White from being stark and glaring. If you want a white paint with a little something extra, Decorator's White might be just the color you're looking for.