Decorated Life is reader-supported. When you buy through links on our site, we may earn an affiliate commission. Learn More
Atrium White by Benjamin Moore
Some people see life differently. Where most of us find frustration, they're counting their blessings. While we're sweating the small stuff, they're stopping to smell the roses.
If you're someone who sees life through rose colored glasses–or if you just wish you could be–then I've got the perfect white paint for you.
Today we're going to look at a truly unique white paint color. Its brightness qualifies it as a true white, but its unique undertones push it into the off-white family. When I say unique, I mean I've literally never reviewed another white paint like this one.
If, like Audrey Hepburn, you believe in pink, then you're going to be over the moon about Atrium White!
What Color is Atrium White?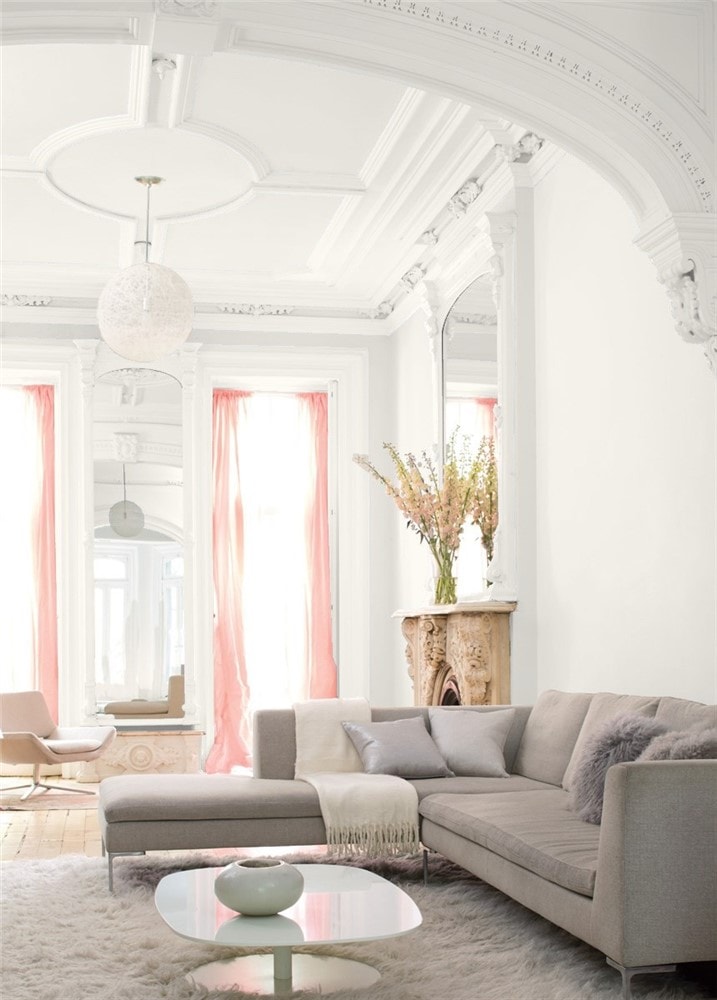 Atrium White is a bright white with a tint of rosy pink. While in many lighting situations, it will come across as a white, that dollop of pink puts Atrium White in the off-white family.
LRV of 85.08
Atrium White has a light reflectance value, or LRV, of 85.08.
Light reflectance value is a scale designed to measure how bright a color is, and ranges from absolute black at 0 to sheer white at 100. The higher the number, the lighter the color.
Off-white colors typically range from about 73 to 82, with numbers above 82 being true whites. Atrium White is bright enough to qualify as a true white, but its pink tint makes it an off-white.
What Undertones Does Atrium White Have?
Atrium White has pink undertones. This is a color where the undertones matter–you're going to notice Atrium White's pink. If you love pink, or are looking to match it in your home, Atrium White could be perfect for you.
Is Atrium White a Warm Color or a Cool Color?
Atrium White is a warm white paint color, thanks to its cheerful pink undertones. It's a good choice for a warm white that doesn't lean yellow.
Where Can You Use Atrium White?
Atrium White is great for spaces where you're trying to deal with permanent fixtures that have pinks or reds in them.
If you're looking to make a space feel warmer but really want to stay away from yellow undertones, Atrium White is a fresh and interesting alternative.
Once you've decided to take the plunge with those pink undertones, you can use Atrium White in any room of the home, as well as on the exterior.
Consider Atrium White as your primary white for decor styles that call on a lot of white, such as modern farmhouse or cottage styles.
Smaller and darker spaces can benefit from the brightness of Atrium White, while that hint of pink will keep it from looking stark or uninviting.
Let's watch Atrium White in action and find out how it looks in different spaces!
Exterior
Atrium White looks fresh and luminous in this courtyard garden.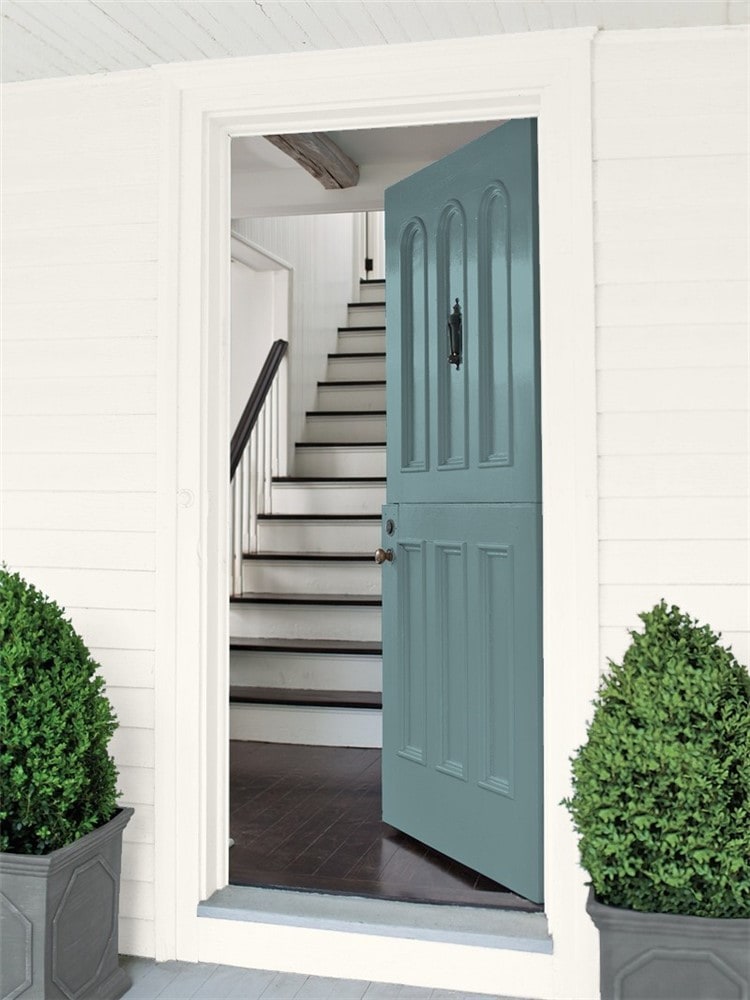 Aegean Teal is a trending door color that brings out the best in an Atrium White exterior.
Living Room
Atrium White is the perfect match for all the naturally colored textiles in this relaxed, neutral living room.
Atrium White brightens this small apartment living room while working with the shades of tan in the decor.
Hallway
Spalding Gray and Atrium White pair up to create elegant contrast in this formal-feeling hallway.
Kitchen
The rosy undertones in Atrium White are a great complement for the gold hardware in this kitchen.
Atrium White kitchen cabinets make this French country style kitchen feel fresh and clean.
Dining Room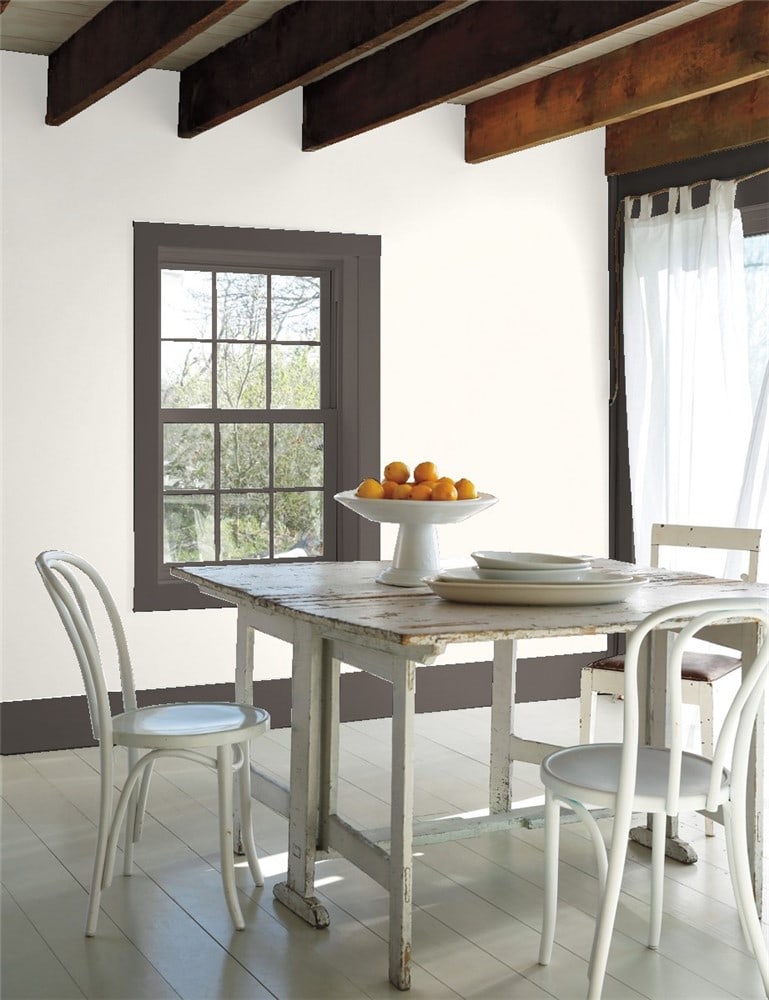 Atrium White glows against Silhouette trim in this rustic dining room.
Home Office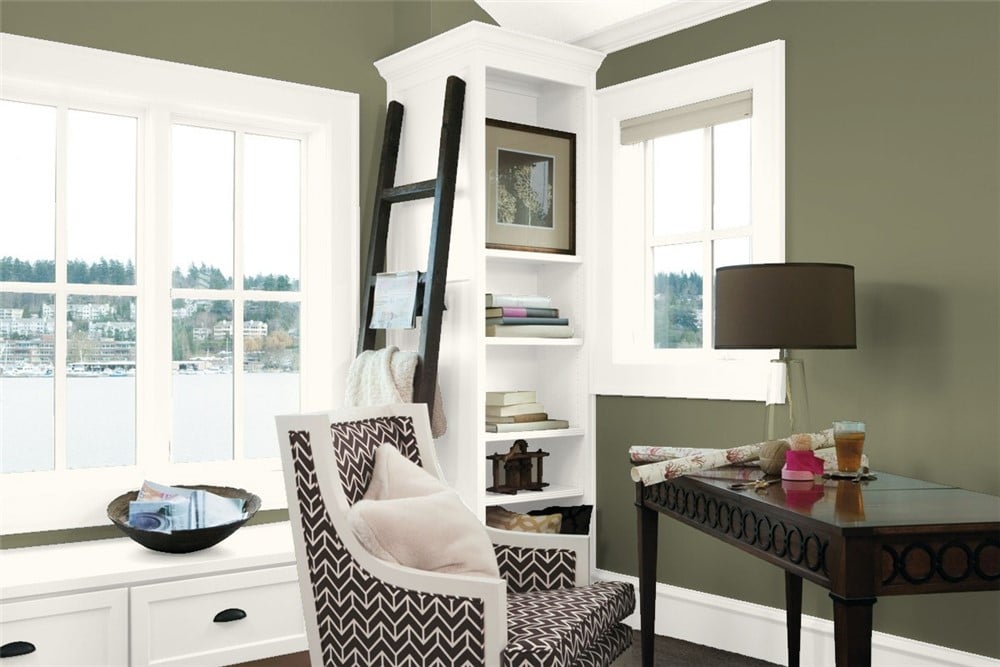 Tate Olive and Atrium White bring natural sophistication to this chic home office.
Bedroom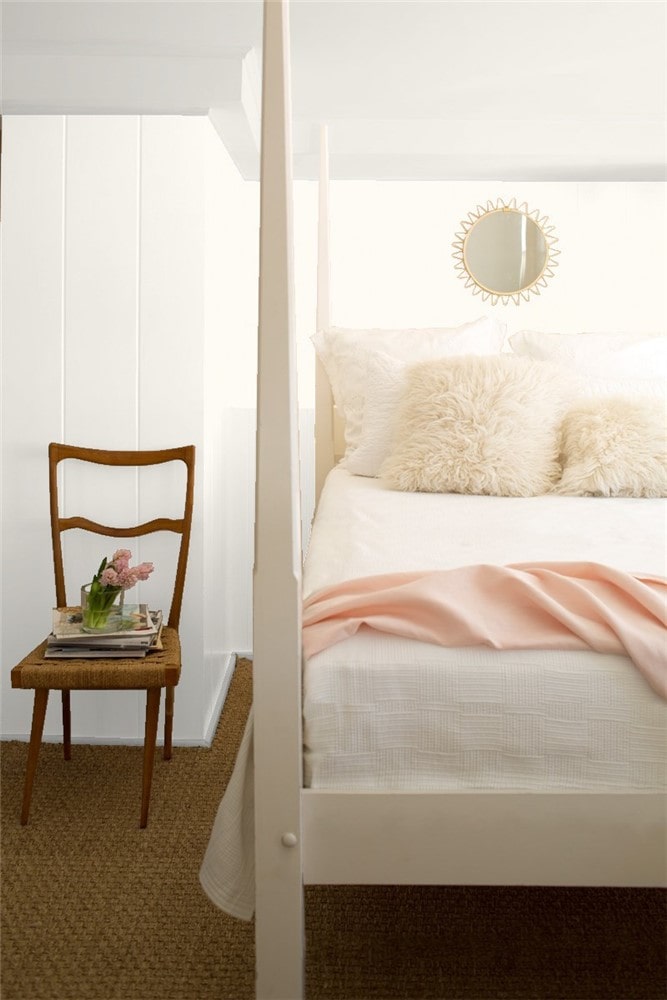 Atrium White brings a romantic softness to this pretty-in-pink bedroom.
Bathroom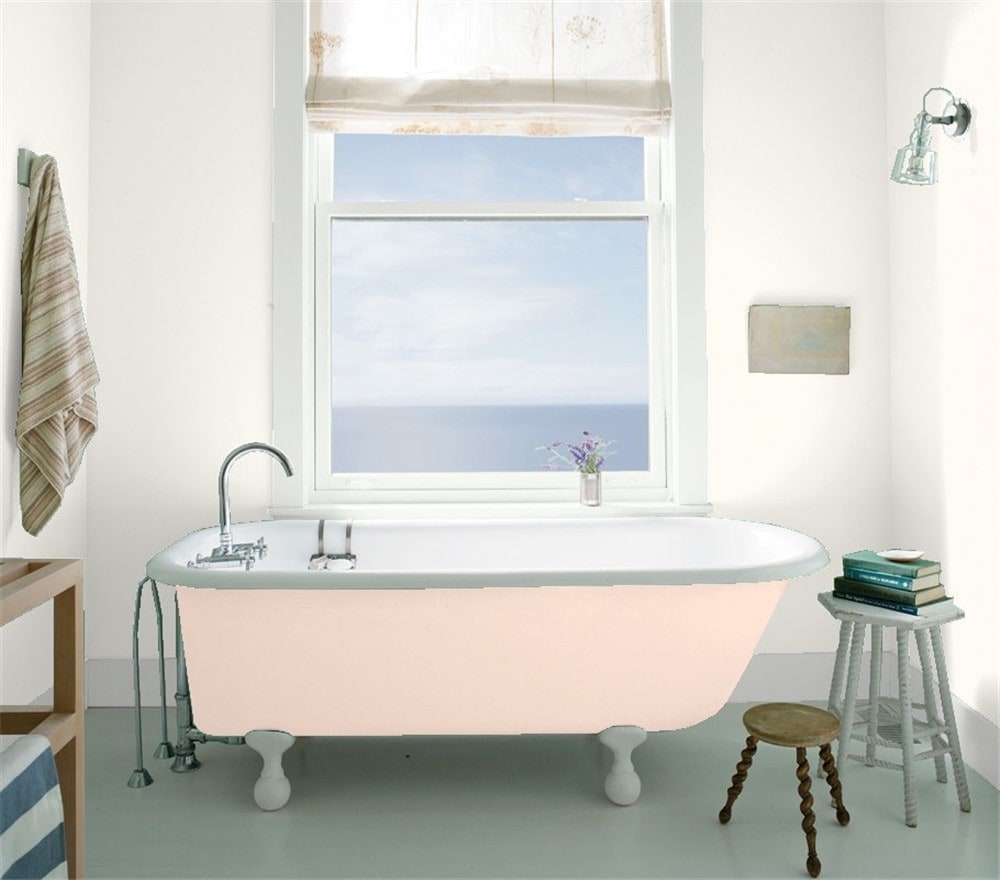 Atrium White makes the most of this small bathroom, helping it to feel bigger and brighter.
Mudroom
Red brings out the rosy peach tones in Atrium White in this small space mudroom.
Atrium White's warmth helps it to look fresh and bright against the cool, dark colors of the soapstone and tile in this combination laundry and mudroom.
Coordinating Colors for Atrium White
Choosing a color palette for Atrium White is trickier than regular white paints. You have to stay aware of that rosy pink undertone that makes it act more like a color than a neutral.
Atrium White was part of the color trends lineup with Aegean Teal, which was Color of the Year for 2021. These two colors are a match made in heaven, and it can be hard to keep them away from each other!
Similarly, other blue colors will look lovely with Atrium White. You can also venture into some warm greens–Benjamin Moore recommends Tate Olive.
Keeping with the trend of treating Atrium White like a color–however faint of one it may be–consider colors that work well with pink. Grays are a fabulous choice; you can take the full range from soft gray up through charcoal grays and even solid black.
Chances are if you're choosing Atrium White, it's because you've already got some coordinating colors in mind that it would be a perfect match for.
But in case you need some inspiration, here are some ideas to help you get started:
How Does Atrium White Compare With Other Colors?
Atrium White vs Oxford White by Benjamin Moore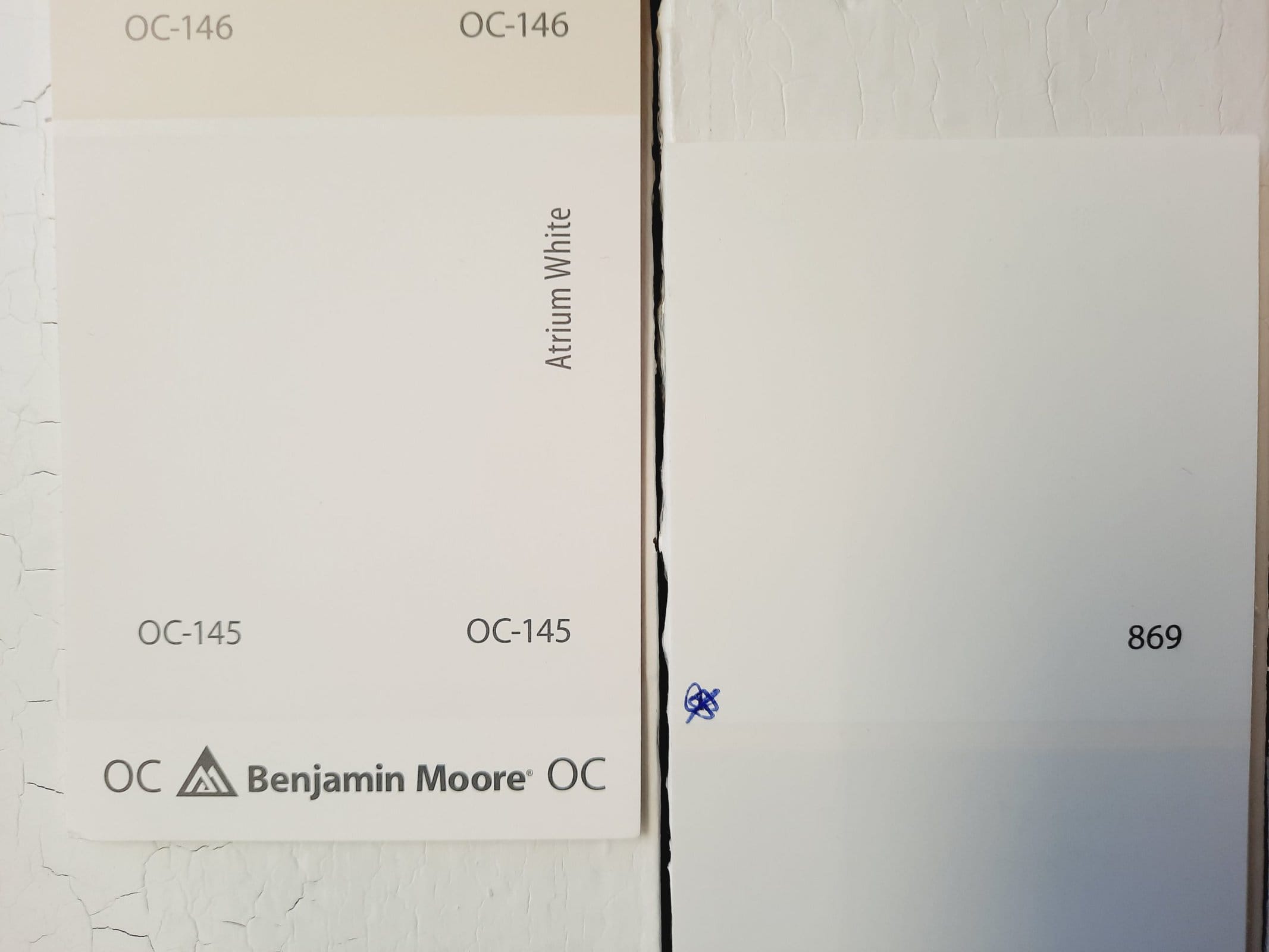 Oxford White is a bright, cool white with a touch of gray shading. It lacks Atrium White's signature pink flash. These two whites are almost identically bright. Oxford White has a LRV of 86.69.
Atrium White vs White Dove by Benjamin Moore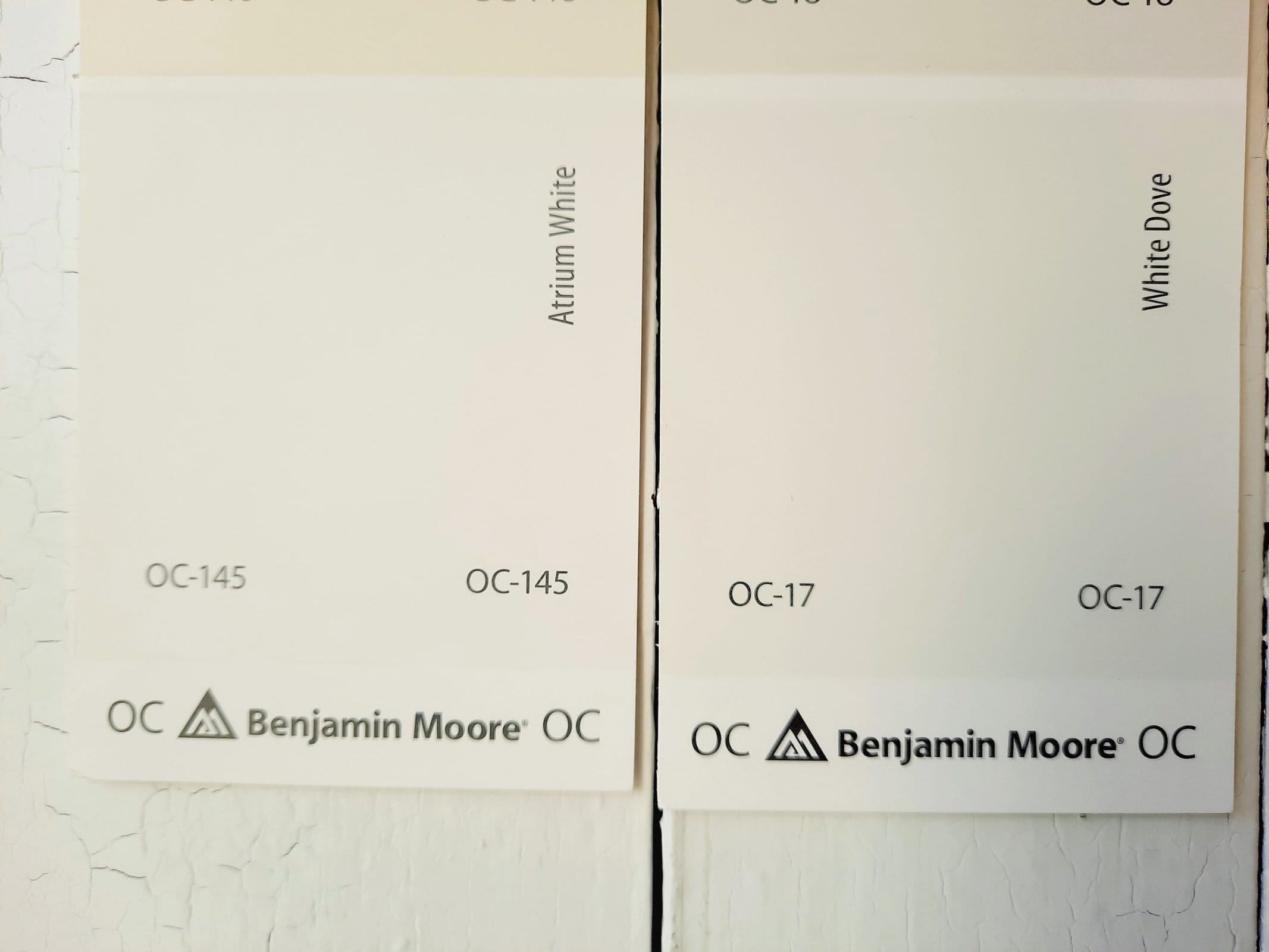 White Dove is incredibly popular among Benjamin Moore's white colors thanks to its practically magical soft glow. Next to Atrium White, White Dove looks cooler and visibly shaded. Unsurprisingly, Atrium White is the only one with the pink. White Dove has a LRV of 83.16.
Atrium White vs Simply White by Benjamin Moore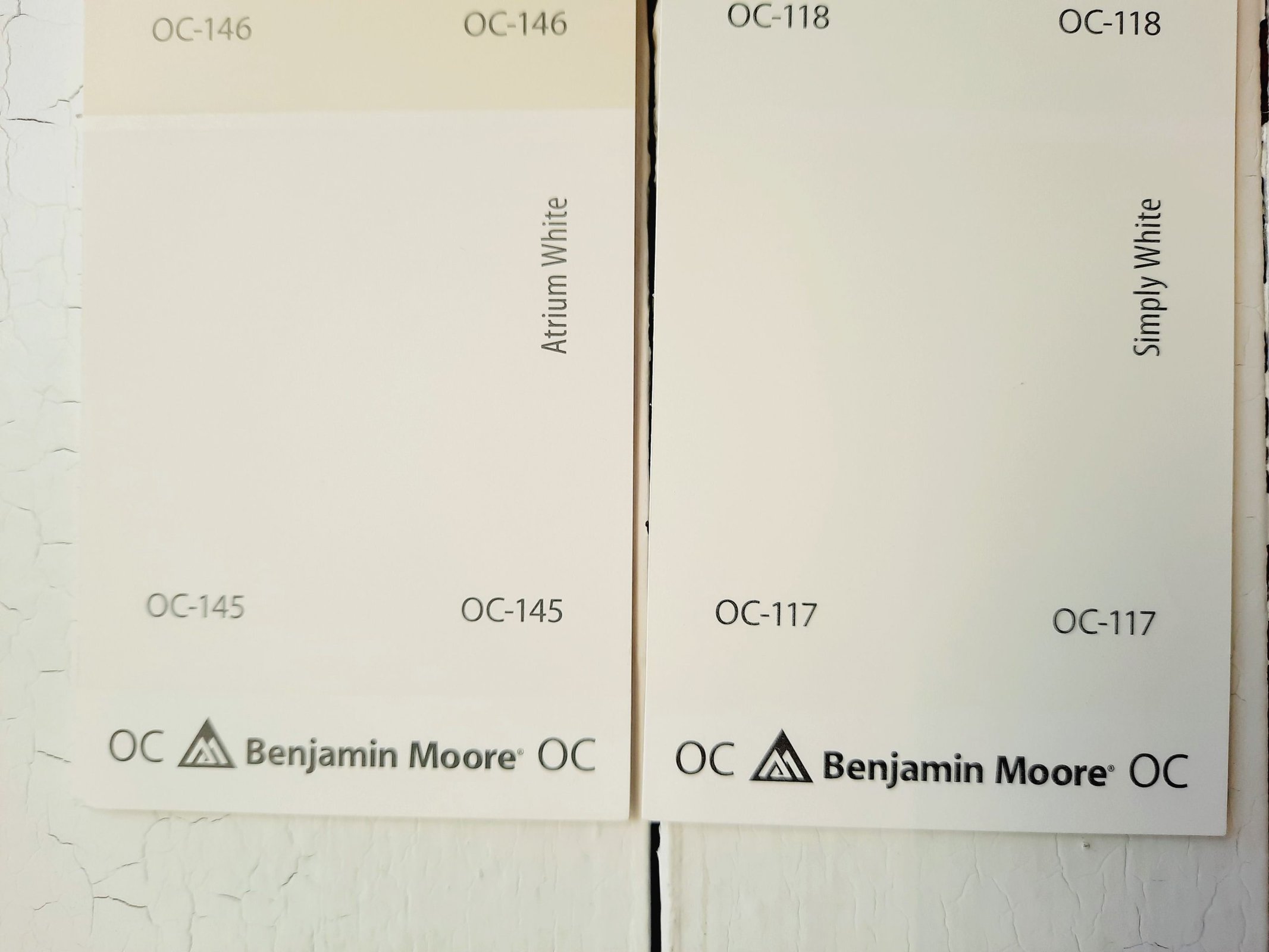 These two whites are similarly bright, and both are warm whites. The key difference is, Simply White has a creamy, yellow undertone while Atrium White has a peachy pink undertone. Simply White has a LRV of 89.52.
Atrium White vs Snowbound by Sherwin Williams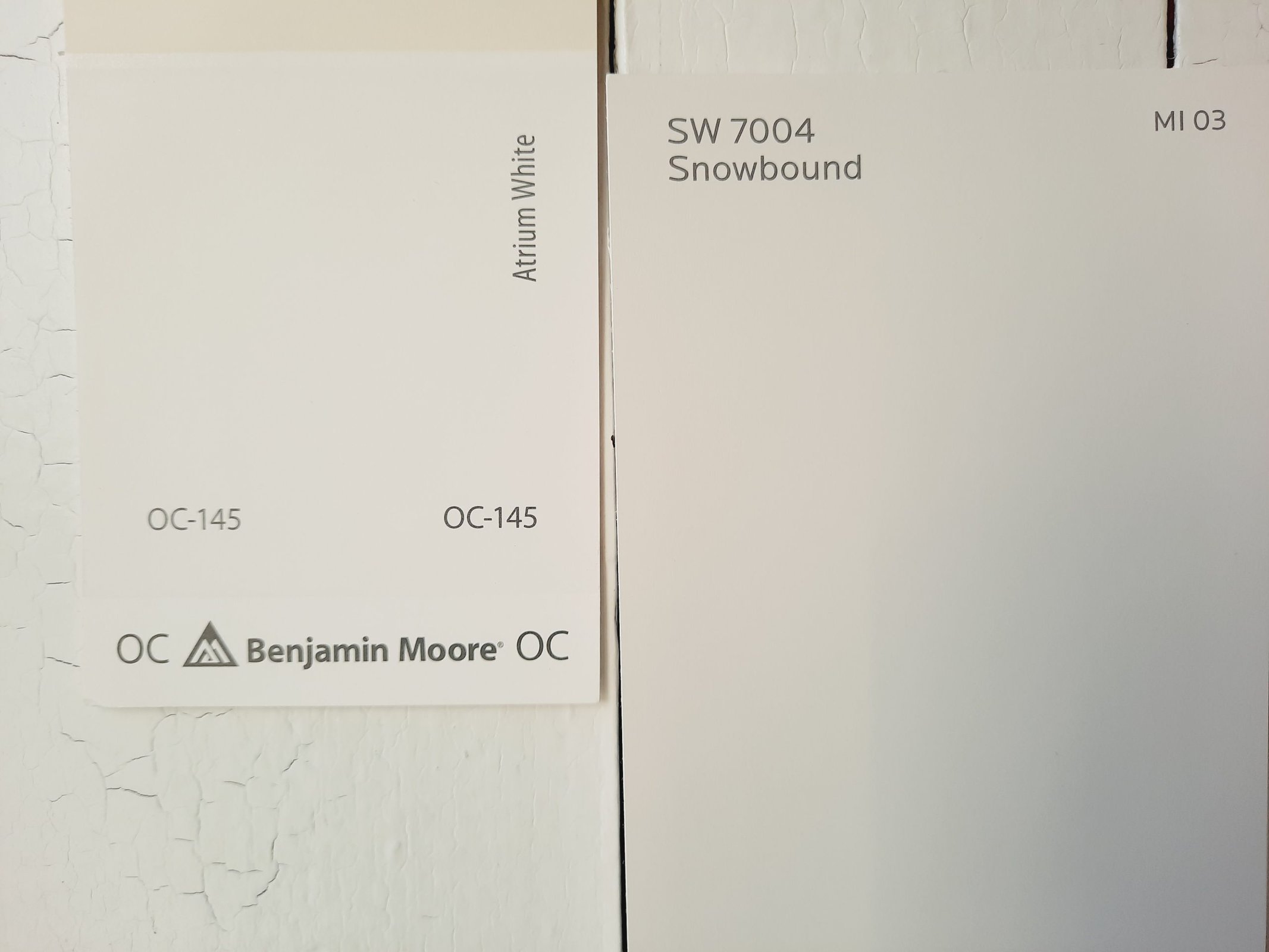 Snowbound is close in brightness to Atrium White, but with a LRV of 83, it places one foot on either side of the white and off-white divide. With these two colors side by side, it's easy to see Snowbound's cool shading of gray undertones that contrast with Atrium White's pink. 
Final Thoughts
Atrium White isn't for everybody–that pink undertone just will not be denied. But if you're looking for pink, then Atrium White is your flamingo in a flock of pigeons. This unique white is warm and cozy but doesn't have yellow undertones. Will Atrium White's freshness be just the thing for your next home makeover?