Decorated Life is reader-supported. When you buy through links on our site, we may earn an affiliate commission. Learn More
13 Best Country Sofas that Mix Style and Comfort
Country living is slow and relaxed with an emphasis on nature, and the decor often reflects that.
Today, the trend for country sofas is usually a focus on comfort with neutral colors and casual fabrics. This makes these couches the perfect pieces to entertain friends or curl up with a good book.
If you're ready to find the perfect couch, here are 13 of the best country sofas on the market right now.
Ivory Cottage Sofa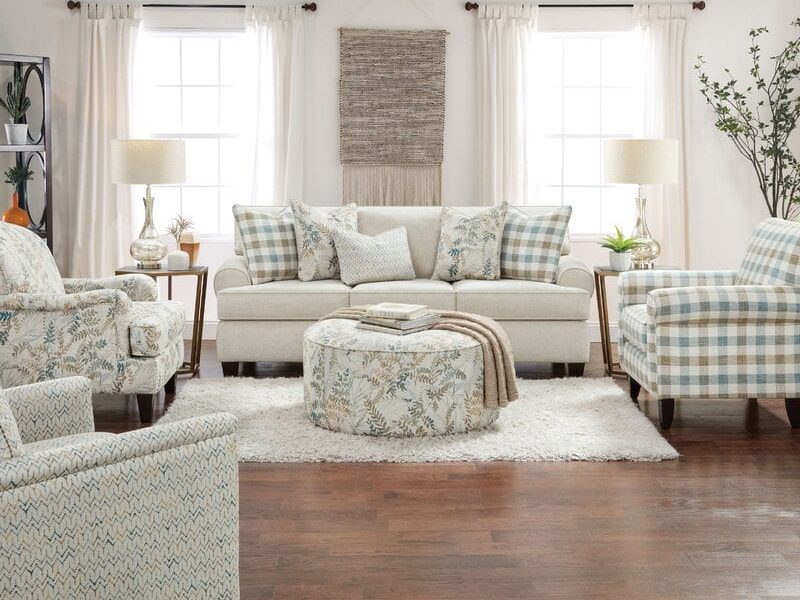 This country cottage style sofa is a beautiful ivory color made of ultra-soft chenille fabric. It features solid wood legs and foam-filled cushions.
If you're looking for a comfy couch that will blend with any type of country decor, it's hard to go wrong with this option. You could dress up this couch by placing it in a formal room or make it look casual by putting it in your living room.
Traditional Rolled Arm Sofa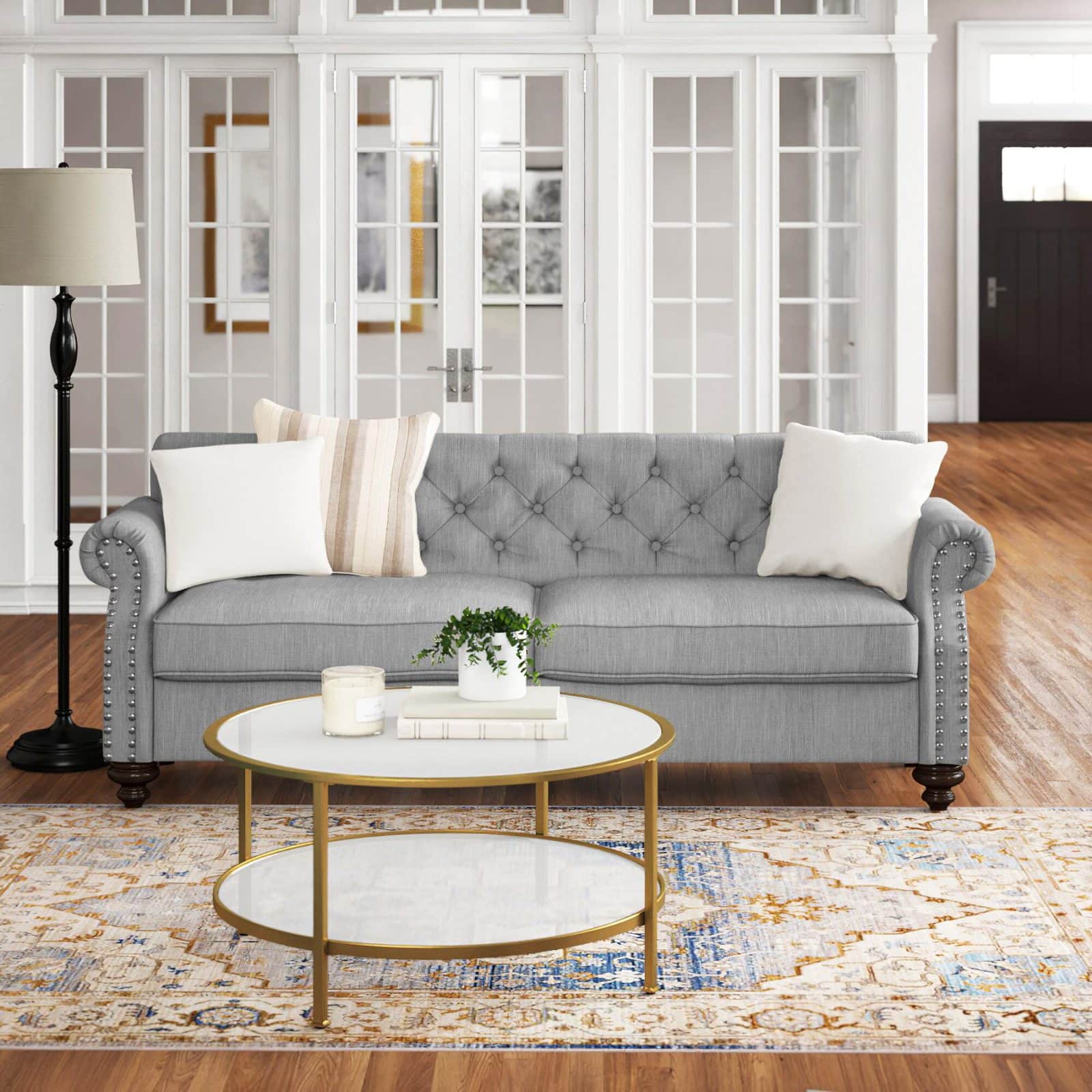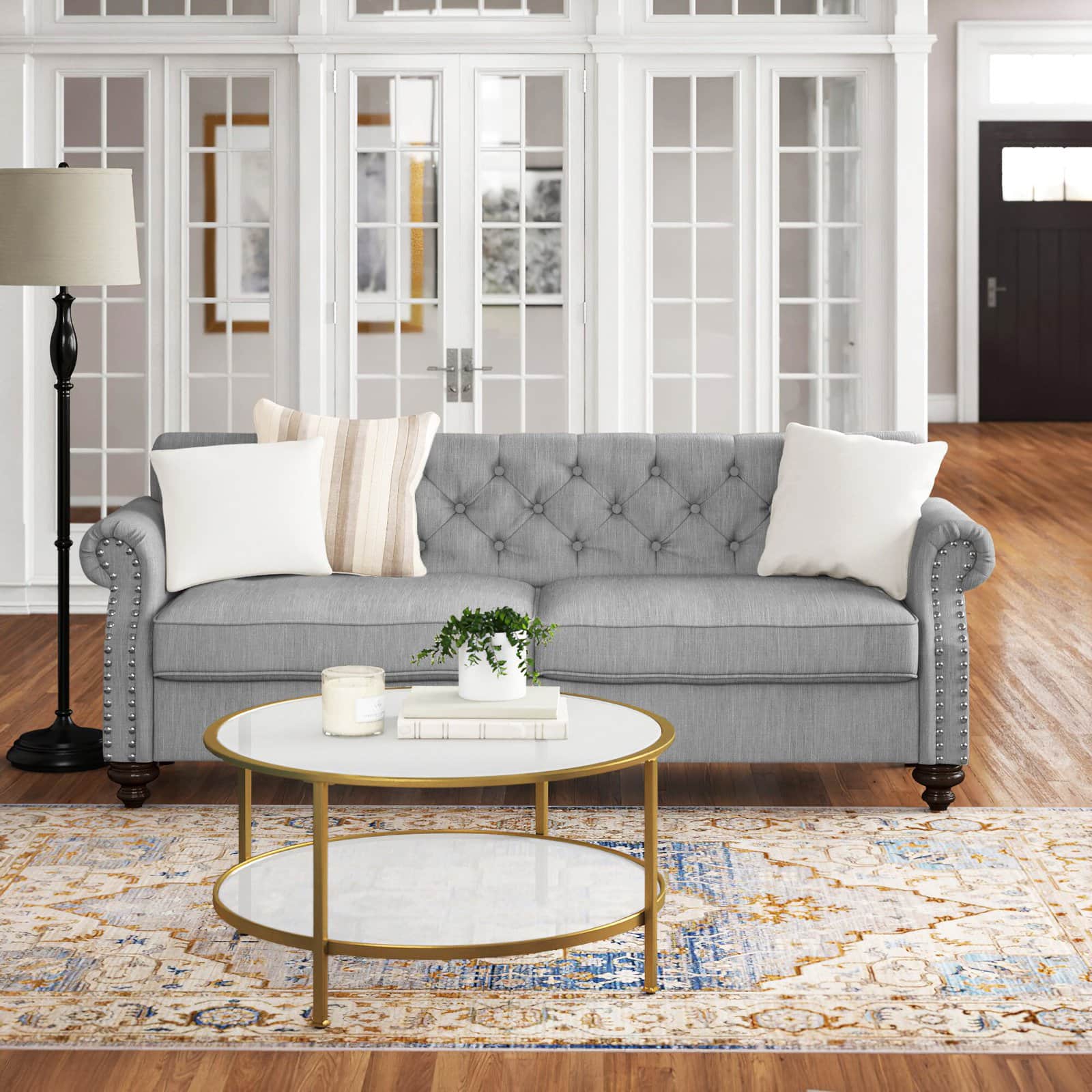 If your home decor leans toward the traditional side, you'll love this rolled arm sofa that is the perfect combination of sophisticated and country.
This couch comes in two colors: gray and beige. The tufting and rolled arms give this sofa a traditional look, while the thick cushions provide all the comfort needed. The fabric is a linen blend, and the legs are solid wood.
Rustic Buckskin Sofa Bed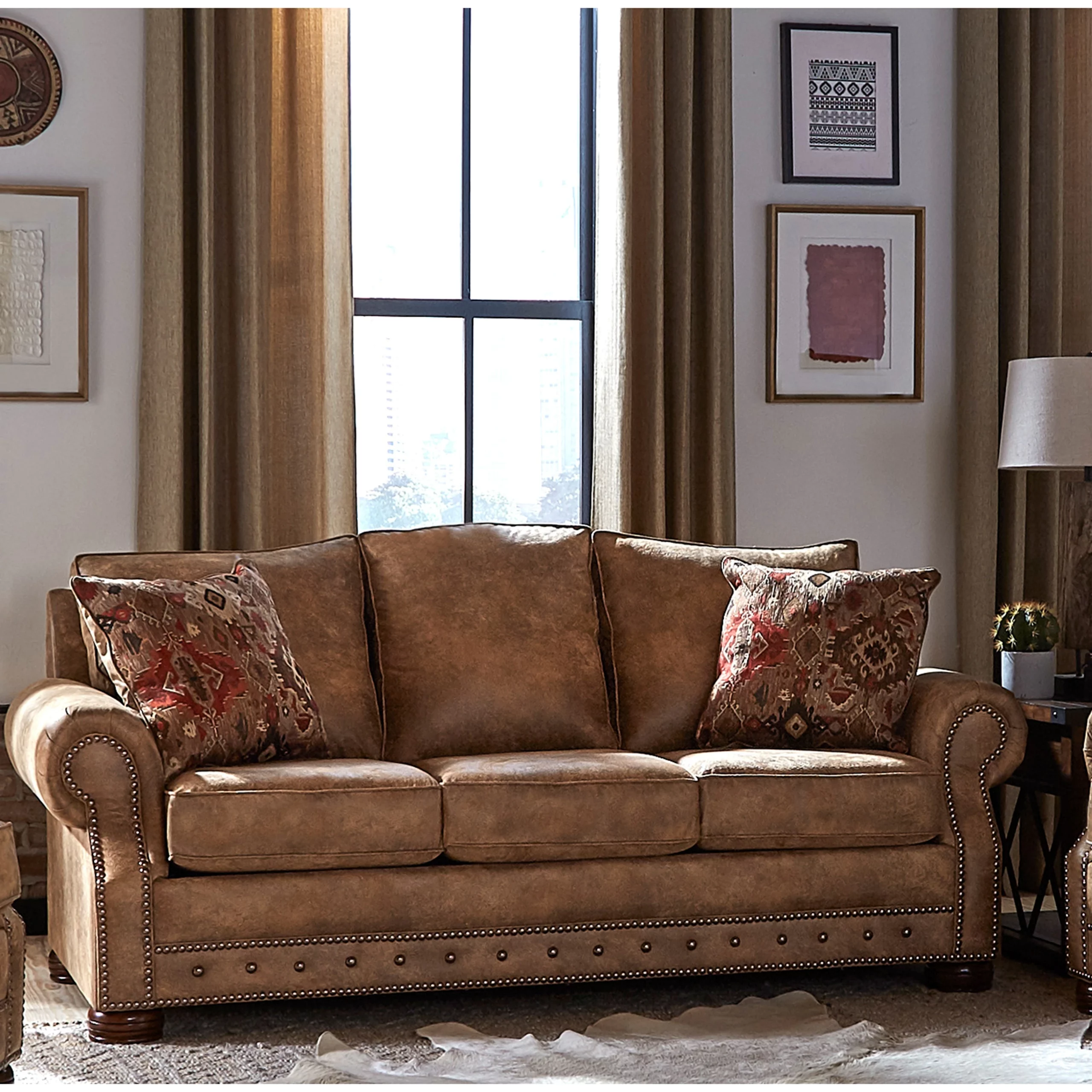 If you're into the rustic look, this buckskin sleeper sofa will fit right into your decor. This couch is beautifully crafted and features thick cushions, and pulls out into a queen-sized sleeper sofa.
This is the perfect country couch to add warmth to your home. It would look great in any room with neutral or warm paint colors.
Comfy Casual Wool Sofa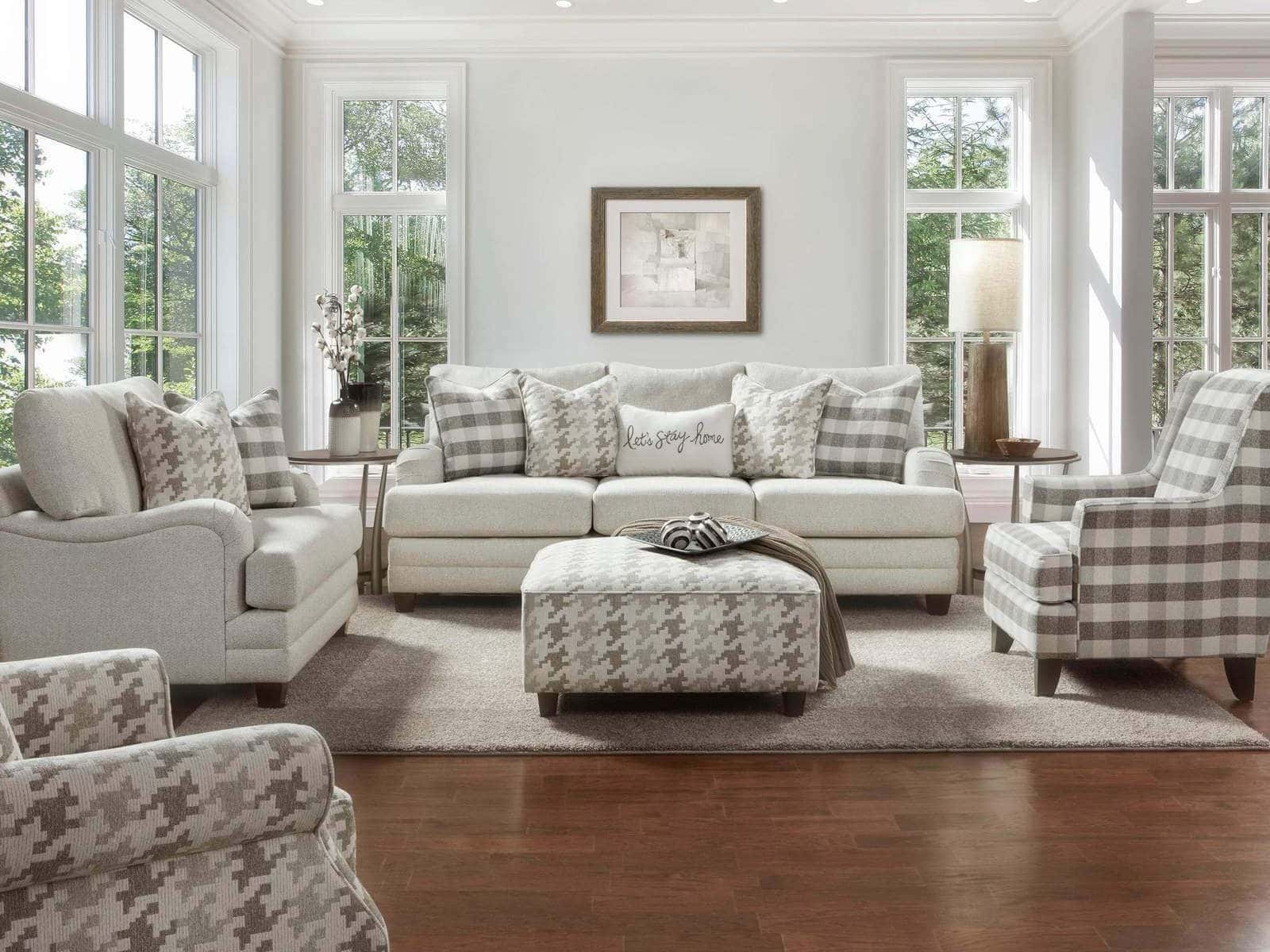 If you like to keep things simple but still want them to look good, this neutral wool sofa might be the one for you. This couch features English arms, a bright neutral color, and five accent pillows.
This sofa is basic enough to fit in with any style of country decor and still look amazing. It's 94 inches long and will comfortably seat up to three people.
English Country Sofa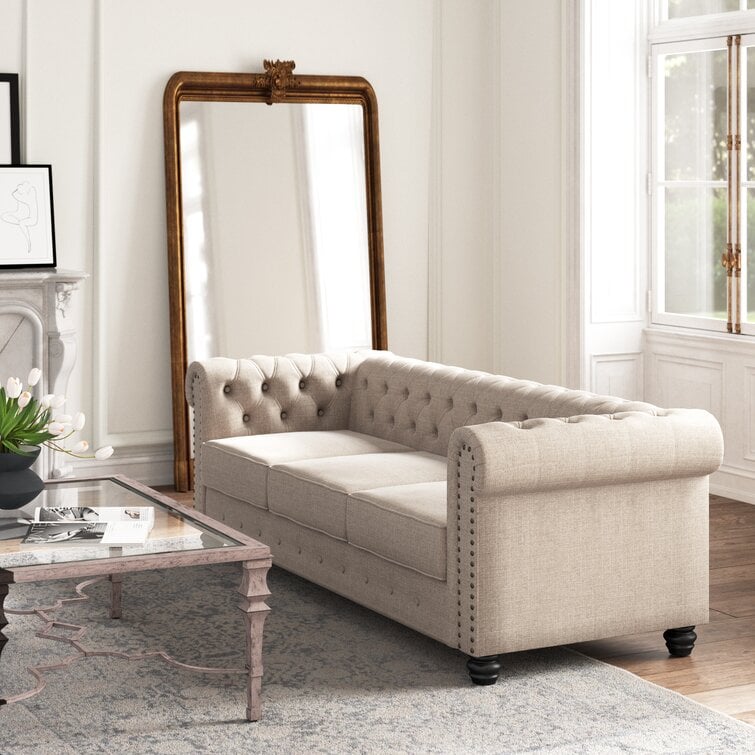 If you're into the traditional look of English country sofas, you'll like this choice from the Kelly Clarkson line on Wayfair.
This sofa comes in beige, linen, charcoal, and green.
The rolled arms and tufting give it a sophisticated look while the color and fabric play on the casual side. This is an excellent couch for a living room or large bedroom.
Cottage Style Couch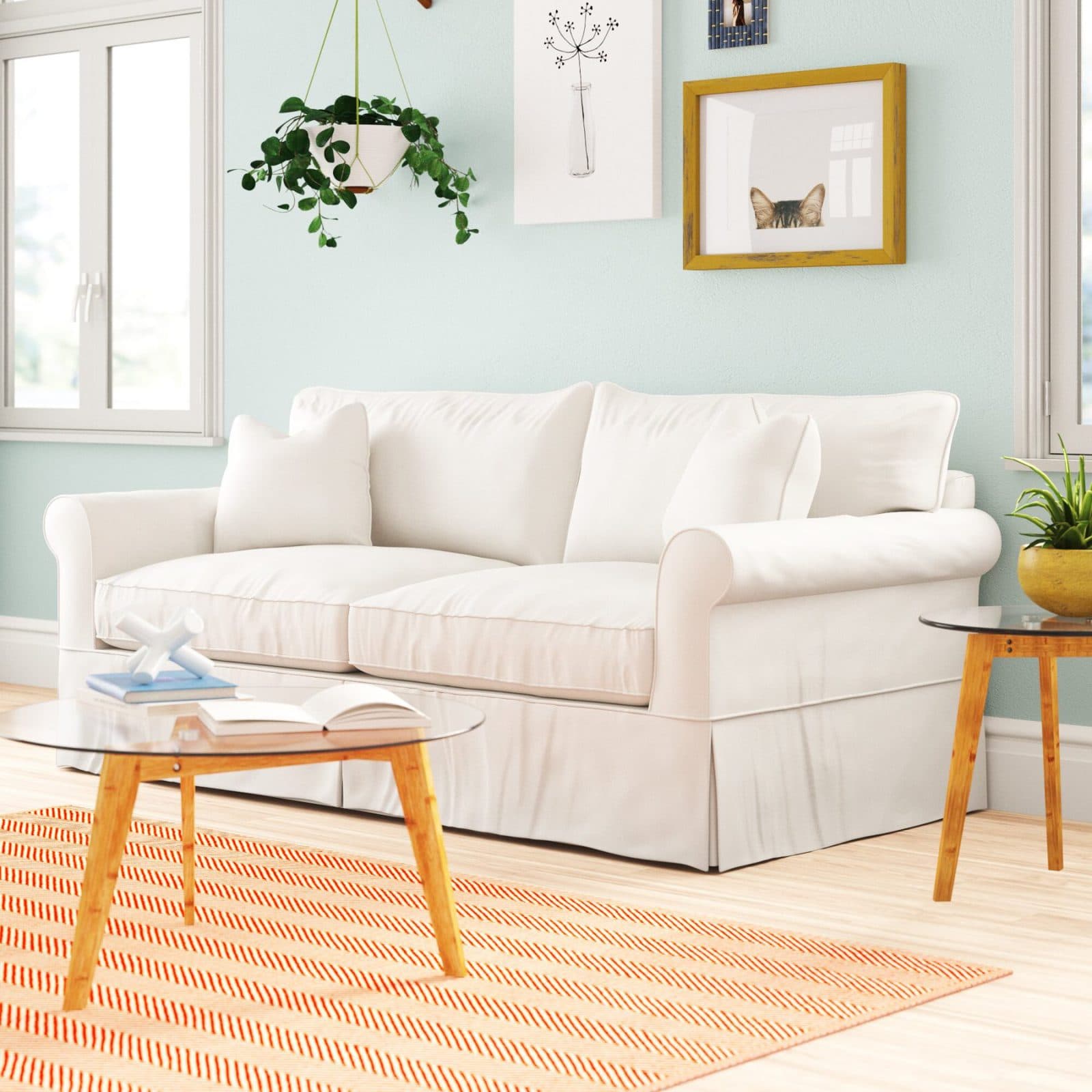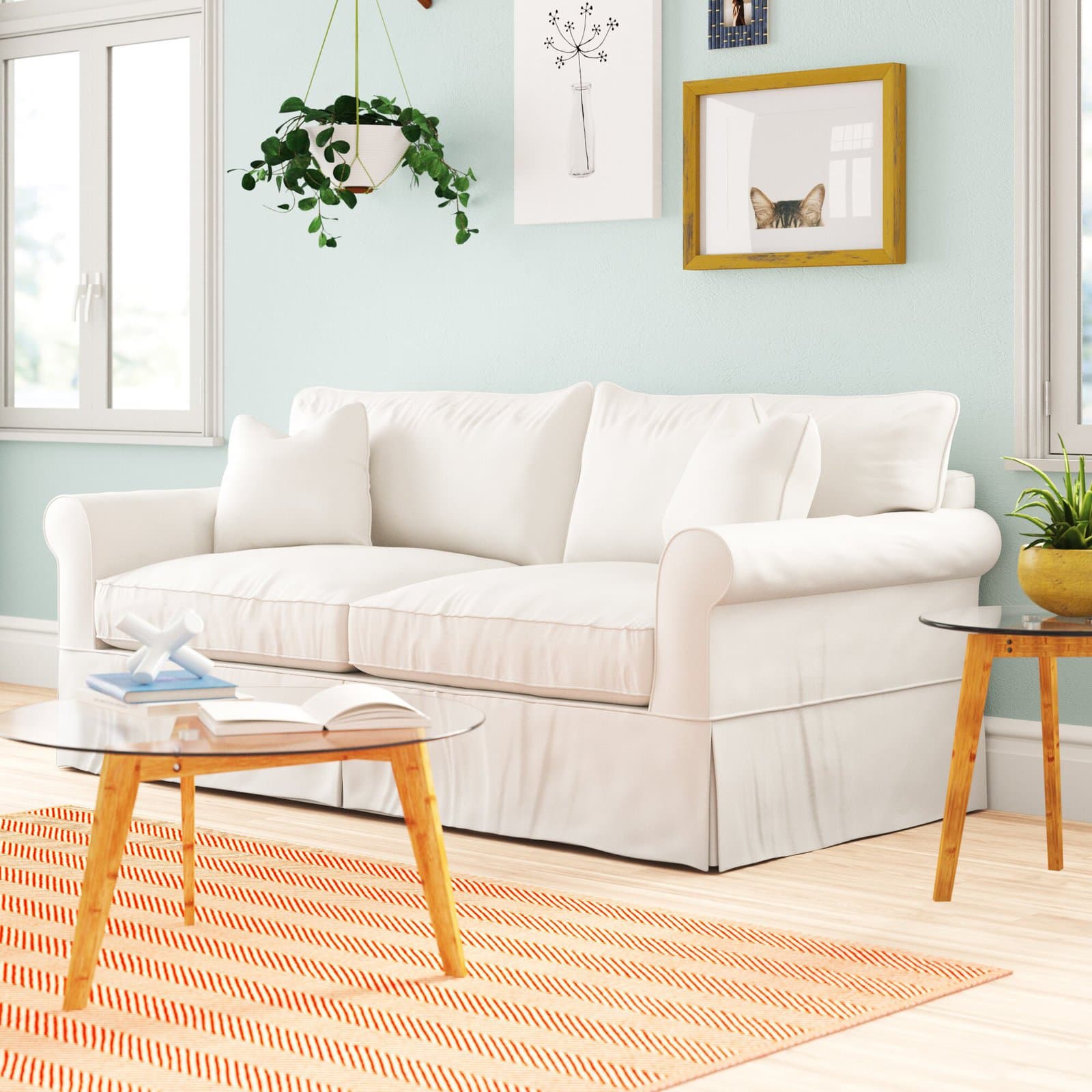 Cottage style couches go great in country homes. These types of sofas are about as casual as you can get and are the best for curling up with a book at the end of the day.
This slipcovered cottage-style couch comes in several colors and designs, including white, tan, and pinstripes. (There are over 50 fabric choices.)
Other essential features include reversible cushions and a full-sized sleeper bed.
Plush Leather Sofa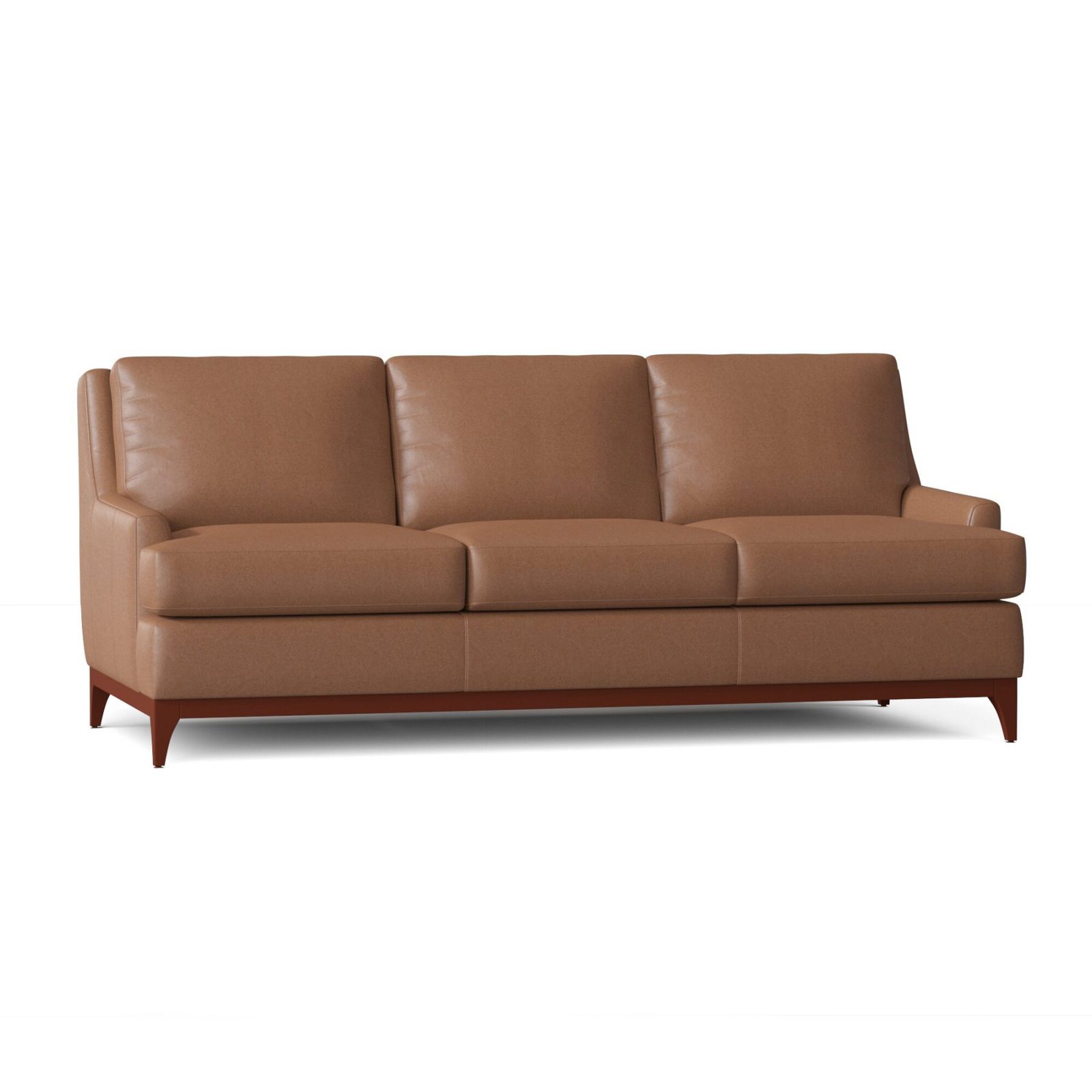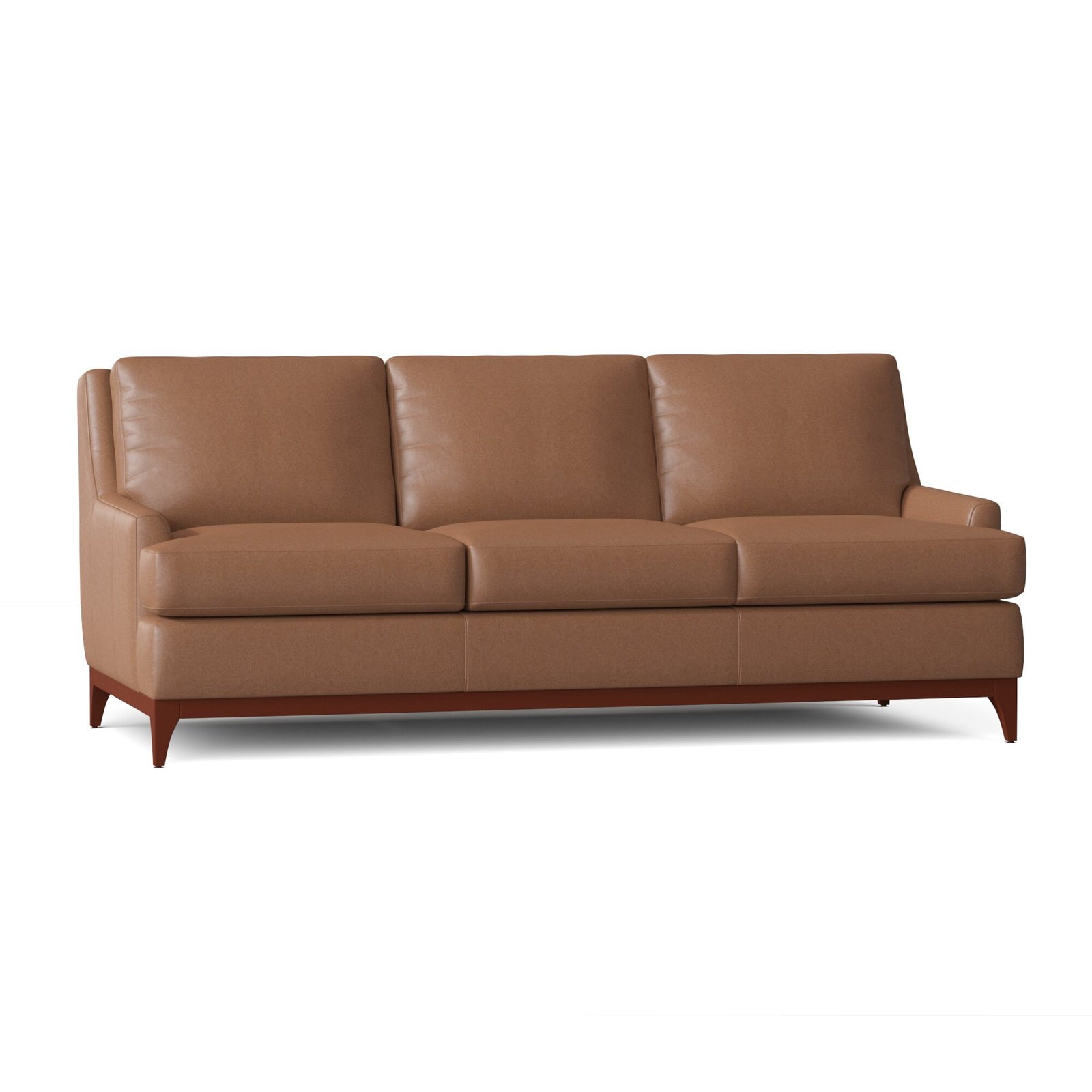 If you're looking for a sofa that will stand the test of time, it's hard to go wrong with leather. Fortunately, this genuine leather sofa comes in several colors, including shades of brown, blue, and gray.
Its thick cushions give this couch a comfy, country vibe, while the legs are an ode to modern style. So, if you verge between country and contemporary style, this is the couch for you.
Slip Covered Casual Sofa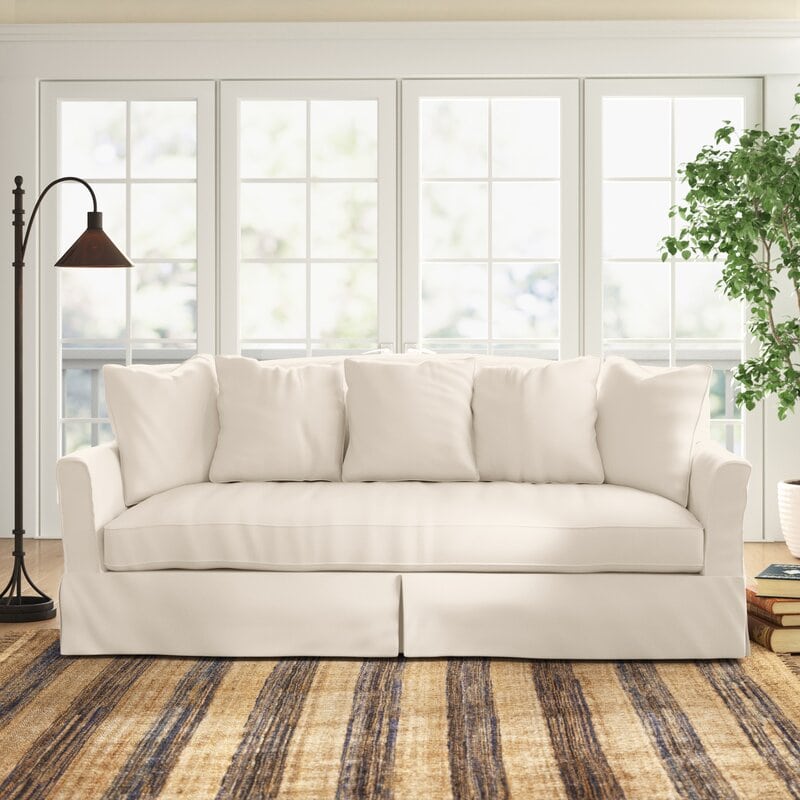 Here's another take on the slipcovered sofa. This one is less of the traditional English style and instead emphasizes being super casual.
This country sofa features one large down-filled seat cushion. The cushions are removable and reversible. And best of all, you can choose between 50 different colors and patterns on this one.
Dark Square Arm Sofa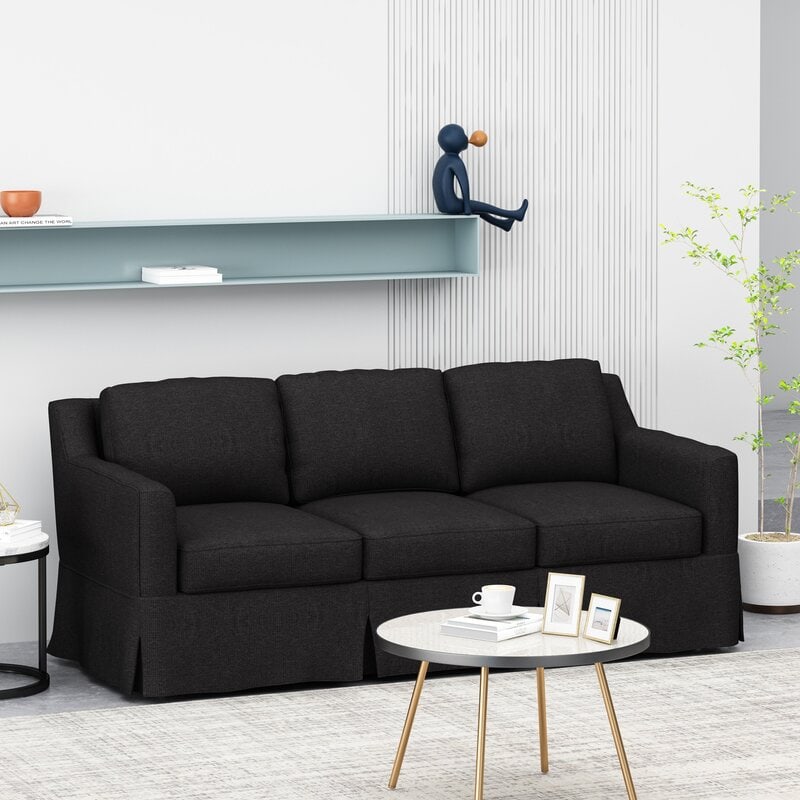 If you're worried about messes from kids or pets, choosing a dark neutral over a light one is a good choice. And this one checks that box.
This square arm couch comes in two shades: dark taupe (which looks gray) and charcoal.
This couch is very casual and will fit into any non-formal room. It's a great country-style sofa if you're looking for a cozy and classic style.
Oatmeal Sectional Sofa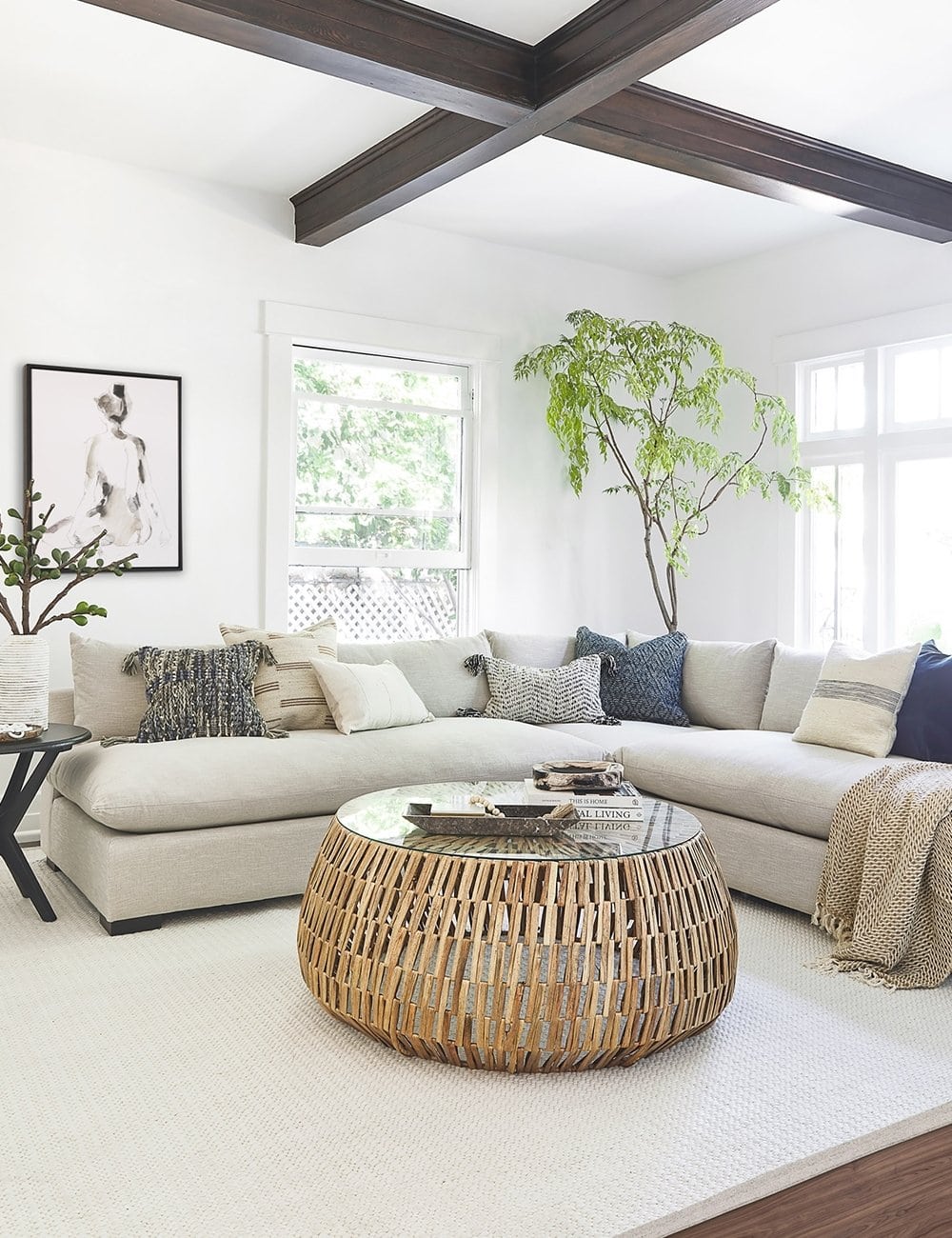 This oatmeal sectional sofa is stunning. It's a great choice if you have a lot of space to fill or a lot of people you need to seat.
This sectional features two large style cushions filled with a combination of foam, fiber, and feather. The fabric is stain-resistant and comes in two colors: oatmeal and charcoal gray.
This couch would look great in any informal living room.
Small Velvet Sleeper Sofa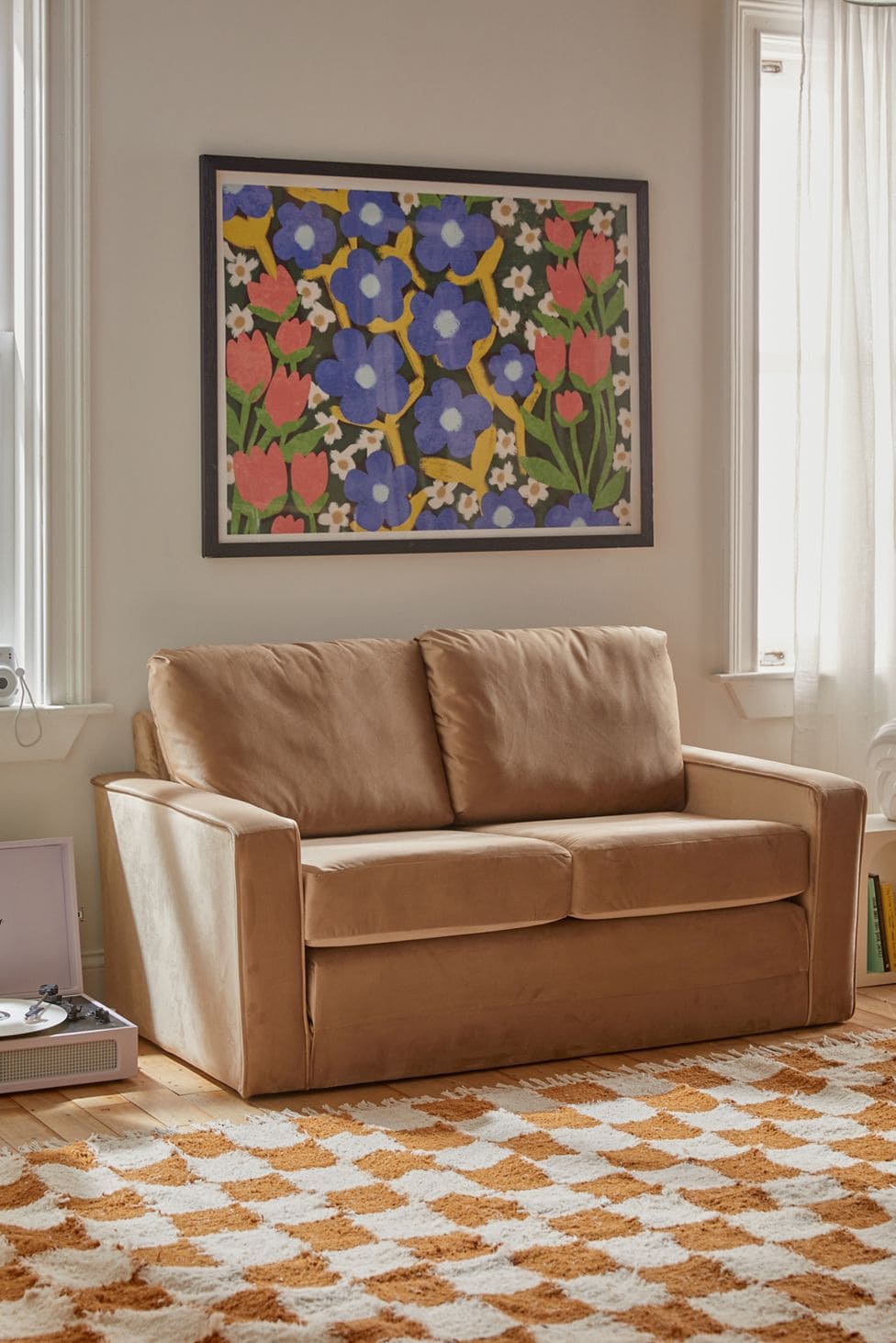 If you're looking for a sofa for a small space, this velvet sleeper sofa may do the trick.
This couch is from Urban Outfitters and is a two-seater with pullout cushions that turn into a bed. It comes in five colors, including taupe, rust, green sky, and pink.
You can easily dress up or down this sofa, fitting it into both casual and formal spaces.
Cottage Pinstripe Couch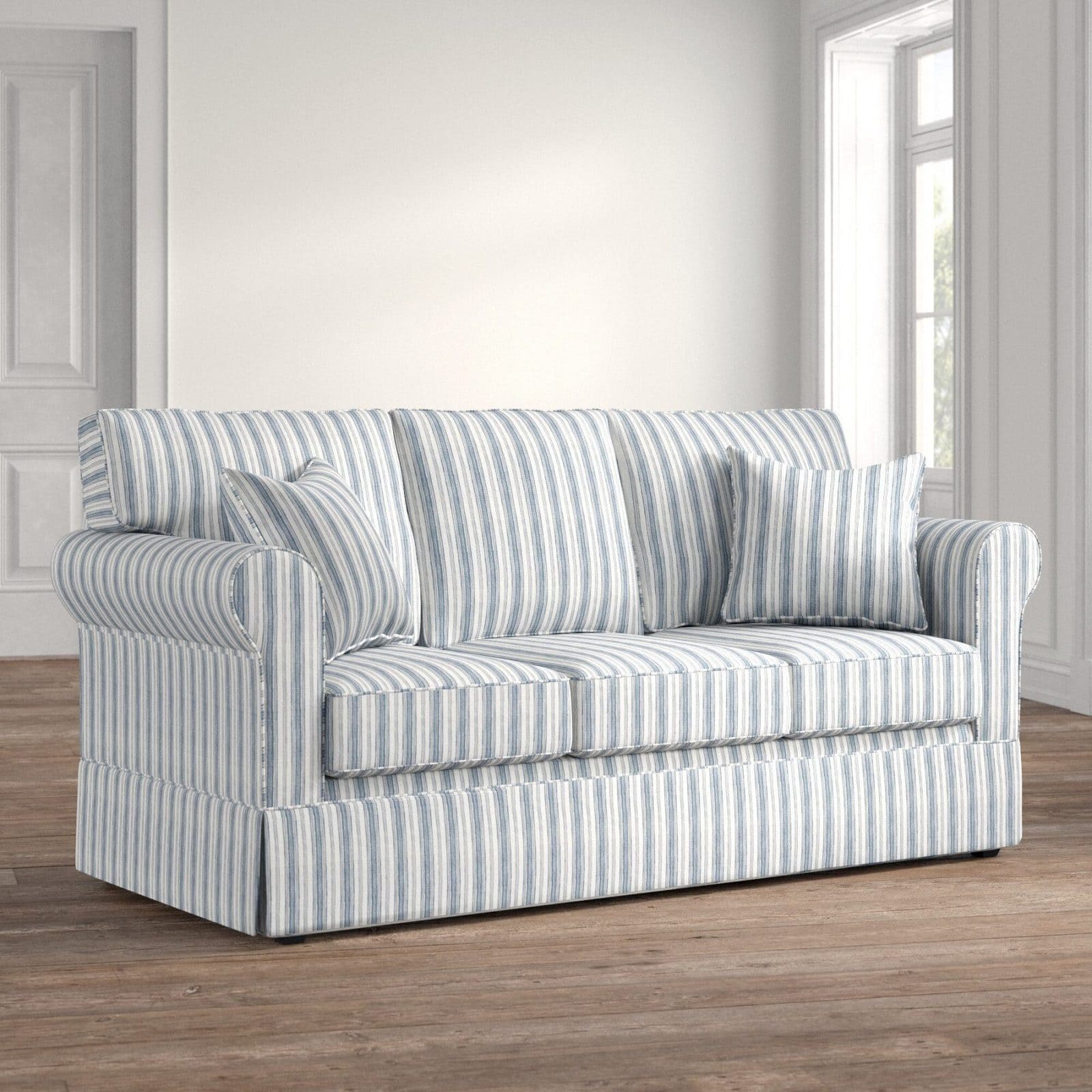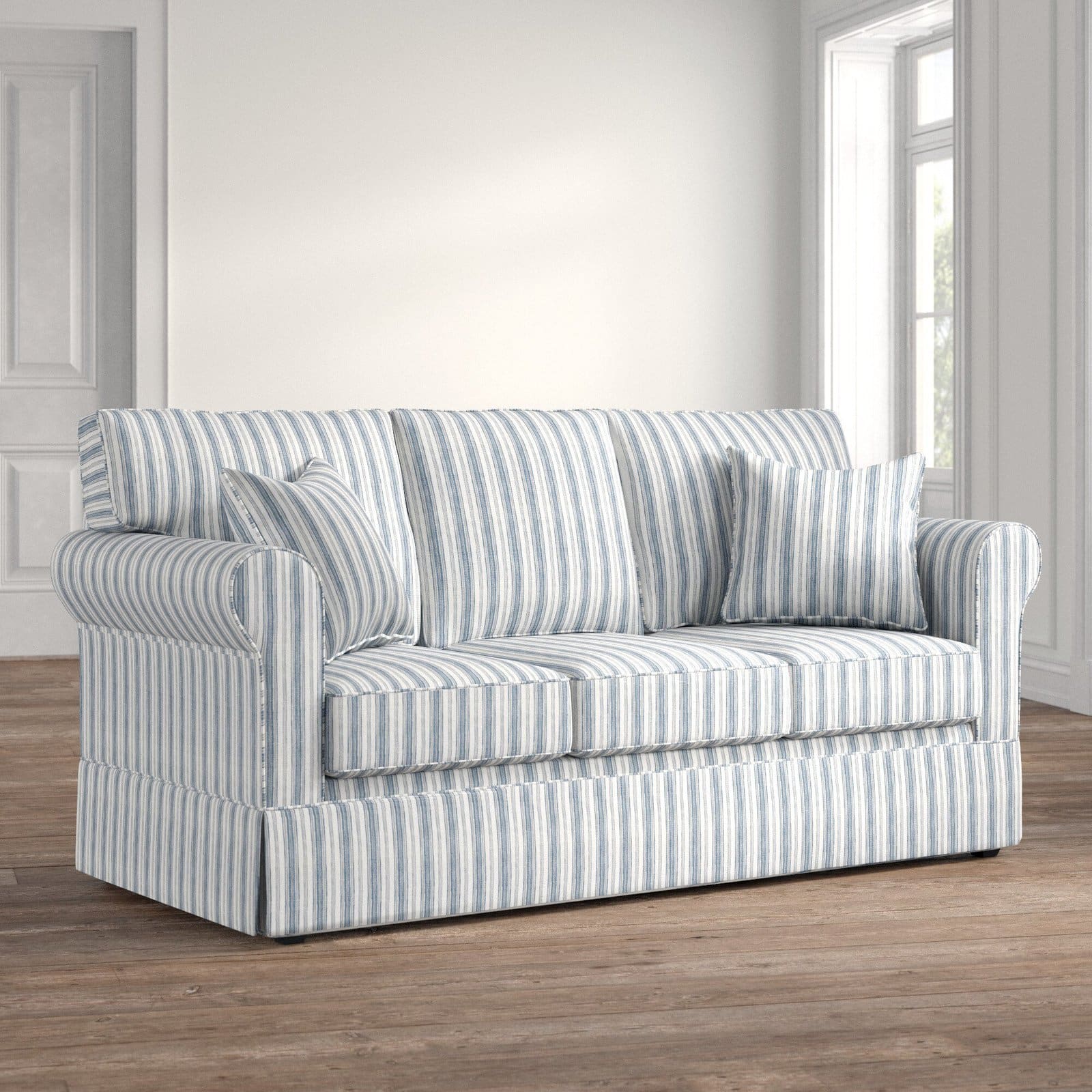 This couch screams cottage country style. It's constructed of a solid wood frame, has removable cushions, and a pull-out bed with your choice of memory foam or an innerspring mattress. The pinstripes come in two different colors: Brunswick denim blue or Brunswick gray.
This couch is light and bright, perfect for those who love country cottage-style decor.
Formal(ish) Country Couch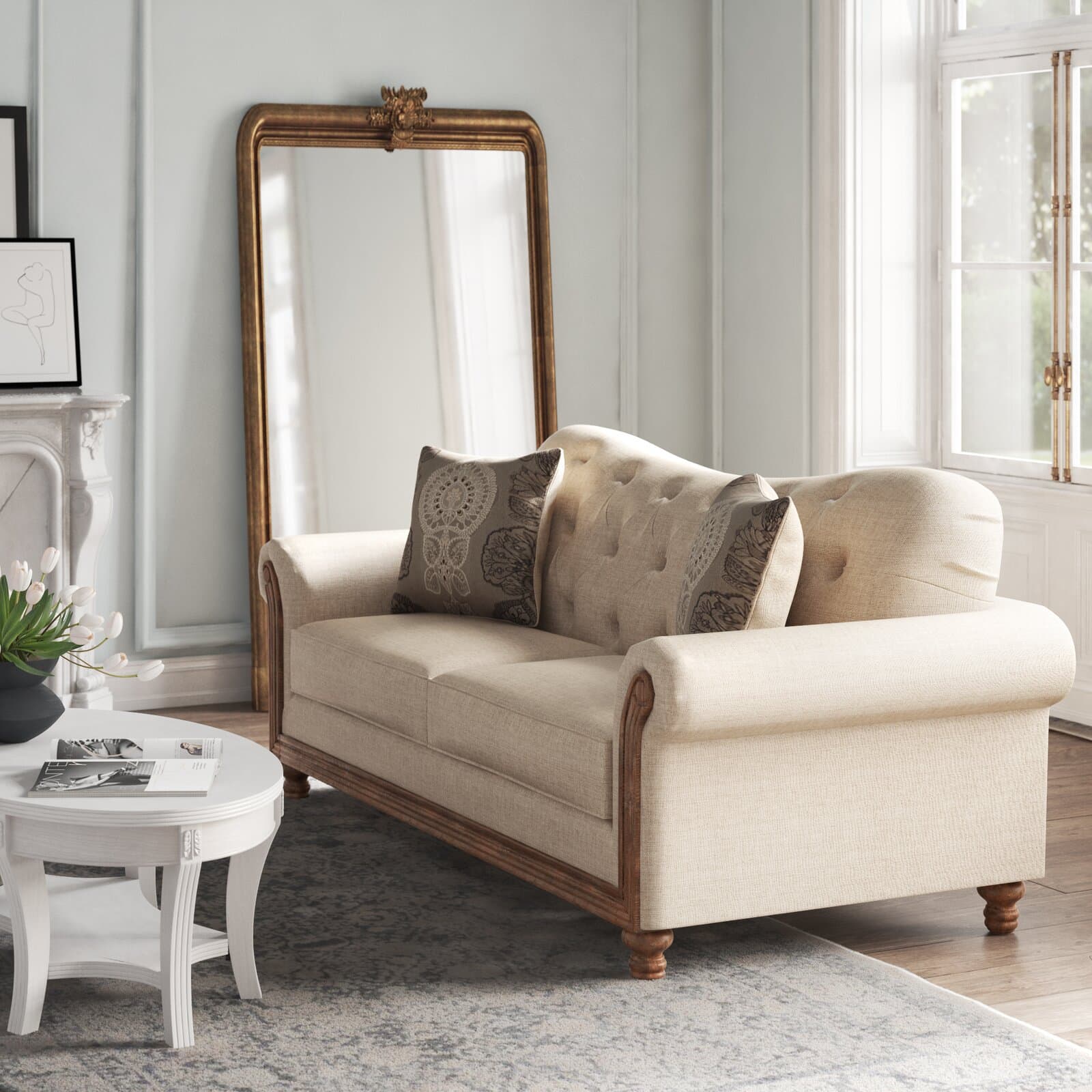 If you're looking for a couch that feels a bit more formal but is still practical, this option from the Kelly Clarkson line fits the bill. This sofa is neutral with tufting in the back and wood accents along the bottom and arms.
It comes in a pretty tan color and has removable and reversible cushions.
Final Thoughts
If you're looking for a new country couch, you have a lot of good options. The sofas on this list emphasize comfort and fit many different styles, including English country, modern country, and rustic.
For a casual look, go for neutrals, simple frames, and overfilled cushions. On the other hand, if you like the country-glam look, find a sofa with tufting and nailhead trim. And finally, if you want to pull off the perfect country-cottage style, find a couch that is traditionally framed and has the slipcovered or pinstripe look.
They're all the perfect mix of coziness with style.