Non-Working Fireplace Ideas for Every Style
Have a non-working fireplace but no idea what to do with it? Or have you moved into a house where the fireplace is merely decorative? Before you dismiss it as useless and seal that space, stop and think about the alternatives.
A non-working fireplace can be a great decorative asset if properly styled. People are increasingly using faux fireplaces and adjacent mantels to create a statement look that makes your non-functional fireplace appear cooler. Because it's part of the wall, you already have a working design with which you can creatively experiment.
Here are some ingenious ways to repurpose your home's non-functional fireplace.
Adorn it With Art
Art isn't just meant to be hung on a wall. With the kind of cool and kitschy kinds of art available these days, you can find fresh ways to display them. Your non-functional fireplace cove or faux mantelpiece would be just the right place for it.
Depending on the inherent style and design of your home, you can prop back a couple of well-framed abstracts or fine artworks against the fireplace wall.
Fireplace artwork doesn't have to be limited to paintings! In this corner of your room, you can also incorporate cool sculptures, wrought-iron installations, or perhaps some charming ceramic pottery. As a result, you'll have a statement-style gallery vibe that will draw attention to your fireplace for all the right reasons.
For a chic aesthetic, you can also proudly display some souvenirs or knick-knacks from your travels.
Create a Vibe With Candles
So what if you can't get a roaring fire going in your fireplace? You can still create the right vibe with a bunch of fancy candles. Imagine a candle-lit fireplace with a deliciously moody vibe that you can snuggle up to on colder days. Sounds good, right?
Line your fireplace with votive candles for a soft glow, or adorn your mantelpiece with an elaborate candelabra for a period vibe. Keep it as simple or as vintage as you'd like. If you're concerned about a fire hazard, use electric candles. The best part about this idea is that it allows you to recreate the feel and warmth of a fireplace hearth without the use of traditional firewood!
Use it for Book Storage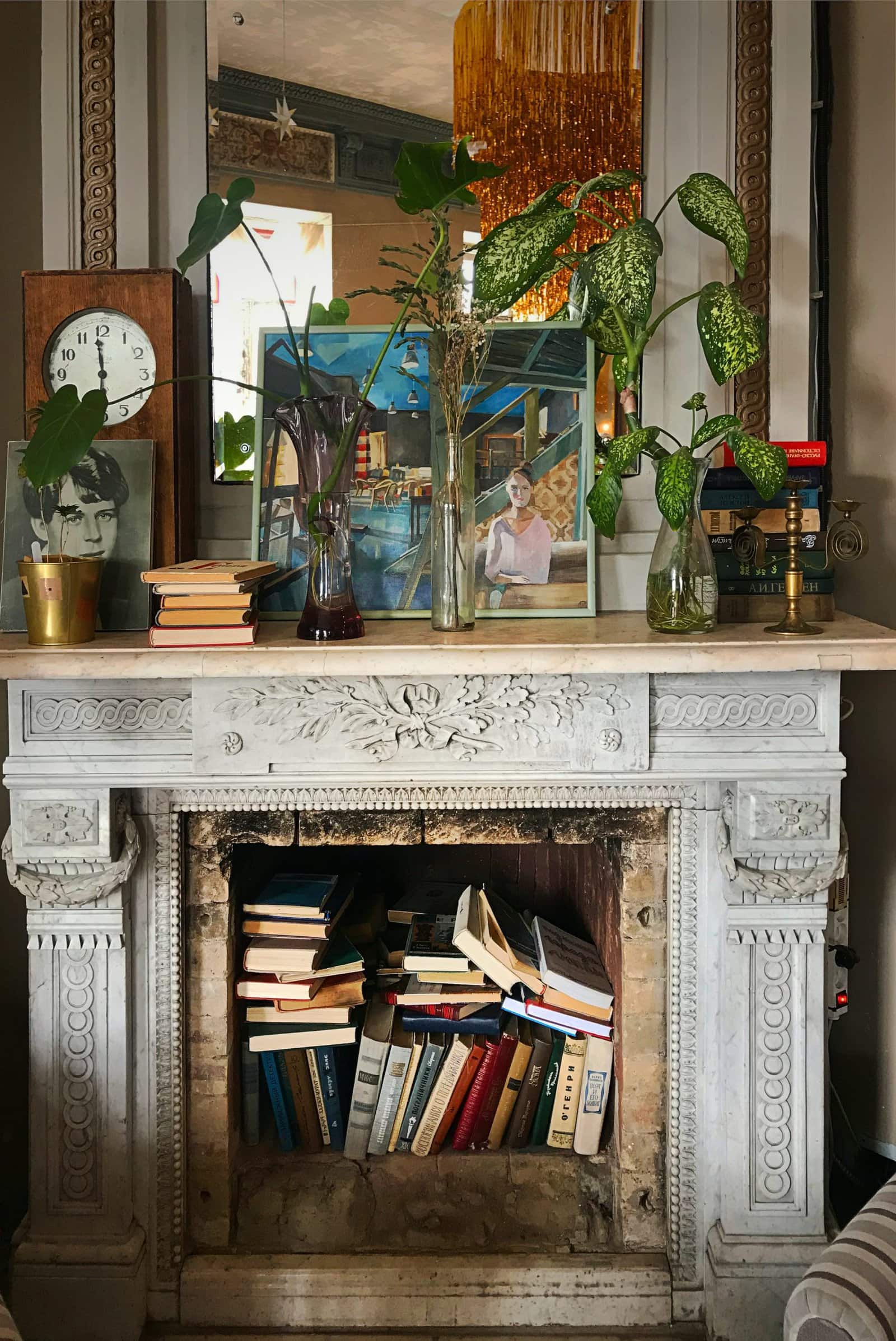 This is one of the coolest non-functional fireplace ideas to hit the decor world. It's simply brilliant, especially if you're a bibliophile with hundreds of books that need a place in your home. For a shabby chic effect, arrange books (even better if they're hardbound!) in a mismatched stacked position in your empty fireplace.
Check that the inner spine of the book protrudes outward. Fill every nook and cranny of the fireplace with books for the best aesthetic effect and to amp up the rustic feel.
While it may sound a little over the top, the result is a wonderful, vintage-y space that will draw attention. If you already have a farmhouse-style fireplace, this effect is further enhanced.
Experiment With Tiles
If you have a drab fireplace that needs to be spruced up, it's time to reconsider the tiling around it. If you want to go for a more modern look, consider retiling the mantel space with some snazzy tiles. Add a herringbone tile in a bold color against a white wall to make a statement.
However, before you choose to retile, make sure you're truly committed to this design because it can be a time-consuming and costly endeavor. Another option is to use peel-and-stick tiles, which are great for DIY projects and are perfectly practical for a purely decorative fireplace.
Decorate it With Plants or Flowers
If you're a plant person, you're going to love this idea. Non-working fireplaces make excellent little coves for tucking away small indoor plants or floral centerpieces.
Add a little fern plant, and a bunch of cute and colorful succulents, or achieve a bohemian look with pretty climber plants like English Ivy or a heartleaf philodendron.
If you don't want to devote time and energy to maintaining an indoor plant, spruce it up with faux plants that look just as good. You can also liven up the space with a sprinkling of blooms, whether it's an oversized decorative vase filled with cheerful flowers or an eclectic flower arrangement.
Give it a Faux Feel
Nothing beats a fake fireplace that gives off the same vibes as a real one. How do you go about doing that? By incorporating decorative firewood (yes, it's a thing!). These decorative logs can add a charming rustic touch to a modern or contemporary space.
Create a cabin-style atmosphere with white birch logs. This is a beautiful white wood that is lightweight, making it easier to clean the fireplace on occasion.
Line it With Wallpaper
The inside of a fireplace may be empty, but it doesn't have to look dull. Enhance the interior of the fireplace with a dramatic wallpaper that creates an eye-catching look. Experiment with various looks, such as a charming floral theme, hypnotic paisley prints, or faux-brick prints for an industrial-chic look.
Cover it With a Screen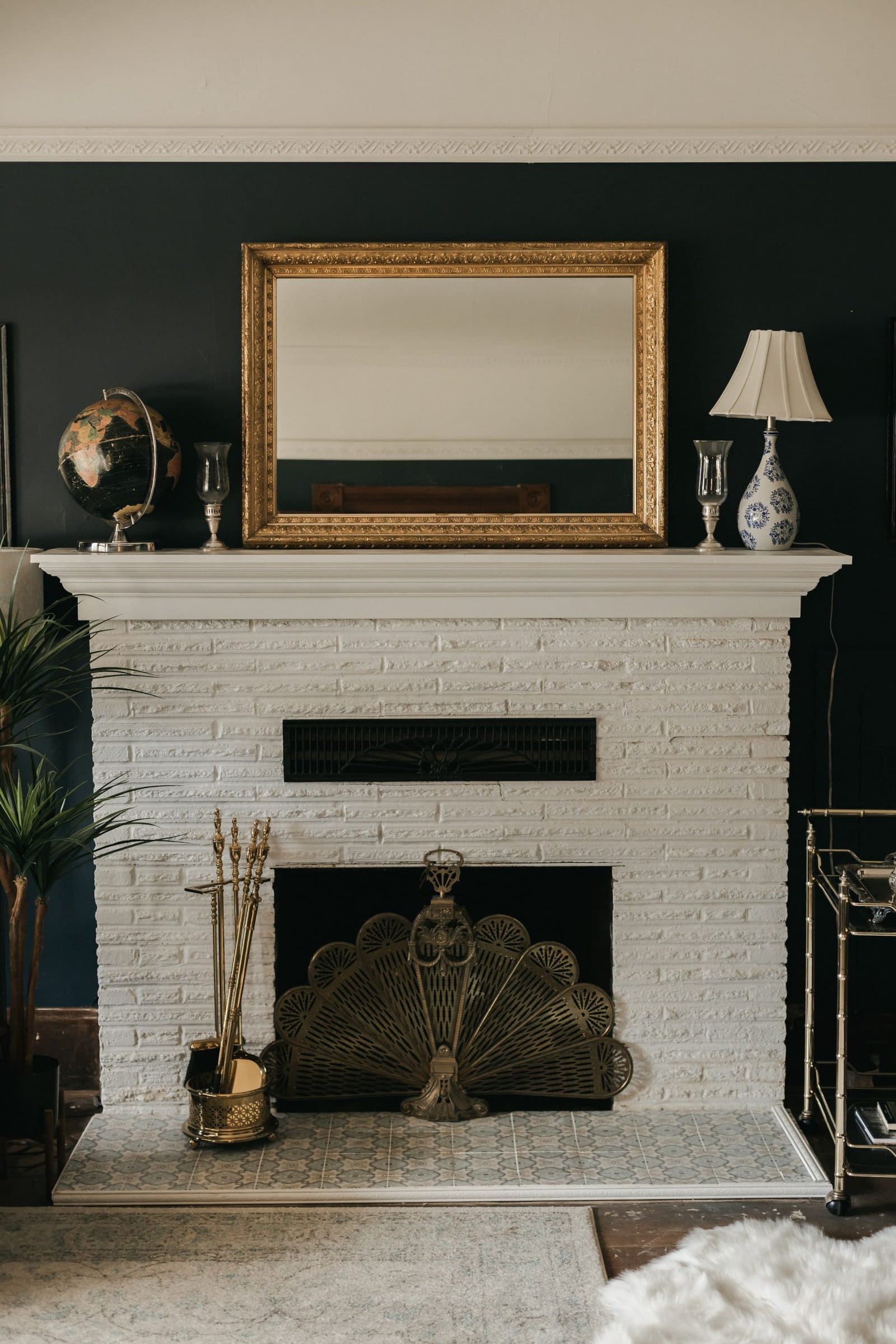 If you're not sure what to put in your fireplace but don't want to leave it empty, put a decorative screen to frame it. This accomplishes two things.
One, it adds character and a charming focal point to your non-working fireplace. Second, it gives the impression that the fireplace is only temporarily inoperable.
It also adds a sophisticated touch, particularly if you use an antique white iron or a delicate, gilded screen. This style works well with a farmhouse or mid-century home. You can also opt for more modern-looking screens such as steel panels, brass-hewn designs, or matte black metal panels.
Set it Aglow
If you're determined to add some lighting to your fireplace but candles just won't cut it, consider replacing them with other lovely alternatives.
Create a Hygge vibe with softly lit lanterns — add three or four for a dramatic effect! Alternatively, roll up a long string of fairy lights and stuff them into glass jars or bottles to display in your fireplace.
You can also incorporate additional elements into the mix, such as artwork + lanterns or plants + lanterns to achieve the desired look. Place a bunch of throw pillows and a plush shag rug near the fireplace to create a romantic mood.
Sport a Simple Design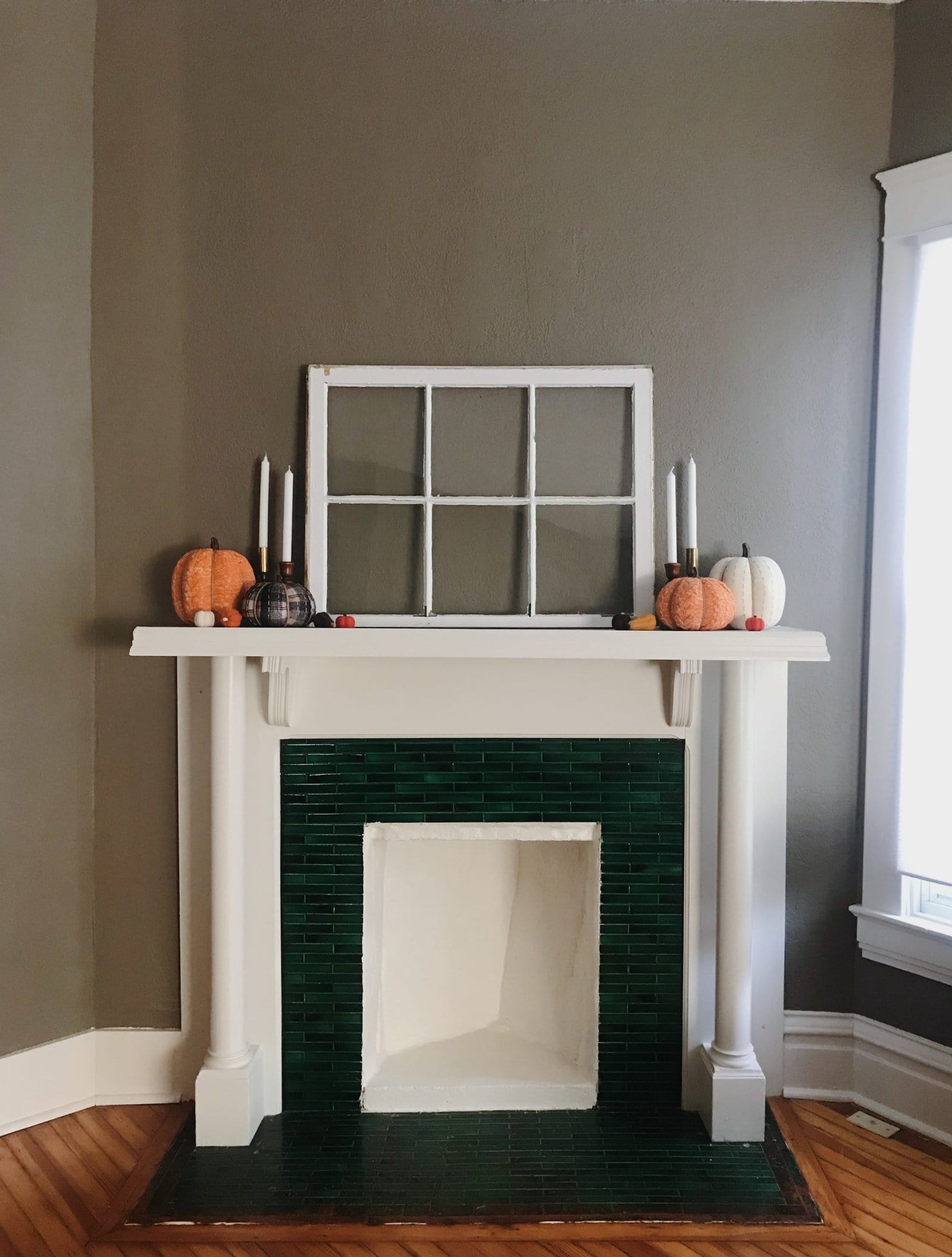 If you prefer sleek and simple designs, go for a minimalist look that draws attention in its own way. This look works best with crisp white spaces, so consider painting your fireplace and mantel white. A round mirror above the mantelpiece will add a beautiful contrast.
You can also make this space seem more striking by displaying minimalist artwork above a white-washed fireplace.
Use it as a Wine Display
Even if there isn't a roaring fire to drink besides, fireplaces and wines make for a heady mix. Take this winning combination and create a clever non-functional fireplace design.
Put a cool wine rack and a few bottles of wine in your faux fireplace for a classy look, and voilà! Wine nights just got more interesting.
Final Words
Everyone enjoys the cozy warmth of a roaring fireplace, but with a few creative tools, you can recreate this atmosphere.
The bottom line is that a non-functional fireplace provides a blank canvas for you to decorate as you see fit, whether it's a bohemian-chic look with plants and rugs, a library-style vibe with books, or a beautifully illuminated space that mimics the real thing.
Don't be afraid to combine multiple elements to create the ideal look. Ultimately, you want a space that you can call your own, one that feels just as snug and inviting as a real fireplace!