Decorated Life is reader-supported. When you buy through links on our site, we may earn an affiliate commission. Learn More
How to Mix and Match Living Room Furniture
There's a thin line between setting the right vibe and looking out-of-place when it comes to mixing and matching living room furniture. Since only a few interior stylists know how to pull the right strings to create that magic, playing mix-n-match with your living room furniture can be overwhelming.
To avoid the (coordinated) chaos, most people decide to "follow the trend," but when they look back, their living room looks like an ancient museum in the middle of a modern city! Master the art of mixing and matching your living room furniture with these expert-backed tips.
Befriend the Rule of Three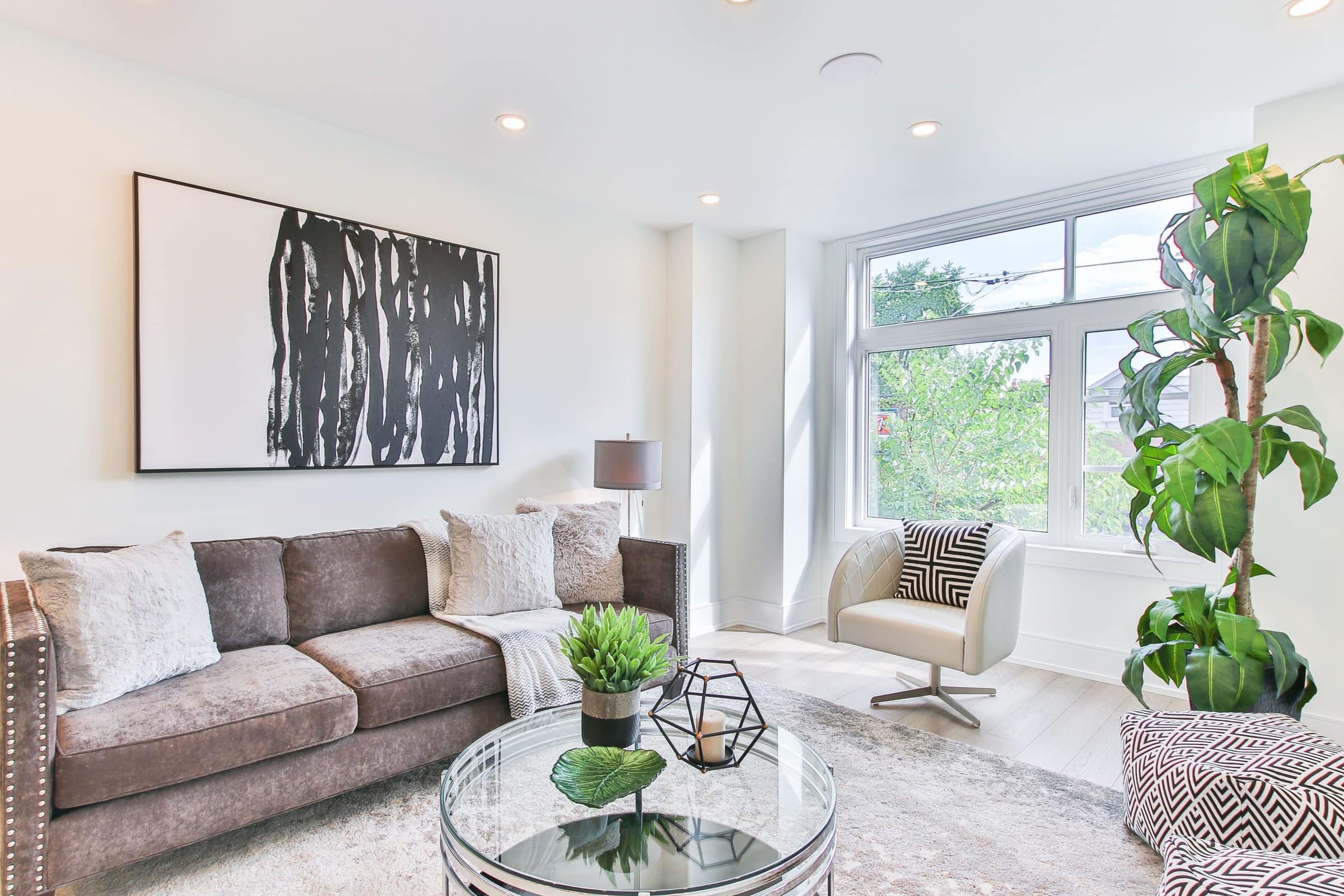 Place three different pieces of furniture in your living room for that awe-inspiring, mysterious, and creative vibe. Think sectionals, an accent chair, and an ottoman to tie the look together. This rule helps you stretch out of your theme limits and explore other styles and designs from different eras to give your room its personality.
Use this rule to tie the past, present, and future together to create a living room theme that'll sweep you off your feet! Please note two different pieces of furniture will make the room look out-of-place, and four is too much clutter.
Curb Your Color Palette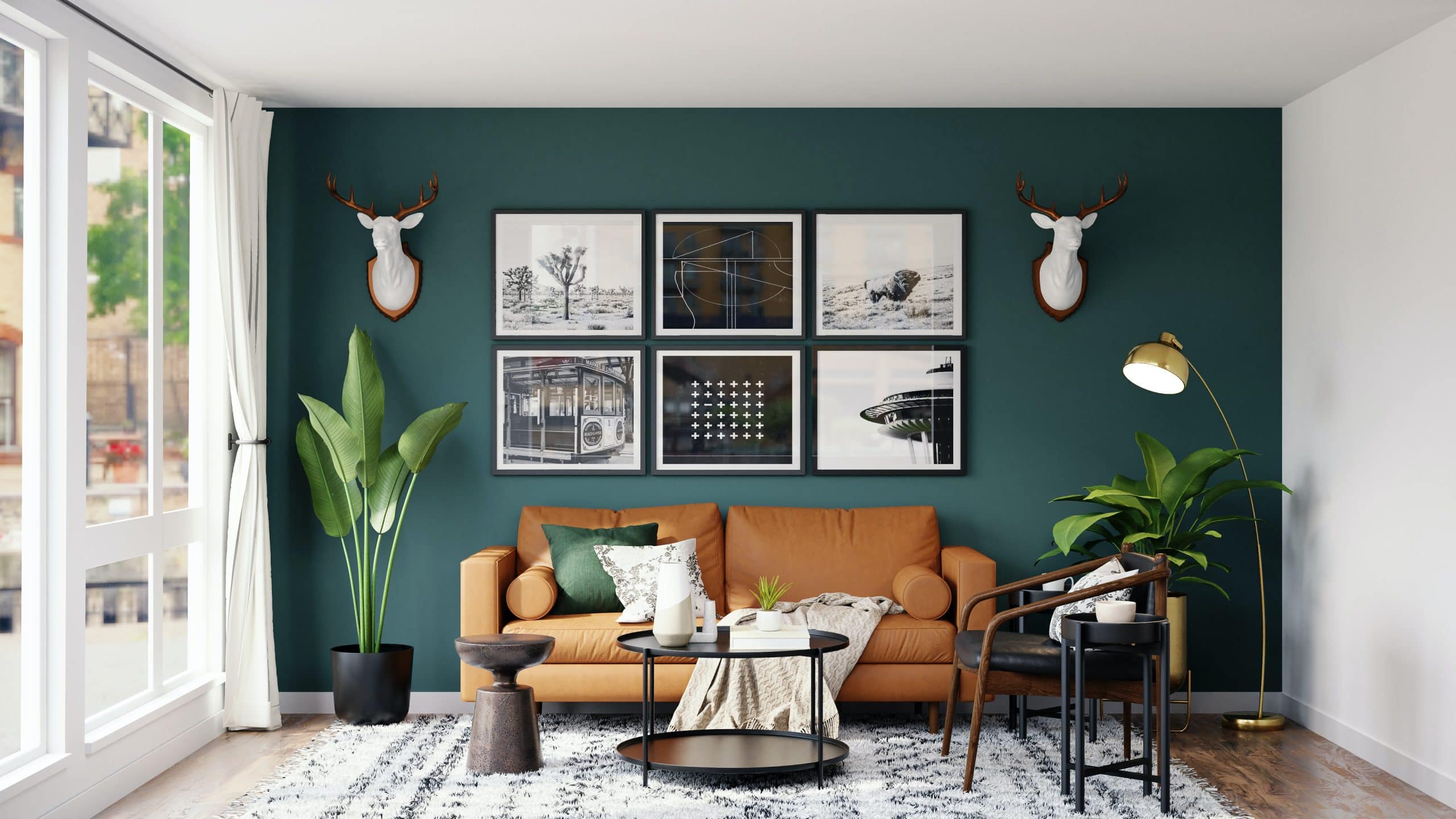 It's great to experiment with colors, but remember to keep it coherent. You can have furniture from different eras, but if there's a massive difference in colors, they'll look odd and copy-pasted instead of being part of a theme. Limit your color palette by picking the best complementary colors for your furniture.
Consider a combination of warm shades like red, orange, and yellow or cold shades like blue, purple, and green. Don't combine warm and cold tones if you won't be using a freshly painted wall as your backdrop. However, if you're not giving your walls a fresh coat of paint but love the idea of incorporating cold tones, you can use one of them as blocks of color.
For example, in a living room with a red sectional, an orange loveseat, and a yellow ottoman, add splashes of green via live plants, blue through wall paintings, and purple through décor. Note that the cold tones supplement the warm tones in this room. About 90 percent of this room is warm, and 10 percent is cold. This formula works vice versa, but having a room that's 50 percent cold and 50 percent warm isn't recommended unless you add accessories that favor either the cold or warm tones. You can, however, go bold with a 70-30 look!
Scale Your Furniture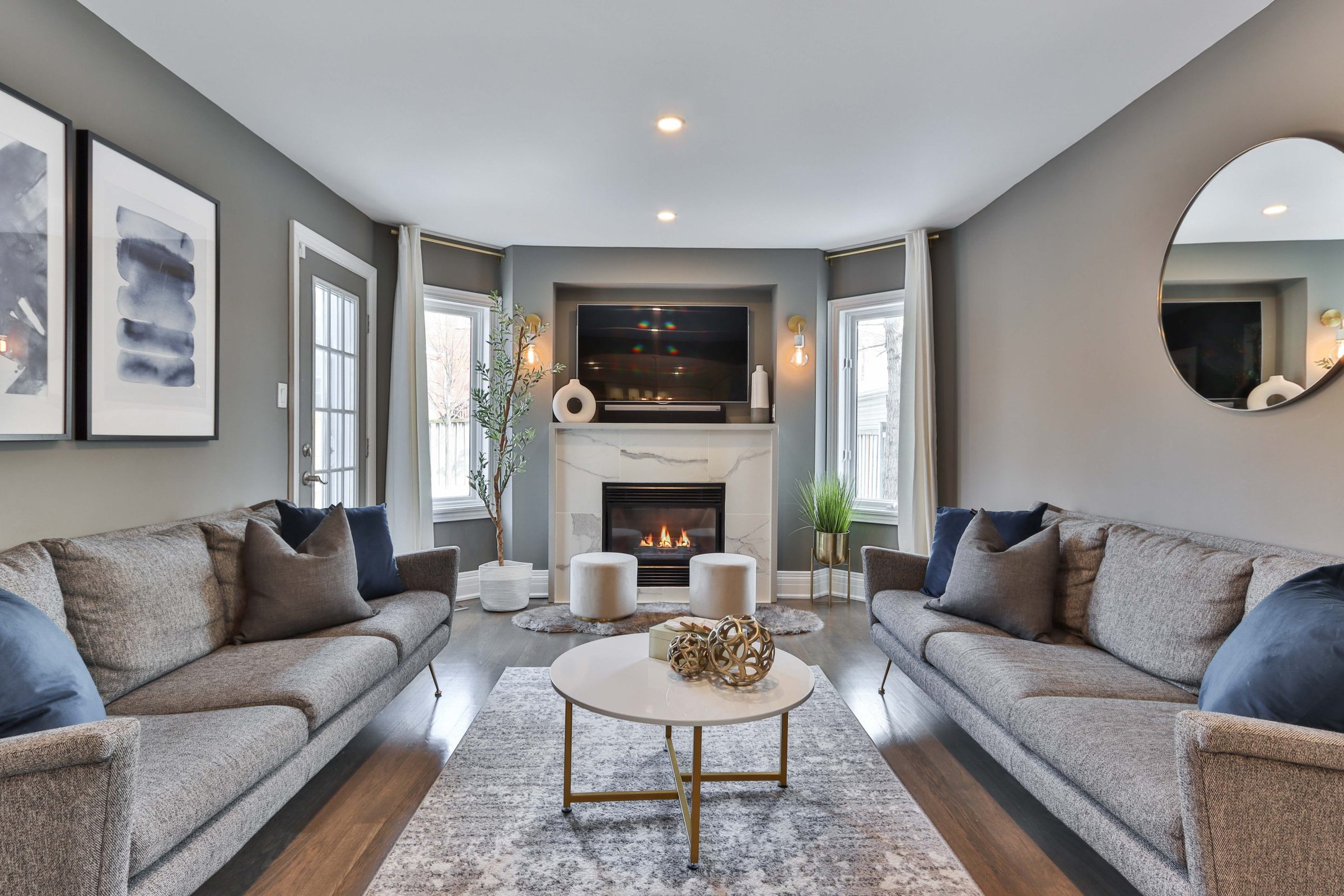 One of the most common interior design mistakes is bringing home furniture that's too big for the room. Dainty objects in your room should be small so it consumes little space in your overall theme and design. Make a small but loud statement with the furniture you set up in your living room.
In short, maintain a balance between your living room's heavy and light furniture pieces. For example, a coffee table looks great when it's small, but when it's too big, it ruins the balance of your room, forcefully snatching away the focal point from your other furniture.
Two large couches and a chaise lounge in a living room can make it look "heavy." This works for large families and people who often host parties or have many people visiting them daily. That said, replace your chaise lounge with ottomans to pair with your two large sofas to declutter your space.
Generally, you want your living room to be light to the eye. A good balance would be a large sofa, a chaise lounge, and an accent chair to complete the look. The 60-30-10 rule shouldn't only apply to colors; it can also apply to furniture to create a cohesive look and feel.
Use Rugs to Define Space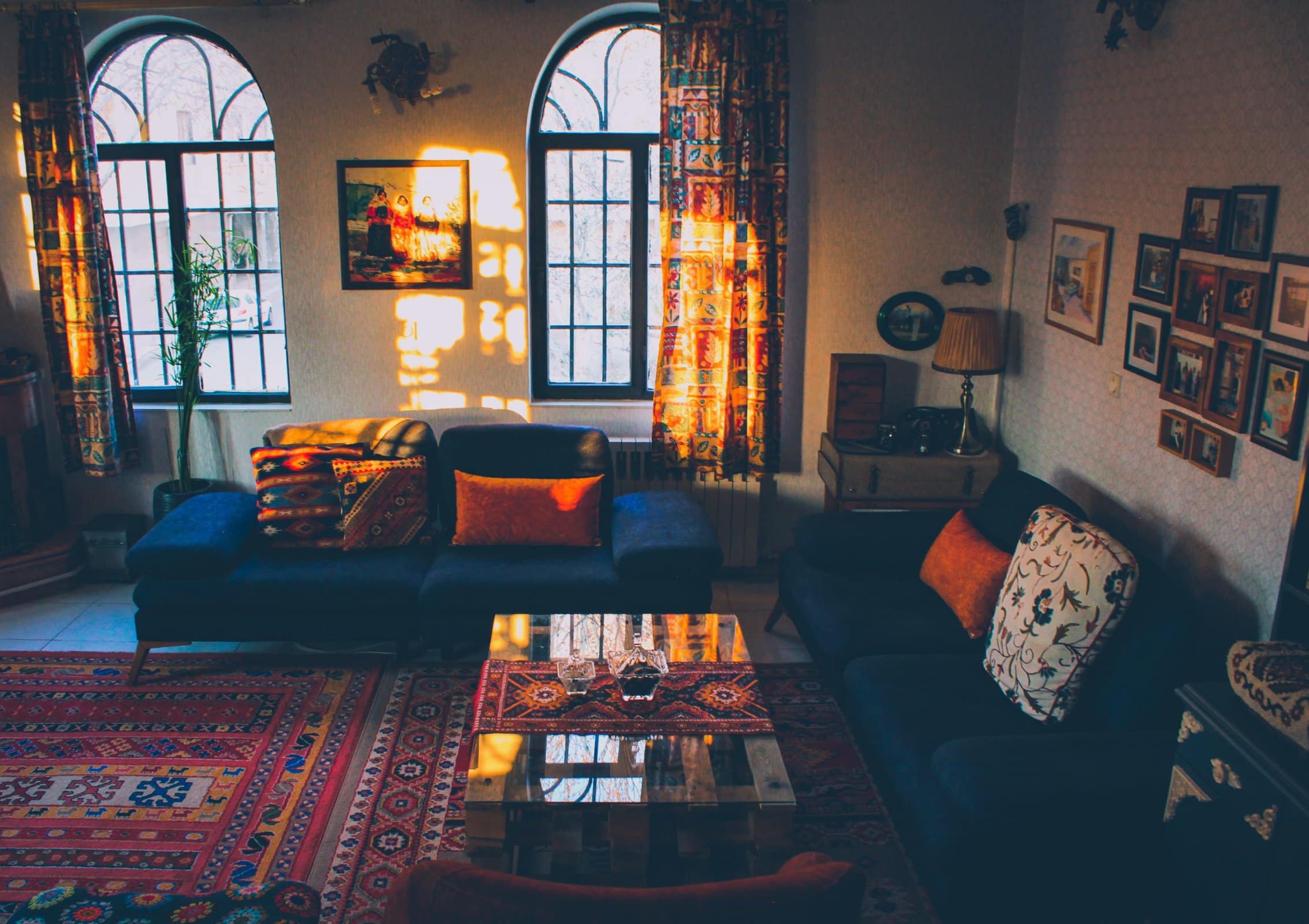 If you're dealing with open-concept living rooms, use rugs to define space and set (invisible) boundaries. Of course, the color of your rug should complement your living room furniture, so it doesn't look odd. However, you can go bold and use rugs that contrast with your furniture.
Visualize blue couches sharing the space with a bright red vintage Afghan rug under a wooden coffee table. Ensure the rug you choose matches the size of your largest sofa by length.
Don't Go Overboard With Patterns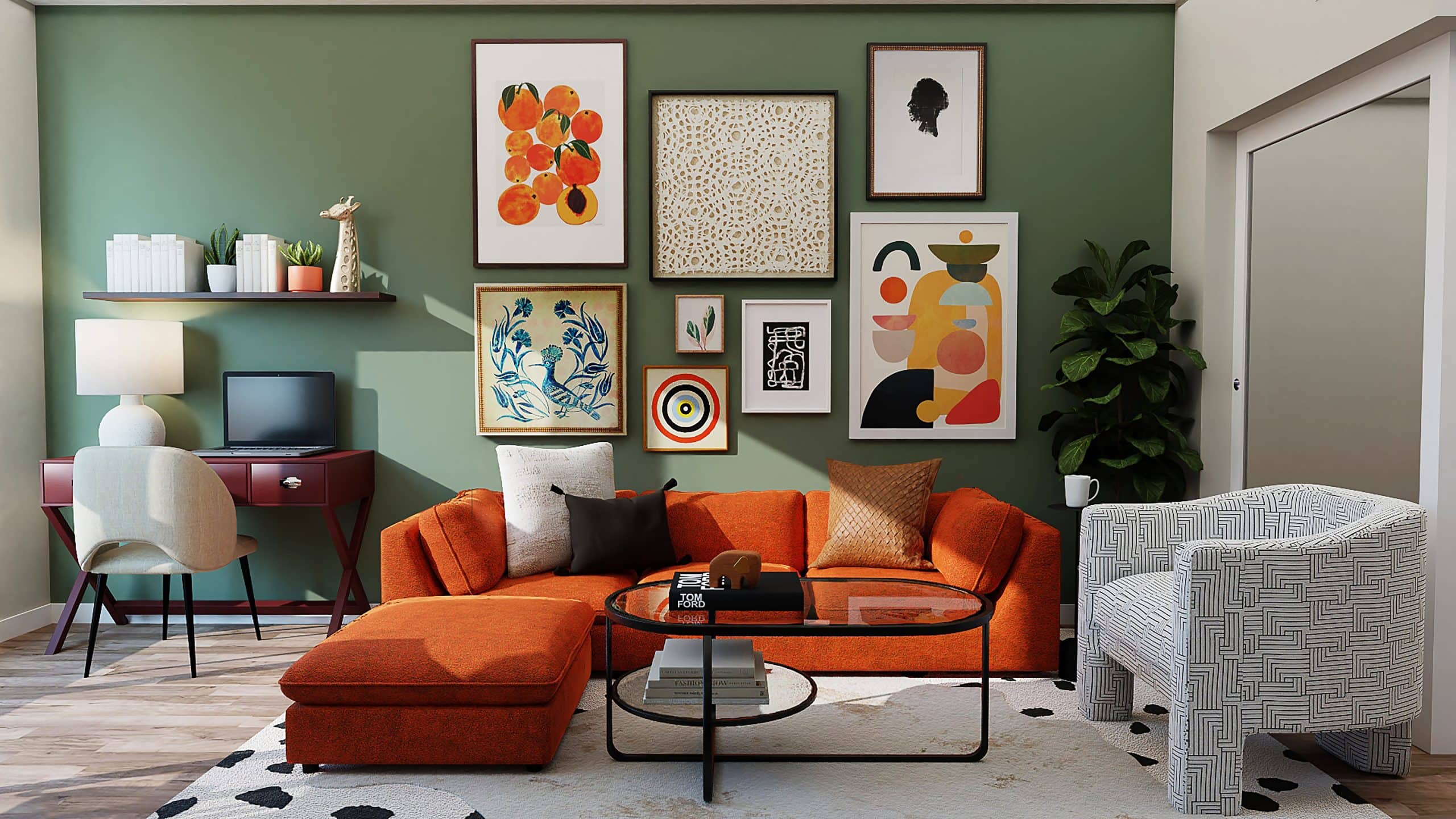 Patterns and geometric shapes are making a comeback, but they don't all have to debut in your living room! When it comes to patterns, the idea is to match, not mix. Mixing different patterns in a room will make it look cluttered and busy and distract you and your guests. Instead, maintain a single pattern design in furniture, but you can have different geometric shapes in your décor.
For instance, a plain plush couch looks excellent with a patterned accent chair or vice versa. But a patterned sofa won't match a differently patterned accent chair by a million miles! Keep your patterns cohesive. For example, if your room has vertical, horizontal, plaid, or herringbone patterns, choose décor and other pieces that complement those patterns.
This rule doesn't apply to floral patterns because they don't have defined structures on their own. Let your furniture have different floral patterns of similar color tones, but keep your rug plain to avoid uncoordinated chaos.
Balance Texture, Colors, Shapes, and Accents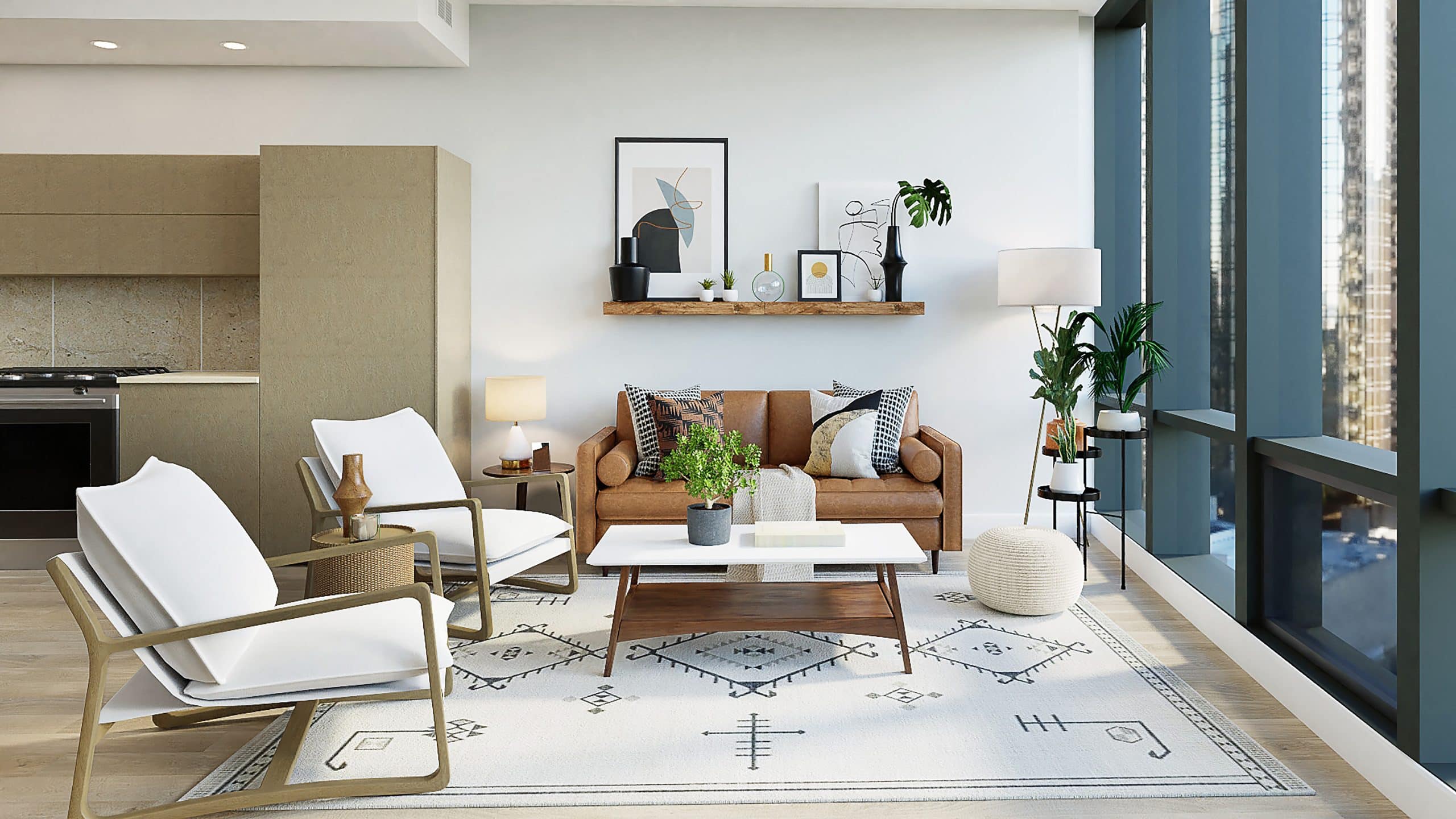 These are essential aspects of interior design that most people overlook. Most people only work with a single furniture shape throughout their room, and while this maintains cohesion, it also makes the room too predictable, like a hospital room, for example! Add some spice to your space by mixing different furniture shapes, textures, colors, and accents to create coordinated chaos in a room.
For example, armchairs with rounded arms and sofas with low-profile backs look great if a common color palette ties them together. If you'd rather not experiment with different shapes and textures, create a focal point with accents of different shapes and colors. However, please don't overdo it, as that could cause distraction.
Harness the Feel You Want to Create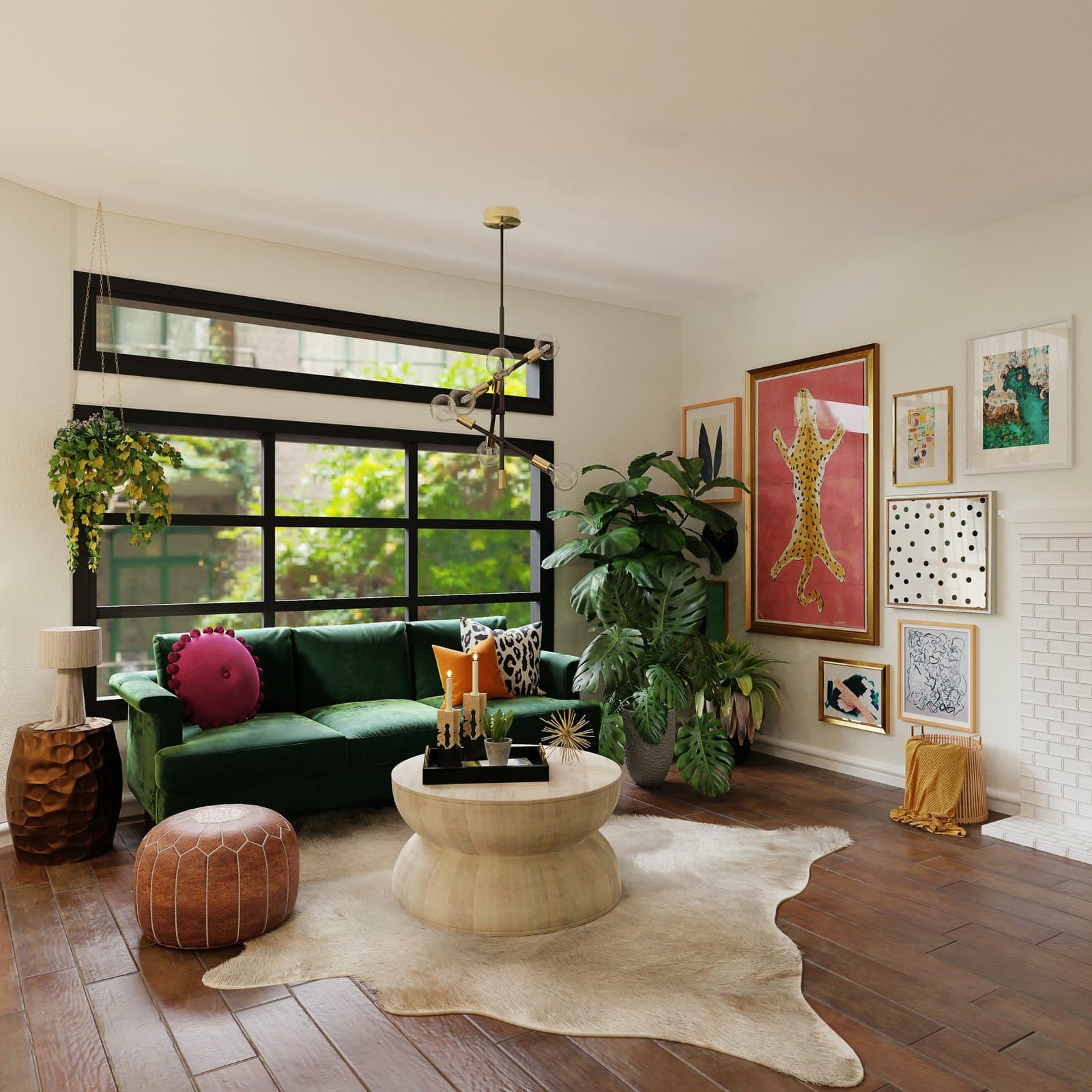 Use furniture to infuse a certain vibe in your living room. For example, if you want your living room to feel casual, pick formal furniture pieces and simple décor to diffuse that feel. On the other hand, if you'd rather make a luxury statement, go with high-end furniture with rich fabrics, textures, and patterns.
But remember that the rest of your house should play along with your living room's theme; otherwise, you'll feel out of place when you move from your living room to other rooms.
Create a Visual Balance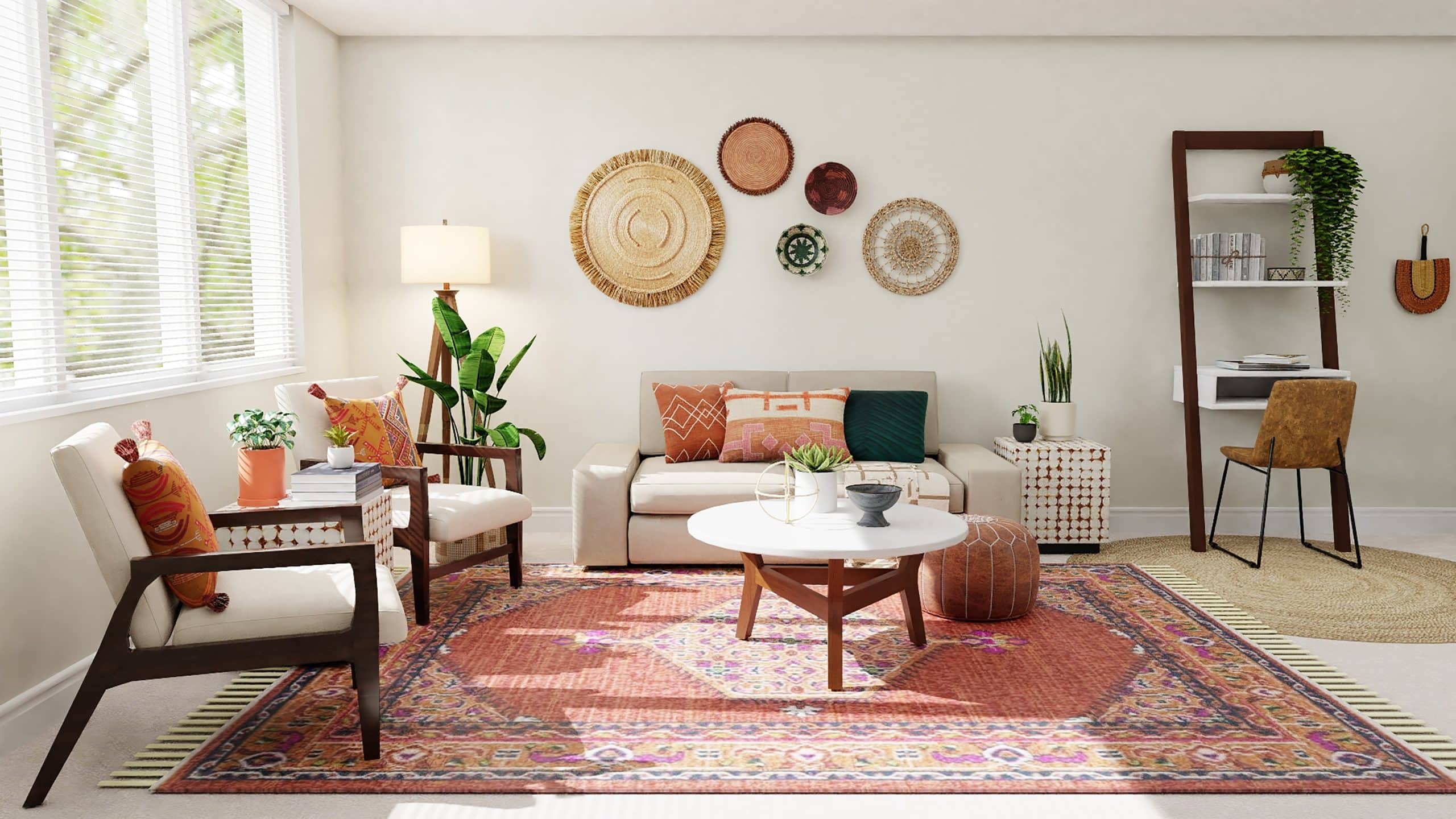 When it comes to mixing and matching living room furniture, it's easy to get carried away and put as many pieces as your room allows. But the idea is to create a visual balance, so your mind isn't forcibly focusing on one part of the room and totally overlooking the other part.
For example, if you're using wall décor, don't put everything on the same wall. If you're using a sectional, add two more furniture pieces to maintain a visual balance. It's tricky, but your living room will feel more welcoming once you achieve a visual balance.
Use Accessories for a Final Look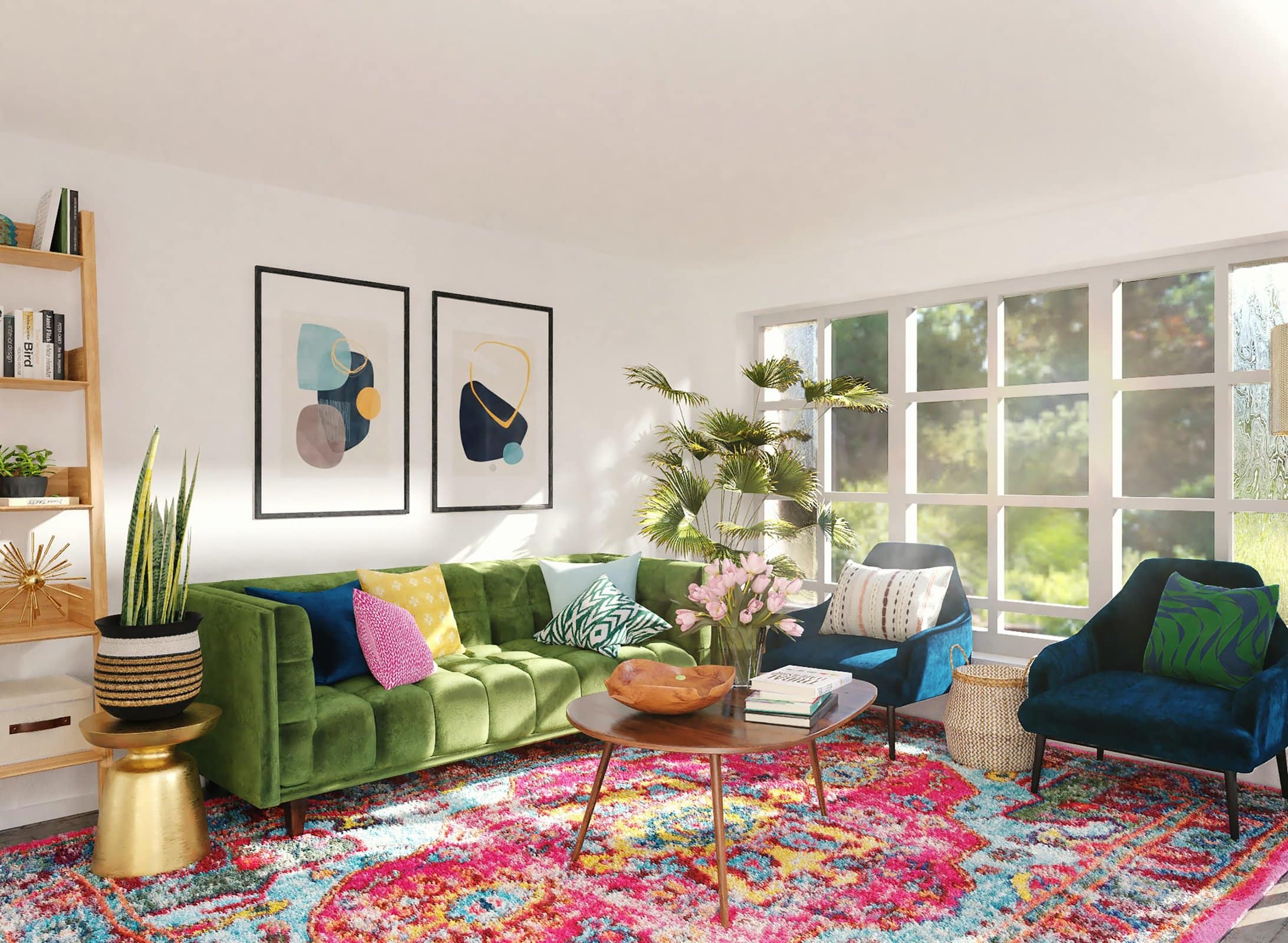 Let's assume you have a warm-tone couch and a cold-tone loveseat that you don't want to give away. How can you make them feel part of the theme? The answer is accessories. First, look at the broad picture. Since a couch is bigger than a loveseat, you'll need to use the couch's color spectrum to accessorize the loveseat. Use warm splashes of color to decorate your loveseat. For example, you can use a throw blanket or throw pillows (or both) to accessorize your loveseat and make it look like part of your living room's theme.
In Summary
Mixing and matching your living room furniture isn't difficult if you use the 60-30-10 rule to your benefit. Don't be afraid to experiment with different styles, textures, and patterns, but consider the overall feel you'd like to achieve.
List down the right furniture that fits the vibe you're going after, play with the colors, and see what accessories you feel work best with your living room theme before going all-out with the transformation. As long as you learn to create a visual balance, scale your furniture, and have fun, you can't go wrong!
Happy designing!