Grey And Mustard Living Room Ideas
Grey and mustard may seem like ordinary colors on their own, but put them together and you've got a winning, on-trend combination that exudes seriously good vibes. Because of their polarizing tones, this color combination is equal parts classic and stylish. But how do you optimize this one-of-a-kind blend to achieve an aesthetic and atmospheric effect?
If you've ever considered incorporating these two colors into your living room but aren't sure of what will work, you've come to the right place. We have a ton of ideas to help you create a balanced space using these two colors.
Go for a Bold & Dramatic Look
Bold is the way to go if you want to fully embrace this innovative color trend. Thinking in macro terms is key here. This can be done by using both colors prominently with a sharp contrast to create striking imagery. For instance, a bright mustard-colored feature wall combined with a charcoal grey divan or armchair creates a vibrant look that is both uplifting and positive.
Alternatively, you can choose a dark grey accent wall for a broody look, balanced with a dash of mustard yellow for excitement. Choose neutral tones like white or dove grey for the periphery to slightly offset the contrast. A bold look requires a leap of faith, but the result is a cool, dramatic living room that can hold its own.
Add a Statement Piece to Pull Focus
Adding a vibrant statement piece is often enough to turn heads, and this color combination gives you the perfect opportunity to experiment with that option. To draw attention to a specific area of your living room, use a defining piece of furniture in bold mustard or grey hues.
For instance, you can consider using a muted backdrop (perhaps a faded grey) and a timeless furniture piece that draws attention, such as a chaise sofa or a slouchy armchair sofa in zesty mustard shades.
Depending on your preferred aesthetic, a plush velvet number or a mid-century style futon could also work wonders. The end result is a harmonious space with a fresh, livable corner where you'll want to spend your entire day.
Experiment With Contemporary Elements…
The great thing about the grey-and-mustard look is its fun versatility. You can create a modern, contemporary theme for your living room with just a few tweaks and elements. For a younger, more energized look, switch up the earthy tones of mustard with a brighter neon hue and introduce sleeker accessories like a grey table lamp or slate grey filament lamp chandeliers.
Consider hanging a few statement art pieces or large abstract artworks on a grey gallery wall to set a trendy tone.
…Or Go for a Muted Rustic Look
If you prefer a more comforting and cozy look, use alternative hues of grey and mustard colors to achieve this effect. Rustic chic themes work best with muted pastels, so small changes like diluting the mustard and neutralizing the grey can make a big difference.
Instead of bright marigold tones, opt for a soft buttercup yellow with specks of pebble grey to enliven the space. These colors can be used for accent walls as well as accessories. Think flax-toned curtains, light yellow lampshades, and faded grey sofas with accent pillows. This works particularly well in a room with plenty of natural light and helps create a light and fresh space with pared-down, rustic elements.
Create a Minimalist Space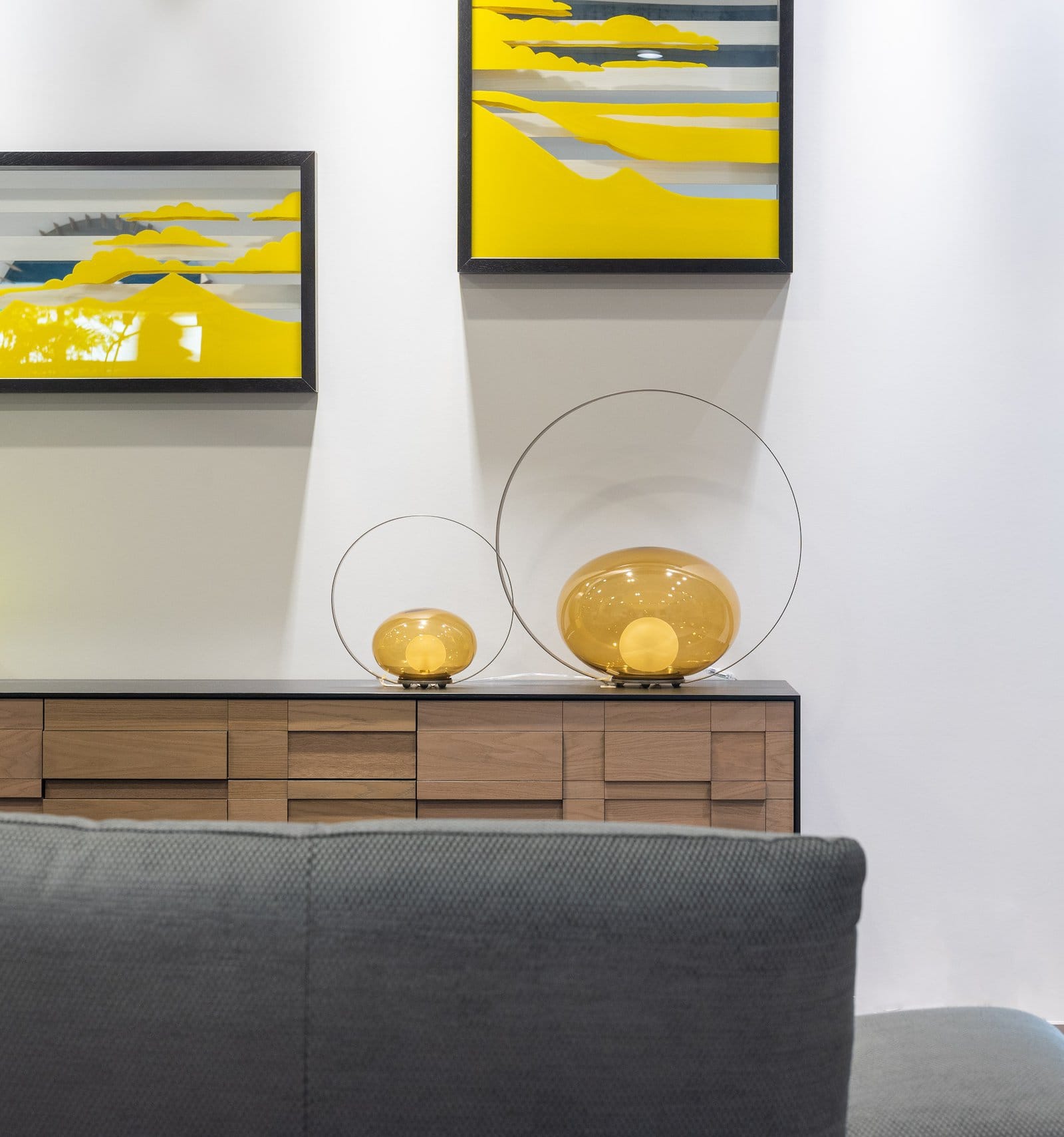 Grey and mustard tones work well with a minimalist decor theme. If you like your living room to be free of clutter, this is the look for you. Use clean contours against neutral tones, such as a sleek grey upholstered bench or a low-seated light mustard sofa. To emphasize the room's minimalist dichotomy, add a piece of minimalist wall art in these shades.
Play it Safe With Accessories
Focus on your accessories if you want to avoid making bold changes to your living room but still give it a trendy punch with grey and mustard. Choose mustard yellow throw pillows, sage grey ottomans, or a bright mustard-grey rug to add a pop of color.
You can also create a subliminal effect by using mustard or grey color accents on your walls or cabinets. This way, you can avoid a dramatic living room while still enjoying the wonderful benefits of the mustard-grey color combination.
Another advantage of introducing these colors through accessories is that you can always keep your living room dynamic and fresh by mixing and matching them.
Apply the Theme Evenly Across the Room
We frequently make the mistake of only thinking about changes or additions in our direct line of sight when decorating. Applying a theme on multiple levels is a key tip for creating a more cohesive atmosphere, especially with a winning color combination like mustard and grey.
Don't limit the colors to just the walls and furniture. Allow them to appear on different levels throughout the room in a mindful way, from the floor to the ceiling.
To complement the accent walls and furniture, consider adding a patterned grey rug or ottoman on the floor, as well as an ochre ceiling-suspended lamp. The end result is a vibrant blend of mustard and grey tones that is evenly distributed throughout the room.
Introduce Other Colors to the Mix
Introduce a variety of other colors to break up the dichotomy of the mustard-grey palette. This is a great way to up the style quotient of the living room while keeping the mustard-grey palette at the forefront of the decor.
Both mustard and grey tones are well complemented by soft mint greens, beige, vanilla, navy blue, white, and even warm chocolate colors. Consider incorporating them into the decor in small doses, such as on the periphery or as accessories. Imagine color-popping teal cushions on mustard sofas, or long beige curtains that balance the palette while allowing the mustard greys to shine.
Use Earthy Tones for a Bohemian Look
By cleverly combining the mustard-grey color palette, you can achieve a boho-chic look in your living room. Choose earthy tones over stark contrasts, such as a deep ochre hue against a pearl grey backdrop.
You can also use varying shades of yellow across the room for a radiant, sunshine-y ambiance. To finish the look, incorporate bohemian elements such as terracotta pottery, macrame wall hangings, rattan chairs, or jute rugs.
Use Patterned Accessories to Temper the Boldness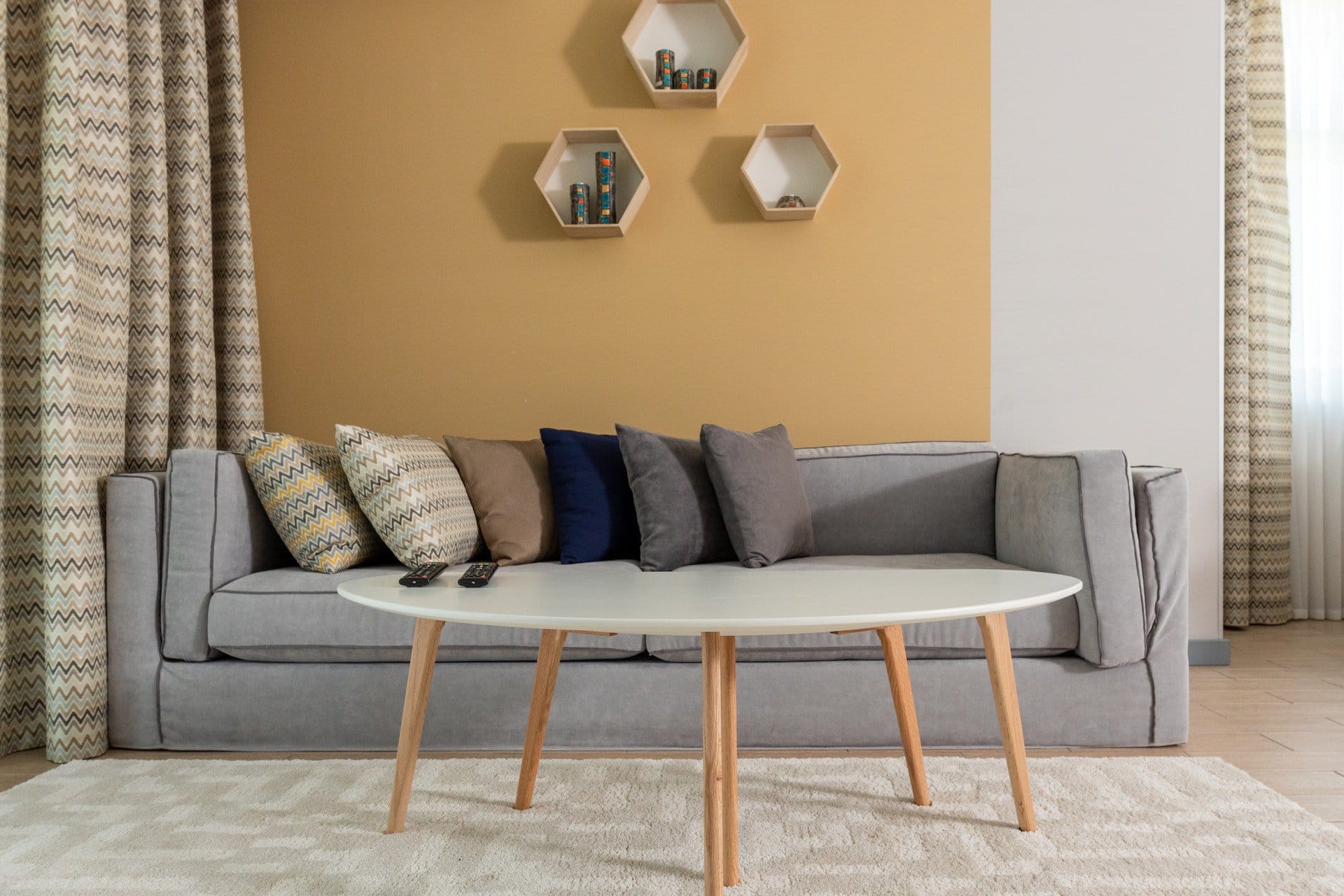 Let's face it, mustard and grey are pretty bold colors that make a statement. If you don't want to embrace the rich boldness of these tones entirely, try tempering the decor with motifs and patterned elements.
Floral, geometric, or even pinstriped patterns can help to balance the crisp grey-mustard tones, creating a softer, more homely atmosphere. You can use patterned wallpaper on a mustard feature wall or a geometric grey-and-mustard design rug on the floor. Delicate floral motifs are another great way to soften the sharp effect of mustard-grey colors.
Final Thoughts
Grey and mustard are trendy, versatile colors that can be altered or enhanced in a variety of creative ways to achieve the look you want. They also go a long way toward instilling positive, relaxed vibes in your home.
The 'less is more' mantra works well for a modern, minimalist design that simply lets these dual tones shine. On the other hand, selecting the right accessories to complement these colors helps in creating a cozy, comforting atmosphere. If you're unsure, you can always start small by introducing these colors in small doses and gradually expand on the concept if it appeals to you!