Decorated Life is reader-supported. When you buy through links on our site, we may earn an affiliate commission. Learn More
Boho Chic Christmas Decorating
By: Decorated Life Team
|
Christmas decorating can look a little dull if you using the same decorations year after year. Create some high intensity Christmas decorating by injecting a little Boho-chic into your decorating. Boho chic is all about rainbow colors so adding it to dark,
gray
, white or neutral colored walls becomes a wonderful contrast and a feast for the eyes. This combination of hippie style with exotic Bohemian European vintage elegance mixes bold colors and brights, luxurious patterned fabrics with velvet, cottons, tapestries and rugs.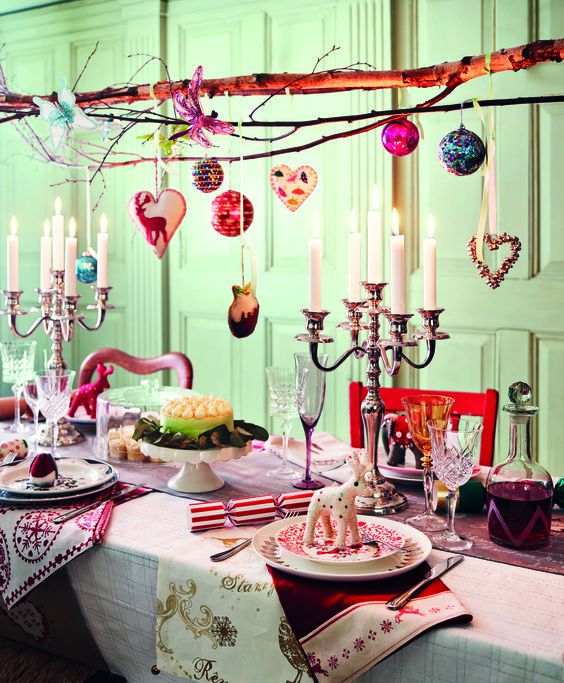 Natural Elements That Shine
Natural elements like painted pine cones, branches and even bare branches adorned with ornaments are the perfect backdrop. Boho chic loves the sparkle and shine of mirror and glass. Use deep vibrant colors like turquoise blue, lime green, plum, purple, bright pink, bright orange and yellow to add a new dimension, and brighten, your holiday decor. Interesting shapes such as stars and exotic prints from far away lands have a nomadic feel that is paramount in Bohemian style.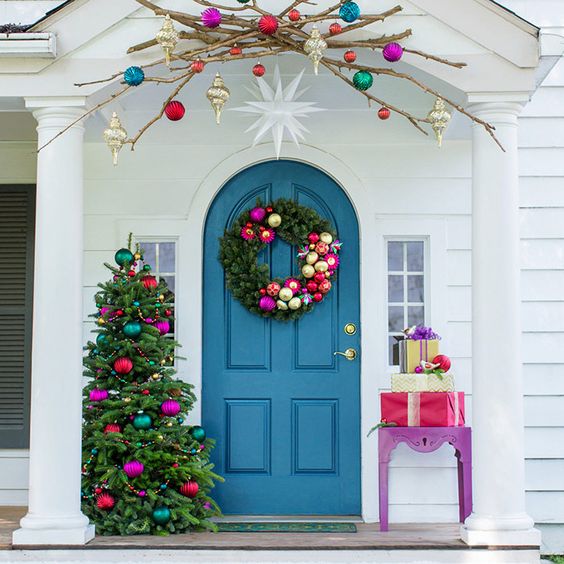 Source: Pinterest
Christmas Decorating Mixing Old and New
You can create a Bohemian Style that is fresh, crisp and new but this look also loves mixing Old and New with careless abandon. Contrasting old against new looks rich and exotic. Like Bohemian glass or crystal, you want colors to sit and work together without being exactly the same.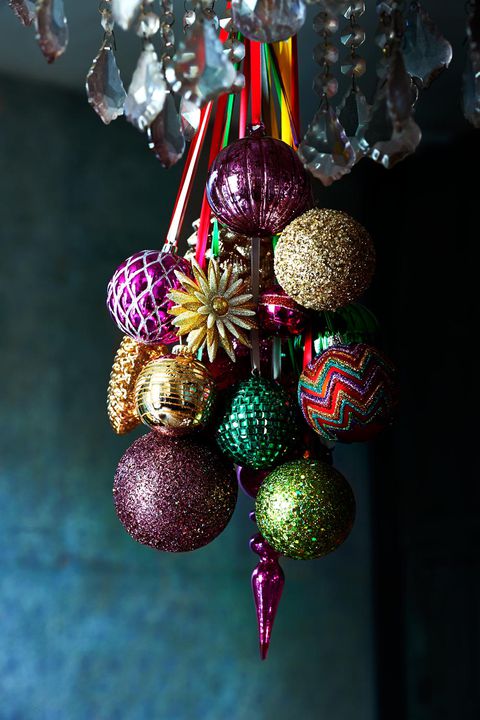 Polly Wreford for Red
If you prefer order and structure, this may not be the style for you but if you are looking for high energy, deep drama and unconventional color, this may be perfect.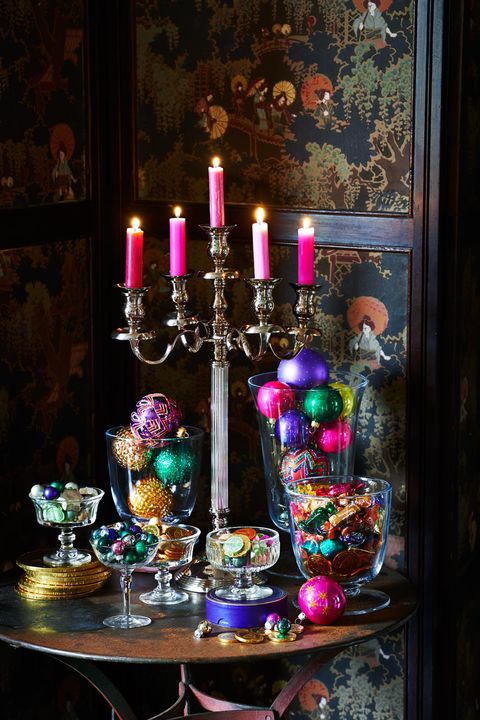 Polly Wreford for Red
Mixing sleek crystal glass with a colorful fringe-y table runner might sound counter-intuitive, but can look refreshing and very stylish. While layers of color are the them, more modern "white wall space" is the perfect background for Boho chic ornaments and decorations.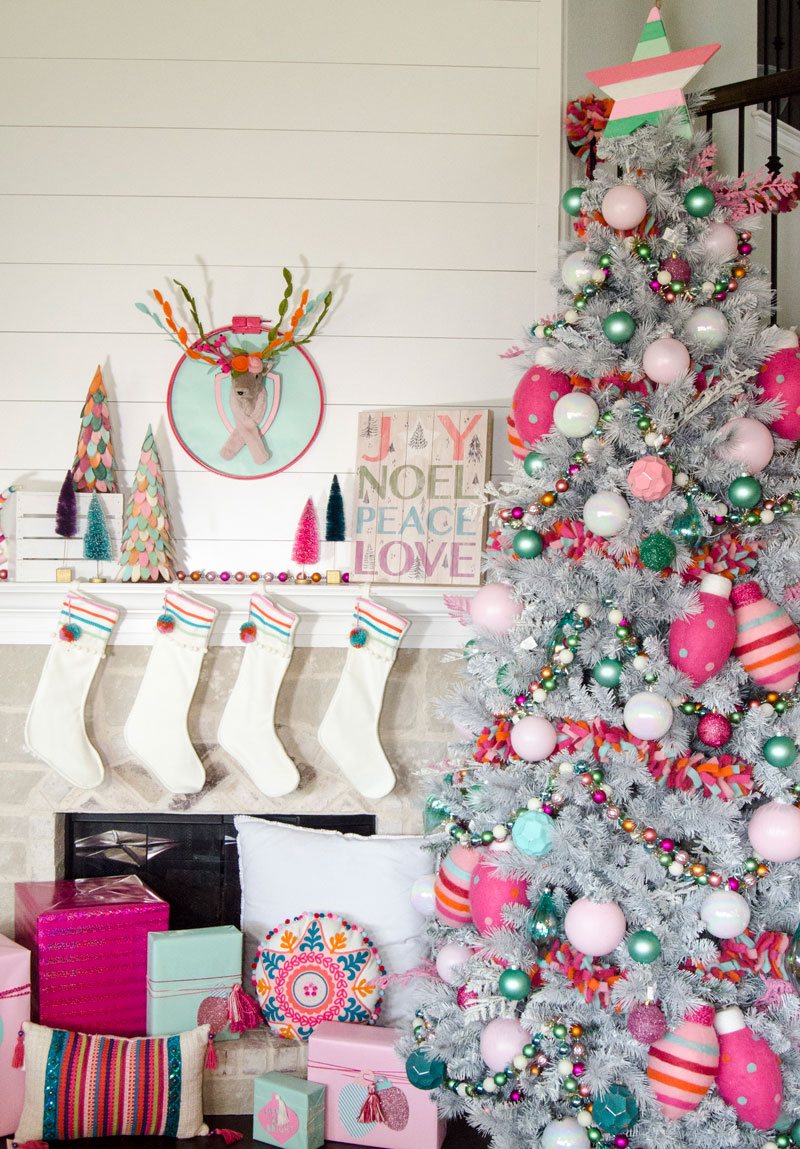 Source: Love The Day
To create this colorful tree, mantel decorations and cute deer above, begin by mixing felt and shiny ball garlands. The layered contrasting pinks, reds and greens are a shimmering feast. Its not all glitter and sparkle, soft felts and velvet add cozy warmth and texture. The focus is on variety and diversity in color and form. Use them to fill every visual and physical spot in the space.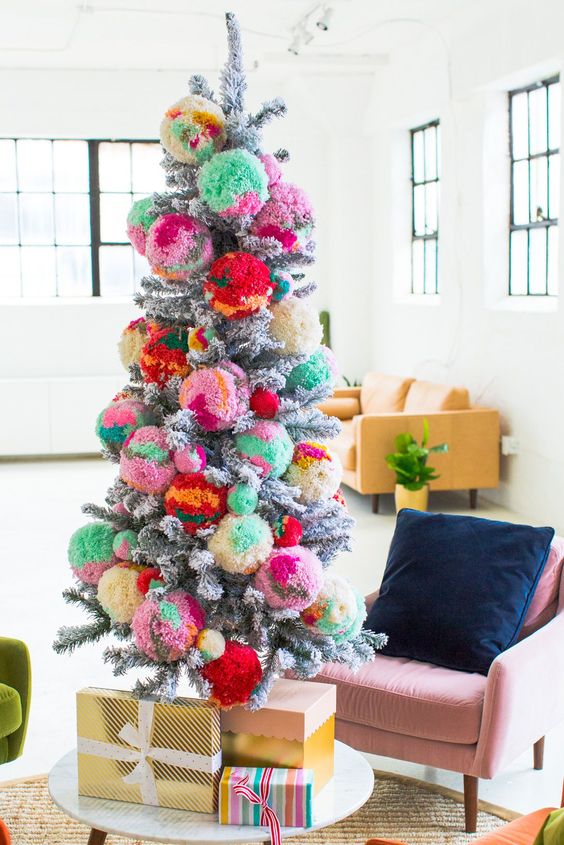 Source: Country Living
DIY Pom Pom Tree and Wreath
If you love the soft texture of the Christmas tree above with its beautifully textured pom poms, you can find the large pom pom maker here, and if you need yarn, its here.  You may have already created your Christmas wreath, but if you have left over yarn, you can create this colorful Christmas Wreath below. Using different yarn weights, patterns, color combinations and rich textures to create a wreath is unique and beautifully festive.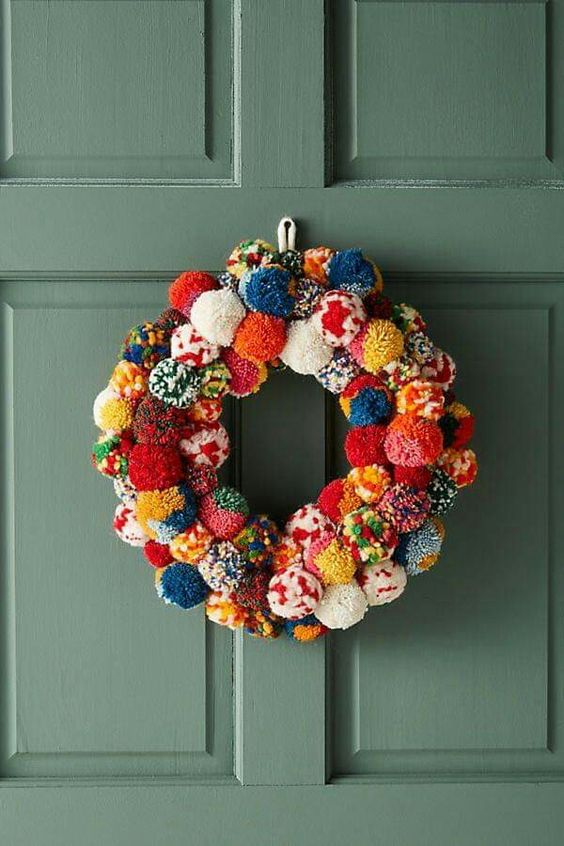 Source: De Conuco
Cozy Candles and Colorful Collections
The aim is to create a cozy space full of life, well-lived, full of memories, trinkets and colors from around the world. Don't ignore using brightly colored candles and collections of colorful ornaments for bright splashes of color as props.
Add handmade elements, the enhance Boho-chic characteristics of individual, unique and unusual. Contrasting handmade items against shiny mirror and glass ornaments are the perfect companion.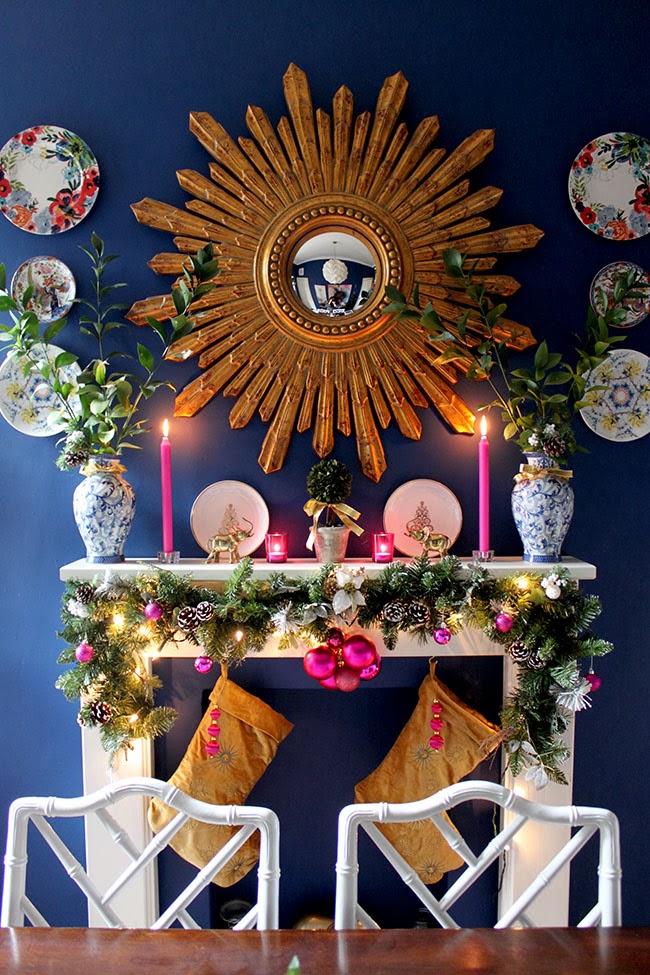 Source: Instagram
Your handmade pieces might be ornaments of different fabrics, shapes, painting, garlands or pom poms. The important thing is it looks different, unusual and out-side the normal Christmas decorating box.
Source: Country Living
The Christmas tree above is decorated with paper mache red and blue ornaments and garlands of lights. You can buy paper mache balls to decorate here, decorate them by painting them with chalk paint or milk paint and then waxing them to seal or age them.
This video shows you how to paint the paper mache, but if painting seems like too much effort, you can also use decoupage using festive paper napkins as your wrapping.
Mountains of Personality
Squeezing as much personality as possible into your Christmas decorating can create a sense of being stuffed-to-the-brim, and overflowing with life. Bordering on busy, Boho-chic is confident and happy in its fullness filling surfaces with multiple layers of textiles, surfaces and color.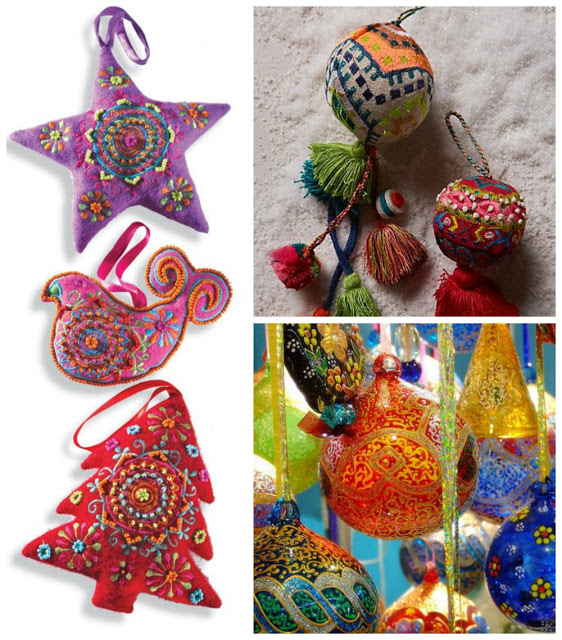 Source: pinterest
The best way to make this work is by making the space your own by infusing your pieces and personality. That is what makes it inviting and interesting.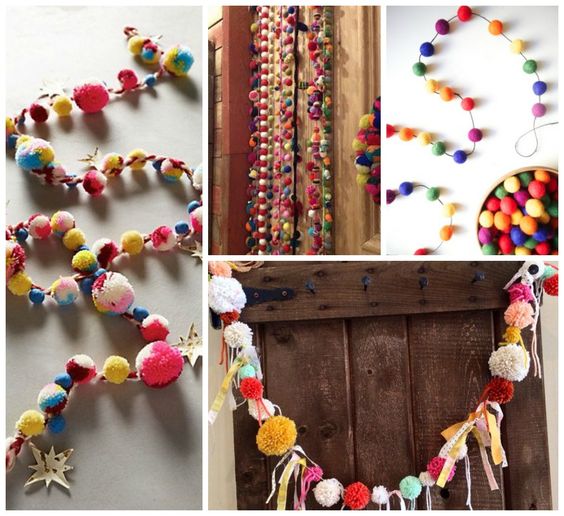 Source: Quirky Bohemian Mama Blog
That doesn't mean changing your own style or life just add rich, vivid colors of any hue, and go bold with any patterns you happen to love. Explore textures and colors.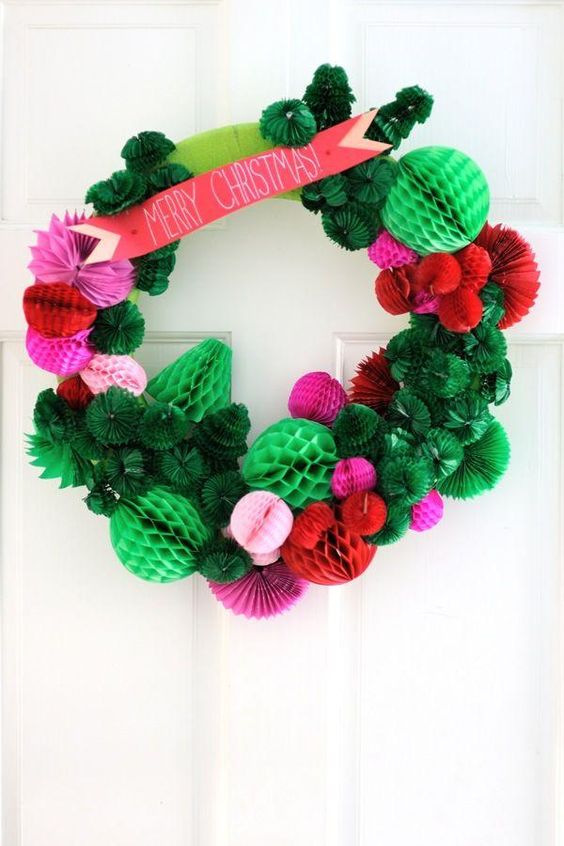 Source: OhHappyDay
This colorful wreath is a clever combination of foam and paper. After covering a foam wreath with green crepe paper, add honeycomb balls in red, green and pink. This is a quite, fun and very colorful way to create a Christmas Wreath. Enjoy the colors in this Christmas decorating style, its fun.