Decorated Life is reader-supported. When you buy through links on our site, we may earn an affiliate commission. Learn More
28 Breezy Beach Ideas for Bedroom Decor
Whether you live by the ocean or you simply want to channel that feeling in your bedroom, a beach bedroom is a fantastic way to have a relaxed and serene personal space.
Pale colors, light materials, and natural furniture are all staples of the coastal style of decor.
From adding little touches to full bedroom makeovers, these 28 gorgeous ideas will have you planning your beach bedroom in a heartbeat. With this theme, you'll practically hear the waves crashing outside your window.
Use Seagrass Furniture For a Coastal Feel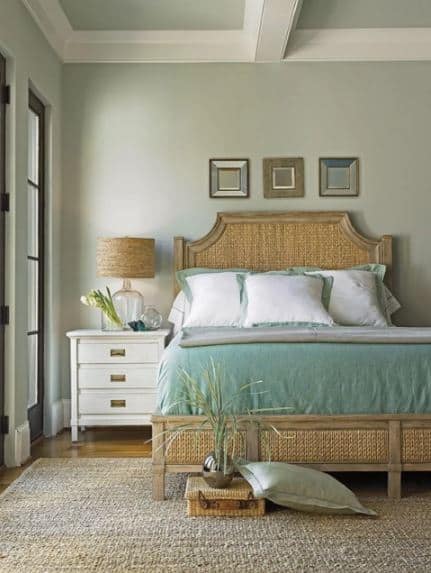 Seagrass is a material that's perfect for the coastal vibe, because it's exotic but also beachy and light. The brownish shade of seagrass furniture matches perfectly with the whites, greens and blues of coastal decor.
In this bedroom, the bed, lamp, and carpet are all matching materials, and they look great with the pale green shade of the bedspread and the grayish-green of the walls. This is one bedroom that's sure to make you feel relaxed.
Add a Fun Fish-Themed Wallpaper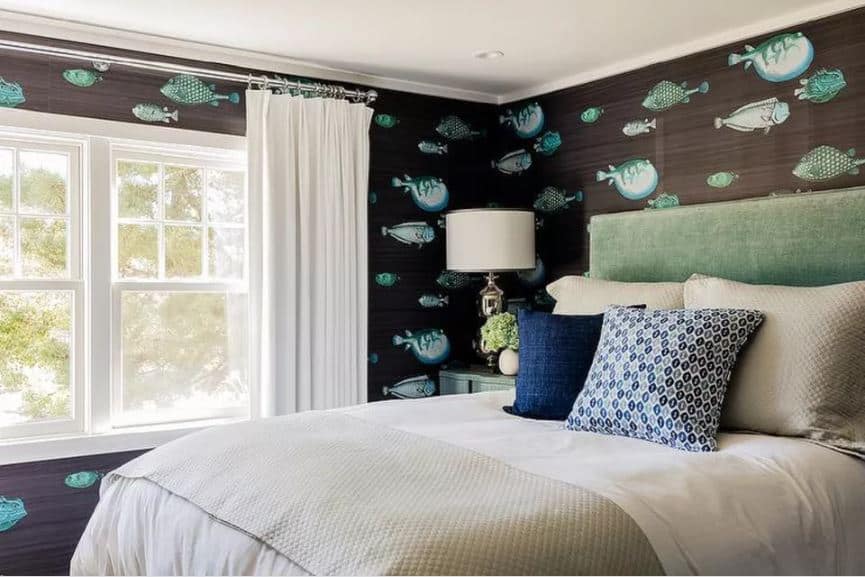 You might think that a fish wallpaper is suitable only for a kid's bedroom or a bathroom, but this example shows perfectly that you can have fish wallpaper in a master bedroom. The dark wood appearance of the background makes the wallpaper more mature, contrasting with the fish.
Nothing else in the room is decorated in the beach or coastal theme with the exception of a color scheme, which means it's not overdone.
Create a Gallery Wall of Coastal Images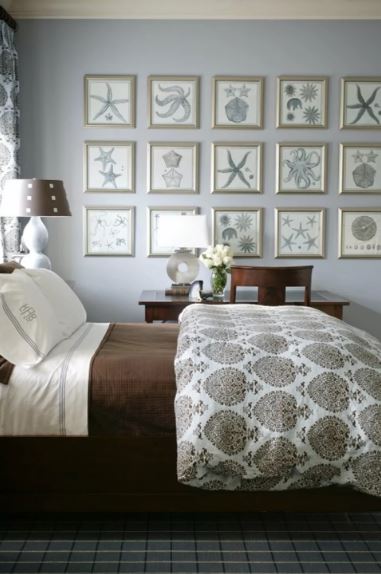 An affordable way to create a coastal theme in the bedroom is through simple artwork like this amazing gallery wall. Get a series of prints in coastal themes — in this case, octopus, starfish, jellyfish, coral, and more. Then, put them in the same size and in a series of matching frames.
You can either hang them in straight lines like in this example or mismatch their heights and placements for a more haphazard effect.
Look For a Coastal Inspired Light Fixture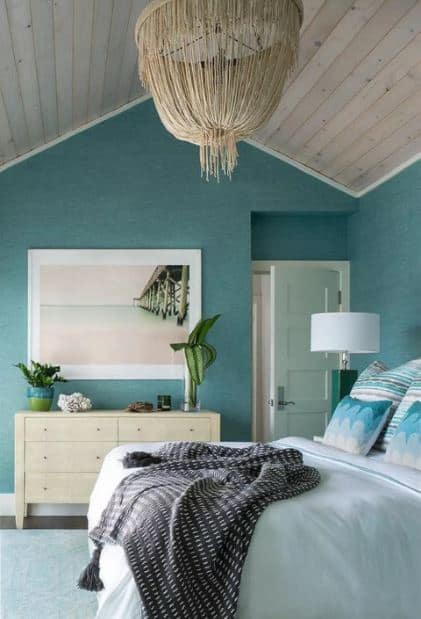 There's a lot of coastal aspects to this room, but your eye is probably immediately drawn to the light fixture. It appears to be made from small ropes all hanging together, bringing to mind a coastal or nautical feel.
Light fixtures are sometimes overlooked in home decor but they can really contribute to the overall style of the room.
Make Your Own Seashell Dresser Knobs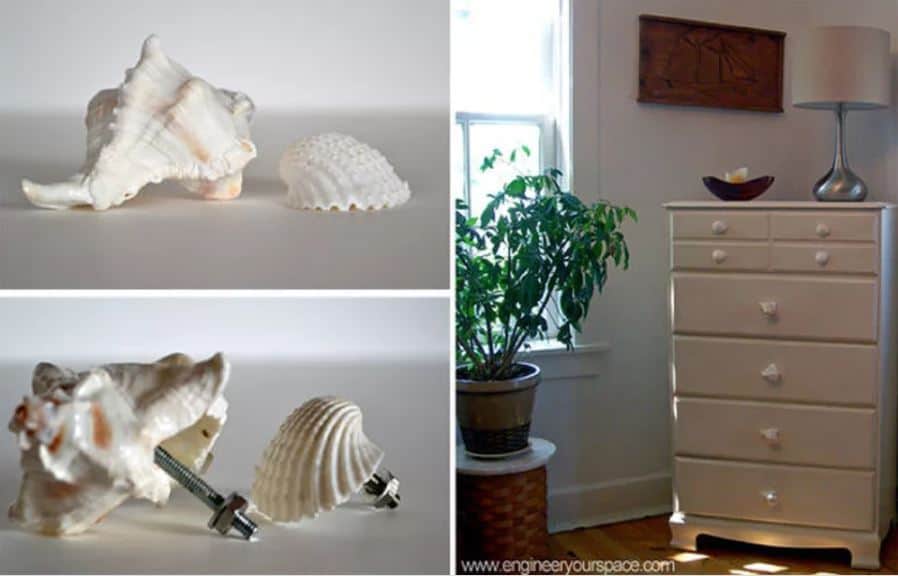 A small touch you can do yourself is to make your dresser and nightstand doorknobs from seashells. It's a fun idea for a project, and the effect is great. If you paint the shells the same color as the furniture, it stays quite understated and simply adds to the theme.
If this is something you want to do, the full guide for making these adorable decorative doorknobs is available here.
Use Tons of Natural Materials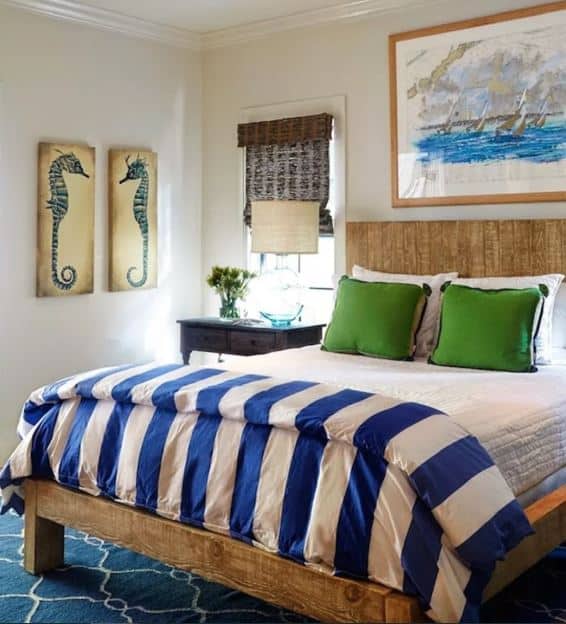 Natural materials are great in beach themed bedrooms because that's what the beach life is all about. A rattan window shade seems natural and low-key, like a palapa at the beach giving you shade.
In the same way, the natural wood grain of the bed frame is relaxed and perfect for white and blue bed linens. All of that makes the whole bedroom appear comfortable, breezy, and relaxing.
Red and Coral Are Perfect Accent Colors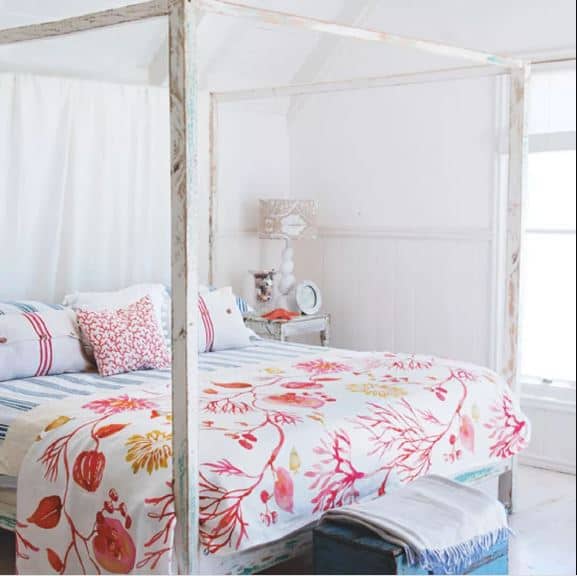 A lot of beach themed bedrooms go with white, blue, or light green colors for their color palette. That's normal, those are the typical beach shades. However, this bedroom shows that you can have touches of red and coral in a beach room and pull it off.
These colors in a small amount and specific style can bring to mind coral in the ocean, and paired with all white and light fabrics, it appears serene.
Get a Coastal Console Table
A console table is a great way to stay organized but also use extra furniture to channel the beach theme. In this case, it's painted in a distressed style to show off the weathered, sea-side look, and wicker baskets were used for storage, the perfect natural material for the coast.
On top of the console table, two lovely blue blown-glass hold some small palm fronds and an amazing model ship is centered in the middle.
Dark Colors Can Work in a Beach Theme Too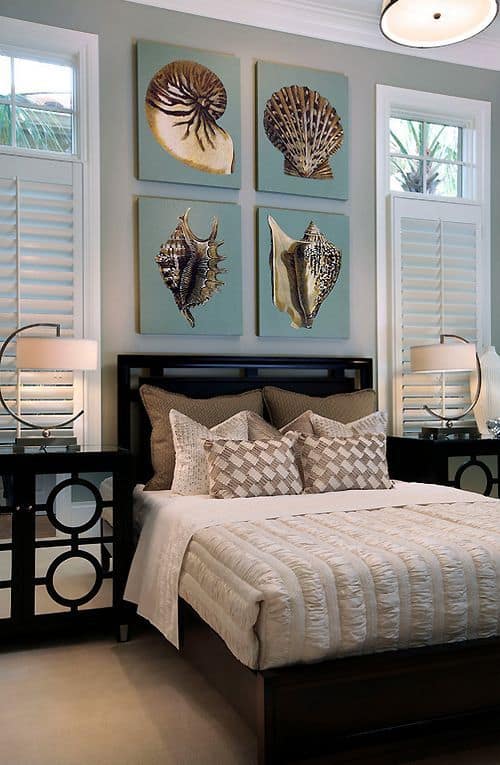 The coastal look is almost always white, light colors, and "cold" colors like blue, green, and light purple. If that's not your preferred color scheme, you can actually go dark and still have a coastal room!
In this example, the dark furniture is more stately and put-together than other coastal rooms, but the shade of the walls and the four bold ocean paintings keep the beach theme alive and prominent.
Decorate in Bright Colors to Make the Room Pop
This is a really bright and fun room, great for kids but also for a guest or master bedroom. Obviously, the view outside the window makes this a clear beach bedroom, but there's more to it than that.
The bold blue and white stripes, the blue bed frame, the natural unpainted wooden bedside table, and the coral decor piece on the nightstand, they're all great pieces of a coastal style bedroom.
Paint the Walls in Calming Gray Stripes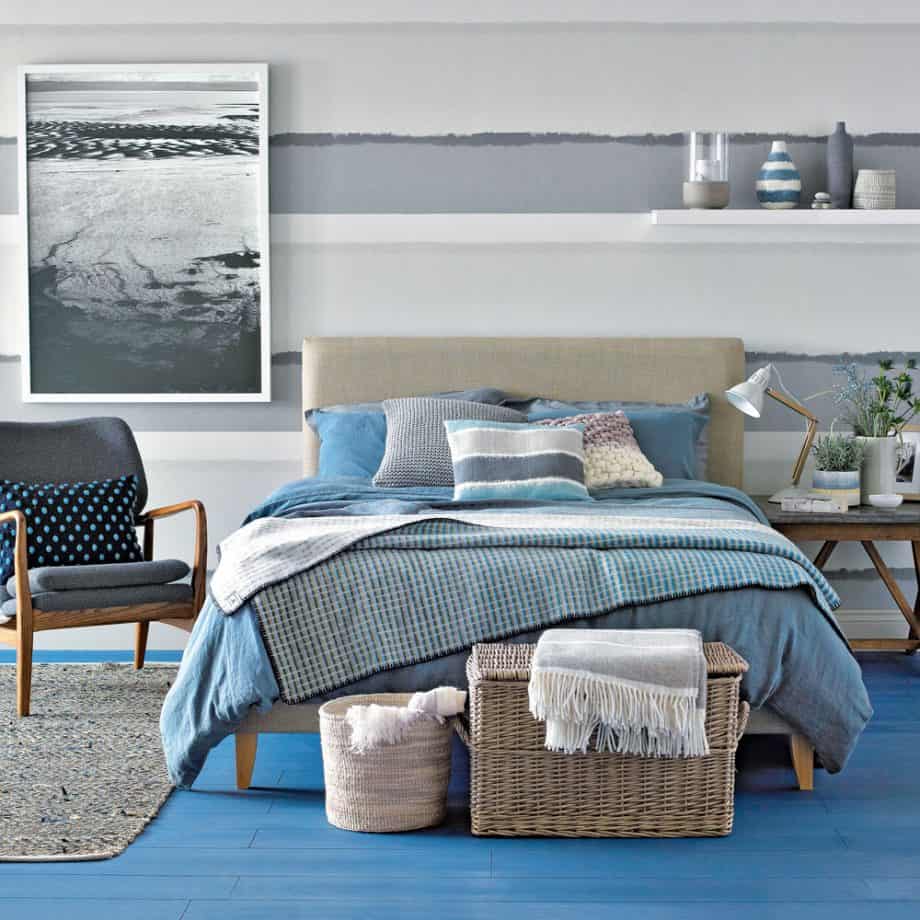 Some coastal scenes bring to mind the calm, rainy gray days on the beach instead of the blue skies. That's absolutely fine too because as you can see in this image, it still appears lovely, relaxed, and most of all beachy.
I really like these gray stripes, with some firm, straight lines, and some more flexible and wavy lines. The gray artwork and decor are also well complemented with a few touches of blue.
Buy Coastal Diffusers and Candles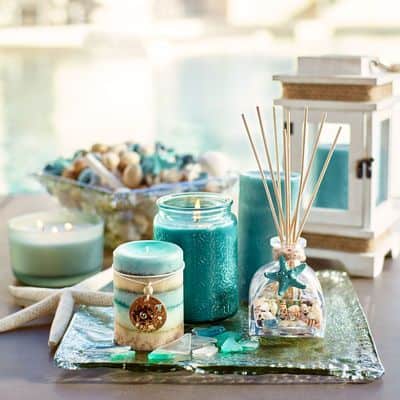 It's a great idea to add a few little touches to the room, especially when it comes to scents and decor. A candle or diffuser with a coastal, fresh-air or seabreeze smell can really take you away to another place and make you feel like you're truly by the water.
It will also help make your bedroom a calmer and more relaxing space by focusing on all your senses.
Look For Simple Sea-Inspired Artwork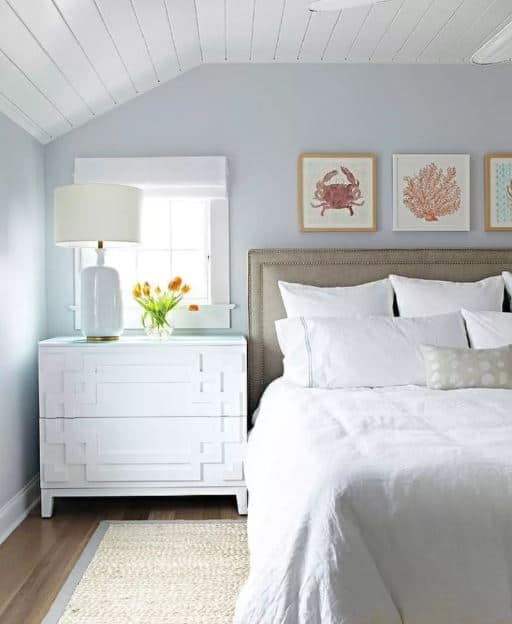 This artwork is very simple yet inspired by the ocean with a crab and coral. Three paintings are lined up in a row, and although the rest of the room is only white, that small touch is enough to make the space coastal.
Another small touch is the shiplap ceiling, which contributes to the coastal design in a minimal way.
Focus on Adding Lots of Beach Accents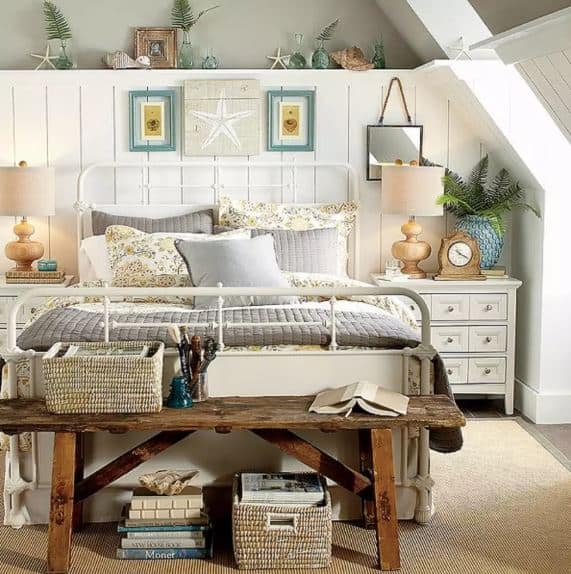 You can also go to the other extreme and decorate with tons of beach accents to create a truly immersive coastal experience. This room has a lot of beach accents, from the plant life to the starfish decor to the shiplap walls.
There's even a large conch shell acting as a paperweight under the console table. What makes this work together instead of being over the top is that the color palette is quite neutral.
Look For a Cute Beach-Inspired Nightstand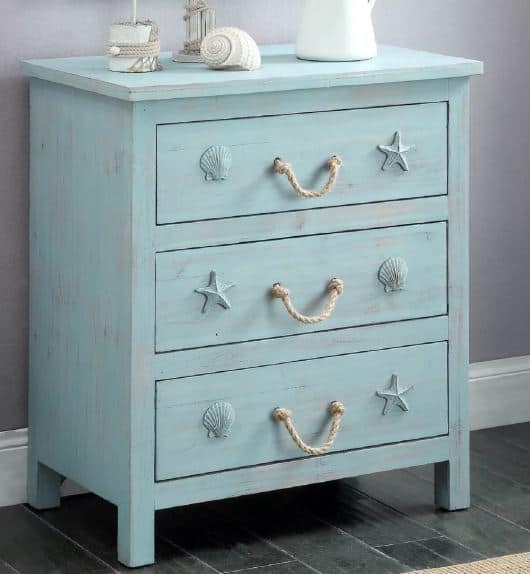 It's pretty simple to decorate a nightstand in a beach theme, especially if you're looking for a project to do at home. It may be difficult to find a similar nightstand in stores so your best bet is to make your own.
Some rope handles have a great nautical theme, and some shells and starfish have been glued to the drawers. The whole is covered in light blue paint straight out of the beach style.
A Distressed Look Works Well For the Coastal Theme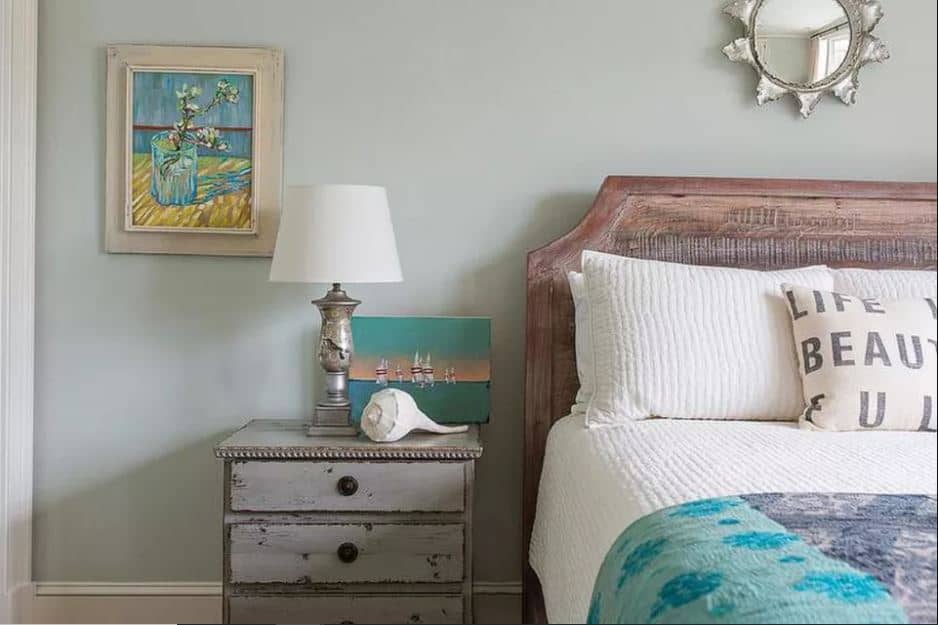 The distressed look is often paired with rustic or farmhouse styles but it can work just as well in a beach bathroom if done minimally.
That's because a lot of beach cottages and homes have a sort of weathered coastal feel from being exposed to sea air and wind. A white distressed piece of furniture like in this picture can turn out quite beachy if done right.
Small Touches Are Often Enough For the Beach Theme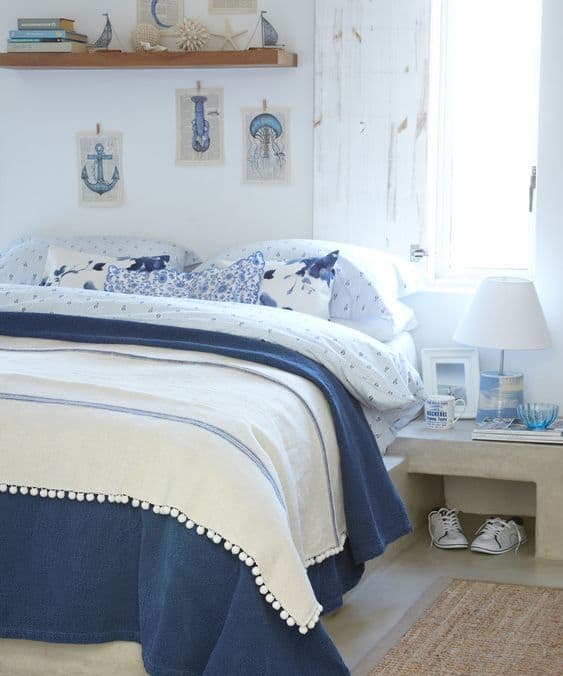 You can create the feeling of a coastal bedroom quite easily with only a few small touches if you have a smaller budget. For example, this room has a simple wooden shelf with a sailboat and shell sculptures on it.
There's also some blue nautical and sea prints on the wall and blue bedspreads. It doesn't scream coastal or beach, but it does enough to make a quiet statement.
Stick With Neutral Colors to Be Different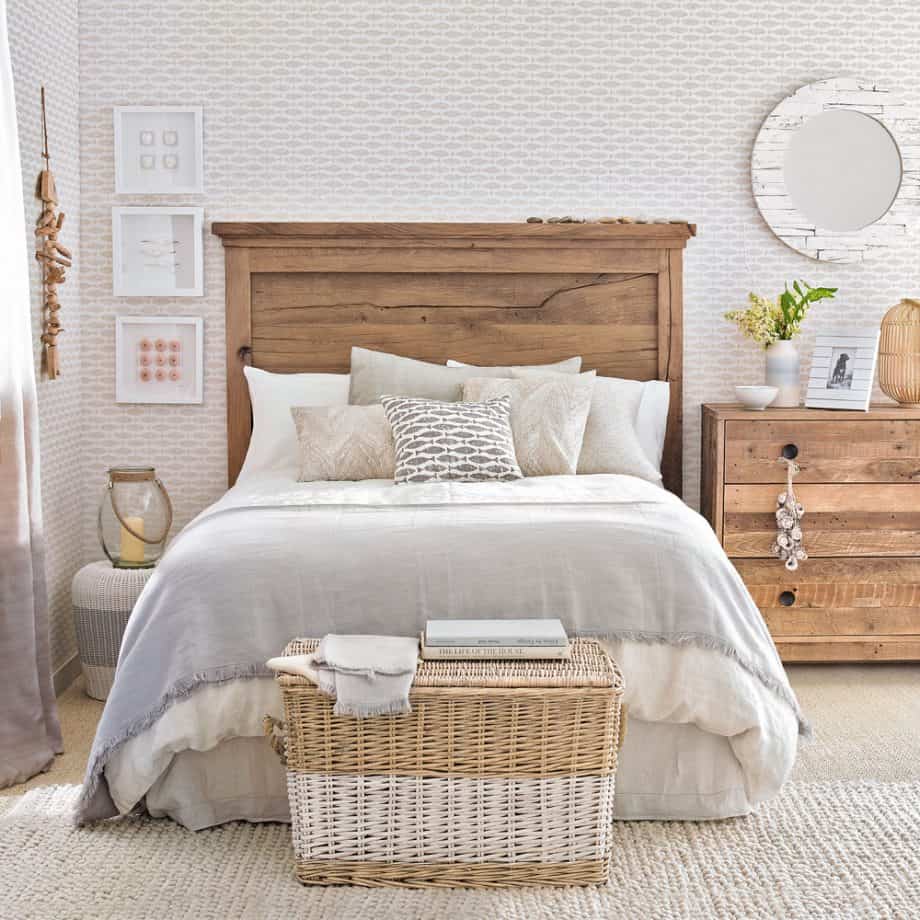 This bedroom is the perfect example that you can have a coastal bedroom without having any colors, especially blues and greens. All the furniture is natural wood, and the walls, bedspread, and carpet are all different shades of beige and oatmeal.
It still looks coastal though, instead of farmhouse or country, because of little accents like the shell decor hanging from the dresser and the style of the lamp on the nightstand.
Make Your Own Gorgeous Oyster Shell Mirror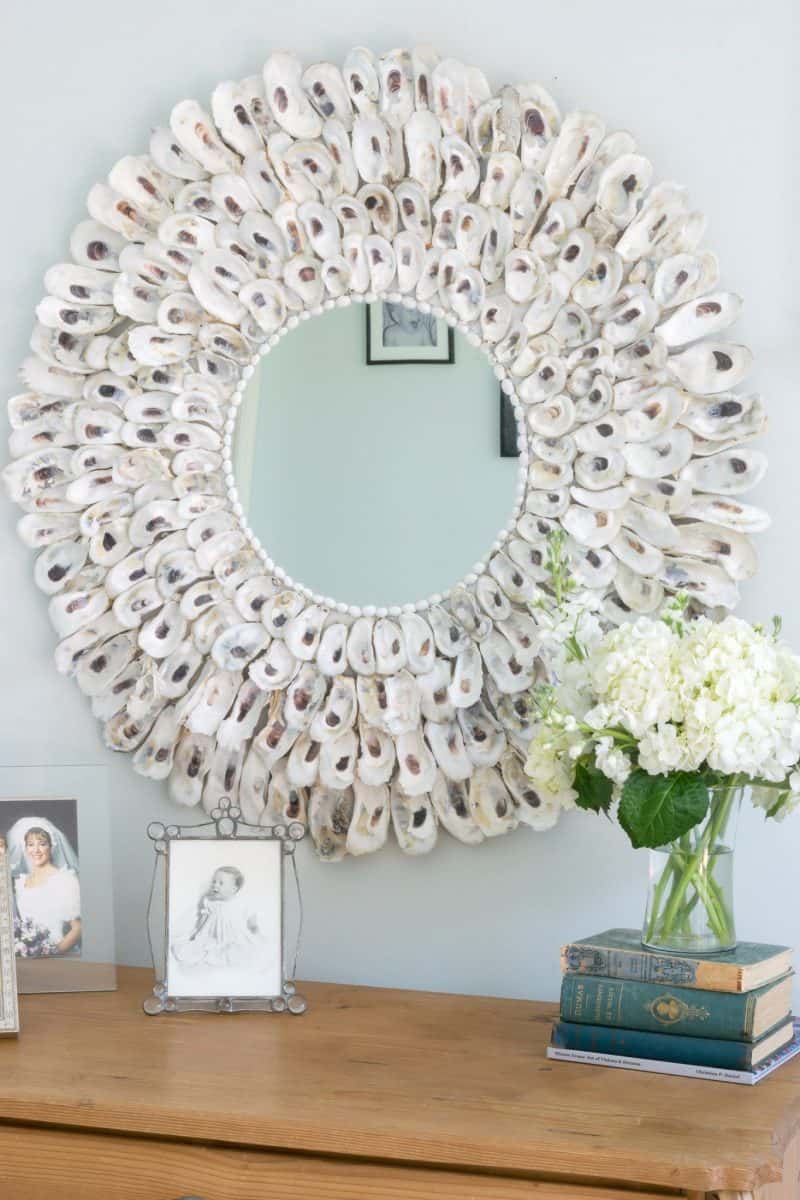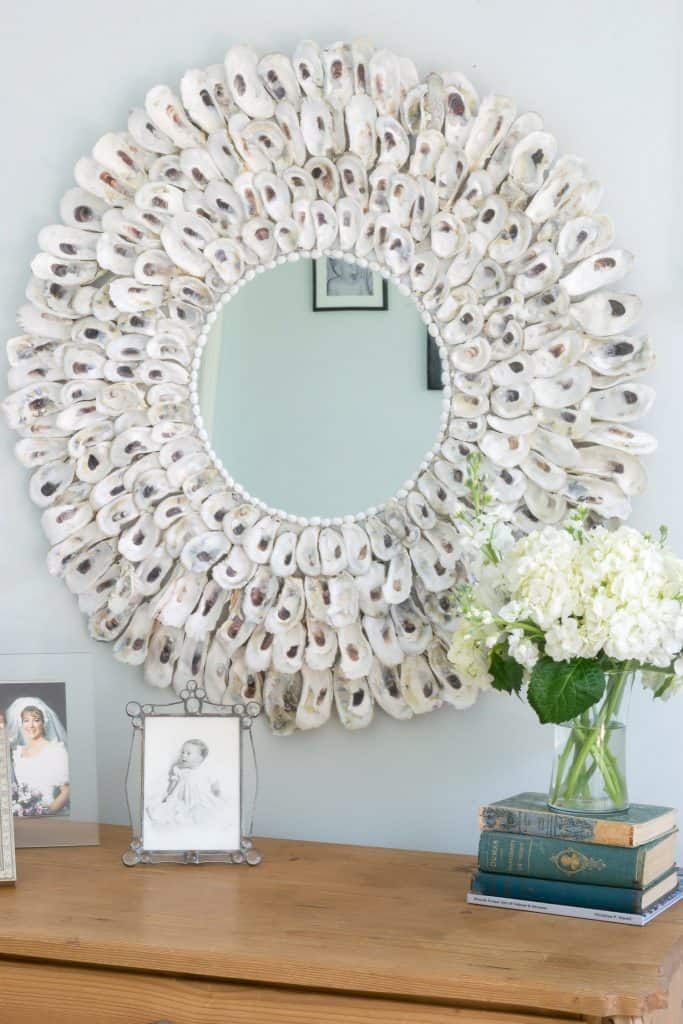 This mirror is so stunning you might end up staring at the edges instead of your own reflection. It's a round mirror with oysters shells circling around the edges again and again to create a wide frame and completely beachy mirror.
If you love this look, you can actually do it yourself! The full instructions to make this yourself are at Nourish and Nestle's website.
Add Eye-Catching Ocean Decor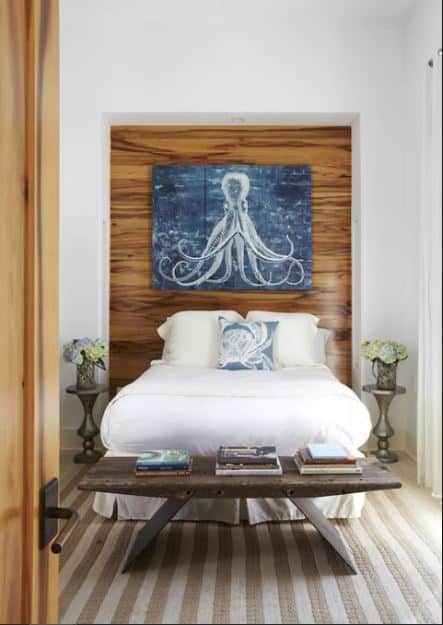 The viewer's eye is immediately drawn to the lovely and bold octopus painting on the wall in navy and white. It's matched with a similar pillow in the middle of the bed.
The whole thing is gorgeous and eye-catching, which means you can barely tell that there are no other coastal accents in the room. This type of artwork statement would be best paired with simple white bedsheets and wooden accents.
Paint a Coastal Scene on an Accent Wall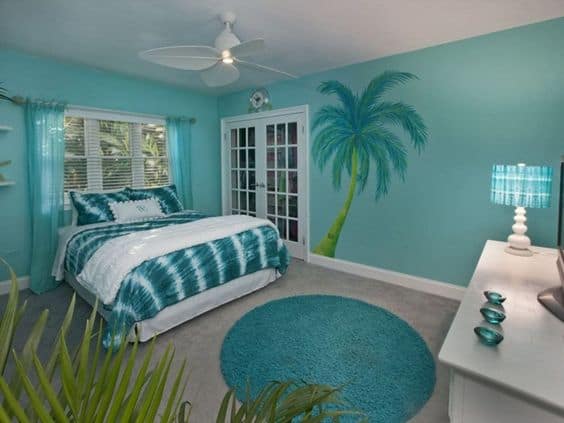 Another bold way to get the beach theme in your bedroom is to just paint a beach theme on your wall. If you want palm trees, paint them there. If you want to have large waves crashing, add them yourself.
You'll want to be careful here because you'll have your wall for a long time, so make sure you choose something you won't regret a few days later.
Get an Accent Shiplap Wall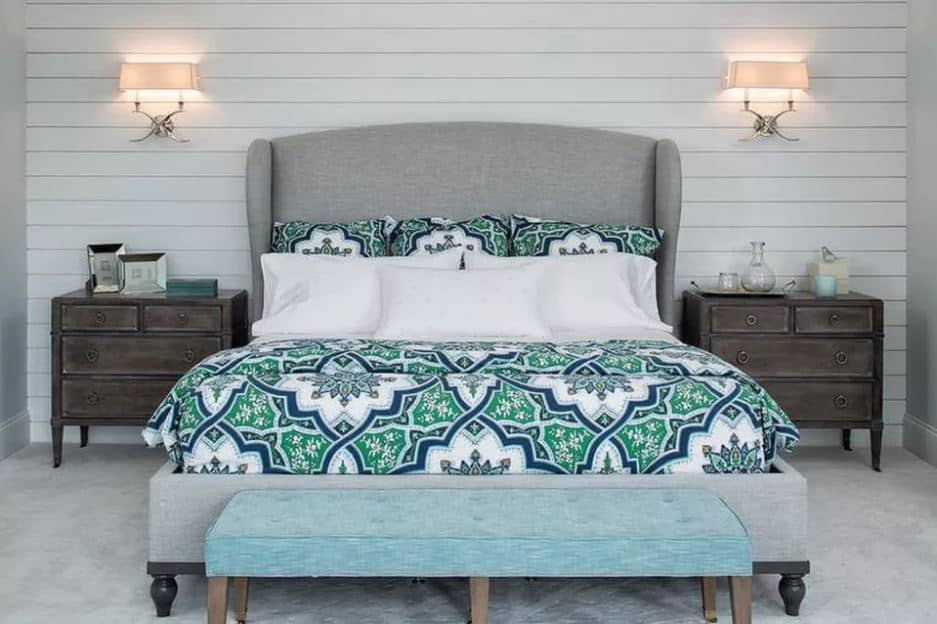 Shiplap walls are a key part of a nautical, coastal or beach bedroom. Shiplap is a type of wood paneling like you can see here, either vertical or horizontal. It makes something appear like the side of an old classic ship and it's a great feature of a beach bedroom.
You can either get your whole bedroom done in that style or only an accent wall to keep it minimal.
Look For a Mix of Different Textures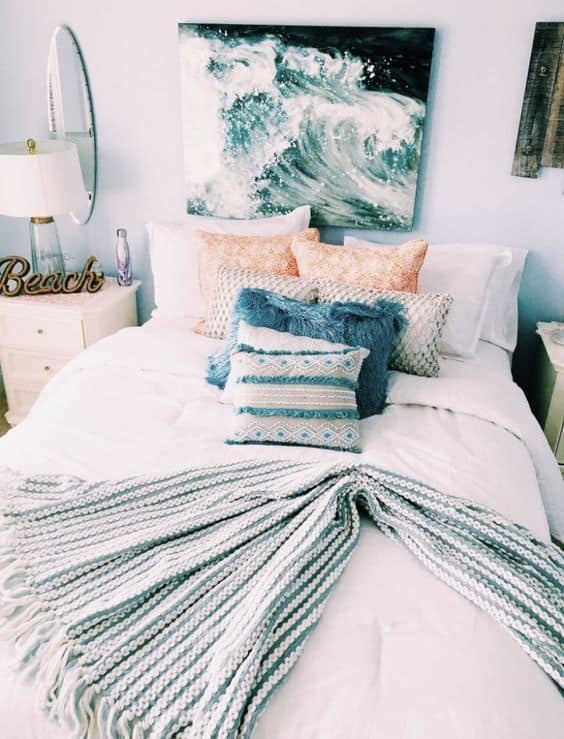 This bedroom is a perfect example of using different textures. From the thick, cable knit blanket to the layered pillows and raised canvas. I also really like the different shades of blue, from the dark in the painting to the light,
Add a Beachy Dyed Canopy to the Bed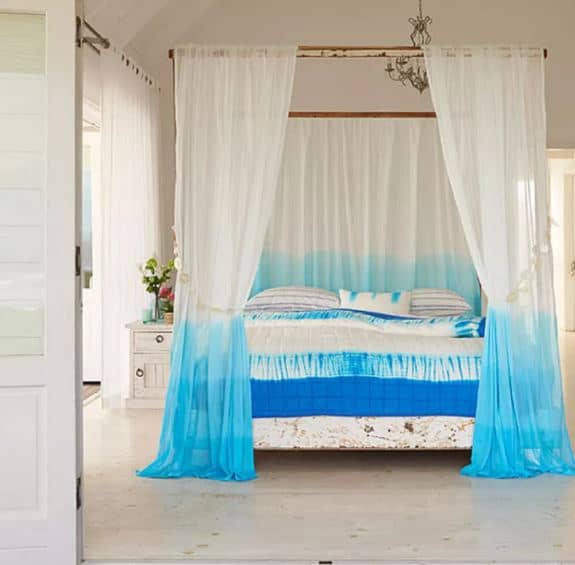 Having a canopy, light flowing curtains or netting around the bed will make it look tropical and beachy because a lot of beds in beach side homes have that feature.
Whether it's just decorative or to use as mosquito netting or any other use, adding a canopy immediately makes a bed appear more romantic and also very private. Look for light colored or beach colored canopies and make sure the fabric is light and flowy.
Decorate in Shabby Chic to Mix Rustic and Coastal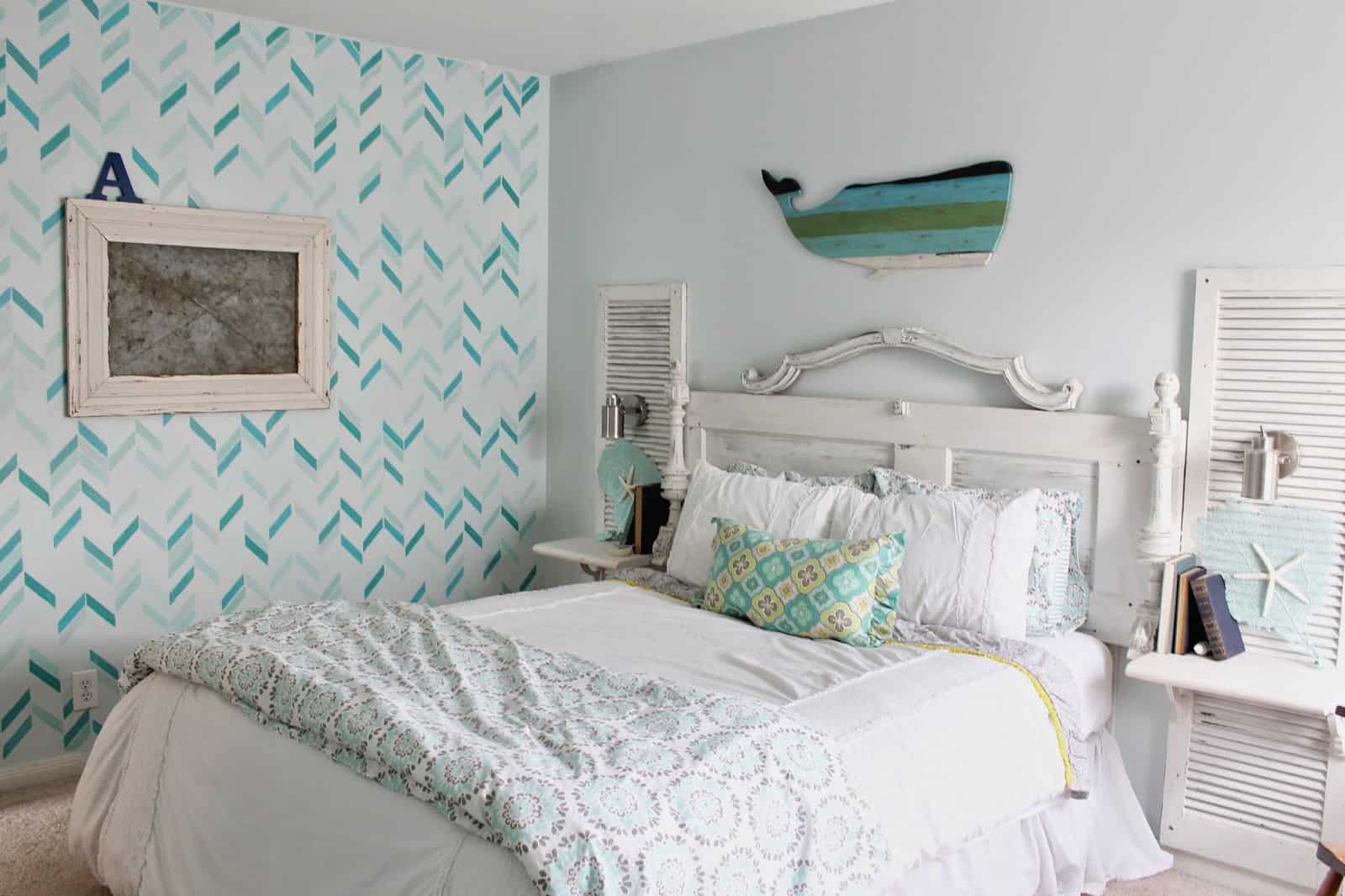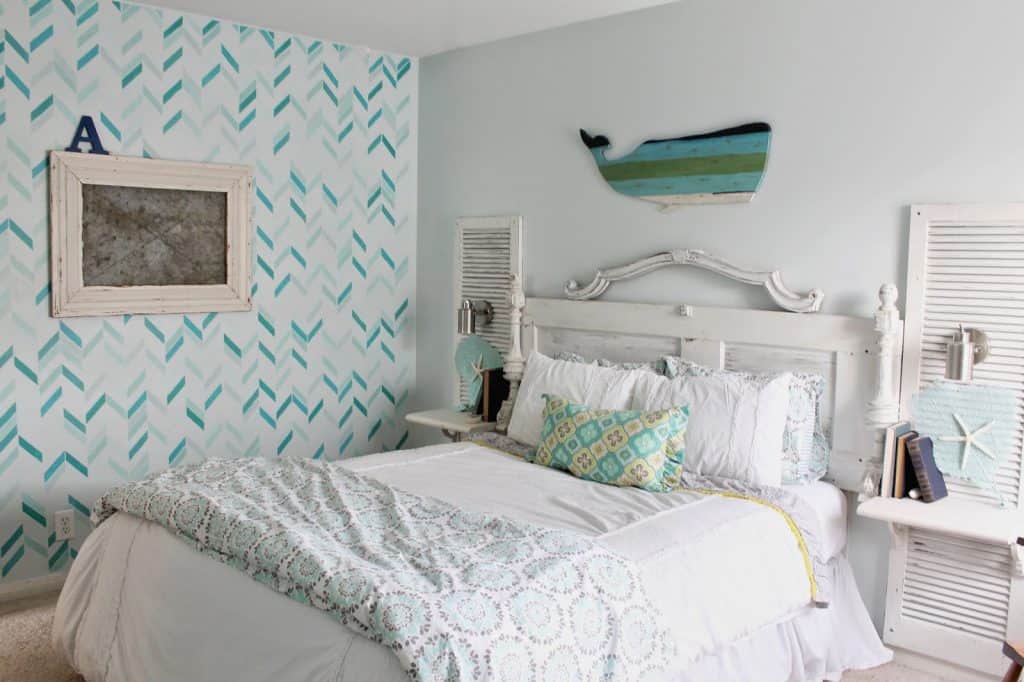 This shabby chic room is excellent for appearing both rustic and coastal; I don't know if it's clear which it's supposed to be, if not both. The headboard, side tables, and mirror frame are all made in distressed white wood.
There are also some more beachy touches to promote the coastal look, from the multicolored whale to the starfish nightstand decor.
Make Your Own Shadow Box in a Beach Theme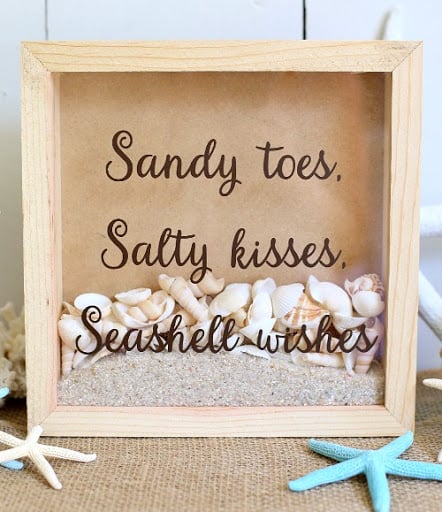 A shadow box is a great decor idea for a beach theme since you can put in sand and seashells and anything that you've found yourself by the water. It's also a fun DIY project for those who like to make their own decor for their home.
There is a great short YouTube video here that you can follow along with to create your own shadow box.
Follow the Nautical and Coastal Color Scheme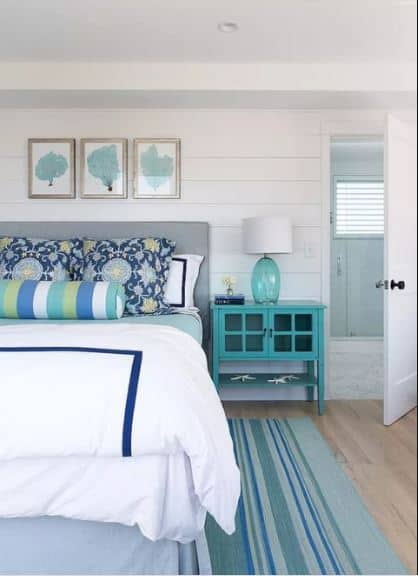 There's a lot of overlap between nautical, beach and coastal decor schemes. In this example, there's some mix between the two, with the darker blue lines on the white bedspread more reminiscent of the nautical scheme, but the artwork on the wall is clearly coastal.
There's no harm in mixing it up; all of these shades of blue could be an overwhelming idea in theory but in practice, it's been pulled off quite well.
Hang Up Blue Fishing Nets as Artwork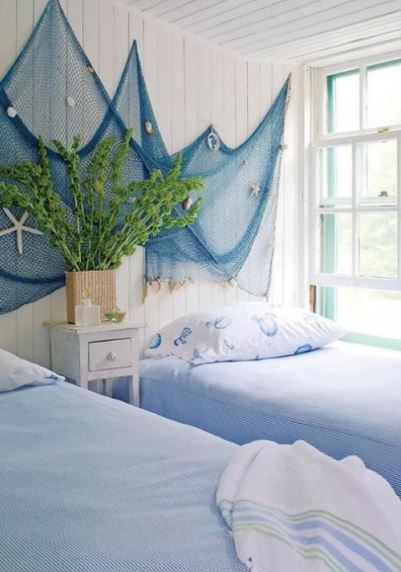 This is a really clever idea to put up on the walls of a beach bedroom on a budget. It replaces the need to get artwork and adds style and personality to the room.
If you can't find blue nets, you can use any color and dye them blue. Then, hang some mementos or other decor pieces from the netting for a completely unique piece of art.
Final Thoughts
I'm a huge fan of the beach theme in the bedroom. There's something so relaxing about the light blues and greens, white furniture, and breezy decor. It's like walking into a spa and feeling immediately at ease.
The good news is it's easy to recreate the beach theme on a budget by adding a few small touches. Think about the paint and color scheme, little touches like artwork and decor, and you'll be well on your way to a beach bedroom without a major overhaul.
Which of these beach theme bedrooms has inspired you to get started on your decor journey?