Decorated Life is reader-supported. When you buy through links on our site, we may earn an affiliate commission. Learn More
10 Coastal Kitchen Backsplash Ideas
Coastal style is light and airy, with lots of blues, grays, and whites. It often invokes feelings of calmness and serenity.
When it comes to the kitchen backsplash, you commonly see tiles that pay tribute to nature and tie together the cabinetry and countertop.
If you're in the middle of a remodel and unsure what to use for a backsplash, here are ten coastal ideas to check out.
Brighten the Room with a Pebble Rock Pattern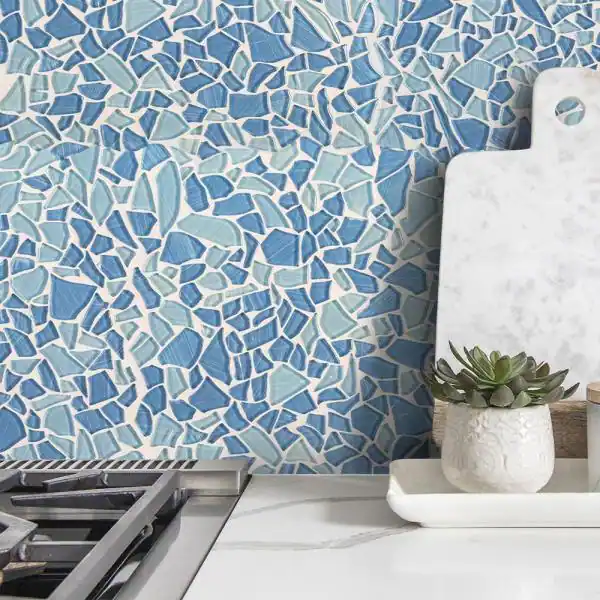 If you're looking for a way to brighten your kitchen, this pattern is worth a second look.
This glass mosaic tile has several shades of blue and looks like pebble rocks pieced together. It would go great with white or navy cabinets and white grout. If you don't like the bright look, you can also get this in beige.
Try a Light and Serene Ceramic Tile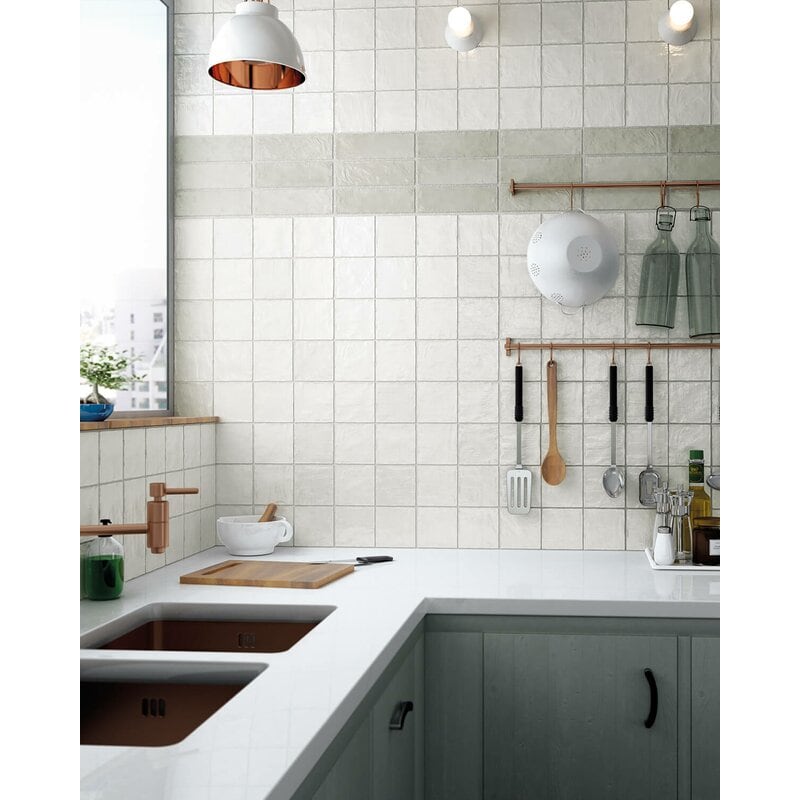 Ceramic tiles are perfect for kitchen backsplashes. They're heavy-duty, relatively inexpensive, and come in all shapes and sizes.
One great option for a modern beachy kitchen is this 4-inch by 4-inch square tile. Each tile is slightly imperfect, giving it a casual vibe. The lightness, texture, and iridescence are perfect for relaxed kitchens. You can find this tile in five colors: white, black, blue, cream, and gray.
For Classic Style, Go with a Marble Look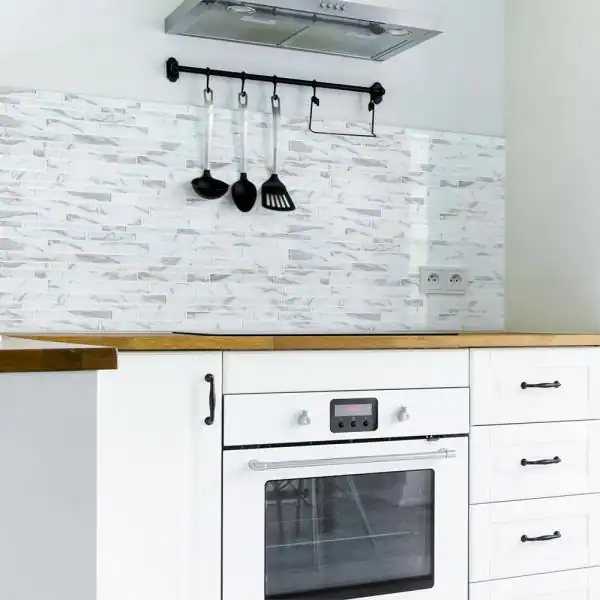 Sometimes the best coastal backsplash ideas are the most simple, and that's the case for this tile.
If you want a backsplash that is universally good-looking and won't go out of style, try this marble look glass mosaic. This tile will brighten your room and coordinate with any cabinet type and almost any countertop.
Use a Seashell Inspired Chevron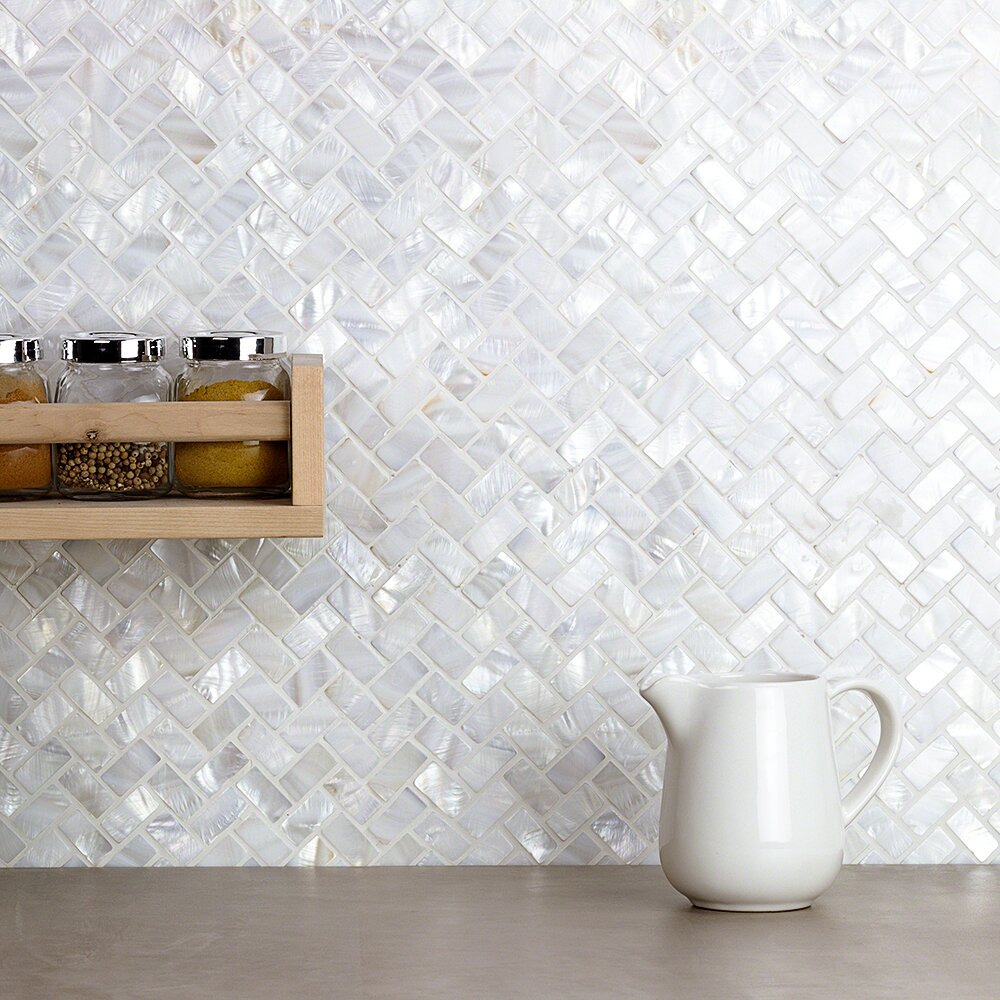 It's harder to find a better beach tile backsplash than this pearl shell mosaic from Wayfair. It comes in sheets set in a chevron pattern, ready for you to put on the wall.
This tile has a little bit of a marble look, with colors and textures varied throughout. Since it's such a beautiful neutral, it will coordinate with many color schemes.
Bring in Blues with Glass Mosaic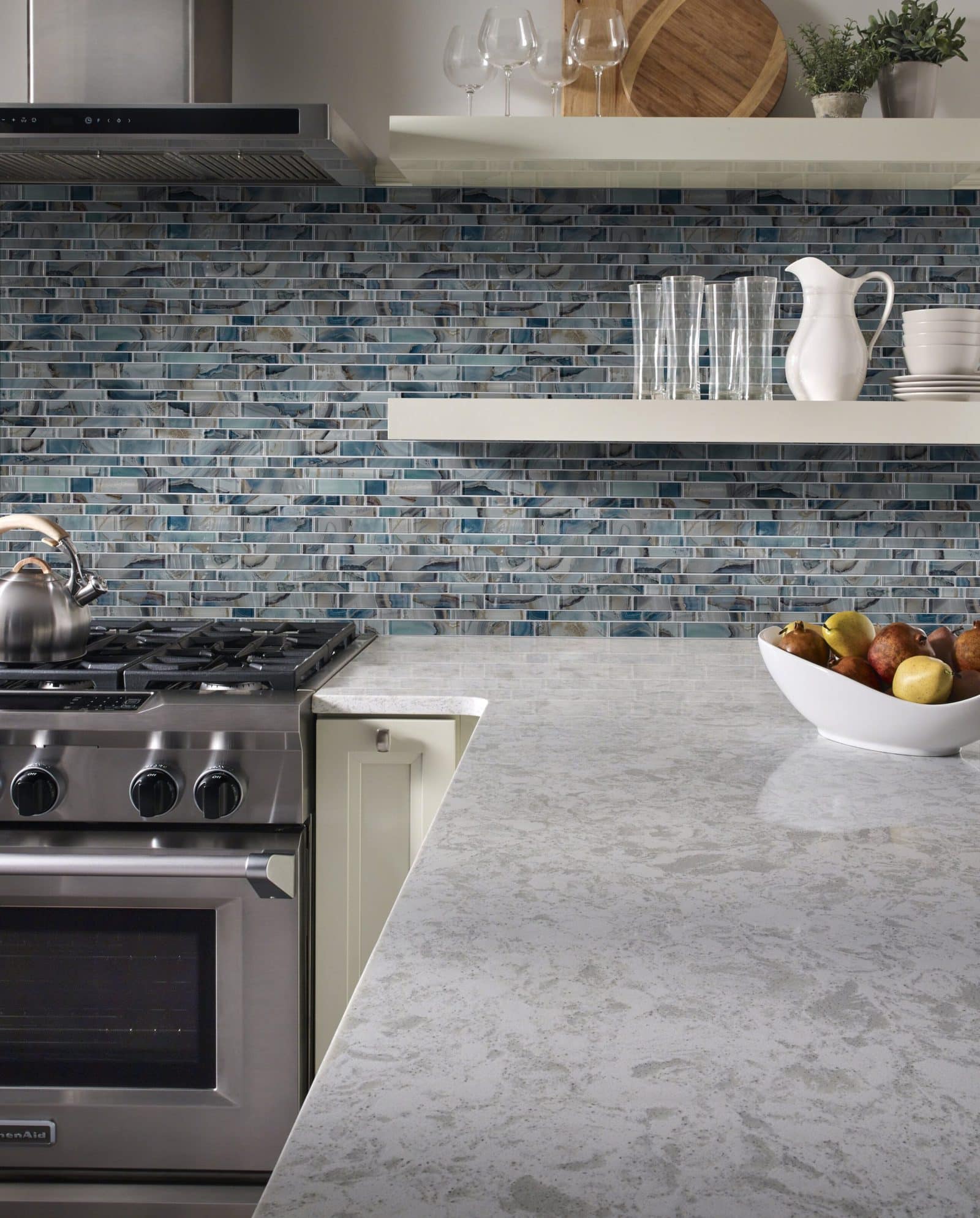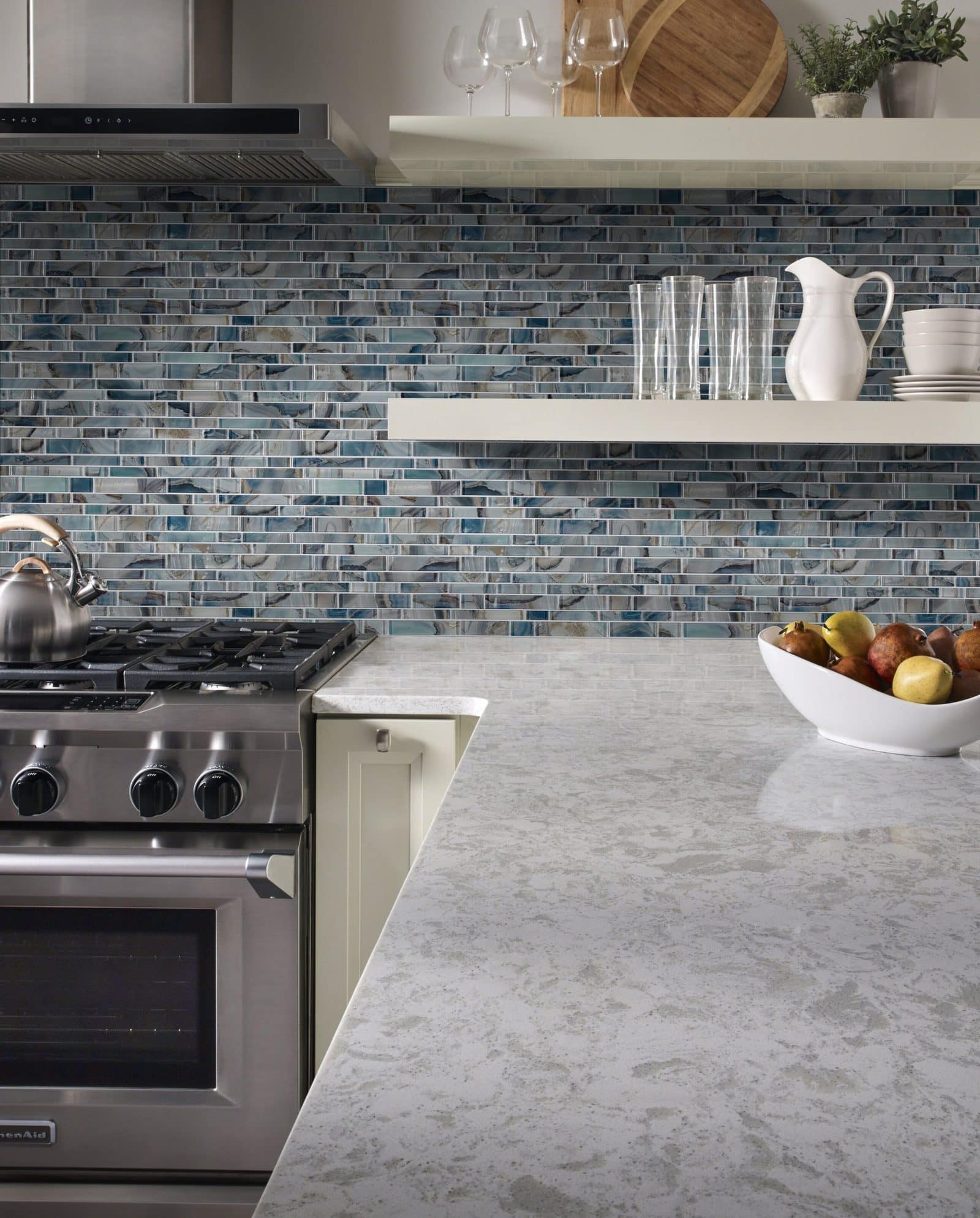 If you prefer dark and moody over light and airy, this is the backsplash for you. From Wayfair, this crystallized glass tile features dark blue, light blue, grays, and browns.
It imitates a night sky and can work perfectly with white, wood, or blue cabinetry. There is a lot of variation in the colors, so if you use this, your kitchen backsplash will be one of a kind.
Swap Out Standard White for Gray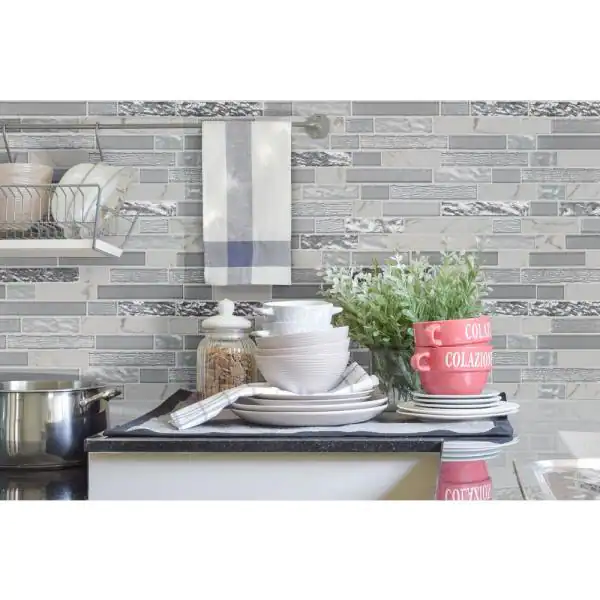 For coastal looks, gray is just as standard as white. So, if you've done white in the past and are looking for something new, try this.
This glass tile has a mixture of grays and different sheens. Because of its variations, it brings a lot of texture to the kitchen. It would look amazing with white countertops and dark cabinetry.
Lighten the Room with a White Glossy Tile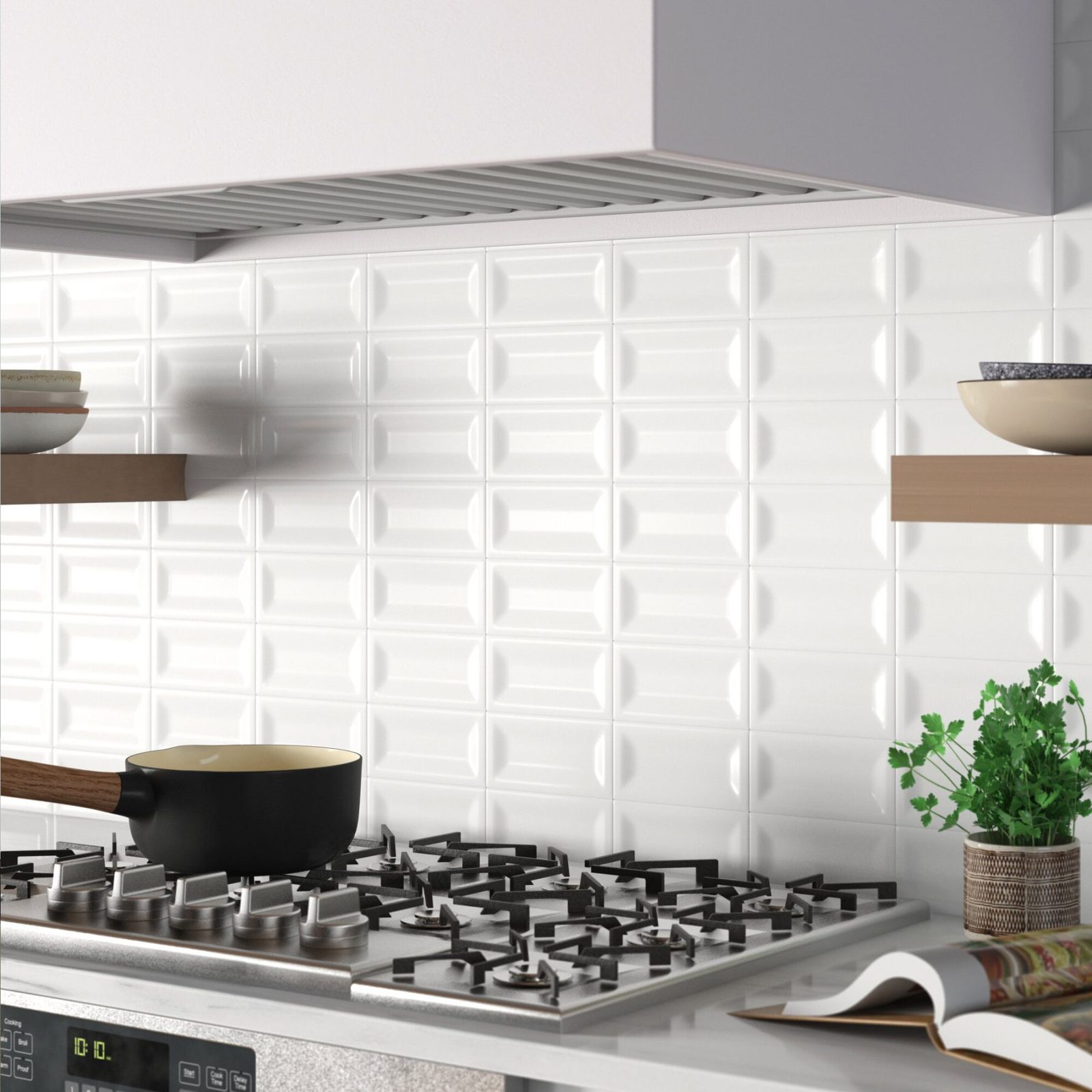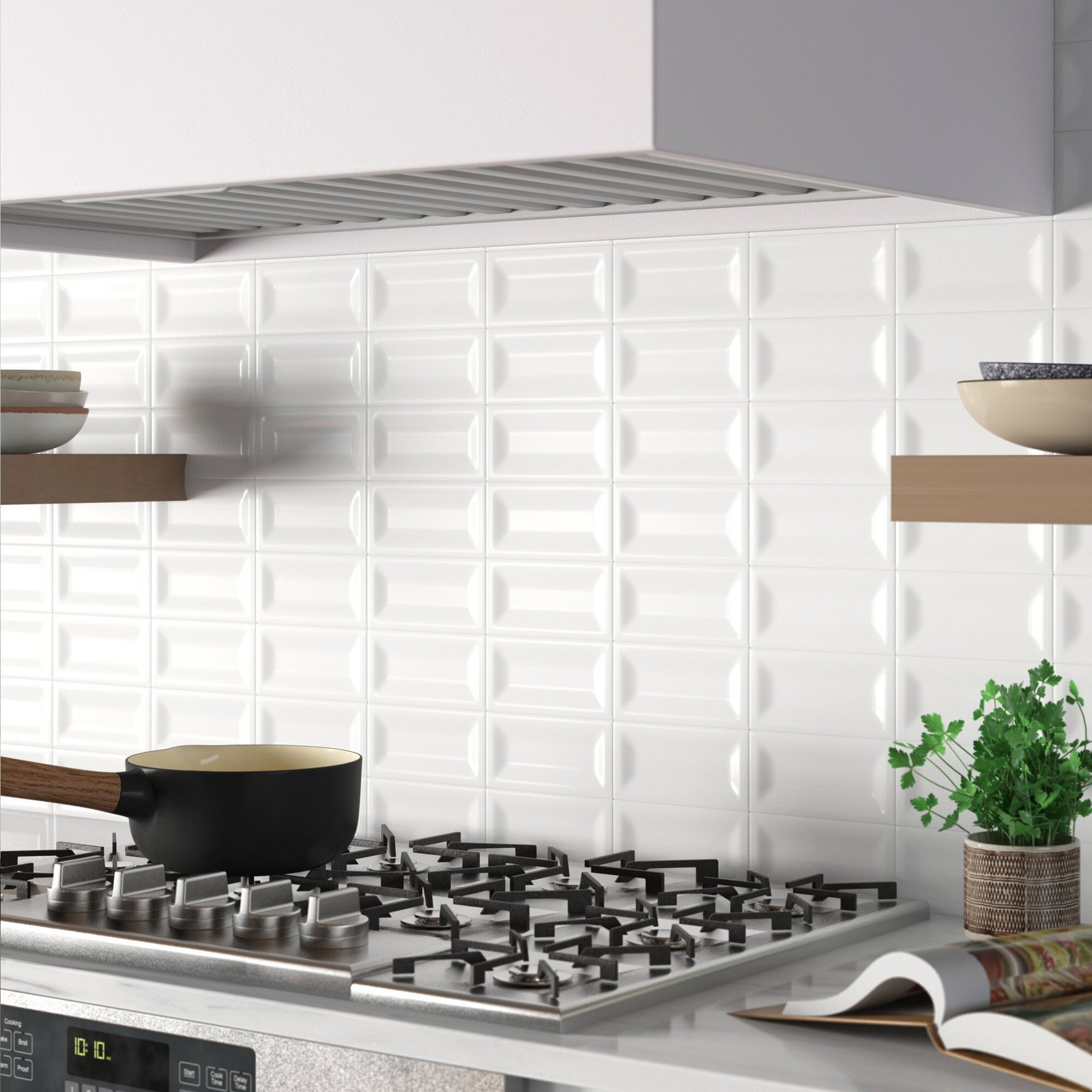 If you're looking to brighten your kitchen or love a clean design, you can't go wrong with this white glossy ceramic tile.
Each tile is 3-inch by 6-inch with a smooth glass pattern and a high sheen. This white backsplash will work for any and every cabinet and counter combo.
Pay Tribute to the Ocean with this Nautical Tile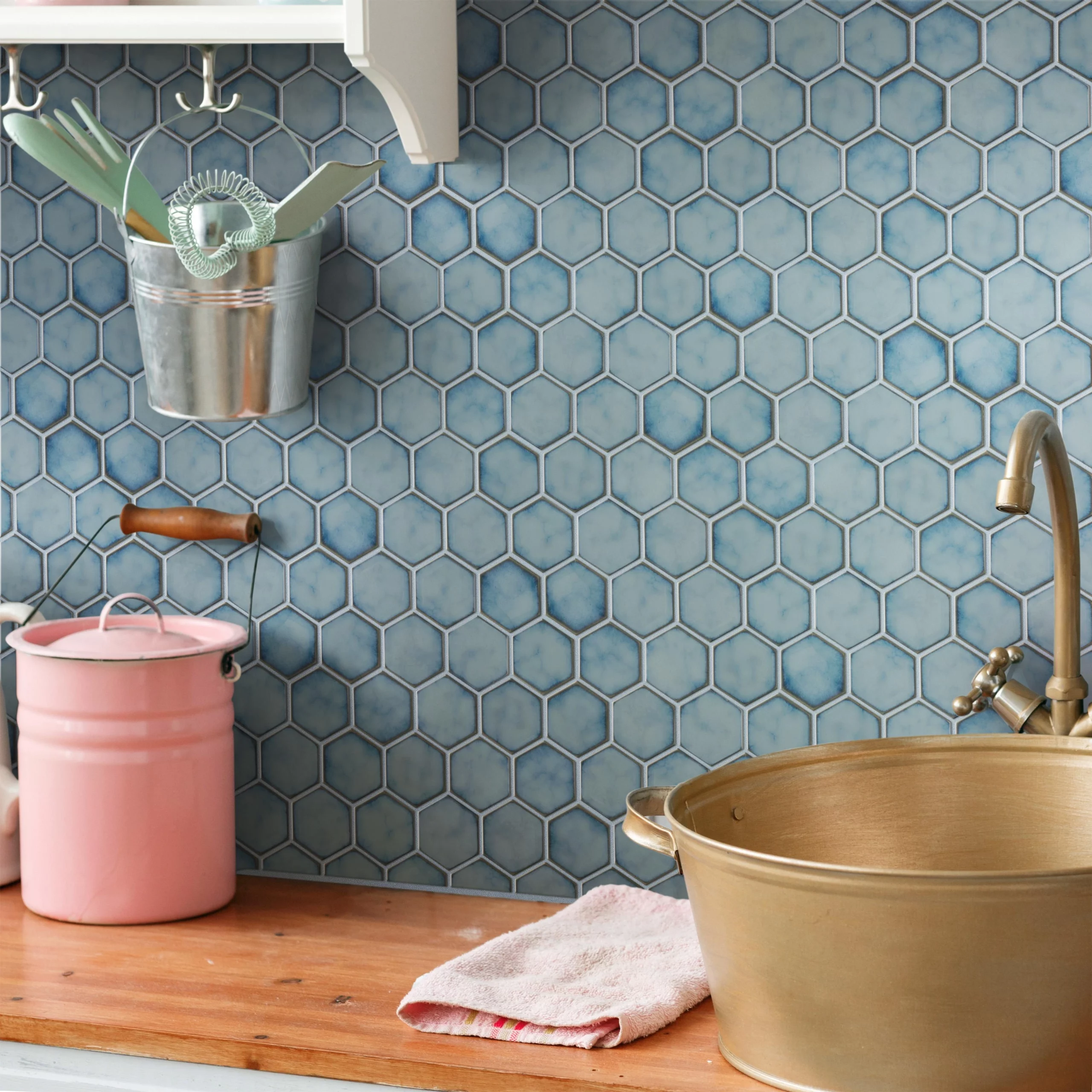 One of the biggest challenges in coastal design is paying tribute to the beach without seeming immature. So, if you're looking for a modern way to go beachy, try a tile like this.
This porcelain backsplash has beautiful slight variations of blue throughout. Its hexagon shape is modern, while the color is classic.
Stay on Brand with a Fish-Scale Mosaic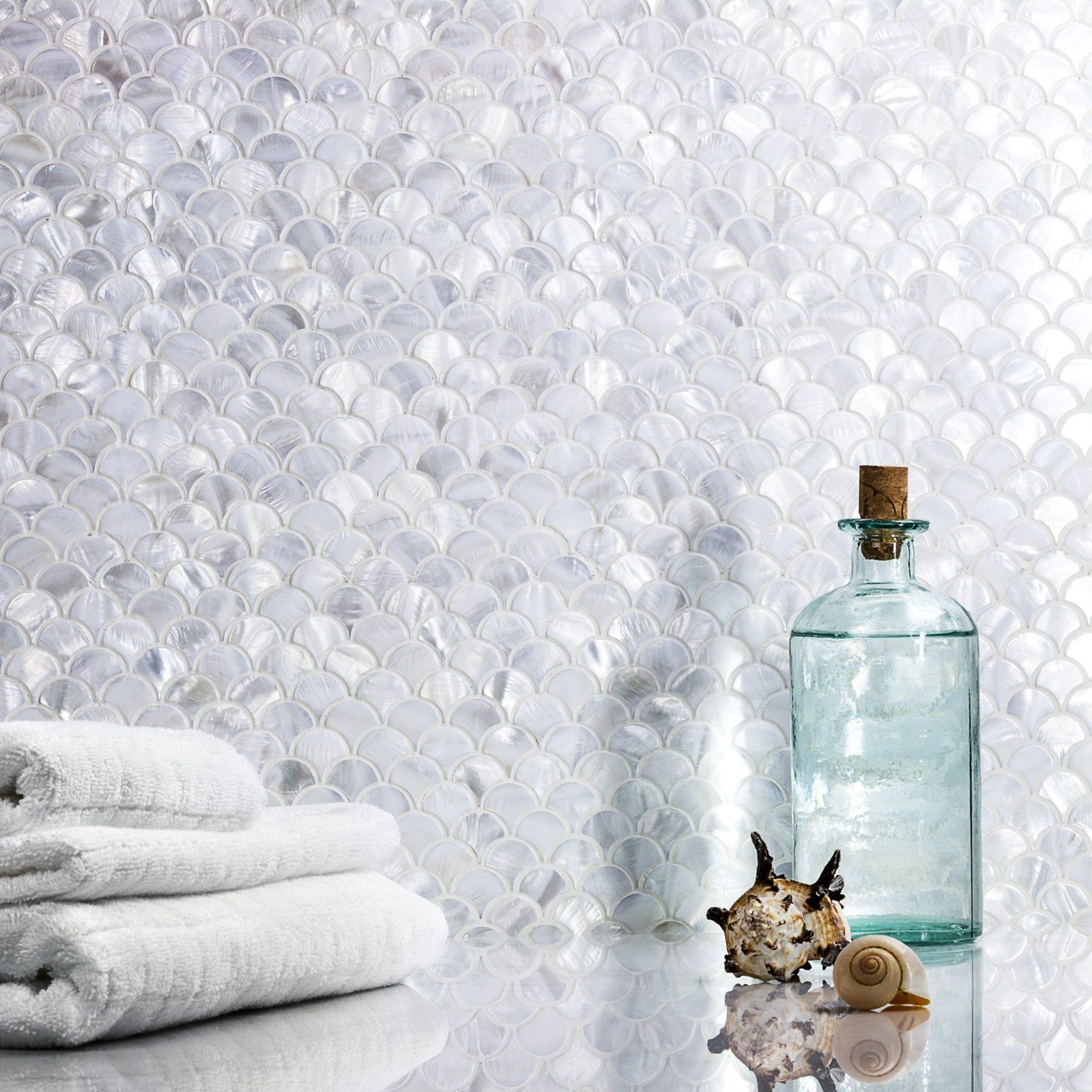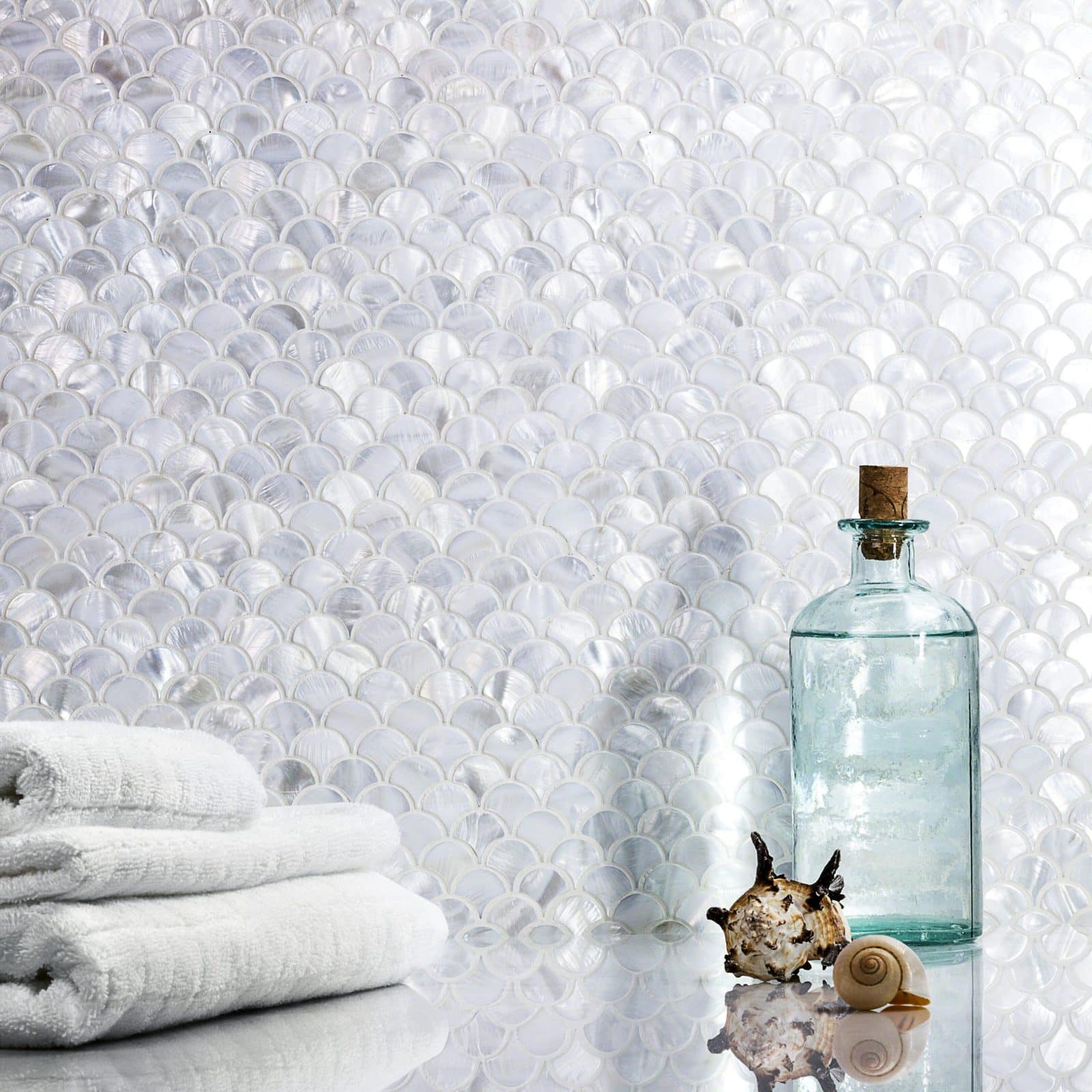 Using fish-scale tile is another way to get the beachy look in a modern, fresh way. And it doesn't hurt when that tile is in shades of white and gray like this.
From Wayfair, this is a pearl shell tile with a marbleized look. It gives off very serene vibes and is perfect for a bright and clean coastal kitchen.
Go with a Coastal White Mosaic Subway Tile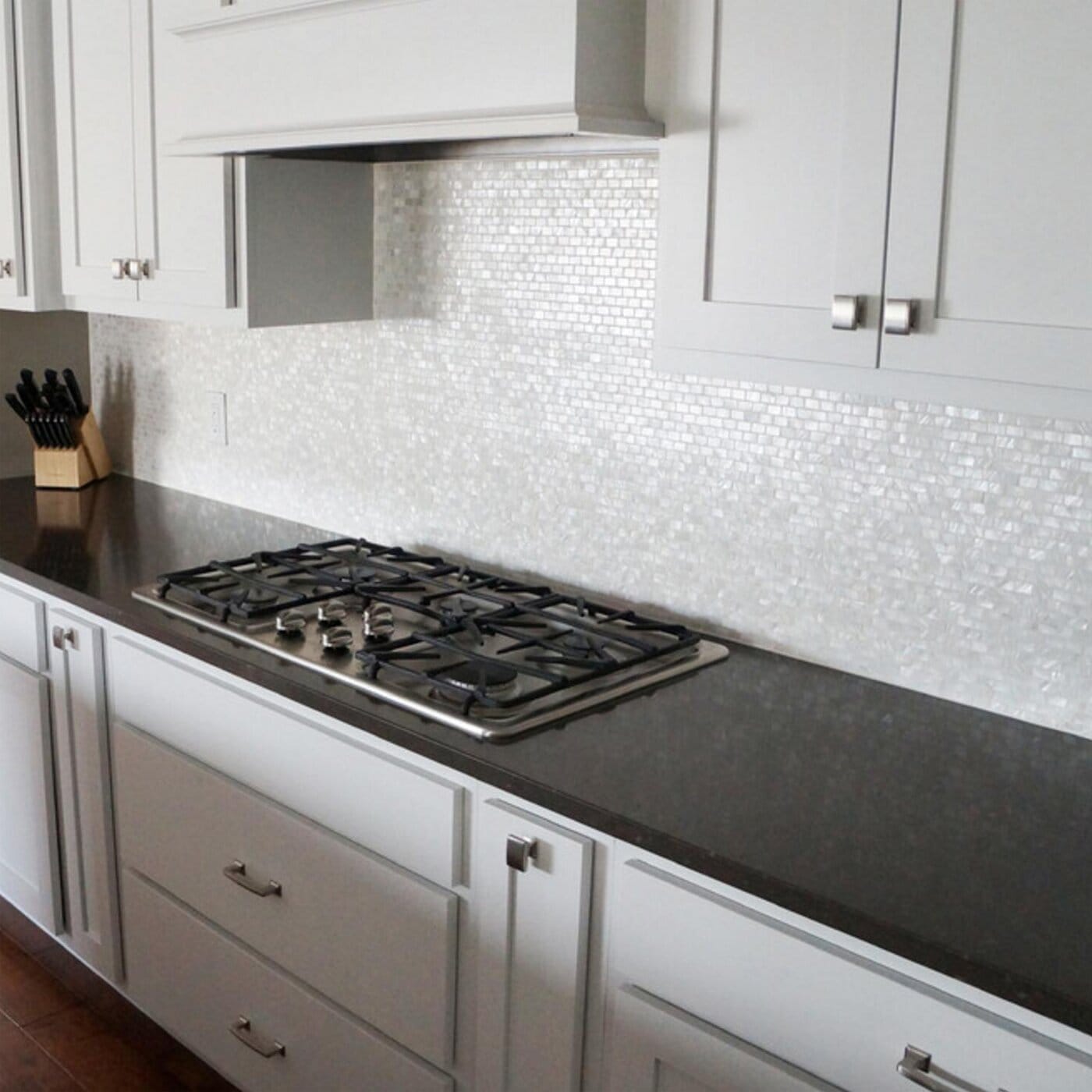 Subway tile offers a classic look that never fades out of style. And when that subway tile is mother of pearl, it's perfect for any oceanside room.
This tile is from Wayfair, and since it's natural mother of pearl, each piece is unique. It comes in sheets for easy installation.
Final Thoughts
Whites, marbles, grays, and blues are the most used coastal backsplashes. If you're looking to brighten your room, consider a glossy white tile or marble look.
If you want to add character, blues or weathered look tiles are an excellent fit. And if you want to play it safe, you can always opt for standard white subway tiles.