Decorated Life is reader-supported. When you buy through links on our site, we may earn an affiliate commission. Learn More
18 Coastal Kitchen Ideas for a Bright and Airy Room
Coastal style is all about bringing the beachy feels indoors in a simple, organic way. Because of this, coastal kitchens often feel clean and relaxing.
And luckily, achieving this look isn't hard. All you need to do is keep your base colors light and bright, bring in natural textures, and layer in beautiful shades of blue.
If you need some inspiration for your next remodel, check out these 18 coastal kitchen ideas for a bright and airy room.
Use Light and Bright Colors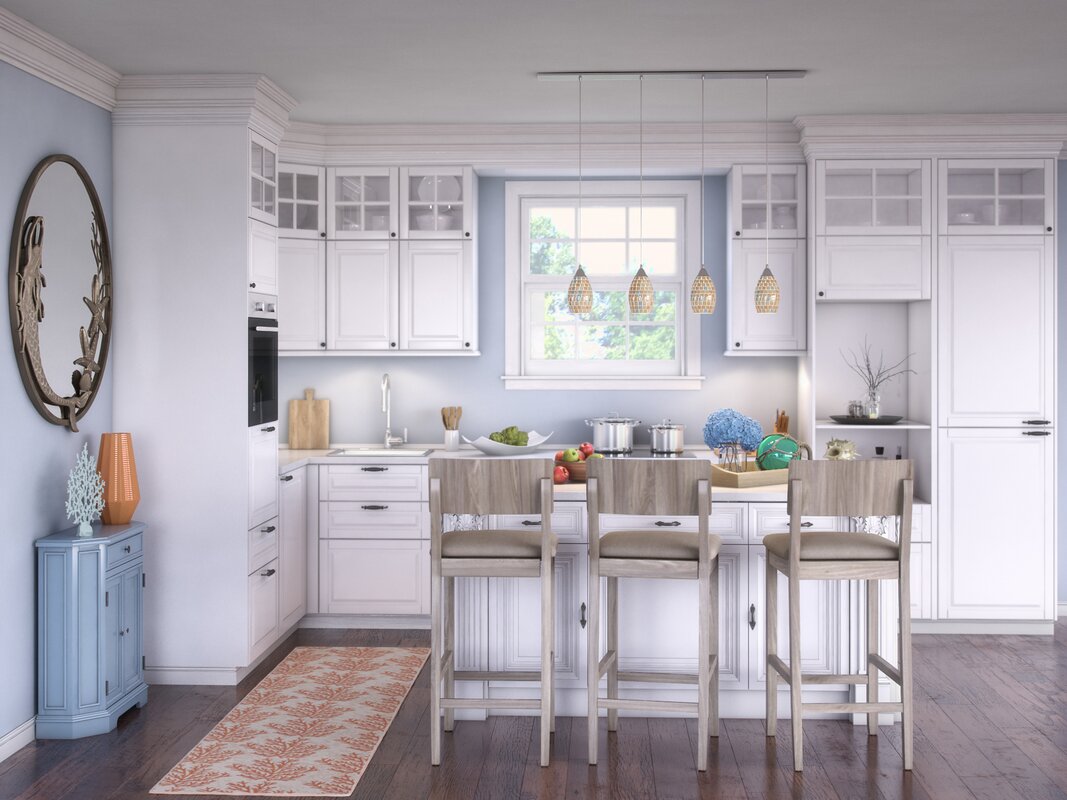 Coastal kitchens have a very light and bright look. The most common wall and cabinet colors are white and soft blue.
That doesn't mean you can't bring in other pops of color, though – just save those for the accessories.
A general rule of thumb is to keep your base colors light and then layer in textures and bolder colors through furniture, plants, and accessories.
Try a Shade of Blue on Your Cabinets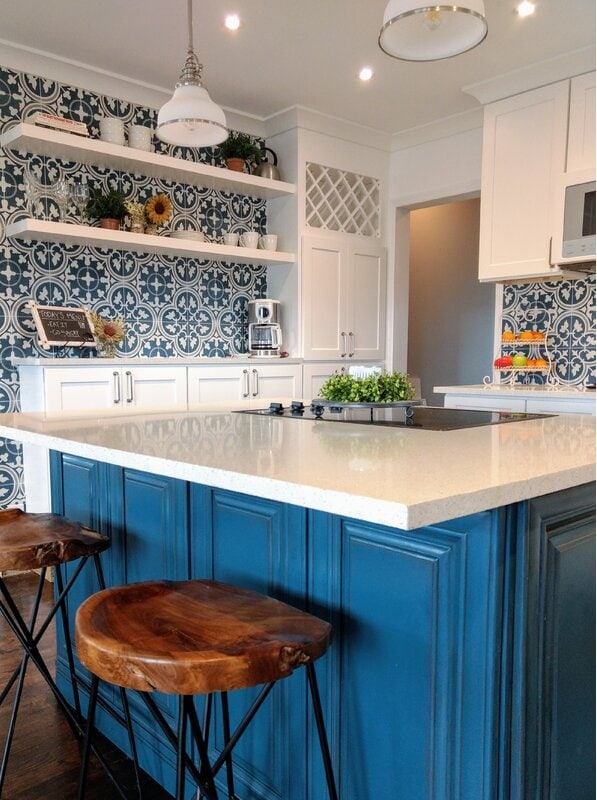 If you're tired of white cabinets, try a shade of blue. You could opt for a bright and bold shade like pictured above or tone it down for a muted baby blue. Either way, blue fits in perfectly with the coastal vibe.
If you're not ready to paint all of your cabinets blue, try painting only the lowers or just your island.
Bring in Natural Accessories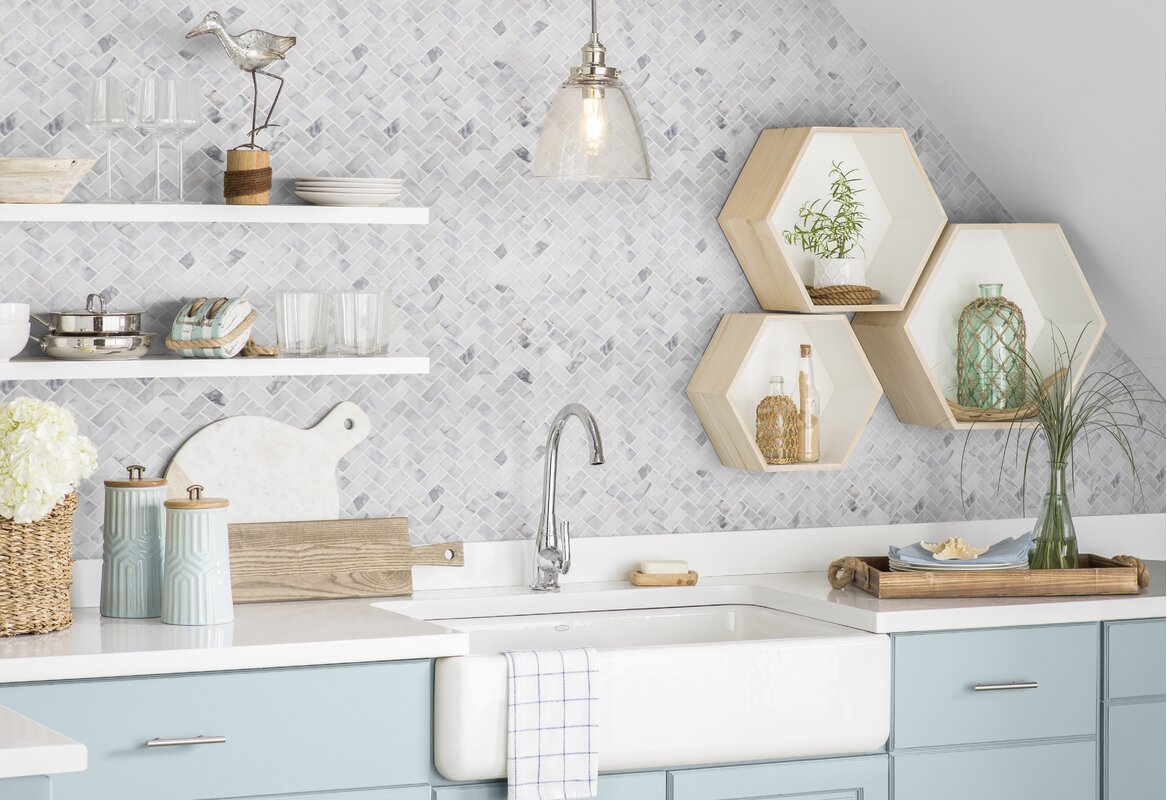 One of the best things about coastal style is that you don't have to spend much money on accessories. For example, a few thrifted glass bottles filled with plant clippings from your backyard can easily add interest to your shelves.
You can use anything from simple decorative grass to your favorite hydrangea to inexpensively fill your vases.
Add Warmth with a Wood Island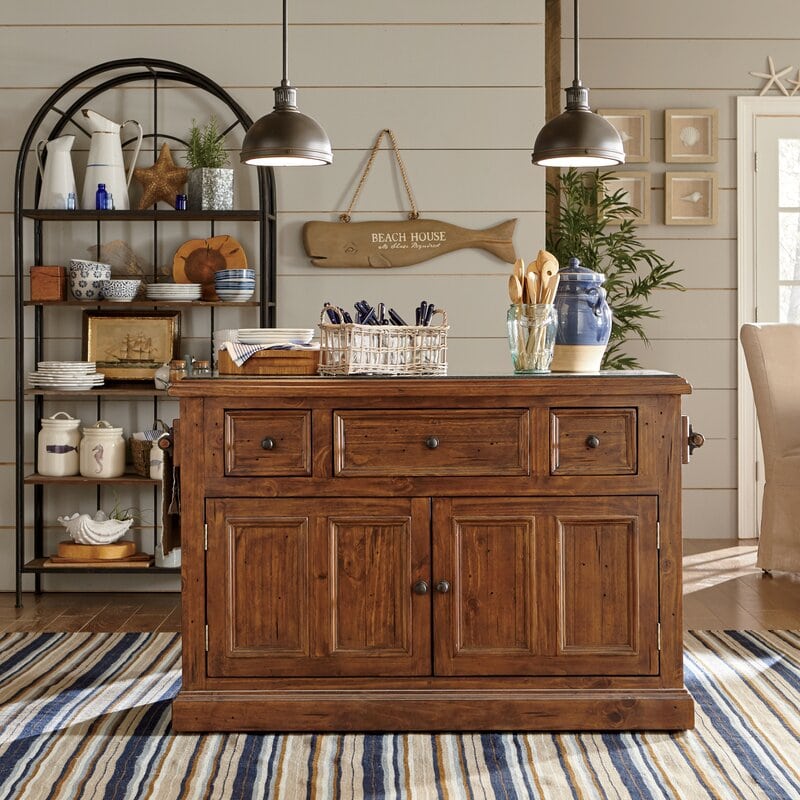 While coastal kitchens typically have cool shades of white or blue as their cabinet color, an easy way to bring in warmth and texture is to add a wood island.
As a bonus, an island not only gives you extra storage space but brings visual interest to the kitchen.
Use Open Shelving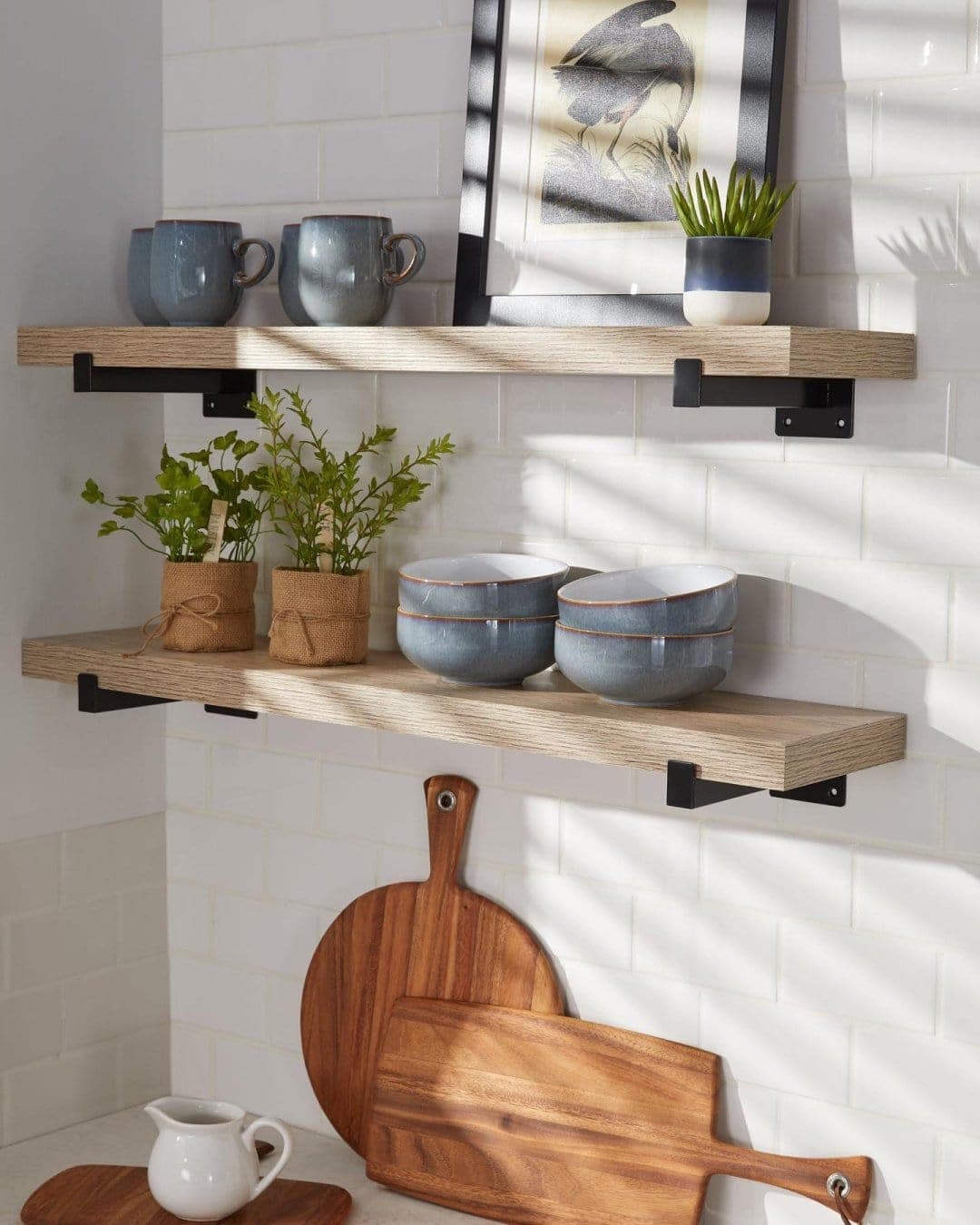 You can use open shelving to bring texture into your kitchen. This works exceptionally well if you have painted, white, or colored cabinets and add wood shelves. The different textures will play off of each other, creating an earthy feel.
Open shelving is also a great way to display pretty bowls, plates, art, and plants.
Hang Rattan Shade Pendant Lights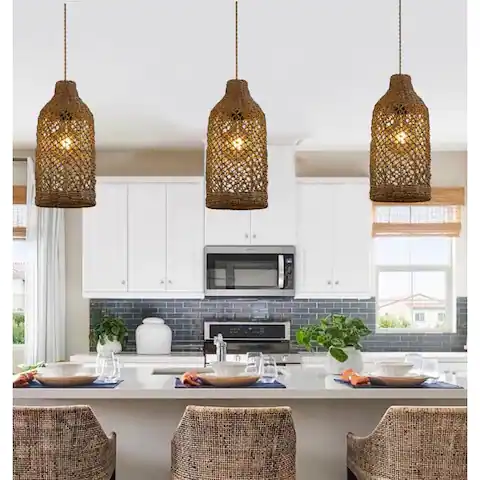 Rattan is a natural material that complements the bright, naturally beachy feel of coastal kitchens. It looks beautiful on light shades and pendant lighting.
Hanging just a couple of these rattan pendants can bring some warmth to a white coastal kitchen.
Add Bright Colors Through Accessories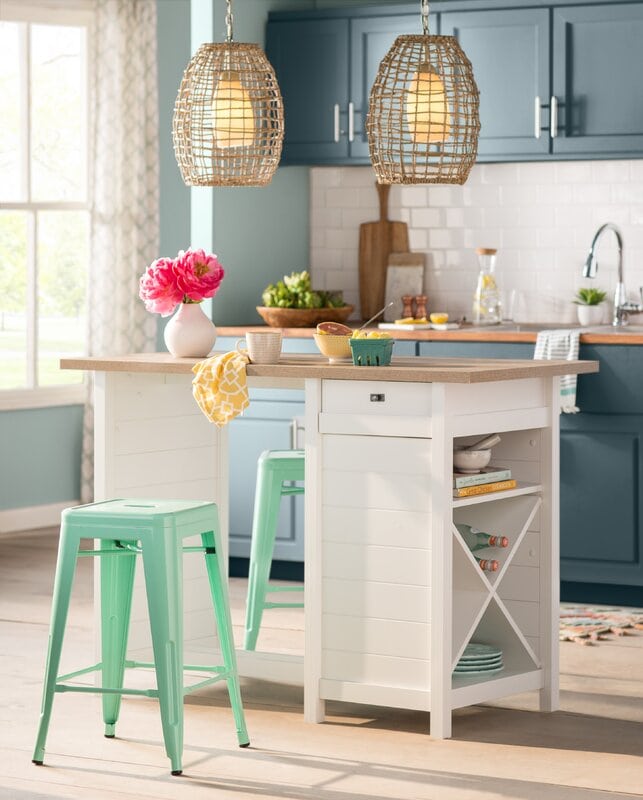 Since most coastal-themed kitchens have soft colors on the cabinets and walls, one of the best ways to bring in pops of color is through accessories.
You can try a fun color like the mint green shown in the picture above. Or, if you like to play it safe, you can limit your bright colors to fresh flowers and kitchen towels.
Mix Wood and White for Your Dining Set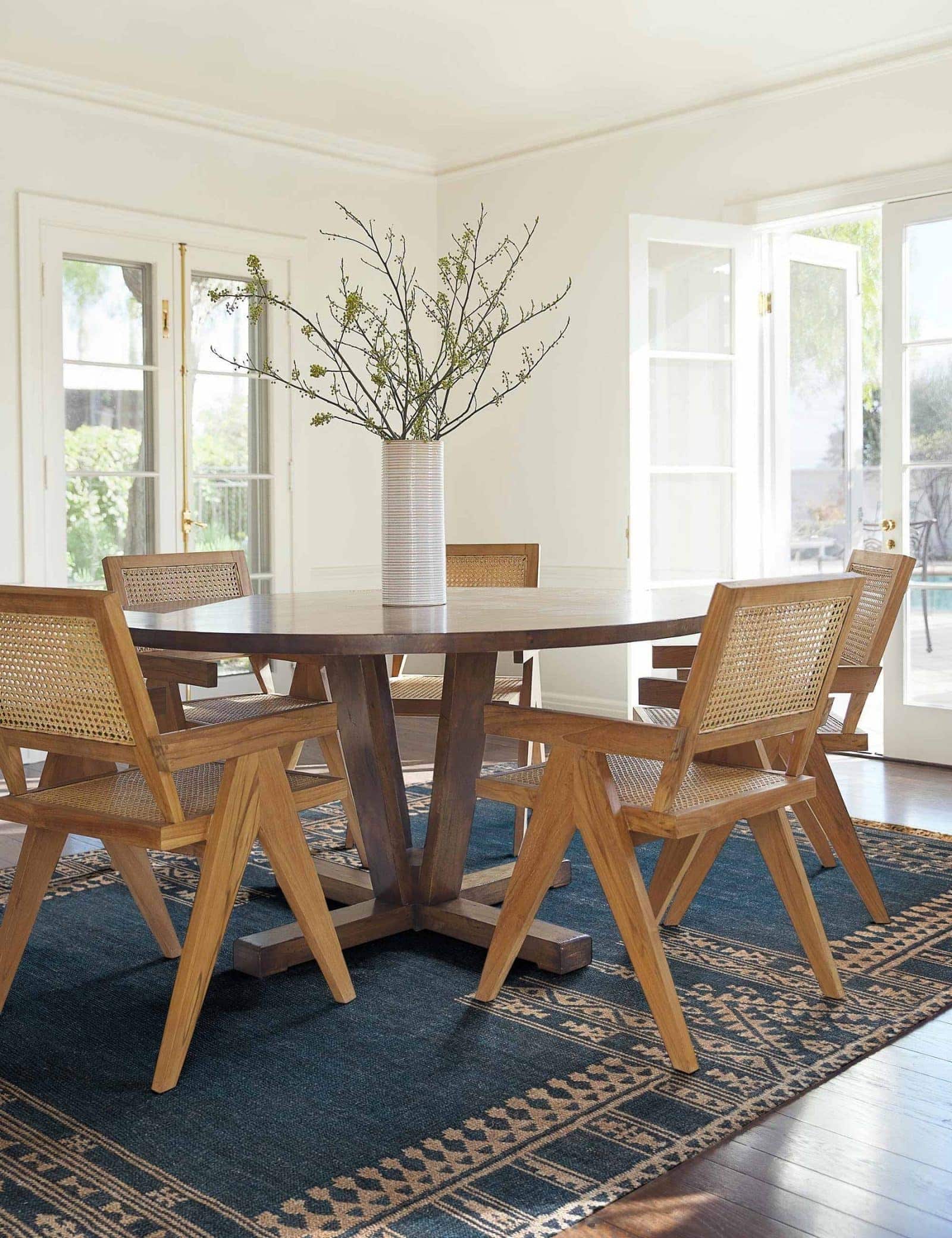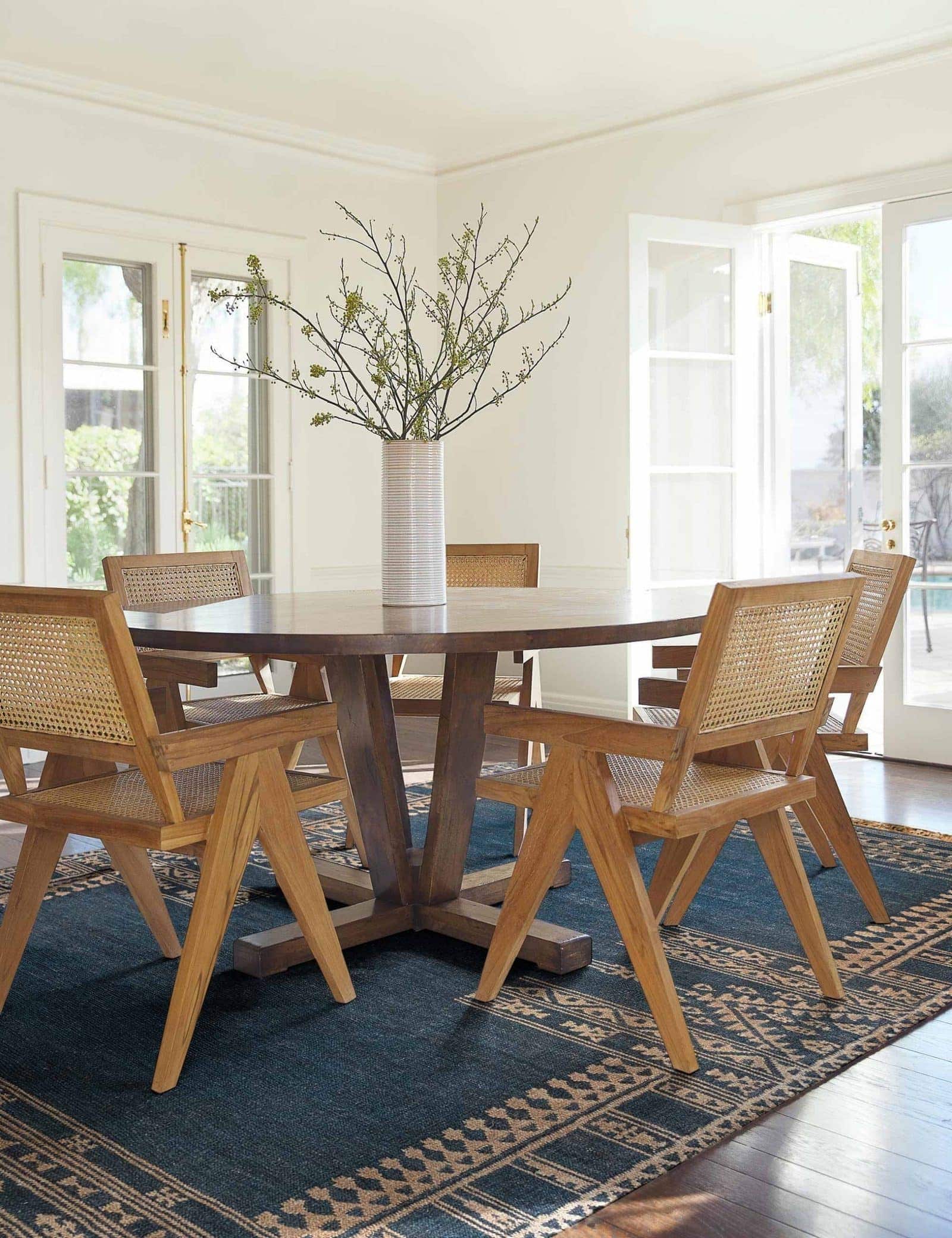 If you sift through beach kitchen idea pictures, one thing you'll see over and over are dining sets that mix wood and white. You can achieve this look by adding white chairs to a solid wood table.
Another take is to go for a wood-to-white ombre effect like pictured above.
Mismatch Wood Tones for a Modern Coastal Kitchen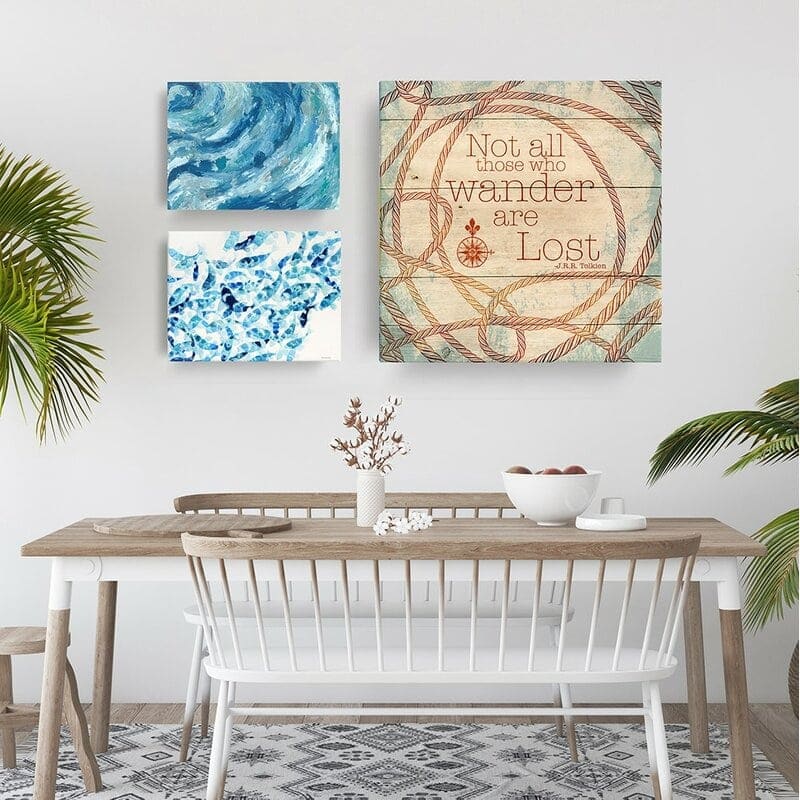 If you're into a modern or minimal look, you can still achieve coastal vibes by mixing and matching the furniture you add to the room.
Take this room, for example, it is very minimal, but the white walls, blue rug, plant, and mixed dining room set give it a very coastal feel.
Skip the Curtains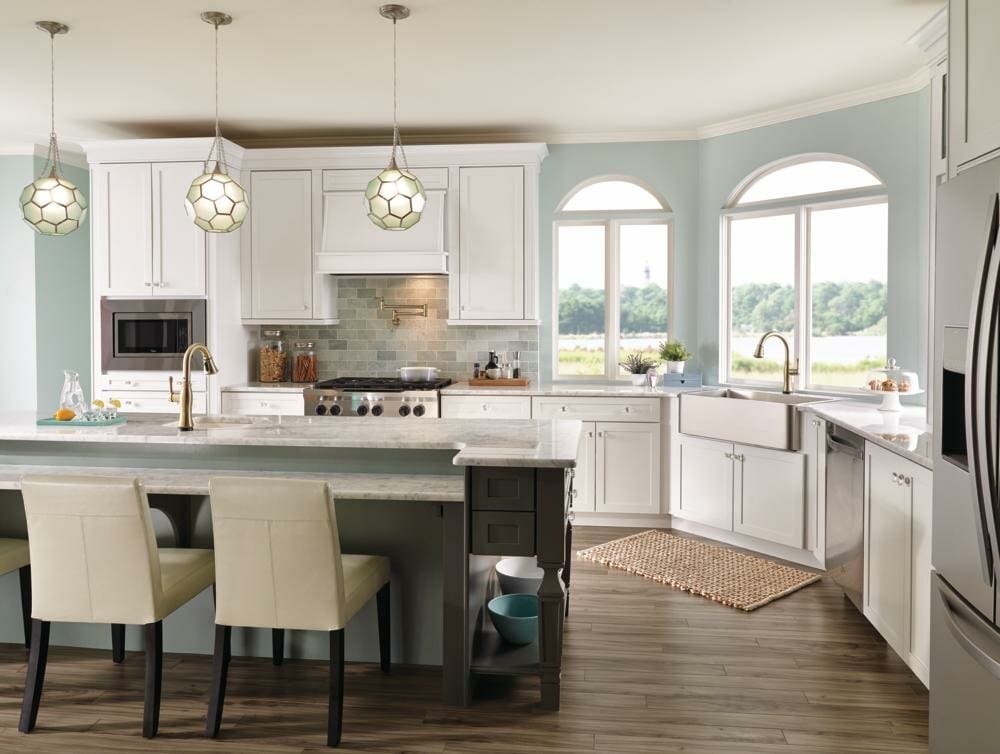 Want to instantly make your kitchen feel more bright and airy? Take down your curtains. If you have a great view from your kitchen window, opting for no window treatments is a fun way to show it off.
Of course, if you live close to neighbors, going without curtains or blinds probably isn't ideal. In this case, you can still make the windows look lighter and brighter by ditching curtains for woven shades.
Go All White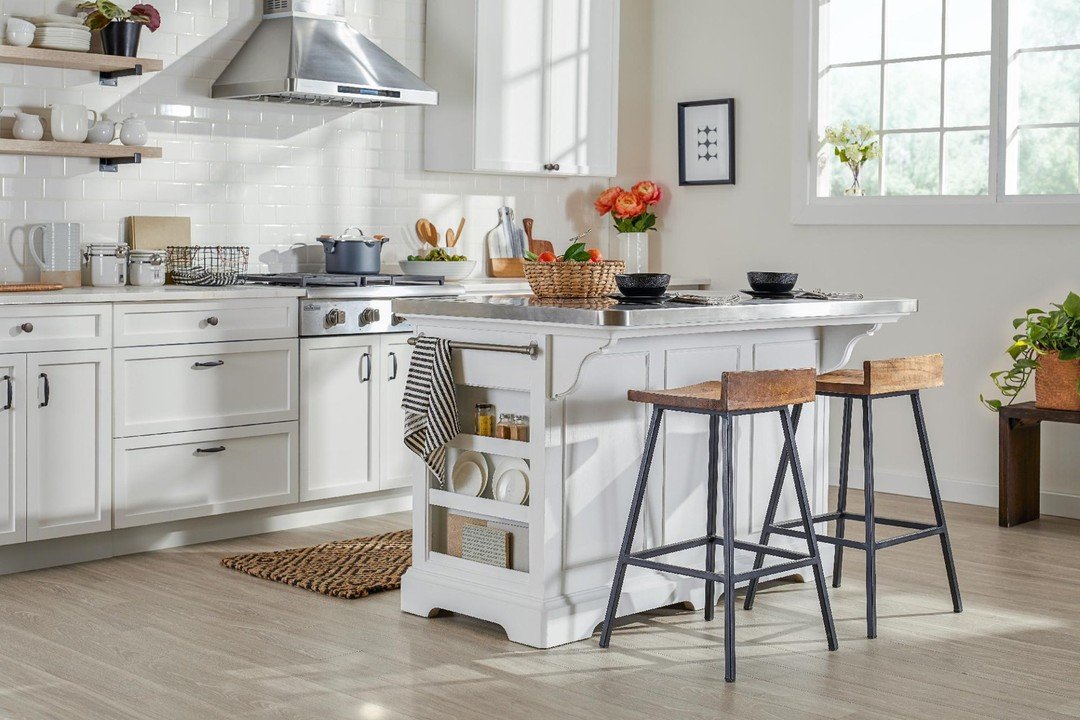 Afraid you won't pick the right colors to achieve the coastal look? Then go all white.
For example, the kitchen pictured above has white cabinets, white counters, white walls, and a white backsplash – which pretty much goes with everything. The added elements of wood shelving, plants, and light wood floors help it achieve a look that borders between beachy and farmhouse.
Use a Light Colored Backsplash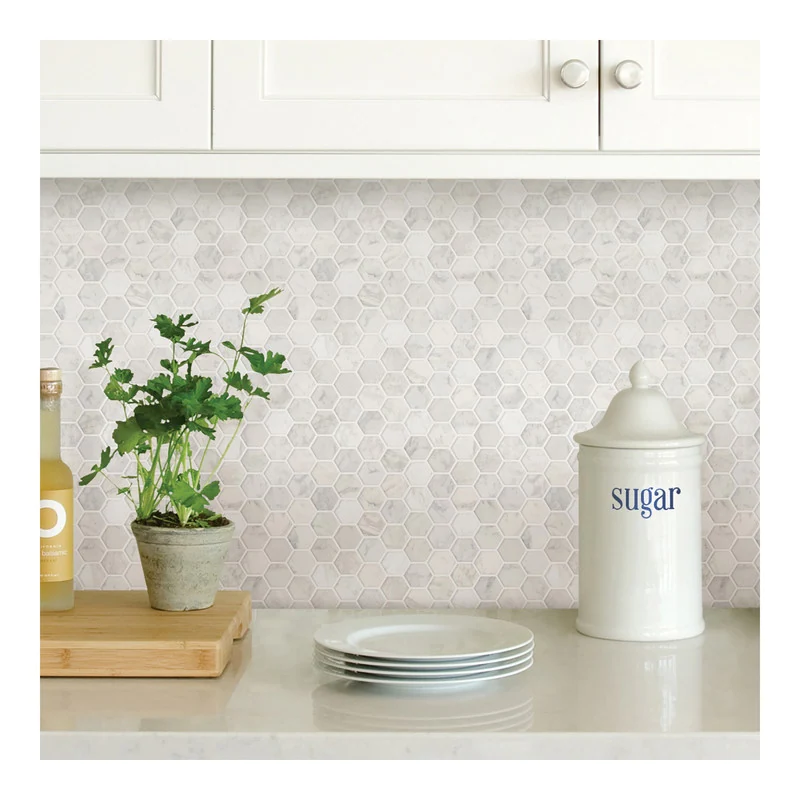 To achieve the bright and airy look of a modern coastal kitchen, consider adding a light-colored backsplash. Shades of white, grey and light blue all work wonderfully.
You could go for a unique pattern or stick to standard subway tile. Either way, light tiles help keep the room feel open and airy.
Don't Be Afraid of Wicker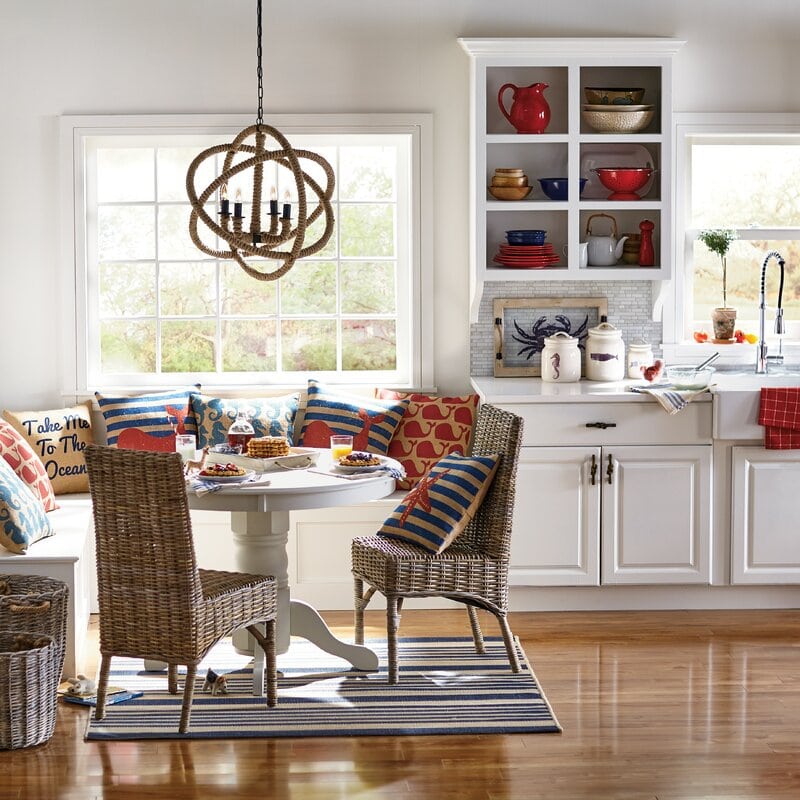 If wicker makes you think of your Grandma's old dining chairs, you might be hesitant to add it to your kitchen. But luckily, wicker furniture has come a long way and is a significant element in coastal and boho designs.
So, if your kitchen is feeling like it needs some warmth or texture, add a couple of wicker baskets or go big with wicker chairs like in the photo above.
Opt for Light Floors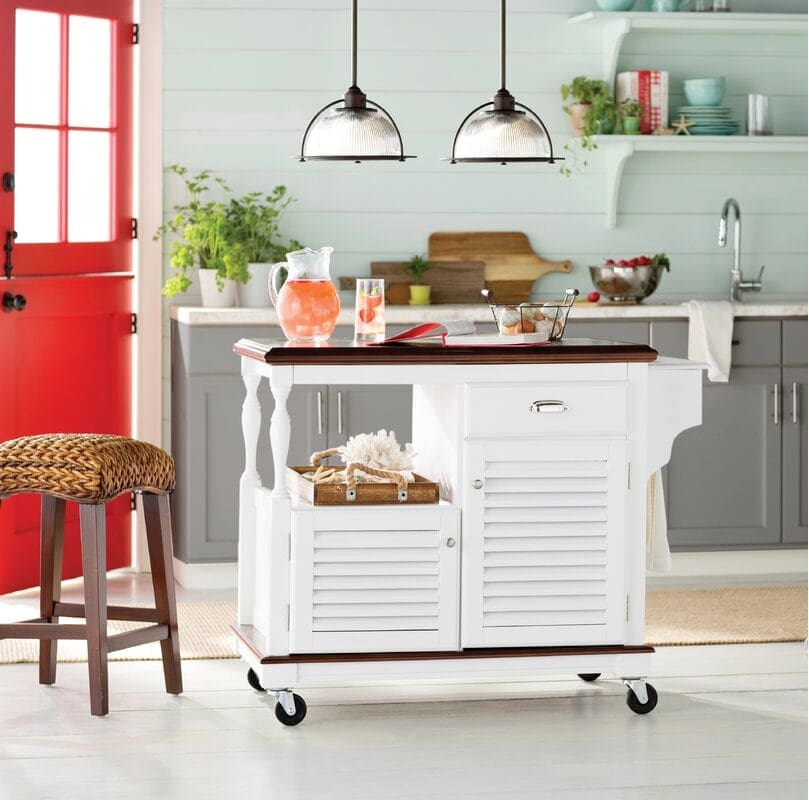 If you're in the middle of a kitchen reno and it's time to choose flooring, opt for something light-colored to achieve a coastal-themed kitchen. Some good options include light, sandy color hardwoods, laminate, or vinyl plank flooring.
Or, if you're feeling brave and have old beat-up wood floors, you could try painting them a shade of white like in the picture above.
Hang Nautical Themed Wall Art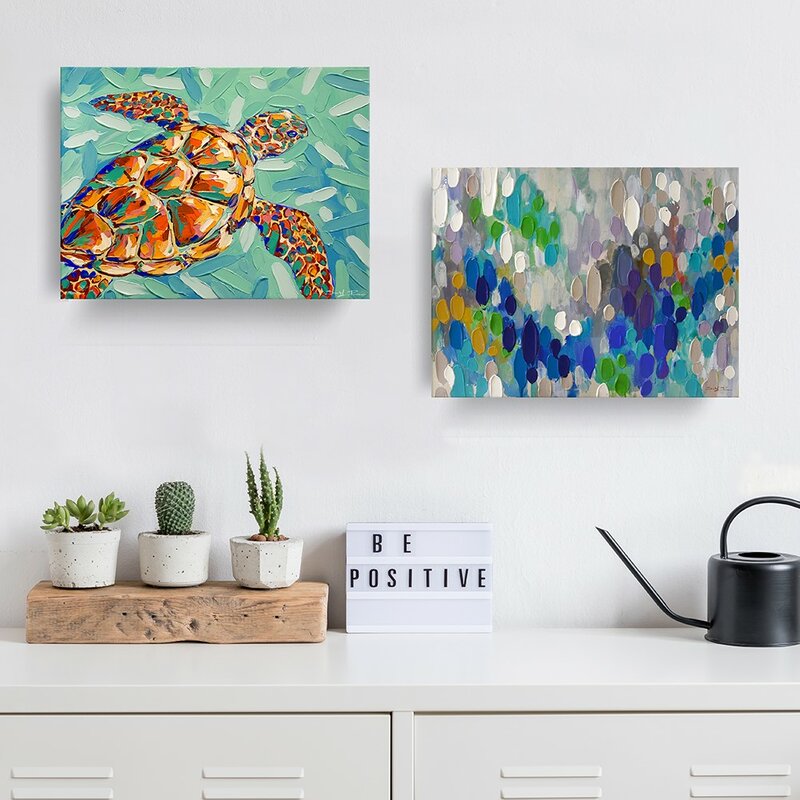 If you think back 20 years ago, nautical wall art was usually framed prints of a boat's anchor or seashells placed in a shadowbox. And while there's nothing wrong with those, today's nautical-themed wall art has come a long way.
Take the coastal kitchen decor in this photo, for example. The turtle has a modern take on it, but it still fits in with a beachy style.
Layer in the Plants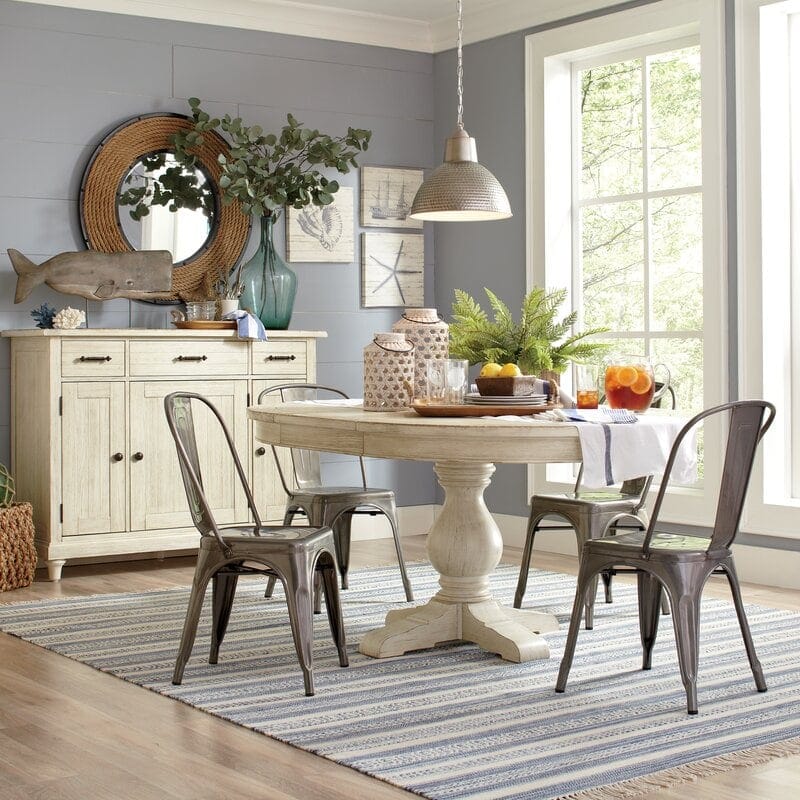 Plants are one of the best ways to bring the outdoors inside, and you should definitely add them to your kitchen.
If you're worried about not having a green thumb, don't be. There are plenty of faux plants and trees that look real and require zero effort on your part. You can also add clippings from a bush to a vase and swap them out whenever they start to look bad.
Add Interest to the Wall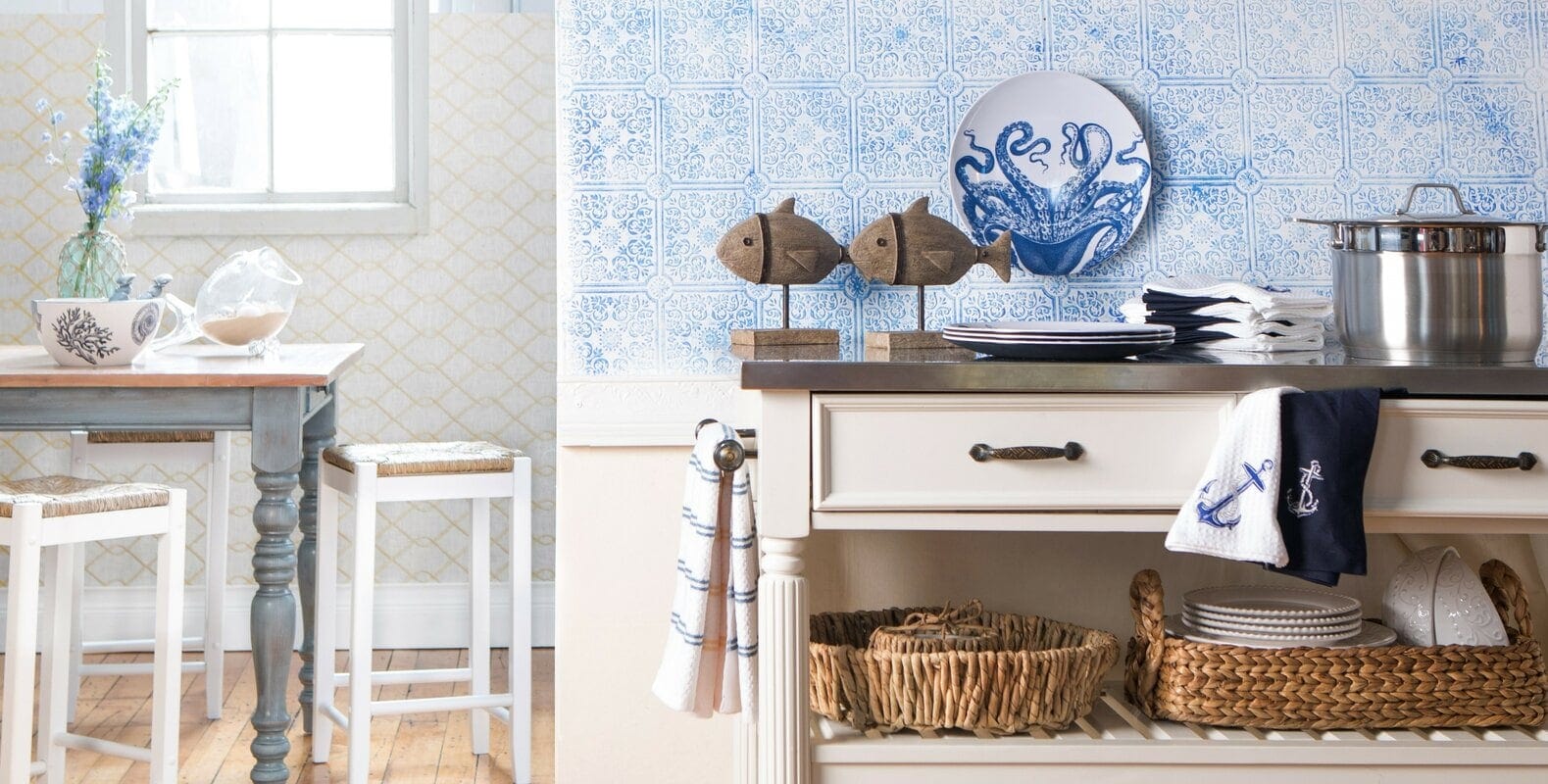 If all-white walls aren't your thing, you can add interest to your kitchen by using a coastal-themed wallpaper or a stencil.
Today you can find many removable wallpapers that are easy to install and won't ruin your walls when you take them off. If you're new to wallpaper, trying one of these is a great way to test out the look without fully committing.
Bring in a Jute Rug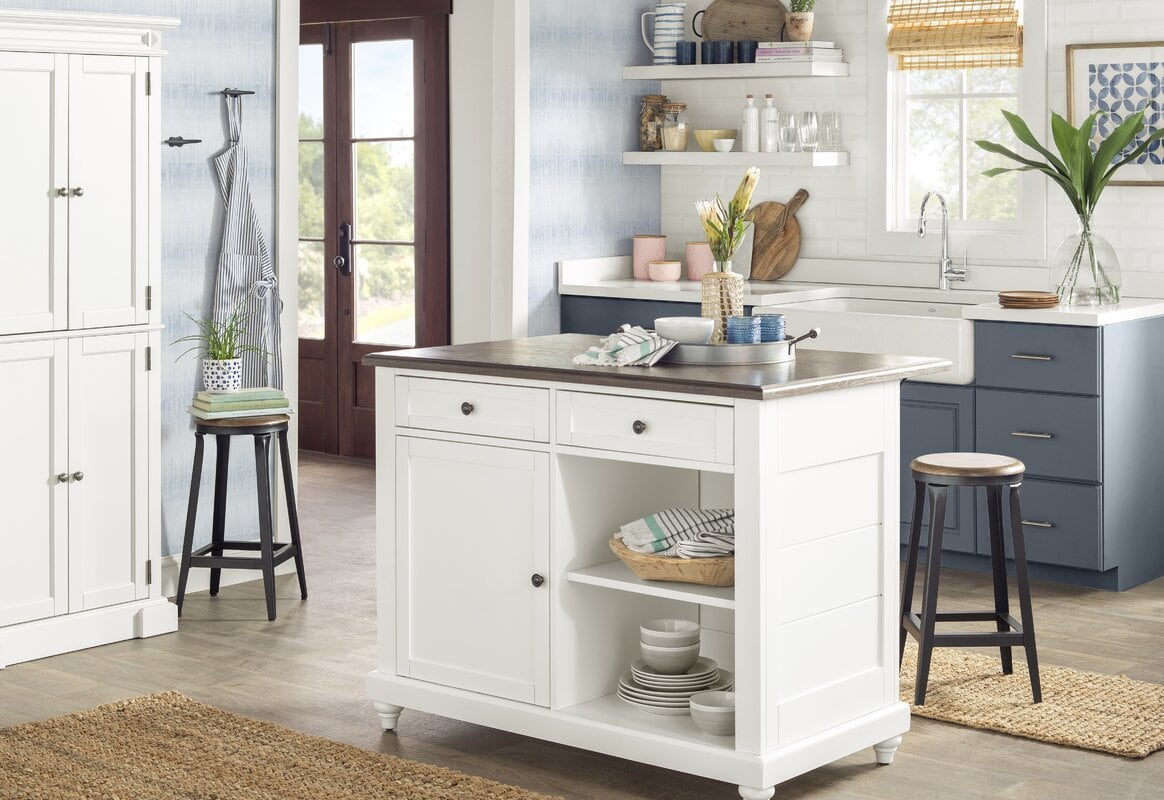 Jute is a natural material that fits in well with beachy rooms. If you want to add a rug to your kitchen, jute is a great choice – it's relatively inexpensive but stands up to a lot of foot traffic.
There's one caveat, though – make sure to use a rug pad under Jute, or it may scratch up the underlying floor.
Conclusion
If you're looking for coastal kitchen decorating ideas, these 18 tips will get you started.
One of the most important things you can do to achieve the coastal kitchen look is to use light and bright colors on your walls and cabinets.
From there, layer in natural elements such as wicker, jute, and wood. You can also add bold pops of color through your accessories, and be sure to add a few plants.