Decorated Life is reader-supported. When you buy through links on our site, we may earn an affiliate commission. Learn More
Decorating Around a Wood Burning Stove: 15 Ideas
Wood stoves are a fantastic heat source, but unfortunately, they're not the greatest to look at – mainly because they can be tough to decorate around.
If your wood stove sticks out like a sore thumb, there are some practical steps you can take to make it look nicer.
Here are 15 tips for decorating around a wood-burning stove.
Place a Hearth Bucket Beside the Stove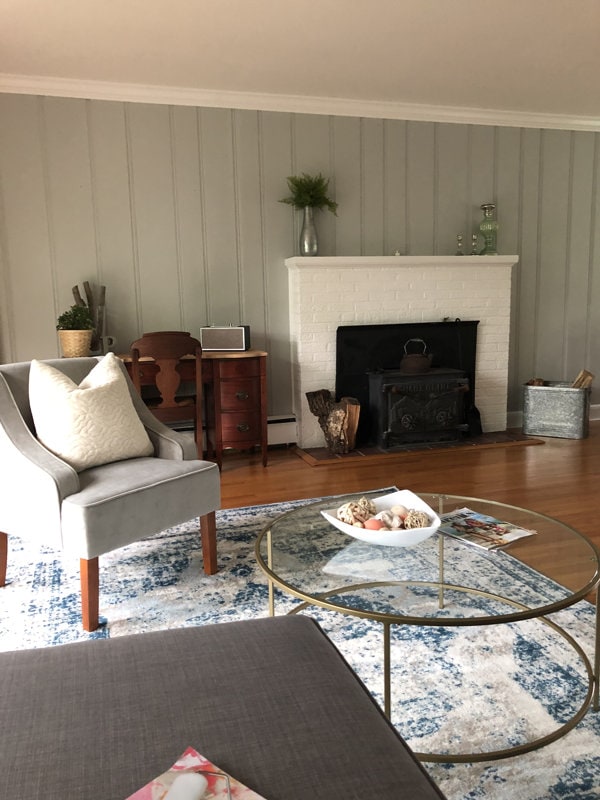 Since putting too much decor beside a wood-burning stove is a fire hazard, many of the decor pieces you'll find are functional, including a nice but useful hearth bucket.
If you want to spruce up the look of your stove, find a hearth bucket that matches your decor. Then, place it beside the stove with a few pieces of wood in it.
Install Brick Behind the Stove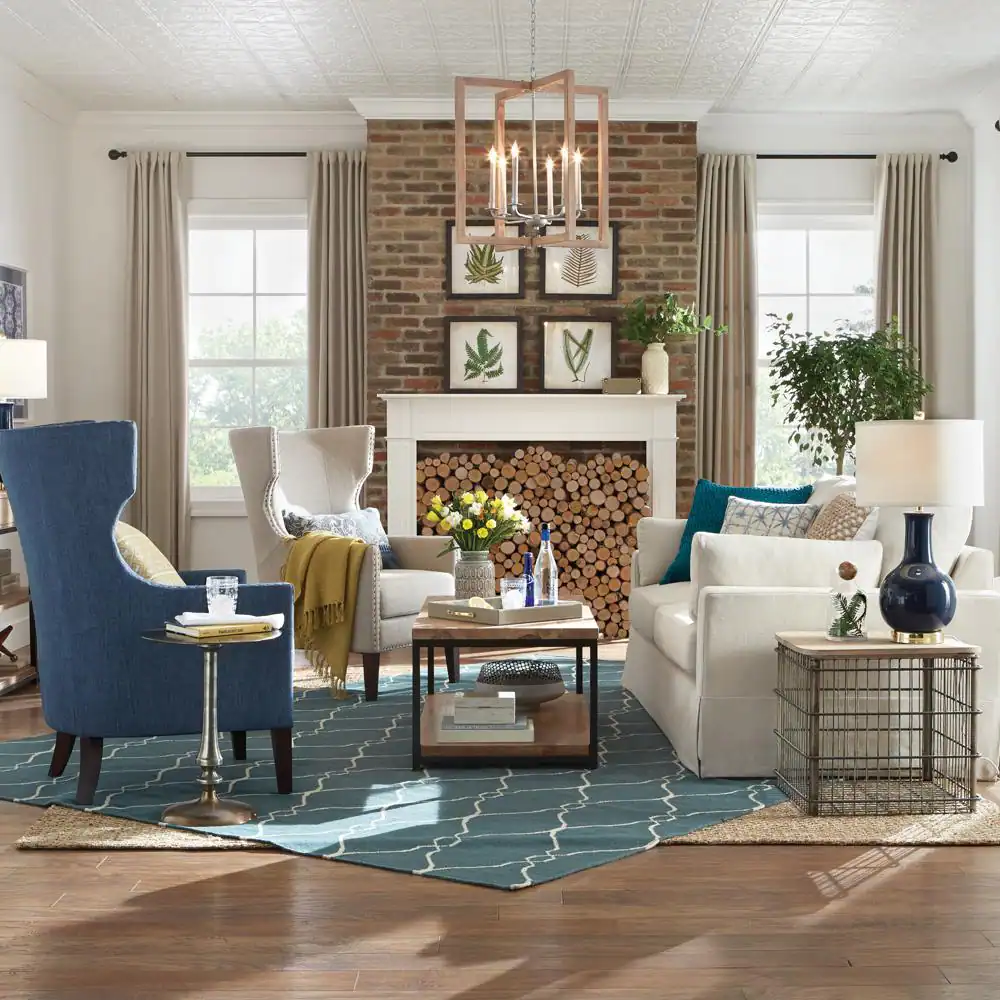 You often see bricks on a fireplace. This is because bricks are non-combustible and, therefore, a perfect choice for areas that need fire-resistant material.
If your wood-burning stove sits in your fireplace, you could add these brick tile sheets to the fireplace for a beautiful focal point. If your wood-burning stove is freestanding, create a wall of bricks behind the stove.
Try an Antique Fireplace Tool Set for a Rustic Look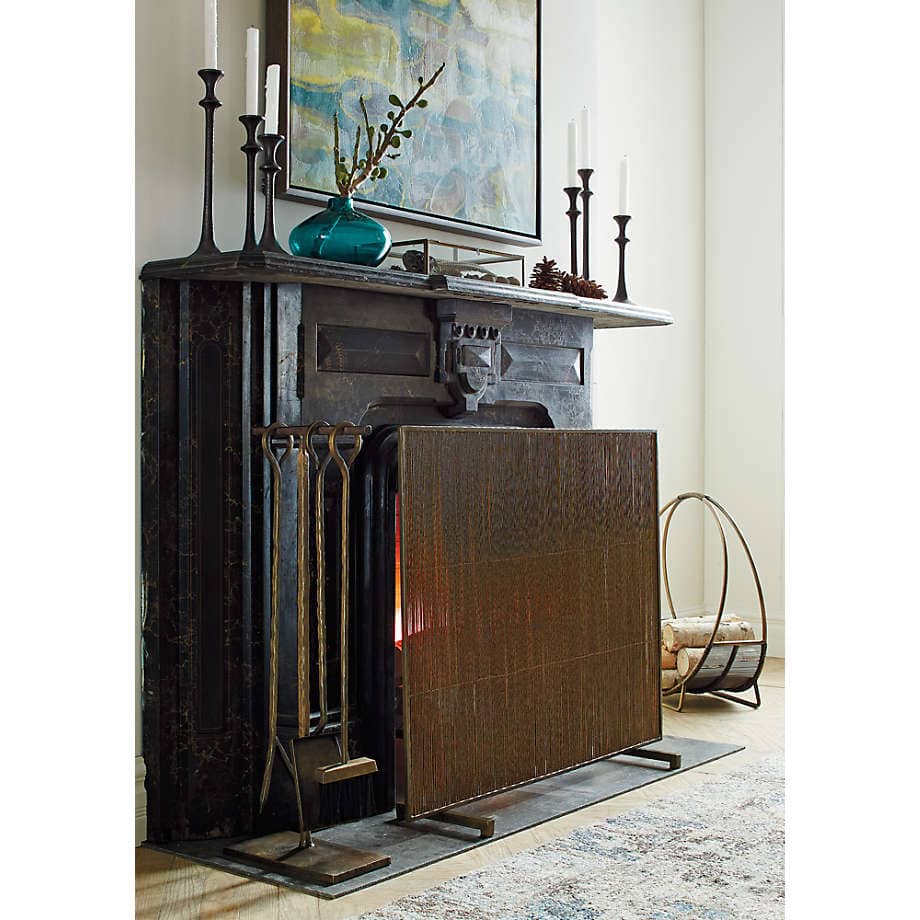 If you like a rustic look in your home, try an antique-style fireplace toolset.
This toolset from Crate & Barrel has an authentic antique look. It comes with a wrought and sheet iron poker, brush, and shovel – perfect for cleaning the ashes out of your wood stove and using as a decor piece.
Put a Large Clock Over the Stove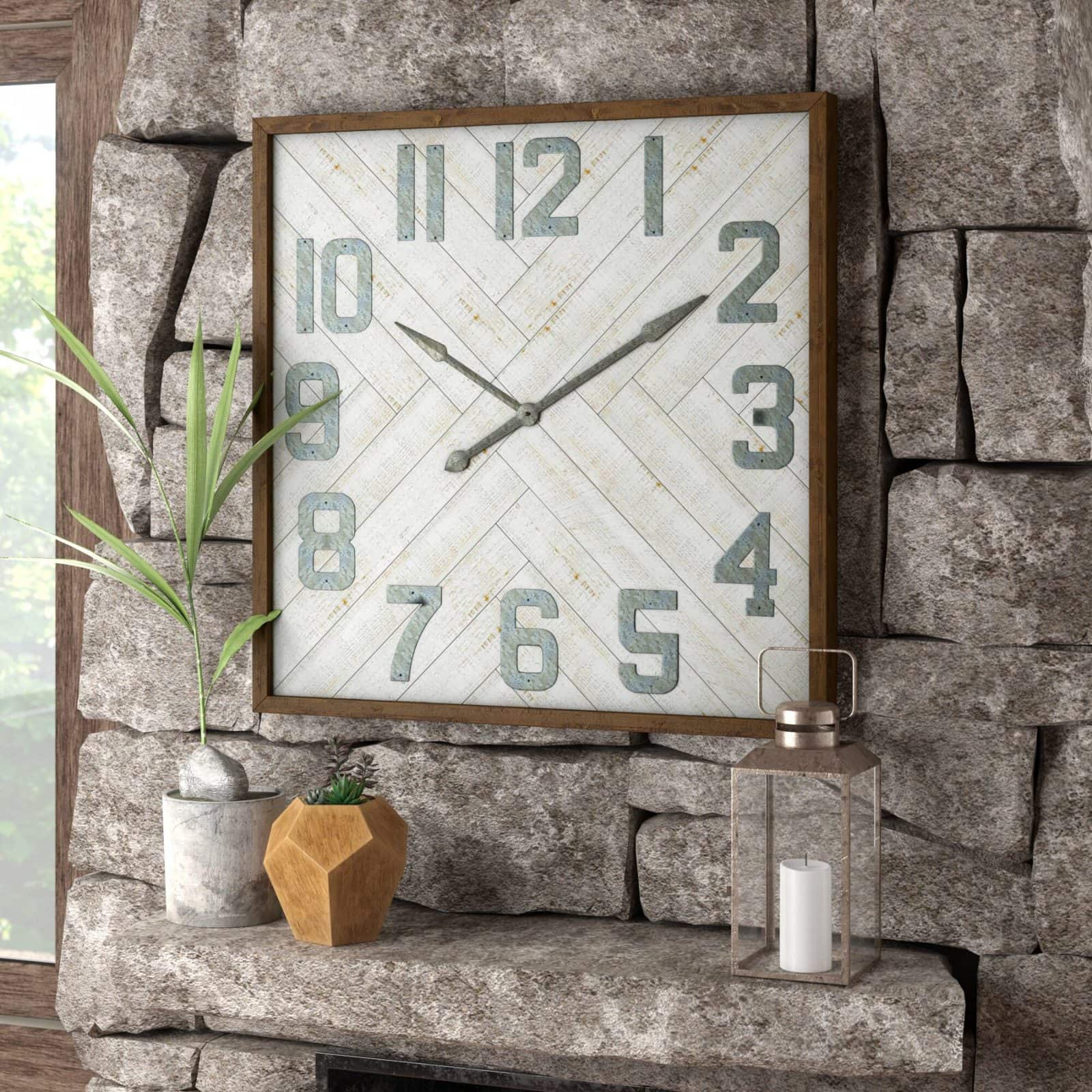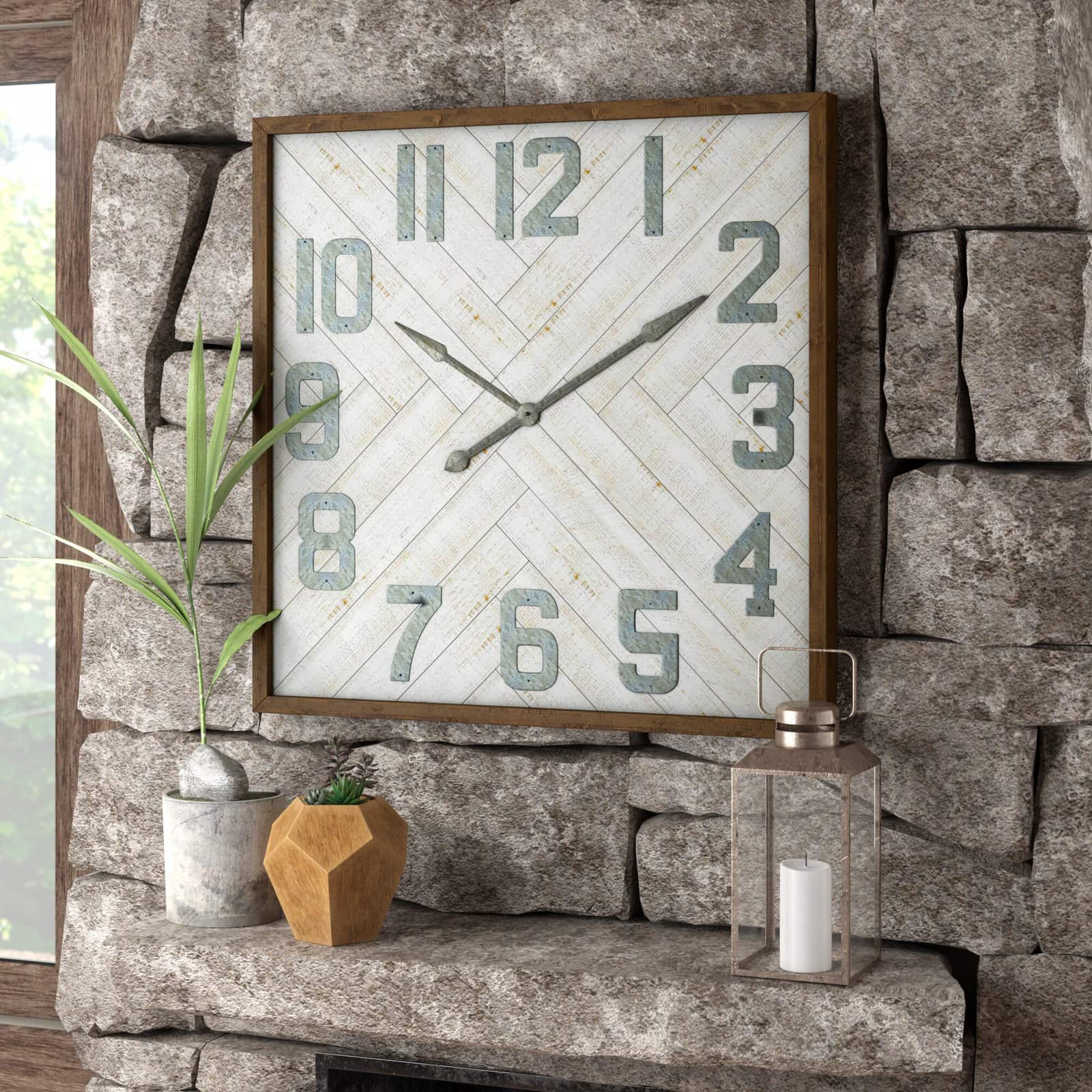 If you're wondering if it's okay to place decor over your wood stove, it usually is as long as that decor is at least three feet away. But, of course, you'll also want to avoid hanging anything sensitive to heat near the stove.
One idea for wood stove decor is a giant wall clock. This will look great against your fireproof wall, especially if it's a stone or brick.
Consider an Ultra Modern Wood Stove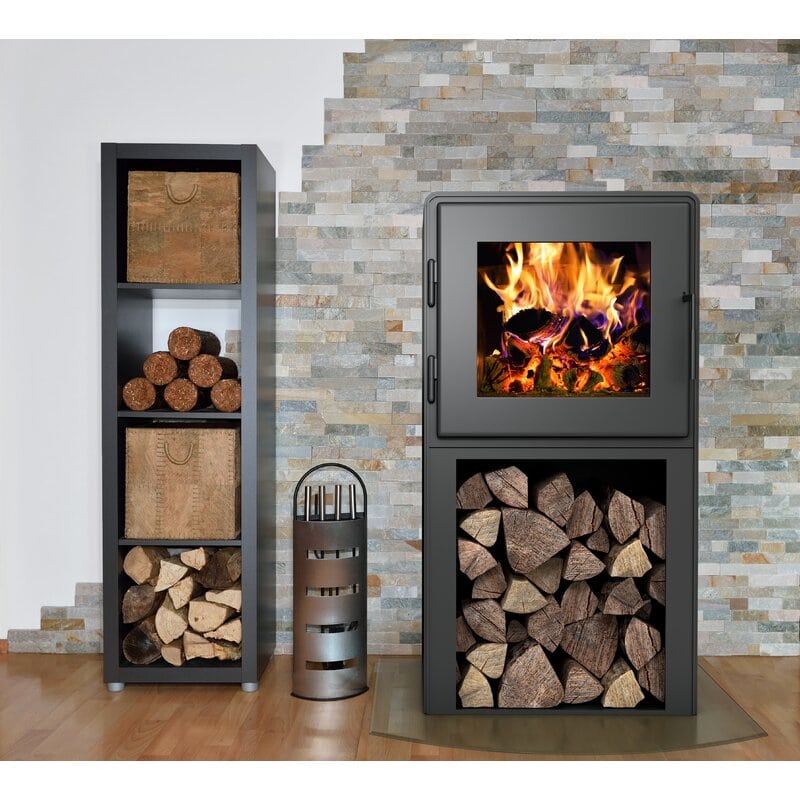 I don't think it's a secret – wood stoves are very rustic looking. So, if you want to use a wood stove but modern is more your decor type, try something like this.
This direct vent wood stove has a modern tower look with wood storage underneath the burning area. It's also energy-efficient, giving off more heat from less wood.
Invest in Stylish Wood Storage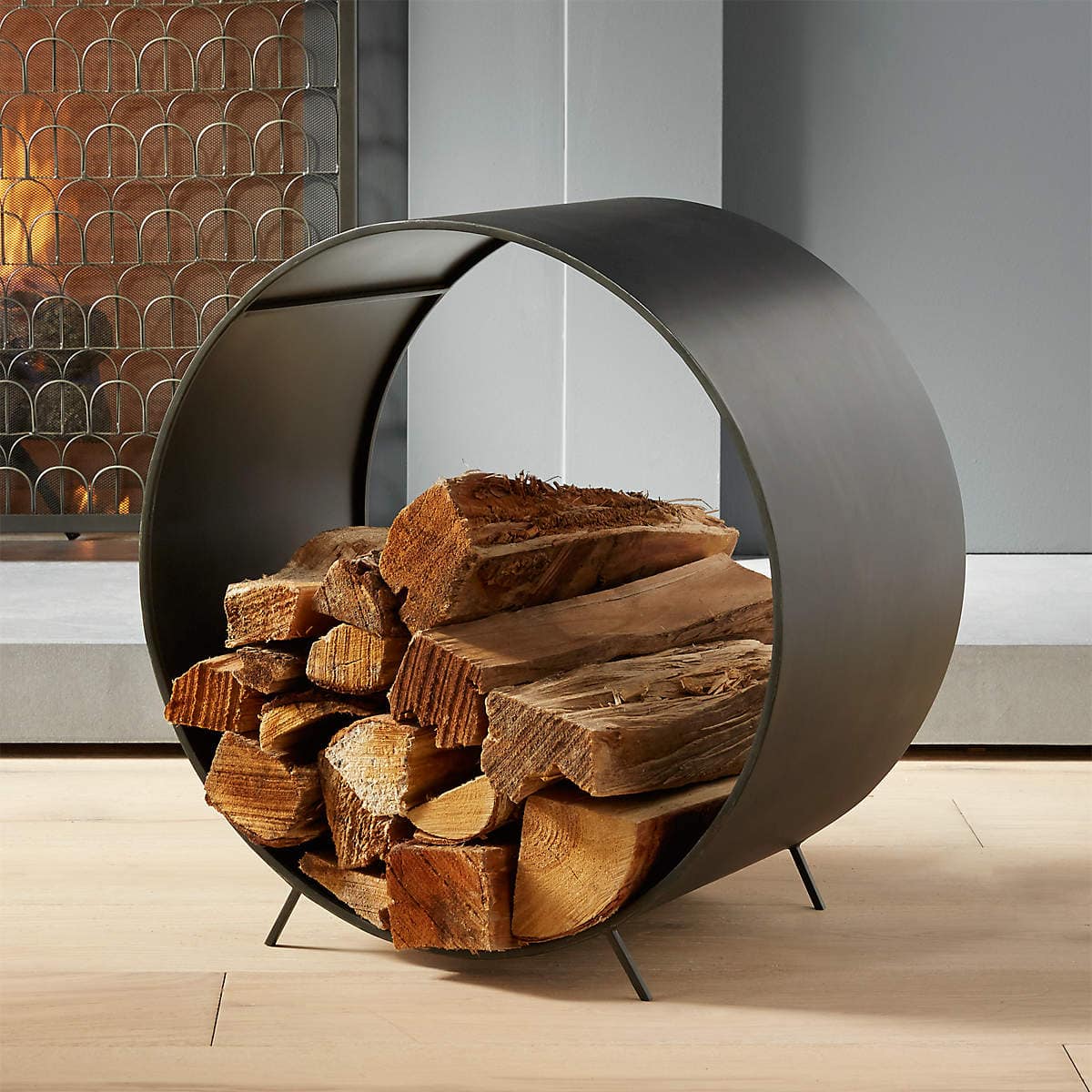 As someone who heats with a wood-burning fireplace insert, I know how annoying it can be to store wood in the living room. But having the right storage method helps – especially when it adds to the look of your space.
This circular log rack from CB2 is high quality and timeless. If you only need to store a few logs at a time, it's worth a look.
Add a Mantel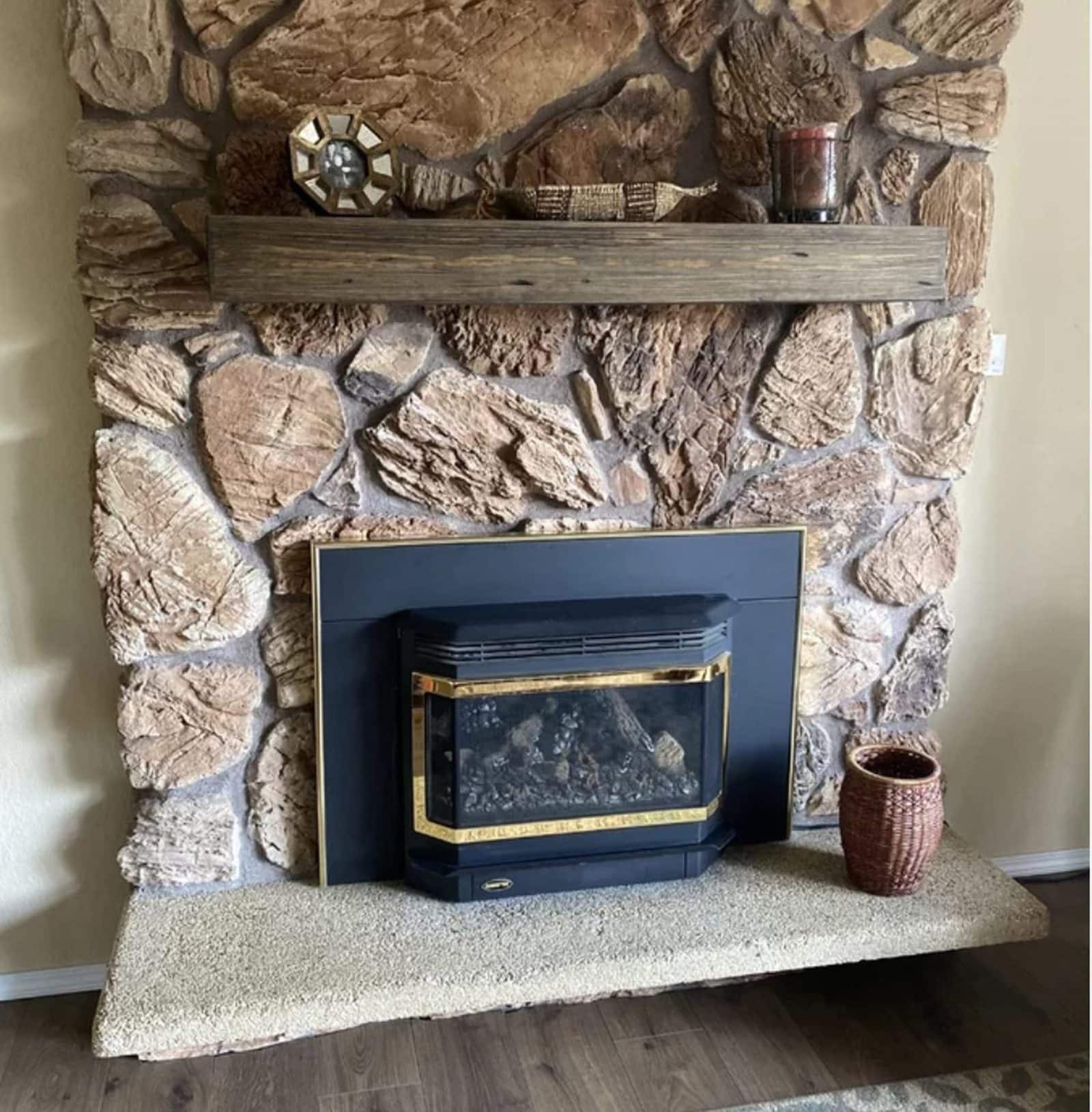 Whether or not your stove is freestanding or routed through a fireplace, you can still use a mantel.
A rustic-looking mantel is a great way to display some decor and decorate around a wood-burning stove. If you have a fireplace, the mantel can go in its traditional spot. However, position the mantel at least three feet away if you have a freestanding wood stove.
Try a Medium-Sized Black Log Rack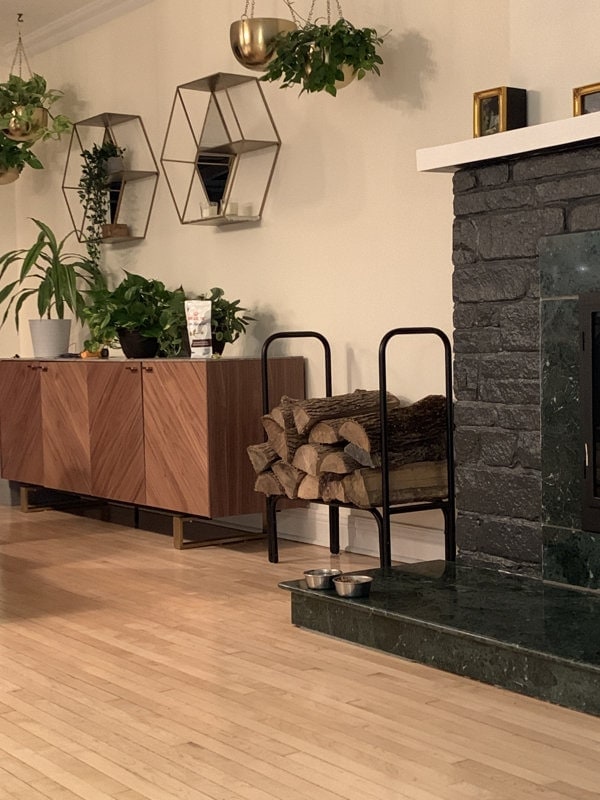 If you keep enough wood in the house to heat your home for at least a day, try a log rack like this one.
The black metal gives this rack a modern look, but it's basic enough to work with any style. You can place this stand next to your stove and even hang something over it to make it look like a piece of furniture.
Keep it Minimal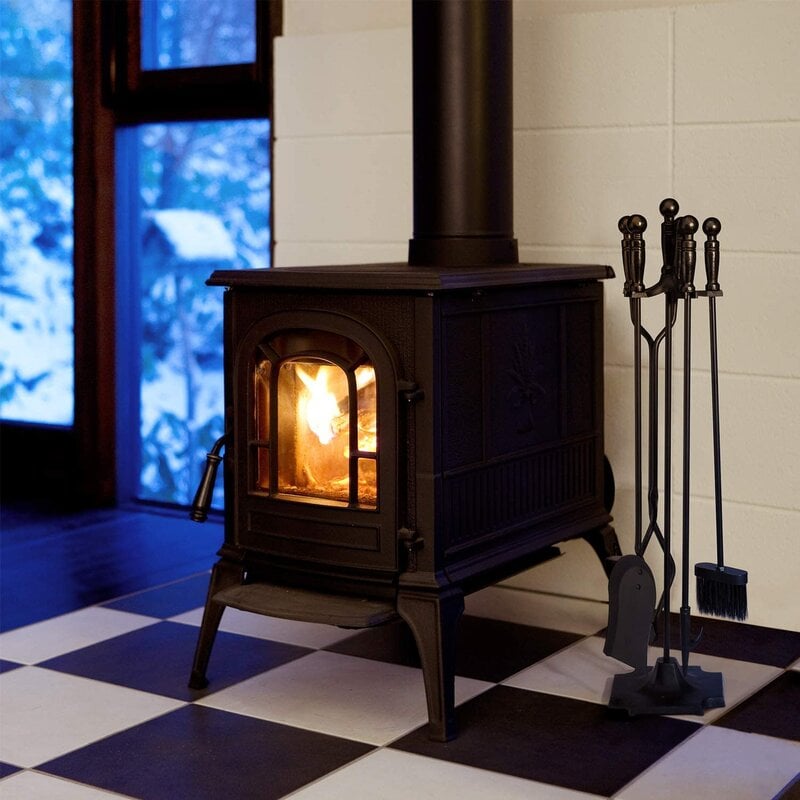 You don't always need to go all out when decorating, especially if you prefer a clean, minimal style.
If you want to keep things simple, choose a nice fireplace toolset like this and use it as your only decor. This idea works best if you have a nice wall and flooring material under your stove.
Choose the Right Paint Color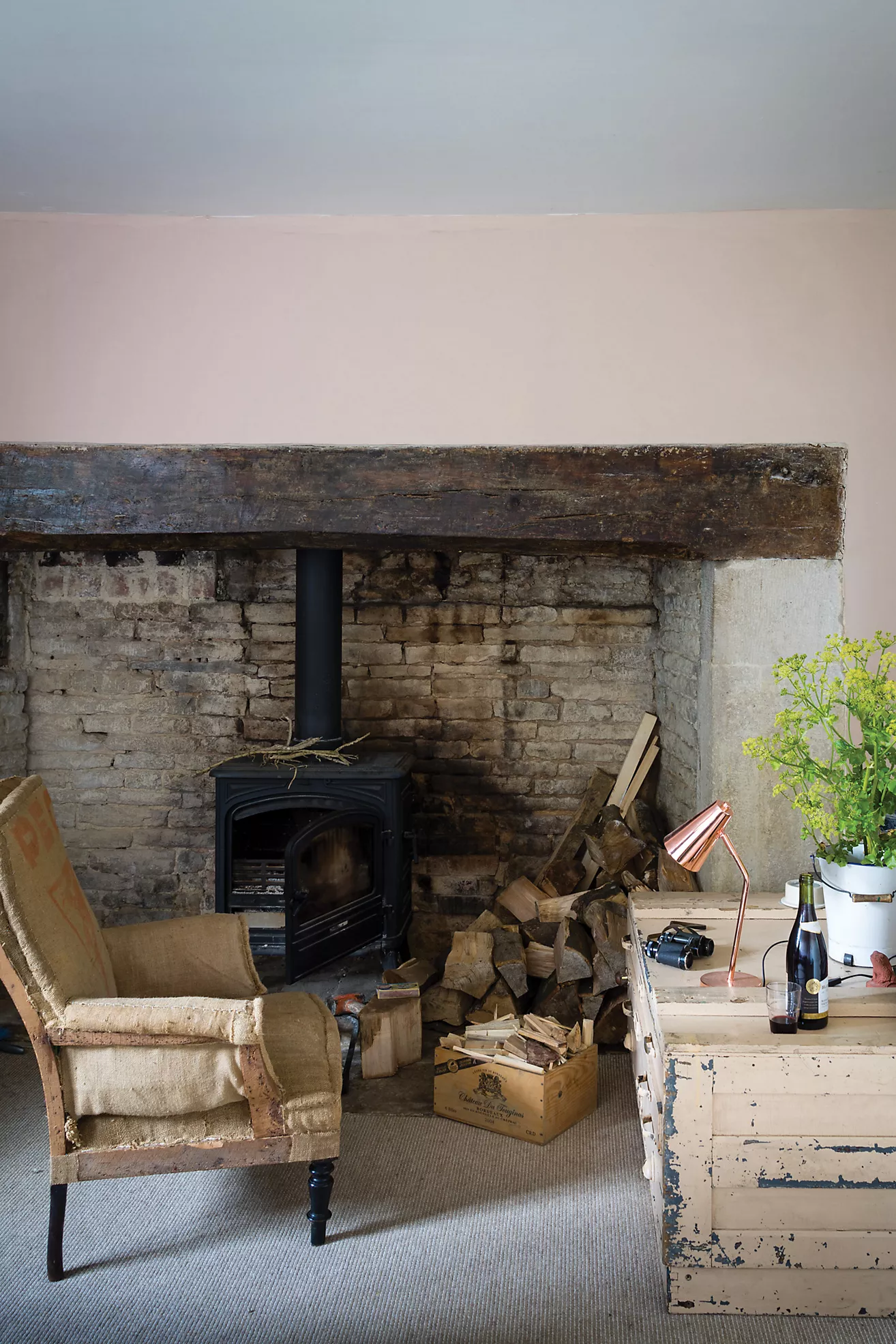 The paint color you put on your wall is every bit as important as the decor you choose. And if you're going for a romantic look, you can't go wrong with this color.
This paint color from Farrow & Ball and Anthropologie is Peignoir No. 286. It's the perfect gray-pink color for a romantic feel next to your wood burner. You can order a sample or order by the gallon on the Anthro website.
Top Your Stove with a Kettle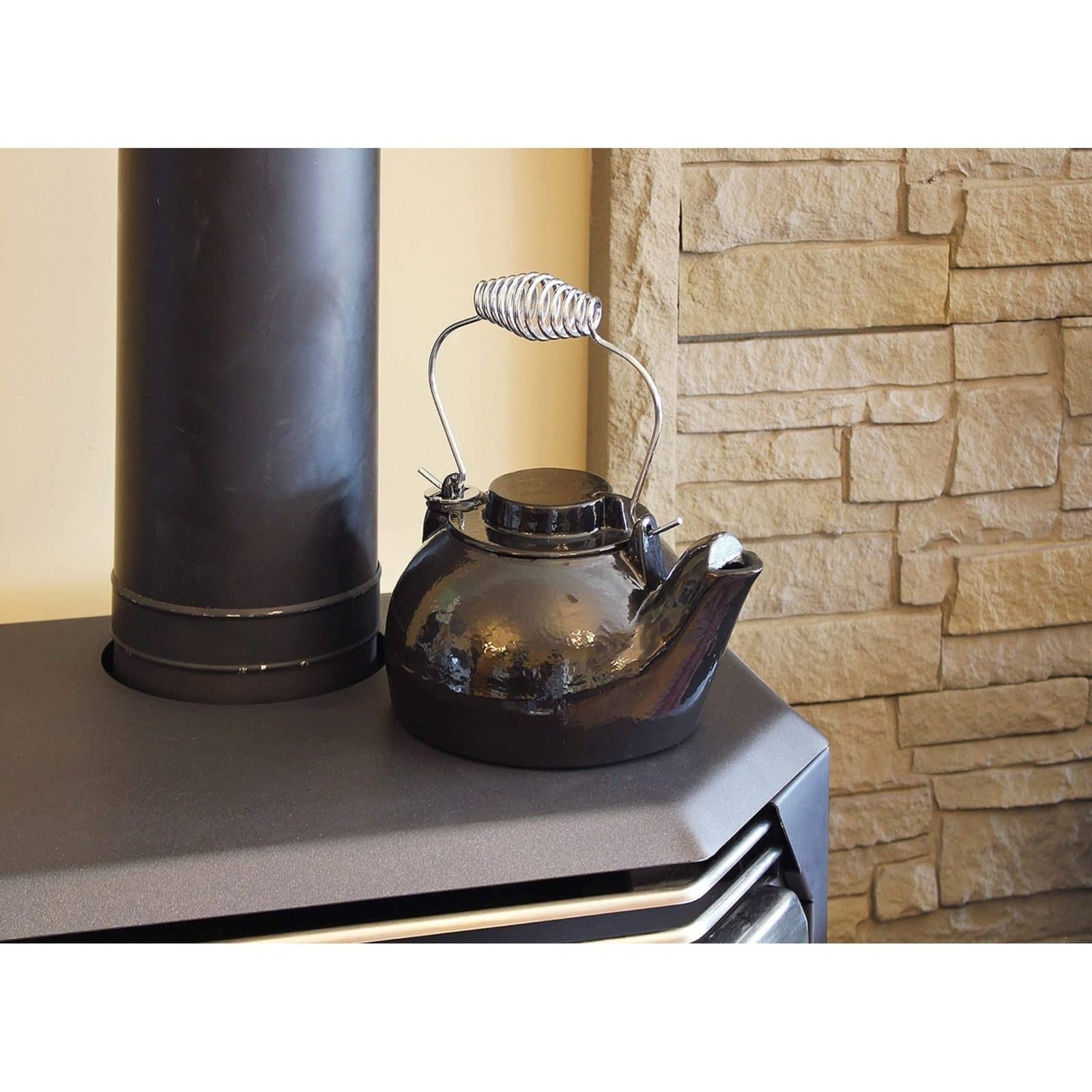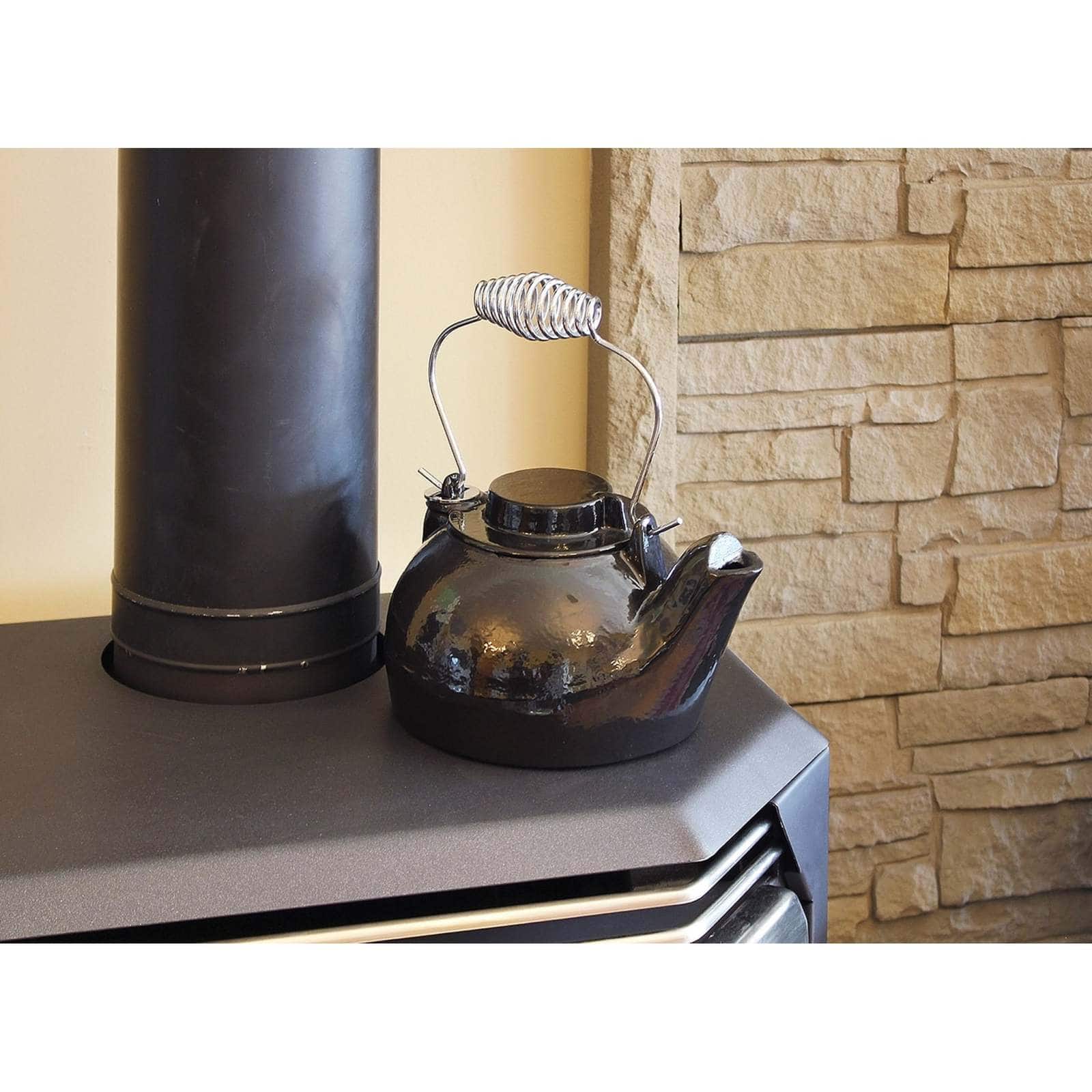 As lovely as a kettle looks sitting on your wood stove, using one is also practical for putting humidity back in the air.
You can find this black enameled stovetop kettle on Overstock. It's specifically for placing on wood or pellet stoves to add moisture back to the room.
Hang Metal Wall Decor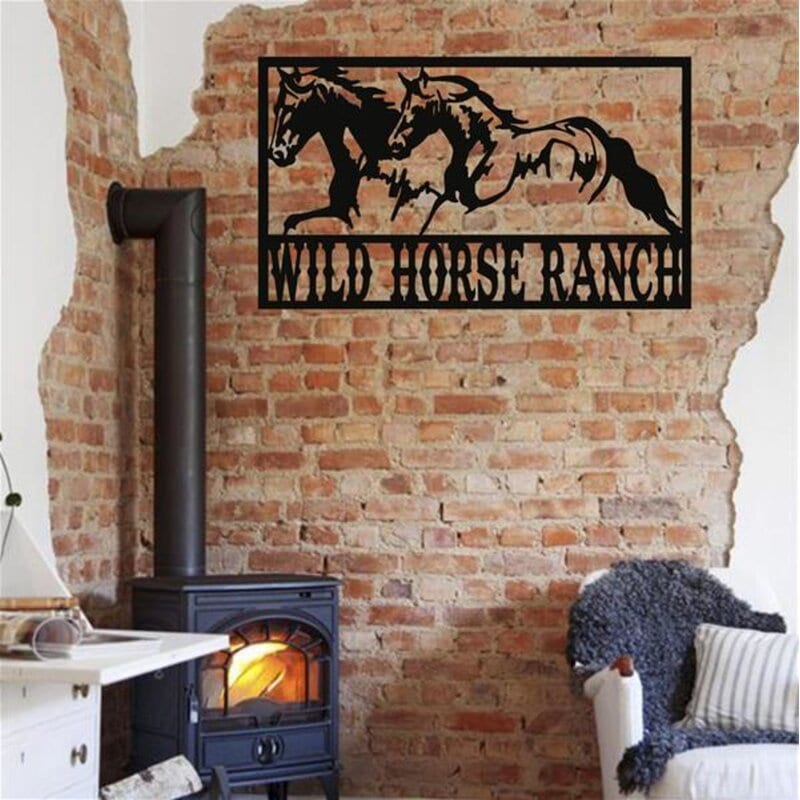 Since metal isn't flammable, it makes the perfect wall decor to hang near a wood stove. While you can find many options, this particular sign is excellent if you like ranch or farmhouse style.
From Wayfair, this sign measures 29.5" high by 17.3" wide. It even comes with the hardware you'll need to hang it.
Spread the Heat with a Sleek Fan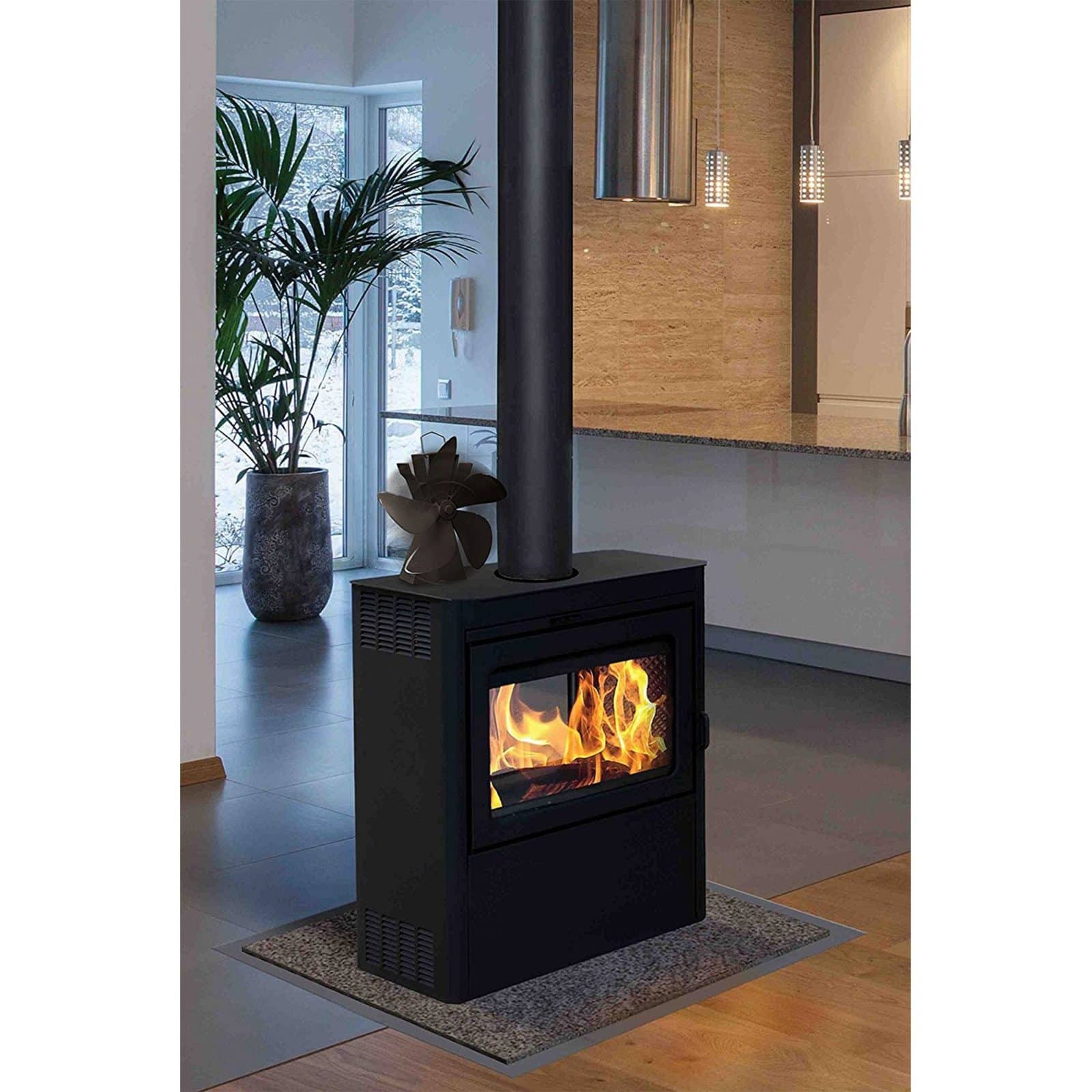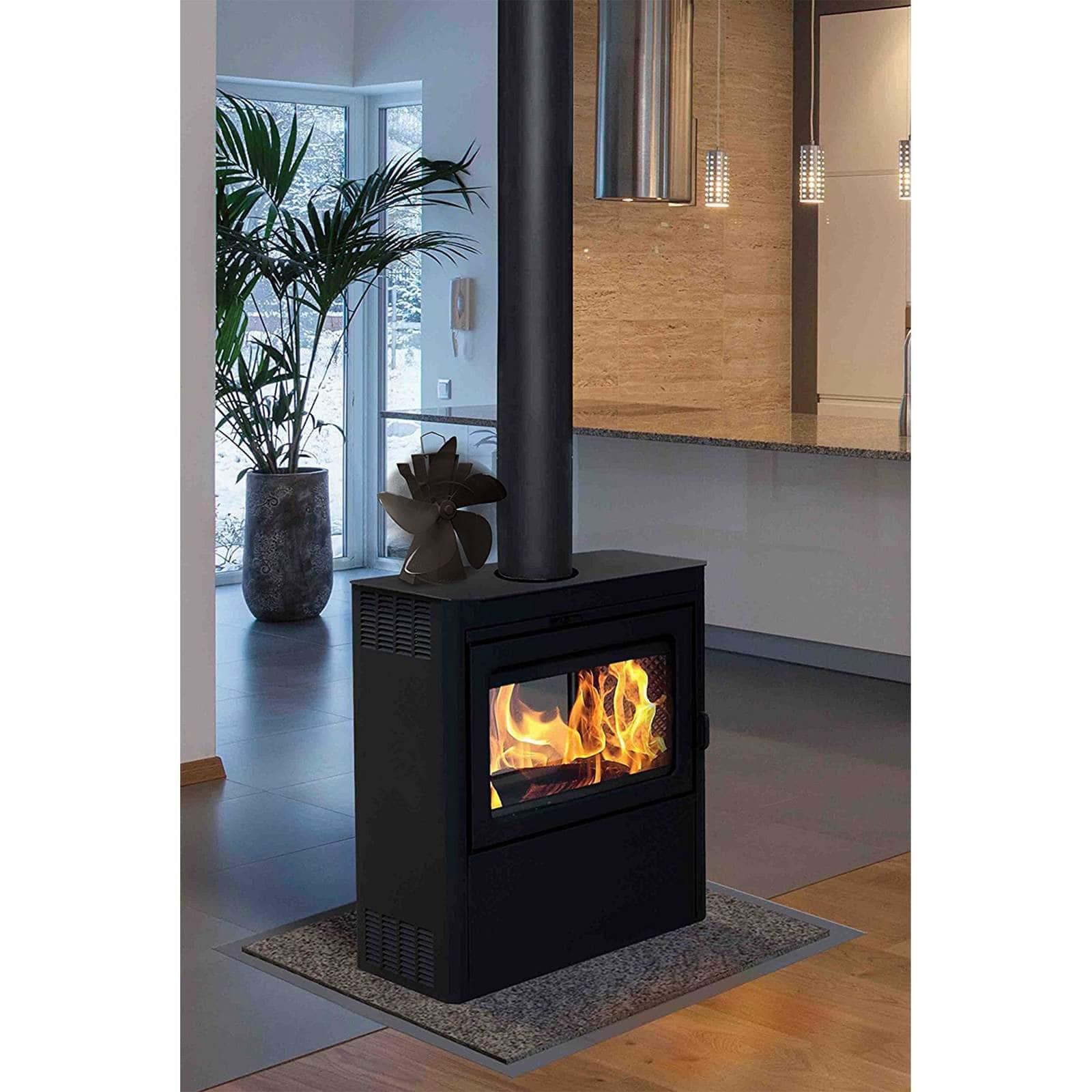 Looking for a fan to help distribute the heat from your fireplace? Try this sleek option from Overstock.
This fan gets its power from heat – the more heat your stove puts out, the faster the blades on the fan spin. Then, the blades slow down as the fire goes out. The fan is matte black, so it will go with any decor style.
Save Space By Putting Your Stove in a Corner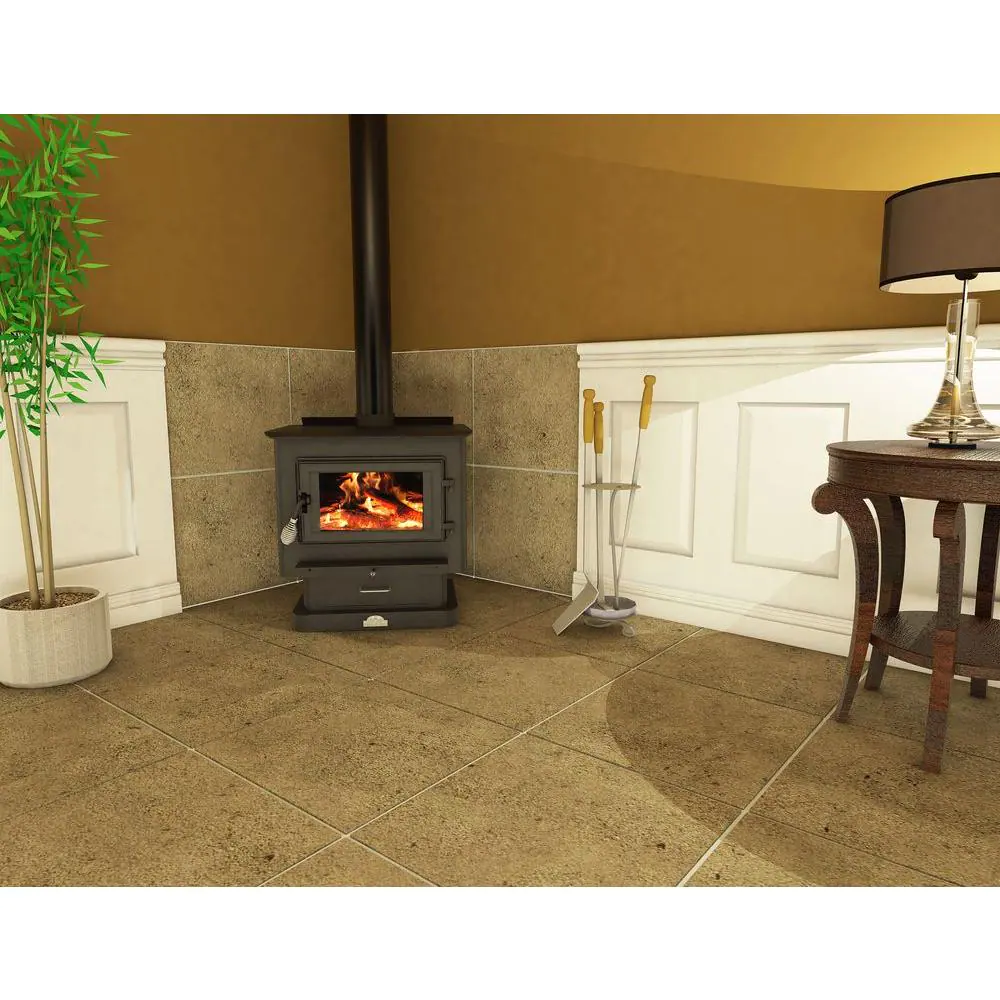 The worst thing about wood stoves is that they always feel like they're in the way. If possible, combat this by putting your stove in a corner.
If your stove is in a corner, pick out decorative tile or stone to place on the wall behind it. This wall backing can act as your decor for a clean and simple look.
Get a Coordinating Ash Bucket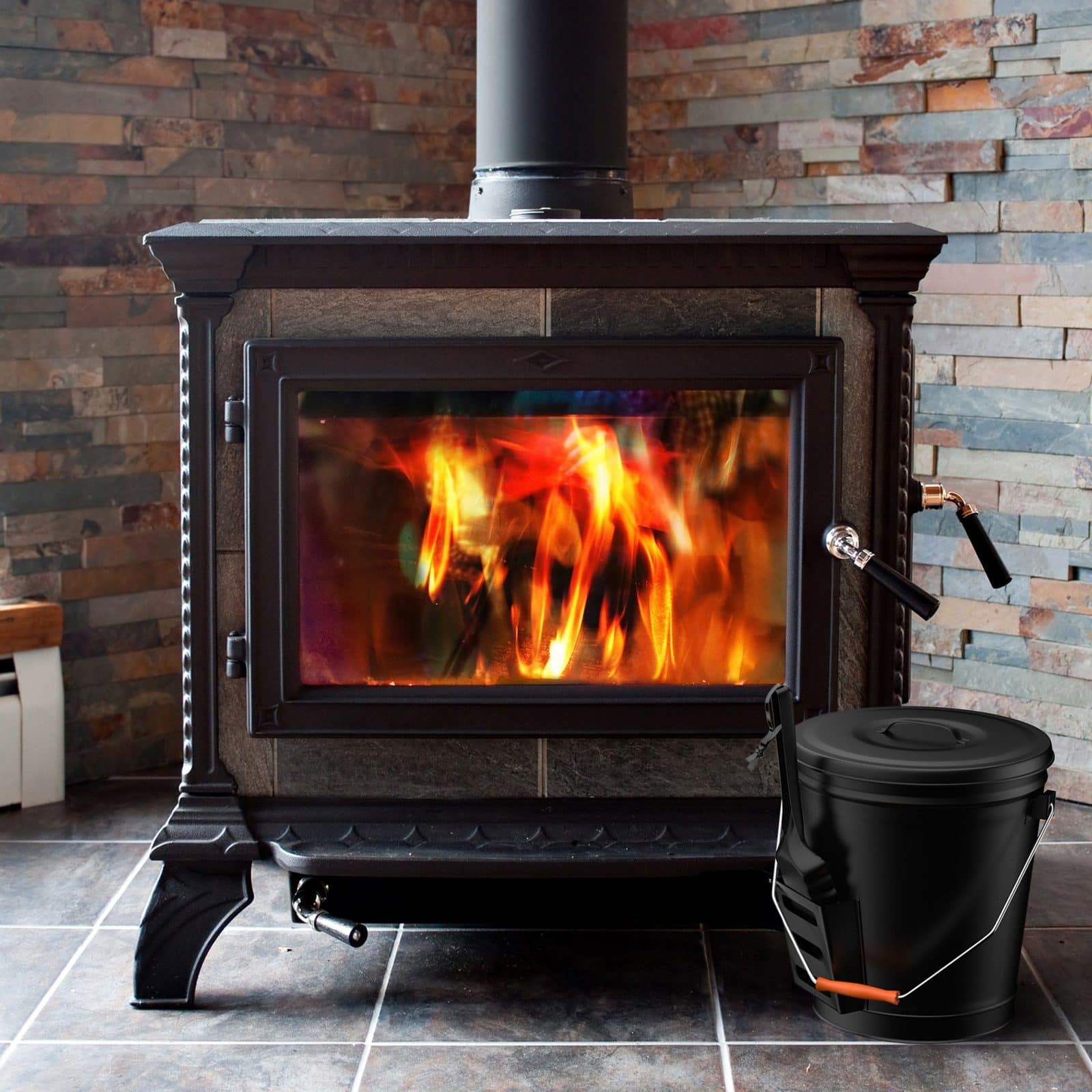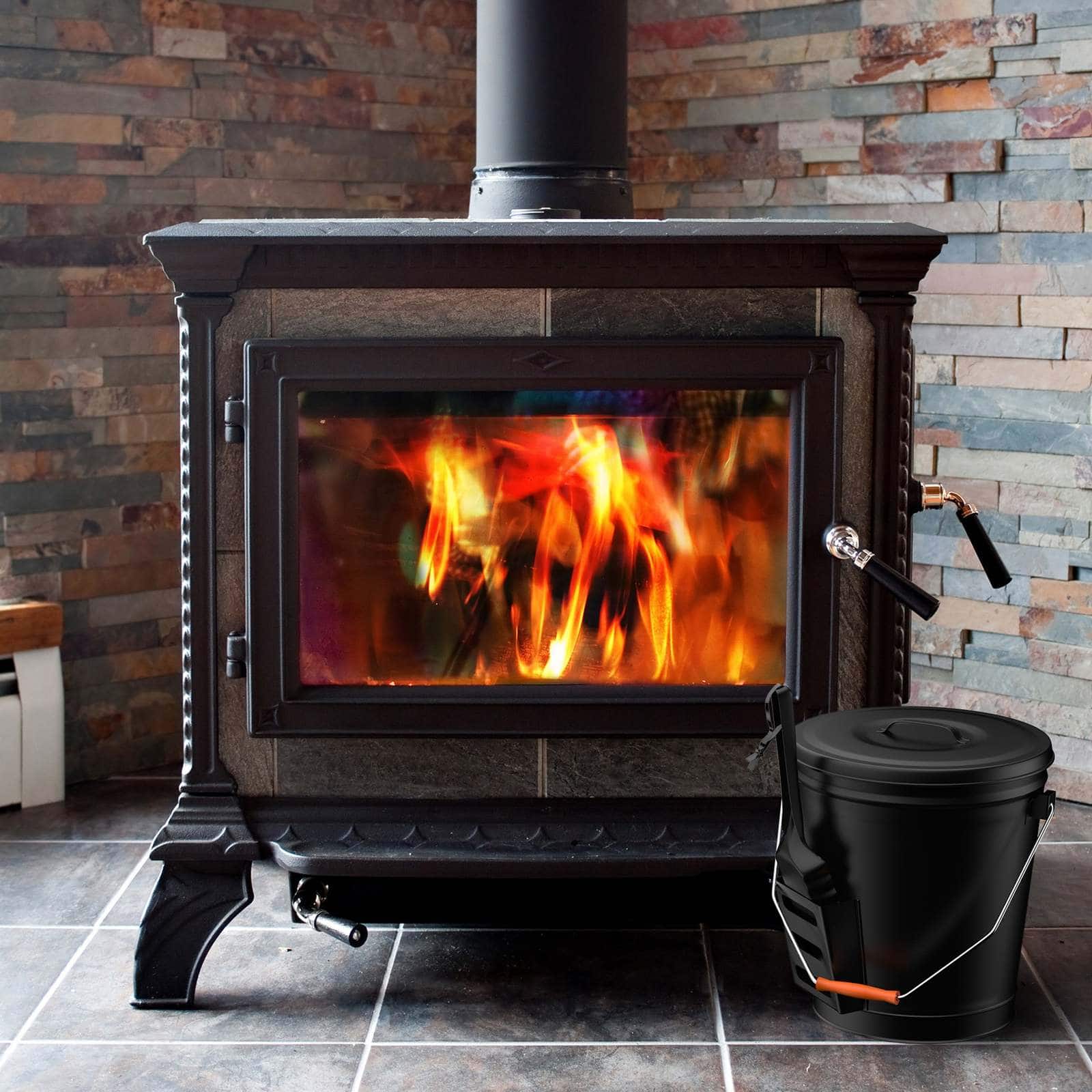 I know I sound like a broken record, but making your wood-burning stove look good comes down to functional accessories. If you pick high-quality fireplace tools and wall protectors, you don't have to worry about other decor.
And in the case of ash buckets, this is a great option if you like matte black. This bucket is steel and comes with a shovel and shovel storage.
Final Thoughts
If you want to decorate around your wood stove, focus on picking a quality stove surround and hearth material. Then, follow that up with high-quality fireplace tool sets and accessories.
If you still want to hang decor on the wall, make sure it's a minimum of three feet from the stove. When possible, choose fire-resistant options like metal and stone.