Decorated Life is reader-supported. When you buy through links on our site, we may earn an affiliate commission. Learn More
15 Farmhouse Mantel Decorating Ideas
If you're on the search for farmhouse mantel decorating ideas, you've come to the right place! Your fireplace should be the main focal point in your living room, so getting the styling right is key.
Luckily, there's no shortage of country mantel decorating ideas on the internet! So today I'm going to be sharing 15 different ways you can style your mantel to give your living room that cosy farmhouse look.
Moss Wreath and Candles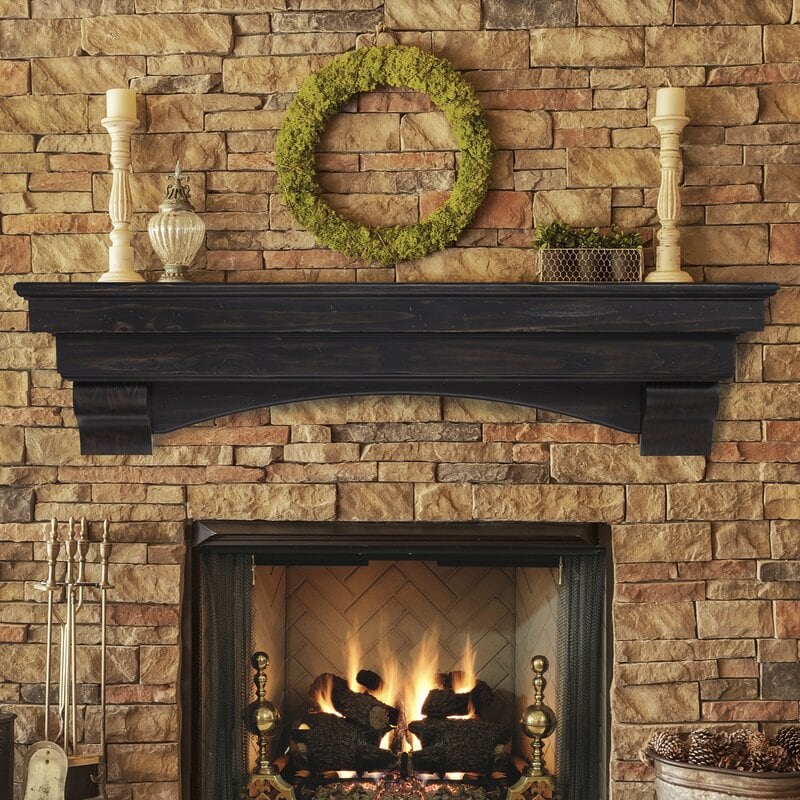 If you want to give your mantle a classic cosy farmhouse look, you can't go wrong with candlesticks. Having candles on the mantle will give you a warm glow in your living room even when your fire isn't lit.
A moss wreath adds an element of nature to the mantel, giving it a relaxing look overall as well as adding a splash of color, and the basket of pinecones finish off the look nicely. Pinecones are an inexpensive way to give your mantle a rustic farmhouse look. They make great fire starters too!
Framed Mirror and Tall Candlesticks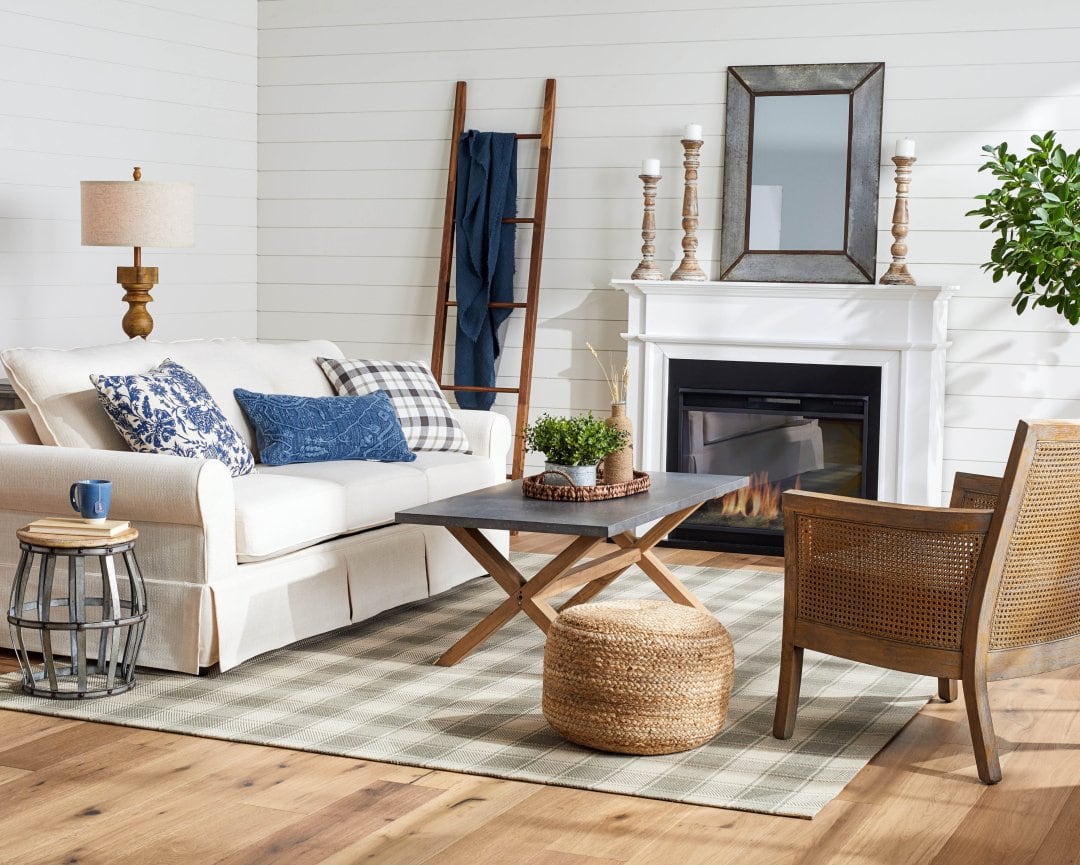 This understated mantel is perfect for those looking for modern farmhouse mantel décor ideas. The oversized mirror paired with the tall carved wooden candle sticks creates a contemporary look that would work well in most homes.
This simple styling is ideal for anyone who likes a clean look with minimal clutter. Mirrors are one of the easiest ways to create a striking look on your mantel. A mirror will help to bounce light around the room, giving the illusion of a larger space.
An Oversized Mirror and Lots of Candles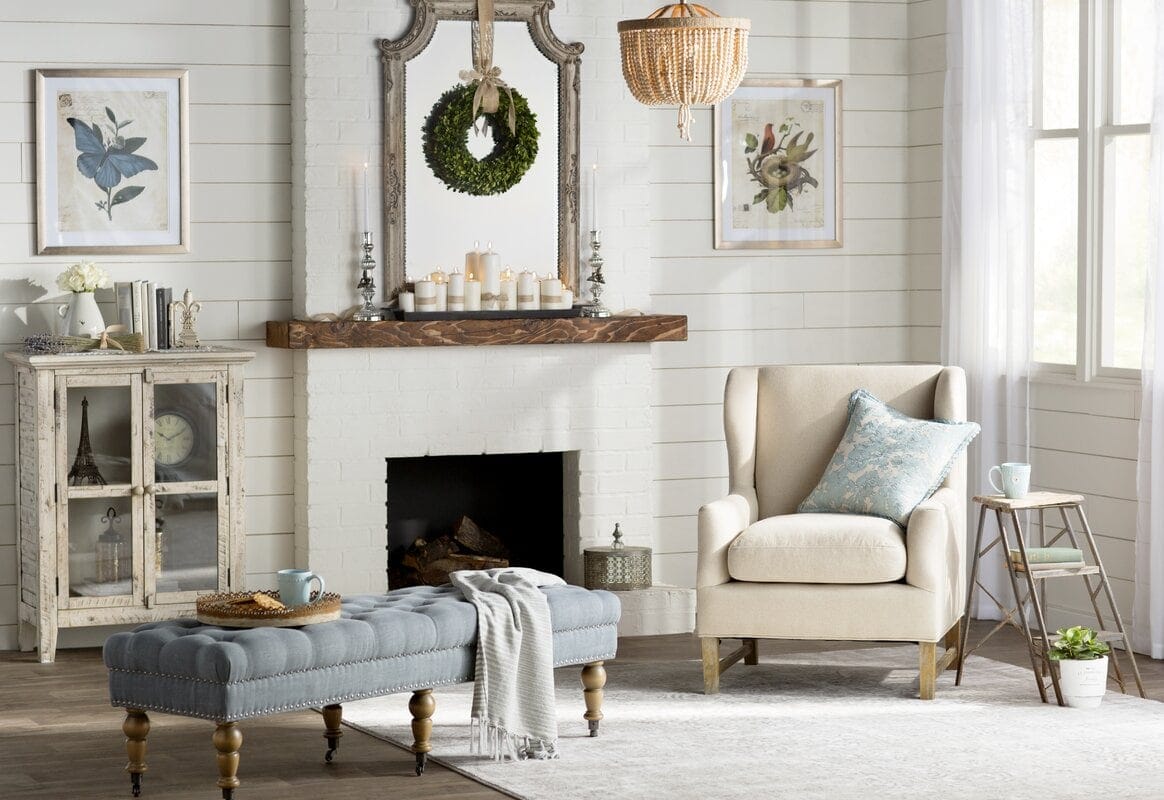 Following on from the mirror and candle theme is this room which shows another way to make use of mirrors and candles. The oversized mirror adds elegance to the room, with an ornate scrolled frame, and the green wreath adds texture and color to the design too, bringing a touch of nature inside.
I love the row of candles along the base of the mirror, which creates a pretty look and adds warmth to the living room even though the fire is not lit.
Decorate With Terracotta Potted Plants and Succulents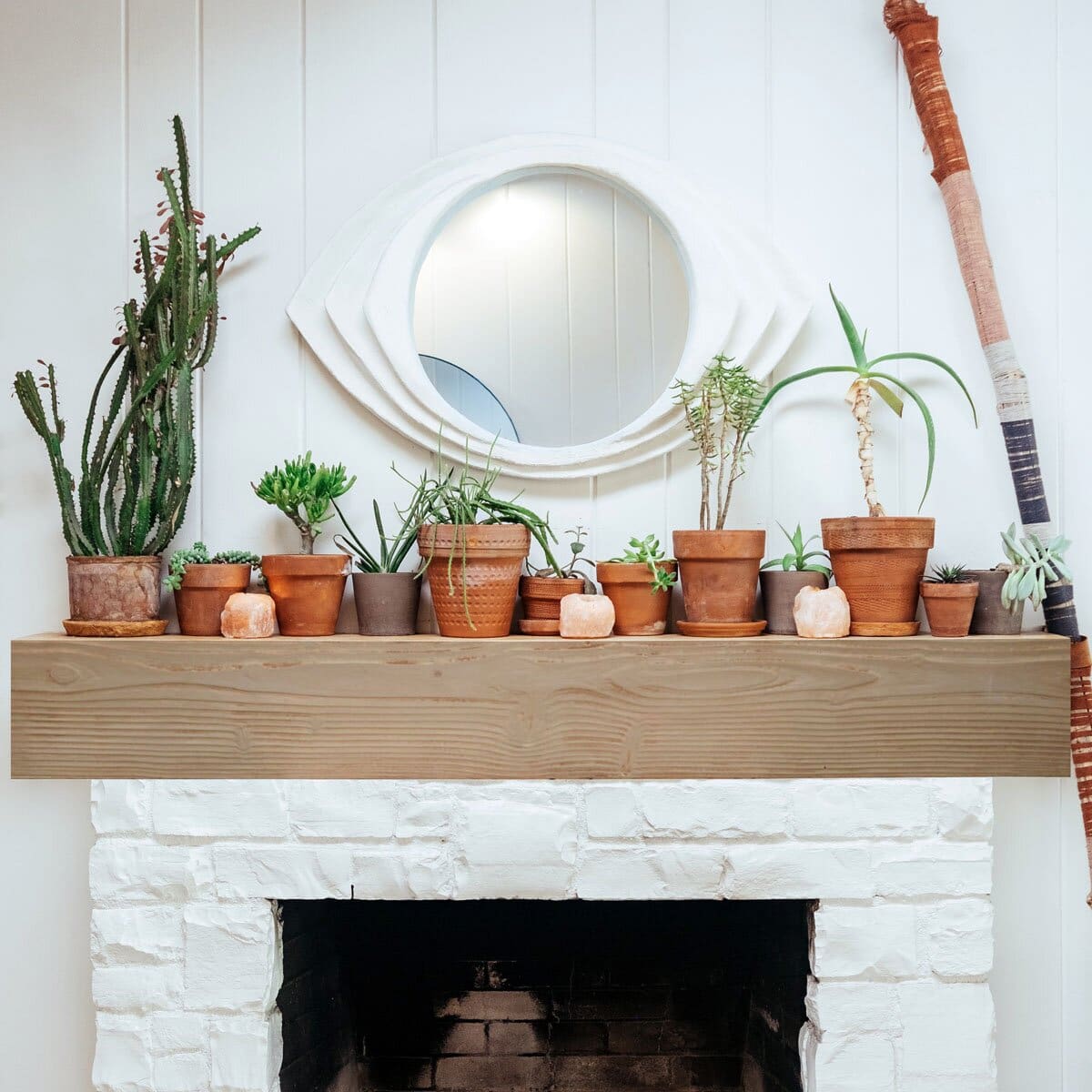 For a rustic mantel that would be at home in any country abode, potted plants and succulents are the perfect way to bring a bit of the outside world inside your home.
An usual 'eye' shaped mirror adds a modern touch to this rustic mantel design, creating a wonderful blend of modern and rustic to create the perfect magazine worthy mantel.
Rustic and Whimsical Mantle Idea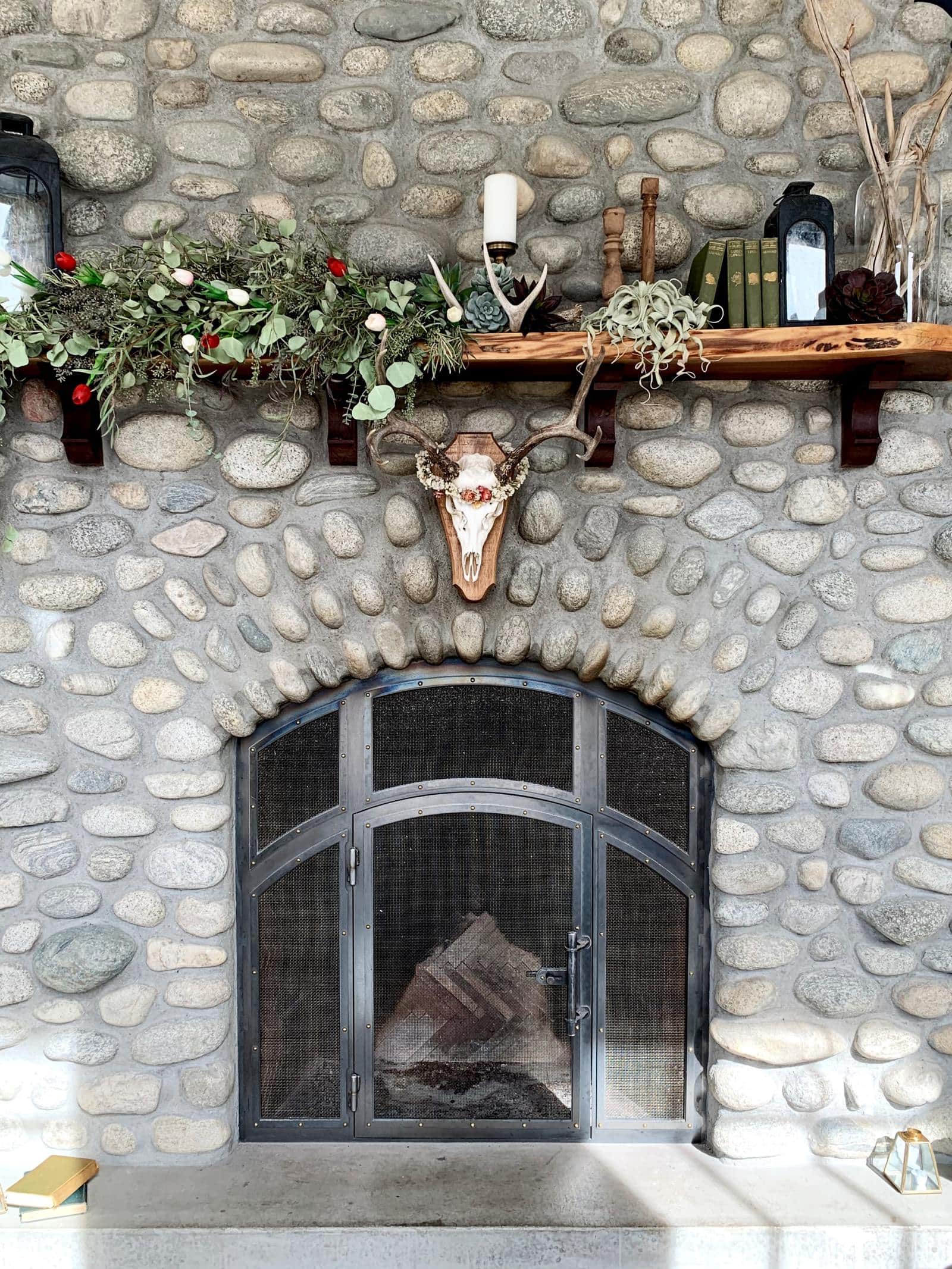 When it comes to rustic fireplace mantel decorating ideas, a mounted deer skull with antlers is an easy way to achieve that rustic 'cabin in the woods' look. If the idea of a real animal skull doesn't appeal to you, you can still get this traditional look without the cruelty with a faux skull.
Lots of greenery mixed in with vintage books, wooden candlesticks, and other vintage accessories gives this mantel an effortlessly stylish look.
Create Contrast with Black, White and Brown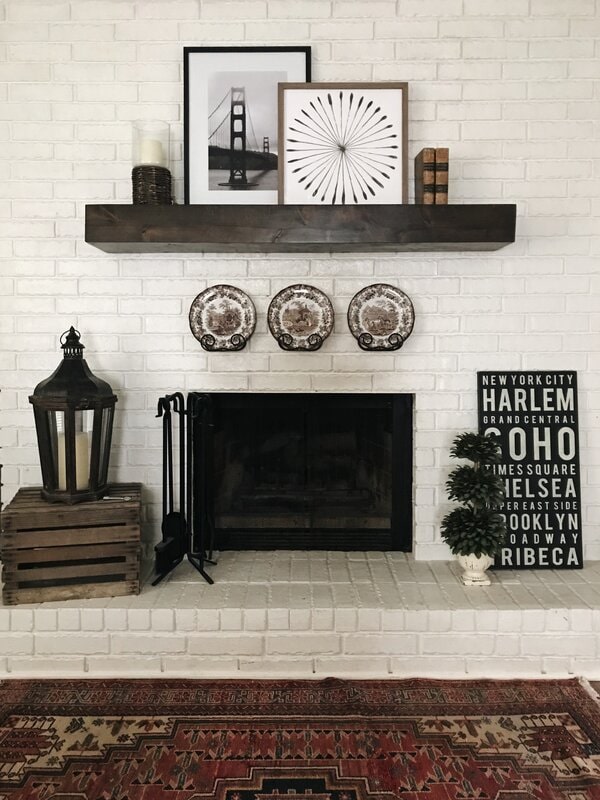 If you have a lighter colored fireplace, an easy way to create a striking look is to use darker accessories. This design mixes modern and vintage items beautifully to create the perfect modern farmhouse mantel.
The chunky wooden mantel shelf gives the fireplace a rustic look, which is balanced out by the modern art and the bold graphic print leaning against the wall.
Decorate With Abstract Art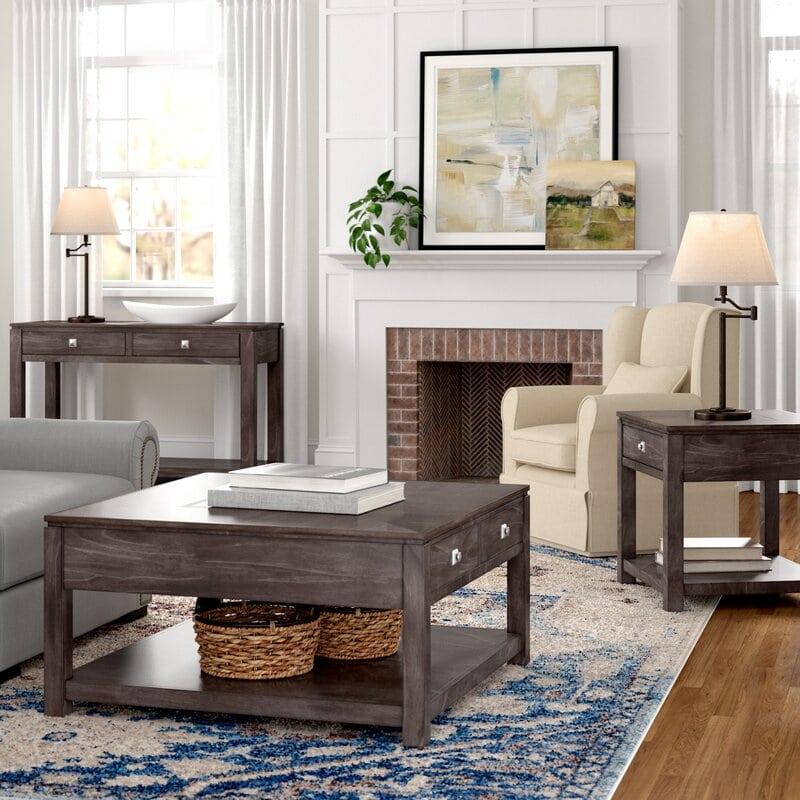 Abstract art is a great way to add color and give your farmhouse mantel a designer look. The larger abstract piece of art is the main focal point here, with its black frame contrasting against the white panelling beautifully.
The smaller unframed artwork layers beautifully against the larger piece, with the colors tying everything together nicely. The look is finished with a leafy green plant which balances out the design perfectly.
Modern Farmhouse Shiplap Mantel
This gorgeous mantel features a wonderful mix of modern and vintage items, along with a miniature evergreen tree and sprigs of wildflowers which give a mountain cabin feel to this design.
The large modern print stands tall on the mantel shelf, while the washboard and other vintage accessories balance out the design at different heights which keeps your eyes moving. Hurricane lanterns on the hearth complete the cosy cabin look.
An Oversized Wall Clock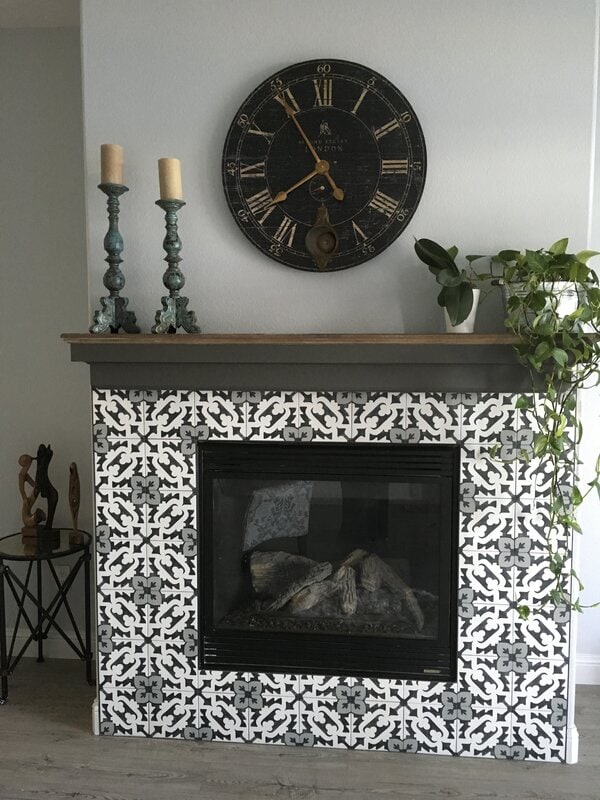 An oversized wall clock is a great way to give your mantle an effortlessly chic, vintage inspired look. A pair of tall shapely candlesticks works perfectly with this design, adding to the vintage look.
Trailing plants balance out the design and add color and life to the area. These stunning patterned tiles are a great way to add interest to an otherwise minimal fireplace. Tiles are relatively easy to add in yourself, so if you love the look don't be afraid to do a bit of DIY!
Modern Art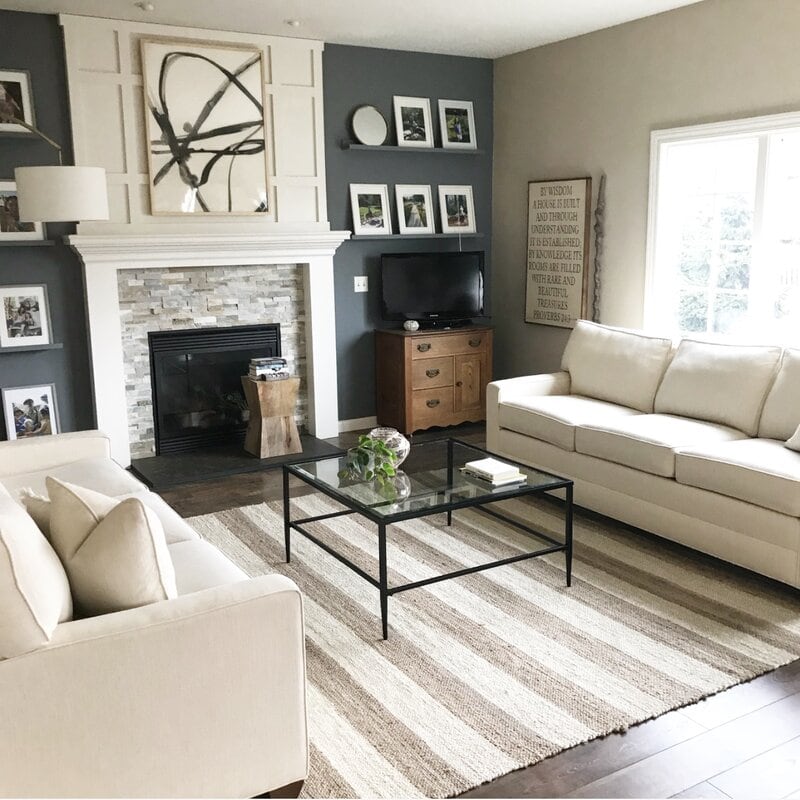 An easy way to mix modern and vintage while still getting a farmhouse look overall is to place a large piece of modern art over your mantel.
The black and white in this striking piece of art draws your eye to the mantel and gives it a stylish look without much effort at all. You could even make a piece of art like this yourself with the help of a large canvas and some black paint!
Modern Farmhouse Mantel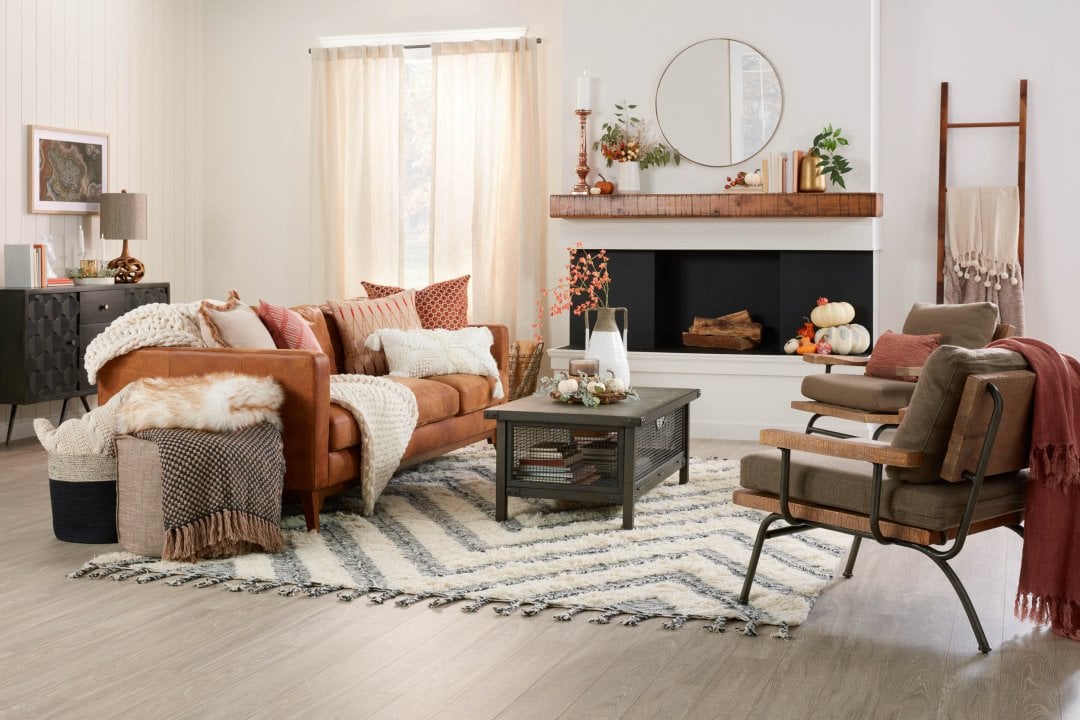 This rustic wooden mantel shelf provides the perfect base for this beautiful mantel design. The round mirror with a delicate thin frame adds a touch of femininity to this modern farmhouse living room, while the gold accents along with the flowers and leaves bring it all to life and add color to this stunning design.
Miniature vignettes of pumpkins and squashes in different sizes and colours give this fireplace a wonderfully autumnal feel which ties in with the coloring in the rest of the room.
Display Your Collections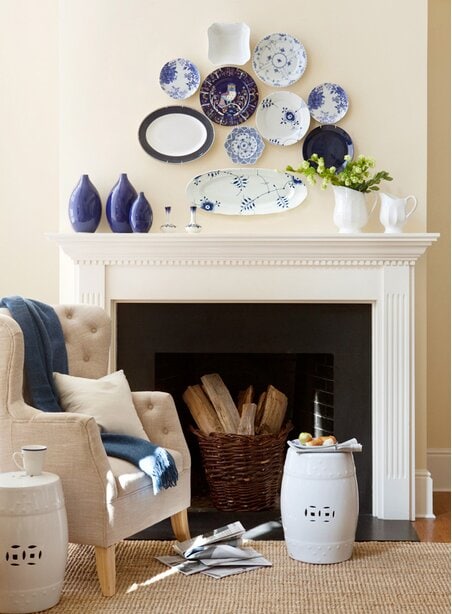 If you collect something, why not show it off? The blue collectable plates on display in this design are a great look and one that really works with the rest of the room.
I love the logs being stored as this shows off the fireplace for what it is intended to be. Log displays are an easy way to give your fireplace a rustic look, even if your fireplace isn't functional anymore.
Tobacco Baskets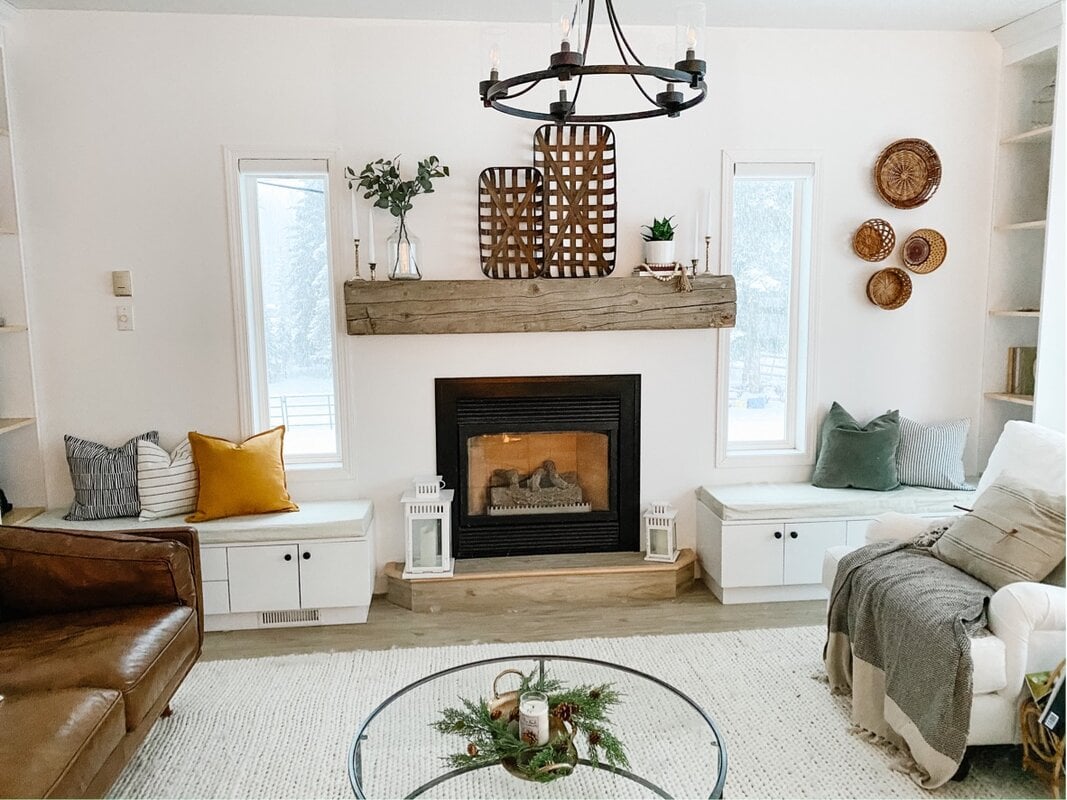 This is one of my favorite rustic mantel decor ideas, and it can work just as well even if you only have a small fireplace. Tobacco baskets are a staple of farmhouse decor, and they create the perfect rustic look standing above the mantel.
The lanterns by the fireplace are also a really nice touch and help to give the whole place a farmhouse, cosy vibe, which you can style up or down as much as you like.
Add Some Greenery With a Botanical Garland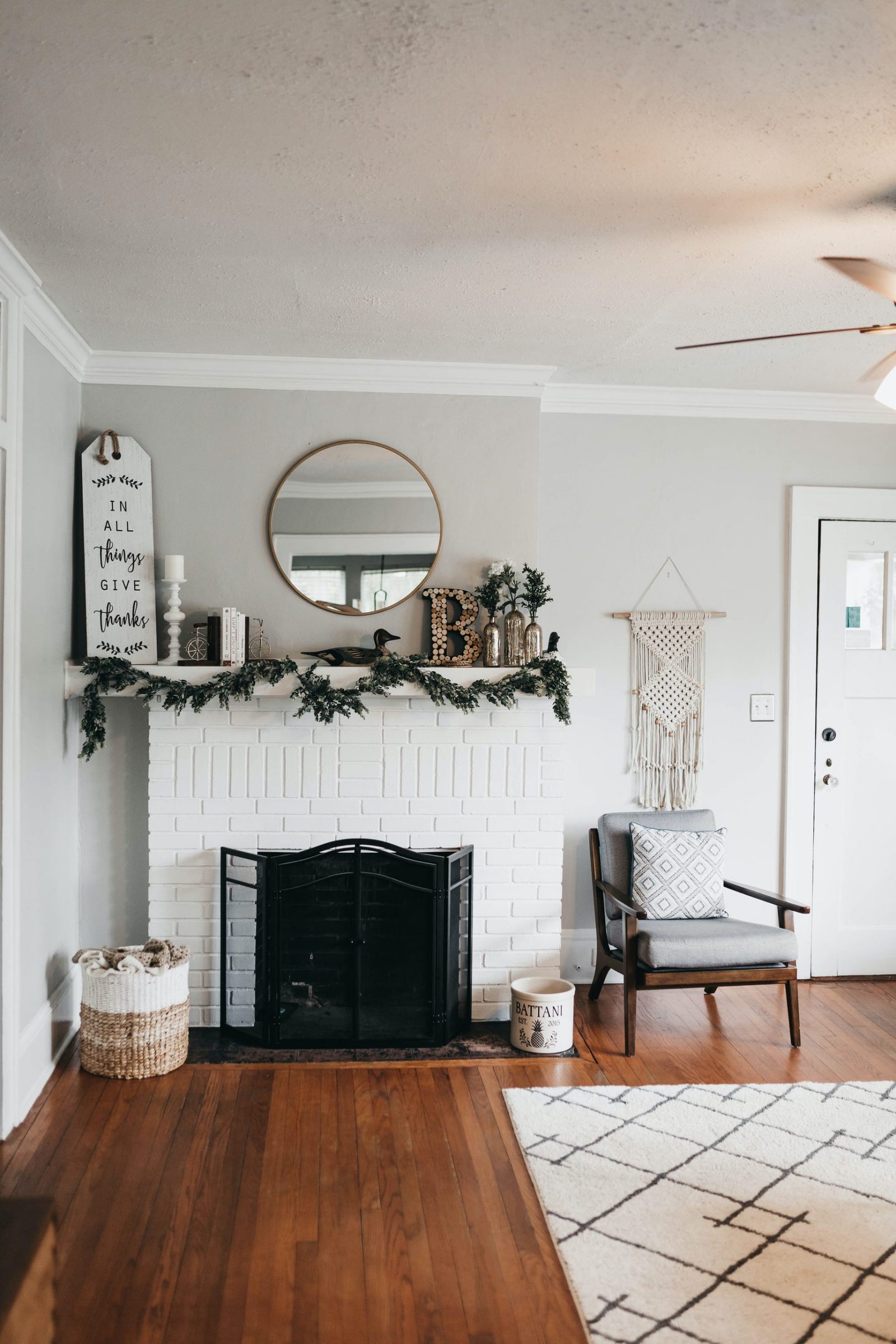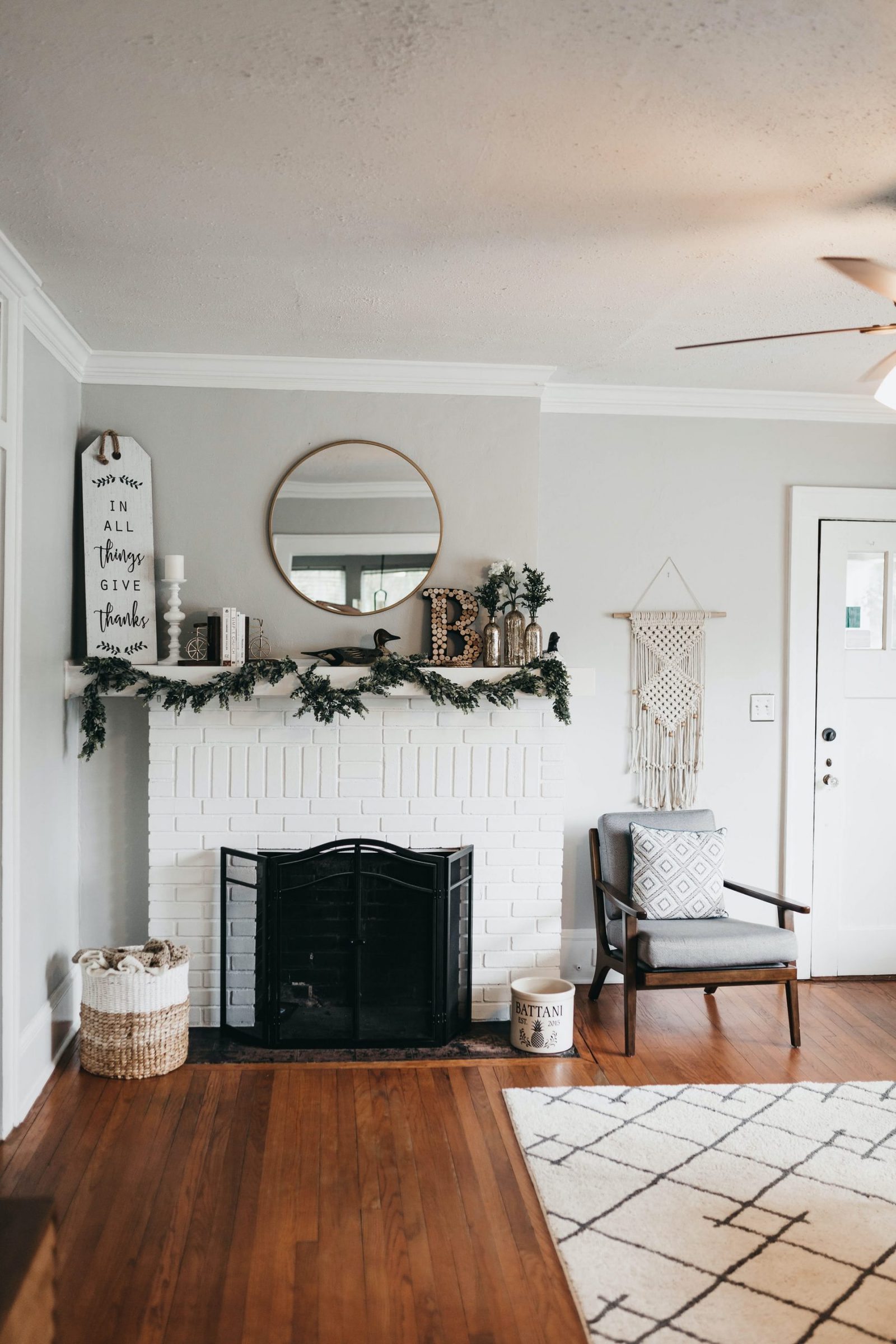 A botanical garland is the perfect finishing touch to any farmhouse mantlepiece. The greenery adds life and color to the mantle, and creates the perfect base for layering other accessories.
The beautiful gold accessories and large round mirror add a touch of glamour to this otherwise rustic design. I also adore the black fireguard which is minimalist but oh, so stylish and contrasts with the white brickwork perfectly.
Bring the Outside in With a Rustic Copper Tree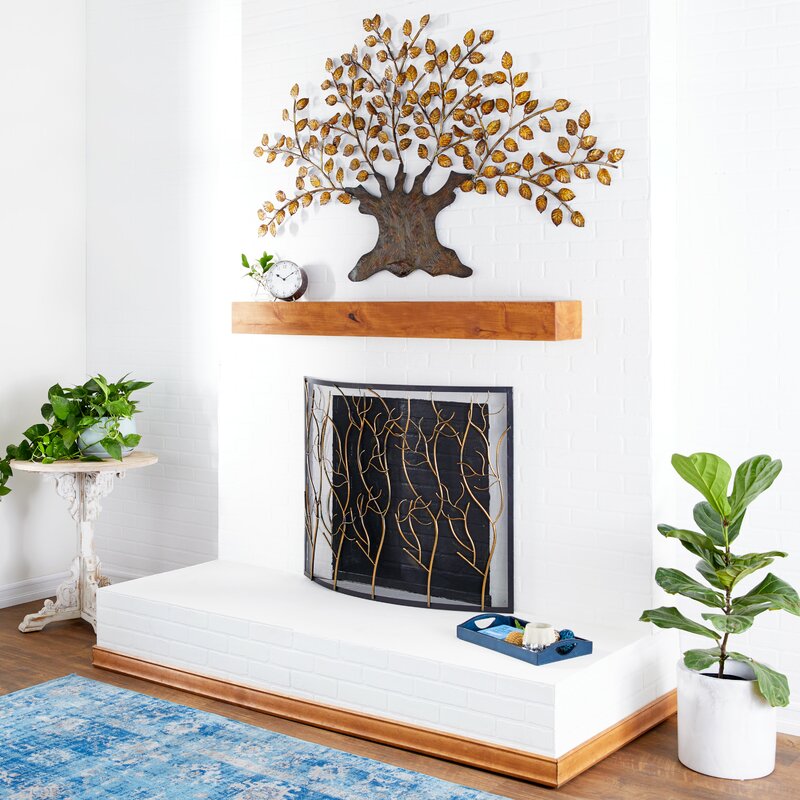 If you're looking for something a little more unusual to go above your mantelpiece, why not try some rustic copper wall art. This stunning work of art shows just how well nature can be incorporated into mantel decor ideas.
The rest of the mantel decor is relatively minimal, letting the copper tree steal the show. The stylized trees on the fire panel complements the design, finishing off the design perfectly.
Final Thoughts…
Whether you have a big and bold mantel area or something small and understated, if you're looking for farmhouse mantel decor ideas then hopefully you have found something here.
The key with decorating your mantel is to start with a large object such as a mirror or piece of artwork, and then layer in your accessories.
Candlesticks always work well, so if you're not sure where to start when it comes to accessories, candlesticks are always a winner! Pair your candlesticks with some greenery such as a potted plant, garland, or wreath, and you are well on your way to creating the perfect cosy farmhouse mantel.