Decorated Life is reader-supported. When you buy through links on our site, we may earn an affiliate commission. Learn More
16 Farmhouse Table Decoration Ideas
Farmhouse style is all about bringing people together – especially in the kitchen and dining room. These spaces are perfect for big weekend meals and family gatherings.
So if you want your dining room to be as inviting as the rest of your home, style your table to reflect that. Whether you like a simple look or a well-collected centerpiece, you can make it happen.
Here are the top 16 farmhouse table decoration ideas for an inviting space.
Use a Wooden Cutting Board as Your Centerpiece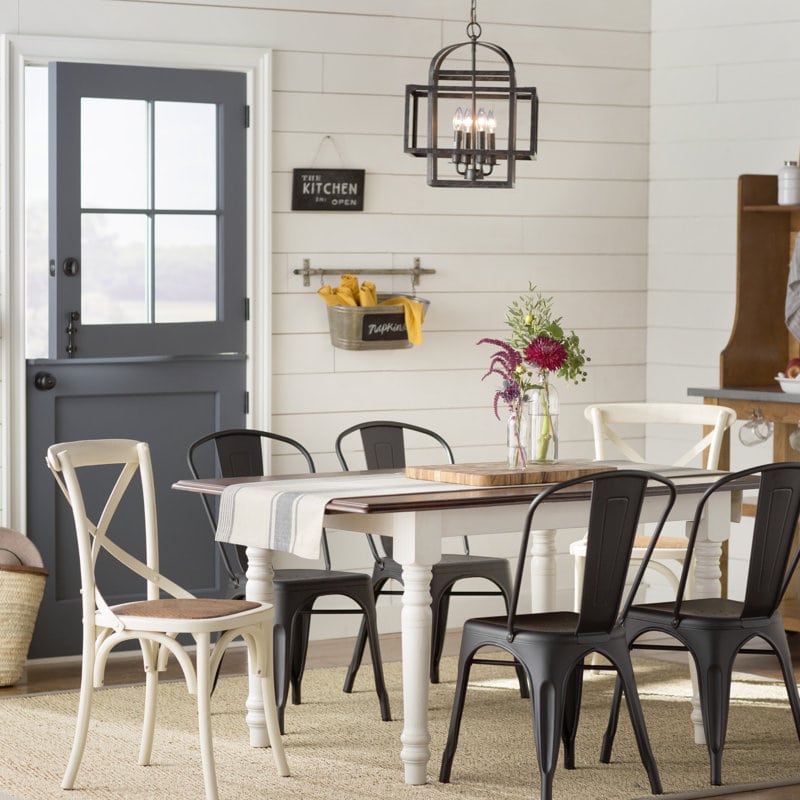 Functional pieces make the best decor. So, if you're looking for a quick and easy idea, grab a wooden cutting board and place it in the center of your table.
You can layer other pieces on top, like a bouquet, a bowl of fruit, or a couple of small lanterns. Adding several pieces will help you achieve a collected look while only using one item lends to a more minimal look.
Add a Pop of Color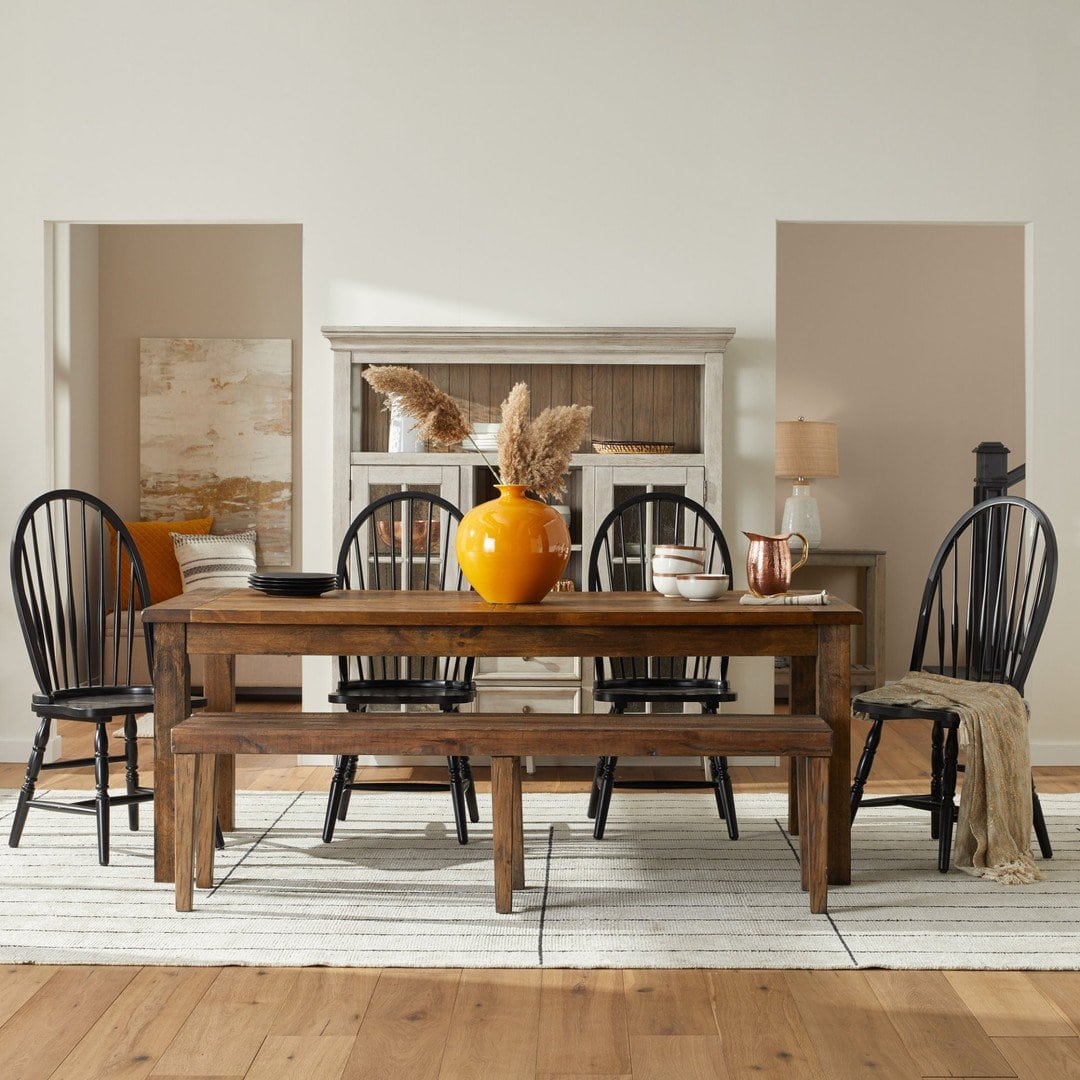 If your farmhouse dining room or kitchen is primarily neutral, use your table decor to add a pop of color to the room.
For modern farmhouse table decor, add a bright vase with simple greenery to the center of your table. Then, you can work the same color into your room using small pieces like napkins or pillows on your bench.
Lay Down a Runner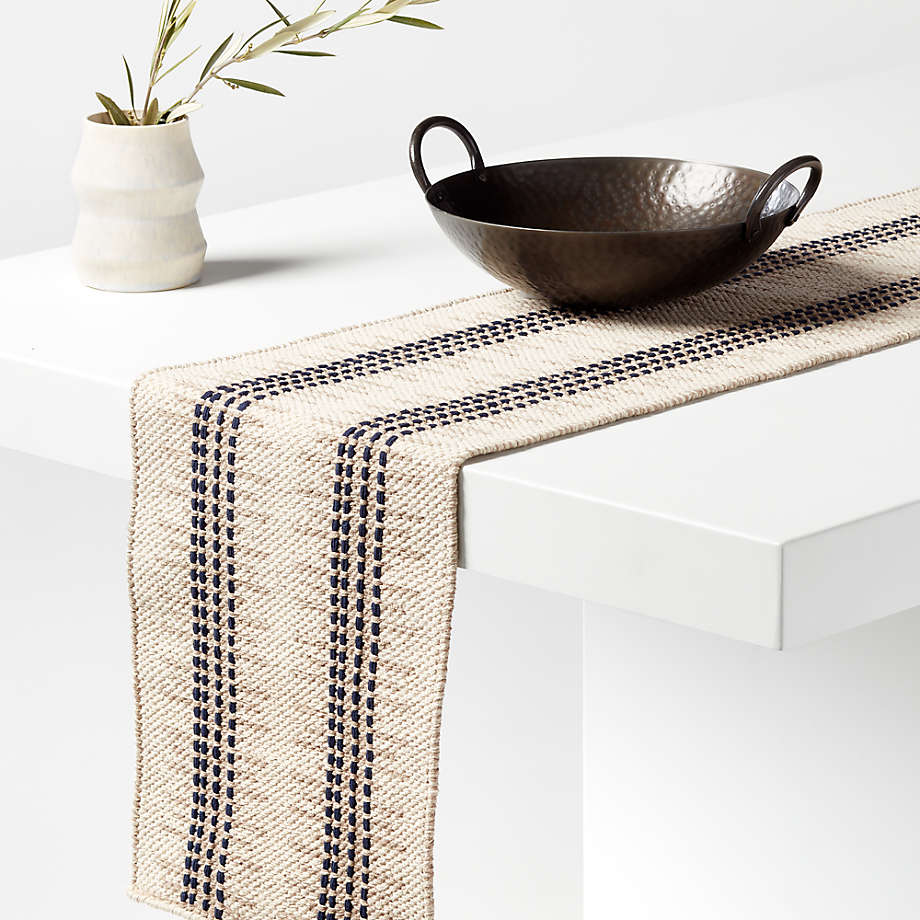 Simple striped runners look amazing on farmhouse dining tables. They provide a base for layering other decor and add texture to the room.
This handwoven striped runner from Crate and Barrel is perfect for modern and rustic farmhouse style. It's 100% handwoven cotton featuring navy, taupe, and cream colors throughout. You can get it in either 90 or 120-inch lengths.
Showcase Your Favorite Animals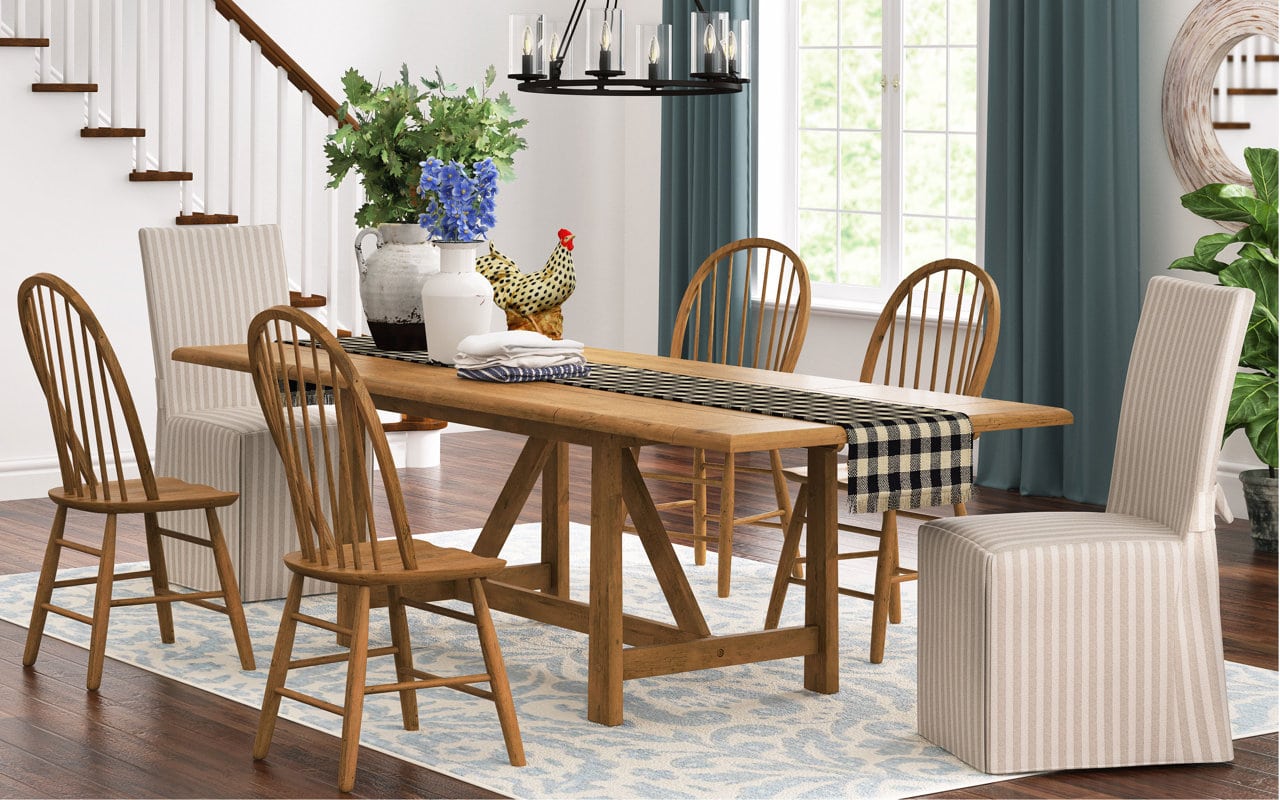 There's no better place to showcase your favorite farm animals than on your farmhouse table. (As long as those animals are ceramic, of course.)
If you have farm animal figurines, add them to your farmhouse kitchen table decor. This is especially great if you like a layered look. For example, you can add figurines, wooden bowls, and a vase of flowers.
Create a Candle Display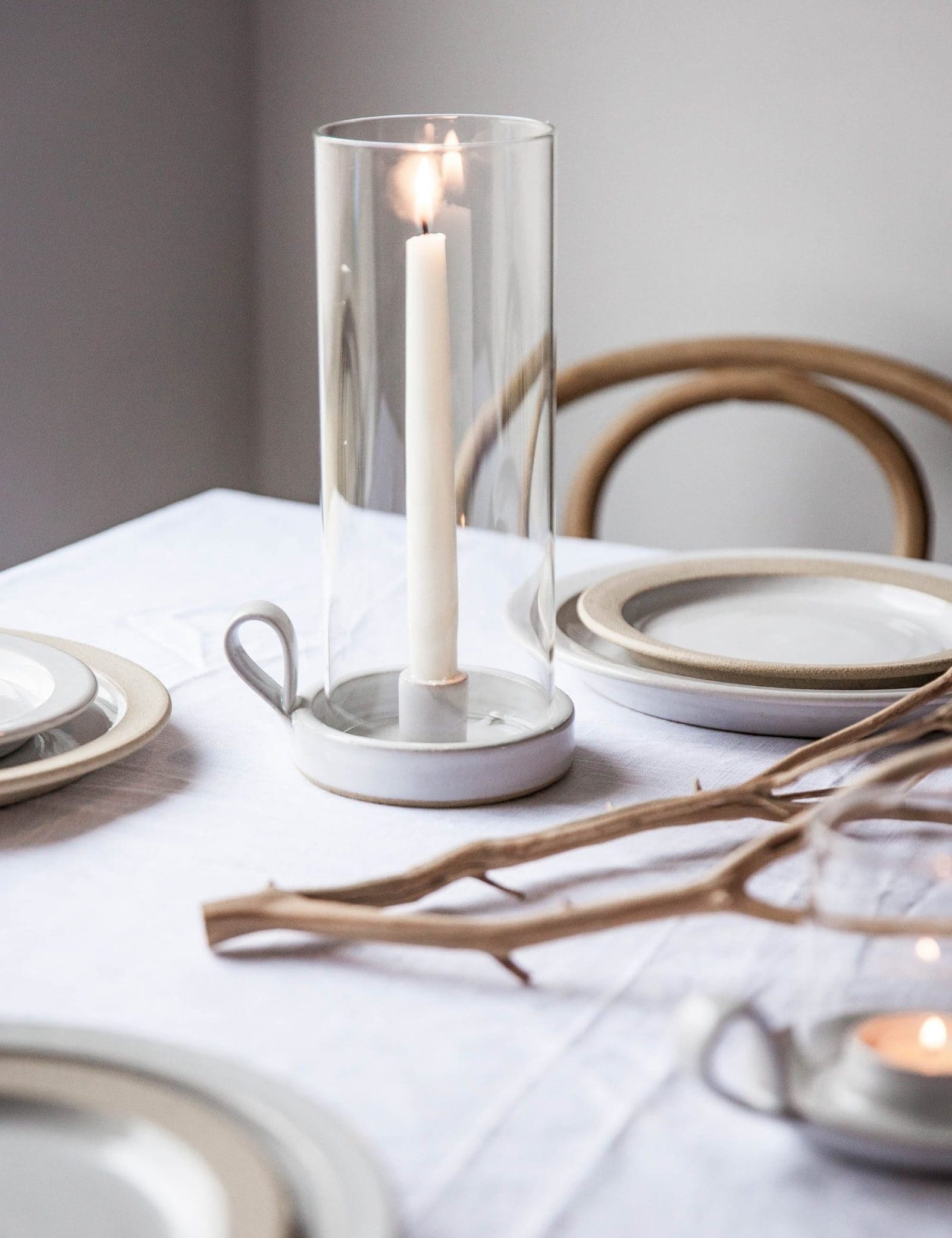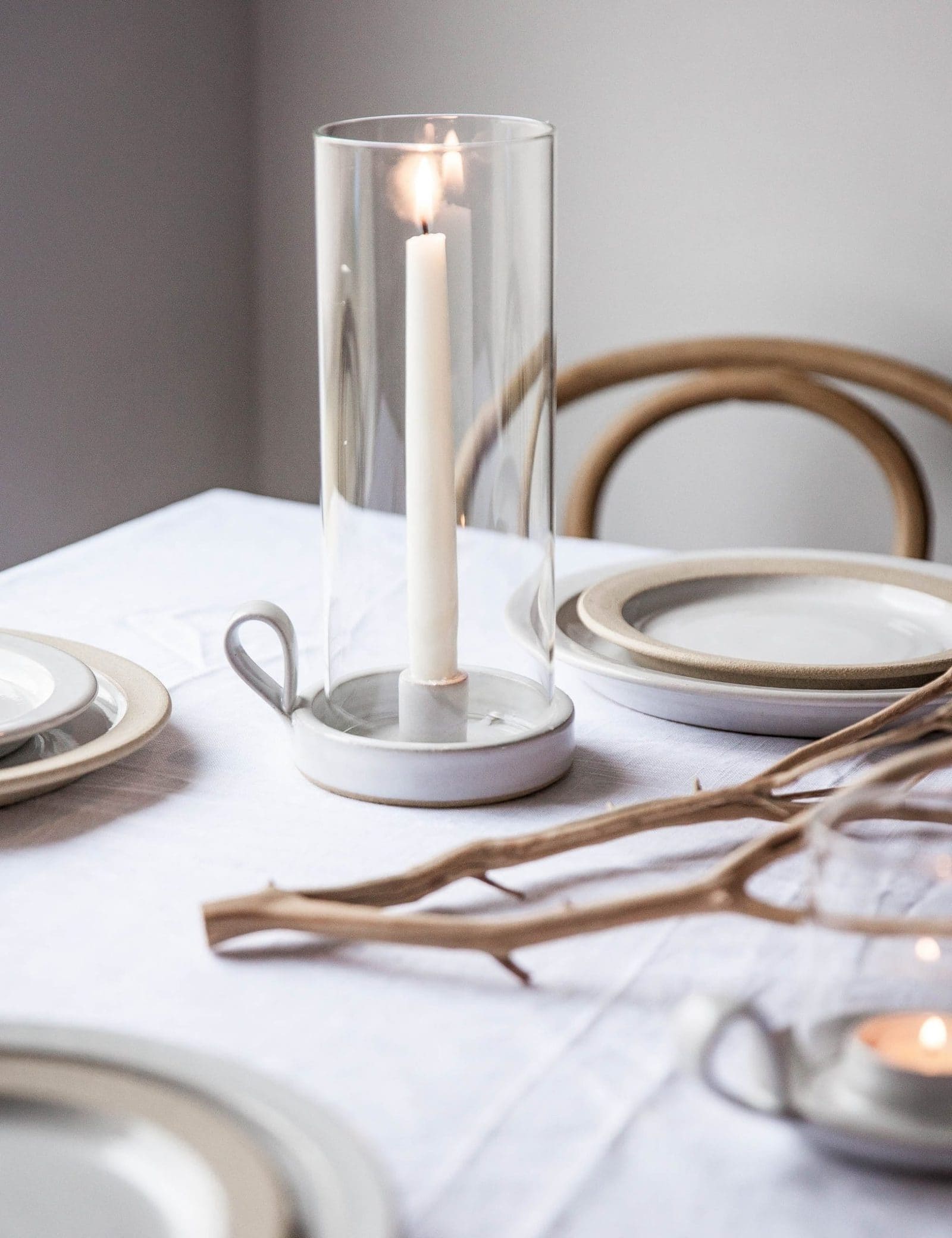 Candles are the perfect farmhouse table decor, especially when they look like this. These candles are a tribute to old-school-style tapered candle holders but have a modern feel.
To create a beautiful display, line these down the center of your table. You can work in other organic decor like branches or greenery. Then, during dinner parties, light your candles for a stunning look.
Make a Cheery Statement with Fruit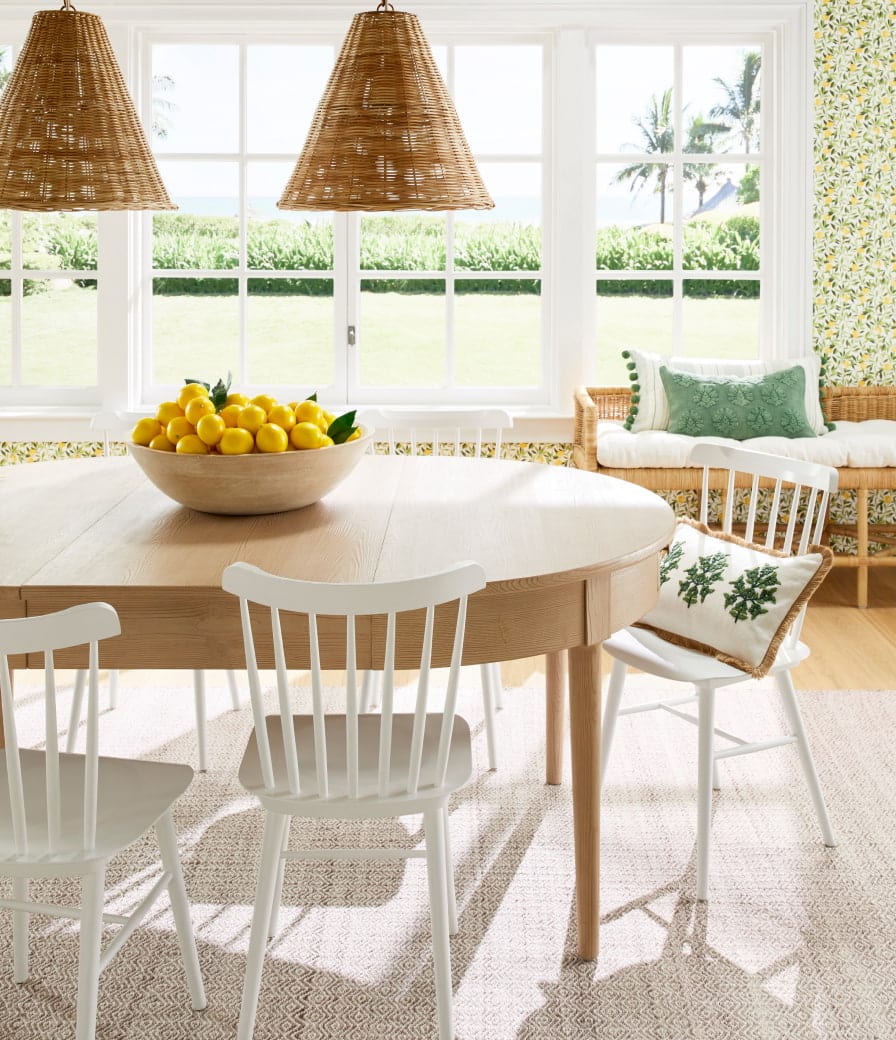 If you want your farmhouse kitchen to look bright and cheery, there's no better way to do that than with a bowl of fresh fruit.
Start with a wooden bowl similar to this one from Serena & Lily. Then, fill it up with lemons, oranges, apples, or a combination of the three. The result is beautiful (and edible) decor.
Incorporate a Wooden Cake Stand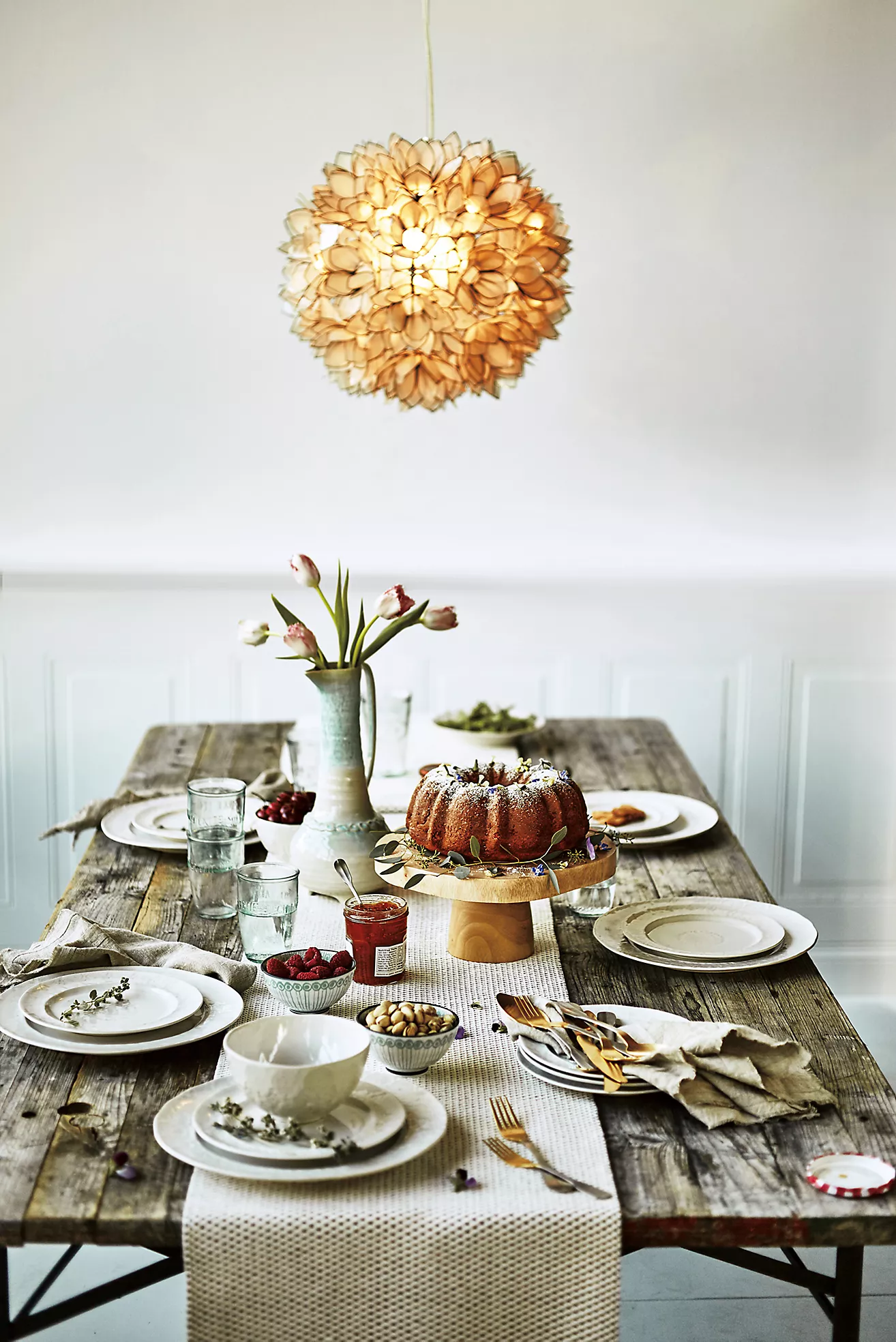 Cake stands are for more than just holding cake – they also make great decor pieces. One popular farmhouse centerpiece idea is to put a pretty cake stand in the middle of the table.
When hosting a party, the cake stand can hold a cake or other food. For a daily look, top the cake stand with candles, a vase, or a small plant.
Fill a Pitcher with Stems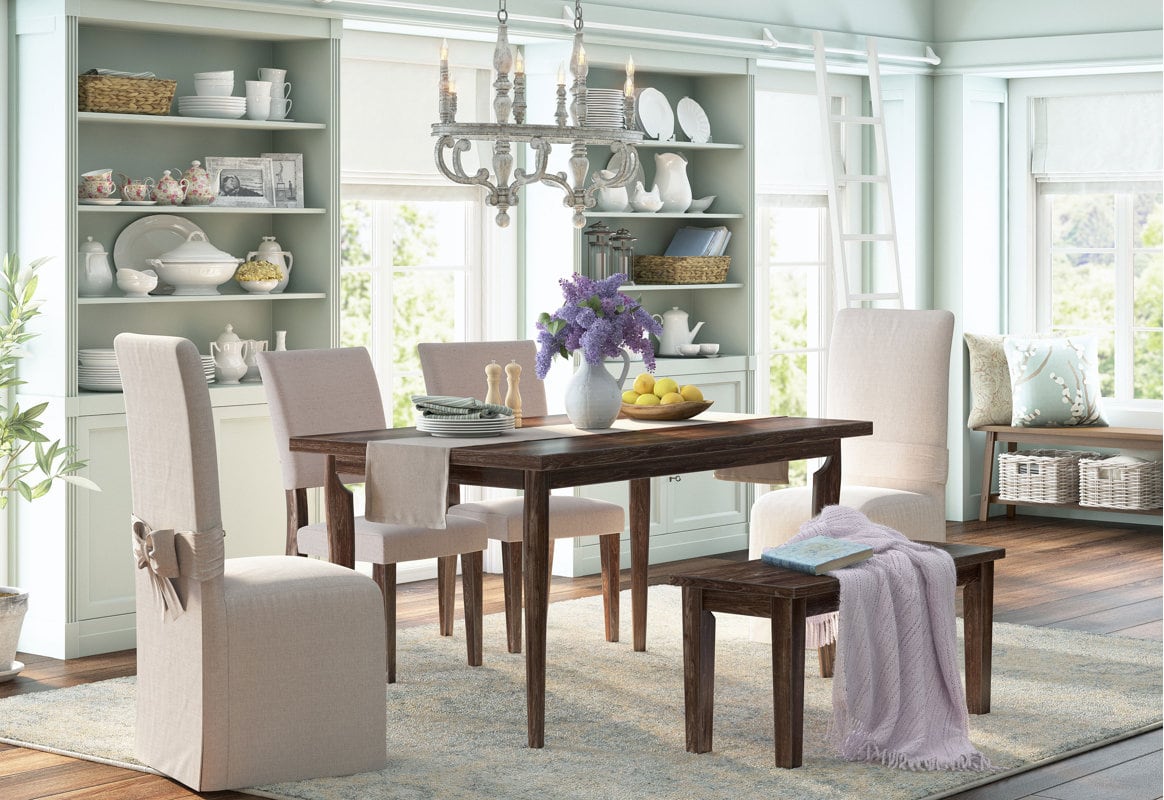 If you're looking for the best budget-friendly ideas for your farmhouse table, fill a pretty pitcher with your favorite stems.
If you have a white pitcher, it's a safe bet for the farmhouse look. However, anything that has an antique or pottery feel will also work. You can fill your pitchers with a bouquet or grab some small branches from the yard.
Combine Functional Items with Decorative Pieces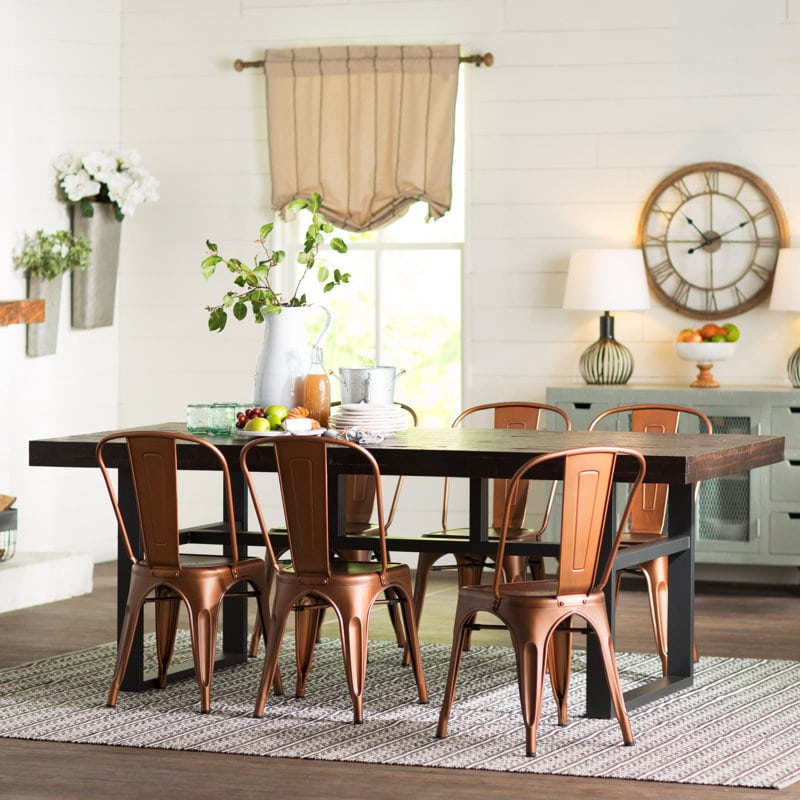 Your farmhouse kitchen table decor doesn't have to be solely decorative pieces. Instead, the best collected looks combine decor with functionality.
So, if you have some functional kitchen pieces in pretty finishes, add them to the center of your table. In this picture, they've combined a decorative vase with an ice holder, glass bottles, and plates for a pretty centerpiece.
Beautifully Display Cheese and Pastries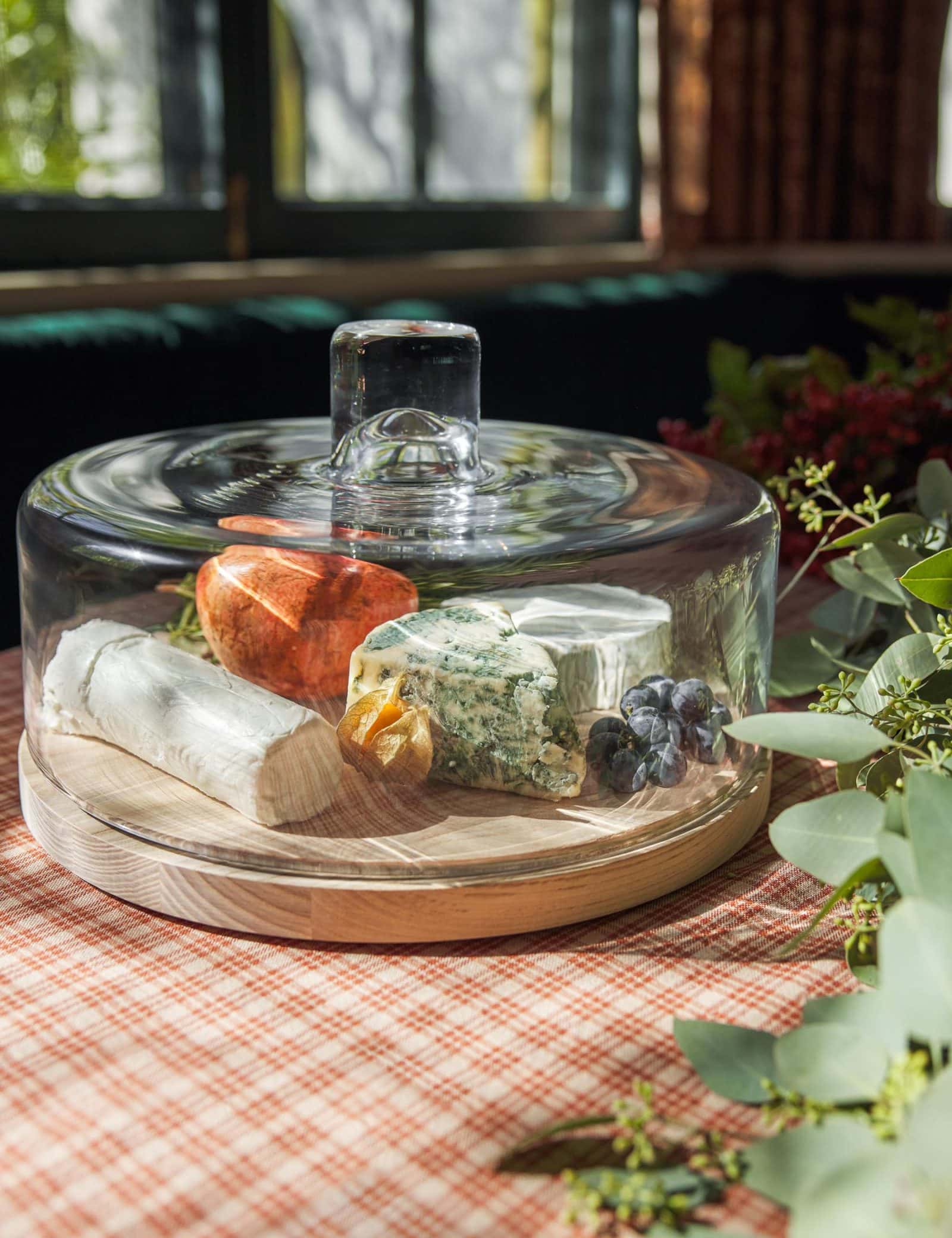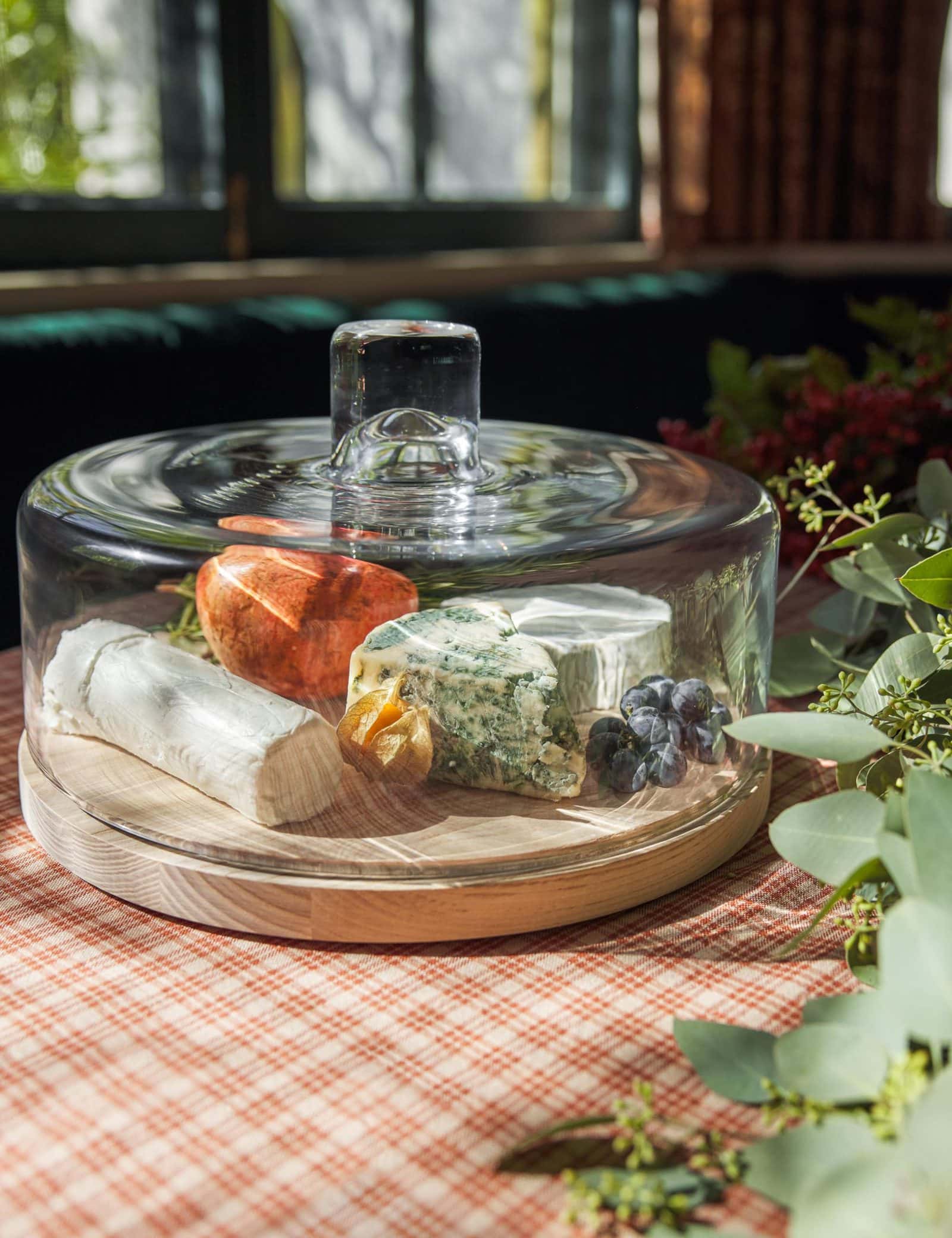 If you constantly have cheese or pastries out for your family to eat, make them your centerpiece with this beautiful dome.
From Lulu and Georgia, this dome features a mouth-blown glass lid and an ash wood bottom. This will look great at the center of your table, and you can easily move it to another room when serving guests.
Use Chunky Wooden Candlesticks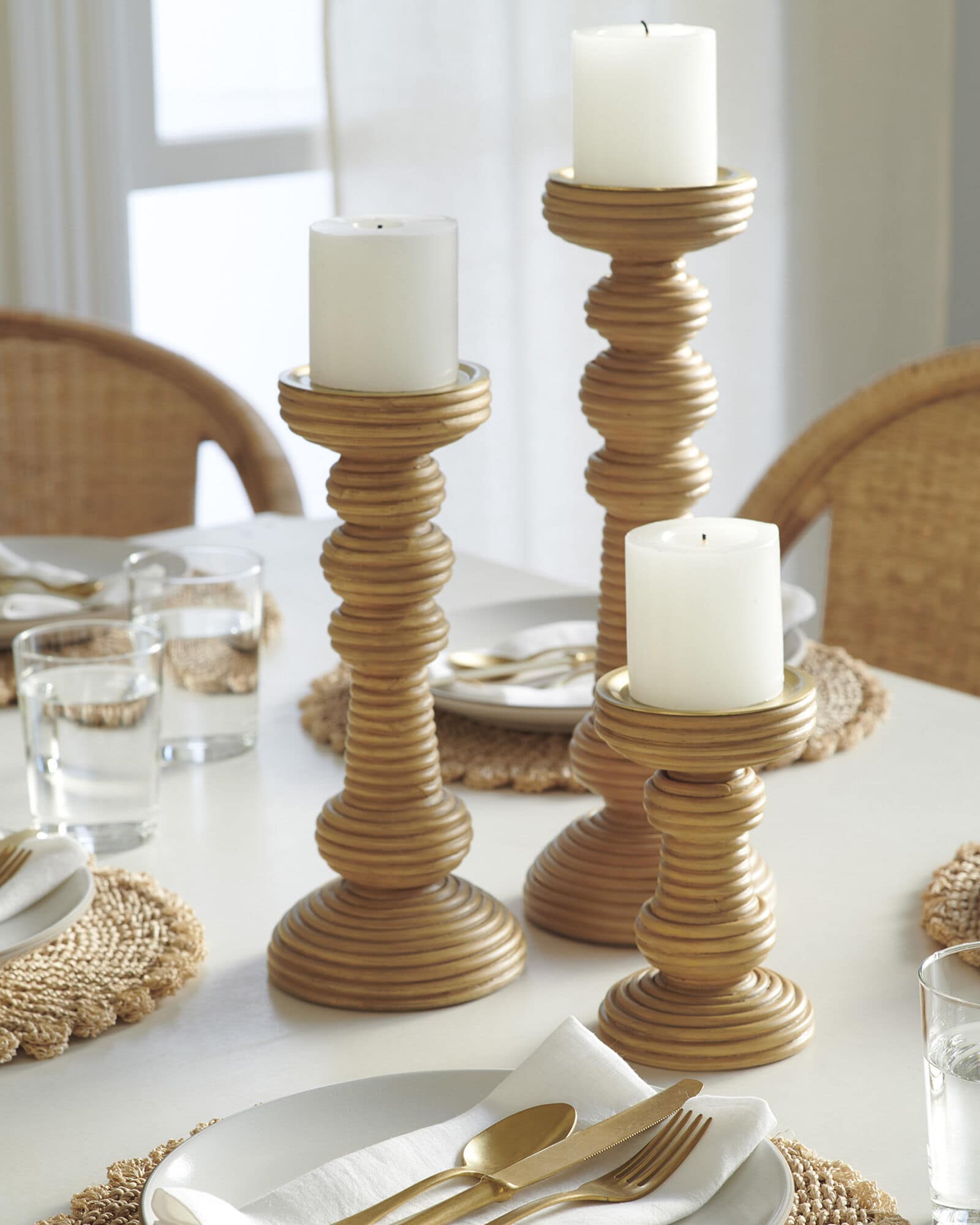 Chunky wooden candle holders are a versatile piece of farmhouse decor. You can use them in your farmhouse table decor ideas, your mantel, your nightstands, and more.
So, if you're looking for a quick way to dress up your dining room, grab some candlesticks and line the center of your table. You can find this version from Serena & Lily in white or natural. The candlesticks are high-quality wood wrapped in rattan.
Bring in Large Floral Centerpieces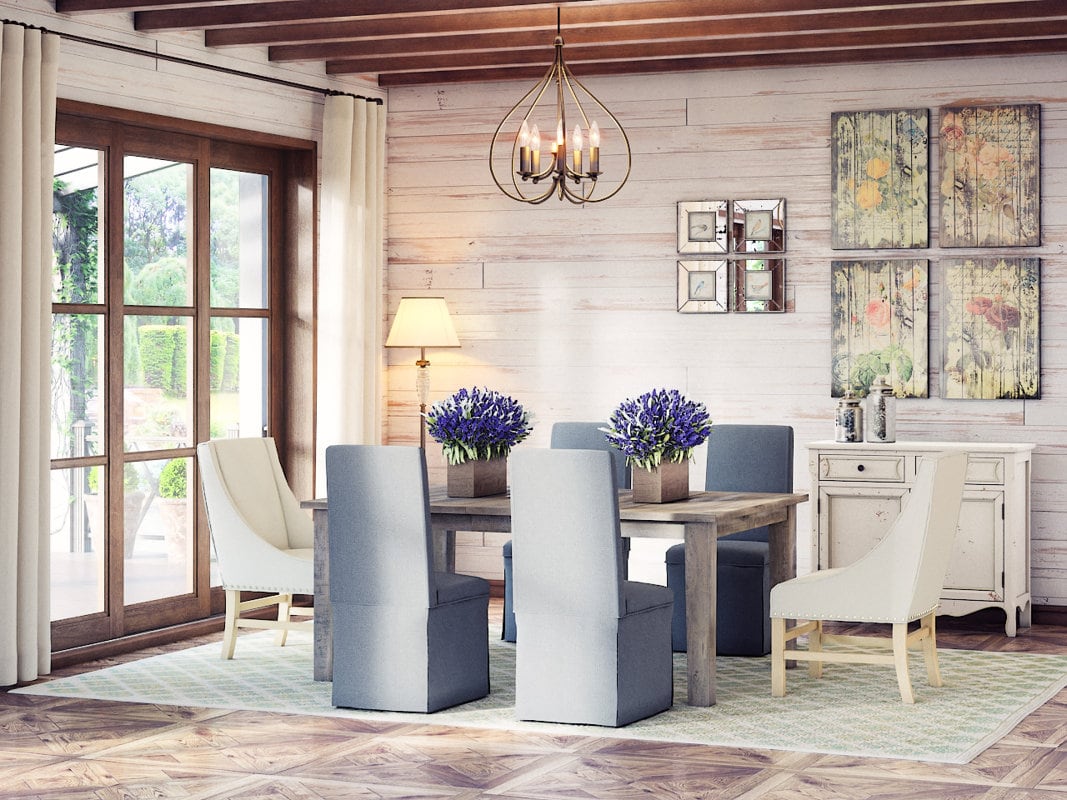 Flowers and plants are a great way to freshen up any room. So, if you love the look of flowers, consider adding one or two large floral pieces to the table.
When you use these large pieces, you don't need to add any extra decor. You can use a large vase or wooden box and fill it with your favorite faux or real flowers. For a pop of color, consider lavender, roses, or hydrangeas.
Keep it Minimal with a Single Glass Vase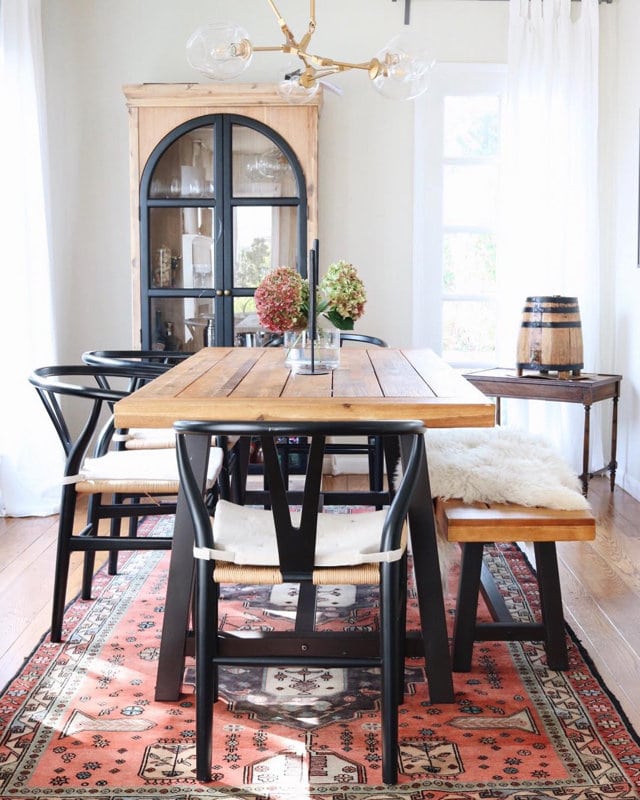 If you love the look of your dining room furniture and want it to be the focal point, keep your tabletop decorations minimal. A simple glass vase filled with flowers is all you need.
You can find a similar glass vase from Wayfair filled with faux (but real-looking) peonies for a soft look. Alternatively, you can use a glass jar and throw a few branches in it.
Decorate with a Candle Lantern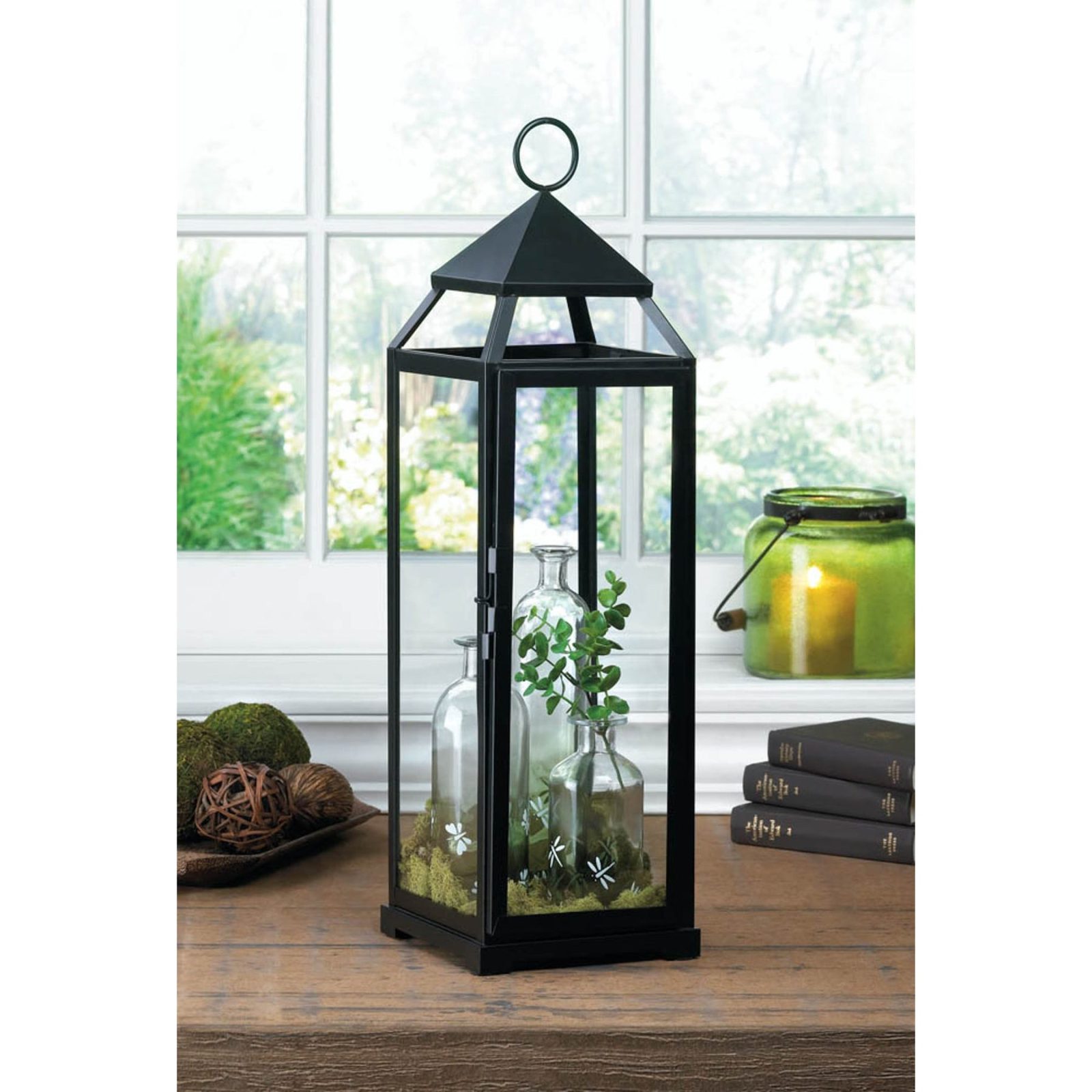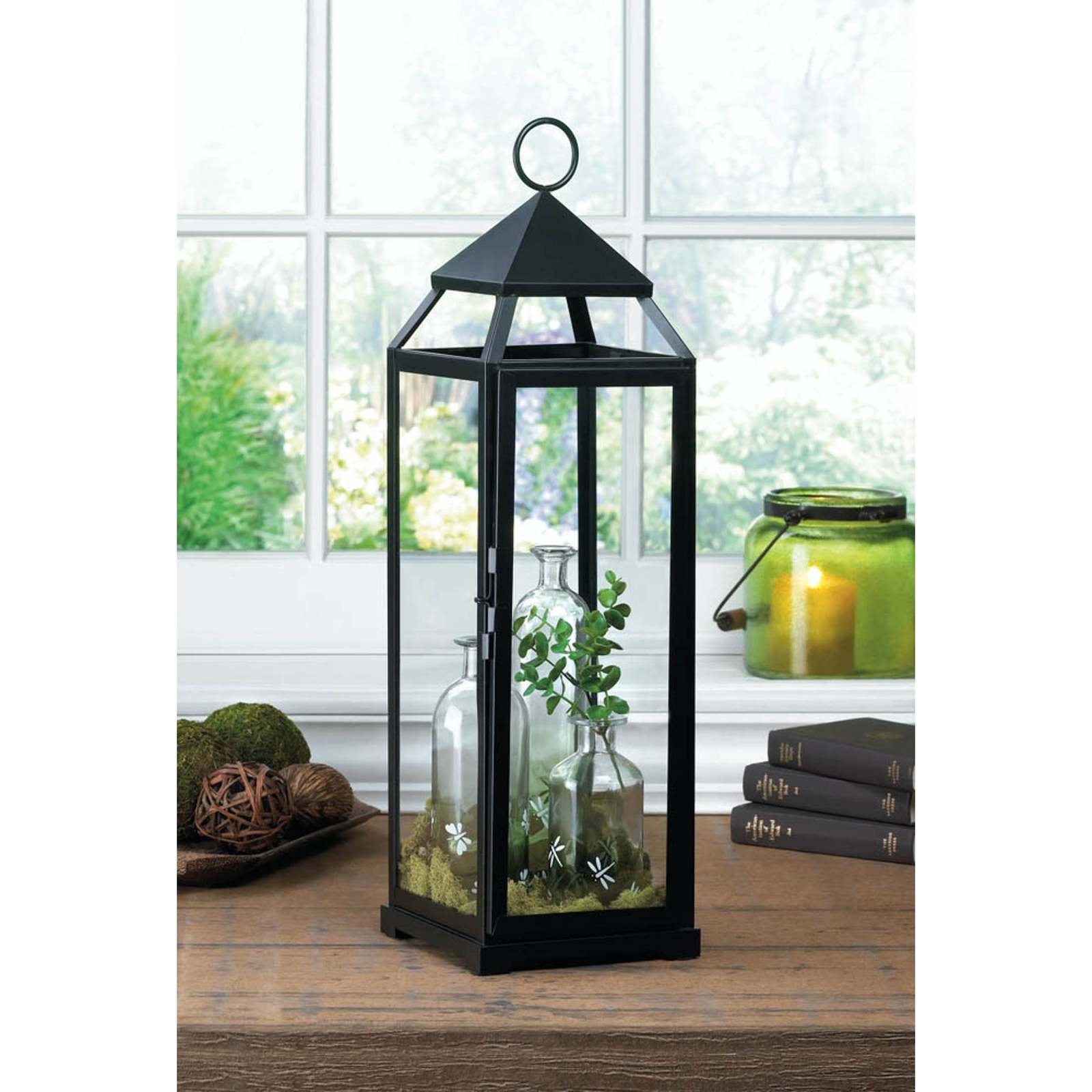 Candle lanterns are very versatile pieces of decor. You can put candles in them as intended or fill them with greenery like shown in the photo.
These lanterns from Overstock come in three sizes, including medium, large, and extra-large. The lantern's black finish goes with almost any type of decor. You can use one of these to complement your other decor or as your main centerpiece.
Bring in Texture with Faux Heather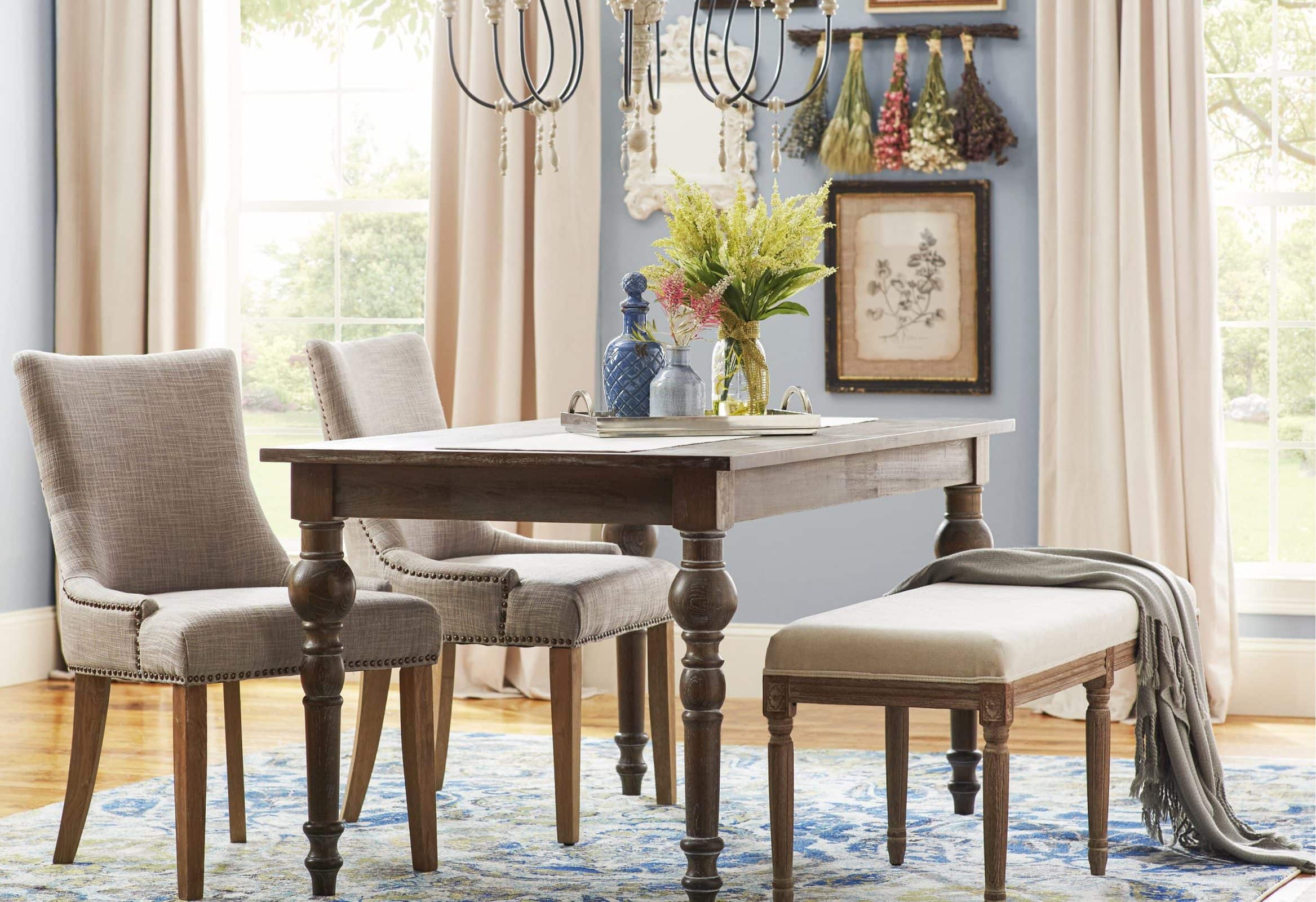 If you want to add a bit of texture to your centerpiece, consider a faux heather bouquet. The heather looks very real and can add color and dimension to your table.
You can pair this bouquet with other decor or place it on a serving tray like pictured. The bouquet comes in a clear jar with a burlap tie.
Leave Your Plates Out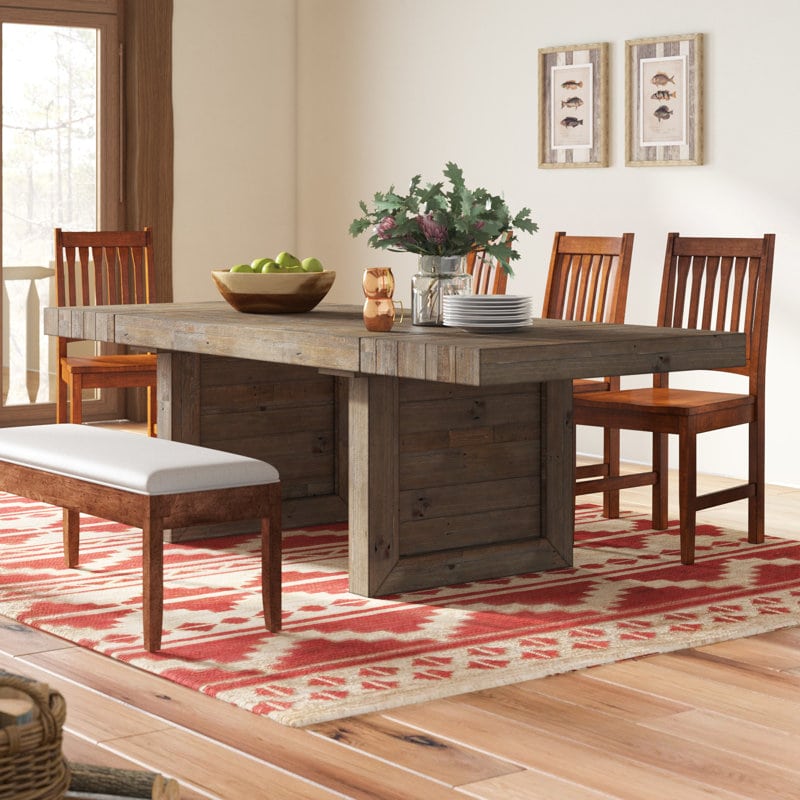 You don't need to reinvent the wheel to decorate your table. If you have plain white or decorative plates, you can incorporate them into your decor.
For a more practical look, leave a stack of white plates out like shown. If you like a more decorative style, set the table, laying out a charge, plate, and napkin at each seat.
Final Thoughts
There are a lot of ways you can decorate your farmhouse table. Stick with a clear vase and your favorite flowers for a simple look. If you're always baking or leaving snacks out, go with a domed platter or serving tray.
And finally, if you like the layered look, gather up all of your favorites and position them into a beautiful display.