Office Accent Walls That Motivate and Inspire
Rapid changes in technology and the impact of the pandemic have seen a huge rise in people working from home.
If you work from home at least some of the time, it's good to have a dedicated workspace. You may have your own room to install an office or you may use a section of another room.
And, of course, in the era of the video call we all know how important that Zoom background is! So you can take a look at some stunning ideas for your home office accent wall.
Cool White Desk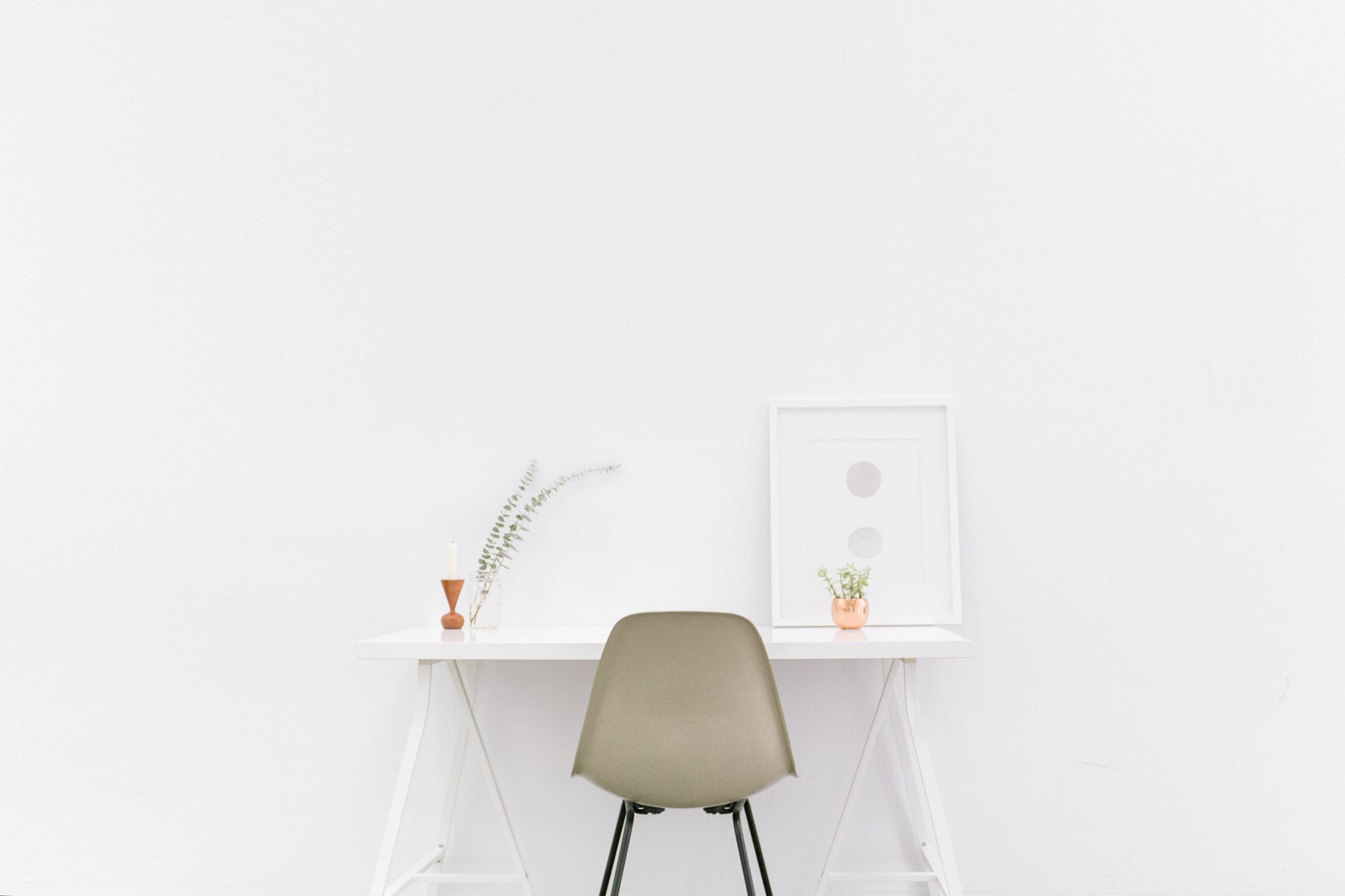 For the ultimate in cool crisp white, choose a bright white paint for the wall. Then choose a white desk and chair.
For your color accent of preference, select a spot lamp or sculptural light in bright or muted colors,depending on your preference. And accessorize with stationery, maybe a pot plant.
This look is clean and calm. Perfect for those who want to get away from the clutter of the home to their own neat workspace.
Midnight Blue Accent Wall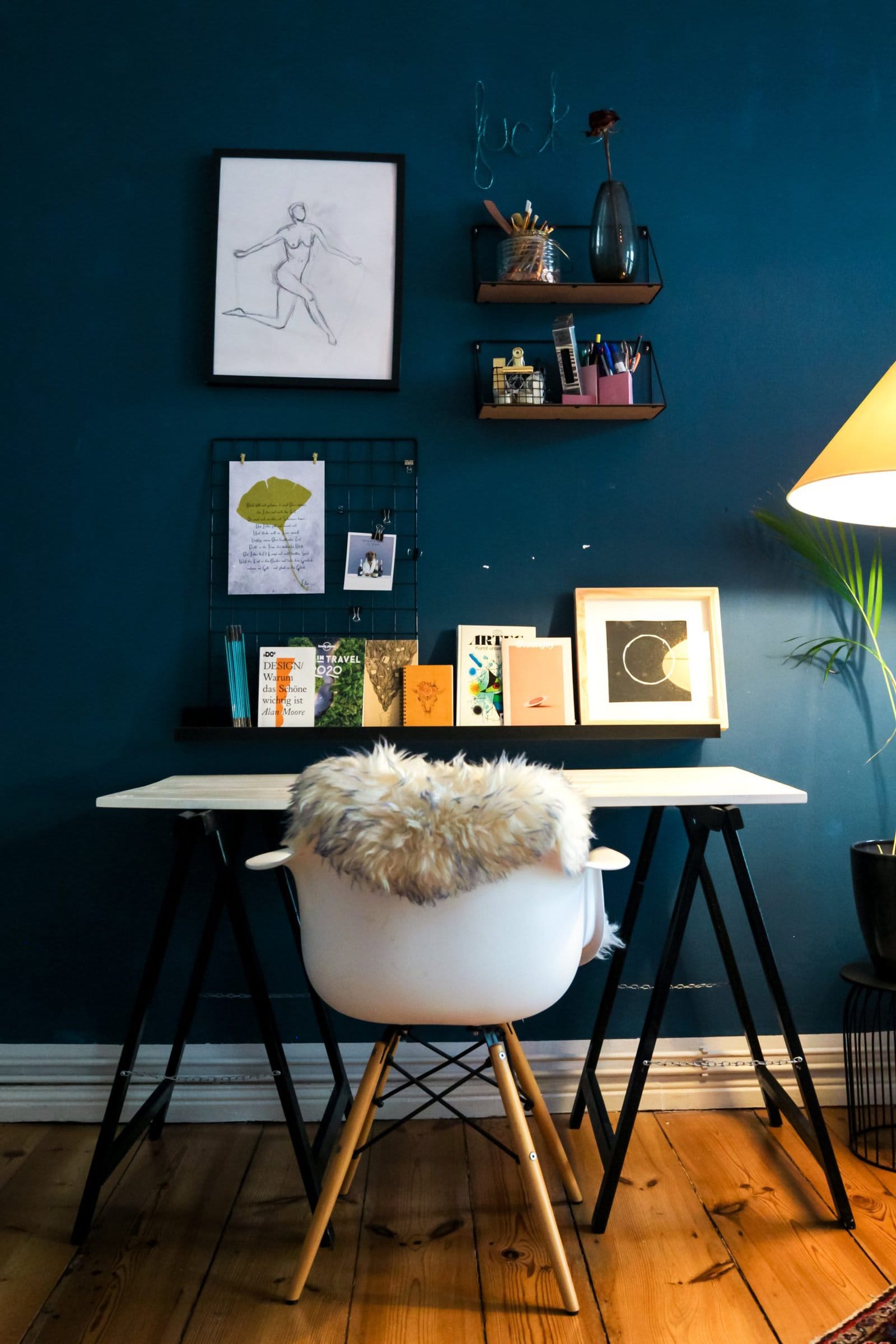 A super-trendy color right now is a rich dark blue. So you can get your office bang up to date by choosing this shade to paint your accent wall.
Black and white are modern colors that match with this look, as well as styling like an Eames style chair and a sheepskin rug.
On the opposite end of the color spectrum, yellow will add warmth to the blue. So add accents through your lampshade, curtains, or art.
Urban Gray Office Wall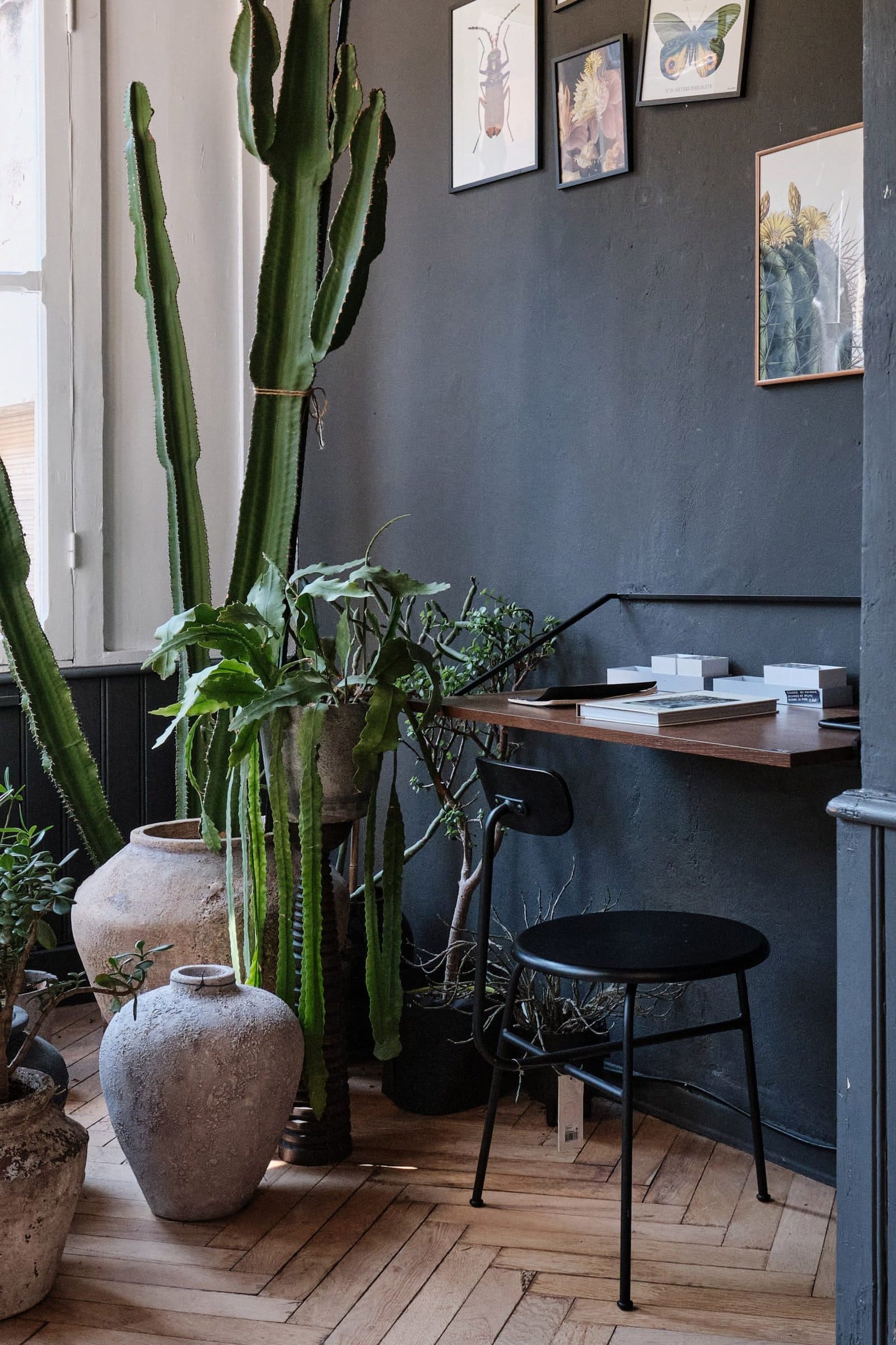 You can barely move in any interior for the gray! But is it here to stay? Chances are that it is. It looks fabulous, works well with colors and is considered a new neutral.
A dark gray on one wall of a plain scheme will give an industrial look. This is great with metal furniture and some cool art. And if you like a cactus, why not go grande?! A unique completed look.
Retro Blue Office Accent Wall
Bright mid-blues haven't been seen so much in interiors lately. But this could be an, inspired choice that'll make you the envy of your co-workers on your next video meeting.
As a direct opposite color of a yellow, mid-tone wood, this blue wall looks both bright and retro. If you have some vintage pieces and abstract art, then use them to accessorize the shelf behind your desk. You won't be feeling at all blue if you choose blue!
Color Zoning
The beauty of zoning, this colorful accent wall update, is its simplicity. First pick a gorgeously vibrant yellow, then draw a shape on the wall. An arch is a good choice. Then paint that in a darker shade. Voila, you can have a designer look in about an hour.
This is fabulous either to look at, or as your background for video calls. To complete the look, use black and white accessories and a exotic plants in ceramic pots.
Workstation in the Woods
Do you like walking in woodland and have dreams of time spent in the forest? Now you can do this at your desk.
A gorgeous idea for an accent wall in your home office is a beautiful woodland wallpaper, in rich, dark tones. Add a dusky pink velvet chair to keep the romance of the theme.
You can style with leafy plants to feel like you really are in the midst of the forest rather than at work at 9am on a Monday morning!
Wallpaper Trees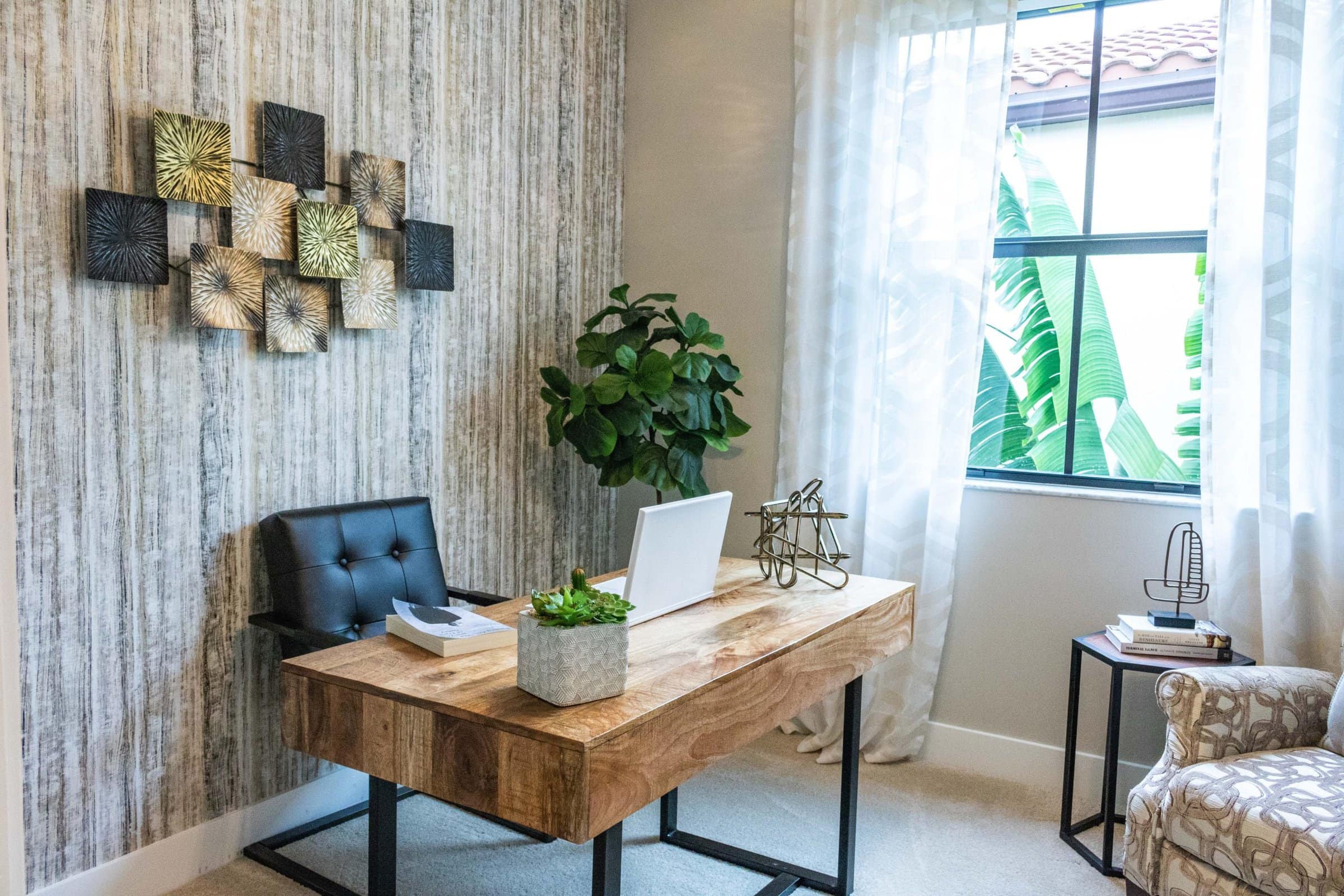 Another take on the tree theme is a calm forest scene in beiges and black. This has a mid-century feel and can be accessorized with some groovy wall art and a retro office chair.
You can paper just one wall and tone in the wall color to the base tone of your wallpaper or simple cream or white in the rest of the room. If you have a small area to paper, then why not try to hang the wallpaper yourself.
If you're worried about making a mess with paste, you could try a peelable wallpaper which needs no separate adhesive.
Fit a Shelf on Your Office Wall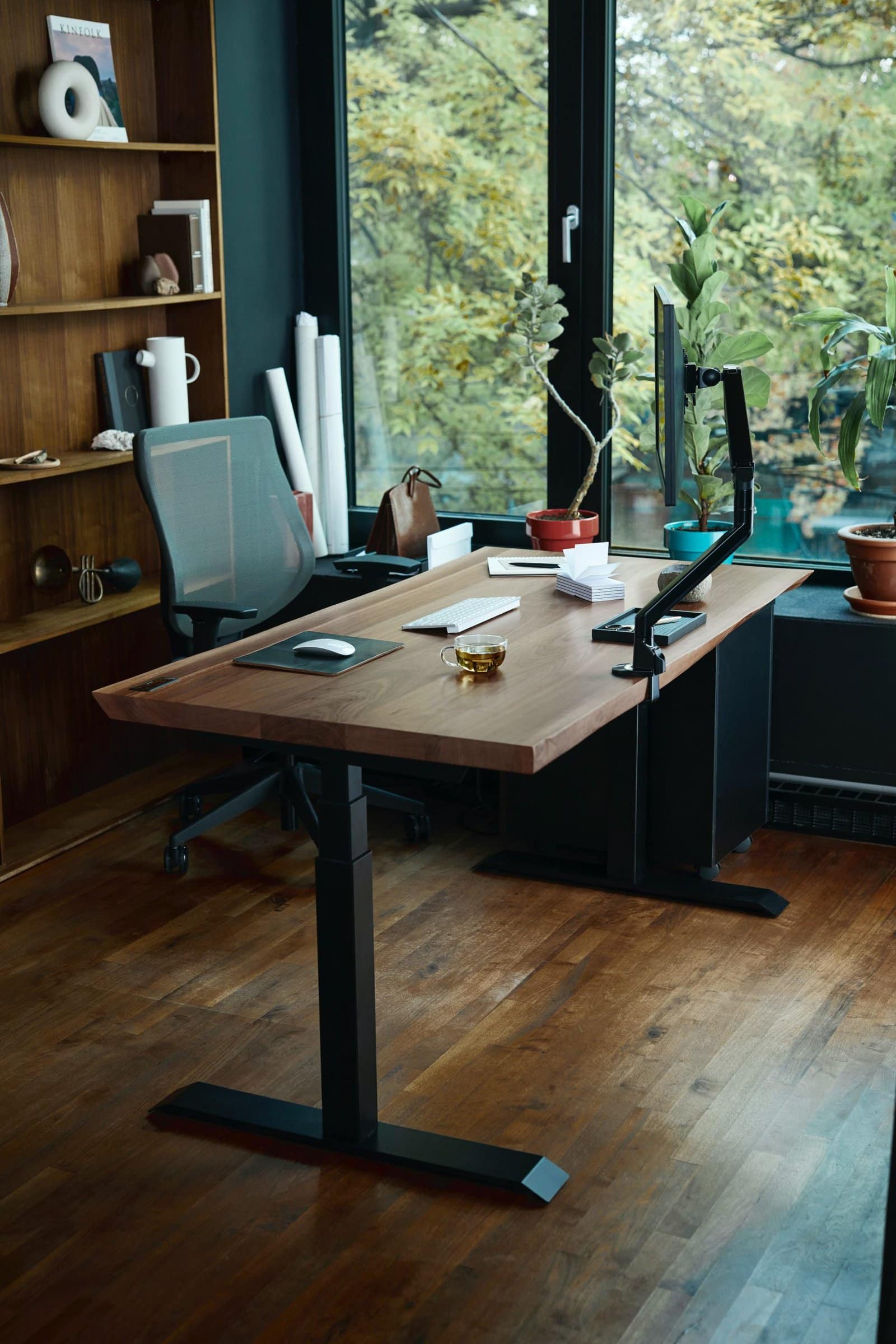 For a sophisticated look, a dark gray wall will contrast with dark wood furniture. Installing teak shelves behind the desk will give warmth as well as panache.
Even better is a forest view from the window – the dream! But if you don't have that then an interesting landscape piece of art or painting would be a good substitute.
Office Idea for Small Spaces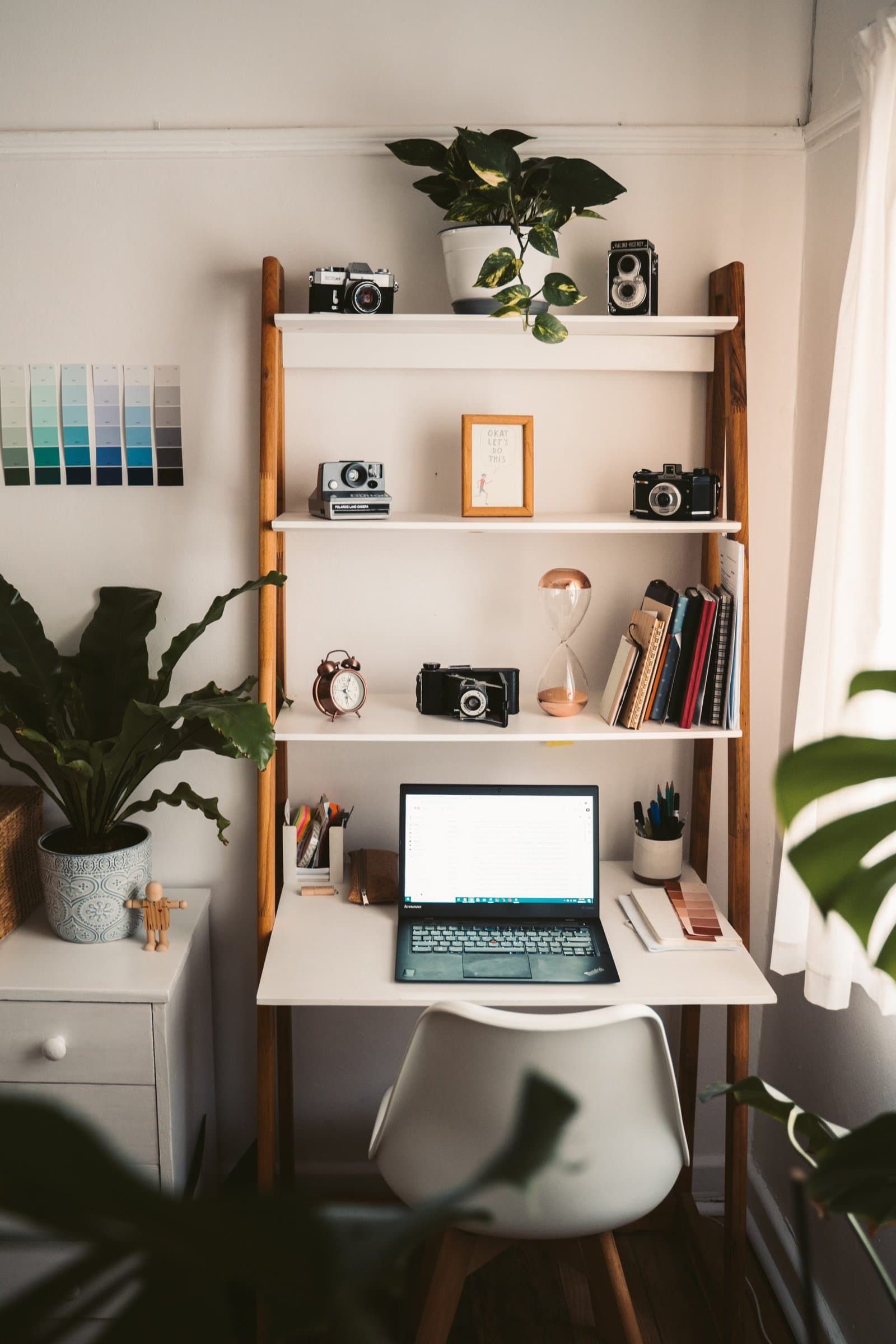 If you have a space next to a bed, or in your living room as your office space then you'll need to be clever with the configuration.
A ladder style wall shelf will give you a neat desk and some useful shelf space above. To use the space to its best advantage, keep the look fresh, use white furniture, and paint the wall white.
A pot plant or two will give a friendly ambience and some interest if this is your Zoom background.
Green Gallery
For decadence and opulence, green and gold fit the bill. Choose a dark, modern green for the wall and tone with a velvet chair.
A gold light fitting will add to the richness of the look. And for art, a black and white photograph gallery in simple frames will blend in perfectly.
Wall Panels
You might have come across those nifty DIY videos on social media where people are adding MDF panels to the wall for a period yet of-the-moment look.
Looks easy? Well actually it is. Using minimal cuts and a strong adhesive, you can install wall panels yourself. And to style? You could add a brass picture light over some gorgeous art and match in the light fitting.
Shiplap
If you have a plain room and you want to add a little character then shiplap is a good plan. Either left unfinished or painted in a moody gray, this look is simple and has maximum reward.
Add shelves to the wall and some colorful books to set off the color. If you are working from home with a partner or colleague, you can make a bespoke twin desk and attach it to the wall.
Pegboard
For a productive looking workspace, an accent wall in turquoise is bright and engaging. White shelves will look modern especially if styled with trailing plants and cute stationery.
For true practical function with designer impacts, fix a painted pegboard. Not only will this give you plenty of space to store and hang things but it looks stylish too.
In Closing
It's about honing in on the detail and the placement of objects, as well as the color, which are key on your office accent wall.
Whether you have your own dedicated home office and feel like it needs an update. Or if you need to emphasize the office area within another room, you can get a stylish look cheaply and easily.
The easiest refresh is to add some art or to paint a wall. But for extra impact for your video call background, you can hang wallpaper and fix some shelves. Then style with plants and gorgeous accessories to give you a workspace you won't want to leave!