Decorated Life is reader-supported. When you buy through links on our site, we may earn an affiliate commission. Learn More
15 Great Ideas to Add Lighting to Your Shower
There's no worse feeling than taking a shower in a bathroom that's dim and poorly lit. Luckily, there are a lot of easy shower lighting options that you can go for in your bathroom.
Adding more bright lights to your bathroom and focusing on in shower lighting is the perfect way to glamorize your bathroom and make it more approachable.
Lighting in the shower area is a great idea that will subconsciously help you relax and enjoy your shower.
Install a Large, Circular Light for a Modern Result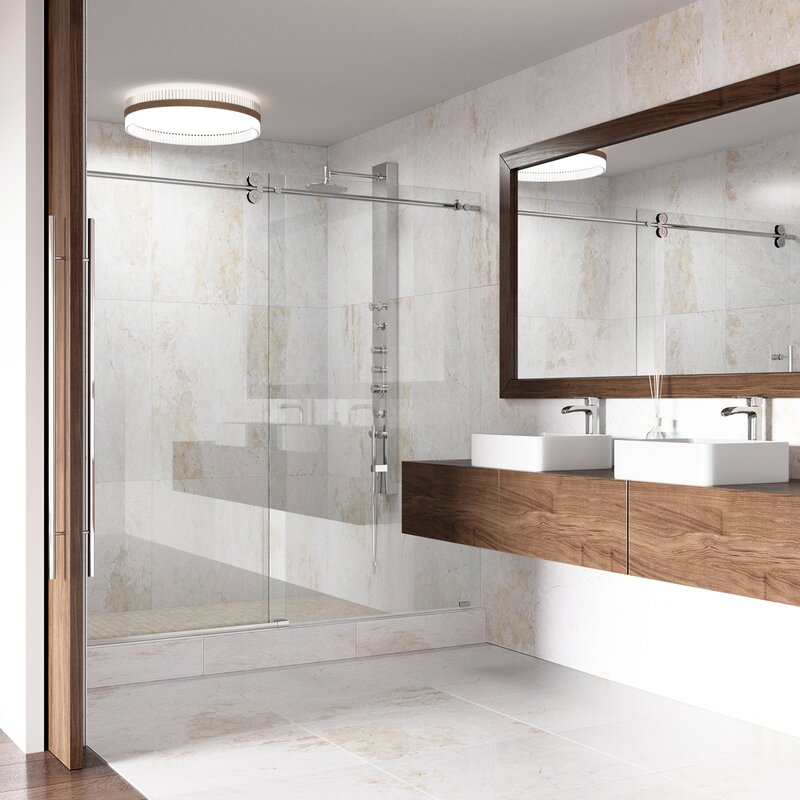 This large, round light provides a significant boost in bright lighting in the bathroom, specifically in the shower. It's a shower lighting idea that creates a modern appearance, which is perfect for the modern and industrial look of this minimalist bathroom.
The glass walls of the shower also help to keep the whole bathroom well lit without creating any dark or dim corners.
Add Extra Lighting With Dark Shower Walls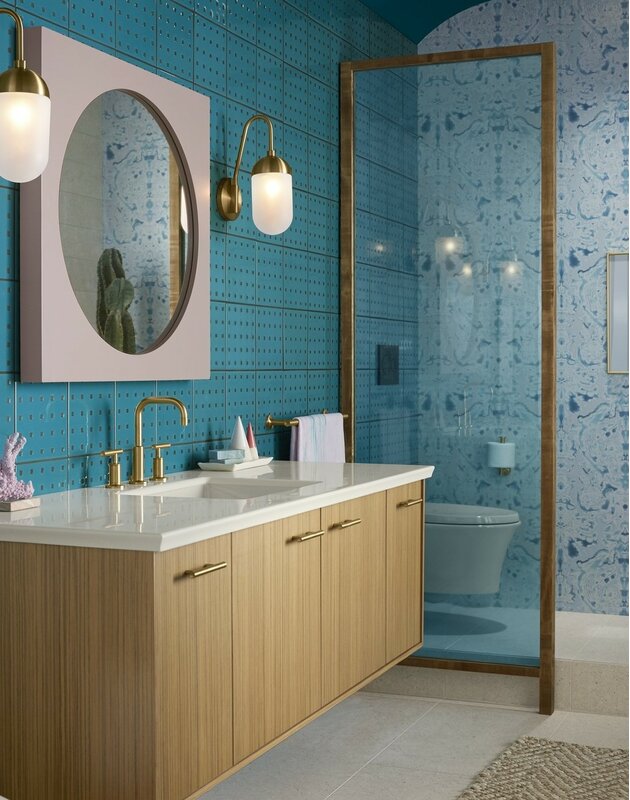 Brightly lit bathrooms can always use an extra shower light when the shower walls or tiles are dark in color. Showers that are tiled in dark colors can be really glamorous and make a statement, but it's important to make sure they're well lit.
Although a bathroom may appear brightly lit, remember that if you have a shower curtain, it may be dark in the shower when it's drawn if there's no extra shower lighting.
Maximize the Natural Light Coming In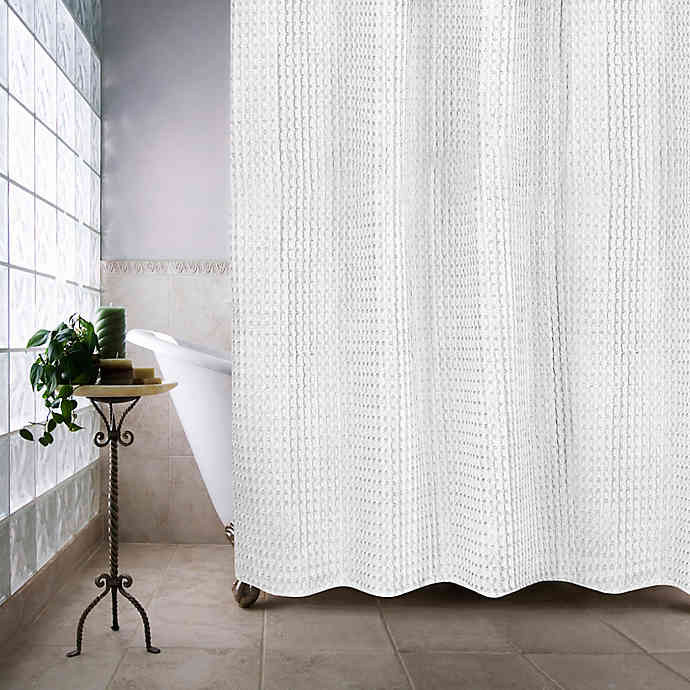 Another great option for lighting in the shower area is to make sure there's a lot of natural light coming in from windows. If you have windows, don't hide them with blinds or curtains but let the light in.
When designing your bathroom, try to place the shower against the windows so you already have some natural light coming in.
Focus on Keeping the Whole Room Bright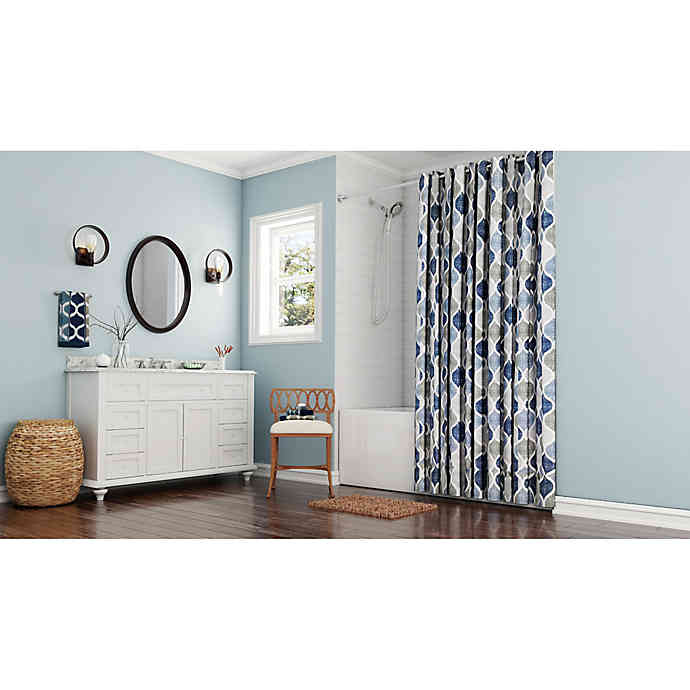 When looking for the best shower lights, focus also on the lights in the bathroom as a whole. It's a lot easier to have a brightly lit shower area when the entire bathroom is illuminated.
There are other methods to keep the whole room light and bright, too, such as painting it in pale colors like a white or pale blue. This is a great list of paint colors for rooms that are dark or low-light.
Use the Bathroom Light for the Shower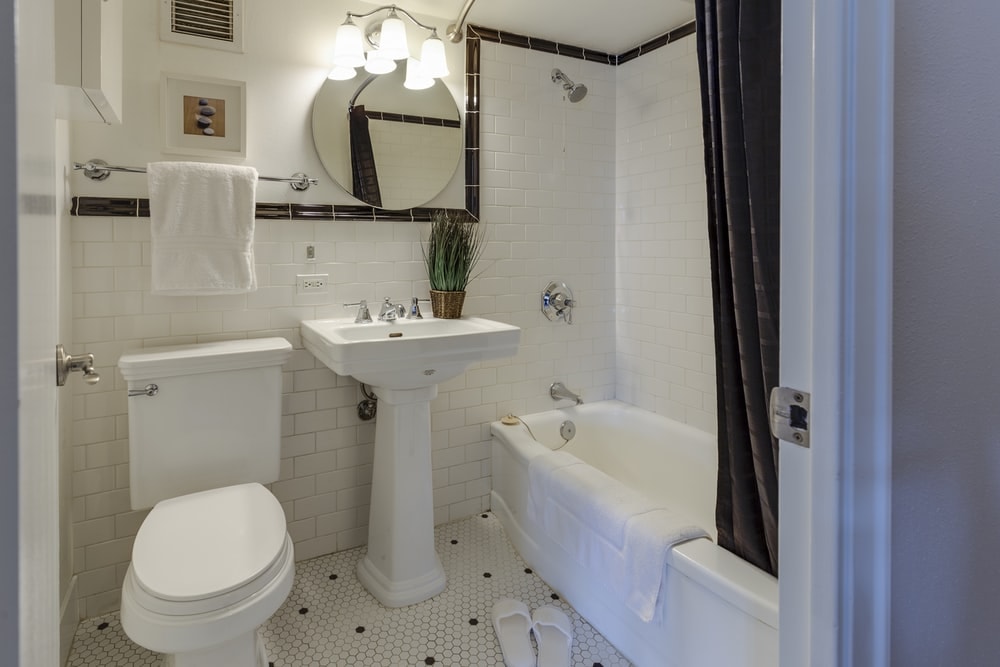 In smaller bathrooms, a great shower lighting option is to use the bathroom fixture for the lighting in the bathroom area. In this example, a beautiful light above the mirror doubles as a shower light.
This is an excellent choice for a bathroom with a sink and mirror right next to the shower, so the whole area is brightly lit.
Look for a Modern and Glamorous Hanging Light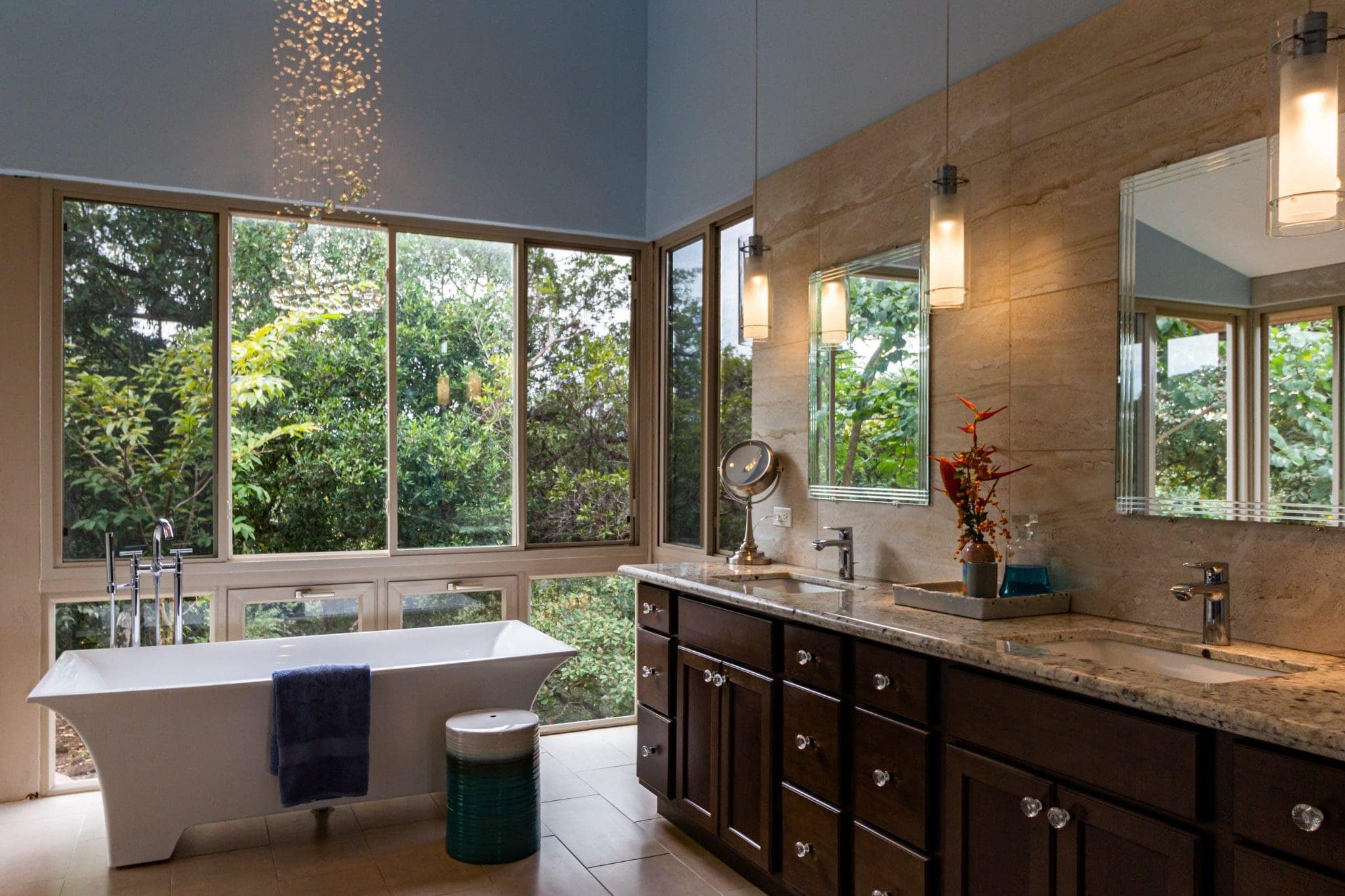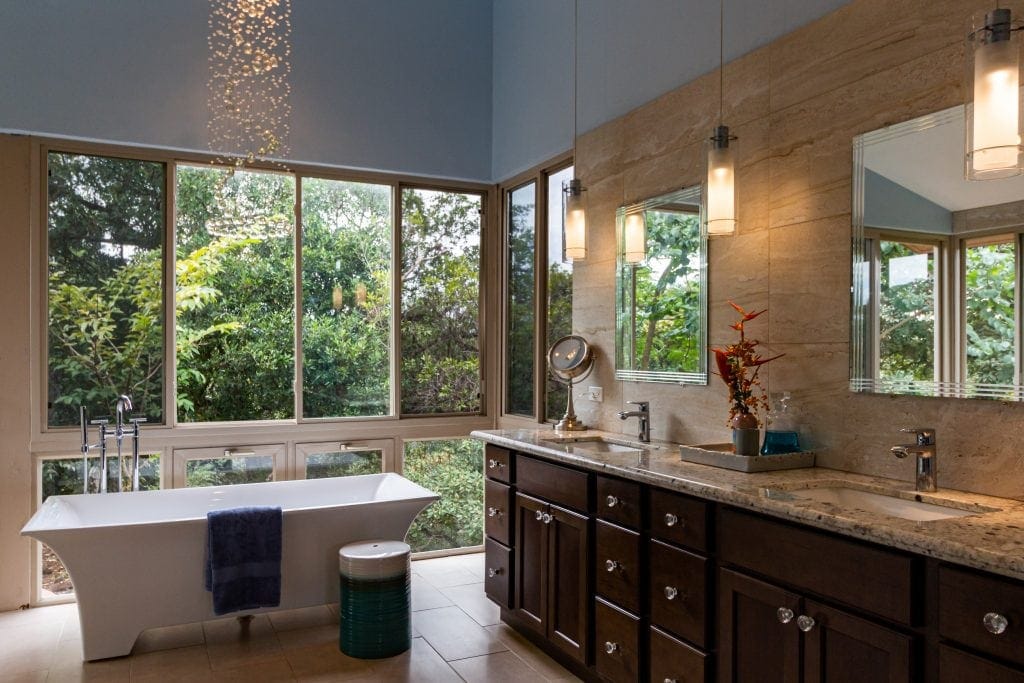 This is an enchanting light fixture that hangs over a bathtub but it can be used for a large walk-in shower as well. This shower lighting idea is more decorative than functional, but that can also be a great option when there are a lot of other light sources in the room already.
Install a Single Pot Light in the Center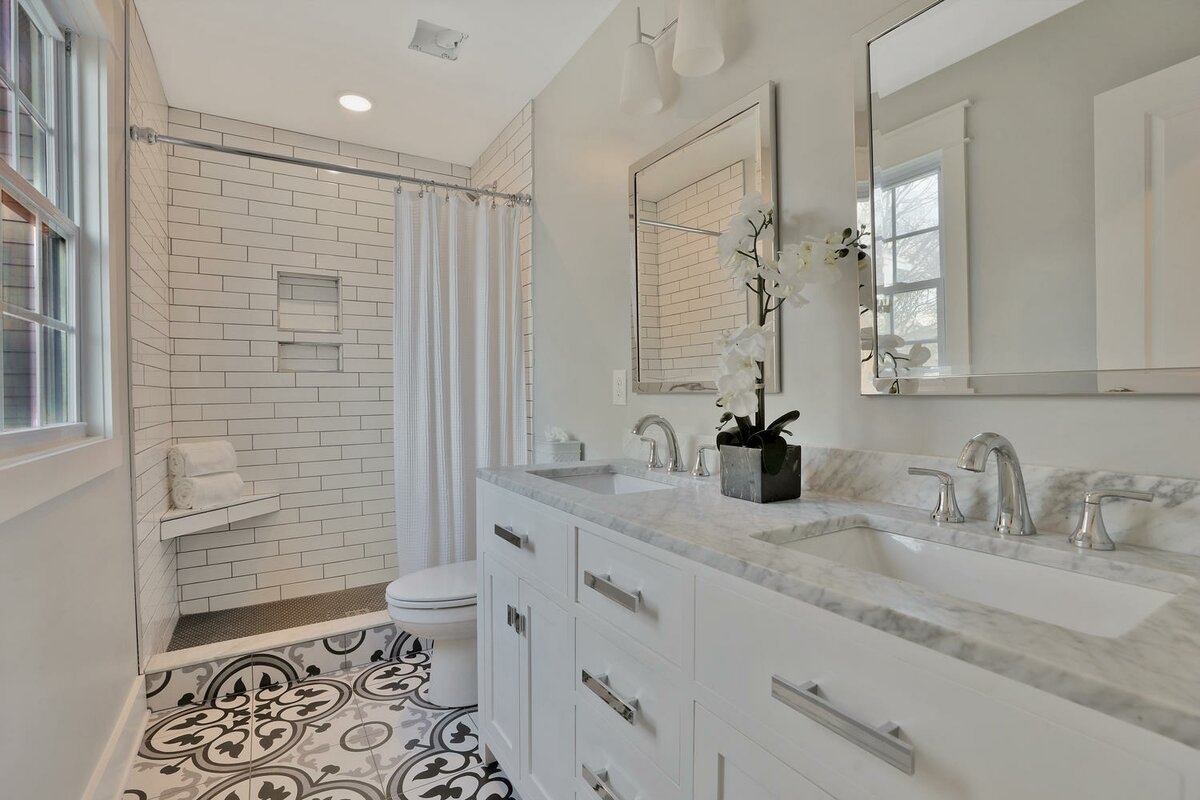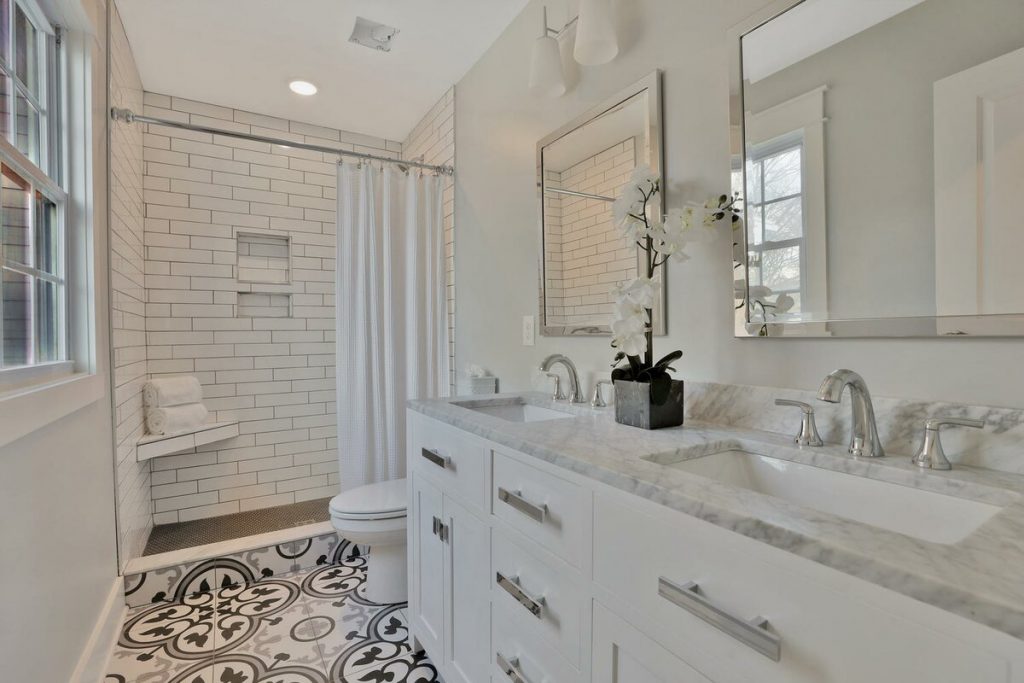 Sometimes, all you need is to add one simple pot light in the center of a square shower. The shower pictured here on Wayfair already has a lot of light coming through, mostly because of the glass shower walls and white walls.
However, it never hurts to add extra shower lighting options, especially a budget-friendly and attractive looking idea like this one.
Get Small and Unobtrusive Ceiling Lights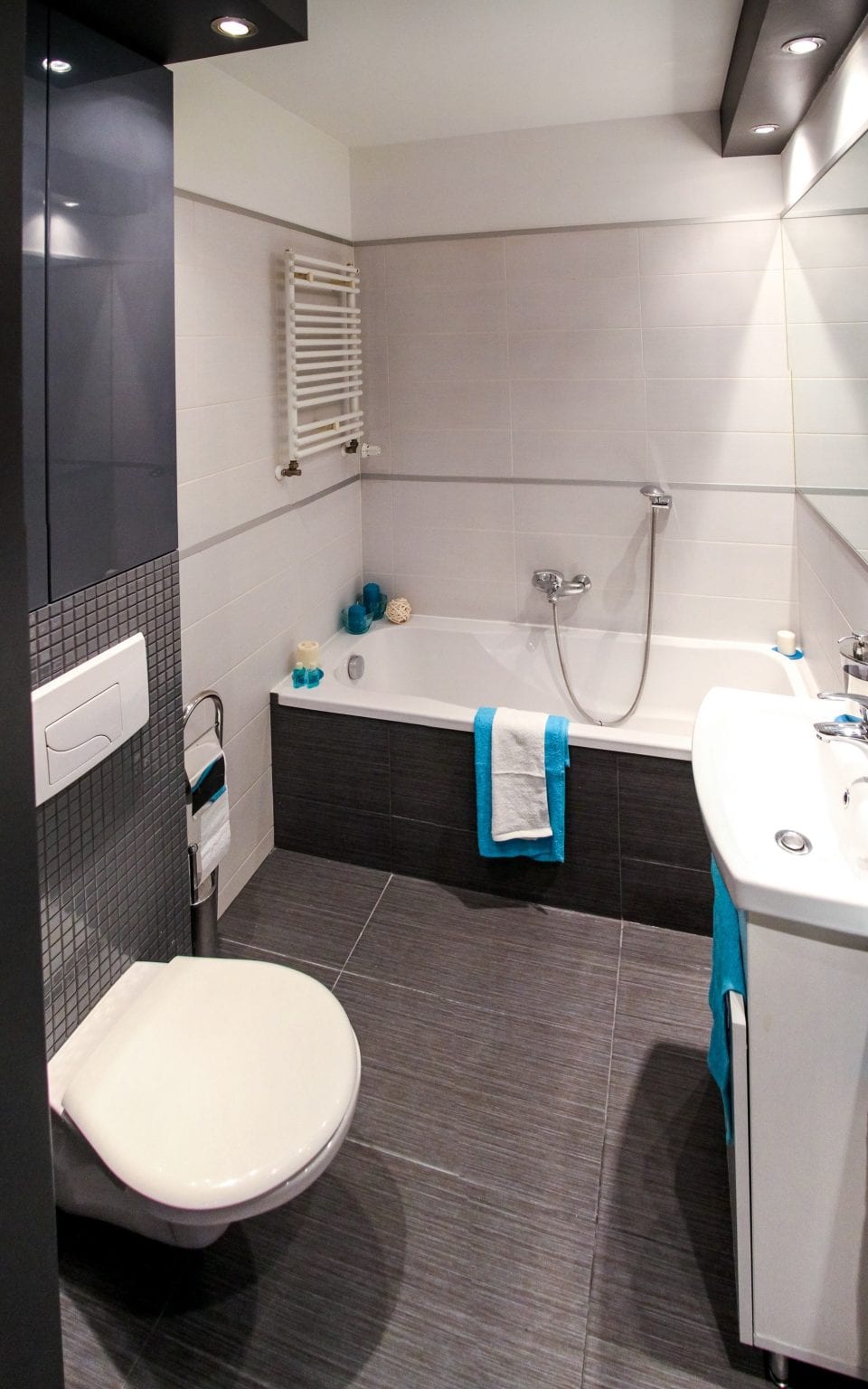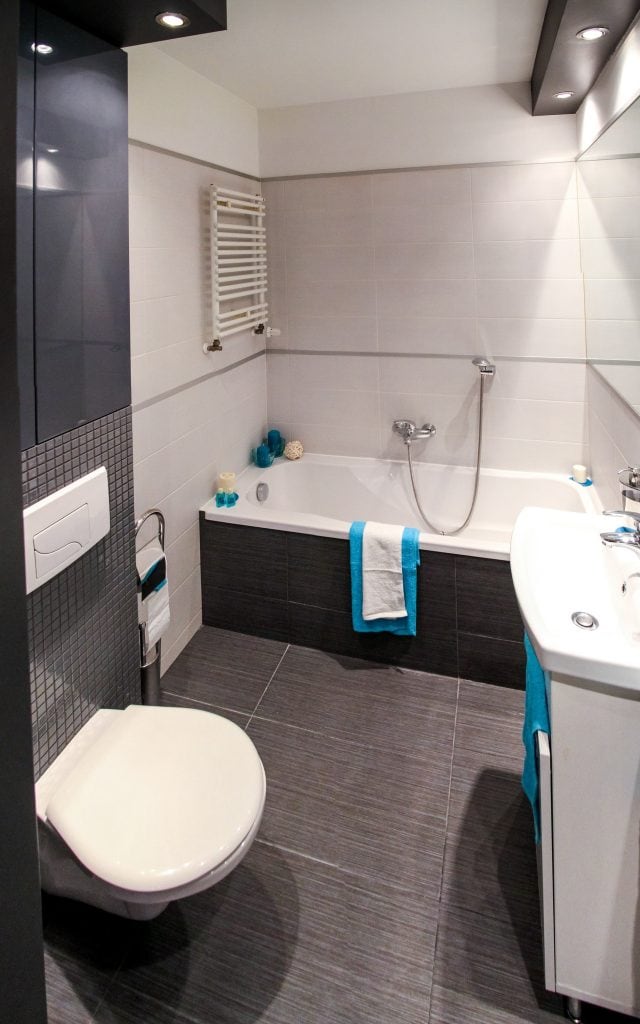 This is another clever use of small pot lights to brighten up a bathroom, even one with black or dark accent walls. Even though this is a small space, a few lights are enough to make it as bright as day.
Another trick to go for is to add a large mirror which will reflect the light and brighten things up even more.
Install a Wall Sconce Light in the Shower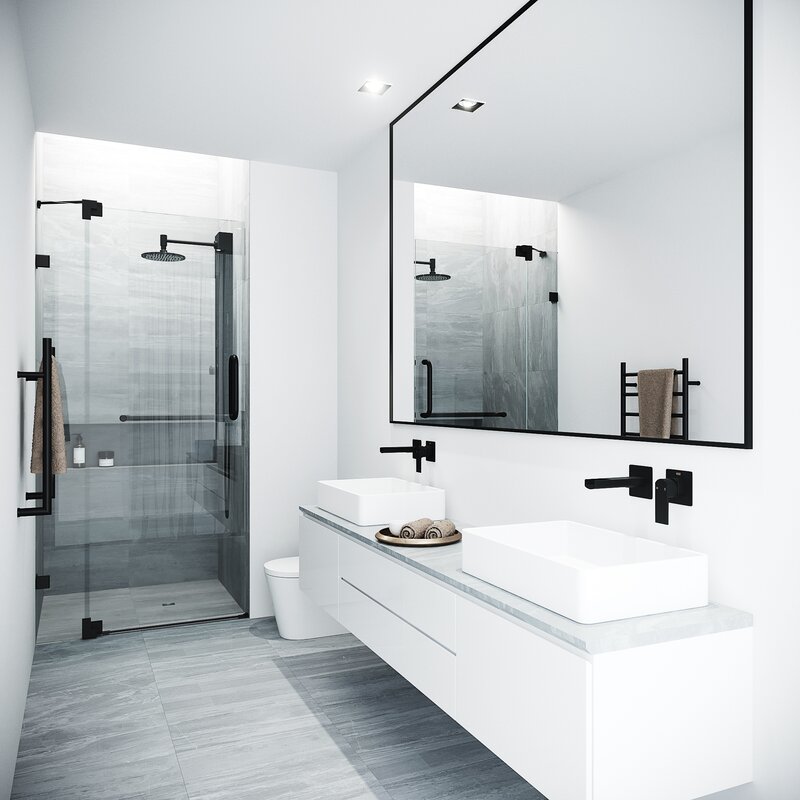 This is an excellent choice that shows you can have a bathroom shower light without getting a ceiling pot light. The wall sconce light does just enough to make the space bright and cheerful, especially with the warmer tone of the light against the colder white marble.
Use an End Table to Place a Table Lamp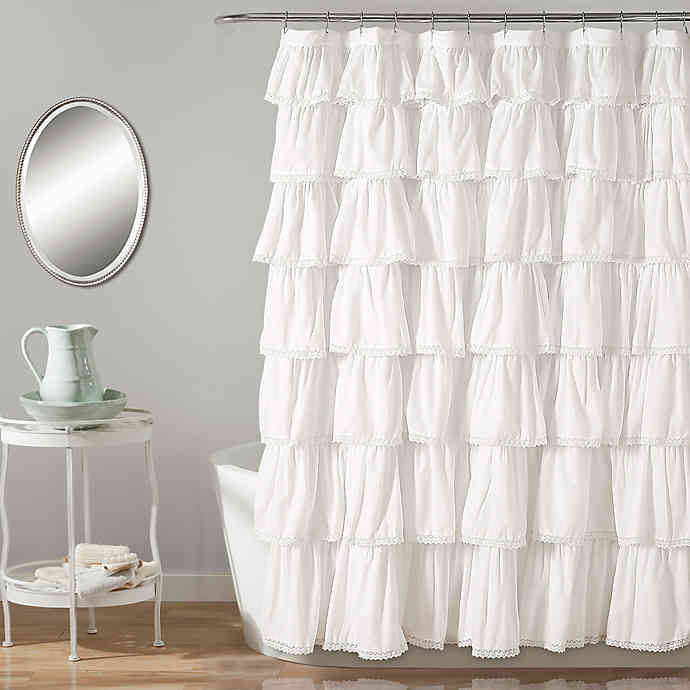 Bathtub showers can often use extra lighting options as well as regular standalone showers. In this example, we can see that an end table has been placed at the end of the bathtub for toiletries, towels, and other items.
However, that end table can be really useful for placing a table lamp instead to get extra lighting into the shower area.
Look for a Long and Thin Light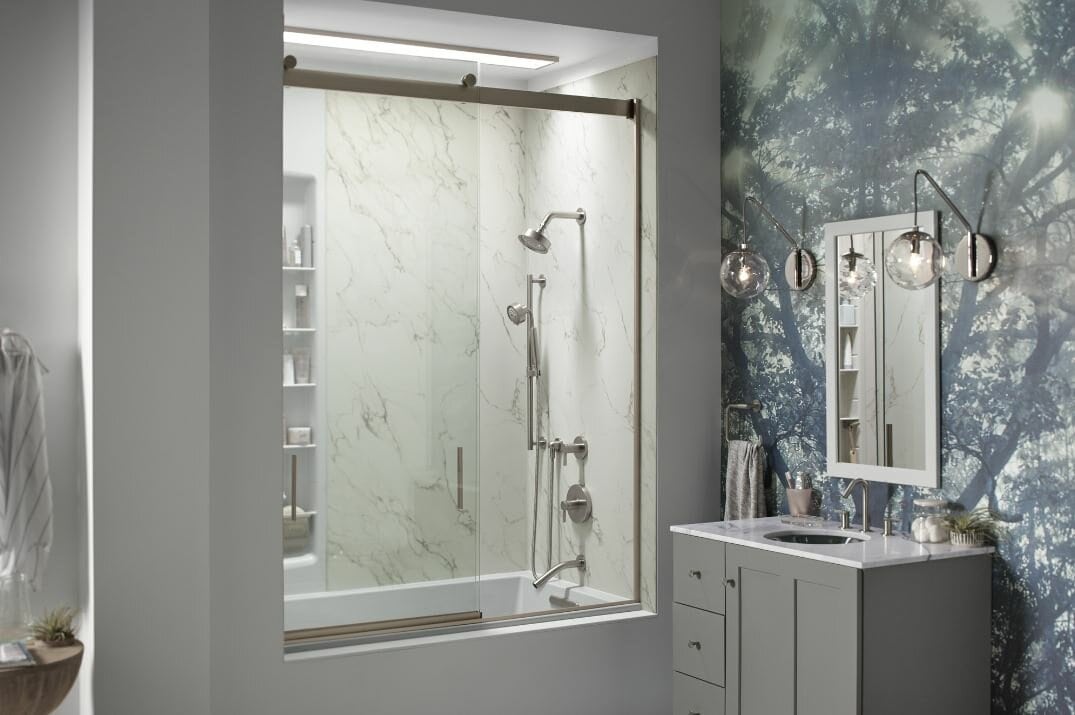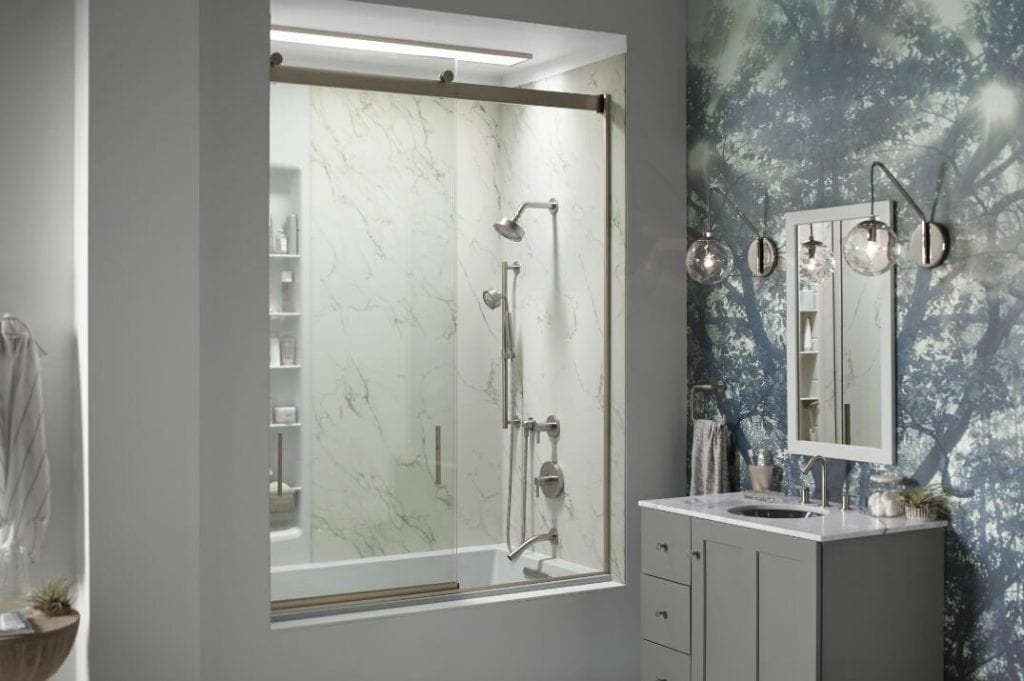 This bathtub shower has a long light running along the length of it on the ceiling, which provides a lot of great in shower lighting. This is an especially great idea for a shower like this one that's surrounded by three walls, as that tends to make the space darker.
Another good touch here is the wall lights on either side of the mirror because their proximity to the shower can provide good additional lighting.
Larger Showers Can Use Multiple Lights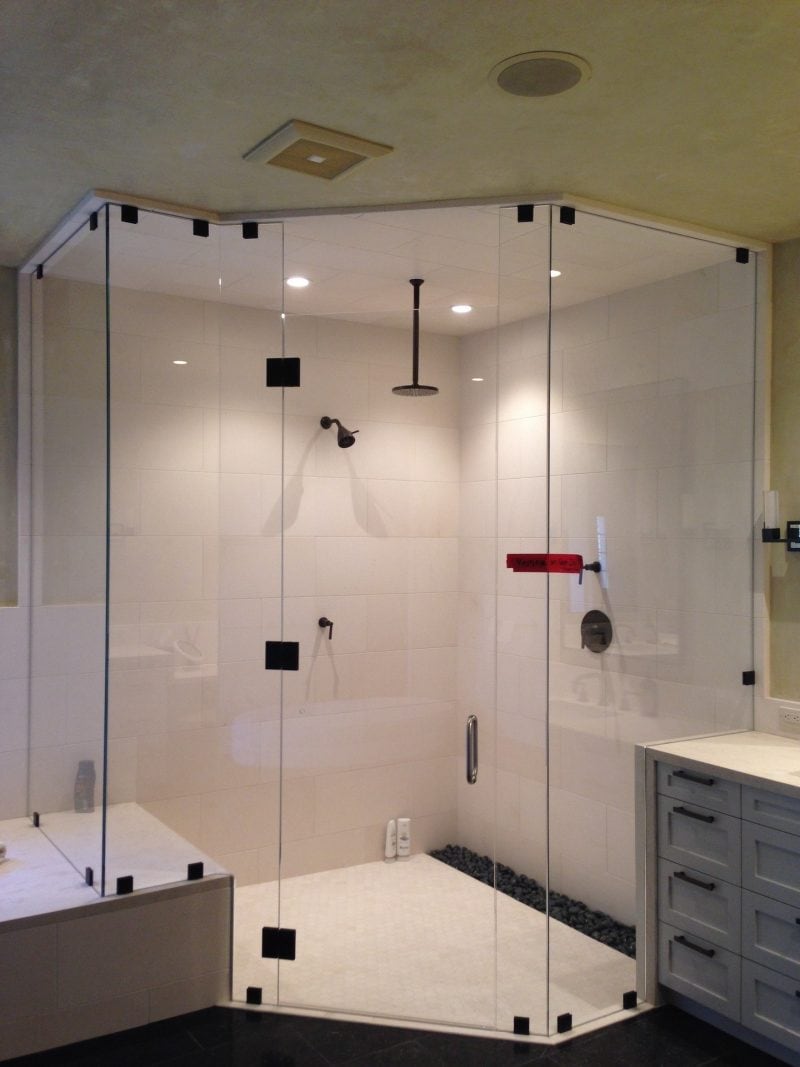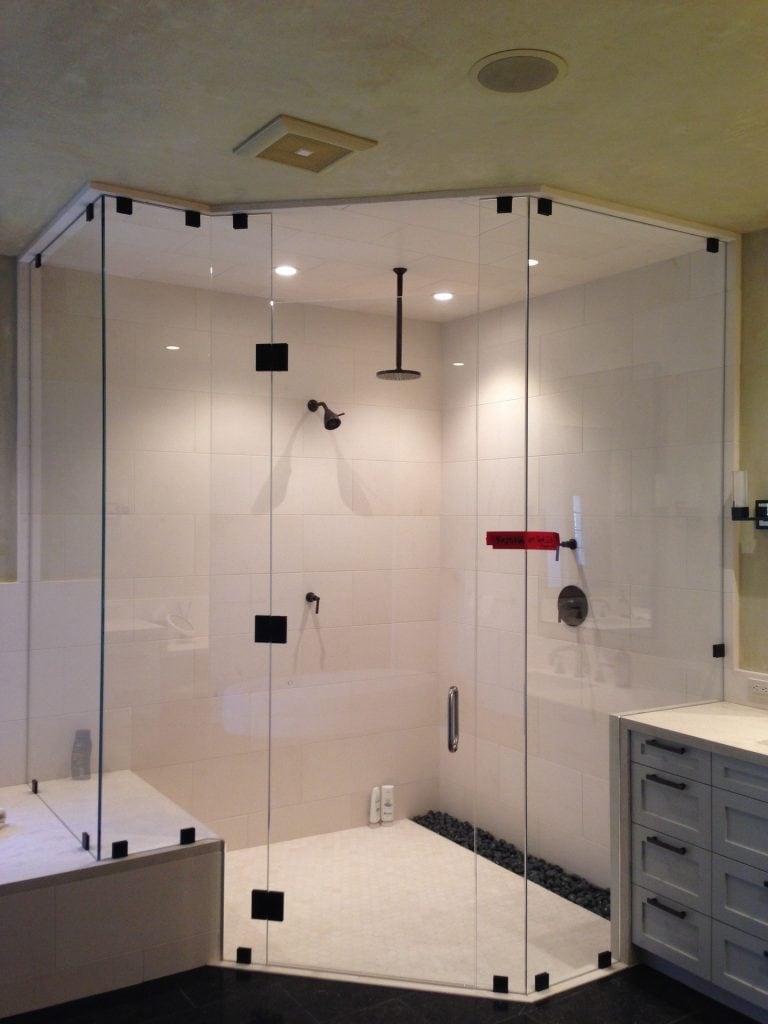 A larger shower like this glamorous walk-in shower can benefit from multiple ceiling lights. That's a good idea to avoid creating too many shadows and making sure the whole thing is brightly lit.
You might want to consider getting LED shower light fixtures because some articles point to the therapeutic benefits, both physical and emotional, of LED usage. Check out this great post on the topic, which also covers the benefits of color therapy through LED lights.
Use the Light From the Bathroom Sink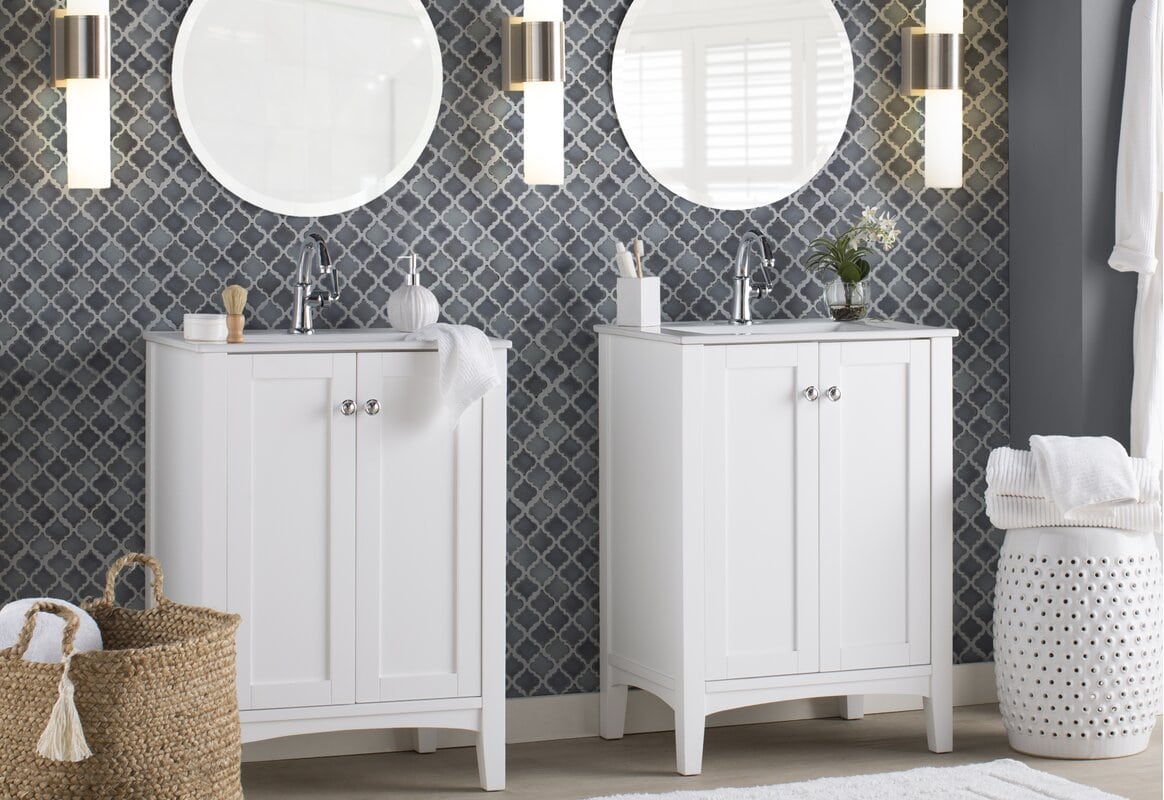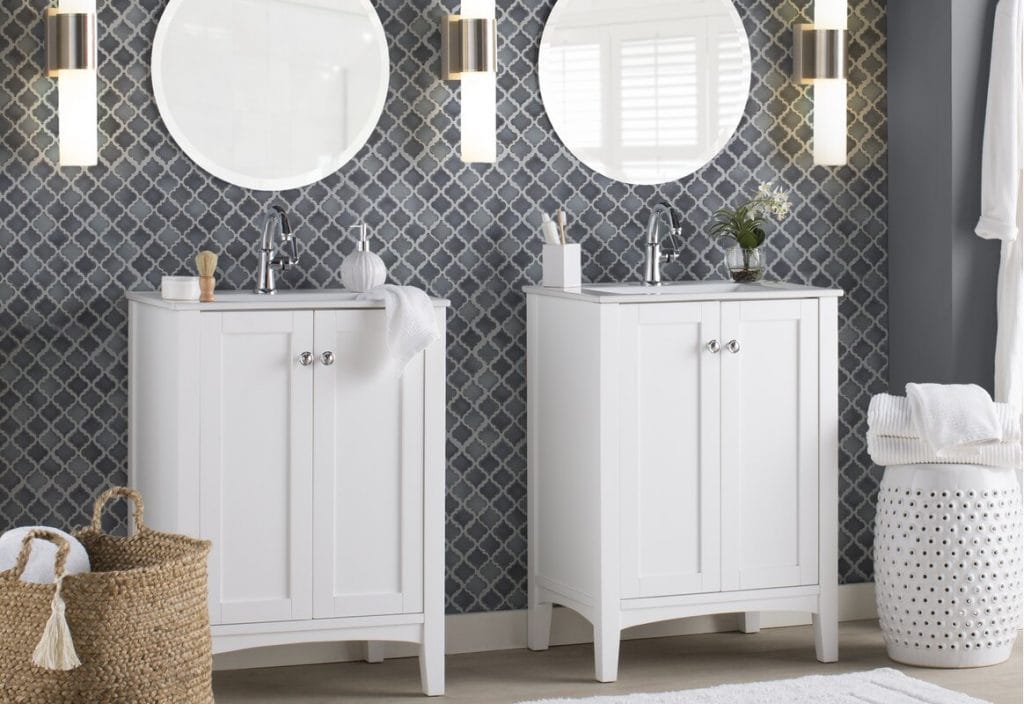 If you're not sure yet about adding lighting in the shower, or you think it has a lot of good lighting already without needing some extra focus, you can look at improving the lighting you already have over the bathroom sink.
You can either spice up the light fixtures you have to get something that covers more space or look for a bulb that's a bit warmer or brighter, depending on your preferences.
Include Side Lighting for Darker Areas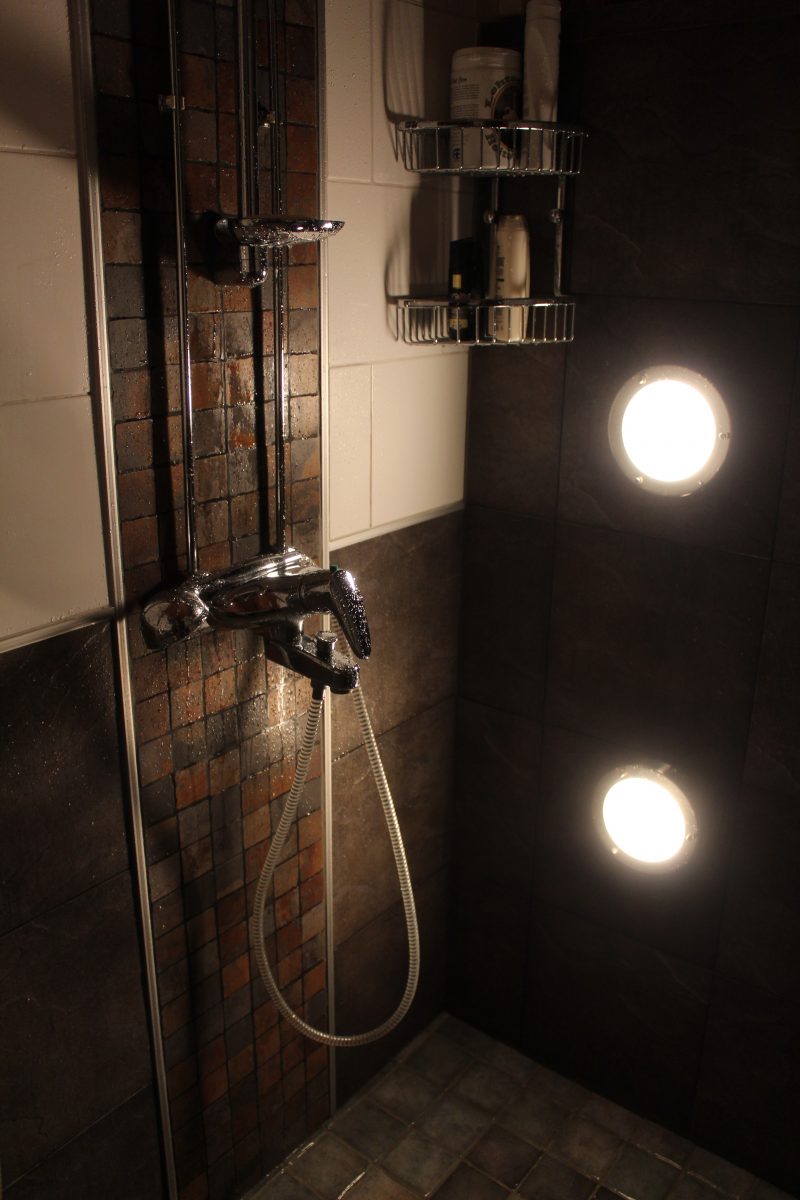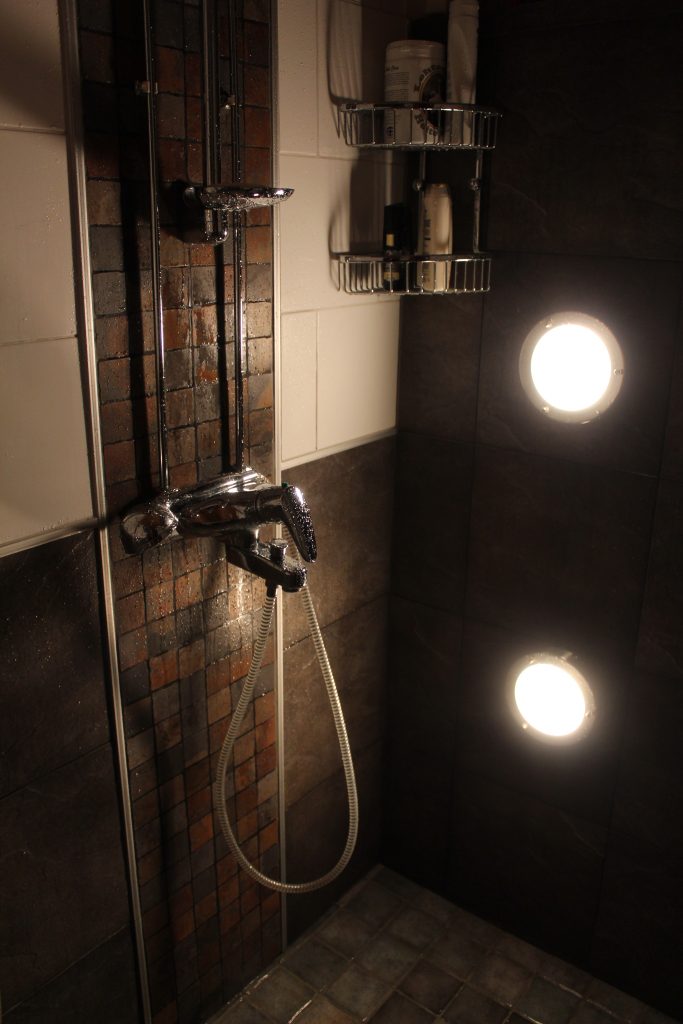 So far, the shower lighting ideas have focused on ceiling lights or wall lights near the top of the wall. However, this example shows that you can also install some lighting down the sides of the shower all the way to the floor.
That's a particularly clever move if you have a dark shower like this one, as you can really make sure you light up the whole space.
Go Rustic With a Vintage Light Fixture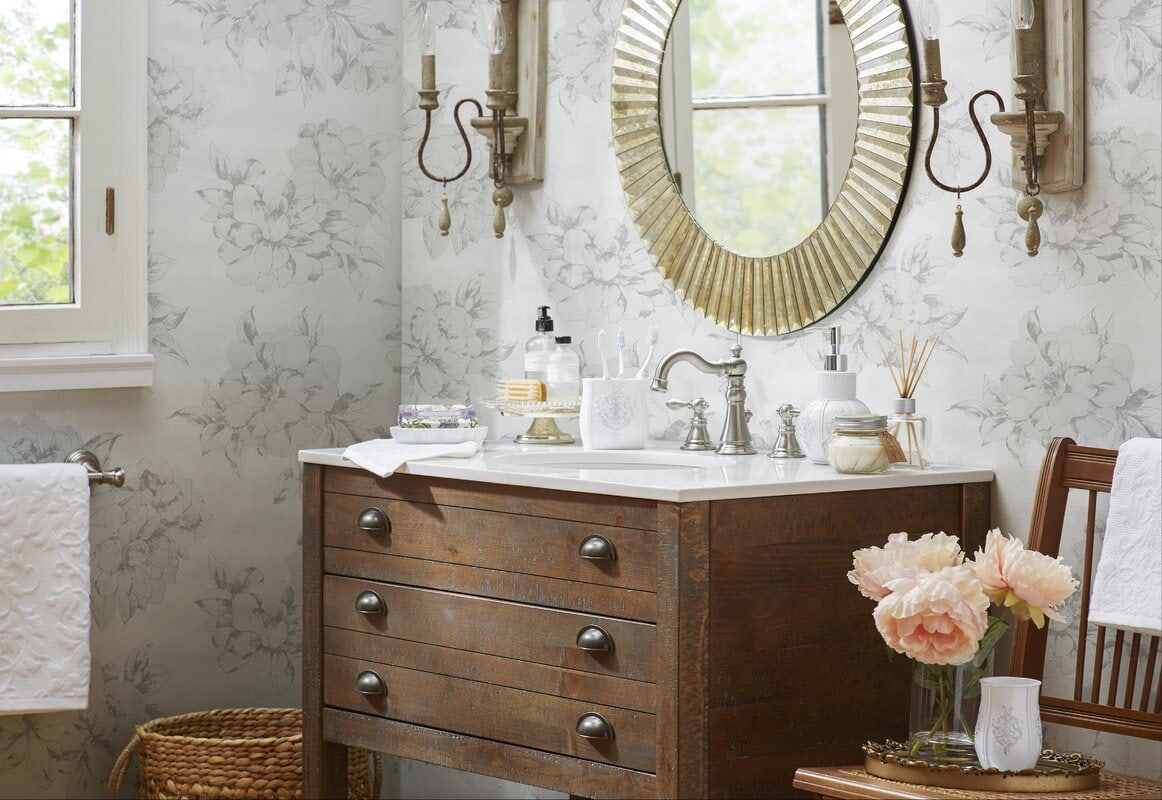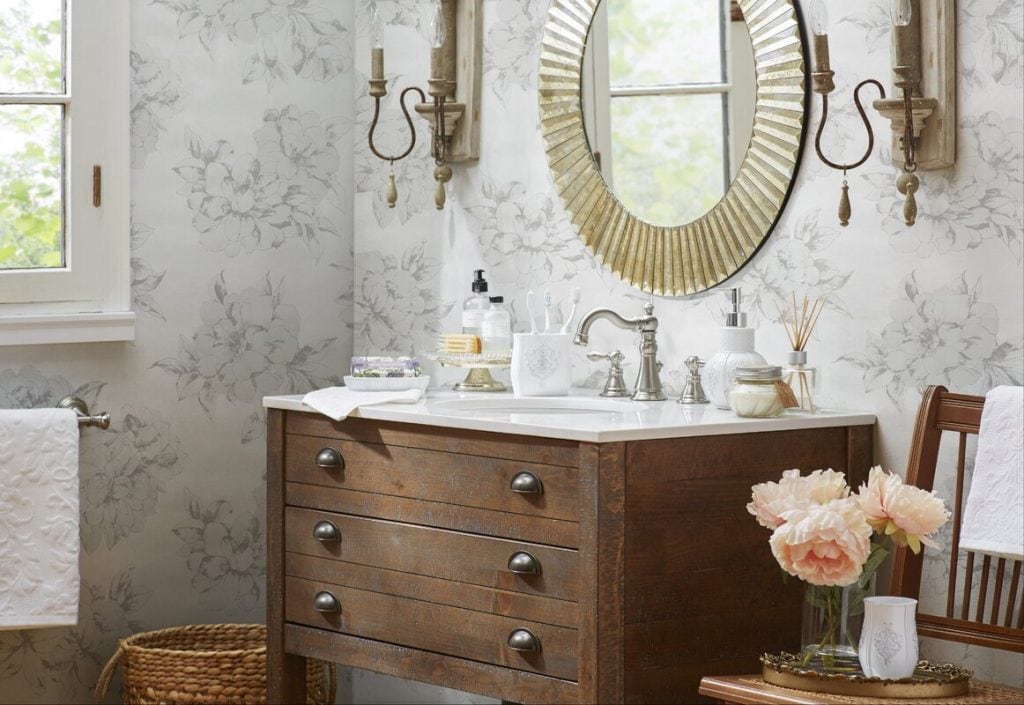 I love this shower lighting idea because of the rustic appearance of the bathroom and the statement light fixtures. Clearly, the shower doesn't need a lot of extra lighting, since the window provides tons of natural light, but the vintage look provides a lot of style and glamor to the room.
If you will rely on a lighting fixture like that for your bathroom lighting in the evenings, make sure you get bright bulbs to avoid a dim shower area.
Final Thoughts
Lighting in the shower area is an excellent way to brighten up your bathroom but also can help cheer you up and relax you during your shower. Having a shower in a dimly lit space can be gloomy and make it difficult to see if you're grabbing the shampoo or conditioner.
These 15 ideas show that there are so many inspiring and different ways to add lighting options to your shower. No matter what your budget, shower size, or lighting needs, there's a perfect solution out there that will brighten up your shower and your bathroom in general.