Decorated Life is reader-supported. When you buy through links on our site, we may earn an affiliate commission. Learn More
25 Rustic Bathroom Ideas for 2023
Rustic themes are one of the top trends in interior design. And when it comes to rustic bathroom decor, you can go a lot of different ways.
The great thing about rustic bathroom ideas is that you can pair them with other themes, like chic, modern, farmhouse, or industrial. We've compiled 25 design ideas for rustic bathrooms, from lighting, wall art, and mirrors to major designs like rustic bathroom tiles and wallpaper.
Keep reading to get inspired on design ideas you can use to achieve a stylish rustic bathroom in your home with little effort.
Rustic Wood Single Vanity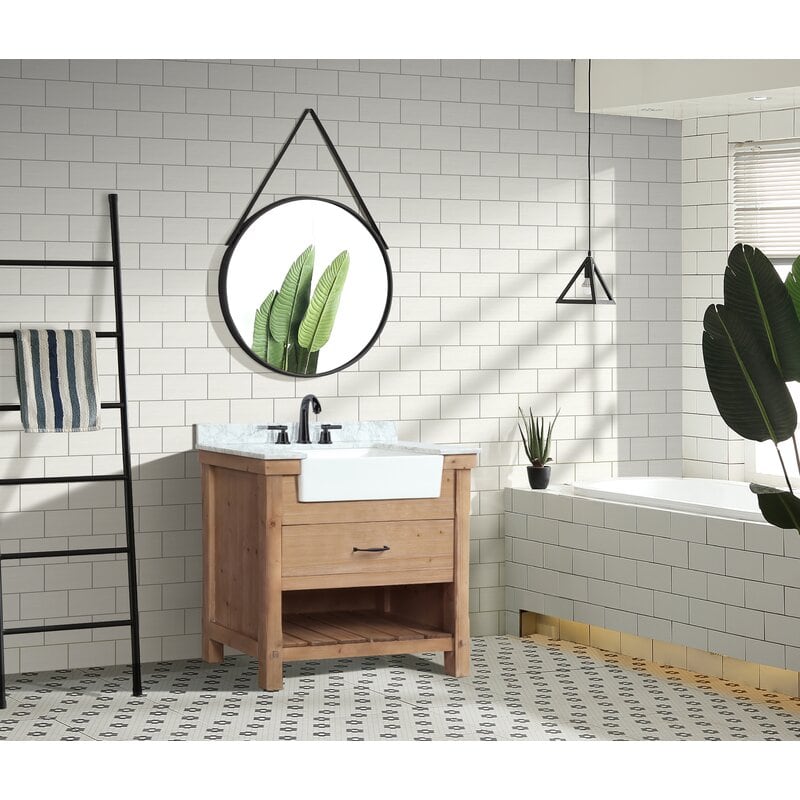 A major part of your bathroom design that will include the room's overall theme and feel is the vanity. Wood vanities in a natural finish capture the essence of rustic bathrooms with simplicity and understated style.
This solid fir wood vanity base in a driftwood finish has one soft-close drawer for closed storage and an open-slate shelf on the bottom for baskets. And the under-mount ceramic apron sink and white Carrara marble backsplash and counter give an upscale rustic feel. The small size makes it ideal for small rustic bathrooms.
Fix Up a Freestanding Bath Tub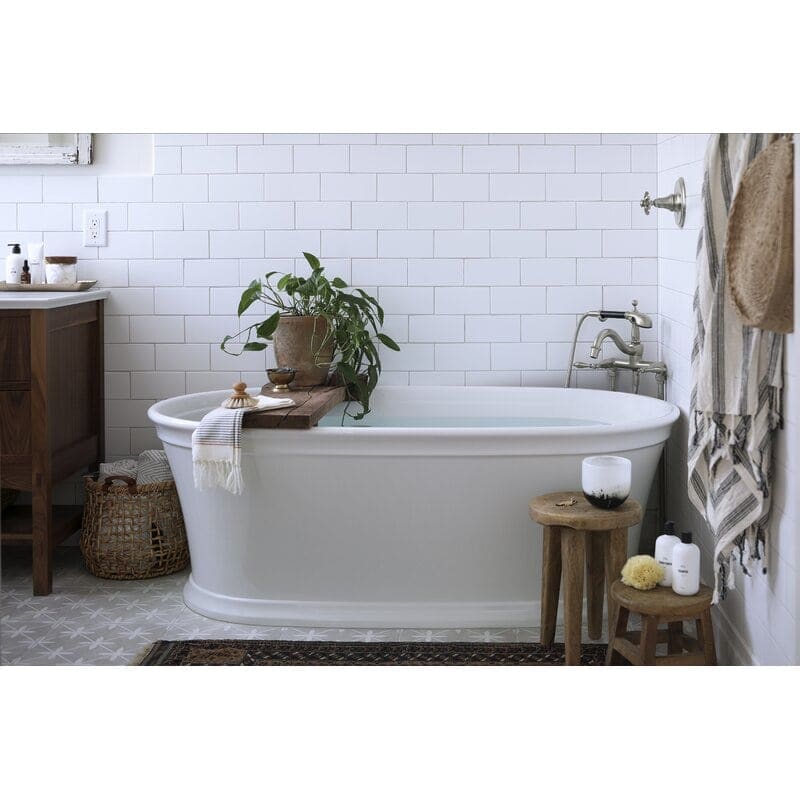 Bath-lovers adore rustic chic bathrooms for the use of large soaker tubs. Many old rustic style tubs are freestanding, like this 18.4" deep beauty with crown-mold-inspired bottom trim.
The crisp Lithocast Gloss white design and oval shape work with any style of free-stand faucet and pairs perfect with white subway tile walls, an antique-style floor, and lots of natural elements like wooden stools and wicker baskets.
Do It Up with a Plinth-Style Double Vanity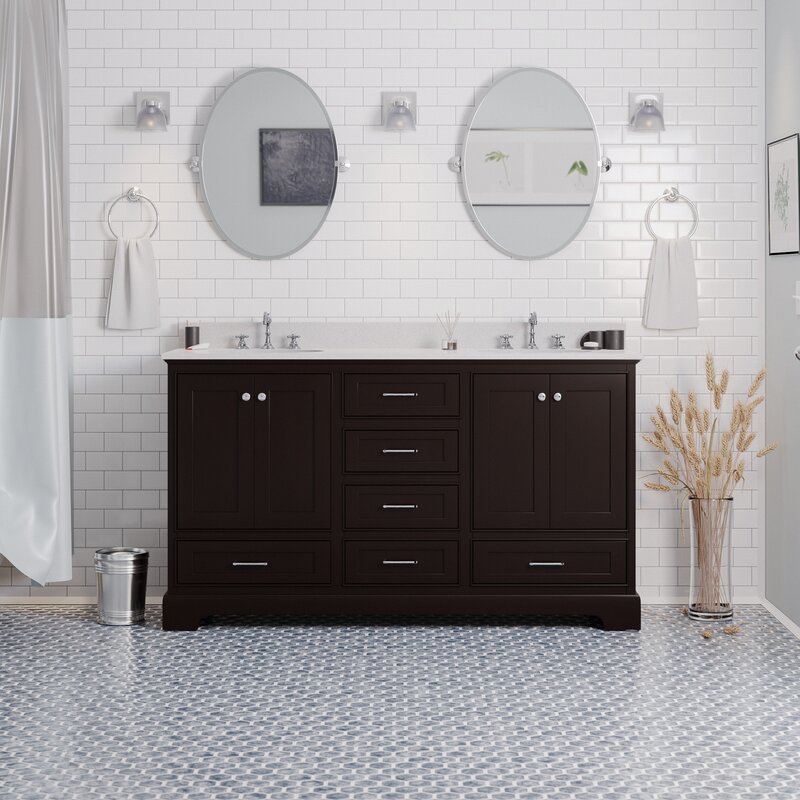 When you have a large bathroom, or you want to work with double sinks, you'll need a bigger vanity set. And when trying to obtain an upscale rustic look, such as French Country-inspired, you'll want character and storage.
This vanity set features six soft-close drawers and four cabinet doors. There are also two oval ceramic sinks under-mounted in the 60" wide Carrara marble counter and backsplash.
Set the Stage with White Subway Tile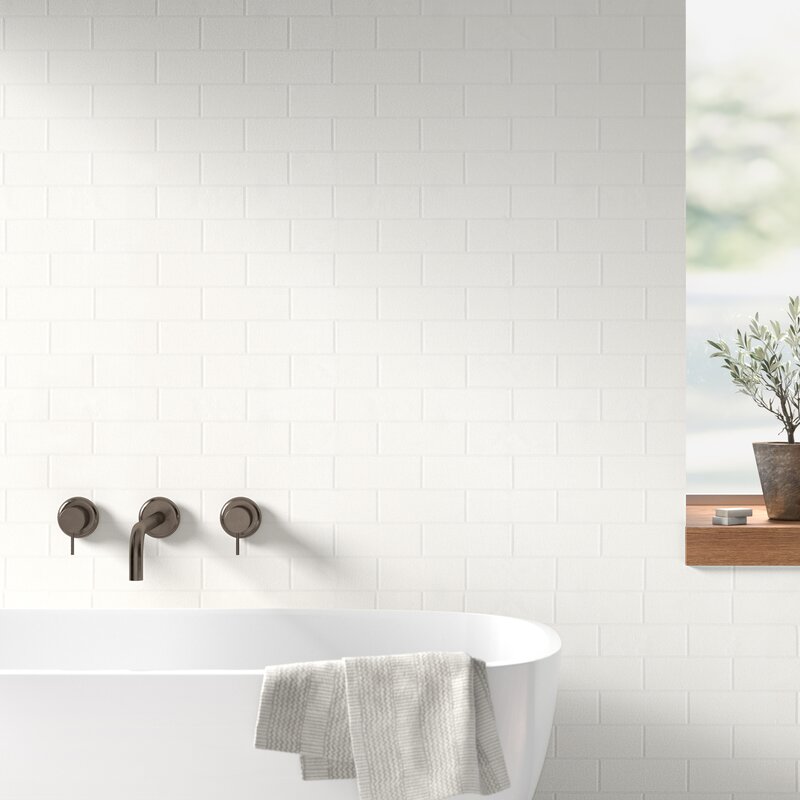 No rustic bathroom is complete without subway tile, preferably in a classic white color. But you don't have to break the bank to tile your entire bathroom in this popular style.
Allow us to let you in on a little secret – subway tile wallpaper. Now, you won't be able to use this inside your shower, but it's perfect for giving your walls an easy rustic upgrade at a fraction of the cost.
Choose the Right Center Lighting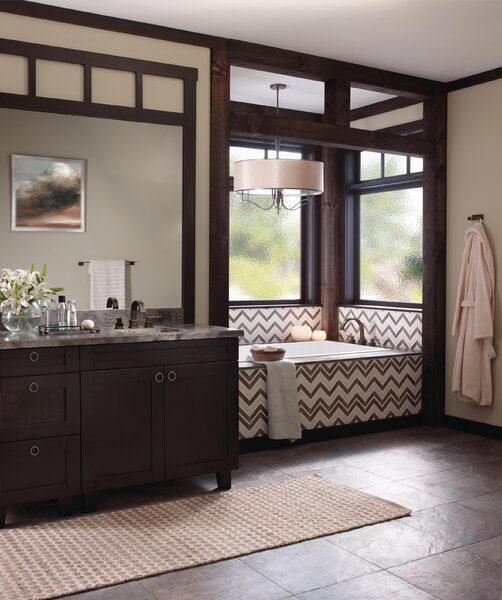 Lighting in the bathroom is crucial for creating the perfect ambiance and having enough brightness for grooming and bathing.
Adding a center-mount pendant light fixture, like this drum shape with a white fabric shade, gives you an ideal balance of fashion and function for a modern rustic bathroom.
Round and Brown Bamboo Mirror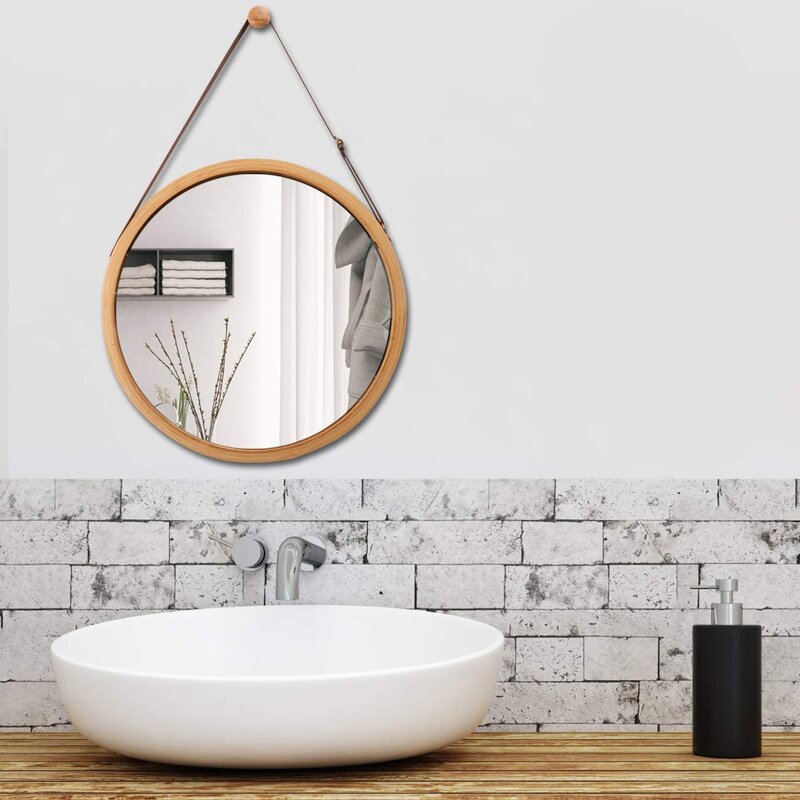 You can achieve many looks with something as simple as a rustic round mirror in a natural material like beautiful bamboo wood.
The basic round shape and leather belt strap hanger allow for a minimalist touch that looks functional but stylish.
Make It Light and Bright with a White Mirror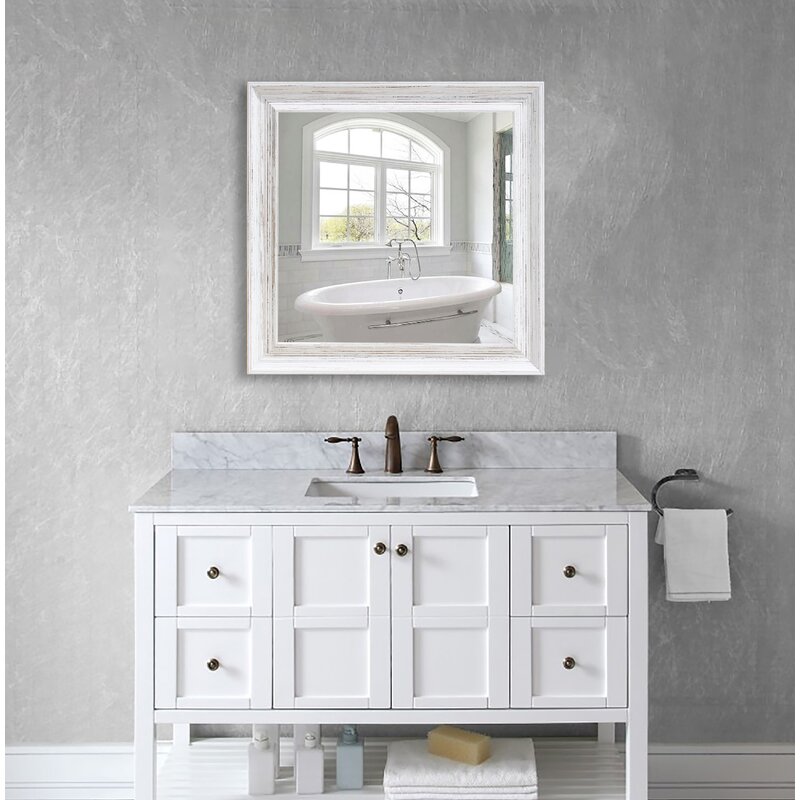 Signature features of rustic themes include distressed paint, lots of light colors like white and gray, and the magic of placing mirrors in the right place to reflect light.
A perfect look for rustic bathrooms is as simple as a square mirror in a distressed white with gold accents to add a touch of country.
Mix Materials for Rustic Industrial Magic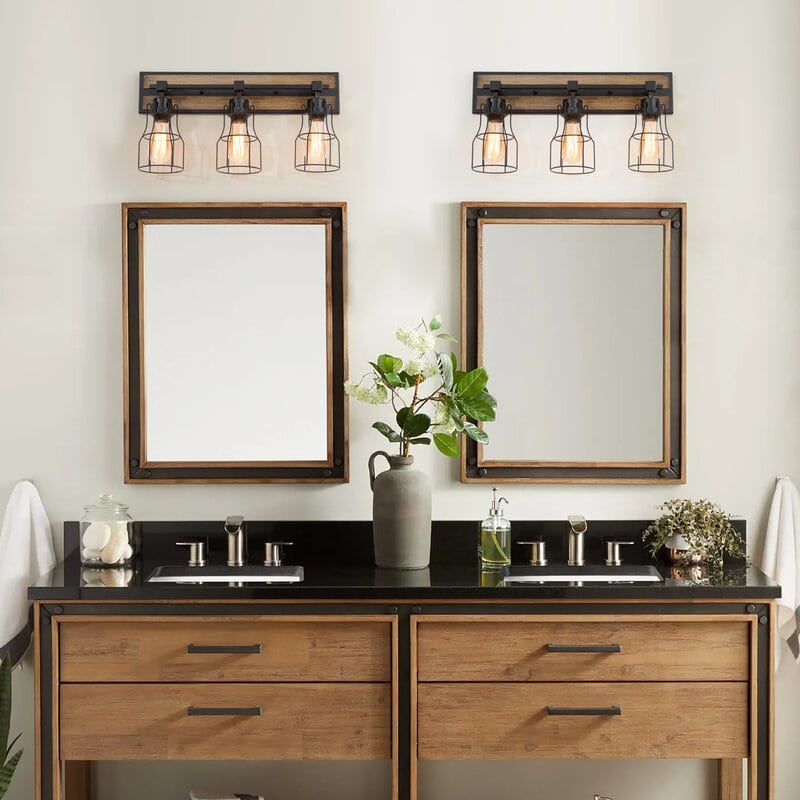 Rustic and industrial often go hand in hand in the design aspect. Just like mixing materials like wood and metal works fantastic for rustic-themed bathrooms.
This mixed vanity light features a minimalistic profile due to a faux wood rectangular backplate with three industrial open black cage scones and antique-themed Edison bulbs.
Create Some Color with Ceramic Tiles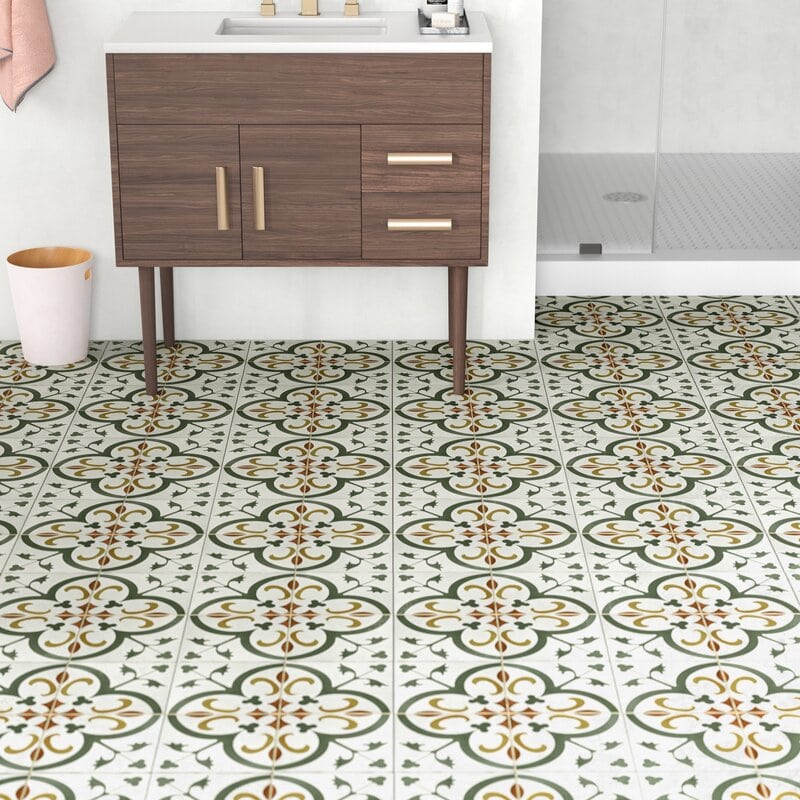 Consider replacing the floor tiles if you're looking for a permanent way to give your bathroom a huge rustic upgrade that's sure to up the style.
These rustic floral motif tiles can work for the floor or walls in soothing colors of a glazed, off-white base with shades of goldenrod yellow, pale sage green, and ochre.
Use a Metal Wire Basket Rag Rack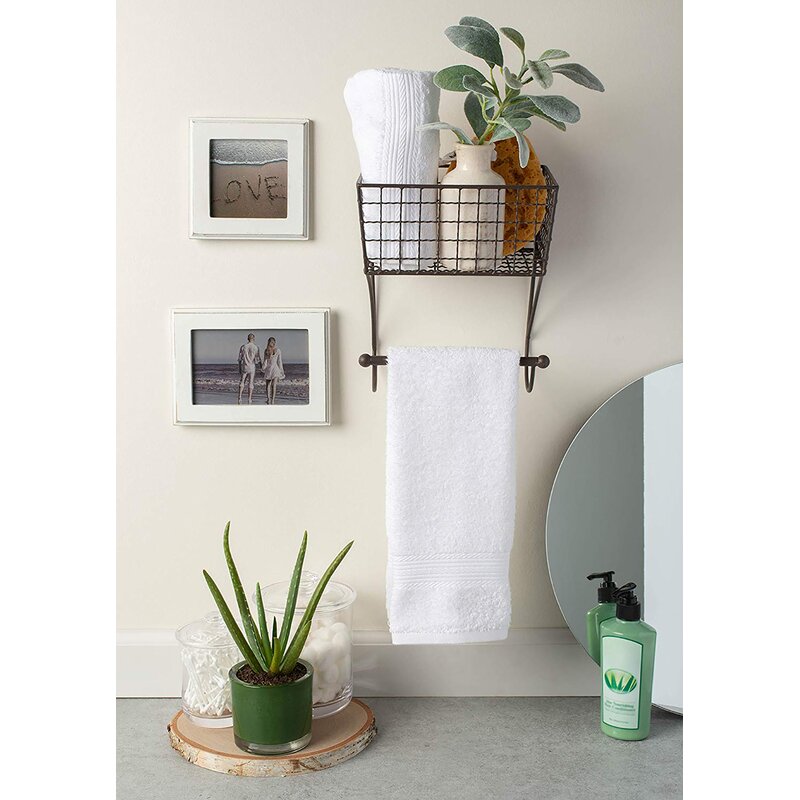 Add this interesting washcloth rack with an attached basket in an antiquated chicken coop metal for a major stylist nod to rustic bathrooms.
This rack works perfectly for mounting next to the sink to hold a hand towel on the curved metal rod while you can add a small plant and other decors in the basket at the top.
Try a Trio of Rustic Open Shelves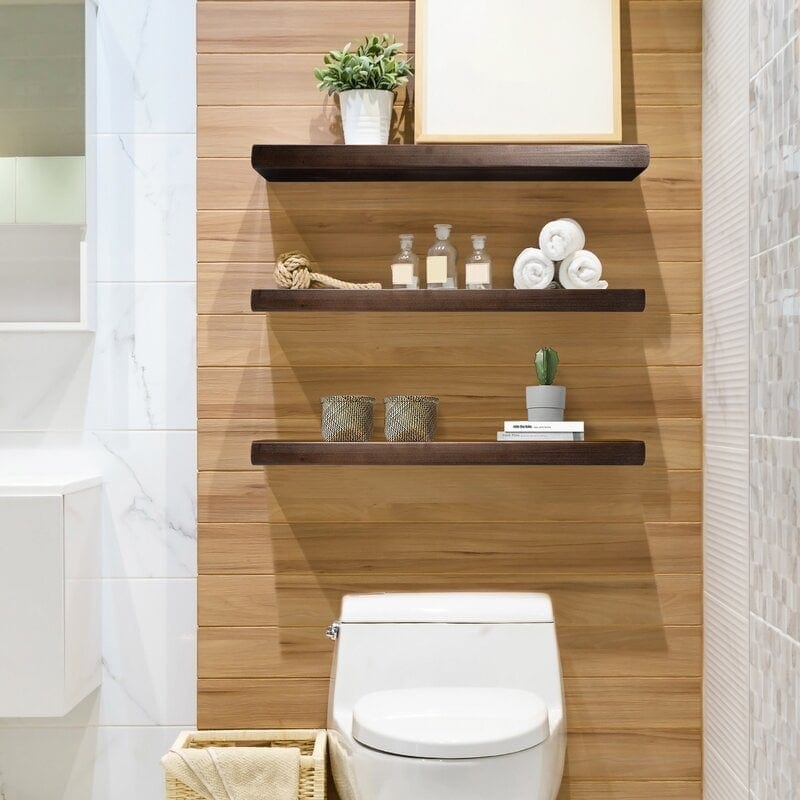 Open shelving is a huge element of rustic themes. And they can work swimmingly for the shelving in your bathroom.
Adding three floating shelves in a rich maple brown can give you places for decor, additional storage, or for use in small bathrooms where you might not have the room for a closet or large vanity.
Protect Your Floors with Geometric Rugs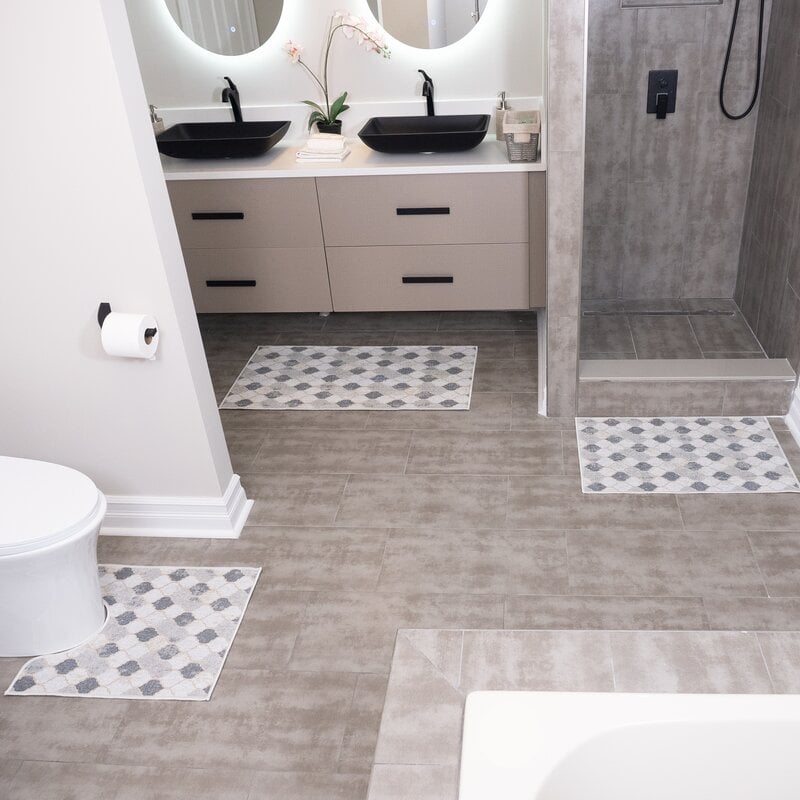 Floor rugs are a crucial part of your bathroom, used to protect your floors from water and lower the risk of slips.
But bath mats can also give your room extra style and colors to incorporate into your bathroom's design palette. For example, a simple diamond pattern in varying shades of neutral colors fits any rustic theme.
Love the Rustic Ladder Look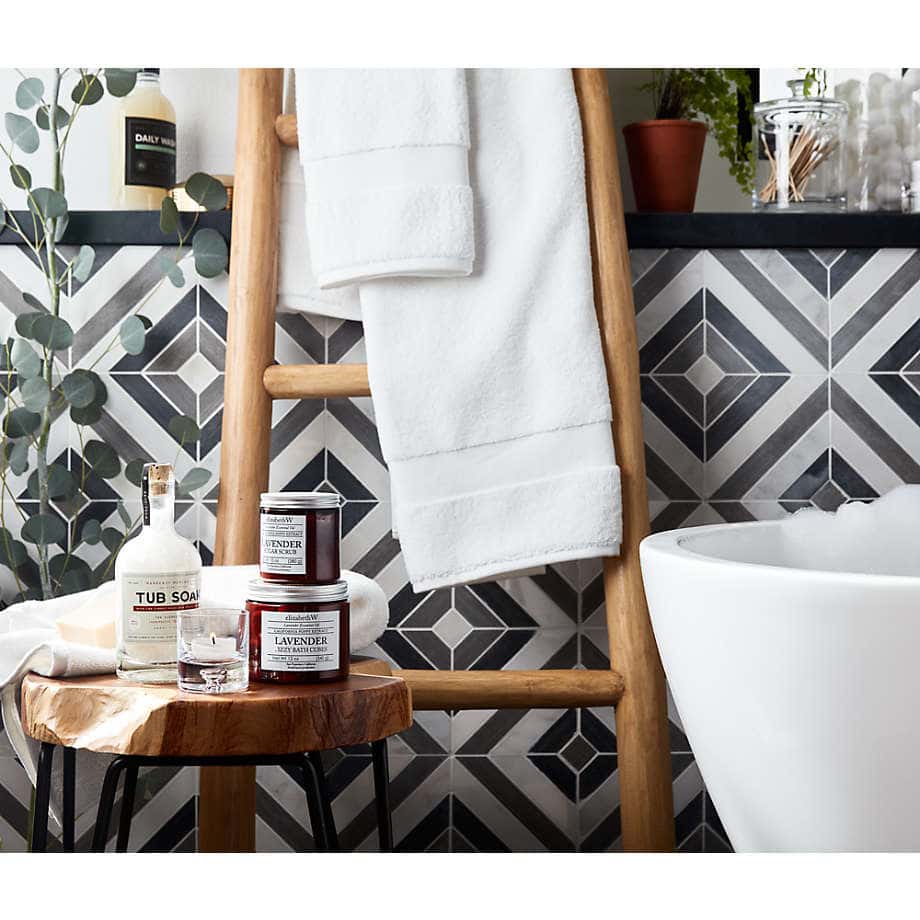 A growing trend is to repurpose ladders to use as towel racks. Look at the elegantly rustic style you can achieve with the imperfect beauty of a 63" tall teak ladder.
This towel rack is an excellent medium between function and style, working for a minimalistic, rustic vibe that's fantastic for bathrooms of all sizes, including small tight spots.
Play with the Look of a Wood Caddy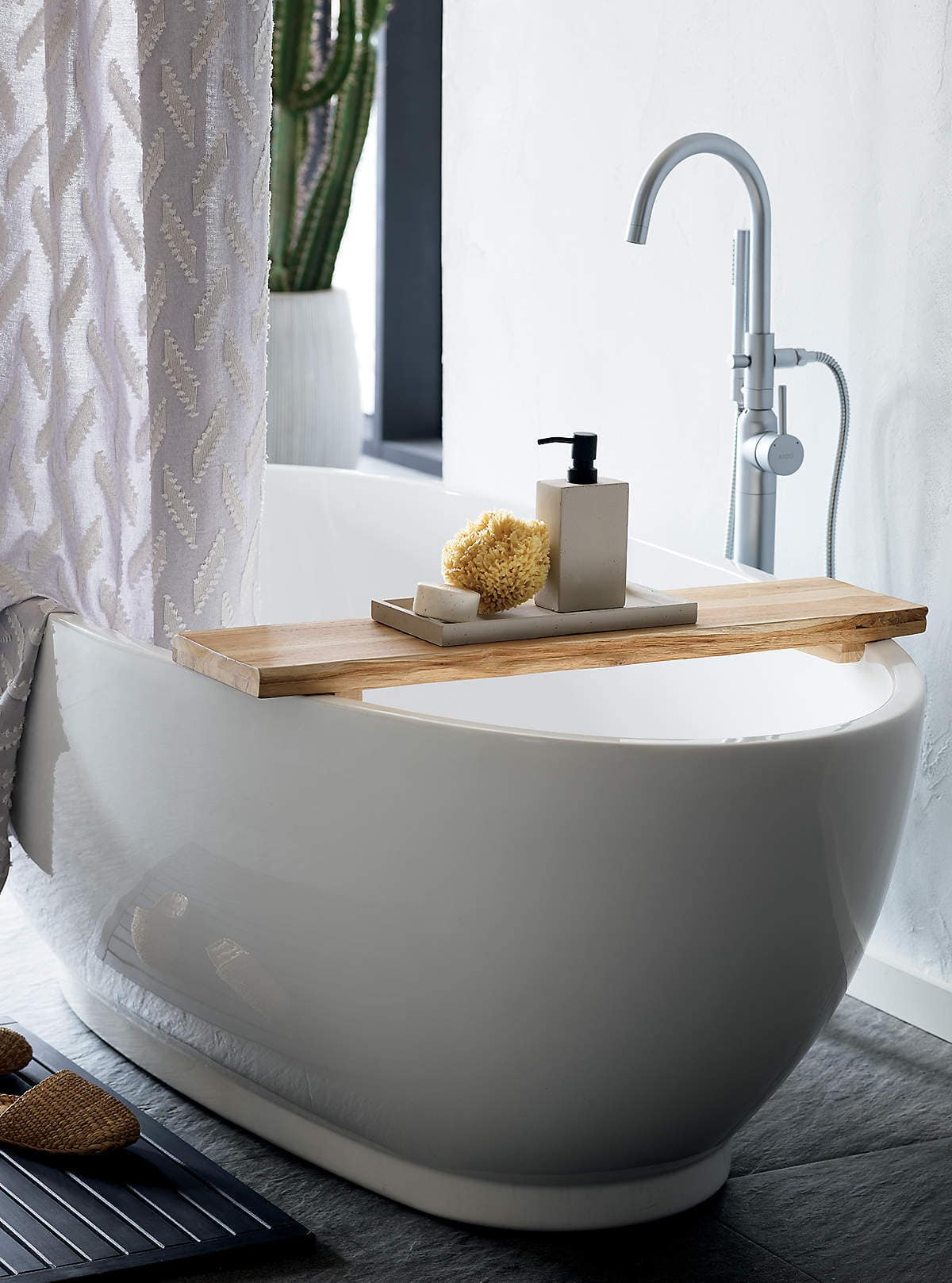 Make it easier to keep things close at hand while indulging in a hot bubble bath with a simple yet elegant teak caddy. An adjustable track at the bottom ensures that this caddy fits any bathtub.
And the rustic live edges give this caddy a hand-hewn look that highlights the wood's beautiful grain lines and rich color variations.
Put Down a Plaid Tub Mat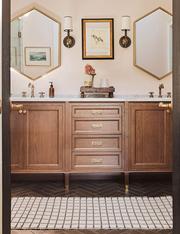 Plaid designs are heavily rustic and simply stylish when used in a bathroom. Our favorite place to use this style element is floor coverings.
This textured white and plaid bath mat not only looks fantastic in your bathroom but will also protect your floors from water and keep you from slipping while wet.
Add Some Bathroom Rules Wall Art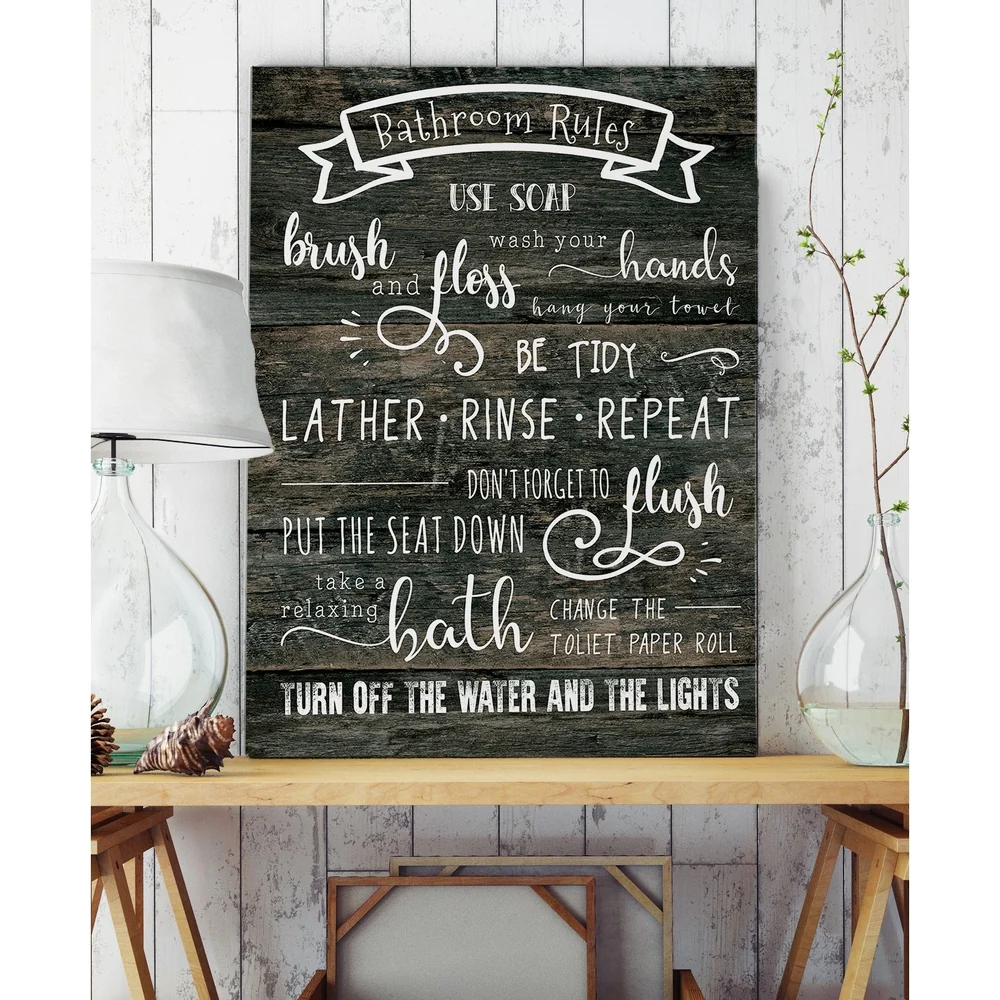 When you have children or many guests using the bathroom, you can get creative with your rustic bathroom decor with classic wall art.
Remind users of the bathroom rules in a classy yet decorative plaque in a stylish rustic wood background with a bright white script. It's the perfect addition to tie a rustic bathroom together.
Add Some Humor for Half Baths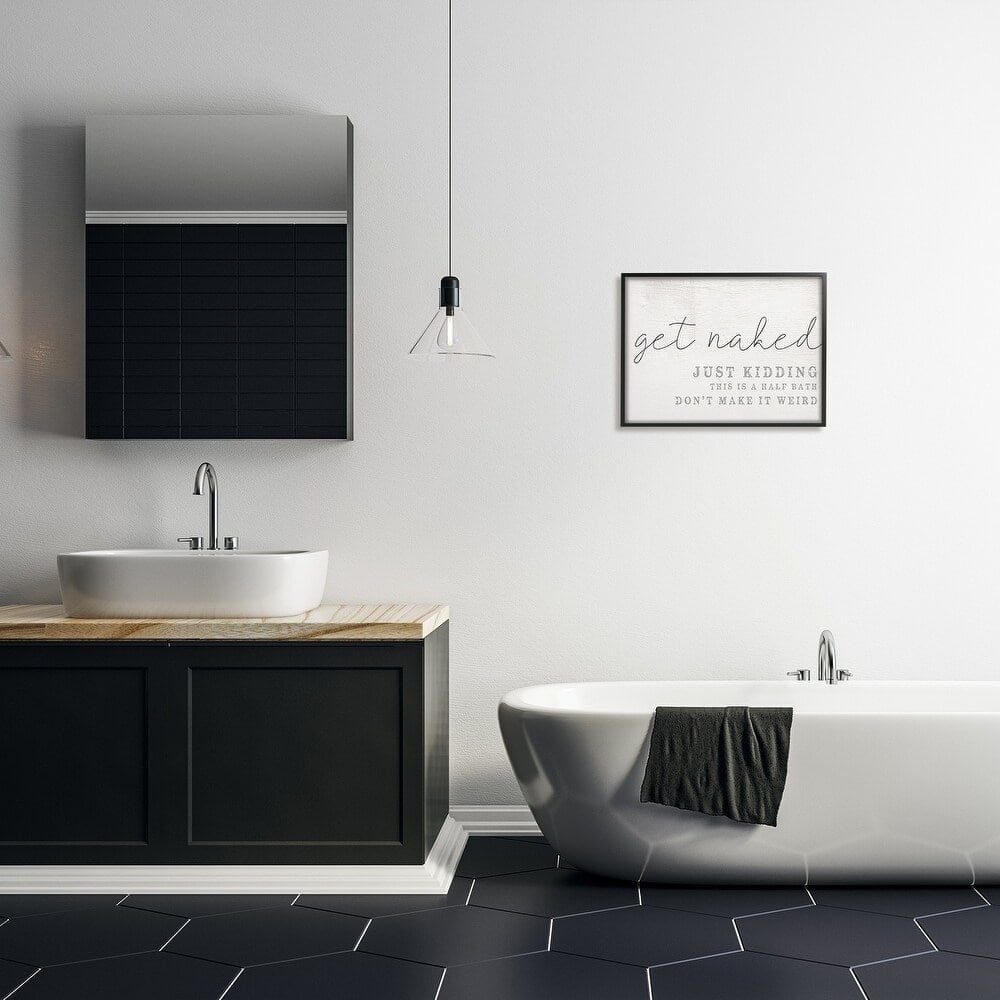 There are plenty of rustic half bath ideas to use, but our favorite design is to add some humor to your bathroom walls.
This adorable and hilarious framed print comes with a naughty suggestion – Get Naked – completely appropriate in a bathroom. But then the humor comes in, reminding you that you're in a half bath and not to make it weird. Who wouldn't love this picture in their rustic bathroom?
Match Silhouette Shelves with Greenery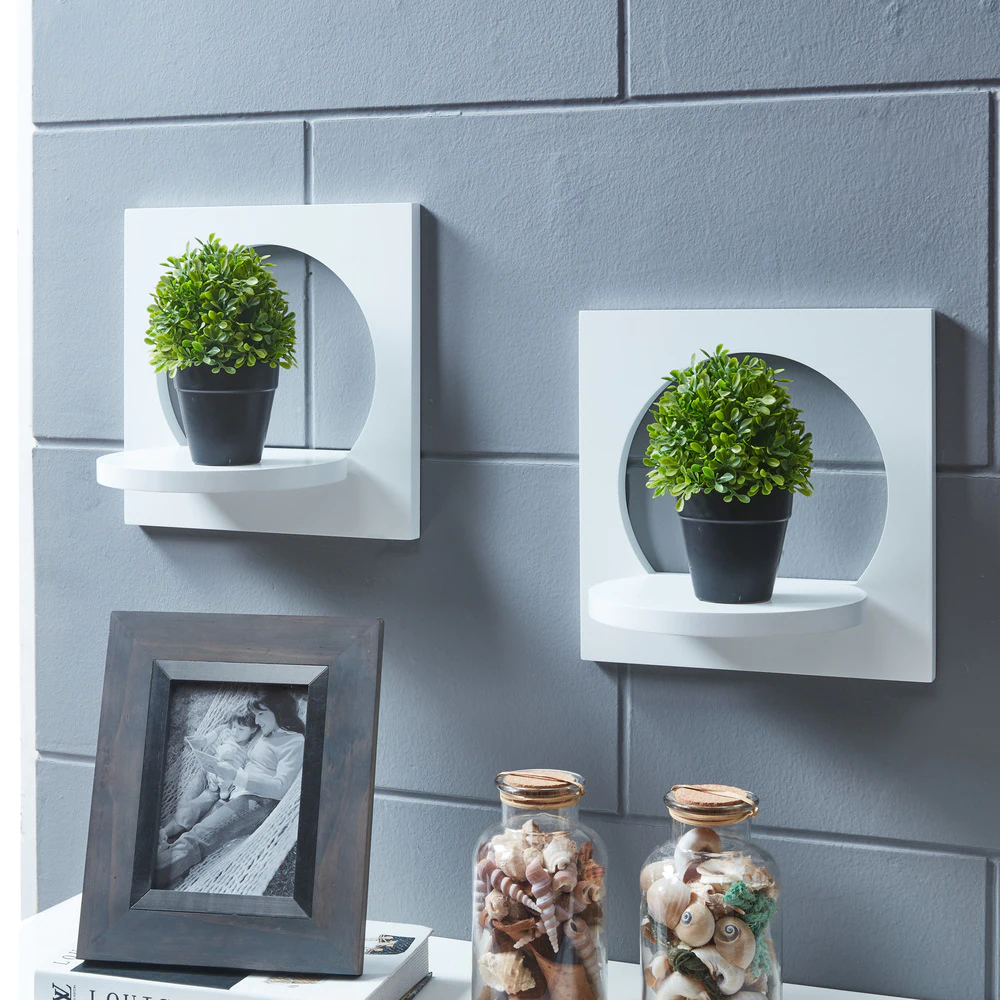 Rustic bathrooms often incorporate natural elements like wood, stone, and greenery. While you have a huge range of options for placing greenery in your bathroom, an easy and stylish way is with two silhouette shelves.
These classic white shelves are small enough to fit on any bathroom wall, making them ideal for big or small bathrooms. And the protruding ledge makes the perfect place for putting small potted plants.
Find a Rustic Farmhouse Flair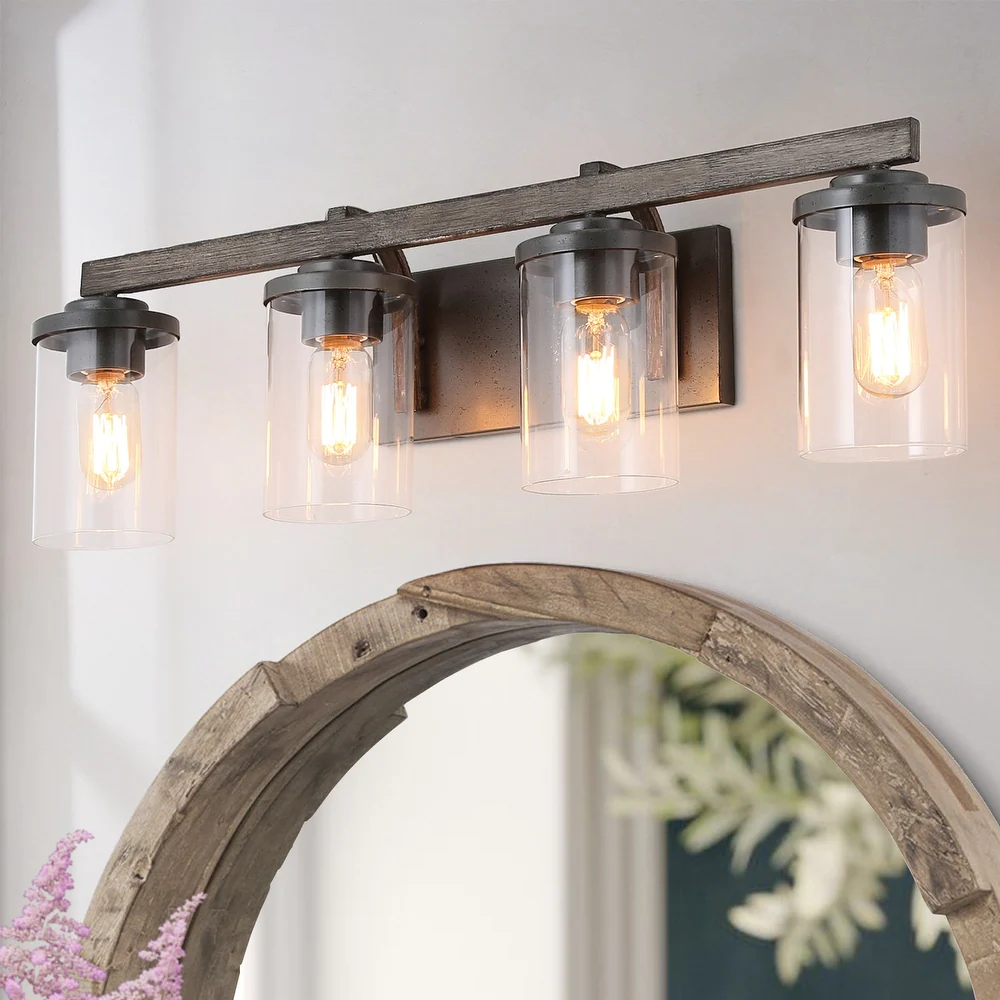 For a wall-mounted lighting fixture placed above your bathroom mirror and vanity, you can get an amazing aesthetic and function with a linear vanity fixture.
We can't get enough of this rustic light with four upside-down clear globes suspended from a faux wood panel. But, of course, you can up the wow factor using Edison or other clear bulbs.
Work with a Bamboo Hamper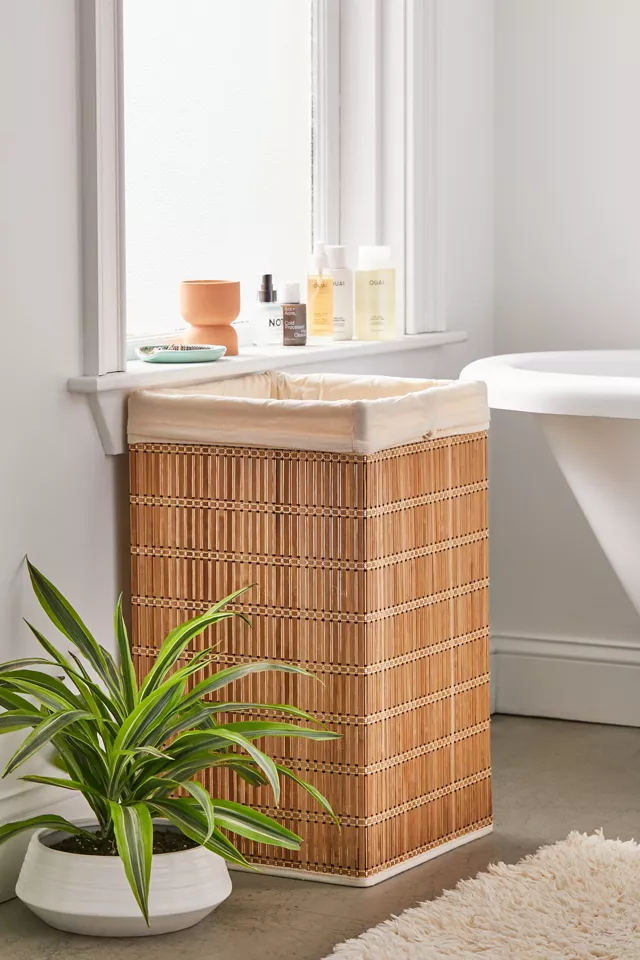 An eco-friendly and upscale rustic decor accent for bathrooms is a bamboo wicker hamper. Add a touch of Boho feel with natural black bands, and you've got a bathroom rivaling any spa.
A removable cotton liner makes it easy to transport dirty clothes without toting the entire basket around. And it's machine washable, so there are never any issues with a hamper that starts to smell from too much dirty laundry.
Wicker-Resembled Plastic Caddy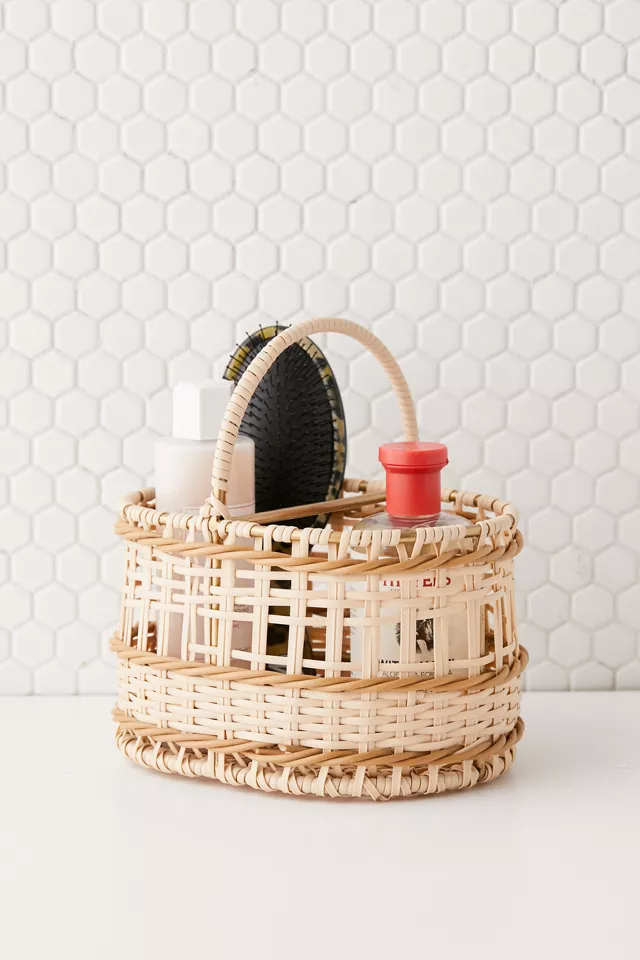 Keep your grooming supplies organized and easy to carry with a shower caddy. This basket has an iron frame and plastic wicker weaving.
A top handle allows for convenient carrying of the ovular shaped 9.8" (L) x 7.4" (W) x 8.6" (H), which is safe for use in water and easy to clean by wiping off.
Try a Three Tier Towel Rack in Basic Bamboo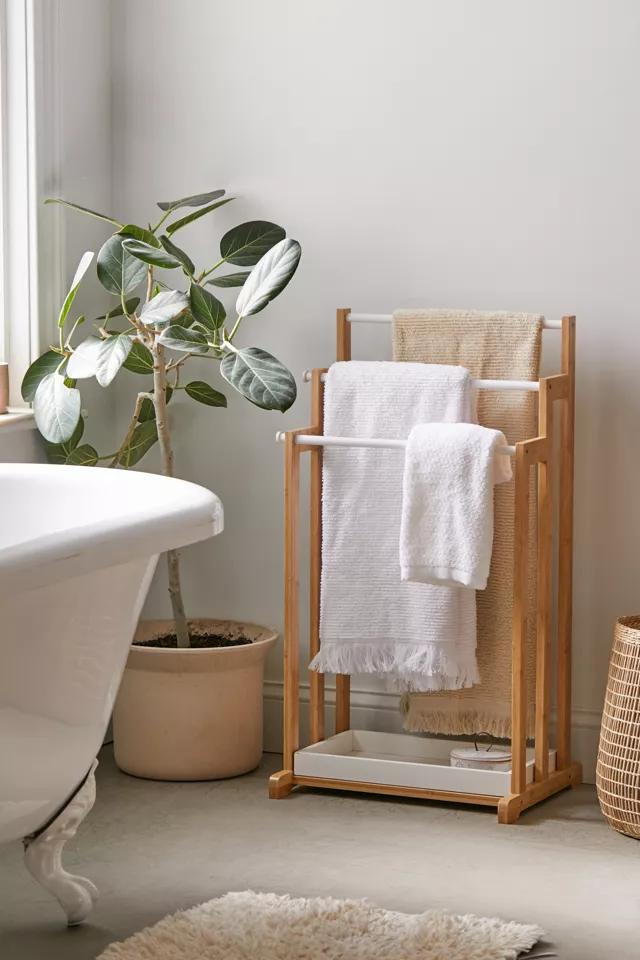 This bamboo towel rack is the perfect rustic touch in a bathroom where you don't want to hang wall-mounted racks, or you want to keep your towels within reach.
Serving for style and function, the bamboo frame supports three-tiered rungs for keeping towels close at hand. And a small tray at the bottom offers a place to store baskets of toiletries.
Work with a Wooden Stool
Another effortless way to decorate your rustic bathroom is with the use of a wooden stool. Wood stools can work for a place to sit while getting ready in front of the mirror.
But you can also use it as a table, to hold a towel when taking a bath, a small plant, or candles. Then, of course, it's up to you if you want to use a wood stool, like this gorgeous raw and handcrafted wood teak piece.
Adore the Attractiveness of an Arched Mirror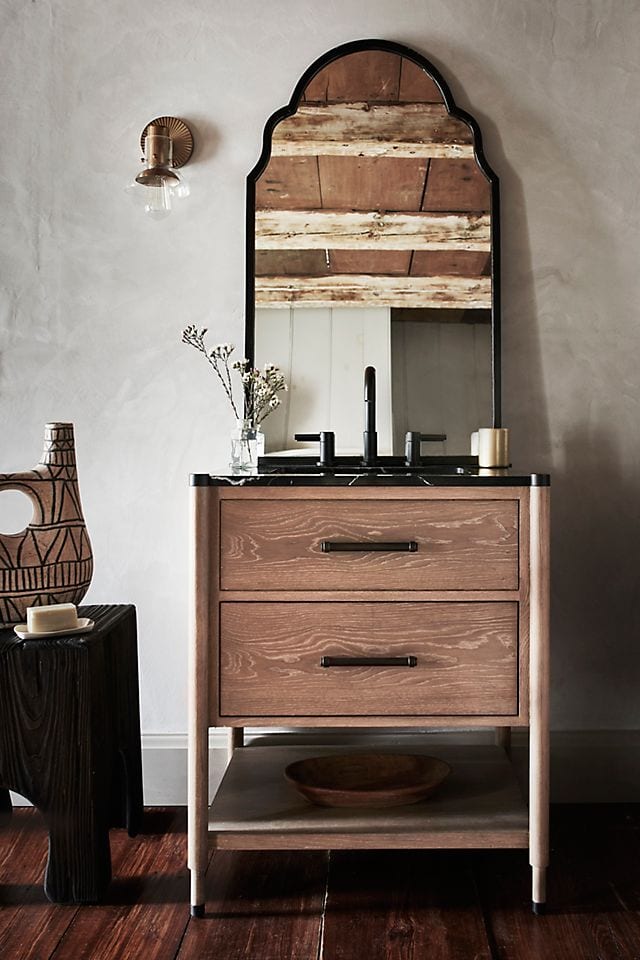 Arched mirrors can make a fantastic solution for rustic bathrooms, especially when you pick a design with feminine curves at the top.
Whether you mount this mirror with a single sink or combine two mirrors for a double vanity, this style looks exquisite for rustic-themed bathrooms.
Work with Rustic Rusted Black Iron Antique Domes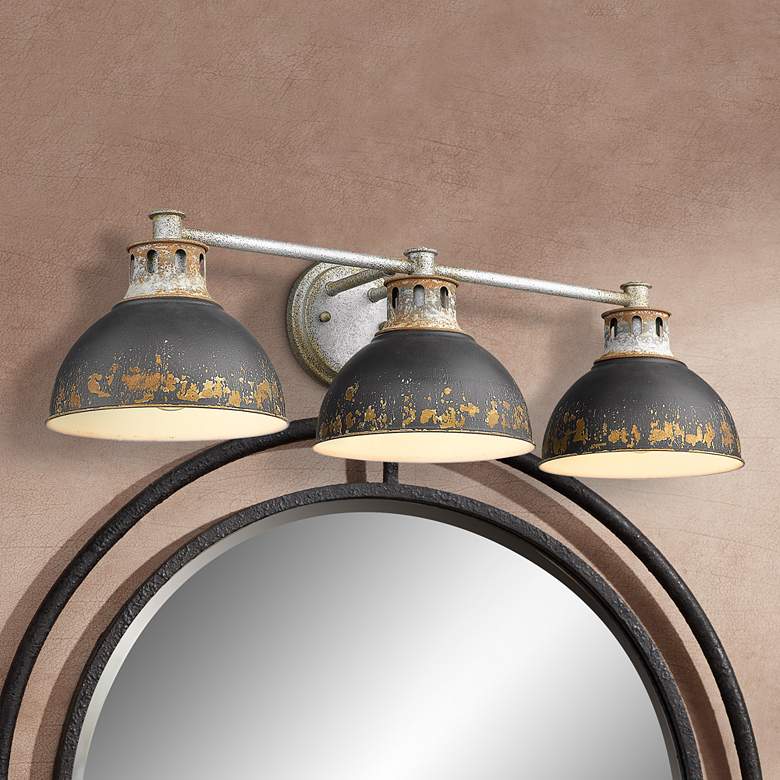 Your rustic contemporary bathroom can get a major update with antiquated lighting, like these aged bath lights in a patinaed galvanized steel.
The black iron shades and three distressed pendants are the perfect looks to complete a rustic farmhouse or industrial feel.
To Sum It Up
Rustic bathroom designs can be as elaborate or simple as you prefer. And you can blend styles to create something one of a kind, using common elements like natural materials, light colors, and distressed or aged finishes.
Which rustic bathroom idea was your favorite? Show us your rustic bathroom photos in the comments!