Decorated Life is reader-supported. When you buy through links on our site, we may earn an affiliate commission. Learn More
22 Inspiring Walk-In Shower Ideas for 2023
Are you planning a new bathroom or remodeling your current one? Has it always been your dream to have a glamorous walk-in bathroom shower? There's a lot to be said of upgrading from a bathtub shower to a walk-in, from convenience to appearance.
If you're not sure where to start and what it should look like, these ideas are sure to inspire you for your next walk-in shower home renovation project.
Use A Barn Door For A Farmhouse Feel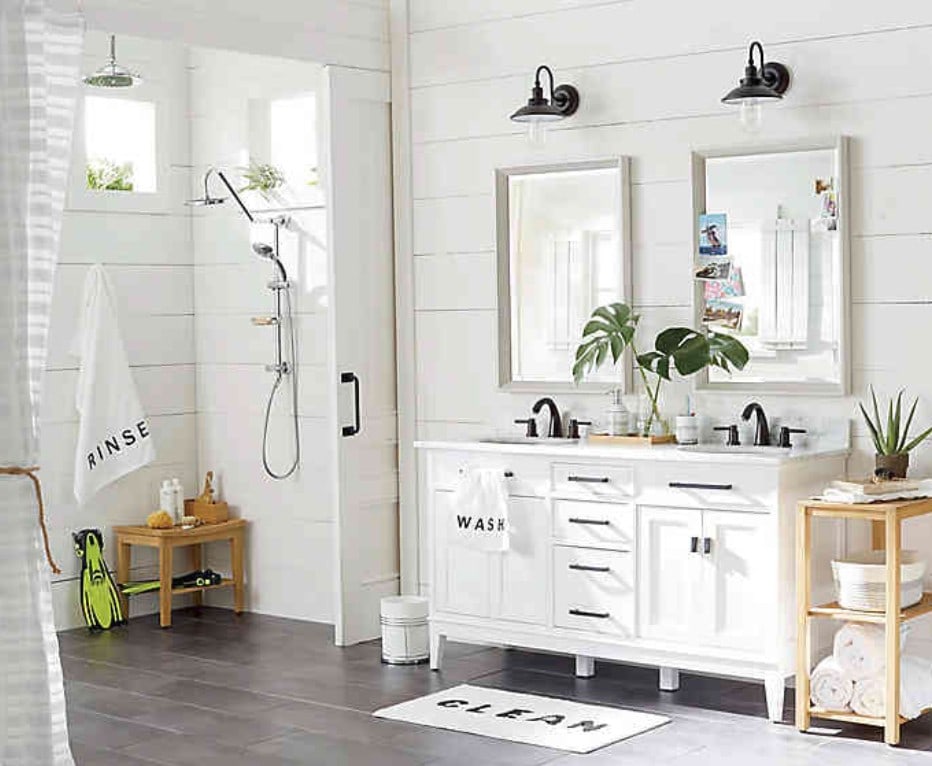 Usually, the farmhouse style is synonymous with clawfoot bathtubs, but you can still have a farmhouse chic bathroom with a walk-in shower.
Of all the shower stall designs, this one is the most unique with its barn door closure and shiplap walls.
Install Multiple Showerheads For Ultimate Relaxation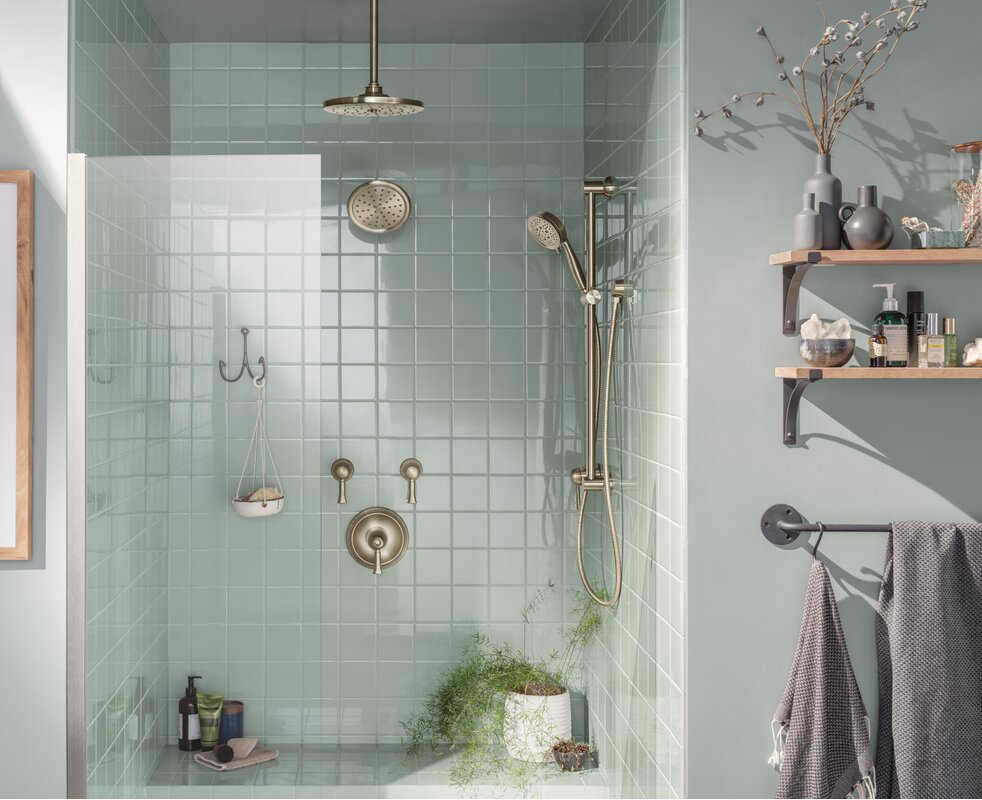 Do you ever have those days where you just want to stand under the hot water in the shower until it goes cold? You'd never be able to get out of this one.
If you're remodeling your bathroom, ask the plumber to design the shower so that you can add multiple heads and soak in all the relaxation.
Use Patterned Floor Tiles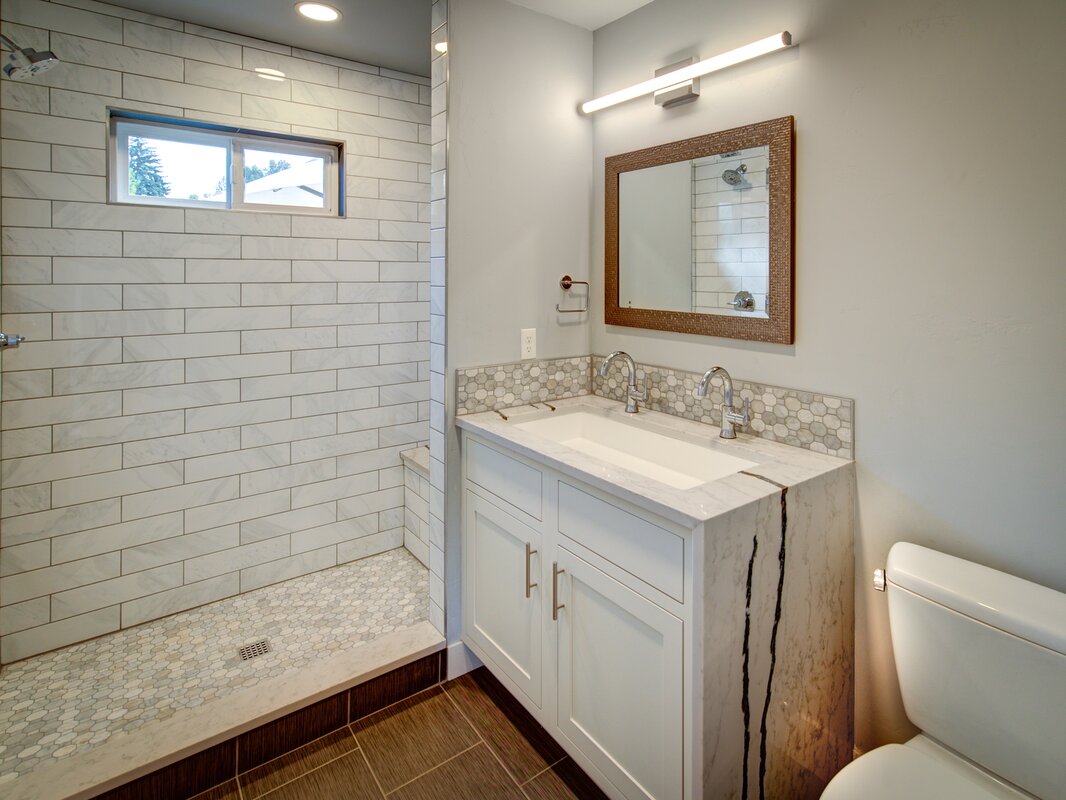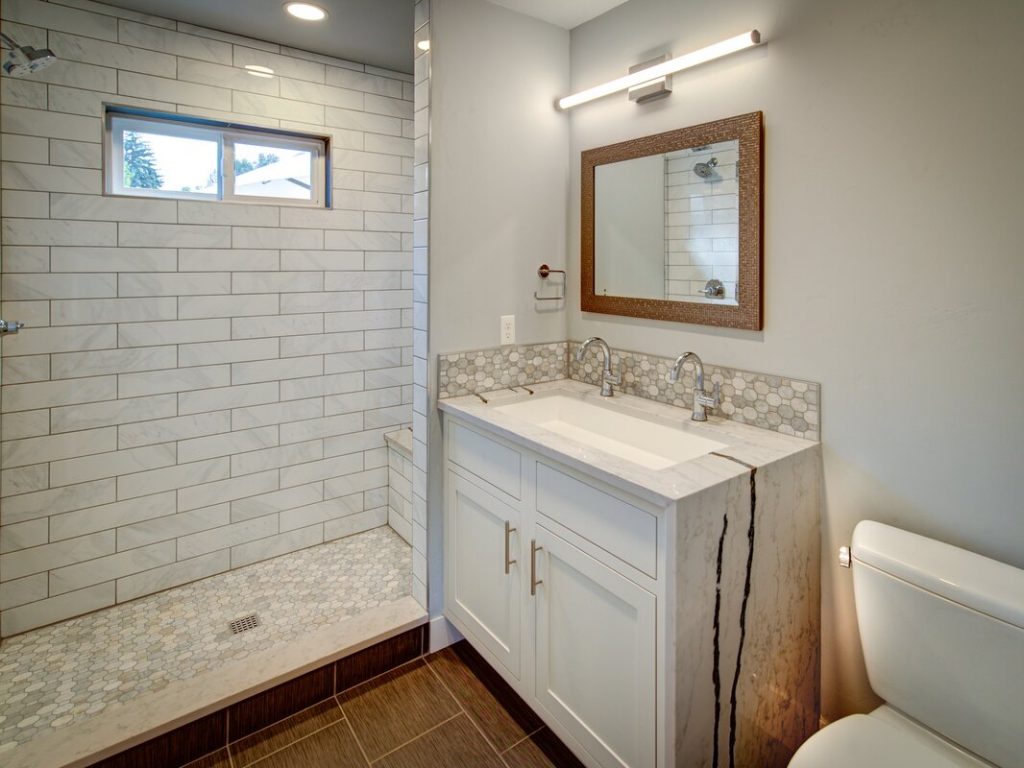 The best walk-in shower remodel ideas include an intricately patterned tile floor like this one. This shower's floor goes a step further by matching with the backsplash over the vanity to make the room really come together.
If you're going for a look like this, make sure the tiles all work together without being overly busy to ensure a soothing calm look.
Make a Splash With a Bold Accent Wall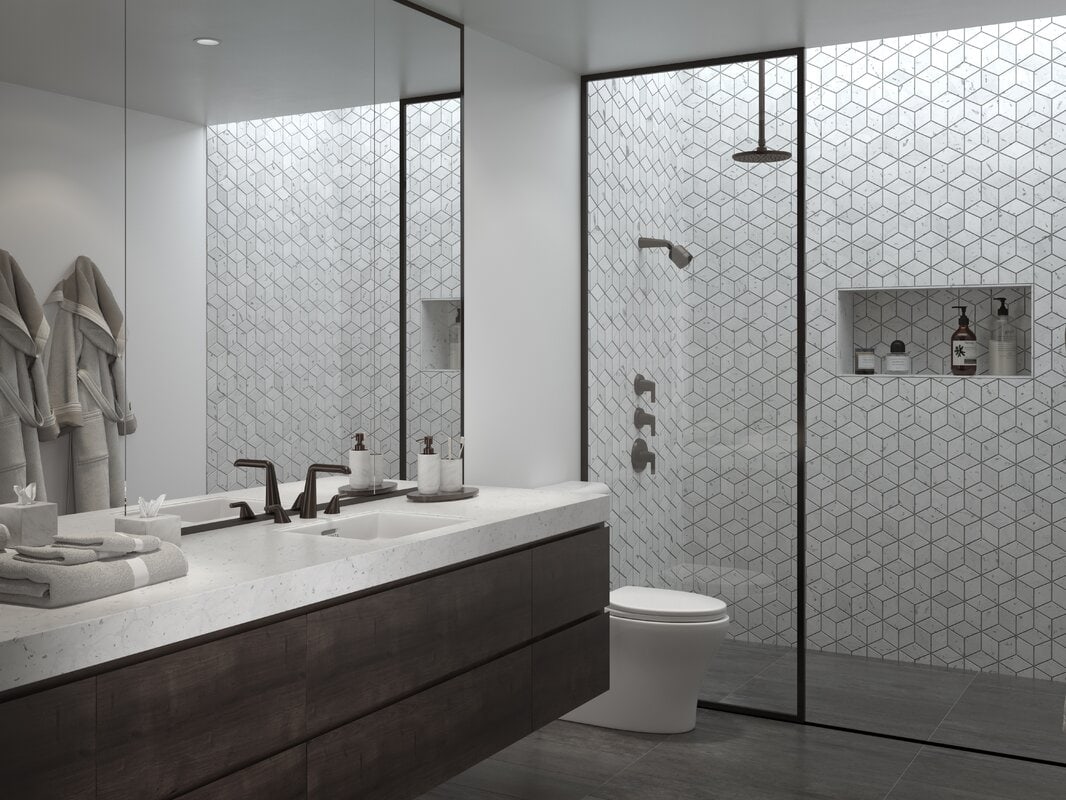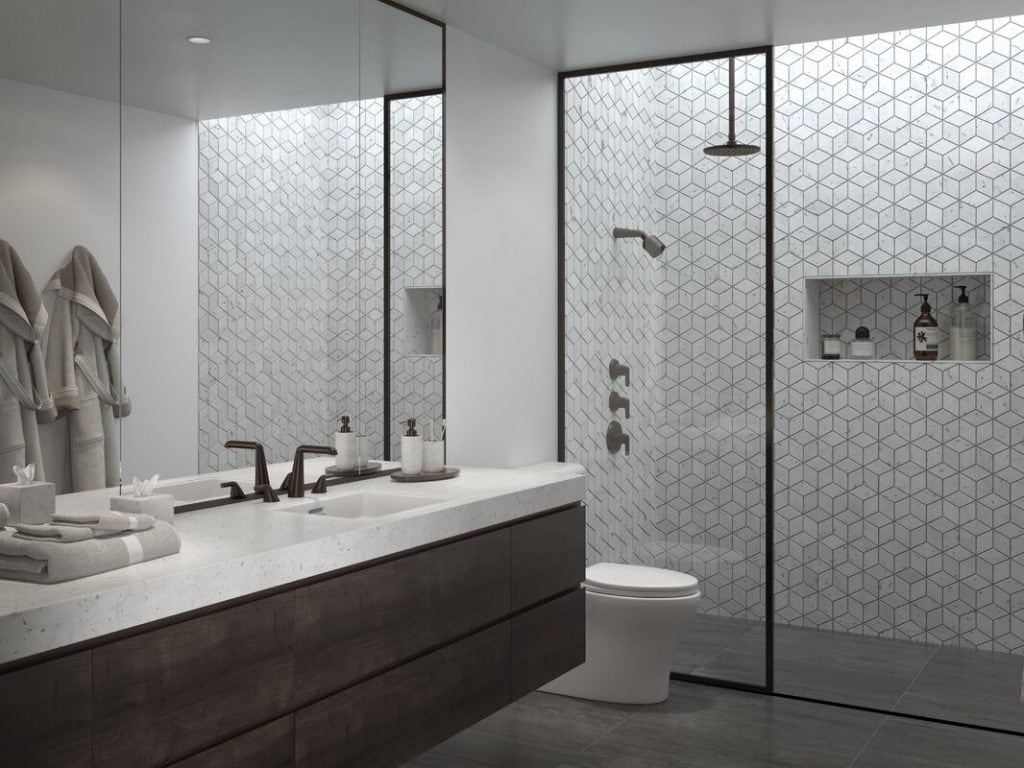 You can liven up an otherwise subtle/neutral bathroom by adding in a tiled accent wall to your walk-in shower like this one.
The geometric pattern breaks up the long, grey tiles across the floor of the bathroom to add texture and character. The wall adds a touch of style without taking away from the soothing feel.
Use A Curved Door For A Modern Look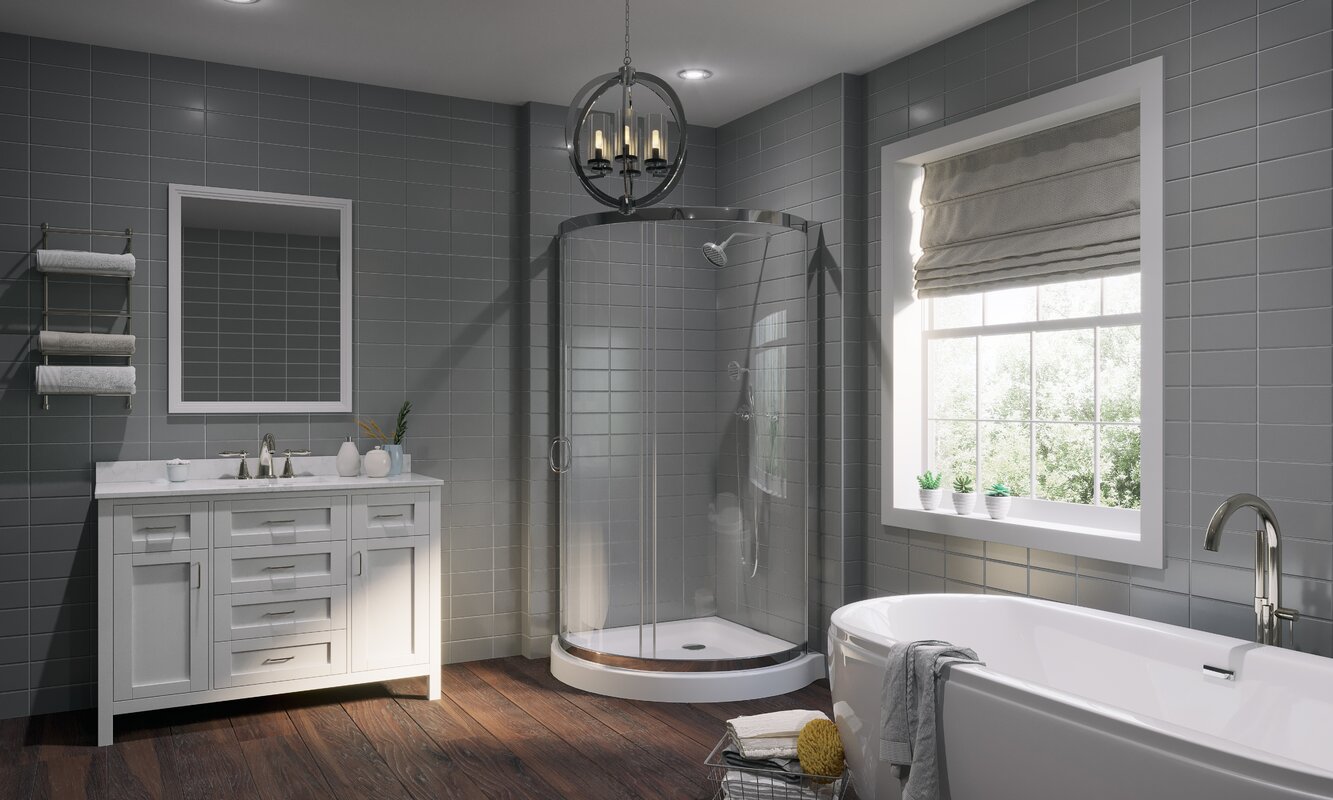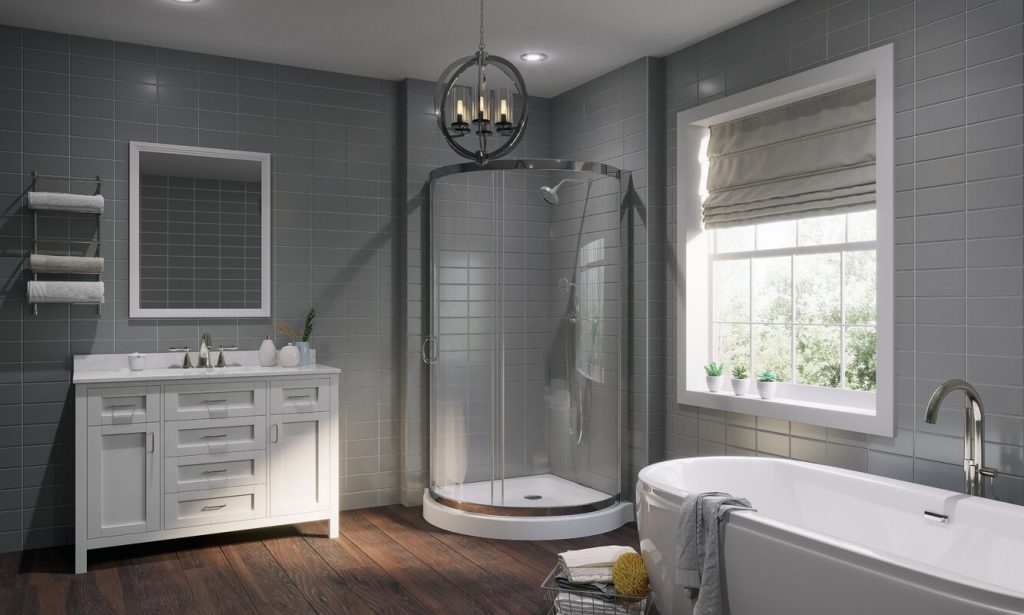 A way to balance out the harsh corners of a modern-styled room is to throw in some curves here and there. This bathroom's walk-in shower door is the perfect example.
The curved door is great for smaller walk-in shower sizes because it will make it feel bigger when you're actually in there showering.
Add a Plant for a Natural, Fresh Look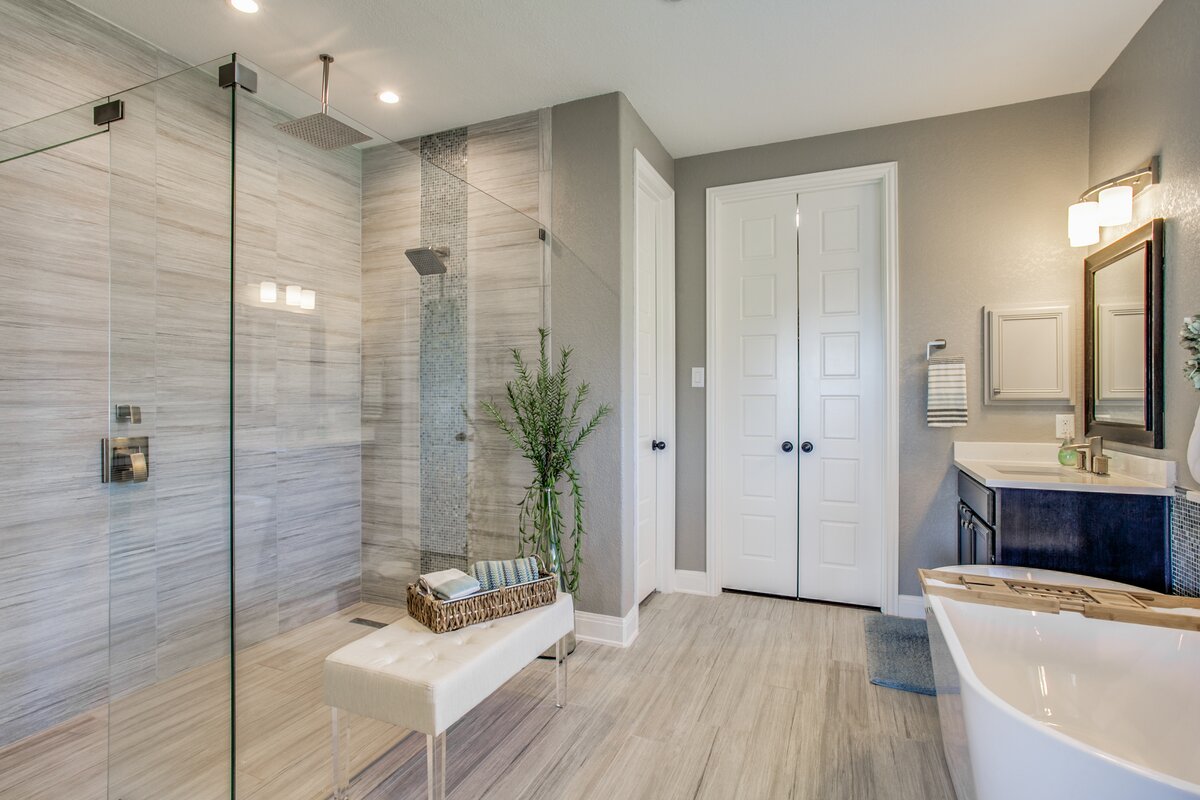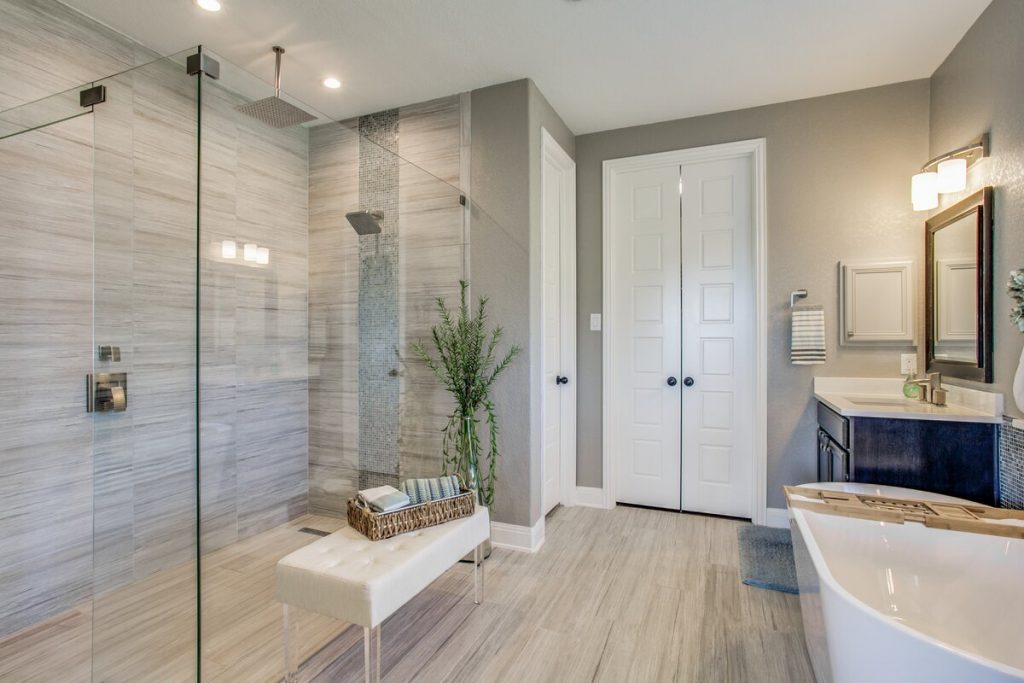 A good way to make your walk-in shower feel more refreshing and natural is to add some plants around it in your bathroom.
It adds some color to the often neutral colors and stark lines of modern walk-in showers and bathrooms. The addition of a plant will also help you feel fresh and cheer you up on early mornings.
Go Dark for a Statement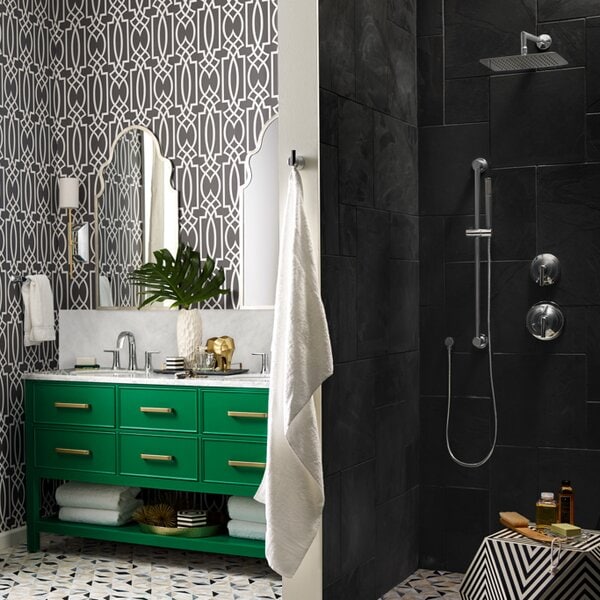 If you're a fan of black but also want to keep things bold, consider keeping the rest of your bathroom bright and airy (with a touch of color) and going for an all-black shower.
This bathroom did it right with the green vanity, patterned wallpaper, and funky flooring. It's modern, fun, and not too dark.
Find a Door with a Paned Window Look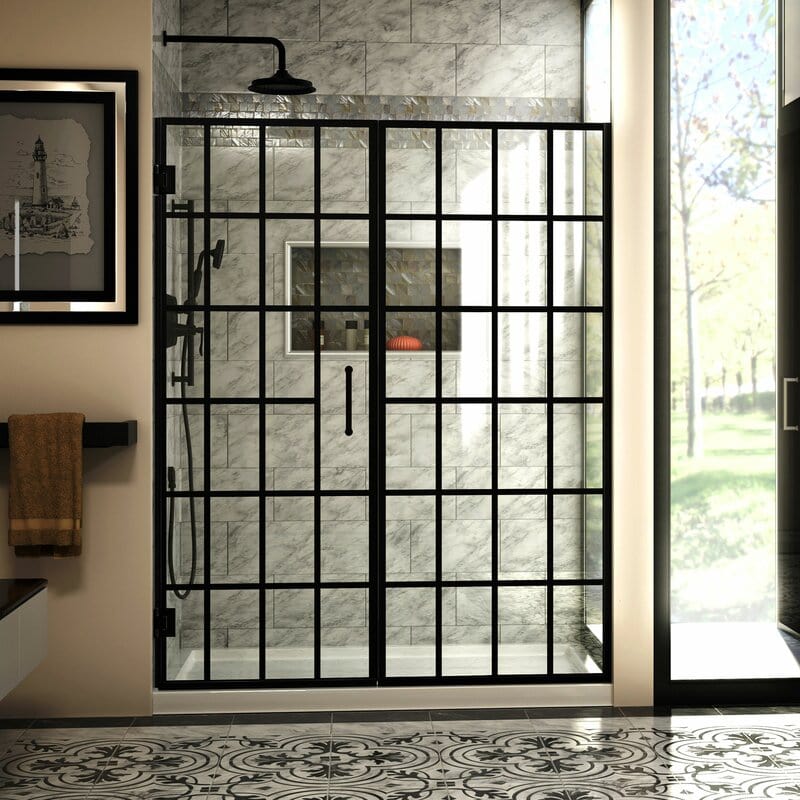 When you're making your walk-in shower plans, consider adding some texture and depth to the room with a door that looks like a paned window.
The black panes on this door create a bold contrast from the clear glass. It would look amazing in front of a light grey or white tile shower.
Balance Out Your Grey and White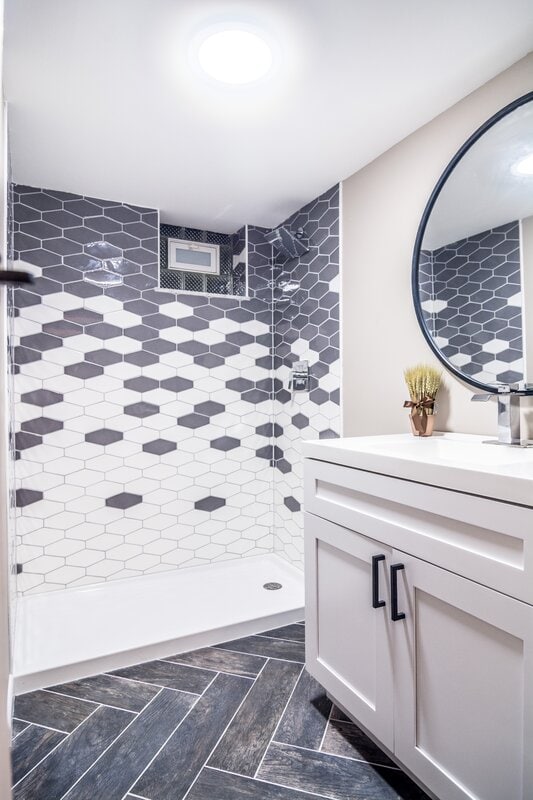 If you're looking for some stylish doorless walk-in shower ideas, this is definitely some great inspo. The tiles are unique and the design is even more unique.
What's great about this shower is the way it balances out the grey and white so well so that the room isn't overly dark or bright. Plus, the herringbone floor tiles are an added touch of style.
Add Teak Wood Flooring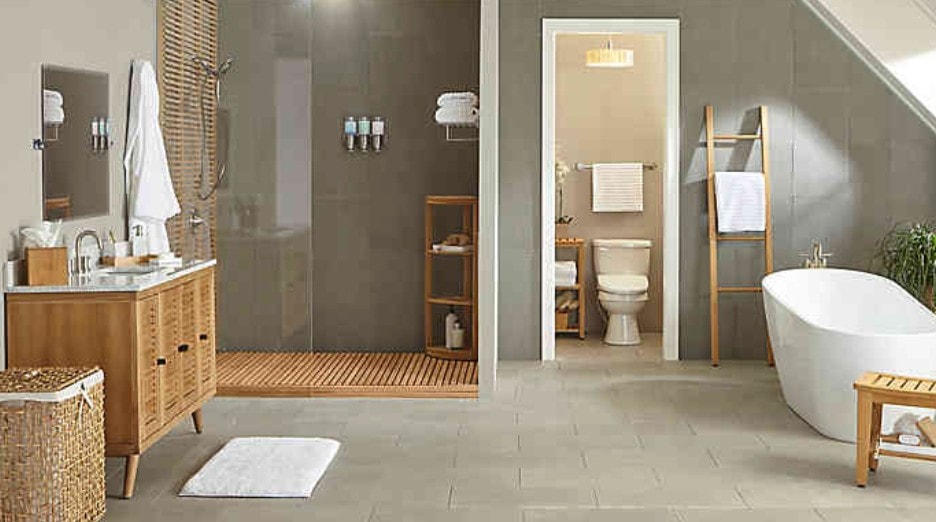 This bathroom has a full-on spa feel thanks to the soothing colors and use of teakwood throughout.
Instead of the traditional walk-in shower tile floor, this bathroom has a gorgeous slatted teak wood floor. It's soft on the feet, waterproof, and so soothing.
Use Brass Hardware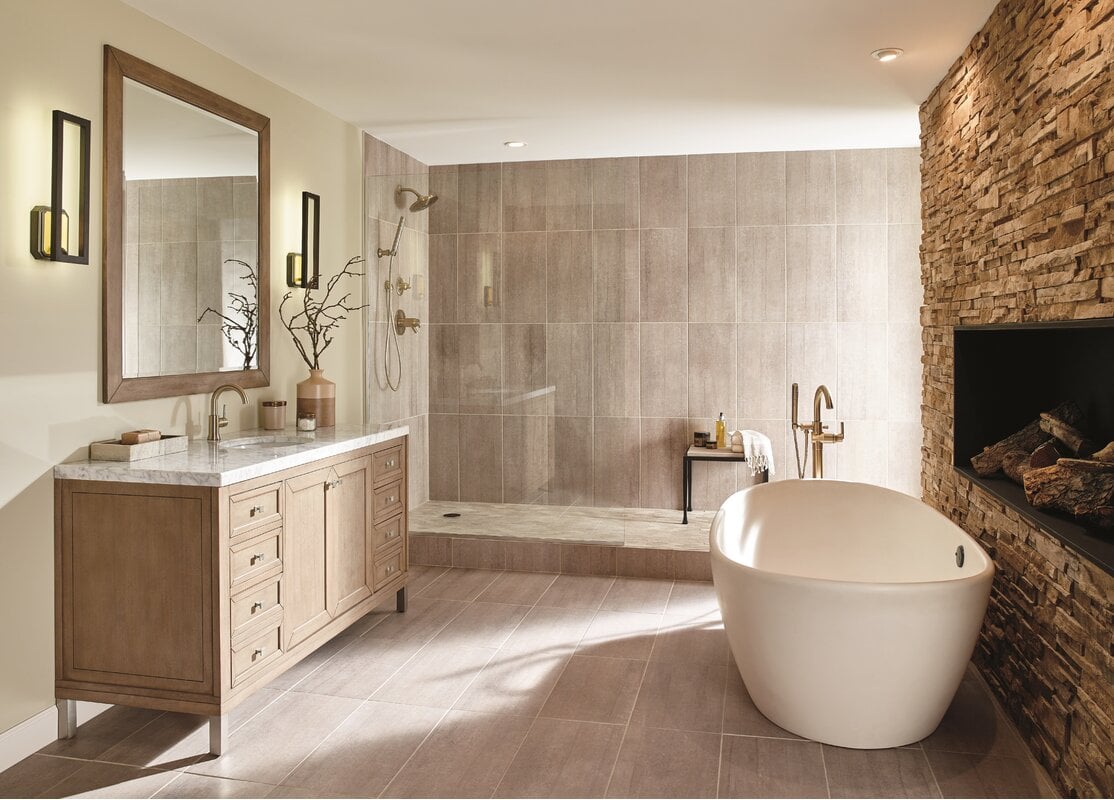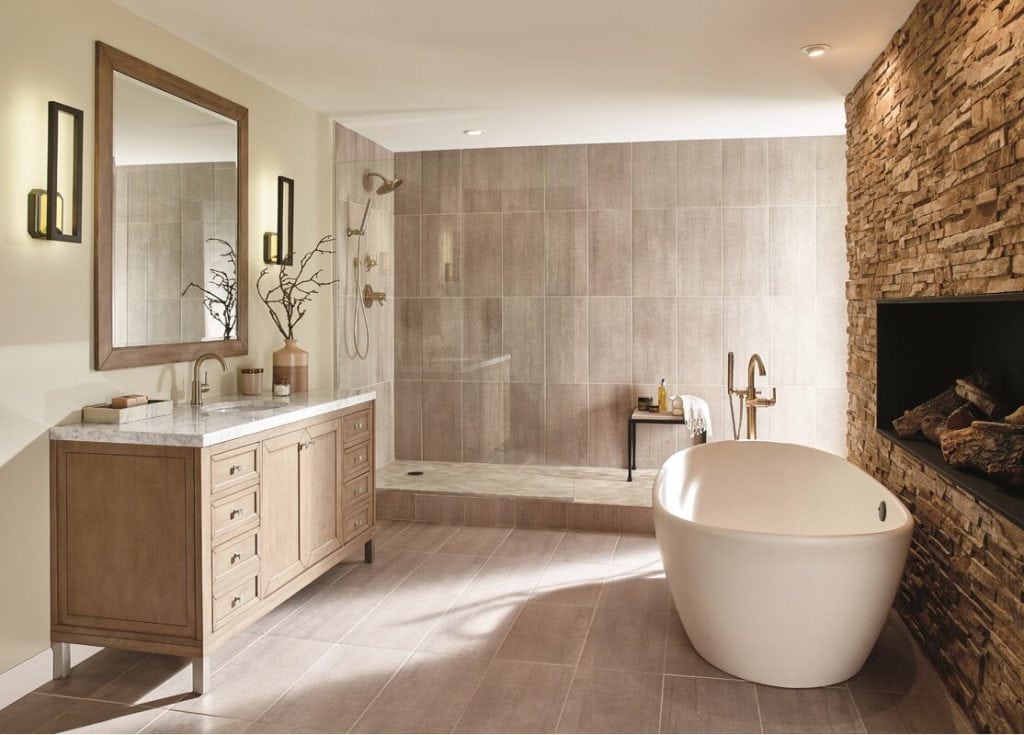 Brass hardware will elevate your walk-in shower's style and aesthetic. Its warm metallic finish will help create a soothing atmosphere, too.
This bathroom is the pinnacle of soothing relaxation with the fireplace, soaking tub, and natural light. The brass hardware adds to the relaxation and gives it a touch of glam.
Go For Elegance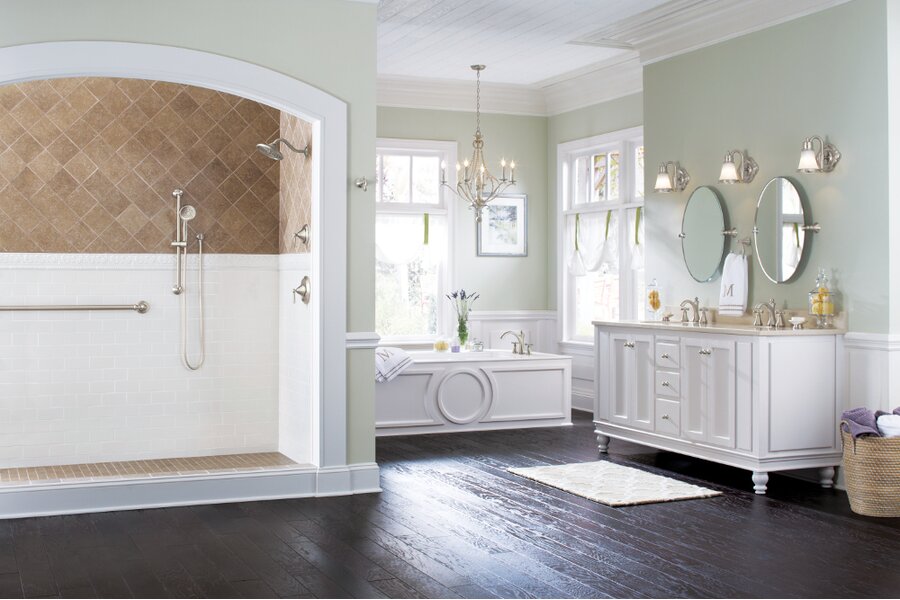 Everything about this bathroom screams elegance, between the vanity, tub, hardwood floors, and the walk-in shower.
The shower is especially elegant with its tile design, size, and built-in appearance. It's totally gorgeous and definitely worth the space it takes up.
Don't Forget Lighting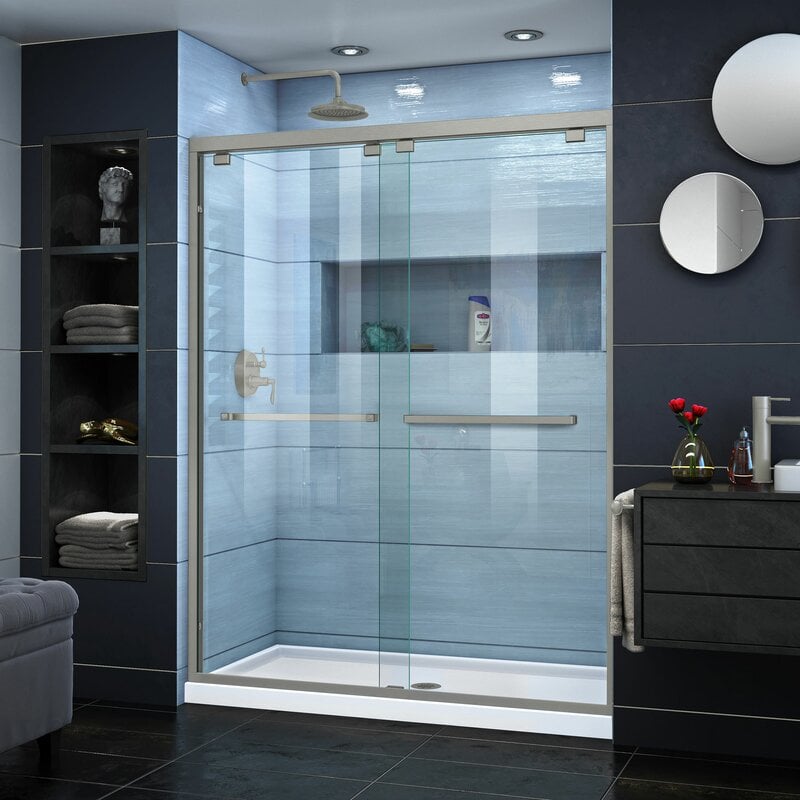 The shower should definitely be luxurious, but, it's still for showering and you need to be able to see in there. So don't forget to consider that while you're making your walk-in shower plans.
This bathroom did it right with some soft overhead lighting to keep things soothing without sacrificing the functionality of the shower.
Opt for Marble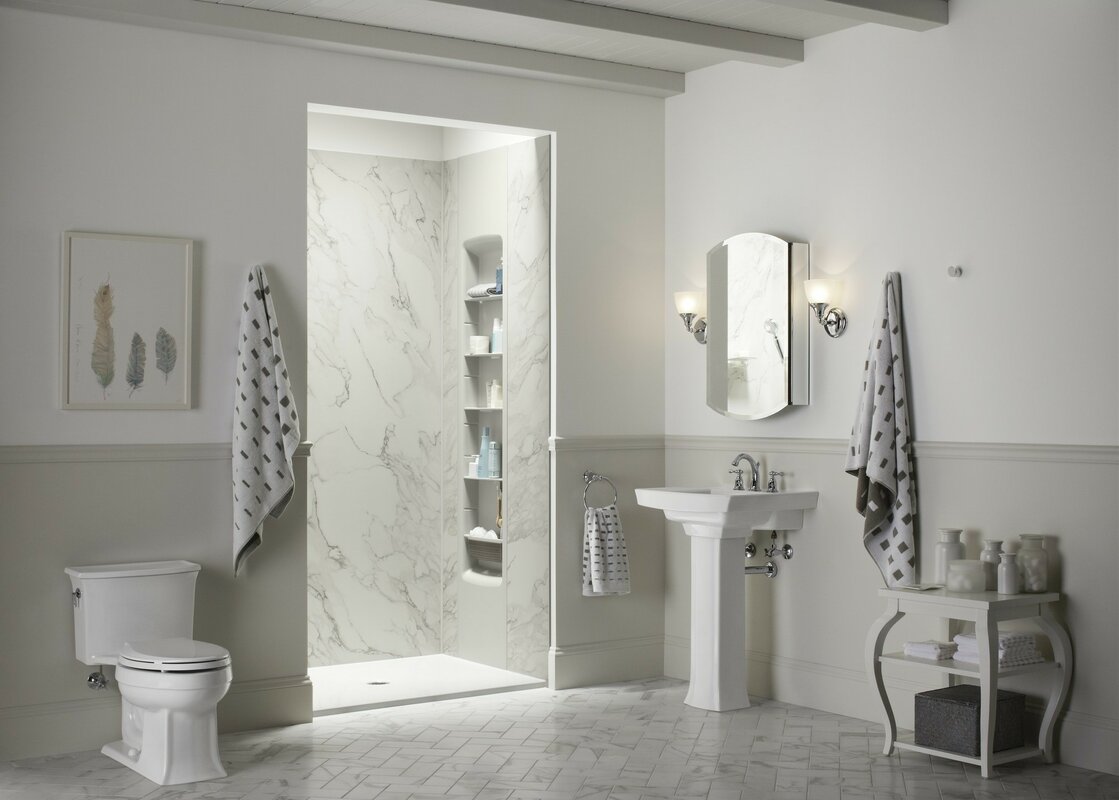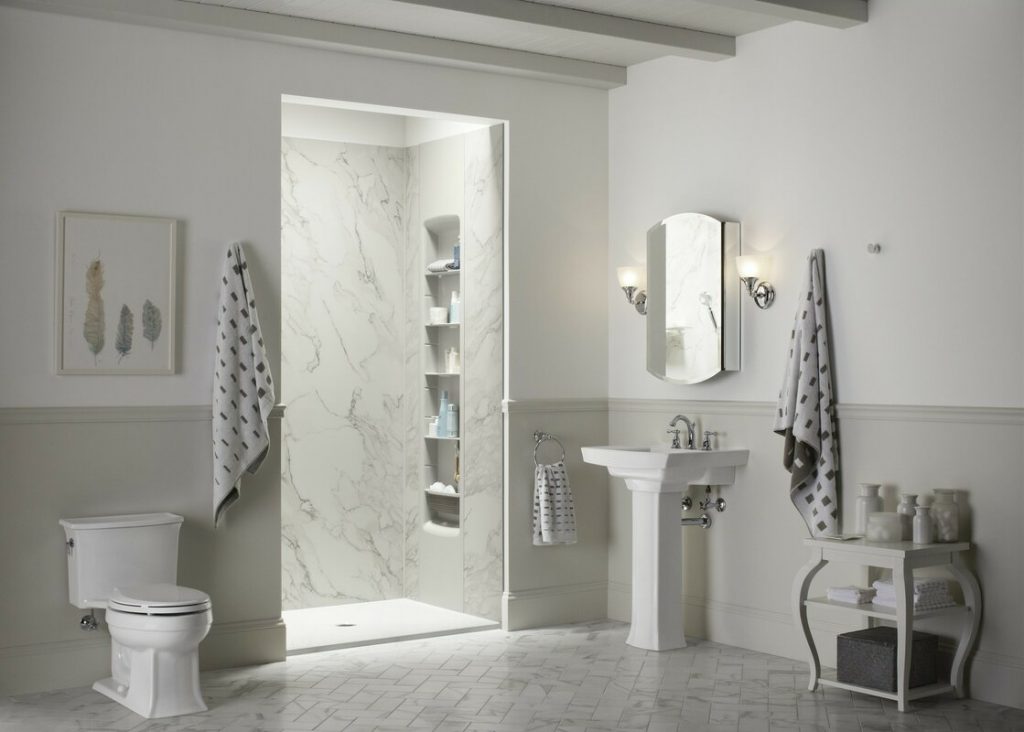 Marble is a chic way to tie together the greys and whites of a modern bathroom. It keeps things light and airy without having to go for the rustic farmhouse vibe.
A built-in shower like this one could look dark, but the marble walls help brighten it and keeps it cohesive with the rest of the room.
Include a Bench for Comfort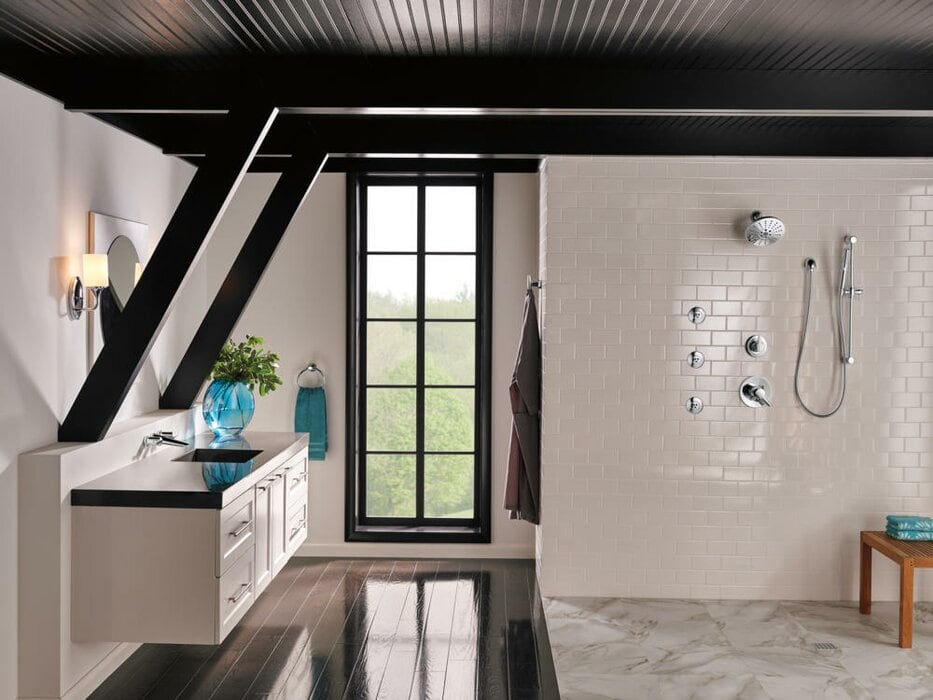 Whether you want to use the bench while you're actually showering or as a makeshift table to store towels is up to you, either way, it's a chic addition.
Everything about this bathroom is relaxing from the wood beams, natural light, and marble shower floor. Adding in the bench helps mix things up even more without taking away from the overall vibe.
Use a Curtain in Place of a Door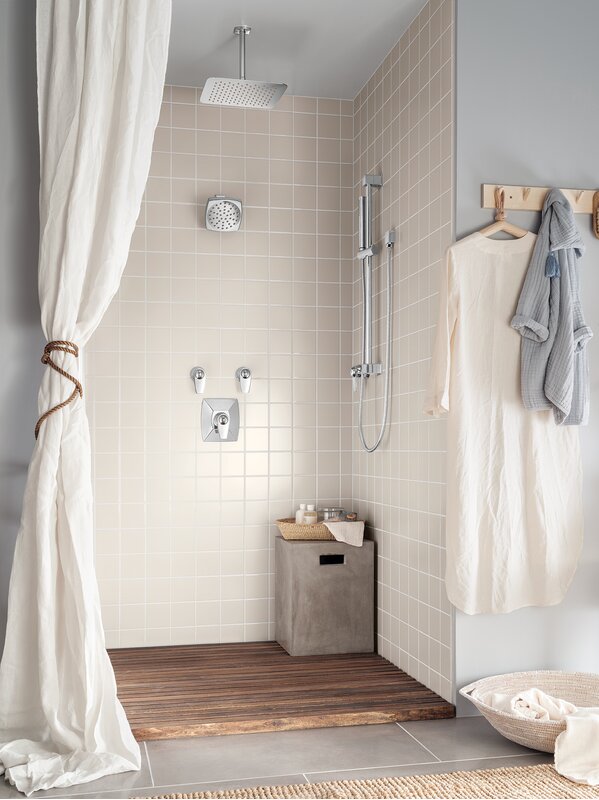 No one says you have to have a door to your walk-in shower, you can still use a curtain if you are a fan of them.
Instead of trying to find walk-in shower panels, consider hanging something like this curtain that's tied to the side with a rope for a rustic beachy feel.
Save Space By Including The Tub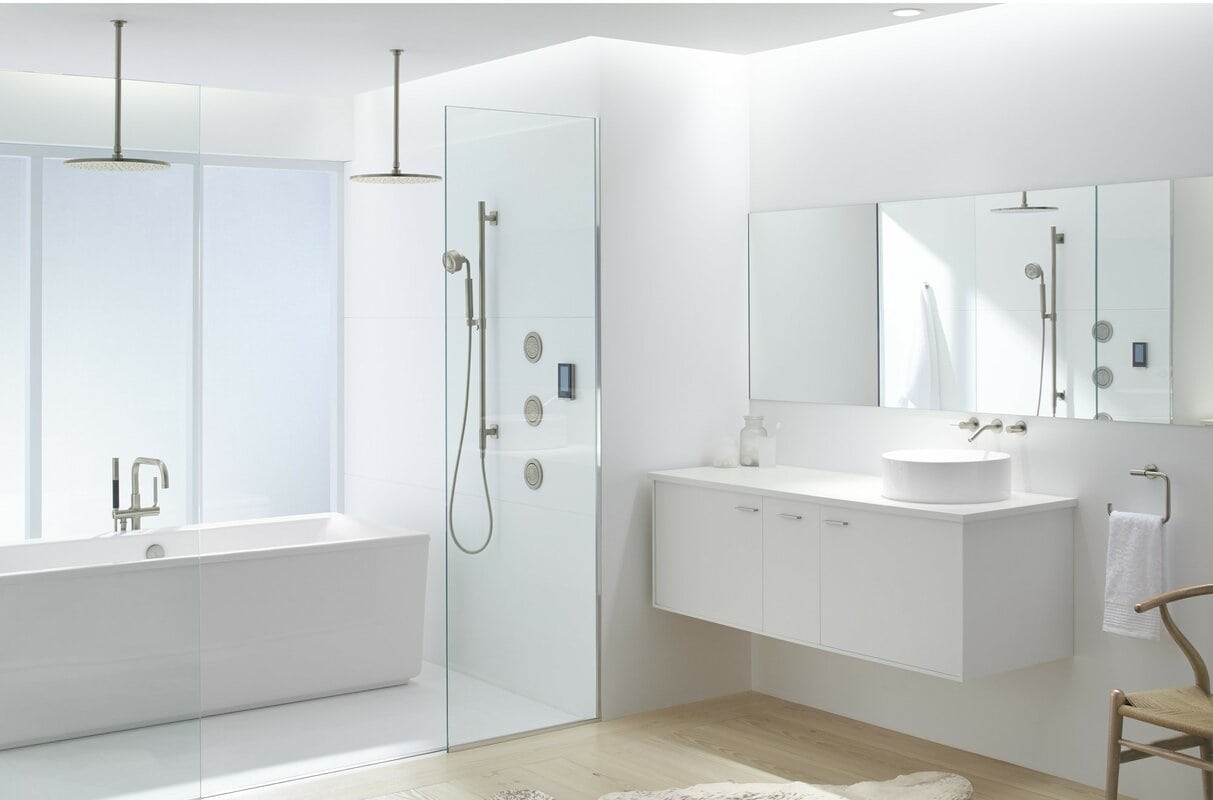 If you don't have a huge bathroom and feel like you have to pick between a luxurious walk-in shower and a soaking tub, consider combining them instead.
Here is a perfect example of this setup. It doesn't feel cramped, has a small footprint, and doesn't sacrifice one luxury for the other.
Mount Some Hooks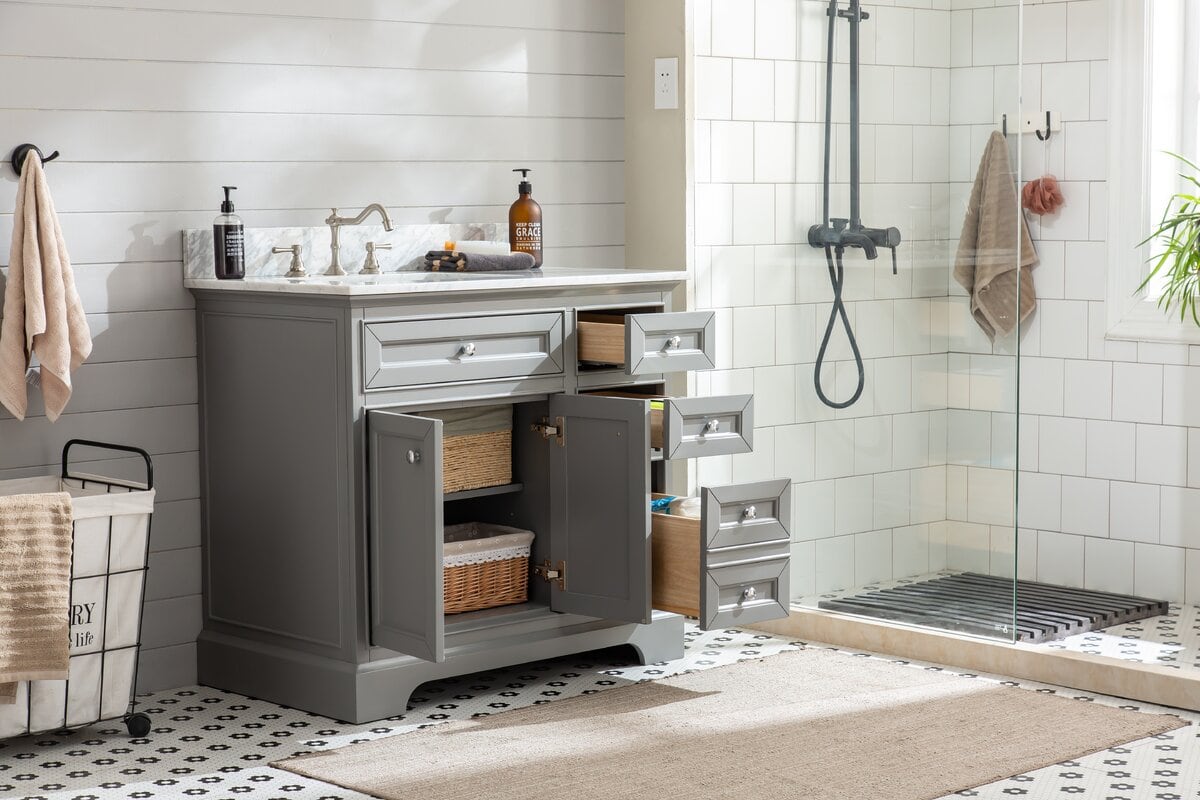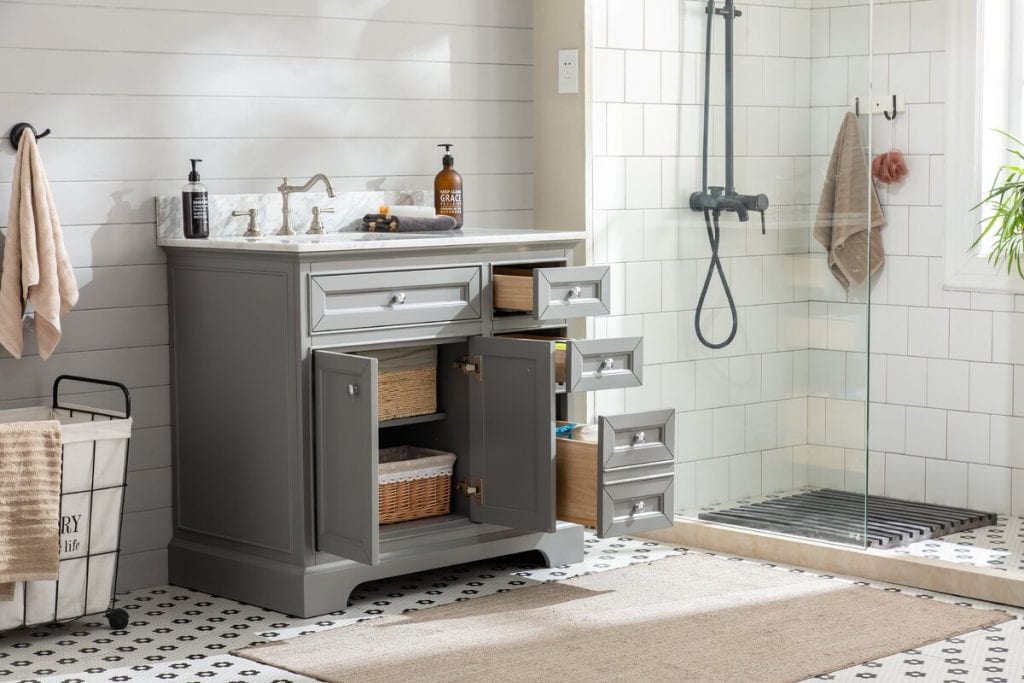 Adding some hooks to the walls of your shower will give you extra storage for washcloths, loofas, or even just for hanging some upsidedown eucalyptus for some aromatherapy.
If you're having your shower professionally remodeled, ask your contractors to include some hooks in the design. If you're DIYing, there are a lot of great command hooks that are waterproof and will still look great.
Use White Tiles to Make the Shower Seem Larger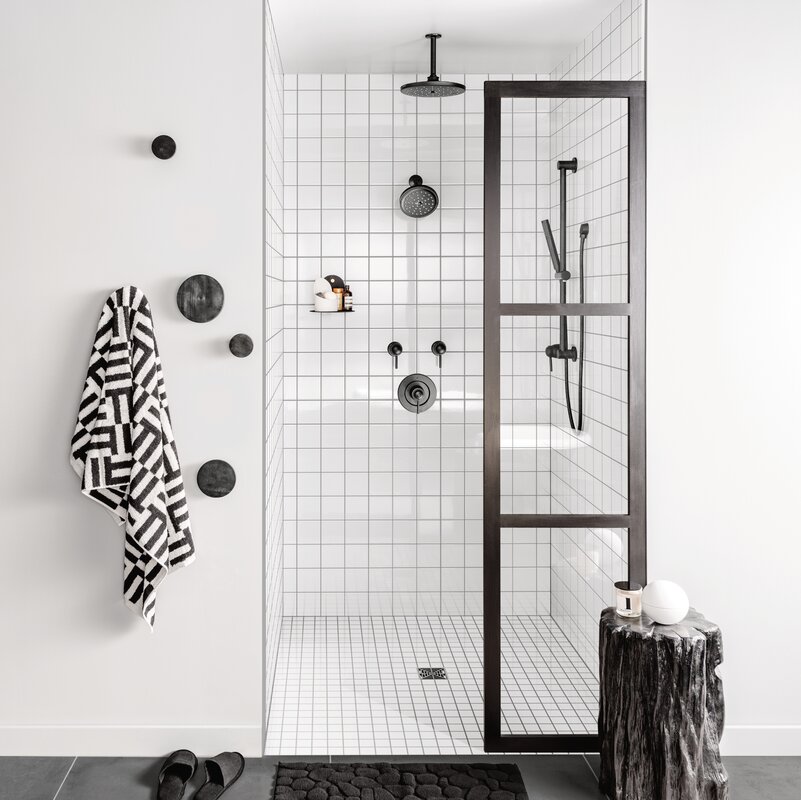 If your walk-in shower space is minimal, you want to do what you can to maximize the space and make it feel large when you're using it.
The shower in this photo has a small footprint, but by using a see-through stall-style door and using white tiles throughout, it seems much larger than it is.
Go Bright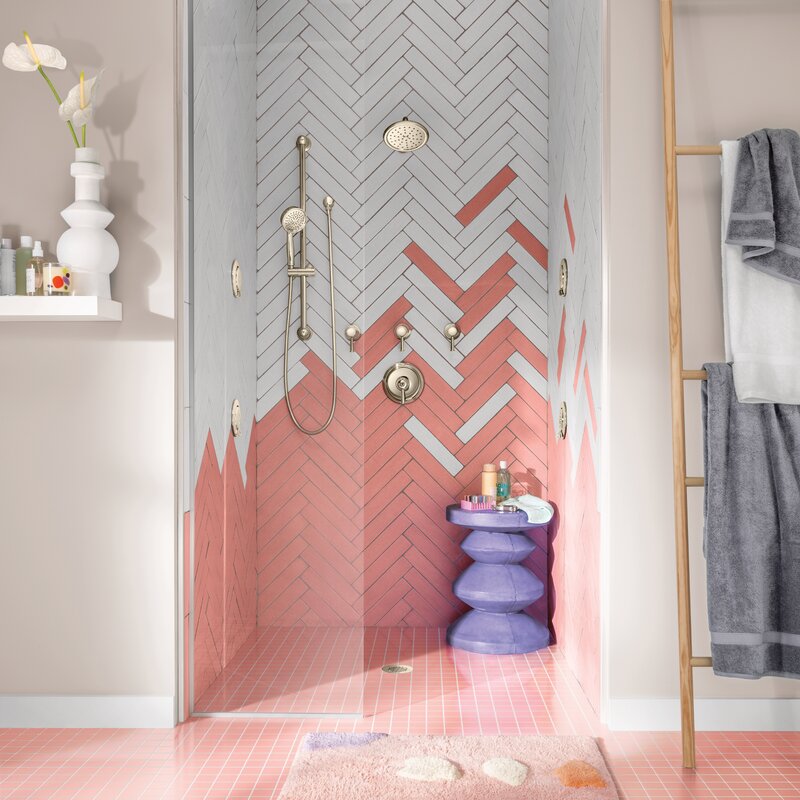 No one says you have to stick to neutrals in a bathroom. Go bright with some of your favorite colors to add some character and personality to the space.
These pink and white tiles in the herringbone pattern add a bit of life to the bathroom and look great while doing it. It's not over the top and the white walls balance out the pink in the shower and on the floors.
Don't Forget Storage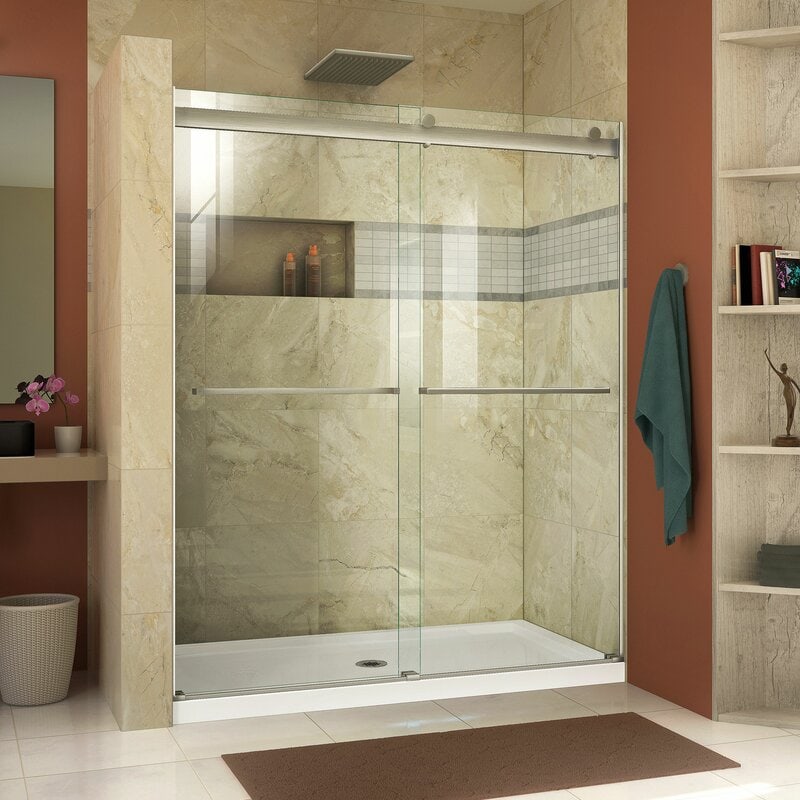 Don't get so caught up in the tile and hardware of different walk-in shower designs that you forget that you still need a spot to store your shampoo and soap.
Adding a built-in shelf to the shower wall will give your shower a sleek look while still providing you with storage space.
Skip The Walls And Doors Completely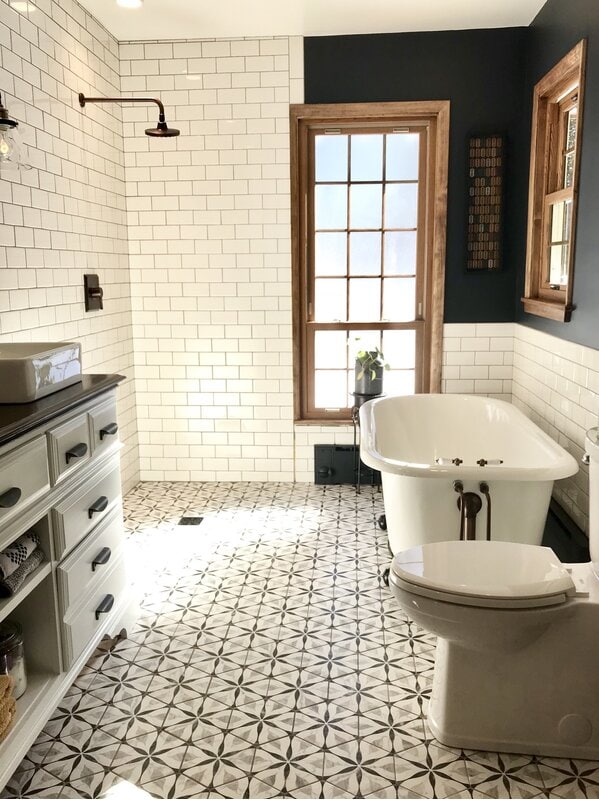 It can be expensive to add in the glass walls and door for a walk-in shower, so skip them altogether and go for a totally open feel.
Just a tip, if you're not a skilled DIYer, you'll want to contract this out so you are sure the flooring is angled just enough so the water goes to the drain rather than all over the bathroom to cause water damage.
Summary
There are a lot of different and unique ways you can spice up your walk-in shower, from ultra modern and industrial to rustic and earthy.
Whether you're adding an elegant marble slab and bench or you prefer pale, soothing tile patterns, you can truly personalize your shower so it's perfect for you and the decor style of your whole bathroom.
Some of these changes are dependent on your budget and whether your shower is on an outside wall, but other modifications are as easy and achievable as a splish and a splash!