Decorated Life is reader-supported. When you buy through links on our site, we may earn an affiliate commission. Learn More
16 Grey and Blue Bathroom Ideas
Grey and blue is an ideal color combination for a bathroom, and whether you want to create a relaxed coastal look or a modern glam look, this versatile color scheme will work for you.
In color psychology, blue evokes feelings of calmness, serenity, and peace, making it the perfect color choice for a bathroom where you spend time getting ready or winding down after a long day. In this article, we're sharing some of the best grey and blue bathroom ideas to inspire you for your own home.
Grey and Blue Bathroom With Gold Accents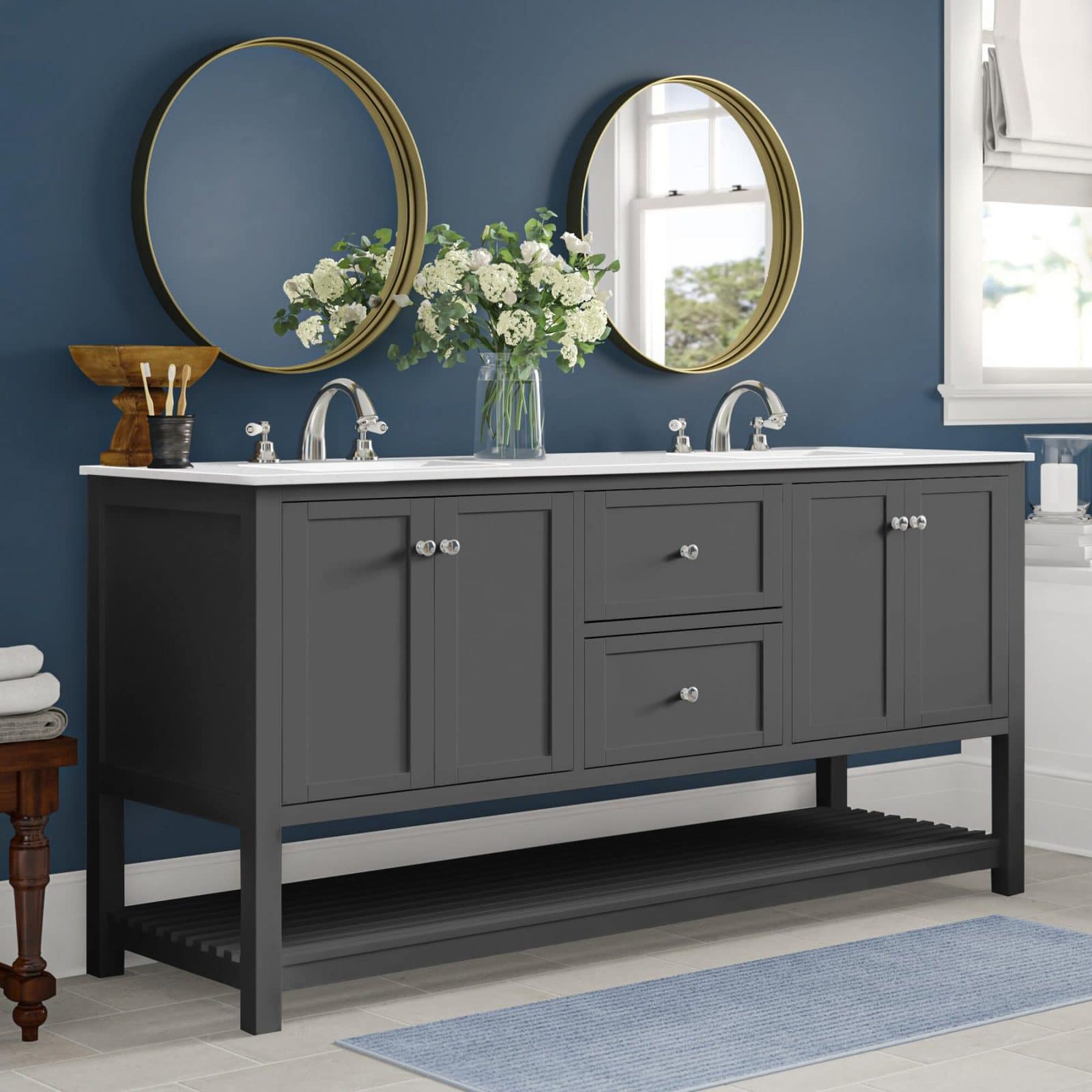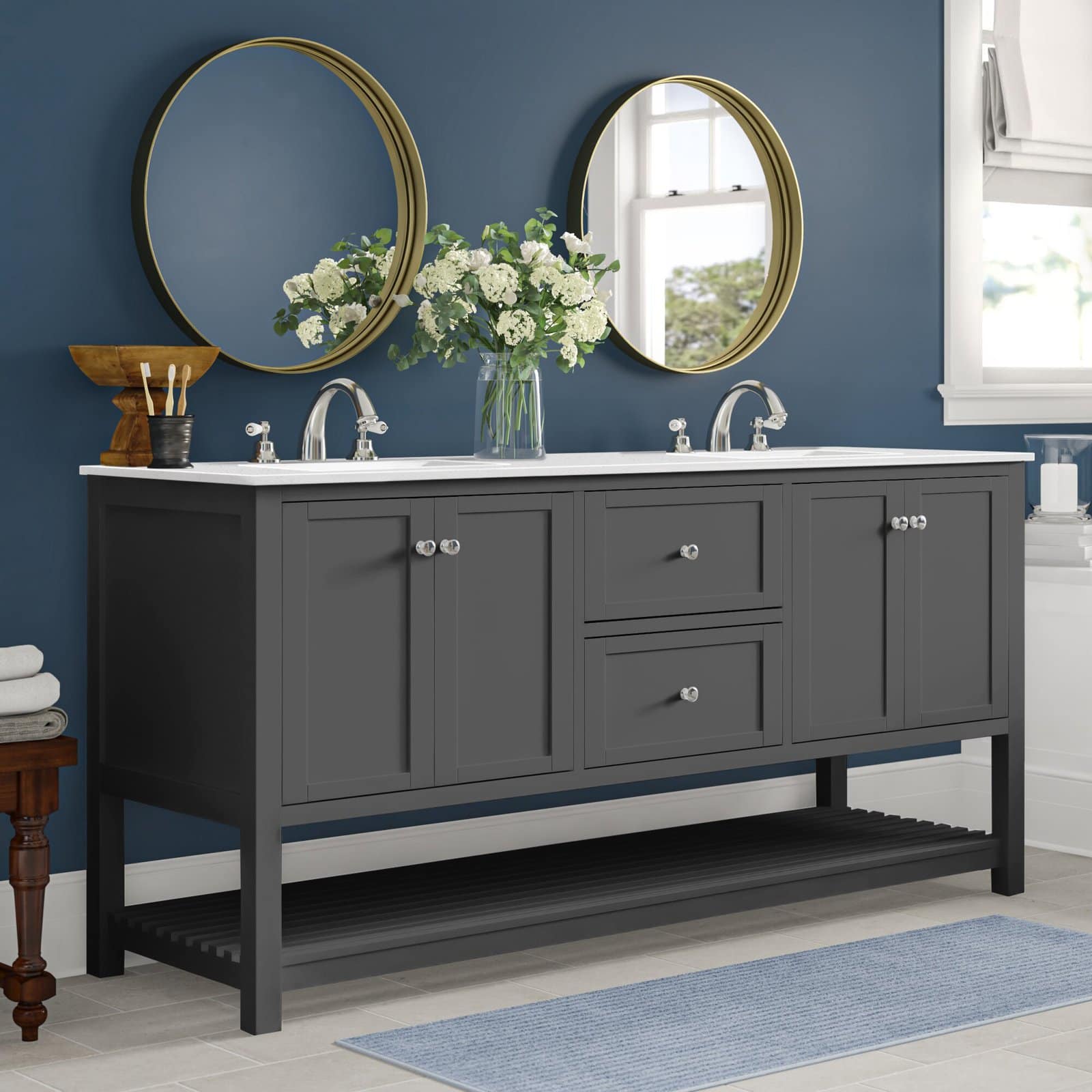 Deep navy blue walls paired with a dark grey vanity will give your bathroom a sophisticated look. Adding gold accents such as these stunning round vanity mirrors is the perfect way to inject some feminine glamor into the space.
When it comes to designing a navy and grey bathroom, it's important to balance out the dark colors with some lighter shades such as white. You can do this by simply adding some fresh flowers or some fluffy white towels. This will help make your space come alive and stop it from feeling too masculine.
Create a Feminine Look With a Floral Shower Curtain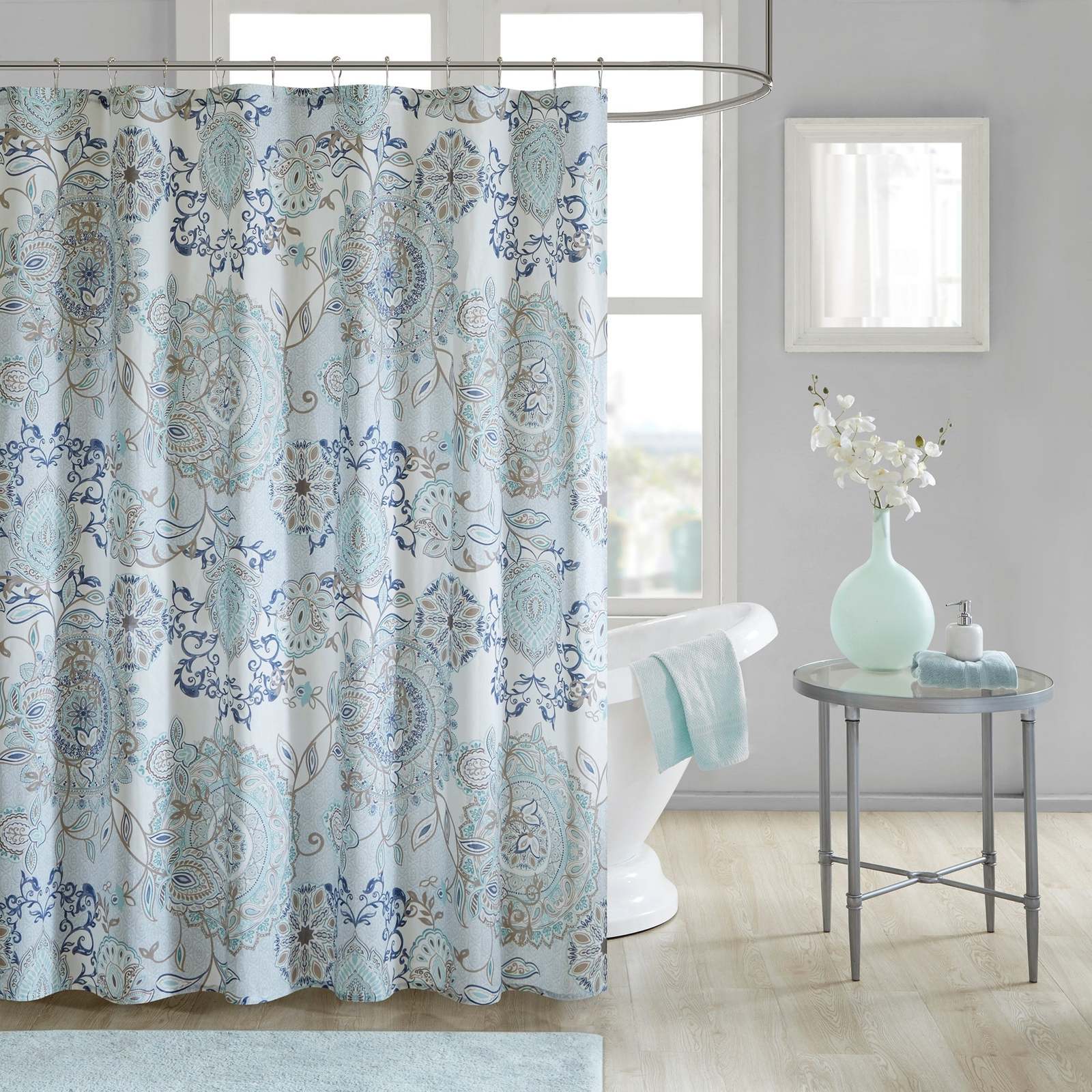 An easy way to change the look of your bathroom is to choose a beautiful shower curtain. A floral shower curtain in grey and blue will instantly add a soft feminine feel to any grey and blue bathroom design.
Choosing a new shower curtain is a great way for anyone renting their home to dress up a plain bathroom, as it can change the entire look of the space in an instant.
Add Natural Accents for a Farmhouse Look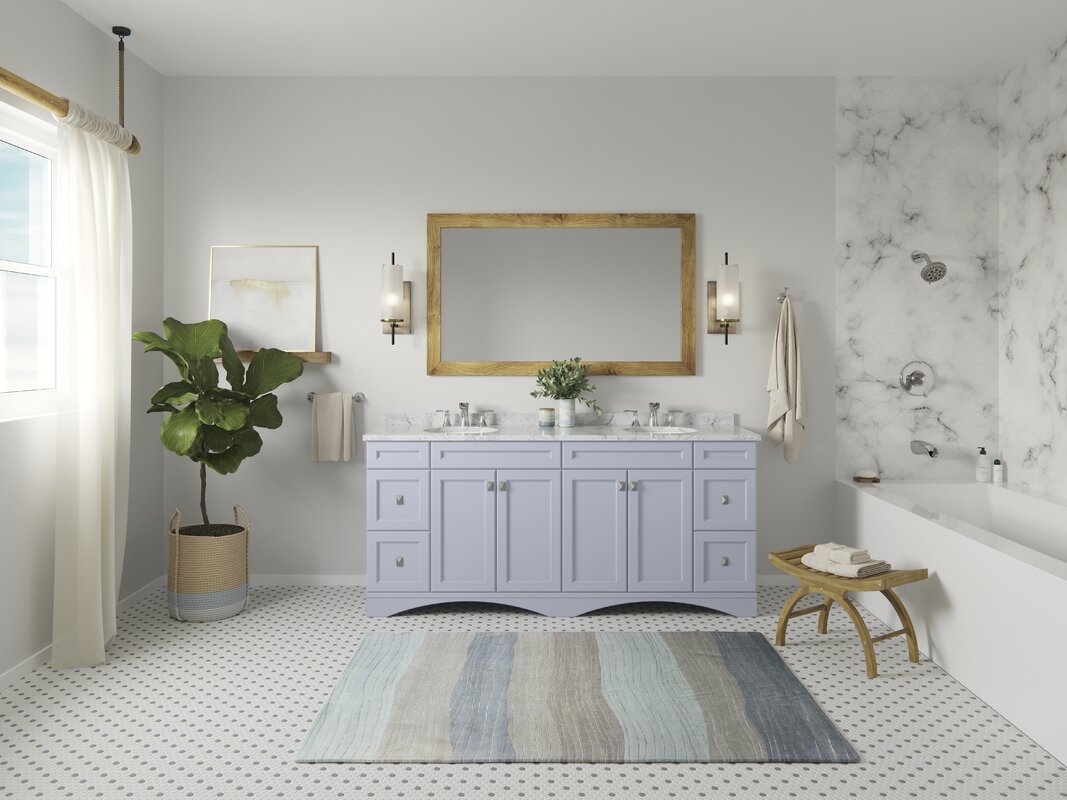 If you want to create a farmhouse look in your bathroom, try adding some natural accents. A large rectangular mirror in a rustic wooden frame, paired with some accessories made from natural materials such as seagrass, wicker, or rattan is the perfect way to do this.
To complete the farmhouse chic look, add some bathroom-friendly plants, and some white linen curtains or blinds. This timeless look is an easy way to add personality to a light blue and gray bathroom.
Add Plenty of Storage With a Navy Blue Vanity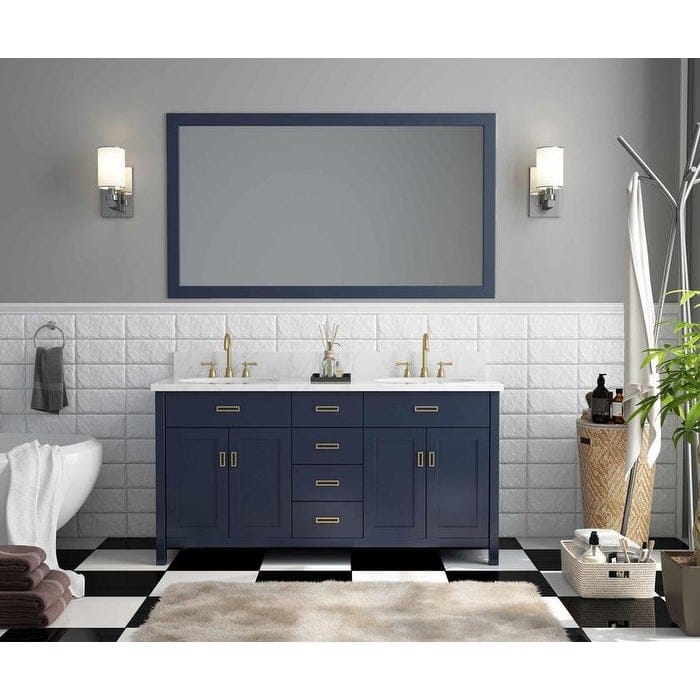 A large navy blue double vanity will not only look good in a navy and gray bathroom, but it will also provide lots of extra storage, which will help to keep your bathroom clean and clutter-free.
Placing a dark-colored vanity against a lighter color such as these white textures tiles will create contrast and allow your vanity to take center stage as a feature in your bathroom.
A Powder Blue and Grey Bathroom Design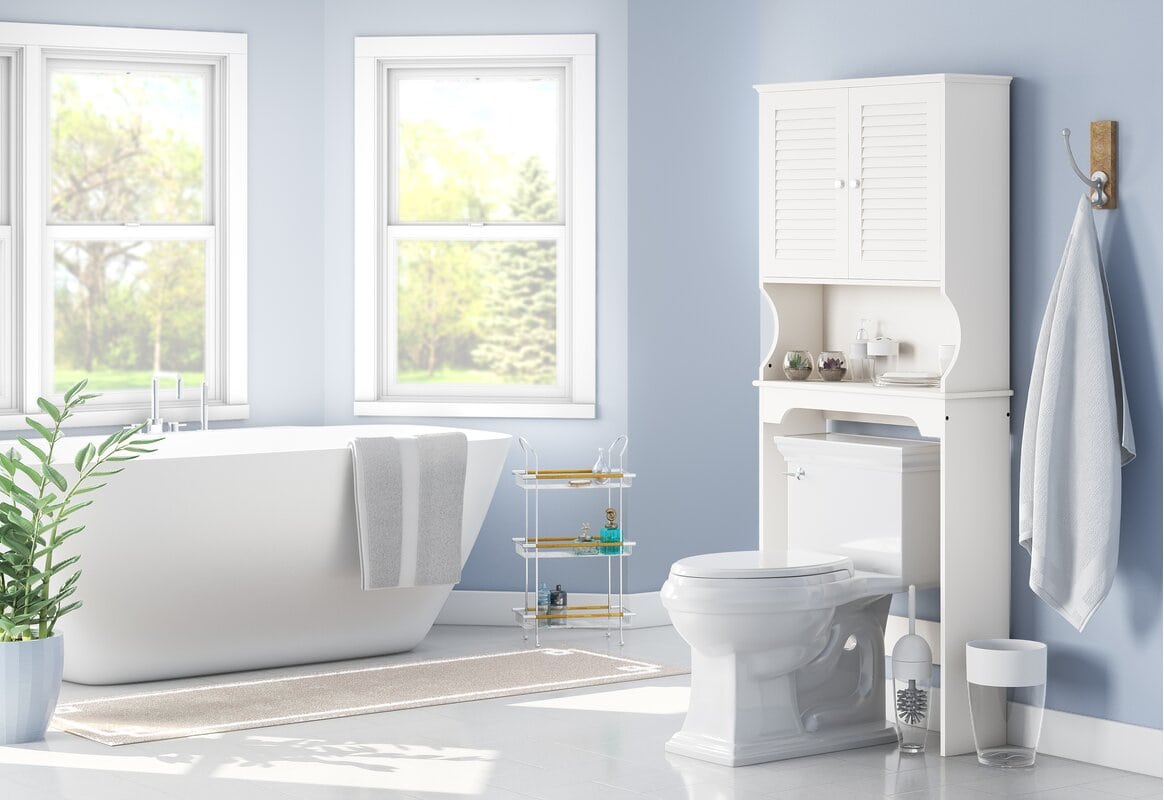 A light powder blue on the walls with white and gray accessories will give your bathroom a timeless elegance, making it the perfect place to relax and unwind after a long day.
Natural accents such as plants and wooden accessories are a great way to add interest to a light blue and grey bathroom. These accents will bring your space to life and ensure that it doesn't feel too cold and sterile.
A White Bathroom with Blue and Grey Artwork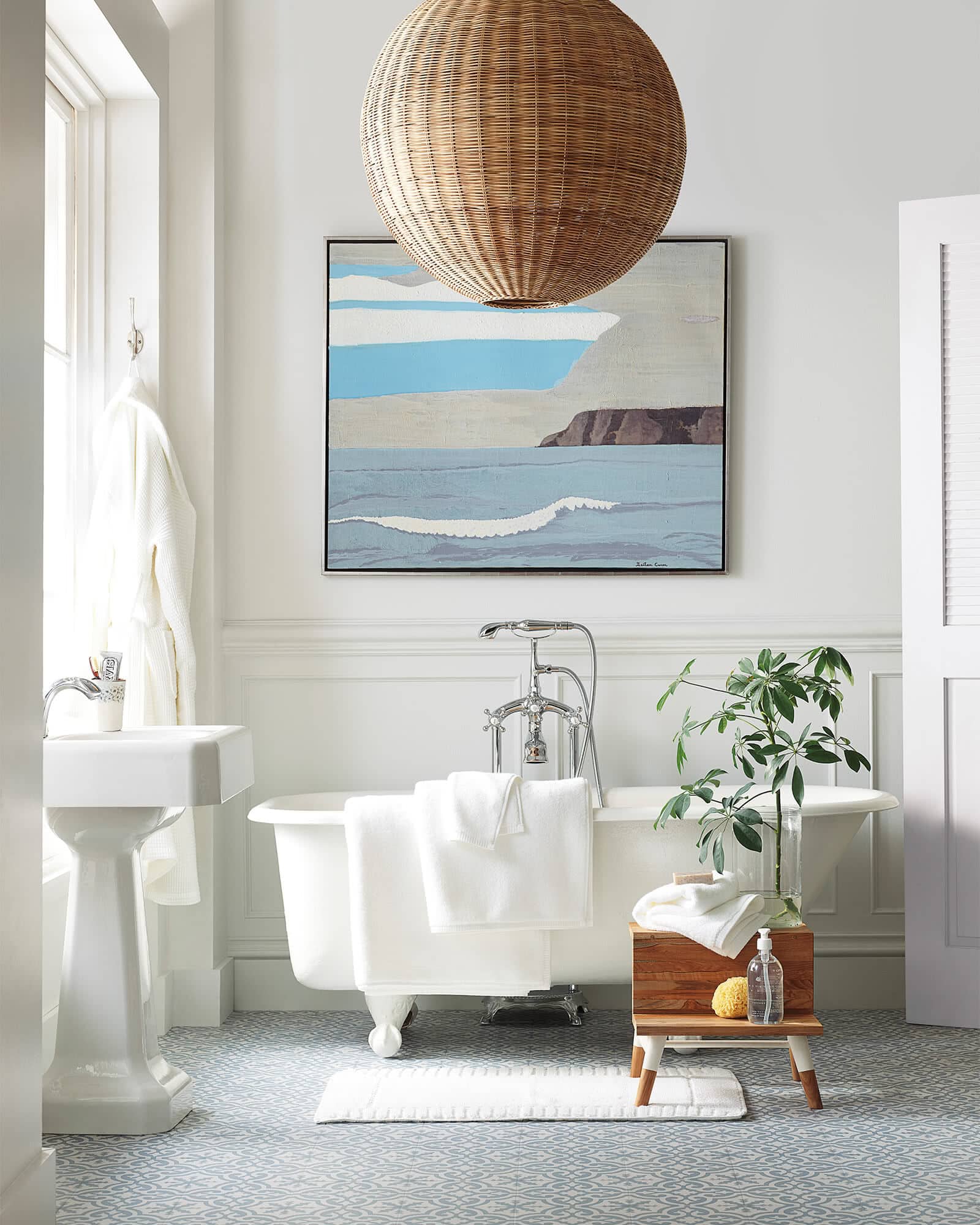 Adding color to your bathroom through the artwork and accessories you choose is perfect for anyone who likes to change their look frequently or rents their home and can't paint the walls.
A large modern painting featuring a blue and grey color palette is a great way to bring blue and grey into a plain bathroom. You can further complement this by adding in some blue and grey towels and a bath mat.
Bohemian Grey and Blue Bathroom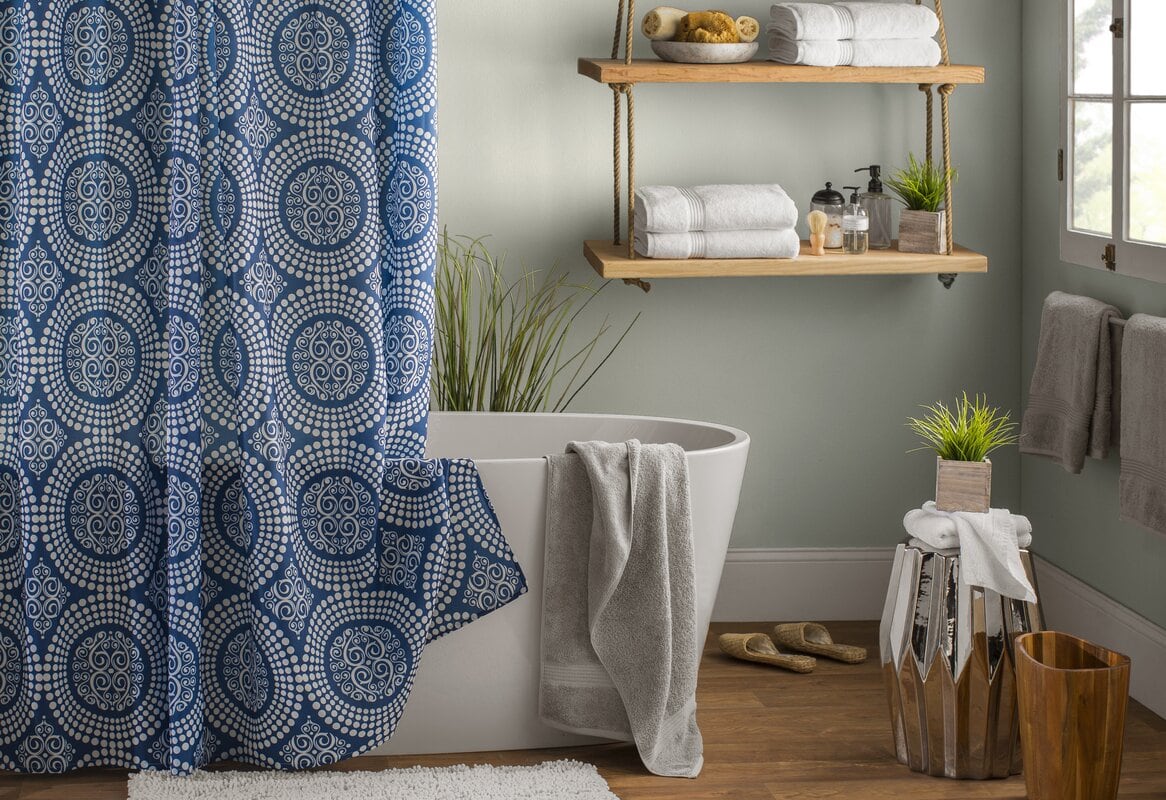 Natural accents paired with a grey and blue color palette and bohemian-style patterns are key to this look. The dark blue intricately patterned shower curtain takes center stage, giving this bathroom its effortlessly cool bohemian feel.
If you're going for the bohemian look, add in lots of bathroom-friendly plants and natural accents such as rope, rustic wood, and bamboo to bring this look to life.
A Nautical Grey and Blue Bathroom Design
Grey and blue bathrooms are an ideal starting point for anyone wanting to create a nautical look. Rope accents such as a rope mirror along with striped accessories will instantly give your bathroom a nautical feel.
Adding some nautical-style beacon sconces on either side of the vanity mirror will complete the look. This look is ideal for coastal homes or anyone who simply loves the effortlessly stylish coastal look!
Modern Navy and Grey Bathroom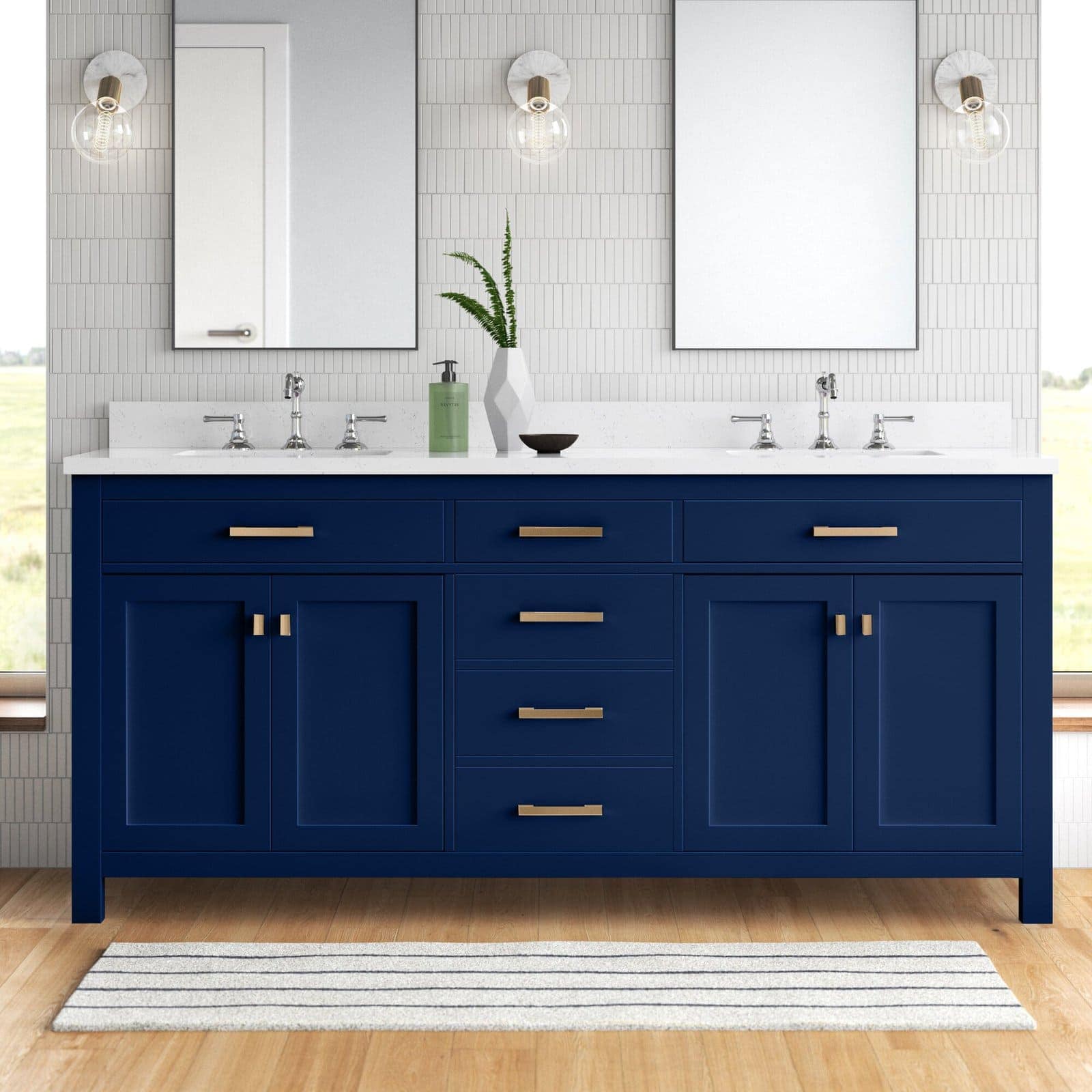 Sleek lines and contemporary gold hardware give this navy and gray bathroom a modern look. The grey grouting between the white mosaic wall tiles and grey veining in the marble complement this large navy blue double vanity, contrasting with the dark color beautifully.
If you're looking to create a contemporary grey and blue bathroom, look out for simple rectangular vanity mirrors with a thin frame, and choose simple light fixtures.
Use Peel-and-Stick Wallpaper for a Quick Change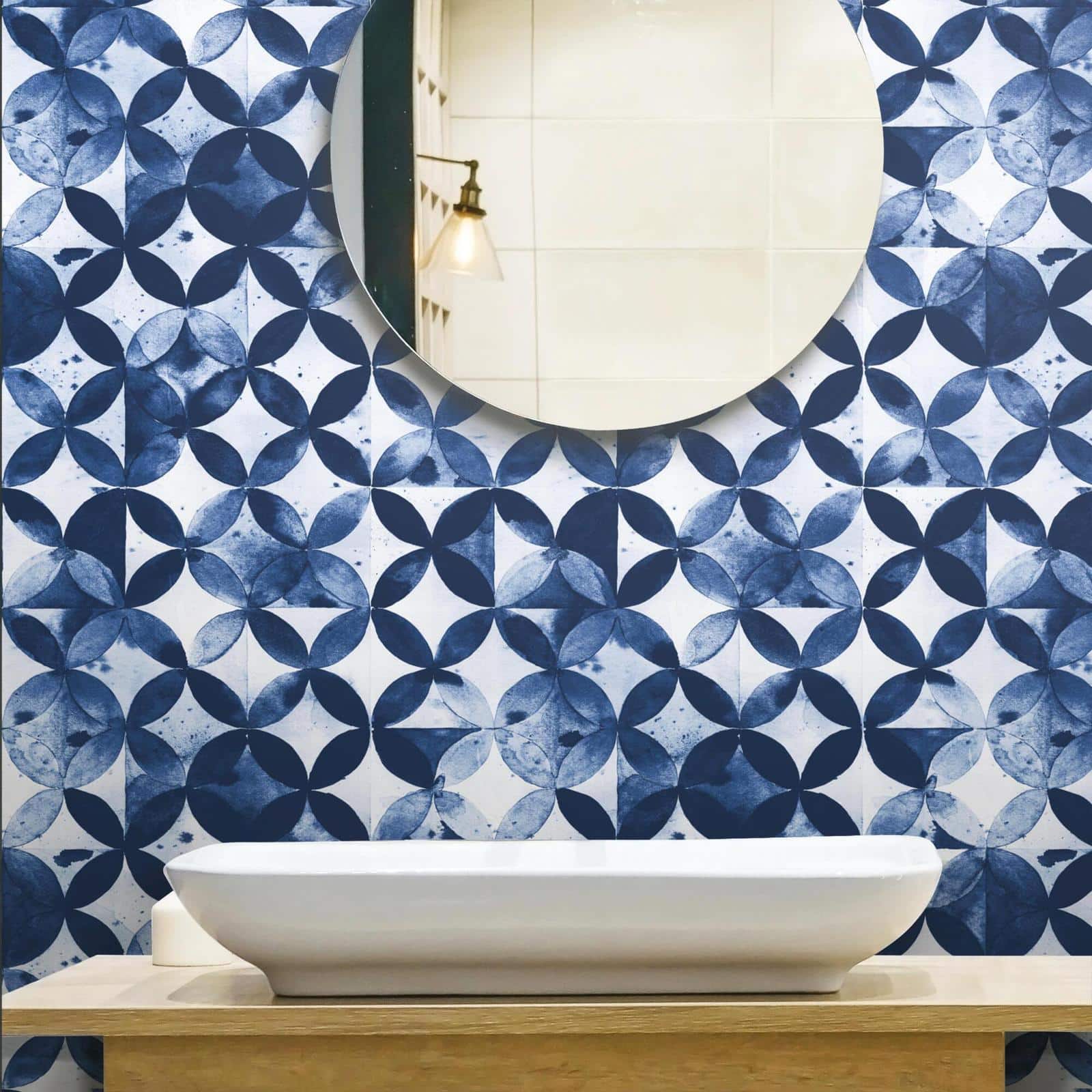 If you're not able to paint or re-tile your bathroom, using peel-and-stick wallpaper is the perfect way to spice up your bathroom. The vinyl paper is easy to apply and can be wiped clean with a cloth, making it a great choice for bathrooms.
This is an ideal solution for anyone renting their home, as the wallpaper can easily be removed and won't leave any sticky residue behind. It's very affordable too!
A Grey Bathroom With Blue Accents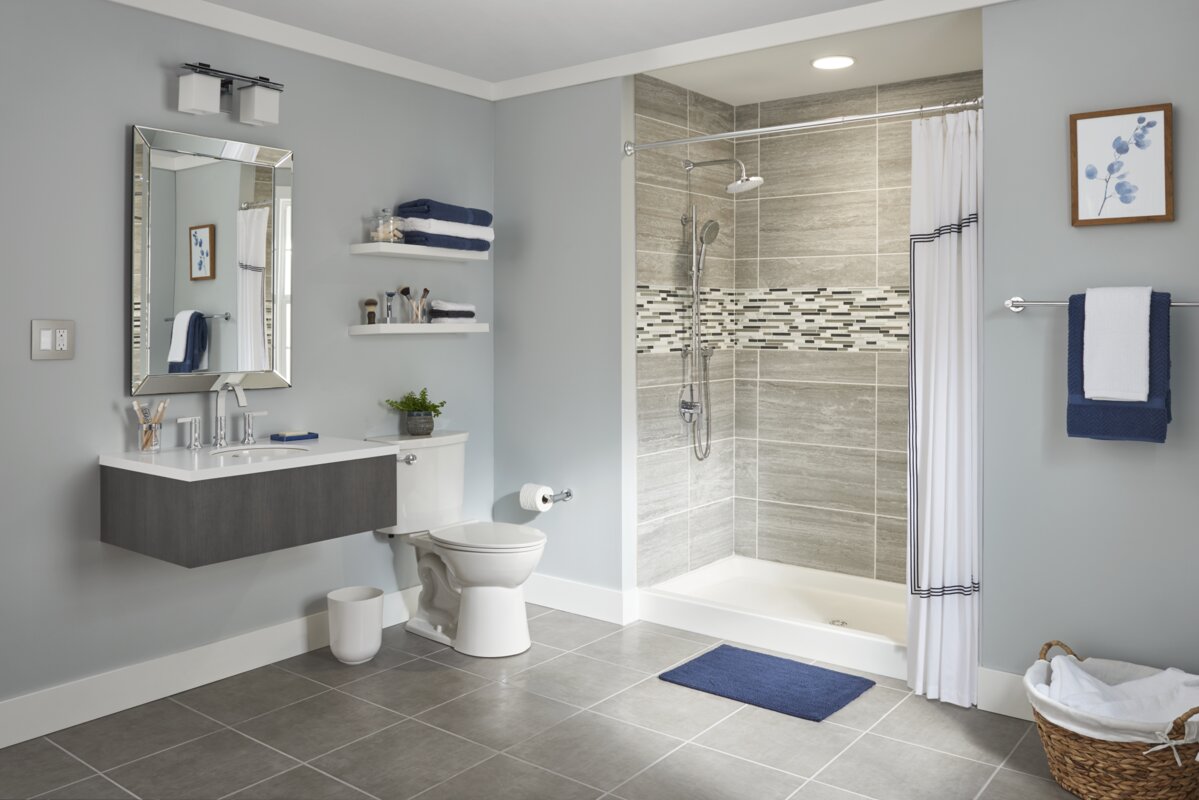 If you already have a grey bathroom and would like a blue and grey color scheme, you can easily do this by changing up your accessories.
Some dark blue towels, a blue and white shower curtain, a blue bathmat, and some artwork with a blue color palette are all easy changes that can be added to your grey bathroom to create a blue and grey design.
A Matching Shower Curtain and Bath Mat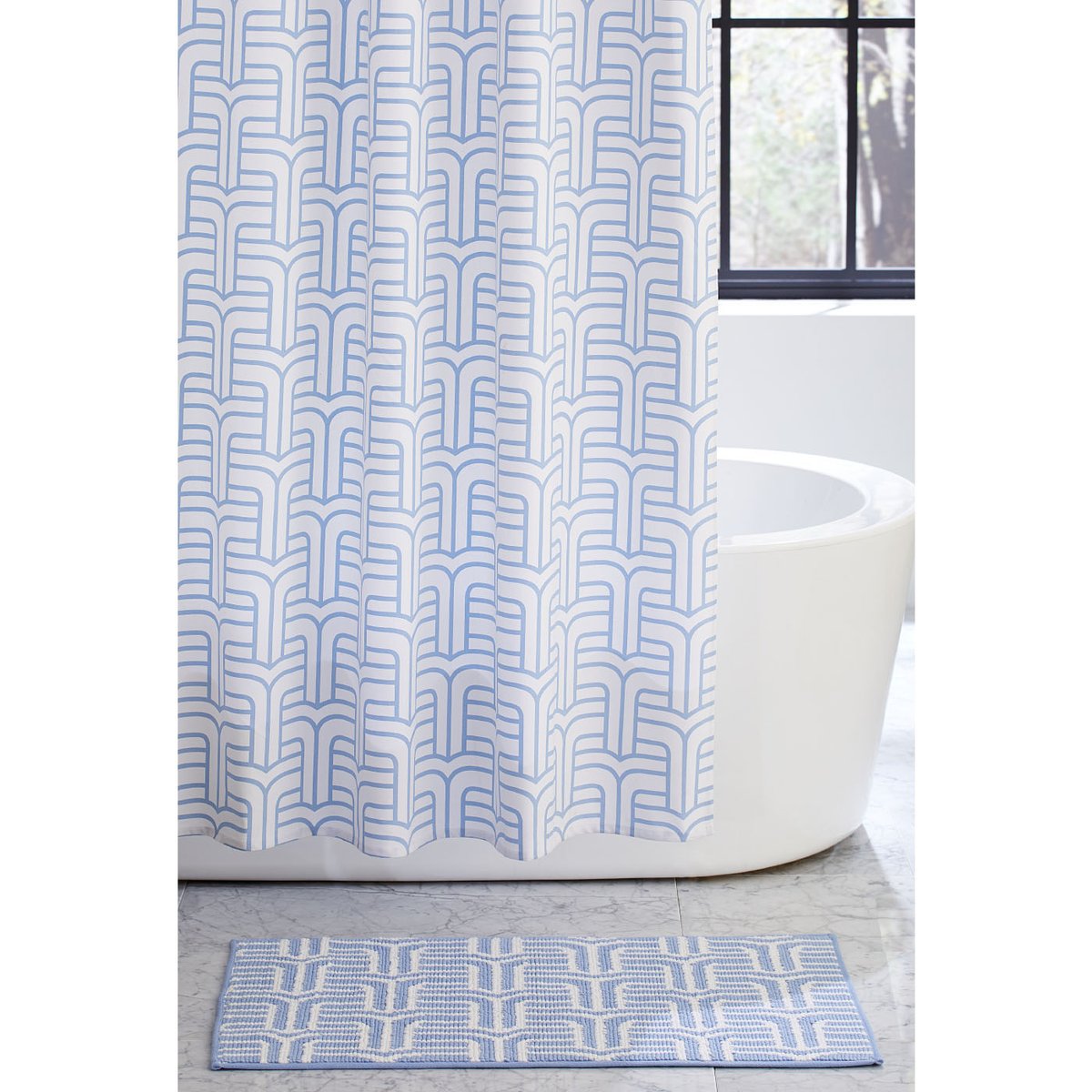 Choosing a matching shower curtain and bath mat is an easy way to create a coordinated look in your bathroom. This beautiful white Versailles bath mat and shower curtain will add a touch of French glamor to your space.
This stylish print in white and blue is the perfect choice to complement light grey and white bathrooms.
Grey Bathroom With Teal Blue Accents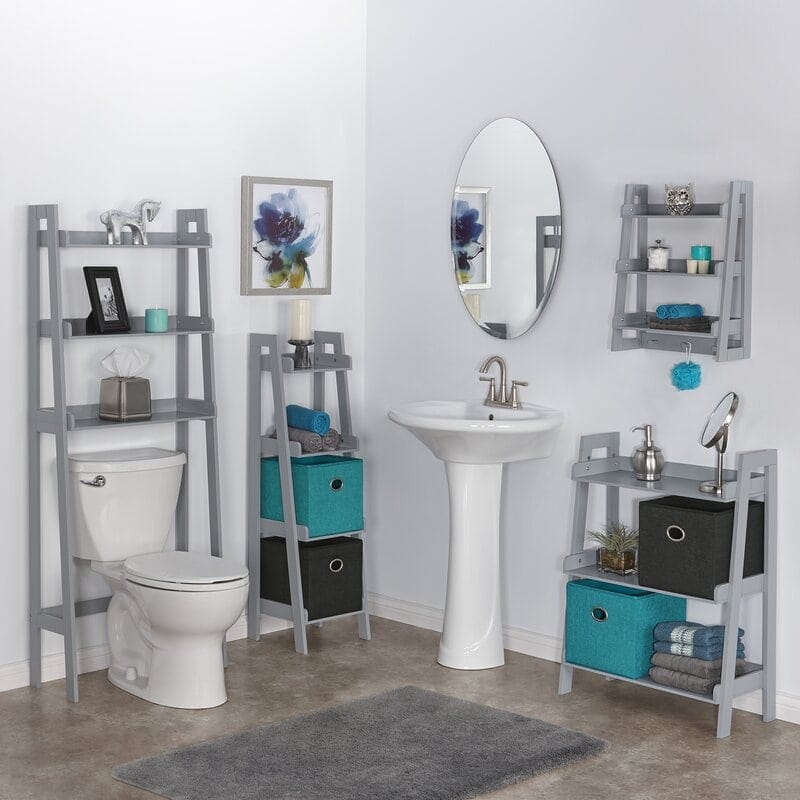 For a more contemporary look, try adding accents of teal blue to a grey bathroom. This will bring the space to life, giving it a fresh contemporary look.
Towels, storage containers, candles, art, and other accessories can all be used as accents in the room. This is a great way to add color to a grey bathroom without having to make drastic changes.
Blue Herringbone Bathroom Tiles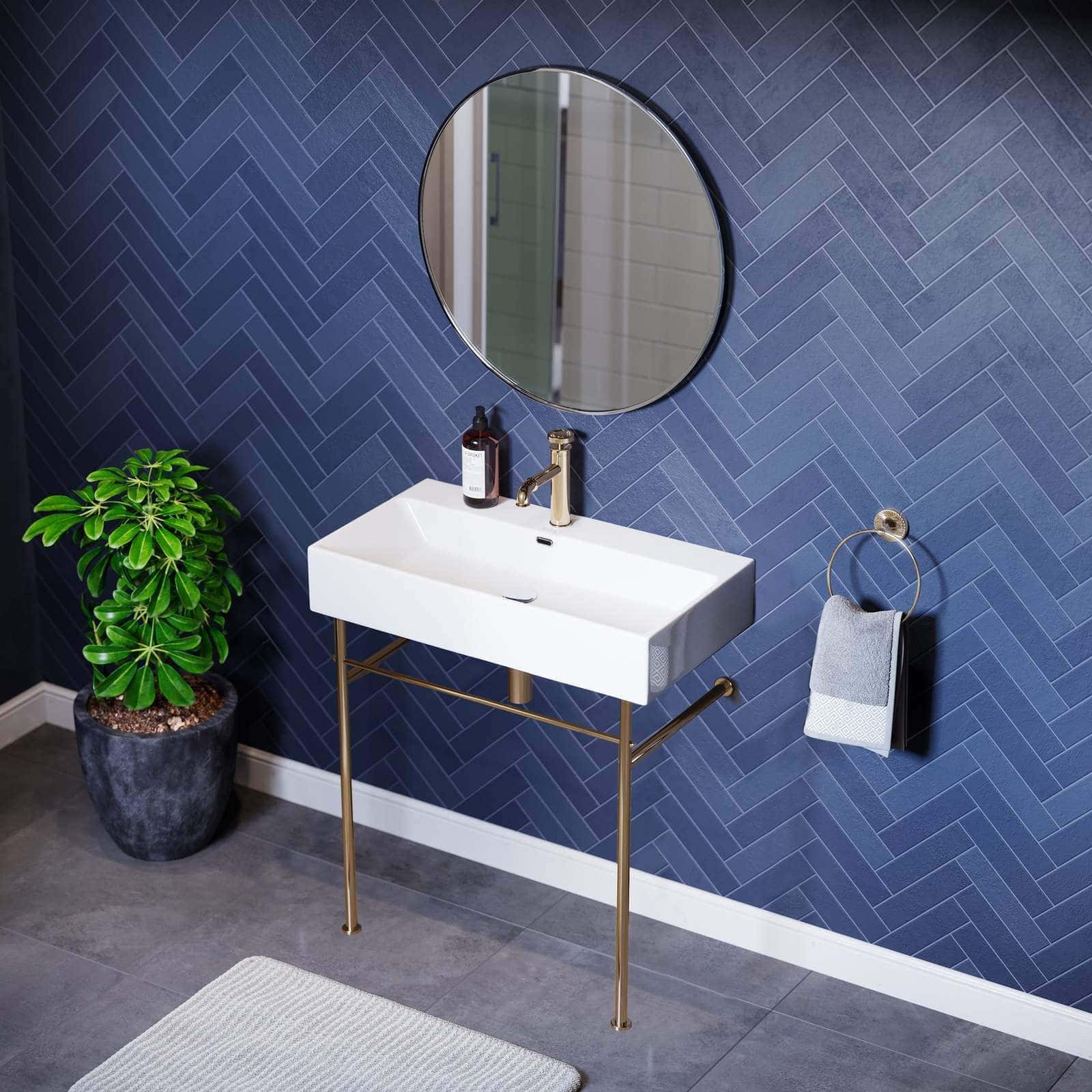 Choosing an interesting tile pattern is a great way to create a unique look in your grey and blue bathroom. The herringbone tile pattern is popular at the moment, and thanks to its timeless design it can work well in both traditional and modern homes.
A simple ceramic console sink is the perfect choice for against these dark blue-tiled walls, giving the bathroom an effortlessly chic look, with the gold legs adding just a hint of glamor.
Add Some Timeless Luxury With a Wool Rug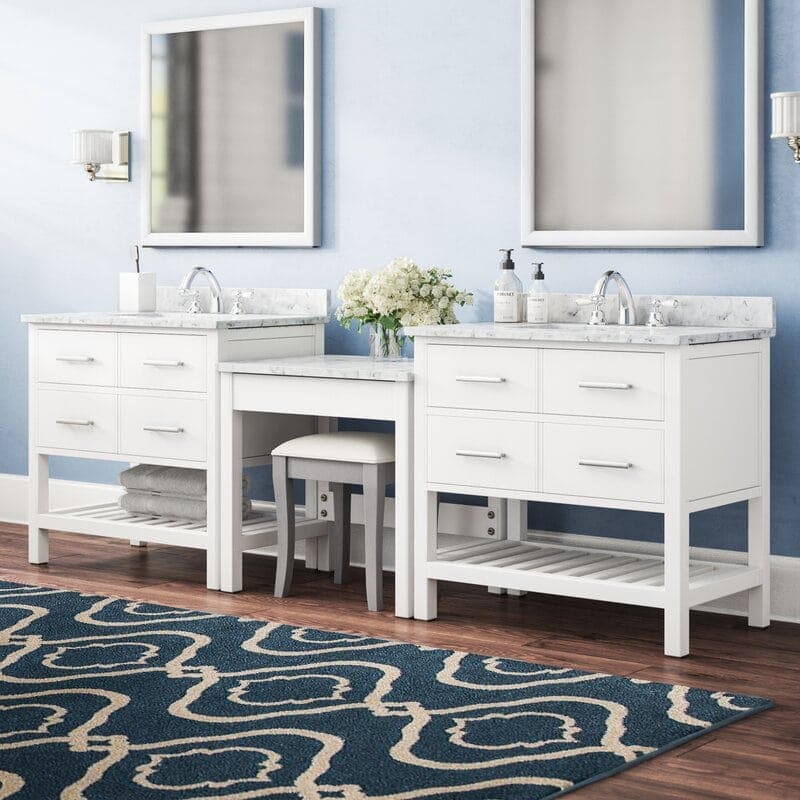 There's an ongoing debate on whether or not rugs have a place in the bathroom. Some people love them; some people hate them! Aside from personal preference, there are many practical reasons to use a wool rug in your light blue and grey bathroom.
A wool rug is naturally breathable and moisture-wicking, so if it does get wet, it won't stay wet for long. Having a rug in your bathroom will give you something warm and comfortable to step on as you go about your bathroom routine, and it will also help to prevent trips and falls that can happen on wet bathroom floors.
Grey Floor Tiles with Navy Blue Walls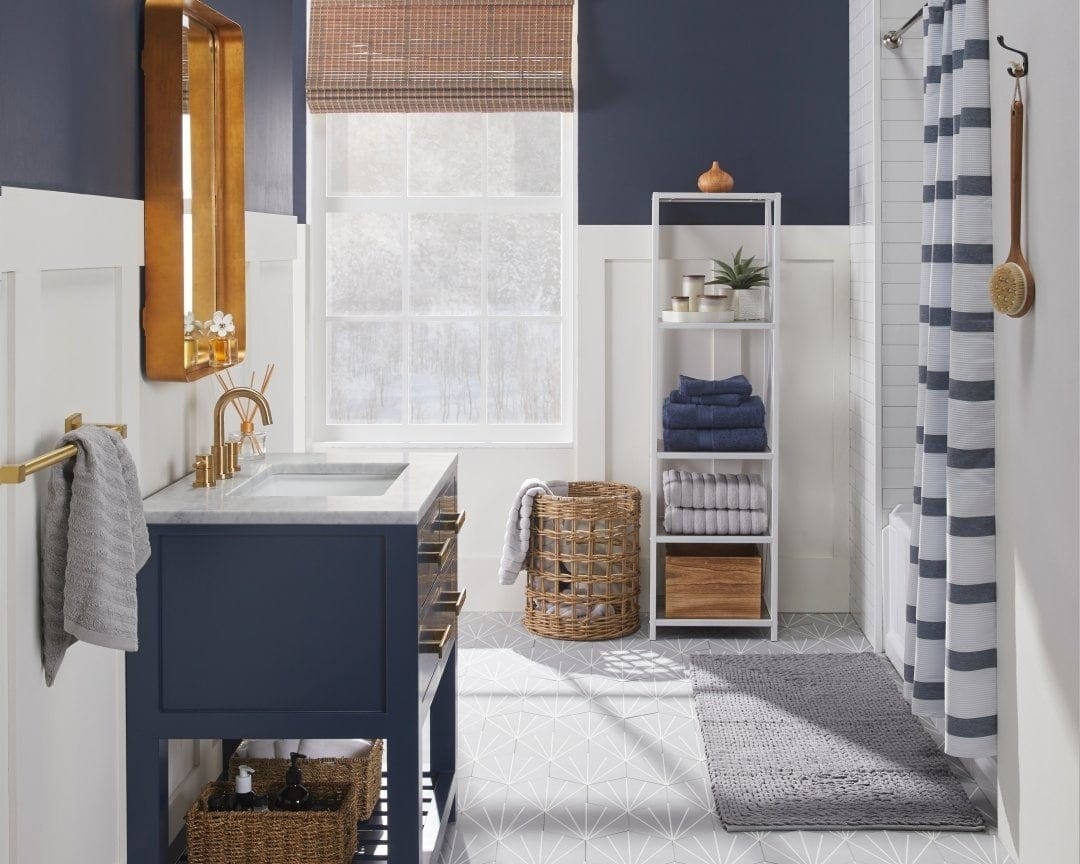 Light grey floor tiles paired with navy blue walls is an ideal color scheme for a modern grey and blue bathroom design. The white paneling breaks it up, and provides a contrast for the beautiful navy blue vanity to stand against.
Complemented with striped textiles, natural textures, and gold accents, this grey and blue bathroom design has a modern coastal vibe to it, making it a wonderful place to spend time in the morning!
Final Thoughts…
If you have been thinking of creating a blue and grey color scheme in your bathroom, hopefully, these ideas will have given you some inspiration. Because this color scheme is so versatile, it can be used to create a variety of different styles, from coastal-chic to smart and sophisticated, depending on what look you want to go for.
If you aren't able to redecorate your bathroom, you can still create a blue and grey color scheme by using accessories. The shower curtain, towels, bathmat, storage baskets, and art are other ways you can bring this stylish color scheme to your bathroom.