Decorated Life is reader-supported. When you buy through links on our site, we may earn an affiliate commission. Learn More
20 Grey And White Bedroom Ideas
Your bedroom is your sanctuary. A place to go where you feel comfortable, relaxed, and should be a space that undeniably showcases your personality! That being said, the color scheme of your bedroom should be well thought-out and stunning.
A grey and white bedroom is the perfect approach for almost any person of any age, as its versatility and charm make it easy to work with. Today we'll review some ideas for a grey and white bedroom that will make your safe space look and feel cozy and comfortable!
Design A Country Style Grey And White Bedroom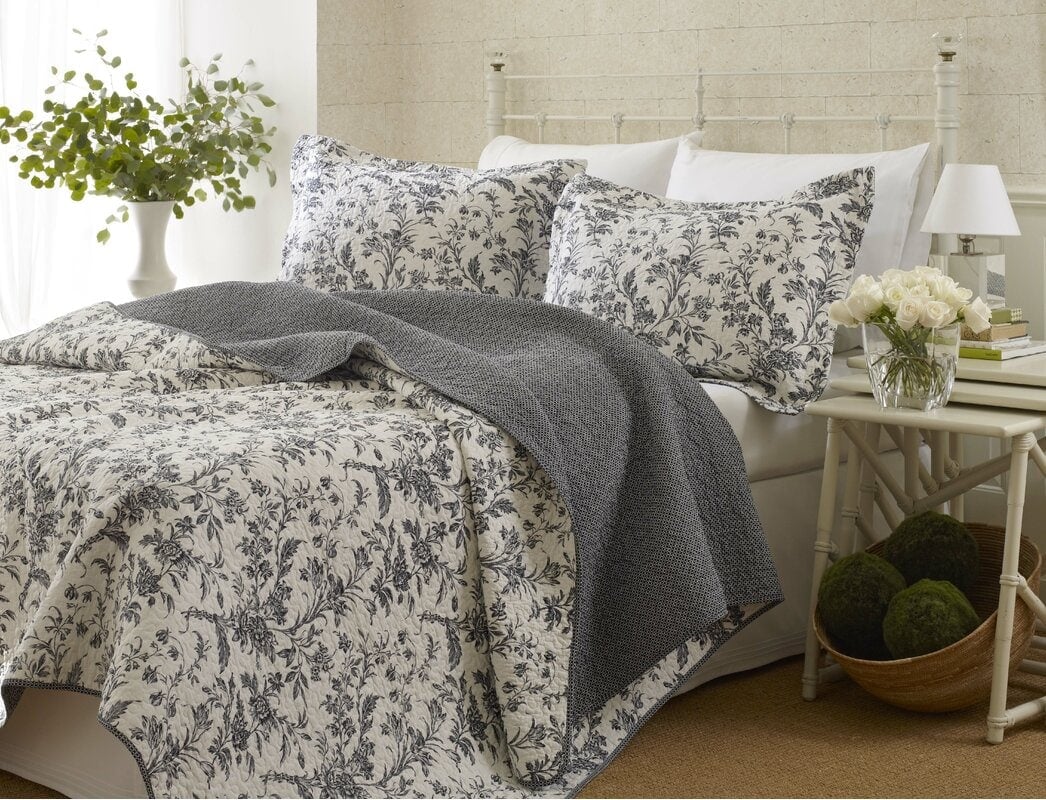 If you love the snug, homey feel of a country style bedroom, white and grey will work incredibly well in your bedroom. Using these colors, along with floral patterns and farm-style decor, will allow you to create the ideal country look!
Refrain from using too many bold or bright colors along with the grey and white, as this may take away from your country style theme. This specific design is more about lighter and more calming colors, which white and grey really embrace.
For A More Traditional Approach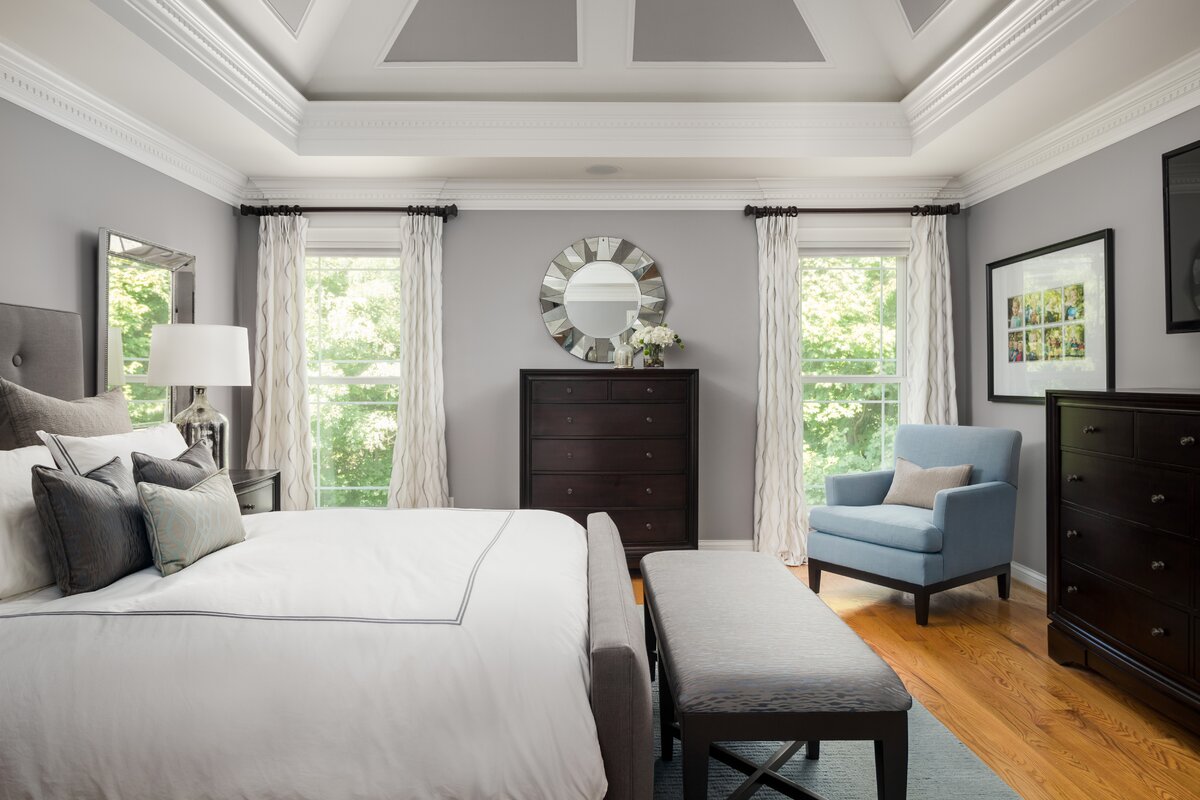 Understandably, traditional bedrooms are a typical choice for a reason! They are easy to design and decorate, and have a refined look that almost anyone can appreciate. Though some may think they are somewhat bland, it's all about the execution.
Take your traditional bedroom look to the next level, while using grey and white in your color scheme, by investing in interesting decor. Some classy, dark grey curtains or white wall art will complete your bedroom. Don't be afraid to add some accent colors throughout the room as well!
Grey, White, And Blue Bedroom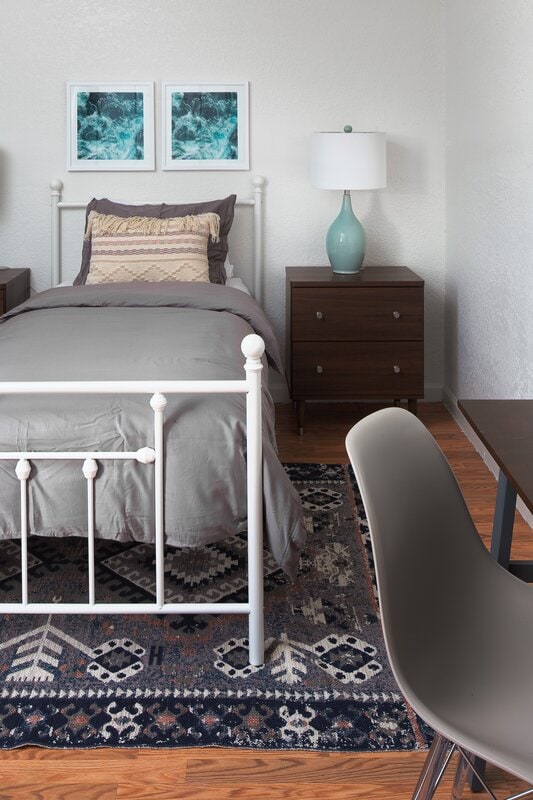 Let's talk about another color you can use alongside grey and white to give your bedroom a makeover. Blue is the perfect accent color to use in your white and grey bedroom, as it will give your room a splash of color, while not seeming too overbearing.
Try beginning the decorating process in your bedroom using grey and white, and then adding in a few pieces of blue wall art or an accent chair when you're finished. This will surely draw attention, and will be a beautiful focal point in the room!
Grey And White Glam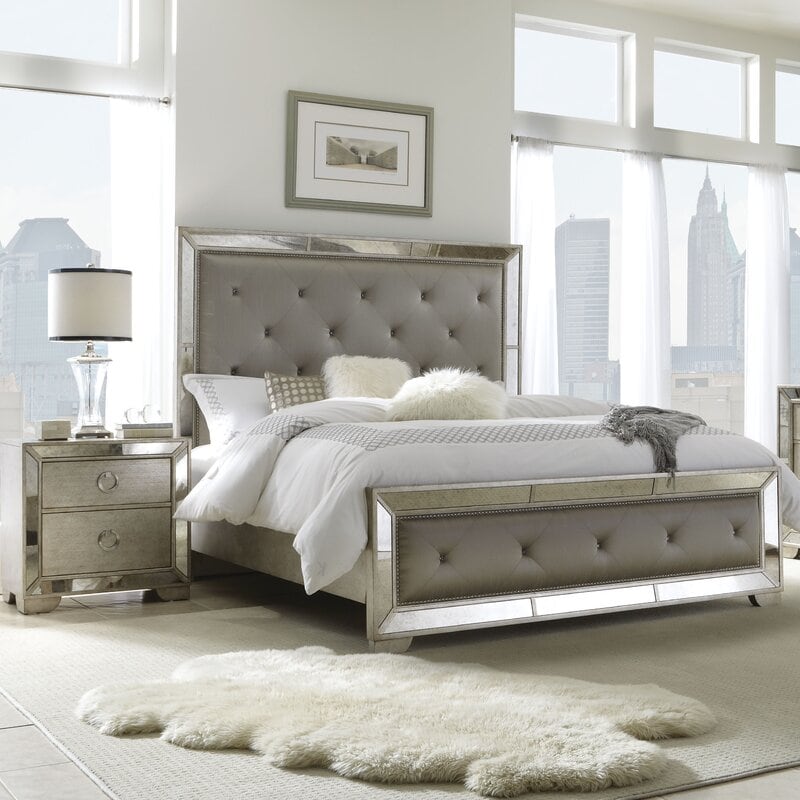 Glam and chic themed bedrooms are perfect for those who want a more enchanting and expensive look. If you love all things glitzy, grey and white will serve that purpose. No matter your age, a glamorous bedroom will make you feel like royalty!
White is stylish and trendy, while grey (typically more of a silver) is a classic choice and is typically used in glam bedrooms. Grey and white are the perfect pair for this specific theme. Invest in a silver vanity or dresser and some white fur decor, and you're all set!
Another Accent Color Idea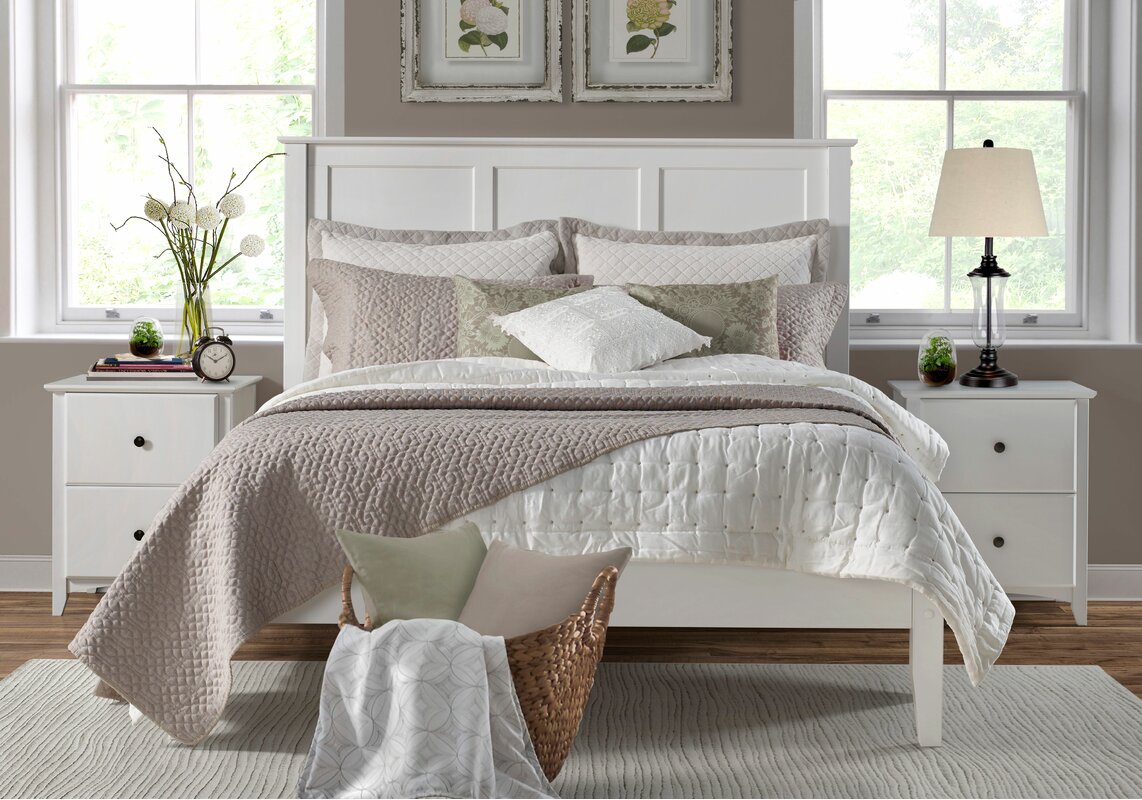 When designing your grey and white bedroom, you may find yourself looking for an alluring accent color to add along with your base colors. For those who love to keep up with current trends and adore modernism, sage green will fit right in.
Sage green has become undeniably popular in recent years and is popular amongst pastel lovers and those who enjoy lighter, more elegant shades. This accent color will look seamless when showcased throughout your grey and white bedroom!
For A More Mid-Century Modern Look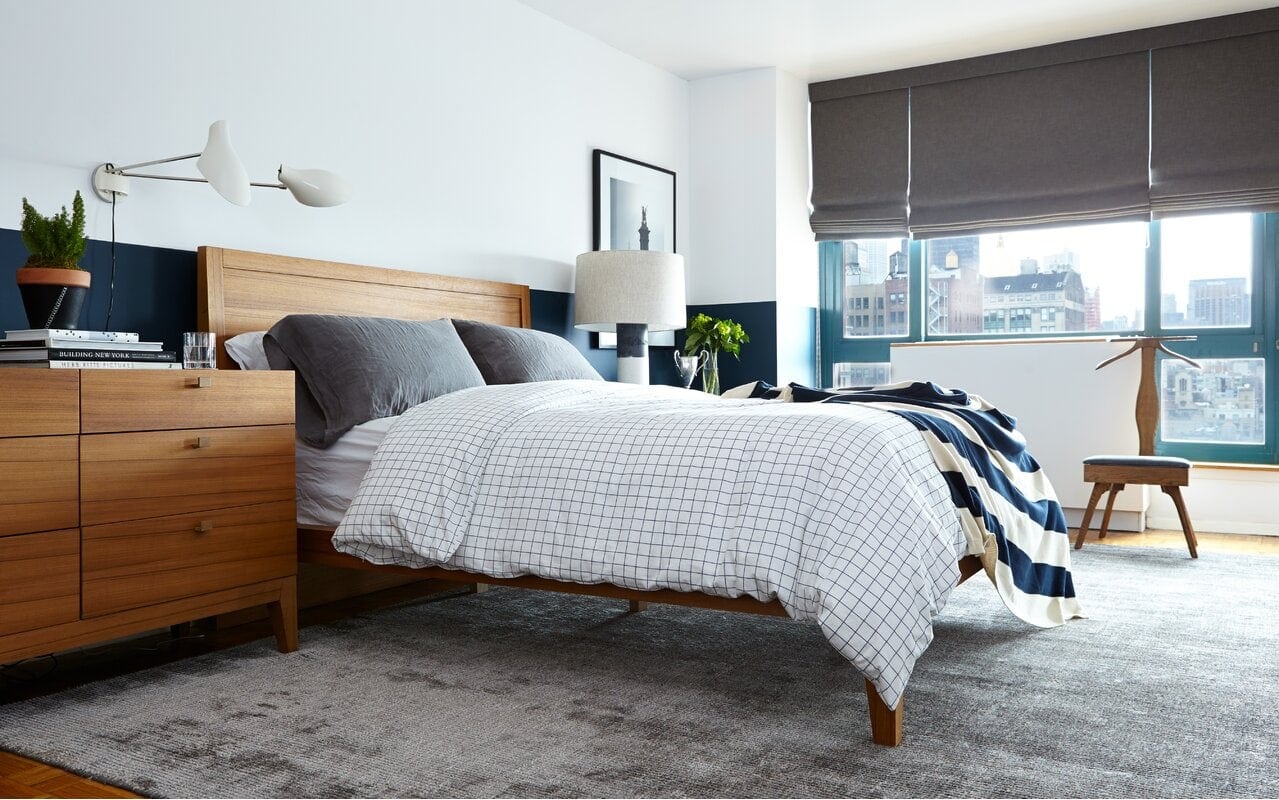 A mid-century modern bedroom is a fun and unique theme to go with. It's not as frequently seen as other designs, which makes it more exclusive. Better yet, your mid-century modern bedroom will definitely benefit from a grey and white color scheme.
With grey and white themes throughout the room, you may also consider adding in tones of orange or navy to truly embrace the look you're striving for. Wooden decor is also quite frequently used in mid-century modern rooms, so keep that in mind when decorating!
A Rustic Bedroom Aesthetic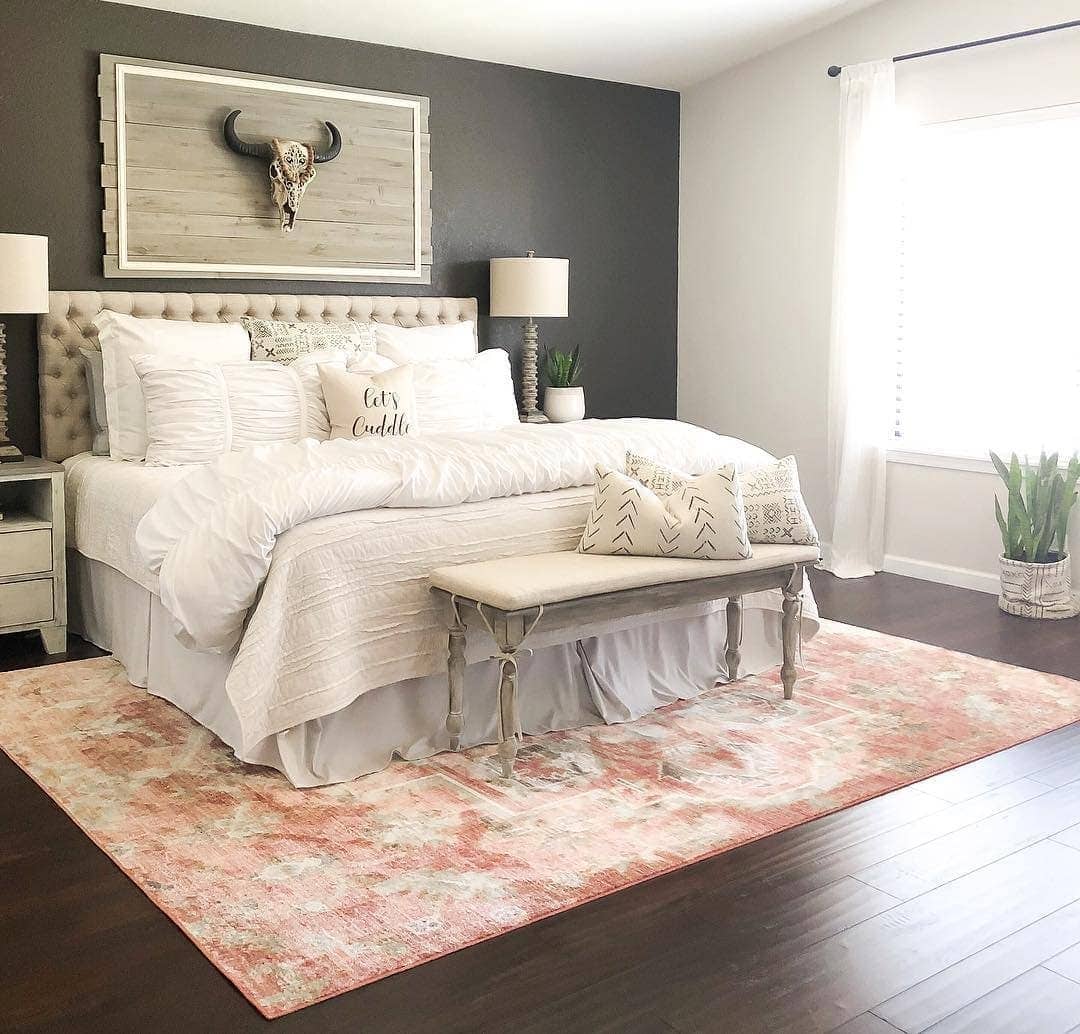 For all the people who cherish a southwestern or rustic aesthetic, this idea is for you! When designing your bedroom, think about how you'd like the room layout to be, what decor you'd like to buy, and what vibe you'd like it to give off.
Again, sticking with our grey and white bedroom color scheme, a rustic bedroom can be flawlessly accomplished. Grey and white can serve as your base colors, and then you may add in some southwestern decor and a few patterned pillows, and voila!
Hang Some Grey And White Wall Decor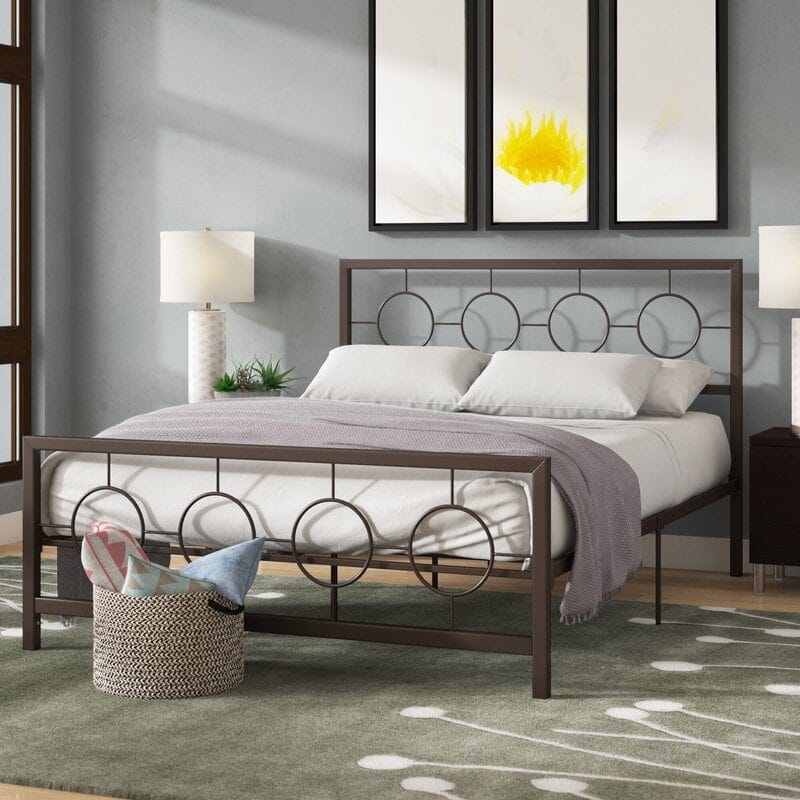 Bedroom decor is not only confined to wall color, bed sheets, and blankets. It all comes down to how you present your bedroom and your decorating decisions. If you have a grey and white bedroom that is lacking wall art or decor items, your bedroom will look unfinished and frankly, lazy.
To easily avoid this issue; simply search for some grey and white pieces of wall decor to hang above your bed, by a window, or next to your vanity. This will draw any guest's attention, and is an effortless way to showcase your creativity!
Shop similar wall art: Wayfair / Urban Outfitters
Make Your Bedroom Simplistic And Stylish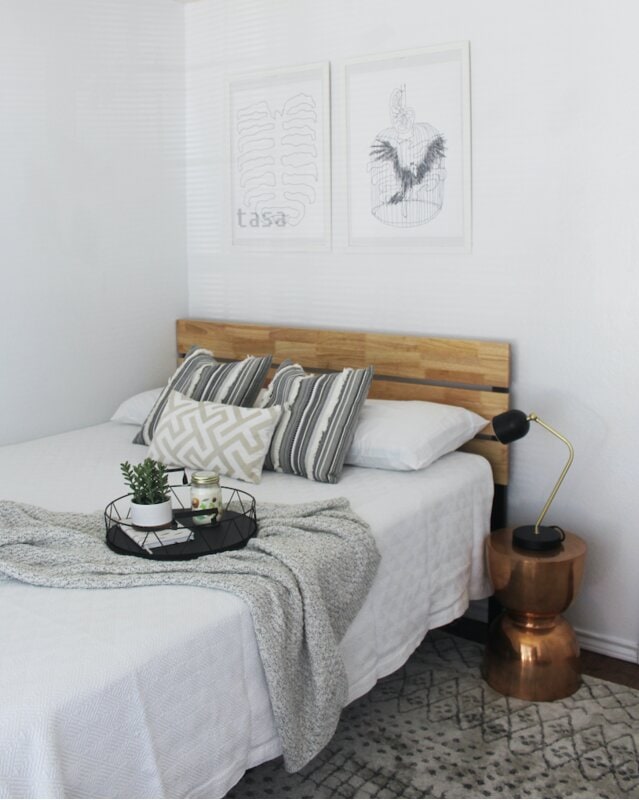 A simplistic white and grey bedroom does not have to look boring. You can find ways to spruce up your minimalist style and create a fashion-forward bedroom! This will require finding bedroom decor that meshes well with your grey and white theme.
Grey and white are neutral tones, which are already exemplary choices for a more simplistic room. Keeping shades light and bright in your bedroom will instill a sense of relaxation and may help you unwind, all while making your bedroom look modish!
Your Dream Bohemian Bedroom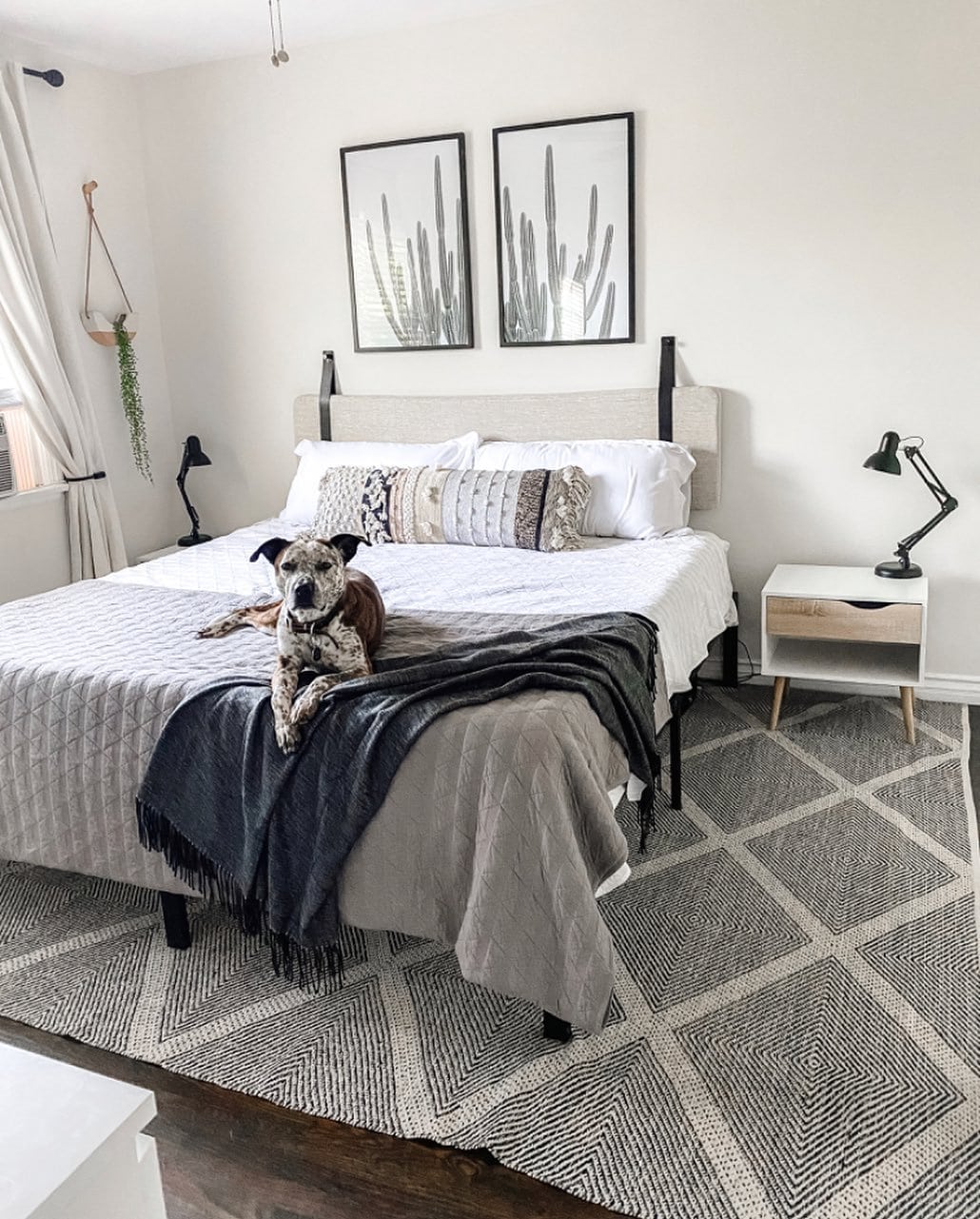 Are you obsessed with bohemian bedrooms? If so, the grey and white color scheme has you covered! Boho bedroom decor is so fun to shop for and even more fun to experiment with.
Grey and white can be utilized to enhance your bohemian theme. These calming colors in your bedroom will look incredible and seamless. Be sure to purchase some intriguing grey and white decor to place in your bedroom that emphasizes your theme!
Shop similar bedroom decor: Urban Outfitters / World Market
Try A Cream, Grey, And White Bedroom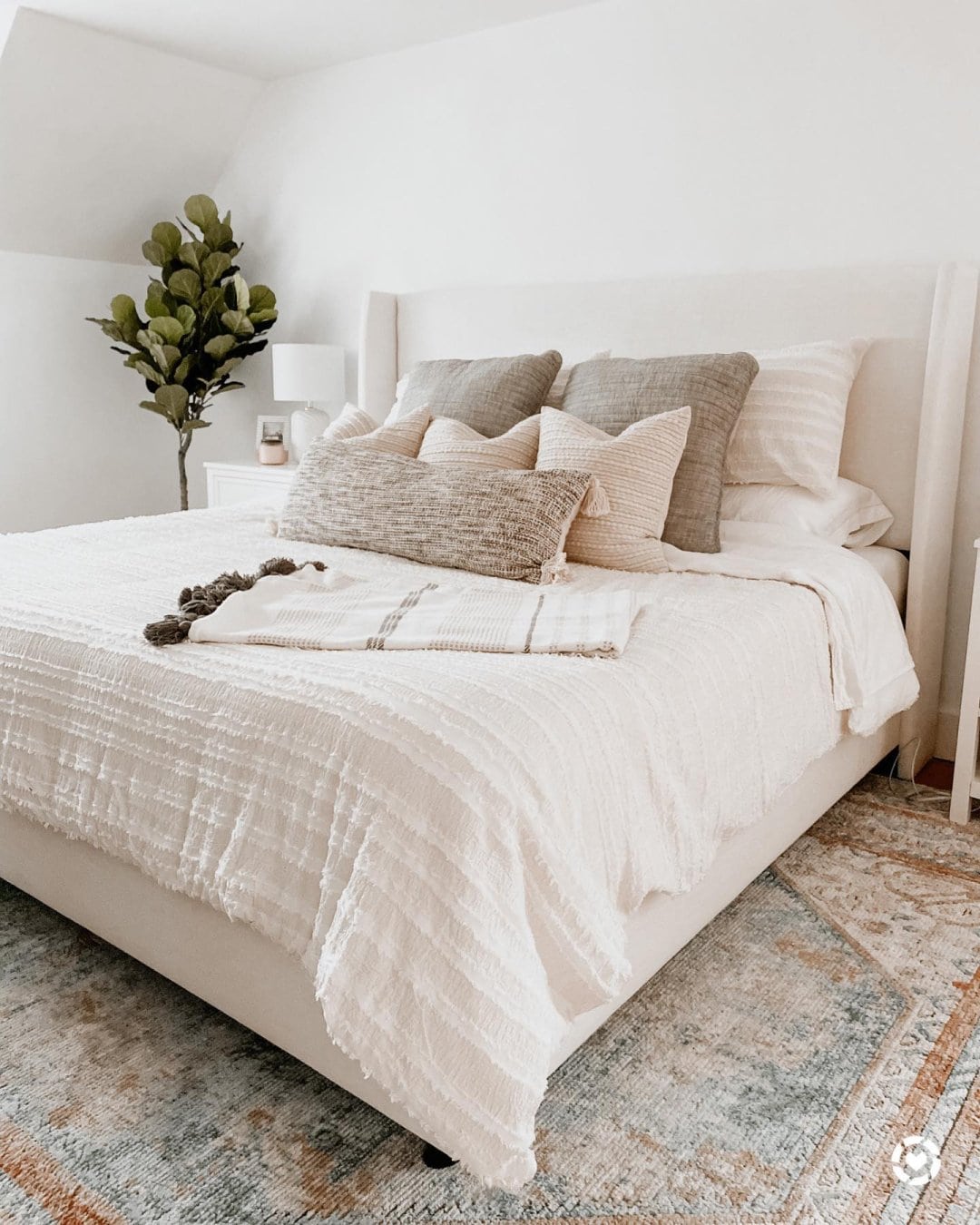 Cream, grey and white is a cute and dreamy color scheme. Whether you are preparing a kids room or planning a bedroom for an adult, this color scheme will look great in either! No matter your personal style, these colors can be seen as appealing to almost anyone.
These colors are soothing and can be used in a modern or vintage style bedroom. You can use these colors alone, or add in a few brighter colors to change up your bedroom's vibe all together.
Test Out The Shabby Chic Theme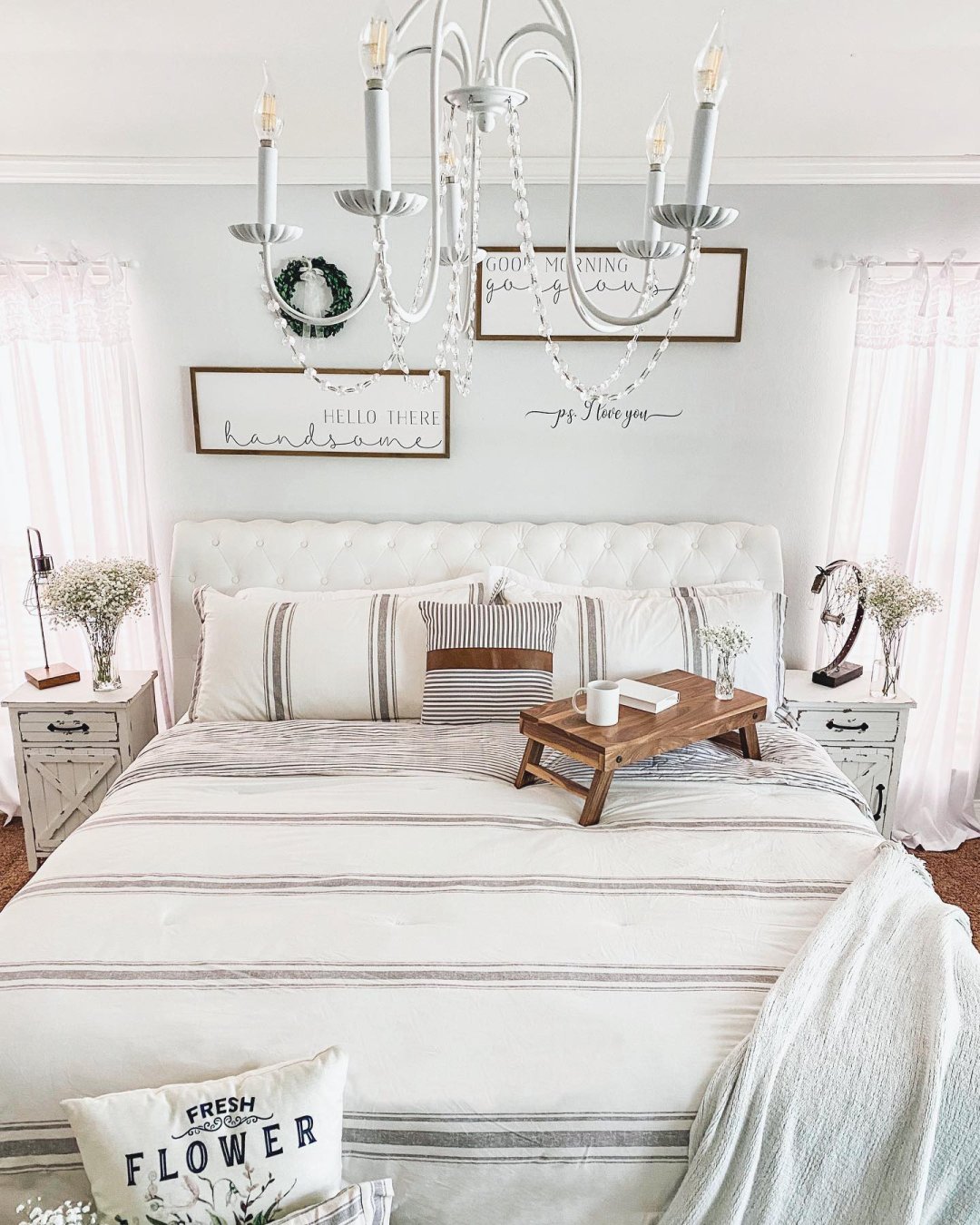 If you're designing a more laid-back, shabby chic bedroom, consider sticking to grey and white for your color scheme. Light grey and white is fitting for a shabby chic bedroom, and not to mention, easy to work with.
Make your bedroom look fun and fancy by using shades of light grey and white for a shabby chic outcome! It's a quirky theme, and includes antique-style decor that carries a sense of sentiment and nostalgia. Perfect for reflecting on the good old days while laying in the comfort of your own bed!
Go With A Grey, Black, And White Bedroom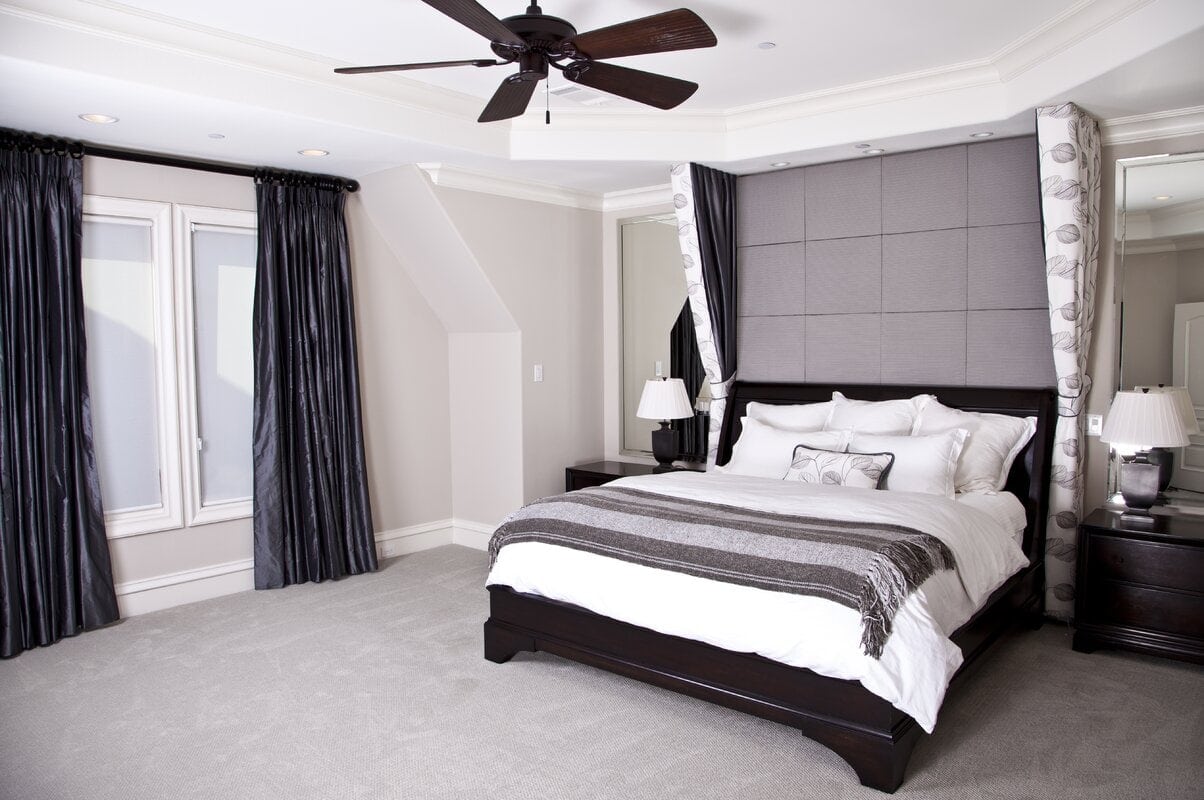 Darker tones are welcome in your bedroom as well. For a more polished look for those who enjoy darker shades with a grey and white color scheme in mind; simply add in black! Black will give your bedroom that additional shade needed to achieve your desired look.
Black, grey, and white are tones that go especially well together. A bonus to working with this specific color scheme is not having a limited range of decor to choose from. There are hundreds, (if not thousands), of black, white, and grey bedroom decor to find.
Check Out Dark Grey And White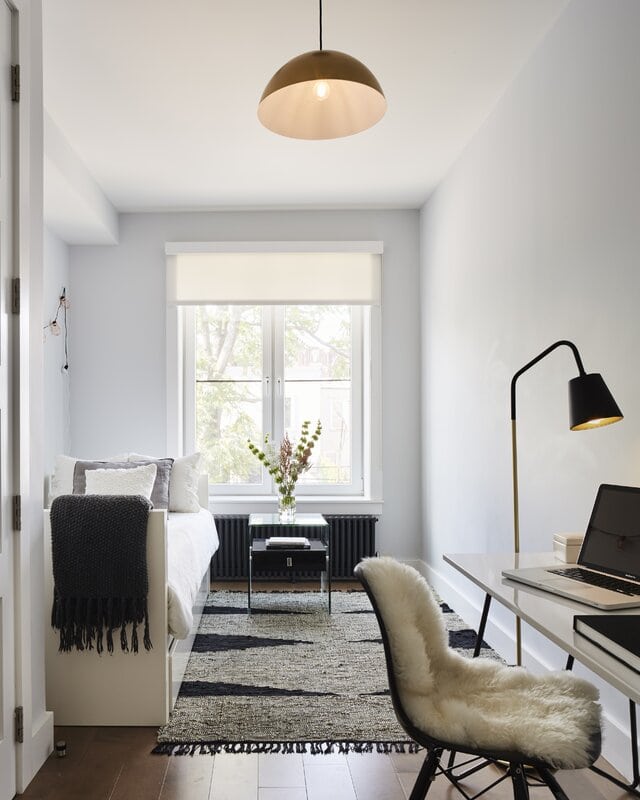 There are so many varying shades of both grey, and surprisingly, white as well. This means you have an endless amount of options when it comes to decorating your bedroom! Let's look at another grey and white option: Dark grey and white.
Dark grey and white can serve so many purposes and create so many different concepts in your bedroom. It can be used to create a contemporary room, or a bold and bizarre one. Whatever your personal style, dark grey and white can amplify your bedroom.
A Cool And Coastal Bedroom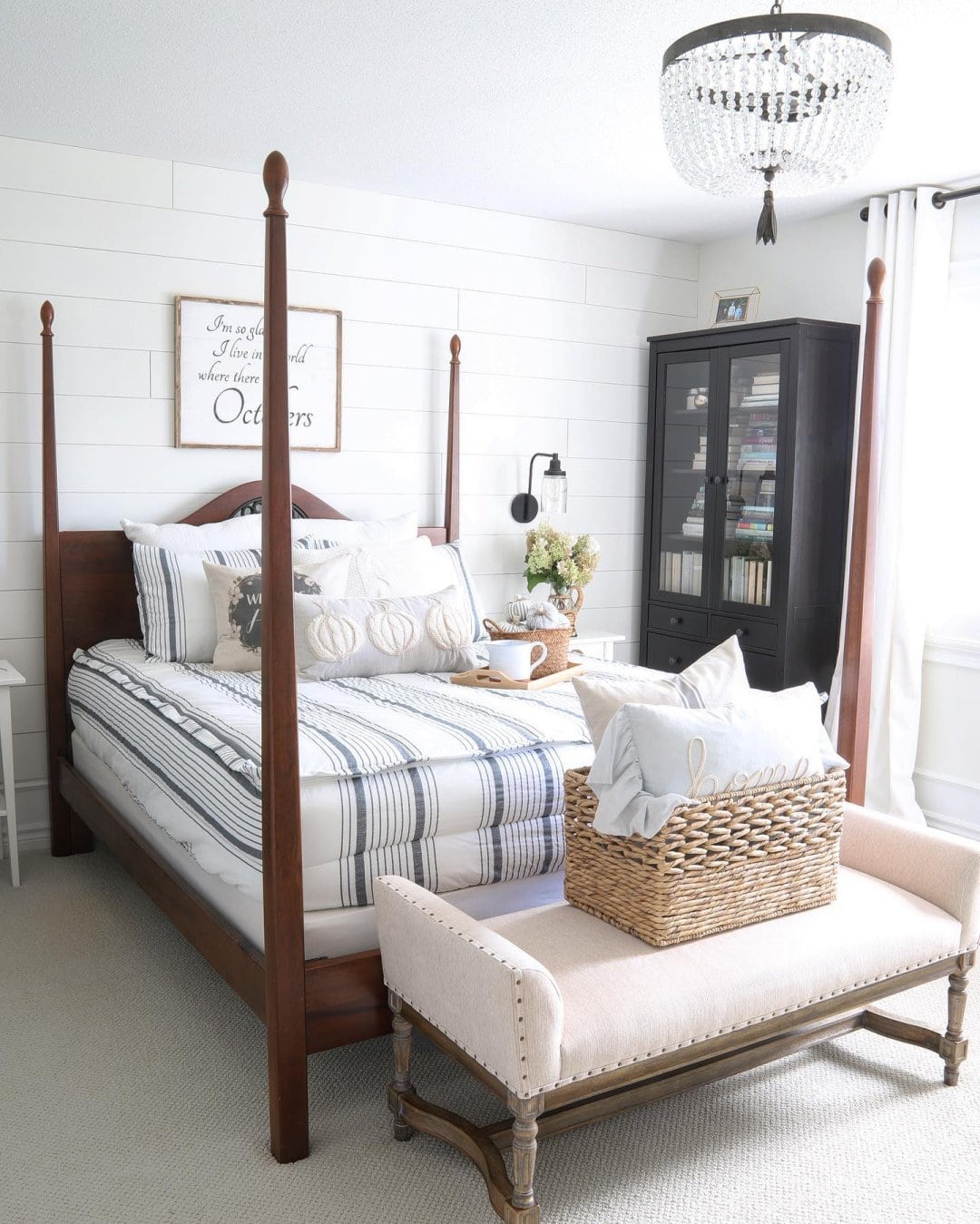 A coastal bedroom is all about natural lighting and light and simple colors. Sounds exactly like light grey and white, right? It's a match made in heaven! You'll be able to create the optimal coastal bedroom with these shades.
A grey and white, coastal bedroom will give you a sense of leisure and refreshment. Your room will definitely be a comfortable place to go, and will look well-ordered. Add in a few blue tones to complete the look!
A Grey And White, Urban Industrial Bedroom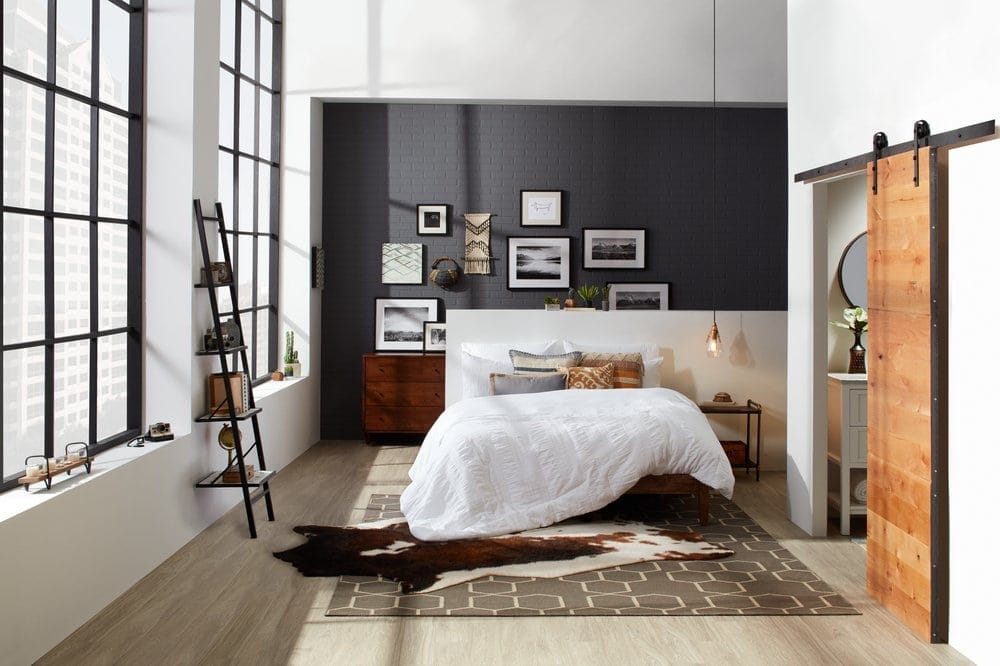 Urban industrial bedrooms are catered toward those who strive to express themselves creatively through their bedroom style. If you're a free-spirited, artistic type of person, this aesthetic suits you well!
Dark grey and white will probably be your best bet as base to your urban industrial bedroom. The rest of the decor in your bedroom will most likely be quite expressive and colorful, so having two neutral tones to balance that out is ideal.
Fab And Futuristic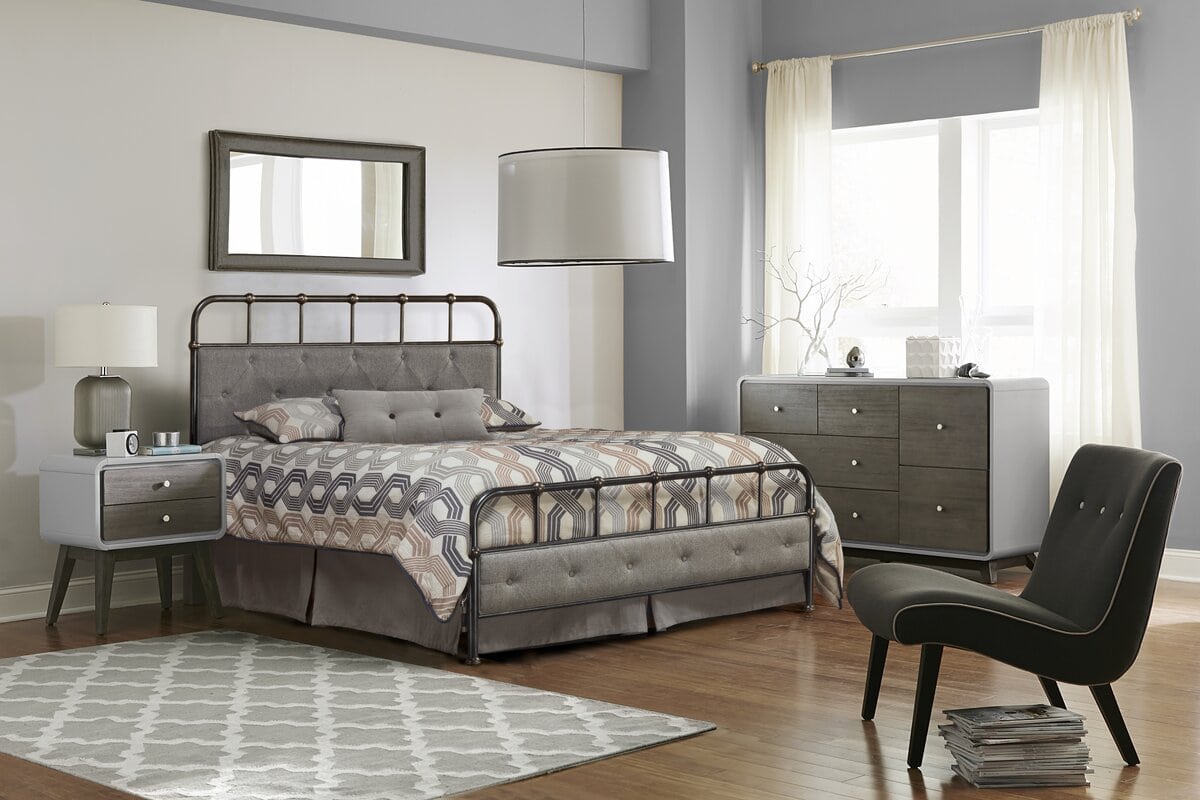 For a futuristic approach, your bedroom will need to include colors such as; grey, silver, or chrome, and white. Shiny, glossy colors and shades are prime examples of the perfect tones to use for this type of bedroom.
Take modernism one step further, and create a fab and futuristic bedroom that intrigues its guests. The shine displayed throughout the room will fascinate anyone who views the room. This theme is a curious and rare one, so have fun with it!
Exciting And Eccentric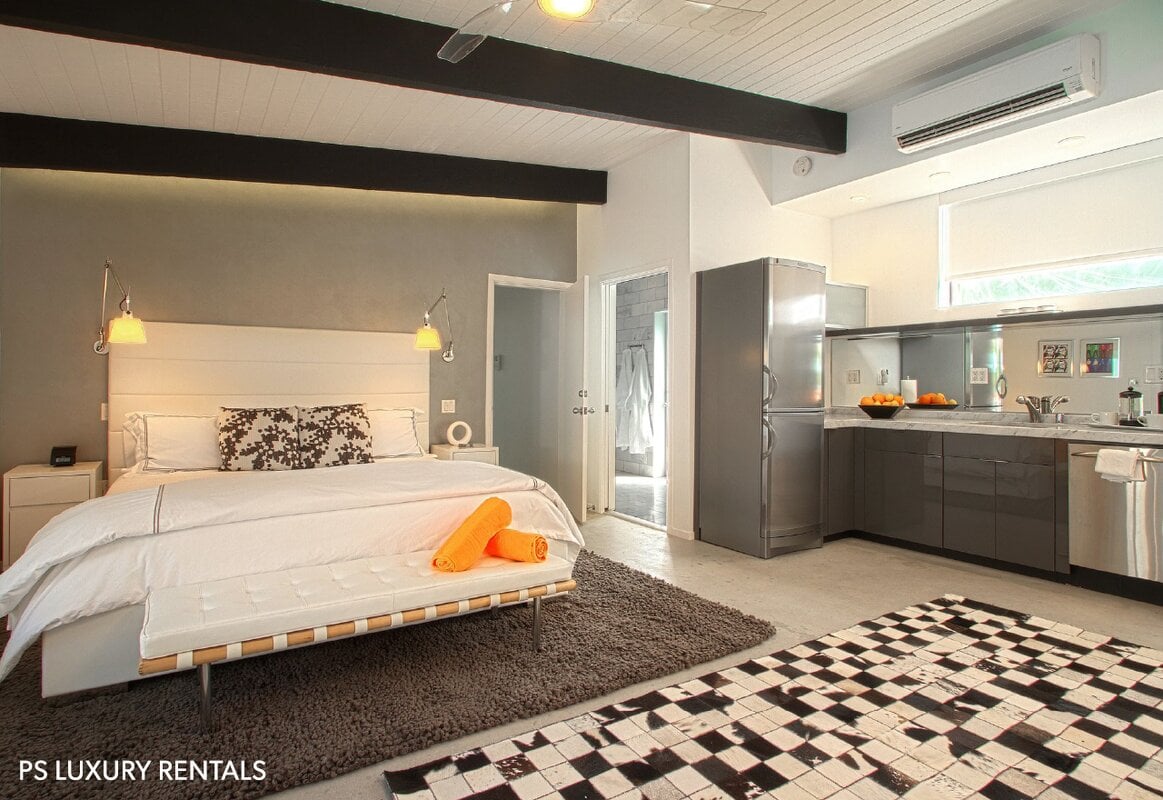 When designing your bedroom, you may be wondering how you can create a space that is unlike any other. Finding a style that fits you is quite a process, but if you are certain that you'd like your bedroom to stand out from any other, try a more eccentric approach!
An exciting and eccentric bedroom look can be created by using a grey and white color scheme, and additionally, adding in other enticing colors and patterns.
Stay In The Moment With Grey And White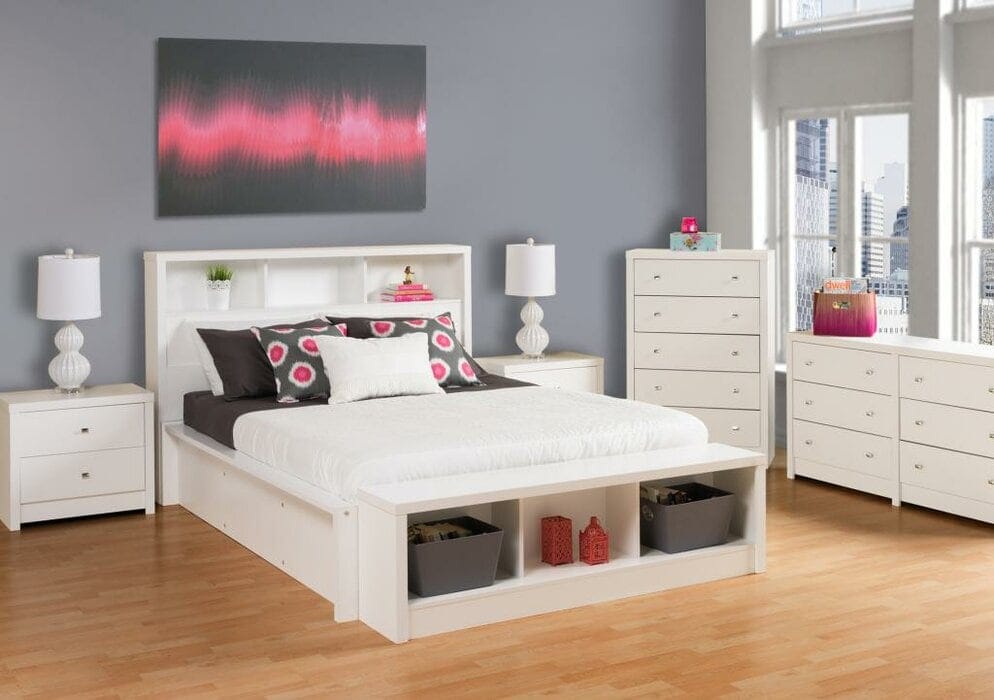 Modern grey and white bedrooms are remaining popular and will most likely continue to do so. With the versatility of these two colors, it's not surprising that they are commonly used in all kinds of bedroom themes.
Grey and white rooms are more commonly associated with modern looks, and you truly can't go wrong with these two colors. They are exceptionally multi-purposed and tie together the look of a modern bedroom.
Ideas For A Vintage, Grey And White Bedroom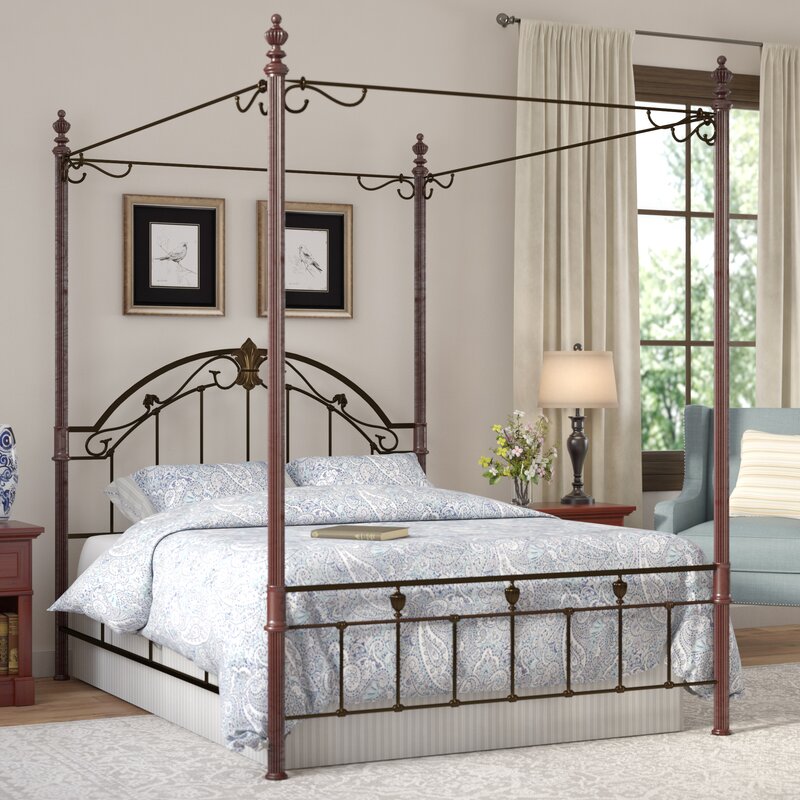 Old-fashioned, vintage bedrooms are still being designed as they truly are timeless. If you enjoy vintage themes, floral patterns can easily be found in grey and white. This is especially true when looking for bedsheets, pillowcases and blankets.
Find some antiquated patterns that come in grey and white, and showcase them in your bedroom. This will ensure that your theme can't be missed. Grey and white really embody the vintage aesthetic!
Planning Out Your Grey And White Bedroom
As we've seen, there are so many options and themes to choose from when you are working with a grey and white color scheme. While both of these are more neutral shades, you can either leave them be, or spice things up with an accent color. There's really no going wrong here!
Grey and white have been used in every room for ages and will work just as well in your bedroom as they would in your living room or kitchen. No matter what your personal preference is when it comes to bedroom style, grey and white is the perfect pick!