Decorated Life is reader-supported. When you buy through links on our site, we may earn an affiliate commission. Learn More
How Tall Should a Bathroom Vanity Be?
There's nothing worse than waking up, heading to the bathroom, and having to stand on your tippy-toes or hunch over the vanity to get ready.
And if that's been your experience, knowing the average vanity height can be helpful in finding a more comfortable fit.
Bathroom vanities come in two heights: standard and comfort. The standard height is 30 to 32 inches tall, and the comfort height is 36 inches tall.
Here's what else to consider.
What is the Standard Bathroom Vanity Height?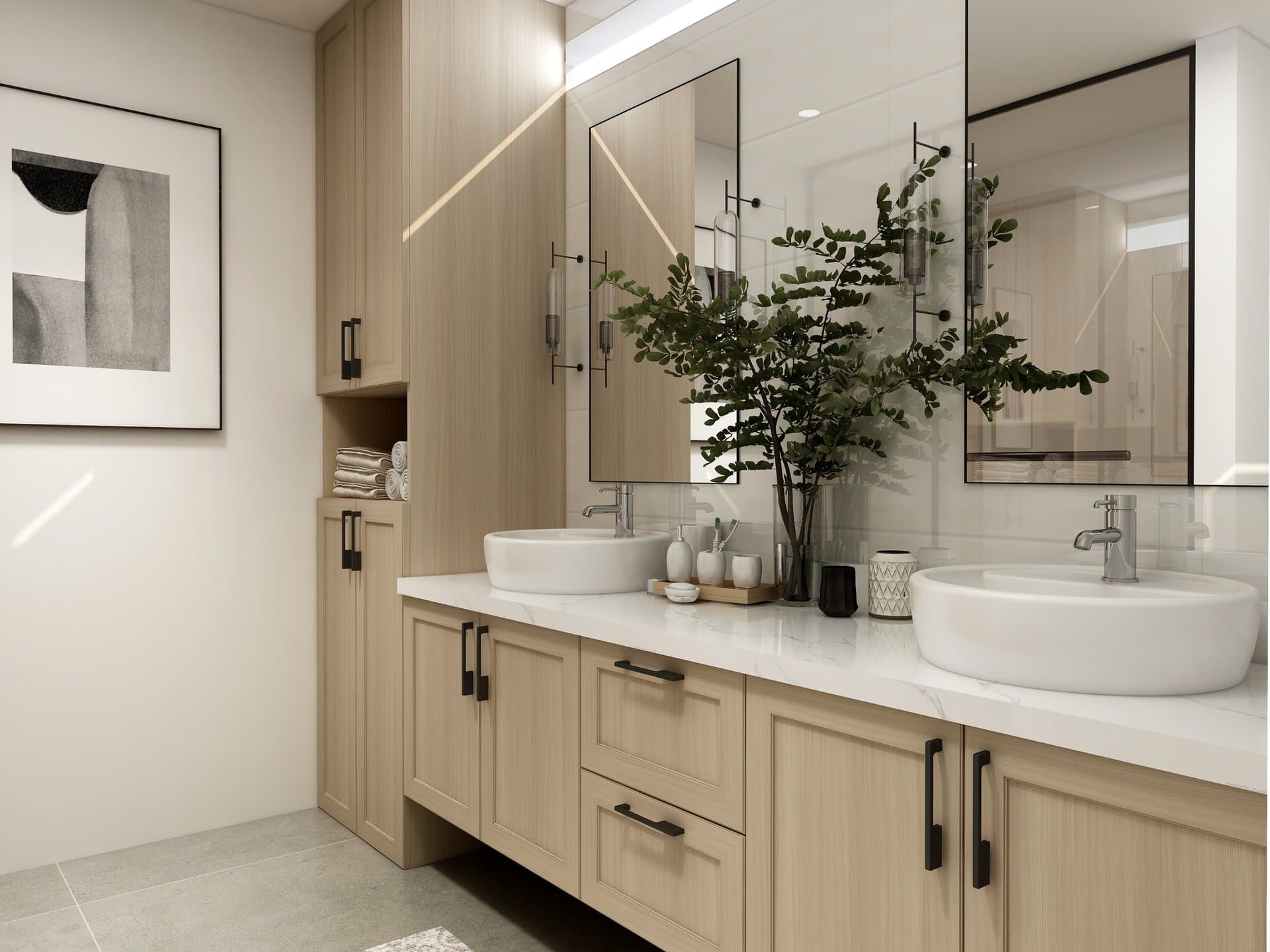 Bathroom vanities come in two heights: standard and comfort.
Standard height has long been the norm and is what you'll find in most bathrooms. Comfort height is a little bit higher, suitable for taller people.
Standard Height Bathroom Vanity – 32 inches or 81.28 cm
Comfort Height Bathroom Vanity – 36 inches or 91.44 cm
What is the Average Depth of a Bathroom Vanity?
Bathroom vanities have a standard depth of 21 inches. However, you can find vanities with depths as short as 12 inches, ideal for small bathrooms. If you're looking for something with added storage, you can find depths up to 24 inches.
When choosing the proper vanity, depth and width are just as important as height. The depth of your vanity shouldn't obstruct pathways.
What is the Average Width of a Vanity?
Vanity lengths vary greatly, with averages between 18 and 72 inches wide. According to Wayfair, the most popular single vanity lengths are 24, 30, 36, and 48 inches.
The most common double vanity widths are 60 and 72 inches.
What Size Vanity for a Master Bathroom?
If you have a large master bathroom, you have many vanity options. Start by selecting a height based on your needs. Then, choose depth. You can go with the average size of 21 inches or if you need extra storage space, find one 24 inches deep.
Depending on the wall you'll be placing your vanity on, you can do one large 72-inch length or two smaller single vanities.
Final Thoughts
The average vanity height is 32 inches, but this can vary from 30-36 inches. The average depth of a vanity is 21 inches, and the widths range from 18 to 72 inches.
When measuring for a bathroom vanity, allow for plenty of walkway space. Consider a vanity with reduced depth and width if working in a tiny room. If you have an oversized bathroom, look for an option with extended depth and width.