Decorated Life is reader-supported. When you buy through links on our site, we may earn an affiliate commission. Learn More
10 Best Double Bathroom Vanities in 2023
Nothing is more important to a shared bathroom than a double vanity. When you have a two-sink bathroom vanity, there's less hassle when people are getting ready simultaneously. And it can also eliminate the dreaded bathroom clutter that typically arises.
We will look at ten double sink bathroom vanities that can make the most out of your space. There are different sizes, layouts, and storage features, making it overwhelming to narrow down the perfect choice. The main thing to consider is the size of your bathroom.
Go with a Narrower Vanity for Small Bathrooms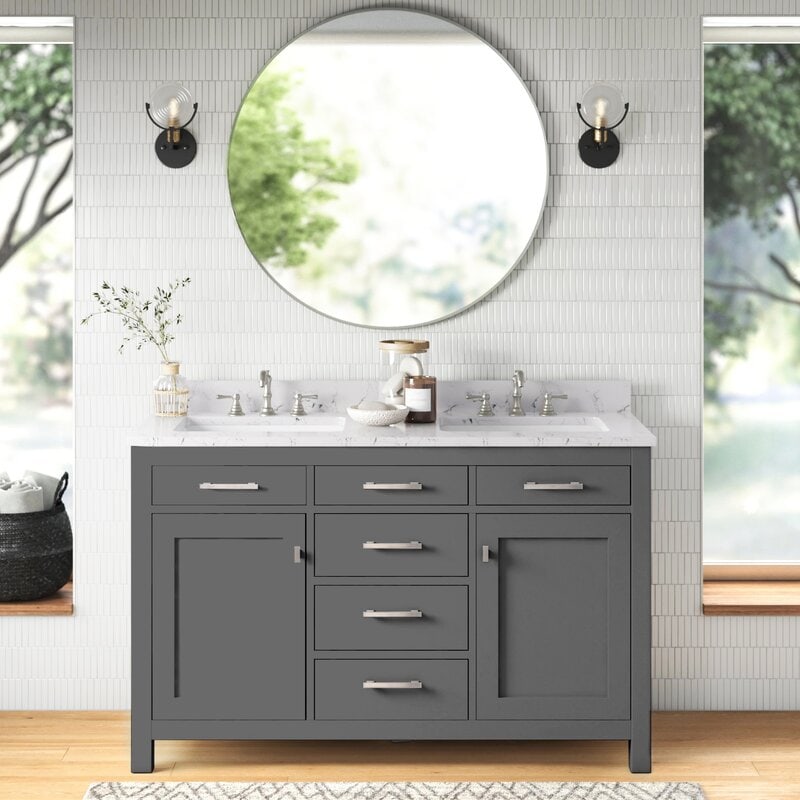 You don't have to give up the convenience of a double sink bathroom vanity because your space is smaller. Instead, you can go with a slimmer double vanity like this clean-lined model by Atencio.
This modern wood vanity holds two rectangular under-mount sinks in a gorgeous Carrara white stone with three shared drawers and one individual drawer on either side. And best of all, this contemporary beauty is only 54" wide.
Go Large and Bold for Farmhouse Bathrooms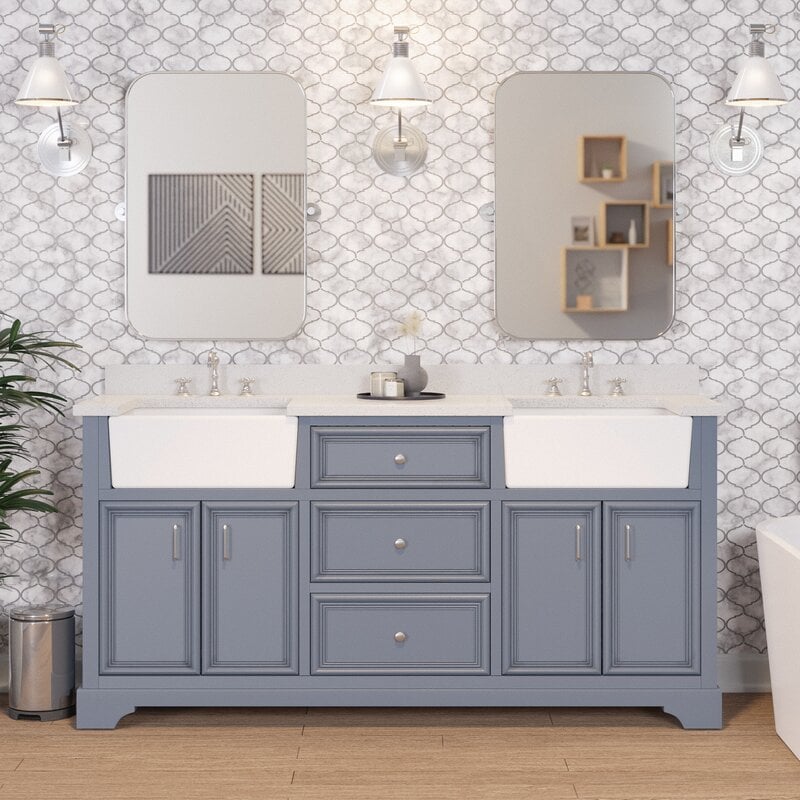 Suppose you have the space and the desire for something cozy and country without going rustic. In that case, we love this charming yet classy freestanding double vanity with two deep-basin, apron front quartz sinks, and a Carrara marble surface and backsplash.
This vanity is wider – 72" – that houses three central soft-close dovetail drawers, and double doors with sleek chrome handles on either side for private storage. And you have seven bold color choices – our fav is powder gray.
Save Space with Wall Mounted Double Vanities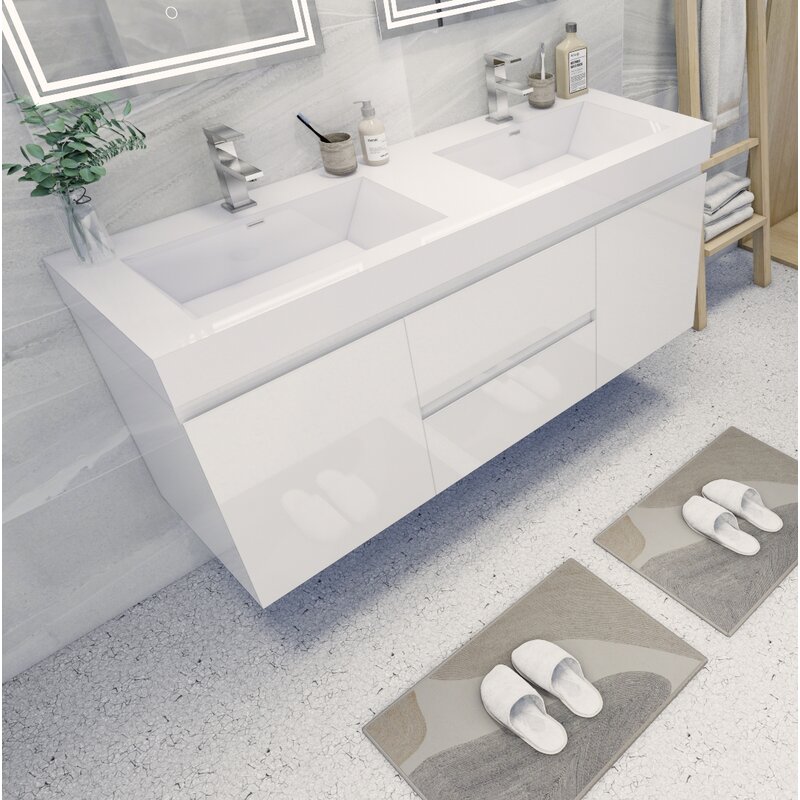 Wall-mounted dual vanity bathrooms are a modern twist that creates space beneath the sink, making it look like your piece is floating. We love the sleek design of the smooth front surface that's sans handles.
You get the benefit of a cabinet door under each sink with two shared drawers in the middle. The rectangular basin offers two sinks with a reinforced acrylic surround.
Paneled Vanities Can Look More Upscale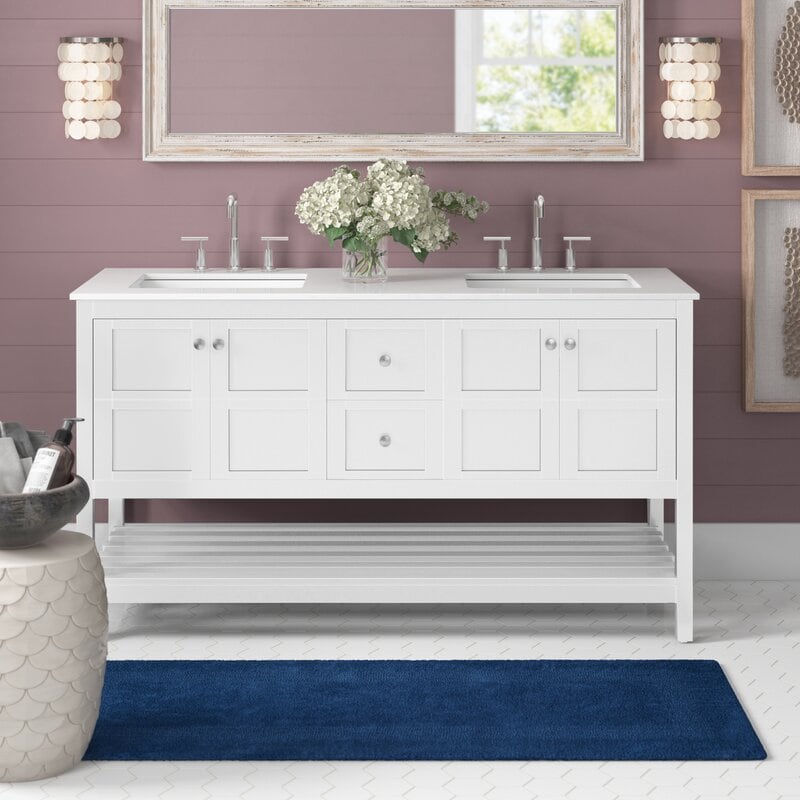 If you're looking for an easy way to give your bathroom character, look no further than a double vanity (this one is 60" wide) with a paneled front, such as these double doors with two smaller central drawers and cute round knobs.
And how adorbs is the slatted open shelf at the bottom, which would look too cute with baskets for organizing and storage? Plus, look how modern this vanity looks with the thin, sleek quartz counter surround and double under mount rectangular porcelain sinks.
Separate Spaces with Storage Using Single Sink Vanities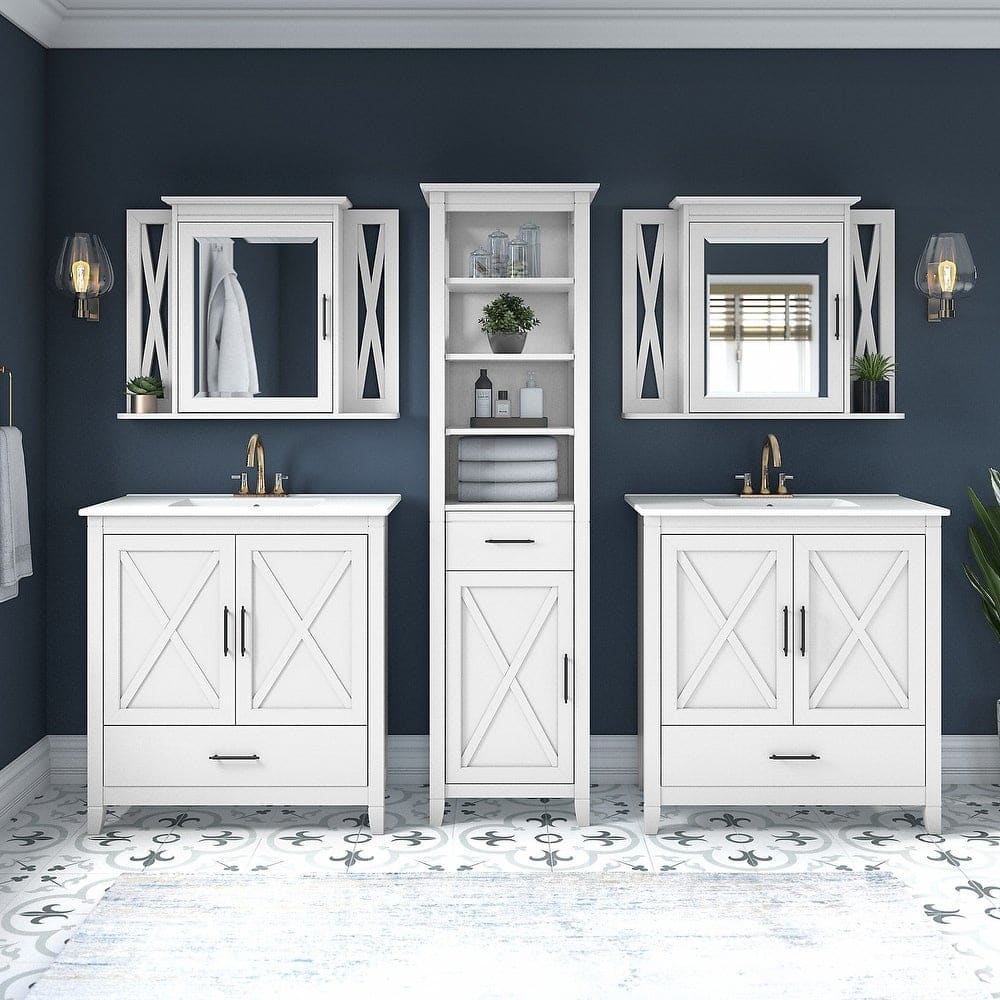 This double vanity set makes it possible to create separate spaces in your bathroom, so two people can share without the risks of messes straying to the other's side.
Each side has a farmhouse-inspired vanity (64" W) consisting of "X" paneled double doors with a long drawer underneath with gorgeous antiquated handles and a thin modern ceramic sink. 
But both sides also get a medicine cabinet (three shelves) mirror, and there's a bonus of a tall linen tower featuring three open shelves and a closed drawer and cabinet.
Go Bold with a Midnight Blue Vanity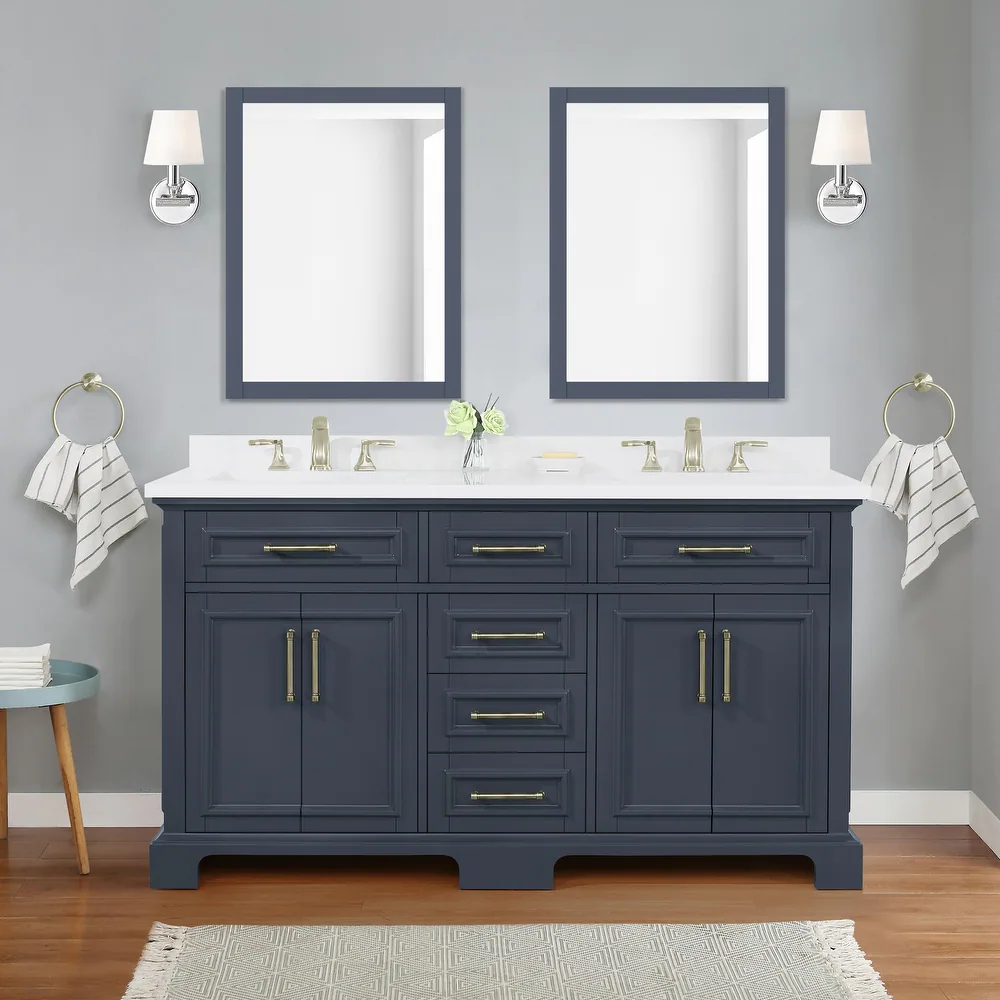 Adding a large (60" W) double sink (engineered stone) vanity that looks this dramatic is sure to make your bathroom look magazine-ready. But this vanity isn't just for looks; it's all about function too. BTW, if you're not a fan of the bold midnight blue, this piece also comes in white.
This double vanity has three middle soft-close drawers for shared storage with double doors on each side. On one side of the vanity, there's a flip-down drawer housing an adjustable shelf. The other has a tray that pulls out to display USB ports and an accessories holder.
Sometimes a Simple Sink Setup is Superior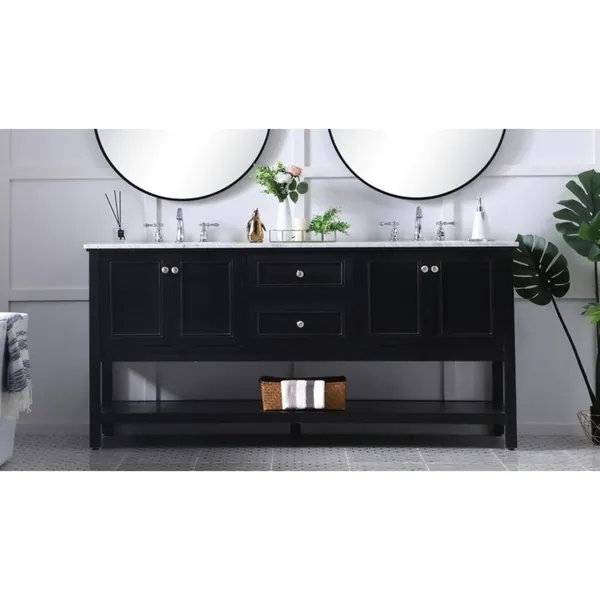 Your double sink vanity doesn't have to be an elaborate setup with tons of drawers and doors. Just look at the simplicity of this vanity featuring two central shared drawers with a double door cabinet on either side.
A long thin shelf expands the width of the vanity for open storage. And we love how this 60" wide vanity also features a slim yet luxurious Carrara white marble surround over double under-mount oval porcelain sinks. So while we're displaying this vanity in black, there's also white or gray.
Select Slatted but Slick Hidden Storage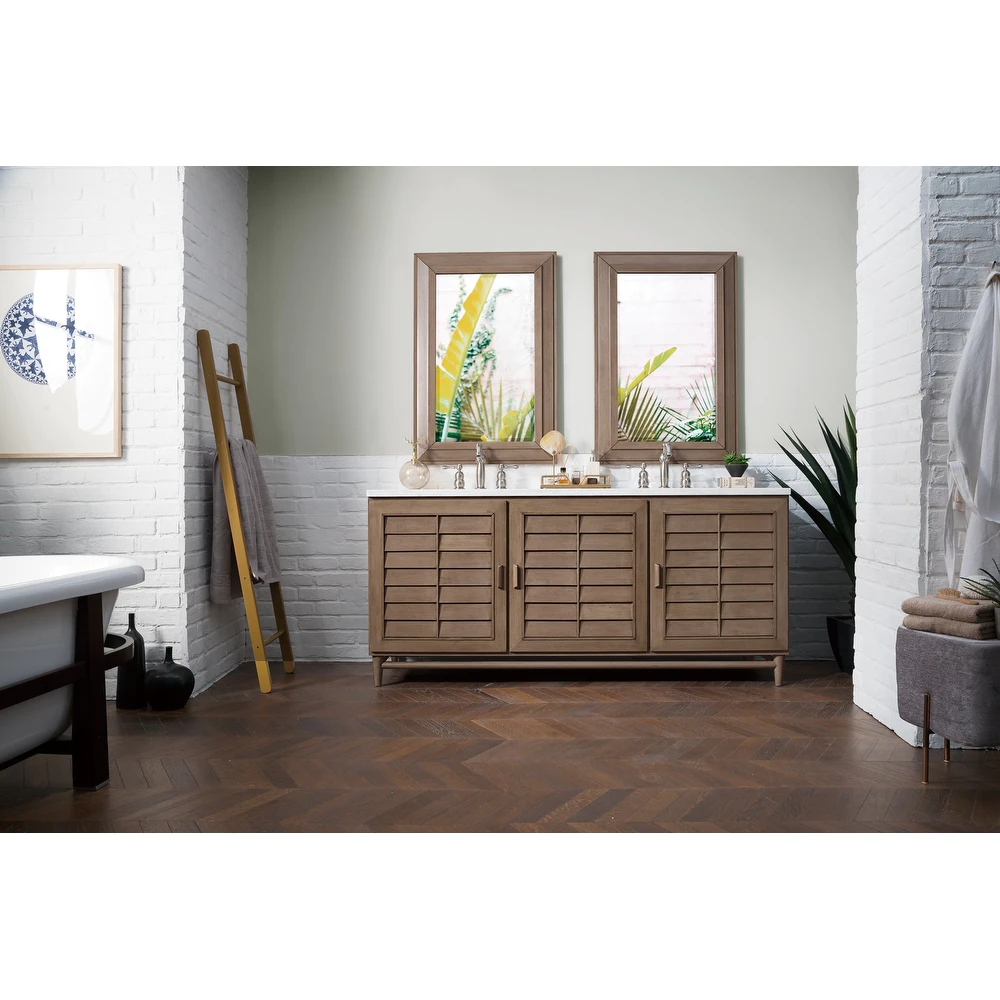 This double bathroom vanity has three separate doors, each with two columns of slatted wood. At 72" wide, you get plenty of storage, all discreetly hidden inside.
There are three columns of three drawers (9 total), one on either side of the oval sink and a stack in the middle section. This section also features a pullout shelf, while the other cabinet has two fixed shelves.
Consider a Contemporary Cutting Edge Sink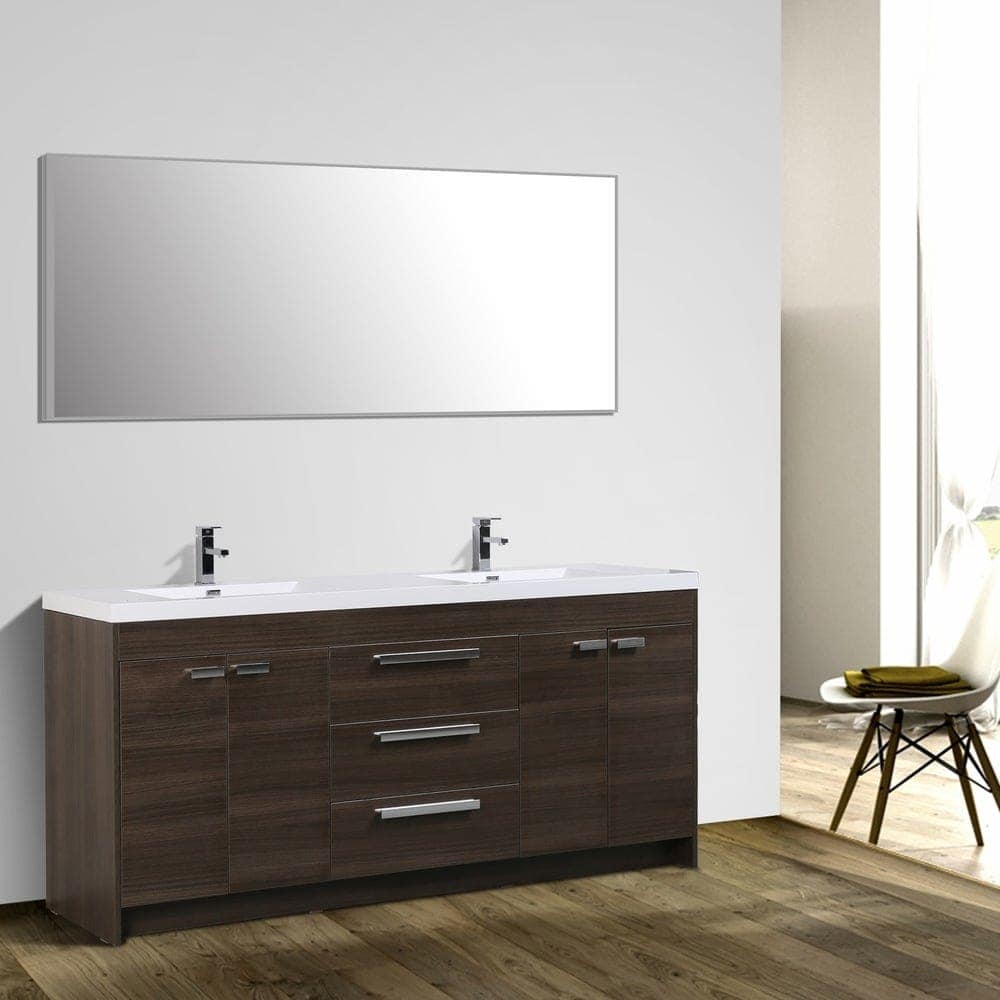 If you like smooth, clean lines and rich natural colors, consider this contemporary double vanity, with a white acrylic surround, backsplash, and dual rectangular sinks.
The rich oak finish and silver hardware with modern faucets make this vanity a work of art as much as a functional piece. Each side features double doors with three shared drawers in the middle.
Try This Totally Teak Tri-Drawer Vanity Piece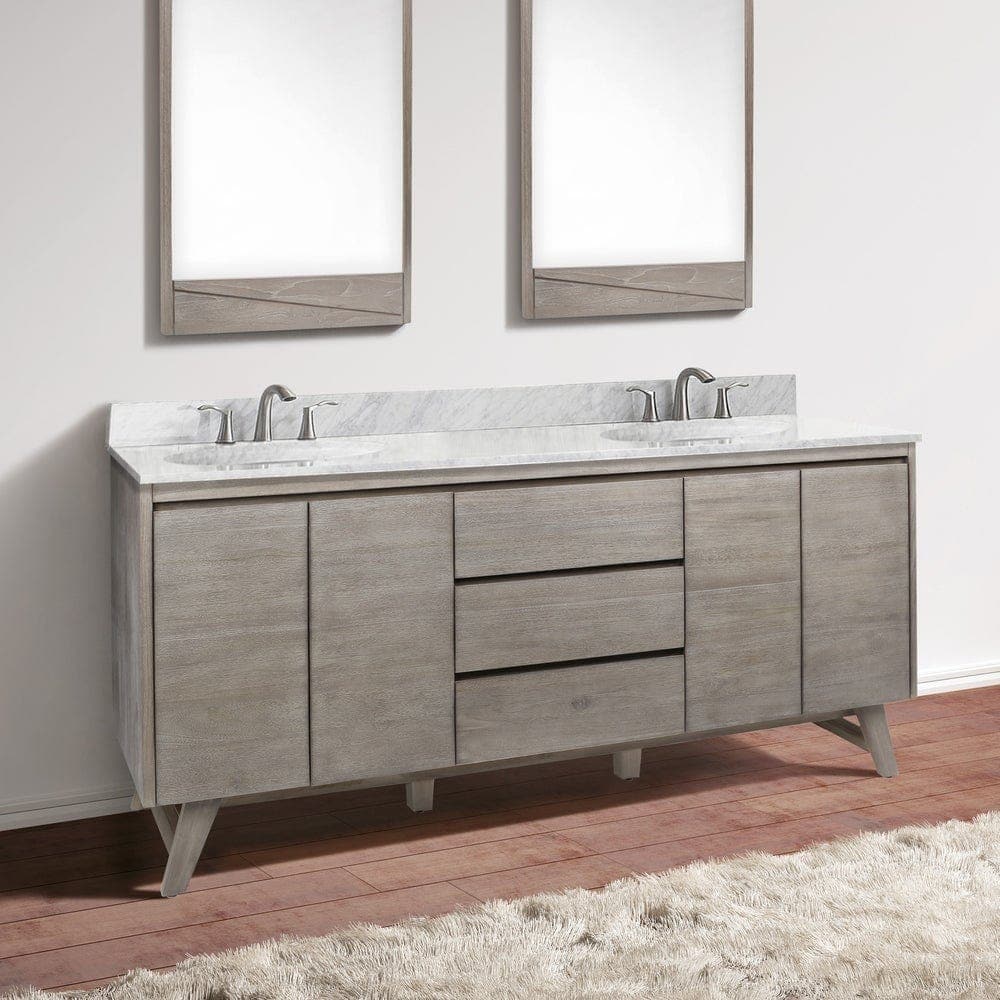 You can give your bathroom character and class with this subtle minimalist double sink vanity, made with a gorgeous light gray (or natural) Teak wood featuring splayed legs and adjustable levelers.
Three central drawers give you shared real estate, while a double cabinet on either side houses two shelves for individual storage. However, be aware that this option does not come with the surround, backsplash, or sinks. It is only the vanity base.
Final Words
Double vanity bathrooms are the perfect solution for when two or more people share the same bathroom. These vanities usually have two sinks, two-door cabinets for storage of each person's stuff, and drawers in between for shared storage. We've illustrated ten of the best double bathroom vanities.