Decorated Life is reader-supported. When you buy through links on our site, we may earn an affiliate commission. Learn More
How To Arrange Two Couches in the Living Room? – 14 Ideas
Arranging the layout of your couch holds the utmost importance in creating a certain vibe in your living room. Whether you want a formal ambiance or dominantly casual, the way you tend to lay out the furniture has a lot to say about your personality and living room aura. In general, a living room consists of a couch, accent chairs, coffee tables, and side tables. However, what if you're planning for a larger gathering?
Well, in such a case, at the most, two couches are what you need. Furthermore, considering the aspects of a positive circulation in the room along with the size, scale, and function should the arrangement vary. So, let's have a look at how to arrange two sofas in a living room.
Place them Opposite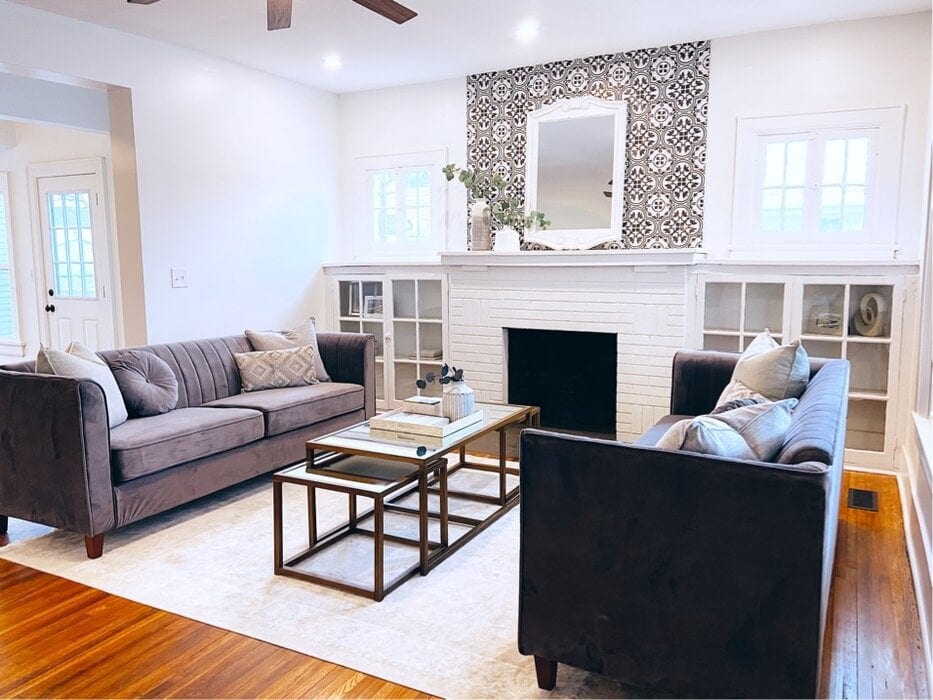 One of the easiest and most flexible ways to style two couches is by simply placing them opposite to each other. This is the best option if you have regular friends and family visiting – since they are directly facing each other during the conversations and chit-chats.
It also helps the living room look symmetrical and visually balanced. So, if you have a square or rectangular living room space, this layout is one of the best to consider.
Choose an L-Shaped Arrangement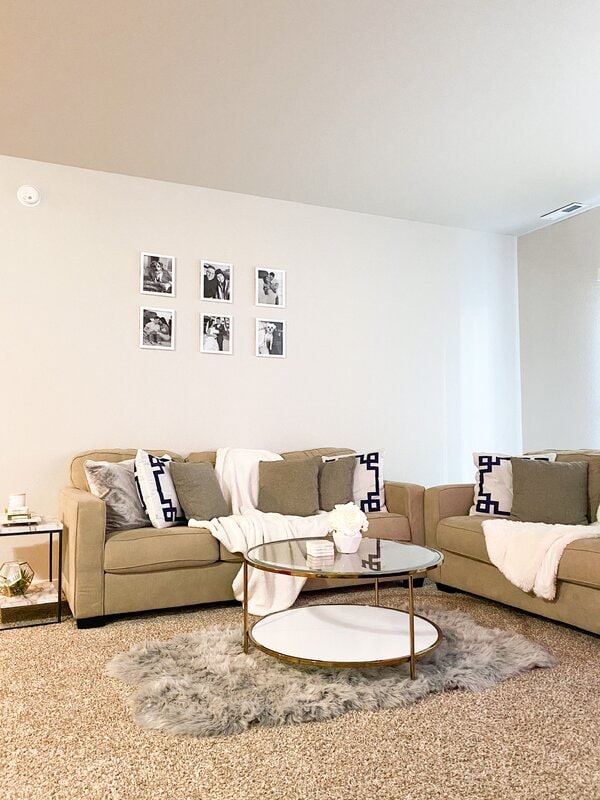 Not specific to a square or rectangular-shaped living room, this L-shaped couch layout can be considered for irregular sizes and unused corners. Unlike the layout with couches facing each other, this particular arrangement allows a comfortable setup if you have a media unit in the living room.
Moreover, you must also keep in mind that this particular layout might tend to make your space appear smaller. Hence, only recommended for larger living room sizes!
Merge Sectional with a Bench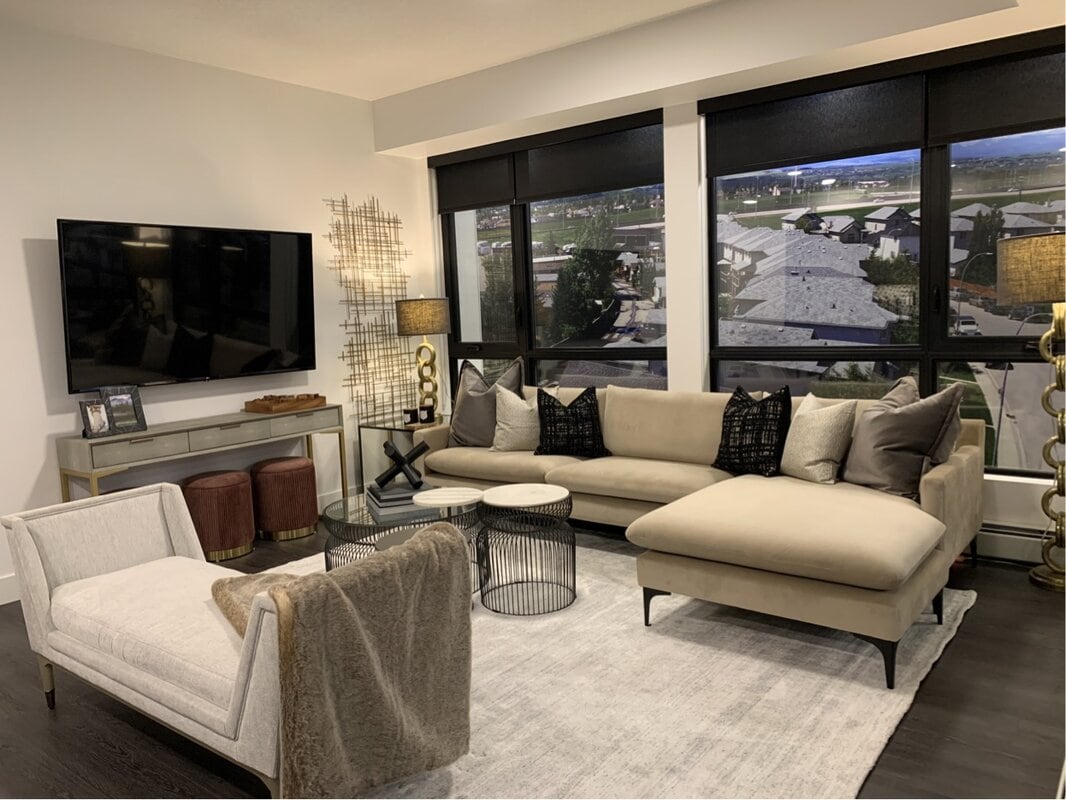 It's not necessary to have two coordinated loveseats in your living room. At times, a sectional and a bench is all that your space needs! So, you can best pair and place them opposite to each other – to create a sense of geometry and balance.
This particular layout also ensures a collaborative conversation between the family or friends, along with the overall spacious circulation and flow.
Dedicate a Seating Zone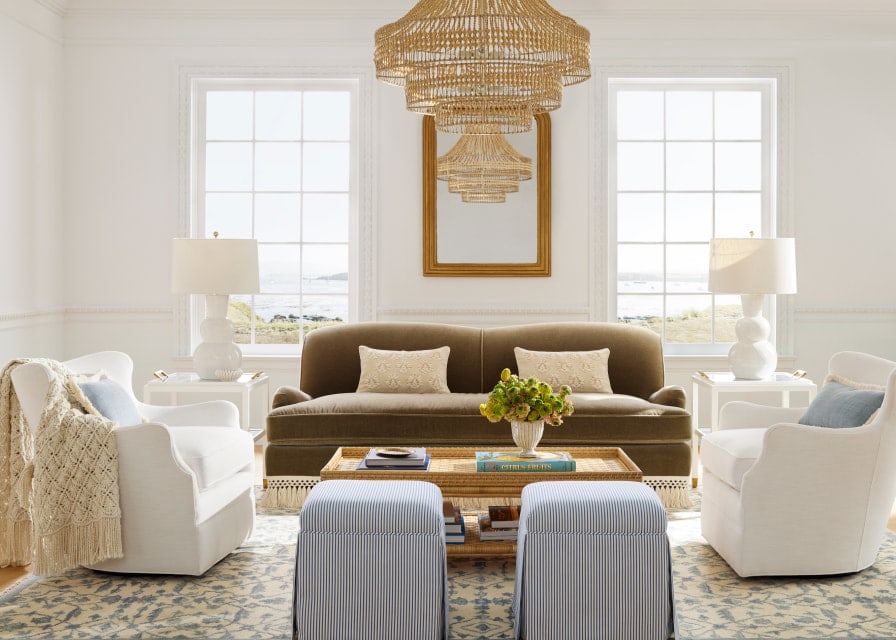 Do you have a large living room space to work with? Or maybe if your open concept plan has the potential to segregate and dedicate functional zones – this kind of layout works the best for you. So, you can create a square with dominant couches placing each other in amalgamation with accent chairs and ottomans following the perimeter.
This particular type of layout is restricted to family rooms and dedicated formal spaces. Yes! You simply can't use this arrangement if you're looking to have a media unit in place!
Choose the Diagonal Way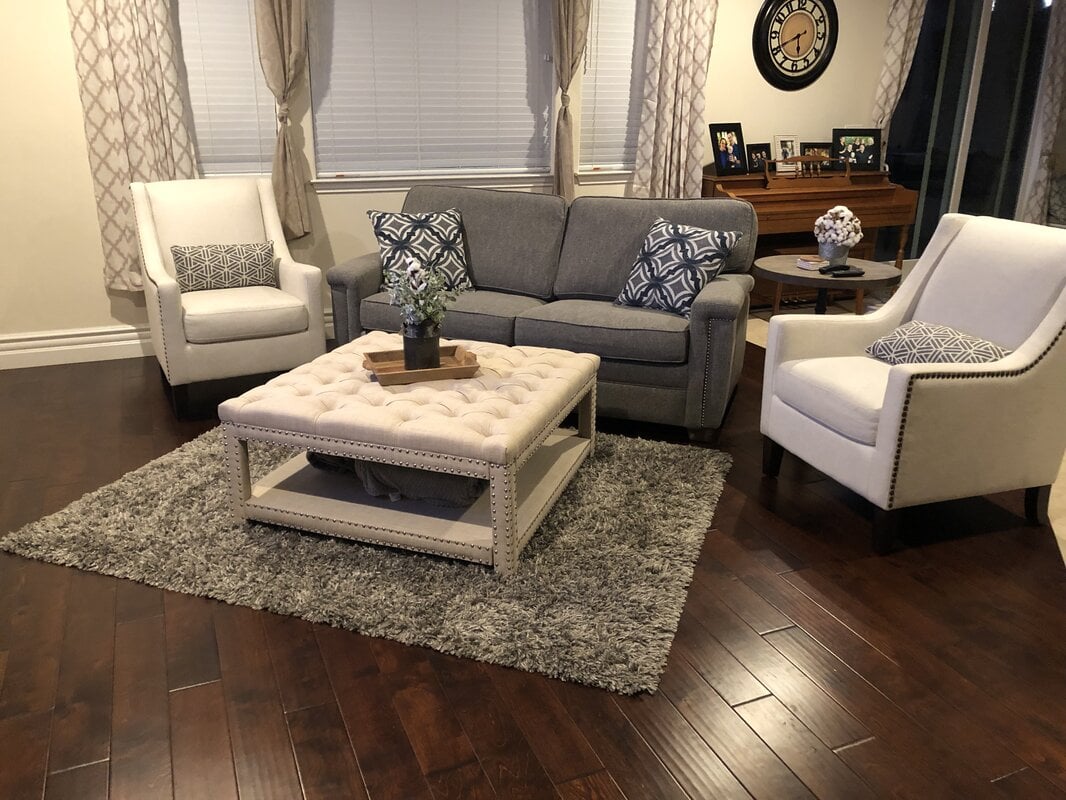 It's time to think outside the box! From straight lines and right angles to everything diagonal, this arrangement allows you to place your two couches at an angle to each other – facing towards the media unit and the television.
This arrangement also allows ample room for circulation in the space while at the same time, offering a medium to lounge and relax. Although, it's not appropriate for a formal meeting with your colleagues!
Two Couches Next to Each Other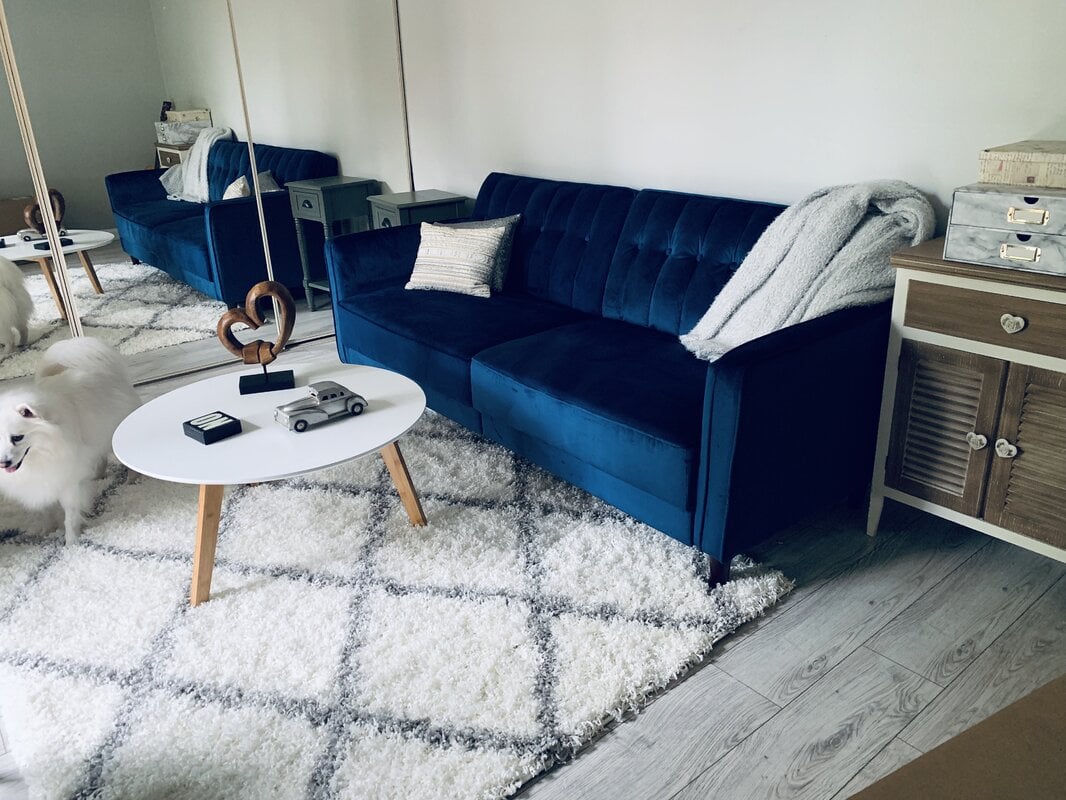 Generally for elongated and rectangular living rooms, this kind of arrangement works the best. You can place the two couches next to each other and further add accent chairs and a single sofa at a 90 degrees angle.
However, it's only appropriate for a living room that serves the purpose of a theatre or one that has been designed for casual living and watching TV. Not good for family interactions or the family room!
Use a Sectional Indeed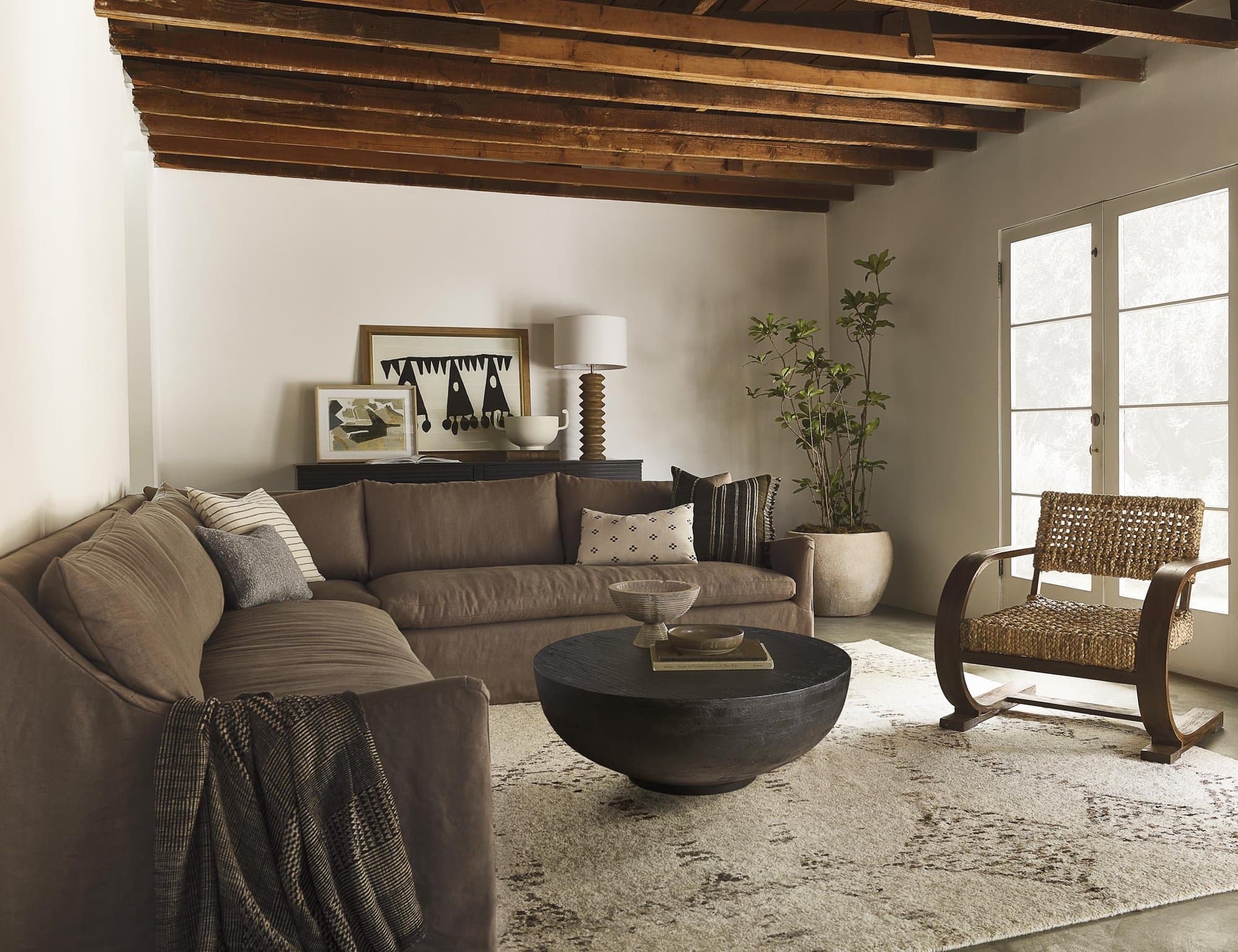 Do you require the two couches only to extend the seating in your living room? Well, if that's so – then you must think about placing a sectional indeed! It equally offers extra seating spaces while creating a unified and cohesive look.
This layout works best for both – whether you want to include a media unit in your space or simply use the room for a casual gathering with friends and family.
Spread Out the Couches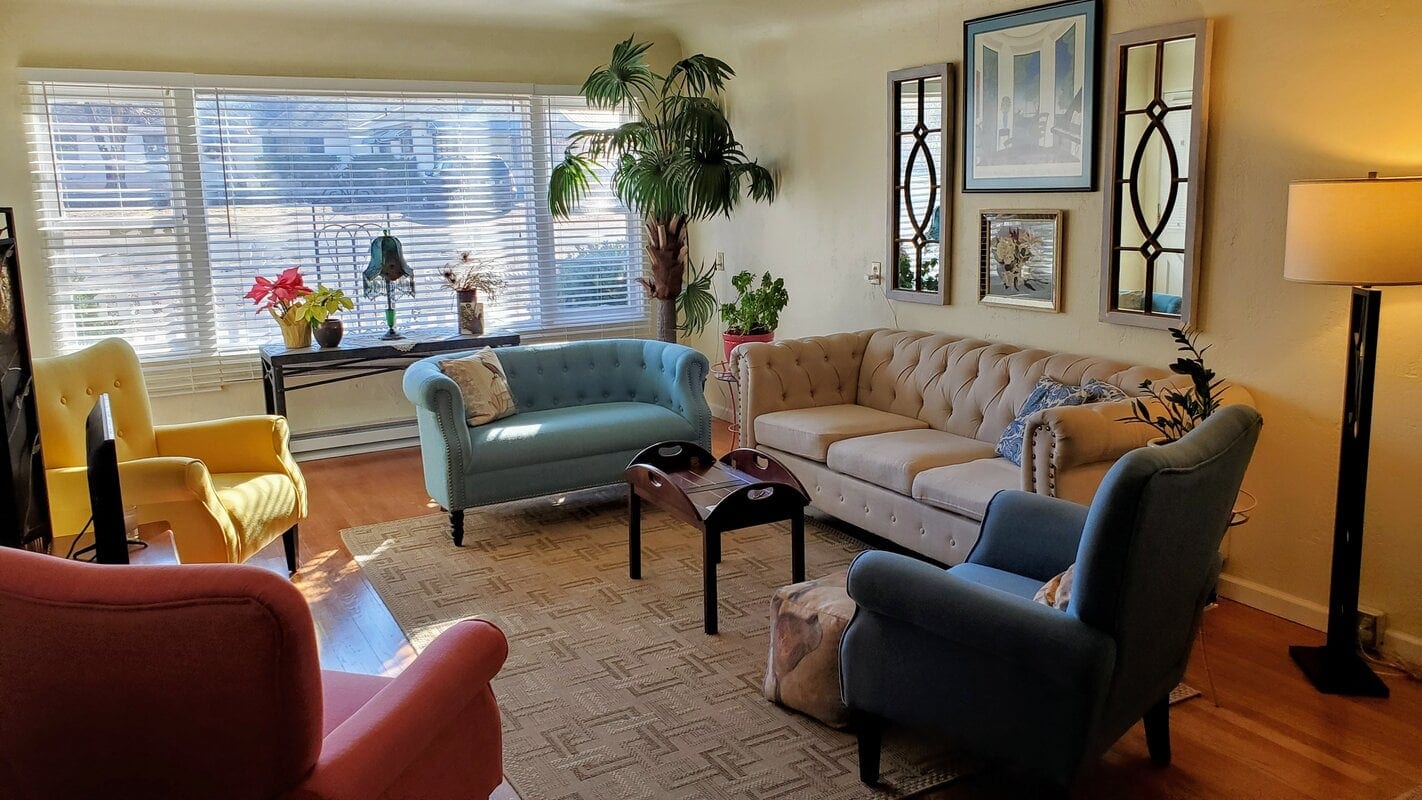 Especially for the irregular-sized rooms and open concept plans, it's best to spread out the furniture to create a friendly and welcoming vibe. It's also the best option if you want to add seating with recliners and an extra set of armchairs.
Also, if you observe closely, the couches and chairs are placed far away from each other to create an entertaining atmosphere. This is also a great way to utilize the unused corners!
Create a Formal Setting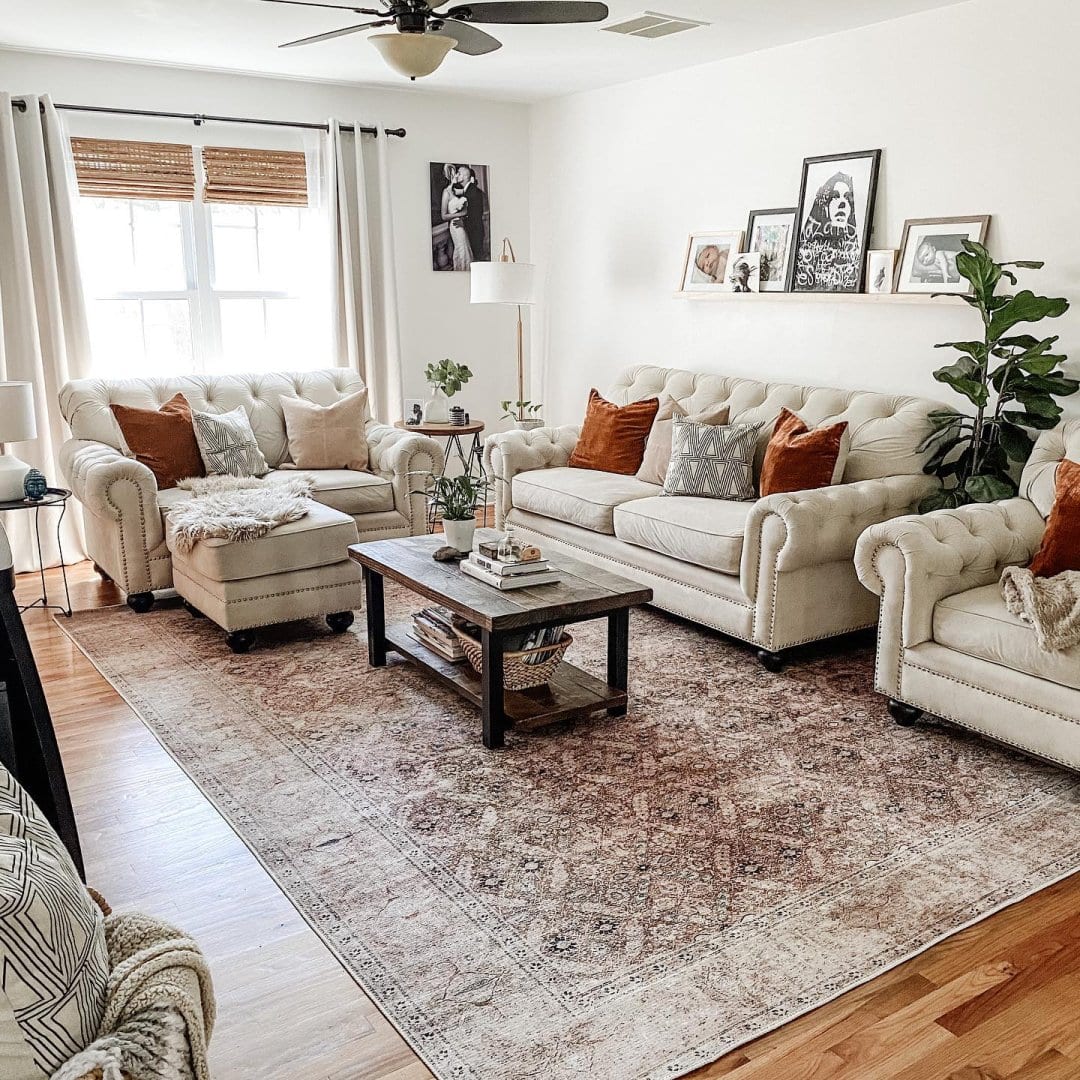 Generally, if you have more than one couch in your living room, this is one of the best arrangement options to choose from. You can choose to place the couches either next to each other or at an angle to create a zone that works best for formal meetings and gatherings.
On the other hand, this kind of arrangement also works best if you want to add a media unit in your living room.
Make a Triangle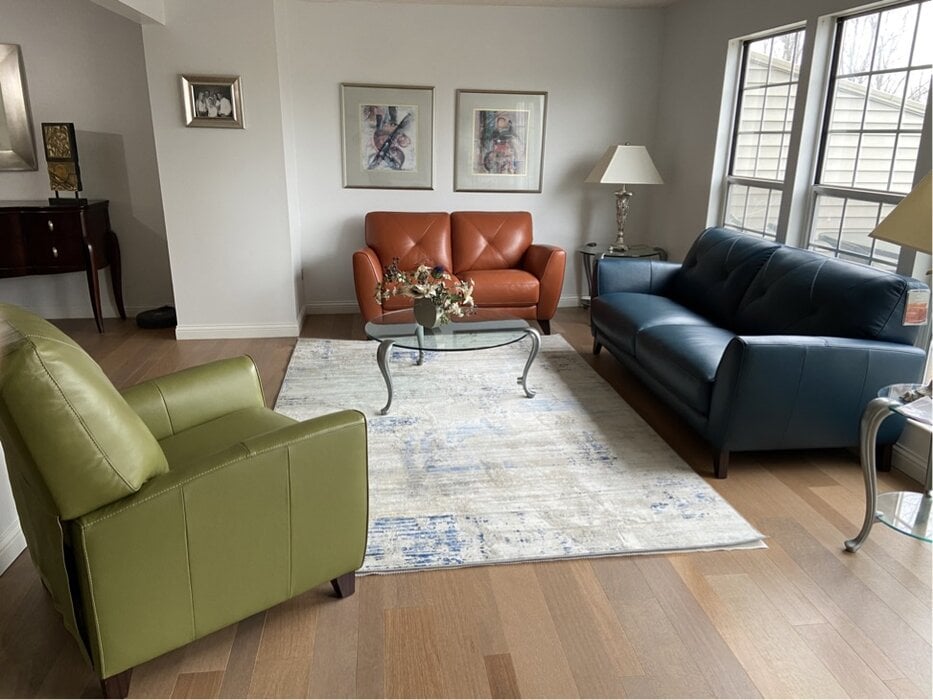 The triangular arrangement works great for semi-open floor plans that allow flexible circulation and movement throughout the space. Let's say, they can be used for both formal and informal seating without cringing the space and meanwhile, offering a spacious and airy living experience.
You can create a cohesive experience and bring the entire panorama into one by simply laying out a rug that connects all the couches and chairs!
Stick the Couches to the Wall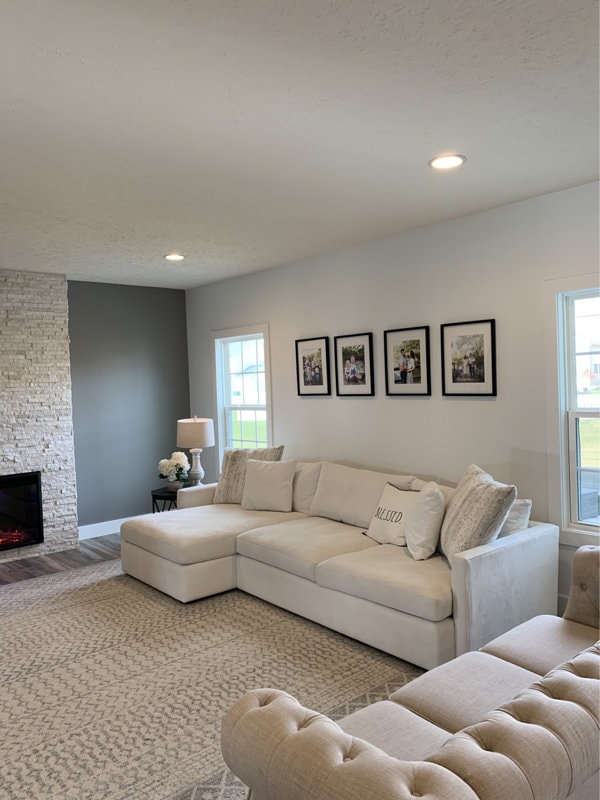 There could be several reasons for using this particular type of arrangement in your living room. Firstly, if you have kids and pets at home – this layout helps bring a sense of openness to the space. Secondly, it's a great illusion to create when you have two couches in a small living room.
Pushing the couches against the wall will offer ample open space in the forefront for you to lounge and relax!
Merge the Three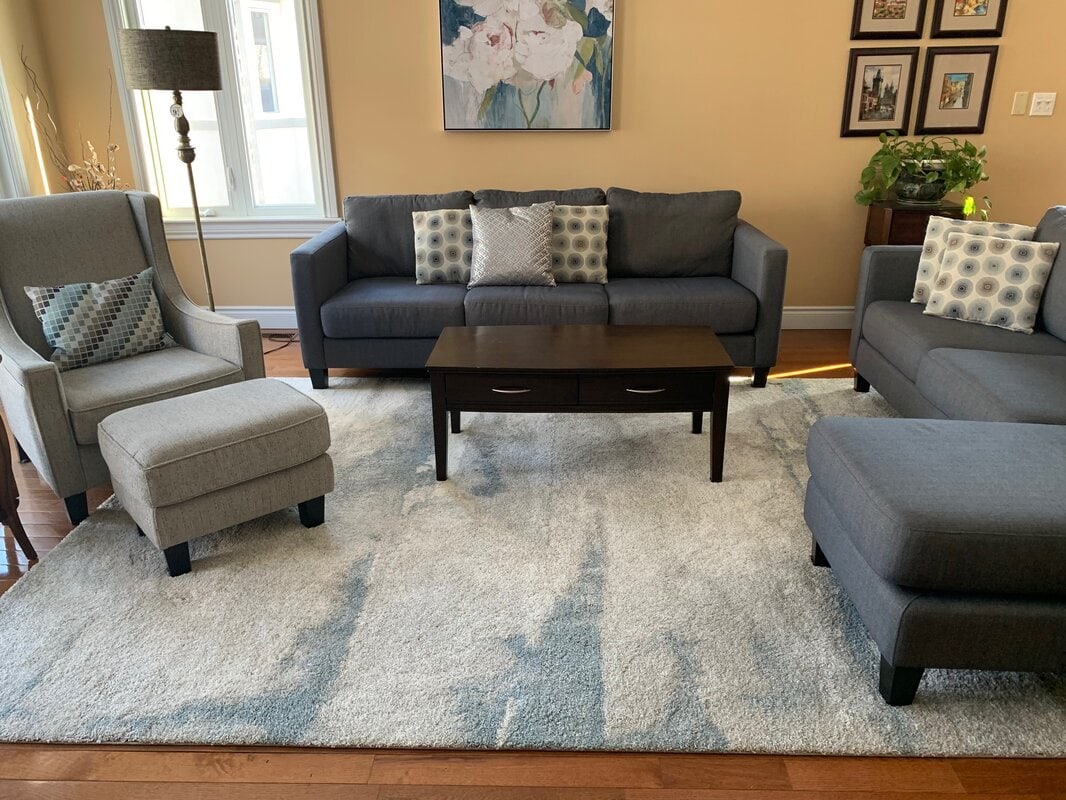 Right when you have the combination of a sectional, loveseat, and an armchair – you exactly know which layout to go for. Whether you want to use the space for lounging or formal living – this type of connectivity works the best.
You can also closely converse with your family and friends and further bring the furniture together to create a cohesive experience. Even a TV media unit can be included with this setup!
Orient the Couches at the Same Direction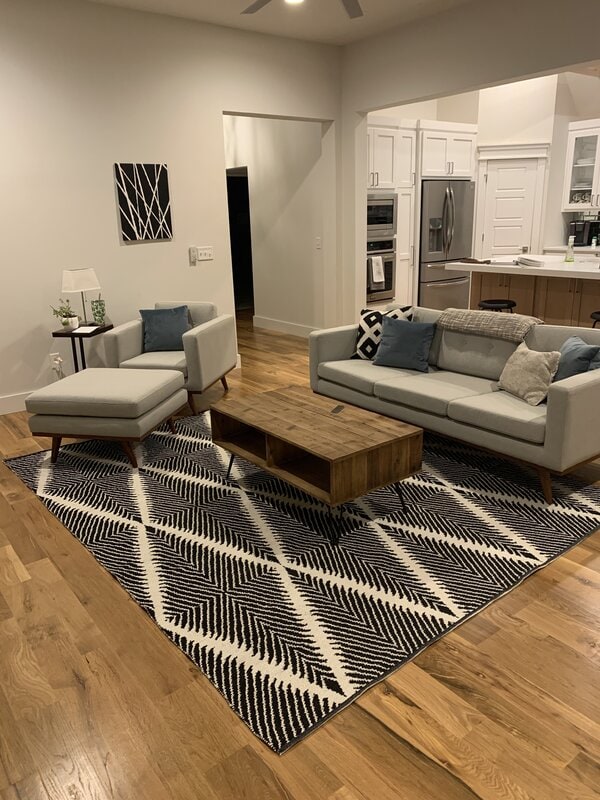 This concept works fantastically with irregular-shaped spaces and open concept plans. When the sole purpose of your living room is entertainment and lounging, this particular floor plan can efficiently serve the function. Adding a lounger or recliner in the corner can further add a fun-loving vibe!
Furthermore, connect the two using a large area rug and a coffee table in your living room!
Carve a Rectangle with Two Couches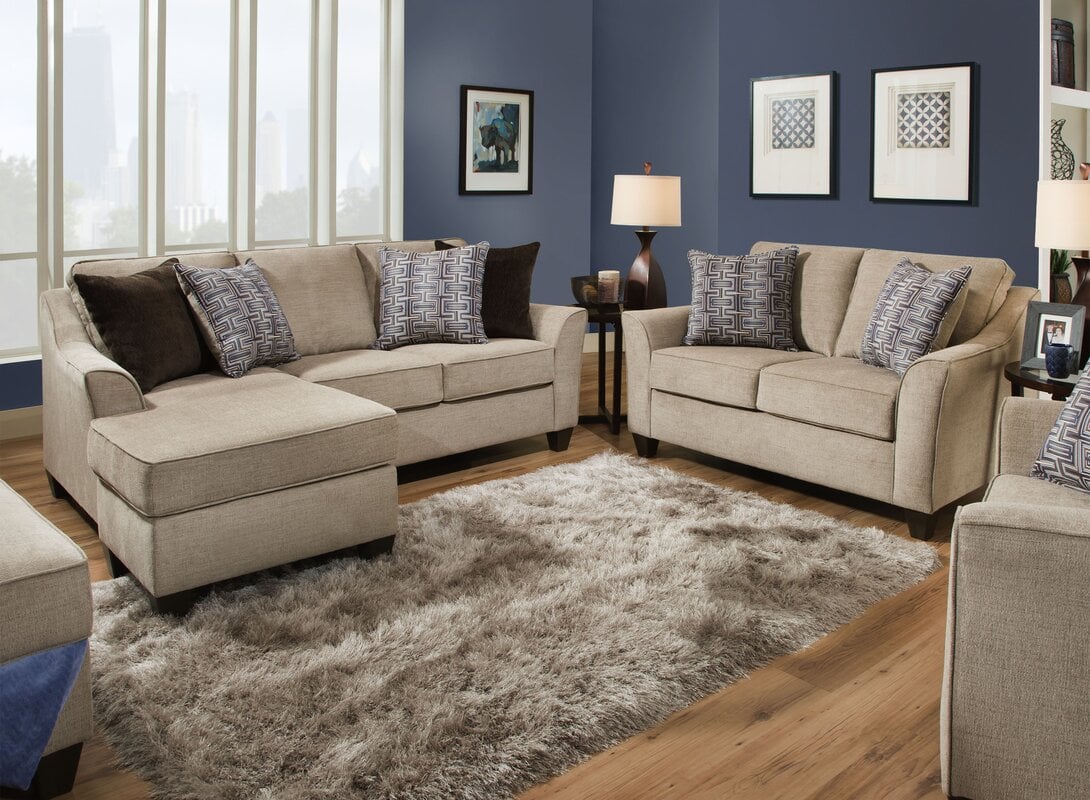 This is one of the most popular couch arrangements for your living room. Especially with a sectional and a loveseat, you can choose to place them at an angle to visually create a rectangle that works well with the rectangular living rooms.
Also, you can place a coffee table in the center that is equidistant from both the couches – and at the same time, functional!
Summing It Up
When it comes to planning and laying out a perfect floor plan for your living room, couches are the first aspect to consider. And since they play a dominant role, they have the potential to induce a certain vibe! So, now that we have discussed the major 14 ideas to arrange couches in your living room – are you enthralled to incorporate any? Do let me know your thoughts in the comments below!