Decorated Life is reader-supported. When you buy through links on our site, we may earn an affiliate commission. Learn More
16 Small Living Room Lighting Ideas
If you've ever lived in a small apartment, you'll know that light is important for making your space feel larger. You have probably also noticed that a lack of light can make a small apartment feel smaller than it is.
One of the best ways to make a small living room seem bigger is to ensure it's well-lit. There are a number of different small living room lighting options that you can install to maximize the amount of light in your space. In this article, we're sharing some of the best small living room lighting ideas, to help you create the perfect cozy living room in your home.
Choose a Floor Lamp With Built-in Shelving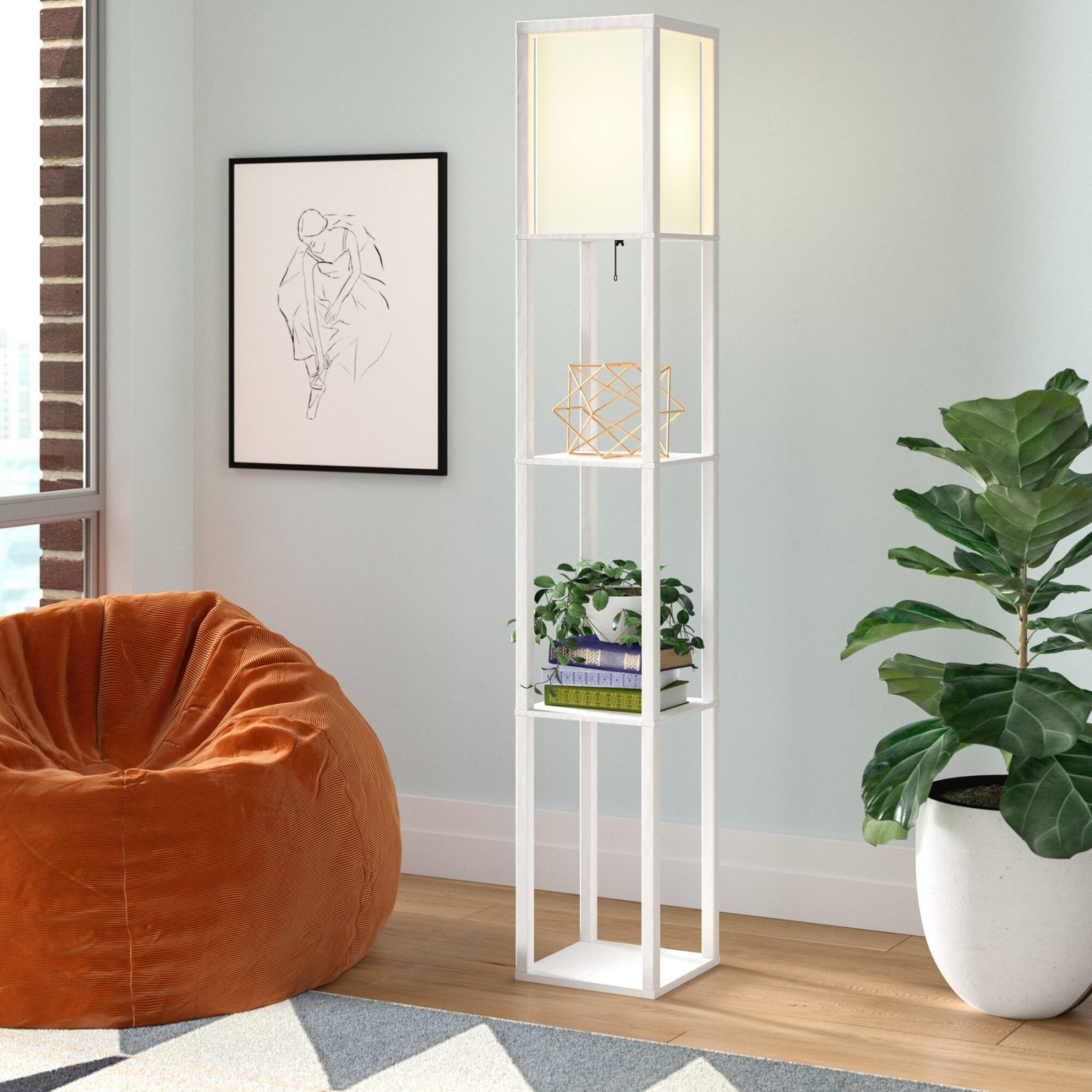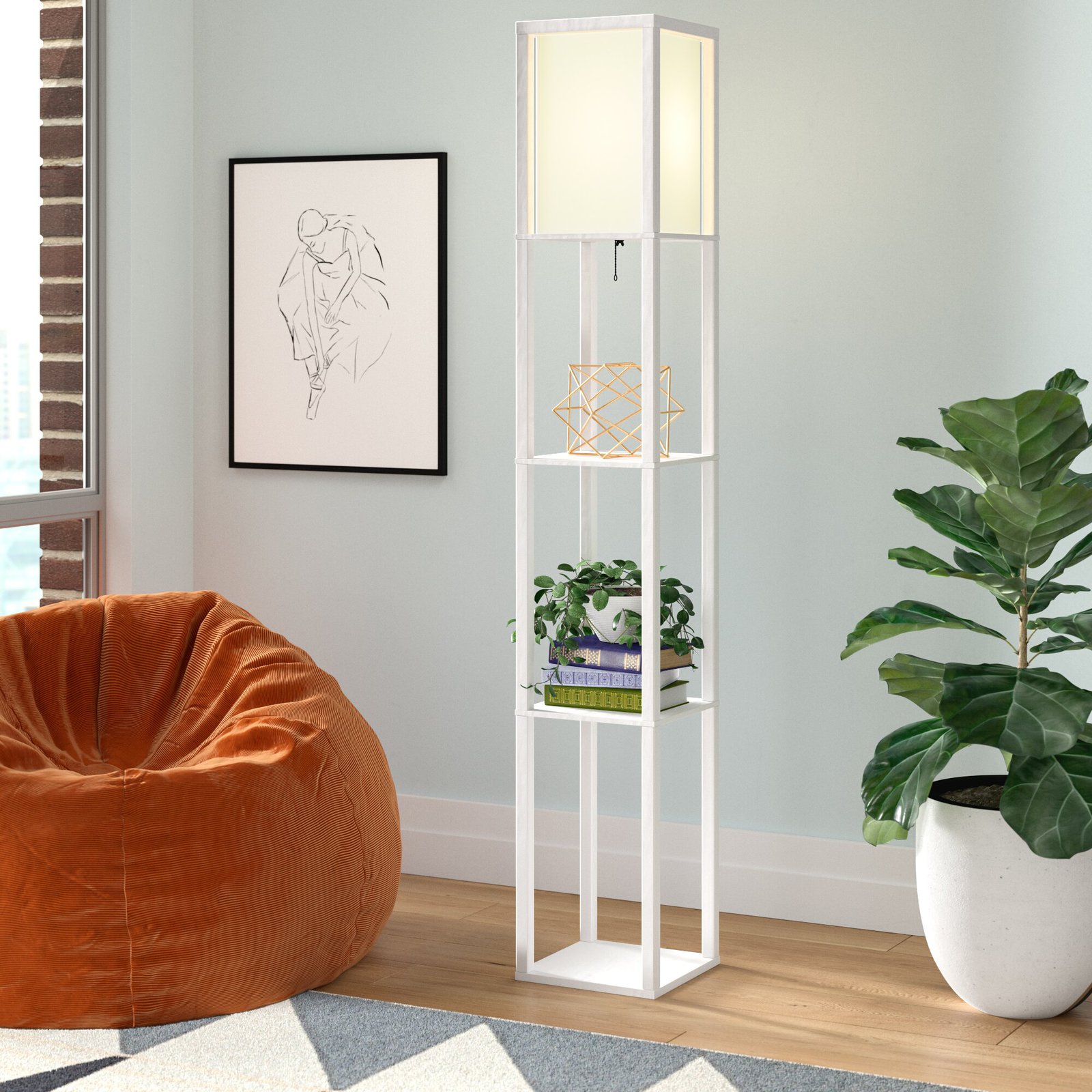 If you're looking for a lamp that is practical and looks good, then a shelved box lamp is perfect. At 63″ tall it offers plenty of space for storage, perfect for keeping your small living room free from clutter.
The square design looks beautiful and would fit in well with any style of décor that you have chosen for your living room.
Keep Your Living Room Light and Bright with Exposed Bulbs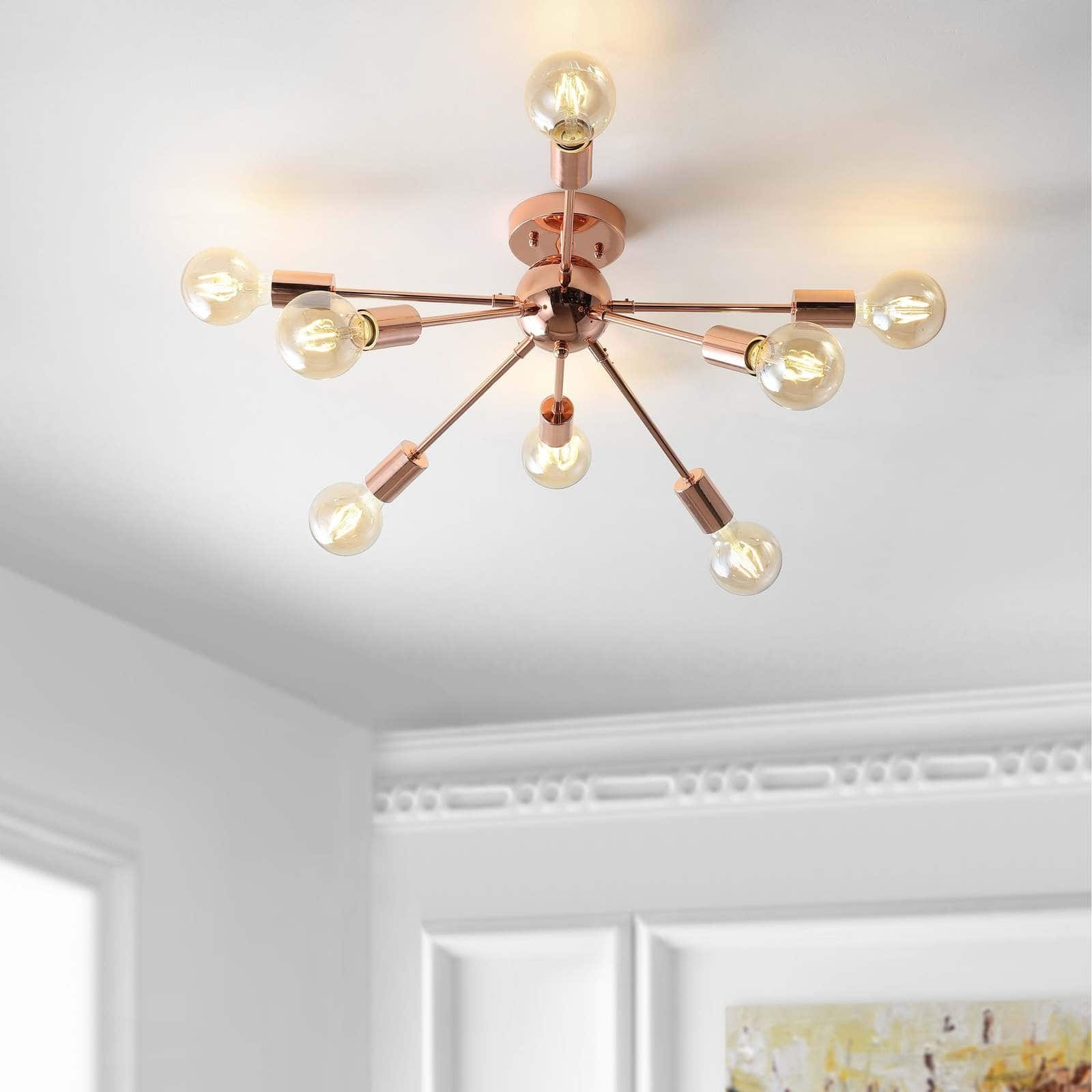 This gorgeous find is perfect for anyone looking for something that is more like a work of art than a lamp! This lamp has the design of Sputnik Space station and is colored in a beautiful polished copper finish.
It won't take up any floor space in a small living room, and it holds Edison light bulbs, making it ideal for anyone who wants to make a design statement in their living room. Its numerous arms giveives off plenty of light, which will help to make your small living room feel bright and spacious.
A Sleek Gold Floor Lamp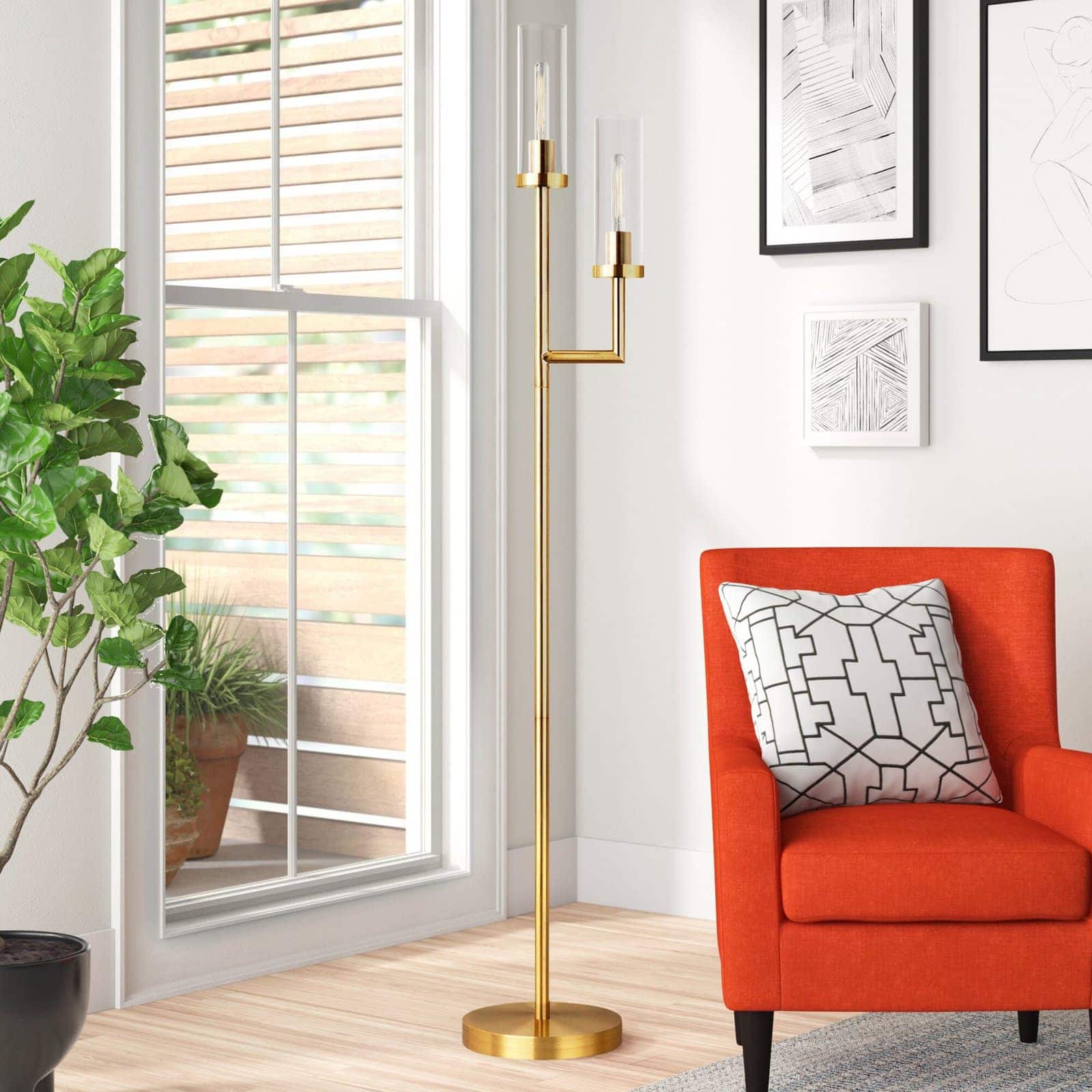 If you are looking for a sleek lamp that gives you maximum light, this lamp is for you. The lamp is 69.5" tall with a small circular base and a tall stand with two hand-blown lamp shades.
Although it has an industrial look to it, it also looks sleek and very on-trend, so it will fit in with most living room decor styles. If you do not have much floor space in your living room, it is perfect for you, as it has a tiny footprint. The lamp is colored with bronze tones, which will fit in with most color schemes.
Highlight Artwork with Picture Lights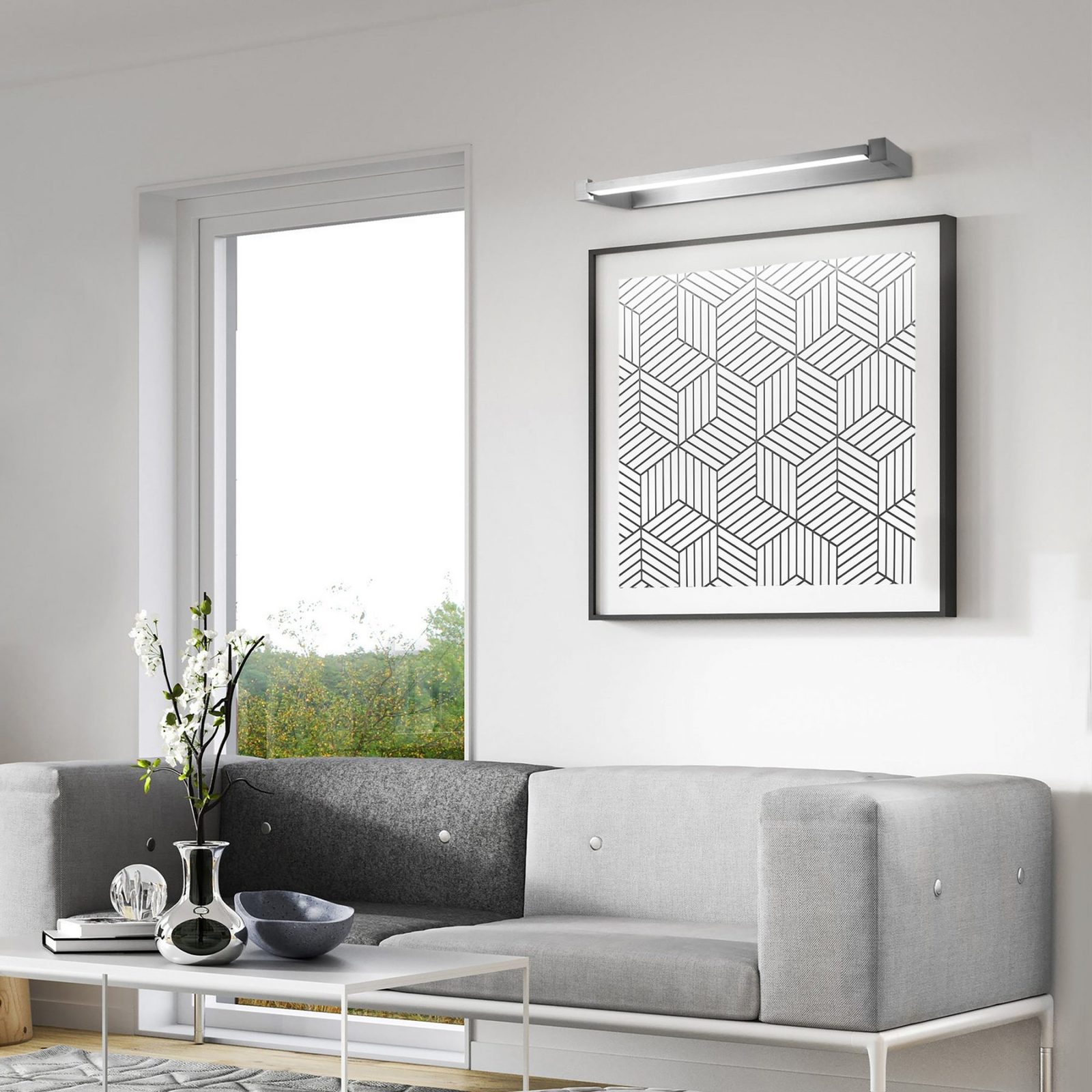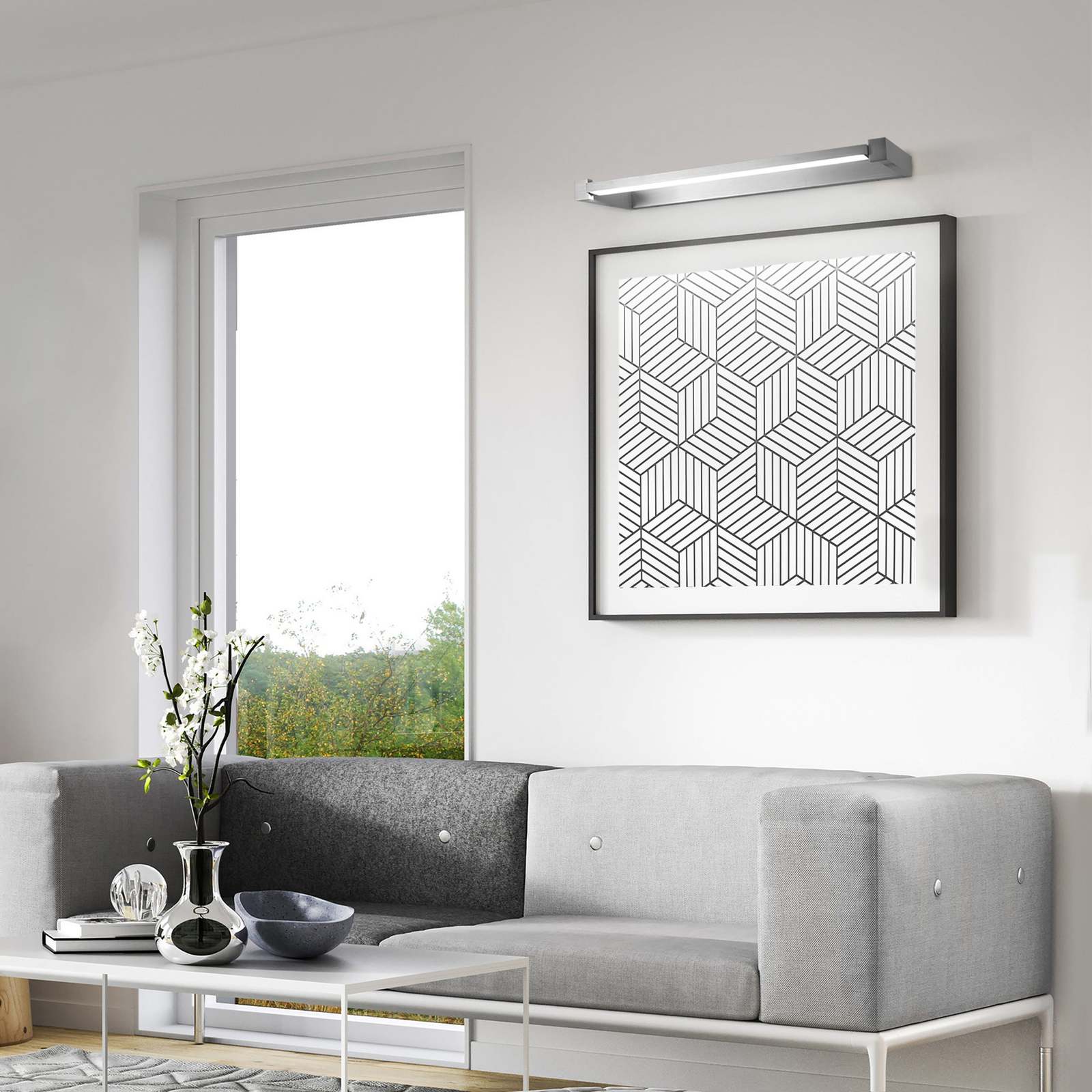 For anyone wanting to create a designer look in a small room, picture lights are a great option. Not only will they highlight your art collection, but they will also provide ambient lighting in your room.
The aluminum finish on the lights will give a simple yet sophisticated finish to your room. The light also comes in black for an equally smart look in a minimalistic room.
Direct Light Where You Need it With an Adjustable Arched Lamp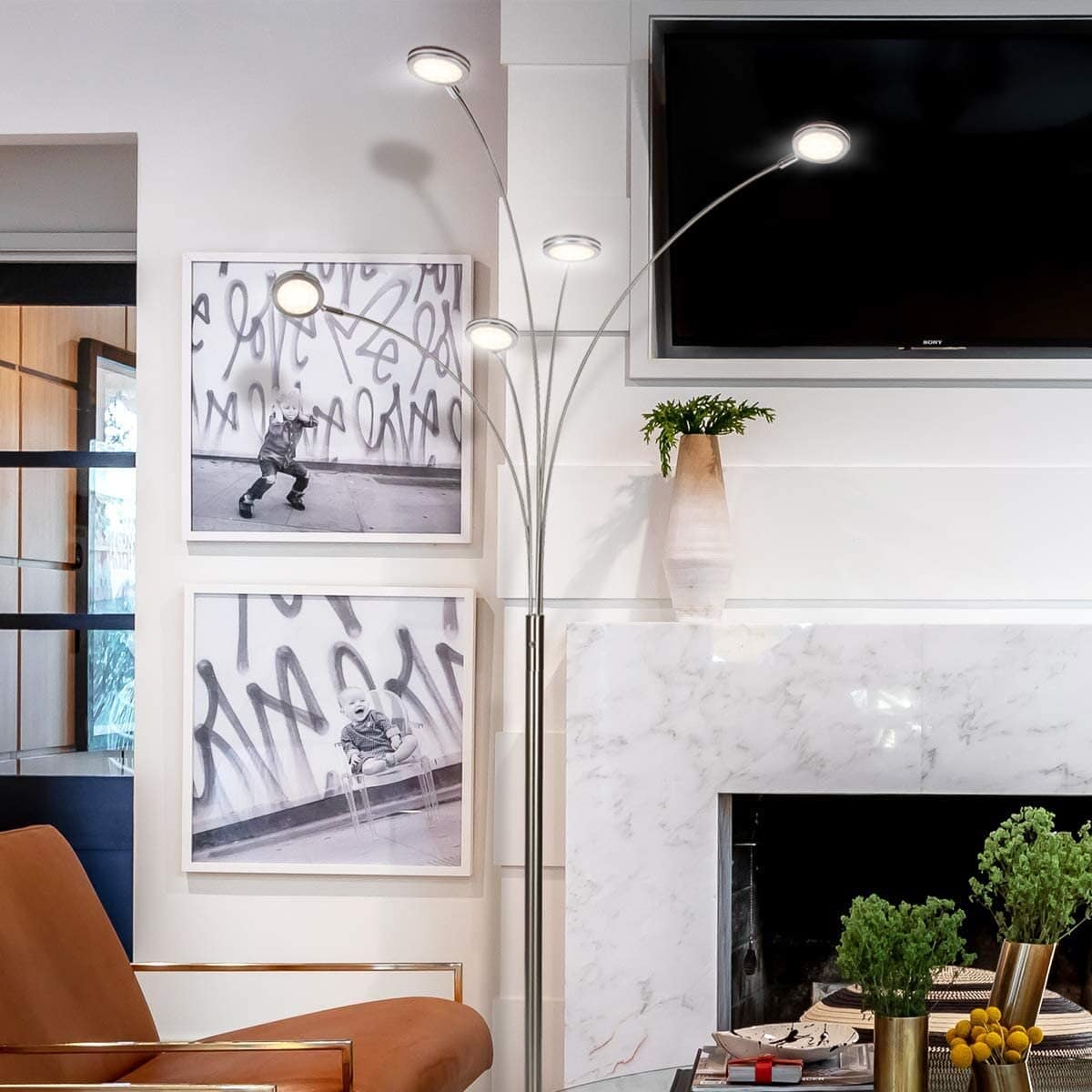 With this lamp, it doesn't matter how your home is decorated, because the contemporary design will fit in well with most styles, including minimalistic, modern, urban, contemporary, industrial, and even art deco.
The lamp features a tree-like design, with the lights on the end of branches, giving it a slightly unusual and fun look. The Lights in this lamp are built-in and can be moved to tower over you as you read or work. Having 5 separate lights on one lamp, which can be placed in different positions is a great way to save space in a small room too.
Create a Cosy Glow With a Himalayan Salt Lamp
A Himalayan salt lamp is perfect if you are looking for a way to make your home feel cozy, especially in the winter months because they can also help to boost your mood. Imagine curling up on the sofa with a duvet and the Himalayan salt lamp on. Bliss!
The lamps are made with natural salt, so there are never any two that look the same and you get a unique look to your living room, as well as a cozy glow. They go with any décor in your home. For different color lights, you can change the light bulb inside the lamp.
A Black Metal Reading Lamp for a Masculine Feel
This black metal reading lamp is perfect for a bachelor pad, a modern, or even an art deco themed home. The lamp stands at 59" tall and is finished in brushed dark metal.
The design is simple and sophisticated with a single lamp at the top of the stand. The arched silhouette of the lamp looks sleek but also traditional in your living room. Because the lamp is black, it will fit perfectly into the corner of any home.
Add Some Mid Century Charm With a Gold Mushroom Lamp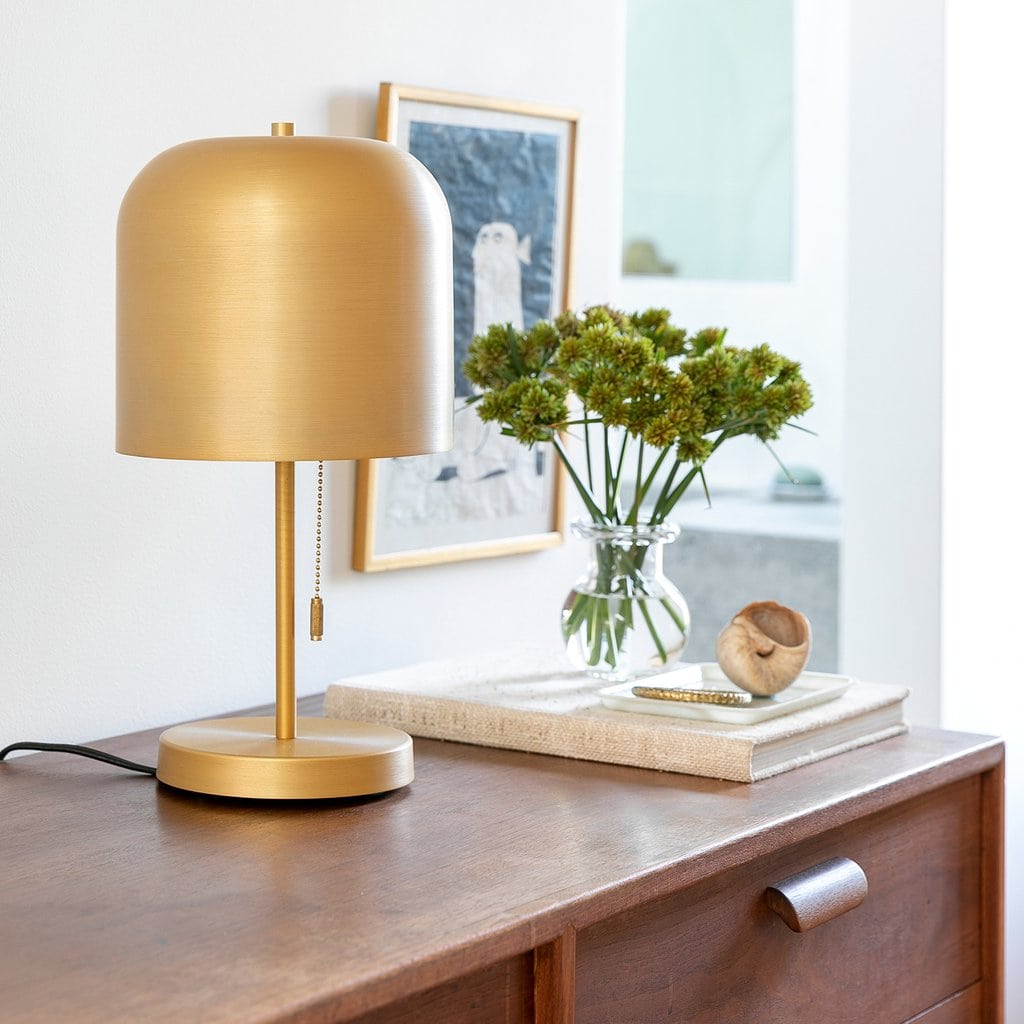 Mid-Century Modern decor is making a comeback, and whether or not you have a mid-century themed home, this gold mushroom lamp will be the perfect finishing touch to your design
The lamp is crafted from heavy-gauge aluminum that has been hand polished for an exquisite finish. The mushroom shade has a white interior to give a soft illumination in smaller and darker rooms. With an Italian design and with vintage vibes, it is perfect for any room that you want to relax in.
Use Dimmable Wall Sconces as an Additional Light Source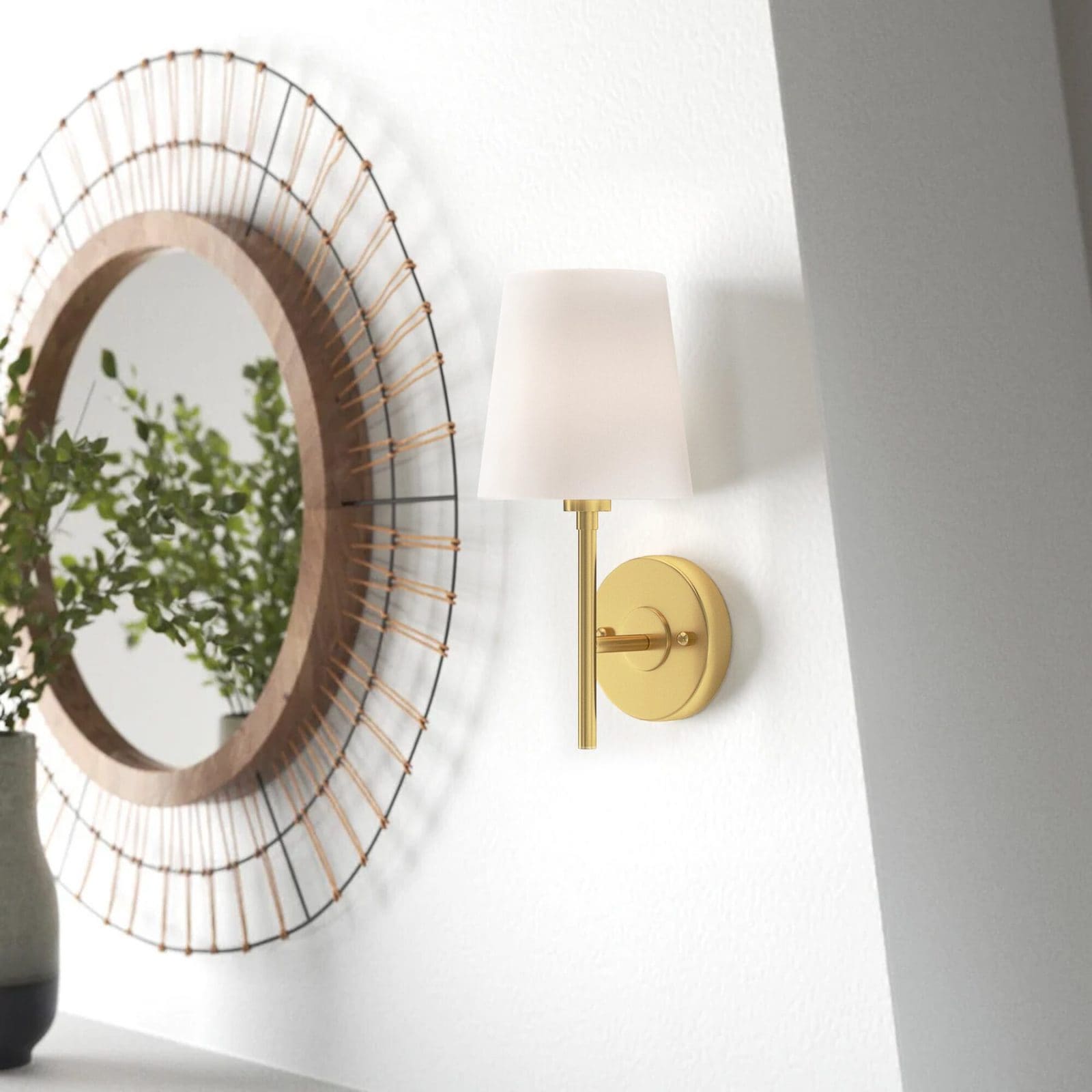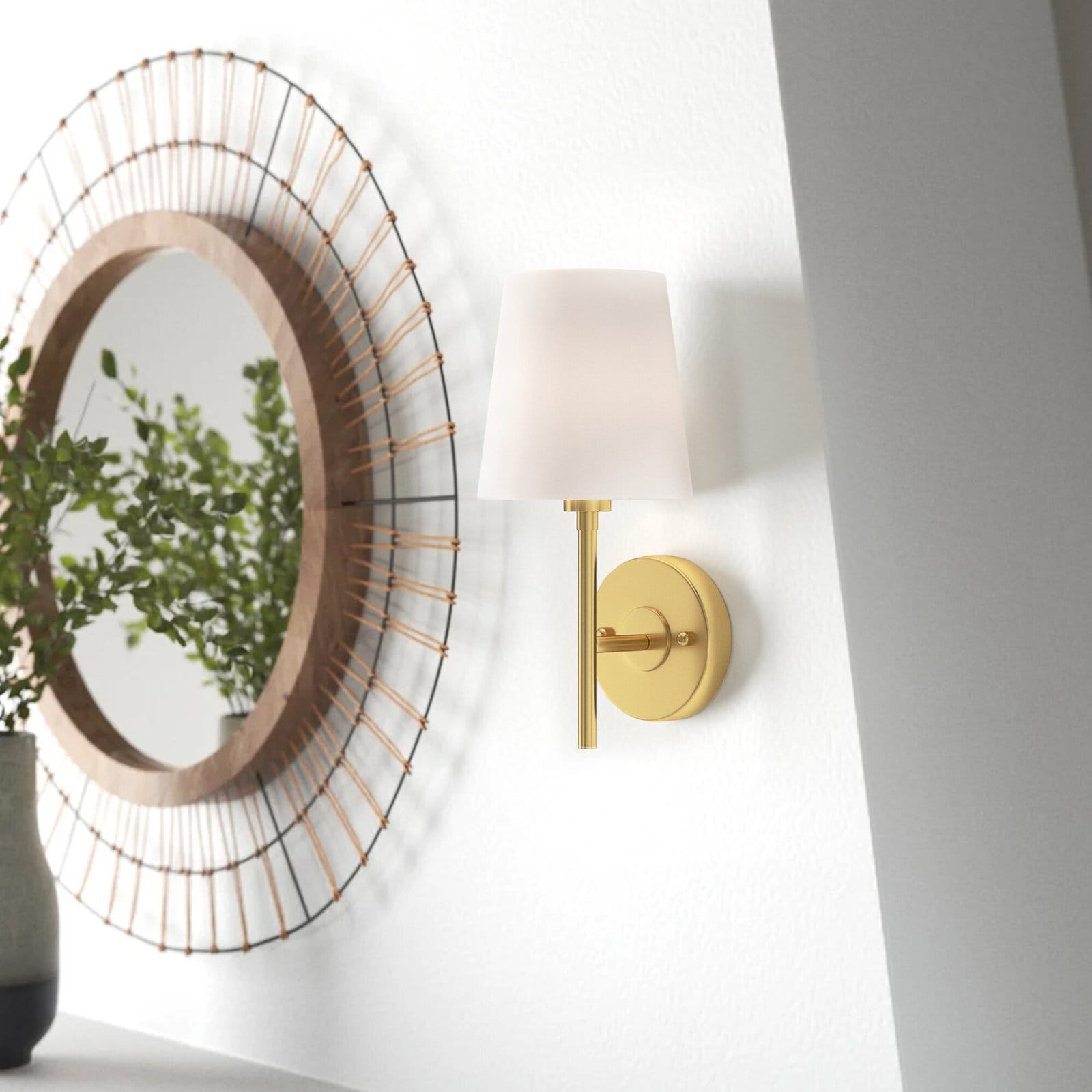 Dimmable lights are perfect for living rooms that you want soft lighting in. You can change the lights from bright to soft in seconds to instantly change the mood and atmosphere in the room.
This dimmable wall lamp is perfect for any style of living room because of its clean, stylish, and elegant design. Dimmable wall lamps will need to be hard-wired into the wall, so make sure you use a professional to help you do this if you haven't done it before.
Make a Statement With Corner LED Mood Lighting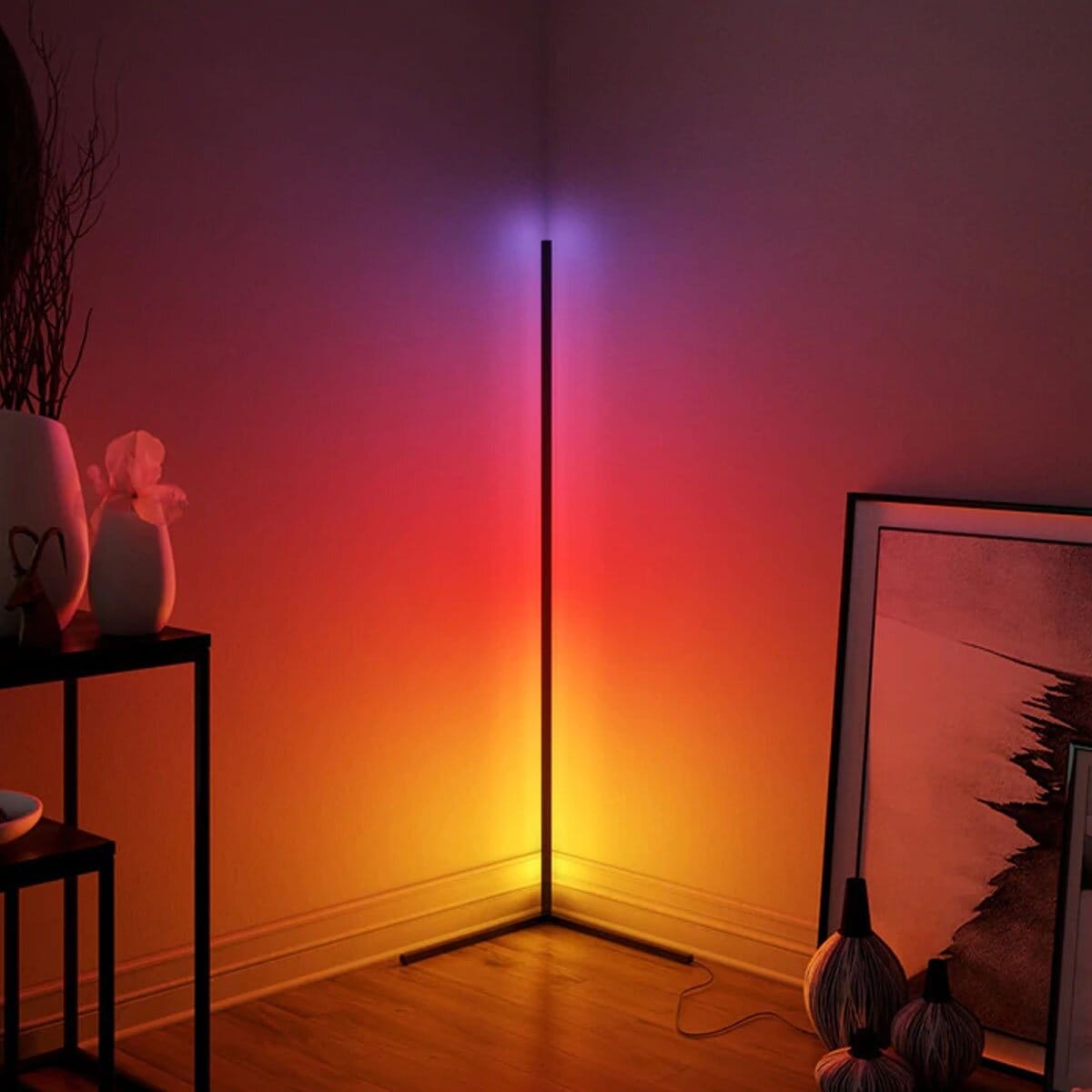 Color-changing lamps are great for many reasons because they help with your mood as well as completely changing the aesthetic of any room that they are placed in.
This black prism lamp is designed to fit into a corner of a room, and it won't take up too much space in small living rooms. The lamp is a simplistic column that is perfect for a minimal living room where space is lacking.
The Beauty is in The Detail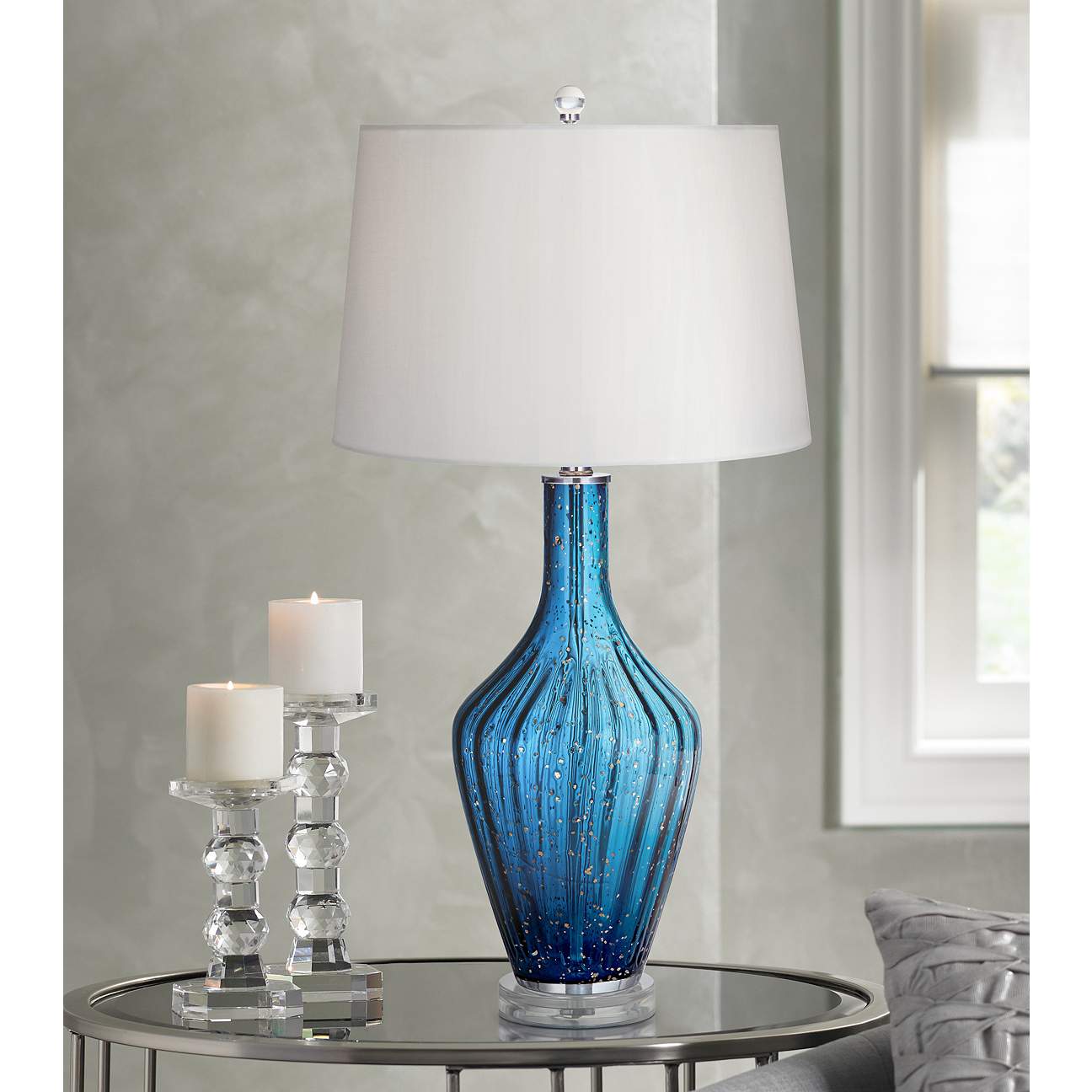 This gorgeous glass lamp is perfect for anyone who likes to keep their décor simple with just a splash of color. The Blue glass base with white lampshade is small but beautiful and will make a great talking point for any guests in your home.
It won't take up too much space in a small living room, as it can be placed on another surface, such as a side table or console table.
Add a Touch of Coastal Charm With A Small Ceramic Table Lamp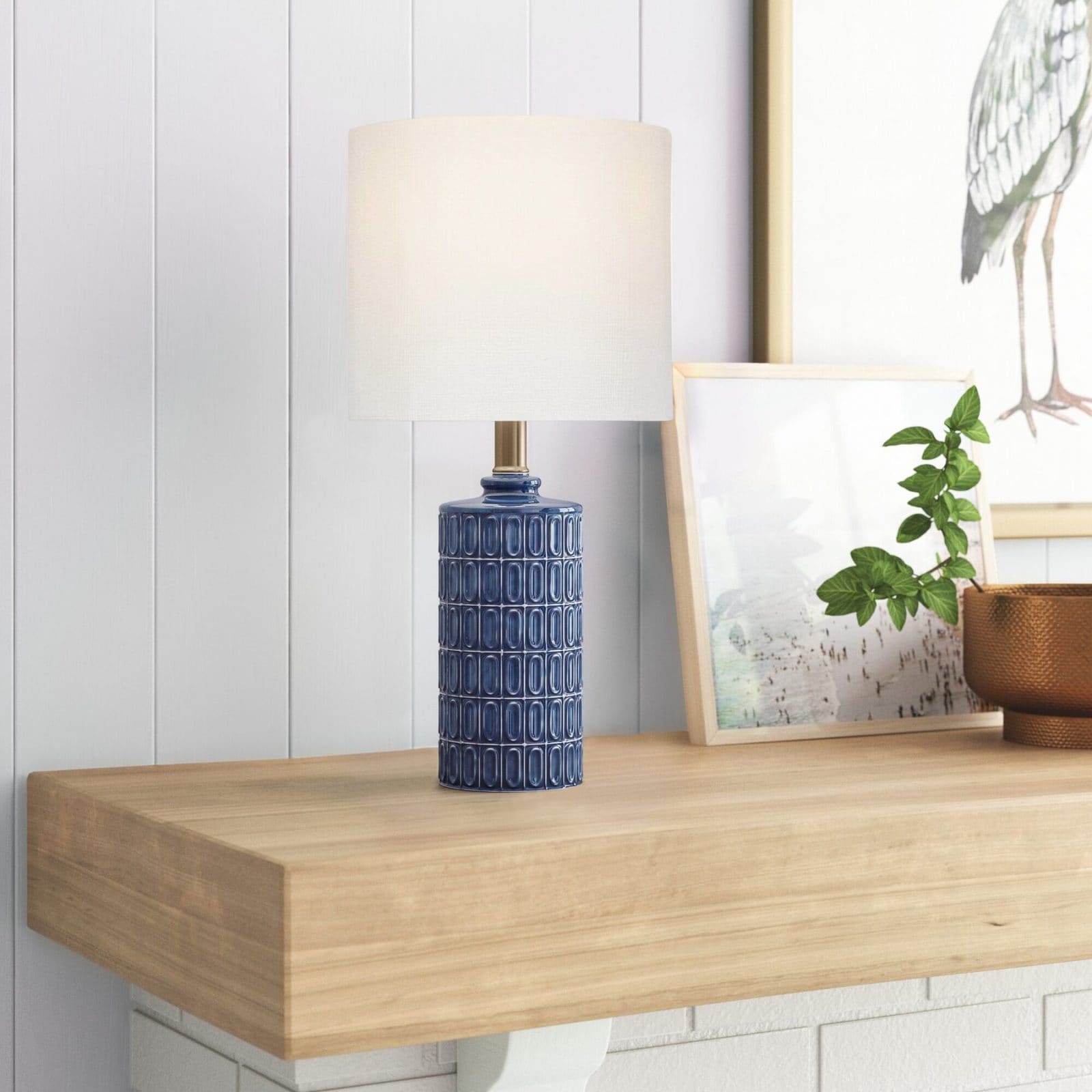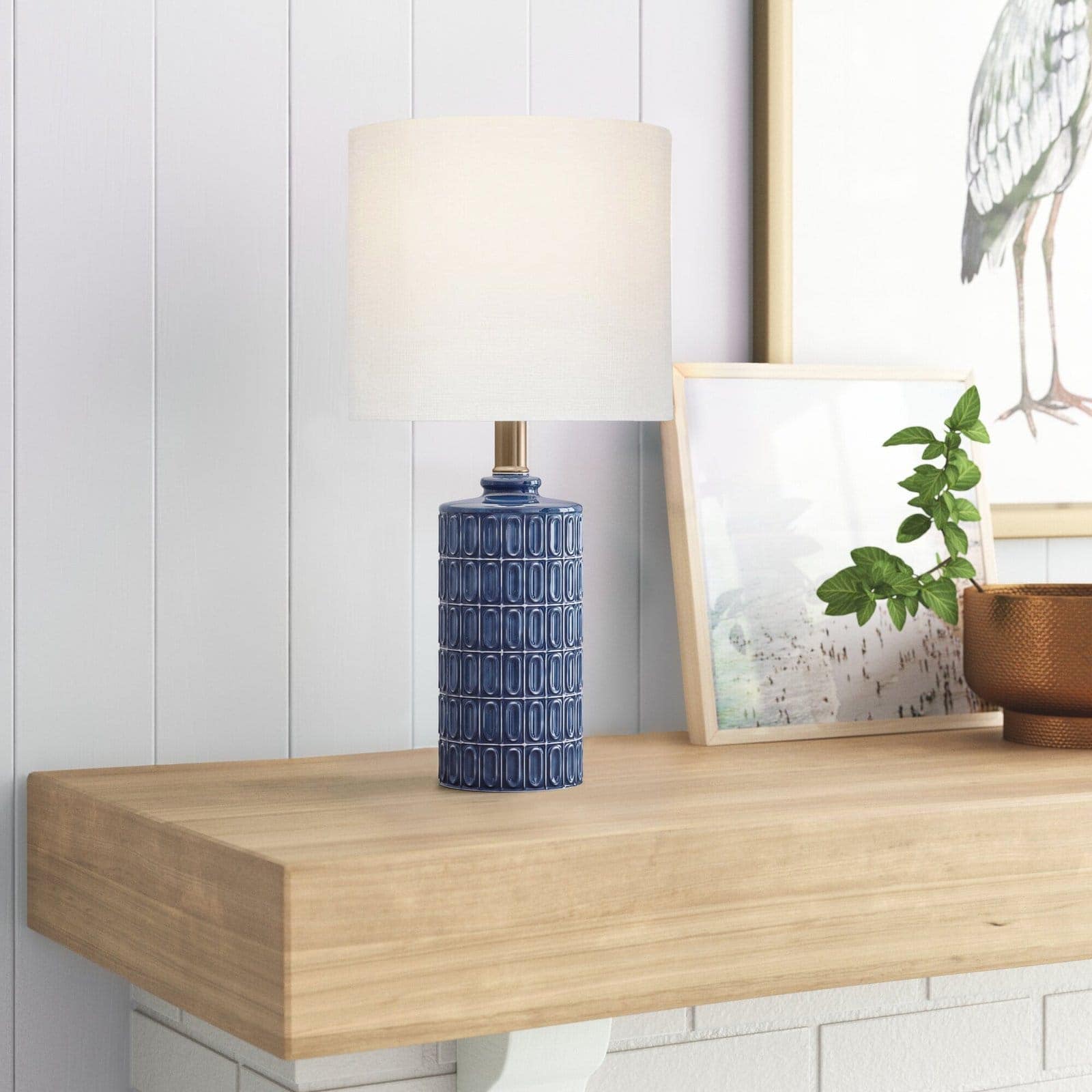 If you're looking for small space lighting ideas, you can't go wrong with a table lamp. This coastal-style blue ceramic lamp features a textured body in shades of blue and white. The geometric design is reminiscent of tiles on a swimming pool on holiday or the wall along the seafront.
This lamp would be perfectly placed on a side table in a living room with coastal décor or in a minimal living room with white walls. Not only will it bring a touch of the coast to your home, but it will also bring back memories of beach visits as a child.
Add Some Glamour With a Small Crystal Pendant Light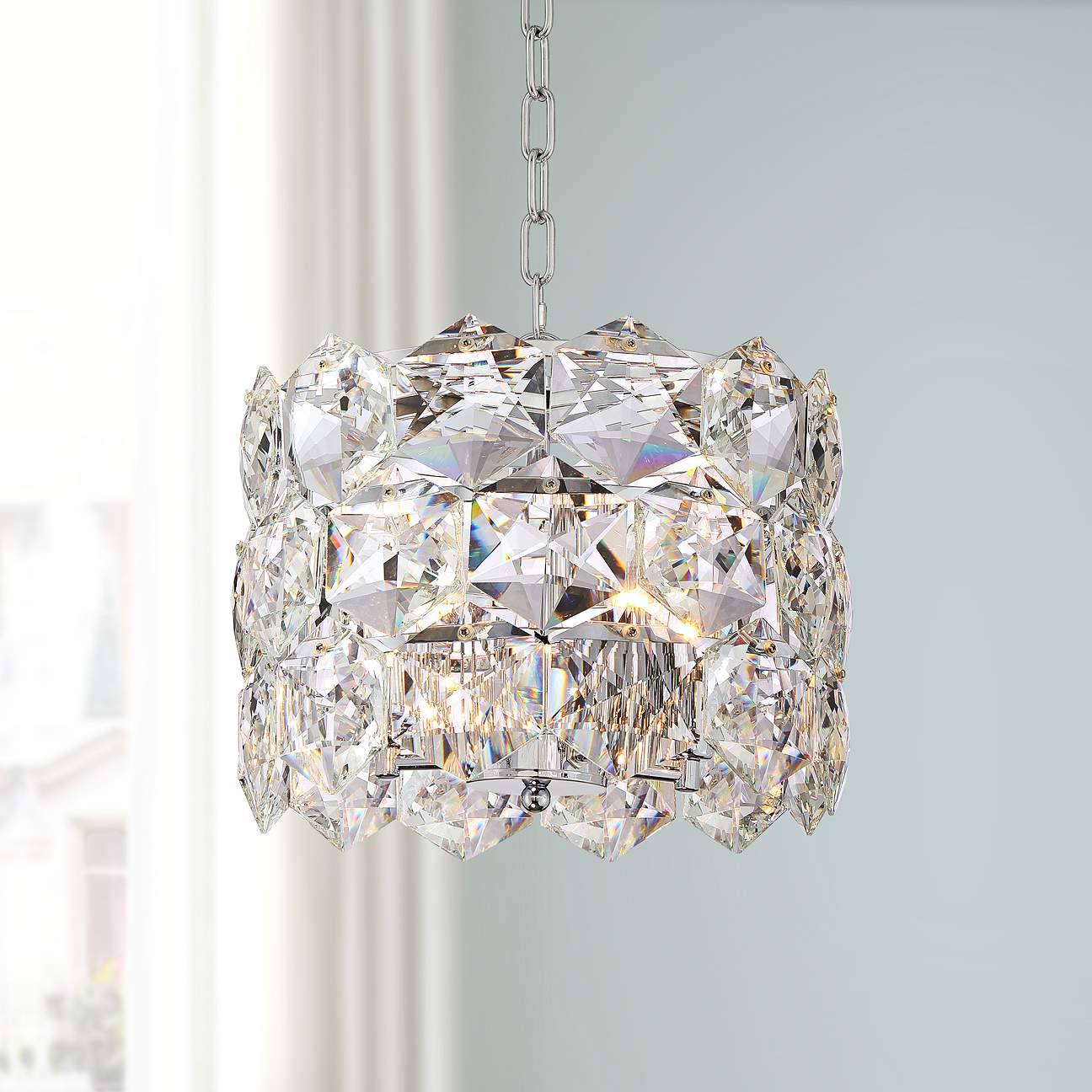 Just because you have a small living room, that doesn't mean it can't be glamorous! An eye-catching crystal pendant light in your living room will provide you with good lighting, making the room look and feel bigger, as well as drawing the eye upwards.
A small crystal pendant like this one is perfect for smaller living rooms that need a little something extra to make them truly special.
Use Track Lighting To Highlight Key Areas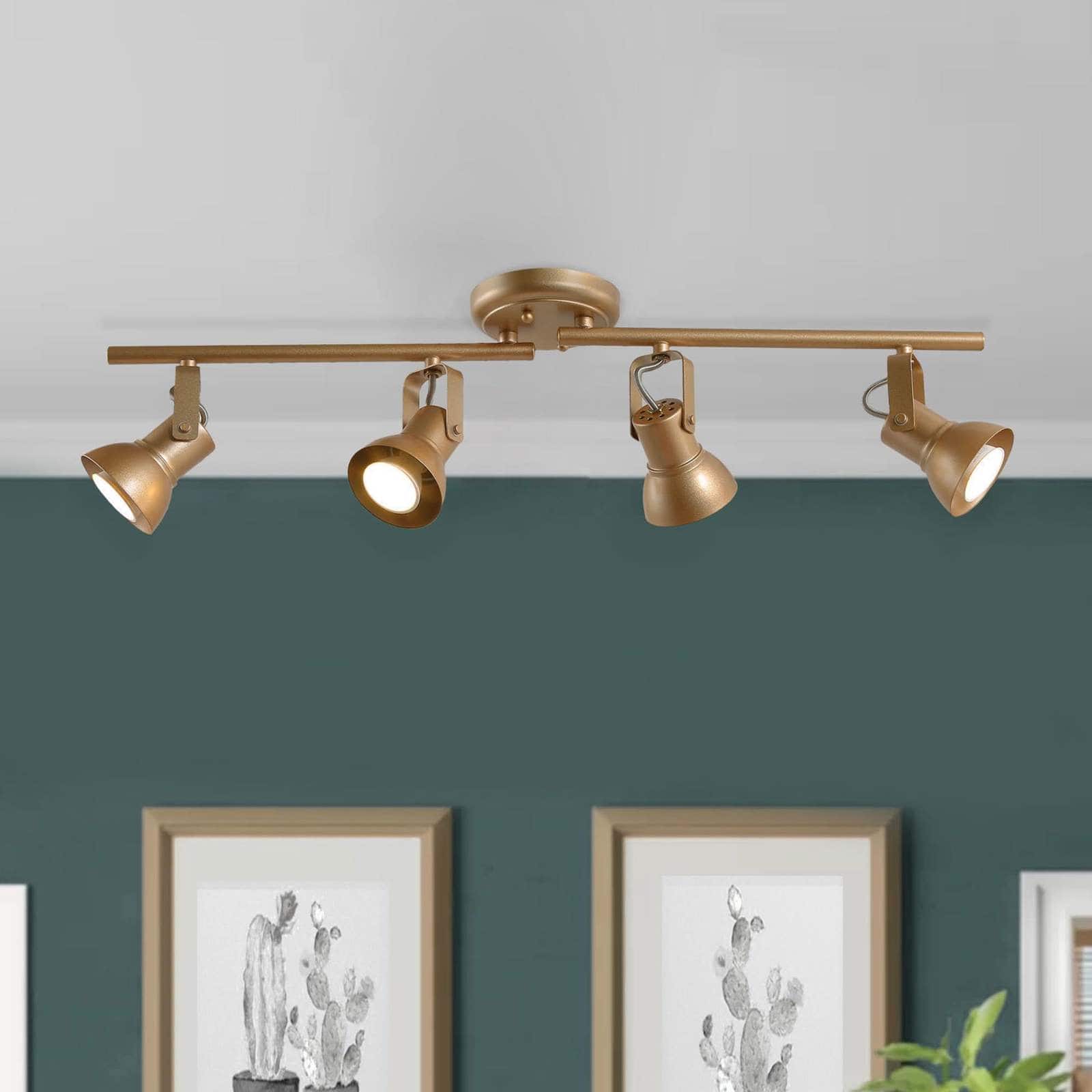 Track lighting is a great way to illuminate your home, and this track lighting comes with a straight pole that you attach to the ceiling of your living room. On the pole, there are 4 modern lights that rotate in the direction you want them to go.
Track lighting is perfect for smaller living rooms as light can easily be directed into all areas of the room. This track lighting is gold in color and will look great in a traditionally styled home.
Choose a Small Chandelier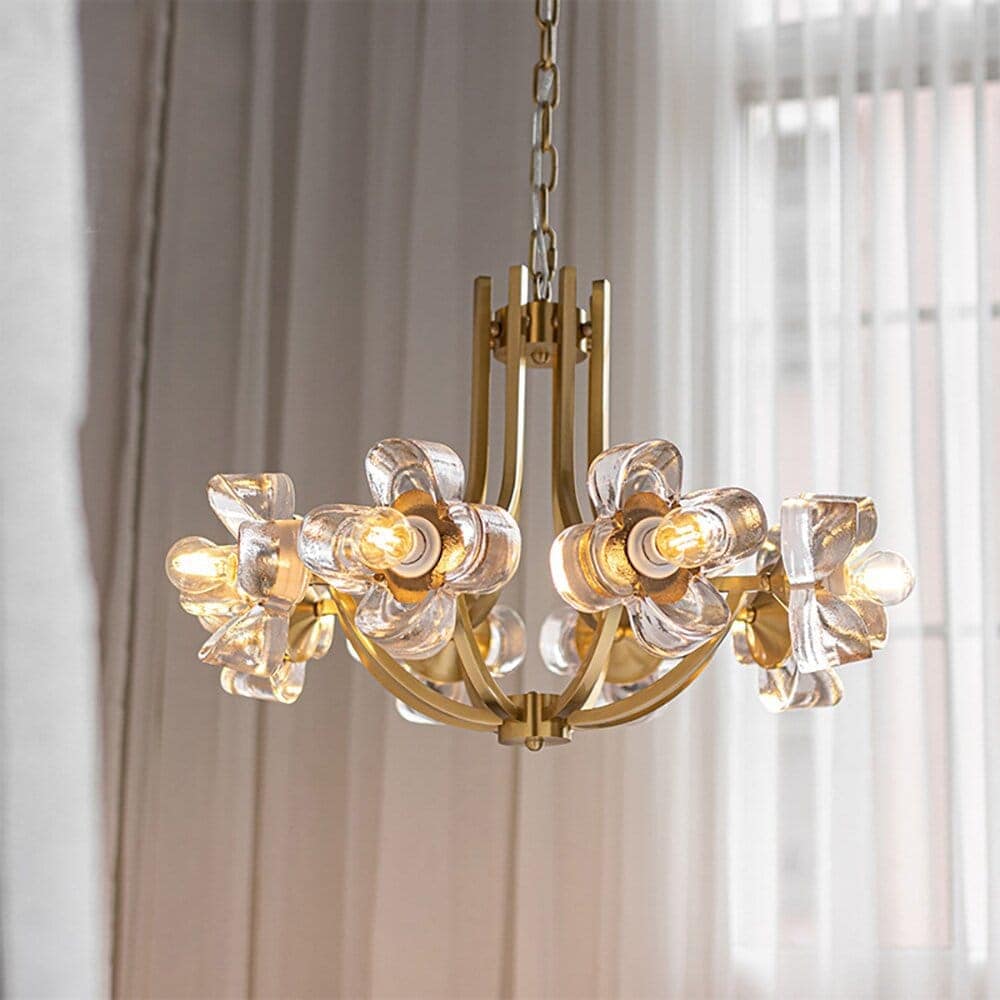 Adding a touch of glamour to your living room is easy with a small crystal chandelier hanging from your ceiling. Chandelier lights for small living room always work well!
With the flower-shaped lights facing outwards, it gives off good lighting in your small living room. If you use Edison lights, it will give the chandelier (and the room) a stylish vintage look. A chandelier has always been a sign of elegance, this will give any style room a Victorian, yet modern look.
Try Using Track Lighting on The Walls
Track lighting is great for ceilings, but you might be surprised to know that it can work just as well on a wall! This track lighting gives a modern look to a room with a matte nickel finish and 6 light bulbs.
You can easily direct the light to where you need illumination, giving you light exactly where you need it. This would look best in a contemporary or minimal living room, where it will look sleek and sophisticated. Wherever you place this track light it will save space because it is placed on the wall, rather than standing on the floor!
Final Thoughts…
One of the nicest things about small living room lamps is that there are so many options. This is great news because it means that you can still create the look you want, even if you are limited on space.
Whether you want something glamorous like a chandelier or a sleek and minimal floor lamp, hopefully these small living room lighting ideas have inspired to you find the perfect lighting for your own small space!