Decorated Life is reader-supported. When you buy through links on our site, we may earn an affiliate commission. Learn More
What Accent Chair Goes With a Gray Sofa? – 15 Ideas
Gray sofa proves to be a great versatile piece of furniture for the living room. Whether you have a transitional style or modern farmhouse, Scandinavian or traditional – gray sofa could be your topmost priority, whenever in doubt. Furthermore, when it comes to a cohesive color palette, there are various colors for the accent chair to pair with.
From hot red, orange, teal, and cream to navy blue and mustard – it all depends upon the vibe and ambiance you crave in your living room. Yes! You can be as subtle or as wild and creative as you want. So, let's have a look at these mind-blowing 15 ideas for an accent chair for your gray couch.
Mustard Tufted Lounge Chair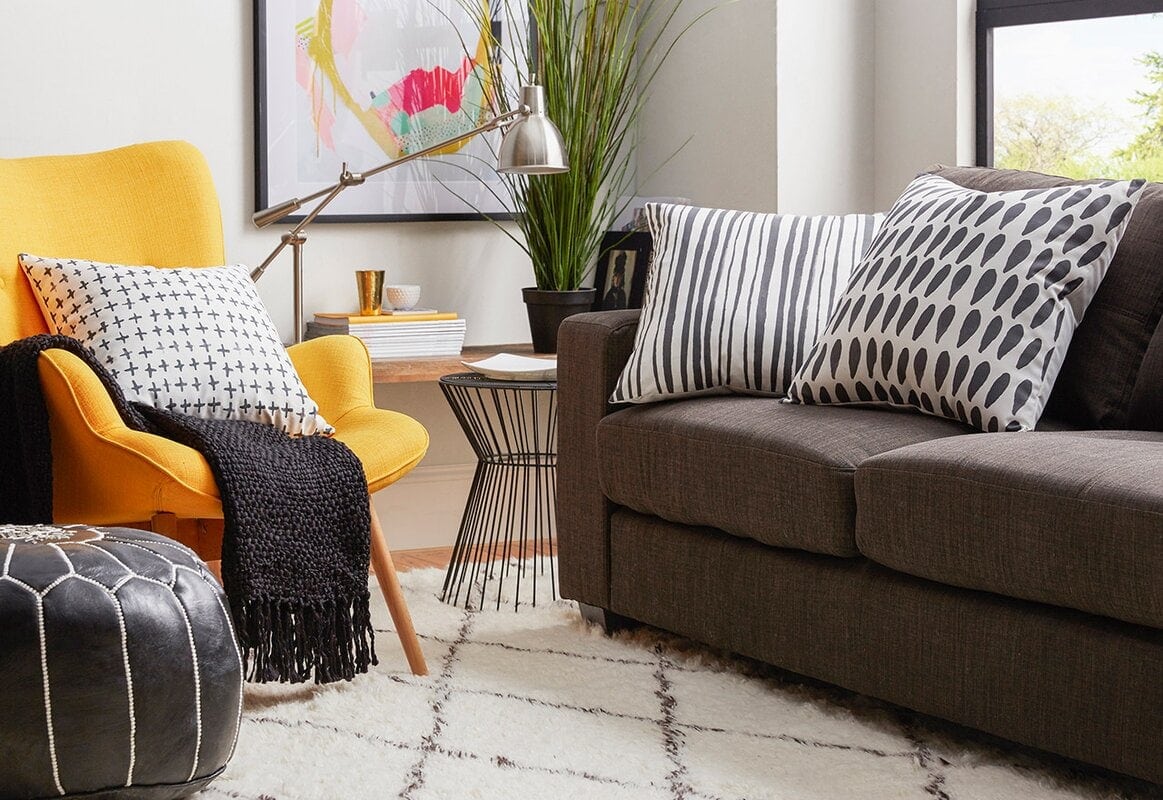 If you want a brilliant pop of hue in your living room, this mustard will play a fabulous option. Exhibiting a warm-toned appeal, the soft and subtle mustard tufted lounge chair will add a comforting and welcoming vibe. And especially when it comes to a dark gray sofa, you can simply not hold back from creative mustards.
Furthermore, you can best pair this combination with shades of off-white and black on the adjacent furniture. Lastly, don't forget the quirky patterns on your accent pillows!
Aqua Wide Armchair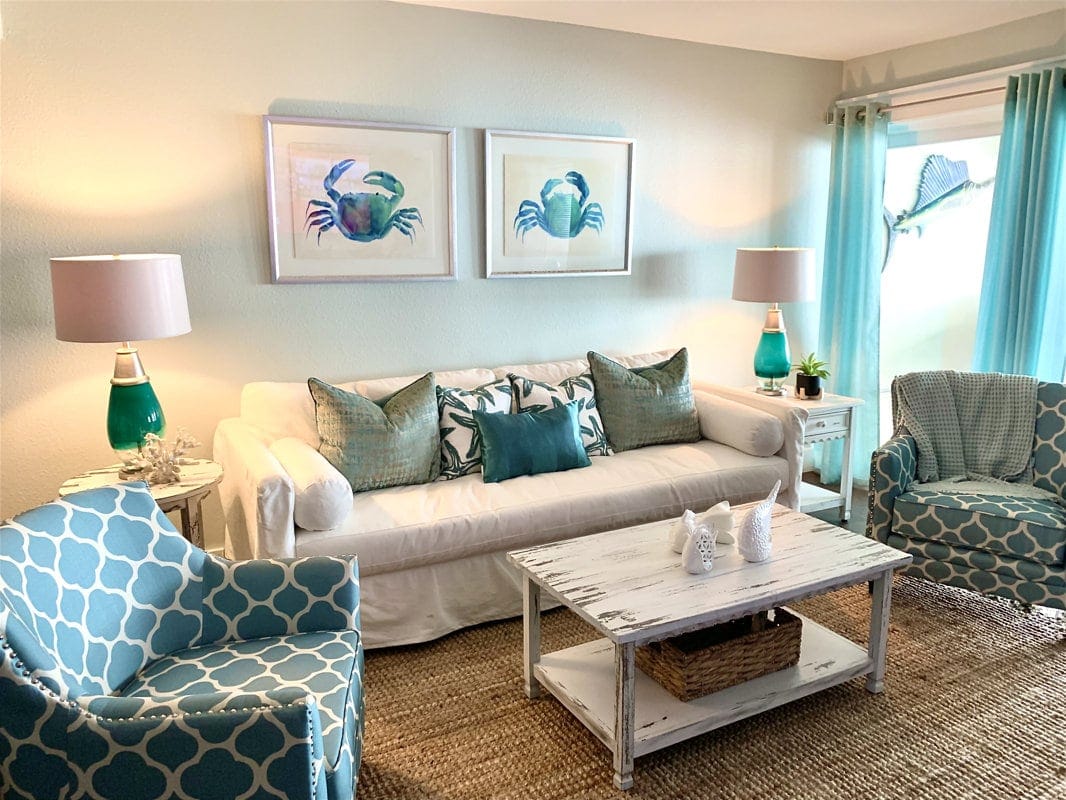 For a perfect coastal and beachy vibe, it's best to pair the gray couch with cool hues like aqua that add a fun-loving and playful vibe. Apart from the beauty exhibited by this color, it's important to creatively play with patterns that add depth and character to the room.
Furthermore, don't hold back from a solid-hued throw pillow that makes a fundamental statement without overpowering the room.
Tan Leather Lounge Chair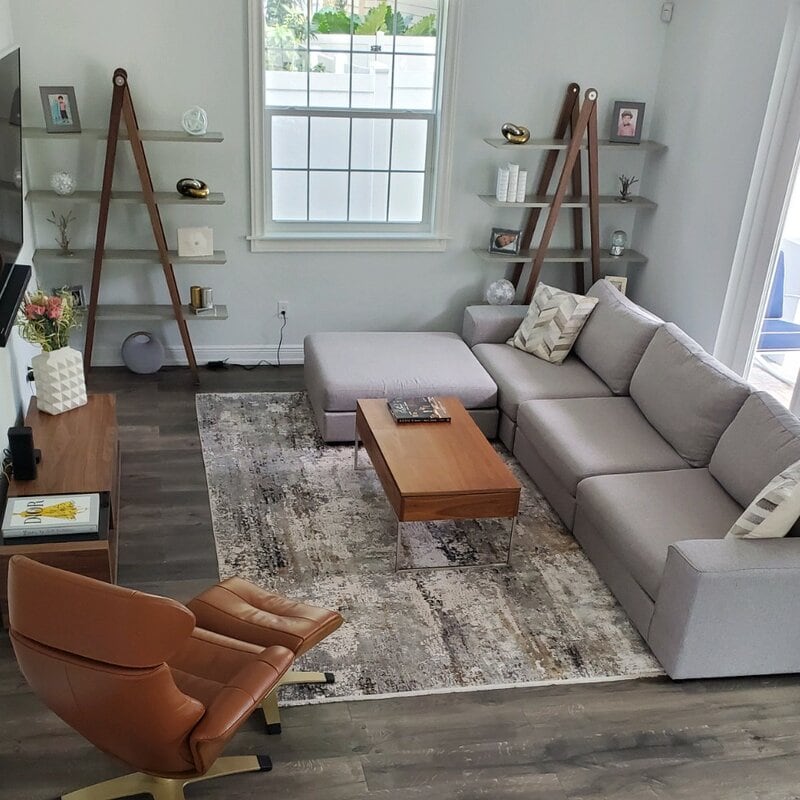 It's time to add a luxurious, functional, practical, and mid-century vibe to your living room. This tan leather couch can perfectly add a timeless and versatile feel to the room while playing a sobre and subtle touch. When you pair it with a gray couch, the result will totally be flabbergasting.
This combination is also a great fit for a bachelor's pad. It's masculine, bold, and quite aesthetically pleasing!
Lavender Arm Sofa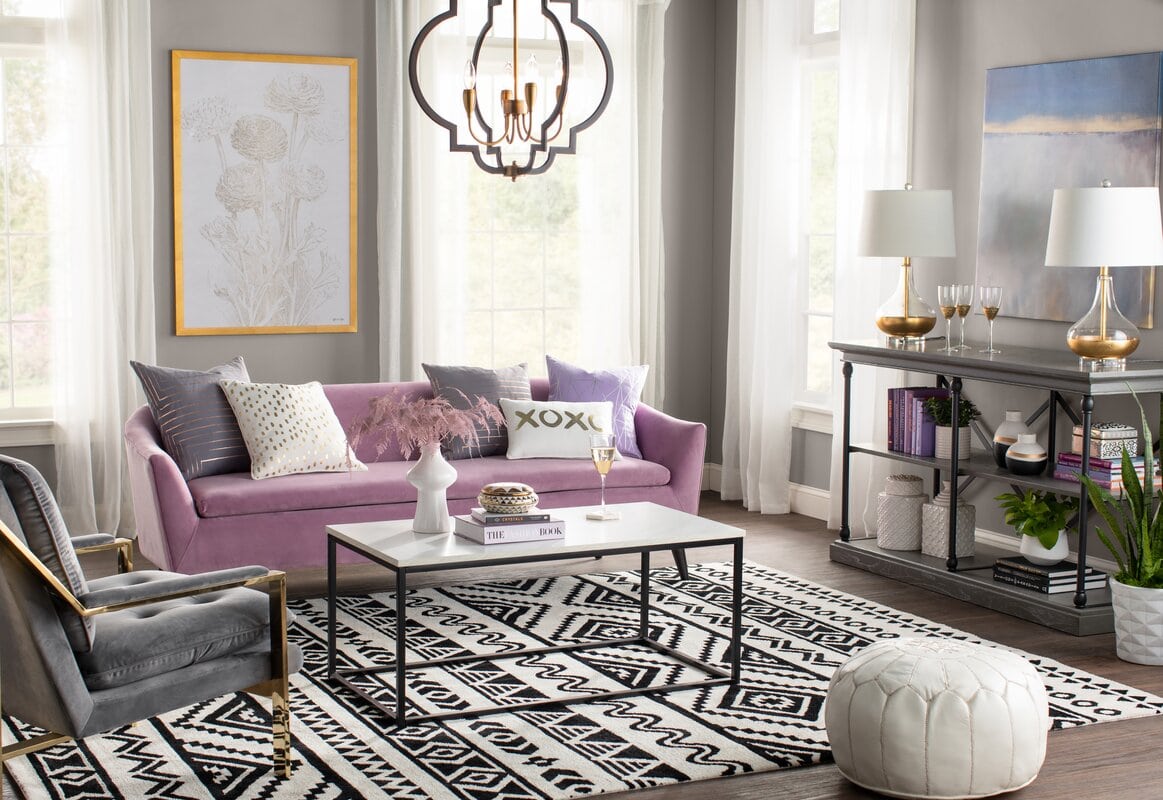 Lavender is quite a unique, soft, and feminine color option when paired with your gray couch. So, if you have an eclectic, glam, and shabby chic interior design style – this soft and soothing lavender will play a subtle, luxe, and sophisticated look.
Furthermore, you can choose to pick faux and fur on the throw pillows and various intriguing patterns to add a sense of movement and dynamism.
Gray Swoop Accent Chair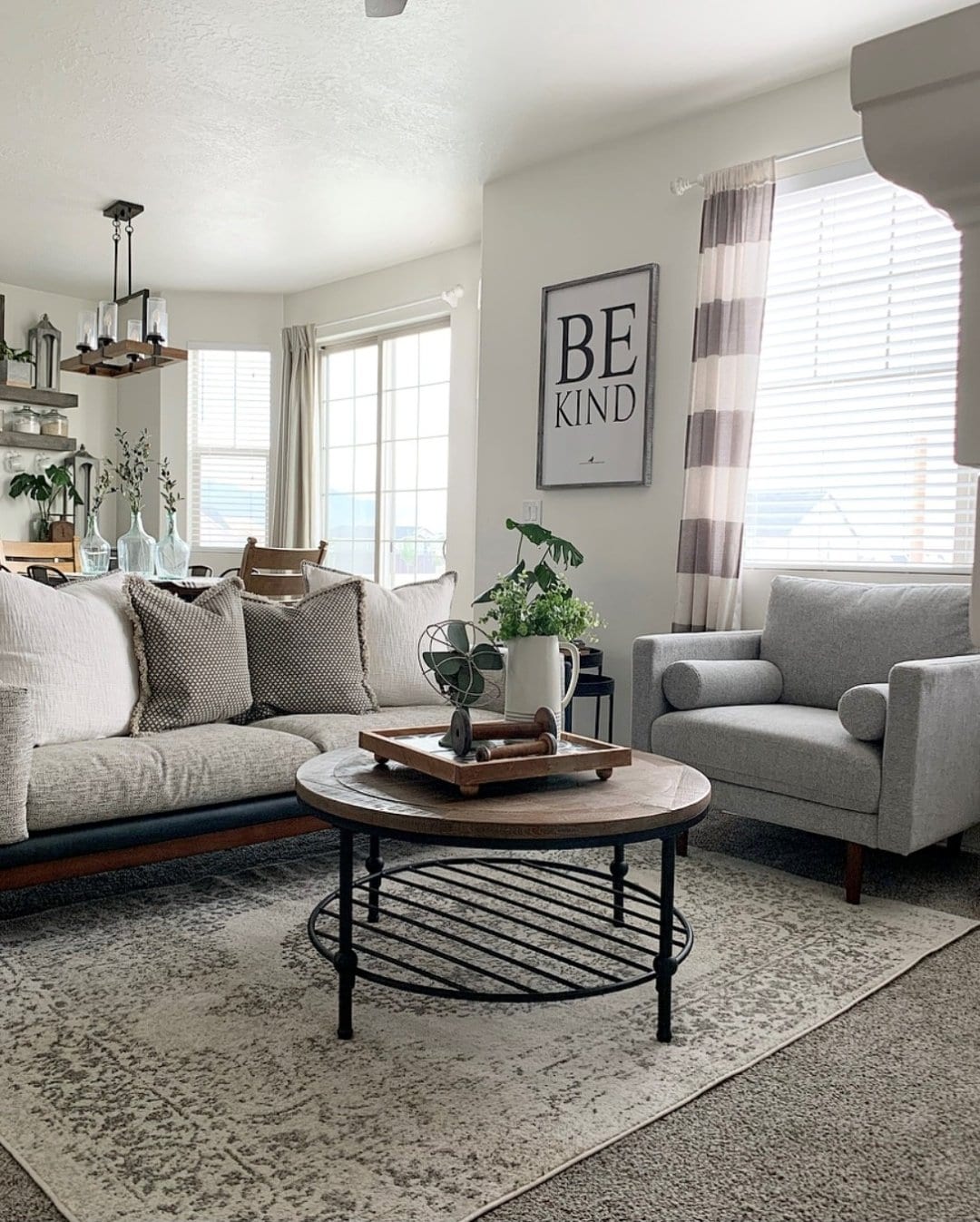 If you have a monochromatic and modern style, it's best to pick a tone of gray for the accent chair that could be a shade lighter or darker as compared to the couch. This palette will add depth to the living room and meanwhile, make a great statement for modern farmhouse, Scandinavian, and modern interior design styles.
At the same time, you must ensure to add a couple of throw pillows in various shades of gray on the couch as well as the accent chairs and loveseat.
Multi-Hued Slipper Chair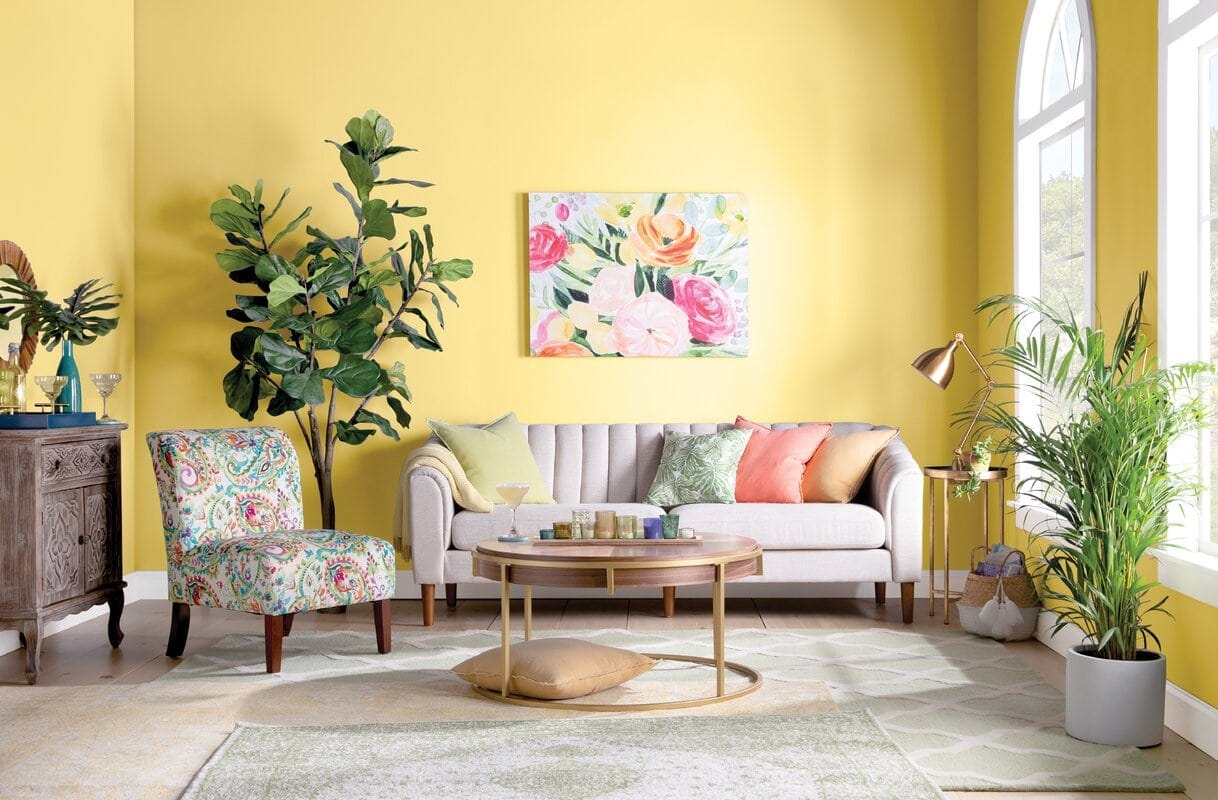 Featuring beautiful patterns of floral accents, the eye-catchy paisley pattern displays a beautiful combination of bright red, white, purple, and green. If a gray sofa is too boring for you, this multi-hued accent chair will add a charming and stunning appeal.
For a versatile and cohesive appearance, you must also add a couple of multi-hued throw pillows on the gray couch to bind the whole living room panorama into one.
Teal Papasan Chair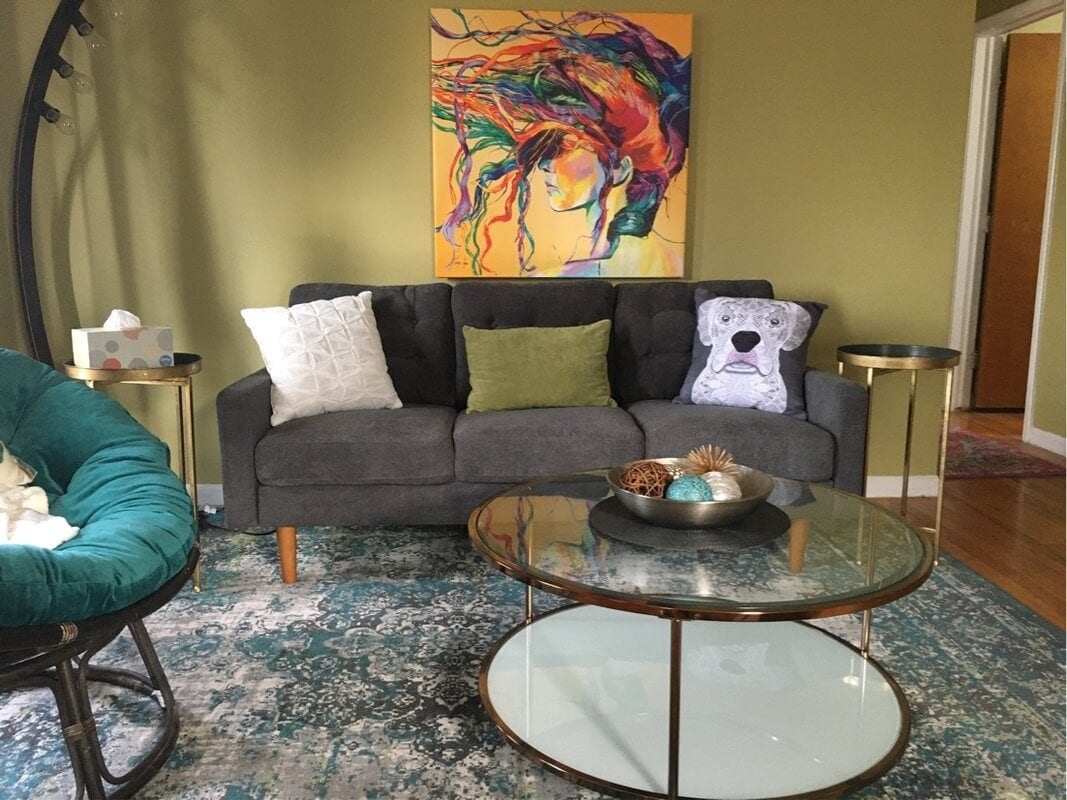 Do you have a light or dark gray couch in your living room? Well, this teal Papasan chair will absolutely play contemporary and eye-catchy. So, if you want the accent chair to truly pop out, you can pick a quirky and intriguing tone like teal to create a stunning appeal.
With a notable rattan and wicker frame, the chair is bound to complement your contemporary backdrop. And it will also make your living room quite fun!
Burnt Orange Armchair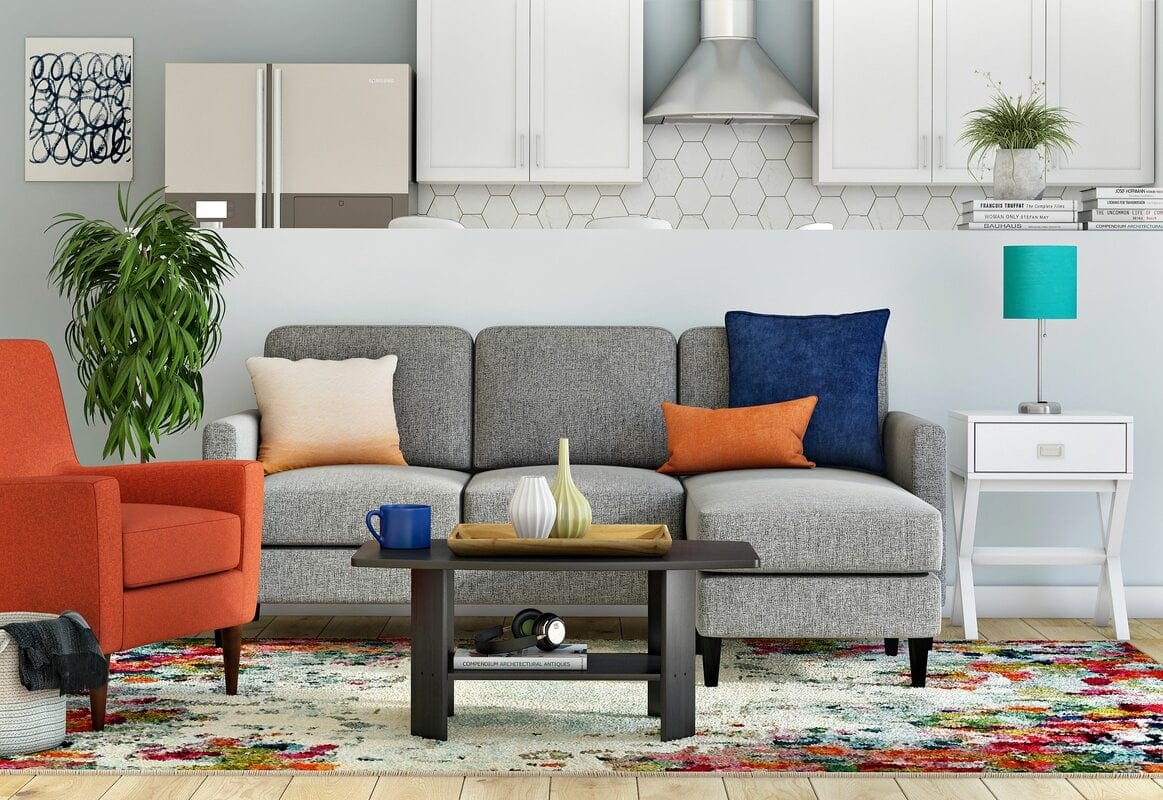 Blending the traditional with contemporary, the burnt orange armchair will definitely make a great combination with your gray couch. To add a stunning, bold, and bright pop of hue, this warm-toned palette will make your living room as welcoming as possible.
Undeniably, this armchair will predominantly stand out and make your living room feel even more fun-loving and cheerful. Lastly, don't forget to add a pop of this hue on the artwork and throw pillows as well!
Patterned Wide Armchair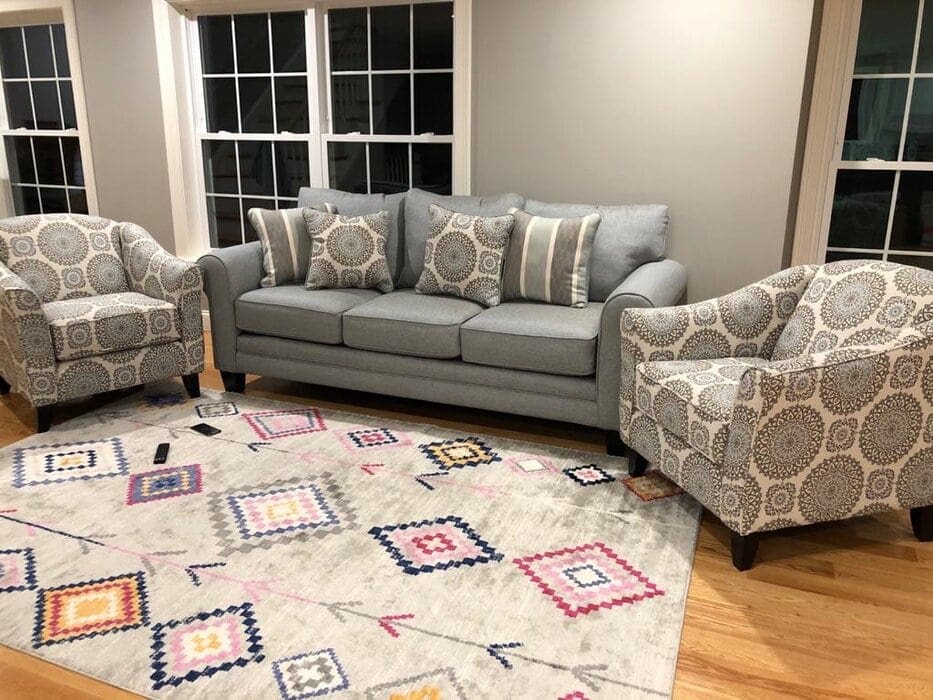 It's not necessary to always pick a bold hue as a contrast against the gray couch in your living room. Sometimes, you can pick a soothing and subtle pattern that totally complements your gray backdrop without overwhelming the living room.
Moreover, it adds a dynamic and dramatic experience while making the gray stand out and define the true character of your living room. Lastly, don't hold back from complementing this accent chair with the throw pillows.
Black Leather Accent Chair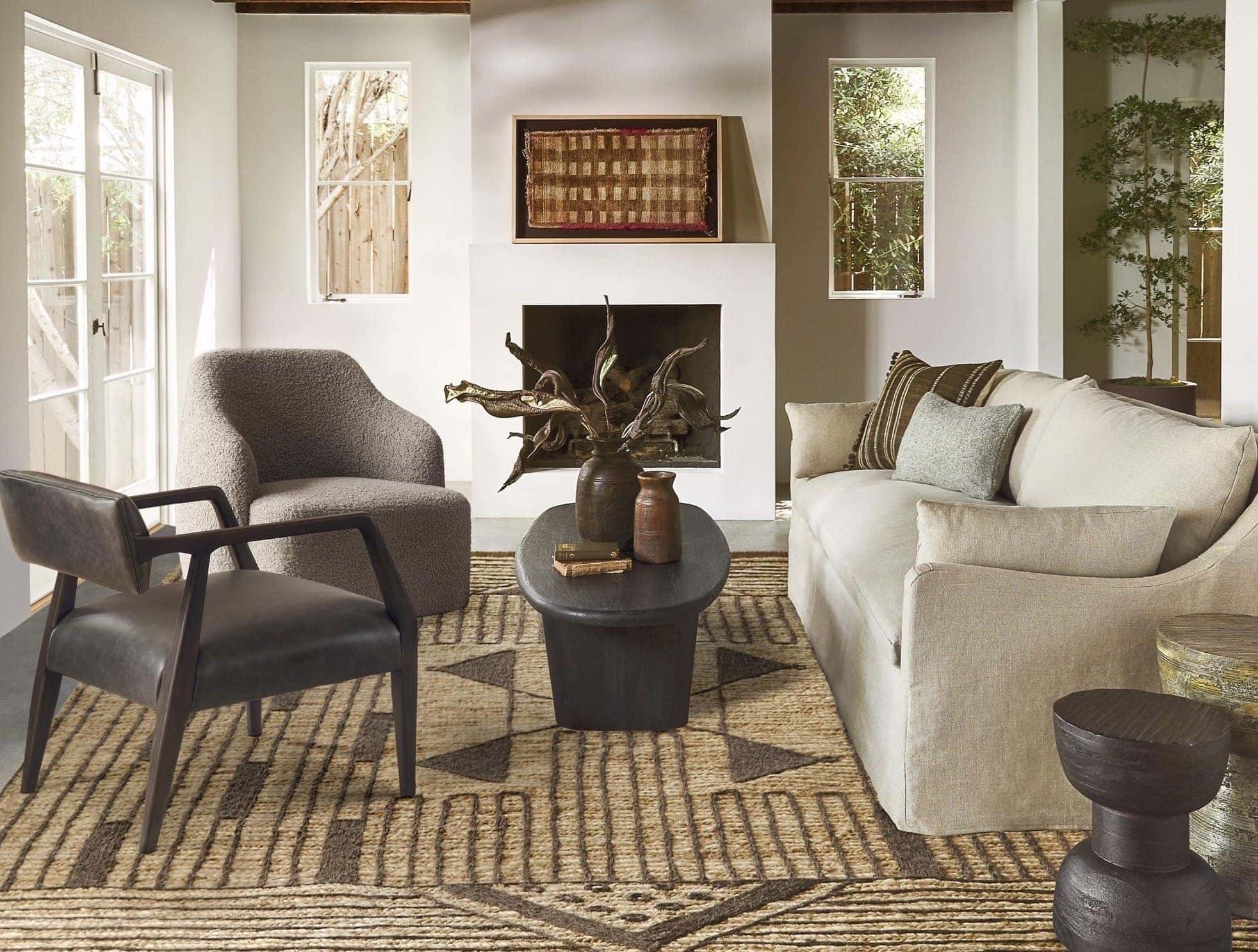 Black is the new cool. Whether you have a dark or a light gray couch, warm or cool gray, this black leather accent chair will totally complement your backdrop. It adds a stunning modern and contemporary appeal while offering a sense of balance and sophistication.
You can best make use of this accent chair in the Japandi, Modern, and contemporary interior design styles. Also, this particular tone feels quite earthy and organic!
Dark Gray Wingback Chair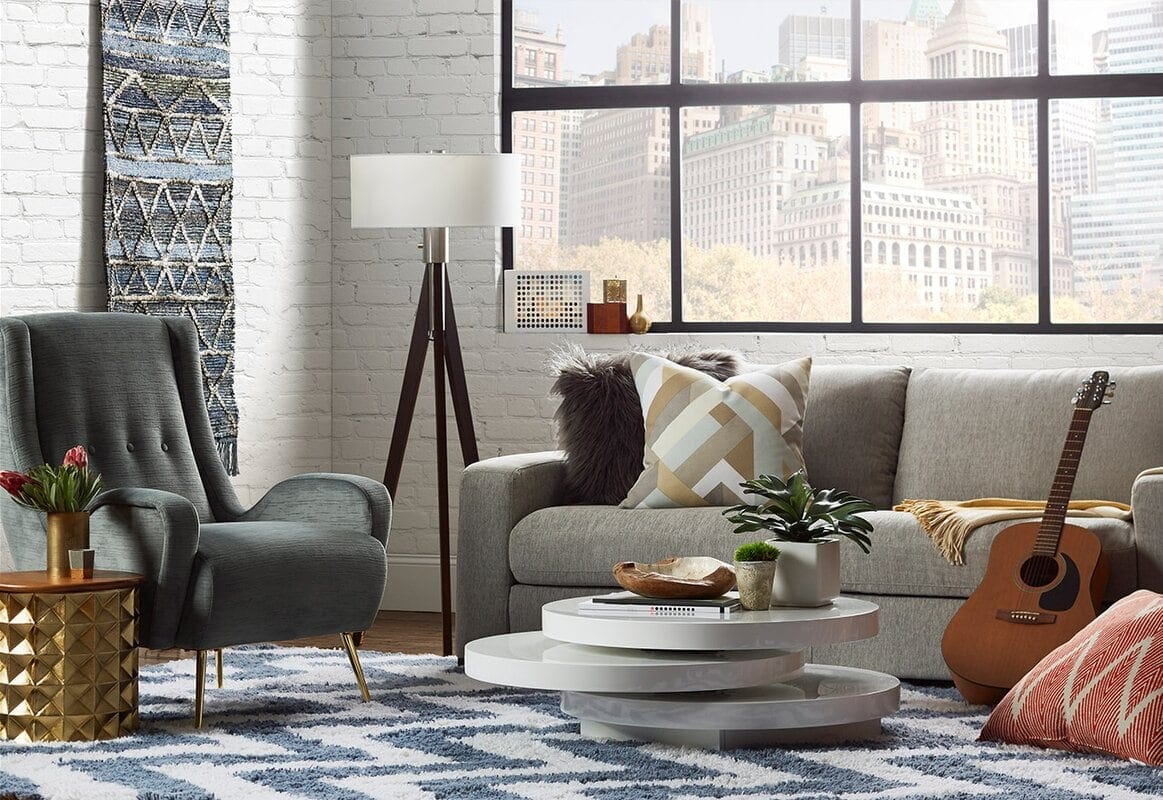 It's time to play with the opposites! For instance, if you have a light gray couch – you can pick a dark gray accent chair to feel timeless, versatile, and cohesive. And vice versa! To further add a sense of visual interest, you can pair this subtle combination with various pastel-hued throw pillows and a texture deeply embedded in faux or fur.
This combination will never go out of style! So, just in case if you're not used to upgrading and renovating – this match makes a great longer-living solution.
Pastel Blue Cotton Armchair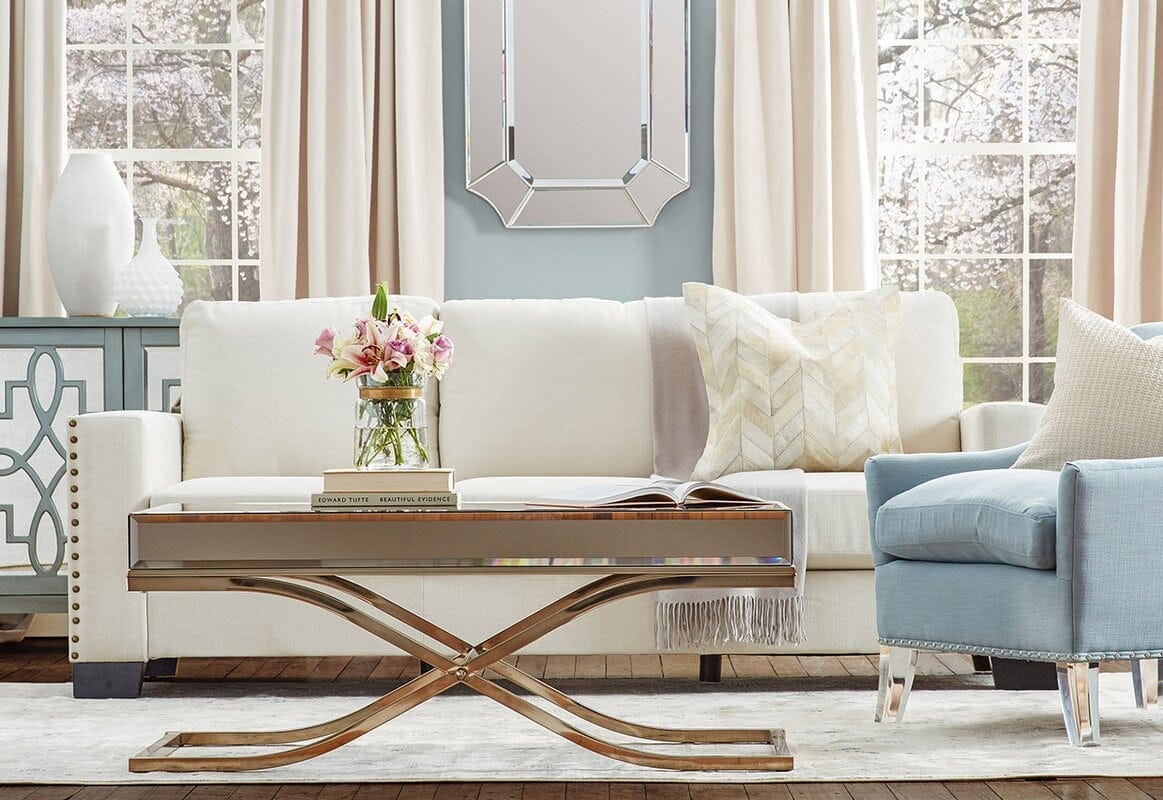 Looking to have a feel of airiness and openness in your home? Well, this pastel blue cotton accent chair will definitely imbibe a refreshing, cool, and calm vibe. Especially with the light gray couch in your living room, this duo would definitely prove to be quite magical!
And don't ignore picking a light and airy material like cotton or linen that totally resonates with the vibe. On the other hand, something in velvet or suede would definitely add a statement of luxe!
Dark Blue Accent Chair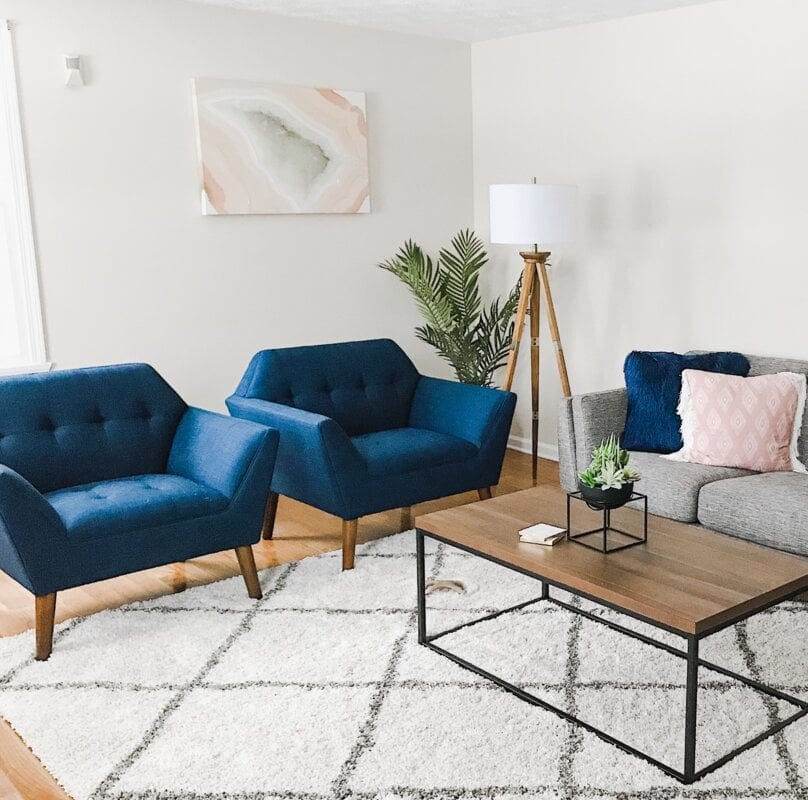 Didn't like the airy and soothing sky blue palette? Well, you need not worry! Try this contrasting and bold, dark blue accent chair that makes your living room a haven for fun-loving and cheerful vibes. Since the accent chair tends to stick out, you're bound to add a tinge of blue on your other decoratives as well.
Lastly, this is a great combination to consider if you adore a cool-hued palette!
Transitional Accent Chair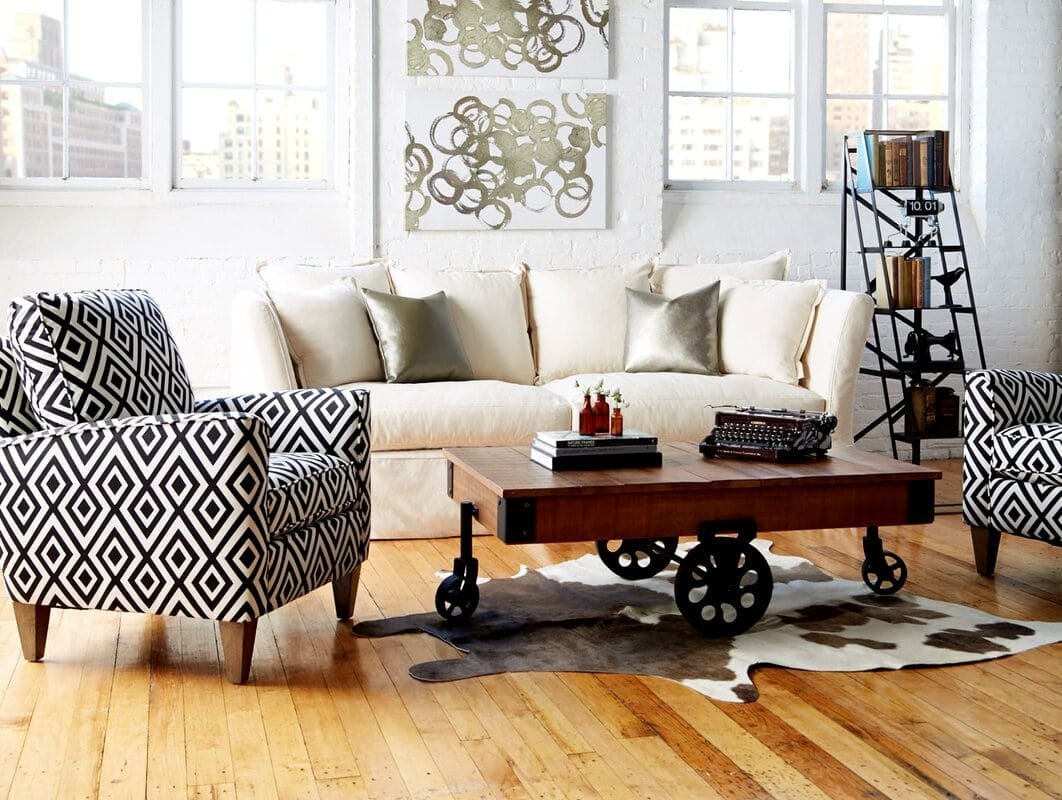 With an utmost timeless and transitional appeal, this neutral-hued, diamond trellis motif pattern allows your gray sofa to further play cohesively. Not only does the accent sofa pattern add a sense of detail but also makes a focal and eye-catchy entity in your living room.
Generally, patterns are quite easy to deal with. You can simply mix and merge their hues with other decorative accents to truly create a mindblowing essence.
Dusty Rose Velvet Barrel Chair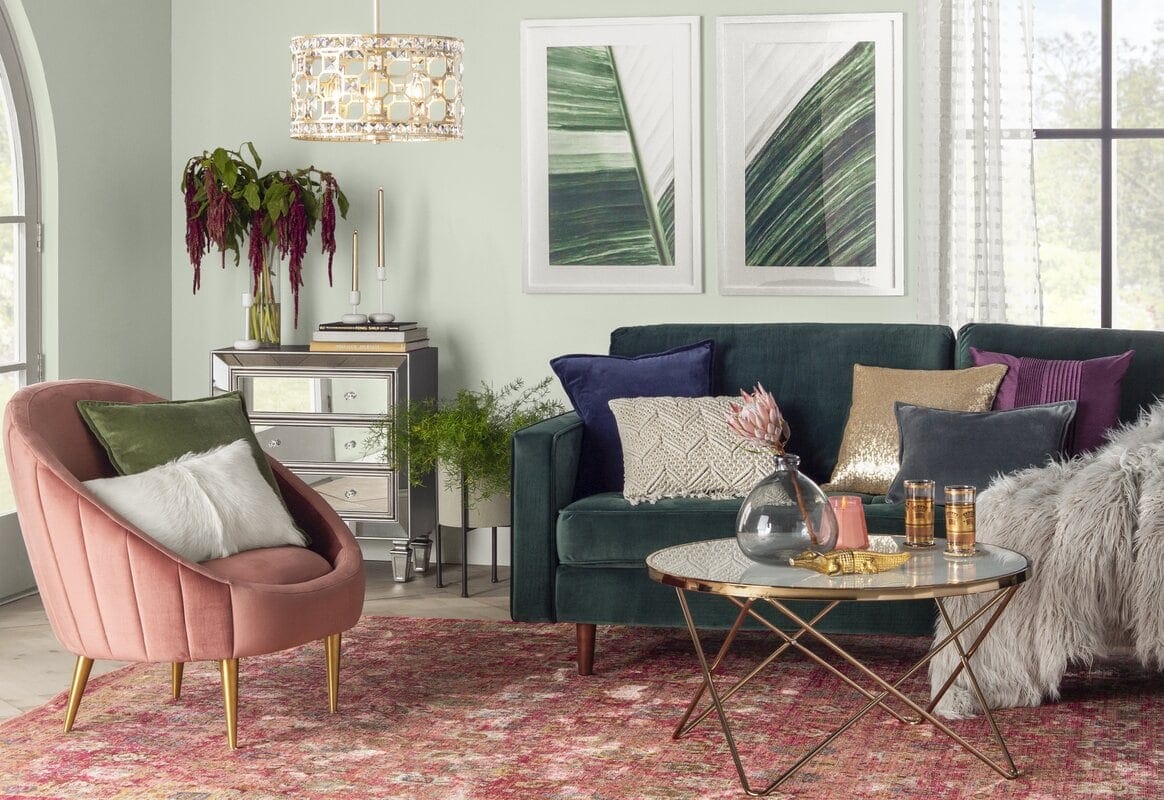 You can never go wrong with pink, coral, and blush! Especially for interior design styles such as shabby chic, eclectic, and maximalist glam – this combination will undeniably prove to be one of the best. And since it exhibits a warm, soft, and feminine vibe – you can truly consider pairing it with faux and fur.
Dusty rose accent chair makes a great pair with light or dark gray sectional. Furthermore, you can also add a tinge of dark green to complete your palette.
Summing It Up
Decorating a living room with a gray couch is a lot simpler and more fun to do. Since you have a wide array of color options to pair with – you're free to switch on the creative side of your mind to play as cohesive and innovative as you want. So, did any particular accent chair color mesmerize you? Do let me know your thoughts in the comments below!