Decorated Life is reader-supported. When you buy through links on our site, we may earn an affiliate commission. Learn More
16 Basement Laundry Room Ideas (Decorate & Organize)
Setting up a laundry room in the basement is a great way to free up the main floors of the house, especially if you have a laundry chute for ease of access. A basement laundry room is an excellent option regardless of whether your basement area is finished or unfinished.
Below is a list of my favorite ideas for organizing and decorating your laundry room, because there's a lot of easy and affordable ways to make the room friendlier.
Paint the Walls in a Cheerful, Bright Color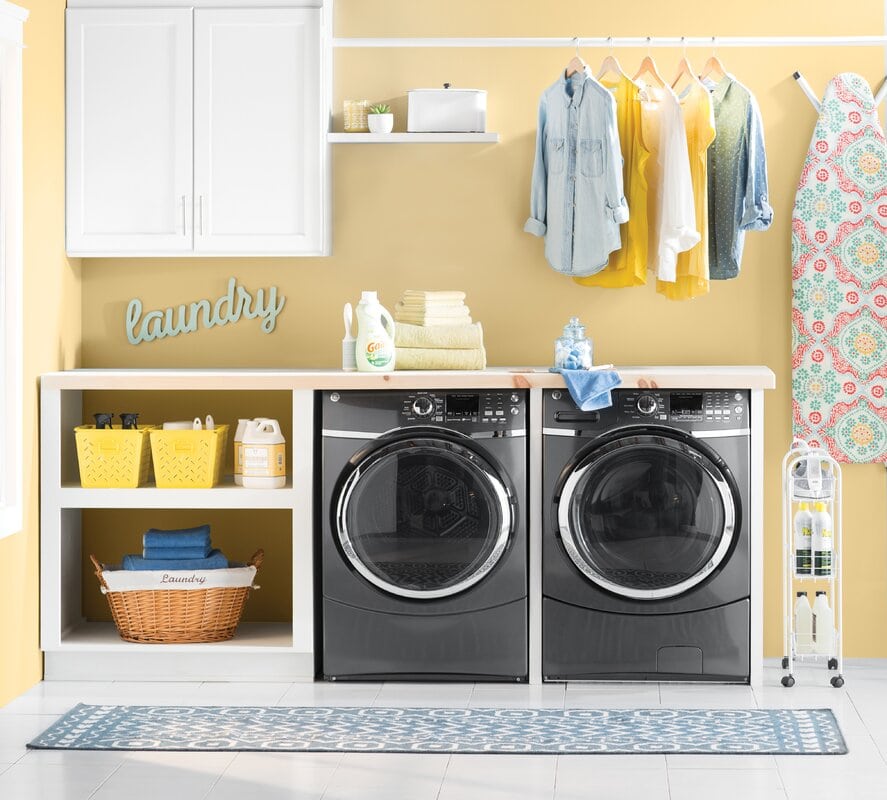 Basements can be dark and gloomy and you don't want to make the chore of laundry more depressing and unappealing. That's why the first thing you should think of when planning your basement laundry room makeover is the color theme of the walls and room in general.
A soft or pale yellow is a great choice because it brightens and freshens up the room. It also pairs really well with white cabinetry and shelves, like in this example.
Maximize Space With an Accordion Drying Rack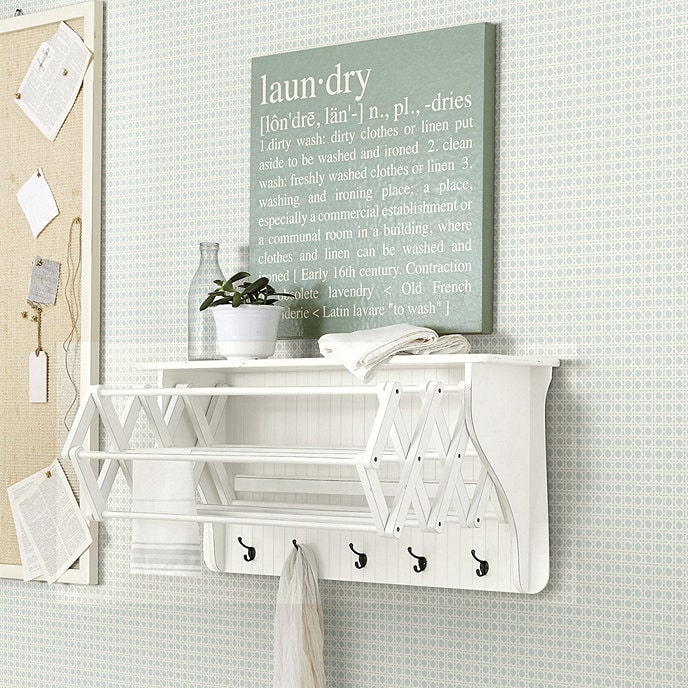 If you're working with a small basement laundry room, you should look for different ways to maximize the space you have.
This lovely white accordion drying rack does just that because it can expand to hang dry a lot of items but it can also be pushed back into the wall when not in use. The drying rack also has a series of hooks at the bottom for more hanging space.
Look for a Stylish Leaning Rack for Supplies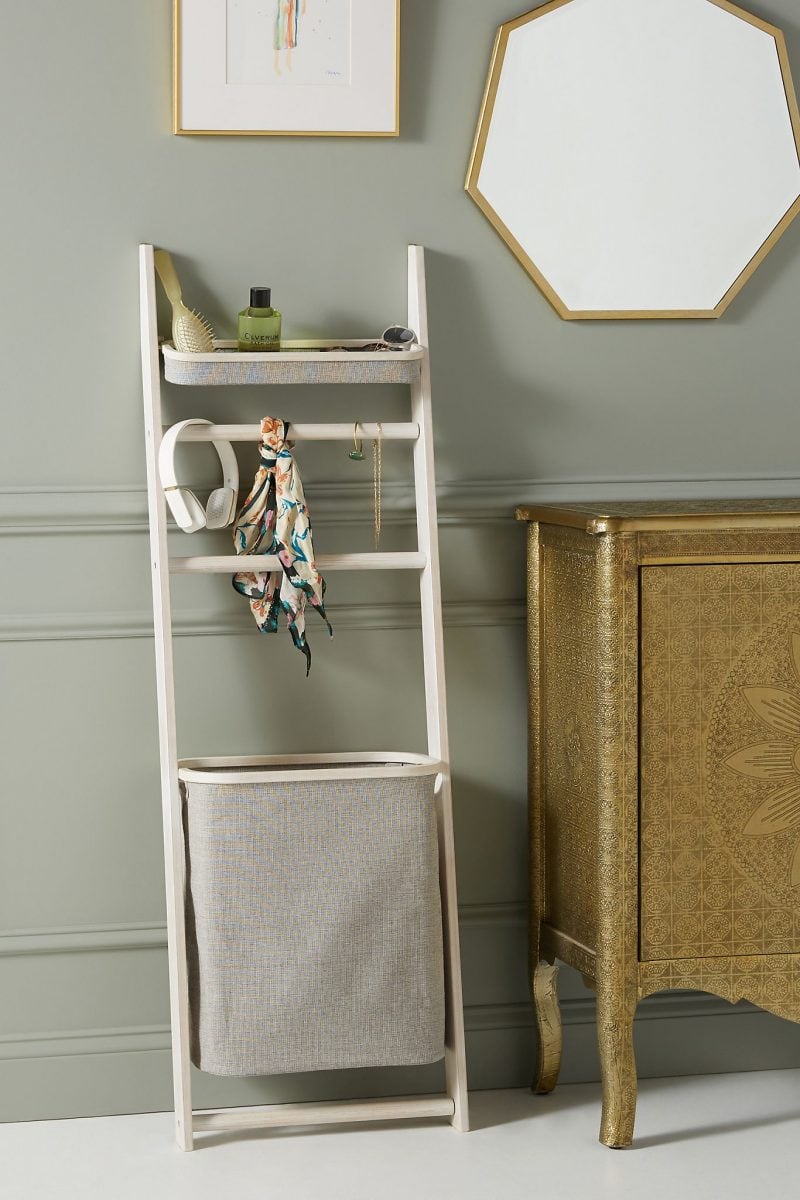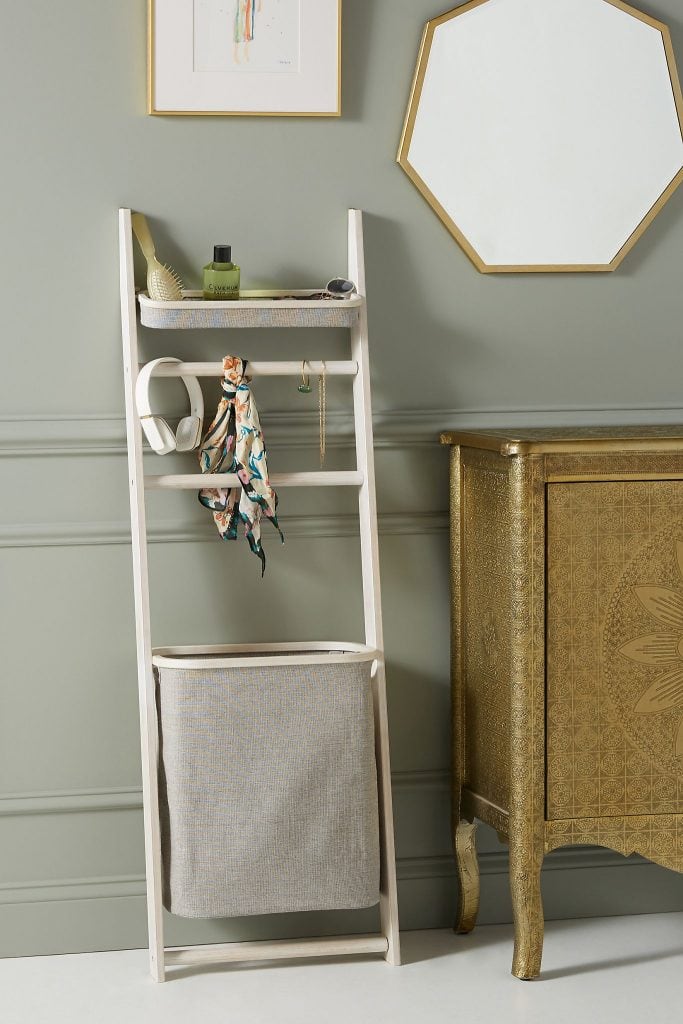 This leaning rack is a classic and lovely option in the farmhouse or rustic style to put your laundry supplies and even hang a couple of items. Simply lean it against the wall near your laundry machines.
The top shelf can be used for laundry supplies, a hamper can be attached to the bottom section of it, and the other ladder rungs are excellent for hanging towels or hang-dry items.
Stay Organized With a Hamper Sorter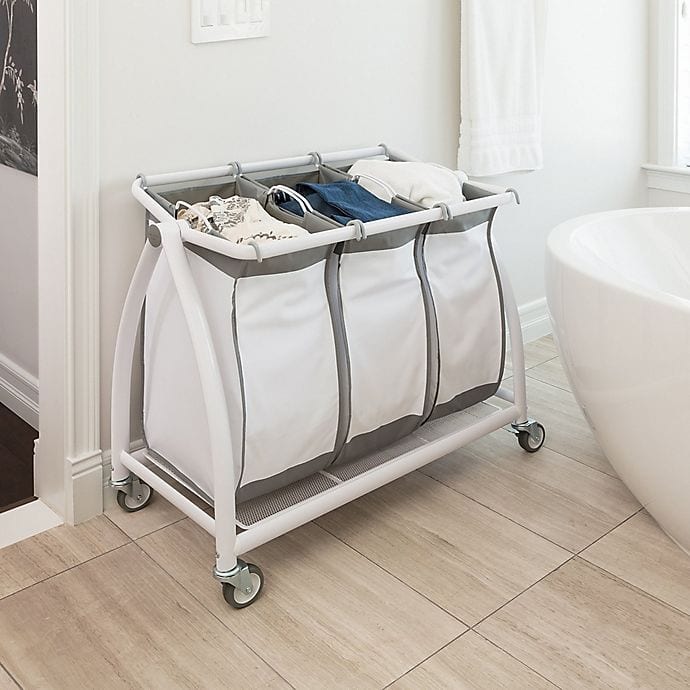 For those with bigger families or a lot of clothes with different laundry requirements, a hamper sorter is a great addition. This is even more true if you have a small basement laundry room since you most likely will be sorting your laundry upstairs before bringing it downstairs to clean.
This hamper sorter has three sections, so you can keep whites and brights separated from each other. Each hamper can be carried down individually.
Go With an All-White Theme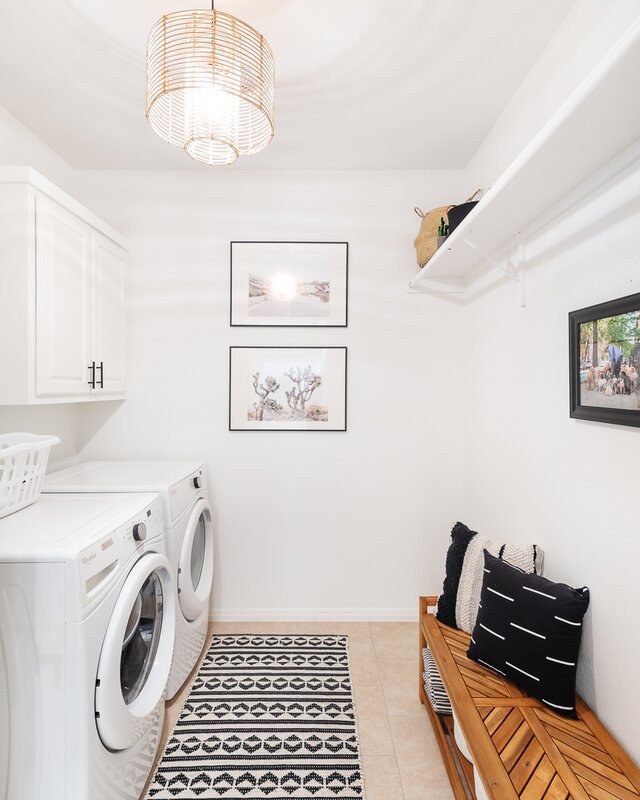 Decorating all in white is a classic and simple choice that really pays off in a basement laundry room remodel. It helps to keep the room bright and promotes a clean and fresh appearance. It can also make the room appear larger.
With this idea, you can add a few accents like minimalist paintings or a geometric rug, but keep the white paint throughout the room, including cabinets and shelves.
Hide Your Hampers Away in Closets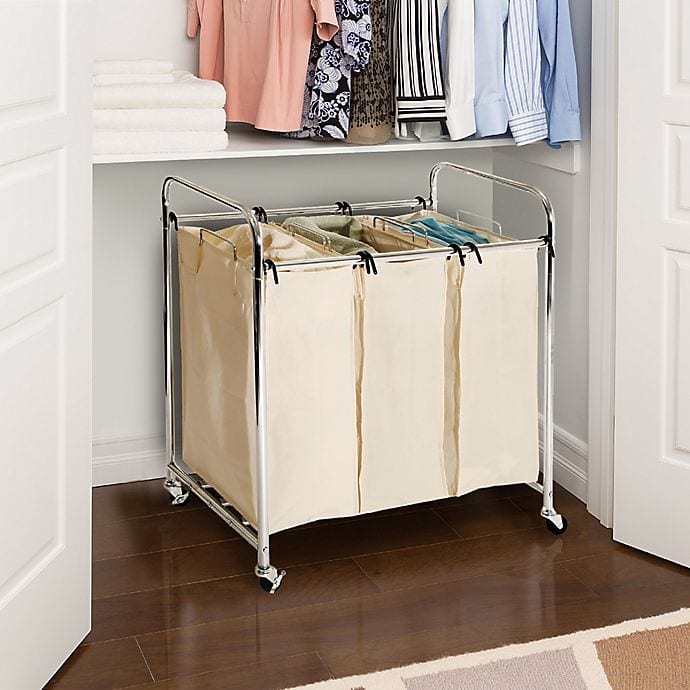 Laundry hampers aren't always the most appealing decor choice, even if you're keeping yours in your basement laundry. A closet is a great space to hide away your hampers when you're not using them, so make sure you're looking for a hamper that can fit under your lowest shelf.
Look for Creative Storage Solutions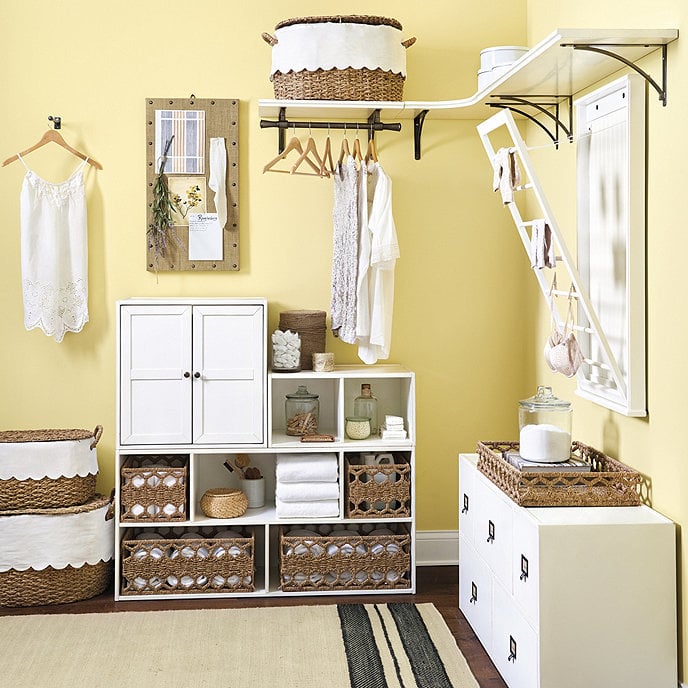 If you're working with a small basement laundry room and you're short on storage space, don't worry. There's a lot of creative options that can help you be more organized. Look for different cabinets and shelving units, as well as pull-down drying racks like the one pictured here.
For those planning a makeover in an unfinished basement laundry room, this article outlines some great affordable tips for sprucing up that room.
Decorate in Chrome Furniture for a Modern Look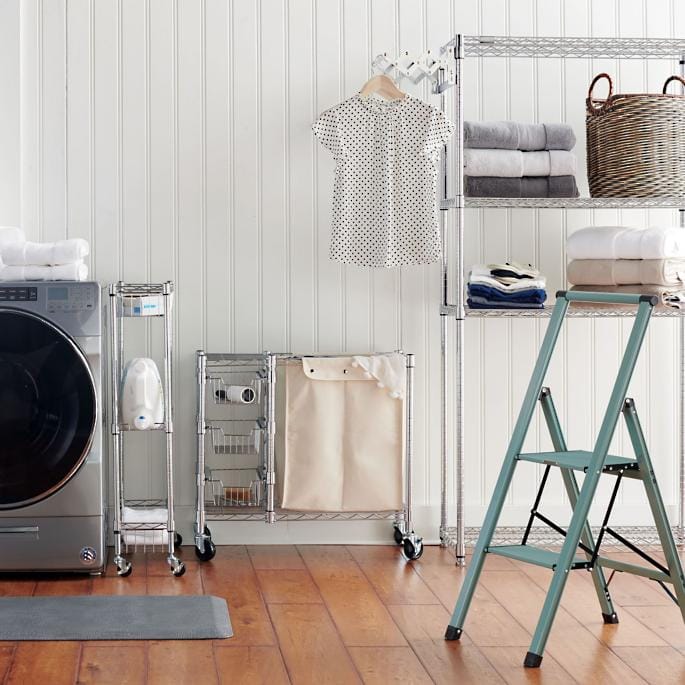 Just because your laundry room is in your basement, it doesn't mean you can't decorate it and channel a certain style. Common options for basement laundry room makeovers are the rustic theme or the modern and industrial theme.
If you want to go the modern route, you should look for chrome furniture and accessories, like these storage units. They match really well with the chrome laundry machines.
Get Simple and Welcoming Laundry Wall Art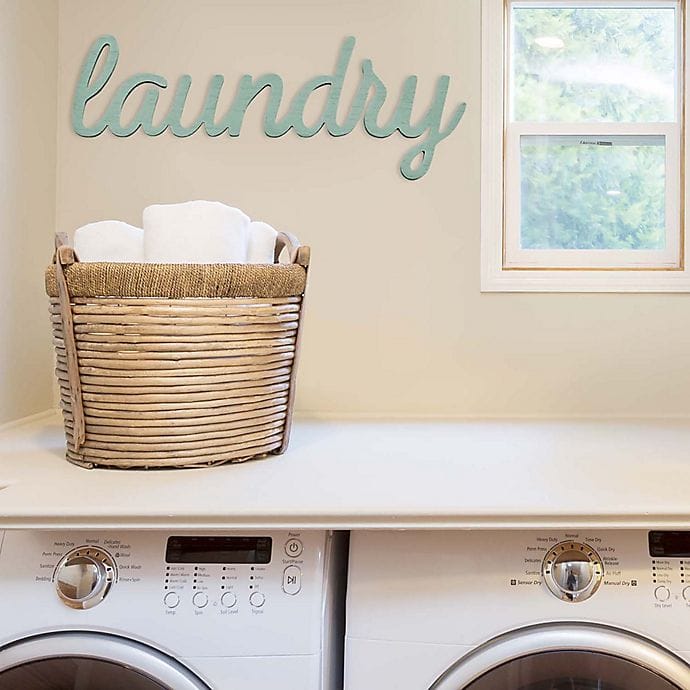 There are a lot of cute and affordable options for laundry wall art, even if it's in your finished or unfinished basement. A cursive laundry sign like this one adds a pop of color and a bit of personality to what is usually a cold and impersonal room.
Add a Lot of Small Decorative Touches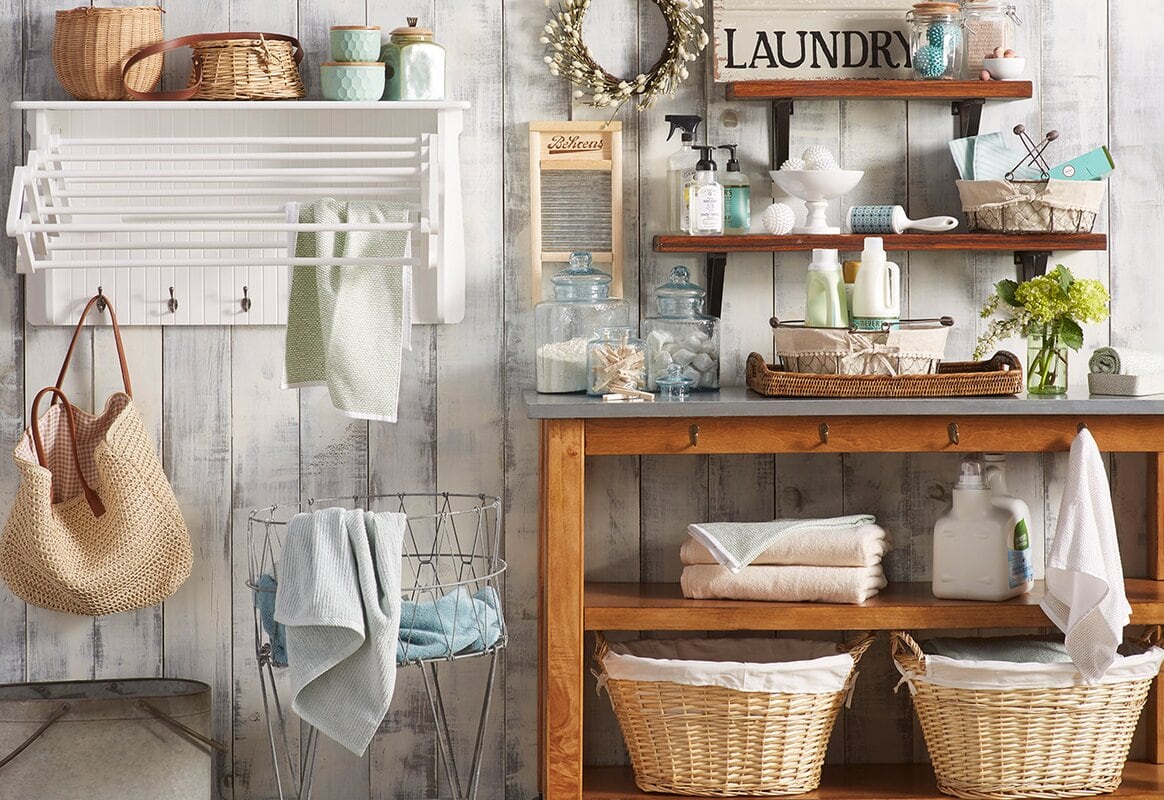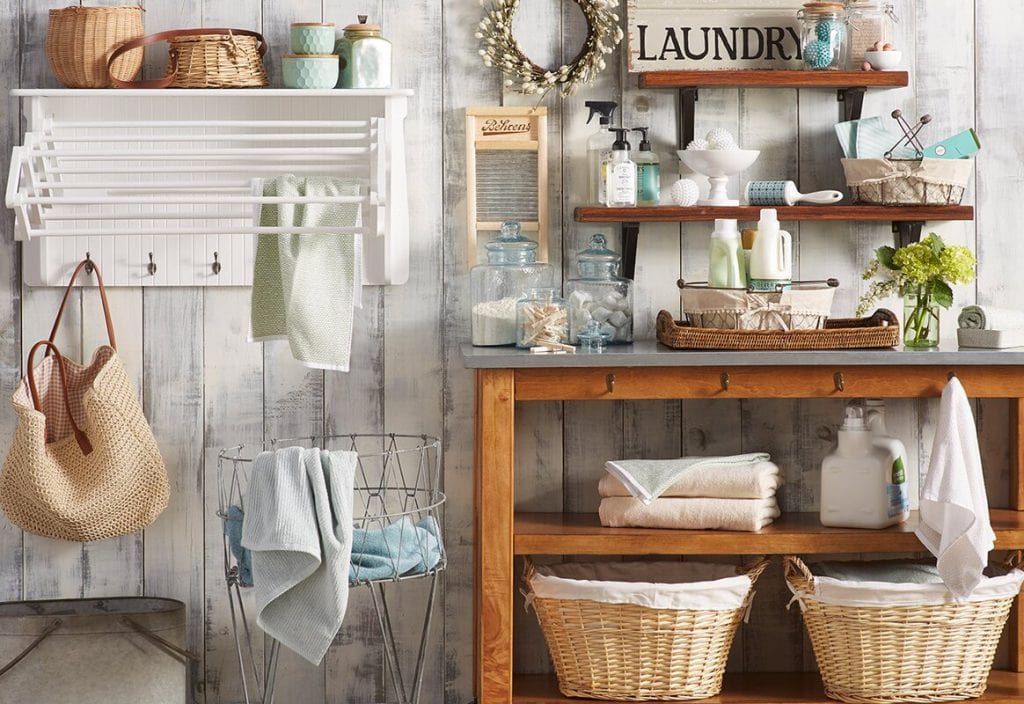 This laundry room makeover has gone the opposite route in terms of decorating. Instead of adding a couple of simple touches, there are a lot of different pieces that channel the rustic and coastal vibe.
This look is quite easy to accomplish; simply look for blue clear jars for storage, wooden accessories, and wicker baskets. The walls are done in a weathered style, and a few plants and flowers keep the whole room looking and smelling fresh.
Simplify the Process With a Mobile Bin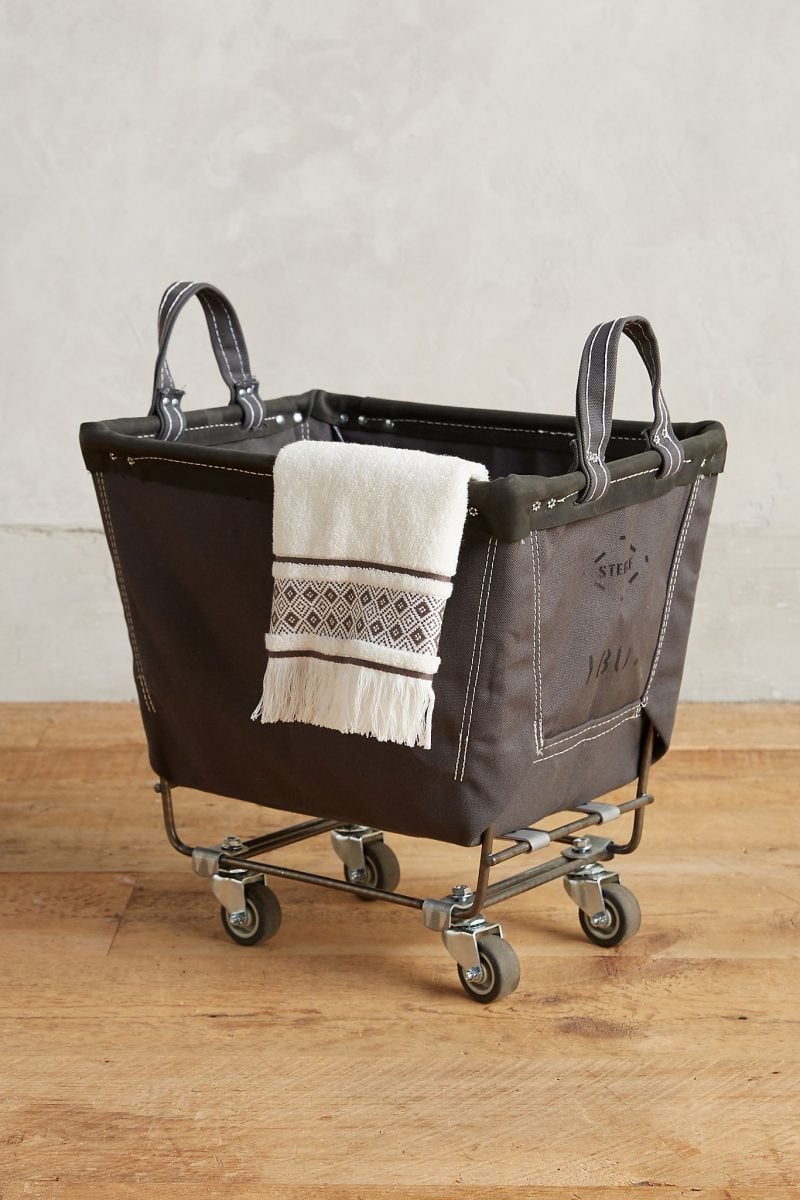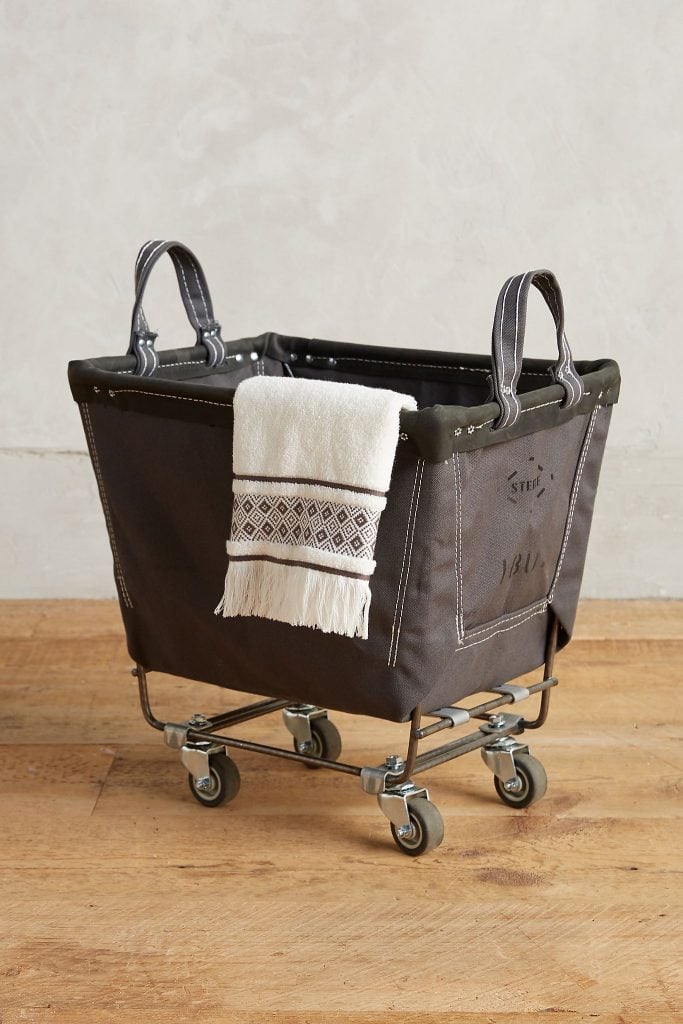 Basement laundry rooms can make it more difficult come laundry day, but you can cut corners if you want by getting a mobile laundry bin like this one. You can push it around the main floor and if you want to lift it up to carry it, you can.
There are tons of different basement laundry room remodel setups, but in the end, it's up to you to set up the room to suit your needs.
Look for a Modern Design With Tiled Walls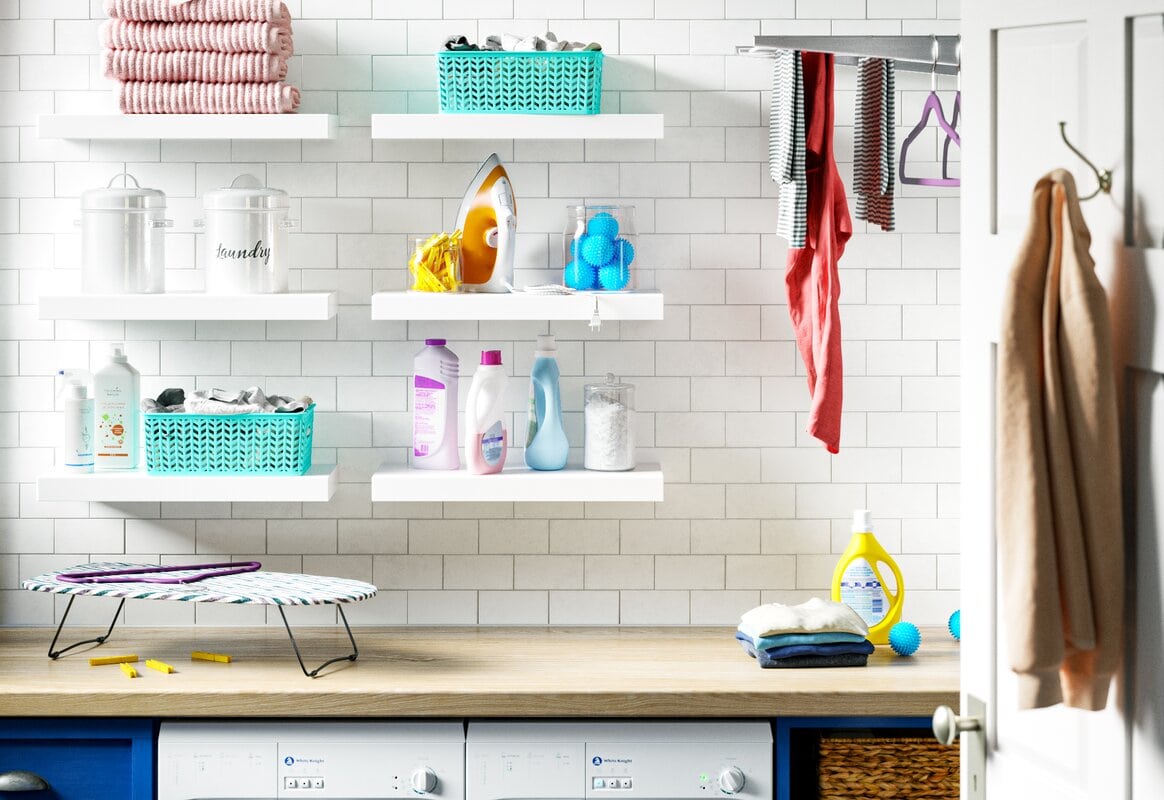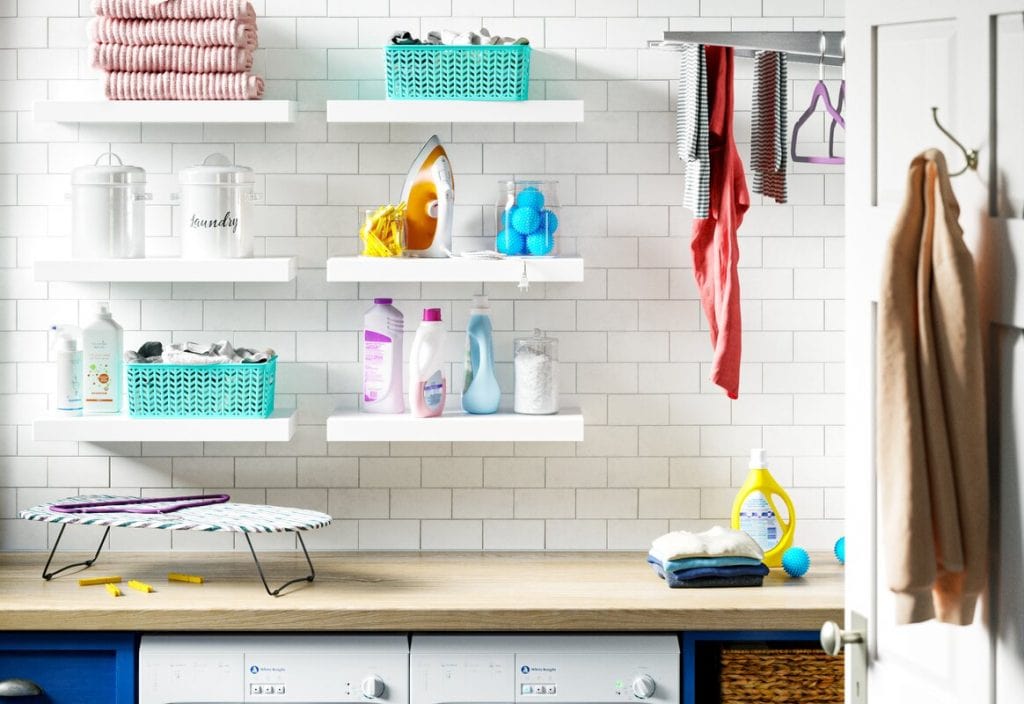 I love this laundry room with its modern style and bold color pops. The back room is all white and made from subway tiles, perfectly set off by the thick white shelves. The cabinets below the counter are painted in a bold blue, and all the accessories are different bright colors.
Laundry rooms in basements can be difficult to spice up, but this is an easy way to make the room more cheerful.
Get Some Lovely Woven Baskets for Hampers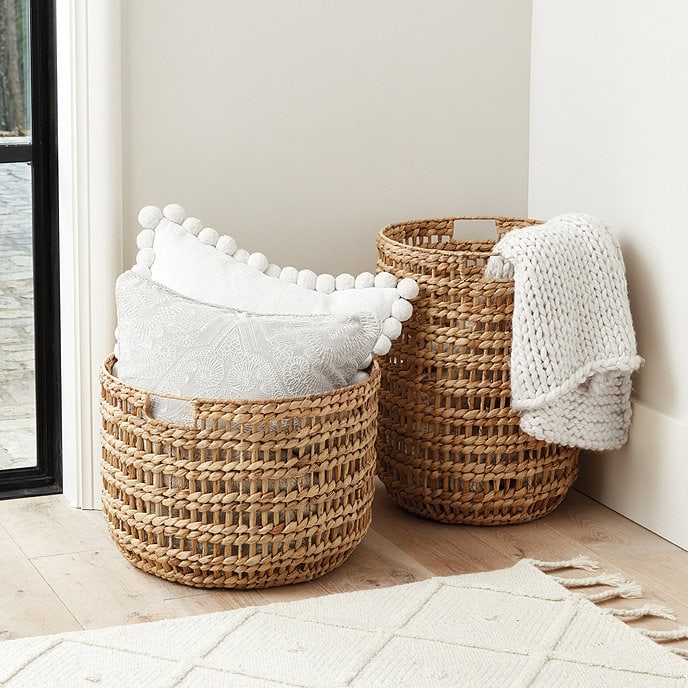 Rustic woven hampers make for really good hampers or even as multi-purpose storage items. They look nice in the corner of a bedroom or stored in a small basement laundry room.
You might be surprised to learn there is a lot to know about the type of laundry hampers you choose, and each material has its own pros and cons. To find out more, read this informative article so you can choose the best hamper for your needs.
Invest in Quirky Laundry Artwork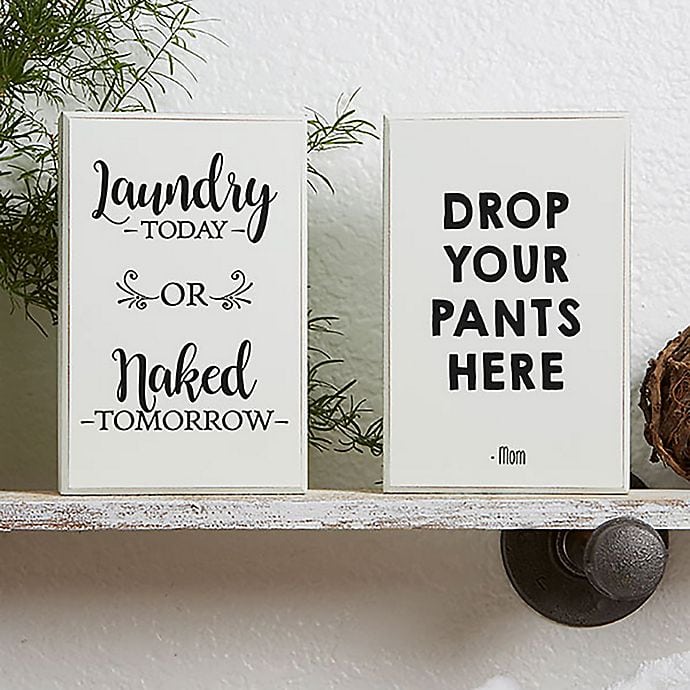 Another great perk of doing a basement laundry room makeover is that you can be a bit more flexible when it comes to the decor. If you want to try something bolder, you can, since it's a little more private than other rooms in the house.
Feel free to express your humorous or artistic side with some funny or quirky artwork for the walls, especially laundry-related humor.
Channel the Coastal Vibe With Shiplap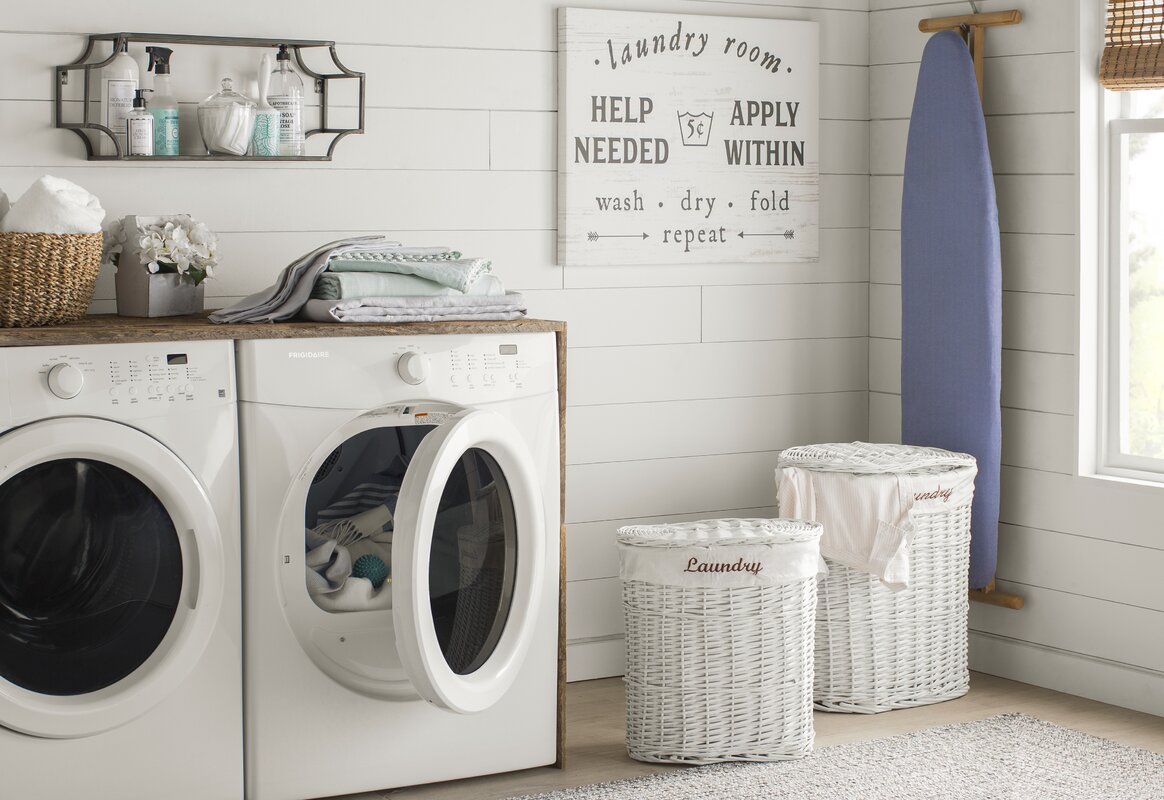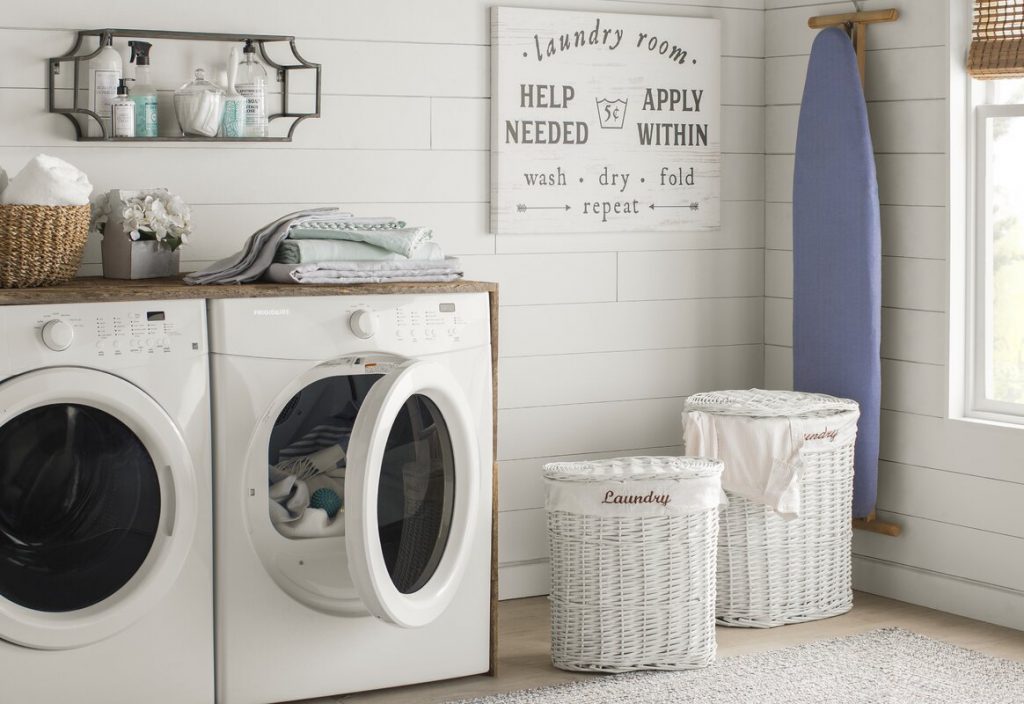 I really like this coastal laundry room remodel, and it's a look that's really easily achieved. Shiplap walls — the horizontal or vertical wide wooden paneling pictured here — is a classic coastal or rustic touch.
The rest of the coastal look is achieved thanks to the white wicker baskets, the blue ironing board, and the wooden frame for the washer and dryer. The laundry-themed artwork is also a really nice touch.
Make a Statement With Rich Wooden Furniture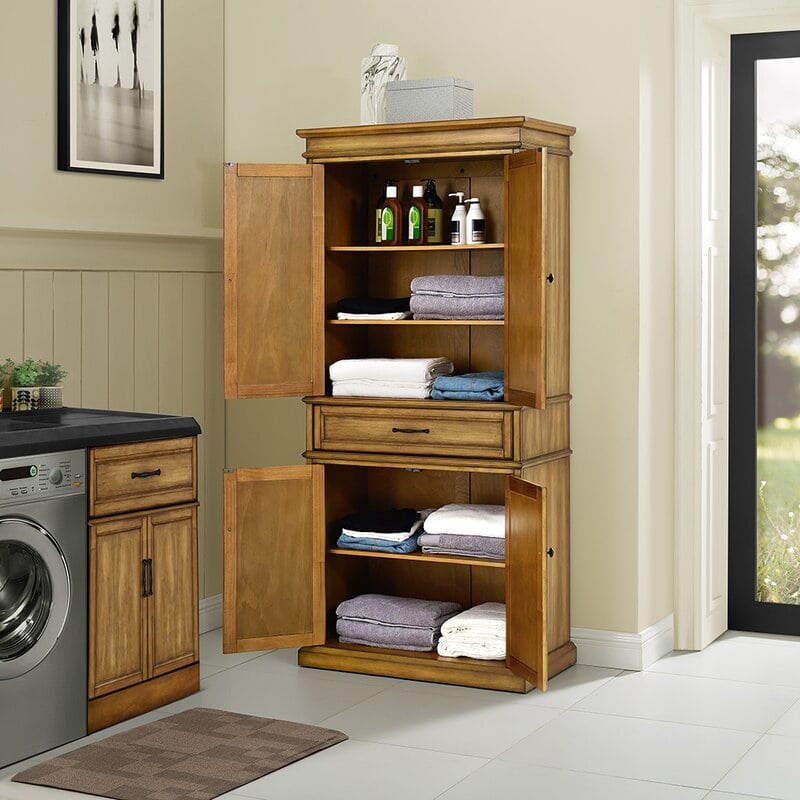 Most of the basement laundry room remodels we've seen so far have white or chrome furniture, but you can also go for a bold wooden look to stand out. The rich wood of these cabinets makes a true statement in the laundry room and makes for an interesting mix of modern and traditional.
If you're putting wooden cabinets in your basement, make sure it's not too humid down there so you don't damage the wood.
Summary
Decorating and organizing a basement laundry room is not as difficult or time-consuming as you might think. That part of your home doesn't need to be bare and impersonal and it can be pretty affordable to start a basement laundry room makeover.
Once you're done decorating it and brightening up the space, you'll feel a lot better spending time in there and it'll feel less dreary.
Take some time to consider the decor — you can even use the space to try out new decor styles and see if you like them before expanding to the rest of the house!