Log Cabin Lighting Ideas: Infuse Rustic Charm into Your Space
If you like a truly cozy rustic log cabin then you'll want to think about the kind of lighting you'll need. There are ideas you'd expect, like traditional and country, but you might be surprised at how you can also experiment with more modern lighting styles.
As well as ceiling fixtures, there are other places you can install lights for that rustic, warm glow. So take a look at your log cabin and work out how you'll use the space. Then think about the kinds of fixtures through these suggestions that'll work for you.
Designer Wood Light Fixture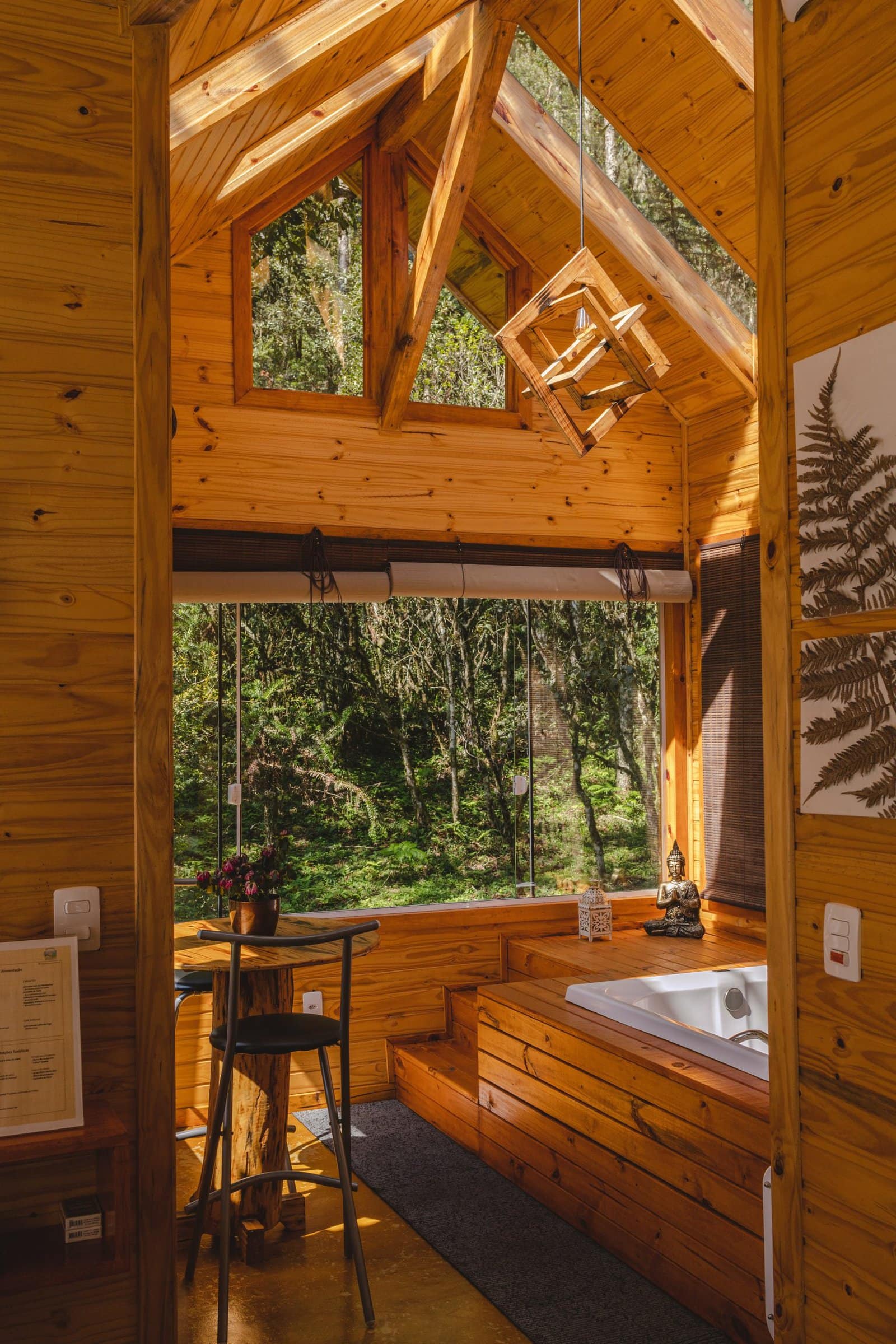 If you love a log cabin because you simply love timber then this light fixture will be perfect for you. Made from wood in an interesting geometric shape, this light is quirky and modern.
It retains its rustic appeal as its main structure is made from wood and it is chunky and unrefined. The light is completed by a retro style light bulb. This light fixture will be a real talking point for any guests.
Grand Chandelier
A metal light fitting will look rustic when it is very large and also simple in design. Echoing back to medieval times when this kind of light would have been furnished with candles, this fixture will make you feel like king or queen of your own domain.
Suspended high in the rafters, a large metal chandelier style light will draw the eye up and make the most of your wonderful log cabin structure.
A Modern Pair
Pendant lights can look both rustic and stylish with a modern twist on the traditional chandelier. In a silver finish, the design is such that they look great when installed as a pair. This could work well over a dining table.
Hung over sofas, they lend an intimate feel to cozy cabin chats and will shed light on gorgeous exposed stone walls. So you can enjoy your rustic features as you kick back and relax.
Statement Lighting
For rustic lighting that really packs a punch, an outsized feature pendant will do the job. Made from metal that looks as if it's just come from the workshop, this will be an imposing feature.
In trendy black, sultry and simple, this will give all the rural appeal while still being functional and modern. A stunning addition to any log cabin getaway.
On-Trend Rustic Light
For a grown-up light fixture in your log cabin, why not add a circular bronze pendant light. The smooth texture and simplicity of the design keep historical roots.
The large size of the fitting will mean it will always be noticed and give that chunky, rural feel you'll want from your log cabin lighting.
Striking Sculpture Light
For a fixture that startles and delights, try a light made from antlers. The natural beauty is enhanced by lights. And not only does this match the landscape, it also has an ethereal, arty appeal, casting interesting shapes over the ceiling and wall.
And worry not for those who prefer animals not to be harmed in the making of this light fitting. You can look for replicas in wood or plastic. Very much the hunting lodge look if that's your thing.
Floor Lamp in Log Cabin Living Room
Discreet spotlights mounted on wood beams can light an area where several people are chatting or eating, or perhaps playing a good old fashioned game of cards.
But if you want to curl up and read a book on your sofa, then a classic floor lamp will give you the light you need as well as the style you deserve. Perfect for a cabin reading nook.
Log Cabin Kitchen Spotlights
As a kind of utilitarian fixture, basic metal spotlights work well with a rustic scheme. But you could pick a contemporary look in sleek black or a dark gray.
As you can position each of a row of spotlights, you can direct light to the places and features you want to best enhance. These will give you the light and the style you want in your log cabin.
Rustic Wall Sconce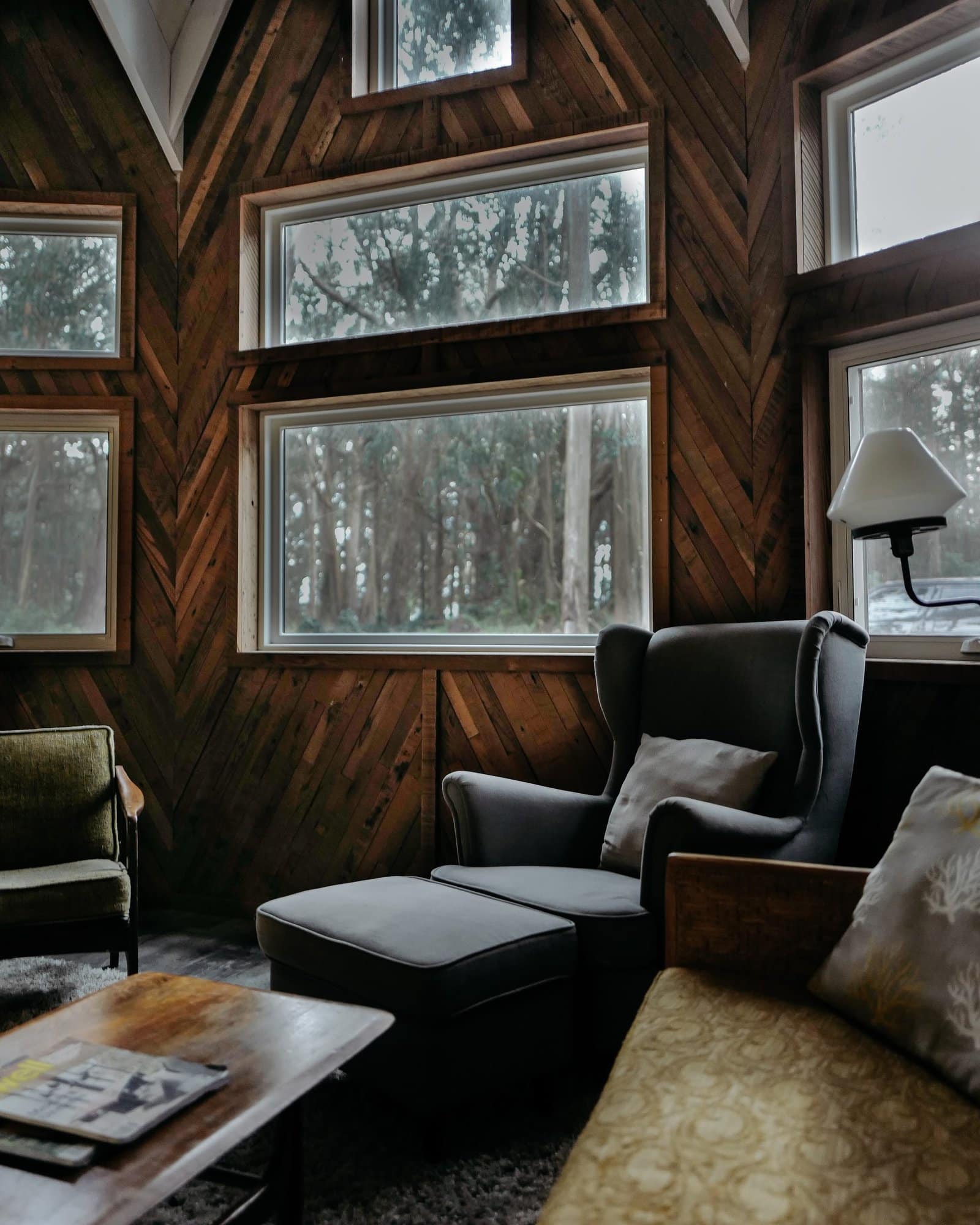 Great for reading as well as an antique rustic appeal, is the wall sconce light fixture. Offering direct light to where you are sitting, these lights also conjure up a gloriously cozy scene.
You could buy this style new or you could rummage in your local thrift store and see if you can find a stylish bargain. This lighting will also be a good idea if you need to simply add extra light to an area of your cabin.
In Summary
Rustic log cabin lights are traditionally chunky and made from metal. They are also likely not to be ornate and will be simply finished.So look out for those styles if you like the country look.
You'll need to think about where you put your lights. You might install an antique wall sconce or add a lamp. Clever spotlights can direct the eye to the features in your cabin you want to enhance.
You can get creative with light fixtures made from antlers or wood, or even try a rustic chandelier. So whatever your preferred style you're sure to find something to suit you and your log cabin.