7 Kitchen Cabinet Finishes That Will Transform Your Home—and How to Choose
One of the first things guests notice when they walk into a kitchen is the cabinetry—it sets the tone for the whole room, so it's important to choose a finish that fits your style.
To help you narrow down your options, we've pulled together some of the most popular cabinet finishes, plus a few tips on how to choose the best finishes for your cabinets. So whether you're looking for a high-gloss finish or something a little more subdued, read on!
The Different Kinds of Cabinet Finishes
When it comes to choosing a cabinet finish, there are many different options to choose from. Some of the most popular finishes are glossy, natural, stained, and painted. Each one of these finishes has its own unique look that can give your cabinets a different feel.
Glossy finishes are very popular because they provide a sleek and modern look. If you want your cabinets to have a high-end look, then a glossy finish like varnish or laminate is a great option.
Natural finishes are also popular because they have a more natural look. If you want your cabinets to have a more rustic look, then a natural or distressed finish is a great option. Stained finishes are also a good choice because they can give your cabinets a unique and colorful look that stands out.
Painted Finish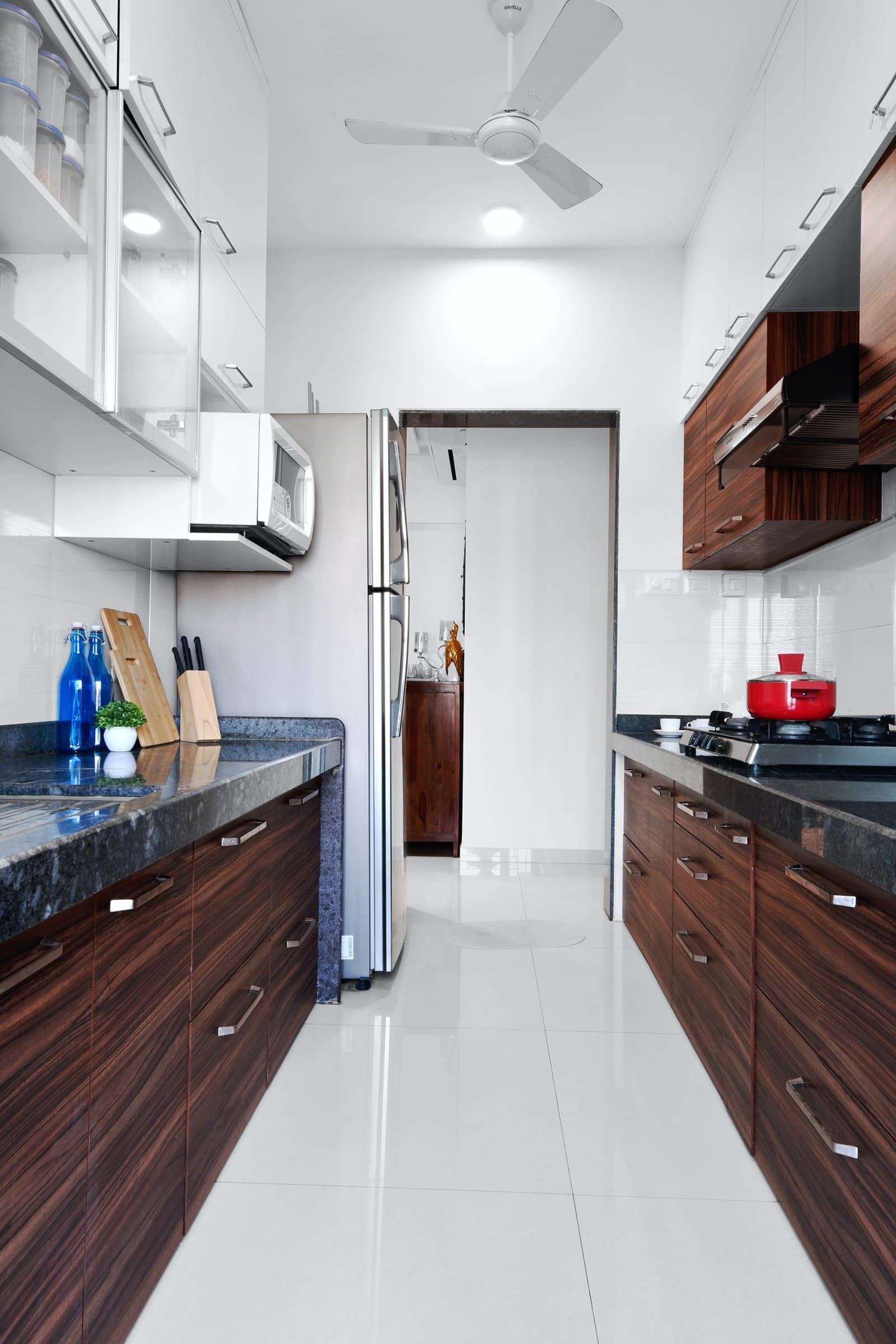 By far one of the more popular finishes for kitchen cabinets, and it's easy to see why. Nearly anyone can completely refresh their wooden cabinets by picking up some sandpaper and a paintbrush.
Begin by sanding the surface of the cabinets with fine-grit sandpaper. This will create a smooth surface for the paint to adhere to. Next, apply a primer to the cabinets. This will help the paint to stick and will also give the paint a nice, even finish.
Once the primer is dry, you can begin painting the cabinets with a brush or a roller. For best results, use high-quality paint. Finally, once the paint is dry, apply a top coat to protect the paint and give the cabinets a beautiful glossy sheen.
And of course, if the DIY method isn't for you, then calling in the professionals is always an option!
Laminate Finish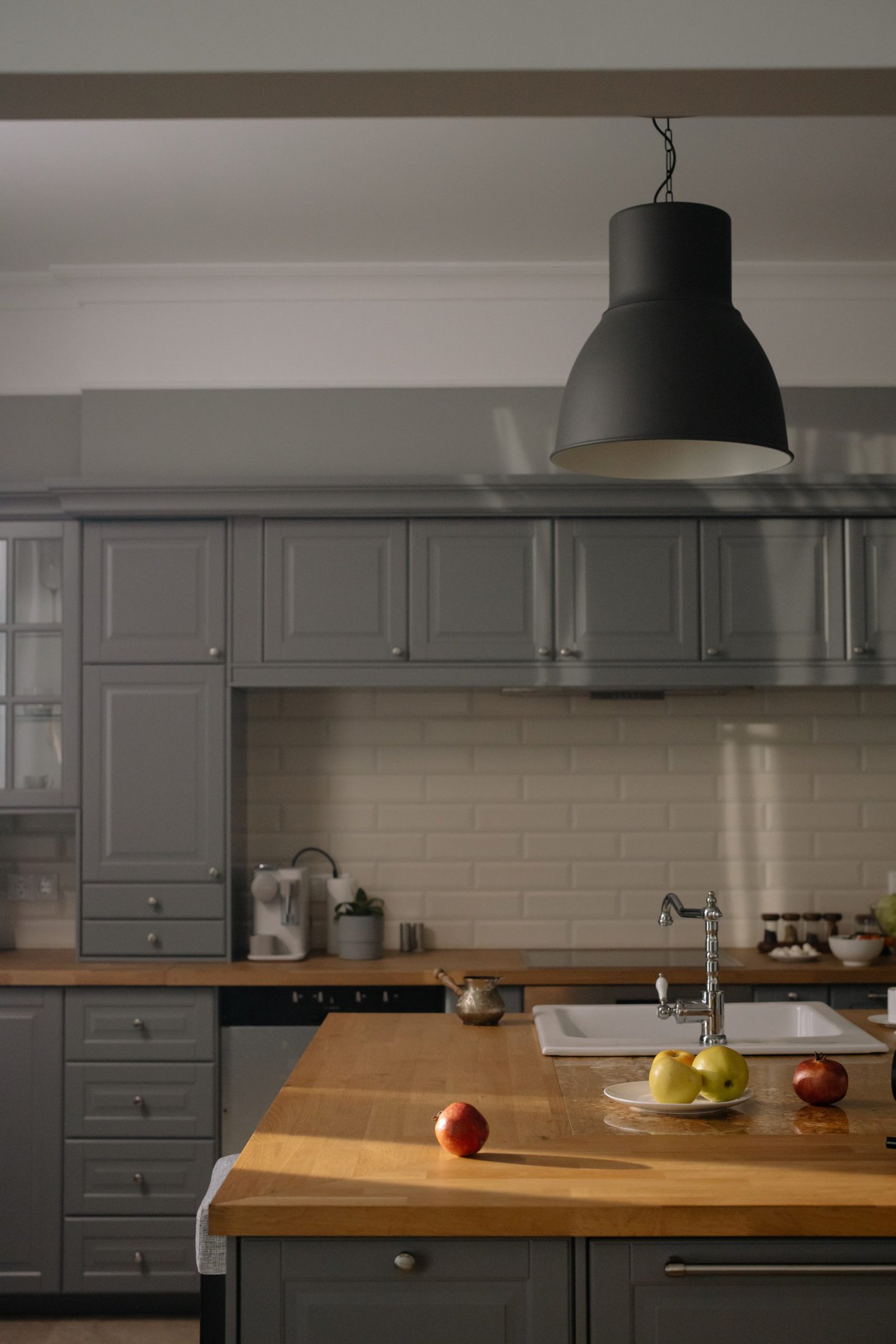 Laminate cabinet finishes are a popular choice for many homeowners because they are easy to care for and are available in a wide variety of colors and styles, from modern and glossy to imitation wood grain. Plus, laminate is a budget-friendly option that can give your kitchen a high-end look without the high-end price tag.
If you're considering laminate for your next cabinet project, here are a few things to keep in mind. First, laminate is a man-made material, so it's not as strong as natural materials like wood. However, laminate is very easy to care for – all you need is a damp cloth and some mild soap to keep it clean.
Laminate is also a great choice if you're looking for a budget-friendly option. laminate is much cheaper than natural wood, so it's a great way to save money on your renovation project.
Melamine Finish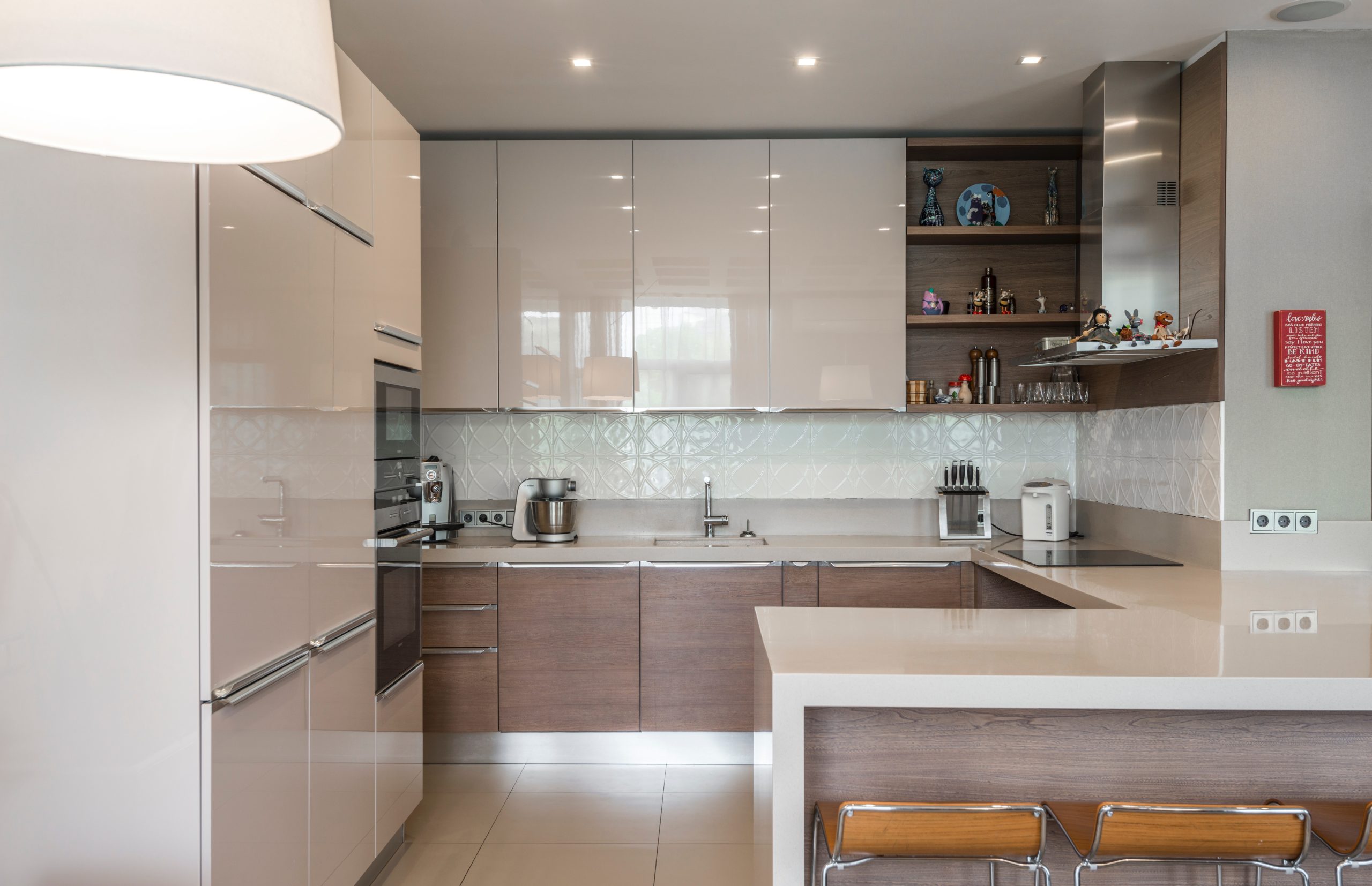 In contrast to natural wood cabinets, melamine cabinets are constructed with raw particle board sandwiched between two sheets of resin-infused paper.
The resin is then heat-treated to seal the particle board and create an even, shiny finish. You can get melamine cabinets in solid colors or imitation wood-grain patterns.
Melamine cabinets are usually more affordable than wooden kitchen cabinets, so they're more popular for budget renovations. One downside to melamine is that it's normally not as durable as wooden cabinets with a varnished or painted finish.
Particle board is prone to chipping and cracking under too much pressure or weight, so it's likely not the best option if you expect your cabinets will need to take a beating over the years.
Varnished Finish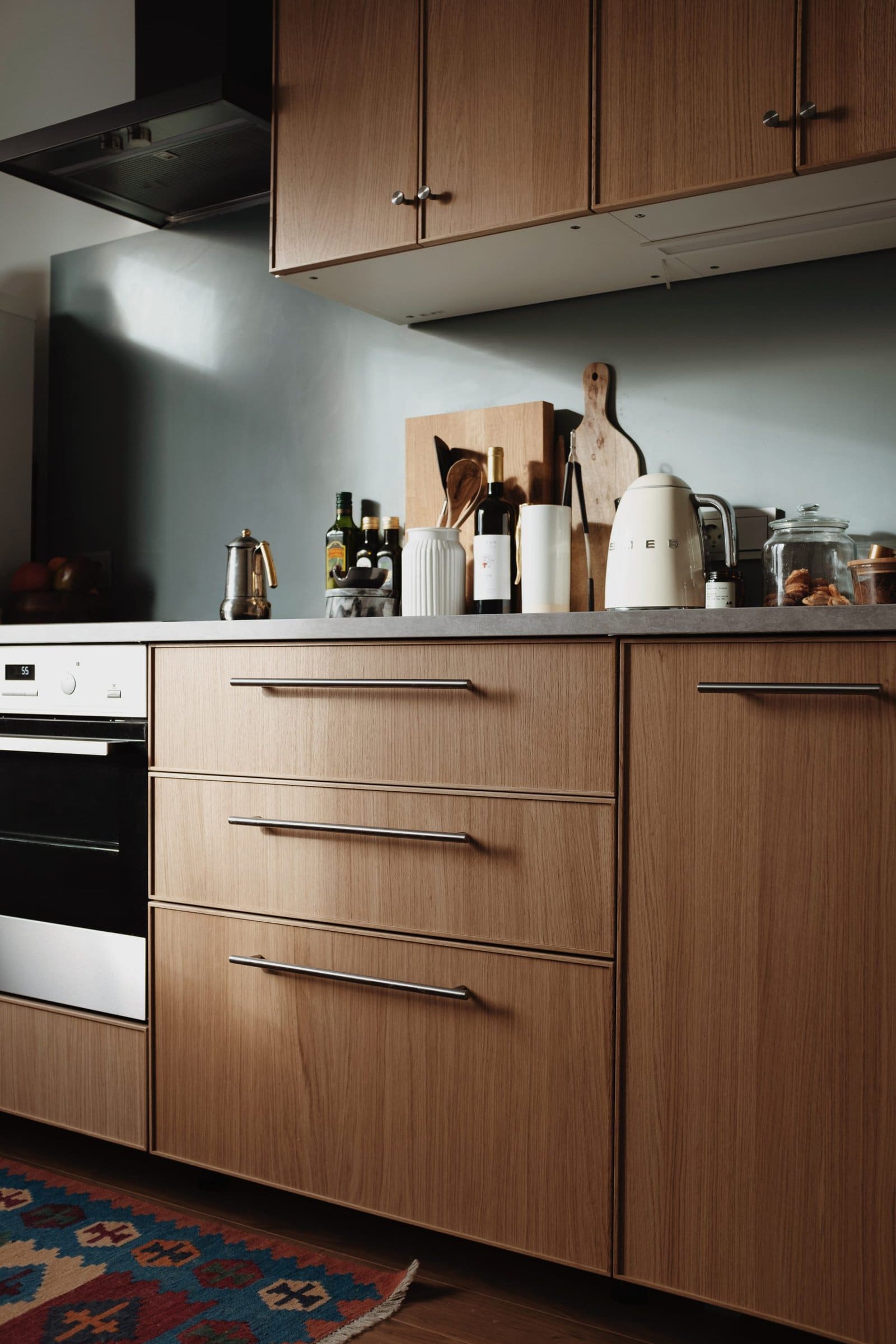 Varnish is a popular finish for wooden cabinets. It's a combination of resin and oil that cures and hardens to protect your cabinets from everyday wear and tear. If you're thinking about adding a varnished cabinet finish to your kitchen, here are a few things to keep in mind.
For one, varnish helps protect the wood from moisture and other damage. However, varnished cabinets can become vulnerable to chips and wear over time. It's also available in a huge range of colors, so you're sure to find the look that you want.
If you're interested in a DIY solution, applying a varnish finish to your cabinets is a relatively simple process, and it's a great way to give your kitchen an updated look. However, you can easily find pre-finished varnished cabinets at any major home improvement retailers.
Distressed Finish
Distressed finishes are very similar to painted finishes, but distressed finishes are meant to have an aged and somewhat beaten-down look to them.
To get this look for yourself, gently paint your cabinets with a dry brush and very little paint—you don't want to achieve even, all-over coverage. Then, in areas where you want the paint to look even more aged, sand the surface down even more to give it a shabby chic appearance.
This is a great finish idea if you're looking to give your old and worn-down cabinets an inexpensive facelift. It's also a good option if you love a more homey and rustic look in your kitchen.
Natural Finish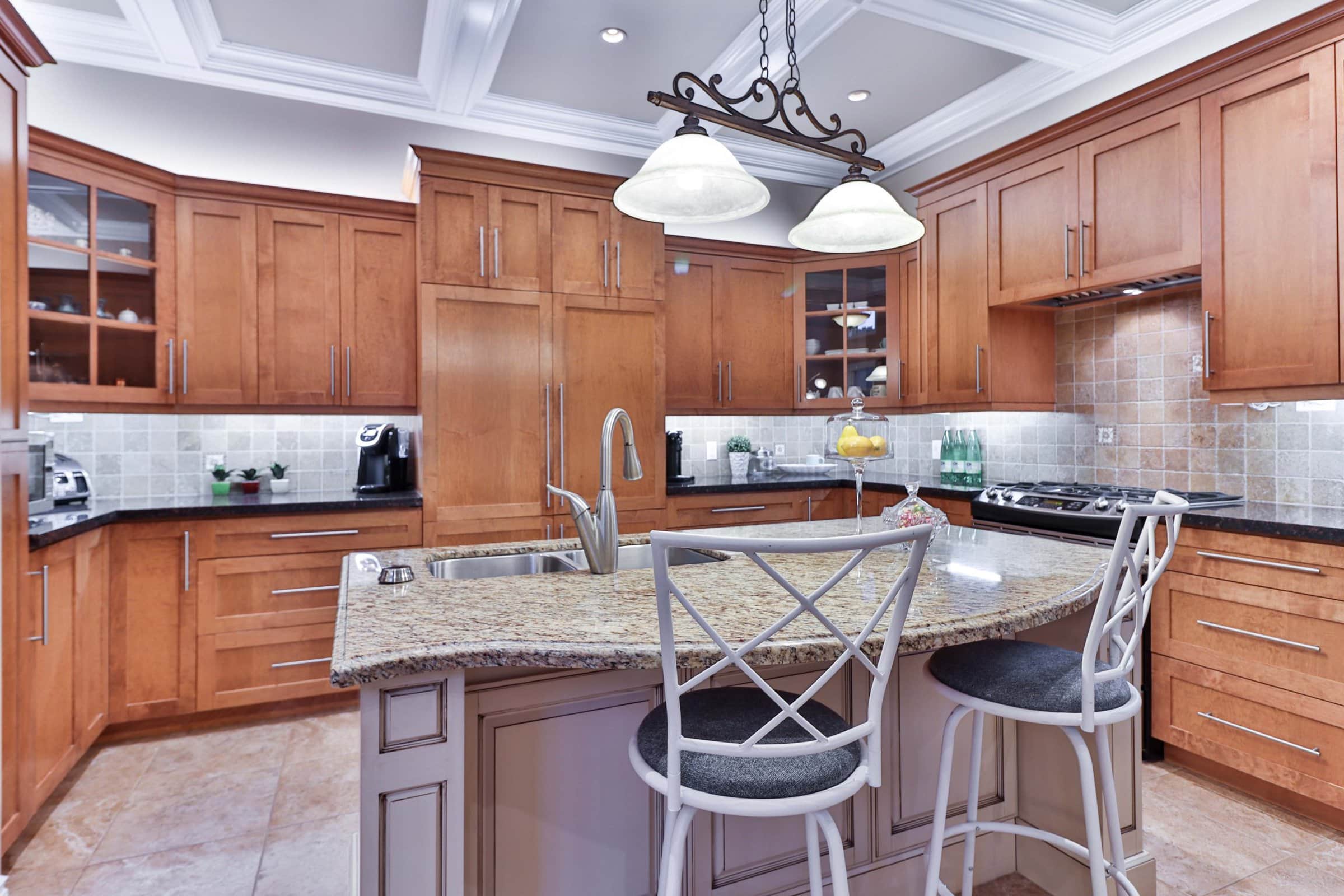 For some, the best kitchen cabinet finish is none at all. Natural finish cabinets generally have no paint, coating, glaze, or varnish, and instead show off the natural beauty of the wood.
Rather than covering up the wood in a glaze or varnish, natural cabinets are maintained by regularly being treated with oil (generally linseed, tung, lemon, or walnut oil).
Natural style finishes generally work best in kitchens with a clean, modern aesthetic or ones with a more industrial feel. If you want a natural finish look for your kitchen cabinets, then the best thing you can do is choose a beautiful wood in a color you like and a grain that suits your kitchen design.
What to Consider when Choosing Your Kitchen Cabinet Finish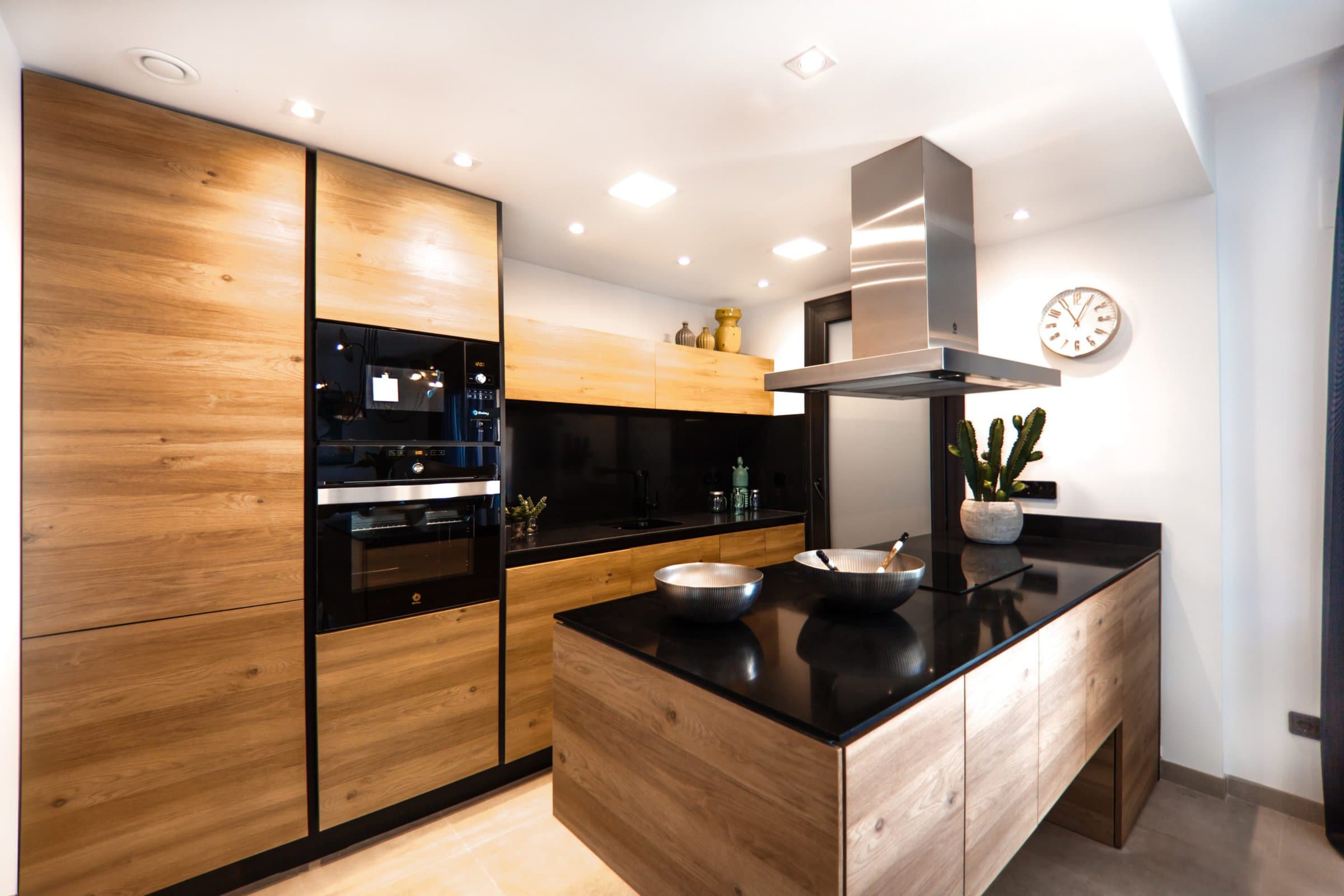 There are many things to consider when choosing your kitchen cabinet finish – from the style of your kitchen to the overall tone of your home. The finish should complement the overall style of your kitchen, but it also needs to be durable and easy to clean. With so many different options on the market, it's smart to take a moment to decide which considerations you should prioritize for your own kitchen.
Make sure you consider how practical and easy-to-clean the cabinets are, whether they fit into your budget and whether you like their look. Taking all of these factors into consideration will help you choose the right finish for your kitchen cabinets, or at least help narrow down the possibilities.
Practicality
The function and practicality of your kitchen cabinets should always come first, before you consider the look or feel of them. You want to make sure that your kitchen cabinets fit into your lifestyle and the way you use your kitchen, and that includes the finishes.

If you have a more formal kitchen that's used for entertaining, then you may consider finishes like paint and varnish that can add an interesting color to the room. However, if you have a busy family and messes are a part of life, then you may consider a finish like laminate that is easier to clean.
Ease of Application
If you plan on adding a finish to your cabinets yourself, then you need to be aware of what goes into applying it. For some finishes, like paint, stains and varnishes, the process is relatively straightforward and easy for any DIY-er to accomplish.
For other finishes, like melamine and laminate, you may be better off paying for a professional to install pre-made cabinets, or to have the finishes applied to the cabinets you already own.
Take some time to research the application process for the finish you've chosen, and make sure it's something you feel comfortable tackling. Remember—DIY finishes will only save you money if you don't have to go back and fix them later!
Durability
Durability is crucial when you're choosing the right finish for your cabinet; this is especially true if you have a busy family or if you expect your cabinets to take a beating.
It's certainly true that some cabinet finishes are more durable than others. While painted and melamine cabinets tend to get chipped or scratched over time, finishes like heat-treated varnish will last much longer.
However, you may want to consider stained or all-natural cabinets, if you're worried that a painted finish won't last. By regularly oiling your all-natural cabinets and occasionally restaining, they'll last you for the life of your kitchen.
Aesthetics
Of course, if your cabinets don't look good or align with your personal design taste, then you'll end up hating them, no matter how practical or durable they are. Another major factor when choosing the right finish for you is simply your aesthetic preference.
But aesthetics are much more than just picking a color. You also want to think about the overall look that you're going for in your kitchen.
In other words, is it a formal space where you entertain? Then choose a sleek and glossy varnish finish for your wooden cabinets. If you want a more modern and bold statement, then why not go with bold and brightly colored laminate finish? Natural wood finishes are great for a more organic and casual look.
Final Thoughts
Every kind of kitchen cabinet finish has its own pros and cons; the finish that you choose is going to depend on your own personal style preferences, as well as what you want to get out of your kitchen.
So take some time to determine what you need from your cabinets. Do they need to look good? Should they be durable or easy to clean? Do you plan on buying the cabinets pre-finished or are you finishing them yourself? Answer these questions and you'll be well on your way to choosing the best cabinet finish for you and your lifestyle.