Decorated Life is reader-supported. When you buy through links on our site, we may earn an affiliate commission. Learn More
20 Kitchen Countertop Decor Ideas
If you're lucky enough to live somewhere with plenty of countertop space, you have probably wondered what to do with all of it when you're not actually preparing food. Good kitchen counter decor can take away from the empty feeling a large kitchen can create, and it can add to your home's overall aesthetic.
The question is, how do you decorate the kitchen countertop in a way that looks good without sacrificing functionality? There are a lot of options! Here are some of our favorite. 
Utensils Set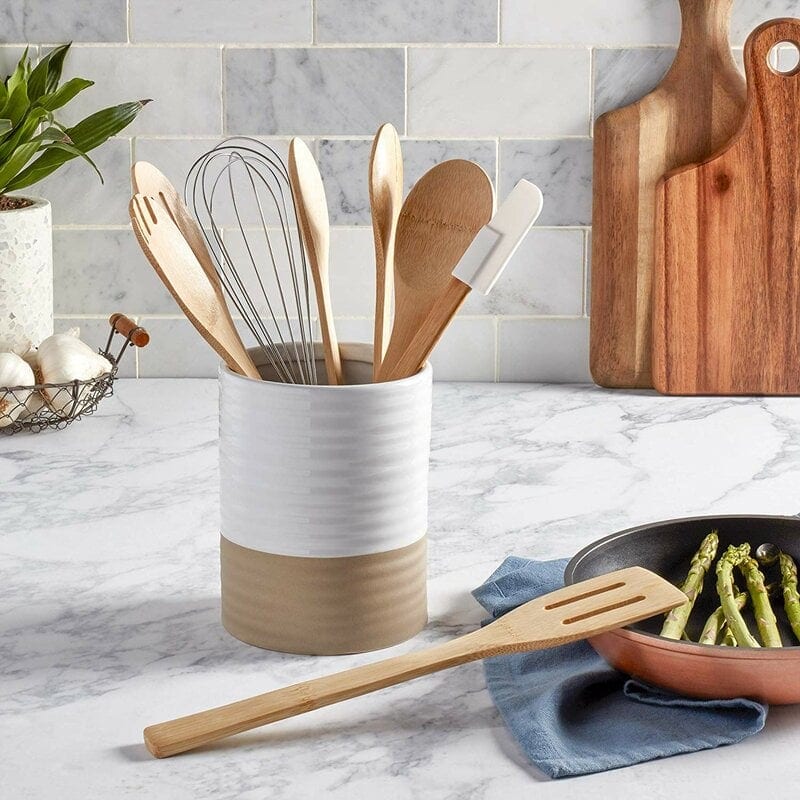 Another option for functional kitchen countertop decorative accessories is to gather your cooking utensils into a ceramic container. It takes up a decent amount of space while also keeping those much-needed tools handy when you're cooking.
One tip, make sure you have a set that matches and works together, like the one in this photo. If it's a big jumble of mismatching tools, it will take away from your kitchen's style rather than add to it. 
Retro Kitchen Scale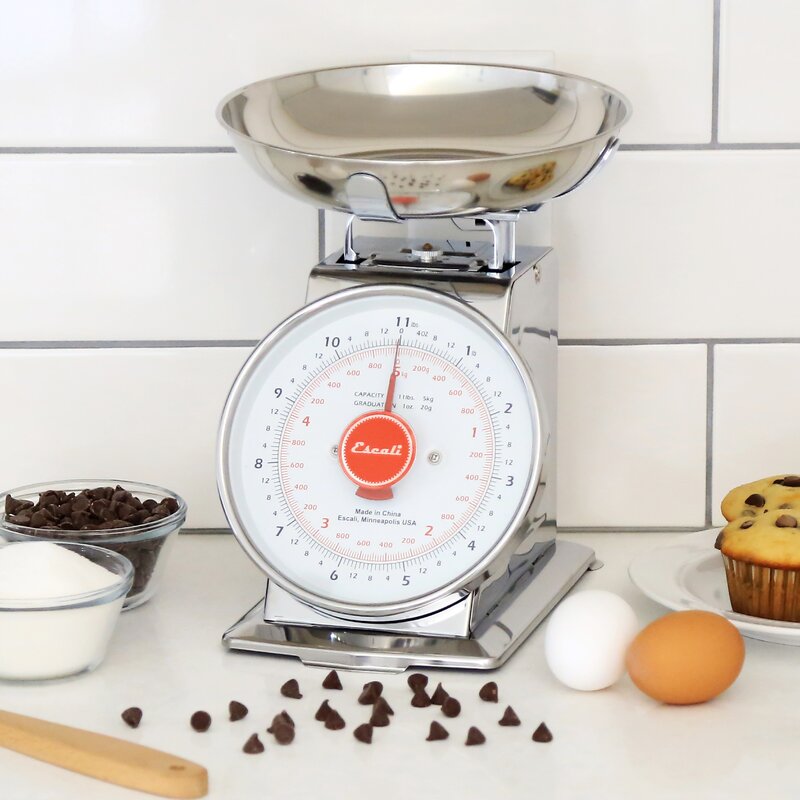 If you like the rustic or retro vibe, get a traditional food scale like this one. It's definitely something you can use in the kitchen as well as a fun piece of decor for your kitchen counters.
It's small enough to keep plenty of counter space clear, but still large enough to serve as a good statement piece.
Wood Cutting Boards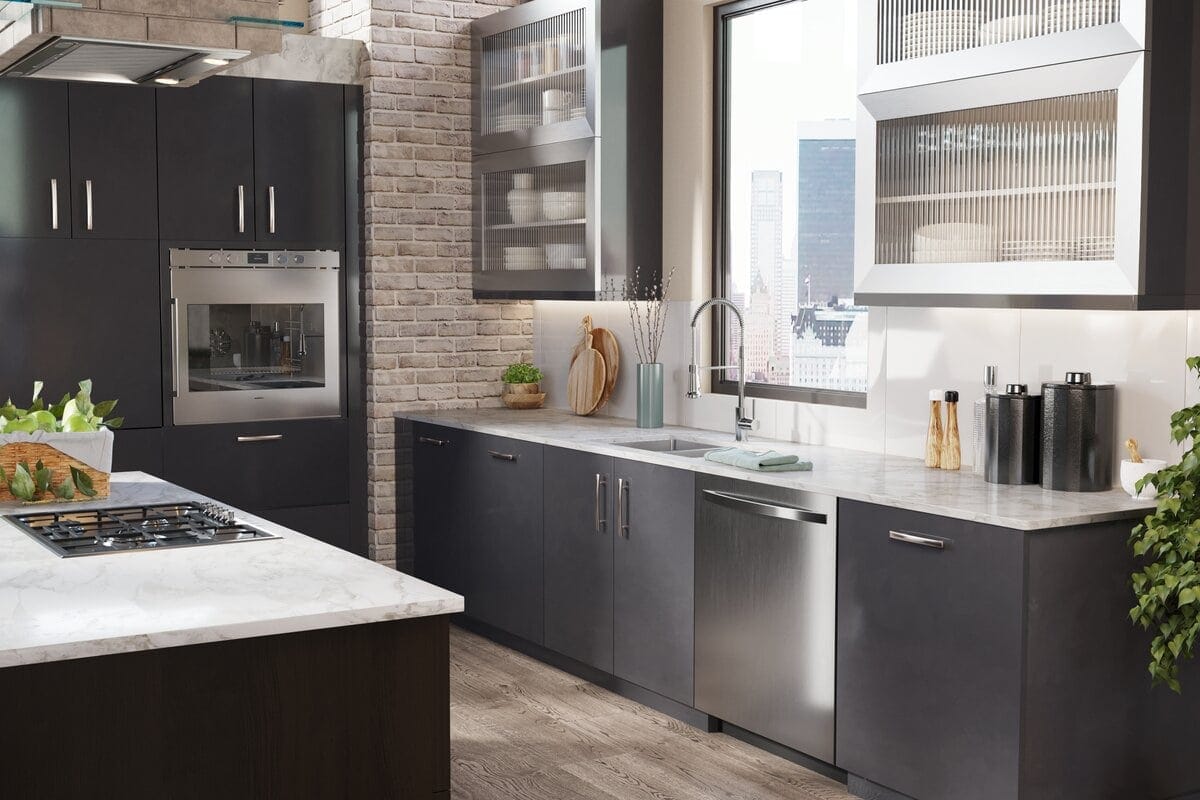 You probably need to use cutting boards on a regular basis when you're preparing food, so you might as well make decoration out of them to keep them handy.
In this photo, they have two stylish round cutting boards in different sizes leaned up against the wall to use up some space, but without sacrificing the counter itself. It's a great example of keeping the kitchen stylish and functional.
Colorful Stand Mixer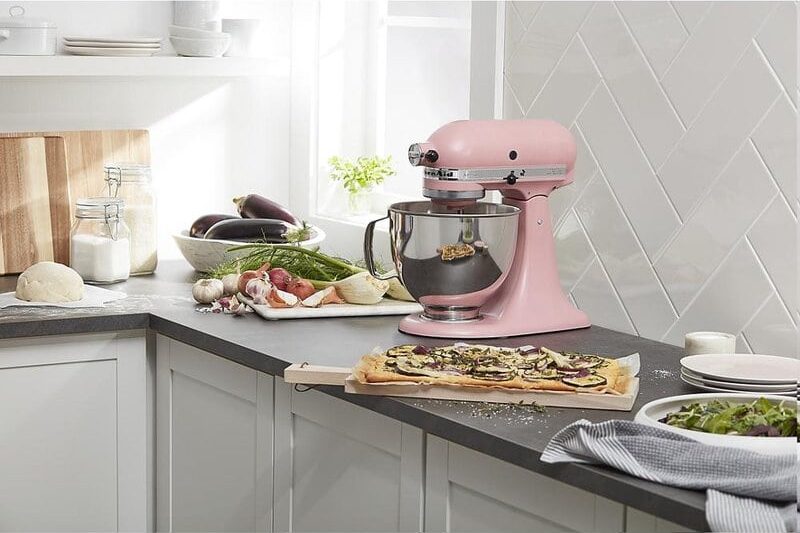 If you're a baker, you probably have a standing mixer and if you're not, who doesn't want one?! Not only are they helpful for a variety of recipes, but they're also stylish enough to leave out on the counter as decor.
You can invest in a bright colored mixer, like this pink one, or stick with something more traditional like stainless steel to match your appliances.
Fruit or Serving Bowl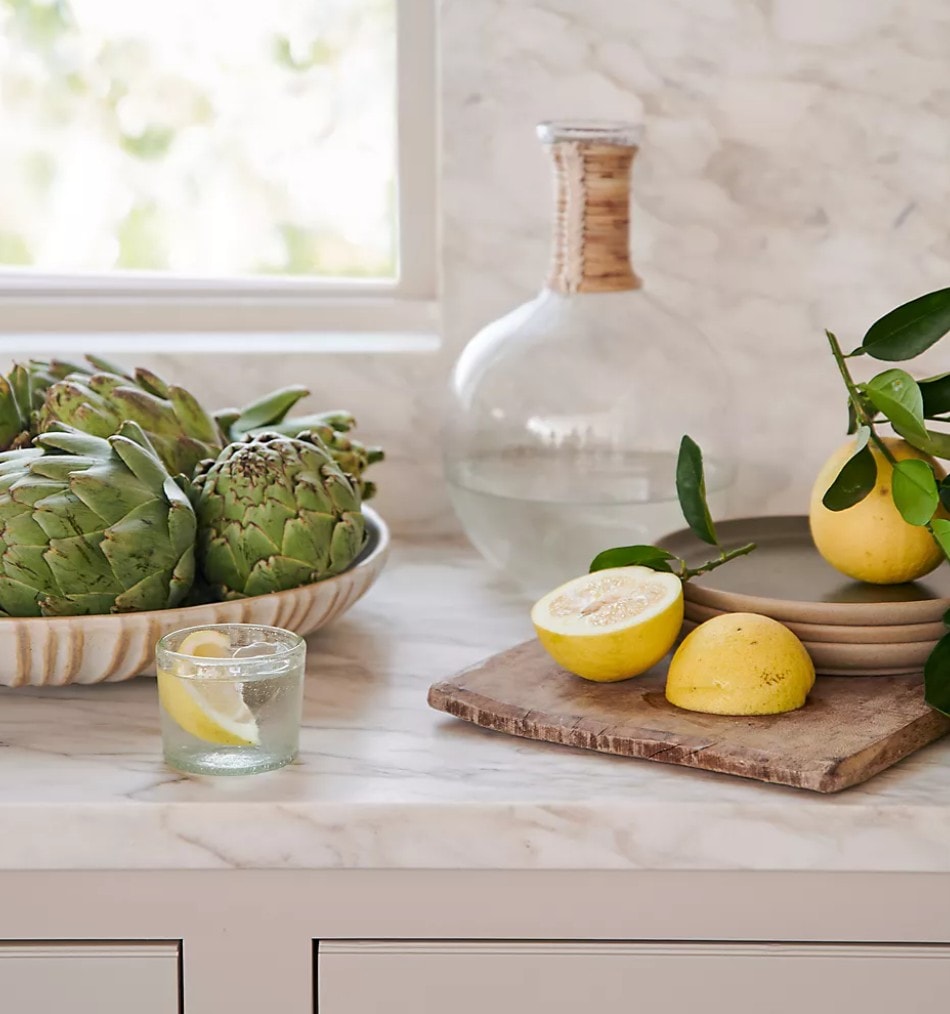 One sure way to get your fruit to go bad is by stashing it away in a cabinet where your family will never see it and never eat it. Instead, toss it into a decorative bowl like this one and sit it out on the countertop.
This is also a great way to add some color to your kitchen. Add some bright green Granny Smith apples to the pile for pops of color or invest in a few fake lemons to ensure there is always some bulk and color to the pile.
Spice Rack
Having an ugly outdated spice rack out as countertop decor isn't exactly ideal. So, upgrade your rack to something more modern like this one instead.
If you're going to do this, make sure you get stylish containers to pour your spices into. These glass shakers are much more aesthetically pleasing than a bunch of plastic ones with bright labels on them.
Knife Block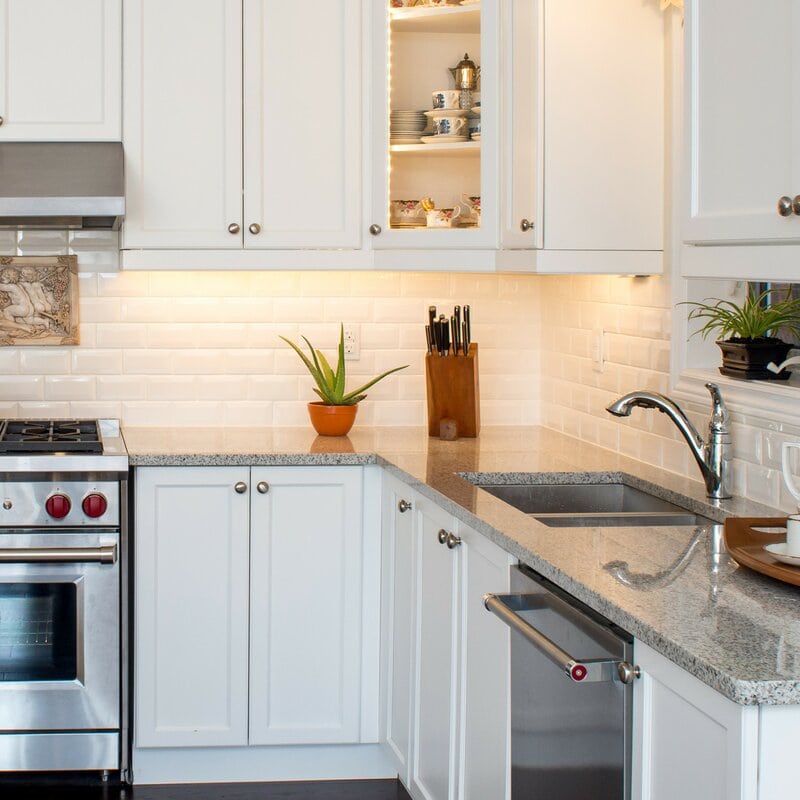 Everyone needs some good, sharp knives for cooking, right? Instead of stashing them away in a drawer (and risk getting a finger sliced), put them out on display with a knife block.
If you do this, opt for a nice-looking wood block like the one in this photo. It does the trick without taking away from the clean, warm look of the kitchen.
Glass Storage Jars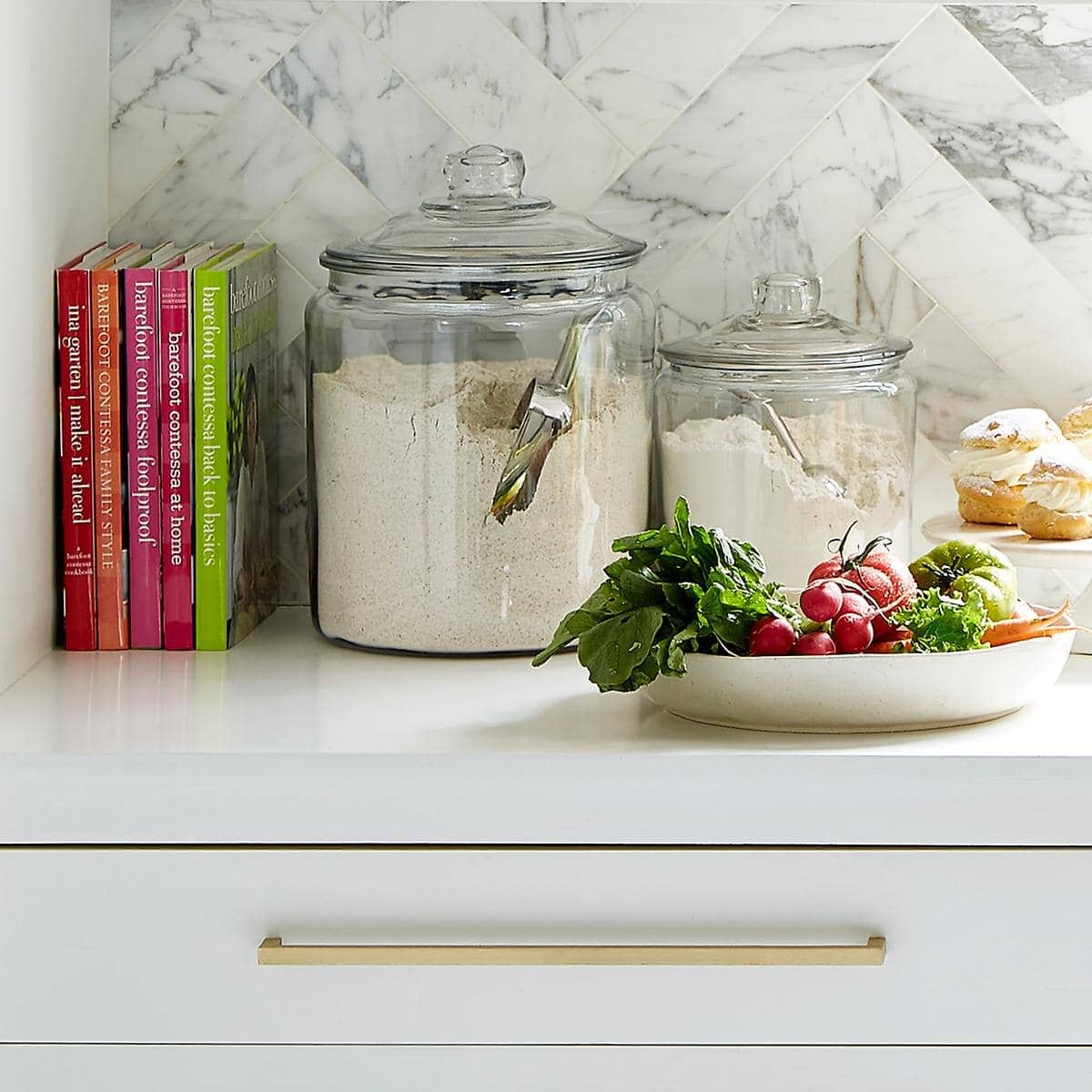 If you've got plenty of counter space but are running short on cabinet storage space, grab some glass storage jars to make the most out of your kitchen counters.
You can pour in flour, sugar, or rice if you want to keep it a neutral color, or if you want something a little more fun, fill them up with snacks and treats (a cookie jar is always a good idea).
Cake Stand with a Potted Plant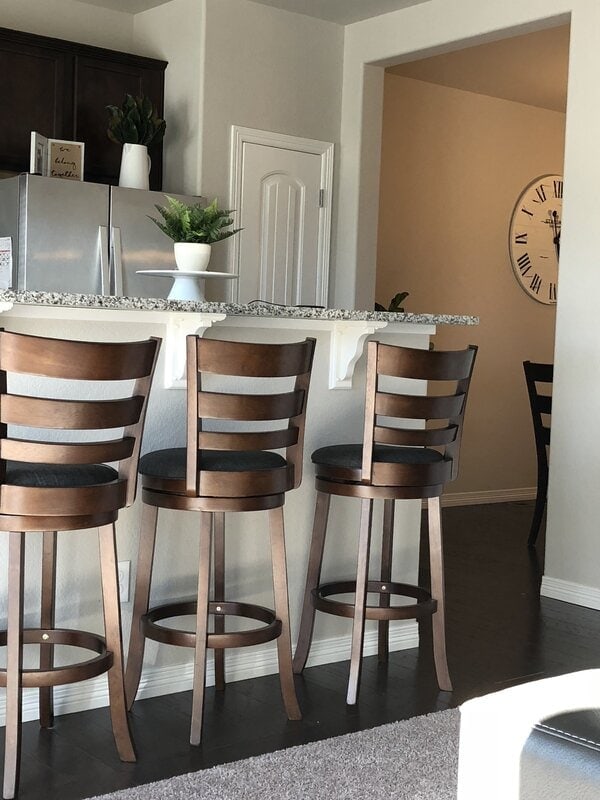 Oftentimes cake stands are just stowed away in a cabinet and only dusted off for special occasions. However, if you have a bit of counter space, it can serve as a great piece of decor.
In this kitchen, they used theirs as a stand for their little potted plant. It's a cute way to add a little greenery to the space. Another way to use a cake stand? As a little dessert tray, of course.
Bright Dinnerware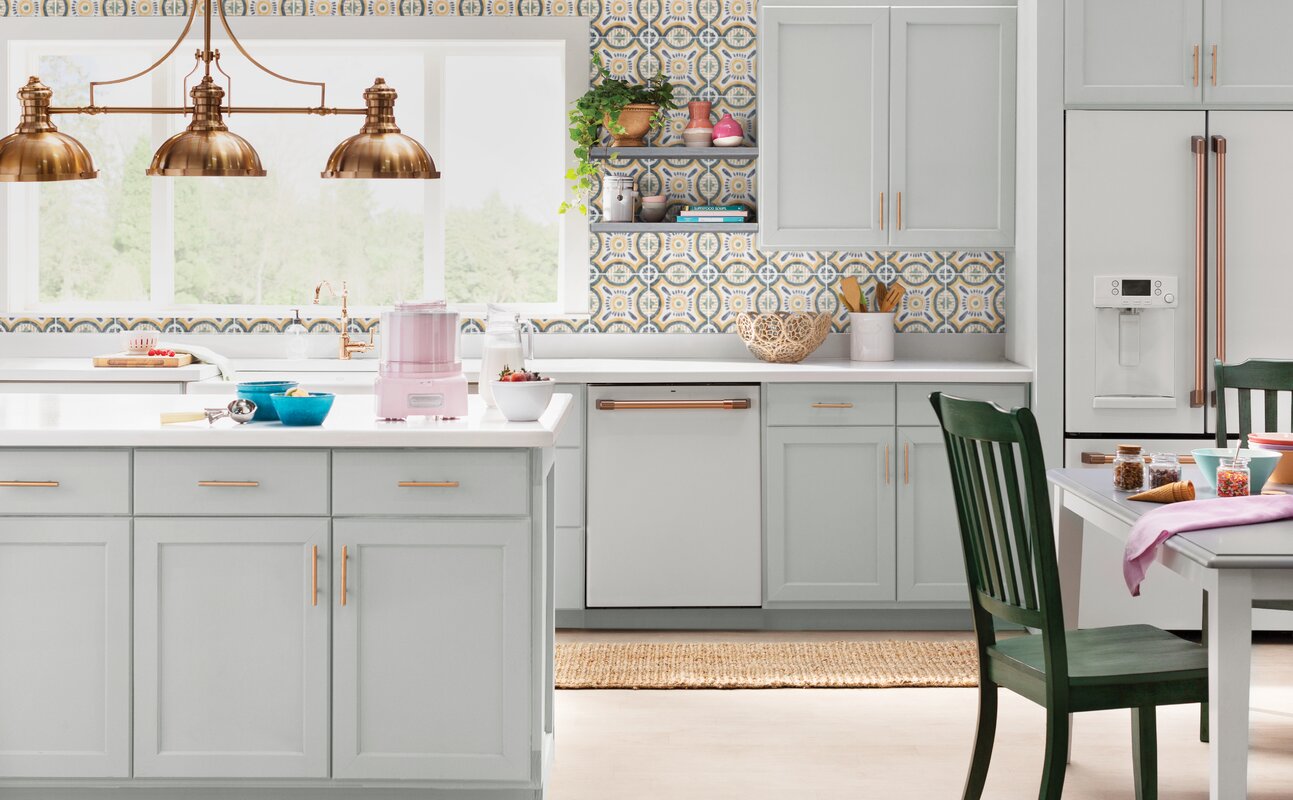 If your plates and bowls happen to be colorful, don't be afraid to stack a few of them to set out on the counters. Not only will they be really easy to access this way, but they'll also add a little bit of color to your kitchen.
Stylish Tea Kettle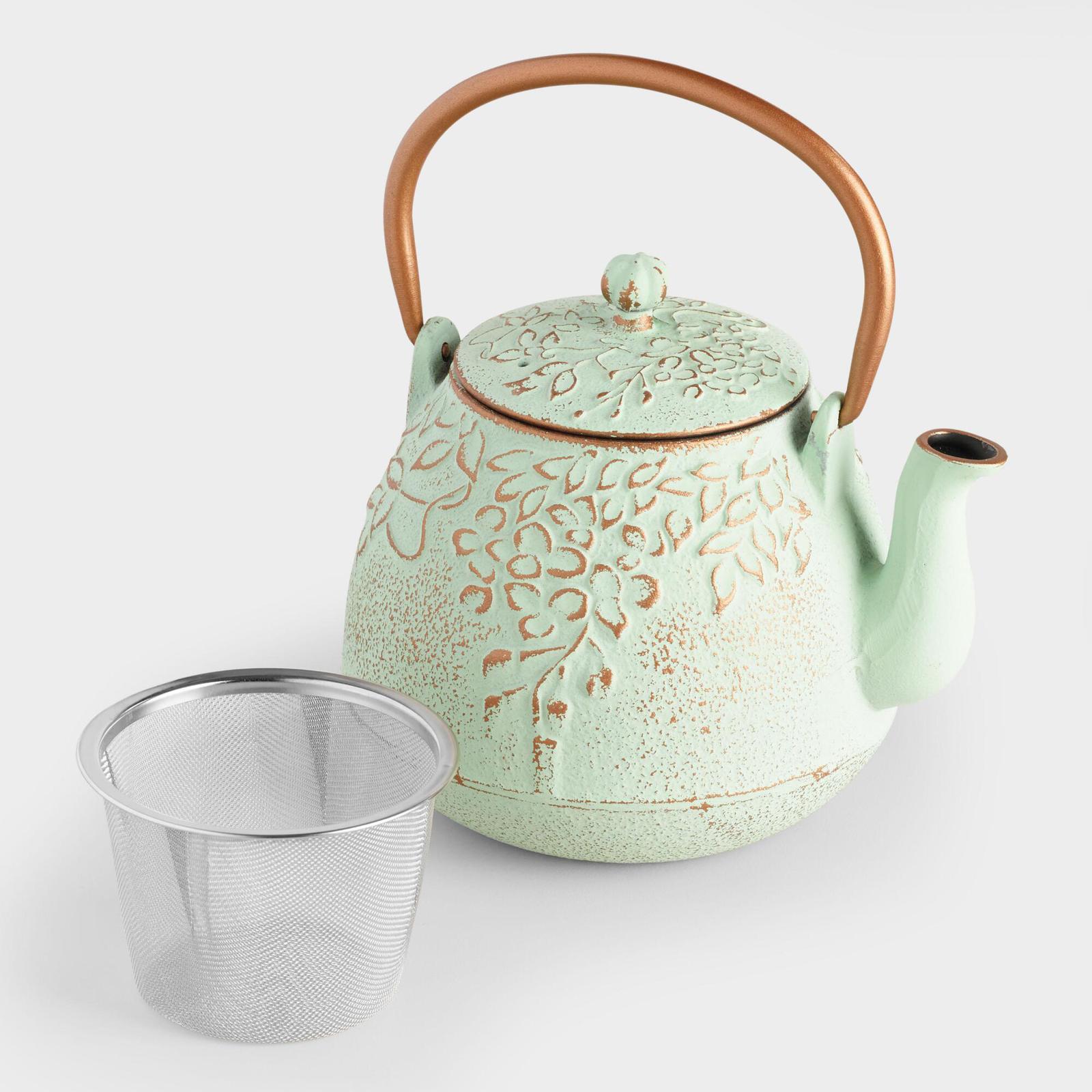 You can use your love of tea as a cute and functional piece of countertop decor. Find one with a style that matches your kitchen and have it sitting out as decor.
Oftentimes you'll see these sitting out on stovetops all the time, and you can certainly do that but a kettle is a good size to nestle onto your countertop to add a decorative touch without taking up much space.
Bamboo Lazy Susan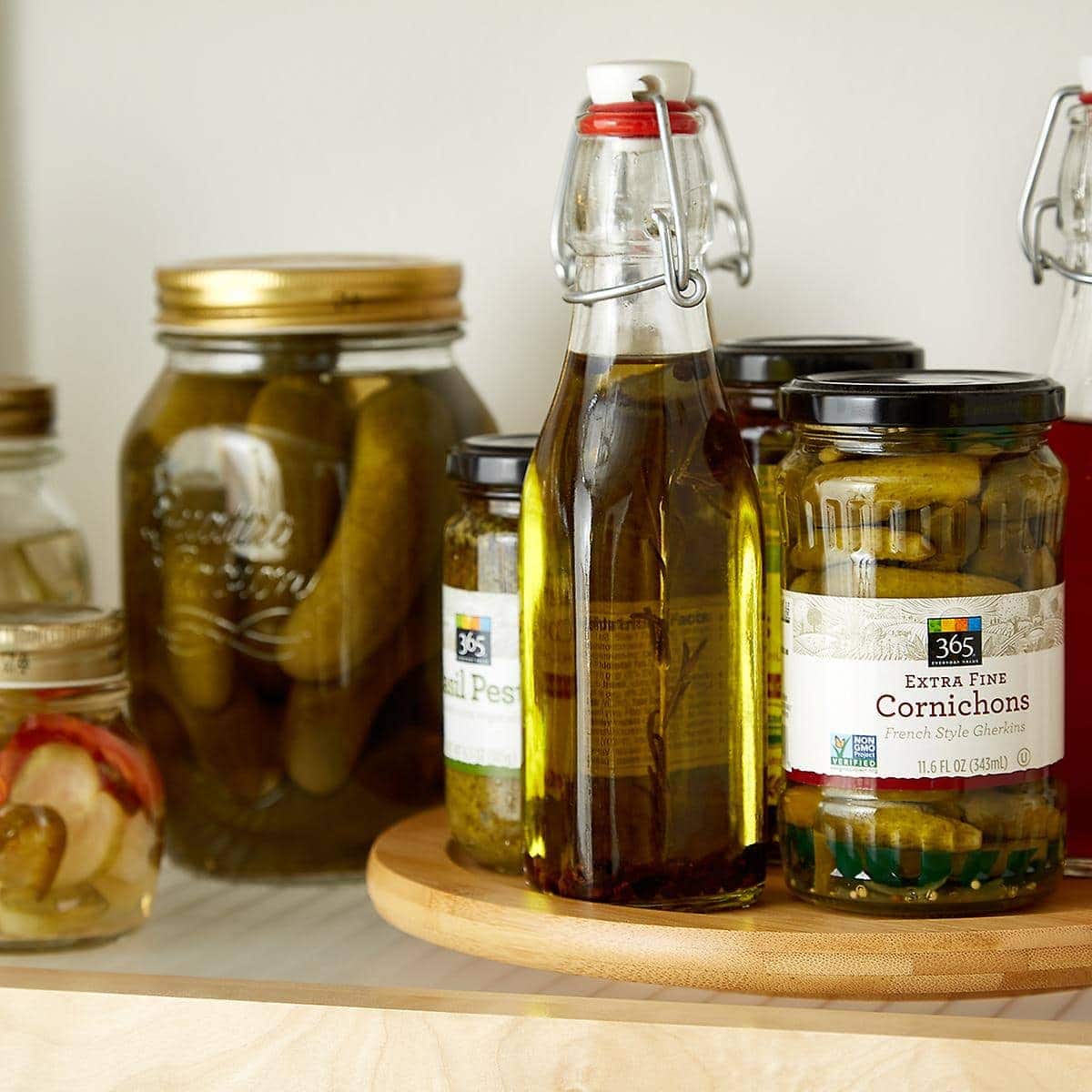 A small lazy susan on your kitchen counter is another great way to take up some space in a smart way. Have it sitting out near your stove so you can quickly grab ingredients that you use often (just put them into pretty containers).
You could also use a larger one as a centerpiece on an island. Put a vase with flowers on it and a few other decorative or functional pieces at varying heights to take up some space and add some style.
Tiered Dessert Tray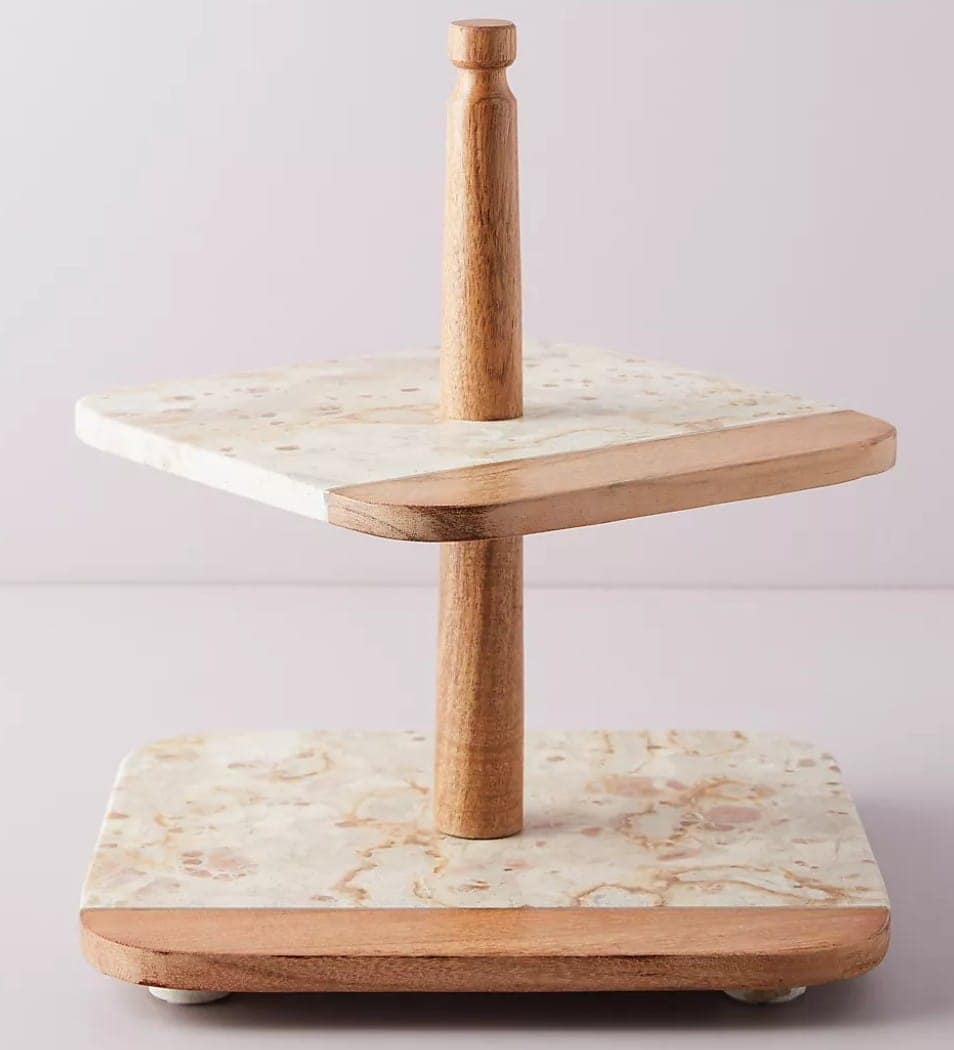 When you're thinking about how to decorate kitchen counters, take stock of some of the pretty platters you have stowed away, They probably have really stylish looks, but rarely get used.
So, find a new purpose for them. This tiered dessert tray is a great example of a gorgeous piece that should definitely not be hidden away. Use it to display little succulents or as an excuse to always have dessert on hand.
Touches of Copper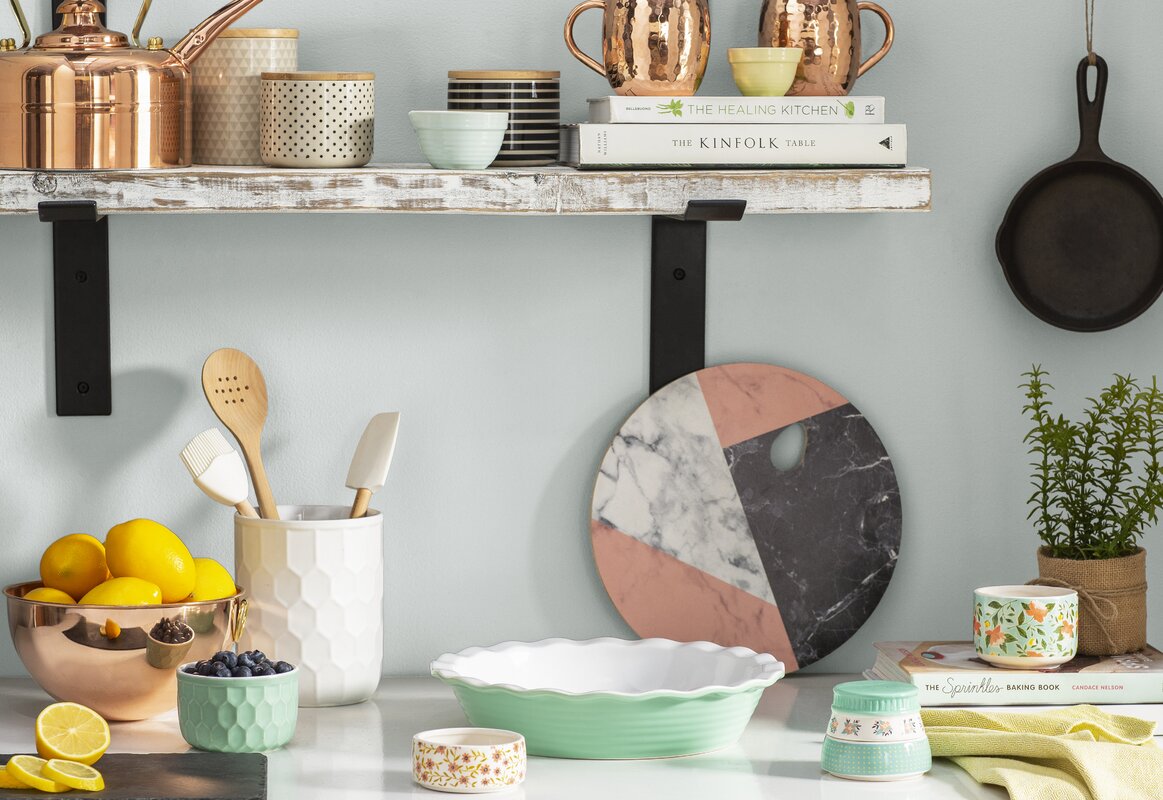 Warm things up in your kitchen with a few touches of copper. Some Moscow mule mugs, a pretty tea kettle, strainer, or even pots and pans are great ways to pull it in while keeping it functional.
There is a lot of great inspo in this photo, but one thing that stands out is the use of the copper mixing bowl as a fruit bowl. It makes the yellow lemons really pop while still giving the kitchen a sleek style.
Simple Vase with Flowers or Greenery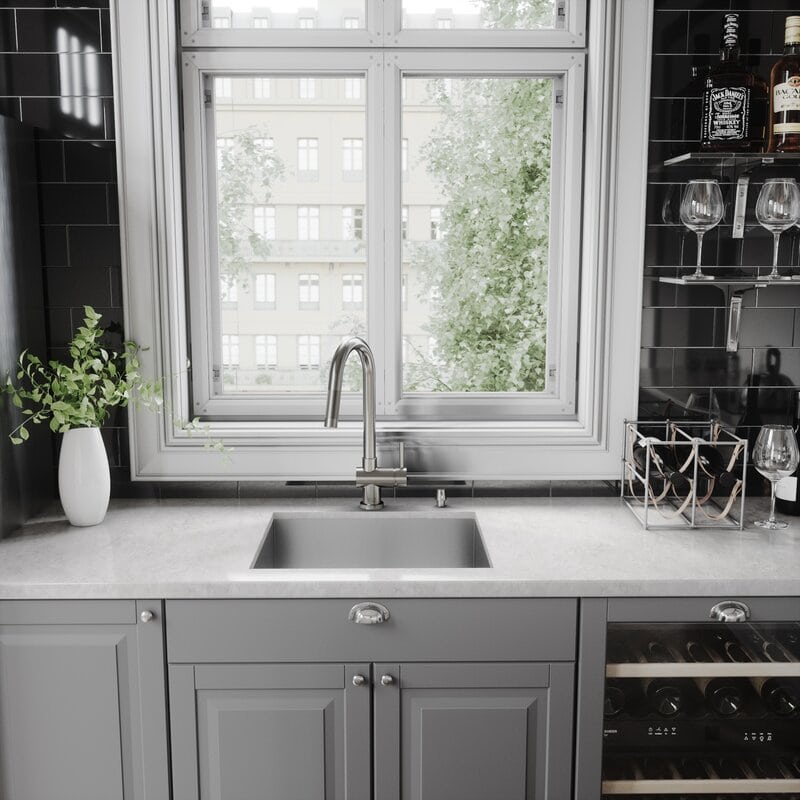 You don't have to have a ton of counter space to add a little decor, but you do have to take size into account so that everything looks balanced out. For smaller spaces, a simple vase with flowers or greenery is always a good option.
In this photo, they have a simple white ceramic vase with some greenery sticking out. The white works with the kitchen colors, the green adds a bit of color, and the size still leaves plenty of space to prep food.
Hanging Measuring Spoons and Cups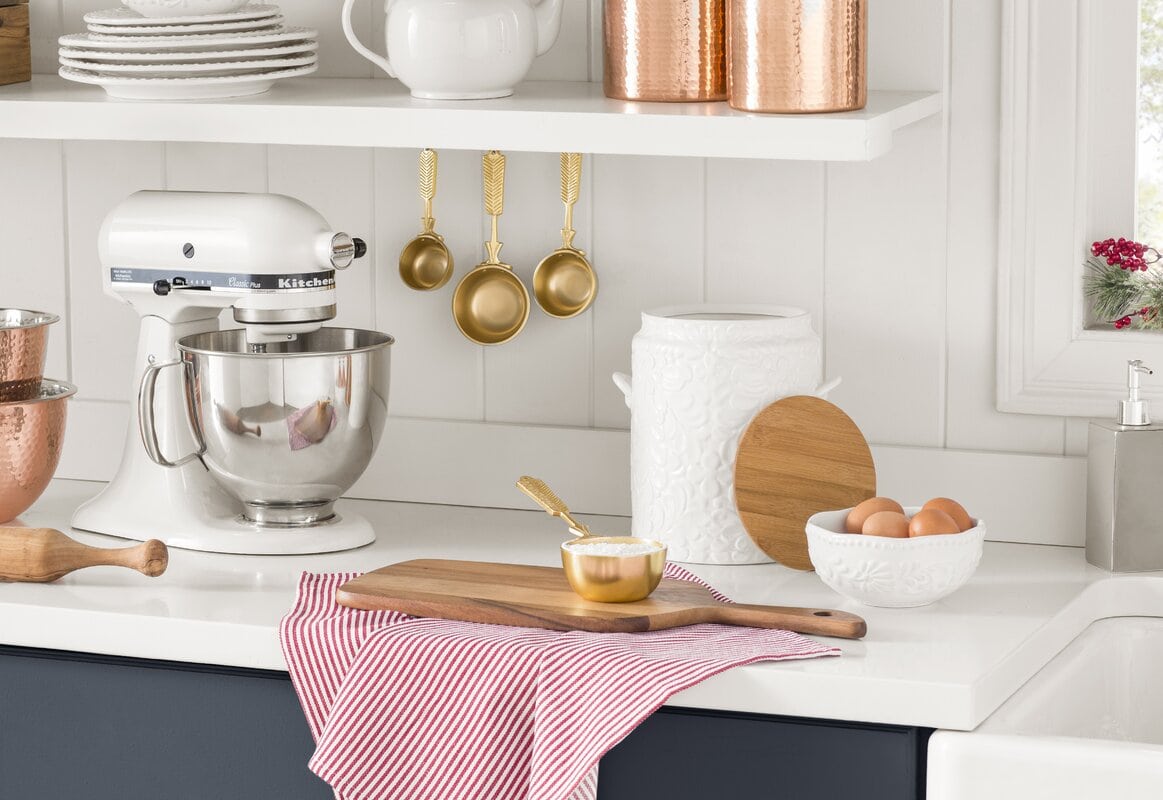 You can add some decor to your kitchen counters without ever actually putting something on them by investing in some pretty measuring spoon and cups like the ones in this photo.
To get this look, hang some subtle command hooks on the backsplash or some hanging hooks under the cabinets. Just remember to get some stylish measuring spoons and cups so that they work as decor and don't look out of place.
Decorated Serving Tray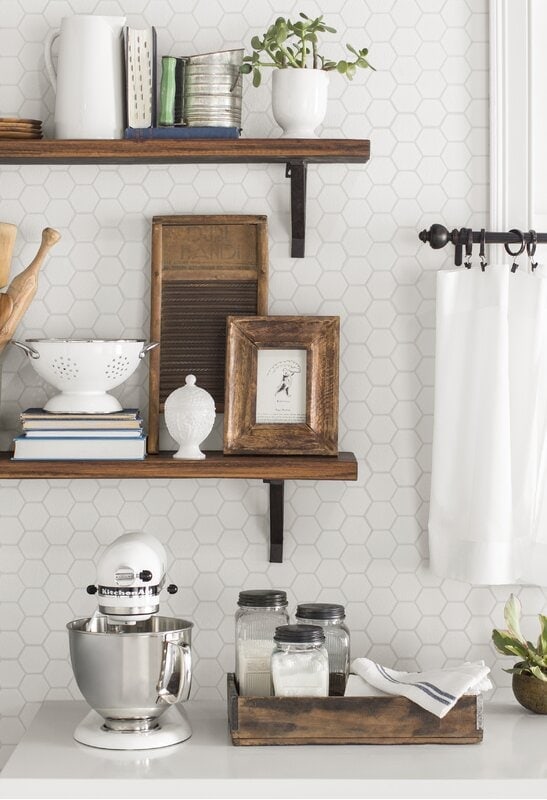 A decorated serving tray is great for adding some decor to your countertops, especially if your space is a bit limited because you can easily pick everything up and move it when you need to use the space.
Since it's so easily moved, you can decide whether or not you want to keep this functional or go full decorative (or a mixture of the two). It's a fun way to get creative.
Pop of Color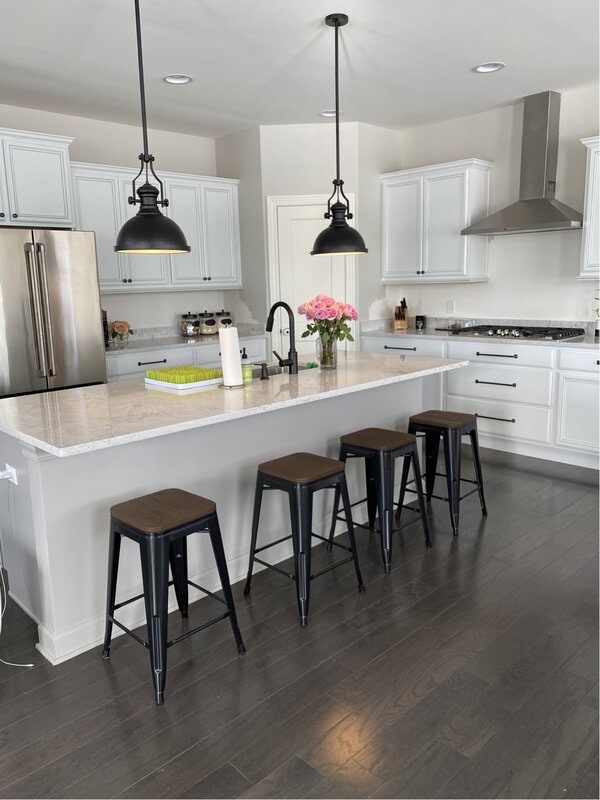 White kitchens are absolutely gorgeous, but they can sometimes feel a little bland. To combat this, find ways to add little pops of color like the bouquet of bright pink flowers in this photo.
Flowers are an easy way to accomplish this, since it's just a matter of sticking them into a vase and changing them out as needed. Plus, you can use them to add to your seasonal decor as well.
Cookbook Stand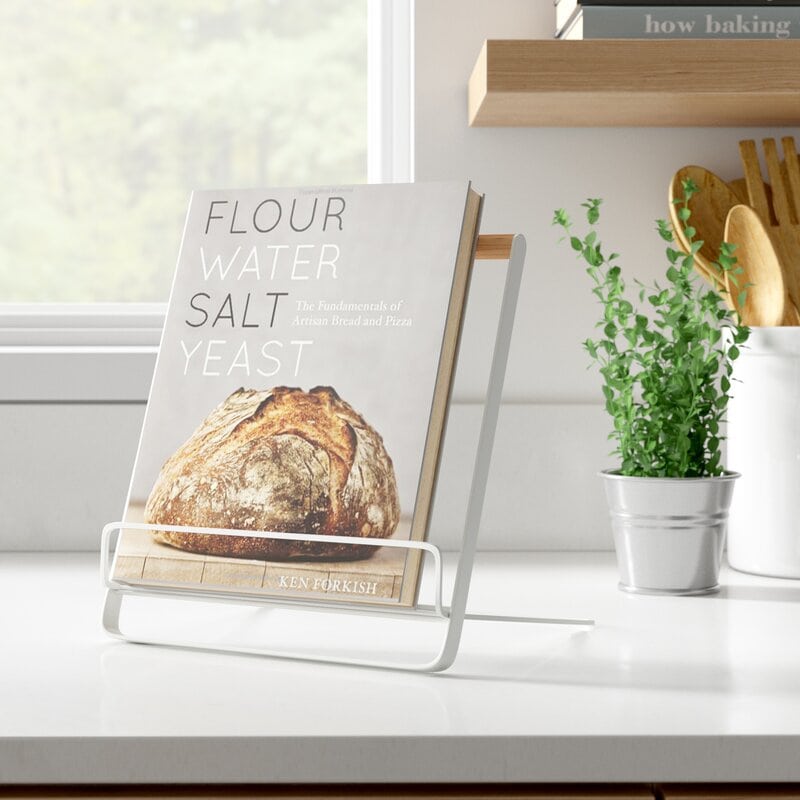 Yes, we all use our tablets and phones to pull up recipes these days, but chances are good you still have a cookbook or two in your home that can be put on display with a pretty cookbook stand.
If you don't have a cookbook, grab one from your local thrift shop. Just look for something with a decorative cover that will look nice sitting out in the open. You don't even have to pick something you'd actually use since you rely on your tablet and phone anyway.
Coffee Mug Tree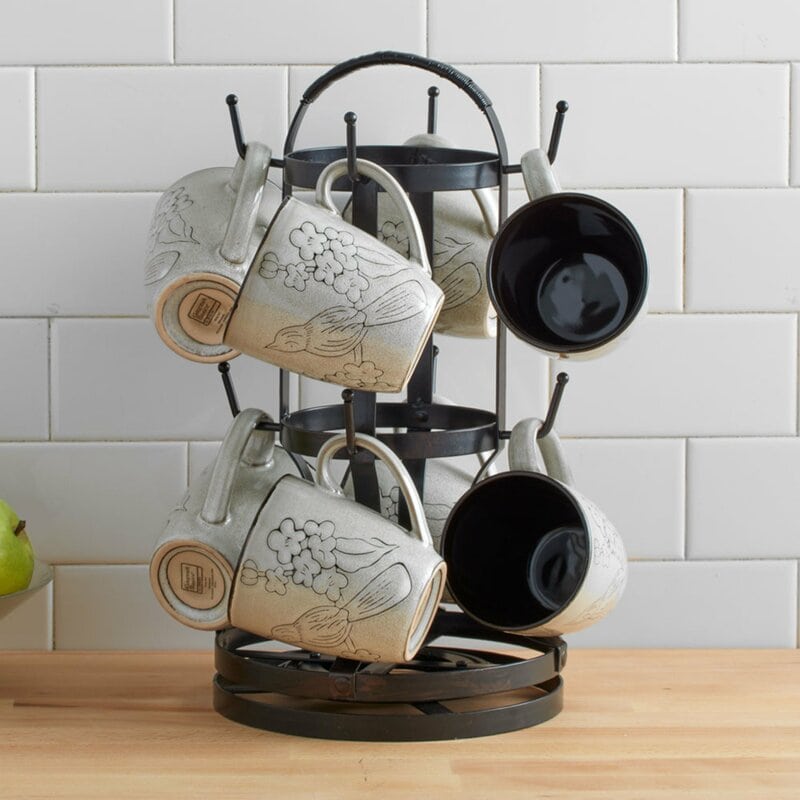 Since you're constantly reaching for coffee mugs anyway, you might as well have easy access to them by using them as countertop decor with a little mug storage tree like this one.
You probably have plenty of mis-matching mugs that you've collected over the years, but if you're using them as decor, invest in a set with matching mugs that will look nice sitting out (when in doubt, go with white ceramic).
Final Thoughts
Kitchen counter decorations can be made up of anything from a cake stand and a plant to the actual tools you use to prepare food on a regular basis. It's all about working with the space you have and keeping things as functional as possible without sacrificing your personal style.