Decorated Life is reader-supported. When you buy through links on our site, we may earn an affiliate commission. Learn More
15 Kitchen Hardware Trends For 2022
Whether you're building a brand new kitchen or simply renovating it, hardware has the potential to make or break the vibe of your space. So, now that you have picked the best flooring, cabinets, countertop, and backsplash – it's time to pick the best finish and hue for the hardware.
With the upcoming trend in the year 2022, finishes such as oil-rubbed bronze and brushed nickel play a fundamental and subtle role. However, with the intrusion of various other finishes and latest technologies, the kitchens are ultimately becoming the center of attraction. So, let's have a look at these phenomenal 15 popular kitchen hardware trends for the year 2022.
Golden Champagne Pull Handles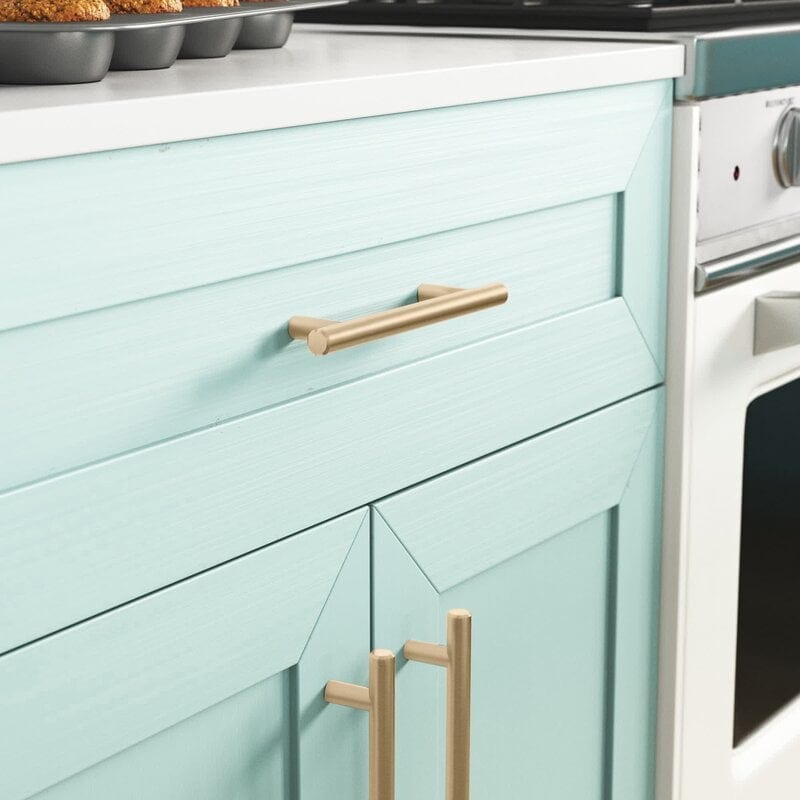 Gold finish tends to exhibit a warm, rich, and luxe look to the kitchen. So, with the ongoing trend, the gold finish is apparently making the headlines in the interior design industry. They easily complement most of the colors and styles – and at the same time, gloriously add a dramatic effect to the kitchen.
The gold finish is generally available in brushed, matte, and glossy textures – hence, depending upon the interior design styles should you pick one.
Brilliant Venetian Bronze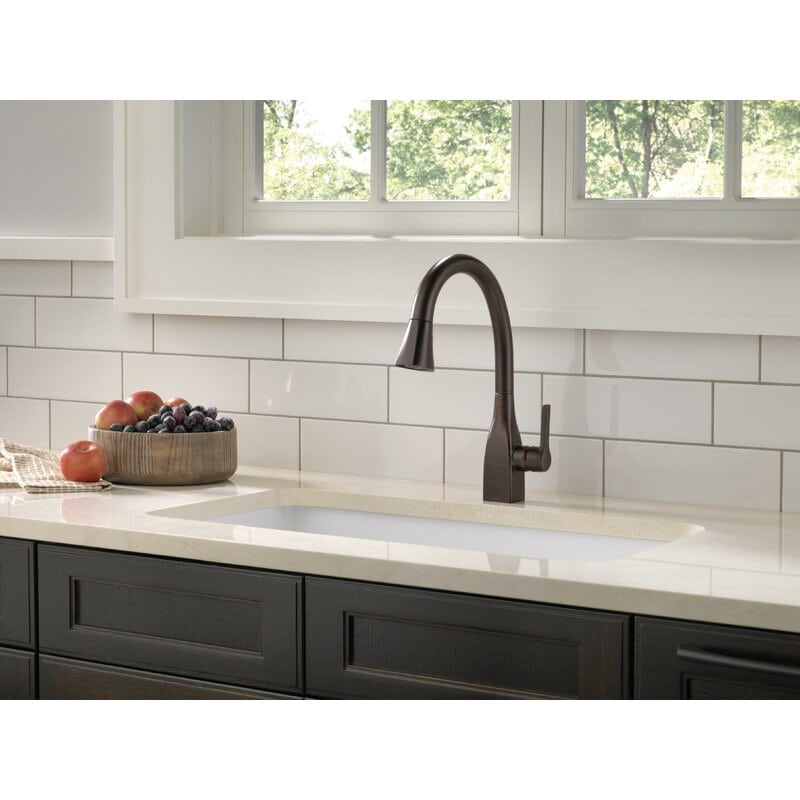 When it comes to your kitchen, every detail counts. And especially when it's the faucet hardware, you have the opportunity to be as thoughtful as possible. Hence, unlike Brushed Nickel, this particular tone in your kitchen can truly do wonders.
It can complement and blend with the warm tones on the cabinets and subtle hardwood flooring. Lastly, its unique form and minimalist look tend to add a dashing and statement to one and all kitchen styles.
Sleek Matte Black Bar Pull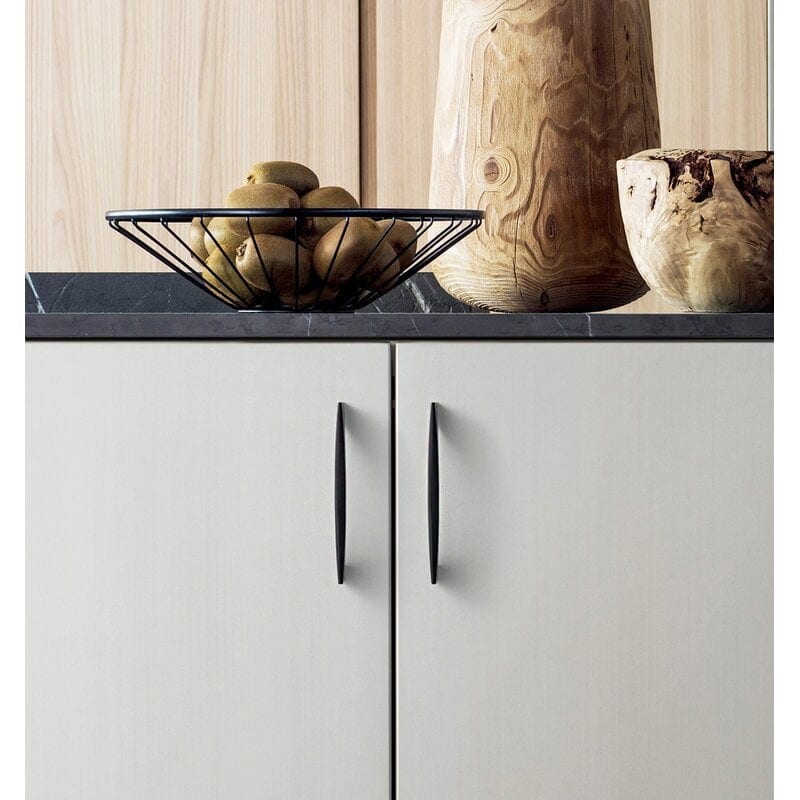 Pull handles play a vital role in your kitchen cabinets. Apart from its original function, these little details offer style and character to the kitchen. Hence, if you're looking to style in modern, contemporary, Scandinavian, and minimalist styles – this sleek design offers a great high-quality, durable, and luxurious solution.
It is comfortable to touch and can be installed very easily. You can even DIY it!
Matte Black Round Knob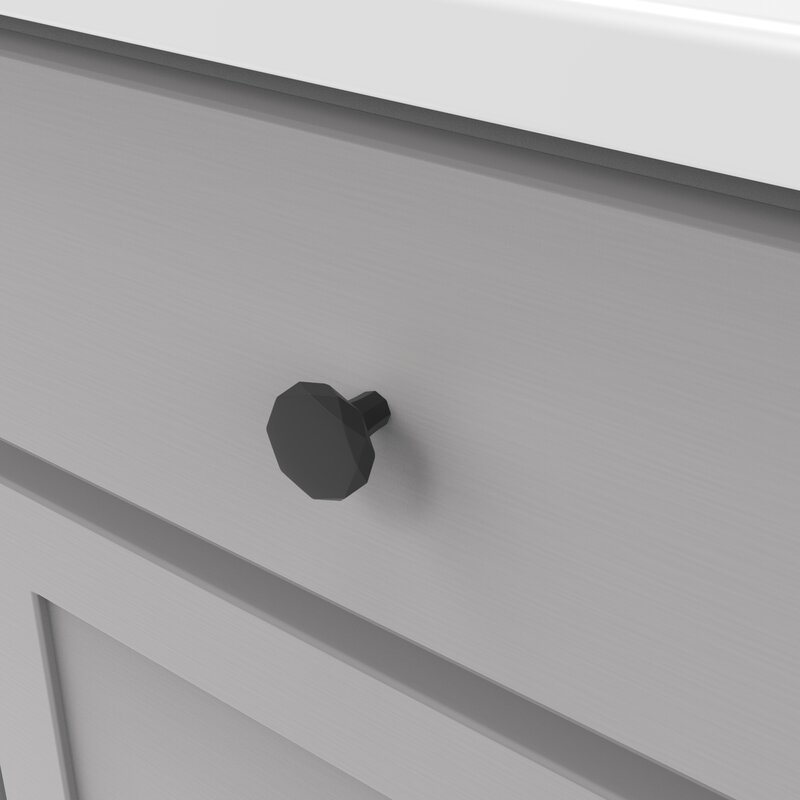 Matte black makes a great interior trend in the year 2022. It exhibits a bold modern style while embracing utmost simplicity and minimalism. So, if you don't want the pull handles to play focal while still adding value to your kitchen – this geometric knob works the best.
Moreover, it plays a great decor element in the small-sized kitchens in the lofts and apartments. This is good to go for industrial style as well!
Install Workstation Sink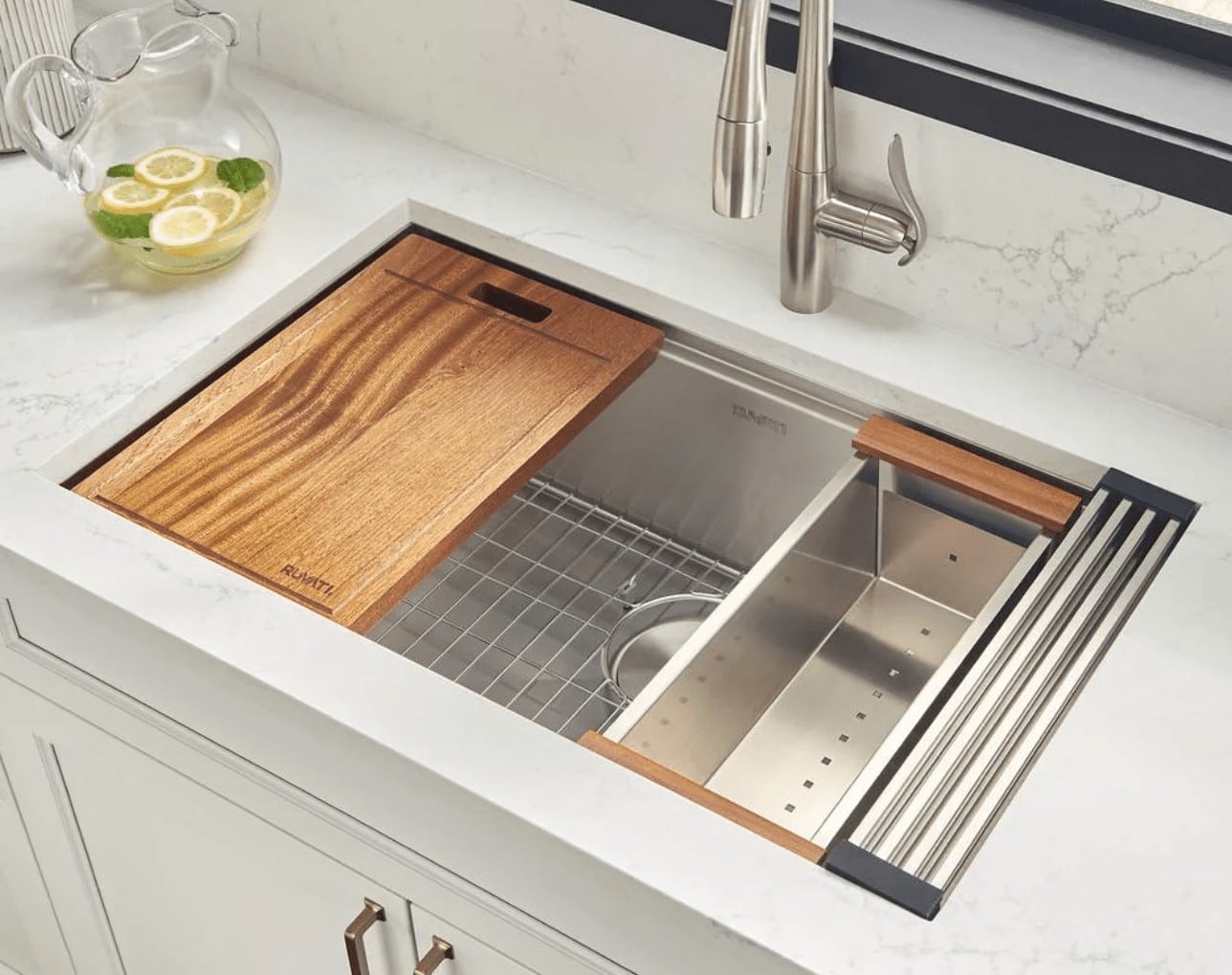 This is a great solution for all those who have cramped and congested kitchen countertop space. Such all-in-one workstation sinks are modern answers to traditional problems. They tend to eliminate the requirement for a separate dish rack and meanwhile, offer a great cutting board base and colander.
Isn't this workstation sink more than just a mere sink that holds your dirty dishes? Whether you reside in a loft or apartment, this space-saving solution is something to look forward to.
Matte Black Double Basin Sink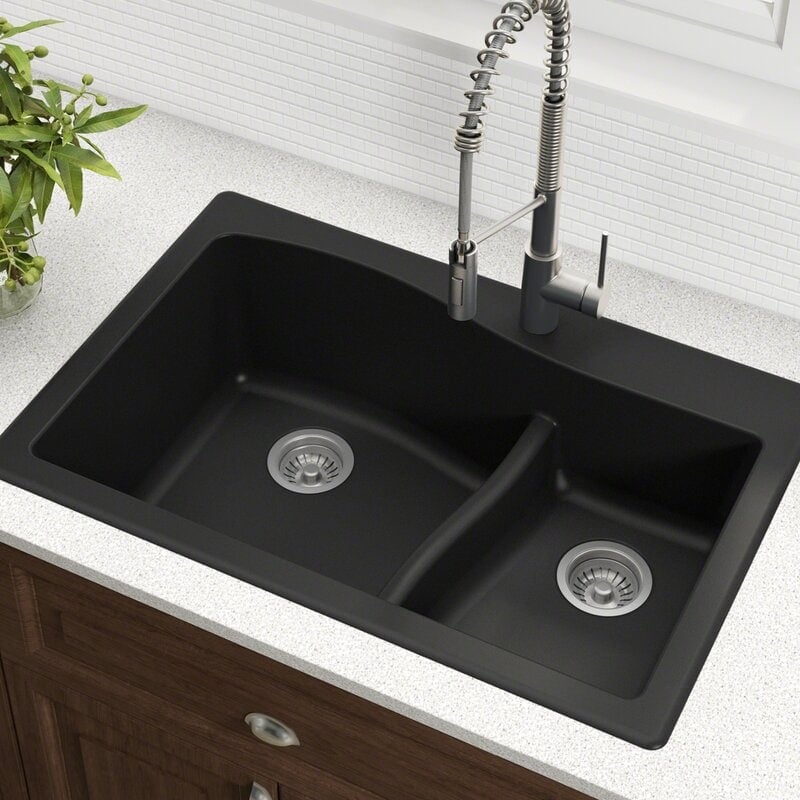 Add a sense of elegance and simplicity to your kitchen by incorporating the highly durable and extra-tough matte black double basin sink. So, for all the white and black kitchens, this piece of the sink will truly play seamless and flawless.
Moreover, this sophisticated sink is made from 80% natural quartz and is highly resistant to scratches, stains, food, liquid, and scuffs. And since it's easy to clean – you don't have to worry about replacing it!
Solid Copper Sink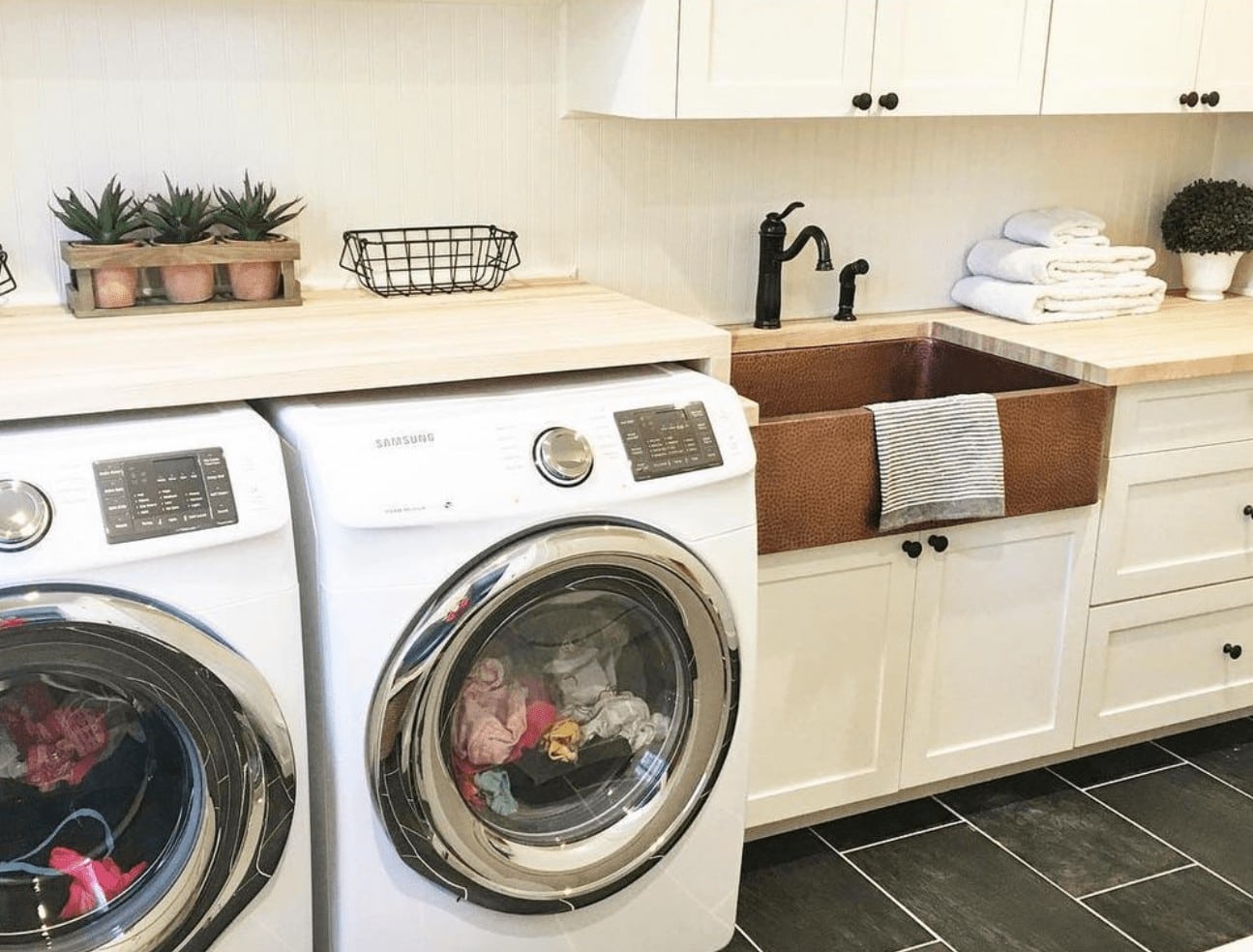 Copper sinks are going mainstream in the kitchen design industry. Especially for modern Farmhouse interior design style, this particular finish is bound to add a charming and authentic look. Since more and more natural materials are gaining popularity, copper is somehow finding a way to the top of the list.
And do you know the best part? Well, this particular sink plays versatile for one and all design styles.
Single Handle Kitchen Faucet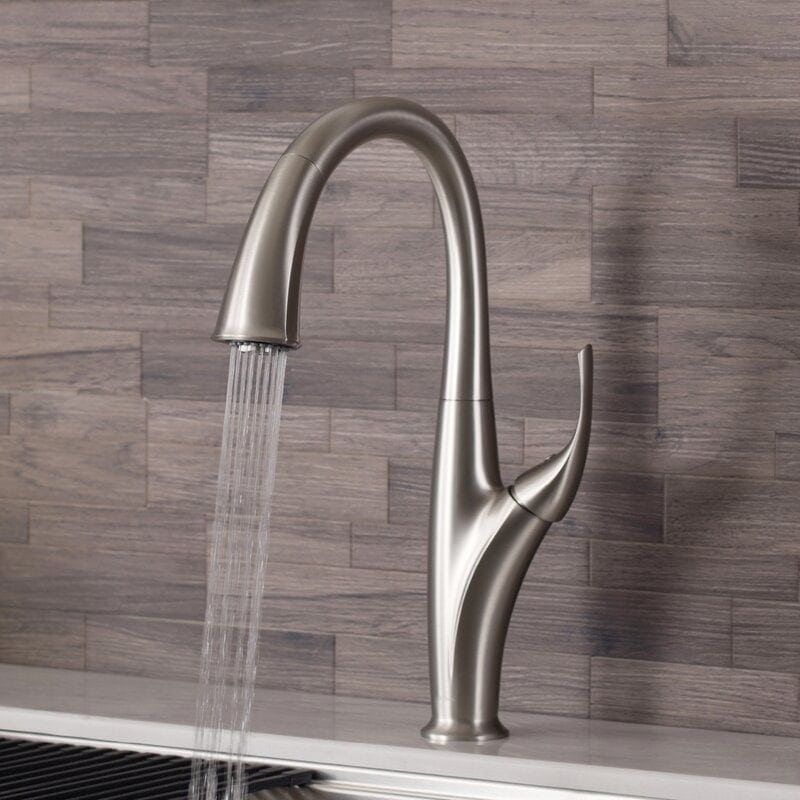 Whether you have a traditional style or modern, farmhouse or transitional, the single-handle faucets are gradually gaining momentum. It has a swan-like look with a high-arc spout that adds a stunning and detailed character to the kitchen. Moreover, it offers a strong ergonomic design that can be used to carry out various kitchen activities.
With a versatile stainless steel finish, this faucet aims to align with most of the interior design styles.
Drop-In Workstation Bar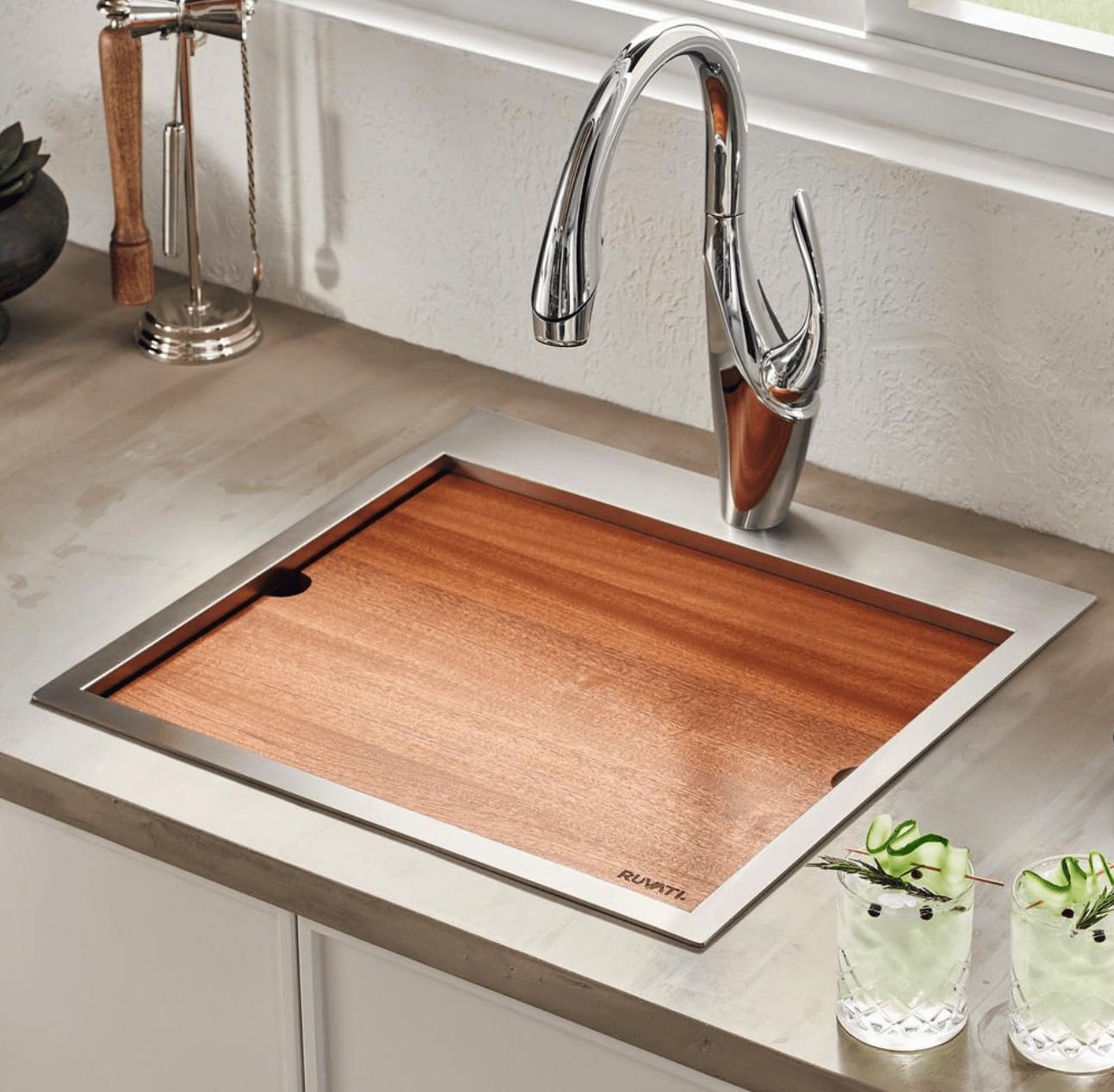 It's time to make your kitchen tasks a thousand times easier. So, let's multiply the utility within a small kitchen space! Especially for smaller kitchens with lesser countertop space, this drop-in workstation bar solves quite a few issues. You can simply clean and chop vegetables on top with a fitted cutting board.
With an authentic Mahogany stain, this bar works well with modern and contemporary design styles.
Oversized Center to Center Bar Pull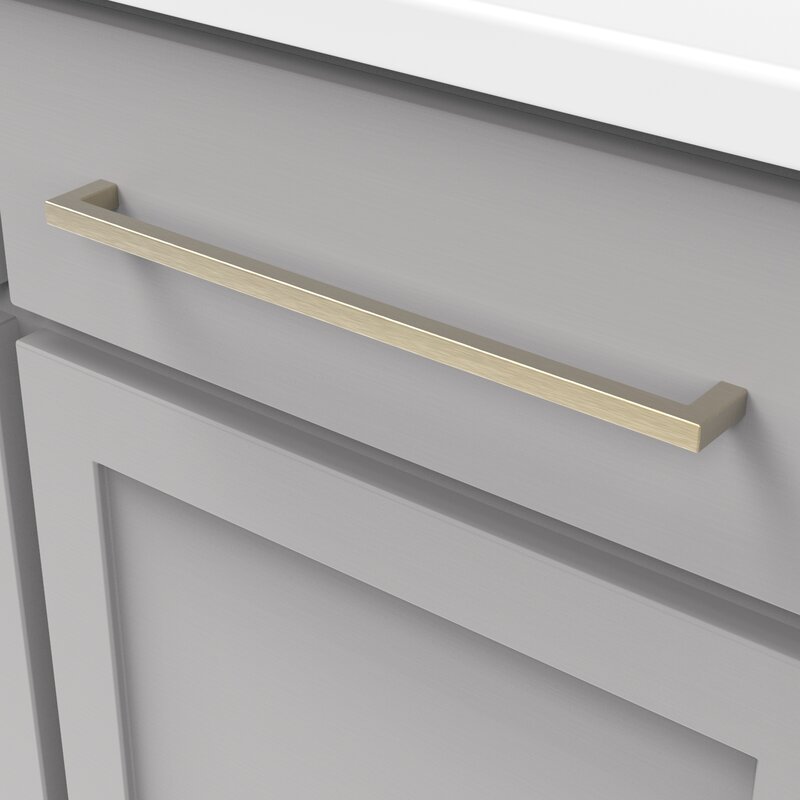 Oversized bar pulls are a great example to make your kitchen appear chic and elegant. With a deep modern and sophisticated touch, these pull handles offer the utmost detail and character to the kitchen. Hence, quite significant of what your style is!
Generally, this bar pull could be 6 to 21 inches long. But it can also differ based upon the width of the lower and upper cabinet.
Farmhouse Sink with Strainer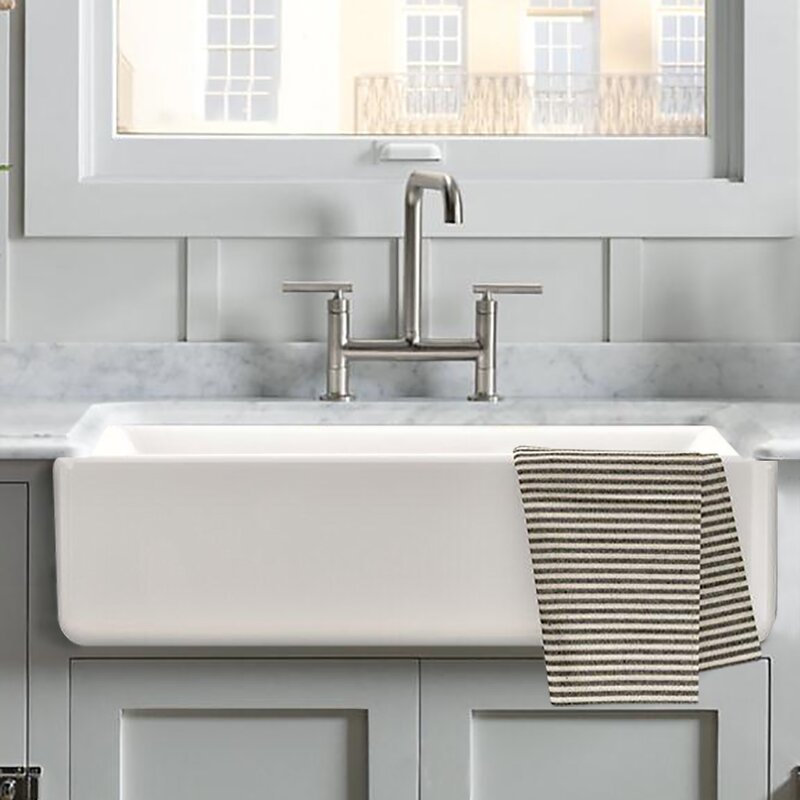 The fireclay sinks are quite much in demand. Offering utmost durability, resistance to heat and stain, scratching, chipping, and discoloration – the beauty and authenticity of this sink is absolutely retained, even after years of usage.
Moreover, this type of sink can definitely play one for all. Regardless of the interior design style, it works out and blends in well – for all types of your kitchen designs.
Cast Iron Kitchen Sink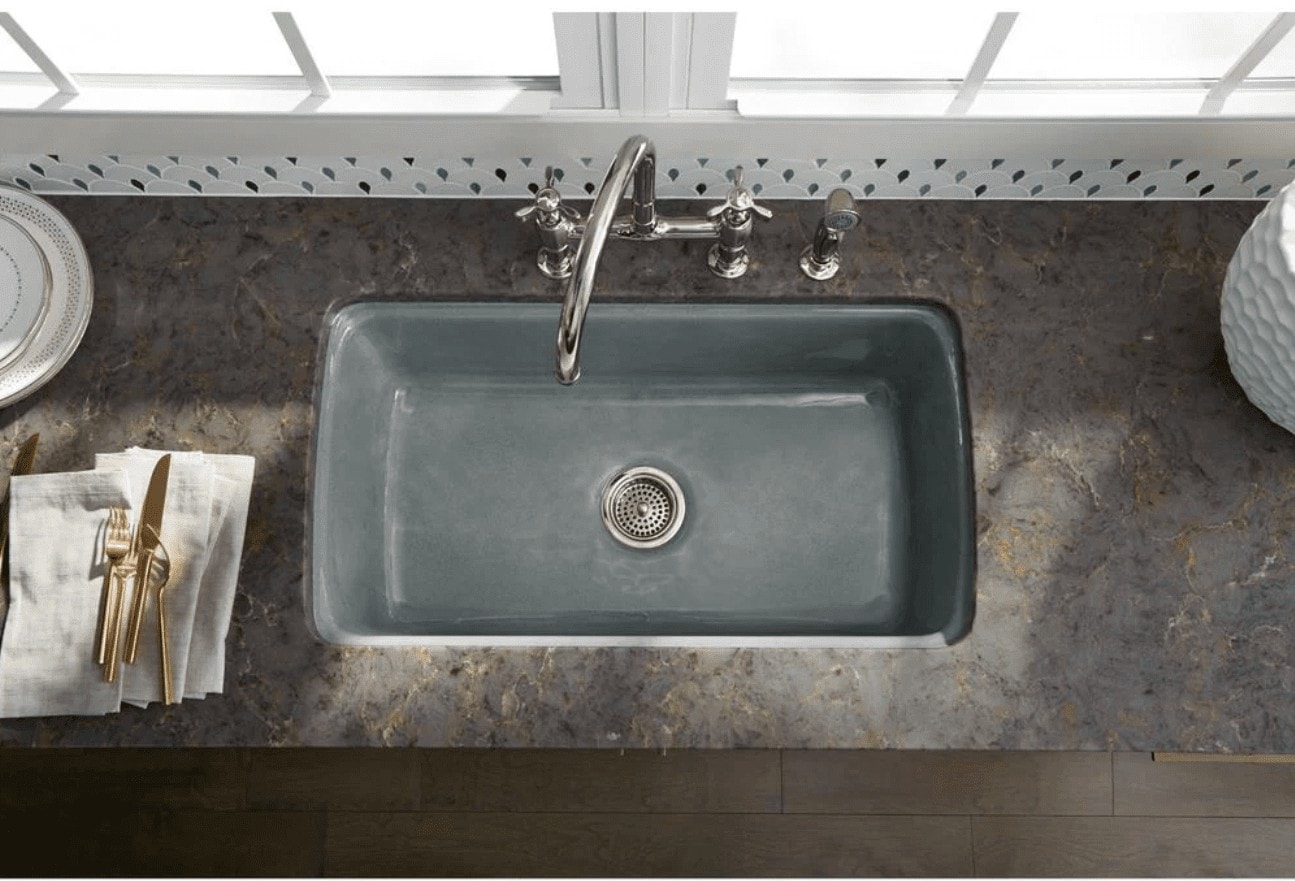 Want to play distinctive in your kitchen? You can absolutely make your space stand out with this trendy cabinet hardware that plays industrial and vintage. The single-bowl, classical style can equally resist chipping, cracking, and burning.
It can also blend with your granite countertop and white backsplash tiles. Diving deeper, this cast iron is good to go for farmhouse and vintage interior design styles.
Brilliant Champagne Faucet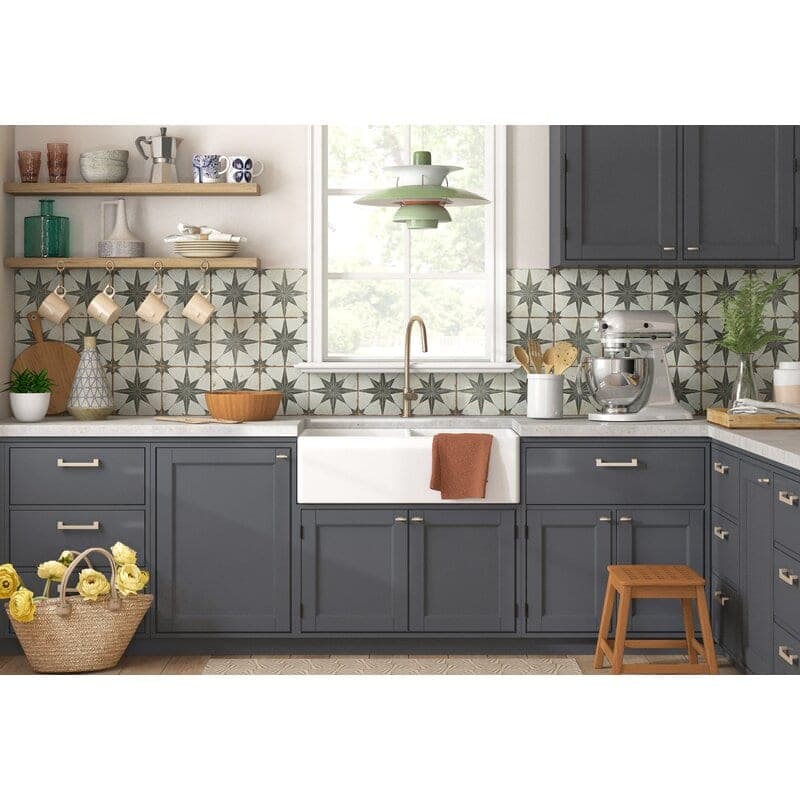 This popular cabinet hardware is made from high-quality materials making it a durable, versatile, and robust solution to design. This faucet works the best with gold-tinted pull handles and patterned backsplash tiles.
Furthermore, with apron style sink and vintage cabinets, this particular faucet is something to look forward to. Hence, this unique brilliant champagne tone makes a great kitchen hardware trend.
Touchless Kitchen Faucet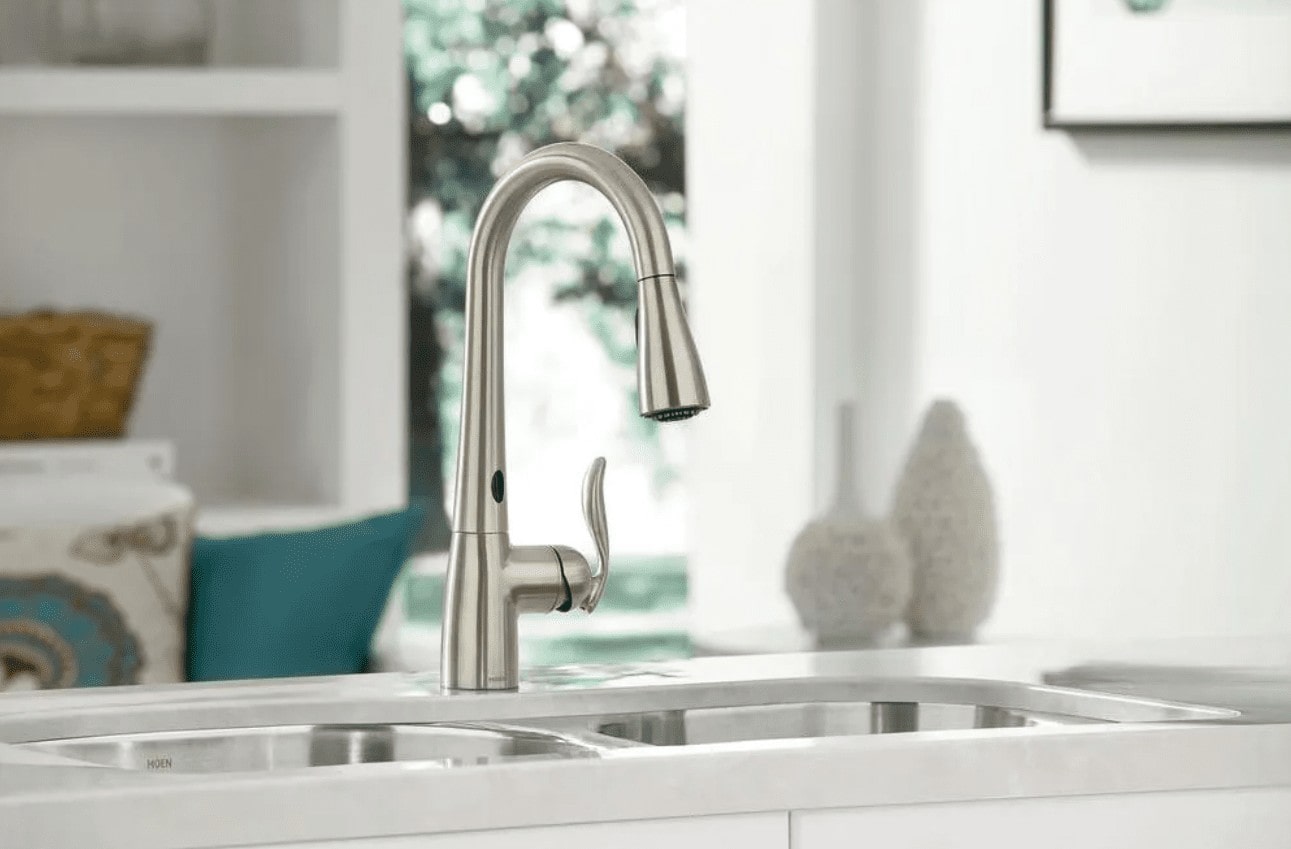 Want your kitchen to be more hygienic and dust-free? Well, especially after the pandemic hit the world, more and more technology is incorporated in intimate spaces like kitchens for a healthy and hygienic outcome. And there's nothing better than a touchless faucet to start with!
On the other hand, this touchless hi-tech product is quite eco-conscious. It uses lesser water without compromising the aesthetics or performance.
Cup Pull Handle
Diving back to basics, the cup-shaped hardware offers a stunning appeal to your kitchen. With a notable traditional and vintage appearance, this pull handle adds thoughtful detail to the cabinets while defining the overall style of your kitchen.
This is quite a trendy cabinet hardware that is easy to use and easy to install. They're good to go for drawers in the upper as well as lower cabinets.
Summing It Up
Picking the right hardware can undeniably bind the whole look of your room together. The kitchen hardware trends will keep changing – but something that will stay forever is the cohesiveness of the product in your kitchen. Even though it's the smallest element – at the same time, it can contribute to some major changes. So, now that we have discussed the popular cabinet hardware trends – are you enthralled in incorporating any?